Planning to spend one day in Naples while you're in Italy's Campagnia region? This is the ultimate itinerary to experience the city on a quick visit.
Naples is authentically Italian. The city lives by its own rules. It's utterly lacking in tourist-ready gloss and has a more visceral allure.
Beneath the graffiti and grit, Naples is an exuberant city with an unbeatable centro storico. It's set on a peerless bay and backed by the brooding Mt. Vesuvius. The city is full of stunning Baroque churches and world class museums.
The indulgent food is fantastic. And all this comes at a hard-to-beat bargain price.
Yet, if you're not a city person, Naples may not appeal. It does have an edge. The city is loud and a bit dirty.
It's buzzing with scooters and unruly traffic. Parts of it could use a paint job.
Still, the city boasts a long list of marvels that makes it well worth visiting. You won't see everything with only one day in Naples — not nearly — but you can get a taste for the brash chaotic city.
A few bites of pizza and you may start to fall fall in love. As the Italian proverb goes, you can "See Naples and die."
Overview Of One Day In Naples Itinerary
Here's a quick snapshot of what you can see with this one day in Naples itinerary:
Centro Storico
Gesu Nuovo
Cloister of Santa Chiara
San Domenico Maggiore
Chapel of Sansevero
San Gregorio Armeno
San Lorenzo Maggiore
Pio Monte Misericordia
Duomo
Via Tribulani
Naples Archaeological Museum or Capodimonte Museum
Chiaia or Piazza Plebiscito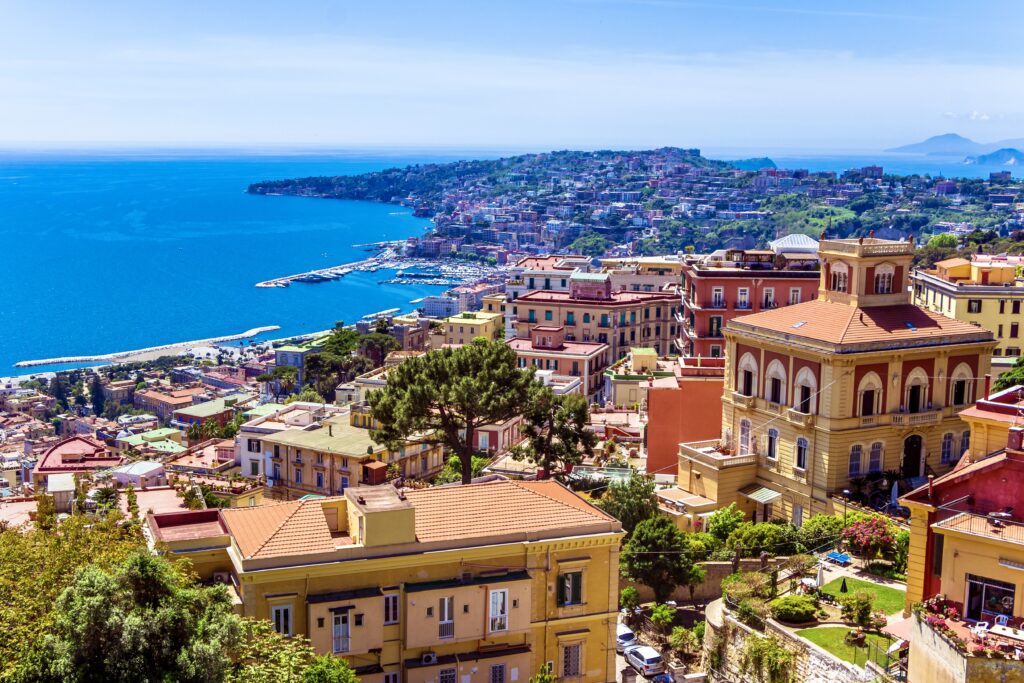 Before You Go: Here's How To Plan Your Visit To Naples
If you're in a hurry, below are some of the top tours, hotels, and experiences for Naples. Don't forget to plan ahead when visiting, especially in high season.
Best Tours & Experiences:
Best Hotels: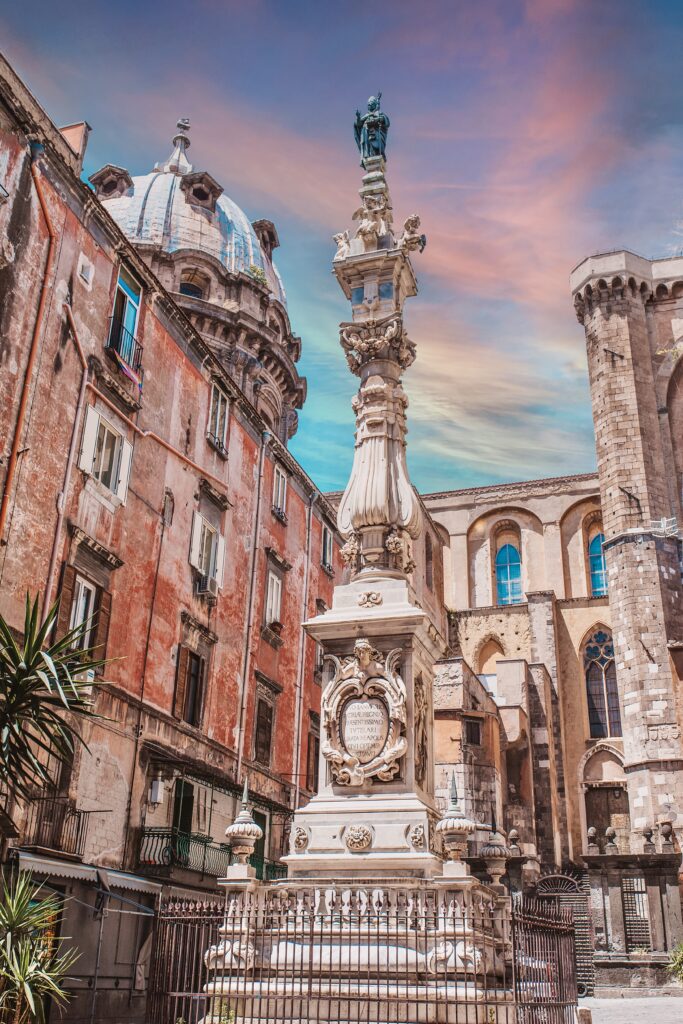 Best One Day In Naples Itinerary
So, let's dive in and see how to spend 1 day in Naples. It's a jam packed itinerary that will keep you hopping. Of course, you can add or subtract attractions based on your personal interests and pace of travel.
1. Centro Storico
The city's ancient heart is its main draw. The area is centered on two streets, Spaccanapoli and Via Tribunali. Scappanapoli literally means "split Naples" and divides the city in half. If you're looking at a map, be forewarned that it changes names along the way.
Most of the attractions you'll want to see with one day in Naples are all along or off these streets. Though the hustle and bustle of the streets in an attraction in and of itself.
Many of Naples stunning churches close for hours in the afternoon. So, it makes sense to knock some of these must sees off in the morning.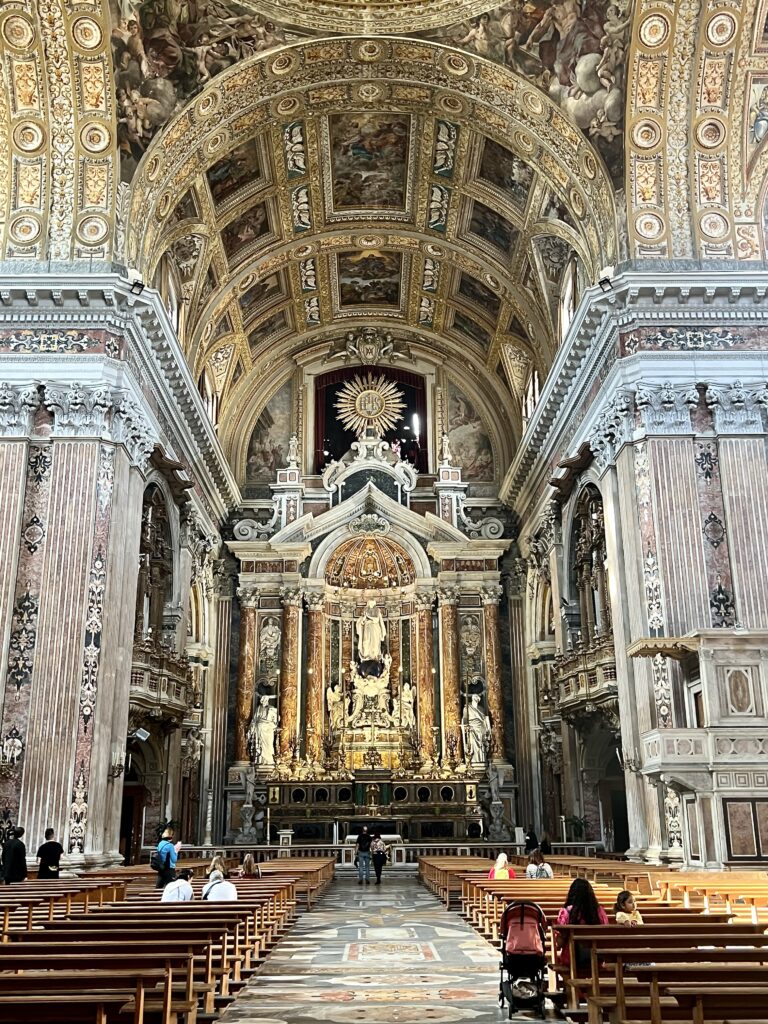 2. Gesu Nuovo
Start at the beautiful church of Gesu Nuovo, a true architectural gem. Its exterior has a sober facade made of rough stone, giving it a distinct appearance.
Inside, visitors are greeted by a breathtaking Baroque interior. The church is adorned with stunning marble columns, ornate stucco work, and intricate frescoes depicting Franciscan stories.
The church's main attraction is the chapel of San Giuseppe Moscati, a beloved figure in Naples. The chapel houses his relics and attracts numerous devotees.
You should also check out the Adoration of the Shepherds panting by the celebrated Italian painter Luca Giordano.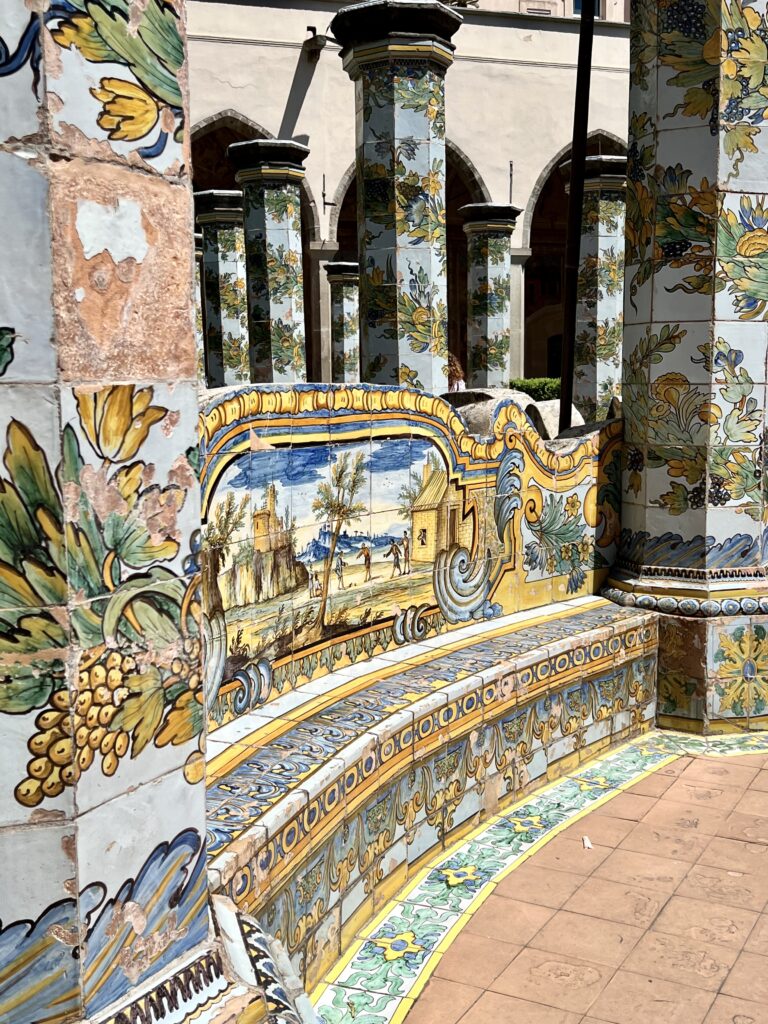 3. Cloister of Santa Chiara
This cloister is, hands down, one of the loveliest places in Naples. It's a peaceful sanctuary, providing a tranquil retreat from Naples' busy urban setting.
The cloister features charming covered arcades, lush gardens, and exquisite frescos. There's also a small but fascinating museum with treasures and tales about the history of the convent.
At the heart of the space lies the Majolica Cloister, a captivating sight to behold. Its vibrant blue and yellow majolica tiled panels depict intricate floral and country motifs, creating a splendid extravaganza of beauty.
Here's my complete guide to visiting the Cloister of Santa Chiara.
4. San Domenico Maggiore
The Church of San Domenico Maggiore sits in its own piazza, about a half mile from the cloister. It was commissioned by Charles I of Anjou.
The church received the usual Baroque makeover in the 17th century. But, in the 19th century, its original Gothic grandeur was restored.
Inside, you can admire beautiful frescoes, impressive sculptures, and a stunning marble altar. The church also houses a relic of the philosopher and theologian Thomas Aquinas — bits of his left arm.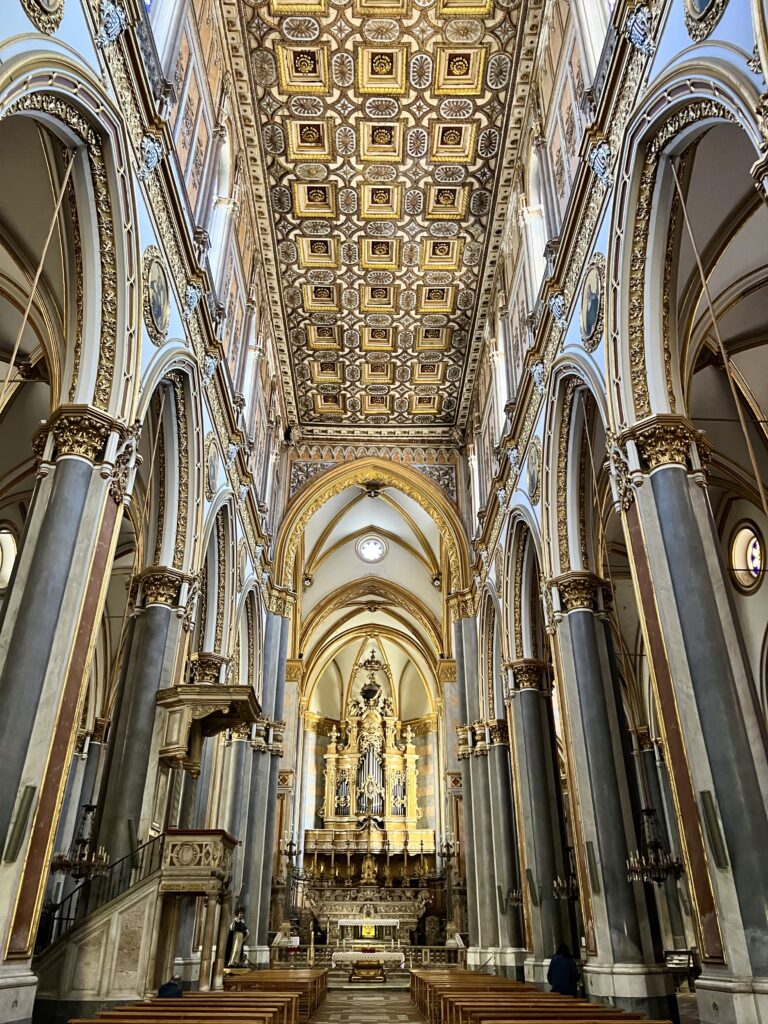 5. Chapel of Sansevero
Sansevero Chapel is another one of Naples' hot spots and most visited attractions. It's just exquisite, a must see on any one day in Naples itinerary.
It was the burial chapel of the noble di Sangro family. It's an over-the-top decorative space just crammed with sculptural monuments.
In the center of the nave is the incredibly life-like Veiled Christ by Giuseppe Sammartino, sculpted in 1753. It's a gorgeous alabaster sculpture, with soft folds covering a prostrate Christ.
Two other exquisite sculptures are the Pudicizia (Modesty) by Antonio Corradini, in which a veiled woman leans on a sarcophagus. And the Disinganno (Disillusion) by Francesco Queirolo, which portrays a man breaking free from a net.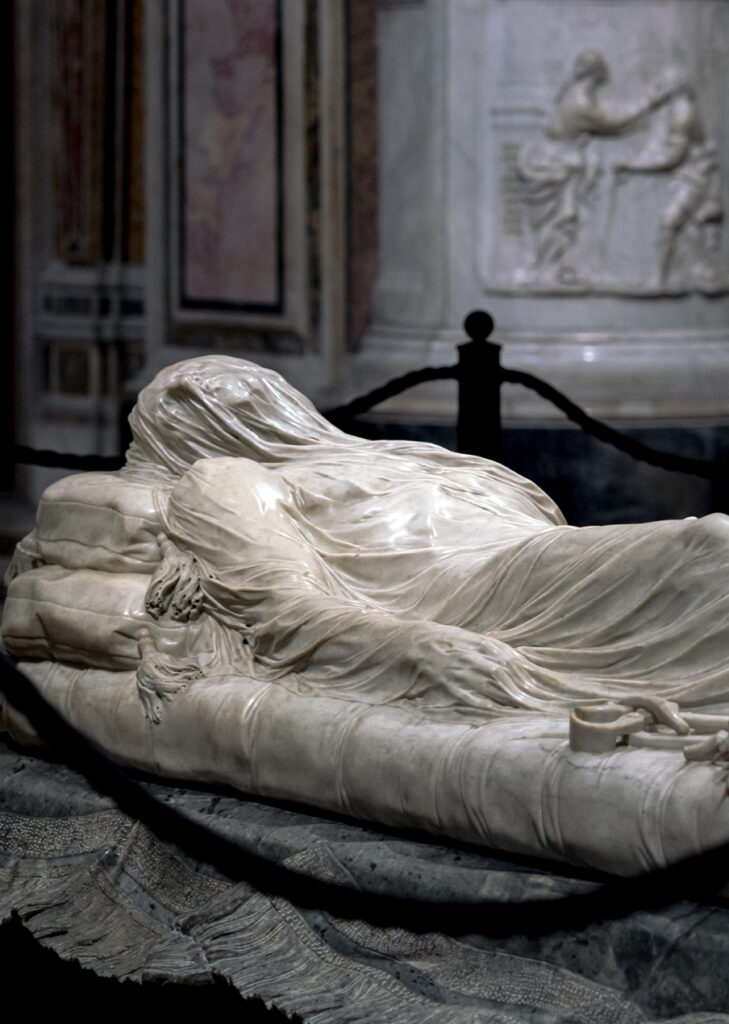 The ceiling frescoes were painted by various artists, including Francesco Maria Russo, Francesco Celebrano, and Antonio Corradini. They depict allegorical and mythological scenes, adding to the overall aesthetic richness of the chapel.
The chapel is almost always sold out (probably by cruise ships). It's a short visit. You won't need more than 30 minutes.
Be sure to book a timed entry ticket online well in advance! Alternatively, if tickets are sold out, you can book a walking tour that includes a visit to the chapel.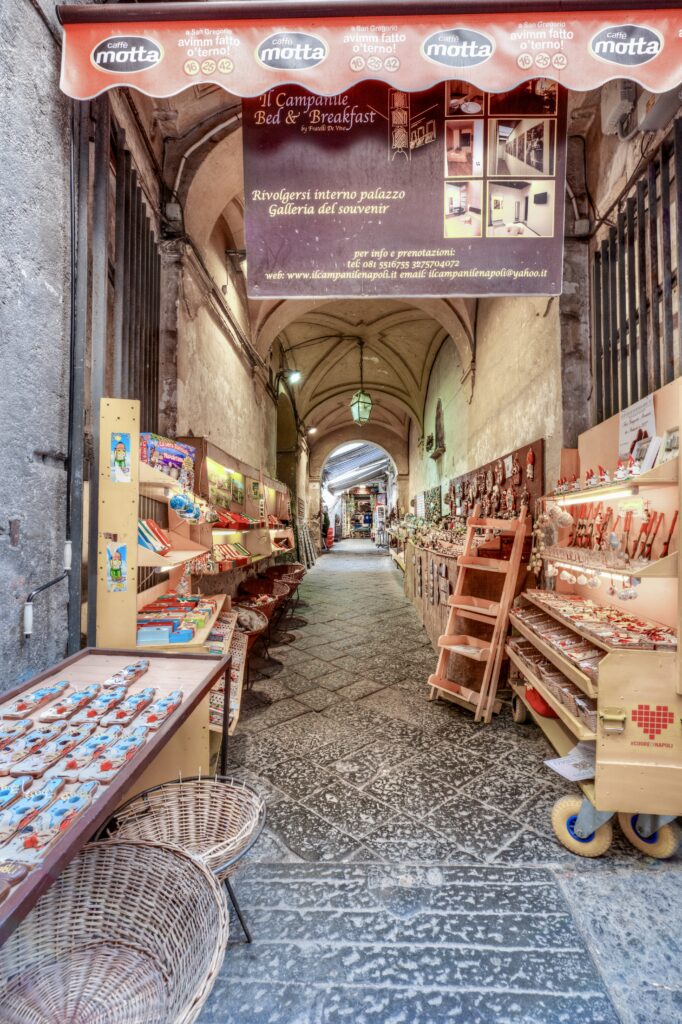 6. San Gregorio Armeno
Next, take a quick stroll along San Gregorio Armeno. This is Naples' Christmas street. It's entirely devoted to the Neapolitan obsession with presepi or Christmas cribs.
These "cribs" are fantastical nativity scenes. They are as crowded as Naples city streets, bursting with an entire cast of characters from Naples folklore.
You can pick out a souvenir for yourself. Or, check out the best example, from the 18th century, in the Cloister of Santa Chiara.
On this street, you'll also find the Cloister of San Gregorio Armeno. It's a mix of Gothic and Renaissance styles, with elegant arches, columns, and delicate details. There's also a lovely central garden.
7. San Lorenzo Maggiore
This grand church is another Angevin commission. The facade only dates from the 18th century. But most of the interior has been restored to its Gothic original.
There's a magnificent semi-circular ribbed vault above the altar. Sections of glass reveal the remains of a Roman mosaic.
To see more of the ancient ruins the church is built on, you can buy a ticket to the archaeological site. A flight of steps takes you down to the old Roman road. Excavations to date include a treasure house, Roman market, and dyer's house.
The church also has a peaceful cloister. It boasts beautiful Gothic arches, delicate columns, and well-preserved medieval architecture. There's also a lush garden with greenery.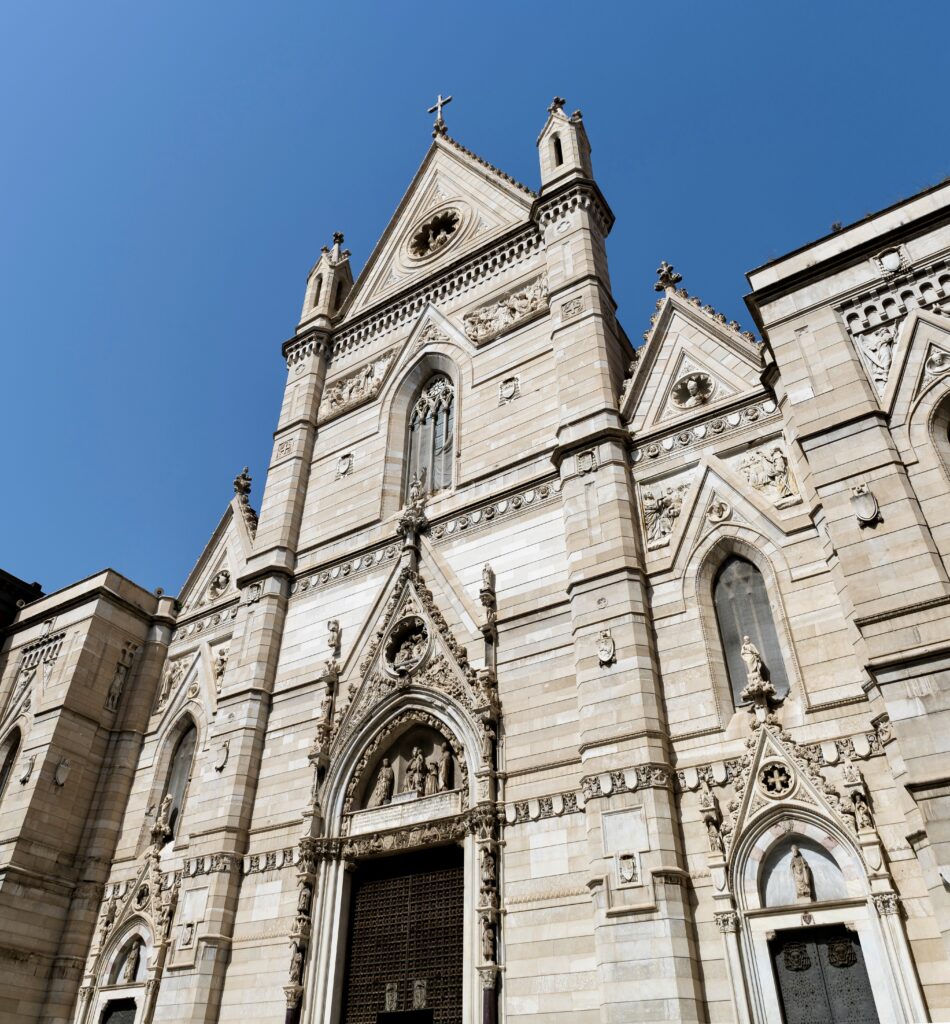 8. Duomo di Napoli
The Duomo di Napoli is also known as San Gennaro Cathedral. It's dedicated to Naples' patron saint, Gennaro.
Outside it has a towering Neo-Gothic facade. Inside, it's a temple to Baroque excess. Its main attractions are the Chapel of San Gennaro, the Crypt of San Gennaro, and the very bling-y Treasury Museum.
Other highlights include Jusepe de Ribera's magnificent painting St. Gennaro Escaping the Furnace Unscathed and Giovanni Lanfranco's breathtaking dome fresco.
The chapel famously houses two vials of Gennaro's congealed blood. Three times a year, they are taken out and allegedly liquify, a Neapolitan-style miracle.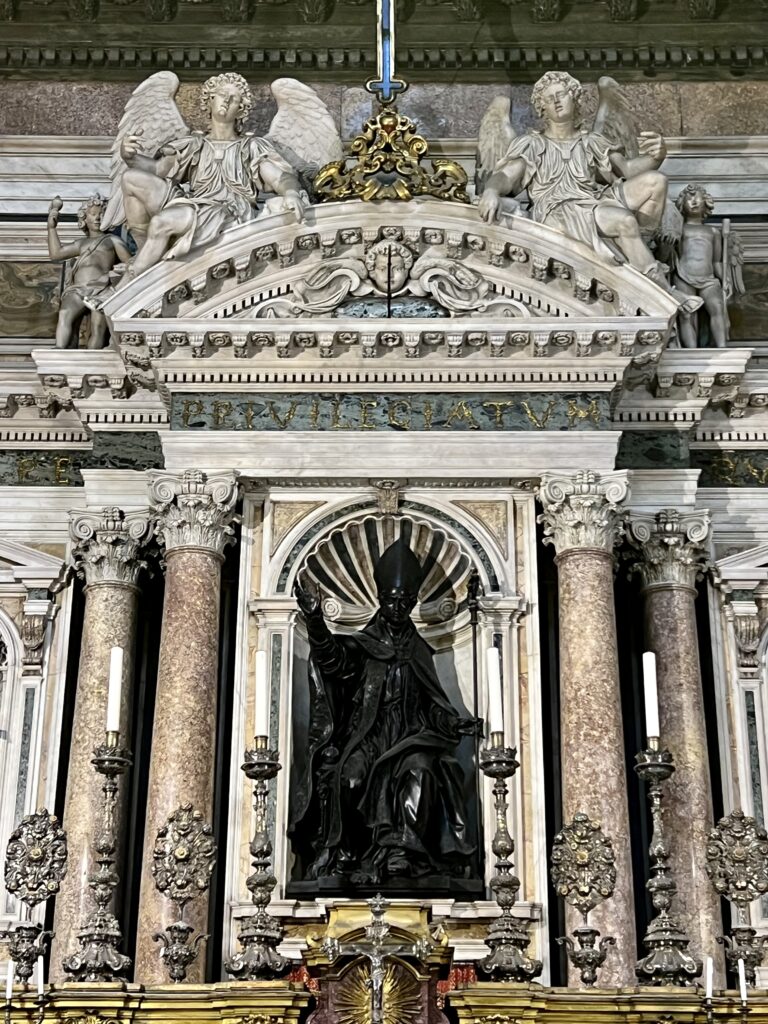 Right next door is the Pio Monte della Misericordia. It's a small church and picture gallery.
It's famous for housing Caravaggio's massive painting Seven Acts of Mercy above the high altar. The piece has the artist's typical virtuoso use of chiaroscuro (light and dark shadow).
Here's my complete guide to Naples Cathedral. Click here to pre-book a ticket. You can also book a combination ticket for both the Treasury Museum and the Catacombs of San Gennaro.
If you're serious about religious history and architecture, it's well worth booking a guided tour that covers both the Chapel of San Gennaro and the Treasury Museum.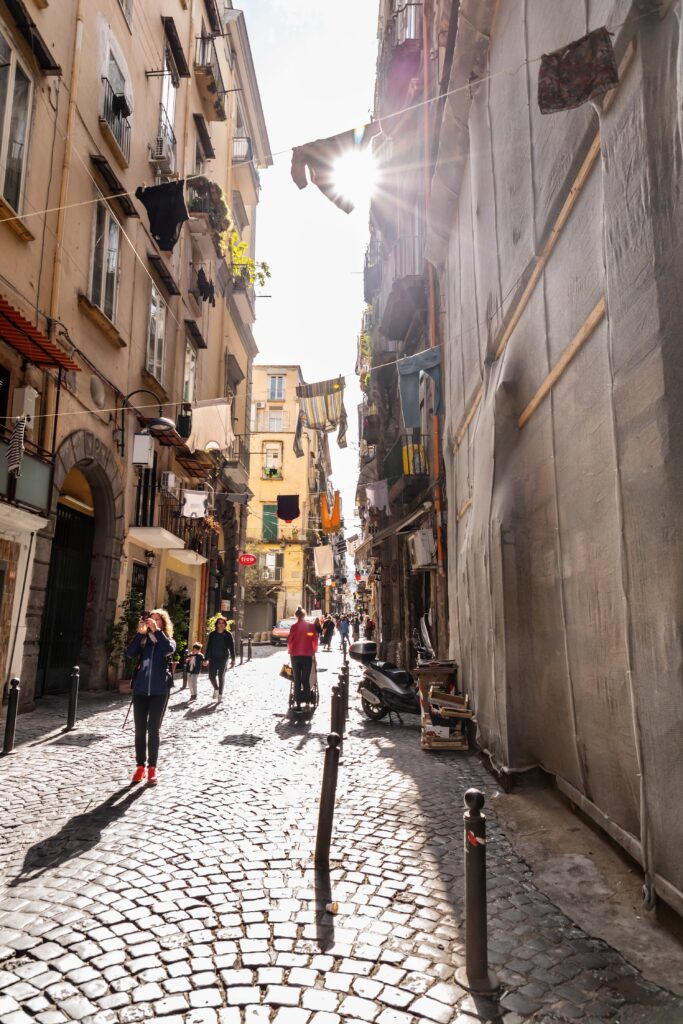 9. Via Tribunali
Ah, it's finally time for lunch. Naples is a casual place, dominated by street food. Via Tribunali is where you should head for a bite to eat.
The street is bursting at the seams with activity. It's filled with locals going about their daily routines, street vendors selling traditional snacks, and small shops offering a wide range of goods.
Via Tribunali is also known as Naples "pizza street." This is the time to sample some of the famed Neapolitan "true pizza." You'll get a thin, soft, and chewy crust topped with San Marzano tomatoes and buffalo mozzarella.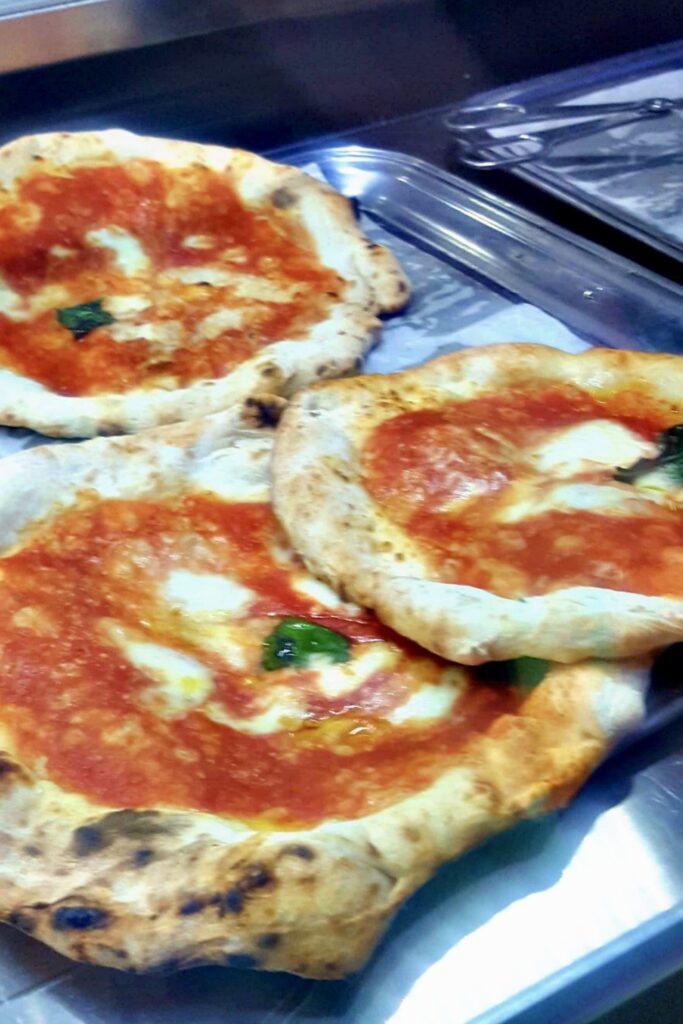 Popular places include Gino Sorbillo and Di Matteo. The pizza is fantastic.
Just plan for a mosh pit at the entrances. Be sure to give them your name.
If you don't want to spend time sitting down with only one day in Naples, you can get food to go. Street food is super common in Naples.
You can grab pizza, fried pizza, roasted food, or a lemon delight. The locals frequently order pizza to go and fold it like a handkerchief.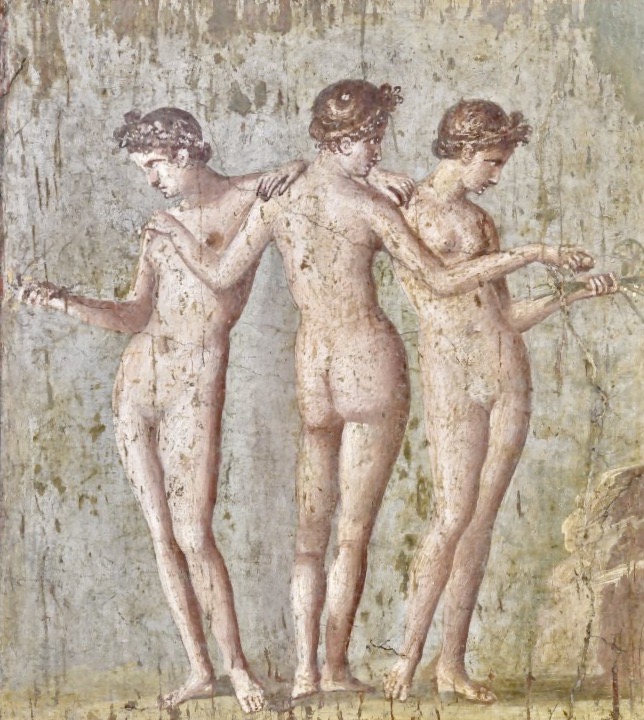 10. Naples Archaeological Museum or Capdodimonte Museum
After lunch, plan to spend a couple hours at one of Naples' world class museums, either the National Archaeological Museum or the Capodimonte Museum.
Both museums are massive. You simply won't be able to see both in one day in Naples. The archaeological museum is best for history buffs or those who plan a day trip to Pompeii. The Capodimonte is a haven for art lovers.
Archaeological Museum
The National Archaeological Museum is truly one of the world's most renowned archaeological museums. It boasts an unparalleled collection of Greco-Roman antiquities and artifacts. You'll feel like you've been power beamed back to Ancient Rome.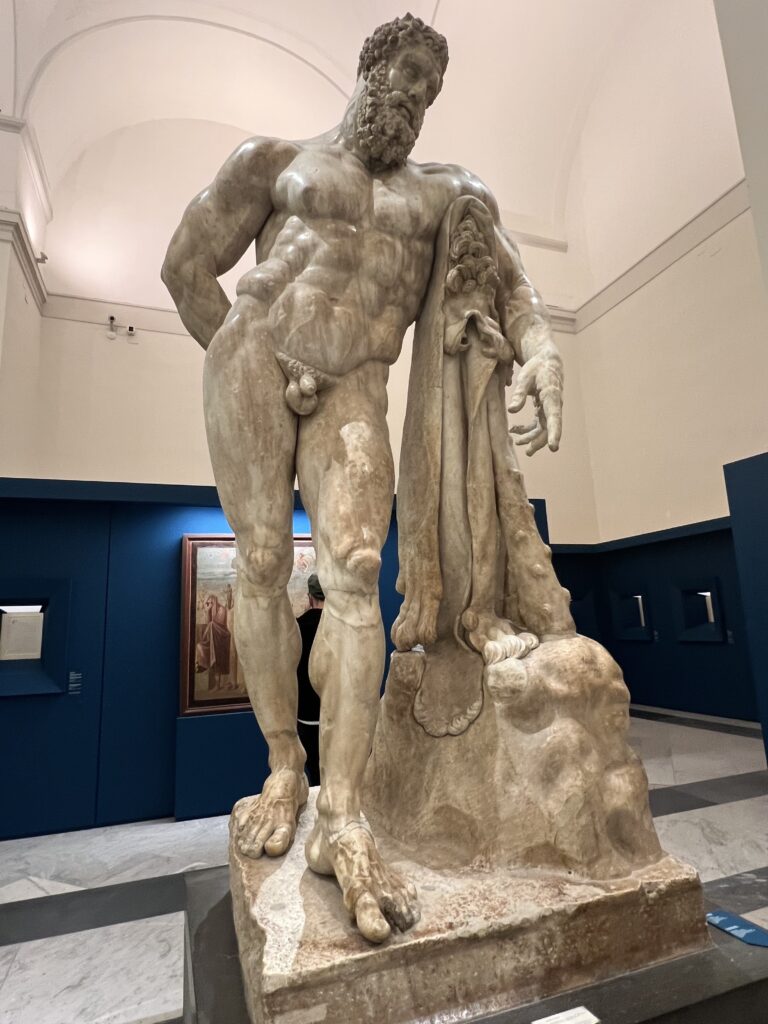 Highlights of the collection include ancient sculptures from the Farnese Collection and frescos and mosaics from Pompeii and Herculaneum. You can even peak at Roman erotic art in the Secret Cabinet.
Here's my complete guide to the Naples Archaeological Museum. In high season (May to September), I advise booking a skip the line ticket.
I took this private tour of the museum with an archaeologist and loved it! My guide was incredibly knowledgable about everything in the museum. You can also book a small group tour.
Museo di Capodimonte
The Capodimonte is one of the most important art museums in Italy and certainly the most significant in Naples. It's home to a staggering collection of Renaissance and Baroque art. I'd say it's almost on a par with the Uffizi Gallery in Florence.
You'll find works by such luminaries as Caravaggio, Raphael, Titian, Bellini, and Masaccio. The Capodimonte is in the north of the city. You can taxi there or take the museum's shuttle bus from Piazza Trieste e Trento.
Here's my complete guide to the Capodimonte. Click here to book a skip the line ticket. Click here to book a guided tour of the museum.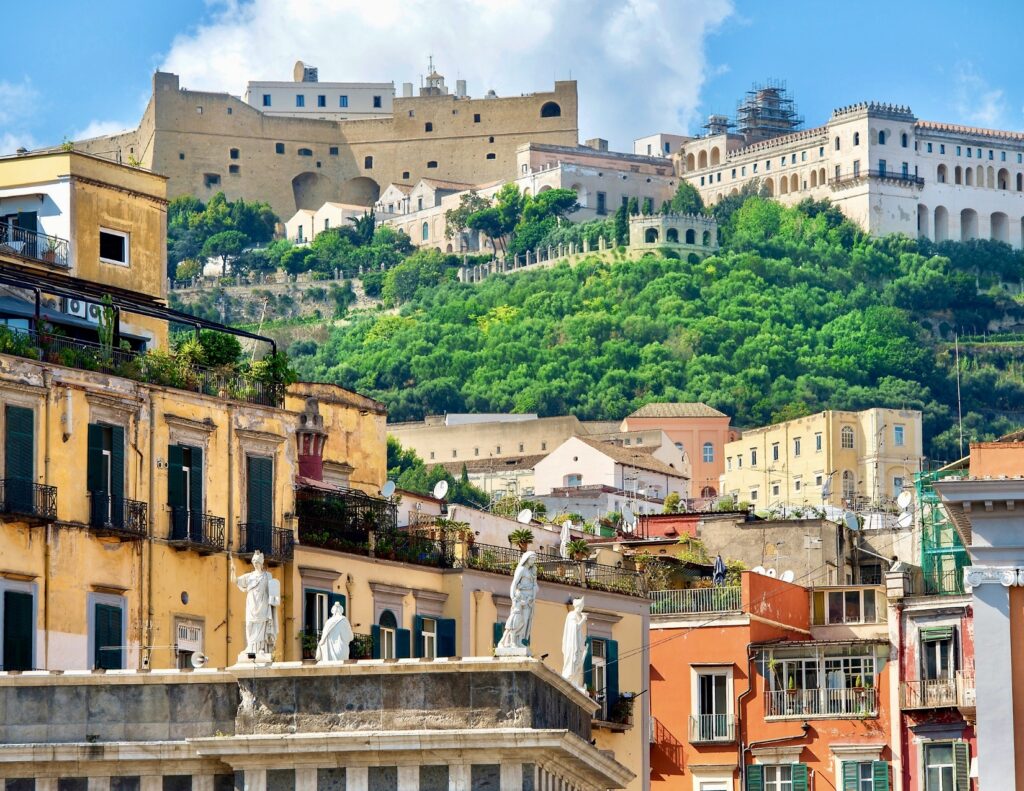 11. Castle Sant'Elmo
If time permits, take the funicular or taxi up to Castle Sant'Elmo. This is the best place to go for views, especially sunset views, in Naples.
The castle is a historic fortress that sits atop the Vomero hill. From the castle's vantage point, you can admire Naples' sprawling cityscape, its charming rooftops, and the iconic Mount Vesuvius in the distance.
The castle is open until 6:30 pm. You can explore the castle's grounds, visit the museum inside, and learn about its rich history and the role it has played in Naples over the centuries.
You will probably want to book a skip the line for the castle in high season.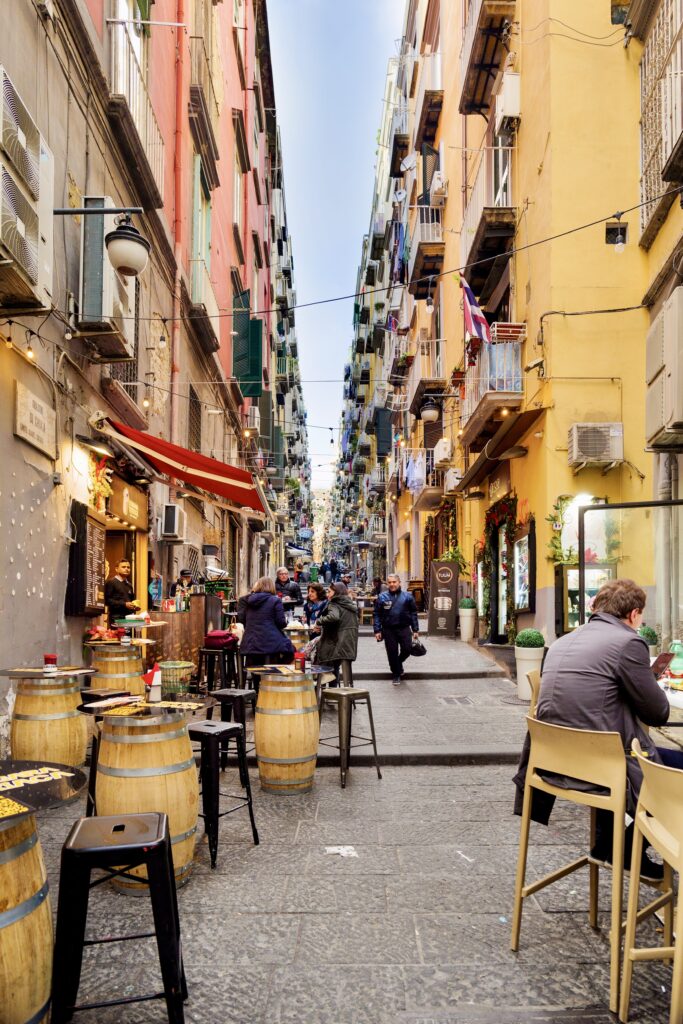 12. Chiaia or Piazza Plebiscito
In the late afternoon or early evening, there are 2 options. You won't have time to do both with just one day in Naples.
Head to either the Chiaia neighborhood or Naples' main square, the Piazza Plebiscito. Having visited them, I would personally opt for Chiaia.
Chiaia
Chiaia is a beautiful neighborhood in the west. It has adorable side streets and is largely pedestrianized.
It's a chichi well-heeled place that's less densely packed than the centro storico. It's similar to other western European cities.
Via Chiaia, Via dei Filangeri and Via dei Mille are crammed with designer boutiques, art galleries, and stately palazzi. You can browse for clothes, shoes, leather good, and jewelry.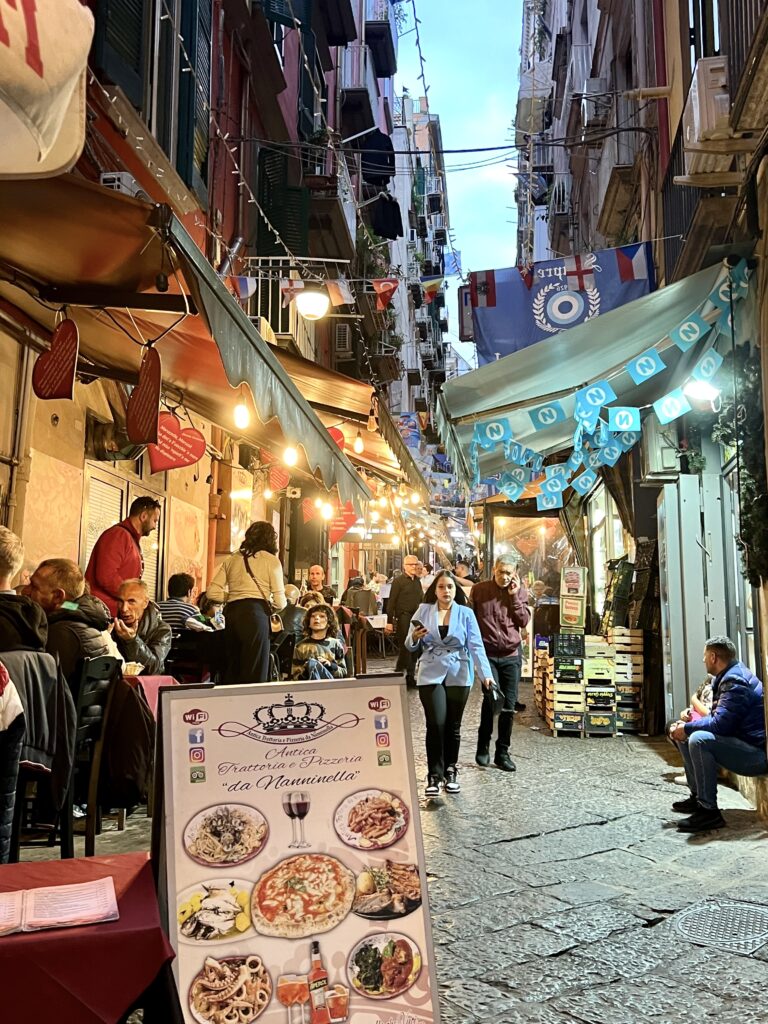 On Via dei Mille, check out the 17th century Santa Teresa a Chiaia.This beautiful church is named after Saint Teresa of Avila, a prominent Spanish mystic and writer of the Counter-Reformation period.
It's a Baroque church with an ornate facade and intricate details. The interior is adorned with exquisite marble decorations, elaborate frescoes, and delicate stucco work.
Chiaia is also a hub of Napoli night life. It's fantastic place to have an aperativo and dinner. The cafes are crammed with locals. Enoteca Belledonne is a hugely popular wine bar, which I highly recommend.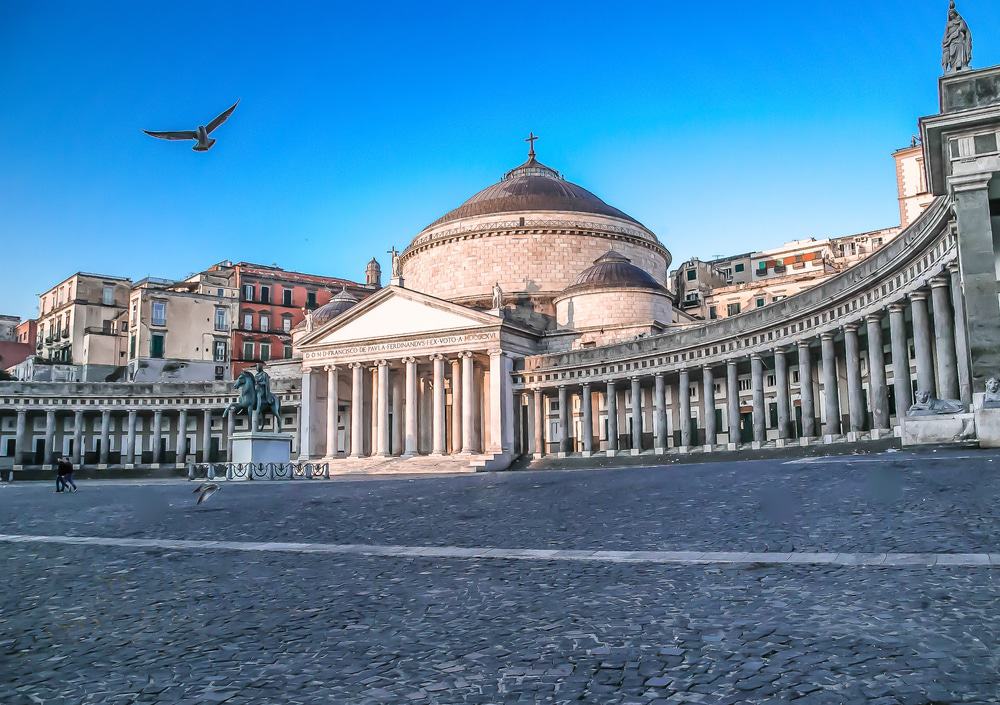 Piazza Plebiscito
Alternatively, head to Piazza Plebiscito. It's a grand and expansive square located off center in the western part of Naples. It's one of the largest public squares in Europe and serves as a significant landmark in the city.
The semi-circular piazza is embraced by the twin colonnades of the Church of San Francesco di Paolo. Opposite the church is the Royal Palace.
The piazza was cleaned up in the 1990s and cleared of traffic. Unfortunately, I still found it rather disappointing for the "main square" of a city. And there were still parked cars.
Frankly, all the buildings need a major power wash. The church is often closed and was when I visited.
And it's not a very pretty church at that, at least on the outside. It's a knock off of Rome's sublime Pantheon, with weird proportions. However, I was told the church is beautiful inside.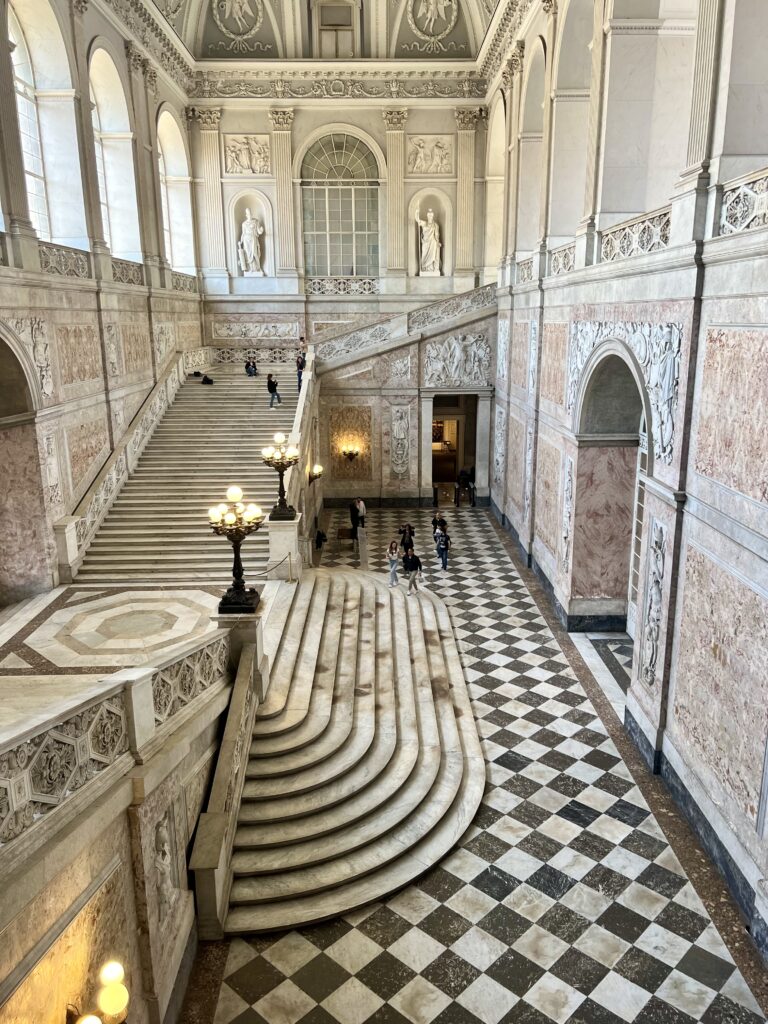 I visited the Royal Palace to see a Caravaggio exhibition and tour the royal apartments. But I can't say I was bowled over by the palace, especially compared to other palaces in Europe. It didn't look particularly well maintained either.
Still, on the whole, I think the palace was worth a visit. Among other things, you can admire the Grand Staircase, the Royal Court Theater, and the National Library (tours in Italian only at designated times).
You probably won't need to book tickets in advance. Just walk in and spend 45 minutes to an hour. But if you are there in high season, you may want to pre-book a skip the line ticket.
If you opt to visit this area, you can dine at the famous Gambrinus cafe. It's the most exquisite cafe in Naples, glimmering and opulent in a Rococo style. If not for dinner, you can get dessert there afterward.
Alternatively, you can dine in the San Ferndinando neighborhood near Piazza Plebiscito. Some good options are Trattoria da Nennella and Osteria Il Gobbetto.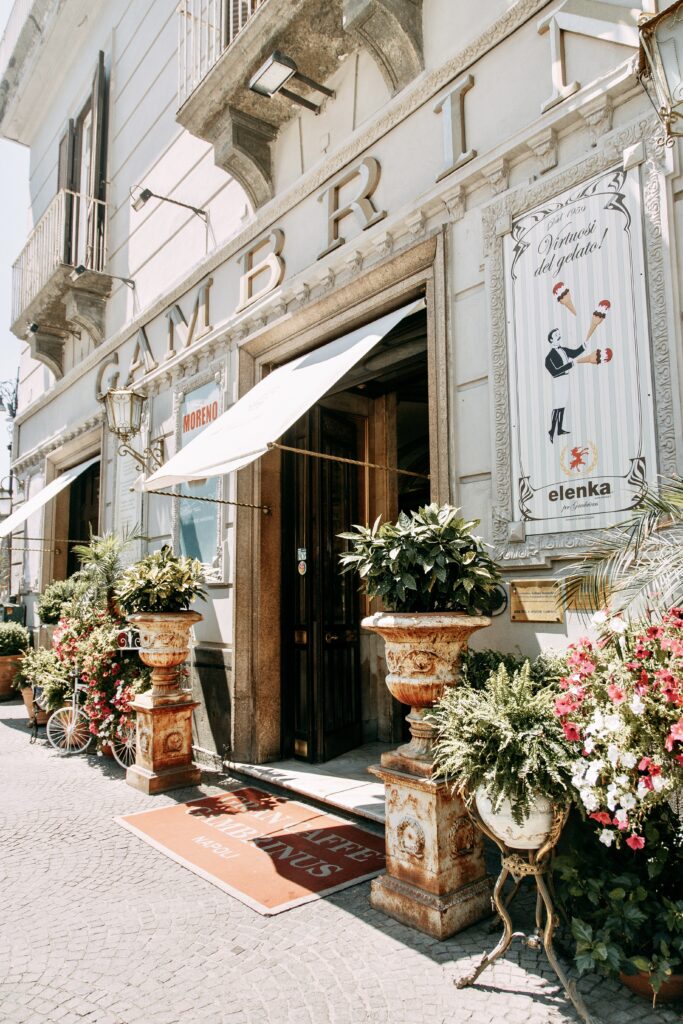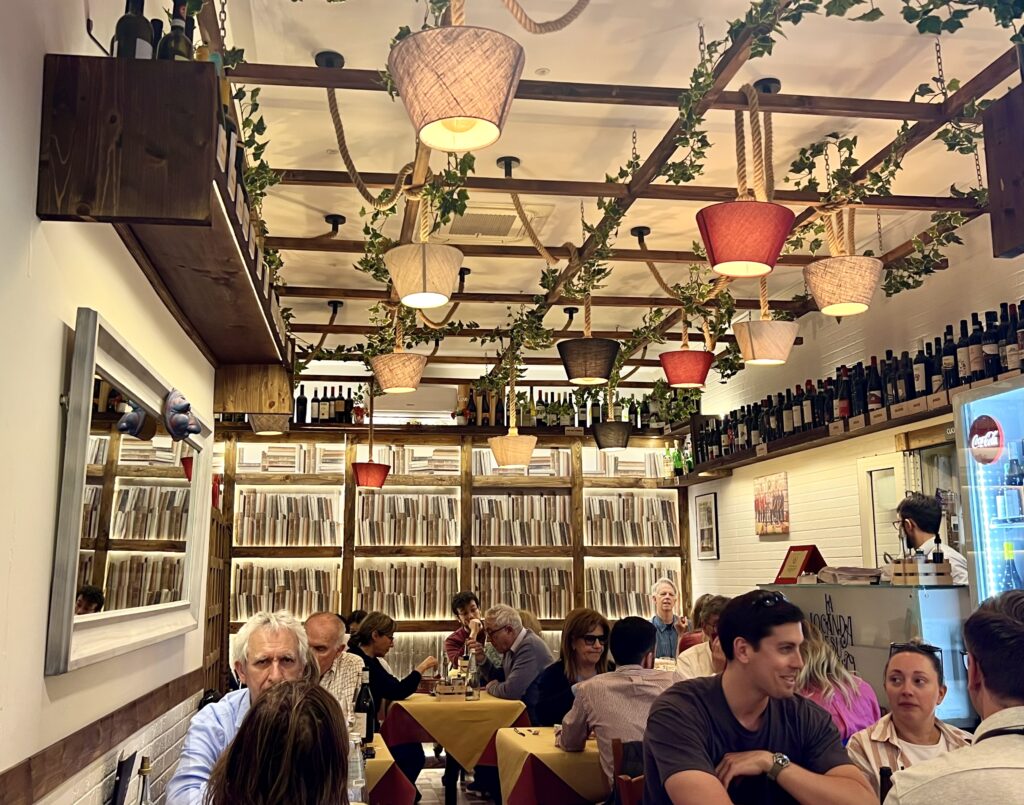 12. Evening
Polish off your day with a proper Neapolitan meal. If you didn't get pizza for lunch, head to the most famous pizzeria in Naples — L'antica Pizzeria da Michele.
There were a few traditional trattorias I enjoyed in Naples: La Locanda Gesu Vecchia, Trattoria San Ferdinando, and Antica Trattoria a Chiaia. For a splurge, you can check out the ever popular Palazzo Petrucci.
You could also go on a pizza and wine evening tour starting from Piazza Dante at 5:45 pm.
Yet another evening option is to take in a show at the lovely Teatro di San Carlo. It's one of the most beautiful opera houses in Europe. Check the schedule to catch an opera, ballet, or concert.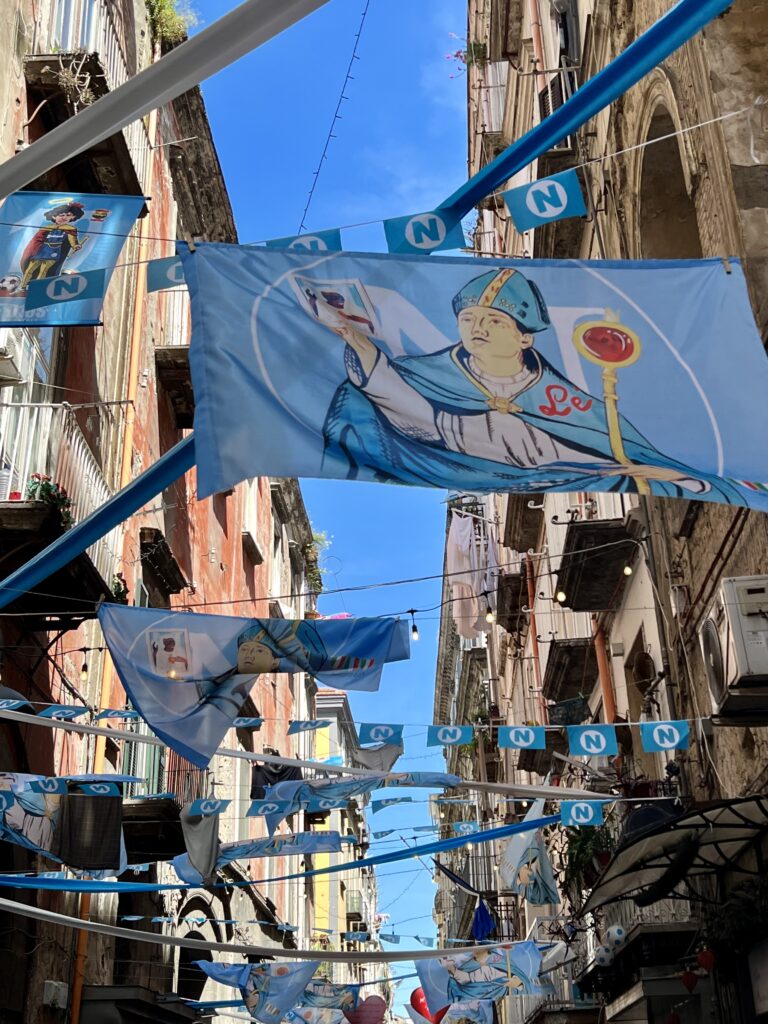 Practical Tips For A One Day in Naples Itinerary
Here are some must know tips for spending 1 day in Naples.
1. How To Get To Naples
Naples has its own international airport, NAP. It's also known as Capodichino Airport.
From the airport, you can take a taxi or book a private transfer to your hotel. You can also book a private transfer from Rome.
I advise booking a private transfer. Though taxis in Naples are better regulated these days, there are still renegade drivers. If you do opt for a taxi, makes sure it's an officially licensed one. Negotiate the fare or ask them to switch on the meter before leaving.
Naples also has a major train station that's well connected to other cities, Napoli Centrale. You can also book a private transfer from the train station.
I wouldn't advice driving to Naples. The traffic is heavy and chaotic. Traffic laws and lights are rarely obeyed.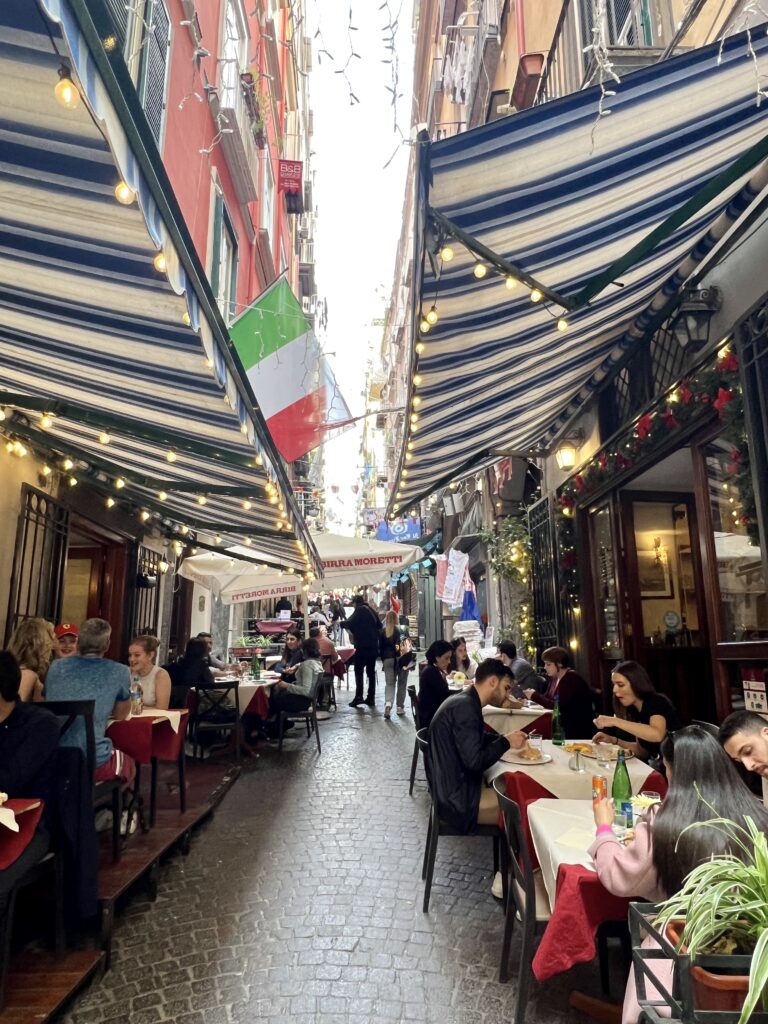 2. How To Get Around Naples
I walked everywhere in Naples, except for catching a taxi to the Capodimonte Museum.
Most of the sites in this one day Naples itinerary are clustered in the centro storico. It's most flat and very walkable. Some areas are pedestrianized.
Naples also has a metro system with two lines. The Via Toledo station is gorgeous and covered in mosaics.
You can also use Naples two funiculars. The Montesanto Funicular connects the Spanish Quarter to Volmero. The Funicolare di Chiai connected Chiaia with Vomero. Both take you near Castle Sant'Elmo, where you have some of the best panoramic views in all of Naples.
I don't really advise taking the buses or using taxis that much. You might just be mired in the horrific traffic. You could also get around Naples on a guided bike tour, an e-bike tour, or the hop on hop off bus.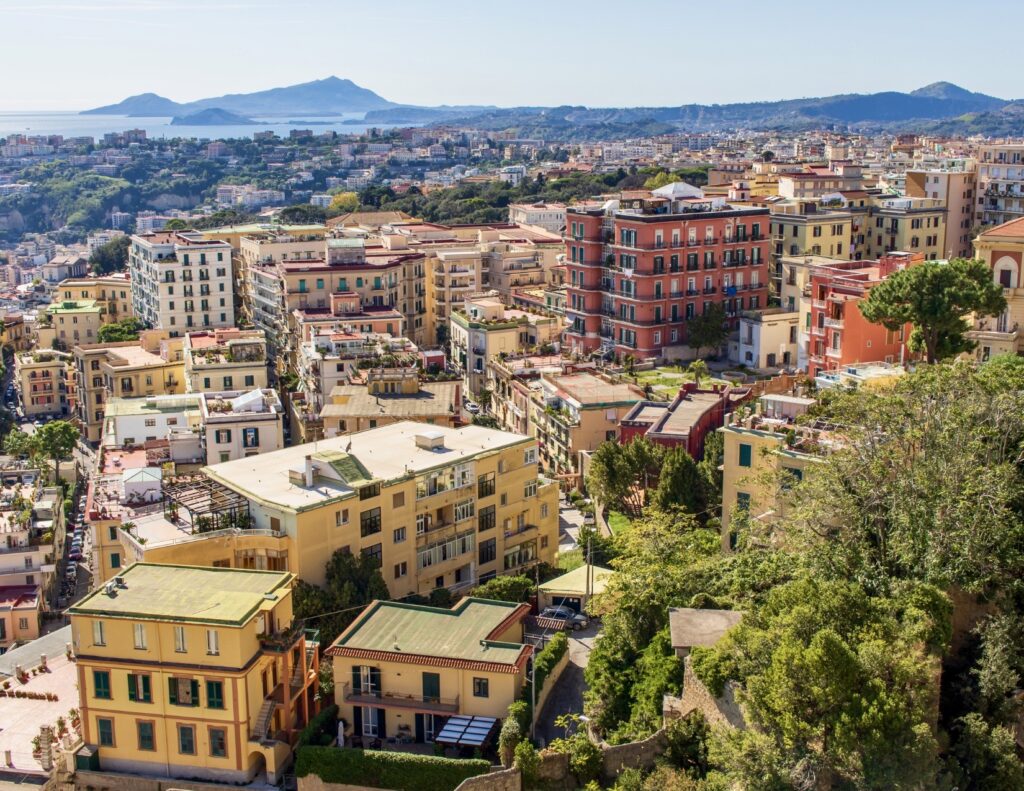 3. Where To Stay In Naples
Personally, I like to stay in the Chiaia neighborhood. The centro storico is also a good option. But it could be a bit noisier there.
Here are some hotels I recommend, from luxury to boutique.
The Eurostars Hotel Excelsior is in Chiaia. It's situated on the picturesque waterfront promenade of Via Partenope.
The hotel offers stunning views of the Bay of Naples and the majestic Mount Vesuvius. It has Art Nouveau architecture, Murano crystal chandeliers, and a sophisticated design.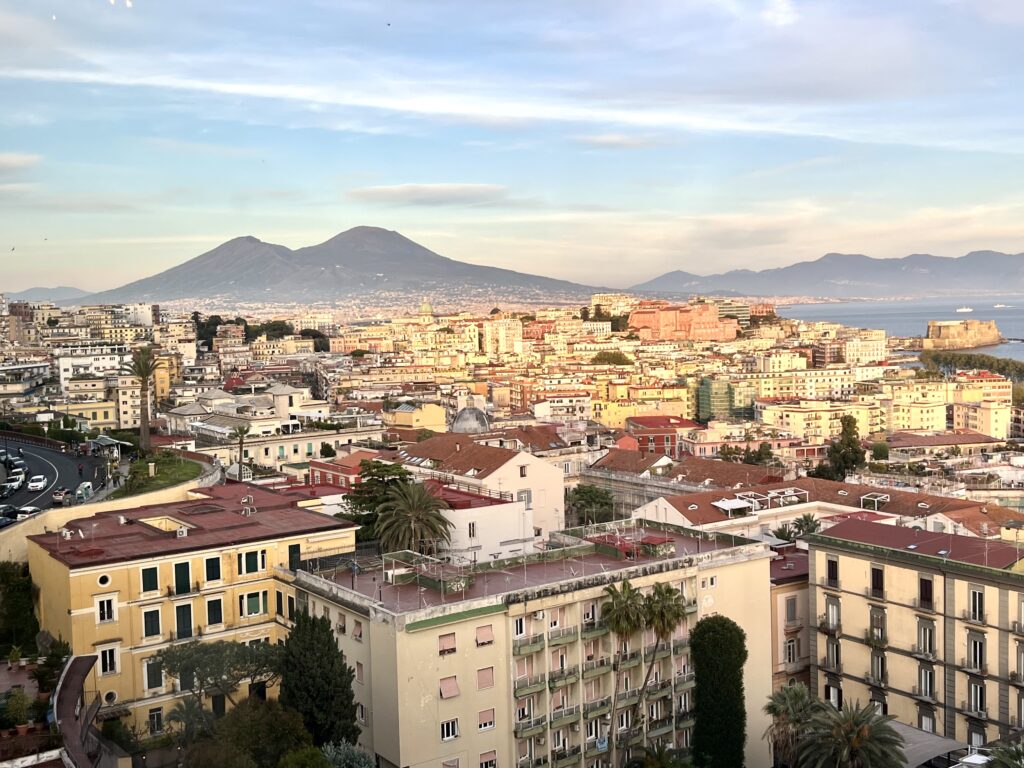 The Britannique Naples is a Hilton Curio Collection hotel in Chiaia. It offers a unique and upscale experience, combining modern luxury with a touch of history. My room there was huge!
The Grand Hotel Vesuvio is a luxury hotel in Chiaia on the waterfront. It's an architectural masterpiece, combining classic and contemporary elements. Its opulent interiors exude timeless elegance, with grand chandeliers, marble accents, and luxurious furnishings.
The ROMEO Napoli is a boutique hotel in a recently renovated townhouse in the historic center. It has designer amenities, a rooftop pool, and a Michelin restaurants.
Artemisia Domus is another boutique hotel tucked away in the centro storico. The rooms come with a jacuzzi and balcony.
SuperOtium is an art concept hotel near the Archaeological Museum in the historic quarter. It's in a tranquil 18th century townhouse.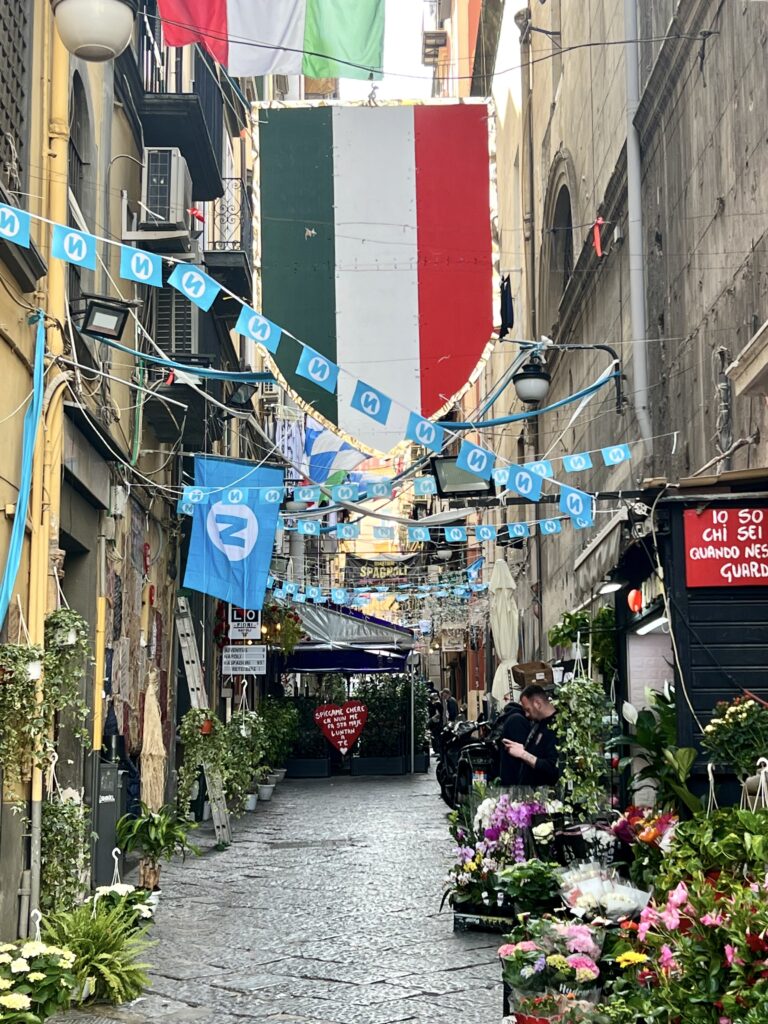 4. When To Visit Naples
The best time to visit Naples depends on your preferences and activities. For pleasant weather and outdoor exploration, consider visiting in spring (April to June) or fall (September to October).
These seasons offer mild temperatures and less rainfall. I was just there in late April and it was brilliantly sunny and warm.
If you want to avoid crowds, it's best to avoid the summer months (July and August) when tourists flock to the city. Spring and autumn are ideal for a quieter experience.
Naples hosts various festivals and events throughout the year, such as the Napoli Pizza Village in June and the Septemberfest in September. It will be busier at those times.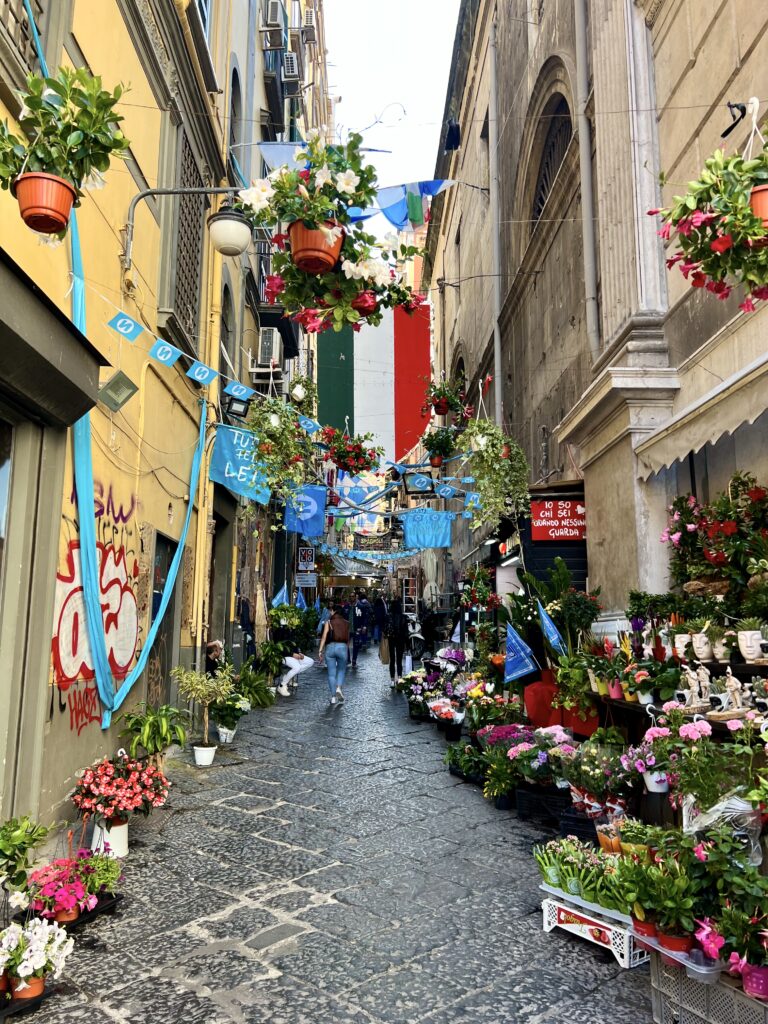 5. Is One Day in Naples Enough?
No, one day in Naples is not enough to see the city. It's large, spread out, and there are just so many attractions.
Many 1 day itineraries I've seen give you a long laundry list of sites that are literally impossible to visit in a day.
I've tried to keep it more real with this one day in Naples itinerary. So, you will have a better sense of what it's possible to see with limited time. And you can make informed choices about what to see.
In reality, 3-4 days in Naples would be ideal. Still, one day may be all you have if you are heading to Pompeii or on to the beautiful Amalfi Coast. So, plan your one day in Naples carefully to maximize your sightseeing.
If you have more than 1 day in Naples, you can take a day trip to Pompeii or visit the UNESCO-listed Caserta Palace.
6. Is Naples Worth Visiting?
100% yes. Naples is worth a one day visit just to gorge on the delicious pizza.
Sure, its shabby grandeur and tattered edges make it seem less desirable (on the surface) than a more manicured place like Florence. But it's an energetic place, devoted to life, that's distinctly Italian.
Scooters whiz by carrying pizzas. Markets and streets vibrate with riotous activity. You just have to surrender to the chaos.
In fact, this is exactly what gives Naples its distinctive character. There's nowhere quite like it in the world.
Throw in Baroque excess, sweeping views, and a long list of must sees, and you have an authentic Italian city visit.
Plus, as one of my guides said, Naples has the best food at the best prices. And the coffee is to die for!
7. Is Naples Safe?
To me, Naples felt as safe as any other major city. You need to be vigilant, but you don't need to worry about crime too much.
Of course, there's the usual threat of petty theft, especially on public transport or at tourist hotspots. Be sure to keep your valuables secure.
And there are areas of the city to avoid at night. But you wouldn't go to any of those places with this 1 day Naples itinerary.
So, that's a wrap for my one day in Naples itinerary. You may enjoy these other Italy travel guides and resources:
If you want to spend 1 day in Naples, pin it for later.