Here's my guide to spending 2 perfect days in Palermo, the magnetic capital of the Italian island of Sicily.
This Palermo itinerary covers all the top attractions and best things to do and see in Palermo in two days. You'll discover where to eat, play, and stay in historic Palermo.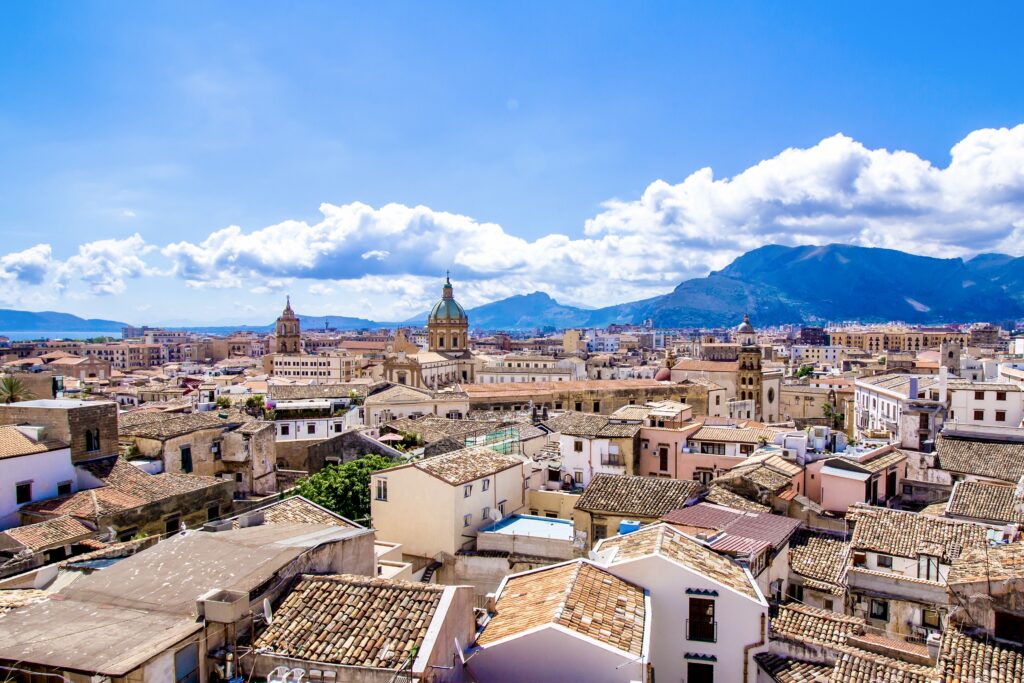 Palermo is a uniquely exotic Italian city. Its dizzying succession of conquering kingdoms left behind fascinating ancient remnants and a melting pot culture. In Palermo, there's a saying that "the dog and cat and mouse work together."
If you're on the UNESCO trail in Europe, there are 8 sites in Palermo to keep you busy. You'll be mesmerized by some of the world's best-preserved Arab-Norman architecture. Plus, the farm to table cuisine is wondrous and the open air street markets exotic.
I will admit, Palermo sometimes draws mixed reviews. If you're not a city person, Palermo may not appeal. When I visited many years ago, I found it too gritty for my taste. Parts of the city seemed like abandoned archaeological digs.
But, upon my recent return, I found the decaying city rejuvenated, partially pedestrianized, and full of a long list of architectural marvels. It takes some time to appreciate Palermo. So, if you're blitzing through the city in a half day or so (maybe off a cruise ship), you won't have a chance to appreciate it properly.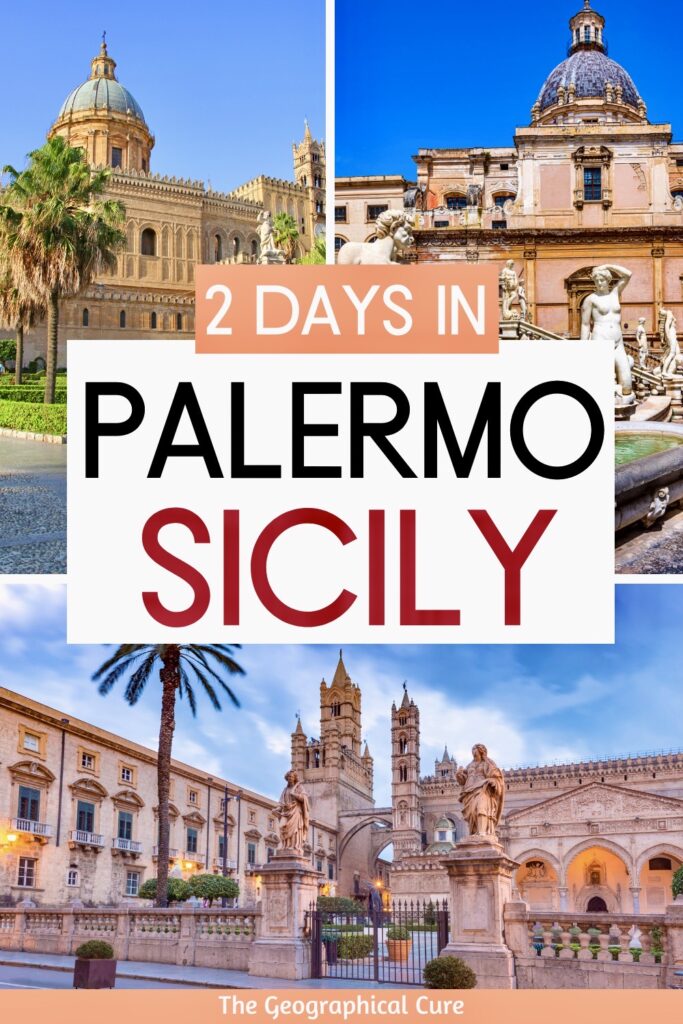 Overview of 2 Days in Palermo Itinerary
Two days in Palermo is a good amount of time to explore the small walkable city. You can easily cover the top attractions and landmarks in a weekend visit.
Here's a snapshot of my recommended 2 days in Palermo itinerary:
Day 1:
Capuchin Catacombs
Norman Palace & Palatine Chapel
Palermo Cathedral
Palazzo Conte Frederico
Ballaro Market for lunch
Quattro Canti
Fountain of Shame
Piazza Bellini Churches
Street food tour
Day 2:
Teatro Massimo
Via Bara all'Olivella
Puppet Theater
Church of San Domenico
Vucciria Market
Monreale Cathedral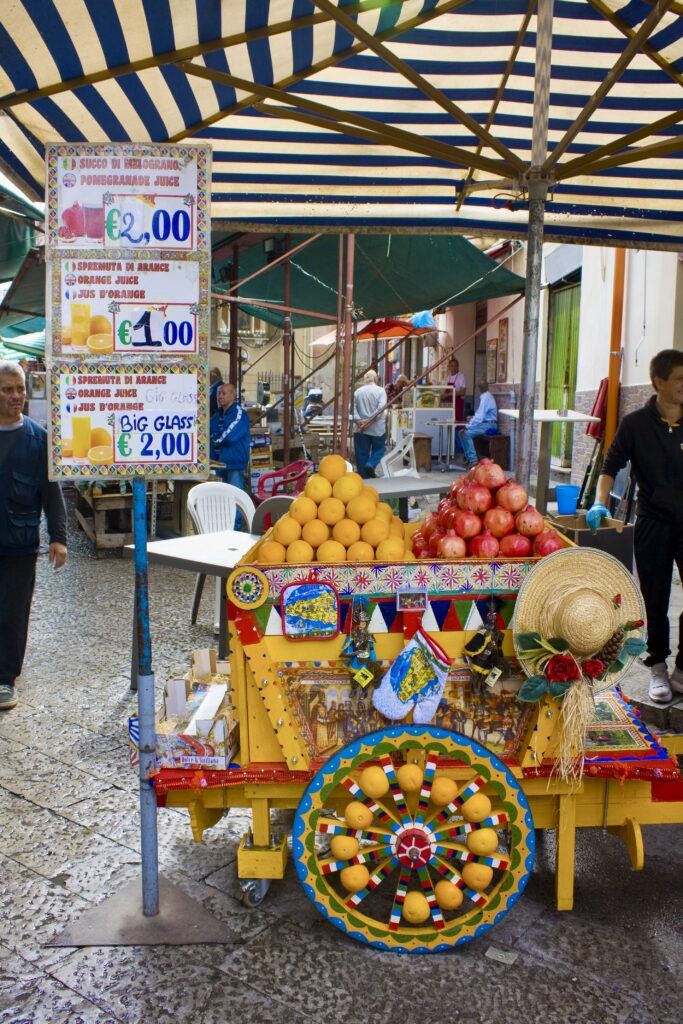 Best Tours & Experiences In Palermo
Here are some links for tours or things you may want to book in Palermo. Reserve in advance in high season!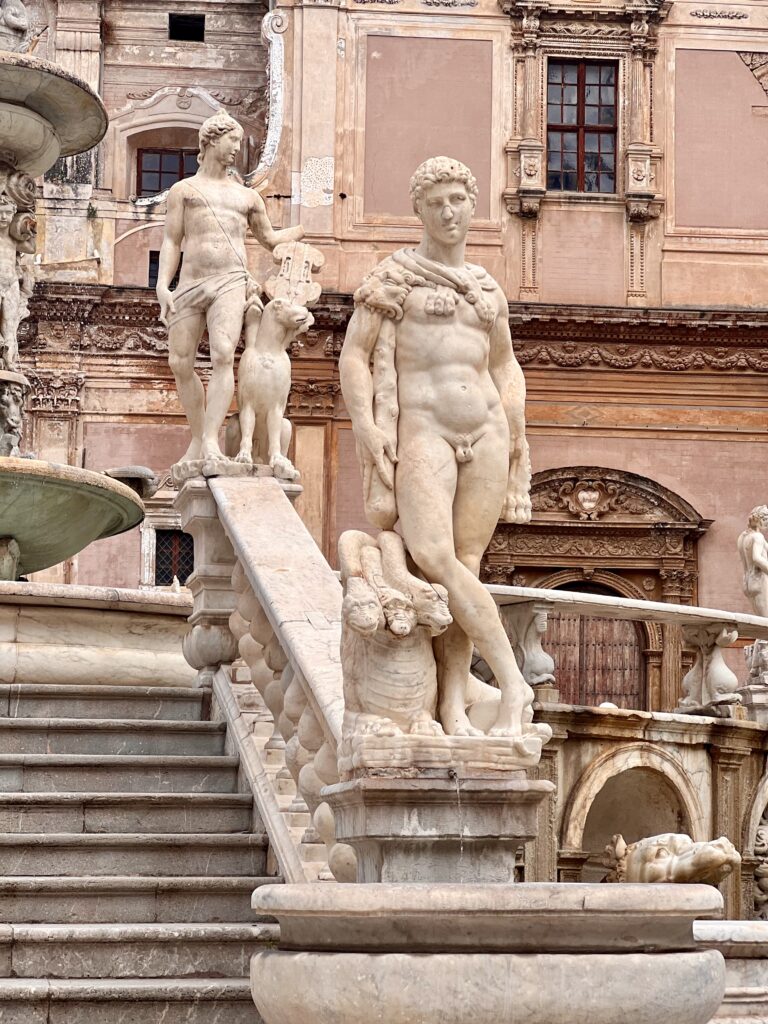 A Short History of Palermo
Palermo's history is one of conquest and colonization. Empire after empire has trodden on the city.
Palermo has been inhabited since ancient times. But the Phoenicians founded the first official settlement in the 8th century B.C.
The Greeks were never in Palermo, though they colonized other parts of Sicily. But because of the city's brisk trading business with the Greek islands, the city adopted a Greek name, Panoramus. It means "all port" or "all harbor."
After the Phoenicians, Palermo became a Carthaginian settlement until the city was captured by Rome in 254 B.C. When Rome fell in the 5th century, the Ostrogoths took over. But they were soon vanquished by the Byzantines in 535.
In 827, the Arabs arrived from Africa and conquered Palermo. Under Arab rule, Palermo became one of Europe's leading cities, second in size and glamor only to Cordoba Spain. It was a multi-cultural city practicing religious tolerance.
In 1072, the Normans took over, calling Palermo the "Kingdom of the Sun." The first king, Roger II, likewise had a tolerant attitude to different ethnicities.
During his reign, Palermo thrived and began to regain its splendor, with each ethnic group practicing its preferred trade. Roger II built the Norman Palace and the Palatine Chapel. A successive king, William II, built Monreale Cathedral.
The Normans were followed by a long succession of rulers — the Holy Roman Empire, the French Angevins, the Spain Aragons, and the Bourbons. Each period of rule left its mark on Palermo, making the city a cultural melting pot of both scars and glories.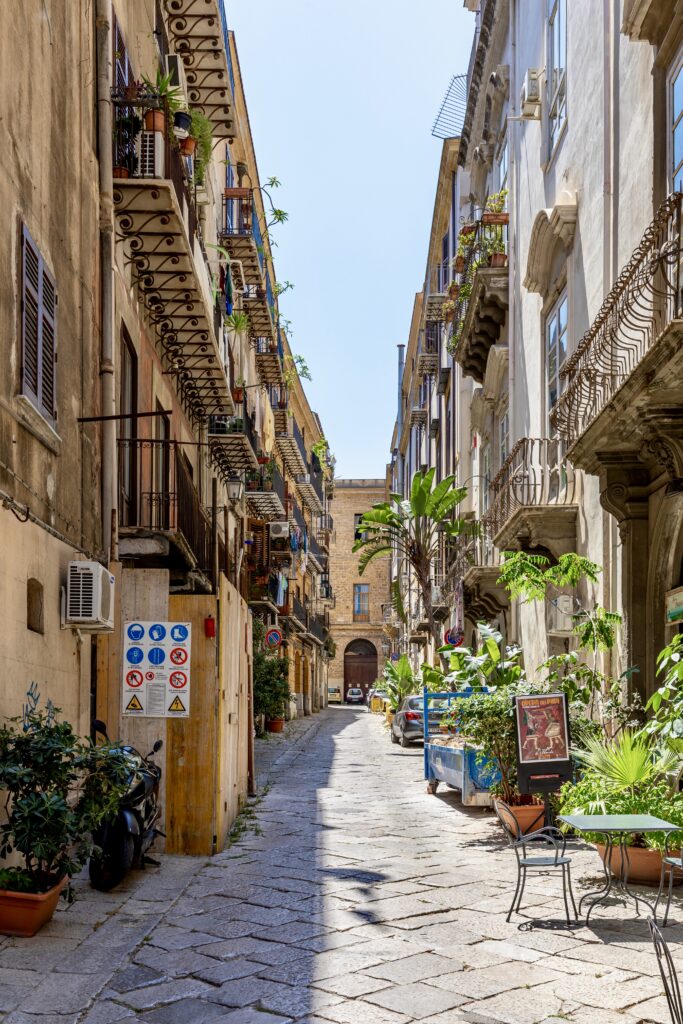 In 1861, Palermo was unified with mainland Italy. After unification, Palermo became the capital of the elegant Liberty style of architecture, a form of Art Nouveau that came courtesy of rich aristocrats. Teatro Massimo was built during this time.
In 2018, Palermo was named the Italian Capital of Culture.
2 Days In Palermo Itinerary
Here's how I recommend spending 2 days in Palermo. As with all of my suggested itineraries, you should use this Palermo itinerary as a guide. You can tailor it to suit your individual interests, needs, and pace of travel.
If you have extra time in Palermo, you can easily turn this 2 day Palermo itinerary into a 3-4 day itinerary. You could move at a less manic pace and spend more time eating or reveling in il dolce far niente (the Italian phrase for the "sweetness of doing nothing").
To get properly oriented, you may want to book a guided walking tour. I had two excellent guided tours in Palermo and they helped make the city and its history come to life. I especially liked this 4 hour private tour that included lunch at Capo Market.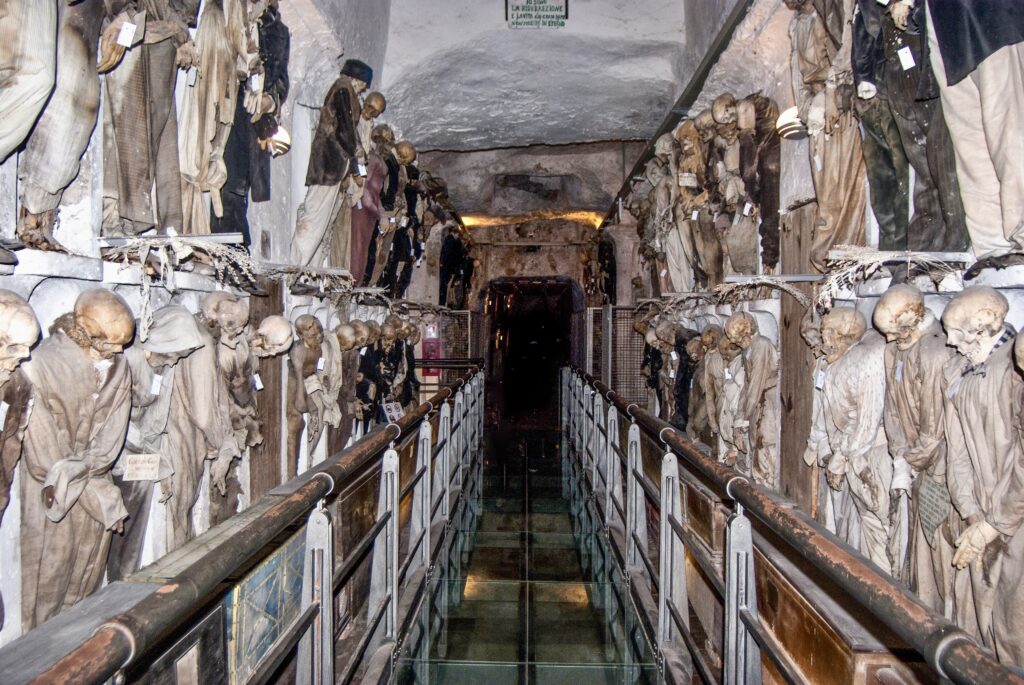 Day 1 of 2 Days In Palermo Itinerary
Capuchin Catacombs
Start day 1 of your Palermo itinerary at the Capuchin Catacombs in the southwest section of Palermo. (If catacombs are too macabre for you, skip ahead to the next attraction on the list, the Norman Palace.)
I've been to crypts and catacombs before, but this one was quite different. The Palermo catacombs aren't like those in Rome or Paris, where visitors see thousands of bones heaped in pits or layered on shelves.
In Palermo's iteration, you'll see 1,800 fully dressed decaying corpses. They're perched upright double-decker style in aisle after aisle. You'll even see babies lying in cradles. It was a sign of status to be buried in the catacombs.
There's a sign posted, warning visitors: "What you are now, we used to be. What we are now, you will become."
The catacombs are an important historical site. They contain key evidence about the development of mummification.
Click here to book a ticket to the catacombs. You can pay for an audio guide or book a 1 hour guided tour. No photos are allowed inside.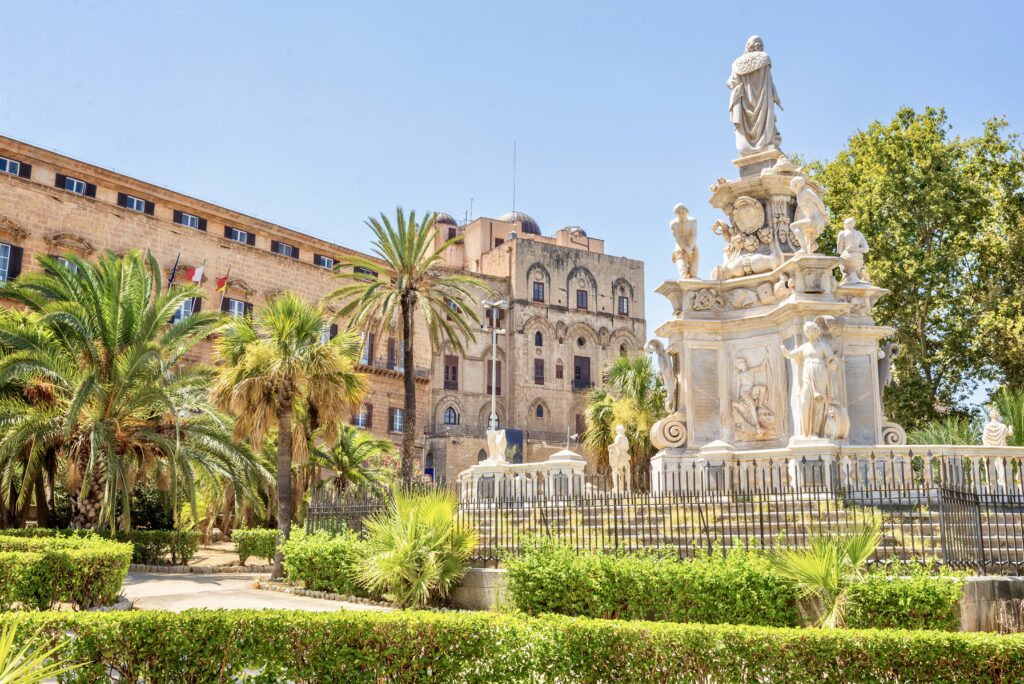 Norman Palace & Palatine Chapel
The Norman Palace is Palermo's most famous historic attraction. It was the seat of the kings of Sicily during the Norman occupation. Today, it houses the Sicilian Royal Assembly.
King Roger II began building the palace in 1130. It was expanded and re-decorated throughout the centuries. You can visit the Palatine Chapel (the highlight), the royal apartments, the Norman towers, and the courtyards.
A long entry way leads to the lower courtyard, which is beautiful double porticoed space. From here, a staircase leads up to the UNESCO-listed Palatine Chapel.
The glitzy chapel will blow you away. The chapel has a nave and two aisles with a wooden stalactite ceiling.
It's decorated with absolutely breathtaking 12th century mosaics. They're set against a gilded background and cover every inch of the interior. The mosaics were commissioned by Roger II, Wiliam I, and William II and executed by Byzatine artists.
The cupola of the central apse features the iconic image of the "all powerful" Pantocrator Christ. Reflecting the diversity of Palermo's populace, the christ has both blond and brown hair. He's holding a book and making the blessing sign.
You'll also see scenes from the Old and New Testaments and the life of Christ.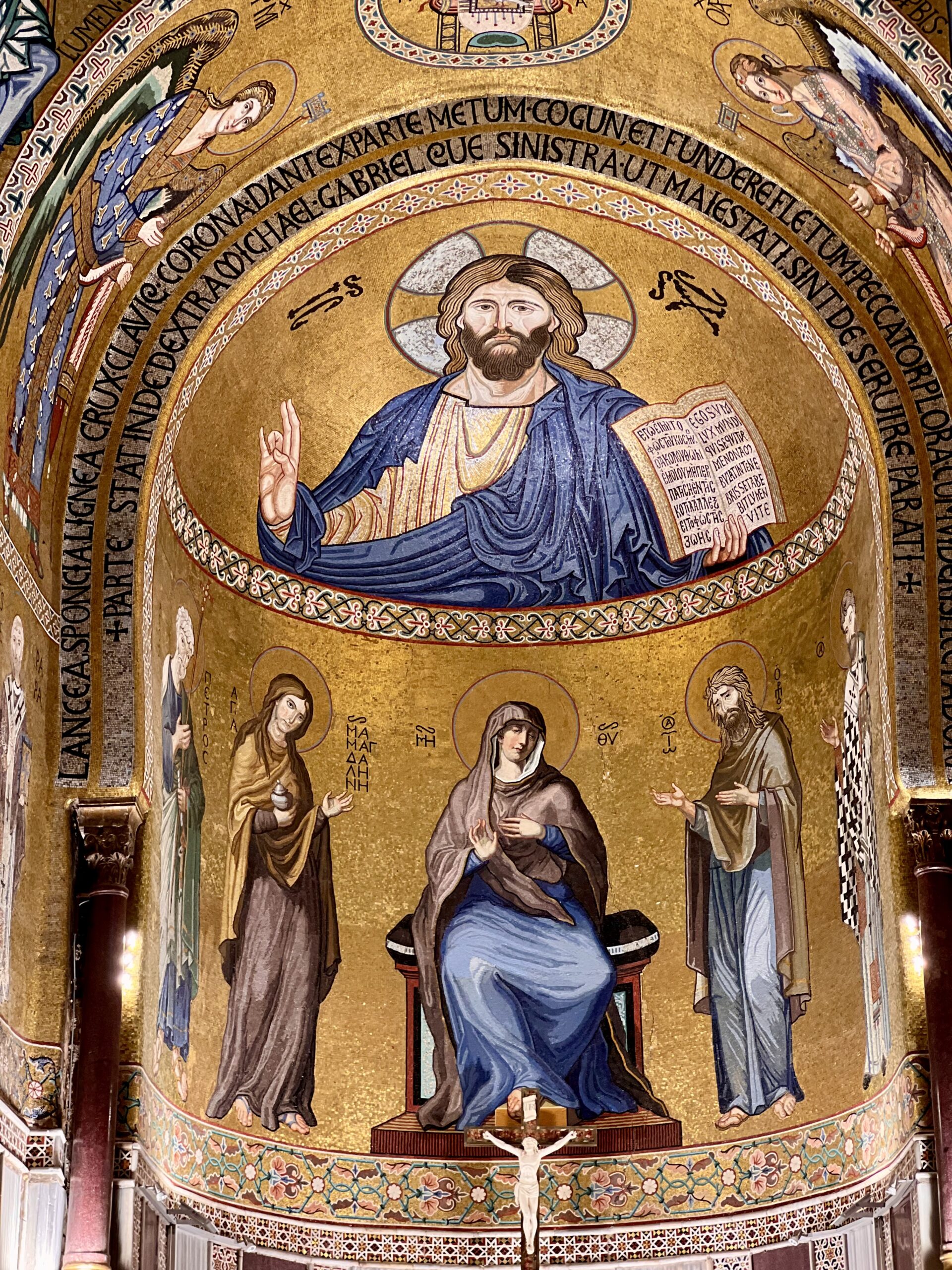 An imposing staircase leads to the Royal Apartments on the second floor. There are some splendid rooms. I loved the Sala Pompeiana, with Pompeian style frescos.
The Sala de Ruggeiro (Roger's Room) is also quite beautiful. It's in one of the oldest parts of the palace and looks like an Arabian dream. The room is decorated with golden tesserae mosaics depicting exotic animals — peacocks, lions, and griffins.
You can buy tickets at the the ticket office in front of the palace. But expect long lines and a sweltering wait under the hot sun.
I strongly suggest booking a skip the line ticket in advance on the palace website. You may also want to book a guided tour because there's almost no signage and no audio guide.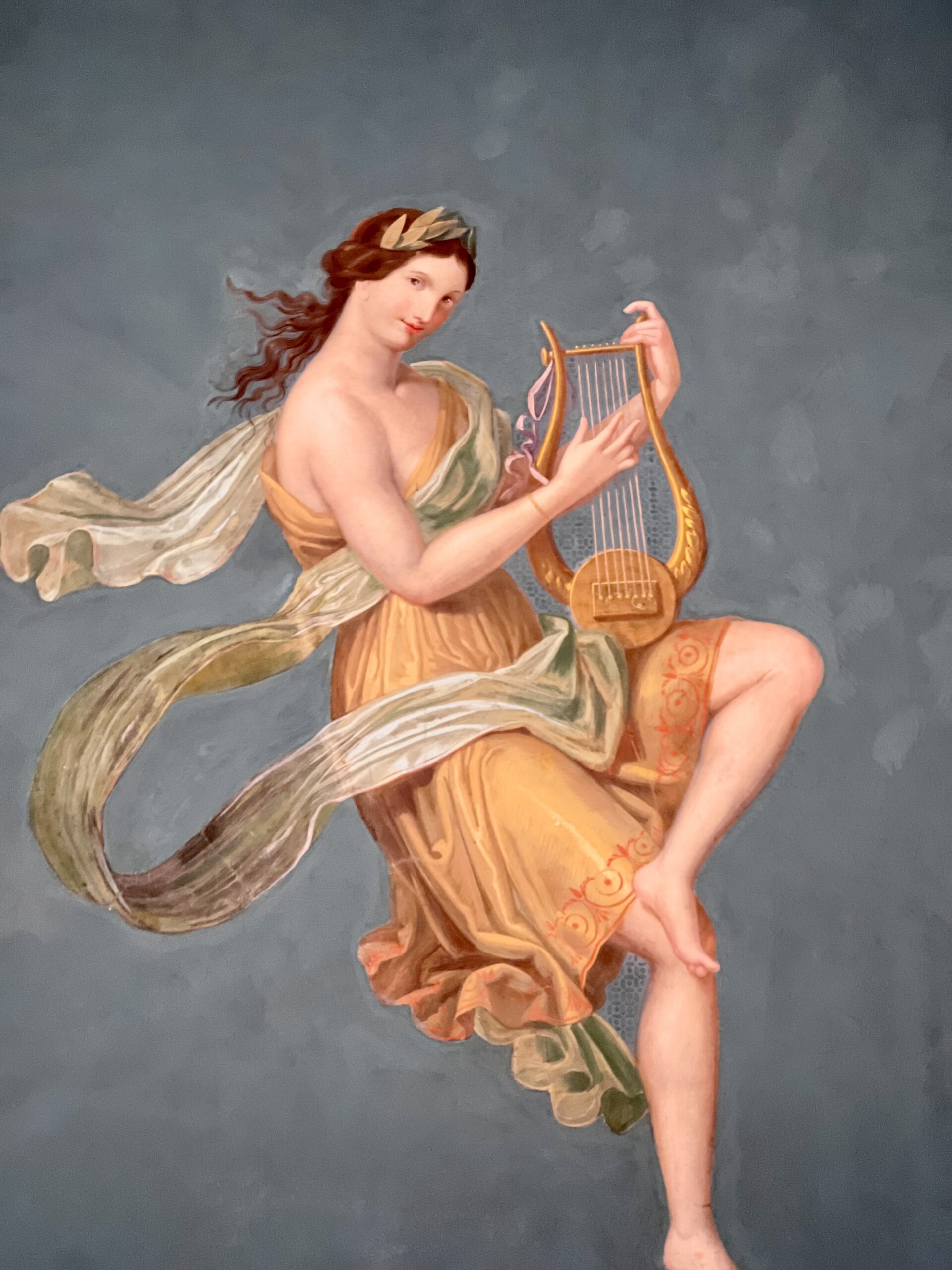 The tickets are quite pricey. So, if you have less than 2 days in Palermo and plan on going to Monreale Cathedral, you could skip this site (unless you love Byzantine mosaics).
Palazzo Conte Frederico
After admiring the mosaics, head to the Palazzo Conte Frederico, which opens at 11:00 am. It's the only existing noble palace in Palermo and is owned and lived in by the descendants of Frederick II, a Sicilian king known as the "Wonder of the World."
Since the perks of nobility no longer exist, the palace is open to the public to help pay the bills. It's a rare opportunity to get a glimpse into the aristocratic lifestyle and experience the many layers of Palermo's history.
The palace is an elegant mansion built around a courtyard in the Arab fashion. It was built on the Carthaginian city wall and incorporates a Norman tower on the top floor.
You can tour rooms filled with terra cotta floors, intricate Italian tiles, and frescos, including the ballroom, the blue room, the Countess's study, the dining room, and the Norman tower (which has recently discovered Renaissance frescos).
I was lucky to get a tour from the bubbly Countess herself. To visit the palace, you can just show up at the top of the hour and take the 45 minute tour for 10 euros. Or you can book a 1 hour guided tour.

Ballaro Market For Lunch
After visiting these amazing attractions in Palermo, you'll be ready for lunch. I recommend heading to Ballaro Market, which feels like an Arab souk.
Touring the market can seem daunting. It's boisterous, noisy, and chaotic.
The market is packed with locals and theatrical vendors selling an abundance of every kind of food, exotic spices, dried herbs, and other wares. Aromas fill the air.
You can also book a guided street food tour of Palermo that hits the markets. You may be required to try a spleen sandwich. I didn't find them particularly tasty myself, but they are part of the city's ethos.
Another option is to head to Piazza Bologni for lunch. It's loaded with cafes frequented by the locals. You'll also see some more palaces and a monumental statue of Charles V.

Quattro Canti
After you're fueled up, head to Piazza Vigliena, which the locals call "Quattro Canti."
It's an octagonal Baroque plaza at heart of the city's pedestrian zone at the intersection of Via Maqueda and Via Vittorio Emanuele. It divides Palermo into its four districts — Kalsa, Capo, Ballaro, and Vucciria.
At each corner are three story concave Baroque buildings filled with statuary. They complete a circled area designed by architect Giulio Lasso.
Statues of woman are allegories of the four seasons. You'll also see statues of four kings, a reminder of Palermo's overlords.
At the base of the lampposts at each corner is the figure of the trinacria that's on the Sicilian flag.
It's an ancient symbol consisting of a women's face in the center surrounded by three disjointed legs. The face is often referred to as Medusa.
Quattro Canti is also called the "Theater of the Sun." As the sun travels during the day, it illuminates the different "seasons."

Piazza Pretoria | Fountain of Shame
Piazza Pretoria is known for its magnificent fountain. The piazza lies between Piazza Bellini and Quattro Canti.
The fountain was designed in the 16th century by Francesco Camilliani, a Tuscan sculptor. It's one of the only examples of Renaissance art in Sicily. The Renaissance simply passed Sicily by, so this is a unique monument.
Unlike the artsy Italians to the north, the more religious Sicilians disapproved of public nudity. They nicknamed the racy fountain the "Fountain of Shame."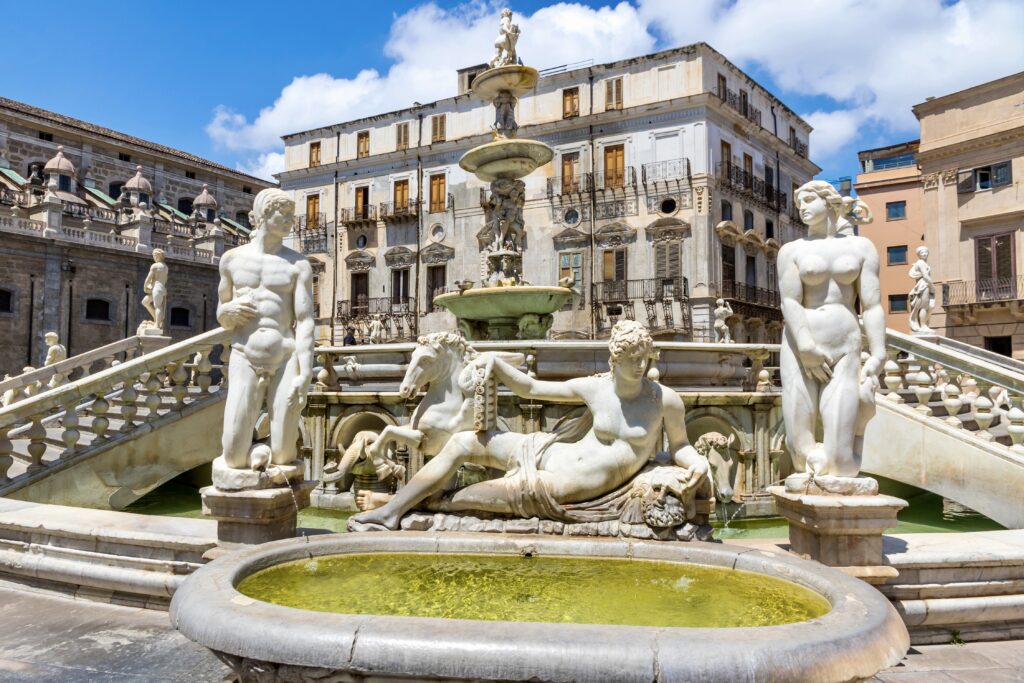 Another reason for the "shame" moniker is that the citizens though it was a shame to spend so much money on it. A Palermo official won the fountain in a card game and shipped it to Palermo in pieces.
Upon his death, the fountain lay disassembled. It was bought by the Palermitan Senate and reassembled in Palermo at great cost.
There are dozens of nude sculptures on the fountain — nymphs, tritons, putties goddesses, and river gods.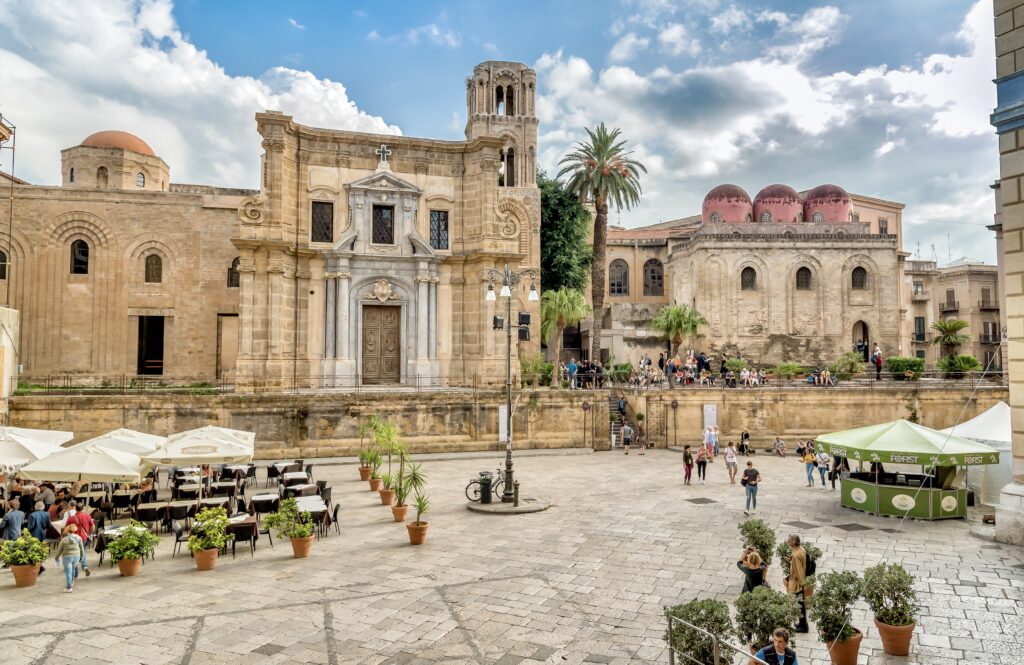 Churches In Piazza Bellini
Piazza Bellini is home to a trio of stunning churches — Santa Catarina, La Martonara, and San Cataldo. They're all UNESCO-listed sites.
La Martorana is a golden treasure that was my favorite. It's also known by its official name, the Church of Santa Maria dell'Ammiraglio. The architect Patricolo restored the church in the 19th century.
Martorana is a beautiful medieval church that combines Arab, Byzantine, and Norman Islamic influences.
You'll want to visit just to see the continuous cycle of jewel-like mosaics created by Greek artists in the 12th century. The mosaics are even older than the mosaics in the Palatine Chapel.
There's a mix of religious and political themes. You'll see scenes of King Roger II being crowned by Christ, a nativity scene, and (of course) Christ Pantocrater.
The Church of San Cataldo is right next La Martorana. But it's a striking contrast, topped with three faded red Arab-inspired domes.
Commissioned in 1154 by the chancellor of King William I, the church began life a private chapel. It's a blend of Arab-Norman architecture.
The unadorned interior is simple. But I loved it because you can feel its age.
Santa Caterina is a boisterous Baroque church that's an over-the-top feast for the eyes. It was once occupied by an exclusive convent that was famous for making Sicilian sweets.
The church is decorated with statuary created by the greatest stucco decorator of all time, Giacomo Serpotta. He invented a technique that made the plaster so shiny it looked like fine marble.
There's a lovely courtyard you can linger in, although the cloisters themselves are closed for renovation. For an extra fee, you can hike up to the rooftop terrace, which is fantastic place to enjoy magnificent panoramic views of Palermo.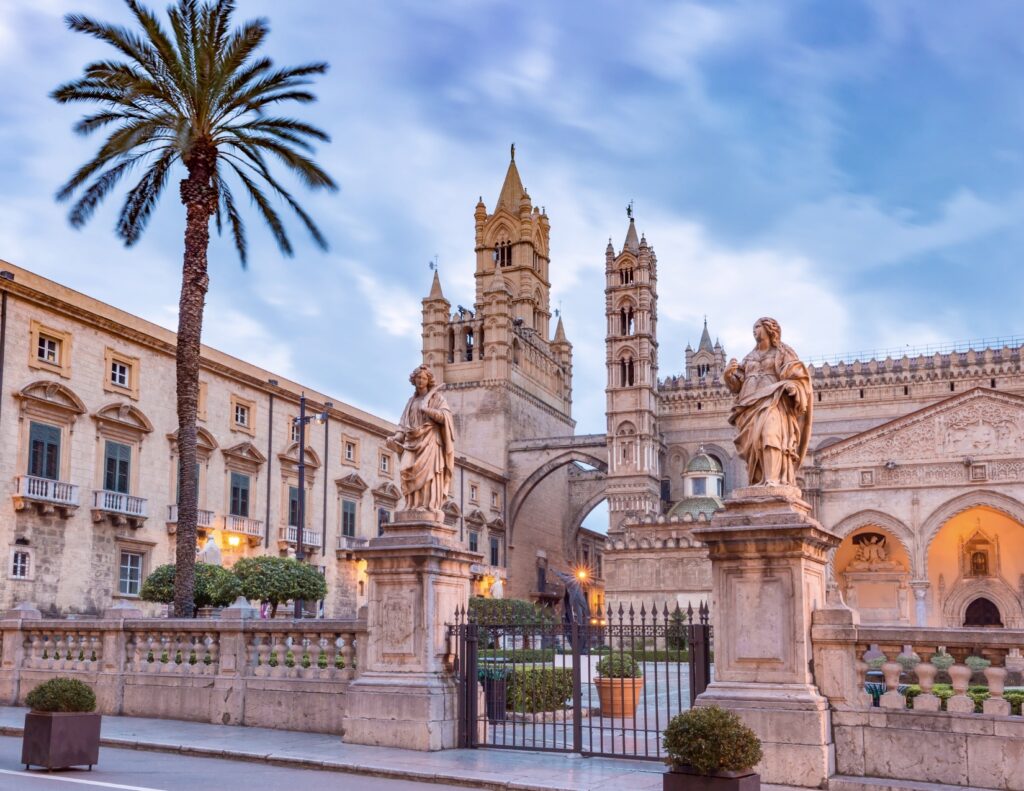 Palermo Cathedral
Next, take a stroll by the beautiful Palermo Cathedral. Founded in 592, it's a mixture of architectural styles that reflects the history of Palermo with Greek, Roman, Arab, Norman, and Swabian features. It was intended to surpass the beauty of Monreale Cathedral.
The cathedral was a mosque when the city was ruled by the Arabs and reconverted into a Christian building when the Normans settled in. It's connected, through two pointed arches to the Archbishop's palace, making the church look a bit like a castle.
A large square in front is filled with statuary. You enter through the south portal, which is magnificent. It has fine wooden doors and three ornate pointed archways.
The interior isn't as grand the churches I mentioned above. It's mostly Neo-Classical in design (meh) and a huge contrast to the extravagant exterior.
But you can visit two chapels in the right aisle that host six tombs of the kings of Palermo. The most important are those of Frederick II and Roger II. You'll also find a loaded-with-silver chapel dedicated to Rosalia, Palermo's patron saint.
The best part is hiking up to the cathedral rooftop. You'll have 360 views of Palermo. It's not for the faint of heart or those scared of heights. You climb a spiral staircase that's dimly lit and walk along a narrow path.
Entry to the cathedral nave itself is free. There are several variations of tickets.
For 15 euros, you can see everything including the tombs, treasury, crypts, rooftop terrace, and the Diocesan Museum. The Diocesan Museum is across the street in the Archbishop's Palace. It's fairly unremarkable, though, with anonymous religious paintings.
Click here to book a skip the line ticket for the cathedral. You can also visit the cathedral on a guided art and architecture tour. Be sure to wear something appropriate. Women cannot wear shorts, miniskirts, or sleeveless tops inside.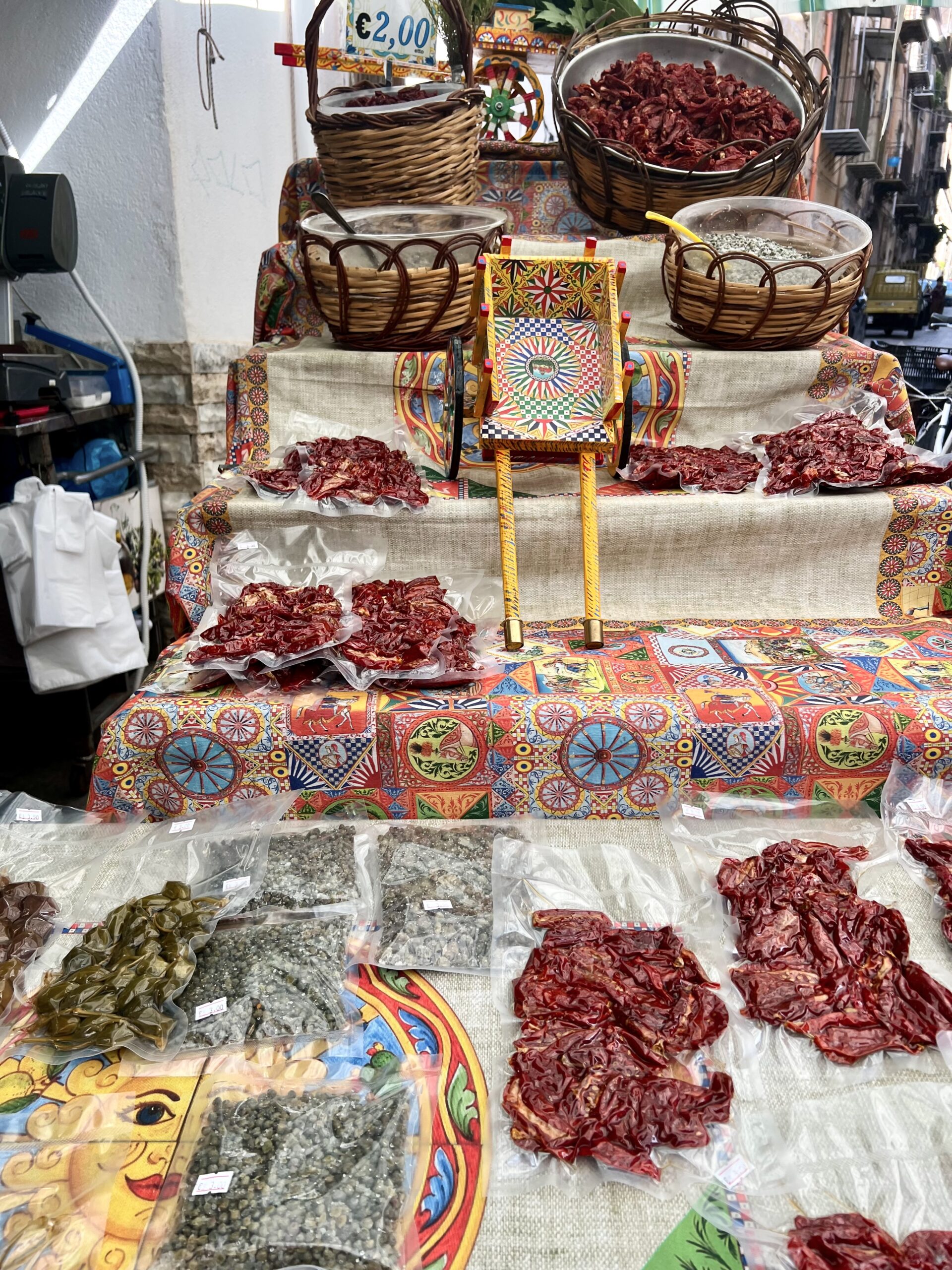 Street Food Tour
In the evening, take the requisite passagiatta (the Italian name for the pre-dinner stroll) an visit Palermo's "urban living rooms." The pedestrianized Via Maqueda is the perfect choice.
Have an aperitivo or a glass of grillo wine. The cocktail of choice in Palermo is an Aperol Spritz.
On your stroll, be sure to get lost in narrow side streets. You may discover a hidden palace or elegant Baroque church.
Then, have a late dinner. Restaurants open at 7:30 pm in Palermo. You can also book a guided nighttime street food tour.
Day 2 of 2 Days In Palermo
Teatro Massimo
Start day 2 of your 2 days in Palermo itinerary with a visit to Teatro Massimo at the top of Via Maqueda. It's one of Palermo's top attractions and is simply massive (over 7700 square meters).
Massimo is the largest theater in Italy and third largest in Europe after Paris' Opera Garnier and Vienna's Staatsoper. The Massimo was inaugurated in 1897 with a performance of Verdi's Falstaff.
The exterior is a fierce Neo-Classical facade with a grand staircase featured in the climactic final scene of the Godfather trilogy. It almost looks like a Greek temple.
The inside is an entirely different story. It's a lacy confection of Art Nouveau in ornate gold and red. According to some experts, Massimo has the best acoustics in Europe.
If you're a theater fan, it's worth it to take the 30 minute guided tour.
There are tours every half hour in English, Italian, French, and Spanish. My tour was a dual English-Italian tour.
On your tour, you'll see the grand foyer, the theater auditorium, the royal box, and the echo room decorated with Pompeiian style frescos.
The auditorium has 1,280 seats. There are 5 levels of boxes and a 6th gallery at the top. The stage itself is huge. Above, there's a ceiling fresco depicting the Triumph of Music.
The royal box is for important officials and also made an appearance in the Godfather.
The echo room was formerly an all-male smoking room. Sound echos around and is loudest in the center. Your guide will have you test this out.
Teatro Massimo has year round opera and ballet performances and ticket prices aren't too outrageous. Sometimes, you can get steeply discounted rates on the same day.

Via Bara all'Olivella | Puppet Theater
From Teatro Massimo head down Via Bara all'Olivella. It's one of the quaint streets in Palermo. It's full of unique artisan shops and eateries.
A bit further along, you'll Palermo's Puppet Theater. It's owned and run by the Cuticchio family. It's a UNESCO-listed masterpiece of "oral and intangible heritage."
Puppetry is an ancient Sicilian art form. Costumed puppets are held with rods and not controlled with strings like marionettes.
The puppeteers reenact medieval and chivalrous stories involving villains, heroes, princesses, and dragons.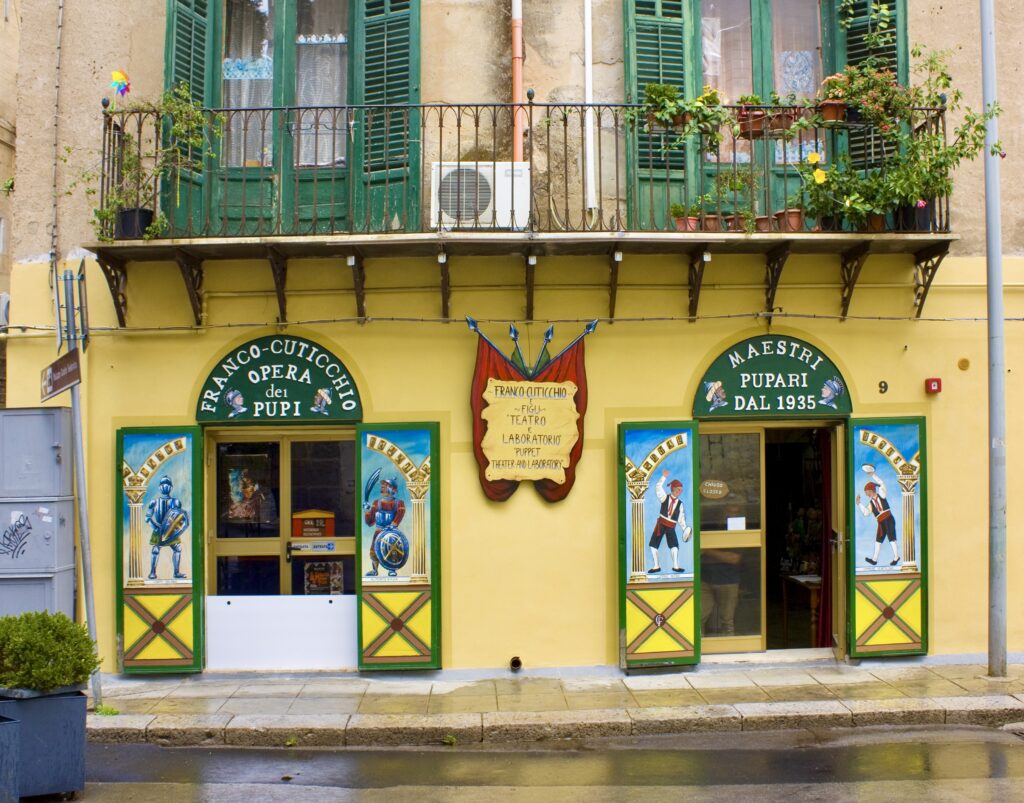 Salinas Archaeological Museum
If you are a history buff, your next stop should be the Salinas Archaeological Museum. Reopened in 2017 following a decade long renovation, the museum is one of Europe's foremost archaeological museums.
It boasts a dense collection of Greek, Roman, and Phoenician artifacts. There is also an excellent collection from the temples of Selinunte, an important Greek archaeological site on Sicily's south coast.
The top masterpieces to look for are the Bronze Ram, the Torso of Stagnone, and the Selinute metopes.
In the entrance courtyard, you an admire the Fountain of Triton. In the small cloister, you will find the famous Palermo Stone, which helped to establish the chronology of ancient Egyptian Pharaohs.

Church of San Domenico
Built in 1640, the Church of San Domenico is Palermo's second largest church, set in a large piazza. The 18th century facade is in a classic Sicilian Baroque style.
The church is considered the "Pantheon of Palermo." Inside, you'll find aisles lined with tombs of famous Sicilians and a magnificent Baroque marble altarpiece. There's also a sculpture by famed Neo-Classical artist Antonio Canova in the funerary monument of A. Turrisi Colonna.
The most famous tomb is of Giovanni Falcone, a heroic judge who led the fight against the Sicilian mafia. Falcone pioneered new methods to combat mafia influence and paved the way for the restoration of law and order. The mafia had its revenge in 1992, killing Falcone in a bombing that horrified residents and united them against the mob.

Vucciria Market
Next, browse the stall of Vucciria Market. It's not as big as Ballaro and Capo markets and not really a shopping souk any longer. But it's filled with plenty of food stalls, eateries, and bars frequented mostly by students.
Be sure to stop into the bustling Taverna Azzurra. I visited it on a street food tour. It's a popular night spot that's crammed with locals.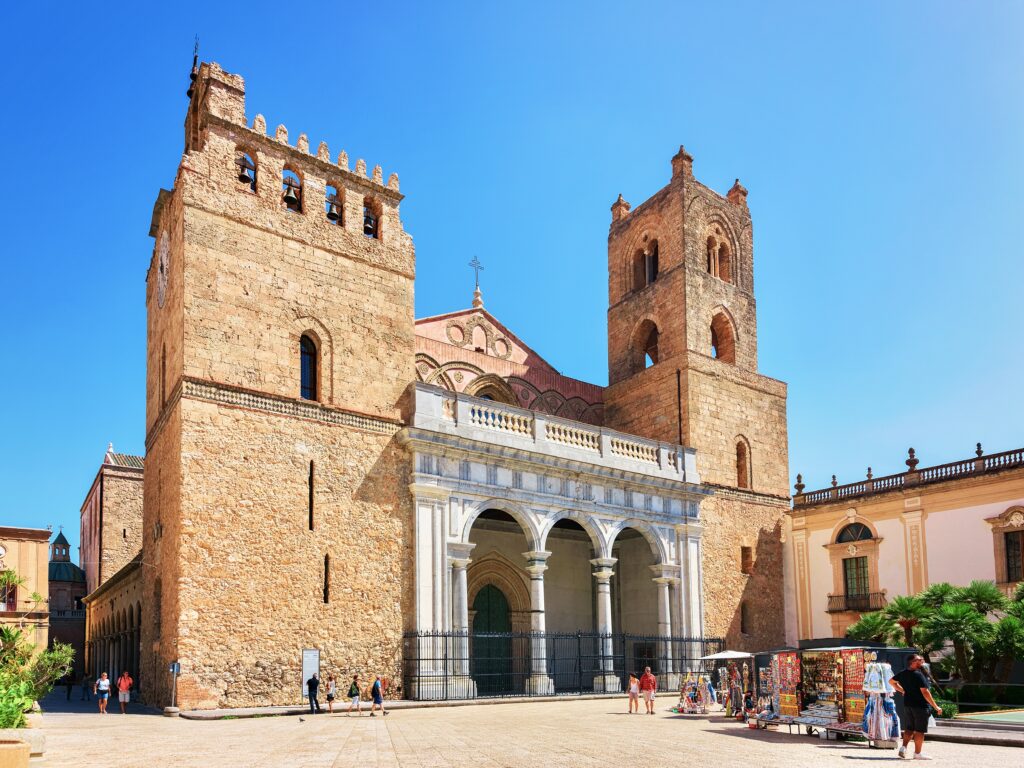 Monreale Cathedral
No 2 days in Palermo itinerary would be complete without a visit to the stunning UNESCO-listed Monreale Cathedral. It's the world's most famous Arab-Norman cathedral with an astonishing 68,000 feet of glittering Byzantine mosaics set against 2 tons of gold leaf. It reminded me of St. Mark's Cathedral in Venice.
The cathedral was founded in the 12th century by William II and you'll see his portrait and tomb. The fortress-like facade has two square corner towers flanking the great marble portal. Be sure to walk around the back where you can see the Moorish decorations.
The bronze doors are called the "Gates of Paradise" and are decorated with 48 panels depicting episodes from the Old and New Testaments. They're rarely open. But the day I was there they were due to a wedding being held in the cathedral.
The mosaics depict a host of episodes and an endless cast of characters from the story of Genesis. The highlight, in the apse, is a mosaic of Christ Pantocrater. It's the largest one in Europe. It shows a long haired Christ in glory raising his hand in a two fingered Byzantine-style blessing.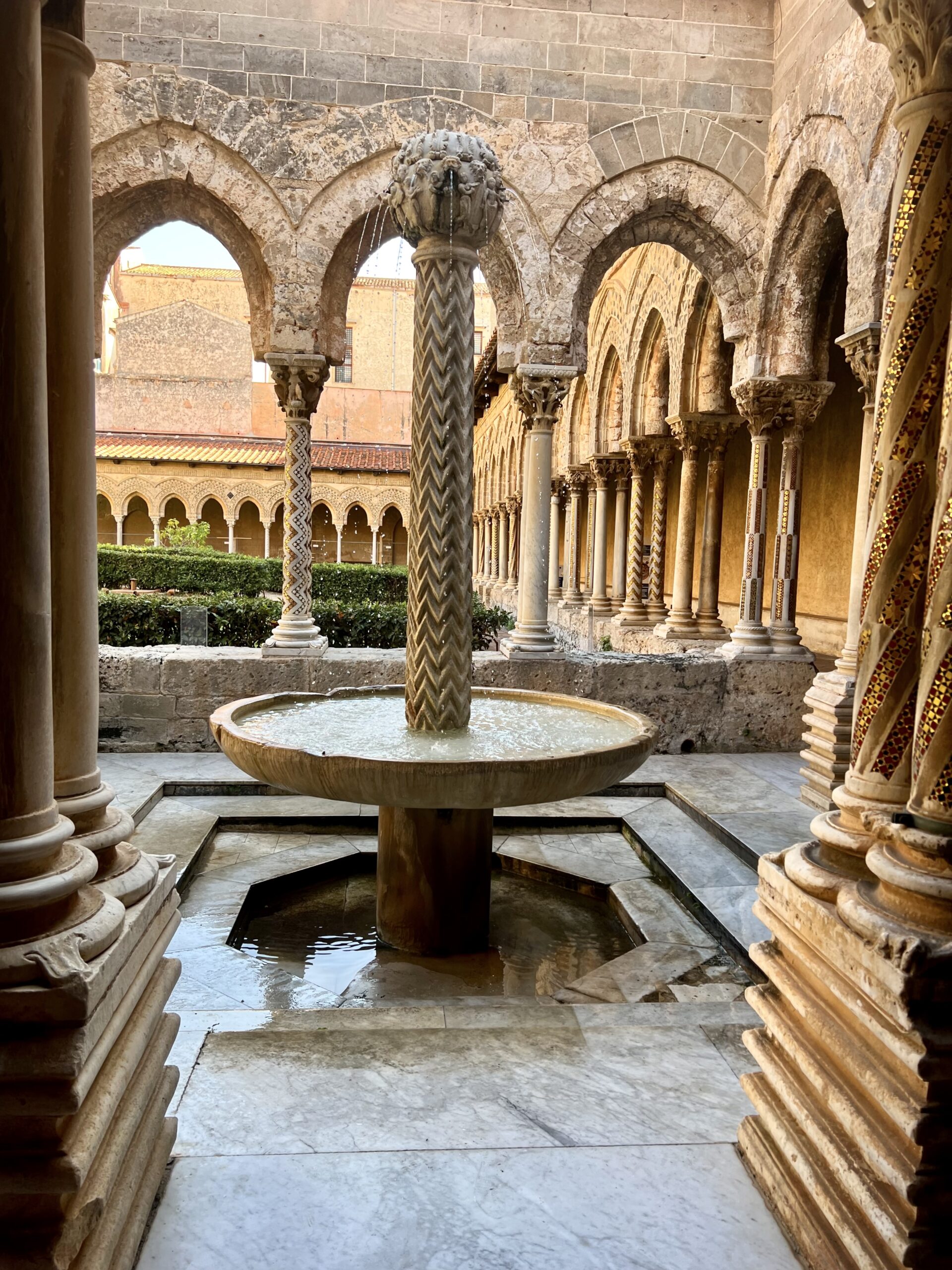 You'll also be dazzled by the Byzantine-style floors, Corinthian columns, and an intricate carved wood ceiling. The cloisters are also beautiful and the best preserved one of its type in Sicily. They come complete with a fountain that looks straight out of Granada's Alhambra.
There are 228 Moorish columns made of Carrera marble and inlaid with mosaics. The storytelling capitals depict famous scenes, including a Norman jousting event, William II wearing a Byzantine crown, and a lovemaking scene.
You can also hike up to the top of the church. There's a circular terrace offering great views of the abbey, the town, and the surrounding area.
To get the full scoop on Monreale Cathedral, you can book a guided tour from an expert. The traffic in Monreale seemed even worse than Palermo to me.
Unless you have nerves of steel, the best way to visit the cathedral is via a half day guided tour from Palermo or, even better, a private tour that incudes the Capuchin Catacombs.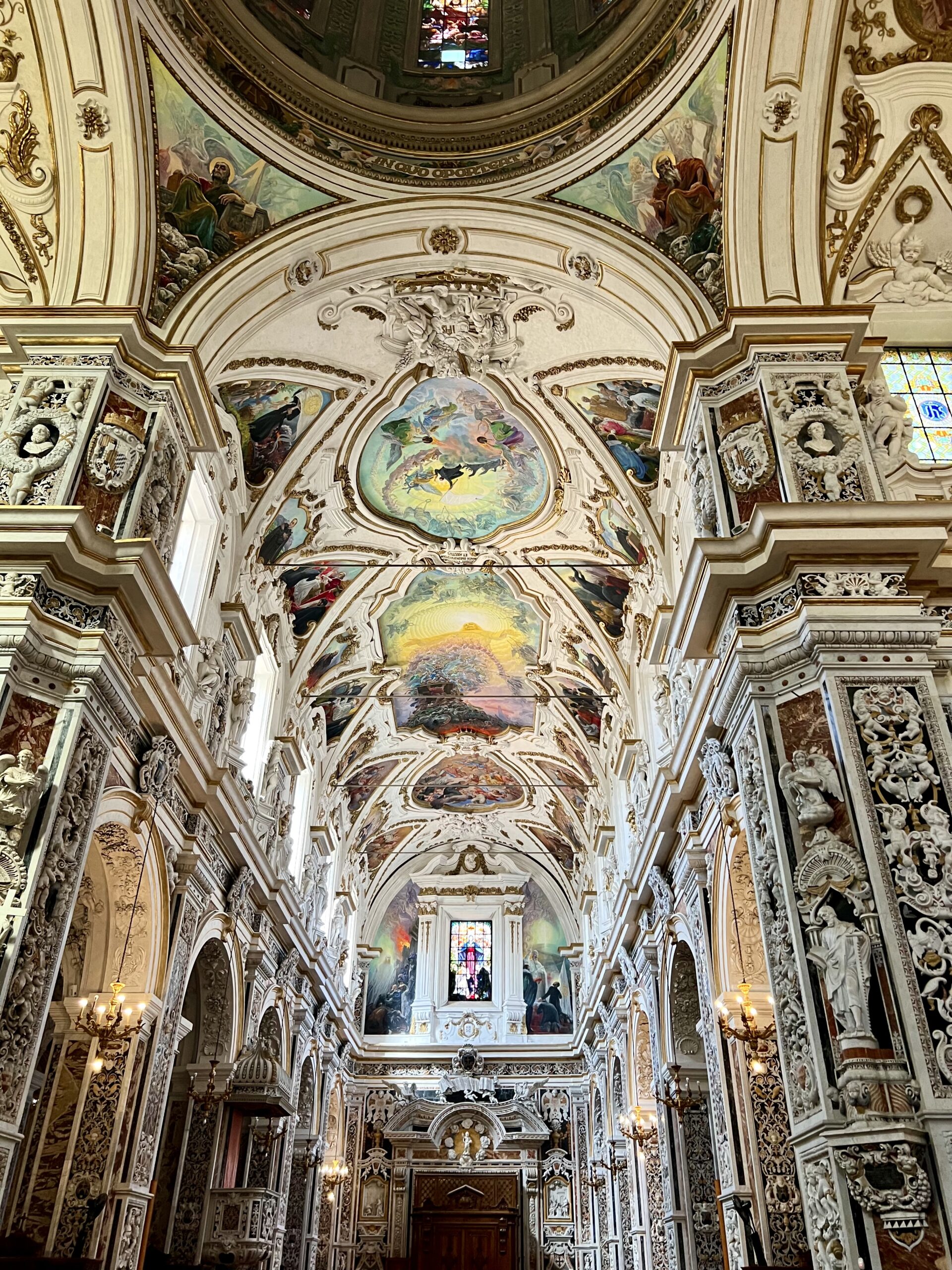 More Than 2 Days In Palermo?
If you have more than 2 days in Palermo, there are plenty of other amazing things to do in and around the city. I'll list just a few of them here.
1. Chiesa de Gesu
The Gesu Church is one of the most beautiful churches in Palermo and the 3rd largest. Built between 1610-80, it's an early Baroque church and the only one of its style in Sicily (others were destroyed in an earthquake).
Gesu is an incredibly ornate church. It exemplifies the Baroque period's "fear of empty spaces." You'll find carved columns, dramatic statuary groupings, twisty columns, and ceiling frescos.
The dome's vault and chapels are decorated with frescos attributed to Pietro Novelli. His daughter, Rosalia Novelli, also has a painting in the church.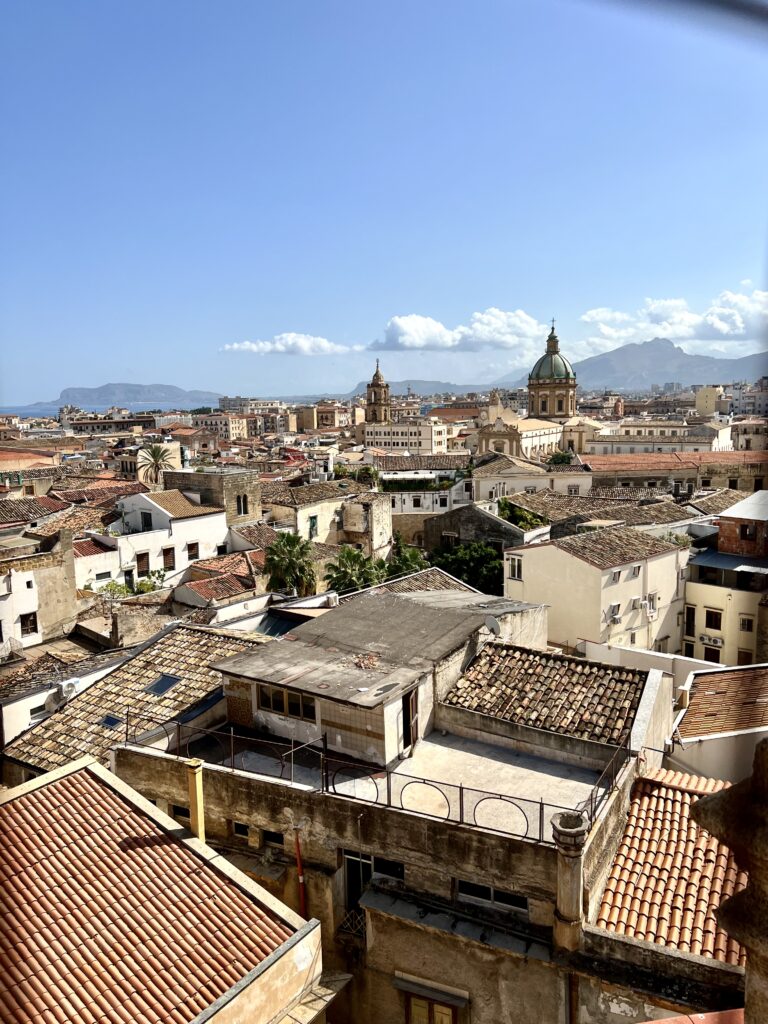 2. Chiesa del Santissimo Salvatore Savior
I unexpectedly stumbled upon the Church of the Holy Savior on Via Vittorio Emanuele. It was a treat to visit, without a single other soul inside.
The interior of the Baroque church is quite lovely. With its round design, it seems more like a concert hall than a church. It's decorated with polychrome marble, stucco, and frescos.
But I enjoyed hiking up to the summit of the dome the most. You access the dome climb from a separate entrance, turning right as you exit the church.
The climb is dark in some spots and ends with a tight spiral staircase. But the views are worth it.
3. Oratory Of San Lorenzo
The Oratorio di San Lorenzo is a hidden gem in Palermo that's well worth a quick stop. An oratorio was a service organization doing social work. The building served as the members' headquarters and place of worship.
The Oratorio once owned a famous Caravaggio painting, the Nativity Altarpiece. But mafia thieves sliced it from the frame in 1969. It's still missing, with a duplicate installed its place in 2015. There is plenty to see nonetheless.
The oratorio is decorated with sculptures by the stucco genius Serpotta. The sculptures are dynamic and playful, akin to swirls of vanilla frosting. You may come into the Oratorio thinking about Caravaggio, but you will leave thinking about Serpotta.
4. GAM
If you're an art lover, you may want to check out the Galleria d'Arte Moderna on Via Sant'Anne. It mounts contemporary exhibitions inside an old Franciscan convent. Click here to book a skip the line ticket.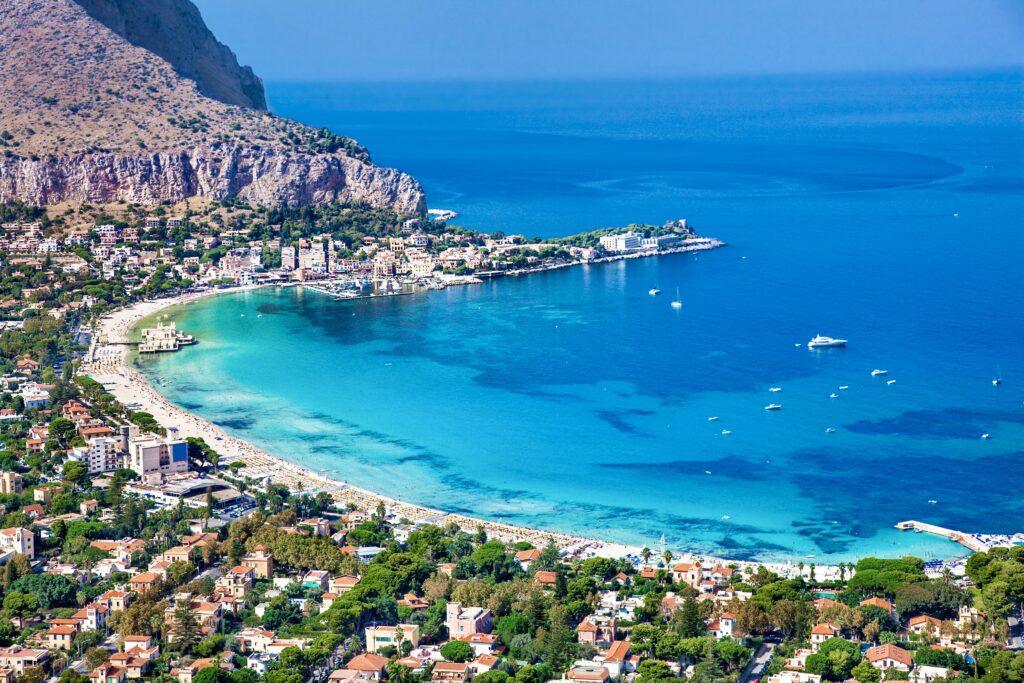 5. Mondello Beach
Mondello is a picturesque fishing village set under Monte Pellegrino. The mile long beach is well-equipped and one of the top beaches in Sicily, with pristine sand and crystalline waters. There are plenty of fish restaurants and food stalls to slake your hunger.
You can reach Mondello via public bus line 806 from Palermo's historic center in about 20-30 minutes. Alternatively, you can taxi or drive to the beach in about the same amount of time.
If you're ambitious, you can also walk there. But it's not a pretty route.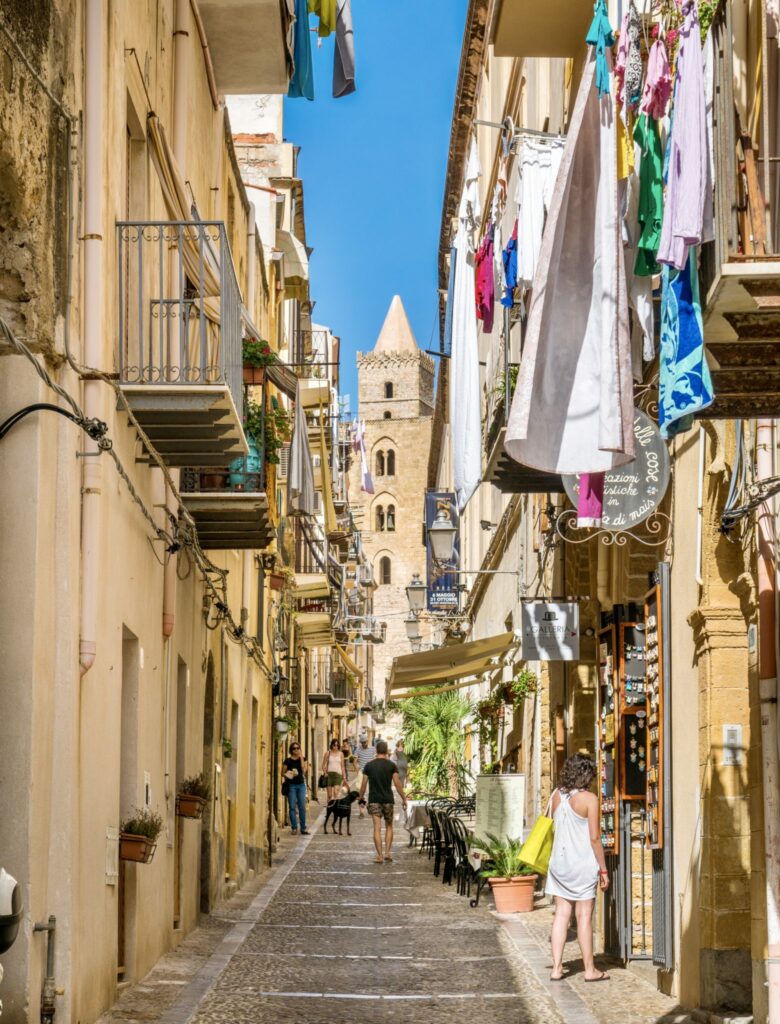 6. Cefalu
Cefalu is just 40 minutes east of Palermo. It's home to one of Italy's finest crescent-shaped beaches. It's the perfect place to relax and unwind for a few days without crowds.
The medieval town of Cefalu is postcard perfect. It boasts lovely honey colored buildings, pretty piazzas, and some fine churches. The town port is lined with fishing boats and the seafront promenade is perfect for the evening passeggiata.
Cefalu Cathedral is located in the Piazza del Duomo. It's a 12th century Arab-Norman architecture masterpiece. Its apse is adorned with elaborate Byzantine mosaics. The cloisters have graceful arches and ornately carved capitals.
If you're up for a hike, take the 30-45 minute steep walk up to La Rocca, Cefalu's mountain. The path is well sign posted. You'll be rewarded with 360 coastal views from the "top of the rock."
You can visit Cefalu on a guided day trip from Palermo. If you're a thrill seeker, you can also go paragliding or mountain biking.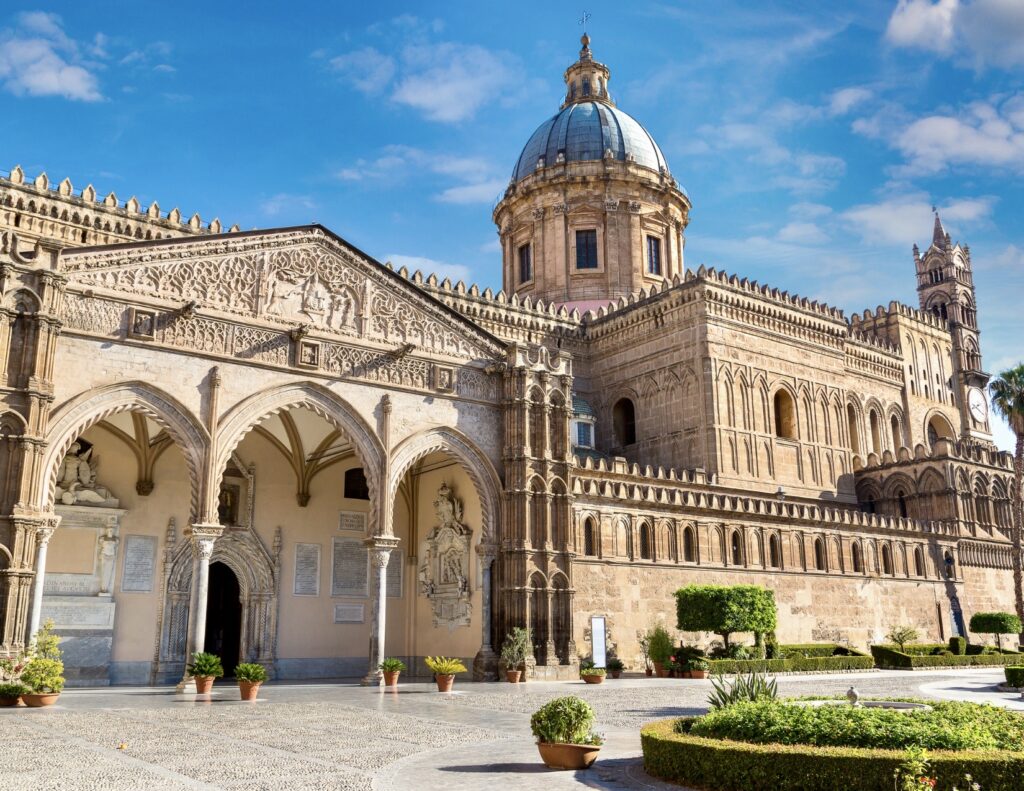 Tips For Visiting Palermo
Here are some key must know tips for spending 2 days in Palermo.
1. How To Get To Palermo
Palermo is home to its own international airport, which will likely be your point of entry into Sicily. You can fly into Palermo from Rome, London, Paris, Milan, New York, and Barcelona.
The set taxi rate for getting from the airport to the city center is 40 euros. However, drivers sometimes take advantage of tourists by increasing the price, so decide on a price before you leave. To avoid negotiating, you can book a private transfer from the airport to your hotel, which is what I did.
You can also get to Palermo by train using the train ferry across the Strait of Messina.
If you're renting a car, know that driving in Palermo will be extremely challenging. I don't advise it. If you are planning on driving in Sicily, you can pick up your car at the airport on the way out of the city.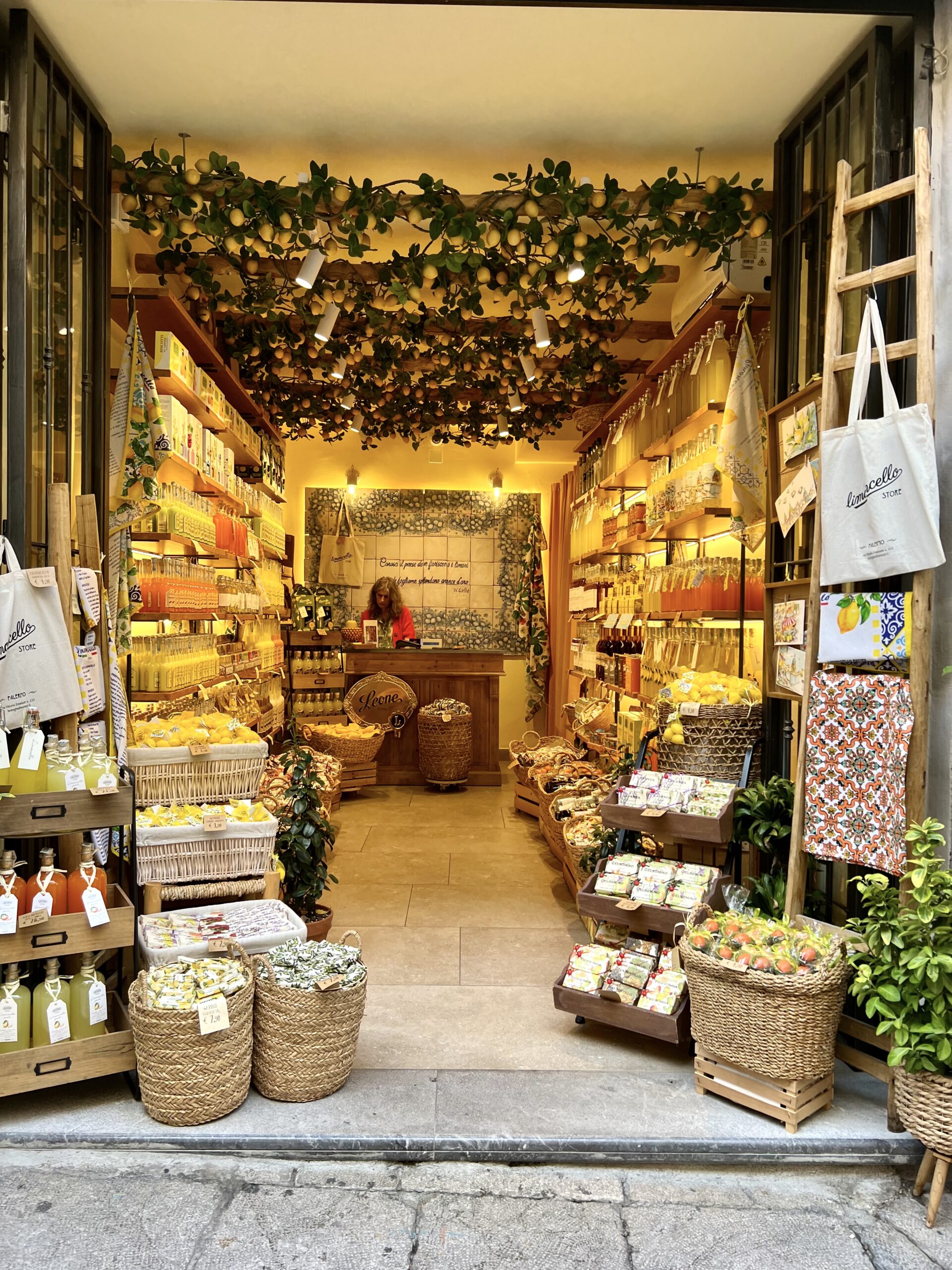 2. How To Get Around Palermo
Palermo is an extremely walkable city. With 2 days in Palermo, I walked everywhere and never used another form of transport.
Public transportation is spotty and taxis can be scarce. Though there are taxi stands at the city's main piazzas.
There are plenty of other ways to get around Palermo. You can rent an e-bike or scooter (though you'll be battling cars and pedestrians).
You can also go on a guided biking tour. Or take the hop on hop off bus.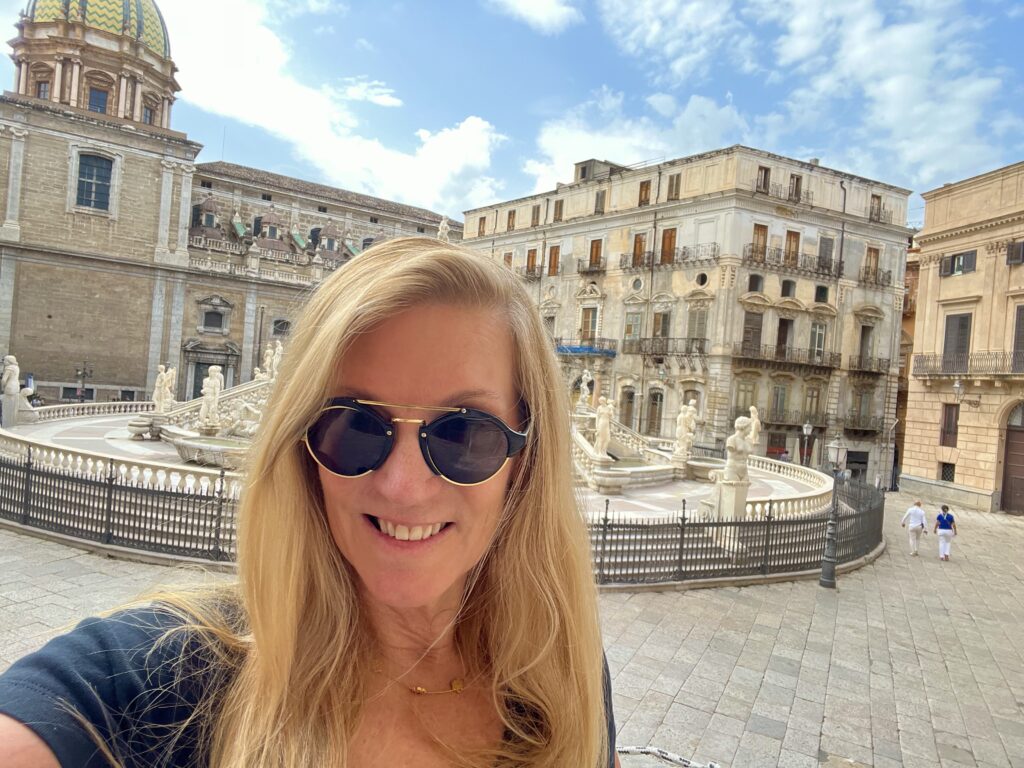 3. When To Visit Palermo?
Palermo is one of Europe's warmest cities. Its balmy climate makes Palermo a year round destination.
Summer is great for beach lovers, but it's crowded and extremely hot. You can just as easily lounge on the beach in the shoulder season.
If sunshine is more important than warmth, go in April. October offers up fewer showers in exchange for warmer temperatures.
4. What To Eat In Palermo
One of the joys of visiting Palermo is the food. Traveling foodies will be in seventh heaven.
Many Palermians start their day with a granita and brioche. Granita is an icy gelato-type confection that's less creamy and more grainy (almost glassy)
Palermo is well known for its three markets — Vucciria, Ballario, and Capo. You can shop for fruit, veggies, and fish. Get food to go from a stand or plop down at one of the cafes.
Be adventurous. You'll find squid and octopus (in many iterations) at most places. You can try out local specialties like panelle (chick pea fritters), arancina (deep fried rice balls stuffed with meat or peas), or timbale di anelletti (pasta rings in a ragu sauce with prosciutto and cheese).
Naturally, you'll have to try the pizza in Palermo. It's typically thick and rectangular, with abundant dough, sauce and cheese.
Palermo is also a gelato loving city. I felt like there were lines at every gelataria I saw. But the best one is Gelataria Cappadonia on Via Vittorio Emanuele.
If you have a sweet tooth, you'll be glad to know that Palermo is famous for its sweets.
You'll can nibble on colorful marzipan treats, almond biscotti, and cassata. The latter is a concoction of sugar cane, lemon, oranges, mandarin, almonds, and Sicilian cheese.
The best cannoli (my weakness) are made right in front of you, no waiting around for the crust to get soggy. They're made with sheep ricotta, rather than the kind you're used to in the US.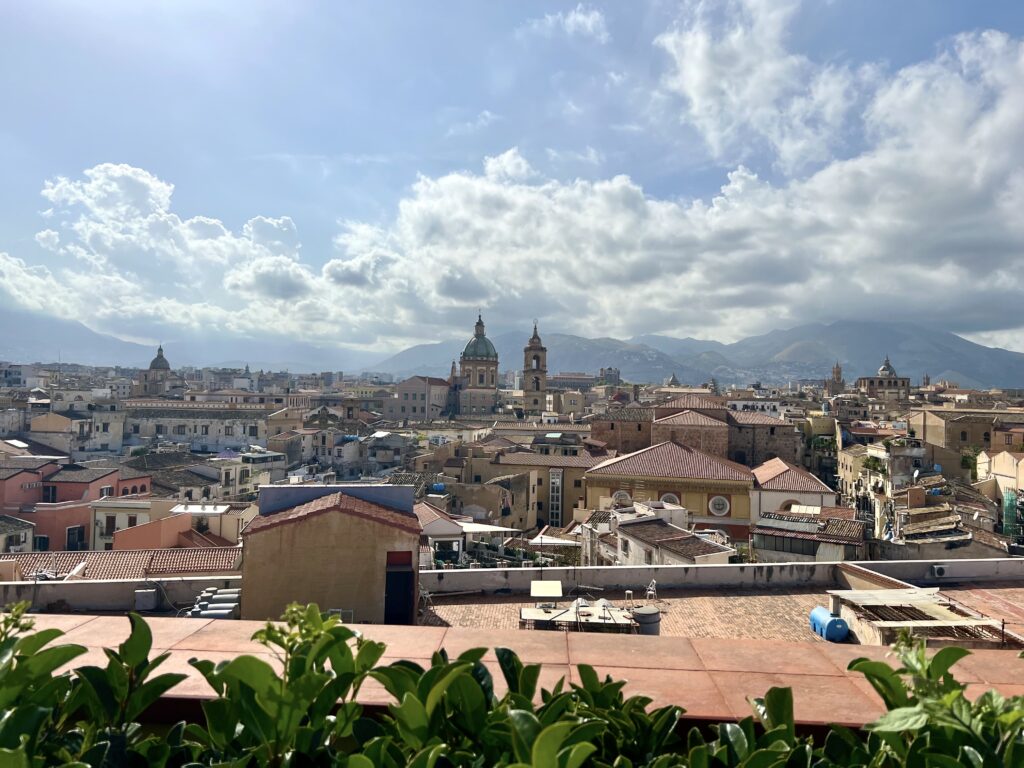 5. Where To Stay With 2 Days In Palermo
Palermo is not known for its hotels, and you should expect small rooms. If you are finicky, I'd advise booking at the best hotel your budget can bear.
I recommend staying in La Kalsa, the historic center. It's near most of the top attractions in Palermo. This time around, I stayed in both the Kalsa and Capo neighborhoods. Capo is also fairy central.
Porta di Castro is an elegant boutique hotel housed in what was once a medieval chapel. Casa Nostra is another nice boutique hotel inside a historic palace with a secret garden.
The Hotel Ambasciatori is a four star hotel in the heart of the historic center in Via Roma. It has a rooftop terrace for breakfast with one of the best viewpoints in Palermo.
If you want something luxe, check out the Palazzo Valentino. There are sophisticated guest rooms with period furniture. You can reserve individual rooms or apartments.
6. Is Palermo Worth Visiting?
Tourist sometimes skip Palermo, using the crumbling seaside city a touchdown for touring Sicily. But I think Palermo is an underrated city and a cultural powerhouse that deserve at least 2 days.
It's home to thousands of years of history — a "lasagna" of Italy. Palermo may sometimes look like it needs a power wash, but that's part of the charm.
Palermo also makes a great base for exploring Sicily. From Palermo, you can day trip to Monreale, Cefalu, Segesta, Mondello, Erice, or Trapani.
I hope you've enjoyed my 2 days in Palermo itinerary. You may enjoy thee other Italy articles:
If you'd like to spend 2 days in Palermo, pin it for later.