The Amalfi Coast has many lovely villages, but none are as alluring as Ravello. If you have a weekend to spend there, this is the perfect 2 days in Ravello itinerary.
Hidden in the hills above the town of Amalfi, Ravello is a spectacularly romantic retreat. It's full of colorful gardens, pretty streets, lovely medieval villas, and some of the most sweeping views in all of Italy.
You can't help but fall in love with this charming hilltop hamlet.
A Short History of Ravello
Historians believe that Ravello was founded in the 5th or 6th century by Roman aristocrats. But the only extant documentary evidence is from the 9th century. At that time, Ravello was the subject of the town of Amalfi.
During the early Middle Ages, Ravello flourished as a prosperous maritime republic. It became an important economic center, known for its maritime trade, skilled craftsmen, and textile and paper industries. Ravello's wealth led to the construction of magnificent palaces, churches, and villas.
In the 11th and 12th centuries, Ravello experienced a cultural and artistic renaissance. The town became a hub for intellectuals, artists, and musicians. It attracting renowned figures such as the Italian poet Boccaccio and German composer Richard Wagner.
It was during this period that Ravello's iconic villas were built.
Ravello was at its zenith in the 13th century. The richest families in the Amalfi area were attracted by its lofty perch, which provided both views and defensive protection.
In later years, the glorious views and romantic setting attracted celebrities like Virginia Wolf, Gore Vidal, D.H. Lawrence, and Greta Garbo.
More recently, the Amalfi glitterati have moved in, partly in response to over tourism in Positano.
2 Days In Ravello Itinerary
Here's my recommended itinerary for spending two days in Ravello, along with must know tips for visiting. It covers the top attractions in the town and in nearby Atrani and Amalfi.
To get properly oriented, you might consider booking a 2 hour guided walking tour to get you started.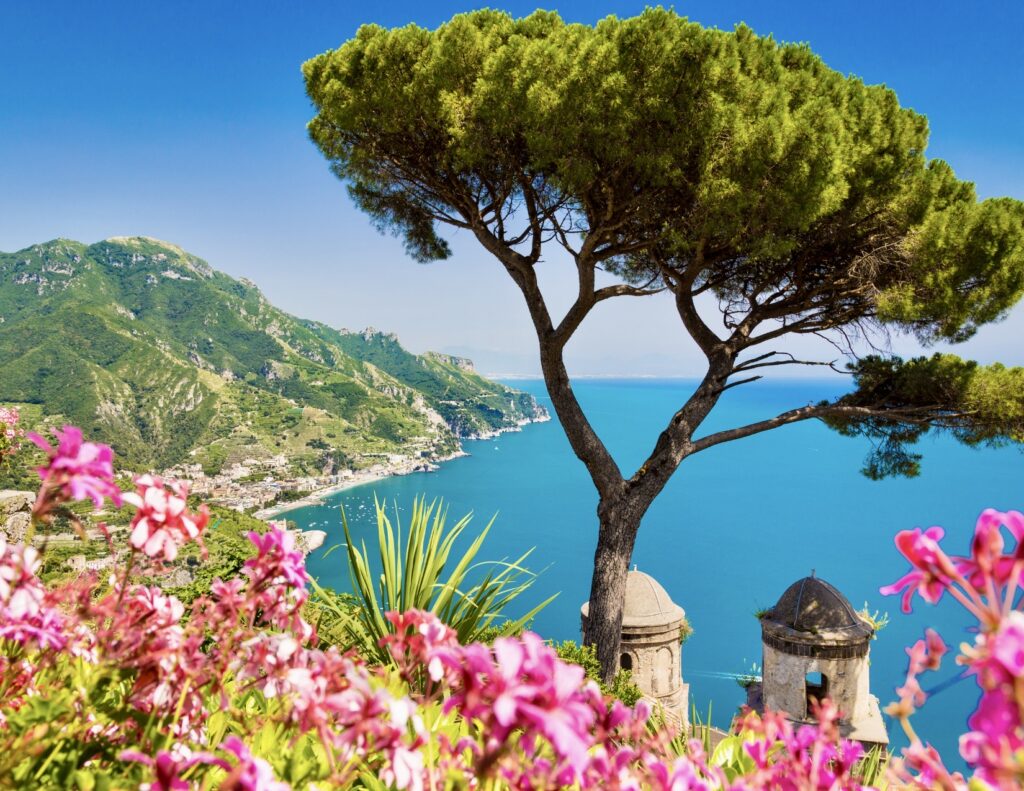 Day 1 of 2 Days in Ravello
Villa Rufolo
Start your day with a visit to Villa Rufolo. The Rufolo dynasty built the villa between 1270 and 1280. They were the richest family in medieval Ravello and made Villa Rufolo one of the grandest villas on the Amalfi Coast.
They built the villa in the Moorish style and added magnificent gardens. Over the centuries, however, the family's power waned. They abandoned the villa and the property fell into ruin.
It was rescued in the 19th century by a Scot, Francis Neville Reid. He restored the fortified appearance of the main building, which has sturdy stone walls and arched windows.
Some of the villa is romantically crumbling. You'll find the ruins of an Arabic-Sicilian cloister with an Alhambra vibe and an ancient kitchen with ovens.
Reid also added the Moorish-style entrance tower known as the Torre Maggiore. This tower, with its delicate arches and decorative details, adds an exotic and enchanting touch to the villa. It's guarded by 2 fierce lion sculptures.
The tower was recently renovated. There's now a glass enclosed viewing platform and a small museum inside. It's worth the climb up just for the views of the garden.
Reid's also renovated the villa's gardens, which reemerged to stunning effect. The garden's design incorporates terraces and pathways. They wind through the property, leading you to different levels and viewpoints.
The gardens are so gorgeous that the composer Richard Wagner visited often. They famously inspired the enchanted Klingsor garden scene in his opera Parsifal.
Apart from the lovely flowers, the garden offers up stunning oh-my-god panoramas of the Amalfi Coast. You may recognize the most famous shot, with the umbrella pines set against an azure sky and sea.
This viewing terrace is called the Wagner Terrace. From it, you can see the Cilento Coast of Italy, a green area that's still a hidden gem.
Ravello Cathedral
Villa Rufolo stands in the shadow of Ravello Cathedral, which dates from the 6th or 7th century. Though it's a small duomo, it's full of treasures and absolutely worth visiting.
The duomo is a combination of Romanesque and Baroque styles. The sturdy stone exterior is the height of Romanesque simplicity, while parts of the interior is more ornate.
The duomo comes complete with a bell tower, which has Moorish and Byzantine architectural influences.
The cathedral is dedicated to St. Pantaleone, Ravello's patron saint. He is the protector of doctors and midwives. He was martyred during the Christian persecution of Roman Emperor Diocletian.
The duomo's main claim to fame is two exquisite Byzantine-style pulpits.
One pulpit shows the death and resurrection of Christ. It's supported by six spiraling columns with inlaid mosaics sitting atop marble lions. The other has mosaics of Jonah and the whale from the 13th century.
There's also a Baroque chapel dedicated to Ravello's patron saint, Pantaleone. You can't visit it on your own, but only on a guided tour.
Behind a protective metal grill, the chapel holds an ampule of the saint's blood in a reliquary. Like the blood of St. Gennaro at Naples Cathedral, it's said to liquify once a year on July 27. This date is the anniversary of Pantaleone's martyrdom.
There is also a small cathedral museum that you can visit for 2 euros.
Old Town Stroll
After visiting these two main sites in Ravello, take a stroll through the old town and grab lunch.
Ravello is a brilliant place to do some shopping. It's most well known for its high quality handmade ceramics.
The town had the best choices I saw on the Amafli Coast. My favorite was Pascal's Ceramics. There's both a small shop and a large factory with every imaginable kind of style, including many Deruta pieces.
You can also shop for wine, limoncello, perfume, leather gods, cashmere and linen, local artworks, or gourmet fare.
Villa Cimbrone
If the view from Villa Rufolo is magnificent, the view from Villa Cimbrone is better still. The villa lies south of the town and can only be visited on foot. But it's an absolute must do with 2 days in Ravello.
It's just 15 minutes from the main square, Piazza Vescovado (also called Piazza Duomo). There are signs directing you there.
The villa is part of the Amalfi Coast's UNESCO designation. You can explore its extraordinary storybook gardens and take in the vistas.
Villa Cimbrone (pronounced cheem-bro-neigh) dates back to the 11th century when it was a fortified residence. Since then, it's undergone a series of transformations under different noble families.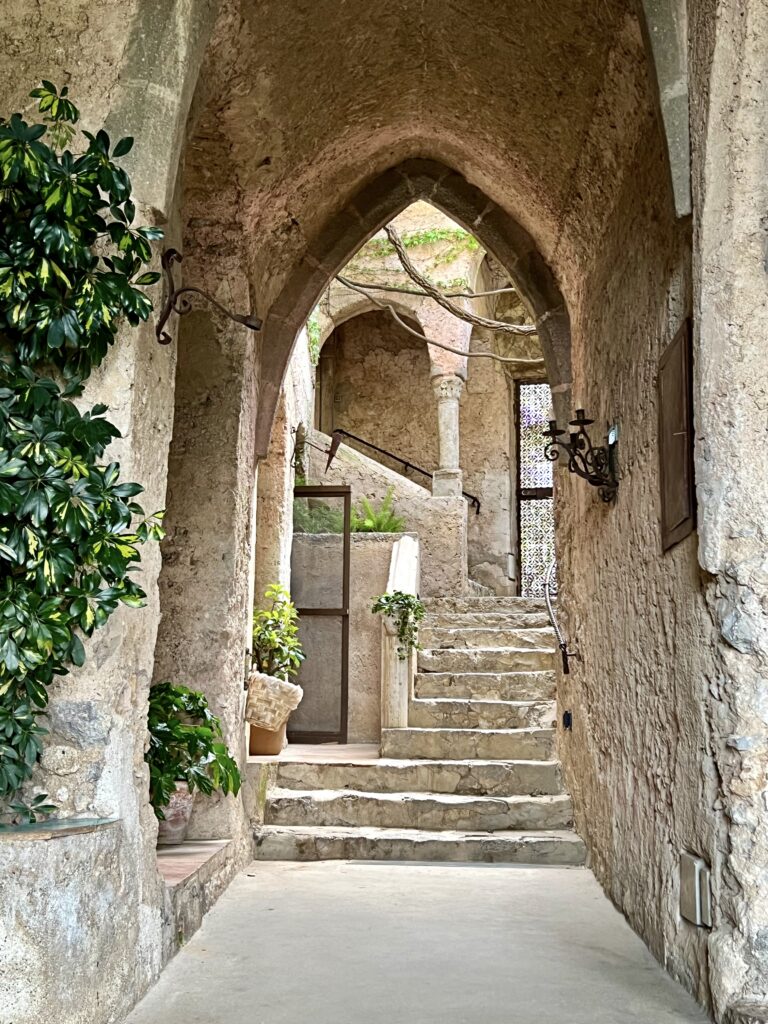 Today, the villa itself is a 5 star hotel. But the grounds are open to the public for a fee.
You'll find a beautiful medieval cloister and crypt, crumbling follies, ancient statuary, a rose garden, and wisteria pergolas. It's an intensely evocative and romantic atmosphere.
The highlight of a visit to Villa Cimbrone is taking a stroll on its world famous Terrace of Infinity. Perched on a 1,000 foot cliff, it offers up eye popping views of the azure sea and the Amalfi Coast.
The villa costs 10 euros to visit. For more information, here's my complete guide to Villa Cimbrone.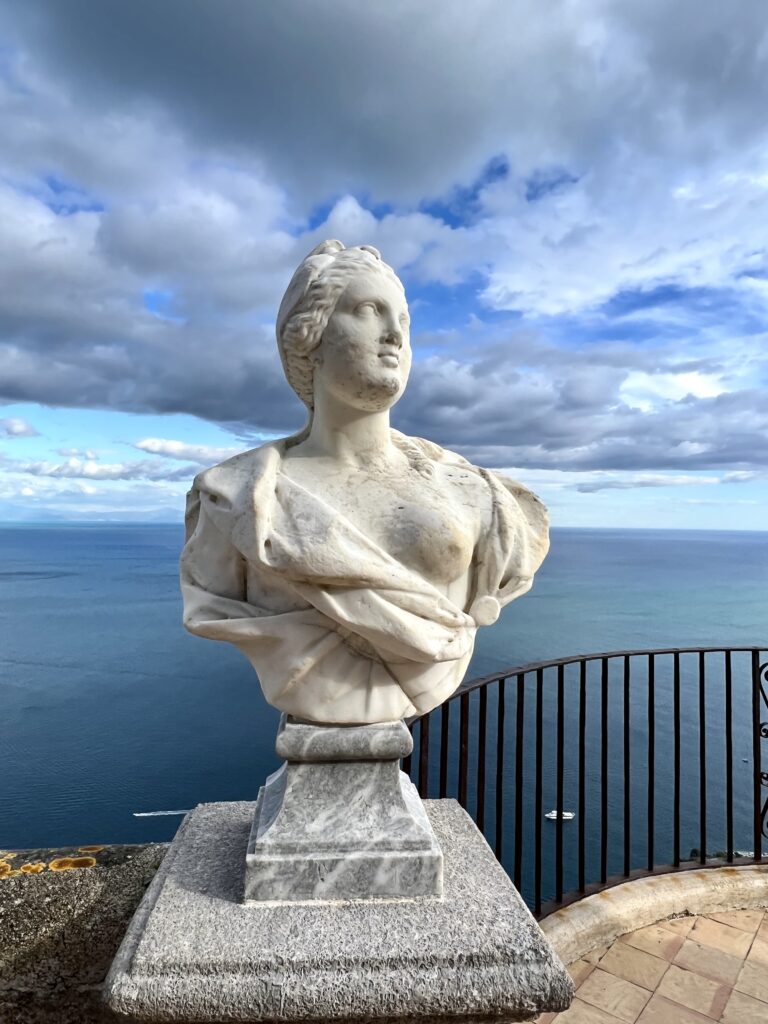 Ravello is known as the city of music. So, as evening approaches, head to one of its renowned musics venues, the ultra modern Auditorium Oscar Niemeyer or the Ravello Concert Society.
Day 2 Of 2 Days In Ravello
Church of San Giovanni del Toro
On the morning of day 2 of 2 days in Ravello, visit the Church of San Giovanni del Toro.
The Chiesa di San Giovanni del Toro dates back to the 11th century. It's known for its architectural beauty and artistic treasures.
The church features a Romanesque architectural style with influences from the Byzantine and Arab-Norman traditions. Its facade showcases intricate stone carvings and decorative elements.
The interior of the church is lovely. It's adorned with frescoes, stucco work, and other ornate details. A glass floor reveals ancient ruins underneath the church.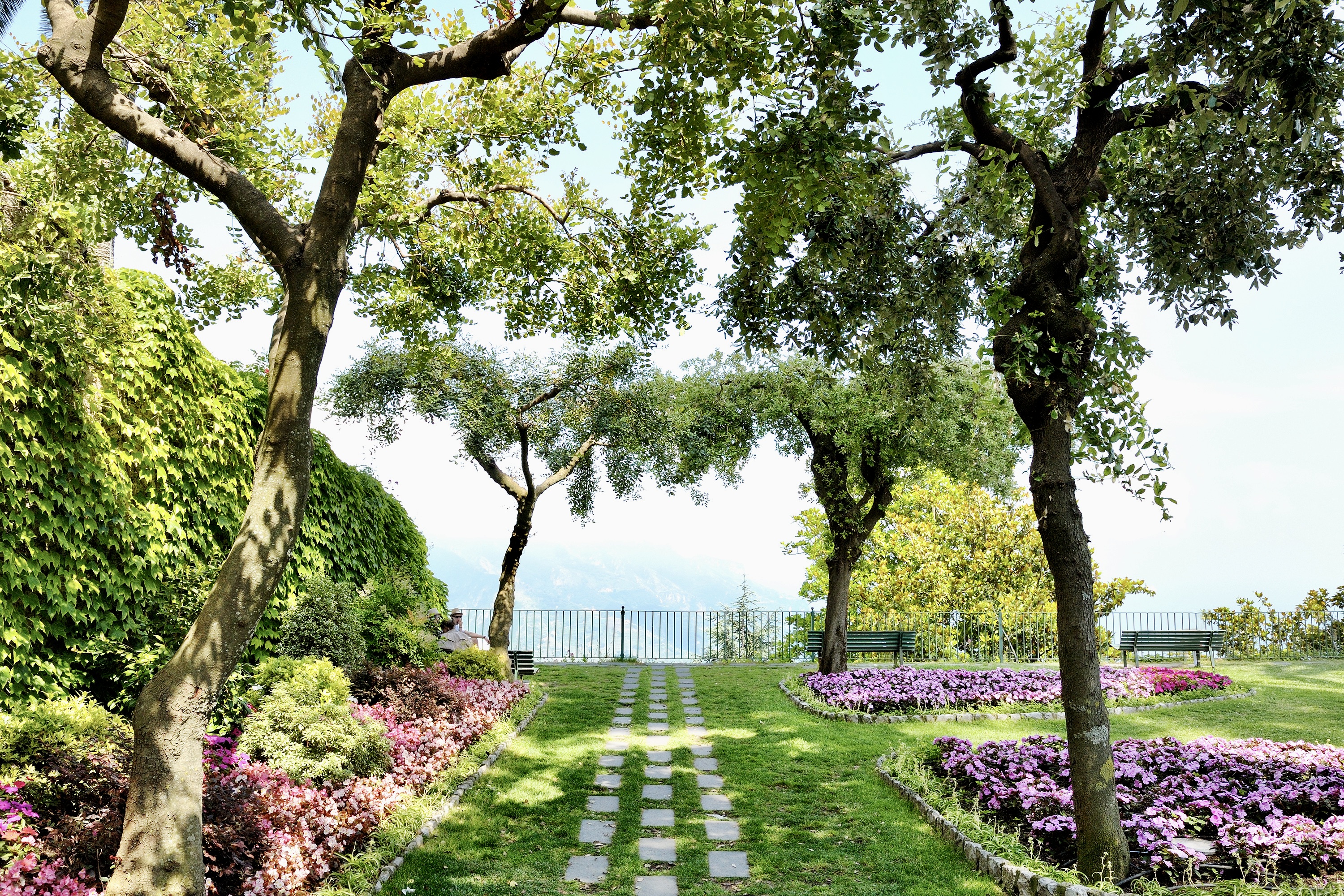 You can also visit the church cloister. The lovely medieval cloister features beautiful arches, columns, and a central courtyard adorned with lush greenery and flowers.
You can see several artifacts, sculptures, and fragments of medieval frescos. It's a serene and peaceful space for contemplation and relaxation.
Belvedere Principessa di Piemonte
From the church, head to the Belvedere Principessa di Piemonte. It's another one of Ravello's stunning vistas, offering up panoramic views.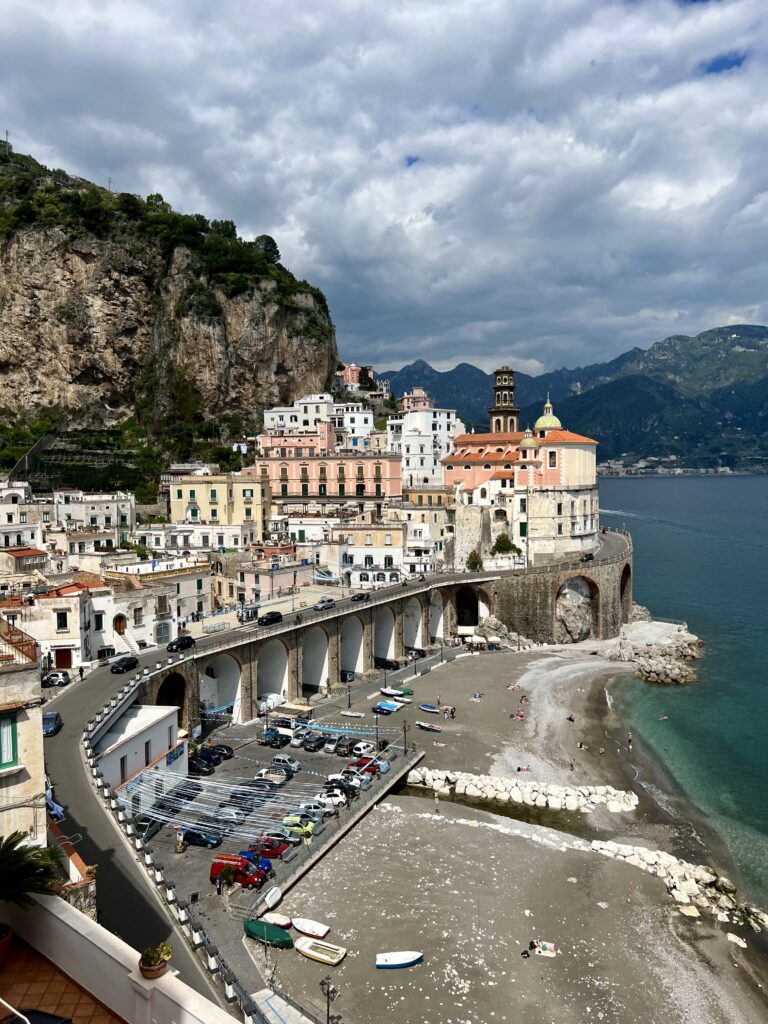 Atrani
After the church, head to the quaint town of Atrani. You can either drive there, take a taxi, or hike there. It's a one mile stroll along a winding road that should take 20-30 minutes.
Atrani is a great place to grab lunch, with some authentic trattorias. It's also just a dazzling town, with whitewashed streets and houses and some lovely churches.
The main square is Piazza Umberto I. It's a charming gathering place surrounded by colorful buildings and local shops.
You can pop into the Church of Santa Maria Maddalena. Admire its beautiful facade. Then, step inside to explore its interior, which features impressive religious artwork and intricate details.
You could also hit Atrani Beach. It's a beautiful pebbled beach that is markedly less crowded than some of the other beaches along the Amalfi Coast.
Le Arcate is a great place to eat near the beach. The seafood and wood fired pizza is divine!
Amalfi
In the afternoon, hike down meandering path (or taxi down) in the Valle delle Ferriere to the town of Amalfi. Here are some of the views I had on the very picturesque hike: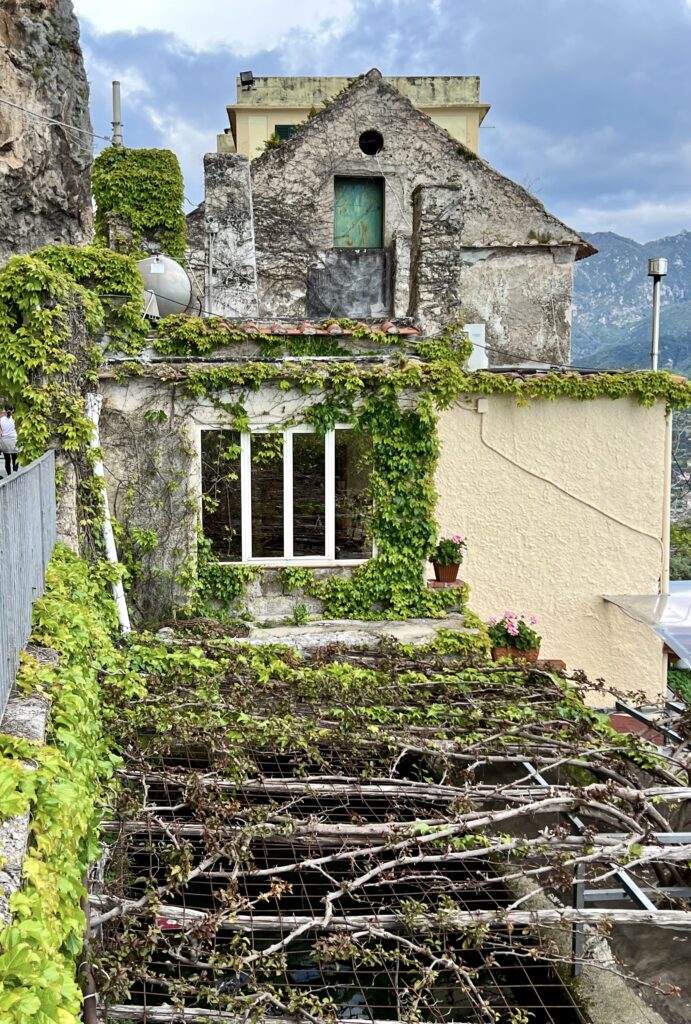 Much like Positano, cheerful Amalfi has tightly packed homes that seem to tumble down to the diminutive port below.
If you didn't eat in Atrani, Amalfi offers plenty of options. You can feast on fresh seafood or homemade pasta. Or grab a panini or pizza to go. I can also recommend L'Abside restaurant.
After lunch, wander through the vibrant Piazza del Duomo and visit the magnificent Amalfi Cathedral. It's one of Italy's most beautiful churches and a true gem, both inside and out.
First built in the 9th century, the cathedral's architecture is a testament to the rich cultural history of the region. It's a beautiful hybrid of Romanesque, Moorish, Gothic, and Baroque styles.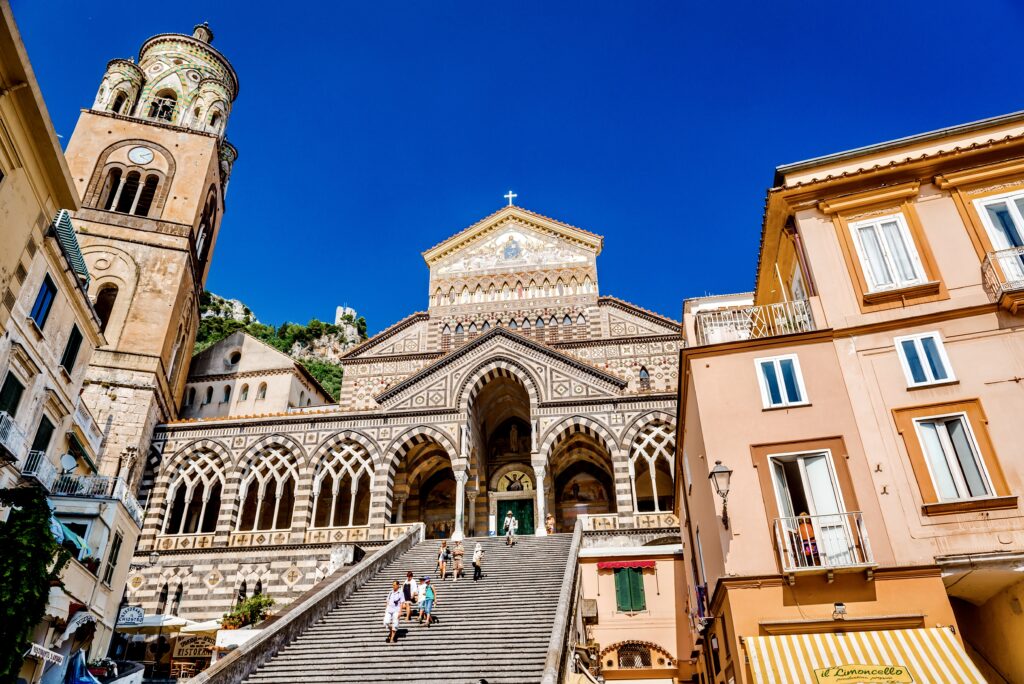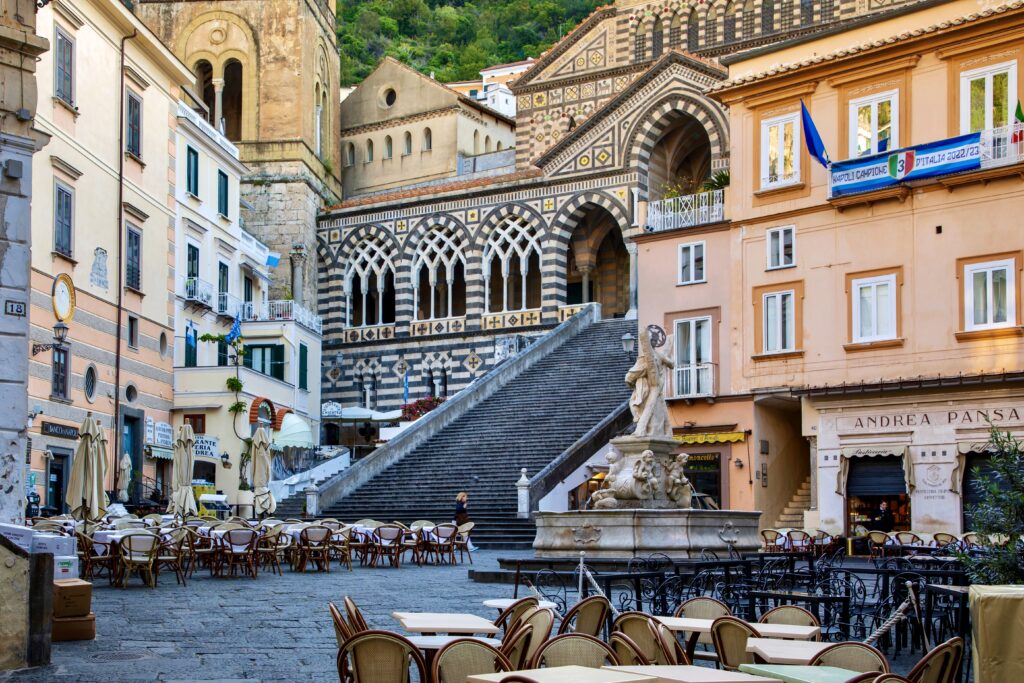 A visit to the cathedral can be divided into 5 parts: the Cloister of Paradise, the Basilica of the Crucifix, the Diocesan Museum, the Crypt, and the Cathedral.
You enter through the cloister. The admission price is 3 euros. For more information, you can check out my complete guide to Amalfi Cathedral.
You may also want to visit the Paper Museum. Known as the Museo della Carta, it's a fascinating attraction. It offers visitors a unique opportunity to learn about the history, techniques, and artistry of paper-making.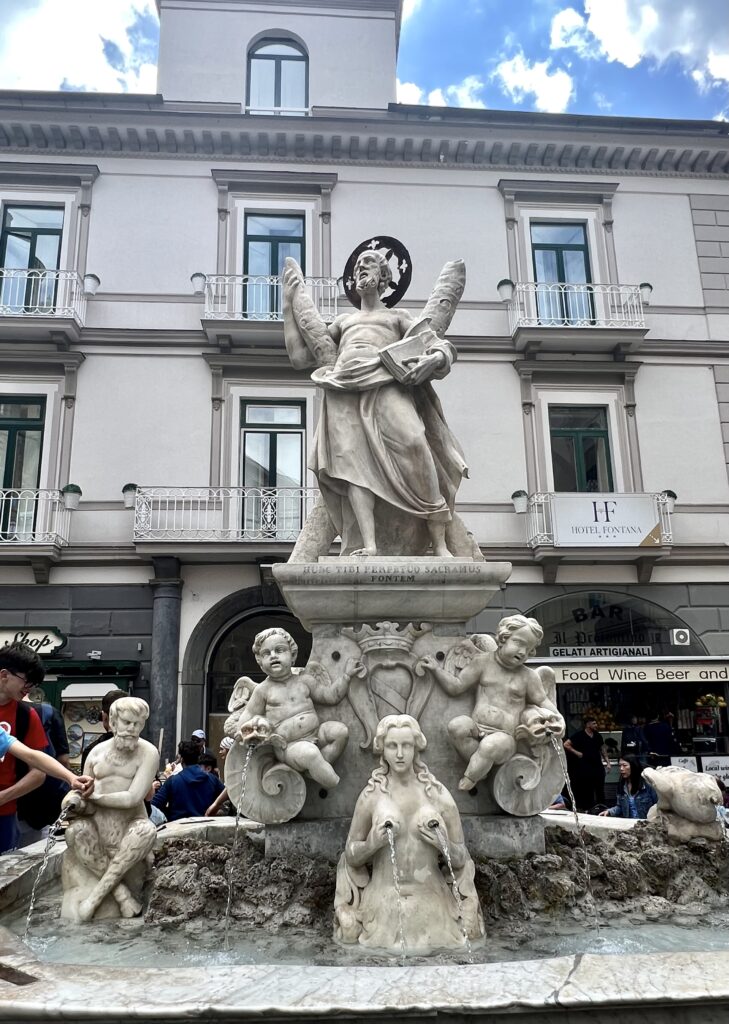 The museum is housed in an ancient paper mill that dates back to the 13th century. You'll get a demonstration of paper making techniques and can even purchase a souvenir to bring home. The paper, often decorated with flowers, is simply lovely.
Be sure to wander Amalfi's charming backstreets. They're lined with limoncello stands, ice cream shops, and local ceramics. Some even allow you to pick out your own lemons, which are just enormous.
If you wander off the main piazza, the crowds ebb and you will come to Amalfi's "ancient staircases." In these narrow backstreets, you'll see laundry hanging out to dry and catch a whiff of homemade food being cooked.
My guide pointed out one staircase that was once used to carry people by hand up to their burial place on the hilltop. It was their "last goodby" with family and friends gathered to pay their respects.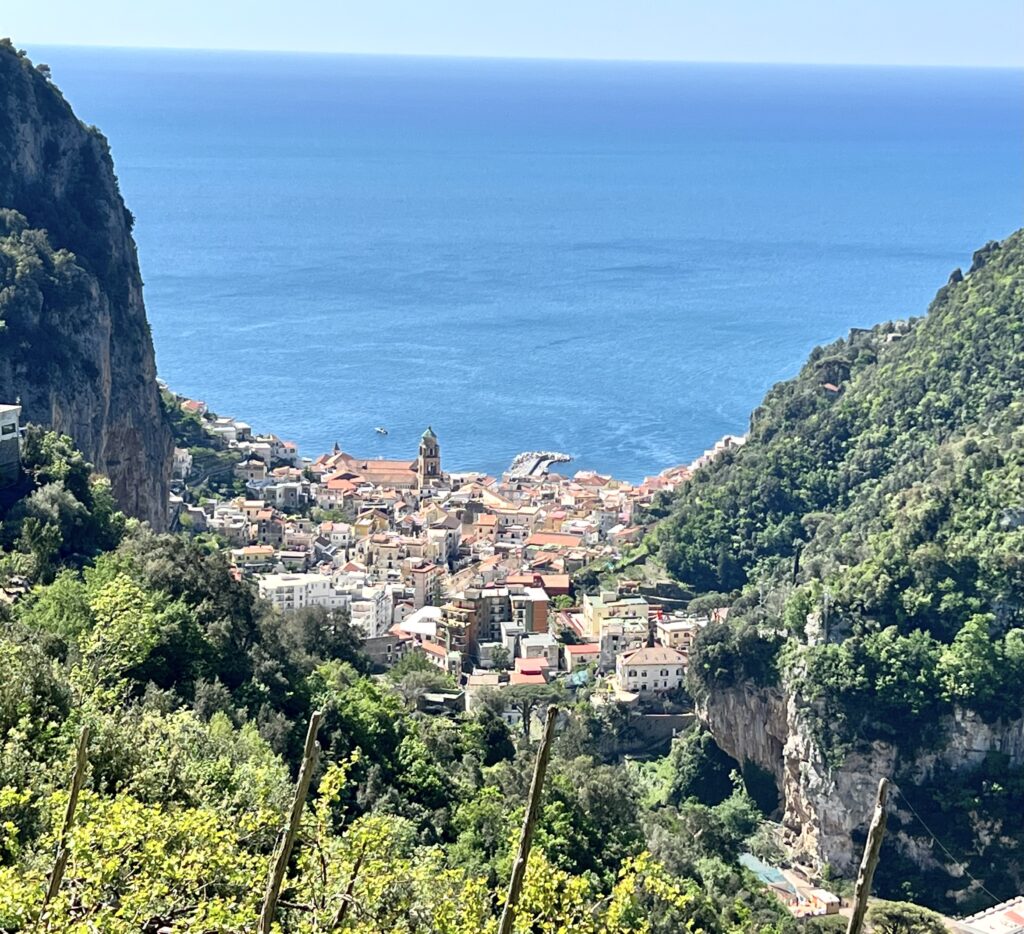 Alternative: Scala
If you want a more modest hike than the one from Ravello to Amalfi, head to the nearby village of Scala. Scala is Amalfi's most ancient village, and a place where you can escape the crowds.
In 79 A.D., Scala was covered with volcanic ash from Vesuvius. But that made it incredibly fertile. The town is known for its chestnuts and chestnut flour.
Scala has a nice historic center and you can visit the 12th century Church of San Lorenzo. Scala also offers the best views of Ravello.
In the evening, relax at a local restaurant like Cumpa Cosimo in Ravello or Taberna 33 in Minori. Or, you could splurge on the the Ristorante Belvedere at Hotel Caruso or Il Flauto di Pan at Hotel Villa Cimbrone.
Alternatively, you can take a cooking class, which is a popular thing to do in Ravello. I had a cooking lesson, which included making mozzarella, at Villa Maria.
Another option is Mama Agate. It's the premiere cooking school on the Amalfi Coast.
You can take a class in a clifftop home. It starts with a slice of delicious lemon cake and ends with an Italian meal that you cook. Be sure to book in advance!
Tips For A 2 Days In Ravello Itinerary
Here are some must know tips for spending two days in Ravello.
1. How To Get To Ravello
If you are driving from Naples, take the A3 highway towards Salerno. Then, follow the signs for the Amalfi Coast (SS163) until you reach Ravello. Due to narrow roads and heavy traffic during peak season, driving can be extremely challenging.
The SITA bus service operates regular routes along the Amalfi Coast. From Amalfi, buses run frequently to Ravello. During high season, you may encounter lines.
The bus journey takes approximately 20-30 minutes, offering scenic views along the way. The bus stop in Ravello is near the main square, Piazza Duomo.
You can also take a taxi from other Amalfi towns. For the easiest and most efficient way to get to Ravello, you can book a private transfer from Naples.
If you don't have 2 full days to spend in Ravello, you can also book a guided day tour from Naples that includes Ravello.
2. How To Get Around Ravello
Ravello is a small town that's closed to traffic and is easy to navigate on foot. If you are traveling by car, you'll have to park at your hotel or outside the town.
But, honestly, one of the best ways to get around Ravello and to and from the other Amalfi Coast towns is to hike. Not only do you get some exercise, but you avoid the sometimes frustrating traffic and are rewarded with splendid views along the way.
Another good way to explore is renting a scooter from Ravello Rent a Scooter (or another outfit). It's super fun. If you're not from Europe, you'll just need to obtain an International Drivers License.
3. Where To Stay In Ravello
I won't lie. Ravello is an expensive place to stay. But, if you can afford to splurge, it has some wonderful hotels.
I stayed in the spectacular Hotel Caruso, a Belmond hotel (photos above). I think it's the most beautiful hotel I've ever stayed in.
The hotel is perched on a cliff with sweeping sea views and extensive gardens. I can't recommend it enough, but it doesn't come cheap. In fact, Ravello is not really a place for budget travelers to stay.
Another hotel I checked out was the Hotel Villa Cimbrone. It's a boutique hotel with beautiful gardens and spectacular views from the Terrace of Infinity (which you'll have to share with other people). There's also a Michelin restaurant onsite.
Palazzo Avino is also a stunner. It's right next to the Caruso. The hotel is housed in a 12th century vill that offers up magnificent sea views, private parking, a viewing terrace, a private beach club, and breakfast spread.
A couple options that aren't as precious are Villa Maria and Villa Fraulo.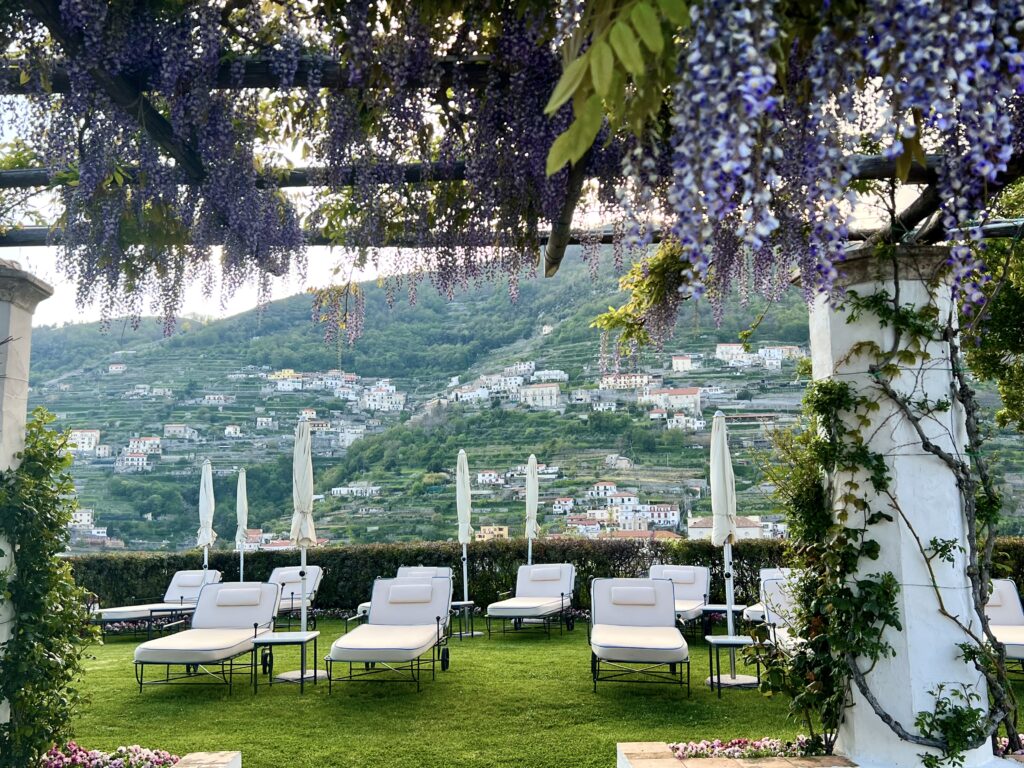 4. When To Visit Ravello
When to visit depends on your preference for weather and tolerance for crowds.
I think late spring (May) is the best time to visit the Ravello. The gardens and landscapes are at their most lush and the wisteria are blooming. You may get rain if you arrive in April.
In the summer, you should expect some crowds, which can cut into your enjoyment of the serene town. But, if you love music, you may want to brave them anyway.
Each year, in July and August, Ravello hosts the famous Ravello Music Festival, also known as the Wagner festival. The classical music celebration is held in the gardens of Villa Rufolo. Ravello will be jammed during this time.
5. How Many Days To Spend In Ravello?
I think 2 days is the perfect amount of time to stay in Ravello. With only one day, you won't have enough time to soak in the villas and the views.
Plus, Ravello is a day trip spot. If you are only there one day, it's likely you'll see Ravello at its most crowded. It's much more pleasant to have the tourist-free mornings and evenings.
6. Does Ravello Make A Good Amalfi Coast Base?
I personally think Ravello makes an excellent base in the Amalfi Coast. Some think it's less accessible because it's not a transportation hub.
But I think it's fairly easy to get around by taxi, hiking, bus, or scooter. The luxury hotels like the Caruso also have private shuttles to take you to other towns.
Plus, Ravello's biggest advantage is that, without the ferries and cruise ships, it's simply less touristy and more relaxing. You get the gorgeous scenery and the serenity without the teeming crowds in Amalfi, Positano, or Sorrento.
To my mind, Ravello's clifftop location is the most beautiful spot on the coast. Who wouldn't want to come home at night to that?
My only caveat is that, because of its location, Ravello doesn't have a beach. So if you want to spend significant time on one of the Amalfi Coast's pebbly beaches, you probably should base yourself elsewhere.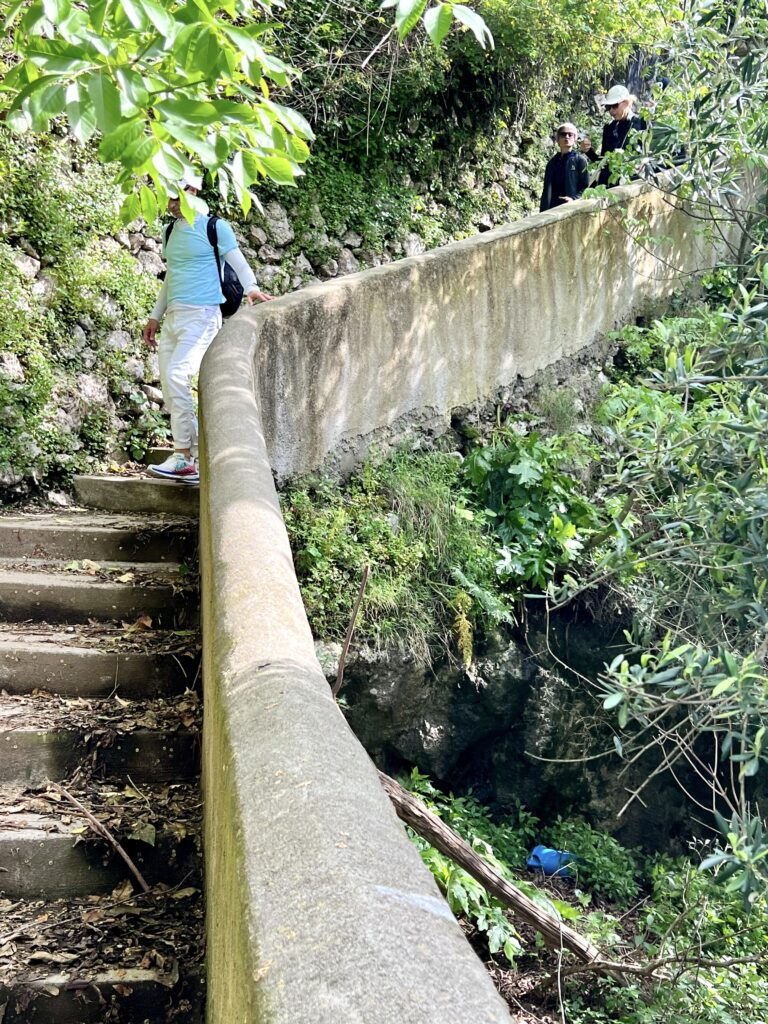 I hope you've enjoyed my 2 days in Ravello itinerary. You may enjoy these other Italy travel guides and resources:
If you need a 2 day Ravello itinerary, pin it for later.