Planning to spend 2 weeks in Sicily and looking for an itinerary? Look no further!
Sicily is a dreamy place steeped in mythology and history. After all, this is where Hades carried off Persephone and where Odysseus was kidnapped by the one-eyed cyclops.
Over the centuries, Sicily has been ruled by a dizzying succession of cultures. That unique history left many extraordinary relics on the island.
In Sicily, you can admire spectacular Greek temples, Roman villas, and mosaic-filled cathedrals. The ruins are beautifully maintained and set amid raw scenery that will make your eyes blaze.
Apart from the ancient goodies, Sicily has plenty of sybaritic pleasures on offer. It has some of the freshest and best cuisine in Italy. There are incredible street markets. And the world's best olives!
You can lounge on the beach, go wine tasting, feast on seafood, or indulge in the art of the aperitivo at a seaside cafe.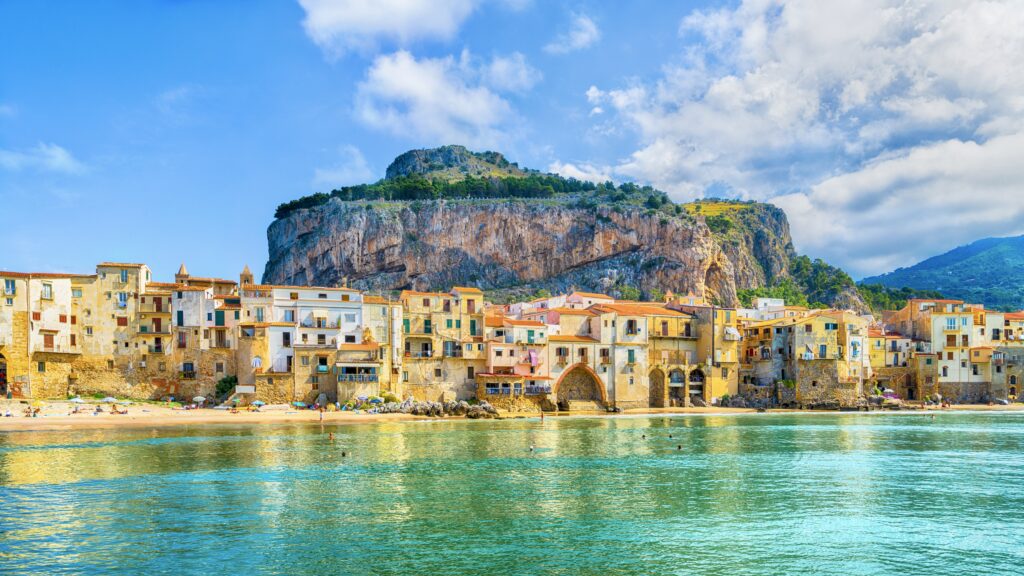 A Short History Of Sicily
Sicily is a long triangular shaped island. Its symbol is the three legged Trinacria. The island is 100 miles wide and 200 miles long, almost a country of its own.
History has been a cruel stepmother to Sicily. Because of its strategic location, the island has been conquered by virtually everyone who could sail a boat.
Cavalcades of Greeks, Carthaginians, Romans, Byzantines, and Arabs laid claim to the island. Perhaps the Greeks left the greatest patrimony, colonizing most of Sicily. Some of the most fascinating Greek myths and world's spectacular Greek temples are, in fact, Sicilian.
In 227 B.C., Sicily became the first Roman colony. To conquer the island, Rome fought the Carthaginians in the Punic Wars for over a century from 264 to 146 B.C.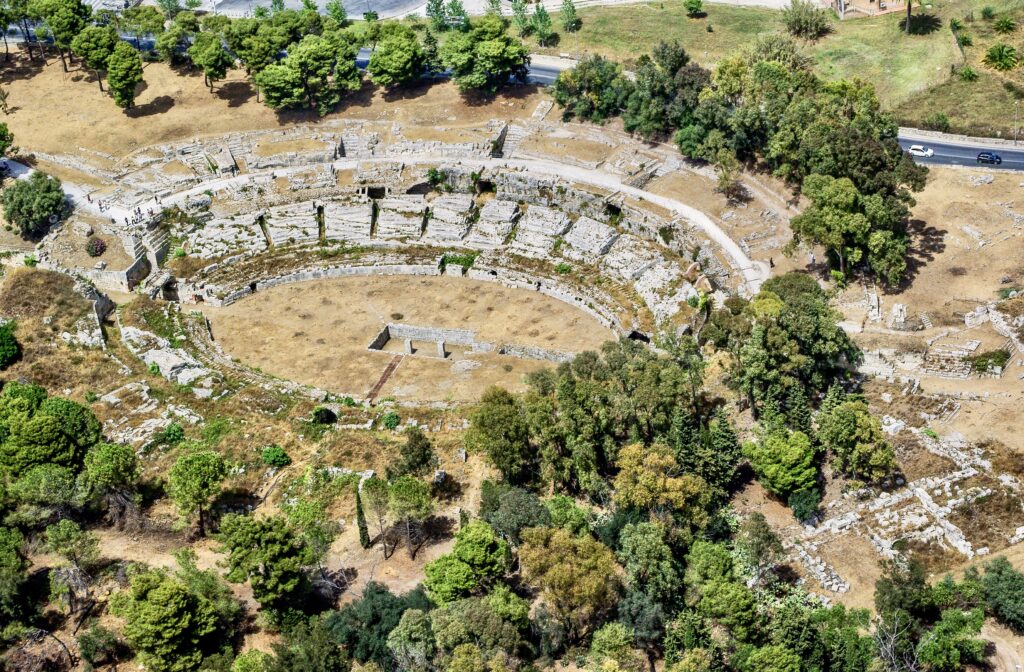 The Romans accommodated the local Greek culture, but also Latinized the island. They built great farms, making Sicily the "granary" of the entire Roman Empire.
In the 11th century, Norman adventurers seized control. Rather than reject the culture of their predecessors, the Normans embraced the elements of artistic diversity and fused them into two brilliant centuries of culture and art.
But, alas, the Norman power slowly decayed and the Spaniards laid claim to the island.
The lineup of rulers left behind fascinating ancient remnants and a melting pot culture. Sicily is now a kaleidoscopic "lasagna of history."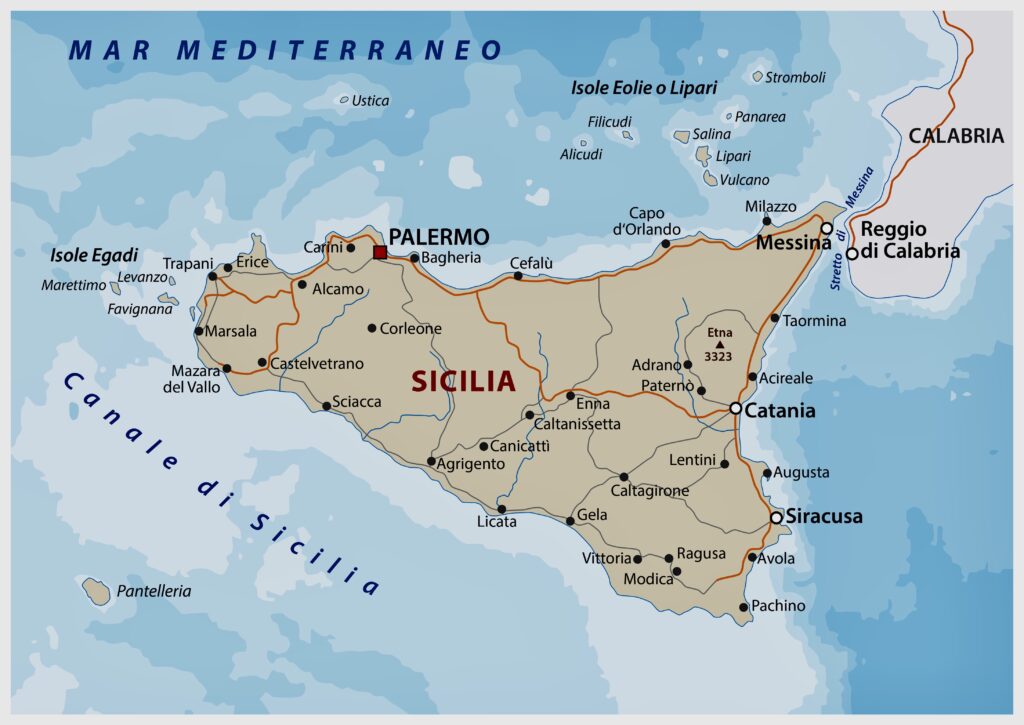 Overview Of 2 Weeks In Sicily Itinerary
Sicily is a massive region of Italy. You could easily spend much more than 2 weeks in Sicily.
This Sicily road trip itinerary is one of the classic routes around the island. It starts and ends in Palermo and takes you mostly counterclockwise around the island's perimeter. You can pick up your car leaving Palermo and drop it off at the same place, thereby avoiding extra charges.
With this Sicily itinerary, you'll have 4 bases: (1) Palermo; (2) Syracuse; (3) Taormina; and (4) Cefalu.
Day 1: Fly into Palermo
Day 2: Palermo
Day 3: Palermo + Monreale
Day 4: Palermo, Day Trip to Segesta (AM), Erice (PM)
Day 5: Agrigento (AM), Villa Romano del Casale (PM), overnight in Syracuse
Day 6: Syracuse
Day 7: Syracuse
Day 8: Day Trip to Ragusa and Noto from Syracuse
Day 9: Mt. Etna & Winery, overnight in Taormina
Day 10: Taormina
Day 11: Taormina + Castelmola
Day 12: Cefalu
Day 13: Cefalu
Day 14: Transfer Cefalu to Palermo and fly out of Palermo
More time? Add another day in the Val di Noto or head to the Aeolian Islands for a couple days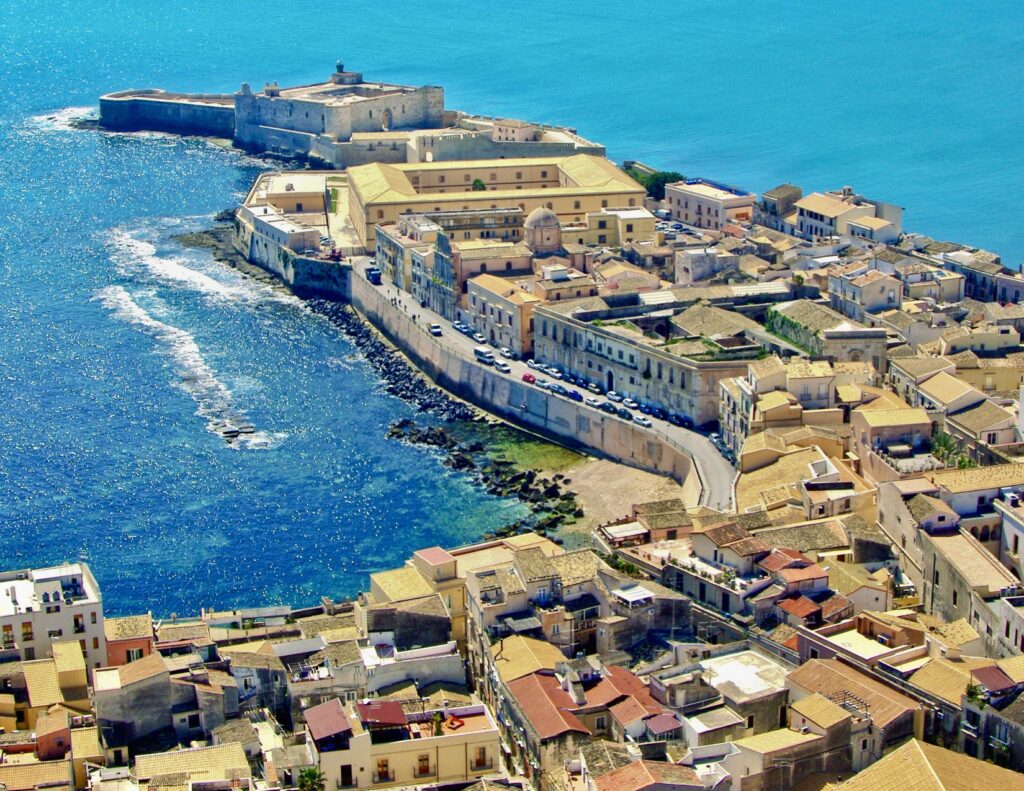 I recommend driving in Sicily. But definitely not in Palermo.
You should pick up your car at Palermo Airport on the way out of the city en route to Agrigento on day 4. It's very easy to day trip from Palermo with guided tours on days 2 and 3.
This way, you avoid driving in Palermo (crazy drivers), Monreale (insane drivers), and Erice (winding mountain road with hairpin turns).
As for hotels for your four bases, I recommend:
The fanciest hotels in Sicily are definitely in Taormina.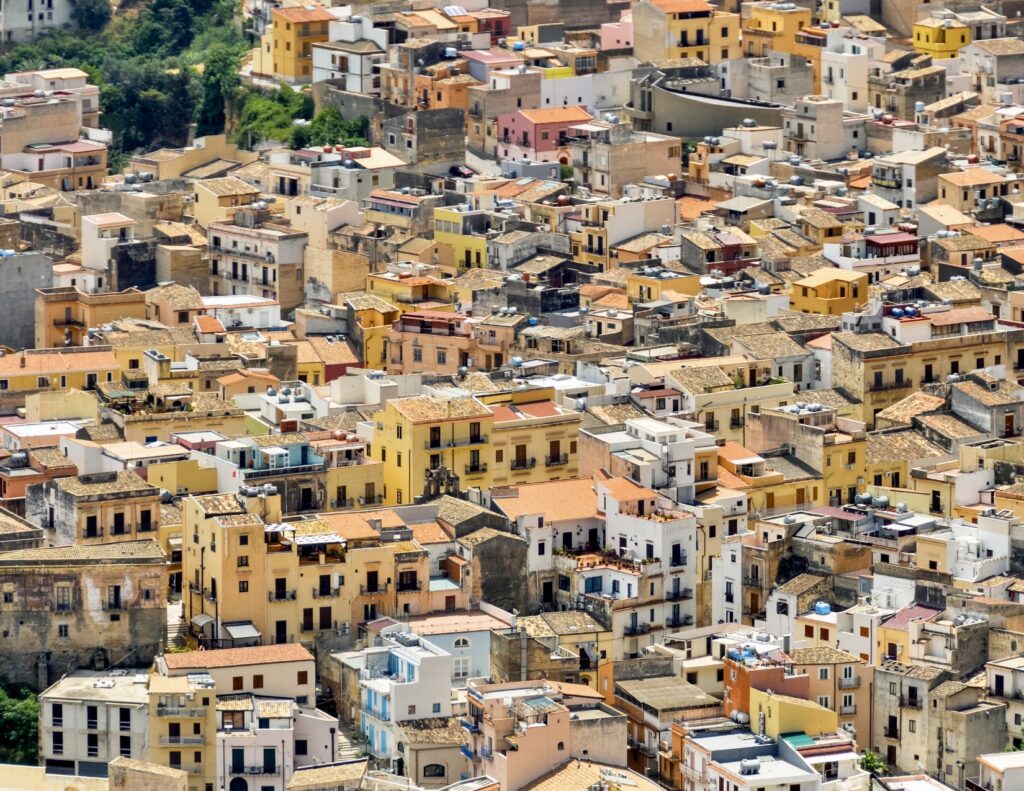 Day 1: Fly Into Palermo
Palermo is home to its own international airport, which will be your point of entry for this Sicily road trip. You can fly into Palermo from Rome, London, Paris, Milan, New York, and Barcelona. You might consider spending a few nights in any of these European cities before moving on to Sicily just to recover from jet lag.
The set taxi rate for getting from the Palermo Airport to the city center is 40 euros. However, drivers sometimes take advantage of tourists by increasing the price, so decide on a price before you leave. To avoid negotiating, you can book a private transfer from the airport to your hotel, which is what I did.
You can also get to Palermo by train using the train ferry across the Strait of Messina. But this will be more time consuming and less efficient.
Palermo is an extremely walkable city. With 2 days in Palermo, I walked everywhere and never used another form of transport. You can also take taxis, sign up for a guided biking tour, or take the hop on hop off tourist bus.
If you have some time on arrival, take a stroll down the pedestrianized Via Maqueda or Via Vittorio Emanuele, the two main drags. Or admire Piazza Bellini and Piazza Pretoria.
Day 2: Palermo
Palermo is one of Italy's most underrated cities. Beneath a bit of grit, Palermo is the kind of city where you stumble across exquisite things.
It's a showpiece of Arab-Norman architecture with 8 attractions included in its UNESCO designation. And it has some of Sicily's most exotic street food markets.
On your first day, to get properly oriented, you may want to book a guided walking tour. I had two excellent guided tours in Palermo and they helped make the city and its monuments come to life. I especially liked this 4 hour private tour that included lunch at Capo Market.
In the morning, you should visit the the Norman Palace, the Palatine Chapel, Palermo Cathedral, and Palazzo Conte Federico.
The Norman Palace was the home of the Sicilian kings, who built a glittering mosaicked chapel that's the #1 attraction in Palermo. You can read more about it in my detailed guide to the Palatine Chapel.
Palermo Cathedral is a beauty with an extravagant facade mixing Arab, Norman, and Swabian features. The church was expanded and altered with each change of power. Now, it's an imposing hulk synthesizing 700 years of history.
I recommend climbing the roof for some spectacular views. You can also visit it as part of a Palermo art and architecture tour.
After a visit, head to Ballaro Market for lunch. Once sated with Sicilian goodies, roam around the old town, taking in the Quattro Canti (four corners), the Fountain of Shame, and the three magnificent churches in Piazza Bellini.
La Martorana has beautiful 12th century mosaics. Santa Caterina has a Baroque interior and a rooftop with views. La Cataldo is topped with three faded red Arab-inspired domes and has a step back in time feel.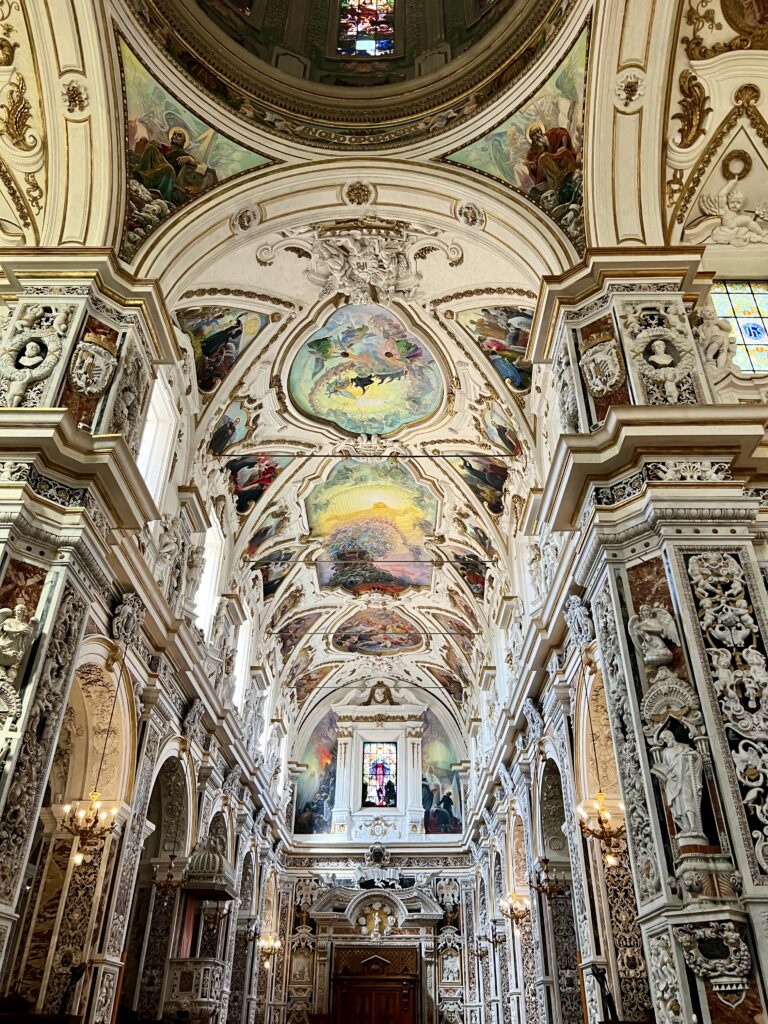 Day 3: Palermo + Monreale
On day 2 of your 2 weeks in Sicily, spend the morning in Palermo and head to Monreale Cathedral in the afternoon.
In the morning, you could tour the magnificent Teatro Massimo, the third largest opera house in Europe. You could also visit a couple more Baroque churches, the Church of San Domenico and the Gesu Church.
In the afternoon, head to Monreale. The traffic there is insane, even moreso than Palermo. You can book a half day guided tour from Palermo or, even better, a private tour that incudes the Capuchin Catacombs in Palermo.
Monreale Cathedral is a 12th century Arab-Norman cathedral filled with glittering gold mosaics. Words will fail you trying to describe them.
The well-preserved 12th century mosaics cover almost every wall. This rich figural decoration is what makes Monreale Cathedral a historic treasure of the first order.
In total, there are 68,000 square feet of mosaics. The mosaics depict a host of episodes and an endless cast of characters from the story of Genesis, from the creation to the assumption.
The highlight, in the vault of the central apse, is a huge mosaic of Christ Pantocrater. At 60 feet tall, it's the largest pantocrater in Europe. It's a depiction of Christ in glory raising his right hand in a two fingered Byzantine-style blessing.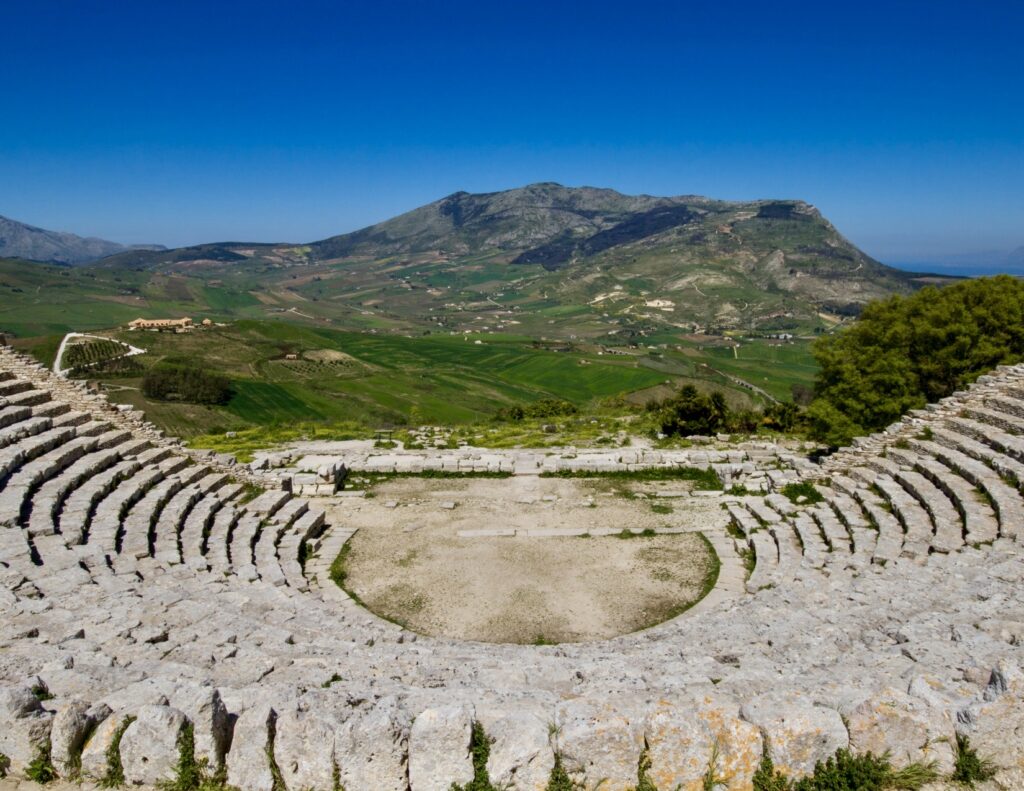 Day 4: Segesta (AM), Erice (PM)
On day 3, you'll visit Segesta and Erice from Palermo. You can get to both destinations on an 8 hour guided day tour from Palermo.
Segesta
The Segesta archaeological site is one hour from Palermo. It's home to ancient Elymian ruins dating from the 5th century B.C.
The ruins of Segesta are somewhat of an anomaly in the Mediterranean. They're a testament to all things Greek, but built by the non-Greek ancient Elymians.
The ruins are set in an isolated setting, which gives them a moody vibe. You can visit a magnificent temple and a theater on the hill. A shuttle bus takes you around and there's a parking lot onsite.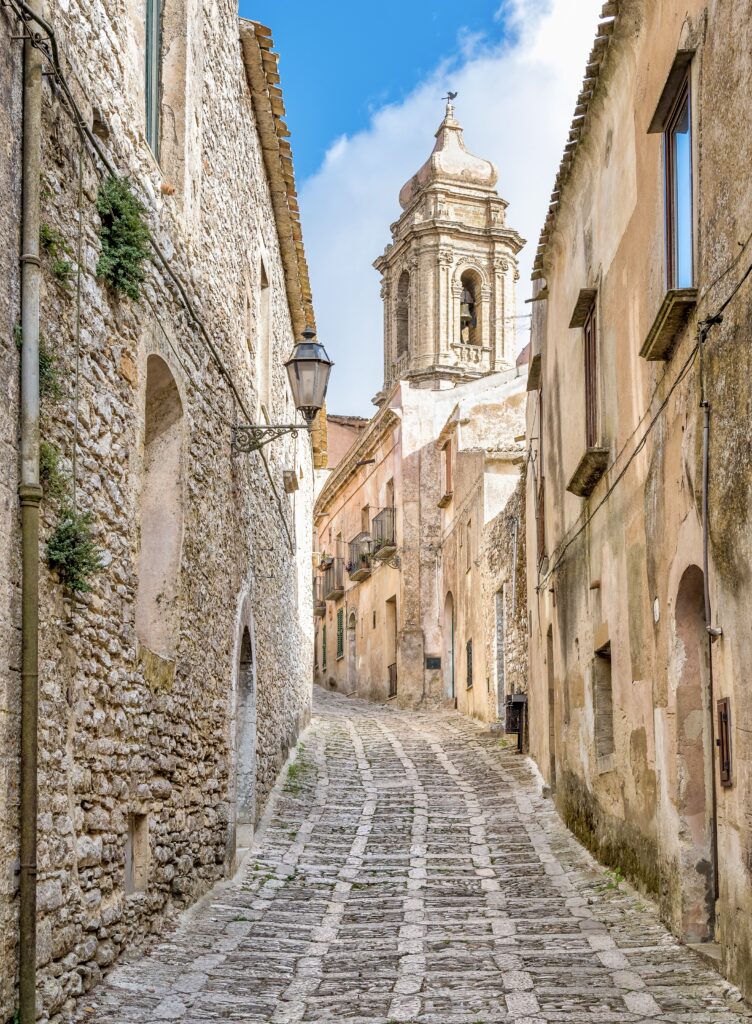 Erice
Erice is a rare medieval (rather than Baroque) town in Sicily. It has the vibe of cute medieval towns on mainland Italy like Orvieto or San Gimignano.
You'll park outside the main gate near the cathedral and walk in. You can wander the cobbled streets and maze-y lanes.
Walk along the city walls and take in the fantastic views. A visit to the Romanesque-style Duomo is a must and you can climb the adjacent bell tower.
The Venus Castle was built on the former Temple of Athena and became a fortress in the Middle Ages. It offers up stunning views from its terrace.
You'll also want to visit the pastry shop of the Queen of Sicilian pastry, Maria Grammatico. She makes delicacies like "nuns' boobies" and "beautiful uglies."
Alternative
As an alternative to Segesta on day 3 of your 2 weeks in Sicily itinerary, you could substitute the cute medieval town of Castellammare del Golfo for Segesta.
The town is on the way from Palermo to Erice. You could stop there in the morning and have lunch and then do Erice in the afternoon.
Castellammare is known for its harbor front promenade sitting below its castle. There's two small beaches and plenty of seafood eateries.
Day 5: Agrigento (AM), Villa Romano del Casale (PM)
This will be a longish day. You'll leave Palermo and head to Agrigento, which is a little over 2 hours away.
After Agrigento, head 1:20 down the road to the Villa Romana del Casale. When you're finished there, head to Syracuse (2 hours) where you'll overnight.
If it's too much driving for you, you can overnight in Agrigento. Or at Baglio della Luna in the country side near Villa Romana del Casale.
Agrigento
The Valley of the Temples is the world's largest archaeological site and Sicily's star attraction. Lying on the island's southern coast, the complex is chock full of spectacular Greek ruins and has a wonderful archaeology museum.
The temples are set in a rolling valley ridge. Some are perfectly preserved (Temple of Concordia), some are fairly intact (Temple of Juno), and some lie in romantic ruins (Temple of Zeus).
If you'd like a guide to make the ruins come alive, you can book a 2 hour guided tour that meets at the Via Panoramica Valle dei Templi. I recommend this option as there's very little signage.
Villa Romana del Casale
Next, head to the UNESCO-listed Villa Romana del Casale, which was one of my favorite stops on my Sicily road trip.
This immense villa was built either by a Roman aristocrat or the Roman Emperor Maximian. The villa's floors are lavishly decorated with the world's largest display of in situ mosaics.
Whoever the owner, he was an import-export guy specializing in exotic animals. You'll see mythical beasts, bloody hunting scenes, chariot races, children and cupids cavorting around, and female athletes in bikinis.
To see the mosaics, you walk across a system of walkways. There is plenty of signage and an audio guide. But you can also book a 2 hour guided tour from an expert, which I wish I had done rather than spending so much time reading.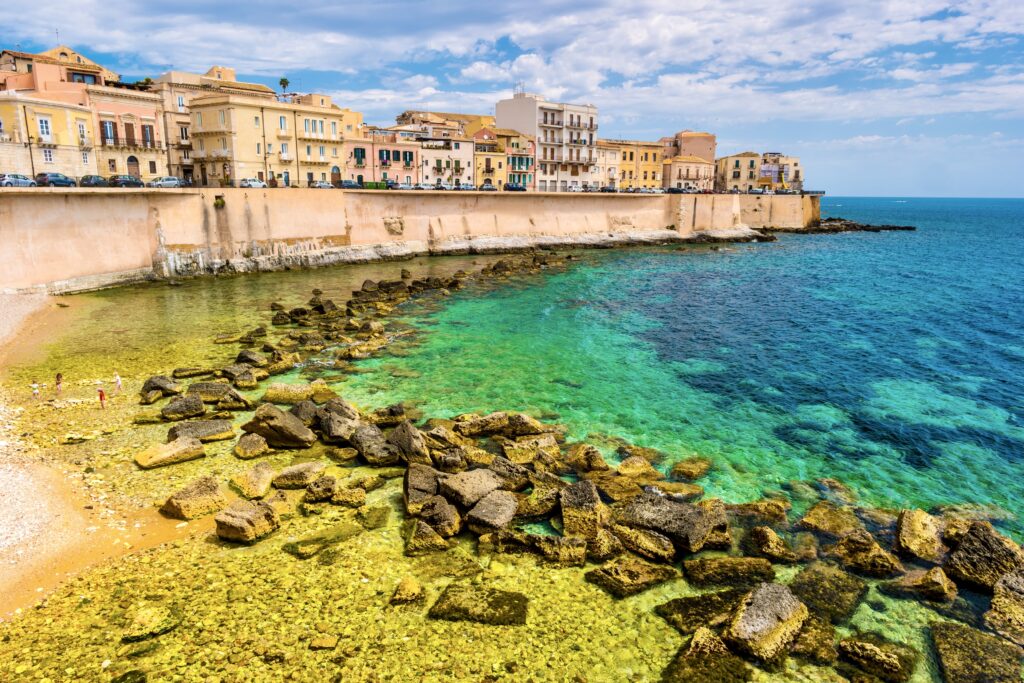 Day 6: Syracuse
Syracuse is truly one of Sicily's most dazzling cities. In its heyday, it was the largest city in the ancient world, even bigger than Athens.
Syracuse has everything you'd want in a Sicilian city — show stopping piazzas, winding old time-y lanes, and a perch on the sparkling blue sea. It's a jumble of Greek, Roman, Medieval, and Baroque layers.
On your first day, book a guided walking tour or take a ramble through the easily walkable old town of Ortigia. Start at the Santa Lucia Bridge. Stop to admire the open air ruins of the 2,500 year old Temple of Apollo.
From the temple, you can access the three main streets of Ortigia — Via Roma, Via Matteotti, and Via Cavour. The first two are shopping streets. Via Cavour is the most picturesque, filled with unique boutiques and eateries.
Have lunch or shop at the Ortigia street market. You can also book a street food tour or take a cooking class and learn to make arancini.
Be sure to wander around ancient Graziella, the old Arab Quarter. And don't miss the old Jewish Quarter. It's a bit off the beaten tourist path, but very atmospheric.
End your day in the Piazza del Duomo, a beautiful Baroque space, which is the "living room" of Ortigia. It's a graceful semicircle lined with cafes.
Check out the Duomo, which was built around a 5th century B.C. Greek temple. It's other striking feature is the dramatic Baroque facade.
The piazza is the perfect place to relax and have an aperitivo before dinner. Then, hit an authentic Sicilian eatery off the main drag for dinner.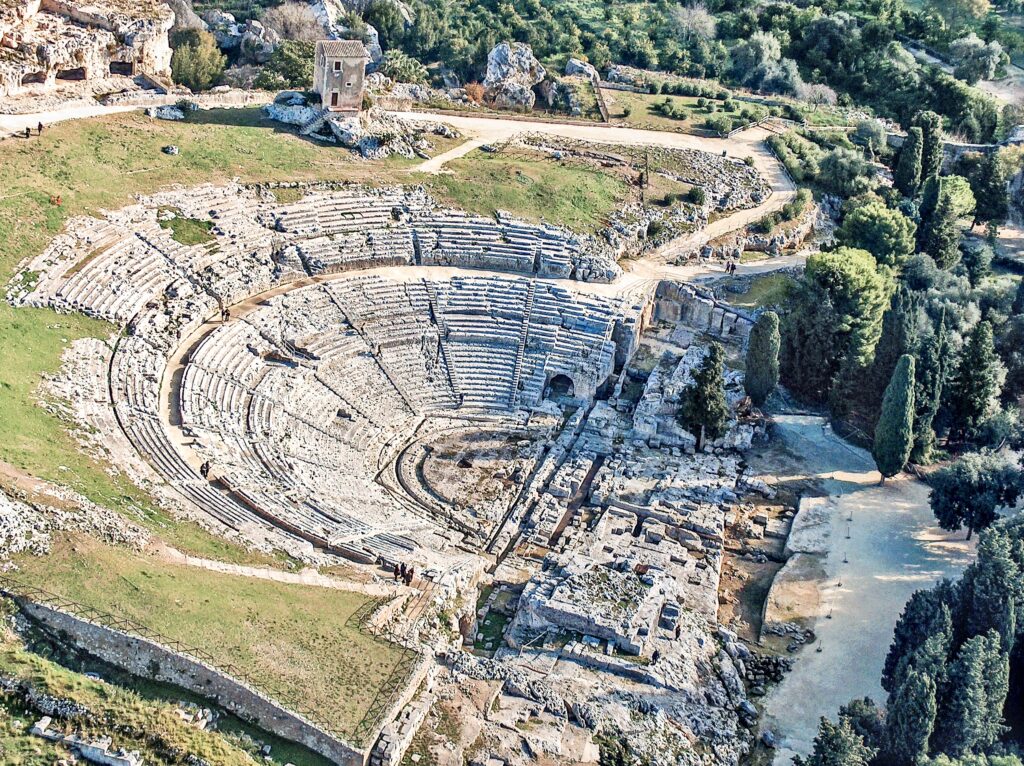 Day 7: Syracuse
On day 6 of your 2 weeks in Sicily, you'll continue in Syracuse. Walk or take a taxi out to Neapolis Archaeological Park on the mainland. This is where you'll find Syracuse's grand ancient monuments.
The park is home to a pearly white Greek theater, one of the world's most impressive ancient ruins. Beside the theater are some limestone quarries called latomie. The most mysterious is the Ear of Dionysus, named by the Italian artist Caravaggio.
You'll also find a 2nd century A.D. Roman Amphitheater. It was once used for horse races, gladiatorial combat, and mock naval battles.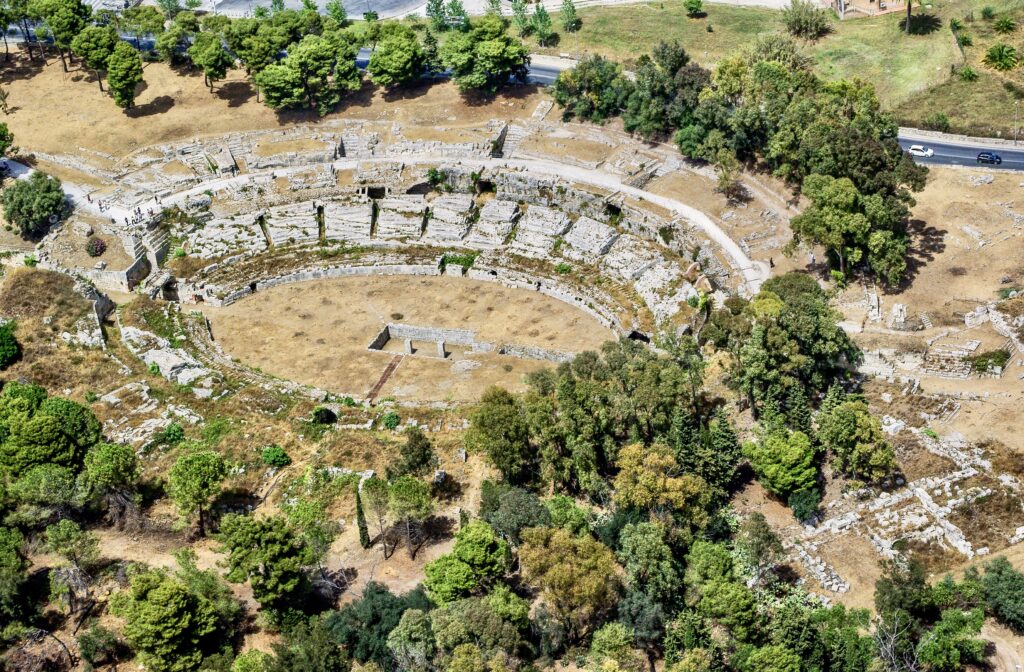 The Paolo Orsi Archaeological Museum is outside the park and contains one of Sicily's best archaeological collections.
You can book a skip the line ticket in advance, which may be a good idea in high season to avoid waiting in line. I also recommend booking a guided tour to help make the ruins come to life. There's almost no informational signage.
When you're done rhapsodizing over ruins, head to the Church of Santa Lucia al Sepolcro. This is the site where Syracuse's patron saint, Lucia, was martyred in 304. The church contains a precious Caravaggio painting, the Burial of Saint Lucia.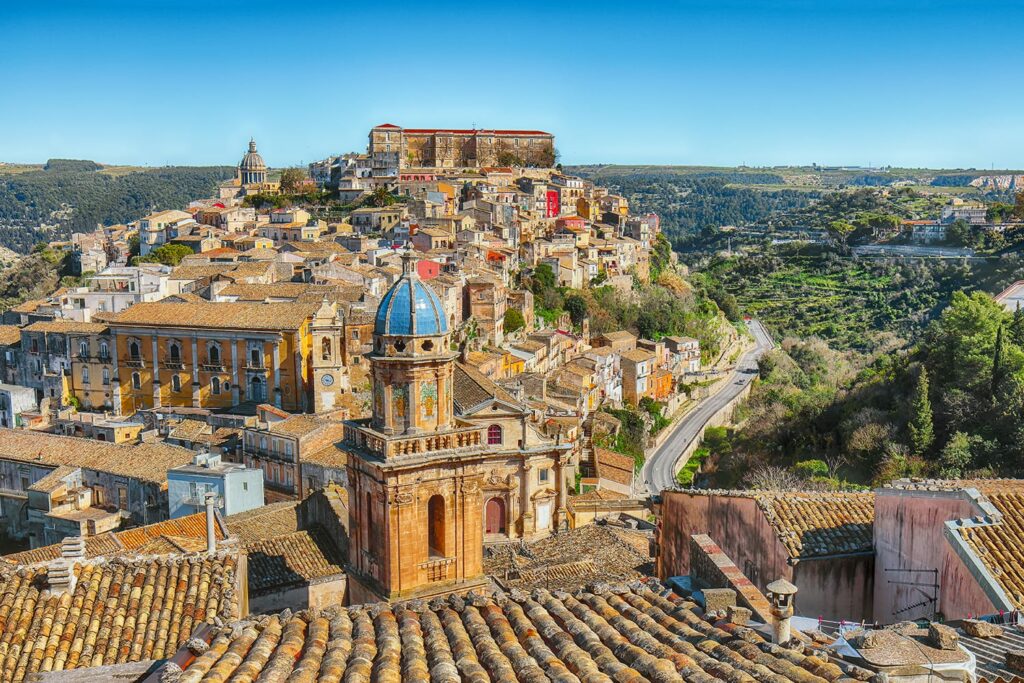 Day 8: Day Trip to Ragusa and Noto from Syracuse
On day 7, head to the Val di Noto in Sicily's southeast corner. This is the island at its most seductive. You'll find a swirl of UNESCO-listed Baroque hill towns.
Ragusa
Like Syracuse, Ragusa has a new town and an old town. Start in the new (and less attractive) town, Ragusa, Superiore, just for the views of the old town, Ragusa Ilba.
Tangled alleyways lead you down to the historic center. The curious may want to book a guided walking tour.
Piazza Duomo is Ragusa's magnificent central square where you'll want to mingle and admire the architecture and the 18th century cathedral.
Take Corso XXV Aprile to the second of Ragusa's eye catching churches, the Chiesa di San Giuseppe.
Noto
An hour to the east of Ragusa is the town of Noto. You can park your car in the Parcheggio Centrale, a 2 minute walk into town.
Noto is Sicily's architectural supermodel, weighing in as the statement piece for late Sicilian Baroque architecture.
The main drag, which you can see in the photo above, is the incredibly picturesque Corso Vittorio Emanuele. It's flanked with gold and red colored buildings.
Pride of place goes to Noto Cathedral, the Cattedrale di San Nicolo. After a 1996 thunderstorm that damaged its dome, the cathedral was restored and scrubbed, so is in pristine condition.
Down the Corso, you'll find Noto's main square, the Piazza Municipio. It's home to Note's most elegant buildings, palazzi, and churches.
Day 9: Mt. Etna & Winery, Overnight In Taormina
Spend day 9 of your 2 weeks in Sicily visiting Mt Etna. The locals affectionately call Mt Etna "Mamma Etna" because she is a grumpy but generous volcano.
Mt. Etna is a rich agricultural area, producing wine, fruits, and olives. When there is a rare lava flow, it further enriches the volcanic soil.
You can experience the volcanic landscape by hiking the Silvestri craters. There's an upper and lower one. You can get even higher by taking the funicular.
You can also try to summit Etna. But you'll need to book a guided tour because it can be dangerous at the top.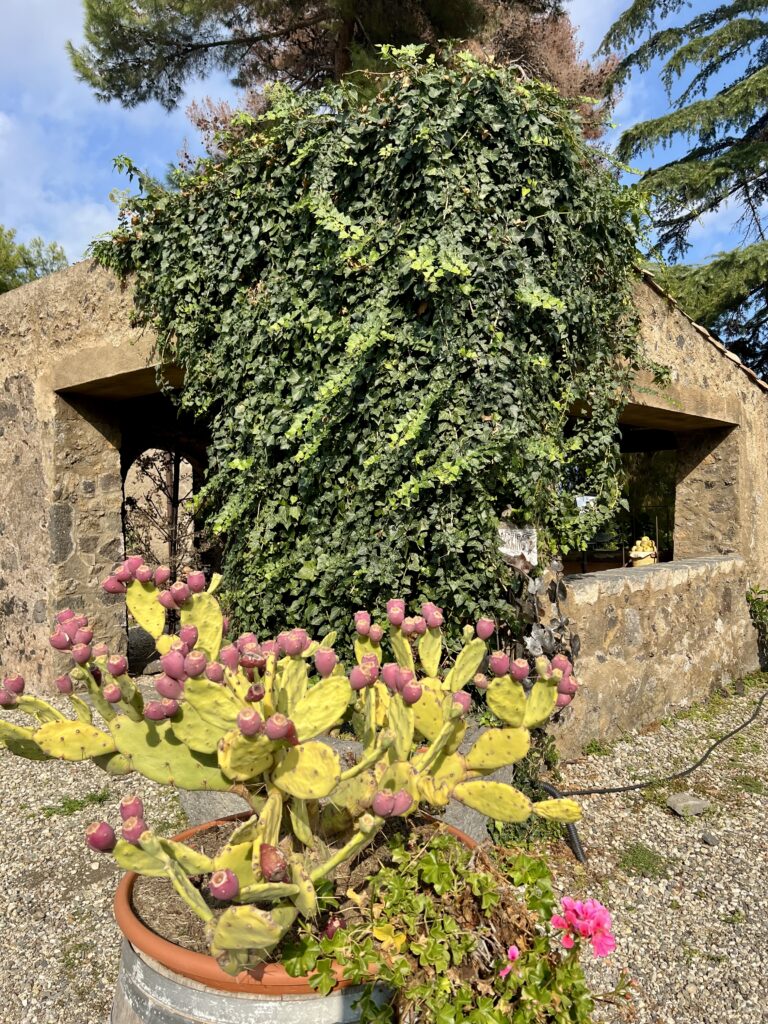 When you're done hiking, try to visit one of the wineries on the slopes to sample the Etna wines.
You should make a reservation in advance. I stopped at Benanti Winery and the wines were delicious!
You can visit Mt. Etna on a 7 hour guided tour from Syracuse. You can also book a tour of the Etna wineries. The wineries will ship wine to your home.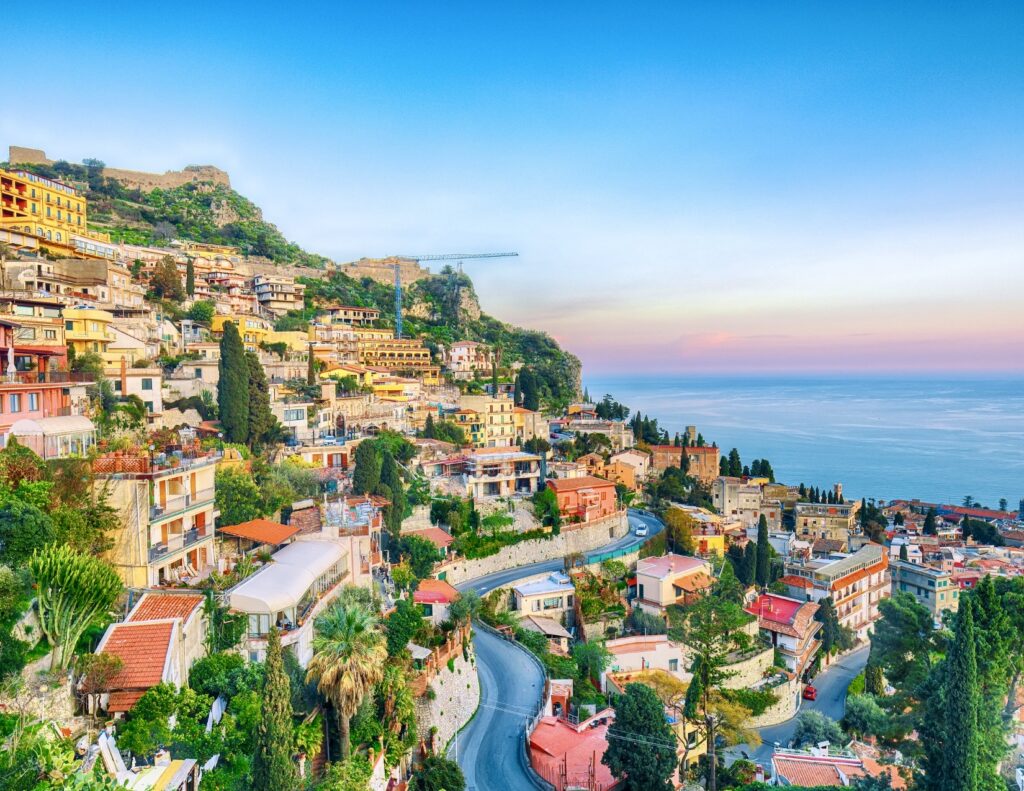 Day 10: Taormina
Is there a city more beautiful than Taormina in Sicily? Perhaps not. Known as the "Pearl of the Ionian Sea," Taormina has it all.
It's a chic compact town with cobbled lanes and a stunning hilltop perch. Taormina has been attracting travelers for centuries and is Sicily's premiere resort town.
Start your day with a granita at Bam Bar. Then, head to Taormina's top attractions, its Greek Theater known as Teatro Antico.
The theater has one of the most spectacular settings imaginable with endless views. The Greek built the original theater in the 3rd century B.C. In the 2nd century A.D., the Romans came along and "Romanized" it, making it suitable for gladiatorial games.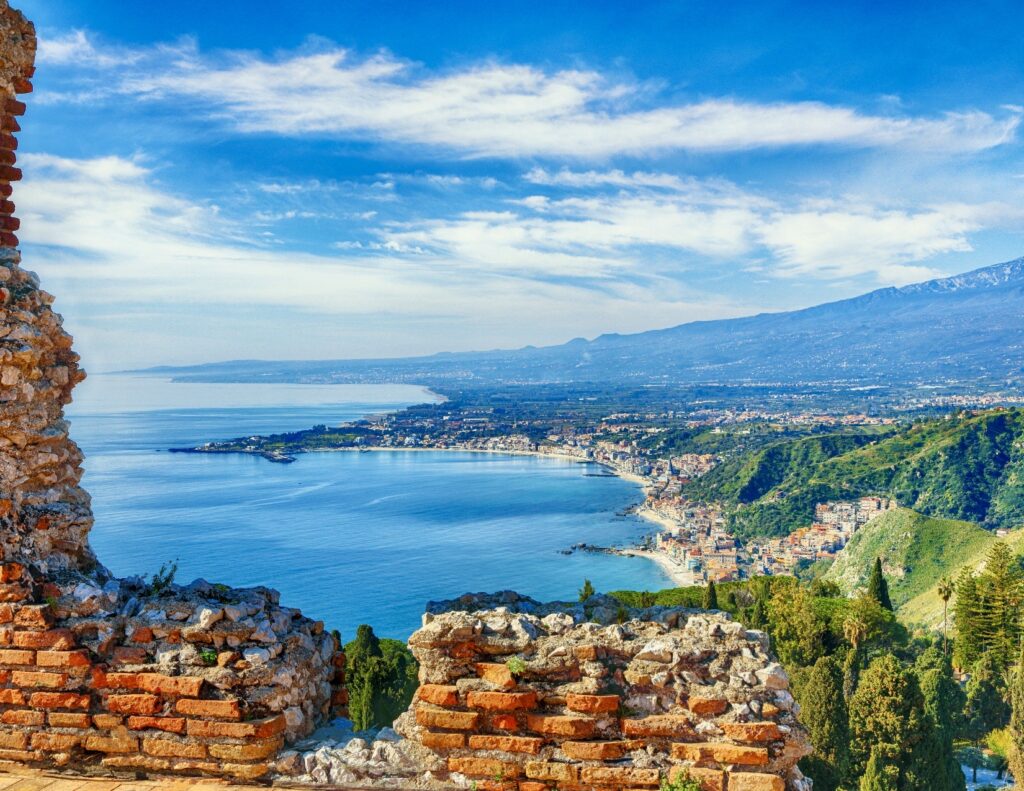 After the theater, take a stroll through the peaceful gardens of Villa Communale.
Afterward, head down the main drag, Corso Vittorio Emanuele, where your head will be swiveling right and left. The pedestrianized street is full of shops, eateries, and beautiful Sicilian style balconies dripping with flowers.
You'll have to pause and have an aperitivo in Piazza IX Aprile, a square known as Taromina's "living room." The views can only be described as scenic overkill.
Day 11: Taormina: Castelmola & Isola Bella
On you second day in Taormina, you can enjoy more of the town. One way to see more of it, from above, is to taxi or hike up to the medieval town of Castlemola. It's perched even higher than Taormina.
It's a cute place where you can soak in the views, with gelato or granita in hand.
If you'd like some beach time, head to the pebbly beach of Isola Bella. It's one of the most photogenic places in Taormina.
To get there, you take a gondola that leaves from Via Pirandello near Porta Messina and the Greek Theater. They leave every 15 minutes and cost 3 euros.
You can also book a snorkeling tour around Isola Bella and the famous Blue Grotto or take a boat tour.
Day 12: Cefalu
Cefalu is a fantastic place to unwind and take a "vacation from your vacation." Sicily can be exhausting to travel at a manic pace and Cefalu is the perfect antidote. It's a charming place that's nowhere near as crowded or manic as Taormina.
Cefalu is a picturesque medieval seaside town that hugs the coastline and is set beneath a massive boulder. A mile-long white sand beach extends from town. Cefalu is just immaculate, as if airbrushed to help you drift through the maze-like lanes in a constant star of awe.
Cefalu Beach is a rare sandy beach just steps from the town. For a quieter beach, you can head to Sant'Ambrogiod Beach, just 15 minutes from town. Mazzaforno has sandy and rocky beaches in seaside coves.
You can rent a beach chair and umbrella for the day.
Day 13: Cefalu
If you can drag yourself away from the beach, you should visit the Duomo of Cefalu, which is included in Palermo's Arab-Norman UNESCO designation.
Like Monreale Cathedral and the Palatine Chapel, it has an impressive 12th century Byzantine style mosaic in the central apse. It's even older than the ones in Monreale Cathedral.
To see the mosaics up close and personal, you can purchase a ticket for the towers.
Another classic thing to do in Cefalu is hike up La Rocca, Cefalu's mountain. The trail meanders on for about 1,000 feet. At the top, you'll see the ruins of the Temple of Diana and can enjoy the panoramic views.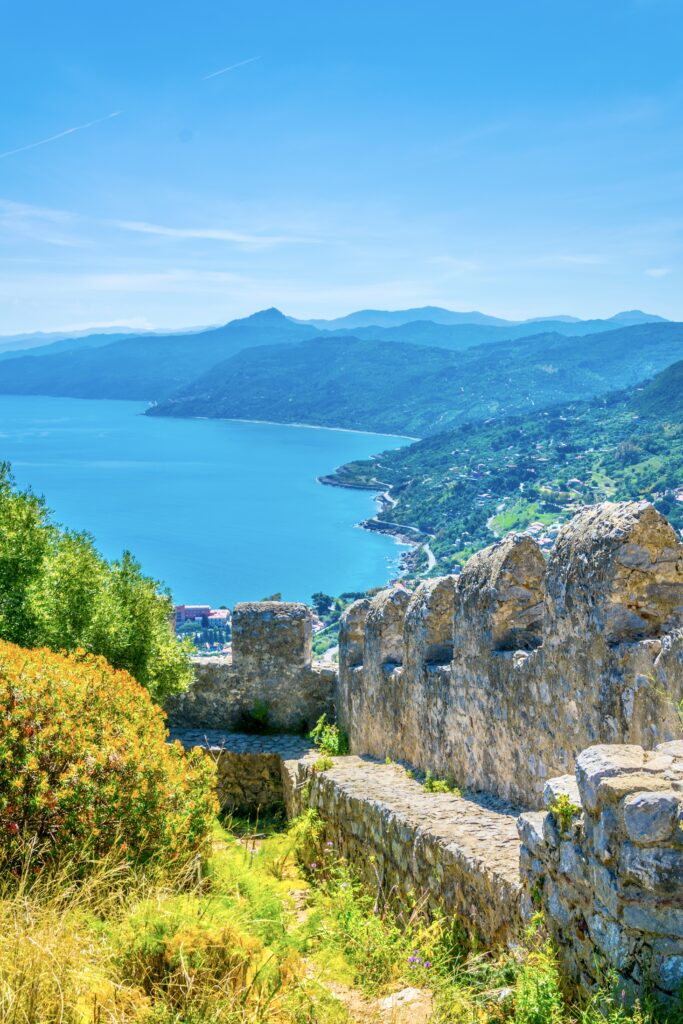 Day 14: Palermo
On the last day of your 2 weeks in Sicily, head back to Palermo, drop off your car, and fly out.
If you have any extra time, you may want to squeeze in a visit to La Zisa. It's an ancient Arab castle that's part of Palermo's UNESCO designation.
More Than 2 Weeks Sicily?
If you have more than 2 weeks in Sicily on your road trip, you can add in more of the Val di Noto or head to the Aeolian Islands for a couple days.
Aside from Ragusa and Noto, two other cities worth visiting in the Val di Noto are Modica and Scicli. You can visit both cities on a guided day trip from Syracuse.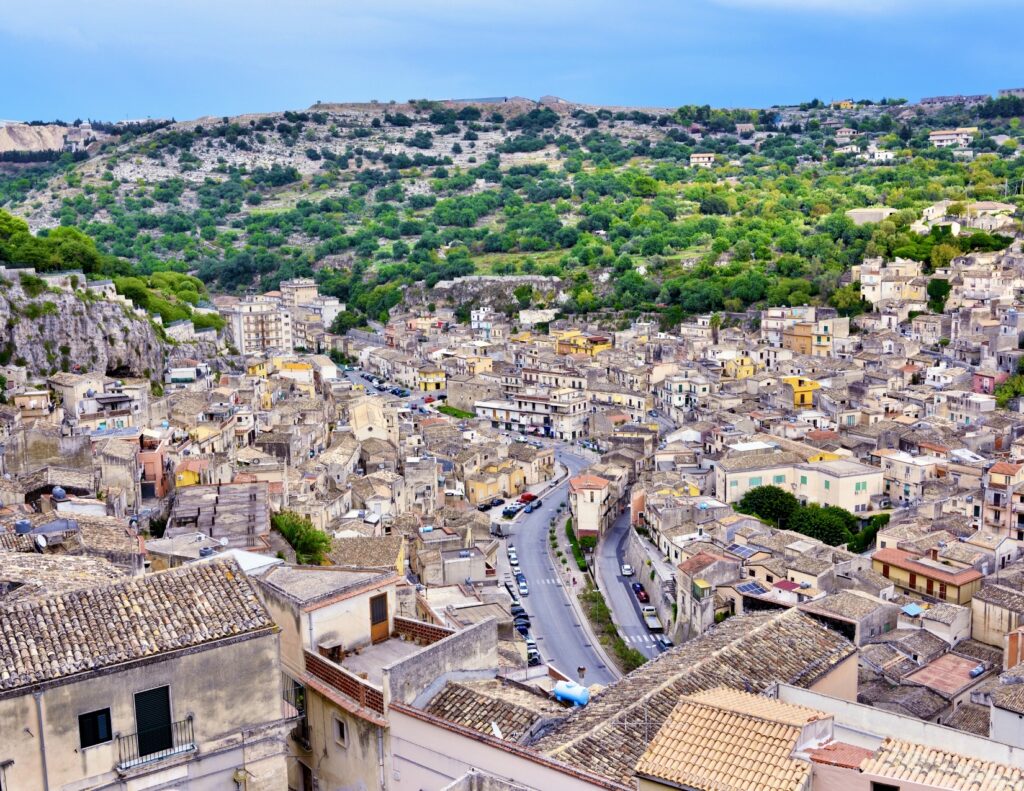 Modica
Modica is the home of some serious cult status chocolate. If you're a chocolate lover, you'll be in seventh heaven. The chocolate is made from an ancient recipe taken from the Aztecs.
The best shop is Antica Dolceria Bonajuto, down a little alley. It offers tastings and tours. You can also visit the Modica Chocolate Museum to learn all the secrets of making chocolate. I loved the spicy pepper chocolate!
The main drag in Modica is Corso Umberto. This is where the town's famous flea market is held on the last Sunday of the month.
Modica's top attraction is its cathedral, the Duomo di San Giorgio. It has beautiful Baroque facade and inside is filled with gilding and blue stucco.
Scicli
The town of Scicli (pronounced Skeek-lee) is another striking Baroque city.
There are no big ticket sites in Scicli. But some beautiful monuments include the Town Hall, Palazzo Beneventano, Palazzo Spadaro, and the town's churches.
Piazza Italia is the main square. From there, you can look up and see the beehive caves in the cliff that once served as residences and burial tombs.
Then, take a stroll down the town's pedestrian zone, Via Francesco M. Penna. This is where you'll find chic shops, bars, and eateries.
Aeolian Islands
The Aeolian Islands are a volcanic archipelago off the northeast coast of Sicily near Taormina. If you'd like to add it into your Sicily itinerary, you should do so after day 10 on the 2 week Sicily itinerary. Then, carry on to Cefalu.
The seven Aeolian Islands were declared a UNESCO World Heritage Site in 2000 for their natural environment and volcanic formations.
On a normal schedule, the islands might take a week to visit. But you can also book a full day tour from Taormina that visits the two main islands of Panarea and Stromboli by both bus and motor boats.
For more information check out this detailed guide to the Aeolian Islands.
Tips For Spending 2 Weeks In Sicily
Here are some must know tips for a 2 week road trip in Sicily.
1. Driving in Sicily
Driving in Sicily is not for the faint of heart. Sometimes it seems like traffic lights are mere decoration and that the Sicilians have an overly firm belief in the afterlife. This is particularly true in the cities.
Yet, driving in Sicily is far from impossible, particularly if you're not a nervous driver. It's especially helpful to be gifted driving a stick shift or score a very small automatic car.
And it helps to have a partner and not drive solo. You need someone to navigate and watch our for crazy drivers. Know in advance that parking will be challenging.
Once outside the cities, though, the highways are perfectly fine. Just be sure to park outside the historic center of any town you visit. Many of these are TZL zones anyway, where only local residents can drive their cars.
A car will also give you more freedom. It's by far the best way to get to small towns or remote archaeological sites.
2. Getting Around By Train
Italy's Trenitalia has decent train service to most places. Major towns are linked by train. Smaller towns may have infrequent service or long wait times.
The most frequent service is along the Palermo-Messina and Messina-Syracuse coastal routes. But you can also get direct trains from Palermo to Agrigento, as the Valley of the Temples is Sicily's premiere site.
3. When To Visit Sicily
If it's beaches you seek, June to September is the best time. But the summers will be hot and crowded, with the resort towns thronged with visitors.
I think late spring and autumn are the best times to visit Sicily. Even in the shoulder season, you might experience temperatures near 75-80 degrees. I know I did in October when I was just there.
In winter, prices drop, making Sicily a very affordable and sunny destination. You can see the top attractions without crowds and even hang out on the beach some days. If you're not a beach person, winter is the perfect time to visit.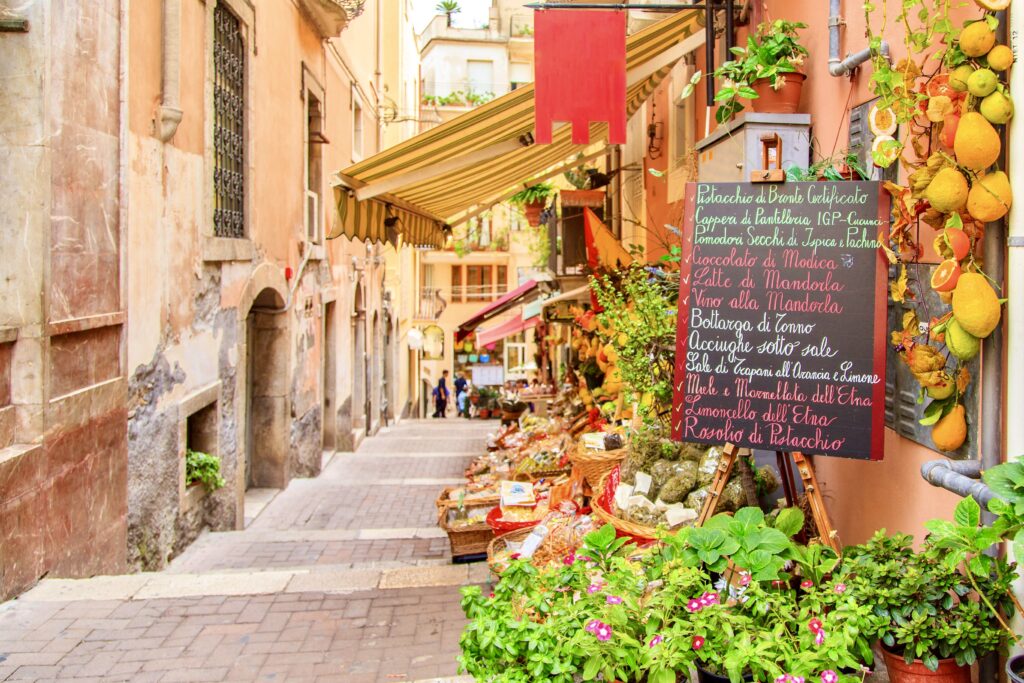 4. What To Eat In Sicily
One of the joys of spending 2 weeks in Sicily is the fresh food. Traveling foodies will be in seventh heaven.
Sicily has its own version of Italian cuisine and you'll want to celebrate each meal. And between meals. One Sicilian told me, when I remarked I wasn't hungry for a pastry, "we don't eat when we're hungry."
Many Sicilians start their day with a granita and brioche. Granita is an icy gelato-type confection that's less creamy and more grainy (almost glassy). Sounds odd, I know, but it's delicious.
I encourage you to eat (and shop) at the street food markets whenever you can. Be adventurous.
You'll find squid and octopus (in many iterations) at most places. You can try out local specialties like panelle (chick pea fritters), arancina (deep fried rice balls stuffed with meat or peas), caponata (mix of tomatoes, capers, and eggplant) or timbale di anelletti (pasta rings in a ragu sauce with prosciutto and cheese).
You'll want to try the pasta con le sarde and pasta all norma. You can also nibble on the famous Sicilian pastries like cannoli, marzipan, almond biscotti, and cassata.
5. Religious Etiquette
At many churches and cathedrals, you'll need to dress modestly. That means covering your shoulders, torsos, and thighs. Don't wear shorts, unless they're knee length. And don't interrupt a church service.
6. Language
Naturally, Sicilians speak Italian. But it's heavily influenced by regional dialects.
Even if you speak Italian, you may have trouble understanding the Sicilians. But English is widely spoken in the tourist towns and cities.
7. Opening Hours
Be aware that Sicily takes the siesta hours seriously. Monuments, cathedrals, and shops may be closed for a large chunk of the afternoon anywhere from 12:30 pm to 5:00 pm.
Restaurants don't open for dinner until 7:30 pm. So you'll have to get used to eating later.
I hope you've enjoyed my 2 weeks in Sicily road trip itinerary. You may enjoy these other Sicily travel guides, which go into more detail on the Sicily destinations I've mentioned.
If you'd like to spend 2 weeks in Sicily, pin it for later.