Are you looking for things to do with 3 days in Rome? Welcome to one of my favorite cities in Europe! To ensure that you have the best experience, I've created a detailed step-by-step 3 days in Rome itinerary.
Rome is an endlessly inspiring and ethereal classic beauty, aptly dubbed the Eternal City. With so many stunning attractions, it's essential to have a plan of attack to make the most of your time.
This Rome itinerary covers everything you need to see, including the classic must-visit attractions, historic landmarks, the Imperial ruins, and some sweet hidden gems.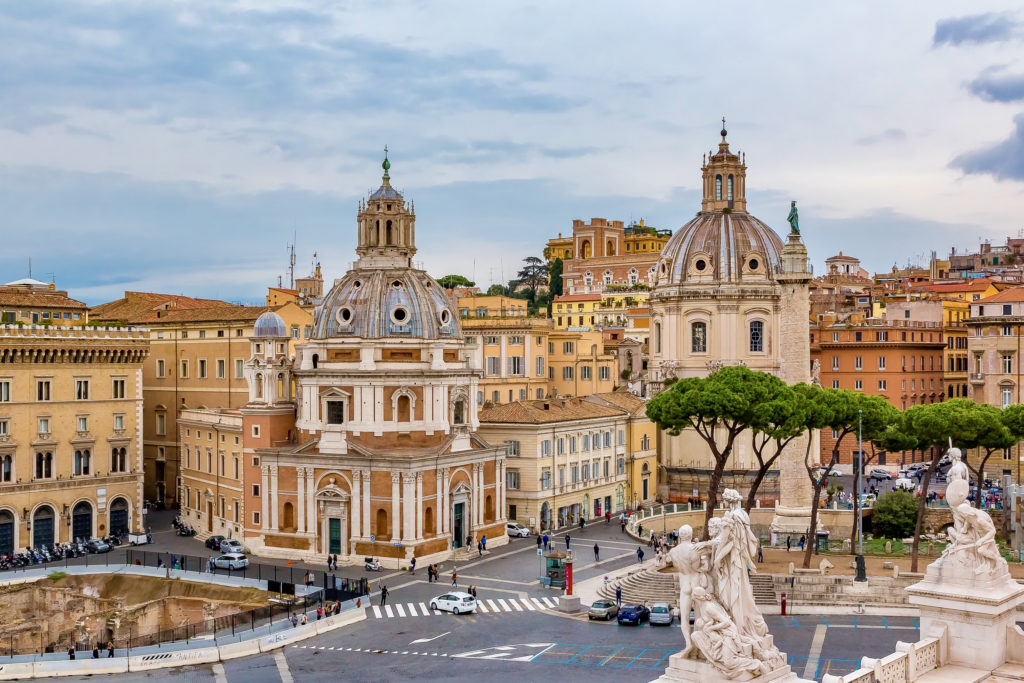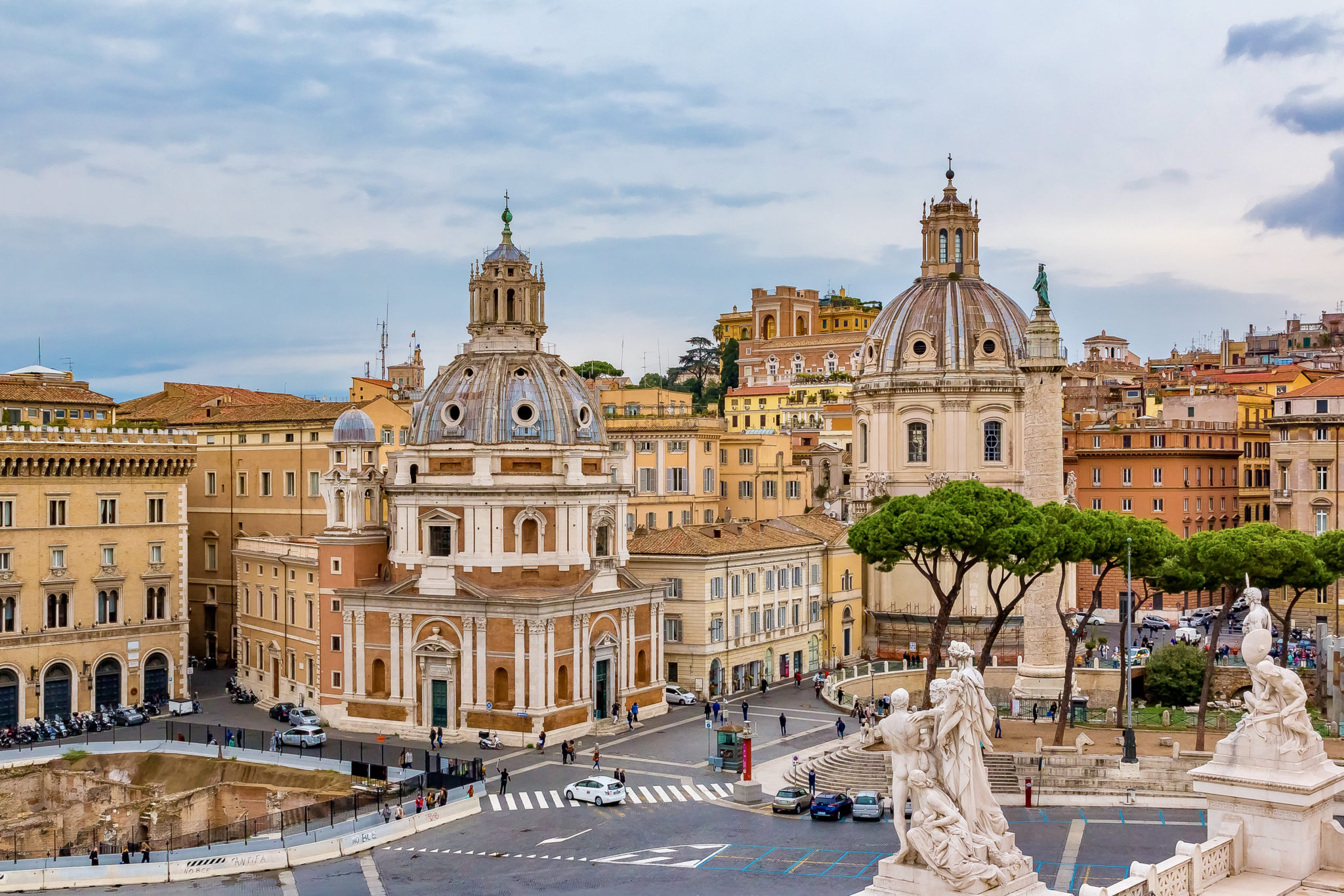 Overview of 3 Days In Rome Itinerary
Here's a quick snapshot of what you can see with 3 days in Rome:
Day 1: Colosseum, Roman Forum, Palatine Hill, Monti neighborhood, Piazza Venezia, and the Capitoline Museums
Day 2: Campo dei Fiori, Pantheon, Piazza Navona, Trevi Fountain, Spanish Steps, Borghese Gallery, Piazza del Popolo
Day 3: Vatican Museums, St. Peter's Basilica, Castle Sant'Angelo, Villa Farnesina, Trastevere
More Time? Rome's hidden gems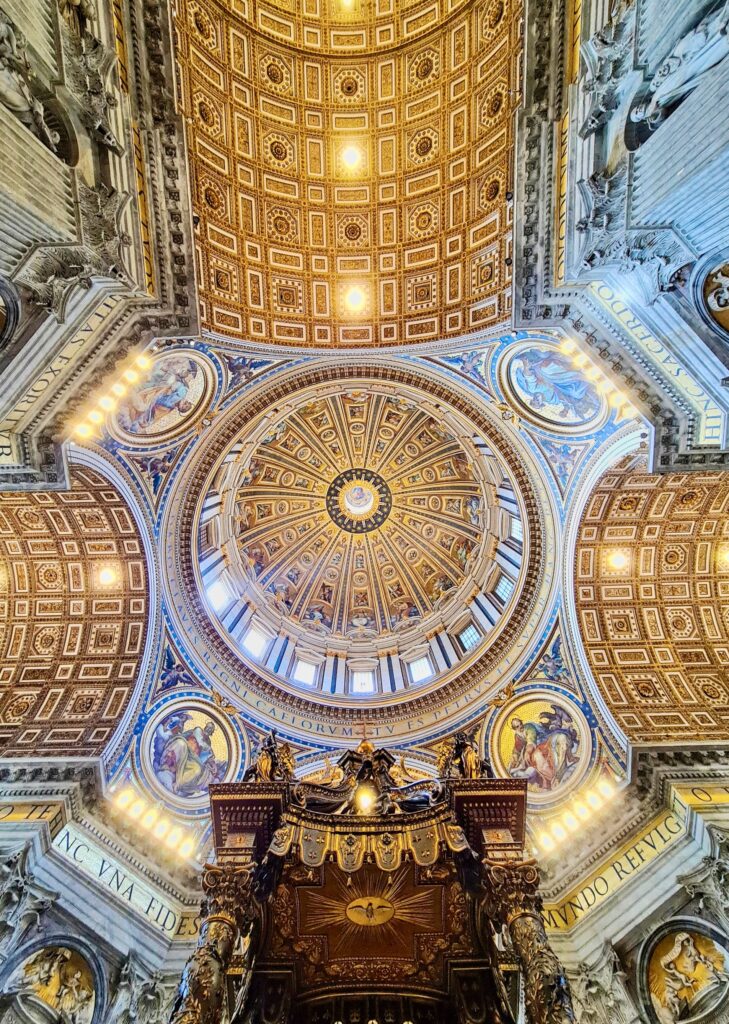 Tickets & Tours
Here are some of the top tours and tickets you may want to book well in advance:
A Short History of Ancient Rome
To properly visit ancient Rome, you've got to have a rough overview of its tumultuous 1,000 year history. Rome was the political and religious center of the Western World for centuries.
Ancient Rome lasted from approximately 500 B.C. to 500 A.D. Although the idea of empire is deeply associated with Ancient Rome, Rome was once just an ambitious republic governed by senators.
The first Romans were the mythological twins, Romulus and Remus. After being abandoned by their mother, they were suckled by a she-wolf, an animal that was then and is now the symbol of Rome.
A feud between the brothers ensued, Romulus won, and he founded Rome on Palatine Hill. For 250 years after his coup, Rome was ruled by kings.
That all changed in 509 B.C. when aristocrats overthrew the government and established a republic. Then began the relentless centuries of war and conquest.
It wasn't long before Julius Caesar came to power. He was the most transformational figure in Roman history.
Caesar served as the fulcrum between the Roman republic and the Roman empire. A military genius, Caesar crowned himself "dictator for life" in 44 B.C.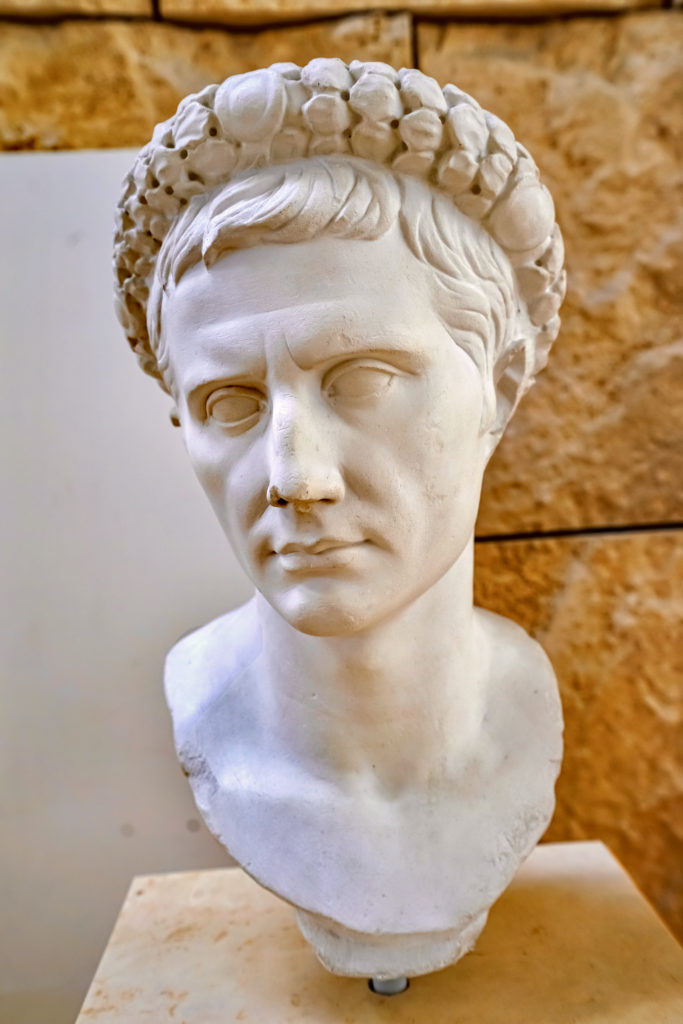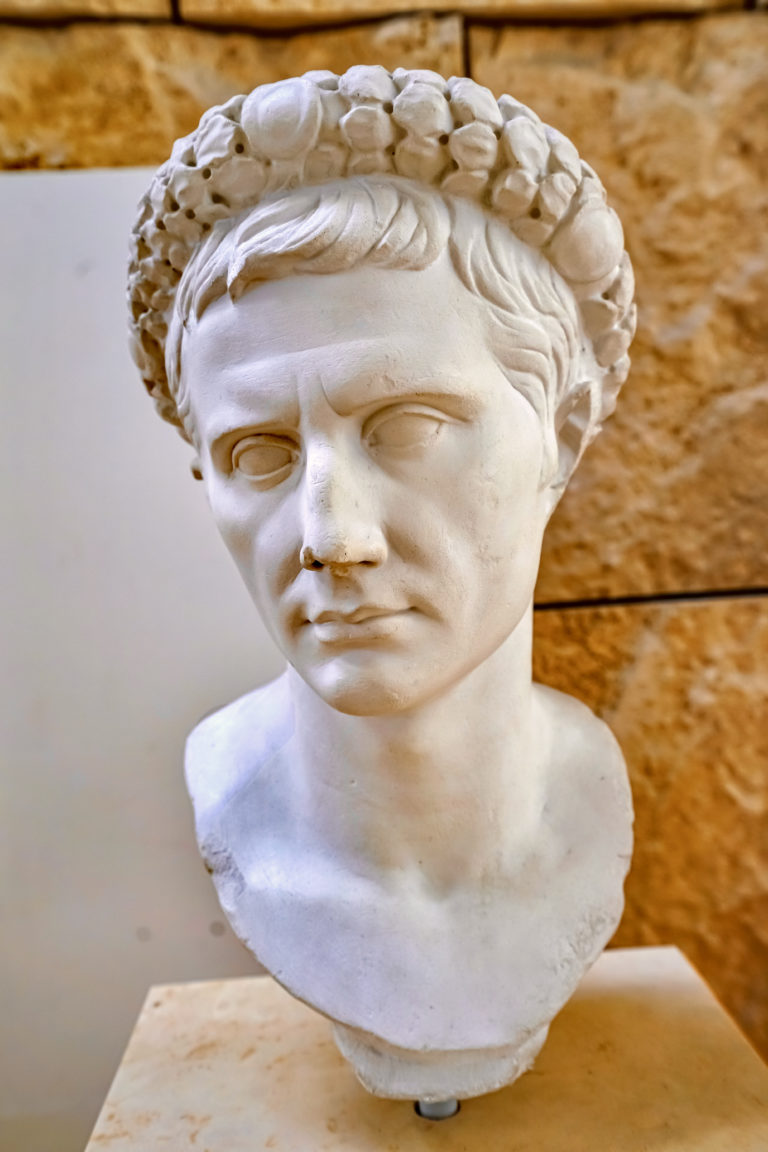 Shortly thereafter, Caesar was assassinated by Brutus, in a conspiracy with senators. They feared Caesar would crown himself king. Caesar death made him a martyr and incited civil wars that led to the downfall of the republic.
Caesar's heir, Octavian, came out on top of the struggle. He went head-to-head with Mark Anthony and his lover Cleopatra and won, becoming the first emperor of Rome.
Octavian adopted the name Augustus and is generally considered Rome's greatest emperor. Augustus was a savvy politician and ushered in a lasting peace. His descendants, the Caesarian emperors, ruled for almost 100 years, ending with the notorious Nero.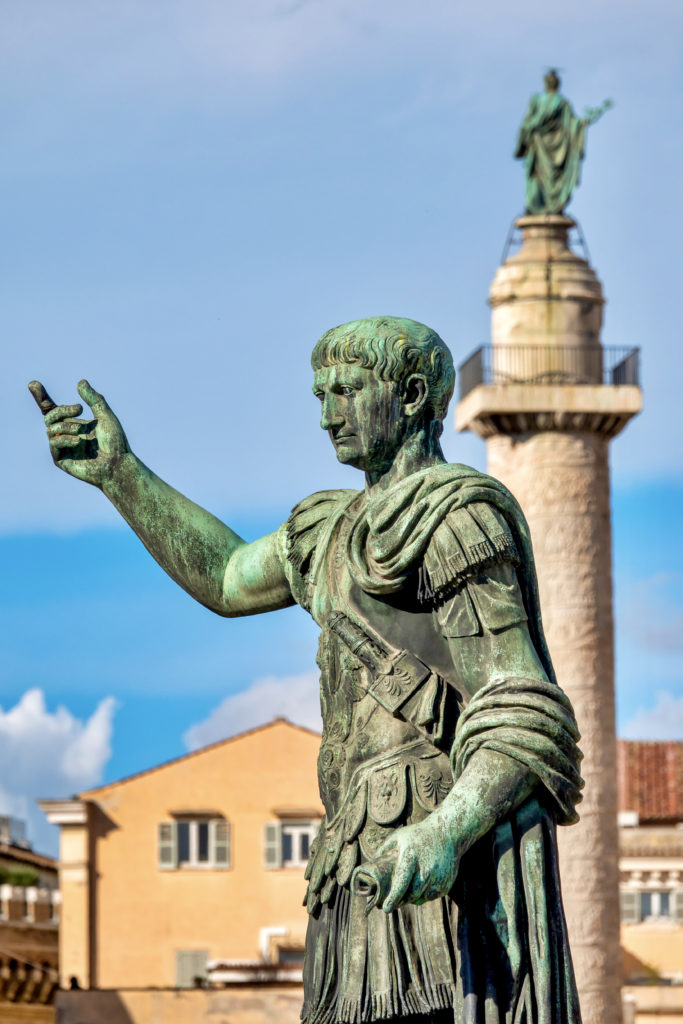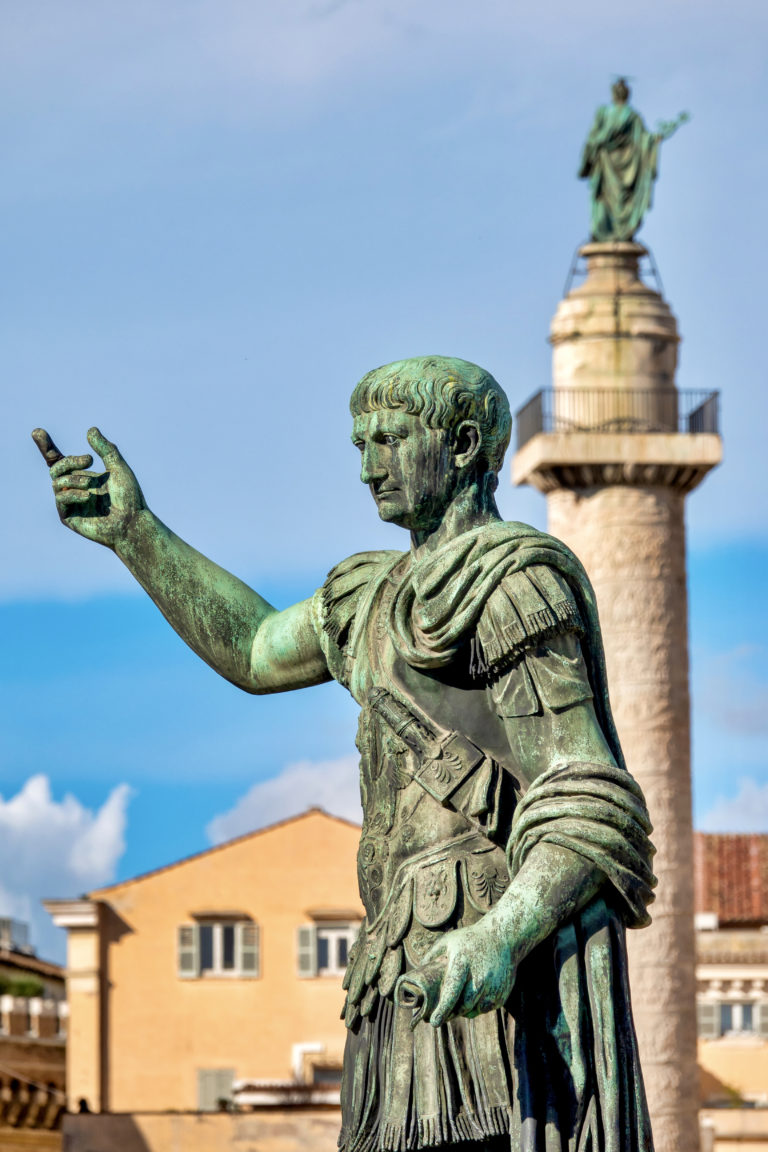 After Nero's death, Emperor Vespasian restored peace to Rome. The empire prospered and was at its zenith under Emperors Trajan and Hadrian.
After Hadrian, Marcus Aurelius ruled from 161 to 180. He fought off the barbarians and wrote a philosophical treatise, Meditations.
But Marcus Aurelius was succeeded by his debauched and sadistic son Commodus. That succession that marked the beginning of the end for the Roman empire.
Eventually, a combination of forces — military overspending, over expansion, and political instability, the Roman Empire began to crumble.
The introduction of Christianity by Emperor Constantine also undercut the empire. It shifted the focus from the divine right of emperors to the glory of a sole deity.
Rome could no longer keep its grip on its far flung lands. Nor keep the barbarians at bay. The empire fell in 476. The glamor and glory of ancient Rome was replaced with the Dark Ages.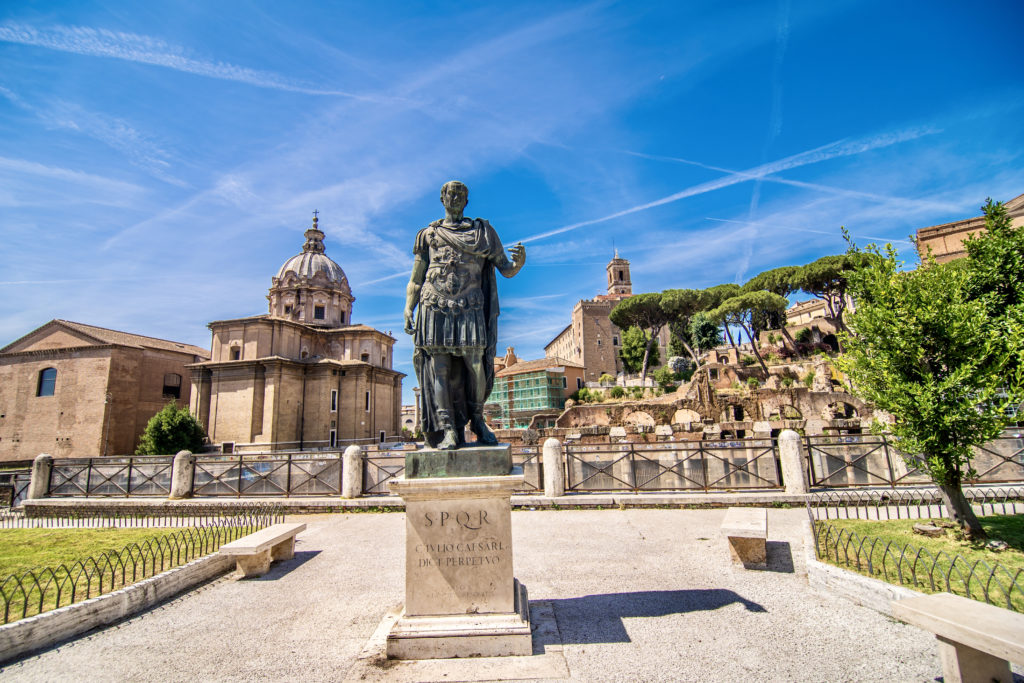 The Best 3 Days in Rome Itinerary
I recently spent 9 days in Rome, my fifth visit to this enchanting city, and rediscovered every nook and cranny. As a result, I've come up with some great ideas on how to spend the perfect 3 days in Rome.
Three days is a decent amount of time to explore Rome, but with an astonishing amount of amazing things to see and do, you'll need a plan and pre-purchased tickets to hit all the top attractions.
So, channel your inner badass gladiator and read on for the full scoop on how to make the most of your 3 days in Rome.
As with all of my suggested itineraries, I recommend using this 3 days in Rome itinerary as a guide. You can tailor it to suit your individual interests, needs, and pace of travel.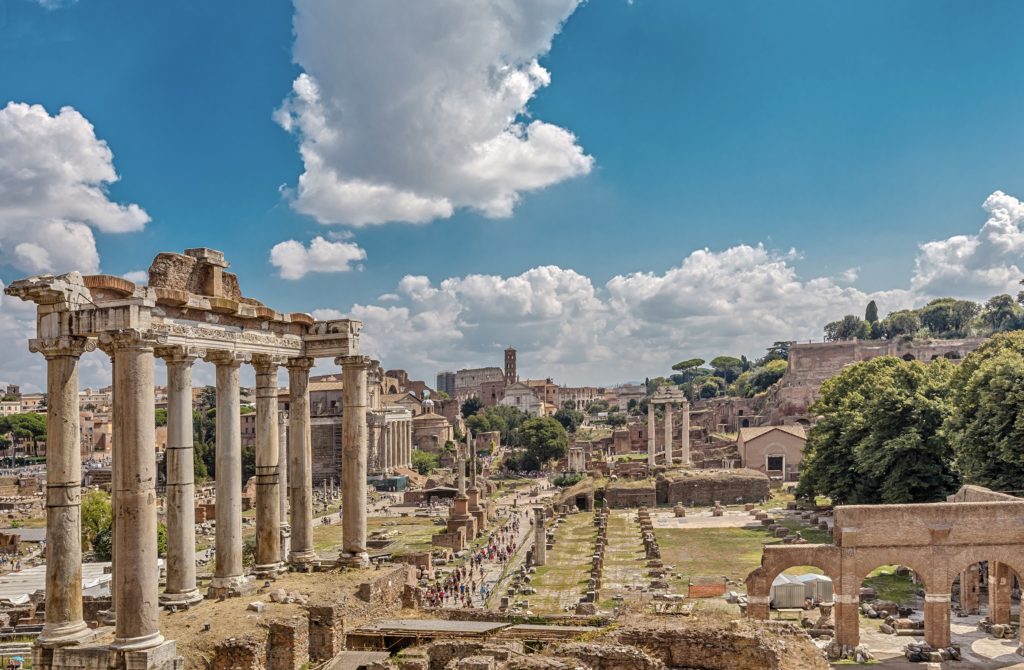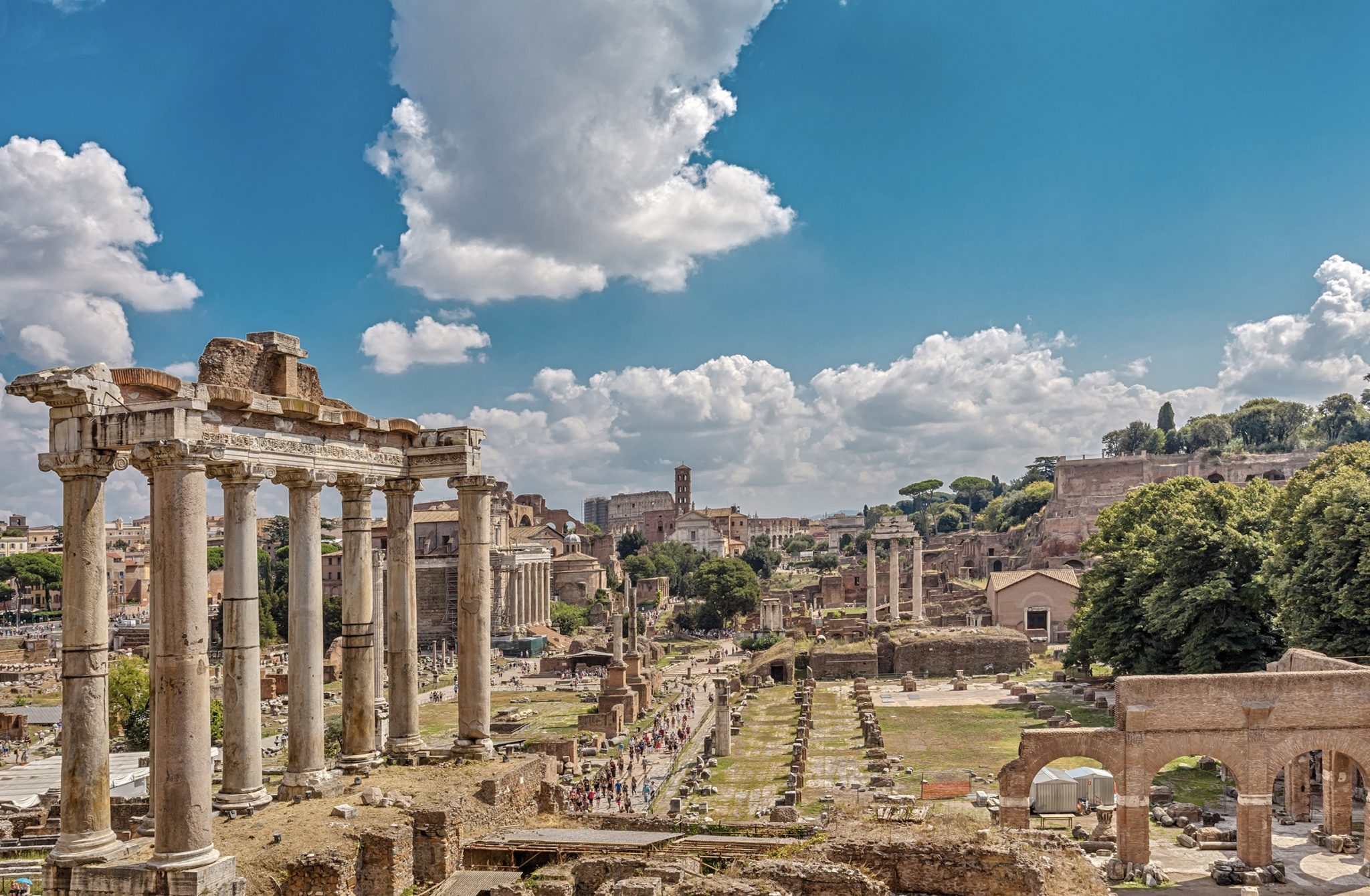 Day 1 of 3 Days in Rome
Day 1 AM: Imperial Ruins
Exploring the Imperial sites of Rome is an essential part of any visit to the city. Taking a walk through the heart of Roman antiquity provides a breathtaking introduction to the splendors of Ancient Rome.
Despite the passage of time and the effects of wear and tear, the magnificent ruins still inspire a sense of wonder and amazement.
The Imperial sites consist of three major attractions: the legendary Colosseum, Palatine Hill, and the Roman Forum. These sites can be accessed with a single ticket or a ticket with a guided tour and are among the most popular tourist destinations in Rome.
1. Tickets & Tours For The Imperial Ruins
You have to be prepared to visit the imperial ruins. You don't just want to show up on the fly unless it's off season.
Click here to book skip the line tickets for all three sites.
However, you may also want to book a guided tour to see these attractions. Otherwise, it may be difficult to decipher the ruins and know what you're looking at.
Here are some tour options you can choose from. They all vary slightly in duration and what you see.
Pick one that best suits your sightseeing agenda and time allocation.
2. The Colosseum
The Colosseum, a 600-foot-high Flavian Amphitheater, is renowned worldwide for its impressive architecture. Commissioned by Vespasian and inaugurated in 80 A.D., this monumental structure hosted a grand 10-day festival.
The Colosseum is famously associated with gladiators, chariots, and the emperor's "thumbs up or thumbs down" decree, which determined the fate of the fighters in the arena.
This iconic Roman monument remains the most visited landmark in Italy. Visitors can explore the seating areas and tour the arena floor.
In 2017, the top level of the Colosseum was reopened to the public, offering sweeping views of the city and potentially being the highlight of your visit.
On this visit, I booked a Colosseum tour that included a visit to the "Hypogeom" or the Colosseum Underground.
There's limited space on the underground tour, so you must book it well in advance. A standard tour won't take your there.
Led by a knowable archaeologist, the tour was quite educational. In the hypogeum, we inspected animal cages, gladiator corridors, back stairs used by the slaves, trap doors, and the launching point for mock naval battles.
If you're DIY-ing the Colosseum, you need to reserve your entry time online well in advance. This is true even if you have a skip-the-line Roma Pass.
If you buy your ticket directly from the official website, you will specify the exact time and date. You can't visit the Colosseum without a reserved entry time!
Here's my complete guide to the Colosseum, with must know tips for visiting.
3. Palatine Hill
Palatine Hill offers a glimpse into the luxurious lifestyles of the elite citizens of Imperial Rome. This historic site is home to raw beauty and hidden treasures that can captivate visitors.
Among the ruins on the hill, the sprawling Domitian's Palace stands out as the most impressive. This palace was built around 81 A.D. and belonged to Emperor Domitian, a member of the Flavian dynasty.
Unlike his civic-minded father Vespasian and brother Titus, Domitian was obsessed with palatial architecture.
Another must-see highlight on Palatine Hill is the House of Augustus. It boasts some of the best-preserved Roman walls in the world, adorned with vibrant 2,000-year-old Pompeiian frescoes.
However, note that this attraction is not included in the standard imperial tour and only open on certain days of the week.
A good way to see the House of Augustus is with special archaeologist-led tour of Palatine Hill that includes the house. The guided tour is super interesting because it includes all the villas on Palatine Hill.
While you're on Palatine Hill, be sure to pop in at least briefly to the Palatine Museum. The museum contains statues and frescos from imperial Palatine.
The Augustus and Nero rooms are particularly delightful. Audiovisual displays reconstruct the palace's luxury.
The Palatine Museum also has a rare surviving bust of Emperor Nero. Nero was the emperor who allegedly "fiddled while Rome burned." He was removed from power during a political coup and all images of him were destroyed.
If you'd like to visit the ruins of Nero's Golden House, Domus Aurea, it's now open after years of excavation.
Located on the nearby Oppian Hill, you can only visit on Saturday or Sunday (after March 20) with a hard hat. The Golden House is one of Rome's newer sites and still a hidden gem in Rome.
It was once an opulent palace complex built by the Roman Emperor Nero in the heart of ancient Rome. It was a grand architectural marvel known for its extravagant decorations and vast proportions.
The palace featured luxurious gardens, sprawling halls, and lavishly decorated rooms adorned with frescoes, mosaics, and gold leaf. Today you can tour the ruins of the grand palace on a guided tour.
If you want to know more about these ancient sites on Palatine Hill, here's my complete guide to the monuments on Palatine Hill.
4. The Roman Forum
Once you've explored Palantine Hill, it's time to move on to the Roman Forum.
It's highly recommended to take a guided tour here as there isn't much signage, and it can be difficult to understand what you're looking at without a knowledgeable guide to help you decipher the ruins.
The forum is a rectangular valley that runs from the Arch of Titus to the Capitoline Hill, with the main road being the Via Sacra. It was the heart of ancient Rome, where power was held and showcased.
The district was grandiose and consisted of stunning white temples, grand basilicas, and lively public spaces.
Make sure to stroll by the Arch of Titus, the Basilica of Constantine, the Temple and House of the Vestal Virgins, and the three columns of the Temple of Castor and Pollux.
You'll also find a small temple dedicated to Julius Caesar, where inside you can see a mound of dirt covered with coins and flowers marking his grave.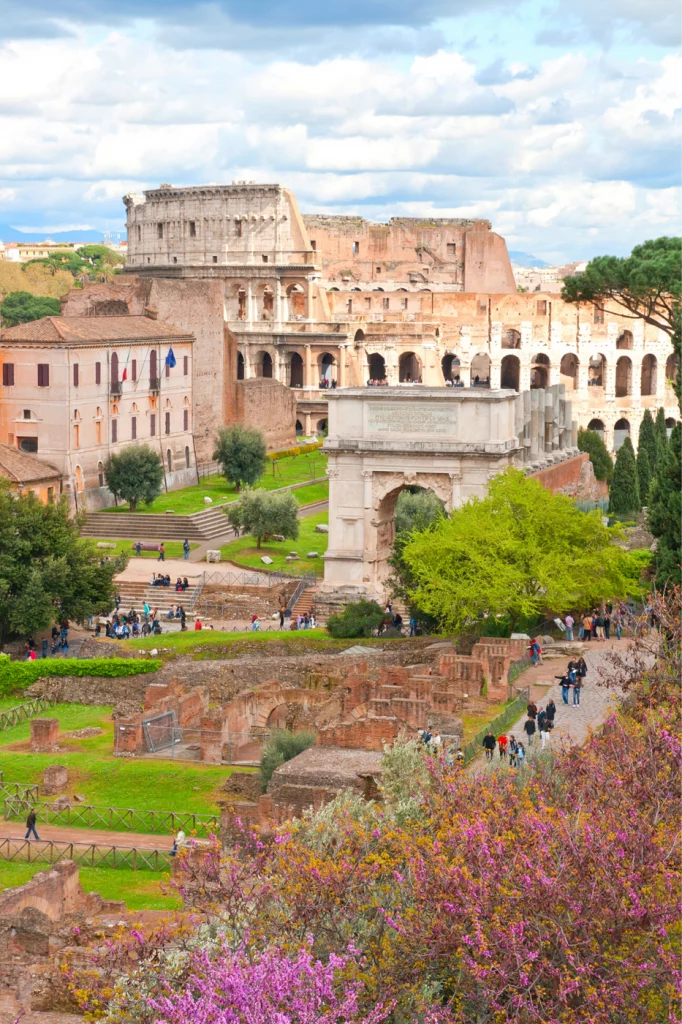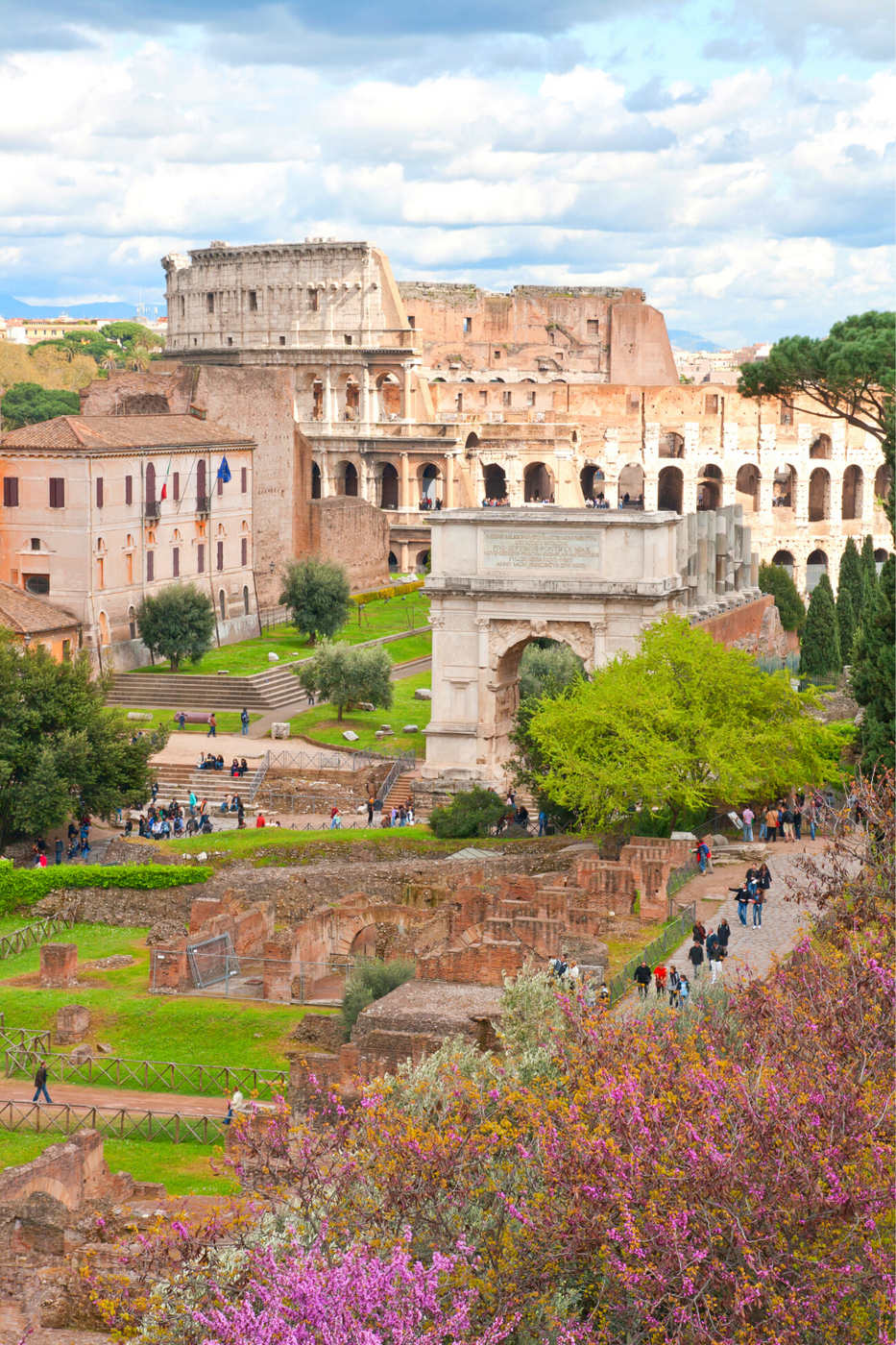 If you've purchased the S.U.P.E.R. Pass, you can also visit the Church of St. Maria Antiqua located at the back of the Temple of Castor and Pollux.
This church is known as the "Sistine Chapel of the Roman Forum" due to its elaborate and newly restored frescos.
Here's my complete guide to the monuments of the Roman Forum.
Day 1 PM: Monti and Capitoline Hill
After your exploration of the ruins, take a quick 5 minute stroll to the adjacent Monti neighborhood of Rome.
Monti is now considered the city's trendiest district, but it was once a slum in ancient Rome. Nowadays, it's filled with unique shops and hip eateries that are sure to captivate your attention.
Make sure to take a detour off the main street and explore the charming side streets of Monti. If you're in the mood for a quick lunch, head to Fehu for some delicious avocado toast or panini.
Alternatively, you can find a cute ivy-covered café, such as Aromaticus Monti or La Carbonara, to unwind and relax after your visit to the Imperial sites.
Monti is also a great place to take a guided food tour or a guided wine tasting tour.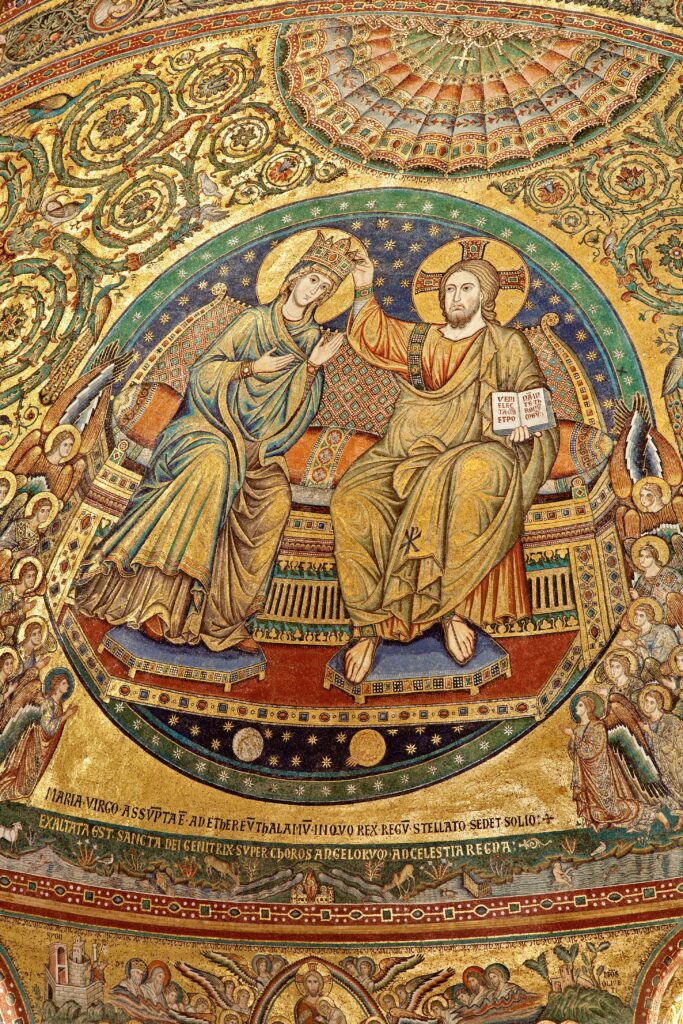 Monti has one absolute must see site — the Santa Maria Maggiore Church.
Personally, I liked it better than St. Peters' Basilica. It's much older, dating to the 5th century A.D. And it has absolutely breathtaking mosaics in the triumphal arch and nave.
A short stroll from Santa Maria Maggiore will take you to the charming Santa Prassede church. This ancient basilica is a notable representation of Byzantine art in Rome and offers a refreshing contrast to the city's typical Baroque-style architecture.
One of the main attractions of Santa Prassede is the stunning Chapel of Saint Xeno, which dates back to the 9th century. Adorned with dazzling mosaics from floor to ceiling, this chapel was once known as the "Garden of Paradise" during the Middle Ages. It's truly a sight to behold.
READ: Guide To Beautiful Chapels in Italy
When you're done in Monti, head over to the the Vittoria Emmanuel II Monument on Capitoline Hill, also known as the "typewriter" or "wedding cake" building. For views, hike up to the second floor.
For even better views, take the elevator (around the back) to the viewing terrace. It's a fairly pricey 10 euros.
But I thought it was worth every penny. I also thought this view was better than the view from St. Peter's Basilica because it was closer to the ancient Roman sites.
When you're done swooning over views, head back down the stairs. Take a left at the bottom of the stairs and then another left.
A few hundred feet further along your walk, you will encounter a magnificent stairway leading up to the Piazza del Campidoglio at the summit of Capitoline Hill, designed by Michelangelo.
Don't miss the opportunity to climb the stairs and explore the Capitoline Museums at the top. These buildings are connected by an underground passage called the Tabularium. It contains the impressive collection of Pope Sixtus IV, an important patron of the Renaissance era.
Among the museum's greatest treasures are the Equestrian Statue of Marcus Aurelius, the She-Wolf of Rome, the Dying Gaul, ruins of a massive statue of Emperor Constantine, and Commodus as Hercules.
READ: Guide To the Ancient Art Collections Of Rome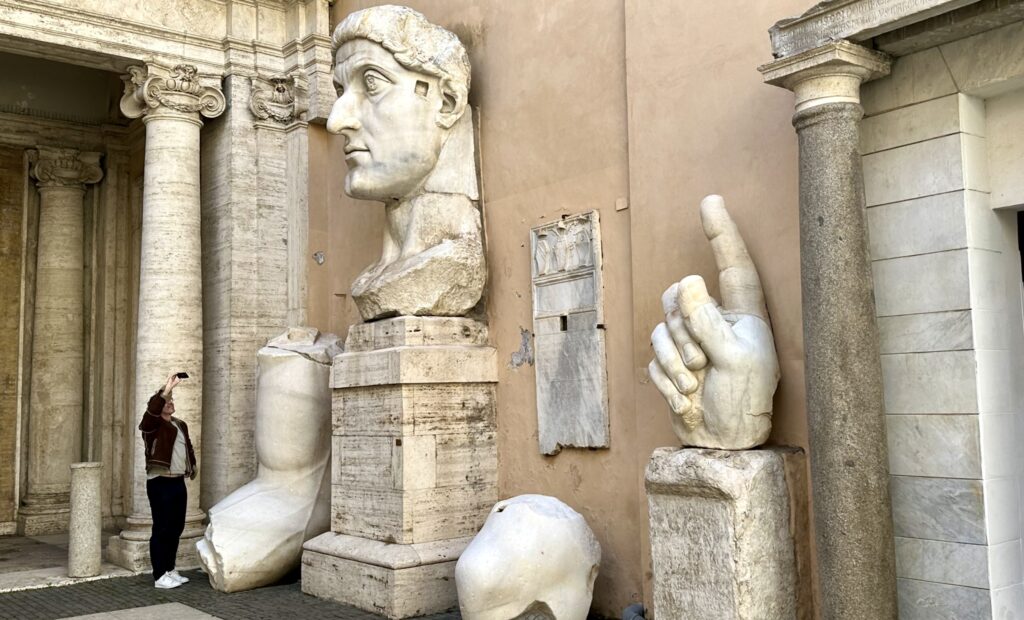 Click here to pre-book a skip the line ticket to the Capitoline Museums. If you're a true fan of ancient sculpture, you can also book a guided tour of the museum.
After exiting the museum, head down the alleyway on the right side of the square under an arched building.
That will take you to a viewpoint over the Roman Forum. This is the best view you'll have of the forum.
You should also make a quick detour to the Church of Santa Maria d'Araceli. It's an ancient brick church mostly known for its beautiful frescos by Pinturicchio, an early Renaissance artist.
When hunger calls after this hectic day, head to the Jewish Ghetto neighborhood. It's just a stone's throw away, on the banks of the Tiber River.
I just wandered around the evocative place. But you also book a guided walking tour of this historic neighborhood, if you want something more structured.
And I can recommend a great restaurant, Ba'ghetto, for dinner. This neighborhood is another excellent place to go on a guided food and wine tour. You can also book a food tour that includes both the Jewish quarter and pretty Trastevere.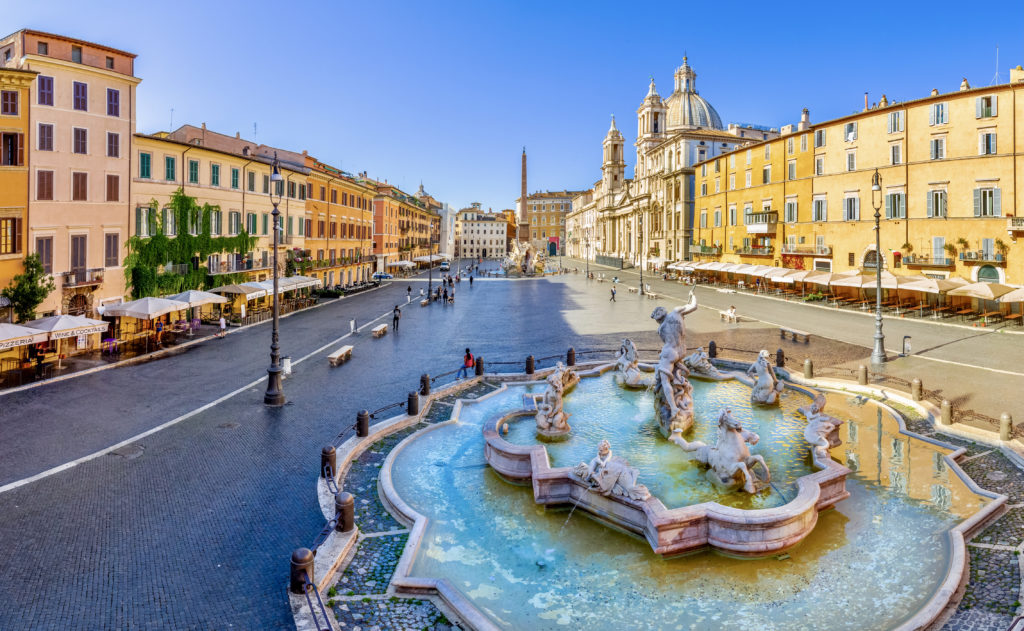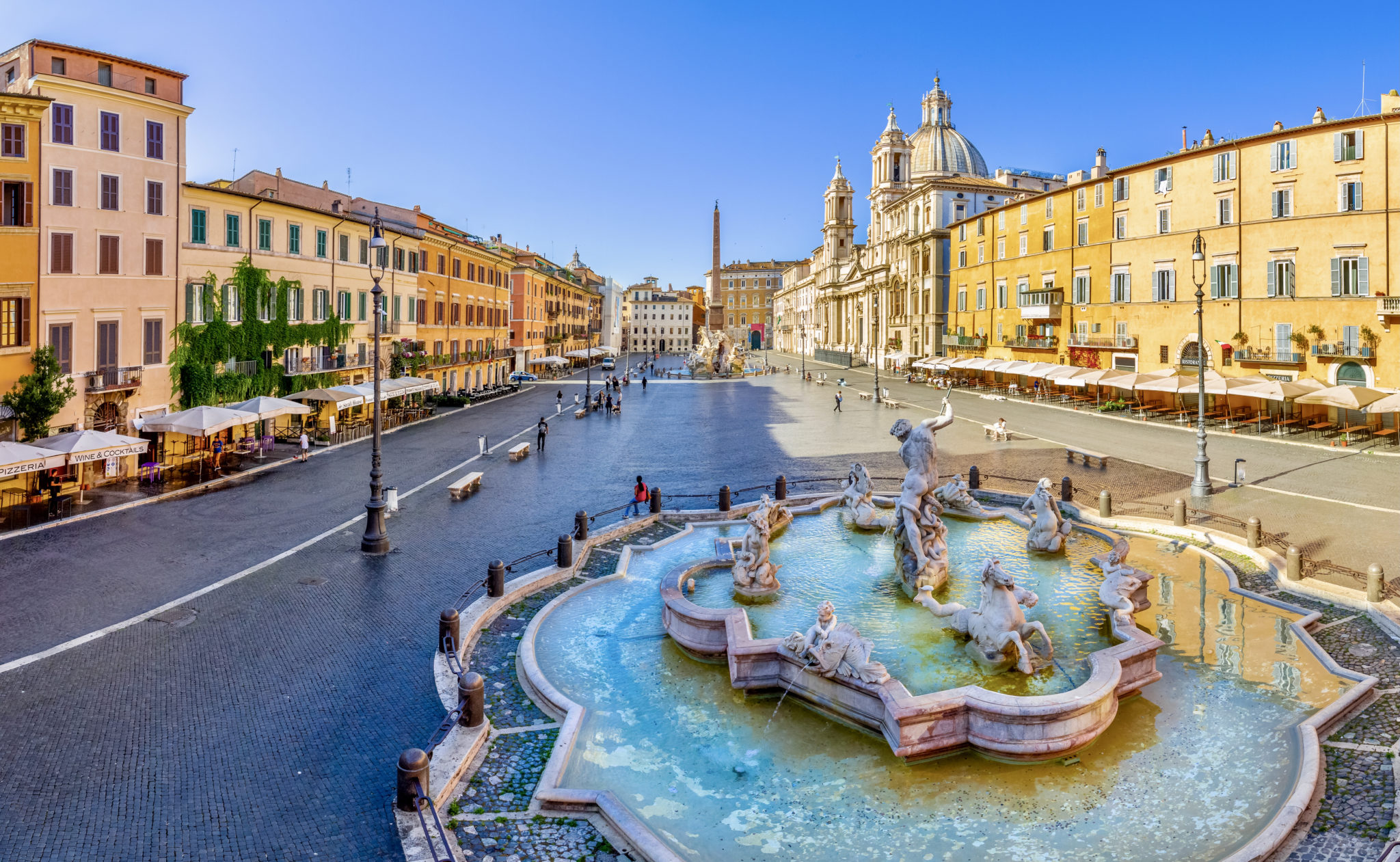 Day 2 of 3 Days in Rome
Day 2 AM: the "Heart of Rome" Stroll
Begin day 2 of your 3 days in Rome itinerary with a classic walk through historic Rome.
You might consider booking a 3 hour walking tour to get oriented. You can also book a private walking tour of this beautiful part of Rome.
1. Campo de'Fiori
Start at Campo de' Fiori and end at the Spanish Steps, visiting the Trevi Fountain and Pantheon along the way.
Campo de' Fiori is Rome's colorful market square. It's name means "field of flowers."
In the center is a statue of Giordano Bruno, a 16th century friar and philosopher who was burned at the stake for his scientific theories.
Here, you'll find fresh produce and can pick up some souvenirs like olive oil, pasta, or limoncello. There's also a cluster of galleries near Campo de' Fiore.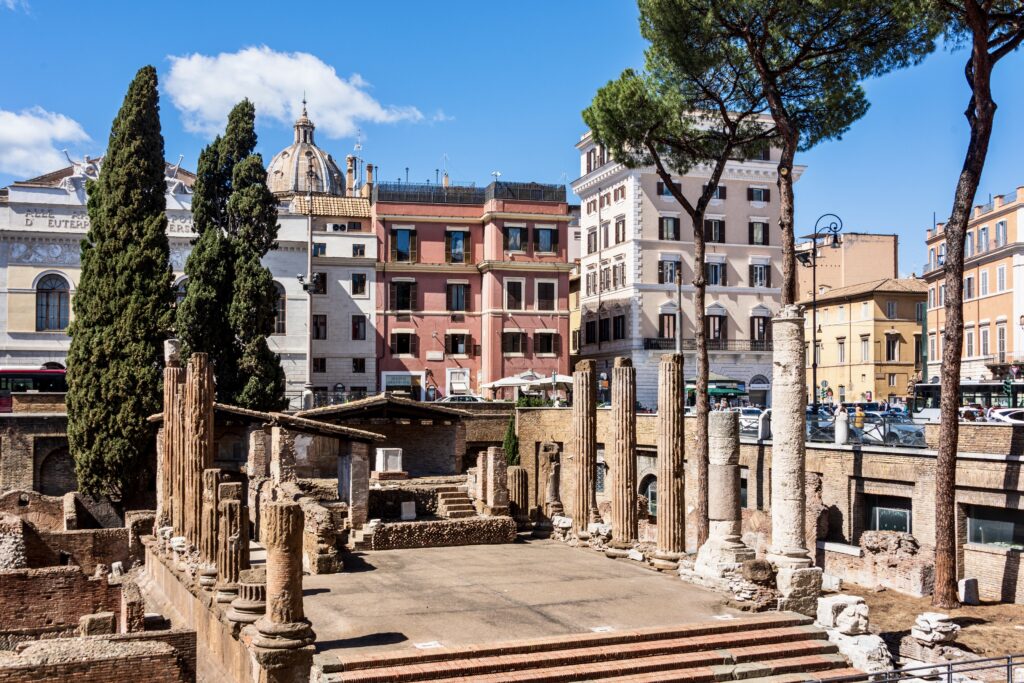 2. Largo di Torre Argentina
Then, head to Largo di Torre Argentina. The square is home to the remains of four Republican-era temples and the famous "Area Sacra." The latter is an archaeological site that includes the ruins of the Theater of Pompey and a curved portico.
The site was first excavated in the 1920s. Legend (and Shakespeare) hold that this was where Julius Caesar was assassinated in 44 B.C.
For many years, tourists could only gaze at the ruins, which are below street level, from barriers above. But, in June 2023, the area opened to the public for the first time.
For $5.50, you can stroll also elevated walkways and inspect the ruins. You can also check out the onsite cats, who are part of a cat sanctuary.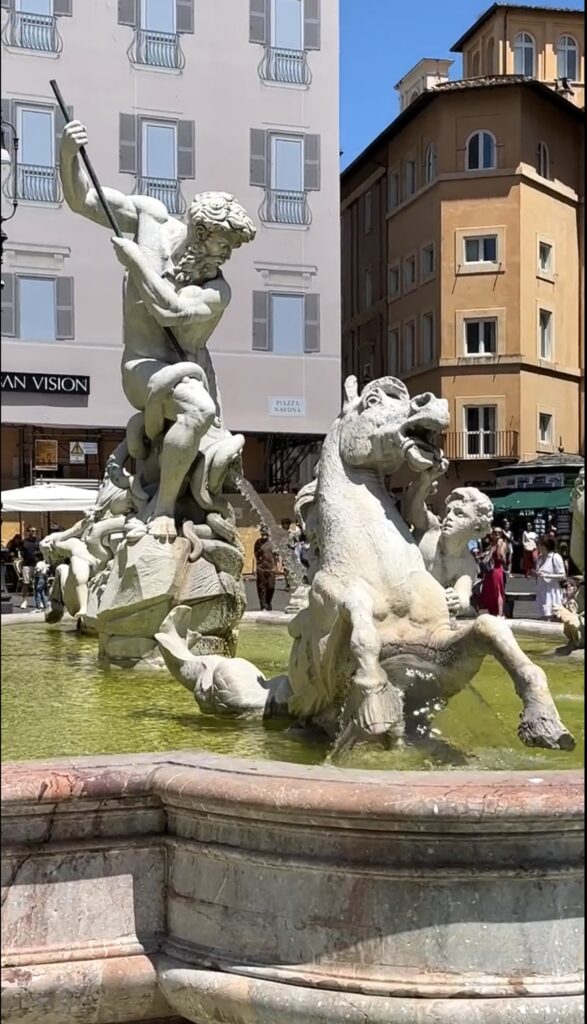 3. Piazza Navona
Your next stop is the iconic Piazza Navona. It's a Renaissance masterpiece complete with elegant buildings, sublime fountains, and outdoor cafes.
The piazza dates back to the time of Domitian. The emperor used it as a racetrack (and to remind people of his family's accomplishments).
Today's buildings date from the 16th century. The centerpiece is the Fountain of the Four Rivers by Gian Lorenzo Bernini, the greatest sculptor of the Baroque.
Don't neglect to pop into the Church of Sant'Agnese while you're in the piazza. This Baroque church is one of the most beautiful churches in Rome. Itwas the work of the famed architect Borromini.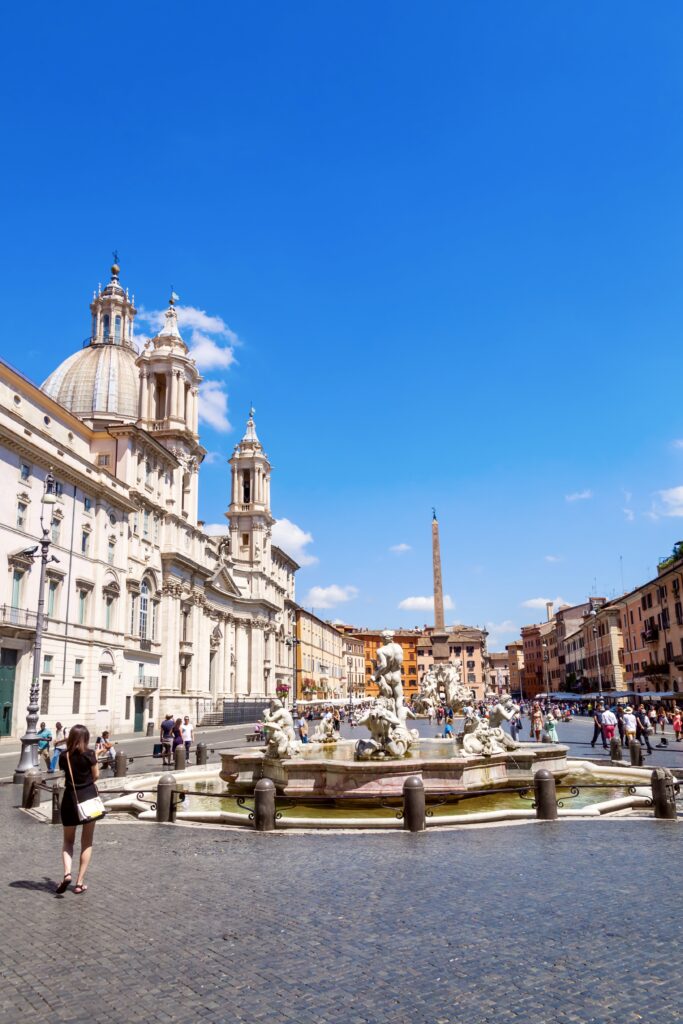 The key element is the concave facade, a design of Borromini's that revolutionized Baroque architecture.
It's an ingenuous device, which accommodates a small space. The design allows the church to be seen from anywhere in Piazza Navona.
Did you know there's a UNESCO site in Piazza Navona? It's at the north end of Piazza Navona in the underground museum, Stadio di Domiziano.
16 feet below the street level, it houses the ruins of Domitian's stadium. Click here to book a ticket to the museum. You can also book a ticket and tour for this unique underground experience.
If you're ready for an early lunch, try Pizzeria da Baffetto near the Piazza Navona.
4. Pantheon
Next, we'll head to Rome's most famous temple, the Pantheon, which is over 2,000 years old and located in a lively piazza. It's my personal favorite building in Rome and a testament to the Romans' genius in innovation and renovation.
The entrance features massive 40-foot single-piece granite columns, and the pediment proclaims that the Pantheon was built by Marcus Agrippa, Augustus' right-hand man. However, it was actually built by Emperor Hadrian.
Once inside, you'll be awed by the magnificent dome with its giant oculus, which resembles an eye in the sky. Despite its grandeur, the space beneath the dome may seem deceptively small.
But that's an illusion, as it's 30 feet across. If it's raining, water falls through the oculus and out the drains in the floor.
One of the greatest painters of the Renaissance, Raphael, is buried in the Pantheon. His tomb sports a sculpture by Lorenzo Lotti that Raphael himself commissioned.
The Pantheon used to be free to visit. But as of July 3, 2023, there is a 5 euro fee. You can purchase a ticket onsite. Or, more prudently, book a skip the line ticket in advance on Get Your Guide or Tiqets.
You can also avoid lines by booking a 1 hour guided tour of the Pantheon.
Right next to the Pantheon is the Basilica of Santa Maria Sopra Minerva. The Minerva is a mini-museum, a hidden gem in Rome that's definitely worth a visit.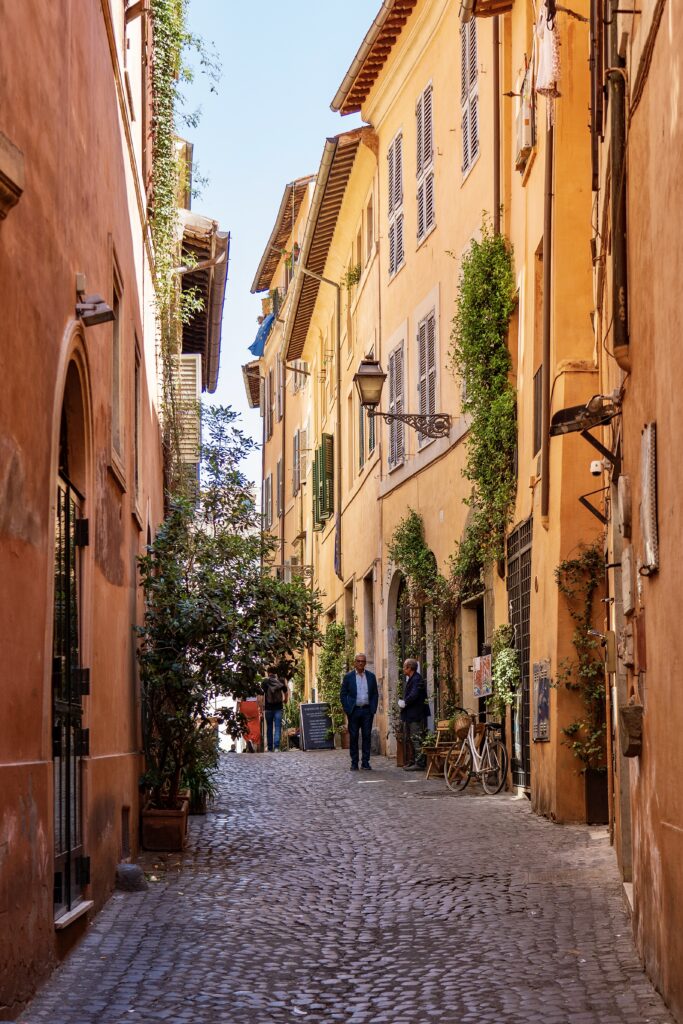 Inside, you'll find frescos and sculptures by some of the greatest artists of the Renaissance and Baroque, including Michelangelo and Bernini. And a splendid collection of medieval and Renaissance tombs of famous saints, popes, artists, and influential figures.
You can also book a guided tour of both the Pantheon and Sopra Minerva.
5. Piazza Colonna
Then stroll to the Piazza Colonna. This square features the massive Column of Marcus Aurelius carved from Carrara marble.
Reliefs wrap around the column telling stories of Marcus Aurelius' war exploits. The exploits were exaggerated because Rome had already begun losing skirmishes with the barbarians.
6. Trevi Fountain
Continuing your walk, you'll come across the iconic Trevi Fountain, a striking Baroque masterpiece created by architect Nicola Salvi.
The fountain is an impressive 85 feet tall and 65 feet wide, making it the largest fountain in Rome. In the center stands the figure of "Ocean," surrounded by 24 spouts of water. According to superstition, if you throw a coin over your shoulder into the fountain, it will guarantee your return to Rome.
If you haven't already had lunch at Pizzeria da Baffetto near Pizza Navona, you may want to try a local favorite nearby. Ristorante Sora Lucia is a charming hole-in-the-wall eatery that serves delicious gnocchi.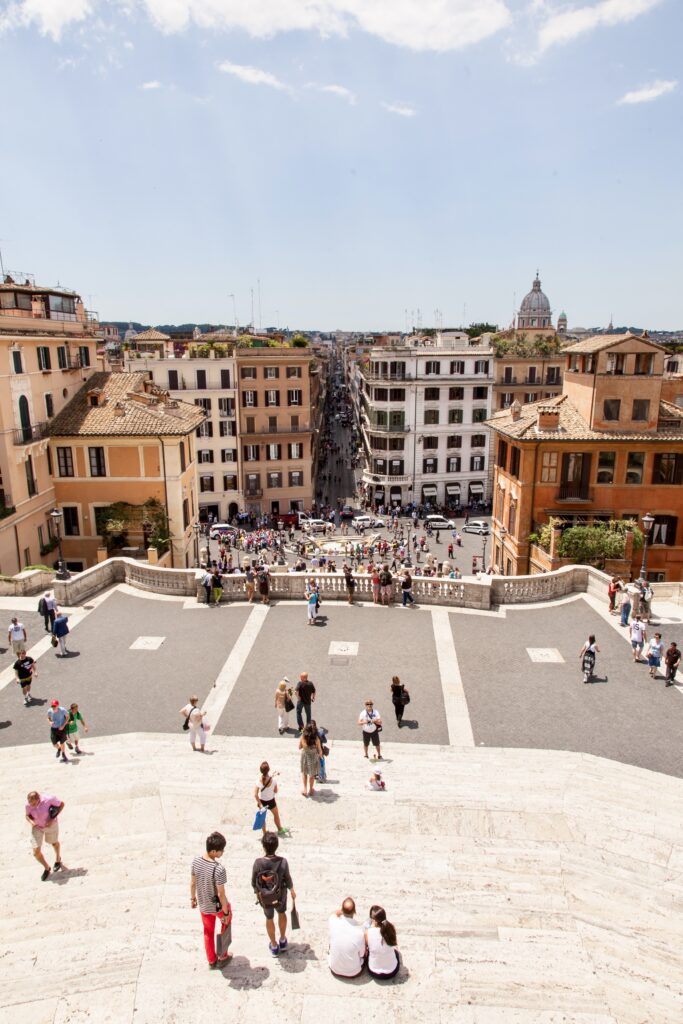 Piccolo Buco is also a tiny and delicious pizzeria only one minute from the fountain. And Emma, a chic pizzeria, is also in the historic center.
7. Spanish Steps
Once you've had lunch, make your way down Via Sistina towards the Spanish Steps. While I personally think the steps are a bit overhyped, they remain an iconic site in Rome that's worth seeing.
At the base of the steps, you'll find another of Bernini's famous fountains – the Sinking Boat Fountain.
It's important to note that as of 2019, sitting on the Spanish Steps is no longer allowed due to its classification as a national monument. A new law has been put in place to crack down on "bad behavior" in Rome, and those caught sitting on the steps risk a fine of € 400.
You may want to come back to this area in the evening. It's just beautiful then. You can book a 3 hour guided Rome at night tour that explores this area.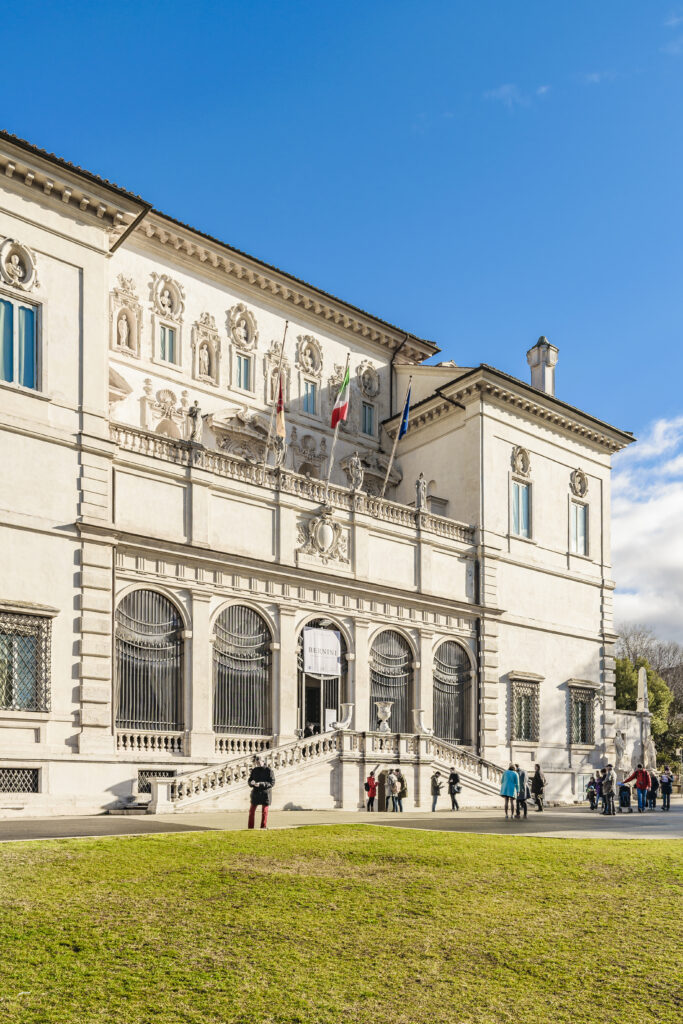 Day 2 PM: Borghese Gallery
One of my personal favorite art museums in the world is the Borghese Gallery, and trust me, I'm not exaggerating. The museum houses an incredible collection of masterpieces set in a stunning villa adorned with frescoes and marble.
Cardinal Scipione Borghese commissioned the villa in 1613 to display his impressive collection of Roman, Renaissance, and Baroque art. The cardinal was a great admirer of Bernini and helped him rise to fame.
However, Scipione was also an ardent and obsessed collector who sometimes acquired artwork through unscrupulous means. For instance, he once stole Raphael's famous Deposition painting from a convent altar in the dead of night.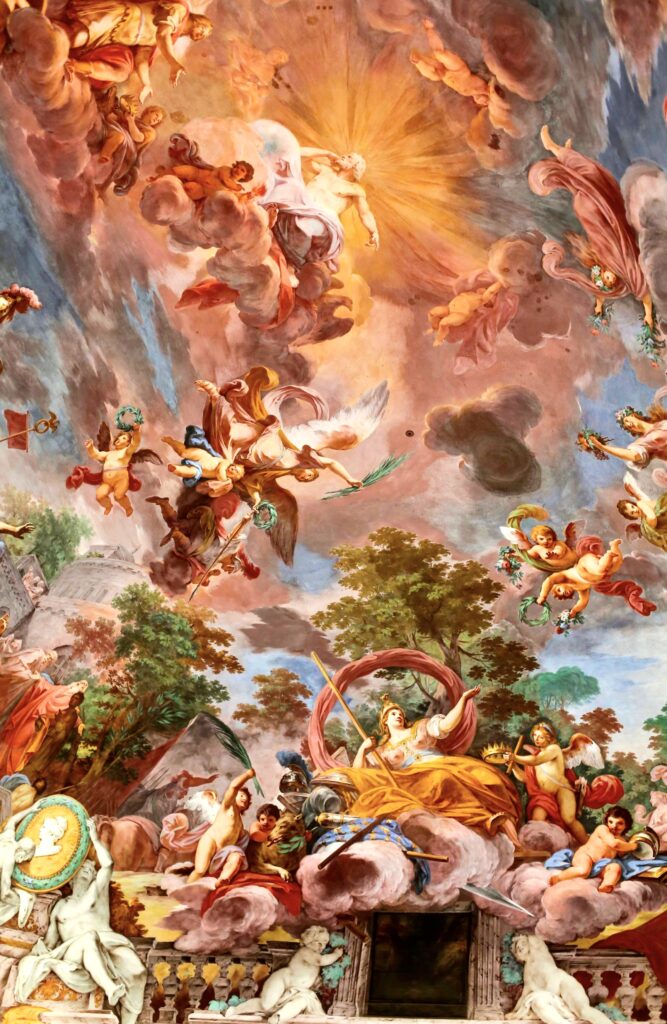 To visit the Borghese Gallery, it's important to make a reservation well in advance.
They only allow a limited number of visitors every two hours, so it's important to plan ahead. Also, keep in mind that during peak season, you'll have to leave the gallery once your time slot is over.
When you arrive, your visit will begin in the painting gallery on the upper floor, but it's recommended to allocate most of your time to the first floor. Make sure to arrive early and carry only a small purse or bag as everything else must be checked in.
Each room has information placards to help you navigate, but for a more in-depth understanding of the highlights, consider renting an audio guide.
In the Pinacoteca, you'll discover some of Bernini's self-portraits and smaller sculptures. In addition, you'll find two of Raphael's most famous works – The Deposition and Young Woman with a Unicorn.
The ground floor of the Borghese Gallery is home to a plethora of perfectly arranged masterpieces. The sculptures by Bernini, who is often credited with inventing the Baroque style, are the main attraction. The most beautiful pieces include The Rape of Persephone, Apollo and Daphne, and David.
Furthermore, there's a stunning work by Antonio Canova, Pauline Borghese as Venus. There's also a room dedicated to Caravaggio's art, including his famous David with the Head of Goliath.
Here's my complete guide to the Borghese Gallery. You've got to pre-book a ticket well in advance to visit the Borghese Gallery. You can also book a 2 hour skip the line guided tour of this magnificent museum.
After exploring the Borghese Gallery, I highly recommend making your way to the west side of the Borghese Gardens towards the Piazza del Popolo. The terrace offers a stunning view of the piazza, especially at sunset.
If you're in the mood for dinner, there are some excellent restaurants in the area. For a gourmet experience, check out the Michelin-starred Oliver Glowig or Sapori del Lord Byron. For a more casual and cozy atmosphere, try Girarrosto Toscano.
Alternatively, consider taking a food tour in Rome at night to discover the local cuisine and hidden gems. There are plenty of options catering to various interests.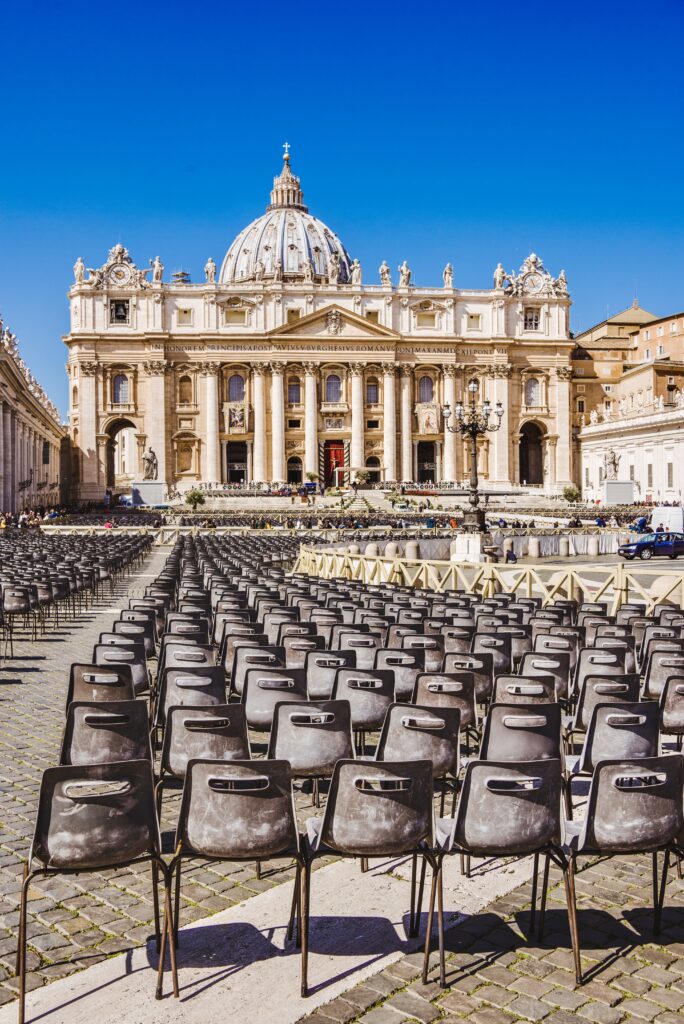 Day 3 of 3 Days in Rome
Day 3 AM: Vatican City
To kick off your final day in Rome, make your way to Vatican City for an unforgettable experience. As the heart and headquarters of the Roman Catholic Church, the St. Peter's Basilica and the Vatican Museums are not to be missed.
Avoid visiting the Vatican on weekends as it tends to be extremely crowded. If your trip falls on a Saturday or Sunday, I recommend rearranging the itinerary and visiting the Vatican on a weekday instead.
The Vatican is home to one of the world's most extensive art collections, featuring some of the most famous artworks on the planet. Whether you're an art or history enthusiast, the Vatican is an absolute must-see attraction with 3 days in Rome.
You absolutely must pre-book a skip the line ticket for the Vatican. Or else you'll be stuck in line for hours unless it's the dead of winter.
I've stood in that line before and I will never do it again. It's tortuous.
If you want to book a guided tour, you should to be picky about which one you select. Select a tour tailored to your own interests that includes what you want to see.
For example, one of my first visits to the Vatican I inadvertently booked a tour that didn't include the Raphael Rooms and was disappointed. Click here to check out the Vatican tour options.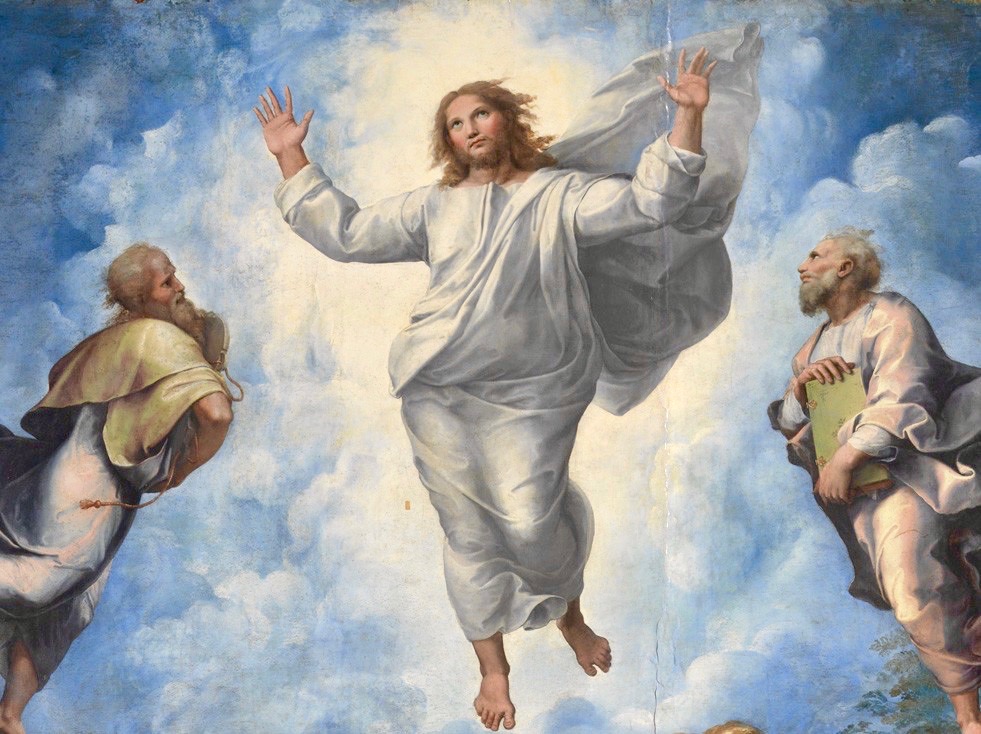 The Vatican is home to a vast collection of art, much of which was amassed by Pope Julius II.
He has left an incredible artistic legacy, which includes the rebuilding of St. Peter's Basilica, the commissioning of the Michelangelo frescos in the Sistine Chapel, and the Raphael frescos in the Raphael Rooms. Additionally, in 1506, he established the Vatican Museums.
The crown jewel of the Vatican is undoubtedly the Sistine Chapel, decorated with frescos by the renowned Renaissance artist, Michelangelo. It took Michelangelo 4 years to complete the 9 ceiling panels, which depict scenes from Genesis.
The frescos give the impression that the chapel is opening up to heaven. Contrary to popular belief, Michelangelo painted the frescos standing up, not lying down.
READ: Michelangelo Guide to Florence
In 1533, Pope Julius II called Michelangelo back to Rome to paint The Last Judgment on the altar wall of the Sistine Chapel.
This fresco has a more monumental style compared to Michelangelo's ceiling frescos. In the center, Christ appears excessively youthful and is depicted more like Apollo than the typical bearded savior.
After exploring the Vatican's treasures, make your way to St. Peter's Basilica, which is the most famous church in Christendom. It's a true Renaissance masterpiece designed by Bramante, Raphael, and Michelangelo.
The dome of St. Peter's, which was designed in part by Michelangelo, is the tallest in the world. The basilica is the burial place of St. Peter and past popes. It also houses the famous Bernini Baldacchino altar and Michelangelo's tragically beautiful Pieta.
St. Peter's is free to enter. If you're on your own, pick up an audio guide inside. It will take you on an hour long tour of the famous paintings and sculptures.
For just € 6, you can climb up a narrow flight of stairs to inspect the dome at close range. There's also an elevator for € 8.
From there, you'll have a bird's eye view of the nave below.
Continue higher to stand on the outside of the dome. This is where you have the iconic view of St. Peter's Square and a panoramic view of Rome.
Here's my complete guide to St. Peter's Basilica, with tips for visiting. You can take a guided tour of St. Peters. You can only visit the underground grottos on a guided tour.
When you're done Vatican-ing, head to the nearby Castle Sant'Angelo. The castle is a cylindrical beauty at the end of the Sant'Angelo Bridge.
It was once Hadrian's Masoleum. It then served as a fortress, castle, and (now) museum.
It's worth going inside if you have more than 3 days in Rome. The terrace on top serves up stunning views of St. Peters and the surrounding area. Click here to pre-book a ticket.
But since you've only got a half day left, I recommend you take a taxi to Rome's atmospheric Trastevere neighborhood.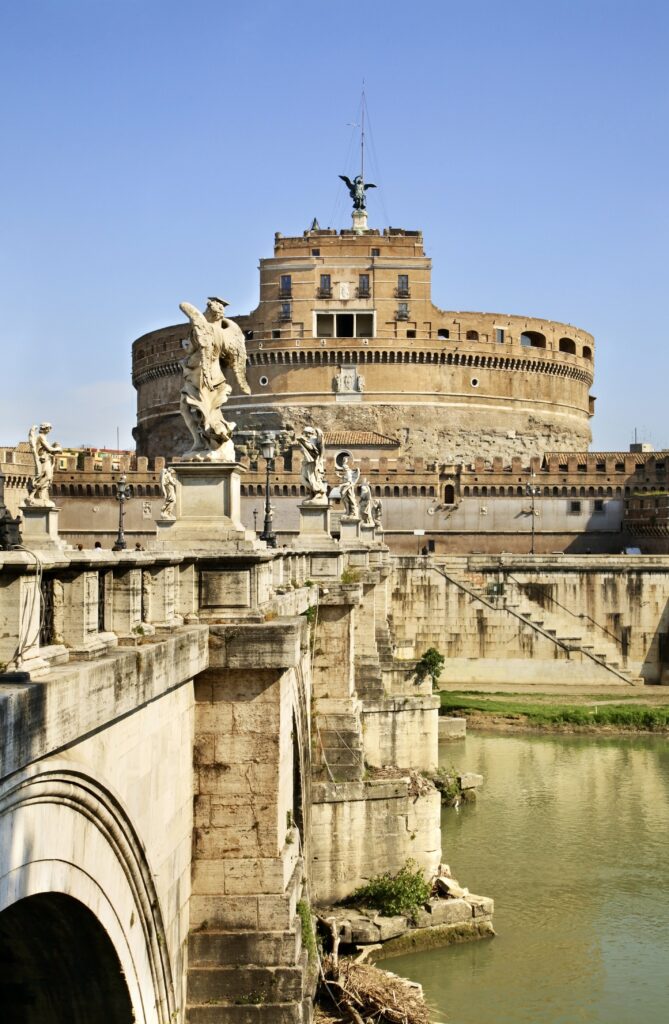 Day 3 PM: Trastevere
On you final afternoon in Rome, head to the Trastevere neighborhood across the Tiber River.
Trastevere is a picturesque village within a city. With its pastel facades, the neighborhood has the laidback vibe of small town Italy.
Trastevere is worth lingering in. You may want to book a guided walking tour or even a fun Segway tour to get oriented.
Its lovely cobbled and cafe-lined streets are vastly quieter than the cacaphony of central Rome. If you haven't yet had lunch, grab a delicious panini at La Proscuitteria.
Then head to Villa Farnesina, an underrated small museum in a beautiful setting. It's only open weekdays until 2:00 pm. If you can get there at 1:00 pm, you'll have an hour, which is all you need.
This sumptuously decorated villa was built in the early 1500s for one of Europe's richest Renaissance men, Agostino Chigi. The villa has some magnificent Raphael frescos.
Click here to book a 2 hour guided tour of the lovely Villa Farnesina.
Take a leisurely stroll to the heart of Trastevere at Piazza di Santa Maria, and make your way into the Santa Maria Basilica, which is the oldest church dedicated to Mary in Rome.
The church dates back to the 3rd century, but its Romanesque bell tower is from the 12th century. Inside the church, the beautiful 12th century mosaics in the apse are worth admiring.
Afterward, take some time to wander through the charming alleys of Trastevere and appreciate the golden and coral-colored buildings. Next, visit the Church of Santa Cecilia.
READ: Guide To the Most Beautiful Churches in Rome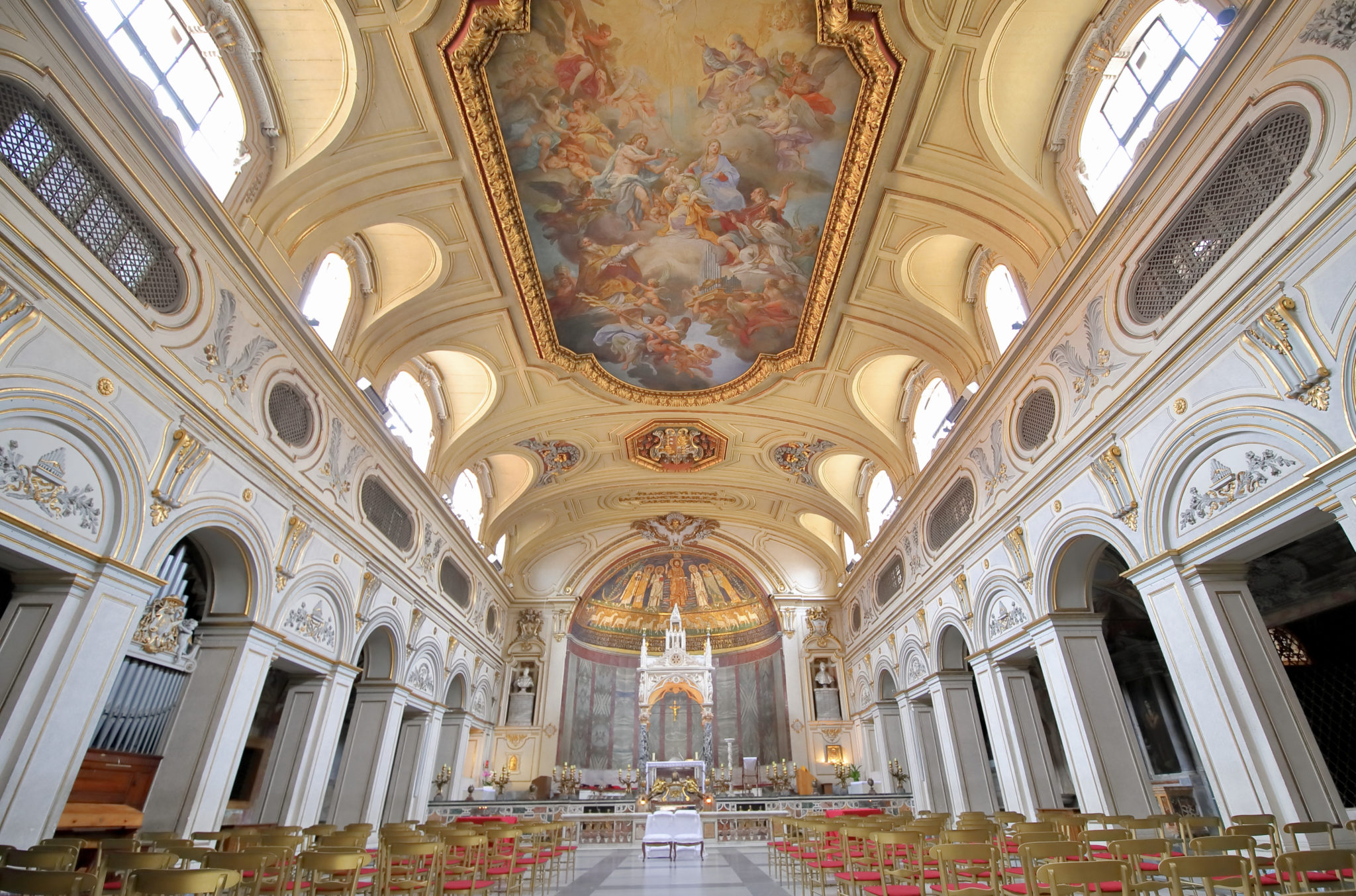 The exterior is a mishmash of architectural styles. But the interior is a luminous gold and cream combination.
It's time for happy hour. Settle in for some wine at Enoteca Ferrara. If you want to eat in Trastevere, try Ombre Rosse or Pianostrada Laboratorio di Cucina.
Another restaurant I enjoyed is La Sora Lella on Isola Tiberna. It's one of Rome's oldest restaurants, serving up classic rustic food in a casual setting.
Trastevere is also a good place to go on a food tour in Rome or a guided walking tour in the evening.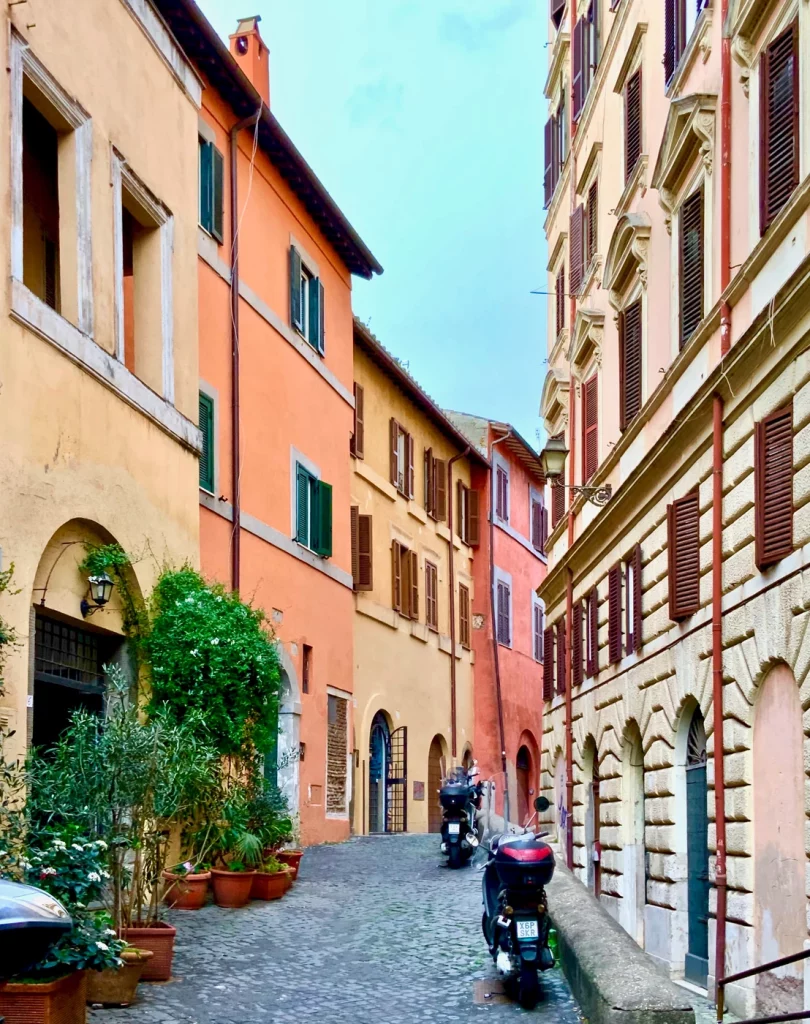 Must Know Tips for Visiting Rome
Here are some tips for visiting for Rome. You can also check out more general tips for visiting Italy.
1. How To Get Around Rome
Rome is a city that can be explored on foot, so make sure you bring comfortable shoes as I found myself easily walking 10 miles a day.
Personally, I wasn't a fan of the metro due to its three lines which can get very crowded and is known for pickpocketing. The bus system was also too confusing for my taste.
In my experience, I found that taking a taxi was the easiest and fastest way to travel longer distances, such as from the Vatican to Trastevere. You can usually find taxis at taxi stands, as hailing them on the street can be difficult.
Keep in mind that some taxi drivers may claim that they don't accept credit cards, so it's best to have cash on hand. Alternatively, you can also use Uber to get around.
Definitely don't have a car in Rome. The drivers are very aggressive and many streets are teeny tiny.
There are plenty of other fun ways to explore Rome, for every interest. You might consider booking one of these tours:
2. How To Get To Rome From The Airport
While I had decent luck with taxis once I was in central Rome, one place you won't fare well is Fiumicino Airport. The cabs aren't well regulated and known to rip off tourists. Plus, the lines can be epically long.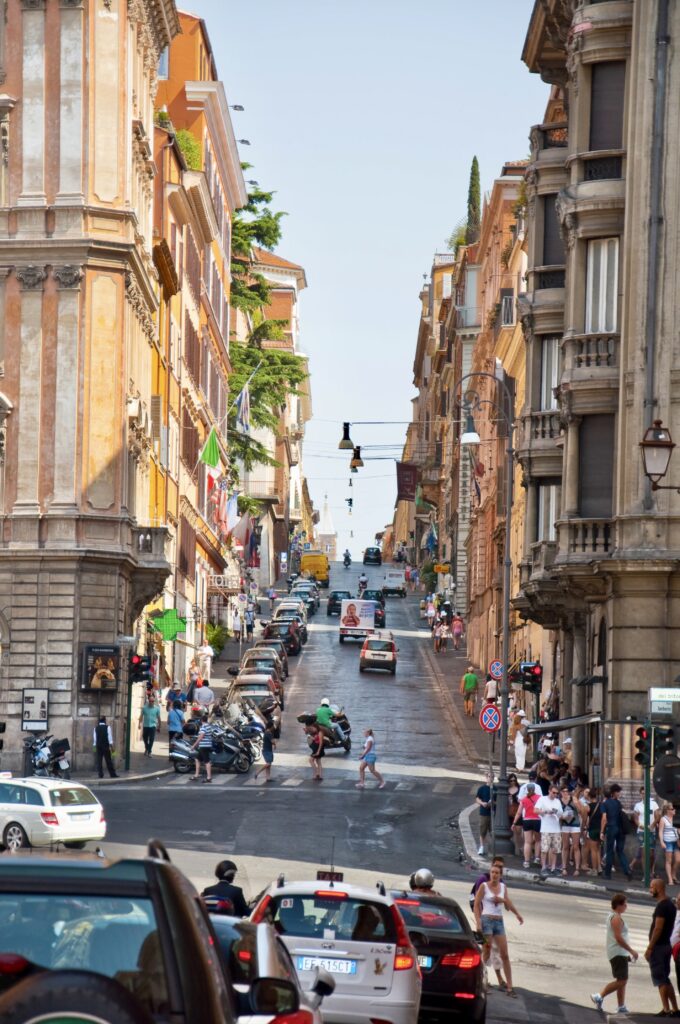 It's easiest to arrange a private transfer with your hotel or Air Bnb host. Or book your own private transfer online.
You can also take the train. The Leonardo Express leaves every 15 minutes from the Felice Santini train station near the airport.
It drops you off in Rome's Termini Station, which is northeast Rome. Click here to book a round trip ticket.
3. When To Go To Rome
Rome's moderate climate makes it a great destination any time of the year. However, since it's one of the world's most popular cities, it can get pretty chaotic and crowded. That's why I recommend visiting during the off-season if possible.
But if you have to visit during the high season, it's important to invest in skip the line tickets. Without them, you'll spend most of your day standing in lines and won't be able to see as much as you'd like.
4. City Passes
If you're in Rome for at least 3 days, consider purchasing the Roma Pass. For just 38 euros, you'll have full access to public transportation, admission to two museums, and discounts on performance and exhibition tickets.
Alternatively, try the more comprehensive Omnia Rome and Vatican Card. It consists of the Roma Pass and an Omnia Card.
Most importantly, it gives you skip the line access to the Vatican Museums, St. Peter's Basilica, and the Colosseum.
5. Where To Stay In Rome
One of my personal favorites hotels in Rome is the Rome Cavalieri. The hotel has its own art collection and an art historian will give you a free tour. You will also love the J.K. Place Roma, a simply gorgeous boutique hotel.
If you're a first timer in Rome, you may want to stay in the historic center around the Pantheon or Piazza Navona. Some good options are the Liberty Boutique Hotel, the Hotel Maalat, Deco Roma, or Hotel Hassler Roma.
The Hassler is a real favorite of mine. It boasts breathtaking panoramic views of Rome and Piazza di Spagna.
If you want to stay near the Imperial ruins, Palazzo Manfredi and the Inn at The Roman Forum are excellent choices.
The terrace at the Manfredi is to die for, with breathtaking views. The Inn also has a rooftop terrace and there are even ruins inside the hotel.
If you want to stay in the quieter Monti area, which makes a great base, the Palazzo Manfredi (Colosseum views), Villa Spalletti Trivelli (Roman townhouse), and Roma Luxus (former 18th century palace) are fantastic choices.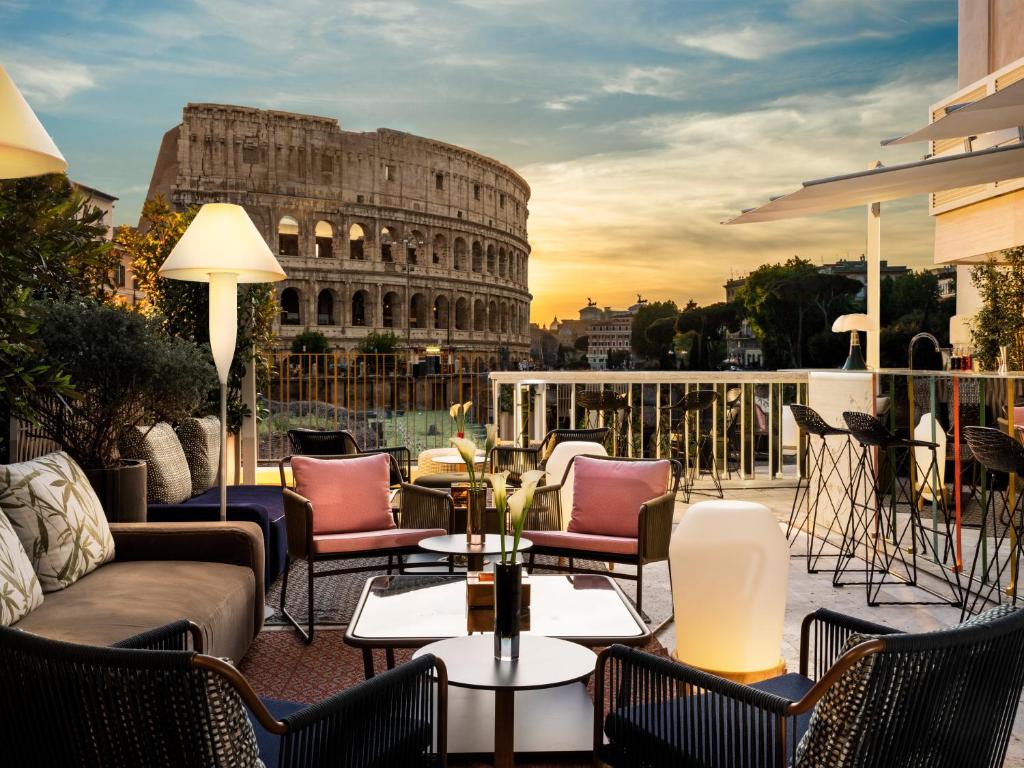 6. More Than 3 Days In Rome?
If you have more than 3 days in Rome, there are plenty of other amazing things to do in Rome.
For instance, you could: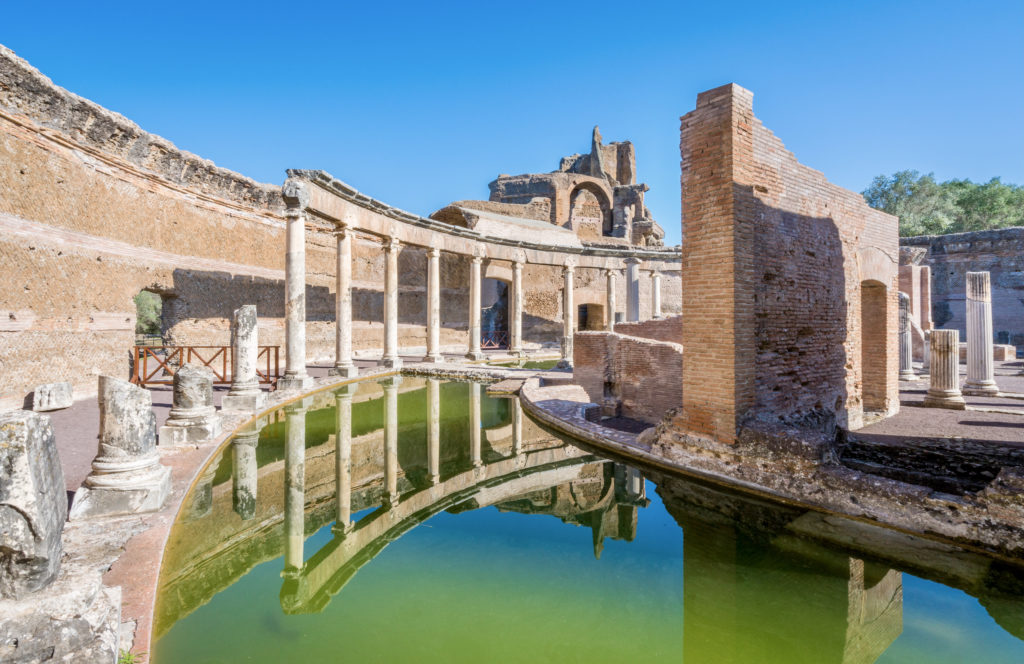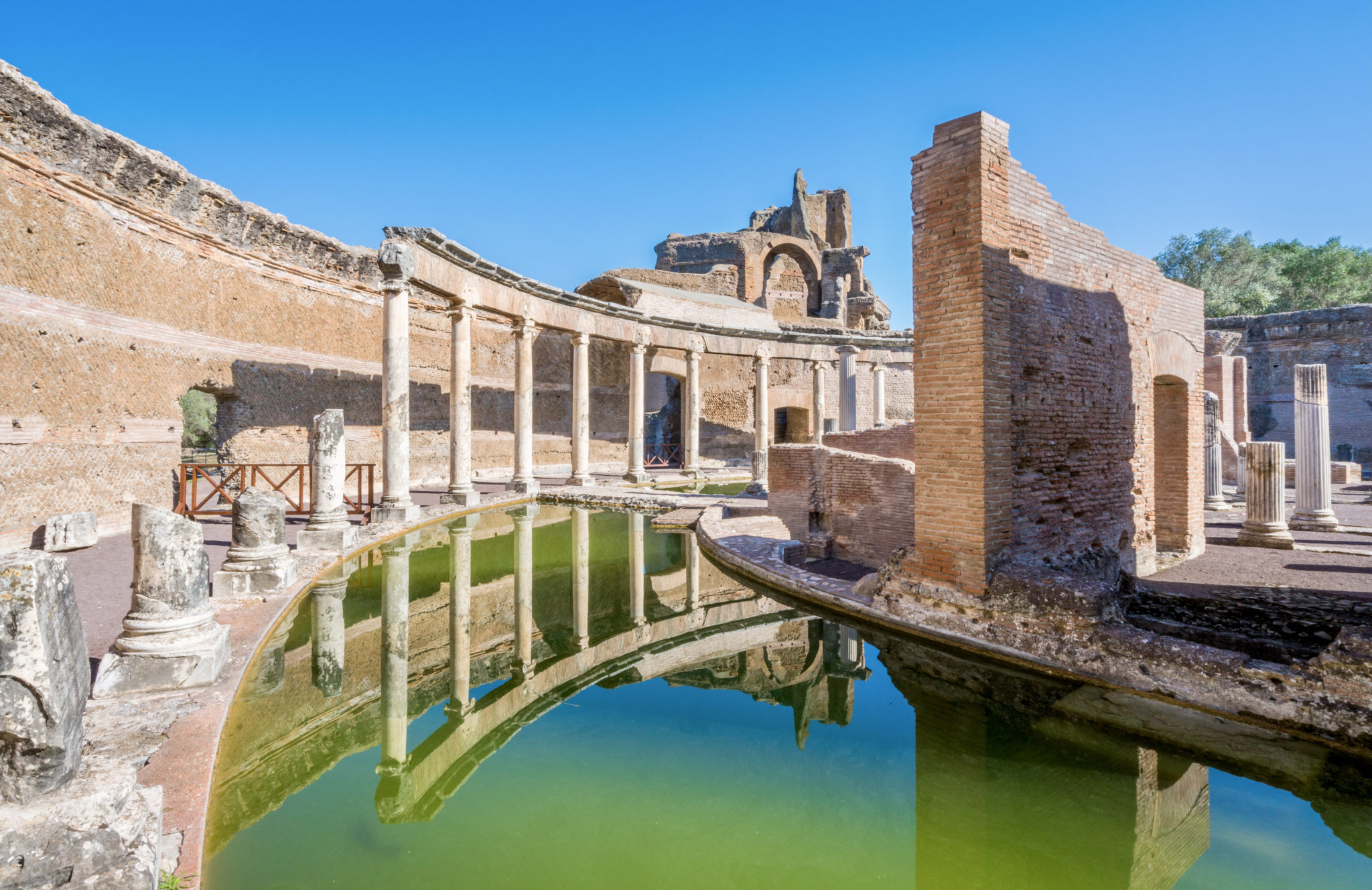 7. Day Trips From Rome
If you want to day trip from Rome, there are loads of options. Here's my extensive guide to 25+ of the best day trips from Rome.
Some of the most popular day trips from Rome are guided tours to Pompeii, Tivoli, Orvieto and Assisi, or to Florence and Pisa. You can even day trip to Venice.
I hope you've enjoyed my 3 days in Rome itinerary. For more information on Rome, check out some of my other in depth guides:
If you'd like to spend 3 days in Rome, pin it for later.