Planning a stay or stopover in Amalfi Town while you're on the Amalfi Coast? This is the ultimate one day in Amalfi Town itinerary.
Amalfi Town was once one of Italy's important maritime powers. A thousand years later, it's still one of the best know towns on the Amalfi Coast.
Amalfi Town is a bustling seaside village with a vibrant atmosphere and historic charm. It boasts a superb cathedral and a tempting labyrinth of picturesque lanes. Its mountain-ringed setting can be explored on foot or admired from the sea.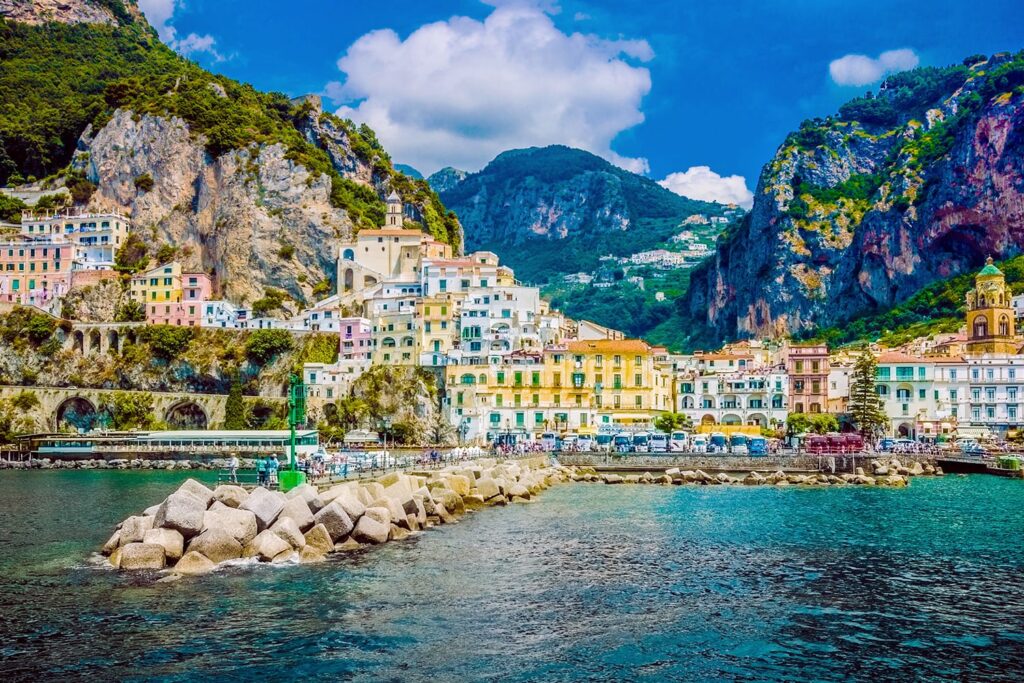 Overview Of One Day In Amalfi Town Itinerary
Here's a snapshot glance at what you can see with one day in Amalfi Town:
Amalfi Cathedral
Historic Center
Paper Museum
Boat Trip
Hit the Beach
Atrani
Emerald Grotto
Valley of the Mills hike
Valley of the Ferriere hike
You can't fit all these activities in with just one day in Amalfi Town. But I wanted to give you all the options, especially for your afternoon activities. If you like hiking and nature, you could easily extend this one day in Amalfi Town itinerary into a 2 day itinerary.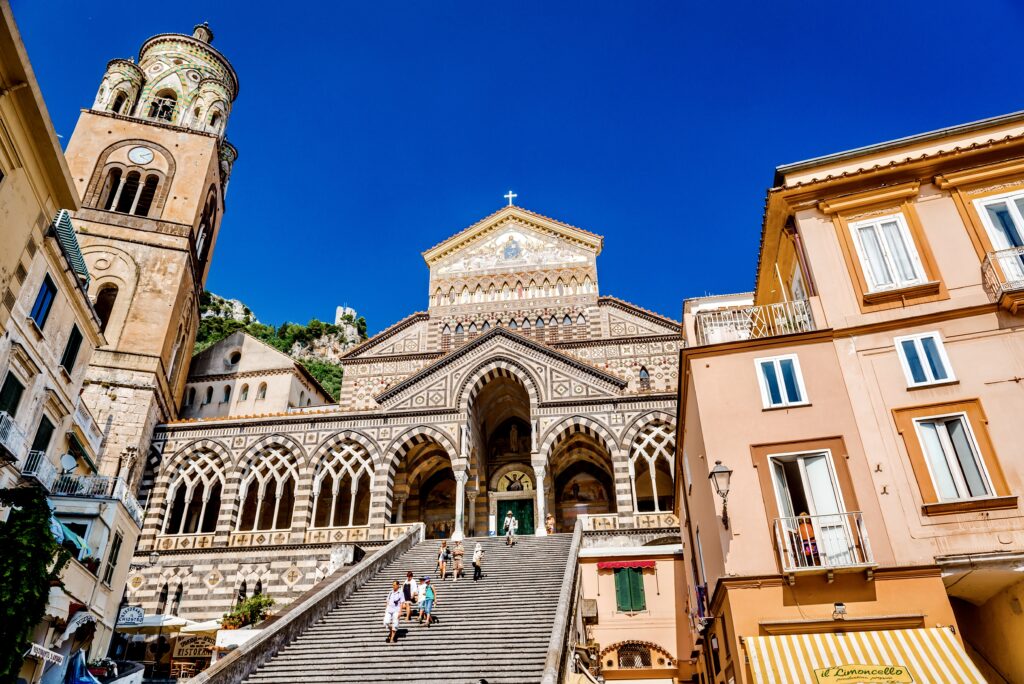 One Day In Amalfi Itinerary + Tips
Amalfi Cathedral
Start your day with a visit to the iconic Amalfi Cathedral, located in the heart of the town. It's the #1 attraction in Amalfi Town and one of the most beautiful churches in Italy.
Take a moment to admire the facade. Though it dates from the 19th century, it's still a glorious combination of Byzantine, Romanesque, and Moorish flourishes. The mosaic of Christ at the top is particularly exquisite.
The cathedral is dedicated to St. Andrew, the town's patron saint, and houses his relics. A visit to the cathedral can be divided into 5 parts:
Cloister of Paradise
Basilica of the Crucifix
Diocesan Museum
Crypt
Cathedral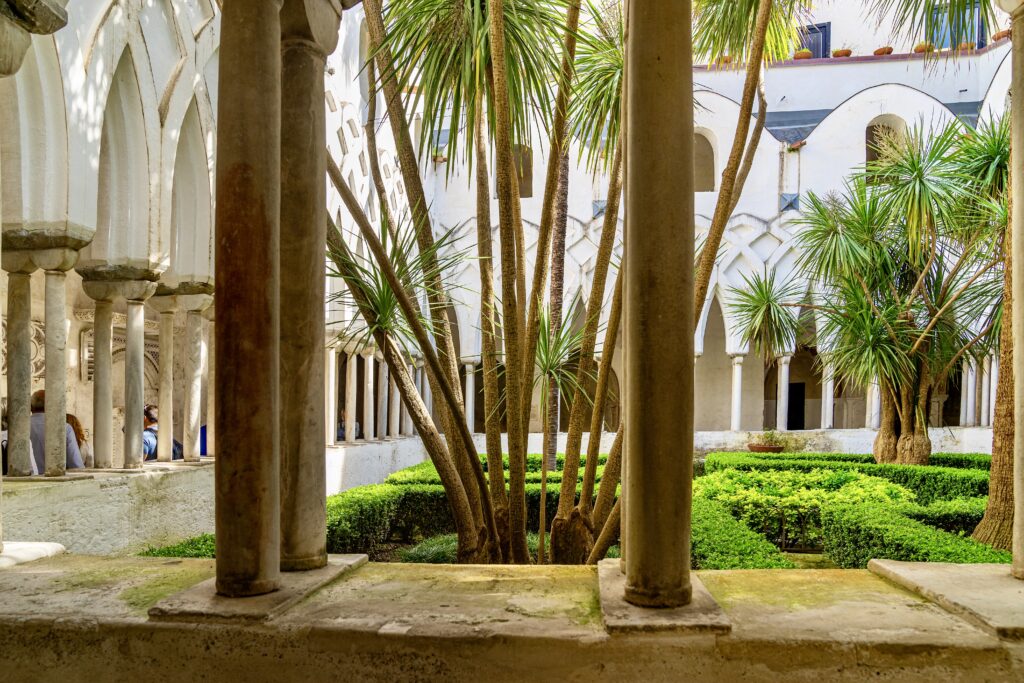 You enter through the Cloister of Paradise, on the left side facing the cathedral, to begin your visit. The cloister is the most beautiful part of the church.
It's a serene space. You'll find a beautiful garden, ancient Roman statuary, some sarchopaghi from the archaeological site in Paestum, and medieval frescos.
You'll next step into the Chapel of the Crucifix. It's the oldest part of the church and houses more crumbling frescos.
The Diocesan Museum is your next stop. It's full of sculptures, frescos, statuary and bling-y reliquaries.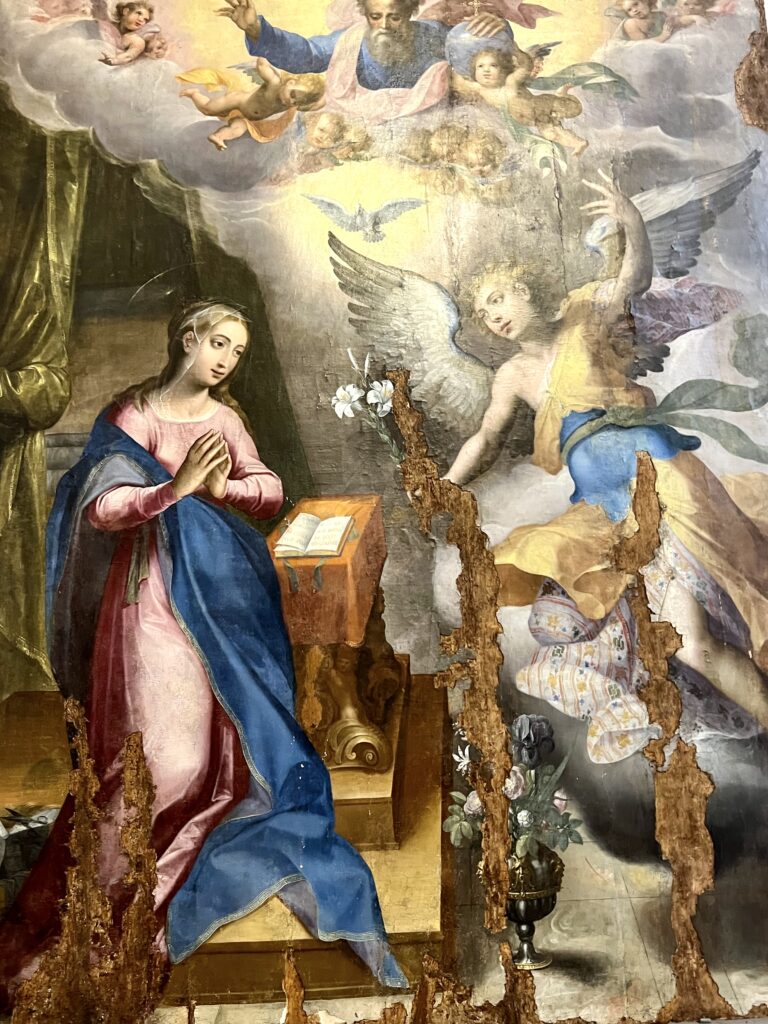 Then, you can admire the church itself. It'a a bit at odds with the rest of the complex and has been redone in a Baroque style.
Beneath the main altar is the crypt where St. Andrew's relics are kept. There's a bronze statue of the saint himself and Baroque murals.
When you exit, admire the views from the colonnaded loggia. And check out the ancient bronze doors, which are original and date to the 11th century.
For more information, you can check out my complete guide to Amalfi Cathedral.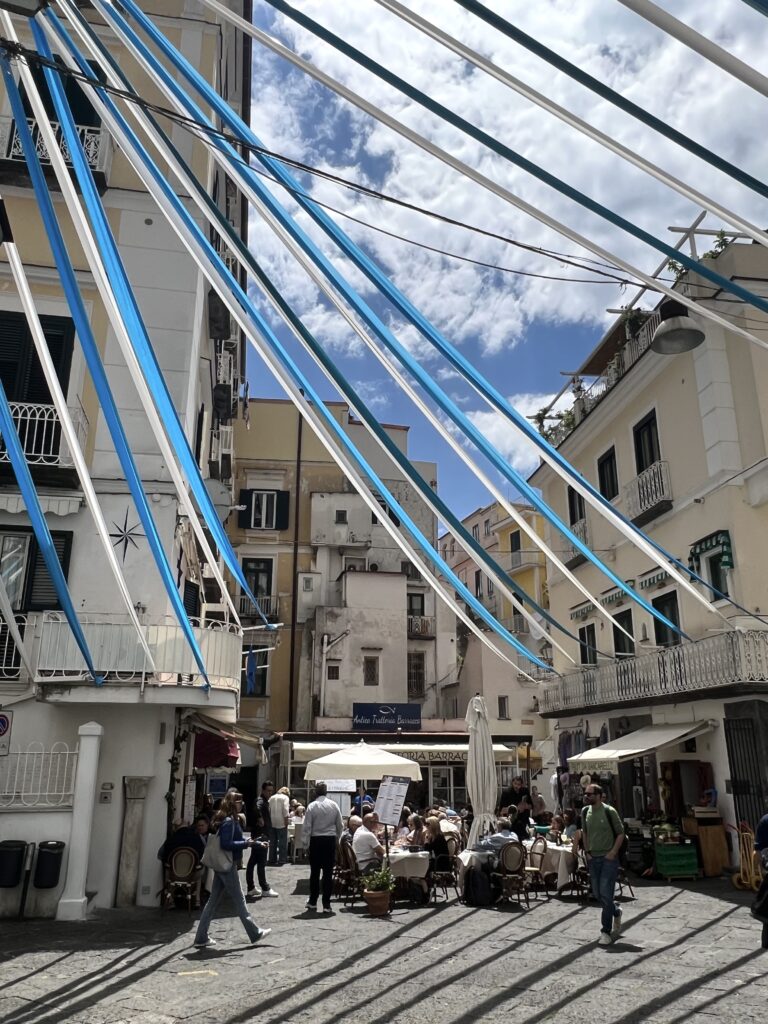 Historic Center
Next, take a leisurely stroll through the historic center of Amalfi. Explore the narrow lanes lined with quaint shops, local boutiques, and charming cafes.
Be sure to wander the charming backstreets too. You'll find delightful stands selling limoncello, tempting ice cream shops, and shops showcasing beautiful ceramics.
In the back streets, you'll also find Amalfi's "ancient staircases." You'll catch glimpses of laundry hanging out to dry and the enticing aromas of homemade food wafting through the air.
During my guided tour, I learned about a particular staircase that was once used to transport people to their final resting place on the hilltop. It served as their poignant farewell, with family and friends gathering to pay their respects and bid their last goodbyes.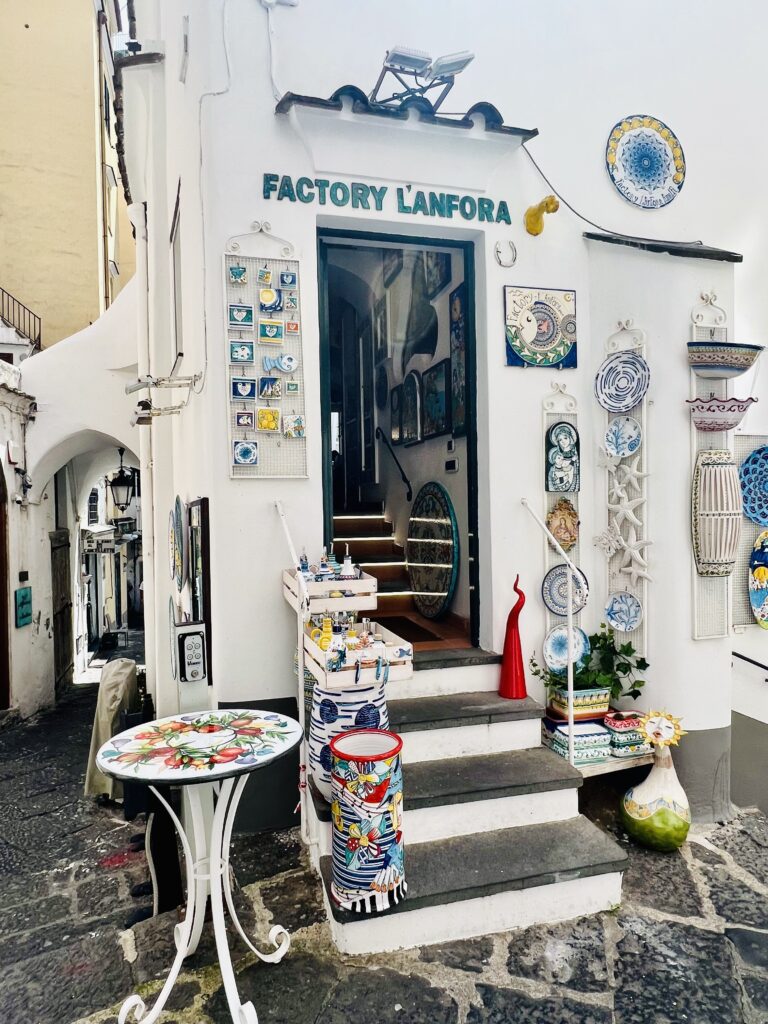 Paper Museum
After your stroll, visit the Museo della Carta (Paper Museum) at the north end of town. The museum is housed in a historic mill dating from the mid 13th century. It has a cave-like feel and is practically creaking!
The mill was once owned by a successful merchant. Having no heirs, he decided to transform the paper mill into a museum.
The handmade paper of Amalfi Town is called bambagina. It's made from cotton wool.
On a visit, you can learn about Amalfi's rich history in paper production. If you have a guide, they will explain the traditional techniques used to produce handmade paper and even run the machines for you to watch.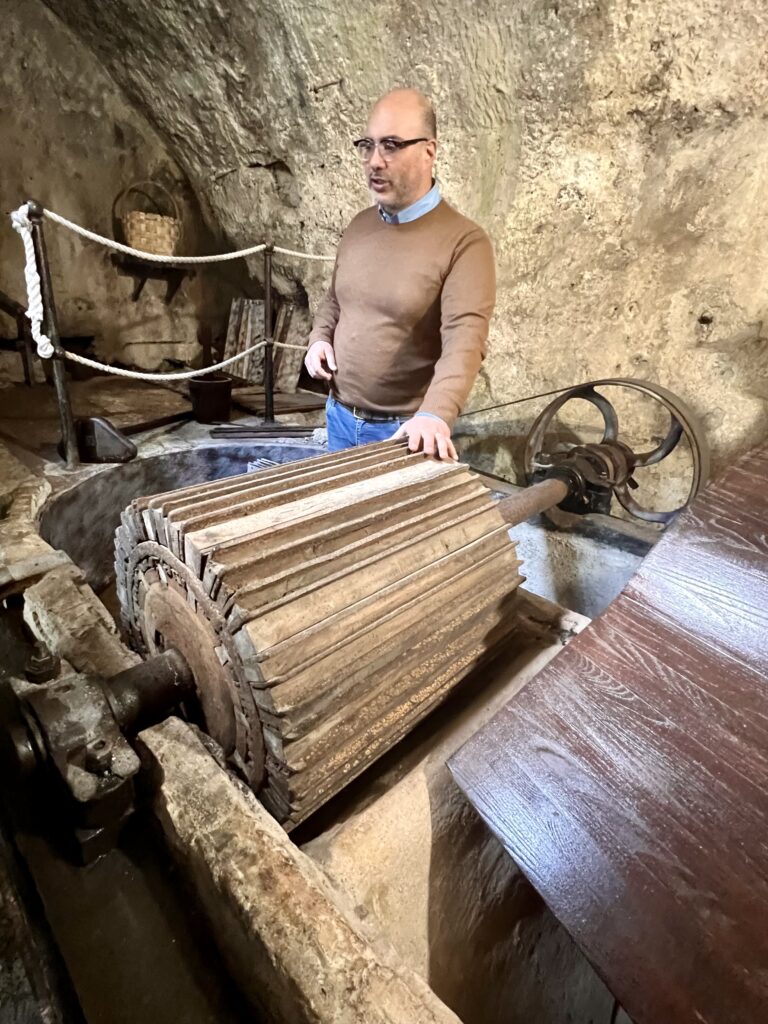 The museum also has a small shop with some lovely paper goods for purchase.
Have lunch at a local trattoria or grab a quick panini to go. There are delis and panini places all over Amalfi Town.
For dessert, shops offer up lemon desserts, lemonade, and lemon ice cream. You can sample pastries like sfogliatelle and delizia al limone (lemon delight) or enjoy a slice of lemon cake. Sometimes you can even pick your own lemons!
If you want to sit down, Cafe Pansa is a gorgeous historic cafe and a good place to sample some of those treats.
After lunch, you have several options for the rest of your one day in Amalfi Town. Pick one based on what appeals most to you.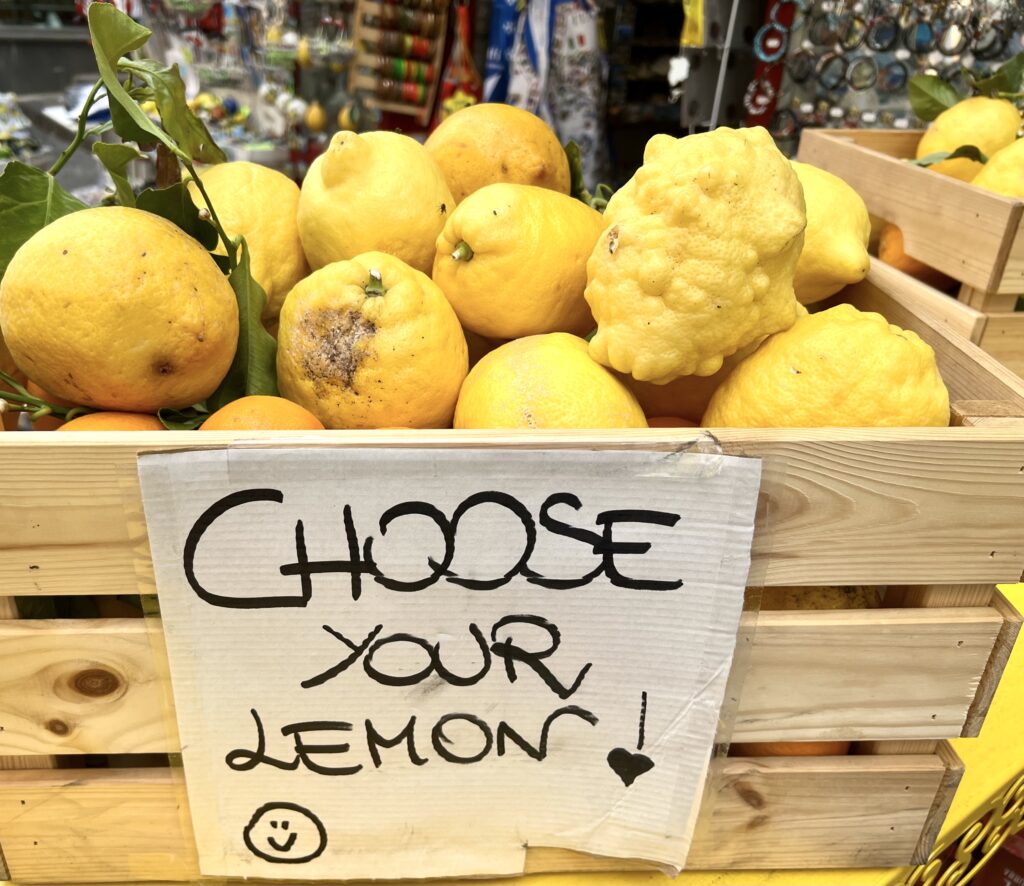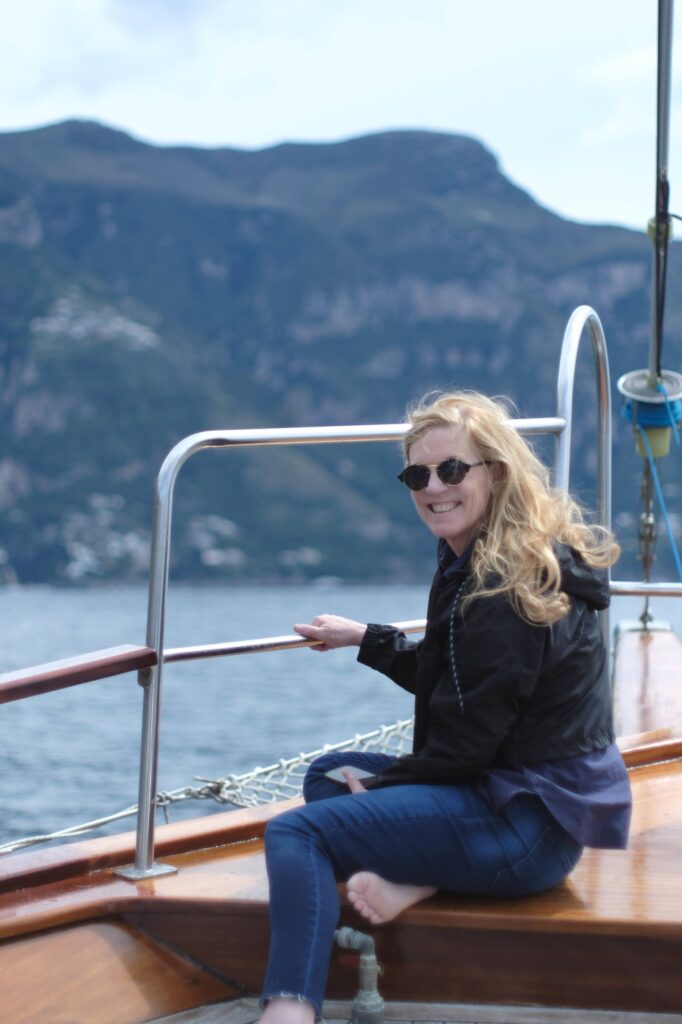 1. Boat Trip
First, you might consider taking a boat trip to explore the stunning coastline from the water. You can either rent a private boat or join a guided tour.
The Amalfi Coast is gorgeous seen from the water. You'll be treated to breathtaking views of the rugged coastline, towering cliffs, and colorful towns that dot the landscape.
2. Hit The Beach
Alternatively, you could spend some time at the beach and soak up the sun on the pebbled shores of Amalfi. Relax, swim in the crystal-clear waters, or simply unwind while enjoying the breathtaking coastal scenery.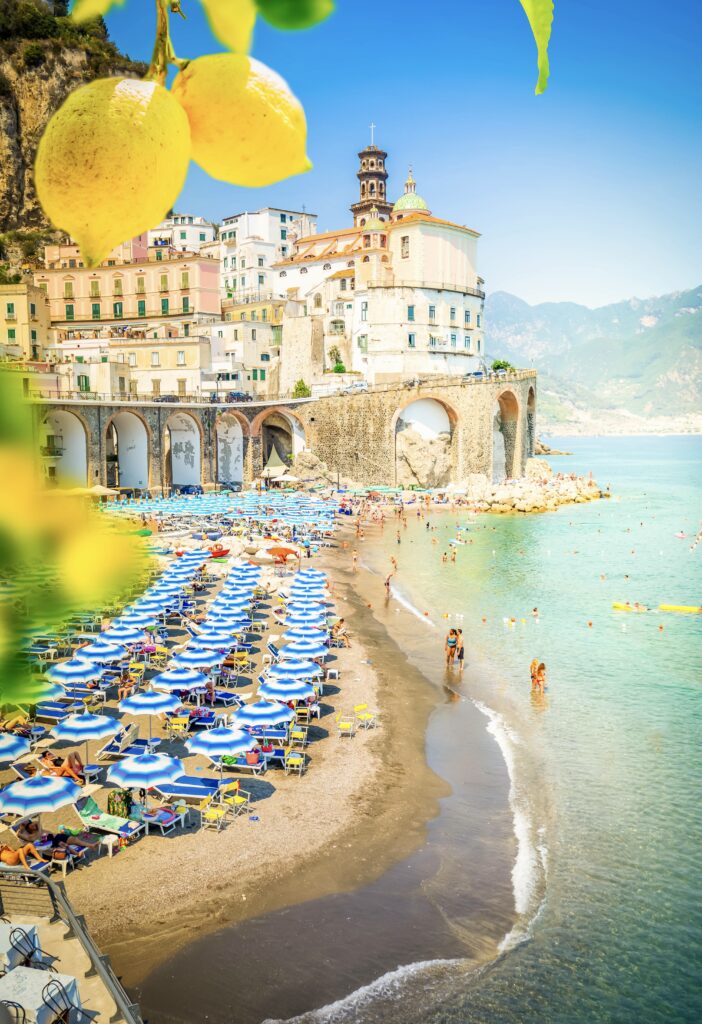 3. Visit Atrani
Atrani is an adorable town where you can escape the dense crowds of Amalfi Town and enjoy a leisurely afternoon.
You have a few options for getting there. You can either drive, take a taxi, or enjoy a pleasant 15 minute stroll along a winding trail.
Atrani is a sight to behold, with whitewashed streets and picturesque houses.
The main square is known as Piazza Umberto I. This vibrant gathering place is surrounded by colorful buildings and local shops.
Pop into the Church of San Salvatore, with its beautiful facade that catches the eye. You can marvel at the impressive religious artwork and intricate details that adorn its interior.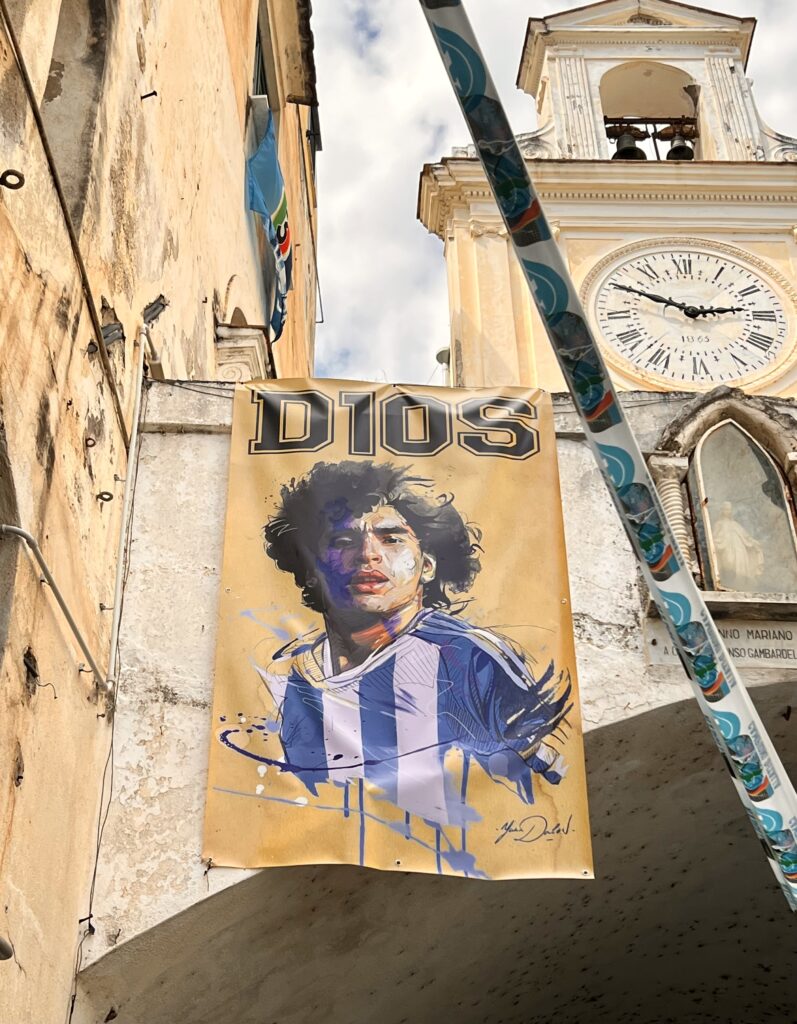 If you're in the mood for some relaxation by the sea, Atrani Beach awaits you. This stunning pebbled beach offers a tranquil setting and is notably less crowded compared to other Amalfi beaches
After soaking up the sun or enjoying the refreshing waters, head over to Le Arcate. It's a fantastic restaurant located near the beach. Indulge in their delectable seafood dishes (mussels, grilled octopus, shrimp) or divine wood-fired pizzas.
For some superb views, head to the Torre dello Ziro. It's a historic tower near Atrani. The medieval tower offers panoramic views of the Amalfi Coast and is often visited for its scenic beauty.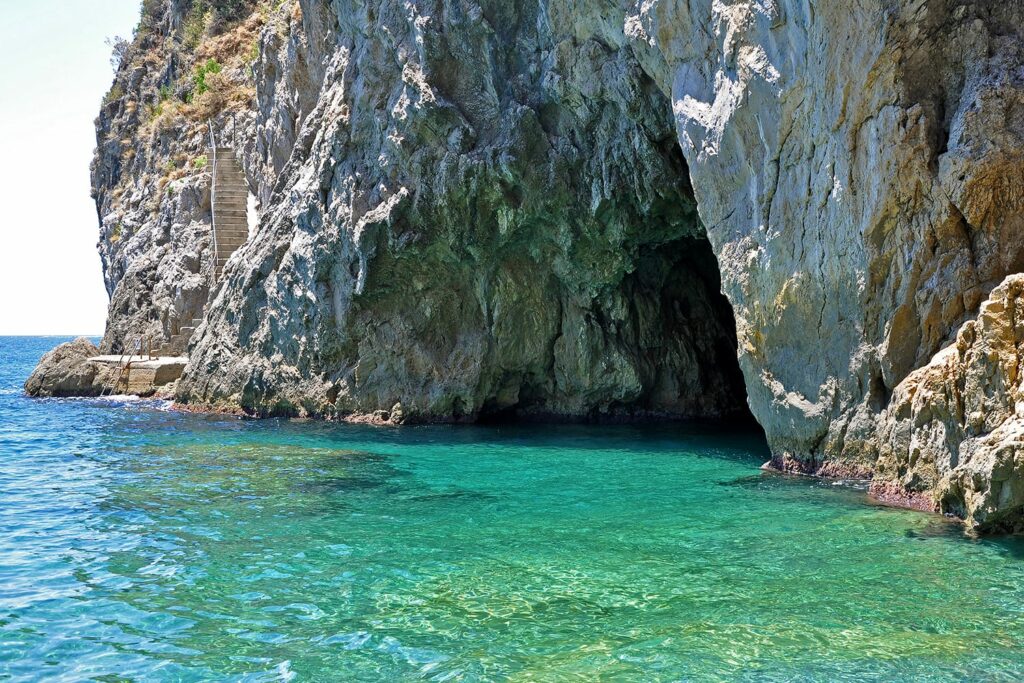 4. Visit The Emerald Grotto
You could also visit the Emerald Cave, known as Grotta dello Smeraldo, located in Conca dei Marini.
This mesmerizing sea cave beckons with its ethereal emerald-green waters and captivating geological wonders.
As you navigate the cave's interior, your guide will unveil the secrets of this little geological wonder. You'll learn about the fascinating formations that have been sculpted over time.
To reach the Emerald Cave, you can take a boat tour or hire a local boat taxi. You can also walk there. It's 45 minutes from Amalfi Town. At times, you'll be on the narrow main road.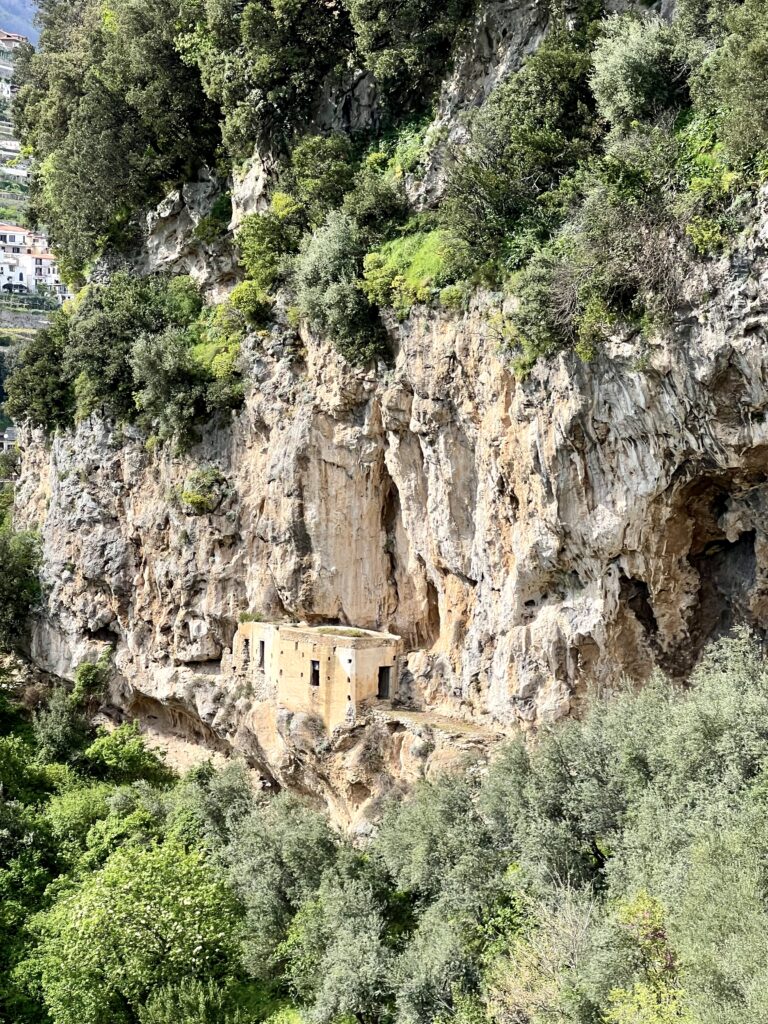 5. Hike The Valley Of The Mills
If you enjoy hiking — and Amalfi Town is a great place for it — you can hike the Valley of the Mills, also known as the Valle delle Ferriere. It's a moderate out and back trail that's about 6 miles.
The valley was once a bustling industrial area during the Middle Ages and Renaissance. Built from stone, these mills operated for centuries producing flour, paper, and other goods. They were powered by water from the stream flowing through the valley.
The trail offers a scenic journey through this historic and picturesque landscape. You can explore the remnants of ancient 13th century mills and crumbling bridges all nestled within a lush, almost tropical, valley.
The trail winds through the valley, following the course of the Canneto River, which once powered the mills.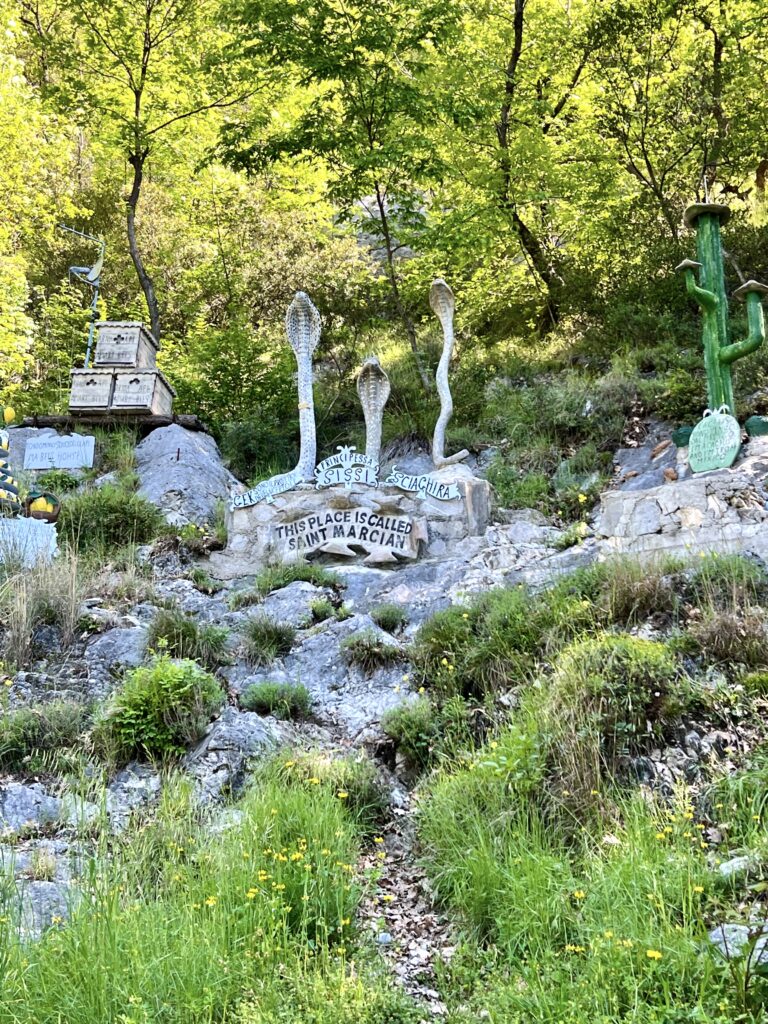 6. Hike The Valle delle Ferriere
You can also hike the "Valle delle Ferriere." This translates to "Valley of the Ironworks" or "Ironworks Valley."
The beautiful trail starts in Pogerola, which is above Amalfi. It takes you through the Valle delle Ferriere nature reserve.
As you hike along the trail, you'll be surrounded by the lush vegetation and enchanting natural beauty of the valley. You'll pass the Canneto Waterfall, small shrines, and old ruins.
The trail continues beyond Scala and ascends toward Ravello, a picturesque hilltop town. Ravello offers a delightful blend of charm, tranquility, and panoramic vistas of the Amalfi Coast. It also has two lovely medieval villas with killer views.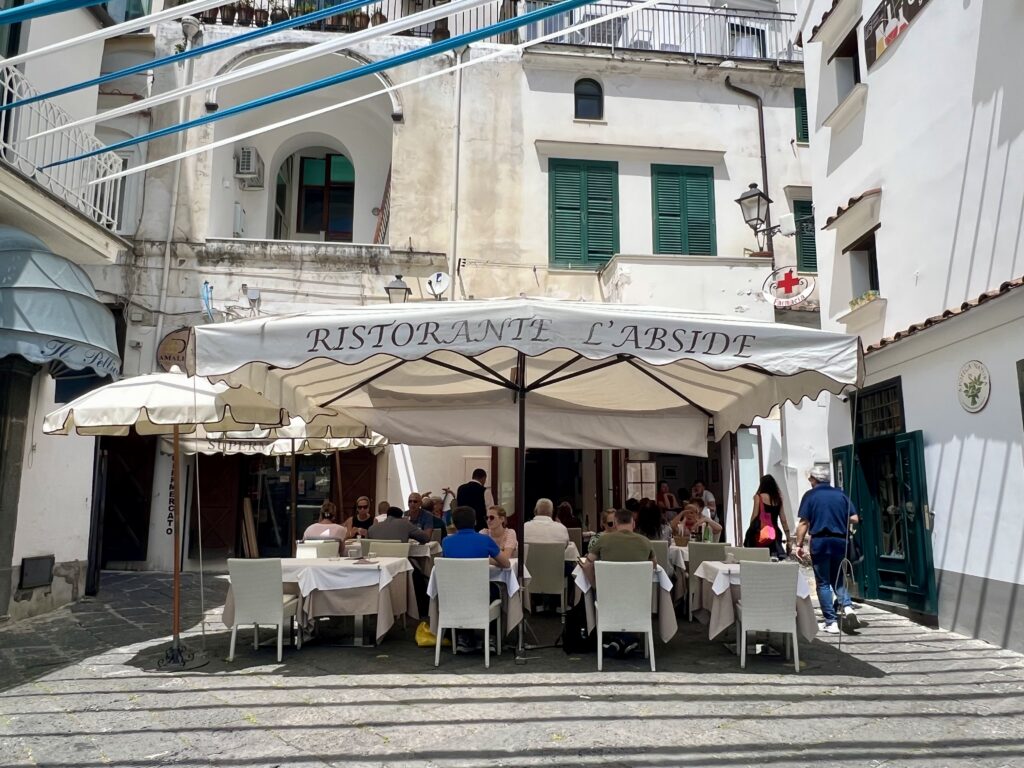 End your day with a leisurely stroll along the waterfront promenade, Via delle Repubbliche Marinare. Take in the romantic atmosphere and the twinkling lights that illuminate the town at night.
For dinner, try some of the fresh seafood dishes or savor for the local pasta dishes like scialatielli or lemon pasta. The gnocchi sorrentina is also excellent.
I enjoyed Da Gemma and L'Abisde trattorias.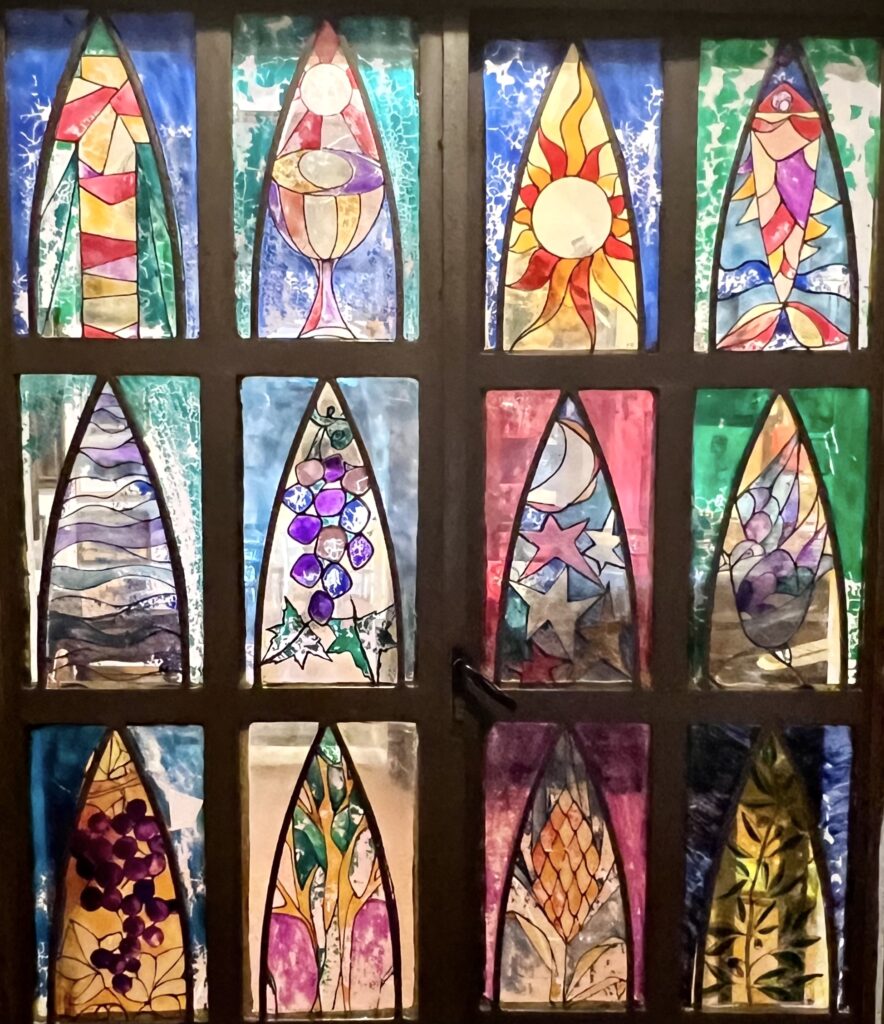 Tips For Spending One Day In Amalfi Town
Here are some must know tips for a 1 day Amalfi Town itinerary.
1. How To Get To Amalfi Town
By Bus:
The SITA bus service operates along the Amalfi Coast and connects various towns, including Amalfi. Buses run frequently and provide a convenient way to travel between towns.
You can catch a bus from nearby towns like Sorrento, Positano, or Salerno. Be sure to validate your ticket once you're on the bus. The bus deposits you at Piazza Flavio Gioia in Amalfi, which is located near the town center.
By Ferry:
If you're coming from other coastal towns or islands, taking a ferry is a picturesque way to reach Amalfi.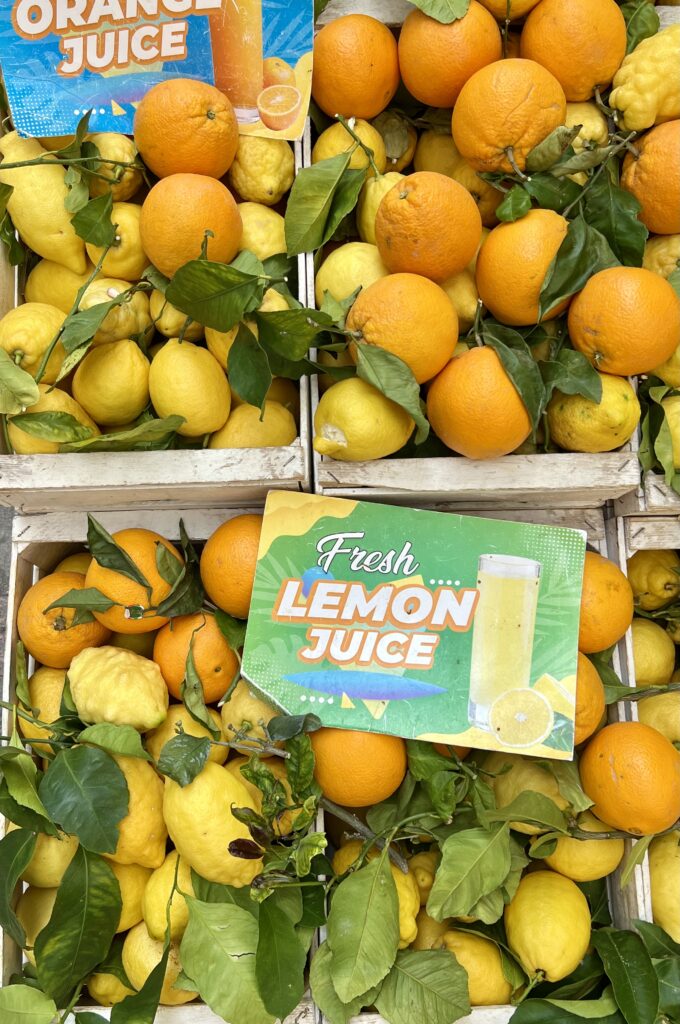 Ferries operate regular routes connecting Amalfi with places like Positano, Capri, Sorrento, Salerno, and Naples. The ferry terminal in Amalfi, Amalfi Pier, is centrally located, making it easy to access the town upon arrival.
Walking
Depending on where you are staying or visiting from (and your luggage situation), you may be able to walk to Amalfi Town to spend the day there.
If you are staying in Ravello, you can hike down to Amalfi Town via the Valley of the Ferriere trail.
If you are coming from Atrani, it's only a 10-15 minutes walk downhill.
By Private Transfer
You can also book a private transfer to get to Amalfi Town. There are private transfers from Naples, from Sorrento, and from Salerno.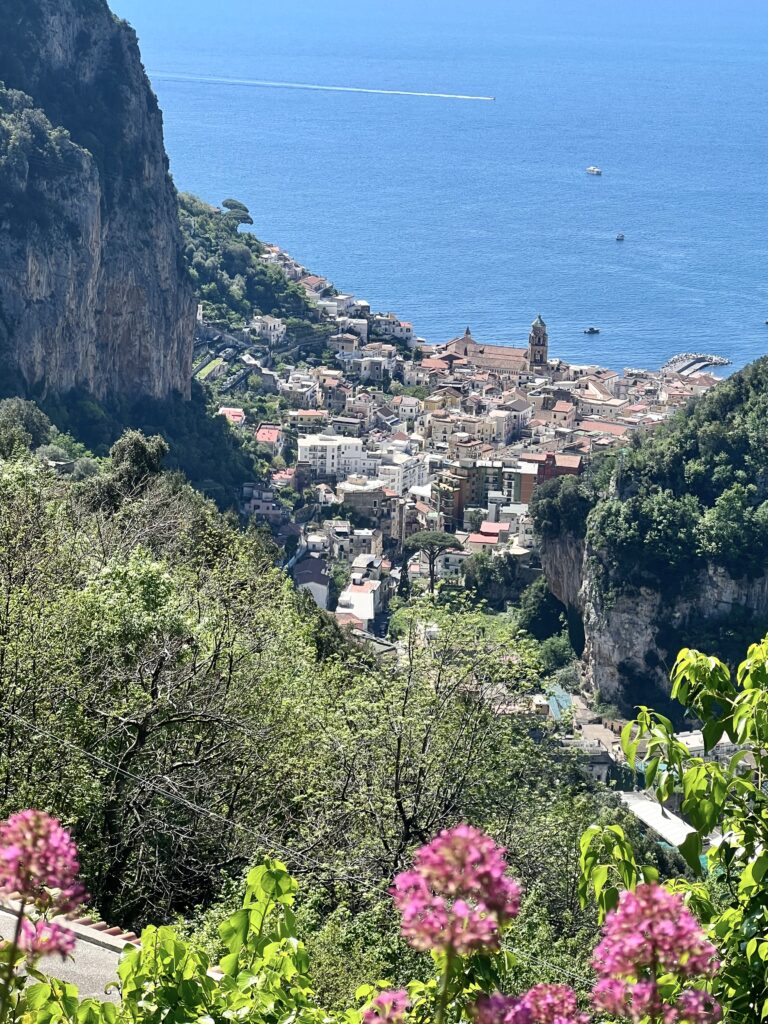 2. How To Get Around Amalfi Town
Amalfi Town is small and easy to navigate. The historic center is compact, making it convenient to explore on foot. The major attractions, shops, and restaurants are within walking distance of each other.
Within Amalfi Town, local buses are available for traveling to nearby areas and villages. These buses can be used to reach places like Ravello, Atrani, or the neighboring beaches.
The main street in Amalfi Town is Via Lorenzo d'Amalfi. It was mobbed when I was there. So, be sure to explore the back streets and ancient stairways.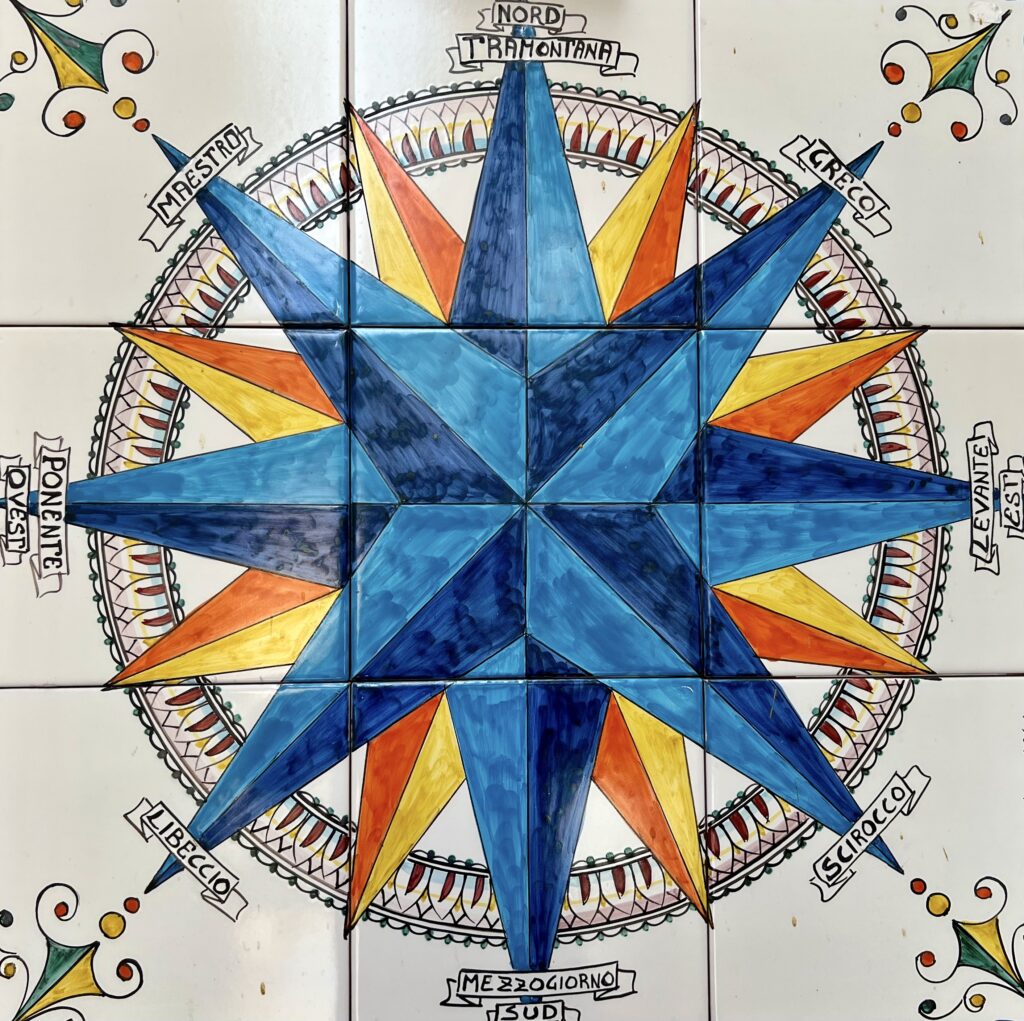 3. Where To Stay In Amalfi Town
Since Amalfi Town is a central base for the Amalfi Coast, it has a fairly wide range of accommodations.
For a splurge, Hotel Santa Caterina is a secluded luxury 5 star hotel. It's known for its breathtaking views, elegant rooms, and impeccable service. It features a private beach (access by elevator), a cliffside pool, and a Michelin-starred restaurant.
Hotel Marina Riviera is a 4 star hotel by the sea. It has a terrace with views and a rooftop pool.
Hotel Luna Convento is housed in a converted 13th-century convent. This 4 star hotel has stunning sea views, a private beach, an outdoor pool on a cliff, and a restaurant in a centuries old chapel.
Residenza Luci is a charming B&B in the historic center where breakfast is served up with panoramic views from the terrace.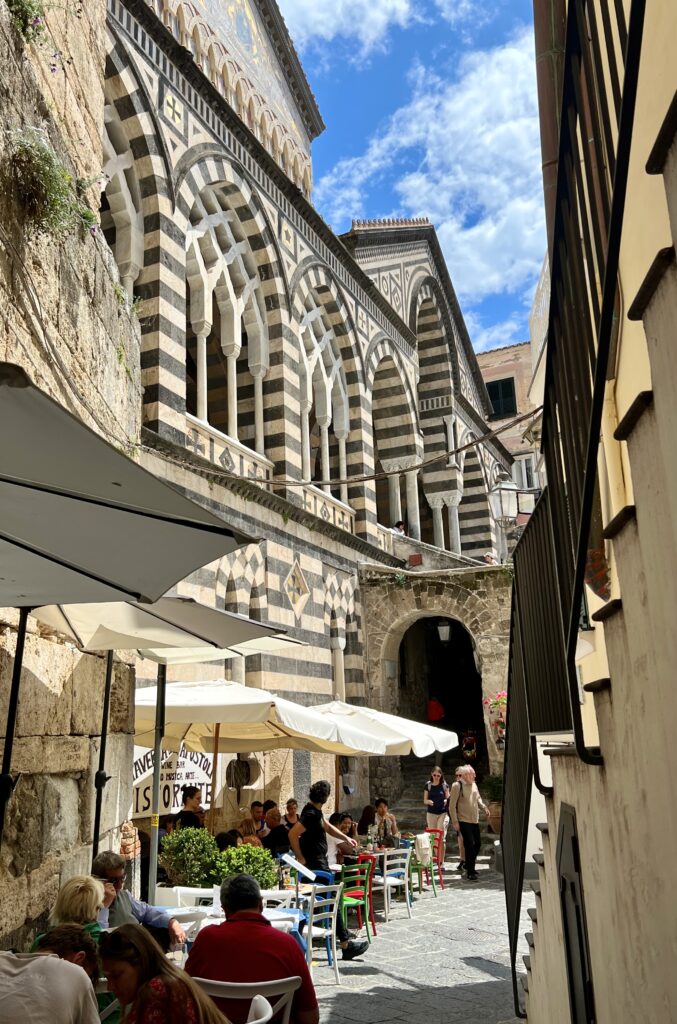 4. When To Visit Amalfi Town
Like most places on the Amalfi Coast, it's best to visit in shoulder season — April/May and September/October. The crowds in the summer are epic and it's really toasty.
I hope you've enjoyed my itinerary for spending one day in Amalfi Town. You may enjoy these other southern Italy travel guides and resources.
If you'd like to spend one day in Amalfi Town, pin it for later.