Thinking of taking a hiking trip in Italy's Amalfi Coast? You should!
I just went on the Backroads Amalfi Coast hiking tour. It includes Sorrento, the island of Capri, Positano, Amalfi Town, and Ravello. I'm here to give you a review and the full scoop on what to expect.
Backroads is a leader in guided hiking and biking tours in Europe and around the world. The company aims to provide the perfect vacation that combines activity, culture, and luxury.
This was my first hiking tour in Europe, only my second tour actually. The Amalfi Coast is a truly amazing place both to visit and to hike through.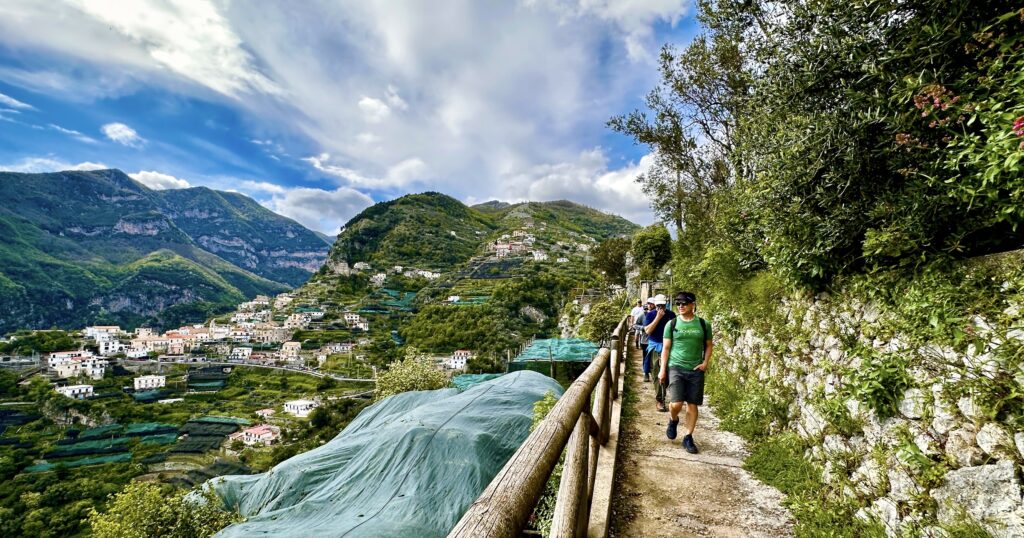 The scenery is stunning. It's like hiking through paradise.
But hiking is not Amalfi's only draw. With a wonderful combination of culture, food, and wine, the Amalfi Coast is synonymous with la dolce vita. And Backroads does everything to pamper you and make you feel this vibe.
The region features dramatic cliffs, colorful fishing villages, and azure Mediterranean waters. You may feel like you're hiking through a painting. And the southern Italian food is divine too.
The Backroads Amalfi hiking tour lasted 6 days and 5 nights. The tour begins and ends in the city of Naples. We spent 1 night in Sorrento, 2 nights in Capri, and 2 nights in Ravello at premiere hotels.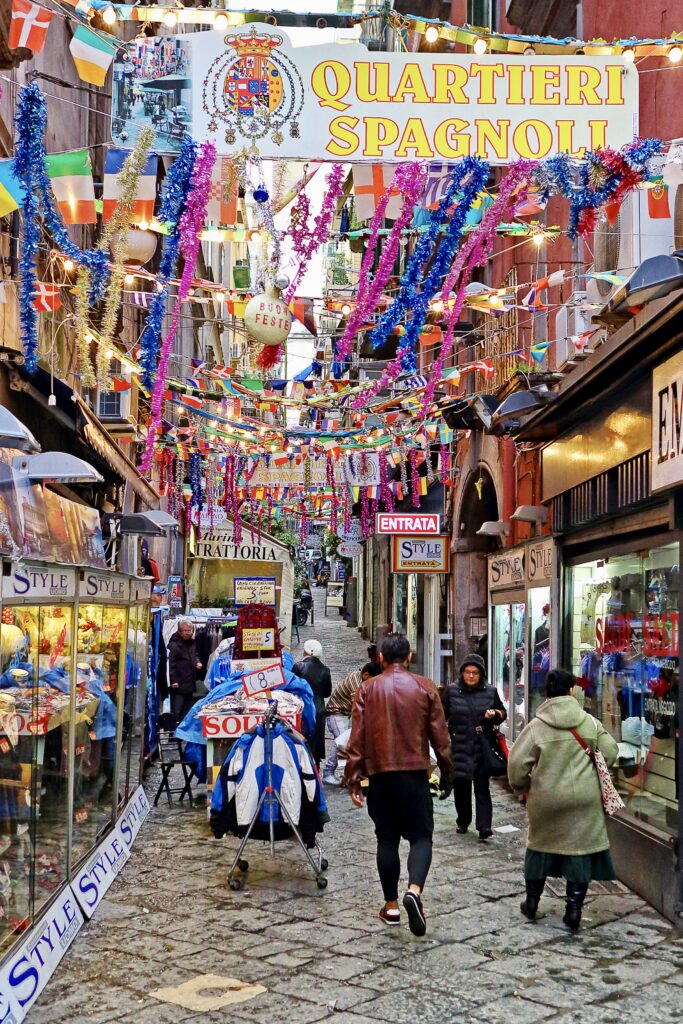 How To Get To Naples
To get to the starting point of the Backroads tour, you can fly into Rome's Fiumicino Airport or Naples Capodichino Airport. From Rome, you can fly to Naples, take the train, or book a private transfer.
From Naples Airport, you can get to the city center by taxi, metro, or by booking a private transfer.
If you're coming by train, pre-book a ticket for your journey on Trenitalia. Be sure to validate a paper ticket before getting on the train to Naples Centrale. You can taxi or book a private transfer from the train station.
I personally advise booking private transfers to your hotel from either the airport or train station. For one thing, it will be quicker and easier.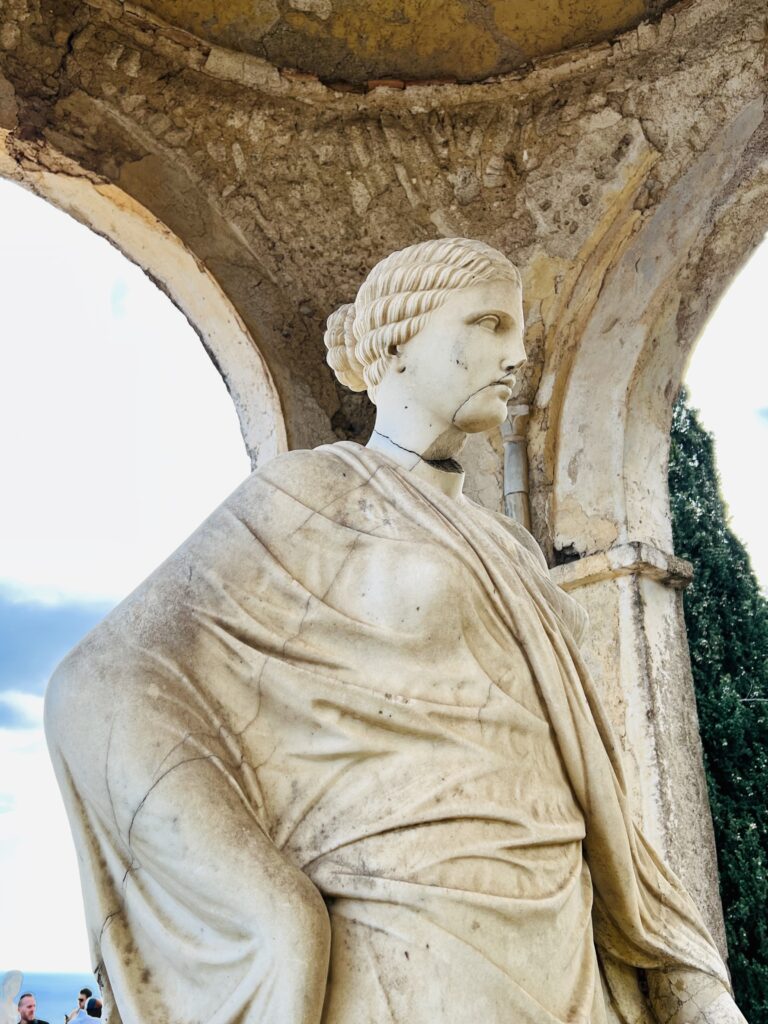 For another, although taxis in Naples are better regulated these days, there are still renegade drivers. If you do opt for a taxi, makes sure it's an officially licensed one. Negotiate the fare or ask them to switch on the meter before leaving.
The tour meets at the Eurostars Hotel Excelsior. Plan to arrive at least one day in advance, maybe 2, in case there's an airline snafu. You don't want to miss the first day of your tour.
If you do arrive late due to unforeseen circumstances, you can take a taxi from Naples to Sorrento for around $200. You can also book a private transfer to Sorrento.
If you want to stay at the Excelsior before the tour starts, book well in advance to make sure you get a room. But it's not a big deal to move from another hotel either, which is what I did.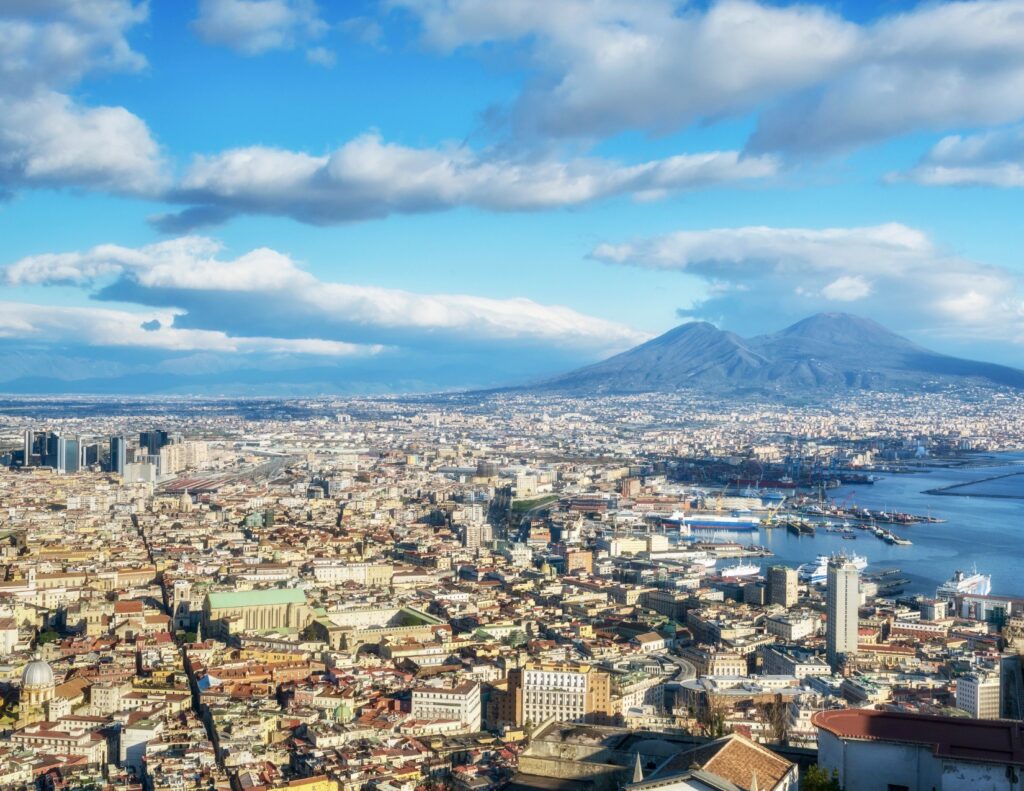 You can spend one day in Naples, which is an underrated city that's definitely worth visiting. I spent 3 days in Naples and still didn't see everything I wanted to.
If you have a good amount of time in Naples, you should take a guided walking tour, visit the famed Naples National Archeological Museum, or book a tour to Pompeii in advance of the Backroads tour.
>>> Click here to book a guided tour of the Naples Archaeological Museum
Review of Backroads Amalfi Coast Hiking Tour
Here's my honest review of everything you can expect on a hiking tour with Backroads in Amalfi, with detailed information on the hikes, itineraries, hotels, and must know tips. (This was NOT a sponsored trip for me.)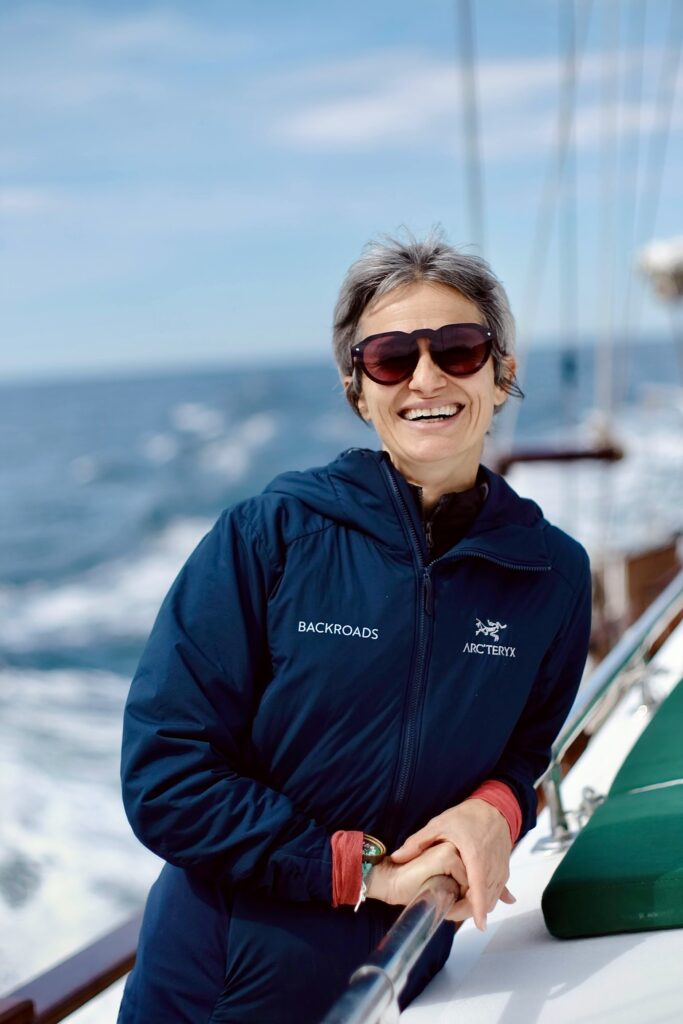 1. Backroads Guides
First off, you can expect to have outstanding guides. Our guides were Chema and Simona.
They were knowledgeable, extremely professional, patient, incredibly friendly, and on top of every detail involving the tour. Chema was even a history whiz!
You won't have to spend a second worrying about the logistics of your tour. Their top concern is that you have the best experience possible and they will move mountains to make sure you do.
On one of the tougher climbs, my husband and I were the only ones hiking and Chema accompanied us the whole way. He answered questions about the hike, the area, and life in general. He's an impressive guy!
2. Who Goes on A Backroads Tour?
There will be 16-26 people on your tour. On ours, in late April-early May, there were 20. You can expect a few people to be repeat customers.
This tour was for couples, solos, and friends. There were no minor children. No singles this time either, though singles are welcome.
The age of people on Backroads tours skews to middle age or older. This is likely because the price point is rather high. (Amalfi is an uber expensive place too.)
But on my "adults only" tour there was a range of ages from adult children traveling with their parents to those in the 60+ age group.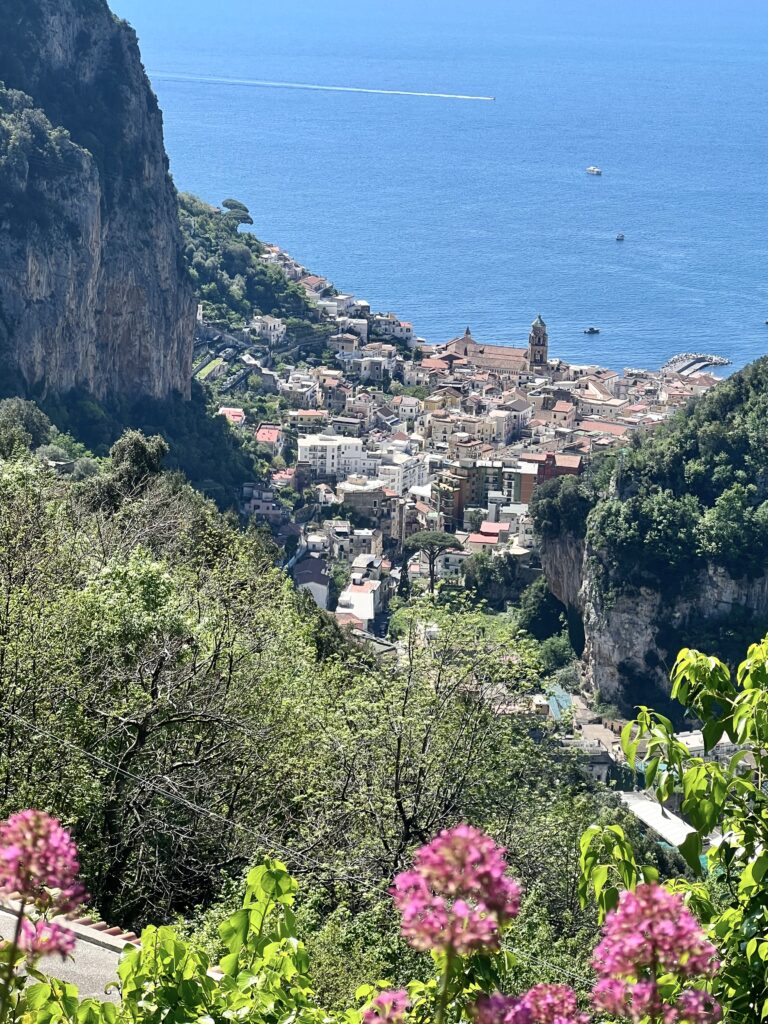 There were some excellent hikers. And there were some non-athletes who were completely happy. So a Backroads tour is really suitable for almost all skill and fitness levels. You'll never feel rushed along.
3. Why Hike Amalfi?
There is no better way to see this strikingly beautiful part of Italy than hiking. The roads in the Amalfi Coast are too steep and narrow to safely drive or bike — especially for travelers unfamiliar with the area. Plus, you could be caught in interminable traffic.
In contrast, there are so many beautiful hiking trails. The streets are walkable.
Plus, hiking gives you a unique perspective, incredible vistas, and allows you to discover hidden gems that may not be accessible by other means of transportation.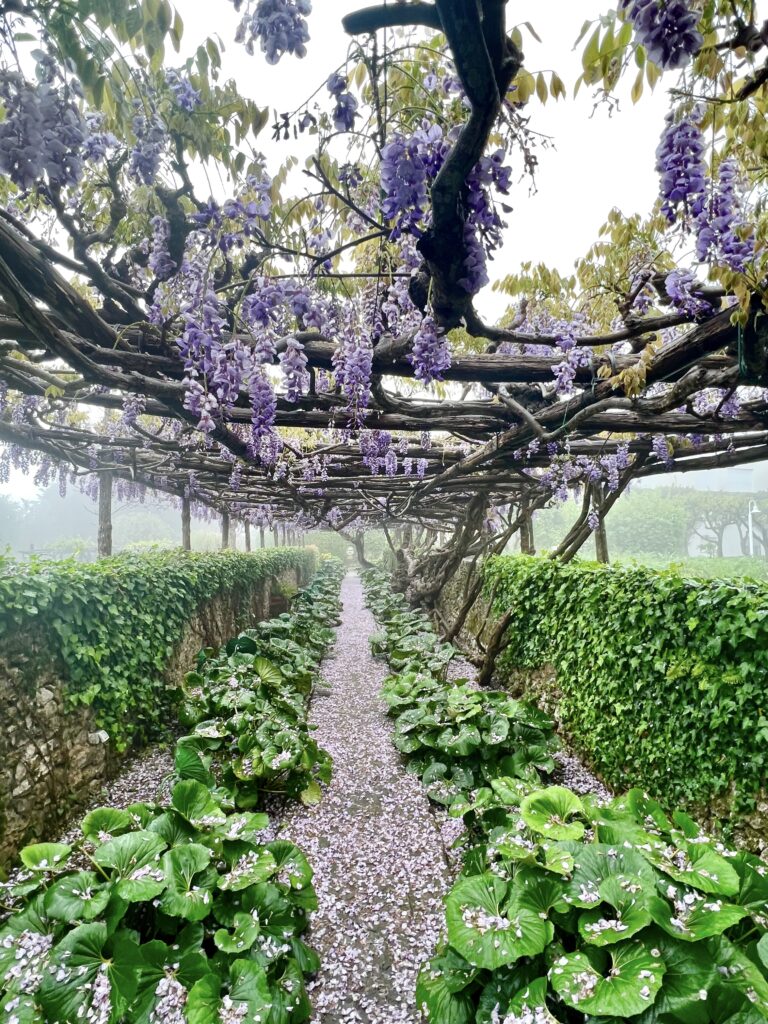 4. Logistics Of Hiking
The group hiked mostly together. Sometimes, people spread out a bit.
If you get separated from the group, help from Backroads is just a text or phone call away. You're given the phone numbers of the guides just in case.
There's also now a very helpful Backroads App that you can download. It shows the routes you'll take to help you navigate and gives you a detailed itinerary for each day.
Backroads emphasizes that the Amalfi tour has some steep ascents and descents, and so it does. But they are completely manageable if you're reasonably fit. You'll want to wear comfortable hiking boots or shoes that are already broken in.
Backroads also provides you with two walking sticks. I only used one stick on one of two hikes.
At the outset of the hikes, Backroads provides you with drinks and snacks. They also shuttle people back to the hotel if they've had enough hiking for the day. Or would just prefer to wander around the pretty Amalfi towns or relax at the gorgeous hotels.
You never have to worry about your luggage. Backroads takes care of that. You bags will just appear like magic in your hotel room.
5. Review Of Backroads Amalfi Coast Itinerary
The best thing about Backroads is the extraordinary care they take in designing the tour itinerary.
It's the perfect mix of breathtaking landscapes to hike through, fabulous food and wine at various agriturismos and restaurants, and a hefty dose of culture.
Here's a quick recap and review of what we did on our Amalfi Backroads hiking tour:
Day 1:
On day 1, you meet at the Excelsior Hotel in Naples at 10:30 am. Then, you take a bus from Naples to an organic farm on a hilltop outside Sorrento. We had an excellent Neapolitan-style meal there and got a primer on vineyards and farming.
Following lunch, we took a short hike with views of Capri. Then, we descended into the bustling port town of Sorrento.
The town was packed, alive with tourists and the sounds of the locals watching soccer. There are so many lemon products, that you'll feel enveloped in yellow. This is the place to pick up some limoncello.
We had dinner at out hotel, Grand Hotel Cocumella, which was quite good. Our rooms were spacious and comfy.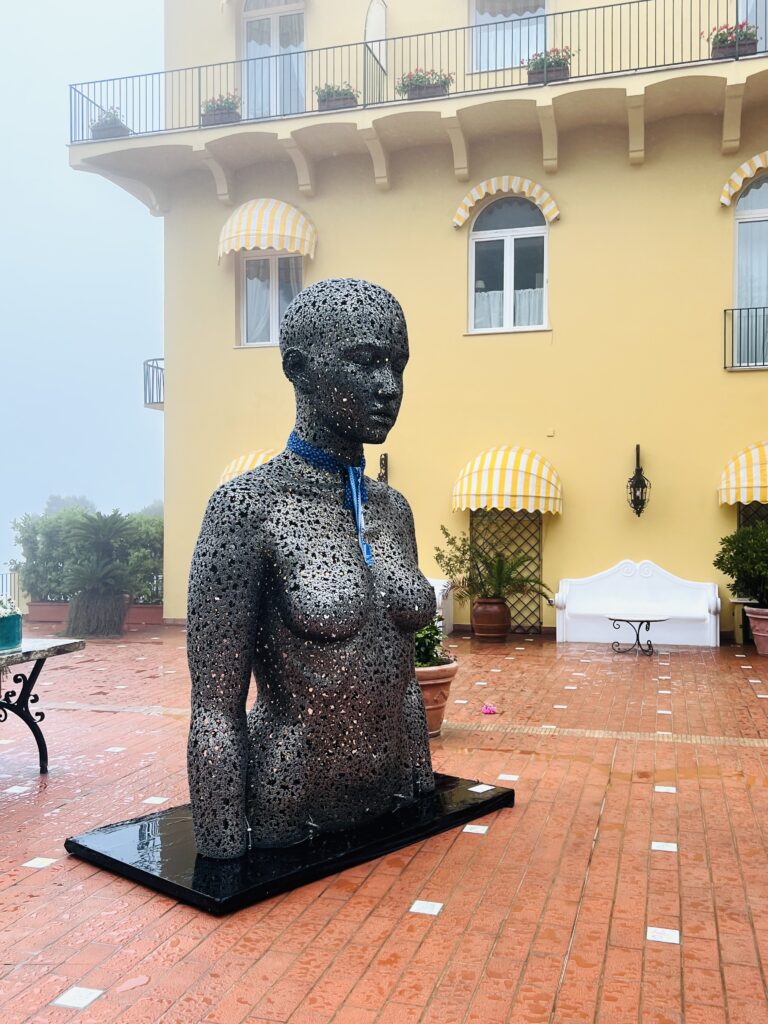 Day 2:
On day 2, we took a private boat to the island of Capri. It was raining and the journey was a bit choppy. We weren't able to circumnavigate the island at all.
Indeed, we were probably lucky to get there at all. I'd advise bringing something with you for sea sickness, just in case of poor weather.
We arrived in Capri at the Marina Grande and transferred to our hotel via taxi. We had a delicious lunch of Caprese specialities at the Caesar Augustus.
Because the weather was still a bit rainy, Chema and Simona shifted the schedule and we went to tour Villa San Michele.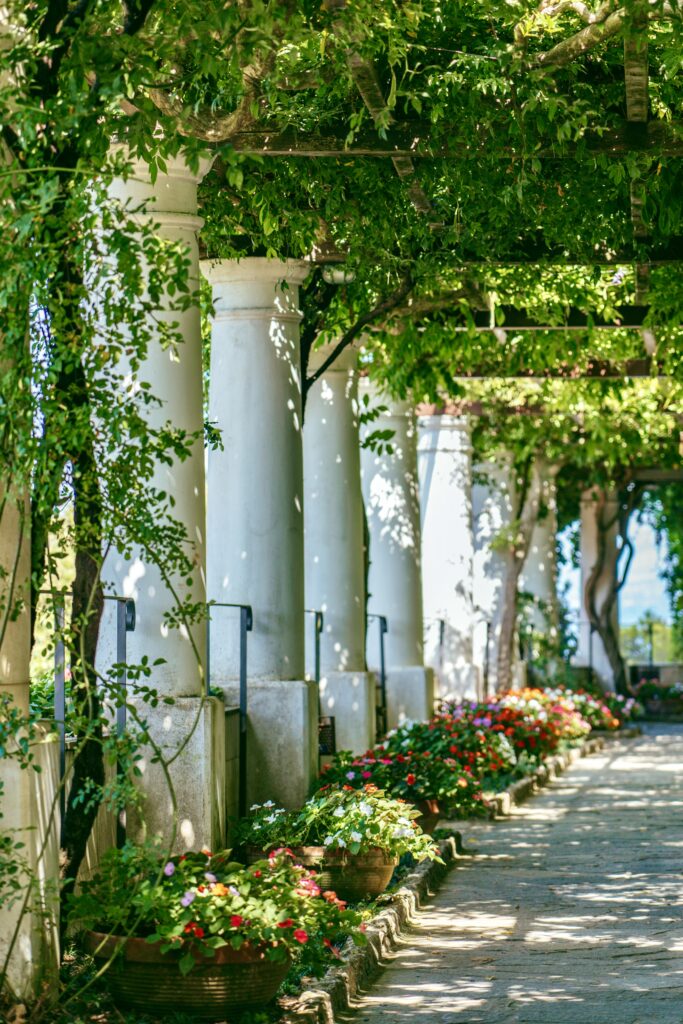 The villa is a museum with a romantic display of ancient artifacts, statuary, and eclectic furnishings. You can explore the atrium, living spaces, mosaic and marble floors, a loggia, and a chapel.
You'll see copies of famous renaissance sculptures and a replica of the Beware of Dog floor mosaic from the House of the Tragic Poet in Pompeii. The highlight is the garden and its colonnaded vine-swathed wisteria pergola. From the pergola, you have some jaw dropping views (weather permitting).
In the late afternoon, some brave souls embarked on the hike up to Mount Solaro, Capri's highest peak. The path winds through a forest. If it isn't foggy, you have views of the famous Faraglioni rock formations.
I opted out of this one due to weather, but my husband still enjoyed the hike. There's also an option to take the chairlift to the top. It's not a bad idea to take the chairlift up and then hike down.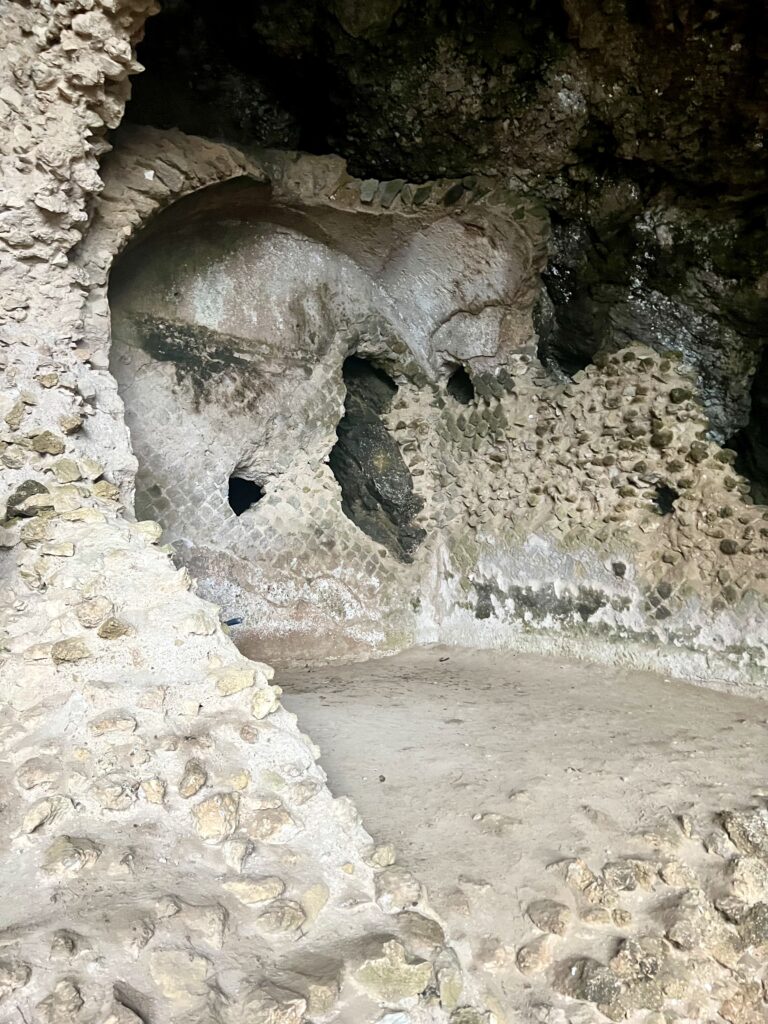 Day 3:
On day 3, we began with a hike to Villa Jovis in the northeast corner of the island.
Villa Jovis was the grandest of 12 villas that the Roman Emperor Tiberius built on the island. Now, it's mostly in ruins, but still quite cool.
The villa isn't often open to the public, usually only on weekends in the summer. But our guides knew a secret entrance, so we were able to happily tramp around amid the evocative ruins.
After that, we hiked along the Capri coastal trail. Among other things, you'll see the Grotta di Matermania, the L'Arco Naturale, and Villa Malaparte. The last one looks like the lair of a Bond villain.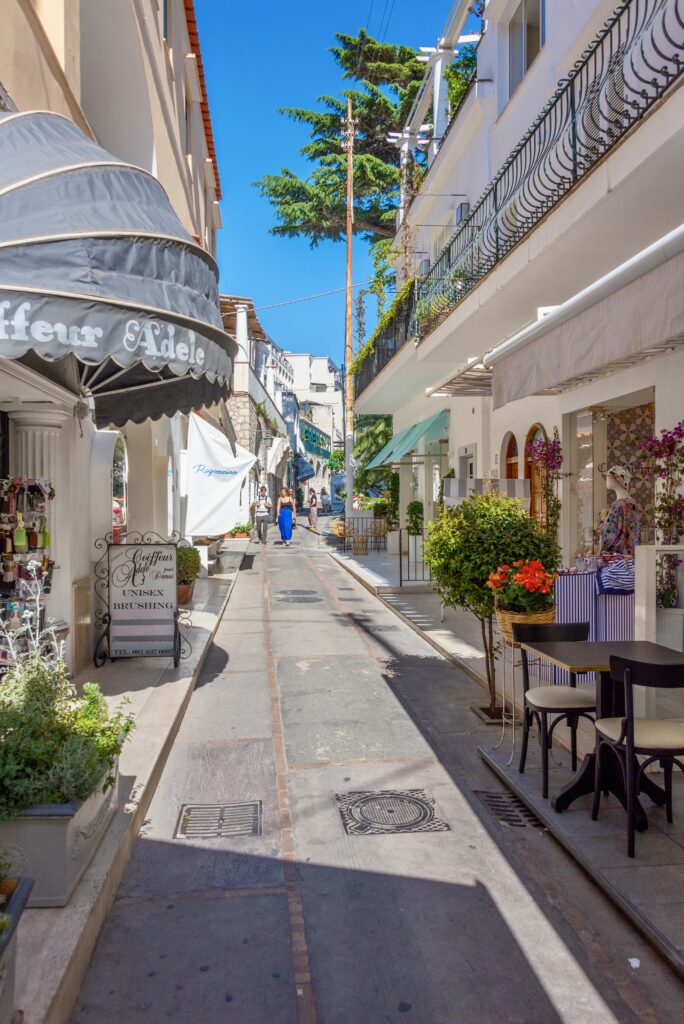 We had lunch in Capri Town and had some time to wander on our own and shop. The prices are rather staggering, so you may just be window shopping.
Dinner was on your own on day 3. You'll need to make a reservations. But the guides will gives you some restaurant suggestions.
I had booked in advance at Ristorante da Gelsomina. It's the oldest restaurant on the island and still family run. The owner greeted us at the door.
We had our best meal in Capri here and I would highly recommend it. We feasted on the house specialties — grilled vegetables from the garden, burrata, ravioli caprese, and pasta with rabbit ragu. We also had a window table with gorgeous sunset views.
The restaurant is not easily walkable from Anacapri. But the restaurant will whisk you back and forth from your hotel with their own shuttle.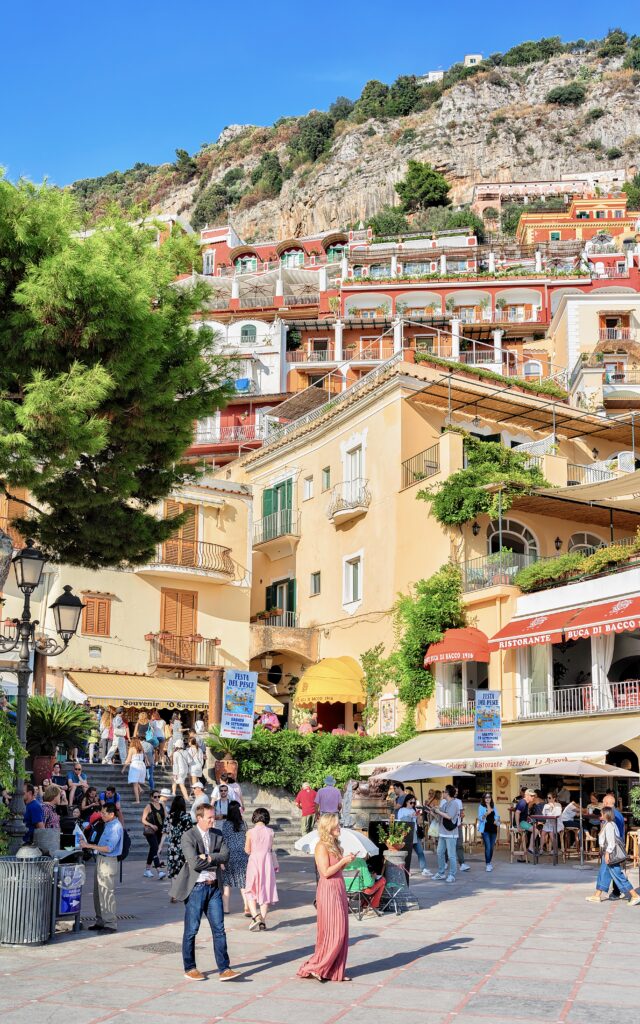 Day 4:
The next morning, you will take a private boat from Capri to Positano. Positano is the most famous and (perhaps) the most beautiful of the Amalfi Coast towns. Colorful pastel houses seem to tumble down to the sea.
After a brief overview, you'll be set free to explore the town and have lunch on your own. Be sure to pick a restaurant with a view. If you'd rather see the sites than have a leisurely lunch (my case), you can grab a panino to go.
We were only in Positano for a hours, so did not do the Path of the Gods hike. Two hours felt like enough though. The crowds were almost overwhelming, making the town seem like a medieval Disneyland.
We then ferried over to Amalfi Town and took a shuttle up to Ravello. Ravello was my favorite spot on the Amalfi Coast.
Hidden in the hills above the town of Amalfi, Ravello is a spectacularly romantic retreat. It's full of colorful gardens, pretty streets, lovely medieval villas, and some of the most sweeping views in all of Italy.
We checked into our hotel, the Hotel Caruso, and spent some time meandering through the gardens. In the later afternoon, I opted to visit Villa Cimbrone on my own.
At the villa, you'll find a beautiful medieval cloister and crypt, crumbling follies, ancient statuary, a rose garden, and wisteria pergolas. It's an intensely evocative and romantic atmosphere.
The highlight of a visit to Villa Cimbrone is its world famous Terrace of Infinity. Perched on a 1,000 foot cliff, it offers up eye-popping views of the azure sea and the Amalfi Coast.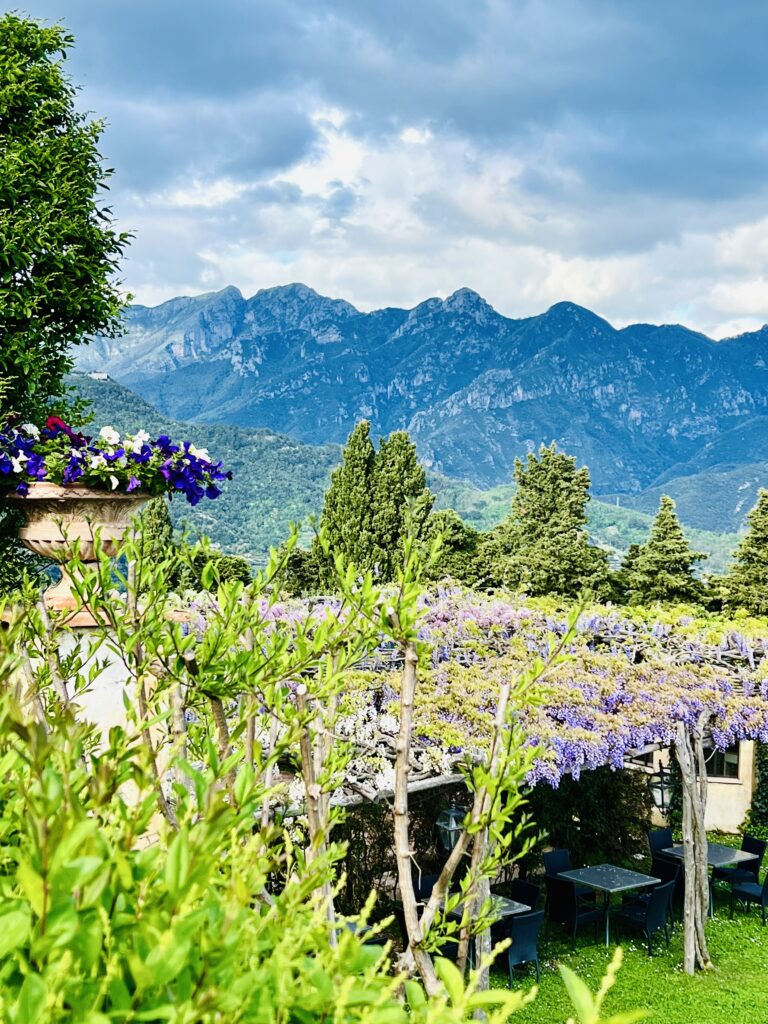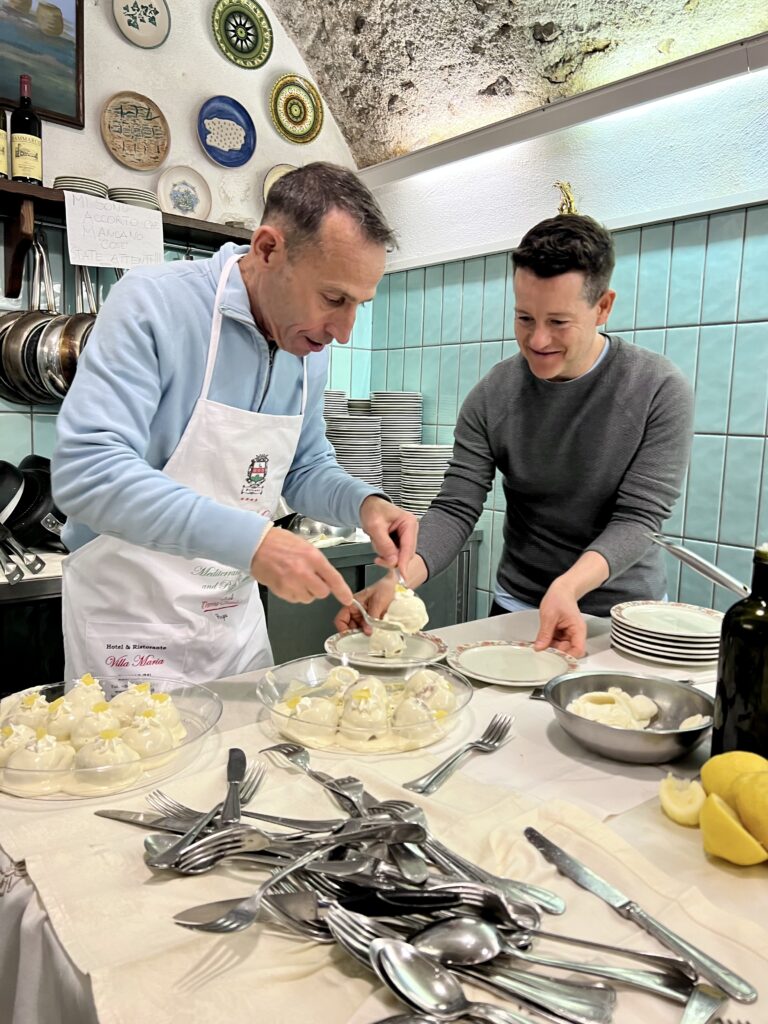 At 7:00 pm, the group walked to Villa Maria for a demonstration on mozzarella making and a "cooking class."
This cooking class was probably my least favorite activity. We weren't watching someone teach us to cook. We were doing the cooking ourselves.
I don't really have any desire to cook for myself on vacation, so didn't participate much. I probably should have just booked a dinner on my own.
We did have a very animated host and chef though. And other people seemed to really enjoy the activity.
Dinner was pretty good, topped off with the classic Amalfi Coast lemon delight dessert. The venue itself was quite lovely too.
Day 5:
In the morning, we met a local guide and hiked from Ravello to Amalfi Town. Our guide was Paola and she was simply excellent — enthusiastic and knowledgable.
We hiked down through the lush and verdant Valle delle Ferriere. As you hike along the trail, you'll be surrounded by the lush vegetation and the enchanting natural beauty of the valley. You'll pass the Canneto Waterfall, small shrines, and old ruins.
En route, we stopped in Pontone and met the mayor of Scala. We had some delicious local treats and carried on our way. (You'll never be without treats on a Backroads tour!)
Amalfi Town is a bustling seaside village with a vibrant atmosphere and historic charm. It boasts a superb cathedral and a tempting labyrinth of picturesque lanes.
We began with a tour of the town's historic paper museum and learned the ancient process of handmade paper making. The museum is housed in a 13th century mill. This will appeal mainly to history buffs.
For those who were interested, Paola provided a tour of Amalfi Cathedral. I recommend doing it. It's one of the most beautiful churches in Italy.
The church complex includes the Cloister of Paradise, several chapels, a Diocesan Museum, and the cathedral itself.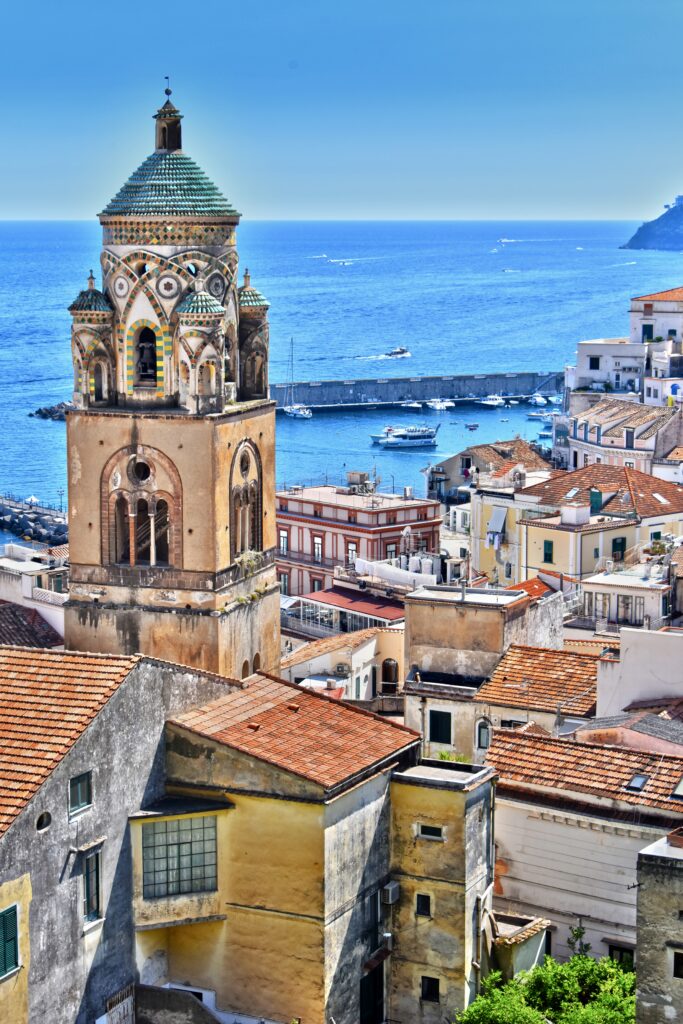 We were then on our own to wander the back alleys (which you must do!) and get lunch on our own.
Afterward, you have the option to do the Ravello Challenge or take a 30 minute shuttle back to the hotel. The hike consists of a 1,000+ step staircase hike leading from Amalfi to Ravello. Along the way, you'll see the "ancient staircases" of Amalfi and go through the pretty town of Atrani.
My husband and I were the only ones on the tour that did this hike. We got a private escort from Chema.
It's very steep, to be sure. But there are plenty of places to stop and take in the vistas along the way while you huff and puff.
In the evening, we had a farewell cocktail hour on the hotel grounds. That was topped off by an elegant dinner at the hotel's Belvedere restaurant.
Day 6:
On your final morning, after breakfast, you'll meet a local tour guide and explore Ravello Cathedral and Villa Rufolo. The Rufolo dynasty built the villa between 1270 and 1280.
Parts of the villa are romantically crumbling. You'll find the ruins of an Arabic-Sicilian cloister with an Alhambra vibe and an ancient kitchen with ovens.
The gardens are the highlight. The design incorporates terraces and pathways. They wind through the property, leading you to different levels and viewpoints.
From the Wagner Terrace, you'll have stunning oh-my-god panoramas of the Amalfi Coast. You may recognize the most famous shot, with the umbrella pines set against an azure sky and sea.
When the tour is over, you will hop on a bus to Naples Centrale, Naples' main train station. For planning purposes, you'll arrive at around 12:30 pm.
From there, you can catch a train to Rome, Florence, or other destinations in Italy. We caught the train to Bari to explore the region of Puglia. At the station, there are separate entrances for regional and high speed trains.
Deviations From The Itinerary
You don't have to do everything on the itinerary. Backroads tours are designed to be flexible. Anytime you want downtime, to do something else, you can take it.
5. The Premiere Hotels
No review of Backroads would be complete without discussing your accommodations. We stayed in three premiere 5 star hotels.
They were all gorgeous. But our guides mentioned that the hotels get "better as you go." And they were right. Our last hotel was the best.
In Sorrento, we overnighted at the Grand Hotel Cocumella. It's an elegant retreat on the edge of Sorrento. It has a private garden, Baroque decor, and a terrace overlooking the Mediterranean.
In Capri, we stayed at the Hotel Caesar Augustus in Anacapri (a town that's much less busy than Capri Town). It was an amazing luxury mansion by every metric, perched on a cliff.
The hotel has jaw dropping views over the Bay of Naples and the Mediterranean Sea. We had lunch there and the food was amazing.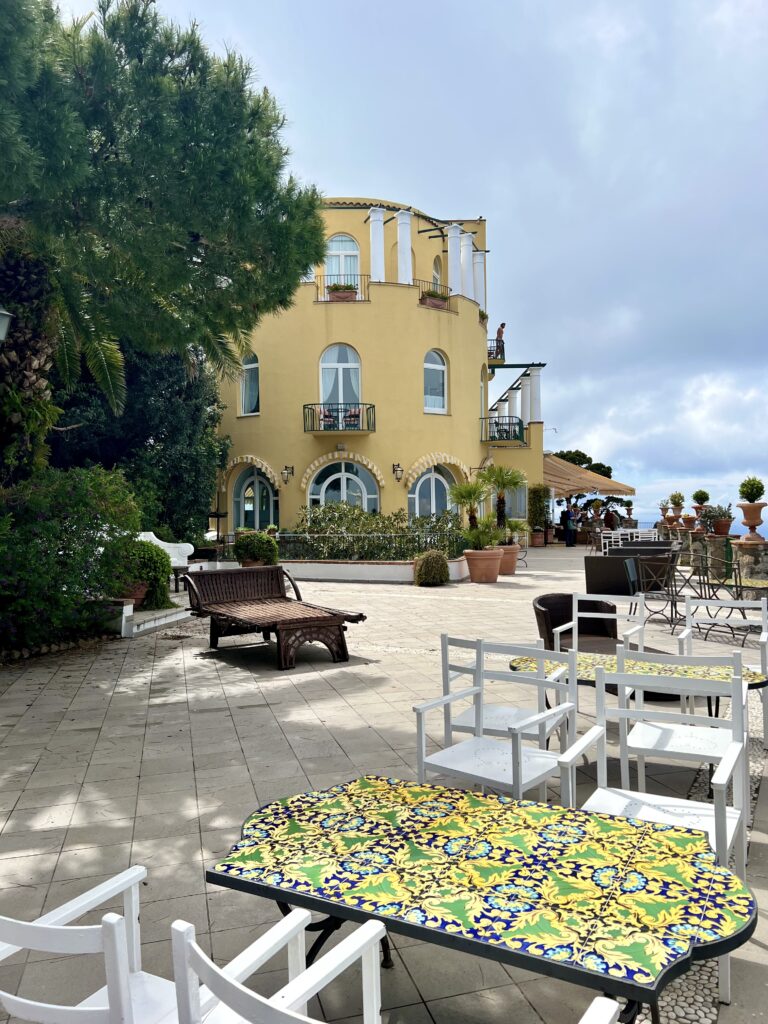 Finally, in Ravello, we stayed at the Hotel Caruso. This is the most beautiful hotel I've stayed at in my life. I didn't want to leave.
Ravello is the perfect spot to stay on the Amalfi Coast. Set on a high perch, it's less busy than the towns of Positano and Amalfi.
The Hotel Caruso is housed in a former 11th century palace. It has incredible terraced gardens with wisteria pergolas.
The infinity pool hangs off a cliff. And the views from your room terraces couldn't be more beautiful. On our final day there, most people skipped the last hike just to spend more time at the Caruso.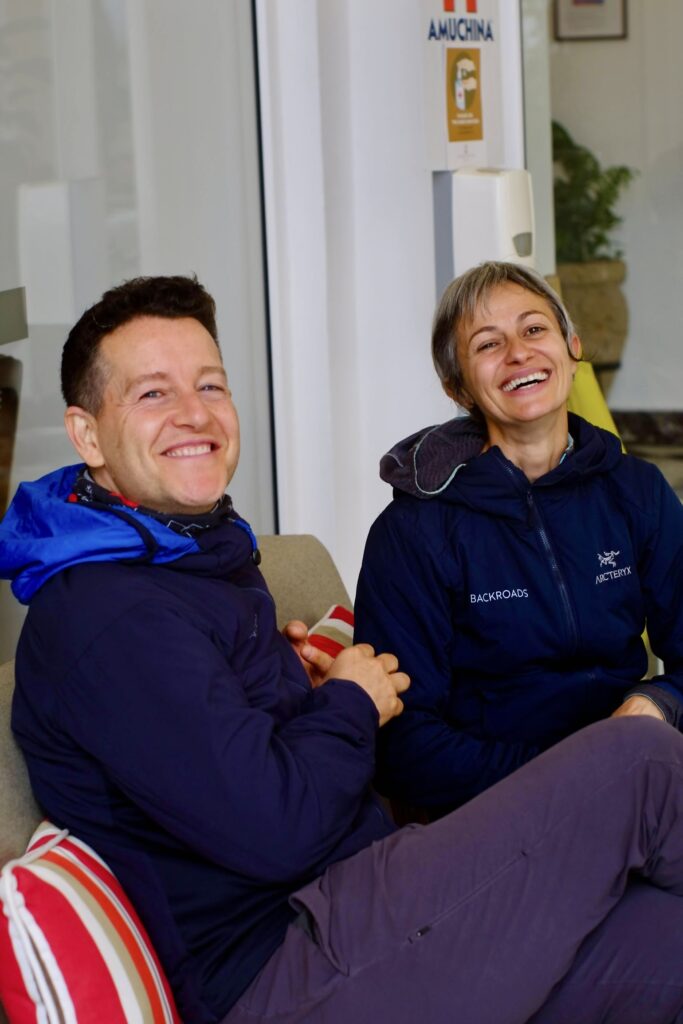 6. Final Thoughts
Overall, the Backroads hiking experience was exceptional. With the unsurpassed service and luxury, you may feel like it's the trip of a lifetime.
My one quibble is that, perhaps, it might have been better to swap a night in Positano for the first night in Sorrento. The tour could have begun with transit from Naples to Capri and then moved on to Positano after 2 days in Capri.
I say this because I missed doing the Path of Gods hike, which is THE most iconic hiking path in the Amalfi Coast.
I wouldn't have wanted to stay in the town of Positano proper. It's just too busy and touristy. But I know there are beautiful hotels outside Positano.
The other thing I will mention is that you should try to time your trip to get good weather. For example, if you hit bad weather in Capri, you simply won't even see the island. And, of course, it's not much fun hiking in rain and muddy conditions.
I went on the late April-early May tour. The first couple days we have some rain, fog, cool weather, and a rough ferry to Capri.
It could have just been a weather fluke. But I think perhaps it might be better to go on a hiking tour later in May.
Of course, you'll also get more crowds then. But Backroads does a great job of selecting hotels that are outside the busy tourist-fly towns.
The final small niggle I had is that Villa Cimbrone in Ravello was not listed or mentioned on the itinerary. I knew to see it because I'm a travel blogger. But I think the villa is an absolute must see site in Ravello that people should know about.
I think it should be listed, at least, as an optional or rainy weather activity. I preferred it to Villa Rufolo myself.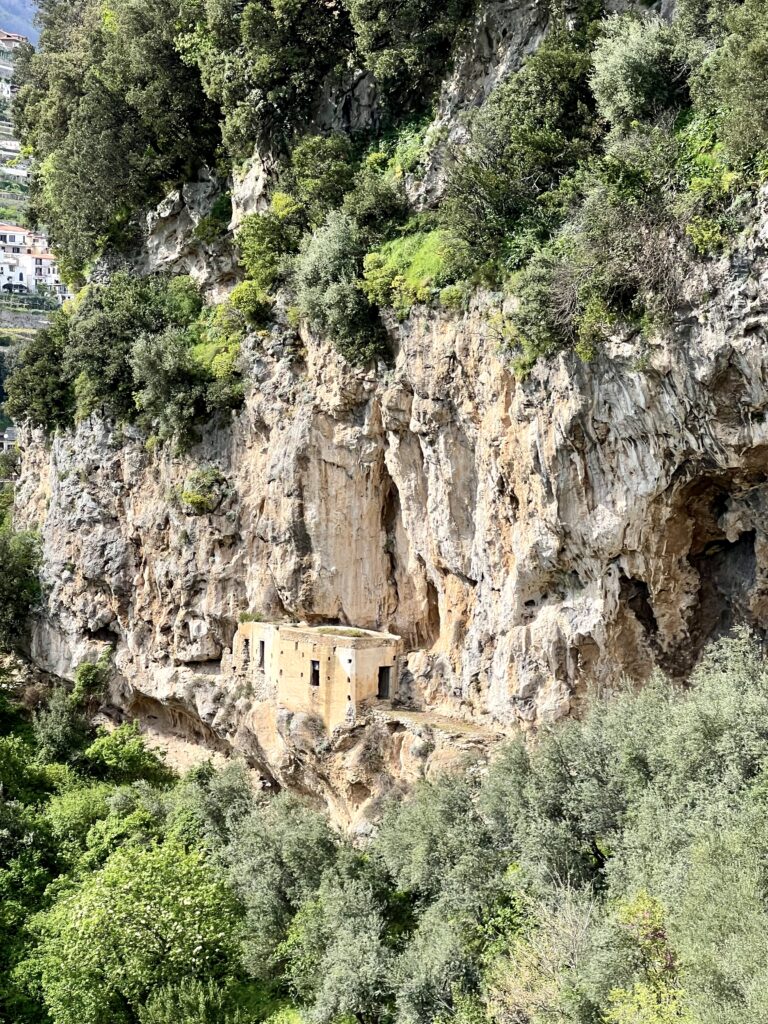 Overall, I would give the backroads Amalfi hiking tour a 9.8 on a scale of 1 to 10. If we'd had perfect weather, I would've been over the moon.
Hopefully, I've provided you with a good overview of what to expect on a Backroads Amalfi hiking tour, so you don't have any surprises.
I'm already planning my next Backroads tour in France!
I hope you've enjoyed my review of Backroads Amalfi Coast hiking tour. You may enjoy these other southern Italy travel guides and resources:
If you need a review of Backroads Amalfi Coast hiking tour, pin it for later.