Looking to explore the enchanting town of Ostuni Italy? This one day in Ostuni itinerary takes you to all the best spots in Puglia's "White City."
Ostuni is an ancient burg, set atop three hills in the Itria Valley. It's a pearl of striking whitewashed buildings set amid green olive groves and the blue sea.
It was one of my favorite stops on my recent trip through Puglia. You feel like you're in a different world.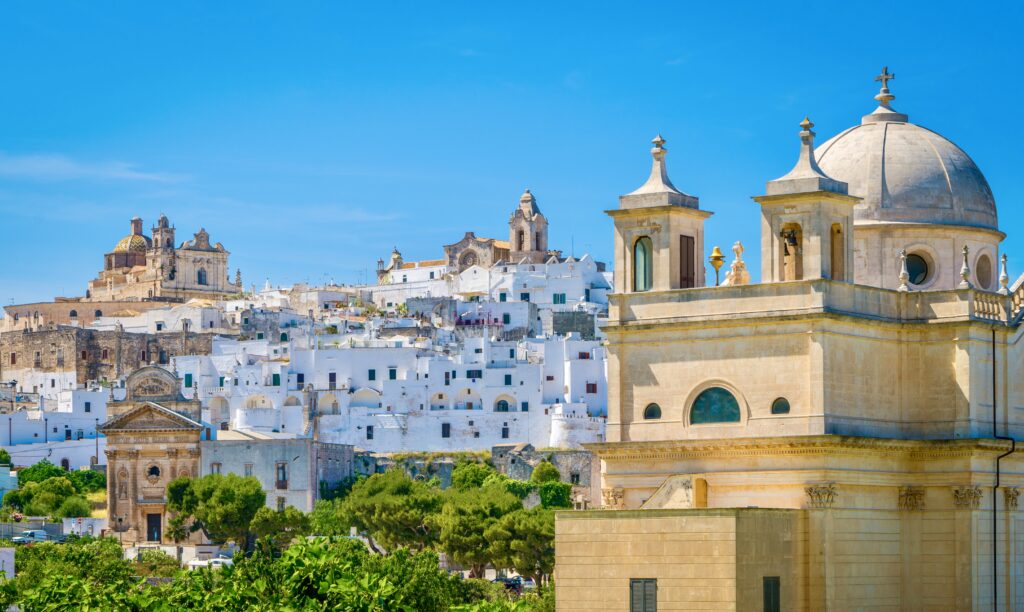 Ostuni has a charming historic center with a labyrinthian maze of lanes.
It's full of fantastic trattorias and historic sites. It's a town tailor made for wandering and discovering hidden nooks.
Overview Of One Day In Ostuni Itinerary
Here's a snapshot glance of what you can do with one day in Ostuni:
walk city walls
stroll the historic center
visit Ostuni Cathedral
Piazza della Liberta
museums
hit the beach or sea
visit Cisternino
belvederes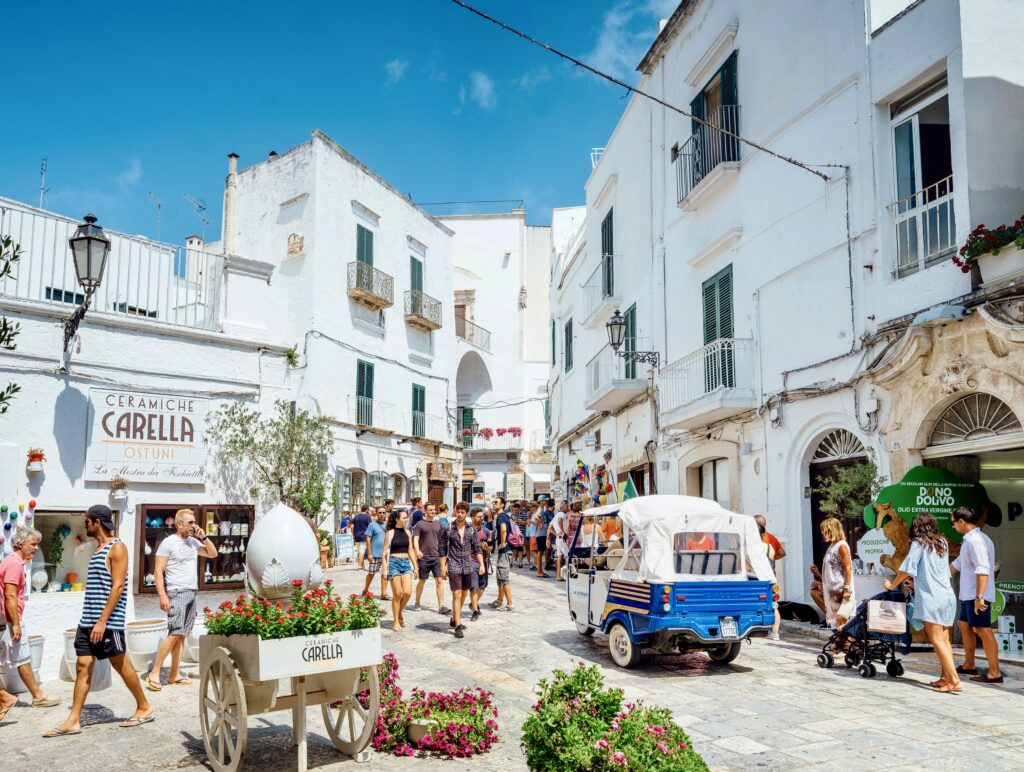 Top Tours & Experiences
Here are some of the many tours you can book to enjoy the city. That way, you can find all the secret spots and hidden gems. In high season, I advise booking in advance.
One Day In Ostuni Itinerary
To help you plan your time in Ostuni, I've put together a detailed one day in Ostuni itinerary. It covers all the must see sites and attractions.
City Walls
Begin your day with a leisurely stroll along the ancient city walls. They offer panoramic vistas of the Adriatic Sea and the surrounding olive groves. On a sunny day, the walls are almost blindingly white.
Two of the original gates remain — Porta Nova and Porta San Demetrio. There are 3 imposing defensive walls around the city. Each refers to a different historical period.
The first wall was built by the Messapians. The second was built by the Byzantine emperor Basil the Macedonian. The last, and most majestic, was built by the Aragonese.
Along the way, you'll come to the Instagram-famous Blue Door. It stands out among the whitewashed buildings in the town.
The Blue Door has become an iconic symbol of Ostuni and a popular spot for visitors to take photographs. There's also a cute bistro nearby, the Borgo Antico Bistrot.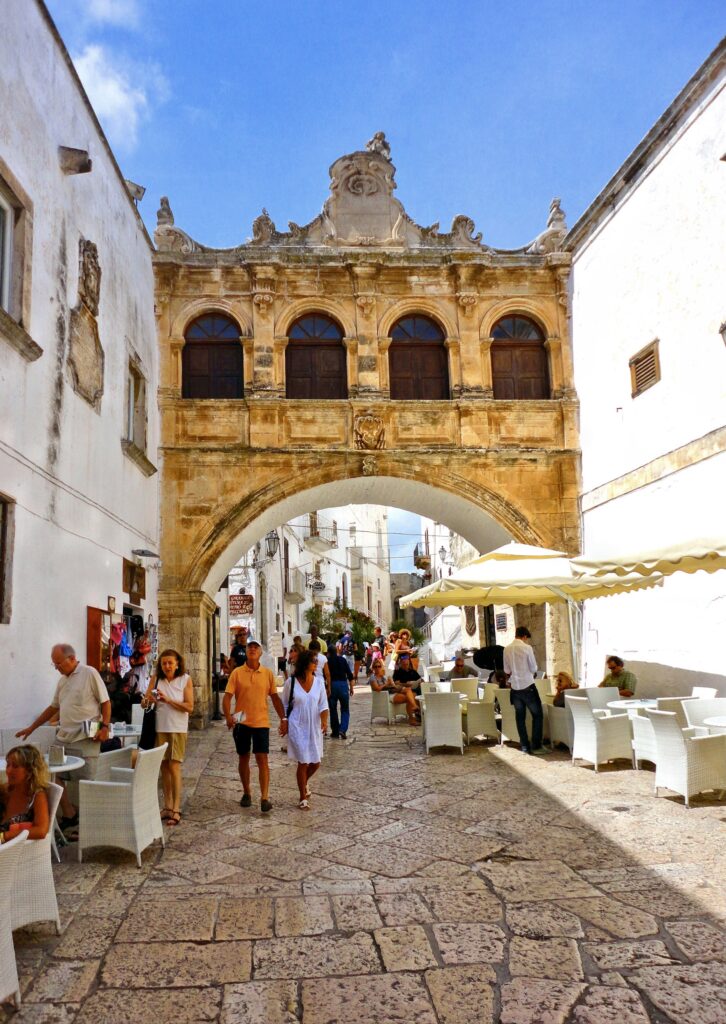 Historic Center
Next, spend some time wandering through the narrow streets of the historic center and get lost. It's the best thing to do with one day in Ostuni.
The main drag is Via Cattedral. It's a busy thoroughfare where artisan shops and trattorias alternate with palazzi.
But venture in and you'll find a network of narrow picturesque alleys. You'll immediately be able to see why thousands of tourist visit Ostuni.
There are routes through the historic center. But it's really better to walk freely and peak in and out of every quaint corner and staircase.
Along the way, you'll pass by the arc of the Episcopal Palace, called Arco Scoppa. It's a stone arch that spans a narrow street, creating a distinctive visual element in the urban landscape. It reminded me a bit of the Bridge of Sighs in Venice.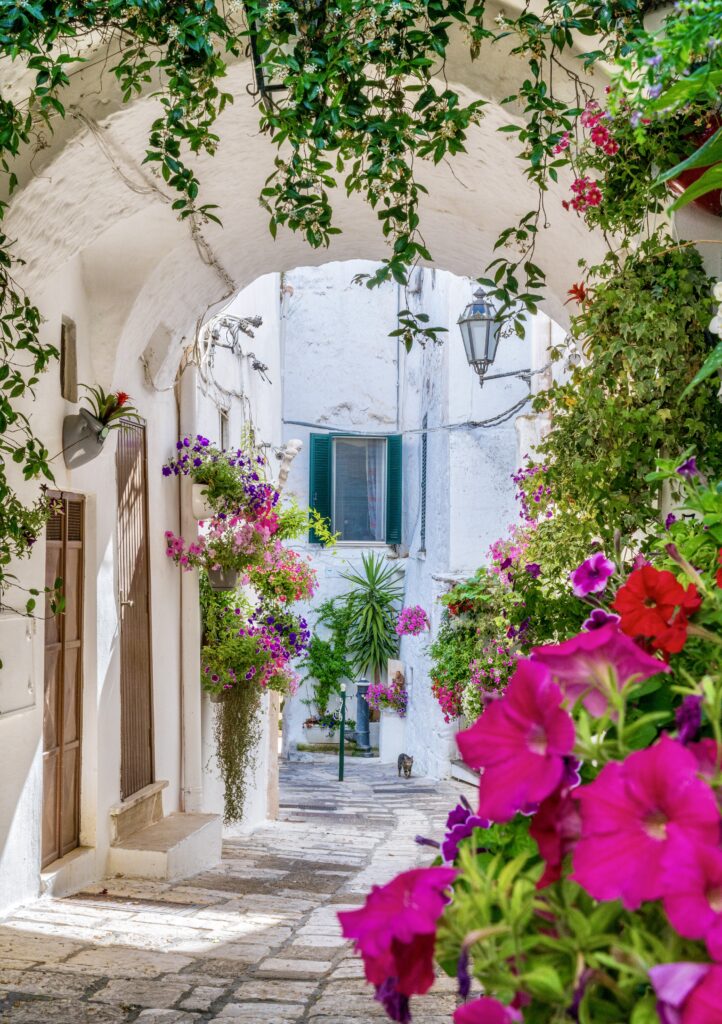 The Episcopal Palace once served as the residence of the bishop. Unfortunately, today, the palace is not accessible to the public.
When you're done wandering, do some shopping. There are loads of local shops and boutiques.
You can find unique souvenirs, traditional ceramics, and locally produced olive oil. There's also an adorable baby shop where you can get up custom made embroidered items.
Ostuni Cathedral
You'll want to visit the impressive Ostuni Cathedral. It's located at the top of the town in Piazza Giovanni Paolo. It's the town's main historic site.
The cathedral has a somber Gothic facade. There's a central door with a rose window above.
Curving Gothic arches on each side are in the 15th century Venetian Gothic style. The central door has a beautiful bas relief of a madonna and child.
The central rose window is considered the most beautiful in all of Puglia. There are three concentric circles, with 24 columns leading to a frieze of the twelves apostles.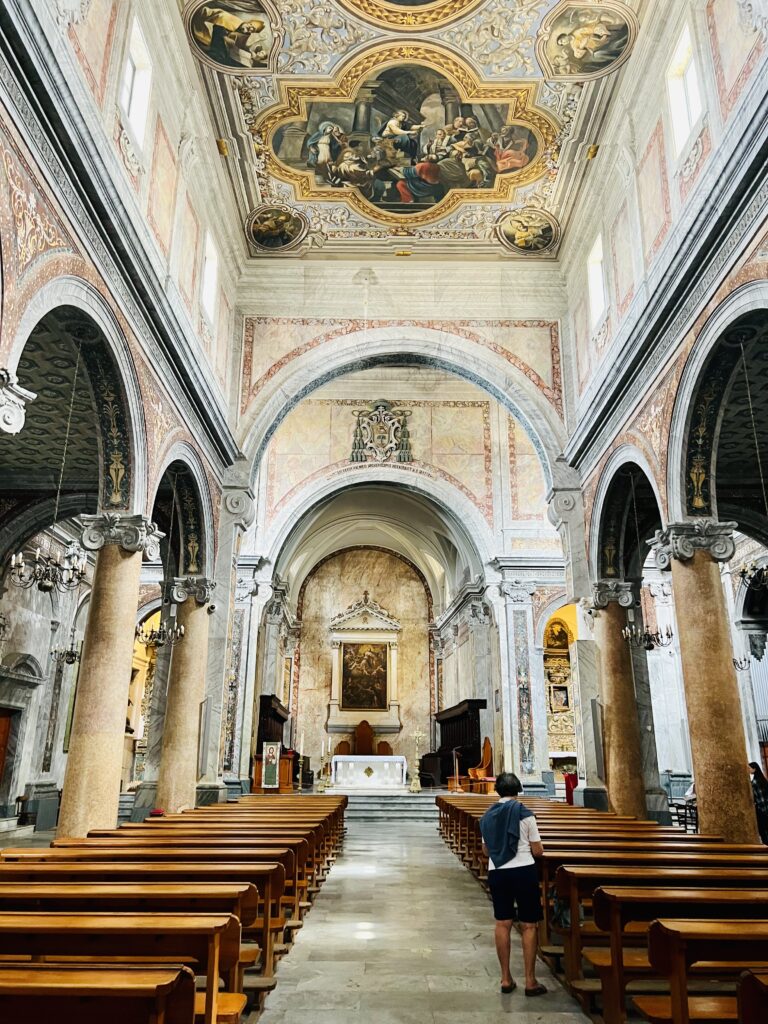 Step inside to marvel at the intricate details of its interior and soak in the peaceful ambiance. The interior is what I would call mellow Baroque. There's marble and an elaborate high altar, but it's not over-the-top flamboyant.
The beautiful ceiling of the nave was completed in 1720. It's inspired by the late Neapolitan Baroque style. There are also some 15th century frescos.
The high altar is stone with twisting columns painted green and gold. There are wooden busts of the city's three patron saints.
Don't miss the panoramic views of the surrounding countryside from the cathedral's terrace.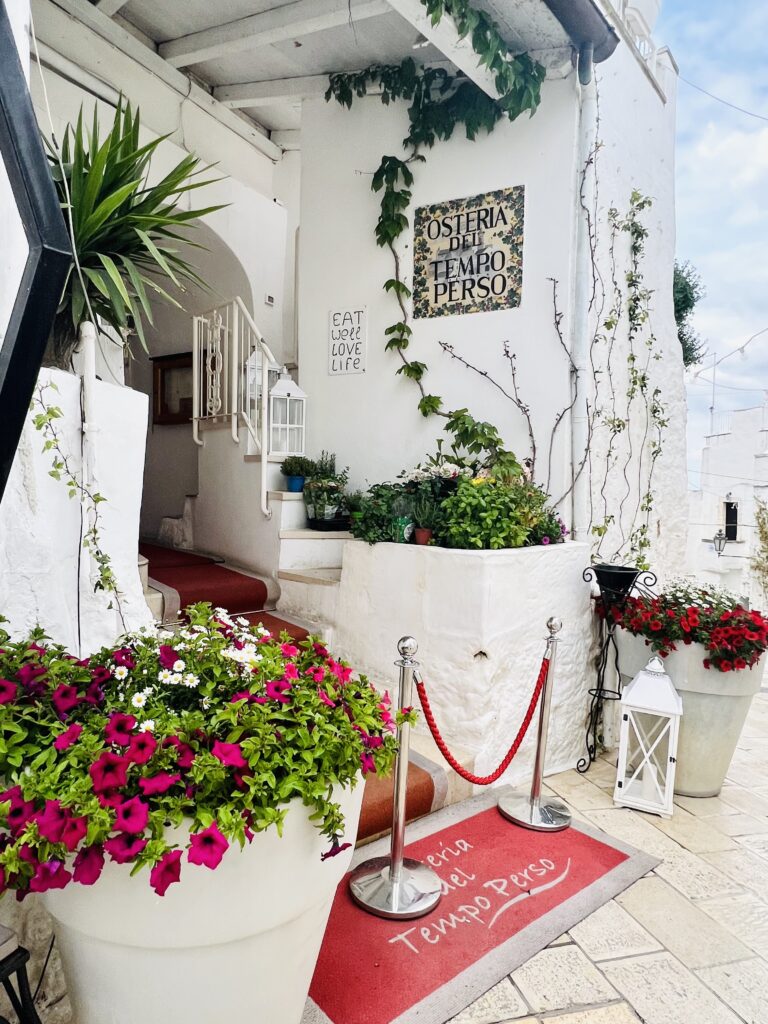 Lunch
Then, enjoy a leisurely lunch at one of Ostuni's inviting trattorias. You'll find delicious Apulian dishes made with fresh local ingredients.
Ostuni has no end of great spots to eat. Some excellent options include Taverna della Gelosia, Vitolo 45 (in a cave!), Osteria del Tempo Perso, and Osteria Monacelle.
My favorite was Taverna della Gelosia. You'll need a reservation. The food was terrific and you eat under vaulted ceilings.
Some of the region's specialties include Foccacia Barese, bombette di Alberobello, orecchiette pasta, and capocollo di Marina Franca. You can wash that down with Vino Locorotondo (fruity white wine), Vino Ostuni (complex ruby red wine), or Ostuni Ottavianello (rose).
>>> Click here to book a tour of a winery with lunch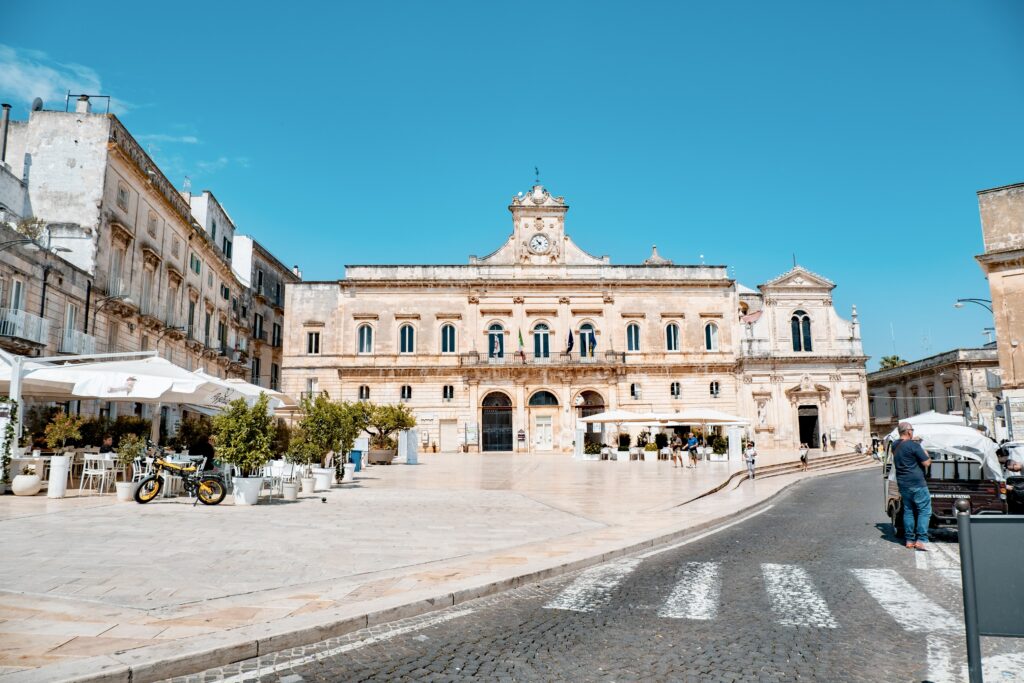 Piazza della Liberta
In the afternoon, head towards the vibrant Piazza della Libertà. It's the main square of Ostuni and its "living room."
The triangular square is a hub of activity and a perfect spot to immerse yourself in the town's atmosphere. You'll find the impressive St. Francis Palace and St. Francis Church, two prominent landmarks.
Originally built in 1304, the church has undergone various renovations and modifications throughout the years. Its facade was reconstructed in the 19th century.
Adorning the exterior are two niche statues crafted by the Roman sculptor Francisco Bagnulo, depicting St. Francis of Assisi and Sant'Antonio da Padova. Take a moment to admire the bronze portal with its intricate reliefs illustrating the life of St. Francis.
As you step inside the church, you'll notice its modest interior. However, the high altar is a true masterpiece, featuring exquisite polychrome marble inlay that adds a touch of splendor to the space.
Don't miss the impressive 18th century column at the center of the square, which serves as a symbol of Ostuni. This 70 foot obelisk-like column is crowned with a statue of the city's patron saint, St. Orozno, making a blessing gesture. The column is adorned with decorative elements and intricate carvings.
Take a seat in one of the many inviting spots around the square and soak up the lively atmosphere.
Treat yourself to a refreshing gelato or a traditional Puglian espresso freddo, a unique beverage that combines the richness of espresso with the creamy texture of gelato.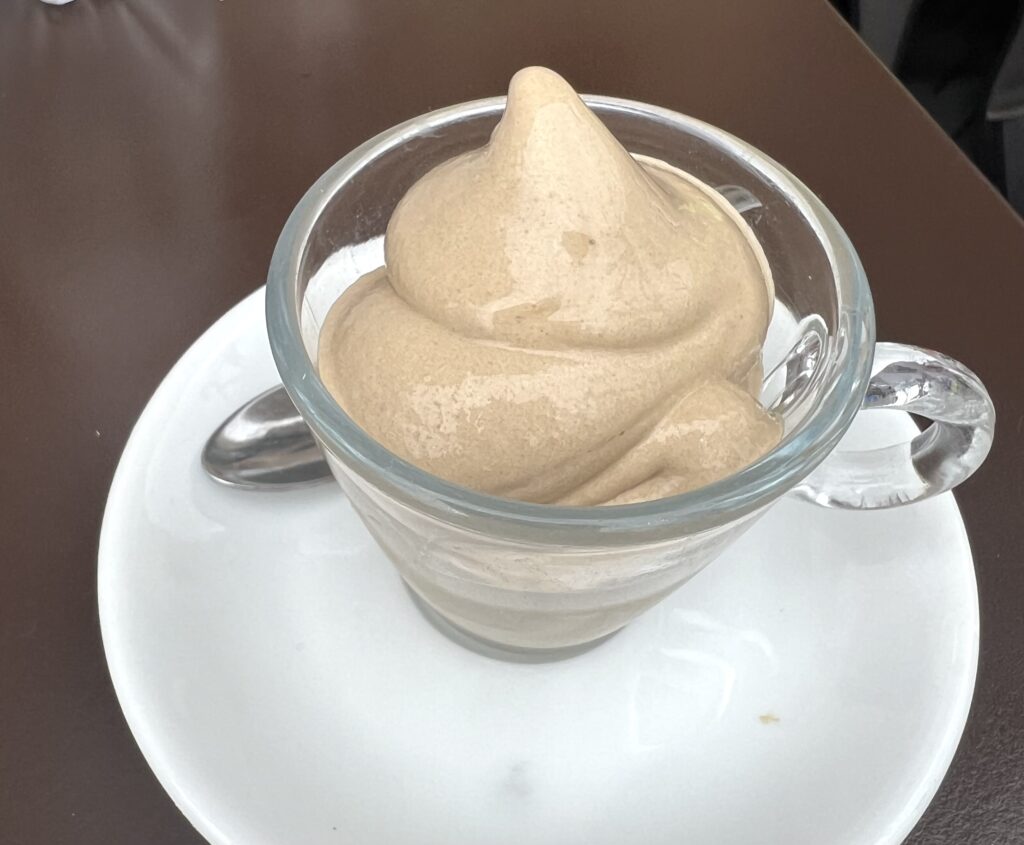 Museums
If you are a museum goer, Ostuni offers up several.
History buffs can head to the Archaeological Museum, Museo Archeologico Francesco Ribezzo. The museums houses prehistoric artifacts from the Paleolithic and Neolithic periods, Messapian artifacts, Bronze Age finds, and a small collection of Greco-Roman busts and architectural fragments.
The most famous artifact is the perfectly preserved remains of a pregnant women from the Paleolithic period 25,000 years ago.
There's also a contemporary art gallery, Orizzonti Arte Contmperanea. It features works by local and regional artists. It's definitely worth stepping inside.
The Diocesan Museum is housed on the ground floor of the Episcopal Hall, next to the cathedral. Opened in 2017, it houses a collection of sacred artworks — paintings, sculptures, liturgical objects, historical documents, and other ancient artifacts. There are plenty of informational placards.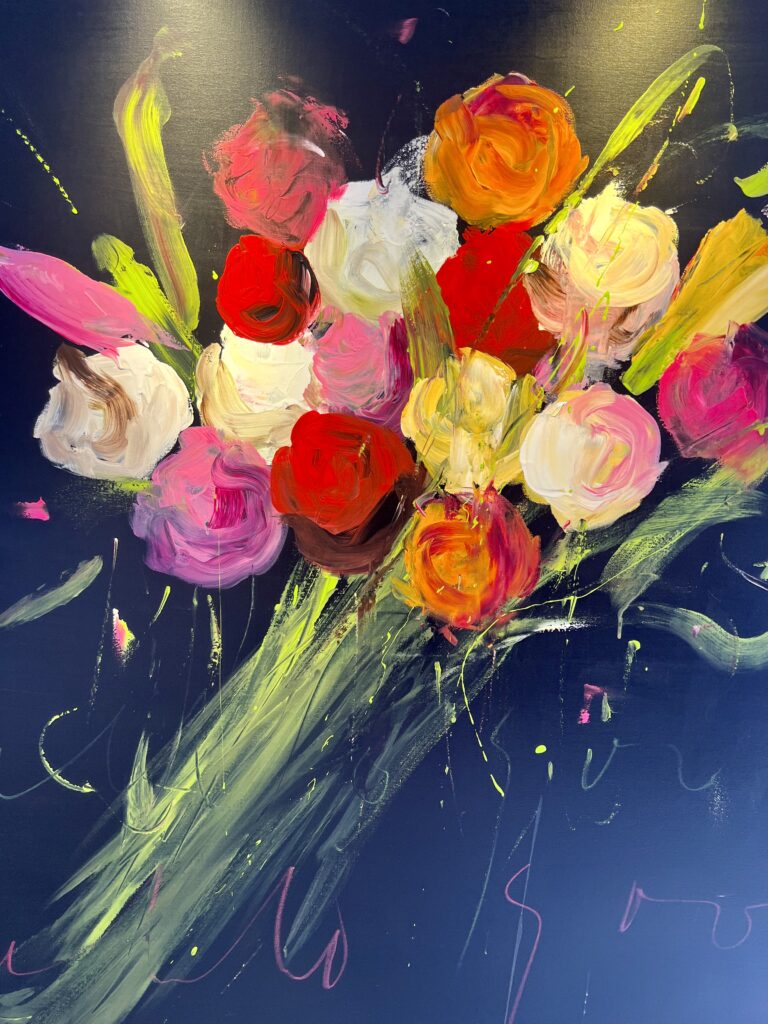 Head To The Sea
For the rest of the afternoon, head to the sea. Ostuni's historic center is only 5 miles from the Adriatic coast. The sea is crystal clear and unspoiled. The beaches and coves are a wonder of nature.
If you what to relax on the beach, head to the Beach of Torre Guaceto. This sandy beach is one of the most beautiful in the region.
The beach takes its name from the Aragonese watchtower and is surrounded by olive groves. There are plenty of restaurants and bars and a sailing center.
You can also try Rosa Marina Beach or Santa Sabina Tower beach. The latter has both a long expanse of sand and high cliffs.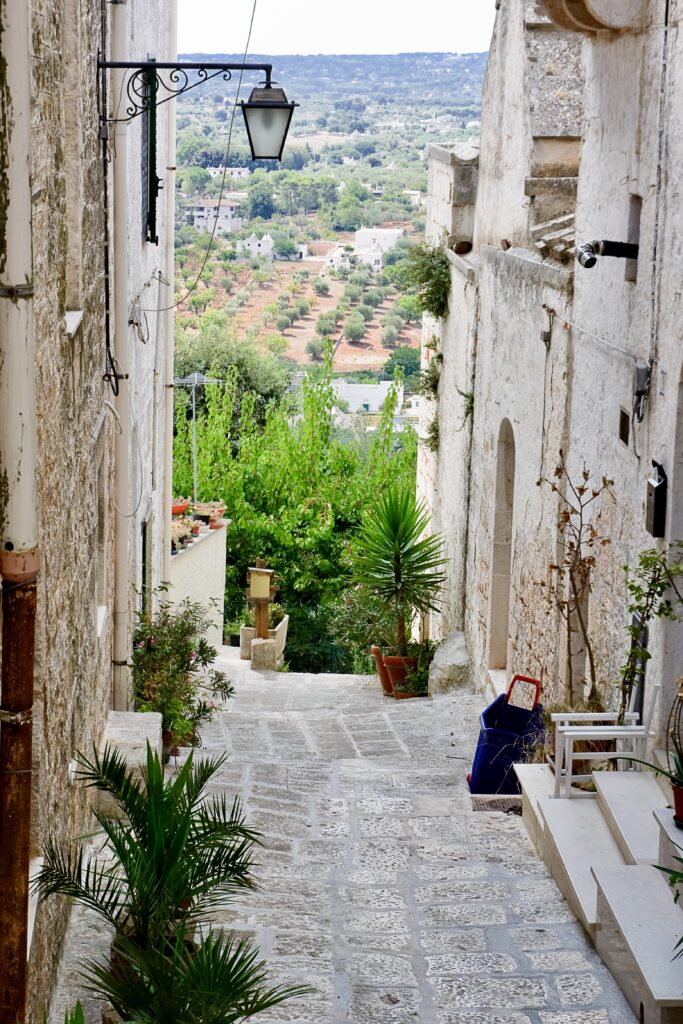 Cisternino
If you'd rather see another cute town than sit on the beach, you could head to Cisternino. It's just 12 miles down the road.
Like Ostuni, Cisternino has a wonderful historic center, with whitewashed houses and cobbled maze-like streets. The heart of the city is the Piazza Vittorio Emanuele II.
Cisternino is also home to some of the famous trulli of the Itria Valley, though nothing like Alberobello.
Cisternino is also known for its gastronomy, particularly its succulent grilled meats. You can eat at one of the local trattorias or visit the town's bustling market. Another option is to take a cooking class.
>> Click here to book a 2 hour tour of Cisternino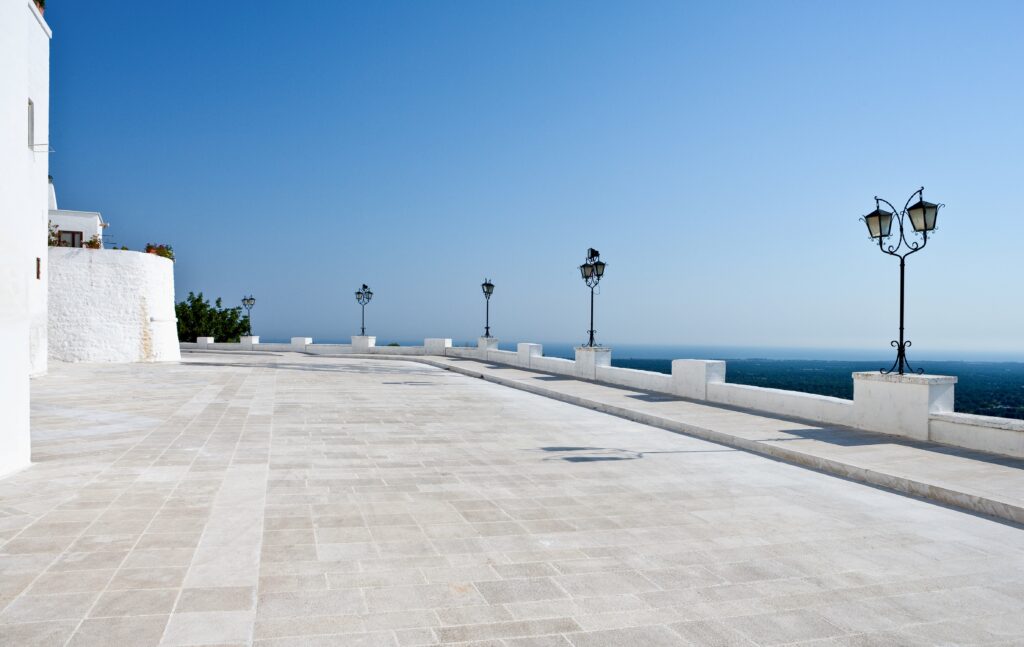 Evening
In the evening, head to one of the viewpoints in Ostuni. There are quite a few — Belvedere Santa Lucia, Belvedere di Ostuni in the Piazzetta Martini delle Foibe, and the Terrazza Sant'Oronzo.
You can enjoy breathtaking views of the whitewashed town and surrounding countryside. The illuminated landscape is very picturesque.
For dinner, try one of the restaurants I mentioned above. Be sure to make a reservation in advance.
If you want to splurge on a Michelin restaurant for a romantic dinner, check out Porta Nova, Restaurant 700, and Cielo. You may also want to dine at Dish, for contemporary cuisine with a view.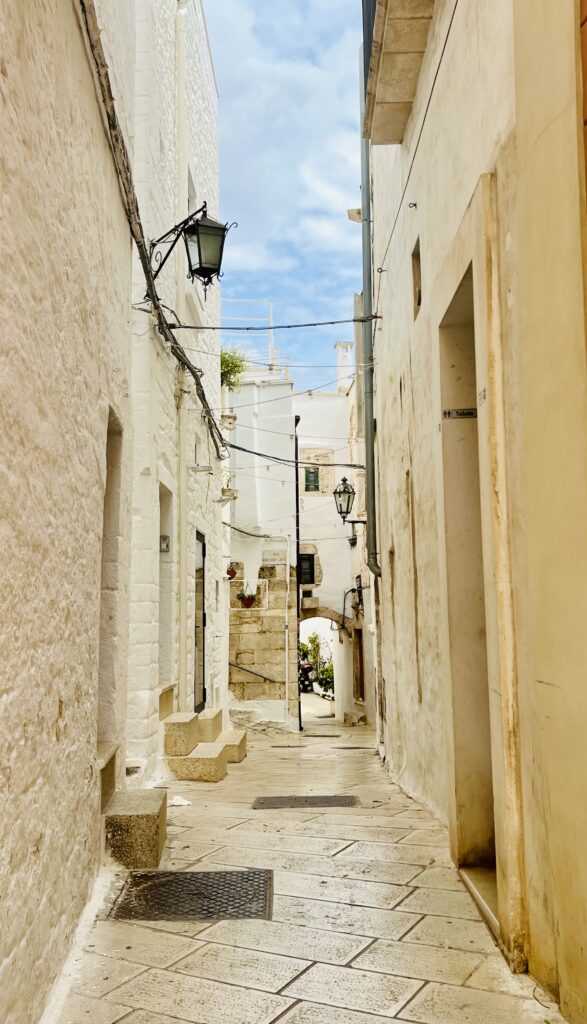 Tips For A One Day In Ostuni Itinerary
Here are some must know tips for a 1 day Ostuni itinerary.
1. How To Get To Ostuni
The closest airports to Ostuni are Brindisi-Salento Airport (BDS) and Bari Karol Wojtyła Airport (BRI).
Both airports offer domestic and international flights. From the airports, you can take a taxi, rent a car, or use public transportation to reach Ostuni.
You can also fly into Bari Airport. From there, you can take the train or book a private transfer to Ostuni.
Ostuni also has a train station, which is served by regional and intercity trains. You can hop on the train from major cities such as Bari, Brindisi, and Lecce. The train station is located a short distance from the historic center of Ostuni.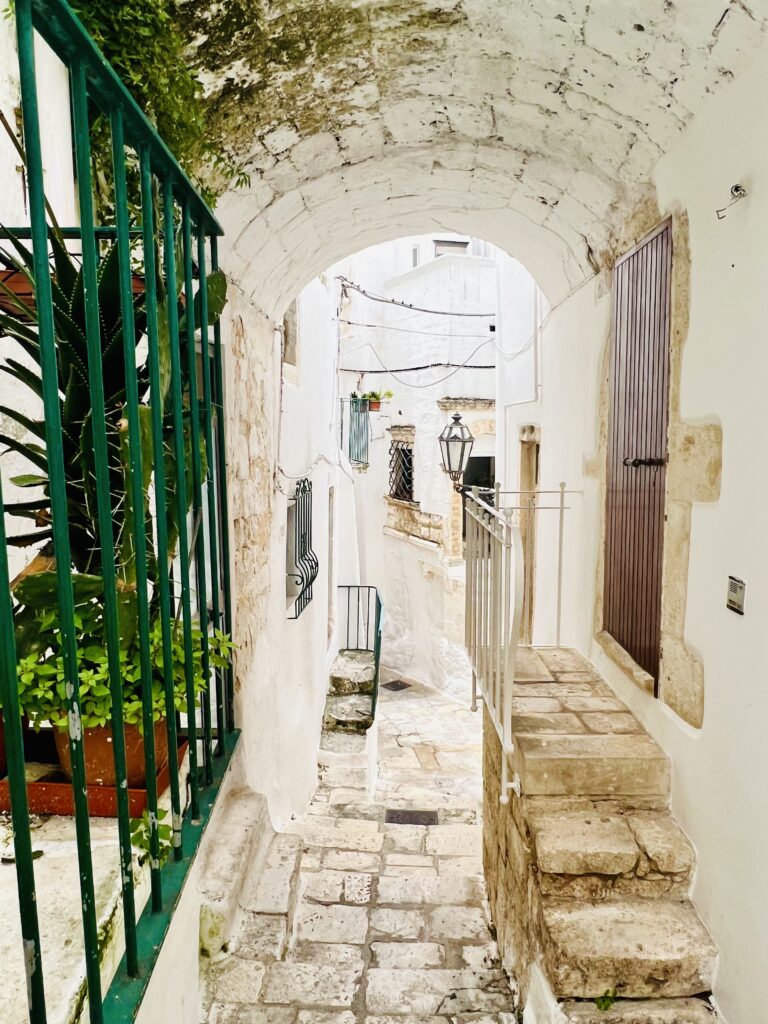 By far the easiest way to get to Ostuni is by car. Ostuni is well connected by road networks.
The town has parking areas available. And you can check with your accommodation for parking options.
Ostuni has a relatively large ZTL zone (no cars allowed except residents). So, you'll need to stay out of these areas to avoid whopping fines.
You can also get to Ostuni on a guided day trip from Lecce or on a guided day trip from Bari.
2. How To Get Around Ostuni
Ostuni is pedestrianized and extremely walkable.
You can also get around on a fun guided tuk tuk tour of the town. You'll also see tuk tuks in the old town and you can hire one on the spot. You can also book a guided bike tour to see of the countryside around Ostuni.
3. Where To Stay In Ostuni
Ostuni makes the perfect base for exploring Puglia. It's full of lovely hotels and masserias.
Some of them are pretty pricey. But if you go in the shoulder or off season, the prices drop dramatically.
If you want to splurge, check out Hotel Relais La Sommita. It's a 5 star hotel housed in a 16th century mansion. It's located on top of a hill in the pedestrianized section of the historic quarter, with mesmerizing views to be had.
Paragon 700 is a well-designed luxury boutique hotel. It has frescoed rooms, private parking, and a pretty pool.
You might also consider staying in a "masseria" near Monopoli. They are fortified farmhouses with a collection of stone buildings that have been transformed into luxury hotels.
I love them because they combine rusticity with modern luxuries, while providing a nice escape pad after a hectic day of sightseeing.
I stayed at two different masteries when I was in the area, Masseria Il Melograno and Masseria San Domenico. I also had a fantastic lunch at Masseria Brigantino.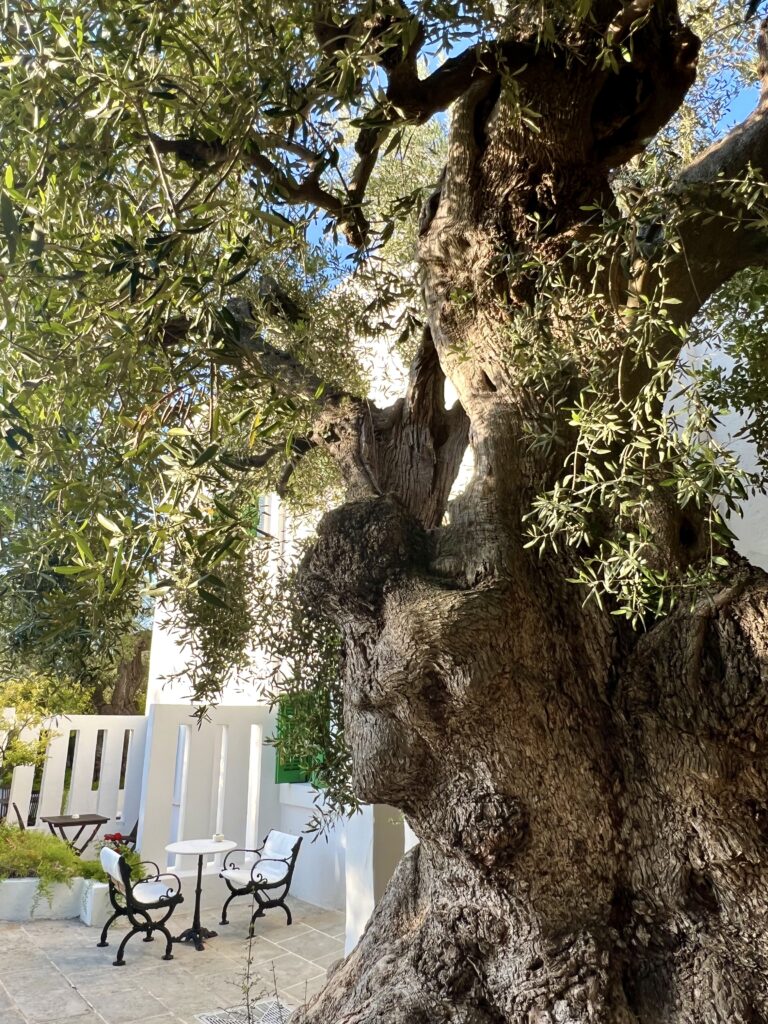 The Melograno is a beautifully restored 17th century fortified farmhouse. It's surrounded by olive groves. It has large rooms, a spa, and a pool.
San Domenico is one of the world's best small luxury hotels and was just stunning. You'll feel like you're staying on the grounds of a castle. And, in fact, its watch tower belonged to the Knights of Malta.
Masseria Le Carrube is just a few minutes from Ostuni's center. It's a whitewashed stone farmhouse, decorated with lemon trees and bougainvillea. Like most masseries, it has rustic but elegant rooms.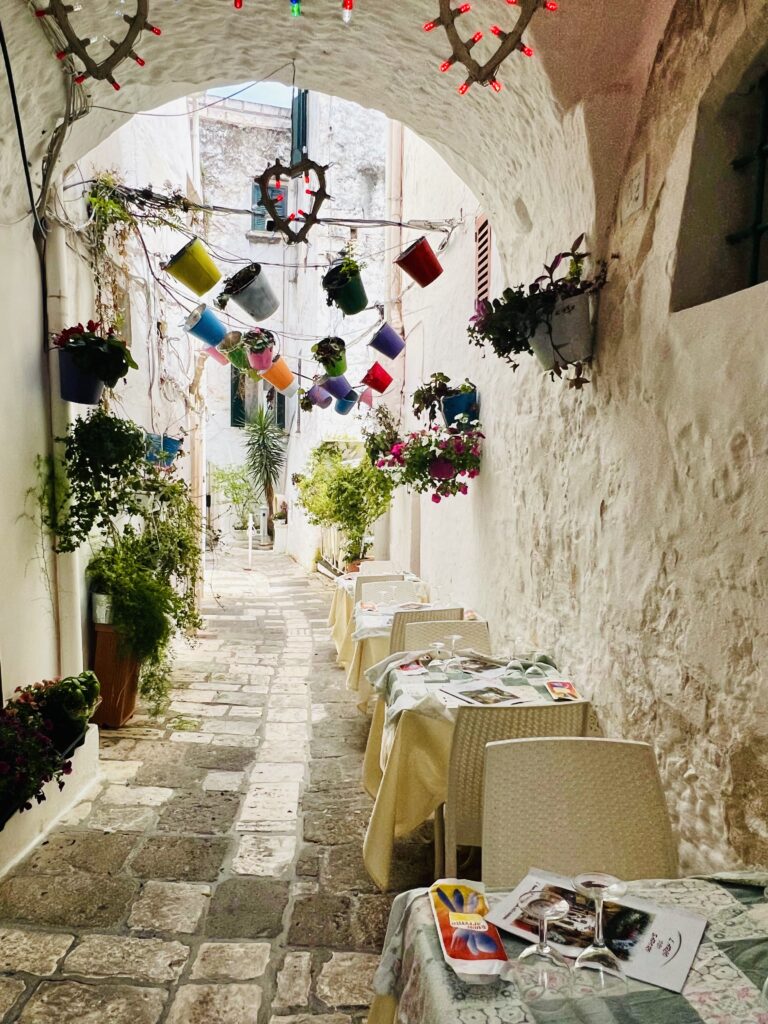 4. When to Visit Ostuni
I think the shoulder season is the best time to visit Ostuni — May/June and September/October. The weather will be excellent. And in June and September it's still usually warm enough to hit the beaches.
In July and August, Ostuni is quite crowded. But this is the best time for swimming and water sports.
5. Is One Day In Ostuni Enough?
One day is enough to see the city and its main attractions. But Ostuni is a place that rewards longer stays.
It's a lovely town that you'll never tire of wandering. And the trattorias and beaches are divine.
6. More Than One Day in Ostuni?
If you have more than 1 day in Ostuni, jump in the car and take a day trip. From Ostuni, you can easy day trip to Alberobello, Monopoli, Locorotondo, Cisternino, and Martina Franca.
I hope you've enjoyed my one day in Ostuni itinerary. You may find these other southern Italy travel guides and resources helpful:
If you want to spend one day in Ostuni, pin it for later.