Alberobello is a remarkable town renowned for its captivating UNESCO-listed trulli houses. To see it all, this is the best one day in Alberobello itinerary.
Alberobello has a fairytale-like atmosphere that feels straight out of a fantasy film. The rows of whimsical beehive-shaped trulli dwellings are unlike anything you've ever seen before. It's like you've stepped into a scene from The Hobbit.
Alberobello is immaculate and extremely popular. Yet, it's worth braving the trulli-tourism to experience the the town's otherworldly vibe. You may fall trulli, madly, deeply in love.
Top Tours In Alberobello
Here are some of the best tours and experiences you can have with one day in Alberobello. Be sure to book in advance, at least from May through September.
A Short History of Alberobello
Alberobello is located in the Puglia region of southern Italy, known for its enchanting trulli houses. What is a trullo (the singular of trulli)? A trullo is a traditional Apulian whitewashed dry limestone hut with a conical roof.
No one knows for sure when they came to Alberobello. Similar structures have been found in other European countries. So, historians believe that different ethnic groups influenced their style.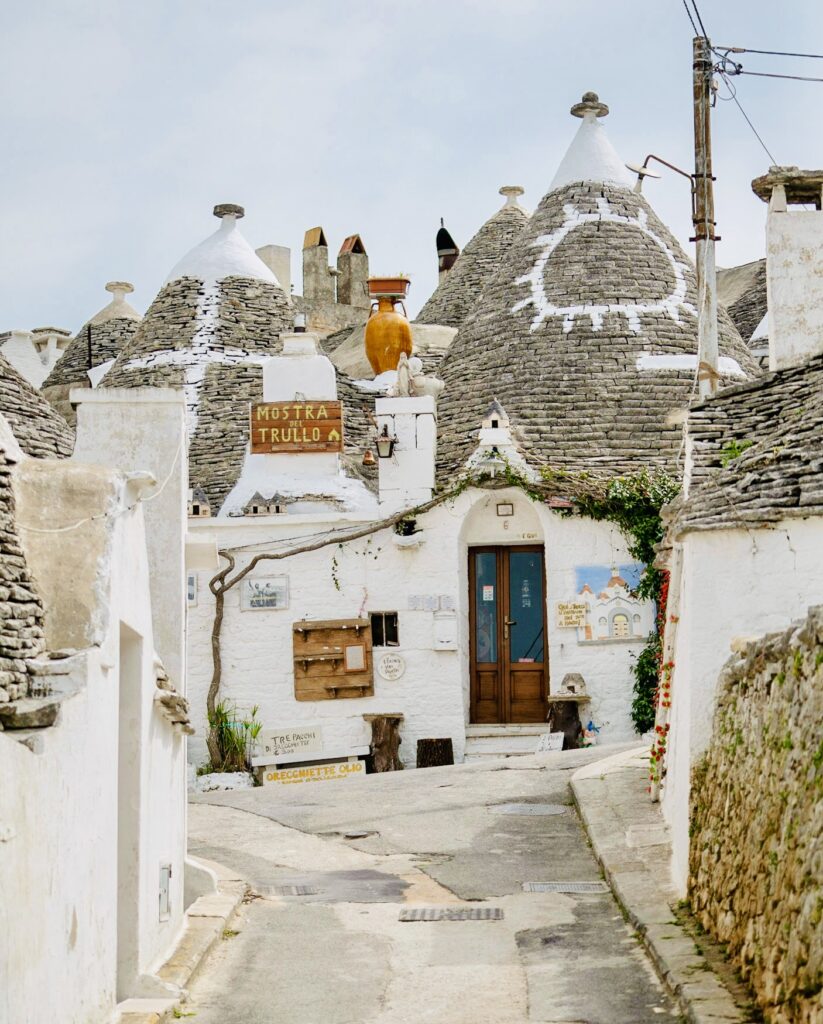 These houses pre-date Roman construction techniques. Though they have ancient origins, the trulli you see today are 3-4 centuries old.
They were made without mortar, using limestone rocks carefully stacked to form the walls. This design allowed for easy dismantling and reconstruction.
Local legend holds that this building technique was popular because it allowed famers to evade taxes imposed on permanent structures by the Kingdom of Naples. More likely, since no mortar was used, they simply didn't qualify for full taxation.
My guide Mimmo explained that the conical roof of a trullo, much like an igloo, is constructed by stacking rings of stones. To allow smoke from the hearths to escape, a hole is left at the top.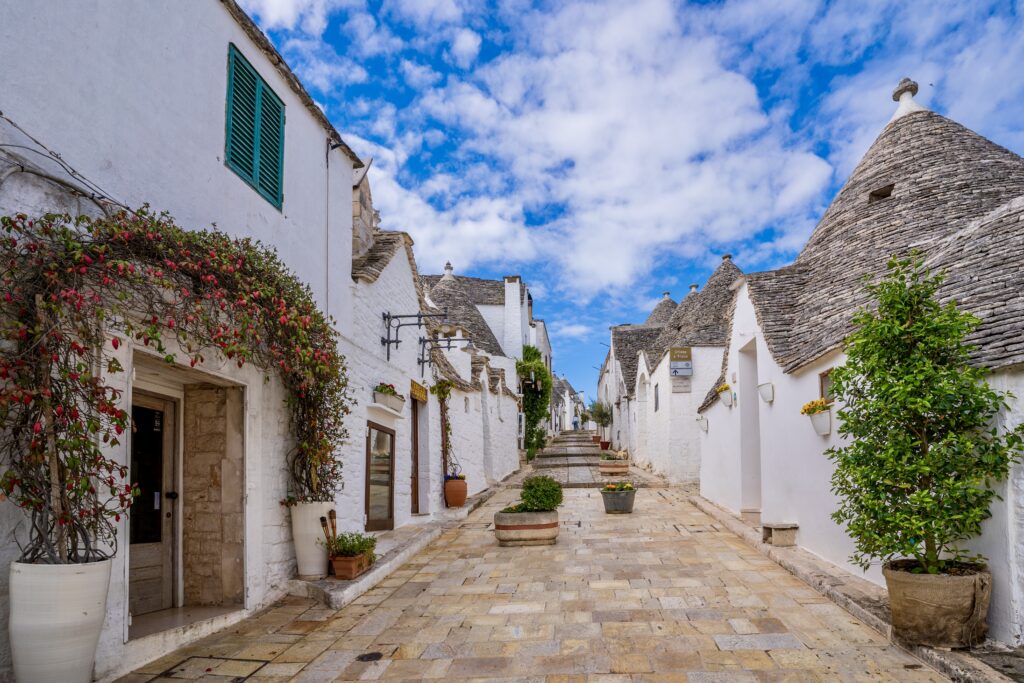 It's crowned with a pinnacle, which come in different styles. They simply indicate which craftsman built the trullo. Below the trullo's floor, cisterns are built to collect rainwater.
Contrary to popular belief, the white designs painted on some trullo roofs are not primitive graffiti. Rather, they are a combination of Christian and pagan symbols intended to offer protection to homeowners.
At first, the trulli served as sheds and shelters for farmers in the fields. Over time, the trulli became permanent homes for the people of Alberobello and the town flourished.
More trulli were added to accommodate the growing population. The Rione Monti district, in particular, became a hub of trulli construction.
<div data-vi-partner-id=P00059246 data-vi-widget-ref=W-2f4b0379-dcbc-47ce-a568-af43a8cd430c ></div>
<script async src="https://www.viator.com/orion/partner/widget.js"></script>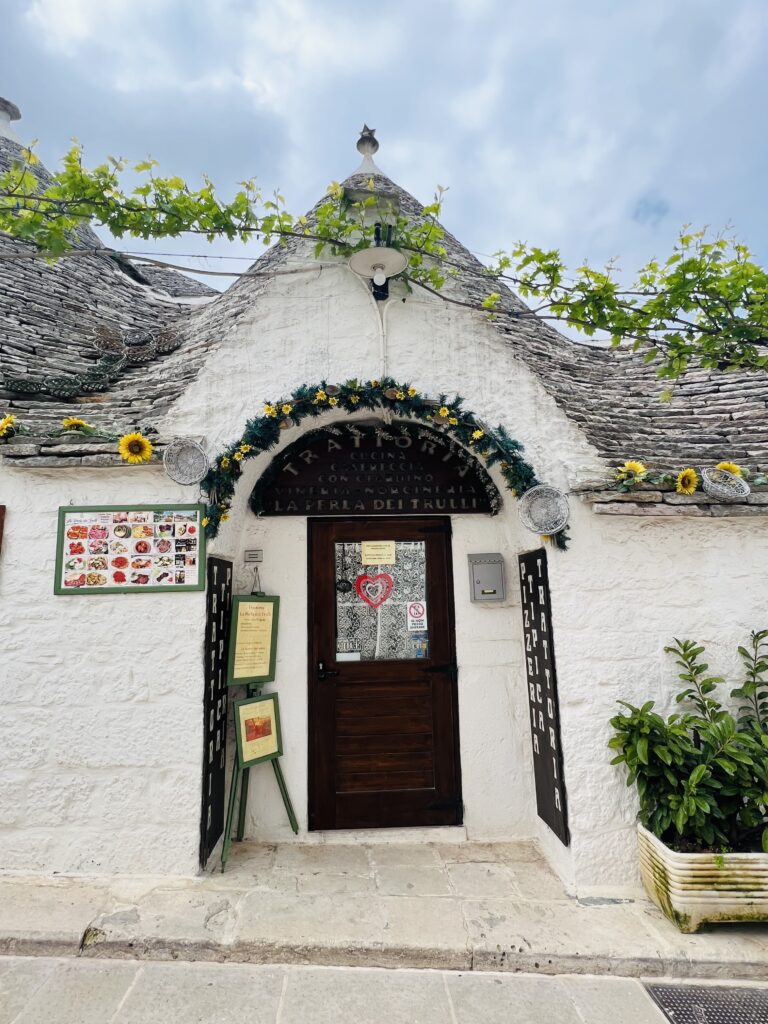 Alberobello was once home to several thousand trulli. But many of them were destroyed during a period of modernization in the mid-20th century.
Today, there are approximately 1,600 trulli and they have protected status. Alberobello was added to the UNESCO World Heritage Site list in 1996.
One Day In Alberobello Itinerary
In Alberobello, you'll encounter two primary clusters of trulli, each offering a unique experience.
The Rione Monti is in the south. Rione Aia Piccola is in the northeast.
The Rione Monte is the larger, busier, and more commercialized of the two districts. Aia Piccola is primarily residential.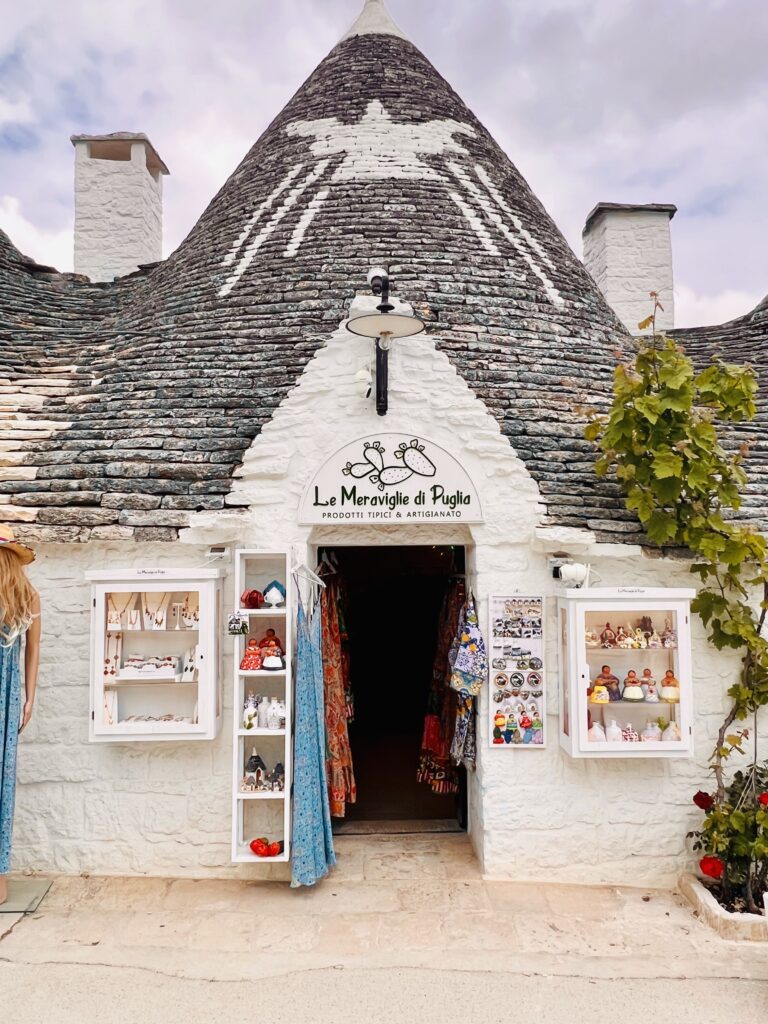 Rione Monte
Rione Monti should be your first stop. You'll be immersed in a captivating atmosphere of over 1,000 trulli.
This district is a popular tourist destination, bustling with shops, cafes, and lively streets. It's definitely the best place to shop for souvenirs.
Most offerings are quite nice. You'll find ceramics, olive oil, wooden utensils, and intricate lacework.
One of the cutest souvenir shops bills itself as the tiniest trullo in Alberobello.
>> Click here to book a guided trulli tour
Church of Sant'Antonio
This church is at the far end of the Rione Monti. It's one of the notable landmarks in the town and holds religious significance for the local community.
The church features a simple yet elegant architectural style. It has a white plastered surface adorned with a few decorative elements, the iconic trulli roof, and a bell tower.
Inside, you will find a peaceful space adorned with religious artwork and icons. There are several religious artifacts, including statues, paintings, and an ornate altar.
Sant'Antonio Church is also known for its annual celebration dedicated to Saint Anthony of Padua, the patron saint of the town.
Trullo Siamese
The "Siamese Trullo" is a fascinating architectural anomaly that has captivated visitors for years.
This particular trullo is an intriguing structure consisting of two conjoined trulli. It stands out among the traditional standalone trulli.
Legend has it that the Siamese Trullo was created when two brothers fell in love with the same woman. She was promised to the elder, but fell in love with the younger.
The elder brother tried to throw them out. But the younger brother insisted they split the trullo in half.
Rione Aia Piccola
Once you've seen the Rione Monte, cross the main square and head to the Rione Aia Piccolo. The name means "small yard district." Most of the 500 some trulli here are homes, rather than shops.
This smaller residential area seems more like a quaint village. It may make you forget, for a moment, that Alberobello is a tourist hotspot.
Meandering through the narrow streets of Rione Aia Piccola, you'll feel a sense of tranquility and get a glimpse of the local life that thrived here.
Casa d'Amore is another cute spot. It was built in 1797 by Francesco d'Amore. It was built using forbidden materials — mortar and lime. As the first two story house built in the town, it's now a national monument.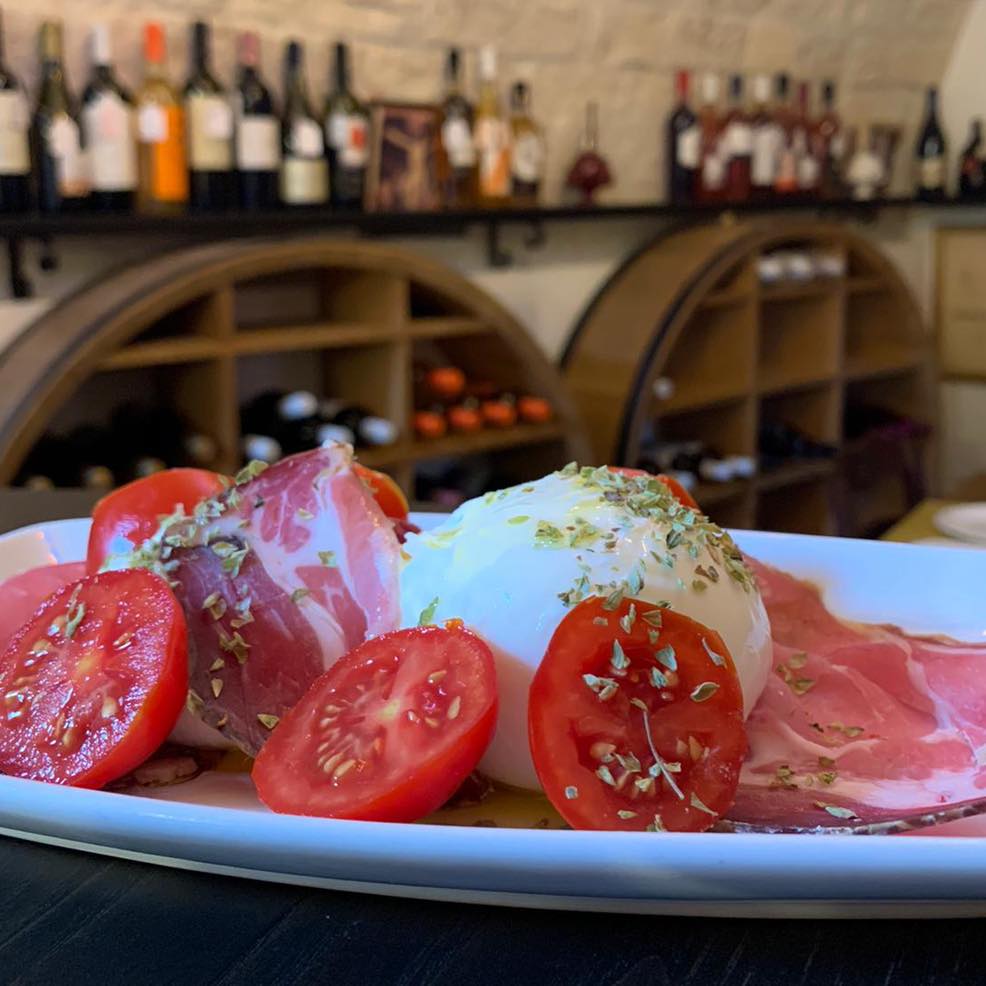 Lunch
For lunch, you can try one of Alberobello's many trattorias. Some good options for local specialities are Trattoria Terra Madre, Ristorante La Cantina, or Ristorante La Nicchia.
I had some of the best focaccia and burrata I've ever tasted at Trulli e Puglia Wine Bar. The bar was a very rustic and cozy spot on the main drag in Rione Monti, Via Monte San Michele.
I also learned how to make mozzarella at Mimmo's trullo. Mimmo seems to be the lead tour operator in town.
Other local specialities to try are orecchiette pasta, octopus salad, bombetta (rolls of meat and cheese), and pettole (small fried dough balls served with powdered sugar or honey).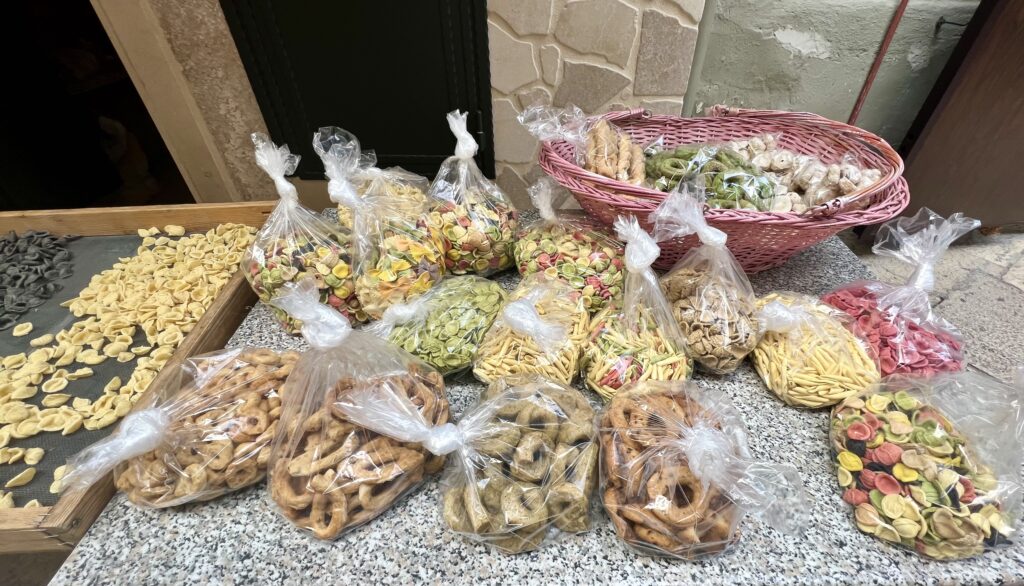 You can also grab some food to go if you're rather wander the trulli.
The local sandwich speciality is a pasqualino. It's a typical Apulian sandwich made with rosetta bread and filled with tuna fish, capers, salami, and cheese.
You can wash that down with Vino Locorotondo (fruity white wine), Vino Ostuni (complex ruby red wine), or Ostuni Ottavianello (rose).
>> Click here to book a food tour of Alberobello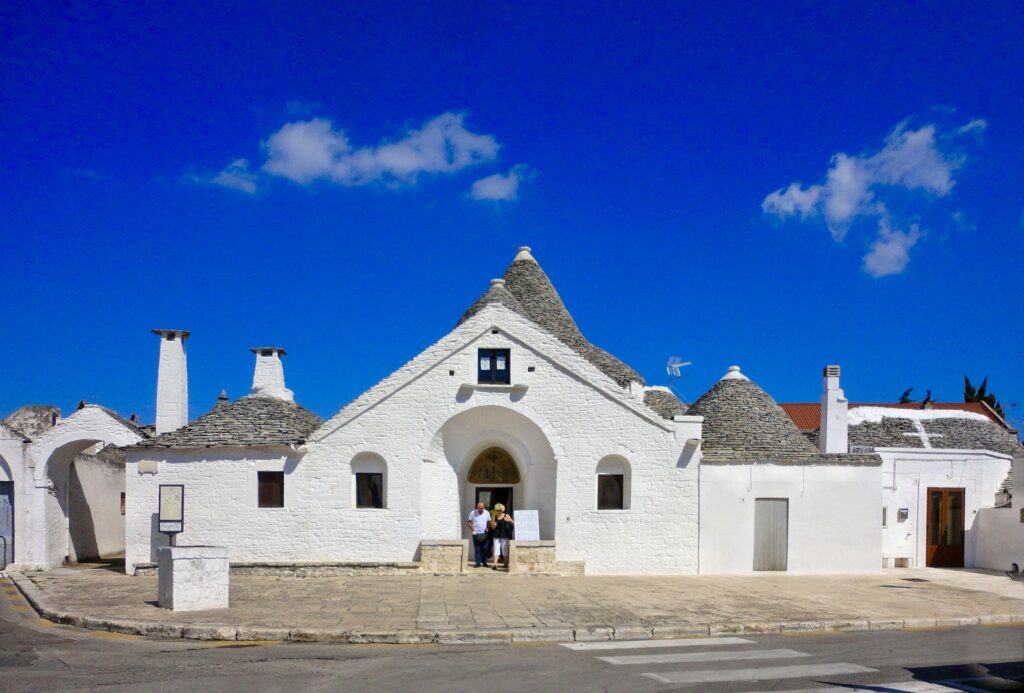 Trullo Sovrano
This building is the only two story trullo in Alberobello. Paarts of it date from the early 17th century. It's furnished with some original furniture from the 19th century.
It's not in either Ain Piccolo or Monti. It's on the far northern edge of modern Alberobello in Piazza Sacramonto. From the main square, Piazza del Popolo, follow Via Bittorio Emanuele north to Piazza Sacramonteo.
This rare trullo comprised 16 separate joined structures surrounded a central trullo with a cupola. It was built by a wealthy Alberobello family in the late 18th century.
I'm not sure it's really worth going inside, though the price is very inexpensive. But it's nice to admire the construction and there's a good bookstore if you do go in.
Trulli Museum
The Trulli Museum, also known as Casa Pezzolla is a fascinating Alberobello attraction for history buffs. It's a small local history museum. It consists of 15 communicating trulli, along with tools, furniture, and household items.
The museum tells the story of the area and can be visited free of charge. Inside, different rooms portray the domestic life of the past inhabitants.
The museum provides valuable insights into the history, construction techniques, and cultural significance of the trulli.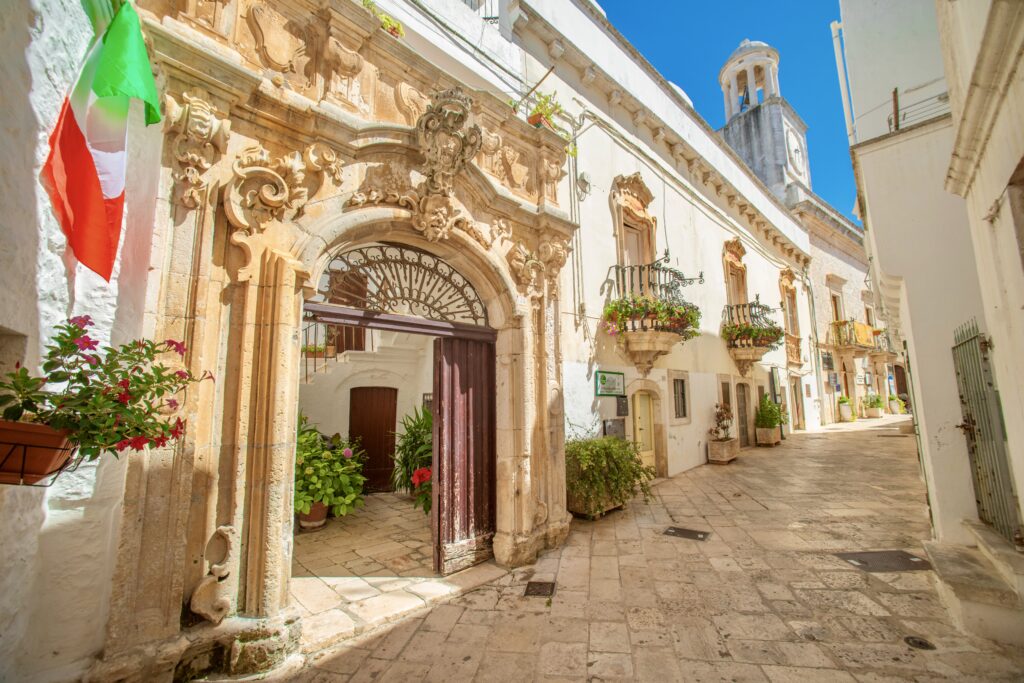 Locorotondo
In the afternoon, you could visit the nearby town of Locorotondo, named the "Most Beautiful Borgo in Italy." It's an unabashedly cheerful town set on a hill overlooking the entire Itria Valley. And it has none of the doting crowds of Alberobello.
Its name means "round place." The historic center contains little white houses in near perfect concentric rings.
While Alberobello is known for its trulli, Locorotondo is known for its cumerse. homes. The same stone is used. But the pointed gable roofs are fitted and aligned with the front facade of the homes.
The star attraction of Locorotondo is San Giorgio Church in the historic center. Built between 1790 and 1825, the church has a 115 feet dome and bell tower that are visible from anywhere in the town. Inside, you'll find a painting of St. George and a magnificent marble altar.
Another church you may want to pop into is St. Nicola Church. Just for the frescoed ceiling.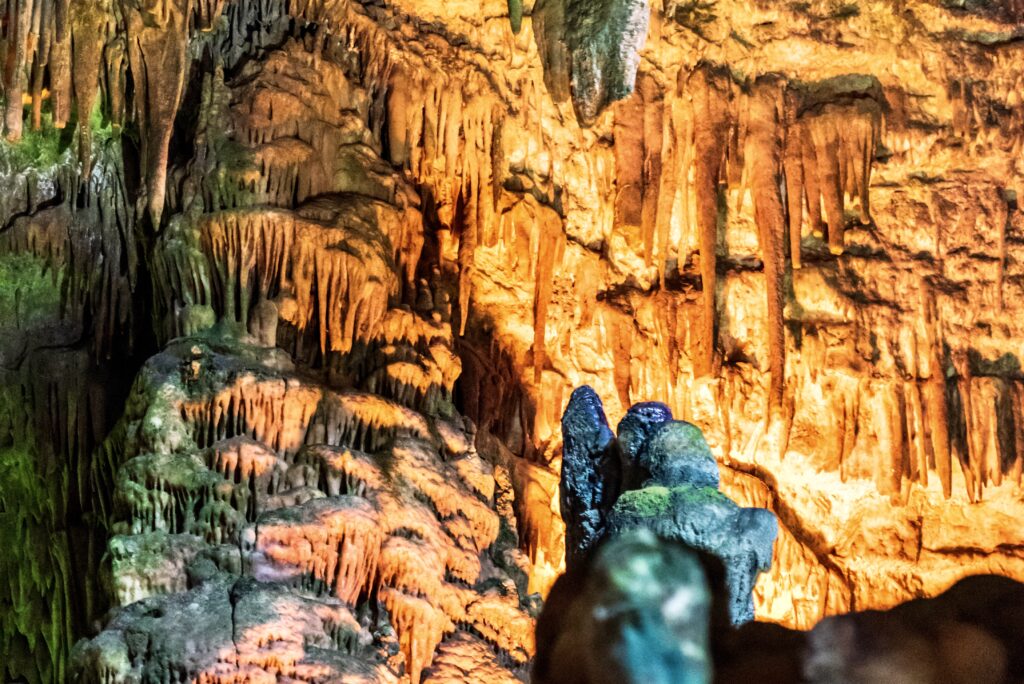 Grotte di Castellana
Alternatively, if you'd rather see a natural wonder, head instead to the Grotte di Castellana. It's approximately 11 miles north of Alberobello and about a 20 minute drive.
It's a popular tourist attraction known for its stunning underground caves and formations. There are two tourist routes, a short 50 minute itinerary and a longer 2 hour itinerary.
An enormous tunnel leads you to the Grave. It's a huge abyss lit by a skylight. At its center is a colossal stalagmite called Cyclops. The chamber has an eerie vibe that's given rise to rumors of demons and lost souls.
Along the routes, you'll see fantastical formations of stalagmites and stalactites. The most beautiful cave is the Grotta Bianca, made of alabaster.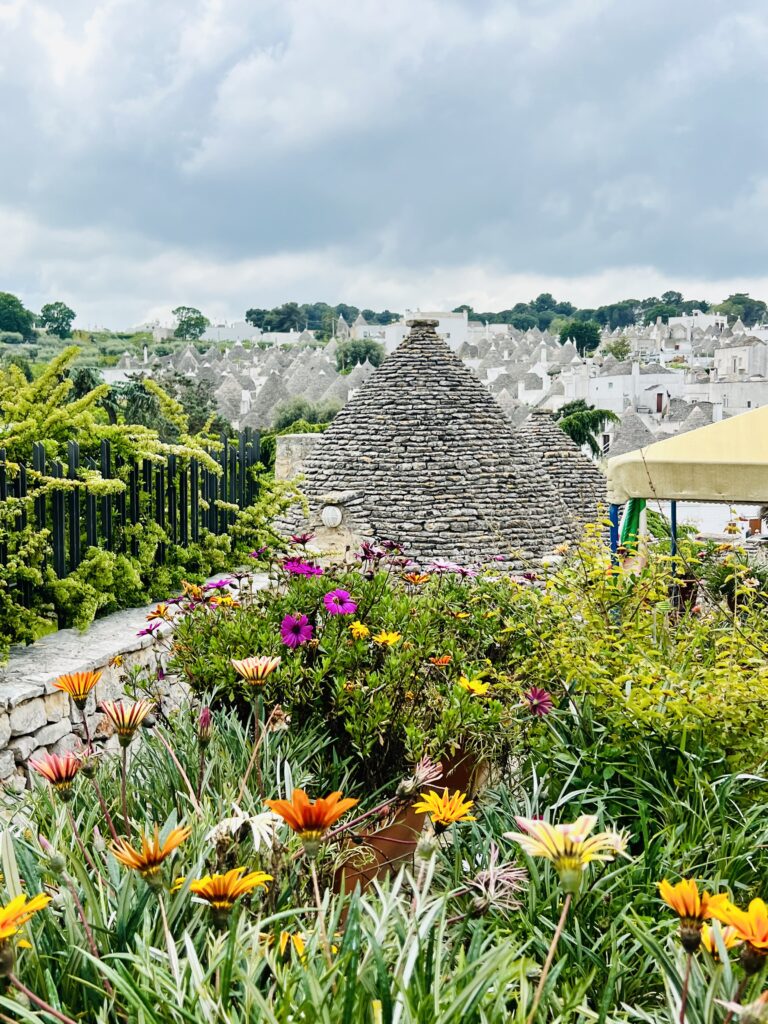 Belvederes
In the early evening, head to one of Alberobello's many belvederes at sunset. They all offer captivating views of the cluster of trulli and their rooftops.
Belvedere Santa Lucia is Alberobello's most famous panoramic terrace. It's near the Chiesa di Santa Lucia in the north. From it, you'll have a view of practically the entire town.
The Villa Communal Belvedere is right near Sant Lucia on Via Indipendenza. There are places to sit here to grab the perfect photo.
My favorite belvedere is off Via Brigata Regina. It's just marked by a sign saying "belvedere." It has a lovely garden too.
Many of the souvenir shops have terraces too. Buy a bottle water or something small and you can take in the vistas from the top floor.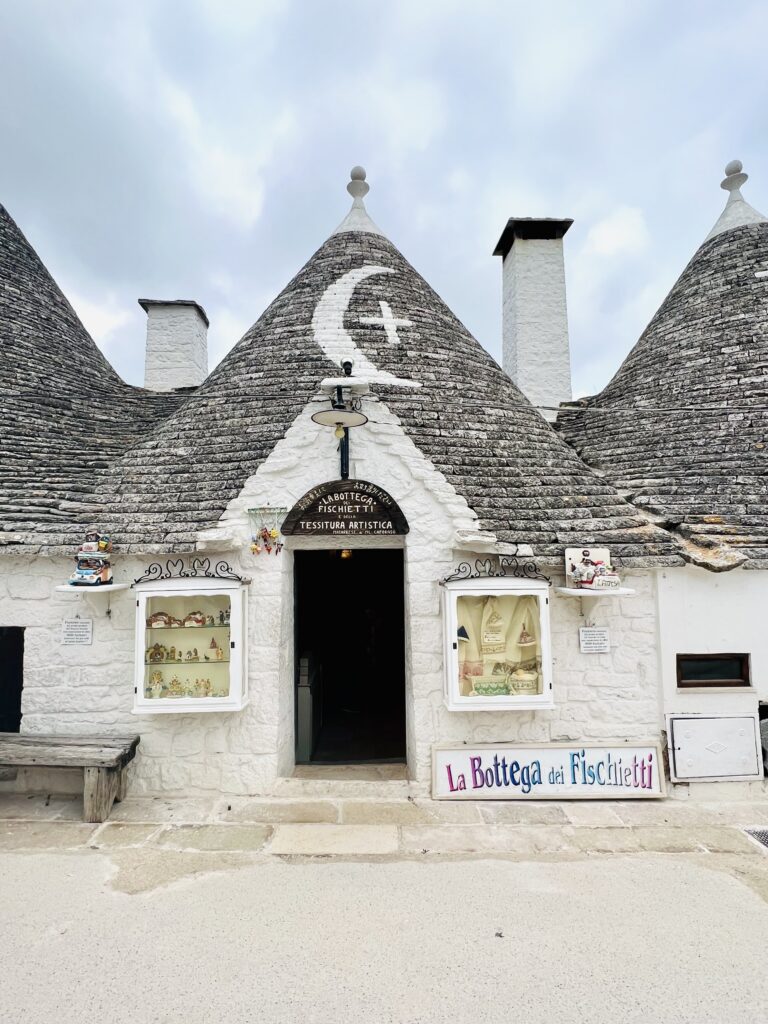 Evening | Dinner
For dinner, you could splurge on a Michelin restaurant. For such a small town, Alberobello has quite a few — L'Atrato, Osteria del Pieta, and Ristorante Trullo D'Oro.
I also heard good things about Fe Ristorante in nearby Noci. It's a gourmet restaurant housed in a set of restored trulli.
Noci is famous for its focaccia called gnume. Plus, you'd get to see another cute whitewashed town in the valley that's a hidden gem compared to Alberobello.
>>> Click here to book a dinner in a trullo
In the summer, the Sovereign Trullo host events — theater performances, concerts, or poetry readings. The trullo is lit up with colored light projections.
Tips For Spending One Day In Alberobello
Here are some must know tips for visiting Alberobello.
1. How To Get To Alberobello
The nearest airports to Alberobello are Bari Airport and Brindisi Airport. You can book a private transfer from Bari Airport to Alberobello.
From Bari Centrale train station, you can take the regional train to Alberobello, which takes approximately 1:20. From the train station, it's a 10-15 minute walk into town.
Driving is the easiest way to get to Alberobello. Plus, a car gives you the flexibility to take side trips.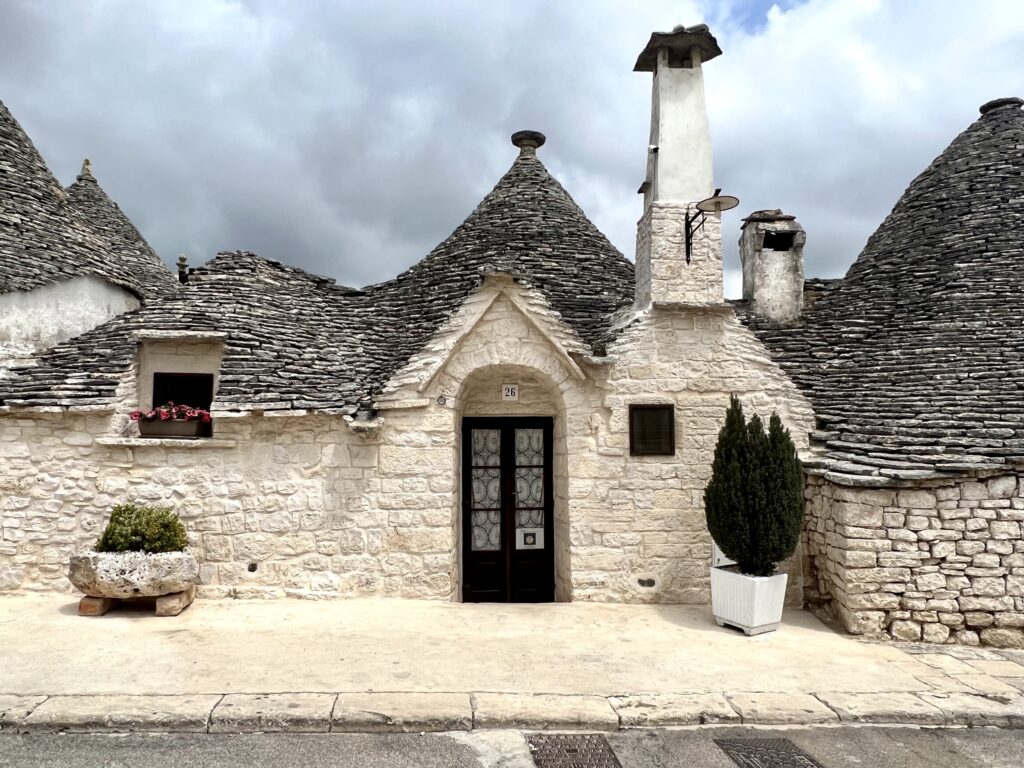 The best place to park is Parcheggio Viale Indipendenza 6 and 4 on Via Indipendenza. There is a small fee for parking. From there, it's a less than 5 minute walk to Rione Monti and Rione Aia Piccola.
You can also get to Alberobello on a guided day trip from Bari or on a day trip from Lecce.
2. How To Get Around Alberobello
Alberobello is a relatively small town and mostly pedestrianized. Most of the attractions and points of interest can be easily reached on foot.
Walking is often the best way to fully experience the charm of the trulli-filled streets. But there are also taxis and tuk tuks for hire.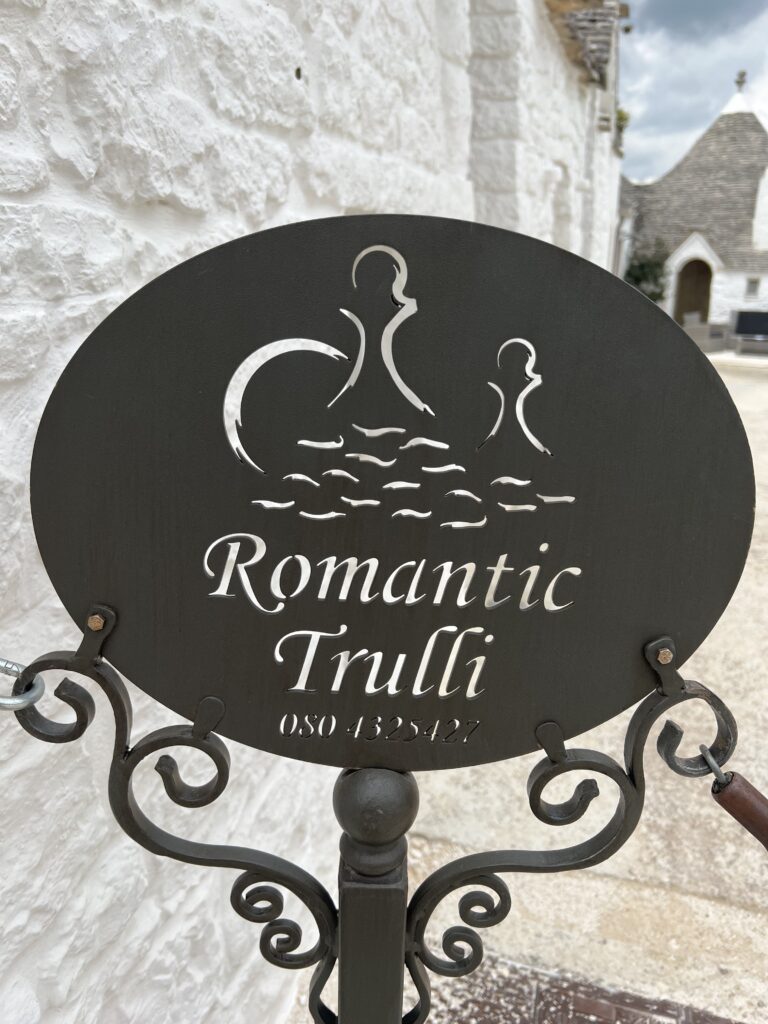 3. Where To Stay in Alberobello
I recommend staying the night in Alberobello, if you can. In the daytime, the town can feel a bit like Disneyland.
At night, you'll have the strange townscape mostly to yourself. Plus, you can stay in a trulli unique accommodation, which is a once in a lifetime experience.
La Mandorla Luxury Trullo is perhaps the best place to stay in Alberobello. It's a luxe modern accommodation that's in beautifully restored trulli with vaulted ceilings.
Trullo Essenza-Trulli Anti Charme & Relax is an elegant 3 bedroom trullo that's a bed and breakfast, with free parking just steps away.
Romantic Trulli is a beautiful restored space with excellent breakfasts. The rooms are gorgeously decorated and terraces come complete with flowers. Everyone will be taking photos of your trullo.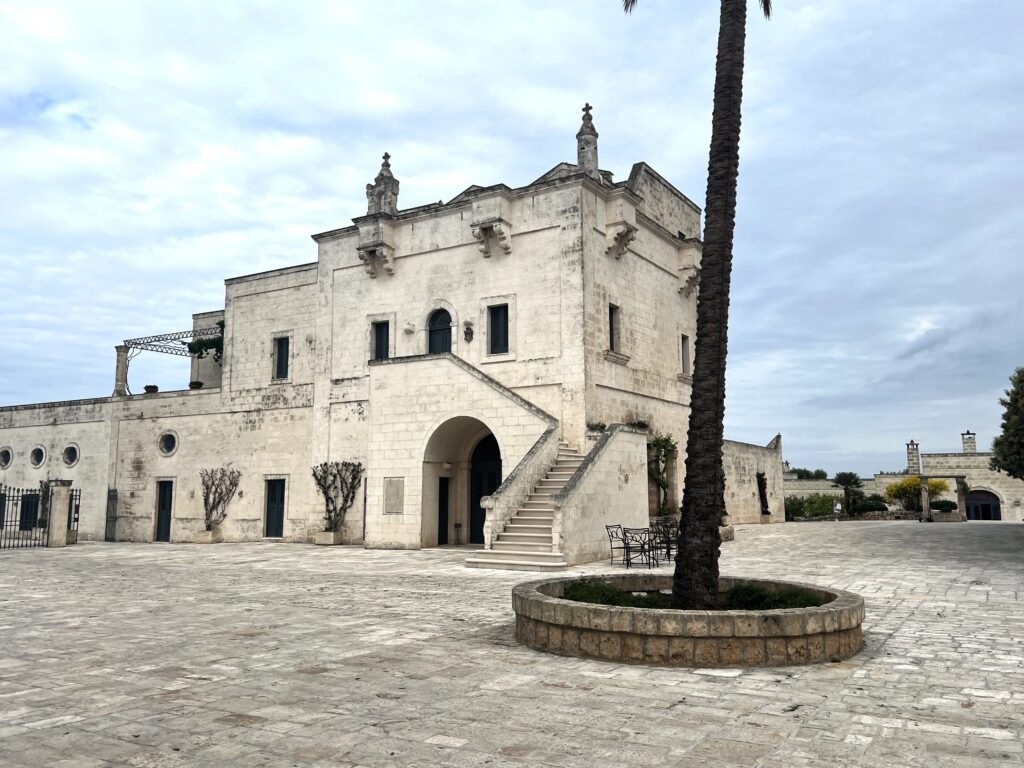 You may also want to stay in a masseria near Alberobello. Masserias are essentially fortified farm compounds.
I stayed at two different masteries when I was in the Alberobello area, Masseria Il Melograno and Masseria San Domenico. I also had a fantastic lunch at the lovely Masseria Brigantino.
The Melograno is a beautifully restored 17th century fortified farmhouse. It's surrounded by olive groves. It has large rooms, a spa, and a pool.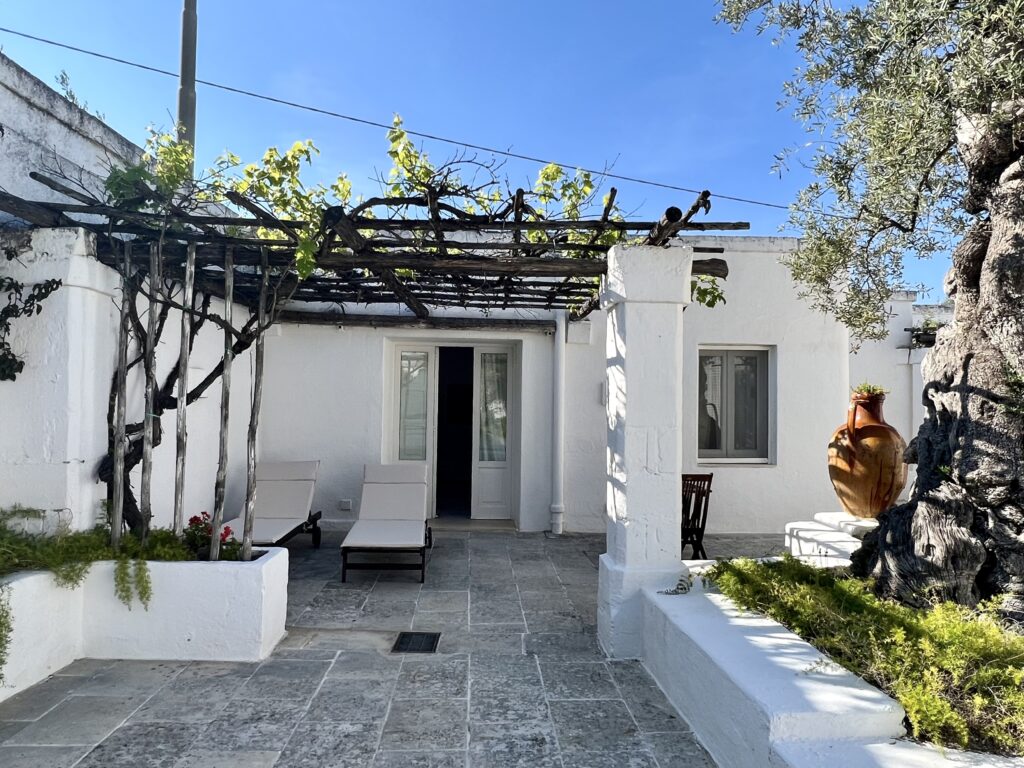 San Domenico is one of the world's best small luxury hotels and was just stunning. You'll feel like you're staying on the grounds of a castle. And, in fact, its watch tower belonged to the Knights of Malta.
Masseria San Francesco is a pretty masseria with massive olive trees, distant blue ocean views, and a stunning pool.
If you want to make like Madonna, you can stay at the uber luxe Borgo Egnazia. She celebrated her 60th birthday there. While it's probably out of reach for most of us mere mortals, the price drops drastically off season.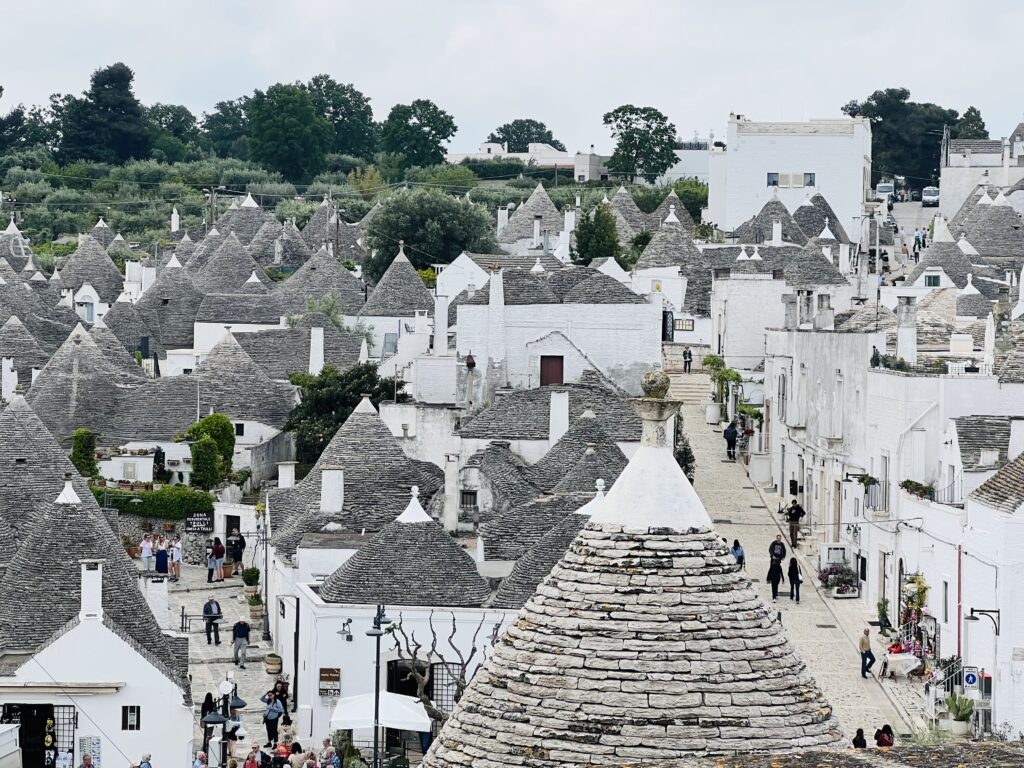 4. How Much Time Do You Need In Alberobello?
If you have a busy Puglia itinerary, you could just allot 3 hours or so for Alberobello, excluding meals. If so, I would arrive early, before 9:00 am, to try to beat some of the crowds.
You could visit Alberobello and Ostuni in the same day or Alberobello and Locorotondo.
5. Is Alberolbello Worth Visiting?
Absolutely, the town is worth visiting. It's a UNESCO site. This is the only place in the world developed as a trulli city.
It's worth it to brave the busloads of tourists to visit. Or come on the bus yourself!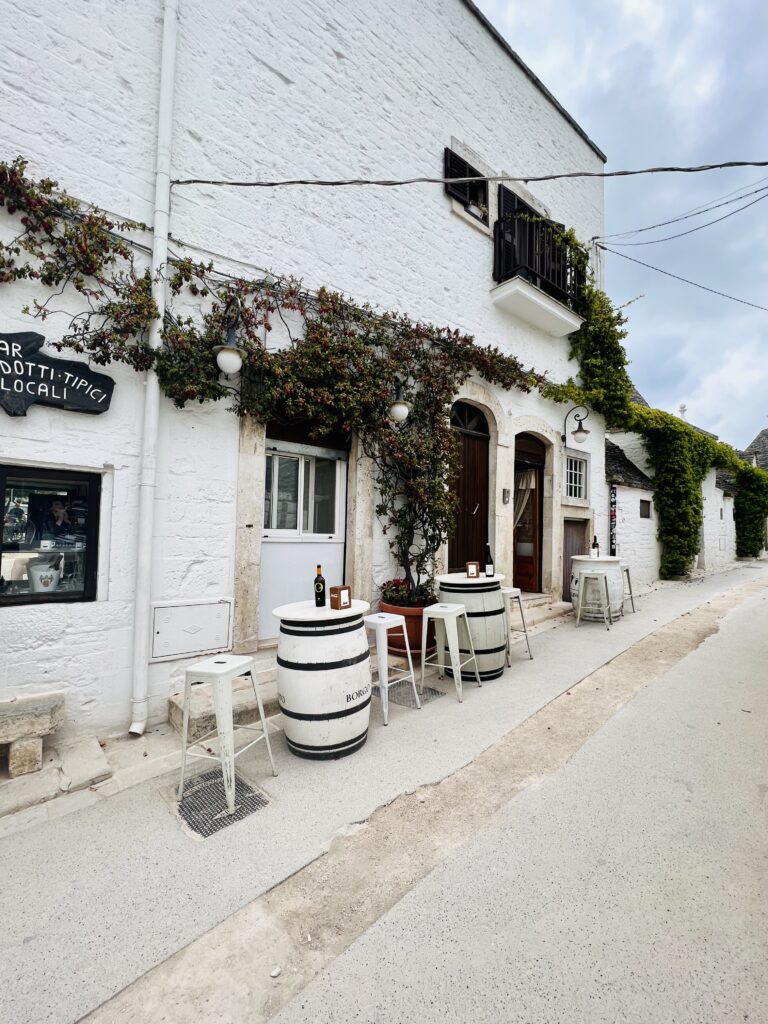 6. Is Alberobello Touristy?
Alberobello is now definitely home to mass tourism. It's a victim of its own success.
The picturesque area of pilgrimage is often throttled with crowds, especially in the summer.
To avoid the claustrophobic siege, the best way to experience Alberobello is to visit off season, early in the morning, or in the evening. Avoid the weekends. It helps if you stay overnight in the town because then many tourist have left.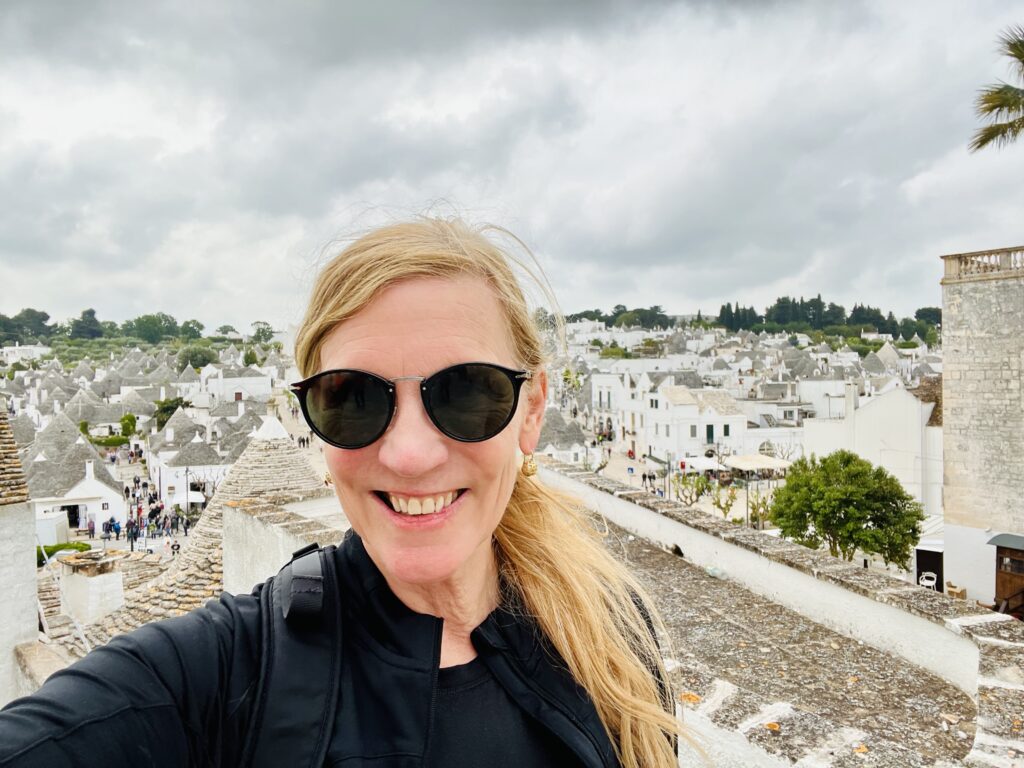 And that's a wrap for my one day in Alberobello itinerary. You may enjoy these other southern Italy travel guides and resources:
If you want to spend one day in Alberobello, pin it for later.