Looking for some destination inspiration for an unforgettable trip to Italy's Amalfi Coast? Look no further! In this guide, I offer up seven sample 5 days in the Amalfi Coast itineraries. They will help make the most of your adventure in this storied coastal paradise.
The Amalfi Coast is known for its romantic ambiance, breathtaking scenery, towering cliffs, and pastel villages. It's a place of lush gardens and lemon groves that has captivated travelers since Roman times. It offers up a true taste of la dolce vita.
The typical jumping off point for any 5 days in the Amalfi Coast visit is Naples. From there, I give you options for visiting Pompeii, the island of Capri, and Amalfi's gorgeous sea-tumbling towns.
You can choose an itinerary that matches your interests, whether you crave a vibrant city break, historical and cultural immersion, scenic wonders, or simply desire blissful beach experiences.
If you prefer a fast-paced trip, consider moving around 2-3 times to check off your Amalfi bucket list items. Alternatively, you can opt for a single base or town, allowing you to relax and take day trips at your leisure.
Nothing is too far afield in the Amalfi Coast. It's a tiny region.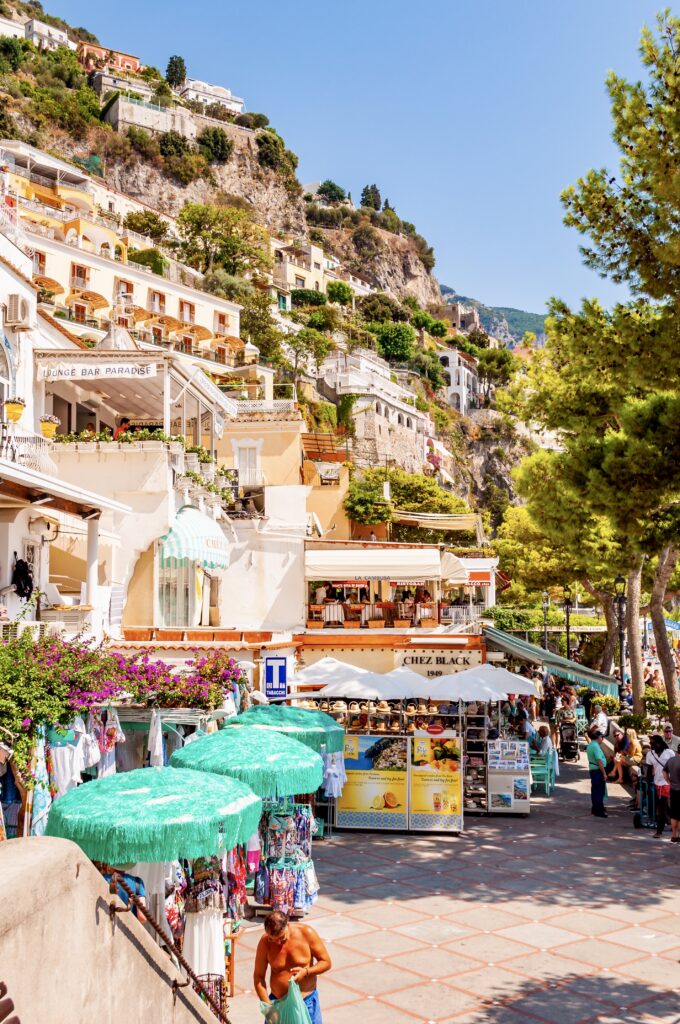 What To See On The Amalfi Coast
Here are some of the top attractions and things you can do with 5 days in the Amalfi Coast:
Visit Amalfi Coast Towns: Positano, Amalfi, Ravello, Praiano, etc.
Take a boat tour of the Amalfi Coast
Visit Villa Cimbrone and Villa Rufolo in Ravello
Visit a beach club
Visit Amalfi Cathedral
Hike the Path of the Gods
Taste limoncello and take a food tour
Visit the Blue Grotto
Visit the Fjord of Furore
Day trip to Capri
Day Trip to Pompeii
Day trip to Paestum
Here are some of the top tours you will want to book in advance: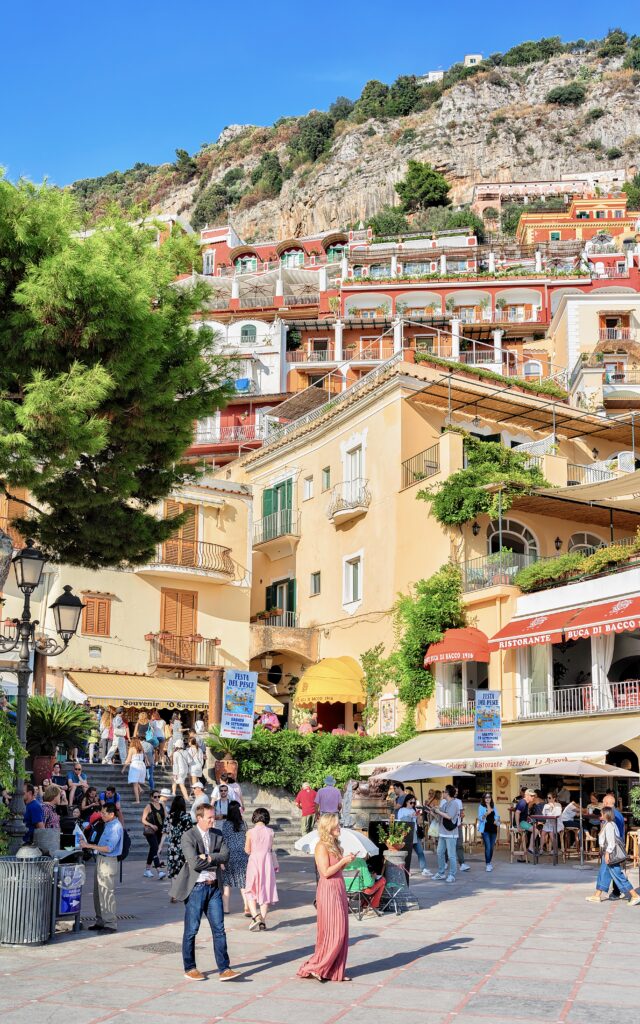 Seven Ways To Spend 5 Days In The Amalfi Coast
Here are my picks for the best ways to spend 5 days on the Amalfi Coast. I've tried to give you some classic options, as well as options for history buffs, nature lovers, and those who love hidden gems.
At the end, I give you must know tips for visiting Amalfi and hotel recommendations for various towns.
Option 1: Classic 5 Day Amalfi Itinerary
Let's start off with the classic Amalfi Coast itinerary, which starts in Naples and ends in Ravello.
Day 1: Naples
Day 2: Pompeii & Vesuvius
Day 3: Sorrento
Day 4: Positano
Day 5: Amalfi & Ravello
Possible Bases: Naples, Sorrento, and/or Positano
Spend your first day in Naples, a bustling city that's the birthplace of pizza. You should spend most of your time in the historic center. The two main streets are Scappanapoli and Via Tribunali. All the sites fall along them or just off them.
Visit some of Naples' beautiful churches — Gesu Nuovo, the Cloister of Santa Chiara, Sansevero Chapel, San Domenico Maggiore, San Lorenzo Maggiore, and Naples Cathedral.
Sansevero Chapel is a must see site! It's an over-the-top Baroque treasure trove of artistic wonders.
The exquisite Veiled Christ is one of the world's most beautiful sculptures. You'll need to book a timed entry ticket well in advance or, if sold out, book a walking tour that includes a visit to the chapel.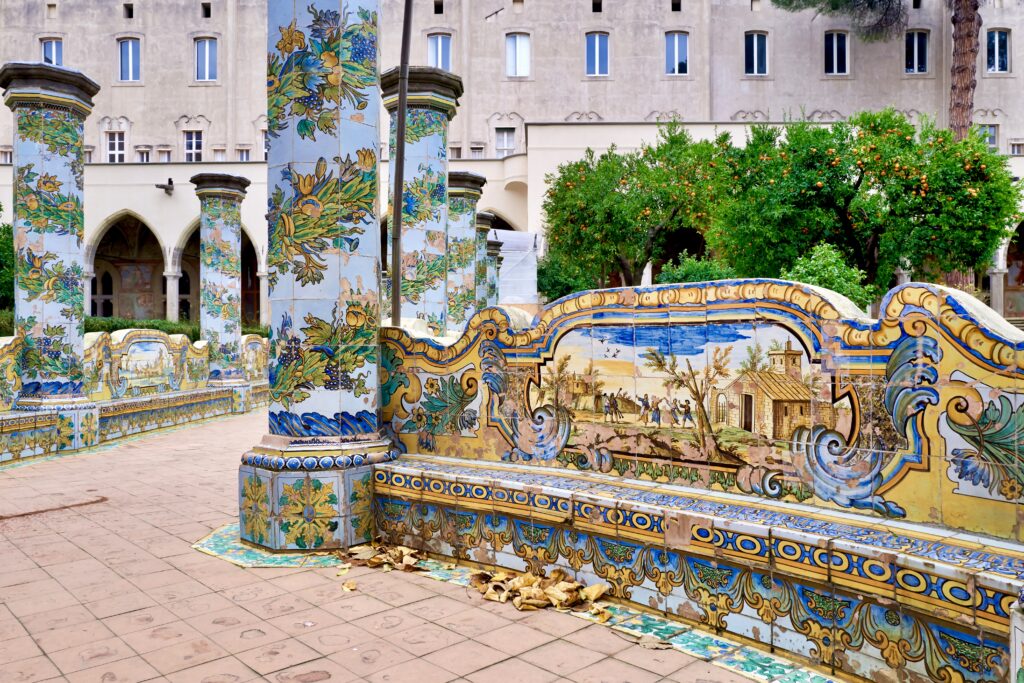 Grab lunch at one of Naples' famous pizzerias like Gino Sorbillo or Antica Pizzeria da Michele. Once fueled up, head to the Naples National Archaeological Museum.
It's truly one of the world's most impressive museums. It has a huge cache of remarkable Roman statuary and mosaics and frescos from Pompeii. Plan to spend at leases 2 hours here.
I advise booking a skip the line ticket. I also highly recommend this private tour of the museum with an archaeologist
After the museum, head to the Piazza Plebiscito (Naples' main square) to see the Royal Palace and the Church of San Francesco di Paola. Wrap up your day in the lively neighborhood of Chiaia, which is chock full of chic shops and eateries.
For more information and tips on Naples, you can check out my one day in Naples itinerary and my 3 days in Naples itinerary.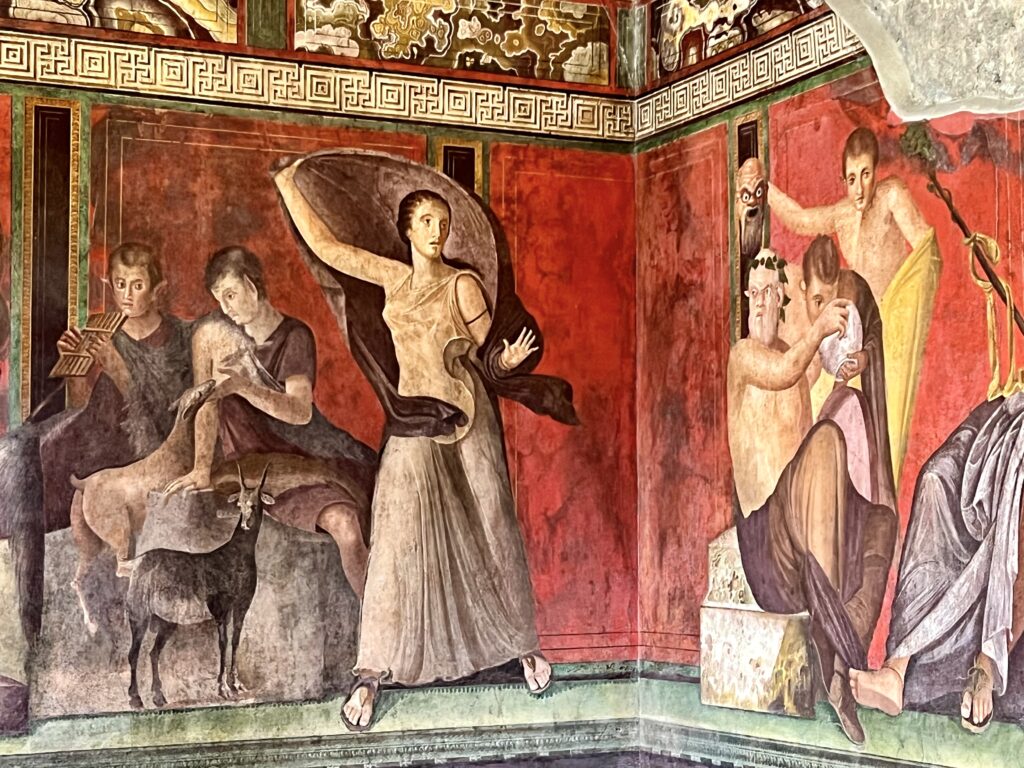 On day 2, head to Pompeii and Mount Vesuvius.
In Pompeii, you can walk in the footsteps of ancient Romans as you explore this remarkably well-preserved city. In 79 A.D., it was was buried under layers of ash when Mount Vesuvius erupted.
On a visit, you can explore homes, baths, theaters, a forum, and even a brothel. There are also some beautifully restored frescos in the House of Menander, House of the Vetii, and the Villa of Mysteries.
Wander along the stoney and bumpy streets, imagining life in this bustling city over two thousand years ago.
After absorbing the wonders of Pompeii, head to Mount Vesuvius. The brooding volcano looms majestically over the Bay of Naples.
As you hike up the trail, you'll have amazing vistas. You can even stand on the edge of the volcano's crater, witnessing firsthand the force of nature that once buried Pompeii.
At a minimum, you'll need to book a Pompeii entrance ticket and perhaps a private transfer to Pompeii. I also advise booking a 3 hour tour to Pompeii with an archaeologist to get the complete historical backdrop. You can also book a full day tour to both Pompeii and Mount Vesuvius.
For more information and must know tips, here's my complete guide to visiting Pompeii.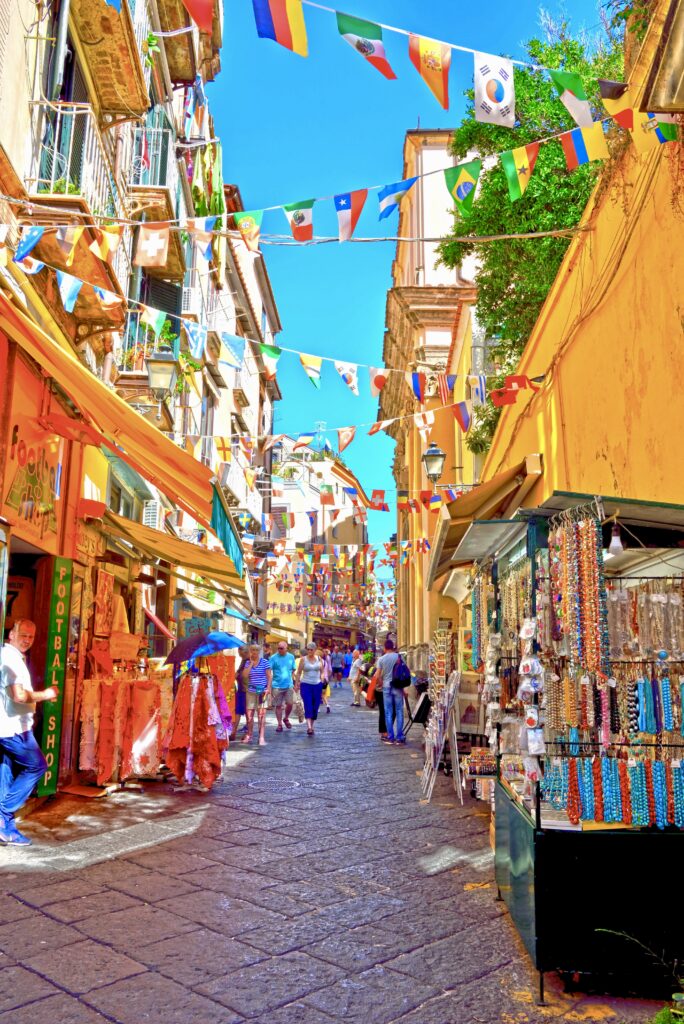 On day 3, travel to Sorrento. It's a genteel town between Naples and the resort towns of the Amalfi Coast.
You can easily cover the town's sites in one day. Start at Piazza Tasso, the town's central hub. Then, venture down the main drag, Corso Italia. There are so many lemon-themed shops, you almost feel wrapped in a golden hue.
You'll want to see the Duomo, the Sedile Dominova (16th century loggia with a trompe l'oeil frescoed dome), and the cloister of the Baroque Church of San Francesco.
When you're done sightseeing, take a leisurely walk in Villa Communal. It's a lovely park on the cliffs with fantastic views. In the evening, take a stroll along the harbor and eat at a restaurant with a view.
You may want to book a guided walking tour of Sorrento. Or perhaps try a guided street food tour or a pizza making class.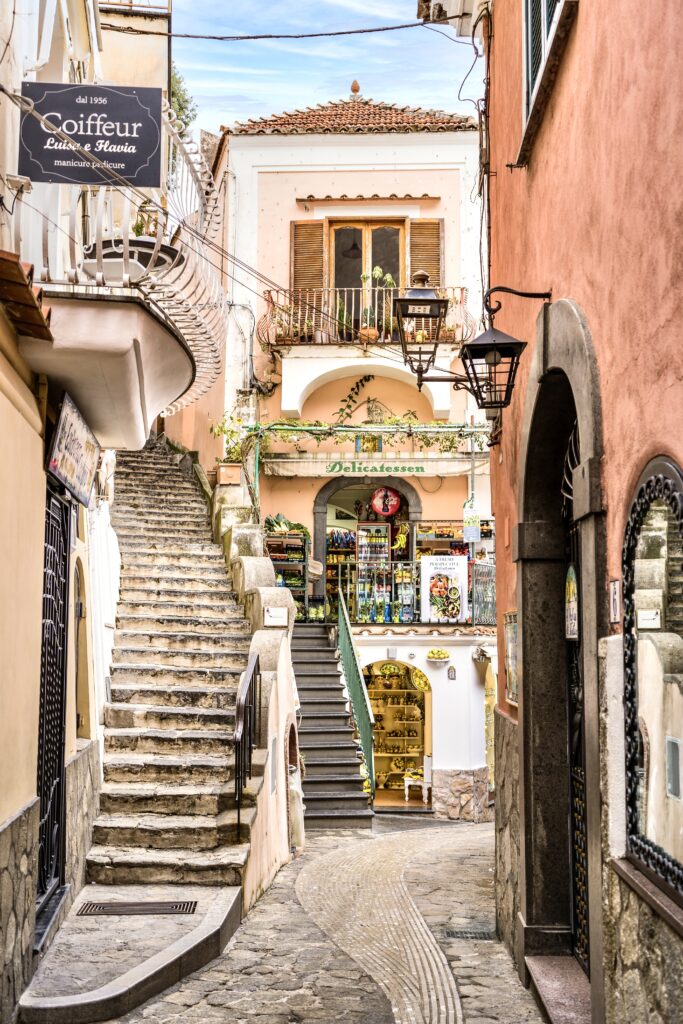 On day 4, either day trip to Positano from Sorrento or move there as your next base. You can taxi, ferry, or book a private transfer to Positano.
Most people consider Positano the most picturesque of the vast array of picturesque spots on the Amalfi Coast.
Positano is a famed coastal town known for its pastel colored villas that cling to the cliffs. It's chock full of impossibly cute and colorful shops and eateries.
From the marina, the main drag is Via Mulini. There is deliciously little to do in Positano, so just surrender to the astonishing sights and senses. But do pop into Santa Maria Assunta, known for its majolica-covered dome.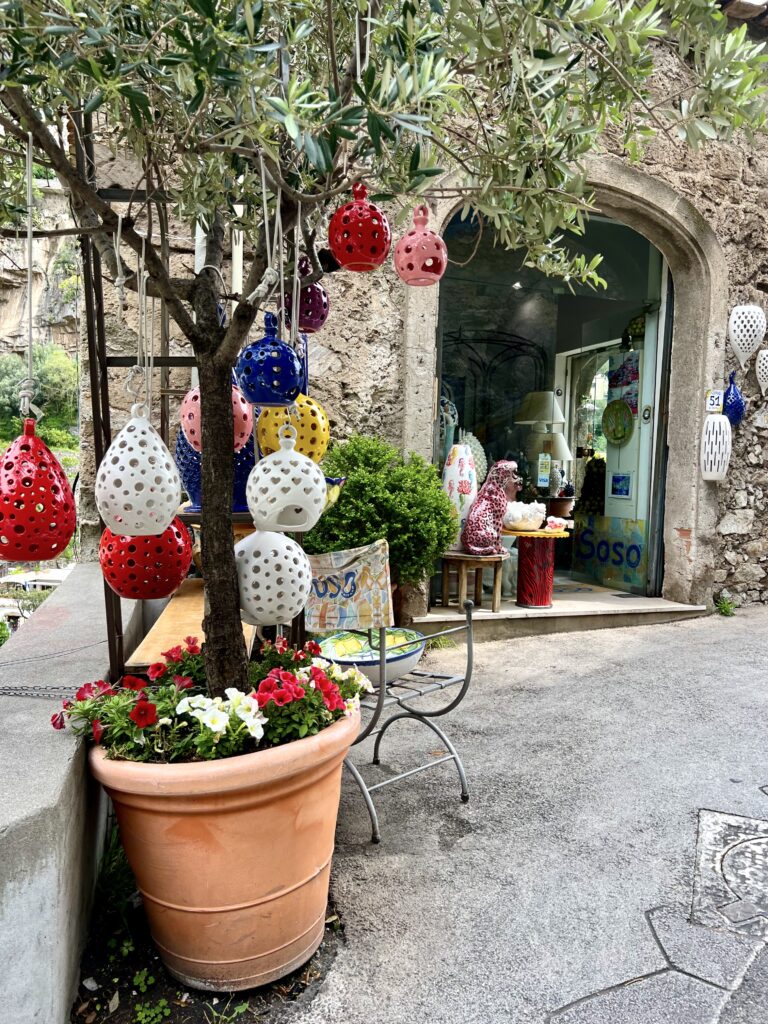 As you arrive at Piazza Mulini, turn right onto the charming Via Christoforo Colombo. Here, you'll be greeted by a delightful array of shops and eateries. Be sure to pause and savor the classic views of Positano.
Venture to the other side of town by following Via Pasitea. Along this quaint street, you'll discover even more shops, inviting cafes, and panoramic vistas that will take your breath away. Don't miss the opportunity to visit the lovely church of Santa Caterina.
For dinner, treat yourself to a truly unforgettable dining experience with breathtaking cliffside views. Options include La Sponda at La Sirenuse Hotel, La Terrace in Hotel Eden Roc, Maestro's in Villa Treville, or Il Tridente at Hotel Poseidon.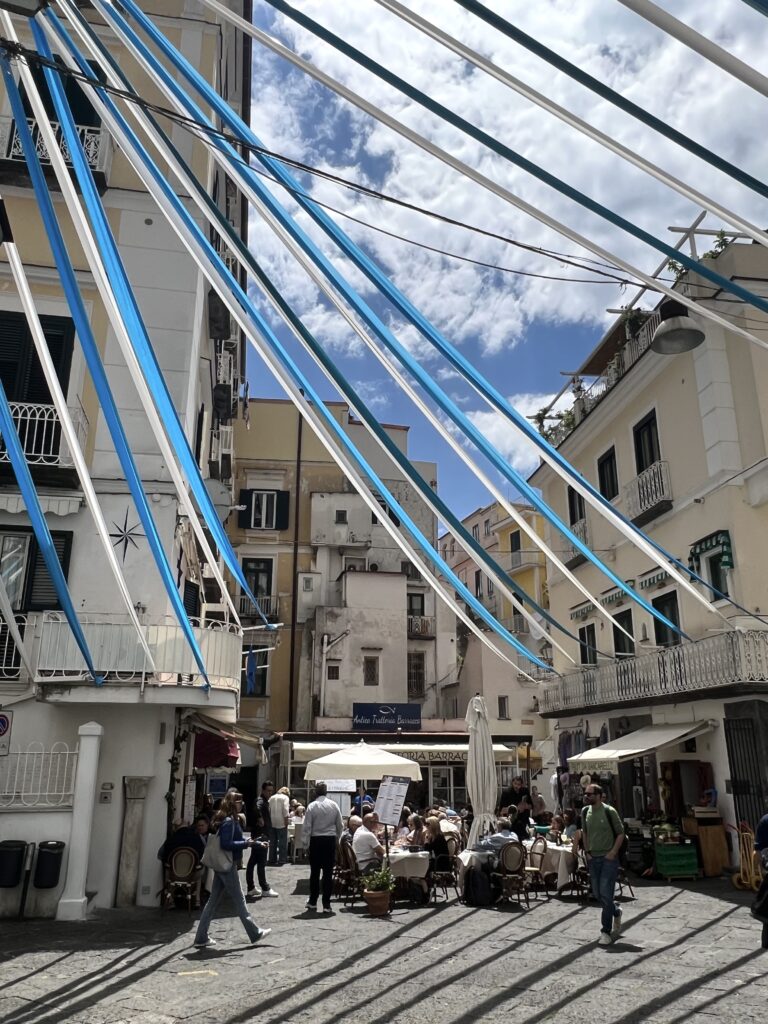 On day 5, visit the towns of Amalfi and Ravello. If you are staying in Sorrento, you can book a guided tour of both towns. Or you can take the ferry.
From Amalfi's marina, head through the arch to the Piazza Duomo. It's the bustling square that's the heart of Amalfi town.
The square is dominated by Amalfi Cathedral. The church is a striking example of Arab-Norman architecture.
A steep flight of stairs leads to a loggia with Moorish arches and a facade inlaid with mosaics. Inside, you can visit the church itself, the Cloister of Paradise, a crypt, and the Diocesan Museum.
Be sure to wander the back streets and "ancient staircases" of Amalfi town. Grab a bit to eat at one of Amalfi's many fine trattoria or grab a panino to go. Then, it's time to head to Ravello for the second half of your day.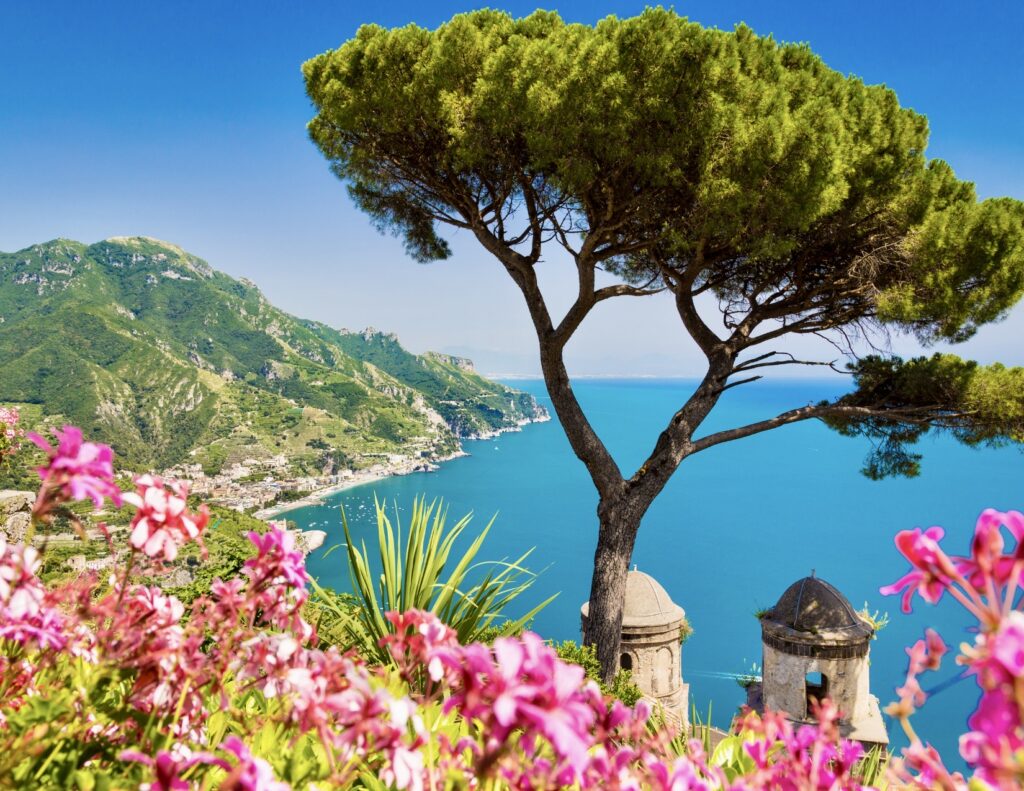 You can get to Ravello by hiking (up the steep staircases of the Ravello Challenge) or you can take a bus or taxi.
Ravello is a charming hilltop village with drop dead gorgeous views at every turn. It's known as the "Aristocrat of the Amalfi Coast" and was my favorite place on the Amalfi Coast. Perhaps because it was a bit quieter than a seemingly Disney-like Positano.
Aside from the best panoramas imaginable, Ravello is home to two must visit medieval villas: Villa Rufolo and Villa Cimbrone.
Villa Rufolo is in the main square next to the Duomo. The villa was built in the Moorish style. It has magnificent gardens that inspired Richard Wagner's Parsifal opera. From the aptly named Wagner Terrace, you'll have magnificent views of the coastline.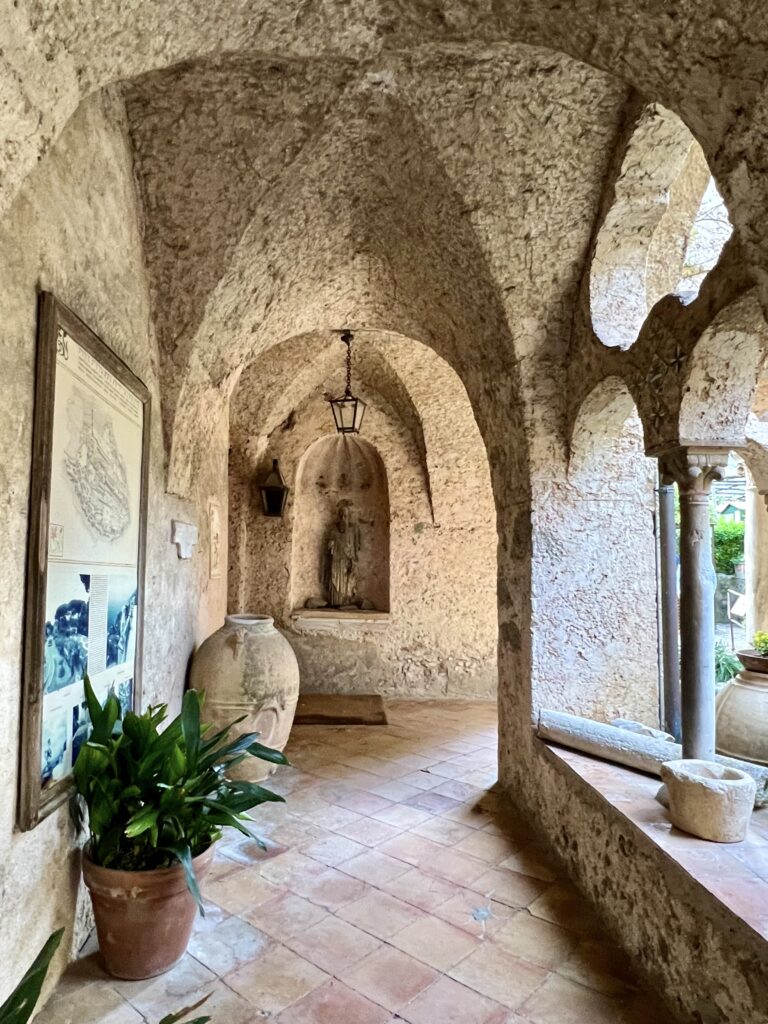 Villa Cimbrone may be even more impressive. The villa is now a 5 star hotel, but the grounds are open to the public and you'll definitely want to explore them.
On a walk, you'll see rose gardens, wisteria pergolas, romantically crumbling follies, and ancient statuary. Your visit is topped off by stepping onto the Terrace of Infinity.
It's a sweeping belvedere lined with 18th century busts. It boasts oh-my-god views of the azure sea and the Amalfi Coast. It will be hard to pull yourself away, I promise.
For more information about visiting Ravello, you can check out my 2 days in Ravello itinerary.
Option 2: Sorrento Base + Capri For 5 Days In Amalfi Coast
Day 1: Naples
Day 2: Sorrento
Day 3: Day trip to Pompeii & Vesuvius
Day 4: Day trip To Capri
Day 5: Day trip to Amalfi & Ravello
Bases: Naples and Sorrento
For this itinerary, you can spend one day in Naples and then base yourself in Sorrento for the duration of your 5 days in the Amalfi Coast. This itinerary is for those who want easy transportation options.
For days 1-3 & 5, you can follow the itineraries set for above in Option 1. The only difference is that it assumes you will stay in Sorrento and day trip from there.
From Sorrento, you can book a guided tour to Pompeii and Mt. Vesuvius, a guided day tour to Capri, and a guided tour to Amalfi town and Ravello. You can also use the ferry or a private driver to get there.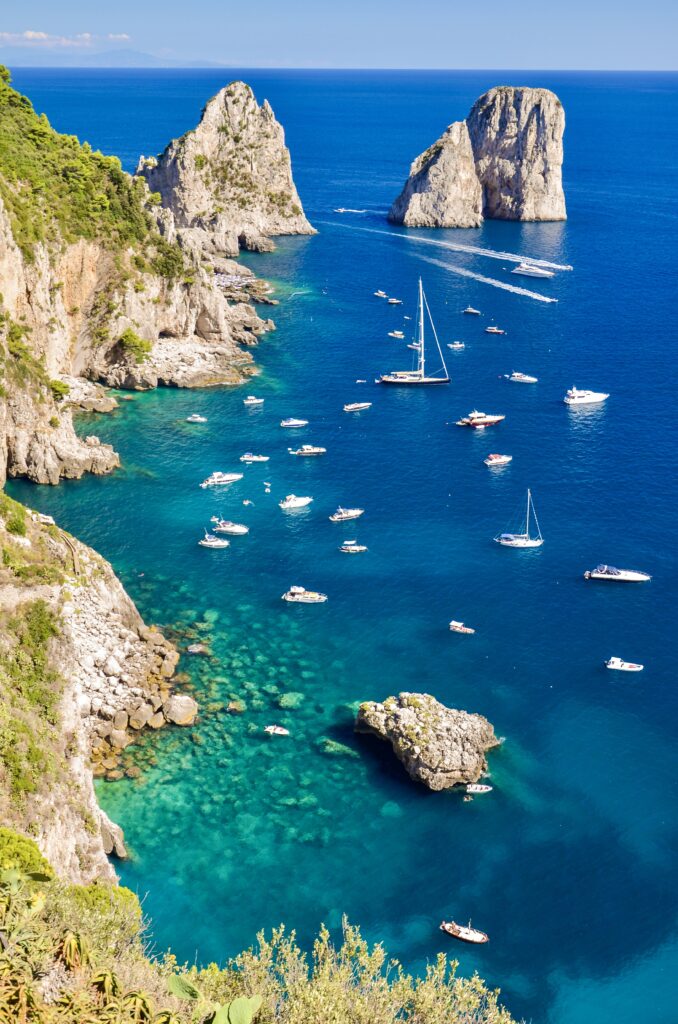 The new stop on this option for a 5 days in the Amalfi Coast itinerary is Capri. It's one of the Mediterranean's most dazzling and alluring islands.
With its soaring cliffs, sparkling emerald waters, charming whitewashed towns, and historic landmarks, Capri has captivated the hearts of visitors for centuries, from Roman emperors to modern-day celebrities.
It's a destination that exudes glamour and will leave you star-struck.
Kickstart your day by taking a leisurely stroll through the immaculate streets of Capri Town, the island's main village. The central hub of the town is Piazza Umberto I, referred to as the Piazzetta.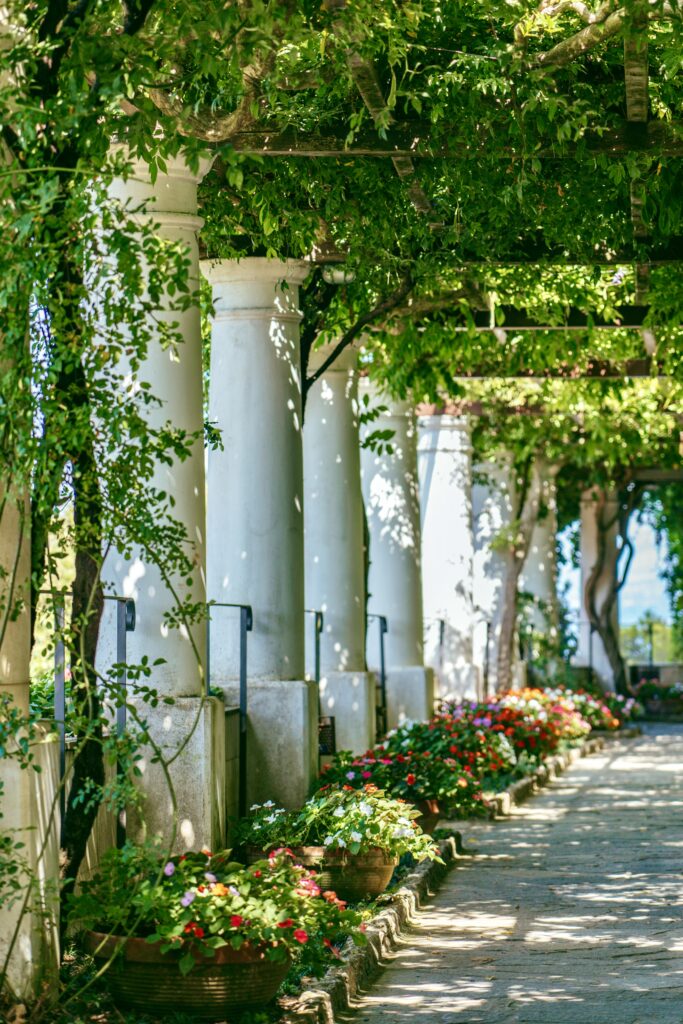 This vibrant square serves as a meeting point and offers a plethora of charming cafes, restaurants, and boutique shops. If you're in the mood for some retail therapy, make your way to Via Camerelle, Capri's elegant shopping street.
There are plenty of things to do in Capri. You can take a hike to Villa Jovis, the ruins of what was once Emperor Tiberius' sprawling villa.
You can visit Villa San Michele, a beautifully preserved villa with statuary, gardens, and views.
Or you can take the chairlift from Anacapri to the summit of Mount Solaro. This is the highest place on the island and the views are incredible.
Option 3: Quieter 5 Day Amalfi Coast Itinerary
Day 1: Naples
Day 2: Capri, Anacapri
Day 3: Capri
Day 4: Ravello
Day 5: Ravello, visit Amalfi & Atrani
Bases: Anacapri and Ravello
You can follow the itineraries listed above for each day in this itinerary. What makes it different is where you'll stay, i.e., outside the tourist throngs.
In Capri, I opted to stay at the Hotel Caesar Augustus outside Anacapri, which is the island's other town. It's much quieter than Capri Town. The views from the hotel were stunning and it made for a serene and less touristy visit.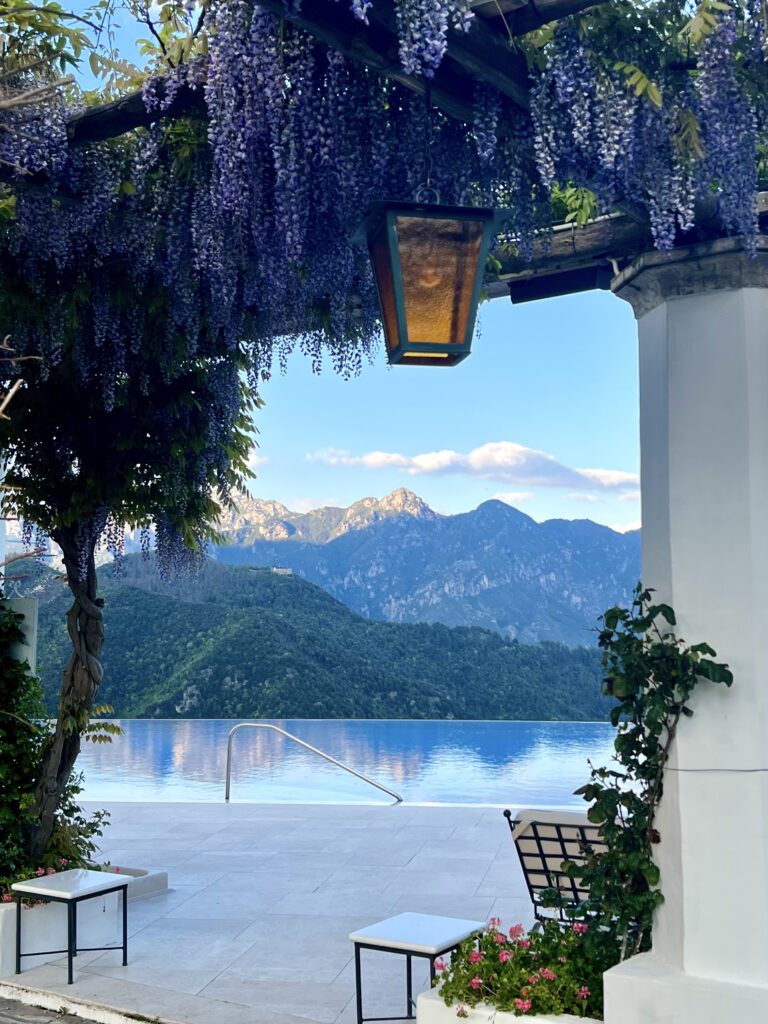 As I mentioned above, Ravello is also a quieter place in Amalfi, especially at night when the day trippers have left.
It's not nearly as crowded and teeming as Positano or Amalfi town. You can have a peaceful break from the chaos.
From Ravello, it's fairly easy to visit Amalfi, Positano, and Atrani by taxi, bus, or hiking. I haven't mentioned Atrani yet.
It's a lovely town just 10 minutes from Amalfi town, which you can combine on a visit to Amalfi. With its colorful buildings, narrow streets, and breathtaking views of the sea, Atrani offers a peaceful and authentic Italian coastal experience away from the crowds.
Option 4: Sorrento & Positano 5 Days In Amalfi Coast Itinerary
Day 1: Sorrento
Day 2: Day Trip To Pompeii
Day 3: Positano
Day 4: Positano
Day 5: Amalfi & Ravello
Bases: Sorrento and Positano
This 5 days in the Amalfi Coast itinerary has you visiting many of the same spots I've discussed above.
But it skips over Naples and uses Sorrento and Positano as bases. So, this is a good 5 days in the Amalfi Coast itinerary or people who don't like big cities.
From Sorrento, you can book a guided tour to Pompeii that includes a wine tasting. You can also ferry to Amalfi and Ravello. Or, you can book a guided tour from Positano to see both towns.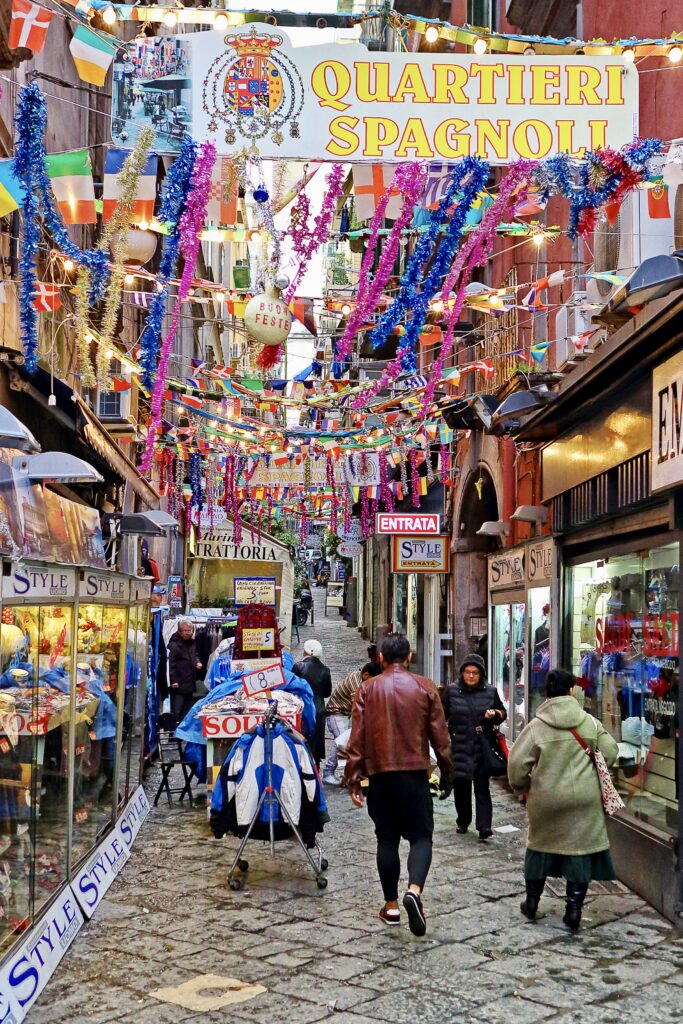 Option 5: History Buff's 5 Days In Amalfi Coast Itinerary
Day 1: Naples
Day 2: Naples
Day 3: Pompeii & Herculaneum
Day 4: Amalfi, Positano & Ravello day tour
Day 5: Paestum
Bases: Naples and Sorrento
This 5 days in Amalfi itinerary is designed for history buffs. There's a concentration of historic sites and ancient ruins.
On day 1, you can follow my one day in Naples itinerary above in Option 1.
On day 2, you can take a deeper dive into the historic sites of Naples. History buffs can visit Naples Underground and/or the Catacombs of San Gennaro.
Naples Sotterranea is an intriguing underground network of tunnels, caves, and passages that lies beneath the city's surface. You descend over 130 feet underground via a series of steps that lead you into the depths of an ancient Greco-Roman aqueduct.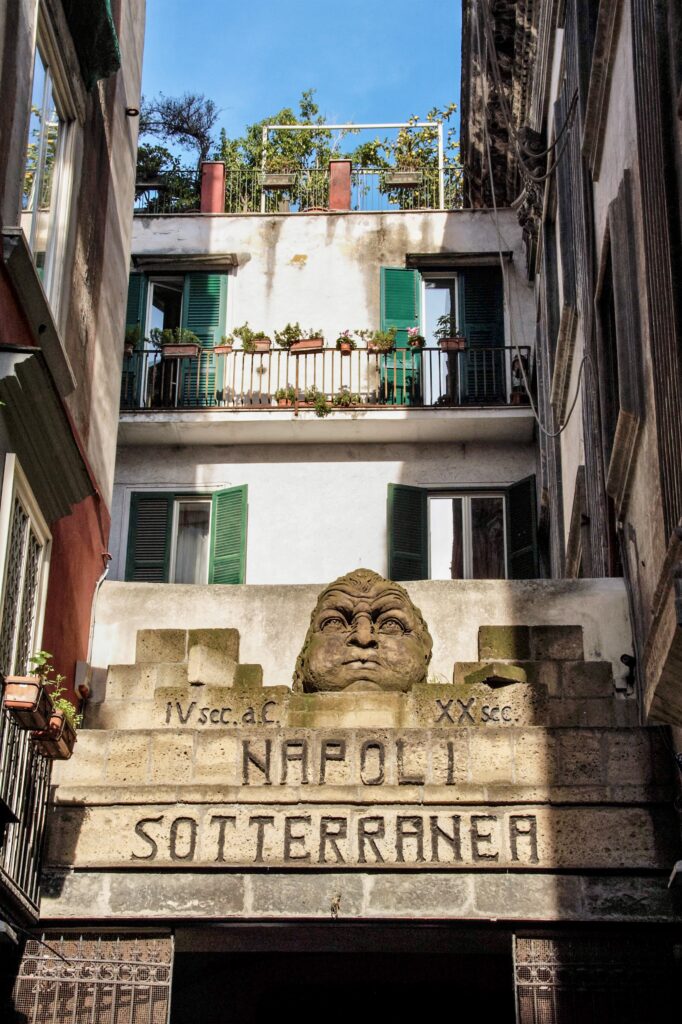 On a guided tour, you'll delve into the secrets and stories of Naples' underground world. You can explore a remarkable Roman Theater, cisterns, tunnels, pagan burial chambers, Christian catacombs, and a wealth of archaeological artifacts that offer fascinating insights into the city's past.
You'll want to pre-book a skip the line timed entry ticket and 90 minute guided tour.
The Catacombs of San Gennaro are an ancient underground burial site located in northern Naples. They're the most important catacombs in southern Italy. The catacombs were used in the early Christian period from the 2nd century A.D. to the 5th century A.D.
The catacombs are named after Saint Gennaro, the patron saint of Naples. He was buried in the catacombs in the 5th century. You'll see various kind of tombs and some beautifully restored ancient frescos.
It's best to pre-book a timed entry ticket in advance. There are tours in English and Italian.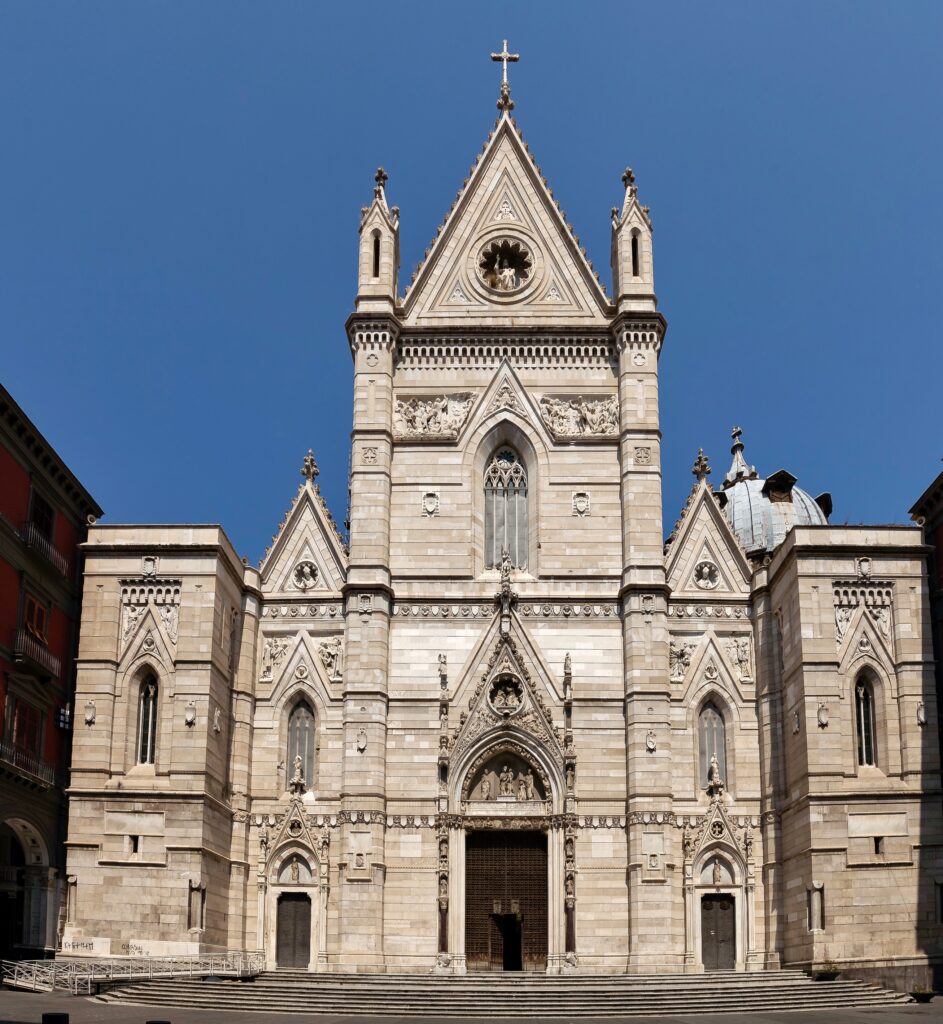 If you want to know more about Sam Gennaro, you should also pay a visit to the Duomo di Napoli, also known as the Cathedral of San Gennaro.
Despite its Neo-Gothic facade, the cathedral is a temple to Baroque excess. Its main attractions are the Chapel of San Gennaro, the Crypt of San Gennaro, and the Treasury Museum.
The cathedral is free to visit, but you'll need a ticket for the treasury museum. Click here to pre-book a ticket. You can also book a combination ticket for both the Treasury Museum and the Catacombs of San Gennaro.
End your second day in Naples by taking the funicular up to the Castel Sant'Elmo. From the castle's elevated position, you'll be treated to sweeping vistas.
This is where you can get the classic Naples phot snap. Click here to book a skip the line ticket for the castle.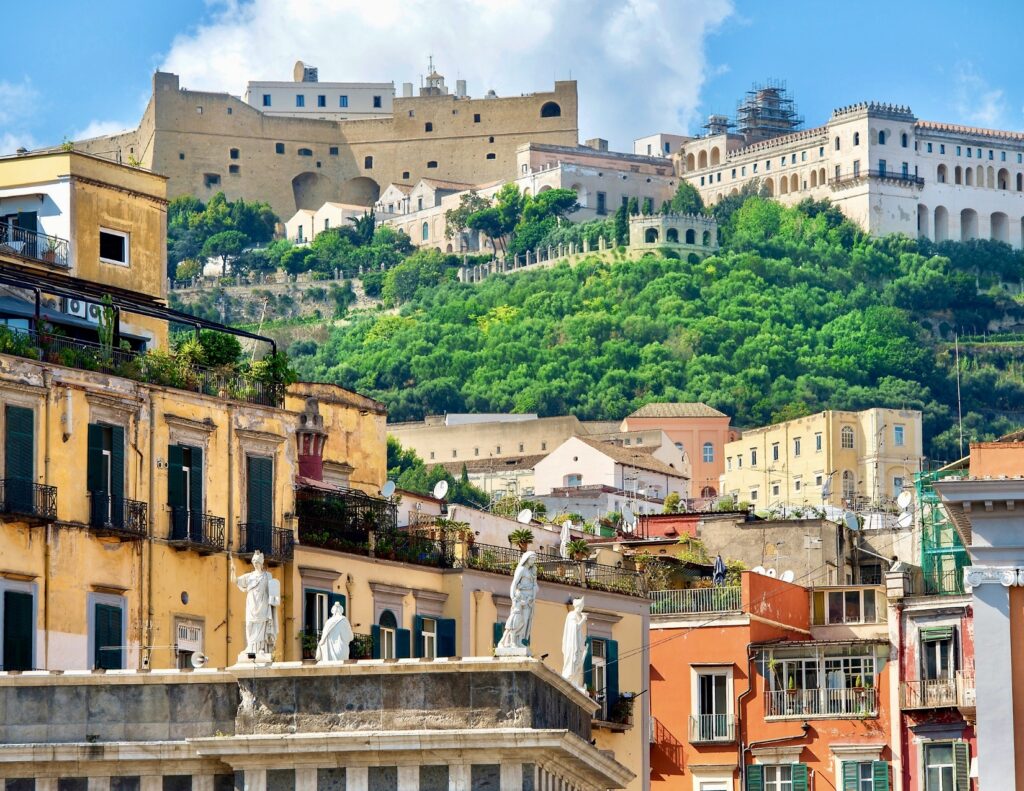 Next to the castle is the Certosa di San Martino, another attraction for history buffs. The certosa di San Martino is a colossal monastery renowned for its magnificent church and impressive collections of Baroque artistic and presipi (Christmas creches).
The Great Cloister is a sublime architectural marvel. It showcases a captivating ensemble of 64 Tuscan-Doric columns, adorned with marble statues. There's also a balustrade of skulls, overlooking a solemn monks' graveyard.
And if that's not enough, a visit to the belvedere rewards you with splendid panoramic views, allowing you to soak in the breathtaking vistas of the surrounding landscape.
On day 3, you can take a day trip from Naples to Pompeii or a full day trip to both Pompeii and Herculaneum.
I've described Pompeii above. But history buffs will also want to visit Herculaneum. They're both large and complicated sites. So, unless you're an expert or prefer to do a DY visit, I'd recommend booking a guided tour.
Like Pompeii, Herculaneum is a UNSCO site that was destroyed by Vesuvius. Greek settlers likely founded it in the 4th century B.C.
The excavated area is arranged on a grid of 11 blocks. You'll find well-preserved buildings, stunning mosaics, and captivating frescoes that offer a vivid depiction of daily life in ancient Rome.
Highlights include the House of the Neptune and Amphitrite, House of the Deer, and the House of the Stags. As in Pompeii, you'll also find baths, a palestra (gymnasium), taverns, and fast food joints.
You can also see the Villa Papiri. It takes its name from the carbonized papyrus scrolls found here in the 18th century.
The villa was owned by the wealthy Roman consul Lucius Calpurnius Piso Caesonius. He was the father-in-law of Julius Caesar.
One day 5, head to the awe-inspiring UNESCO site of Paestum. It's an underrated gem nestled along the Tyrrhenian Sea. This remarkable archaeological site boasts some of the finest and best-preserved examples of ancient Greek architecture found outside of Greece itself.
In ancient times, the city was known as Poseidonia. Its Doric temples dedicated to Hera, Neptune, and Ceres are well-preserved testaments to the past.
Don't miss the opportunity to delve deeper into the site's fascinating heritage at the Paestum National Archaeological Museum. Here, you'll encounter a treasure trove of captivating artifacts and smaller discoveries.
They shed light on the everyday lives and customs of Paestum's ancient inhabitants. In fact, you may want to visit the museum first.
You can get to Paestum on a guided tour from Positano or a guided tour from Sorrento.
Option 6: Hiker's Dream 5 Days In Amalfi Coast Itinerary
Day 1: Sorrento
Day 2: Capri
Day 3: Capri
Day 4: Ravello
Day 5: Ravello
Bases: Sorrento, Capri, Ravello
I've described the towns in this 5 days in the Amalfi Coast itinerary. But I thought I would list some of the hikes you can take using this 5 day Amalfi Coast itinerary option.
Sorrento:
The Sorrento Peninsula Walk is a coastal trail that takes you along the scenic cliffs of the Sorrento Peninsula. It offers up panoramic views of the Gulf of Naples.
Starting from Sorrento, you can follow the coastline towards Marina Grande, passing through charming fishing villages, olive groves, and lemon orchards. The walk allows you to appreciate the natural beauty of the area and enjoy the tranquil atmosphere.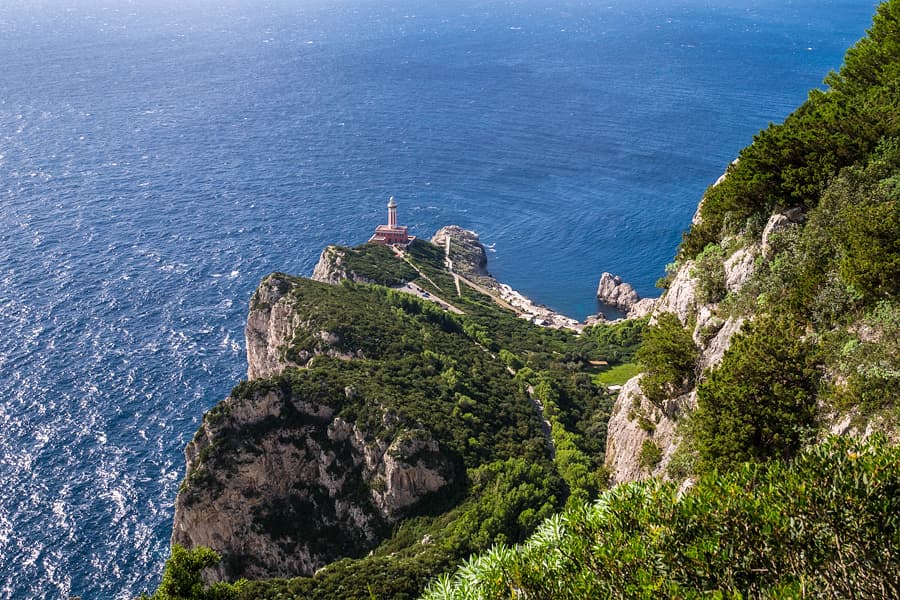 Capri
Capri offers some of the best hiking on the Amalfi Coast. As I mentioned above, you can hike to the Villa Jovis. The trail is an easy one, extending rom Capri Town to the Villa Jovis and looping back.
You can also hike the coastal trail. It takes you to the Arco Natural, the Grotta di Matermania, and the Belvedere di Tragara. There are beautiful views along the way.
Another classic hike is to hike to the summit of Mount Solaro. It's not a terribly rigorous hike, but is steep in some patches. You can also take a chairlift up to the top and hike back down.
You can also hike from Anacapri to the Blue Grotto. Walk down Via Pagliaro then Via Grotta Azzurra. Descend the steps to the cave entrance and join the queue for boatmen.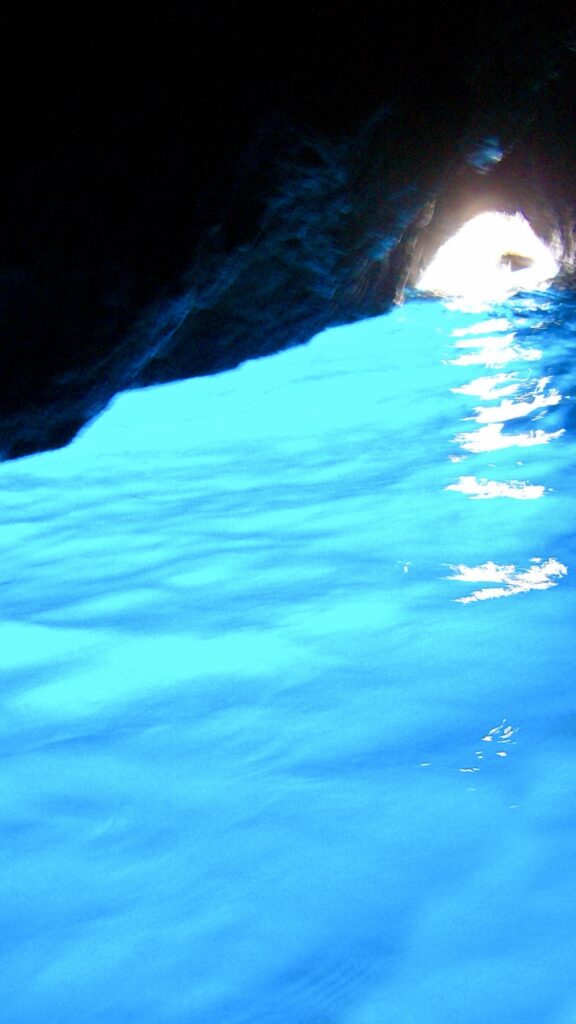 Another great hike is from Anacapri to either the Belvedere della Migliara or the Belvedere dei Filosofi lookout points.
The Migliara lookout is located on the western side of the island and can be reached via a 2.2-mile roundtrip hike from Anacapri.
As you make your way along the trail, you'll be treated to an expansive vista of an azure sea, rugged cliffs, and the charming towns that dot the coastline. The view from Belvedere is especially pretty at sunset.
The Philosopher's Viewpoint is a lookout is situated just above Belvedere Migliara. It also offers the same uninterrupted panoramic views of the surrounding landscape.
Alternative:
If you just can't miss the Path of the Gods hike, spend one less day in Ravello and base in Positano that night instead.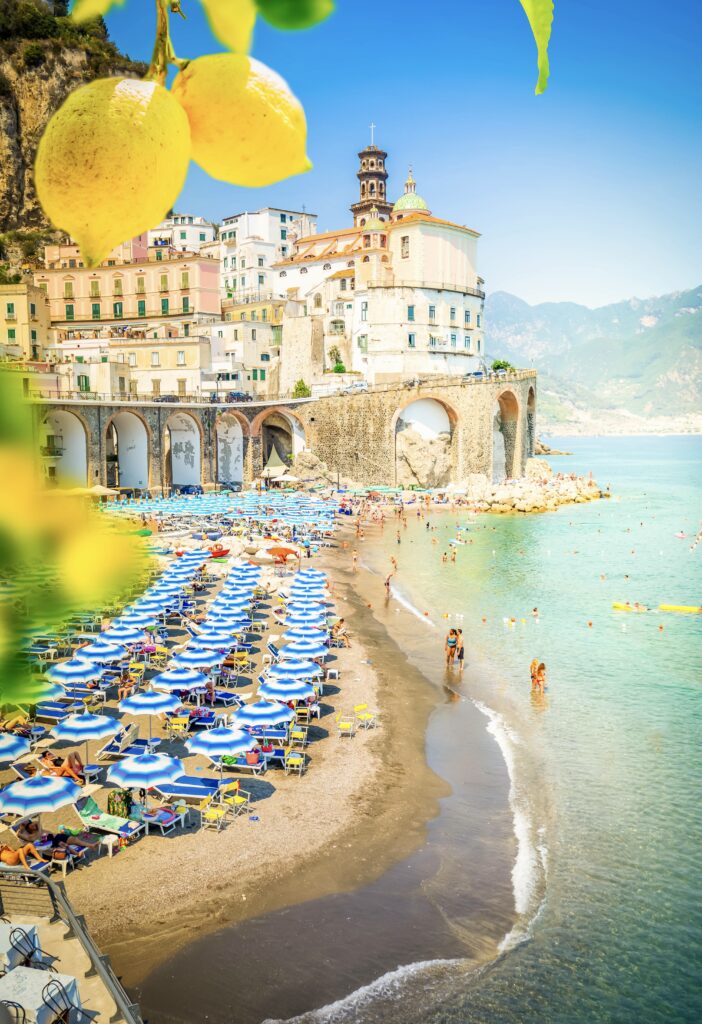 Ravello
One popular hike from Ravello is the Valle delle Ferriere, also known as the Valley of the Mills. This trail goes from Ravello to Amalfi.
It takes you through lush vegetation and past wildflowers, waterfalls, and ancient ruins. It's an easy meandering trail.
To get back to Ravello, you can take that trail back or hike back up the Ravello Challenge. It's a path of over 1,000 vertical steps cut into the hillside. It takes you through the town of Atrani and labyrinthian lanes, with outstanding views along the way.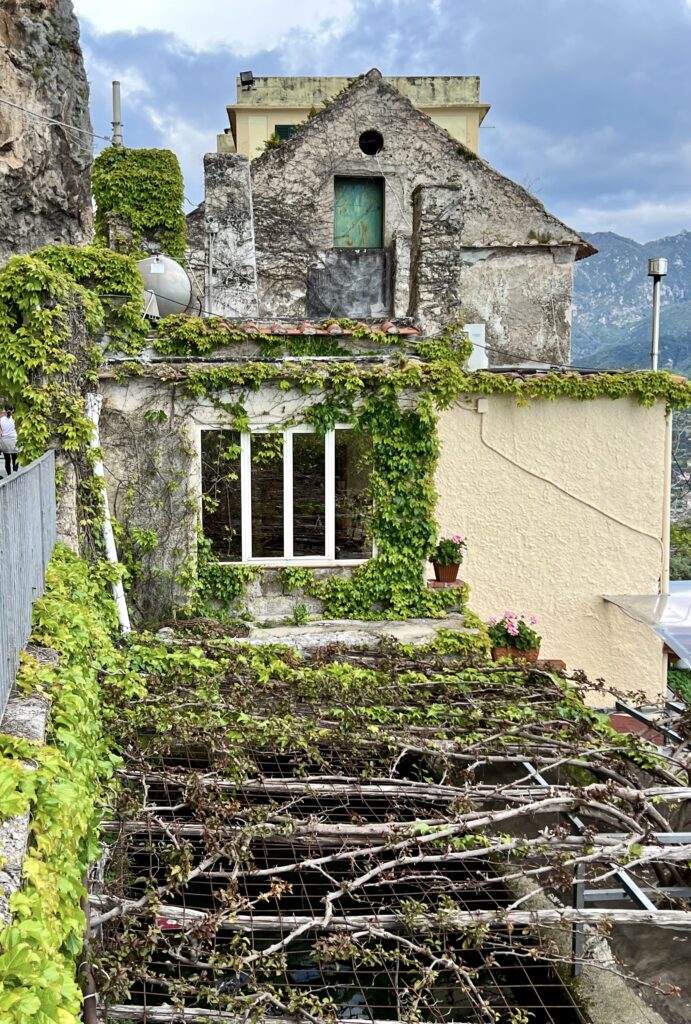 Option 7: Hidden Gems 5 Days In Amalfi Coast Itinerary
If you've hit the hotspots in the Amalfi Coast before, maybe you'd like to spend 5 days in Amalfi exploring some hidden gems.
If so, this is a possible 5 day Amalfi itinerary you could follow:
Day 1: Arrive in Salerno, head to Vietri Sur Mare
Day 2: Praiano, Emerald Grotto
Day 3: Furore
Day 4: Maiori and Minori
Day 5: Cetara
Bases: Vietri Sur Mare and/or Praiano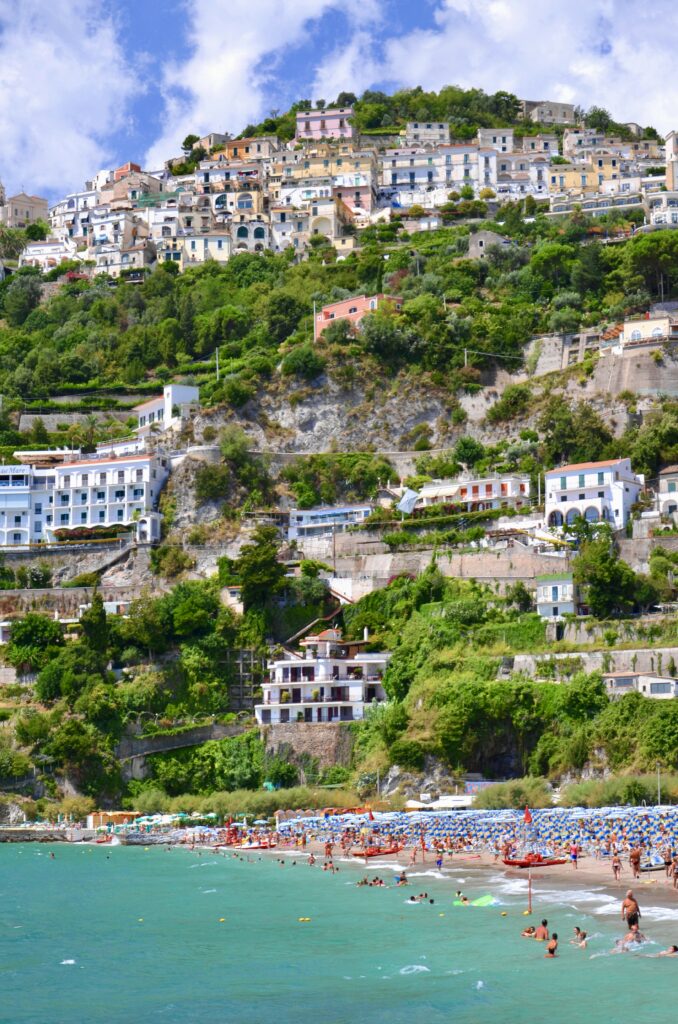 From Salerno, head to the hidden gem of Vietri Sul Mare. From Salerno's train station or port, you can take a taxi or book a private transfer.
Vietri sur Mare is a charming town that still retains its authentic allure. Renowned for its multitude of ceramic shops, Vietri Sul Mare is a haven for ceramic enthusiasts and art lovers alike.
While exploring the town, make sure to visit the Museo Della Ceramica Vietrese. There, you can delve into the fascinating world of traditional ceramics.
As you wander through the town's enchanting streets, don't miss the opportunity to visit the lovely cathedral. Vietri Sul Mare also boasts a stunning beach called Spiaggia Della Crestarella. You can relax and and bask in the beauty of the coastal scenery.
On day 2, day trip to or overnight in Praiano. It's a picturesque town located between Positano and Amalfi.
Known for its tranquil atmosphere and stunning views, Praiano offers a more relaxed and authentic experience compared to its bustling neighbors.
Take a leisurely stroll through the town's narrow streets, adorned with colorful houses and fragrant bougainvillea. Visit the beautiful Church of San Gennaro, a local landmark.
Praiano is also known for its stunning sunsets, so be sure to find a spot along the cliffs or at a seaside restaurant to witness the colorful show.
From Praiano, you can visit the enchanting Emerald Cave, the Grotta dello Smeraldo, in Conca dei Marini.
It's a natural sea cave with its emerald-green waters and unique geological formations. Admire the colors and learn about the cave's fascinating natural formations during a guided tour.
To reach the Emerald Cave from Praiano, you can take a boat tour or hire a local boat taxi.
After visiting the grotto, head to one of the Amalfi Coast's picturesque beaches. Choose between popular spots like Amalfi Beach, Marina di Praia, or Atrani Beach. Relax, swim, and soak up the sun amidst the stunning coastal scenery.
Furore is another charming town in Amalfi. Its picturesque setting, with colorful houses perched on the cliffs, creates a postcard-worthy view.
The town is known for its unique natural feature called the Fjord of Furore. The fjord is a deep gorge with towering cliffs that plunge dramatically into the crystal-clear waters below.
The fjord is surrounded by rugged coastal scenery, creating a dramatic backdrop. You access the fjord via a narrow road that winds down to the water's edge. It's an ideal spot for swimming and sunbathing.
Furore is also known for its annual event, the Furore Wine Festival in early August. Visitors can sample local wines and immerse themselves in the region's rich viticultural heritage.
The lesser-known towns of Maiori and Minori are linked by the scenic Path of the Lemons. It's a moderate hike among lemon groves, without any exposed sheer drops.
The town of Maiori boasts a beautiful stretch of sandy beach and a charming palm-lined promenade. Indulge in a delicious pastry at Pasticceria Napoli and don't miss the lemon-colored Church of Santa Maria a Mare.
The quaint town of Minori also has a lovely beach. Its promenade and narrow streets are filled with small shops selling local handicrafts, ceramics, and limoncello.
Minori is also home to an archaeological gem, the Villa Romana. This ancient Roman villa, dating back to the 1st century A.D., was discovered in the 1930s and partially excavated.
You can explore its fascinating remains. They include intricate mosaic floors, well-preserved frescoes, and impressive thermal baths. Villa Romana provides a captivating glimpse into the opulent lifestyle of ancient Romans.
Polish off your 5 days in the Amalfi Coast with a visit to Cetara. It's a captivating little fishing village known for its authentic charm and rich maritime heritage. It offers a peaceful and laid-back atmosphere, making it a perfect escape for those seeking a tranquil coastal getaway.
Cetara has pretty pastel houses and a picturesque harbor that's a bustling hub of fishing activity. Naturally, the town is known for having amazingly fresh seafood.
Beyond its fishing heritage, Cetara is also renowned for its production of traditional anchovy sauce, known as colatura di alici. This prized condiment is made from fermented anchovies and adds a distinct umami flavor to a variety of dishes.
Visitors can explore the local shops and artisanal workshops. You can learn about the traditional methods of colatura di alici production and even purchase this culinary delight to take home.
This guided kayak tour takes you to Cetara, where you can swim, snorkle, and sunbathe.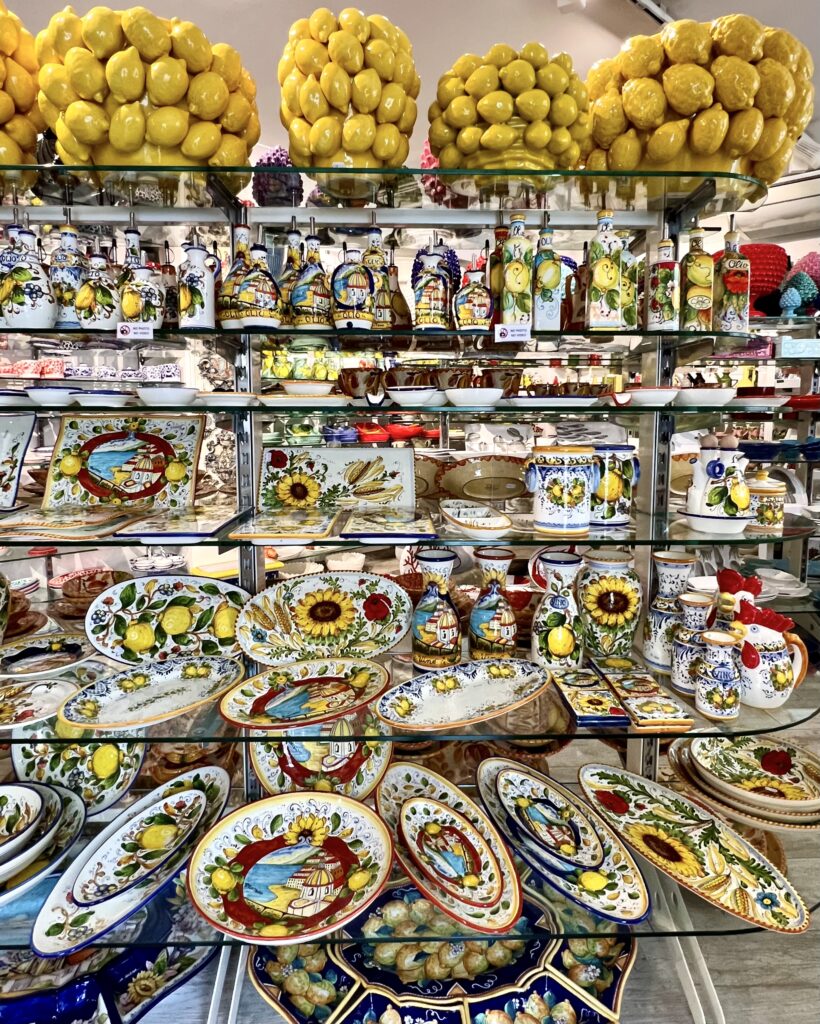 Tips For Spending 5 Days In The Amalfi Coast
Here are some must know tips for your 5 day Amalfi Coast itineraries.
1. Where Is The Amalfi Coast
The Amalfi Coast is a stunning stretch of coastline located in the Campania region of Italy. It lies on the southern side of the Sorrento Peninsula, overlooking the Gulf of Salerno in the Tyrrhenian Sea. The coast extends for approximately 31 miles.
2. How To Get To The Amalfi Coast
The closest international airport is Naples International Airport Capodichino. But you can also fly into Rome's Fiumicino Airport.
From Naples airport, you can take a taxi or book a private transfer to your hotel.
You can also book a private transfer from Rome or take the train from Rome to Naples. From the airport, the Leonardo Express takes you to Rome Termini, the main train station.
Naples also has a major train station that's well connected to other cities, Napoli Centrale. You can take the Circumvesuviana train from Naples Central to Sorrento (roughly one hour ride) or to Salerno.
But the train does not run to the Amalfi Coast towns. So, you will need to taxi, bus, or ferry to your final destination.
From Naples, you can also take the ferry, a hydrofoil, or a private transfer by speedboat to get to your next destination.
3. How To Get Around The Amalfi Coast
There are various transportation options for navigating the Amalfi Coast.
The SITA bus service is a popular choice for getting around. It connects the main towns and villages, providing a convenient and affordable way to explore the area.
Keep in mind that buses can become crowded, especially during the high season. So be prepared for queues and consider traveling during off-peak hours if possible. Don't forget to validate your ticket once you board the bus.
If you prefer a more picturesque journey, ferry services are available that connect the major towns like Positano and Amalfi.
For those seeking convenience and flexibility, taxis are readily available throughout the Amalfi Coast. You may need to reserve one in advance.
If you're comfortable behind the wheel, renting a car gives you the freedom to explore at your own pace and venture off the beaten path. However, the Amalfi Coast can be challenging, to say the least.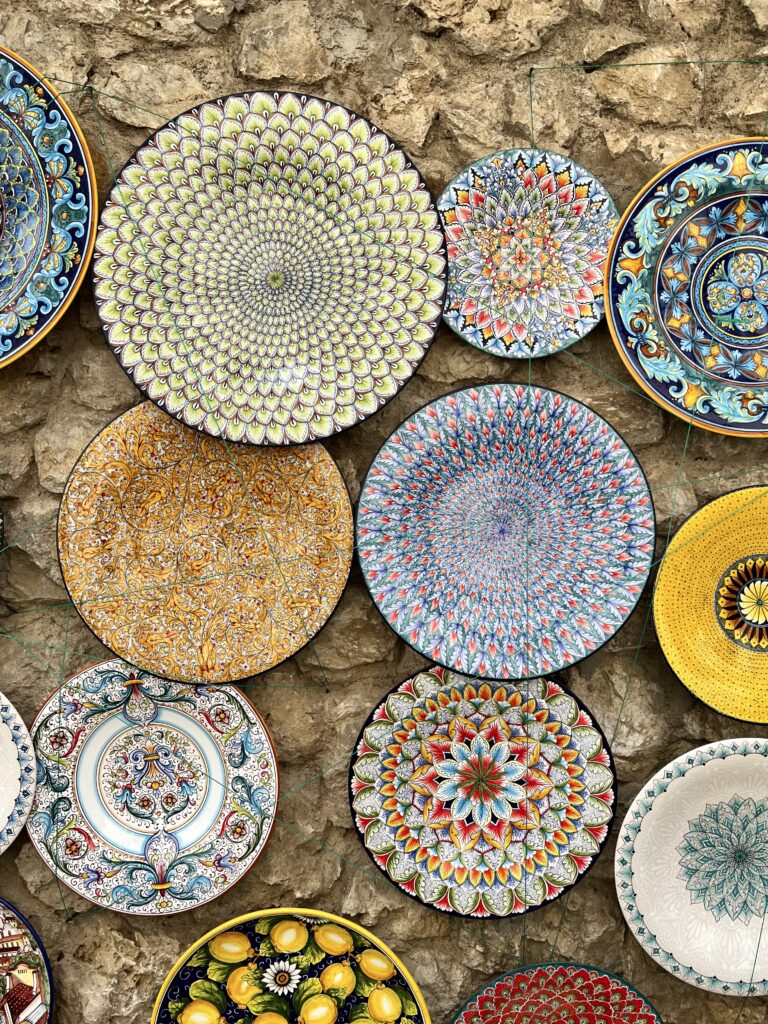 The roads are narrow and often have hairpin turns and switchbacks. Parking can also be limited and expensive in some areas.
I didn't drive in the Amalfi Coast, although I've road tripped a lot around Italy. It just seemed too terrifying to me. I used a combination of ferries, transfers, and shuttles.
You can also hire a driver.
4. When To Visit The Amalfi Coast
The ideal time to visit the Amalfi Coast depends on your weather preferences and tolerance for crowds.
For a delightful experience with favorable conditions, spring (April/May) and fall (September/October) are often considered the best seasons to explore this breathtaking region. I've visited during both seasons.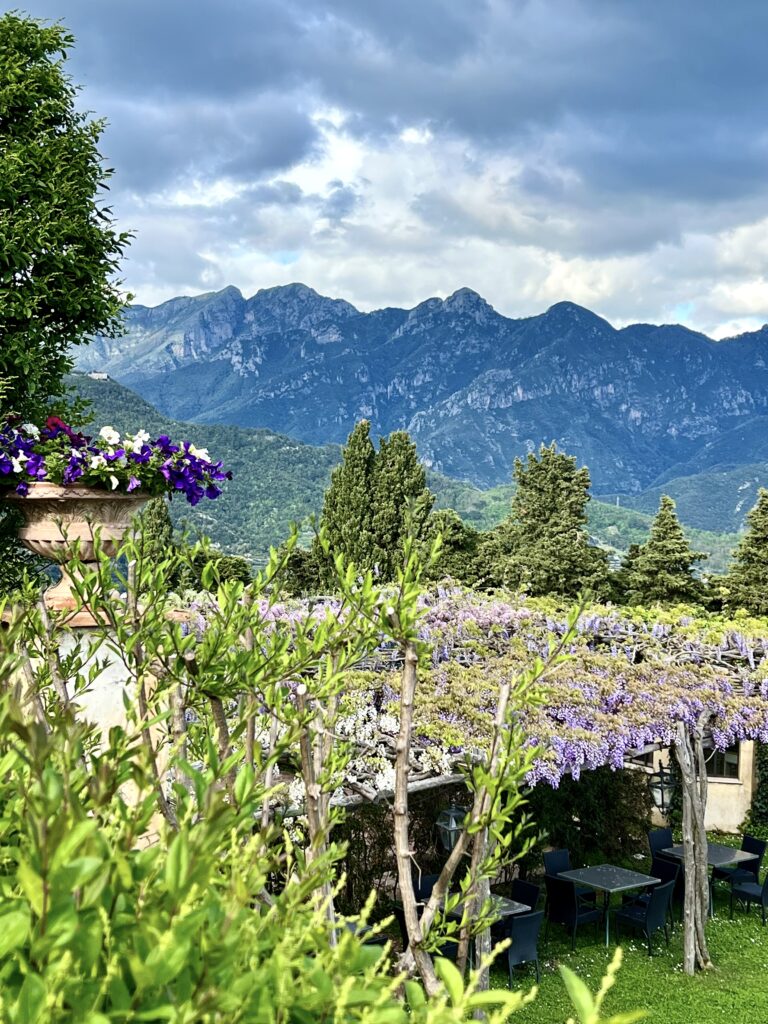 In late spring, the Amalfi Coast truly comes alive. The gardens and lush and the wisteria is in full splendor.
However, keep in mind that April may bring occasional showers, so packing a light raincoat or umbrella is advisable if you visit then.
In October, the crowds ebb and the weather is still delightfully mild. The downside is that some of the beach clubs close down, especially later in the month. So, if relaxing on the beach is a priority for you, you should choose September.
Summer is a the most popular season, which means you should be prepared for significant crowds and hot days.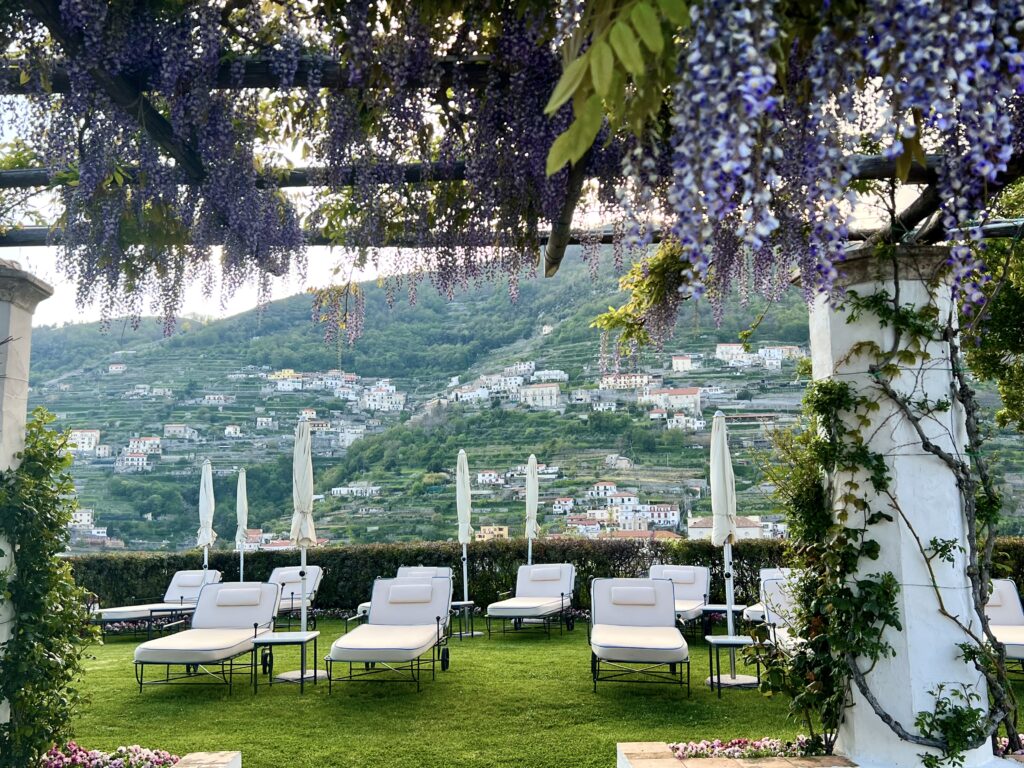 5. Where To Stay In The Amalfi Coast
Where you stay on the Amalfi Coast largely depends on which 5 day Amalfi itinerary you choose and your tolerance for moving around.
You could pick just one base. Or, you can move around a couple times to try to see more.
Many visitors choose between staying in Sorrento or directly on the Amalfi Coast. Some opt for a combination of both.
Sorrento is as an ideal base for exploring many of Italy's most enchanting destinations. The town has excellent connectivity to Rome, Naples, Pompeii, and the Amalfi Coast. So, getting to and from Sorrento is a breeze using public transportation.
One of the perks of choosing Sorrento as your hub is that there are more budget-friendly accommodations compared to the pricier options along the Amalfi Coast.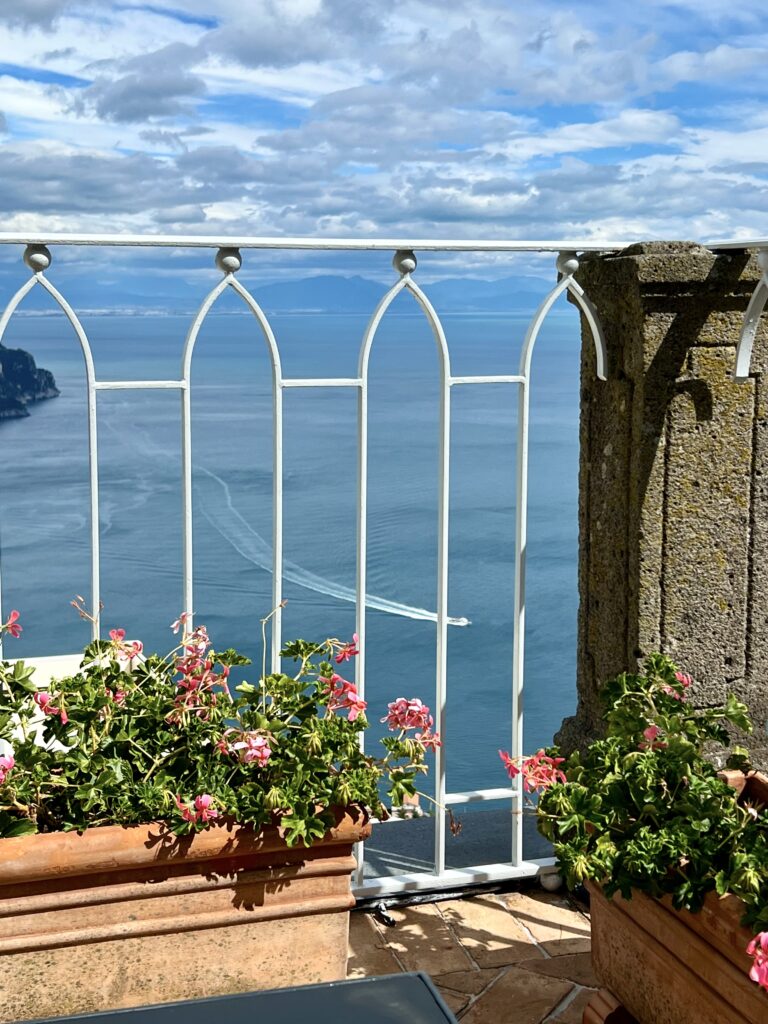 If you opt to stay in one of the captivating towns on the Amalfi Coast, such as Positano or Amalfi, be prepared for a slightly longer and much costlier journey. However, the magnificent ambiance and sheer beauty of these towns make it worth the extra effort.
After spending some time in Naples and Sorrento, I splurged and stayed in Capri and Ravello. It was one of my favorite memories in Italy. The hotels were incredibly beautiful. And the views and food were non-stop fantastic.
Here are some suggestions for hotels in Naples and the Amalfi Coast:
I personally have stayed in the Eurostars Excelsior, The Britannique Naples, Hotel Caruso, Hotel Caesar Augustus, and Grand Hotel Cocumello. I loved them all. The Caruso was the nicest place I've ever stayed in my life.
I hope you've enjoyed my 5 days in the Amalfi Coast itineraries. You may enjoy these other Italy travel guides and itineraries:
If you'd like to spend 5 days in the Amalfi Coast, pin it for later.