Planning to spend one day in Bari while you're in Italy's Puglia region?
Bari is a captivating city nestled in the heart of of Puglia. With its rich history, vibrant culture, and bustling atmosphere, Bari offers a unique experience for those seeking an authentic Italian adventure.
Bari may not be as lauded or as conventionally pretty as its more famous counterparts in Puglia. But it reminded me of Naples — a place with energy where where you'll gladly take the gritty with the pretty.
With this one day in Bari itinerary, you can explore a maze of ancient streets in Bari Vecchia, savor traditional Pugliese dishes, or stroll along the seaside for views of the Adriatic. The seafood is to die for!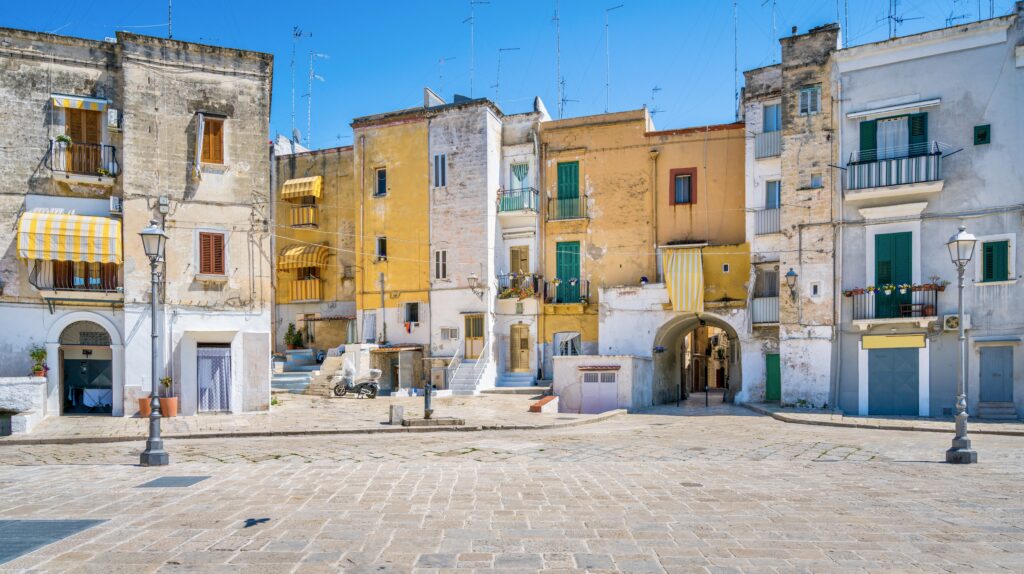 Overview Of One Day In Bari Itinerary
Here's a quick snapshot of what you can see with this one day in Bari itinerary.
Basilica of San Nicola
Diocesan Museum
San Sabino Cathedral
Church of Santa Maria
Bari Vecchia
Bari Museums
Lungomare
Teatro Petruzelli
To maximize your sightseeing, you may want to book a guided walking tour of Bari. To really zip around, you can book a guided bike tour or rent your own bike. You can also book a half day sailing tour along the Pugliese coast.
One Day In Bari Itinerary
Here's my recommended itinerary for seeing Bari's sites in the most efficient way. You can add or delete things to fit your pace of travel. Most of the main sites are in Bari Vecchia, the atmospheric old town.
Basilica of San Nicola
Start your one day in Bari with a visit to the Basilica di San Nicola. It's the top attraction in Bari and a beautiful 11th century church. It houses the relics of Saint Nicholas, the patron saint of Bari.
Pugliese sailors from Bari reputedly stole the relics from the Venetians. They arrived in Bari in 1087.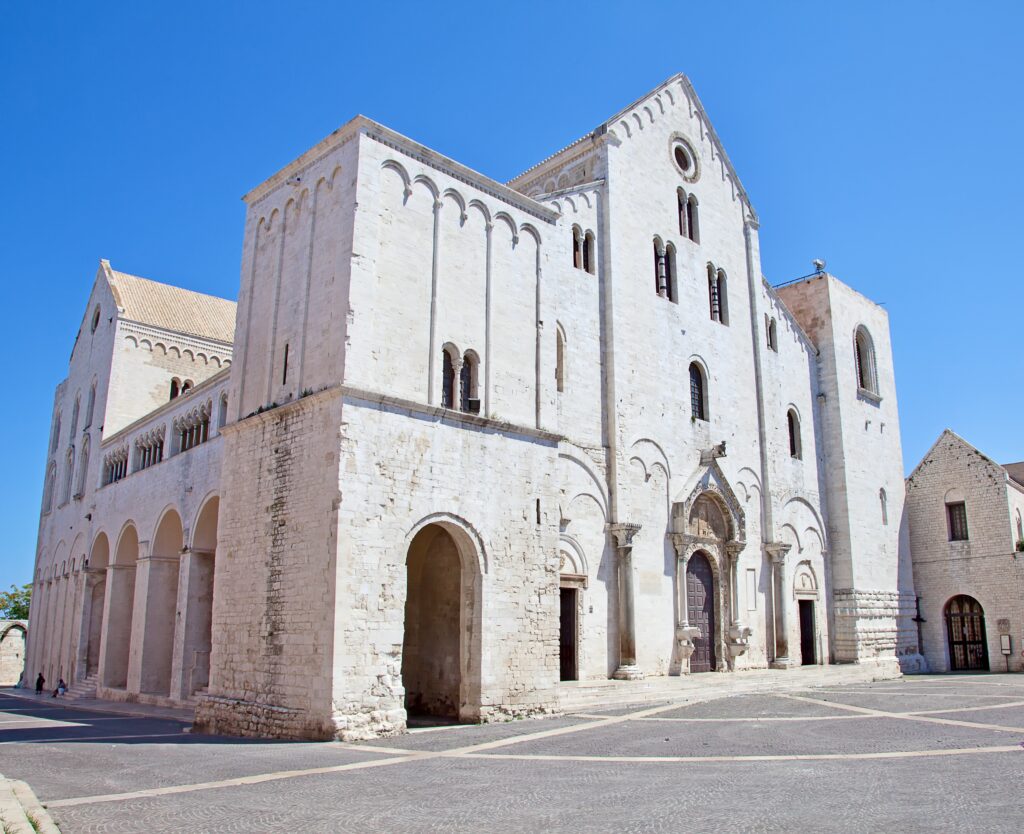 St. Nicholas is widely considered the inspiration for the Christmas St. Nick, due to his reputation as a gift-giver and patron saint of children As a result, the church is a bit of a pilgrimage site.
The facade is the embodiment of Puglian Romanesque architecture. The austere exterior gives the impression of a fortress, perched between two towers. The sides are decorated with a series of blind arches.
Inside, the church features a series of asymmetrical stone arches that support the vaulted ceilings. It creates a visually striking and structurally significant element within the space.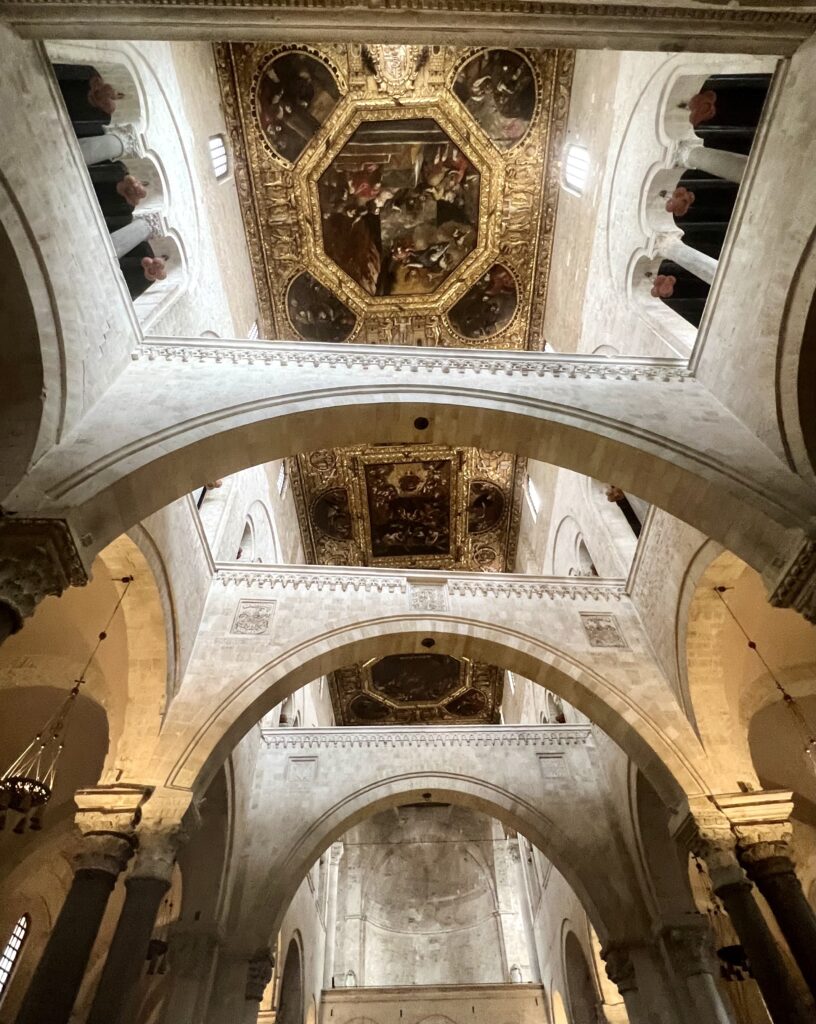 There's a magnificent presbytery. A 12th century tabernacle covers the high altar. You'll see the 11th century Throne of Elias. Telemons appear to hold it up and lionesses decorate the back.
The ceiling is more recent and Baroquified. It is a flashy golden frescoed affair dating from the 17th century.
The relics of the saint are downstairs in the crypt, which is accessed from a staircase in the left side of the nave. It's a lovely vaulted space. The story telling capitols are decorated with all sort of figures, including lions, birds, and other animals.
Click here to book a guided tour of the church. You can also book a guided tour that includes the crypt.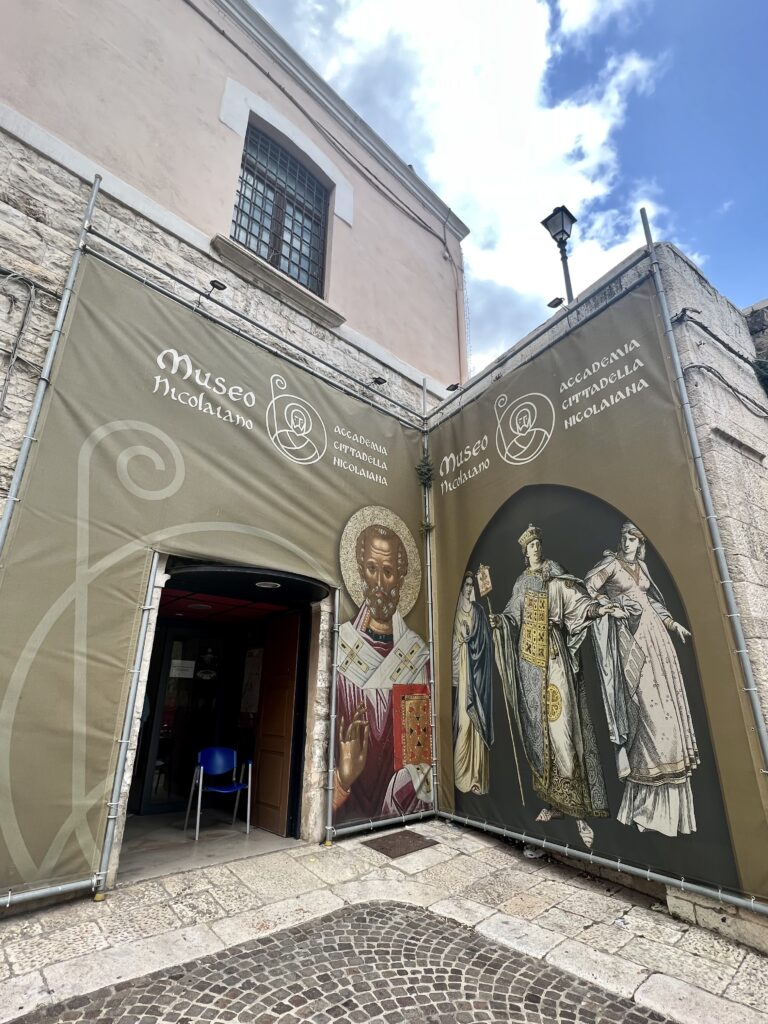 You can also visit the Diocesan Museum, which is part of the basilica complex.
Highlights include Medieval and Renaissance paintings, Byzantine icons, ancient relics, and ecclesiastical vestments. There are also works from the famous Bari school of painting, which flourished during the 12th and 13th centuries.
From May 7-9, Bari holds a rollicking festival to commemorate the arrival of the relics of Saint Nicholas in 1087. During the festival, various religious and cultural events take place, including processions, liturgical ceremonies, and public festivities.
The celebration attracts locals, pilgrims, and tourists. When I first passed through Bari, the city was packed with festival goers! So, if you're visiting during this time period, be sure to plan ahead or you won't be able to get a hotel room.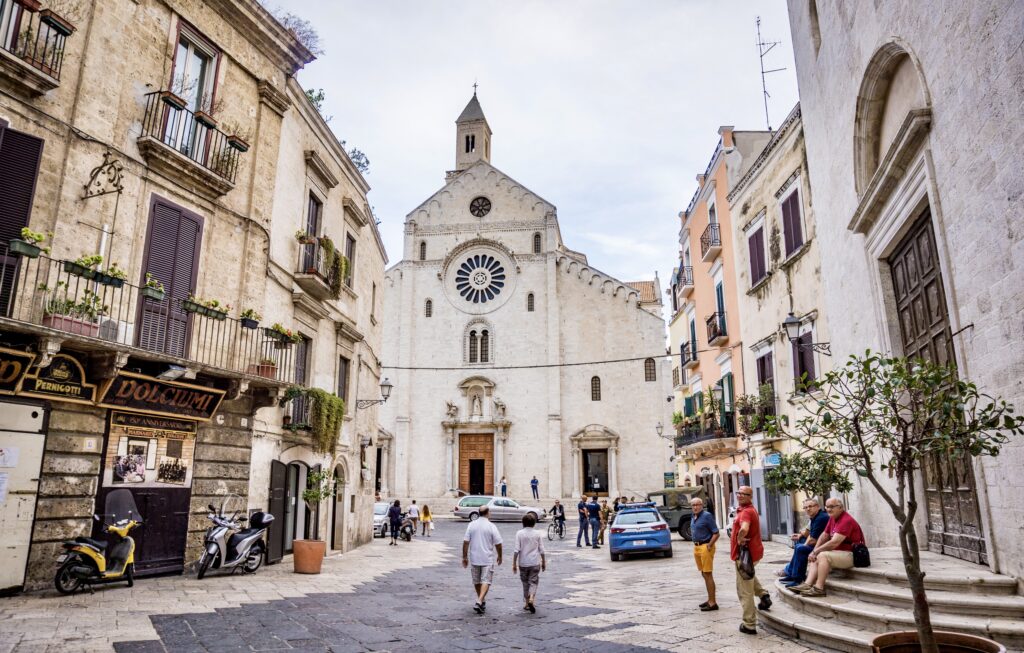 San Sabino Cathedral
San Sabino Cathedral is another important religious site in Bari that's just a few minutes from San Nicola.
The cathedral is the seat of the bishop of Bari. It's another fine example of the Puglian Romanesque style. There's a magnificent rose window, an ornate central portal, and a 230 foot tall bell tower.
Inside the cathedral, you can find a spacious nave with aisles and several chapels dedicated to different saints. The high altar features a beautiful Baroque-style marble balustrade and an ornate crucifix.
The cathedral also houses numerous artworks, including paintings, sculptures, and frescoes from various periods.
Another highlight of the cathedral is its crypt, which dates back to the 11th century.
The Byzantine-style crypt houses the relics of Saint Sabinus, another patron saint of Bari, to whom the cathedral is dedicated. You will also see ancient frescos, relics, reliquaries, and a collection of ancient tombs and sarcophagi dating back centuries.
Santa Maria Church
If it's open (it wasn't when I visited), you should pop into Chiesa di Santa Maria. It's a mini-example of the churches I've already discussed, with similar architecture. Inside, there are chapels, frescos, and a crypt.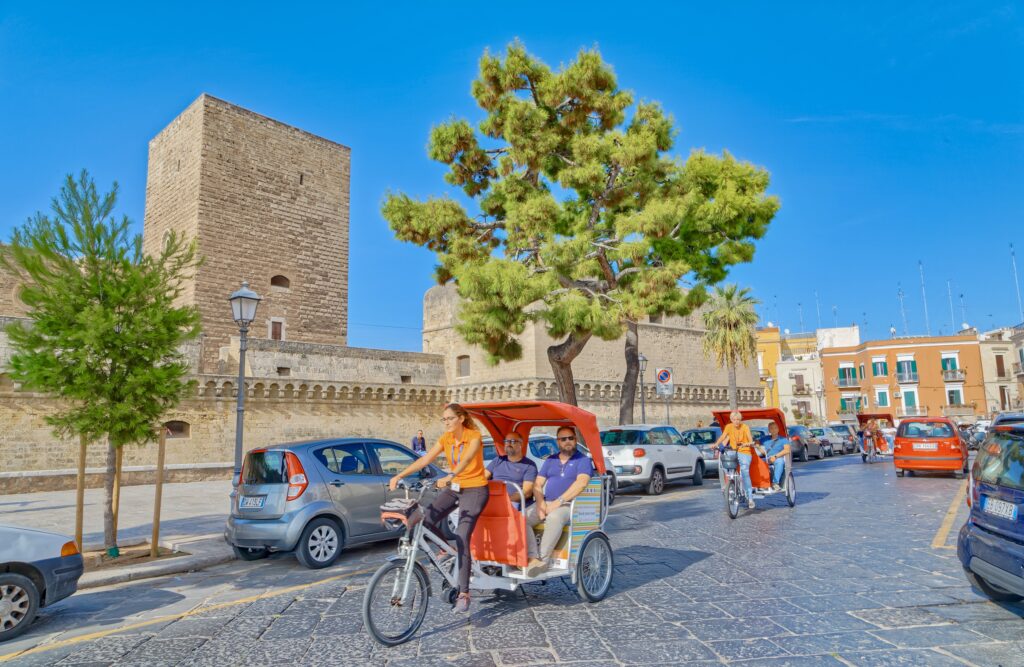 Castello Svevo
From the cathedral, head to the Castello Svevo also known as the Swabian Castle. Its a doughty and sprawling medieval castle that houses a museum showcasing the history and culture of Bari.
The dates back to the 12th century. It was built by the Norman King Roger II of Sicily in 1131. It served as a fortress to protect Bari and its harbor and a residence for the rulers.
The castle was expanded and modified over the centuries by different rulers, including the Swabians (from which it derives its name) and the Aragonese. Its architectural style reflects the influence of these different periods and cultures.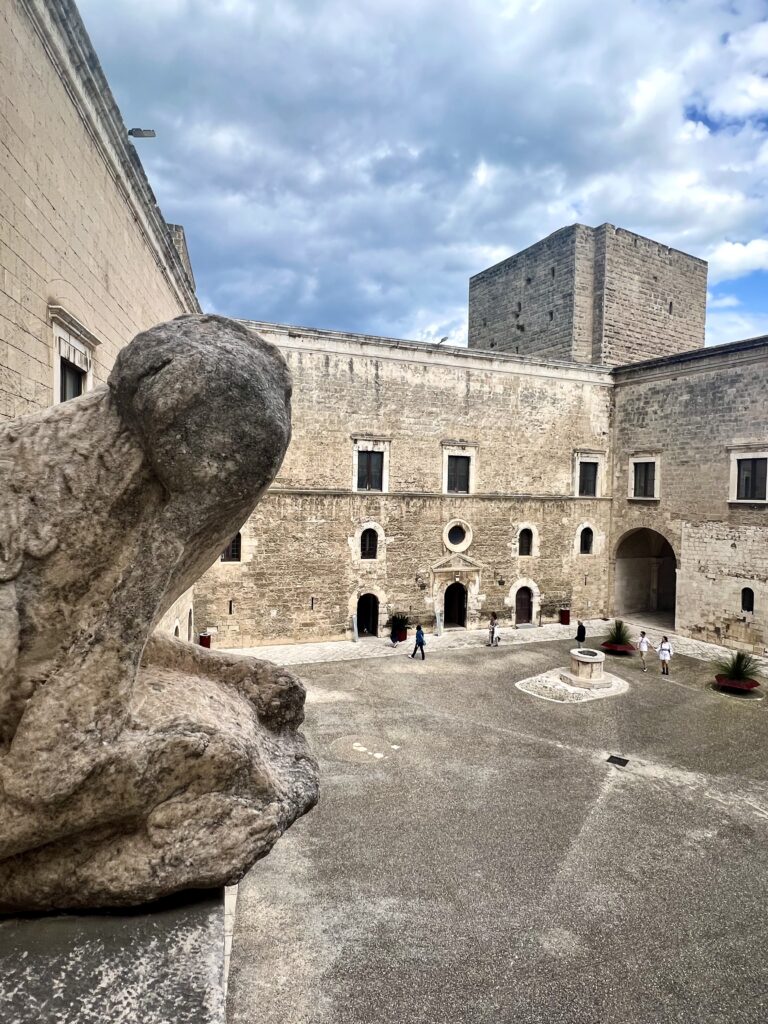 The exterior features three distinct towers. The central tower, known as the Mastio, is the tallest and most prominent. It offers panoramic views of the surrounding area and the Adriatic Sea.
The castle is surrounded by a protective moat. Its walls enclose a large courtyard with a double staircase.
Inside, you'll find a surprisingly large collection. It includes archeological items from the prehistoric, Roman, and medieval eras. My favorite items were the Greek vases. There is also a room with interactive exhibits.
Lunch & Bari Vecchia
Next, explore the narrow streets of Bari Vecchia, which could keep you busy for hours. Admire the charming white-washed houses, colorful flower-filled balconies, and bustling street markets.
Stop at one of the many bakeries to try a traditional Bari specialty, such as the focaccia barese or the panzerotto. Alternatively, you can grab some lunch at a local cafe or go on a guided street food tour.
Be sure to stroll through Bari Vecchia's two main squares, Piazza Ferrarese and Piazza Mercantile. They're right next to each other.
Piazza Ferrarese derives its name from the Ferrara Gate, a medieval gate that once served as an entrance to the city. The square has been a central meeting point in Bari for centuries, bustling with activity and serving as a hub of local life.
>> Click here to book an Italian street food tour with drinks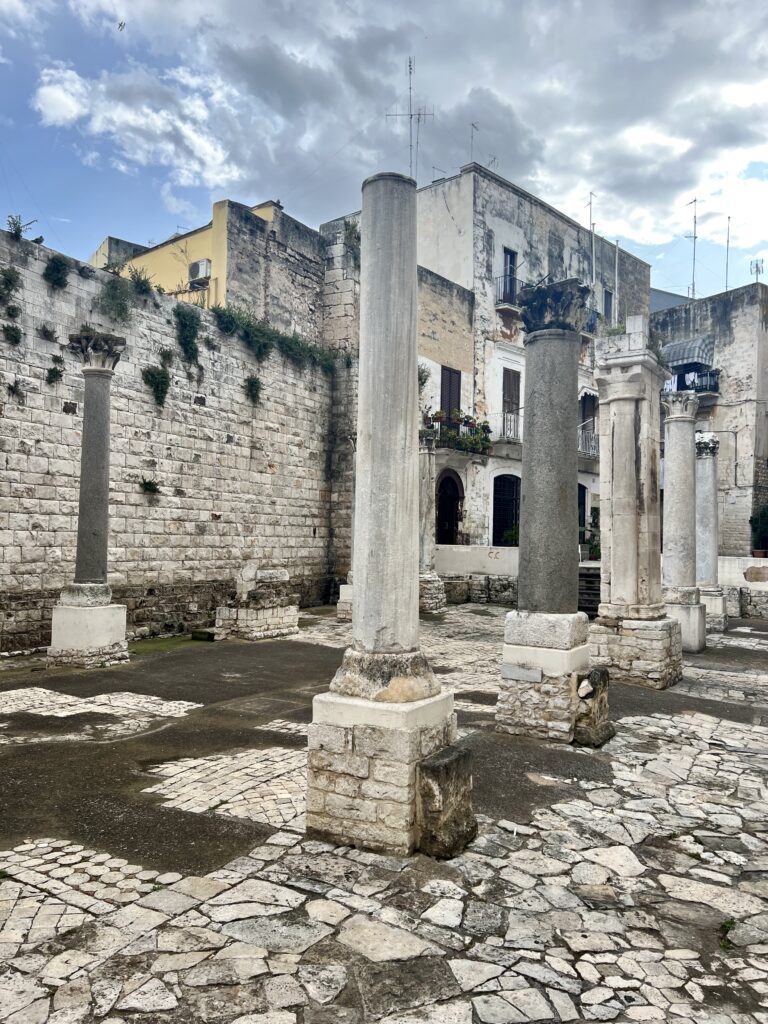 While in the Piazza Ferrarese, be sure to check out the ruins of Roman columns in Bari, which are known as the "Colonnede Ferrarese." The marble columns date back to the 2nd century AD and are remnants of a Roman structure that once stood in the area.
Each column is composed of multiple stacked drums, creating a visually impressive architectural element. The columns are a reminder of the city's past as an important Roman port and its connections to the broader Mediterranean world.
Piazza Mercantile is Bari's main place of commerce and trade. it's ringed with Gothic and Romanesque buildings. And you'll find outdoor stalls filled with artisan crafts.
For your pasta purchases, head to Strada Arco Bassa, which is also known as Strada delle Orechiette. There, you'll find nonnas sitting out in the open making brightly colored orrechiete.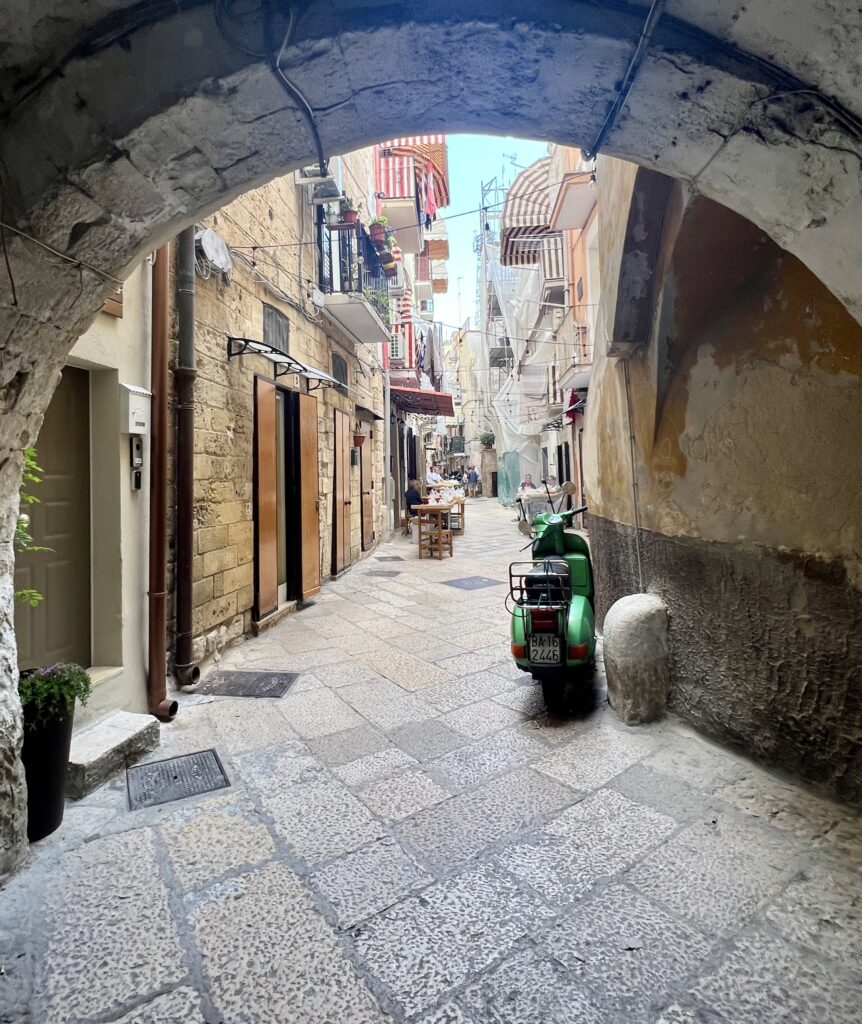 You can take all the pictures you like, but consider buying something after snapping your shots.
>>> Click here to book a Bari pasta experience tour
Finally, while in the old town, you should check out the Mercato Copeta. This is Bari's fishing market, located near the Santa Scolastica convent.
It's a working market full of fresh fish, cheese, fruit, and vegetables. It's worth a visit just for the colors and aroma!
Museum Choices
After lunch, choose between the pinacoteca (picture gallery) or the archaeological museum.
If you are an art lover, make your way to the Pinacoteca Provinciale di Bari. It's an an art museum featuring works by local Puglian artists from the 15th century to the present day.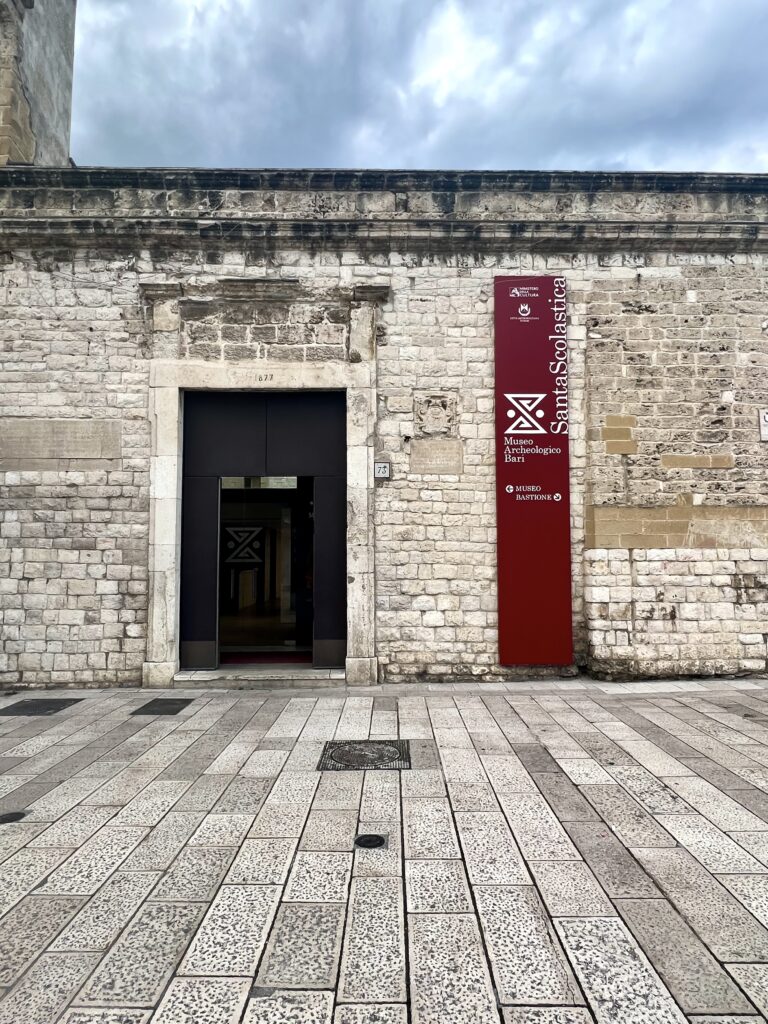 Admire the Renaissane and Baroque paintings, sculptures, and other artworks on display, and gain a deeper appreciation for the region's rich cultural heritage.
If you prefer ancient artifacts and Castle Svevo simply wasn't enough, check out the Archaeological Museum of Santa Scolastica in Bari Vecchia. It's housed in a former medieval Benedictine monastery.
The museum features a collection of artifacts from prehistoric, Roman, and Byzantine periods, showcasing the rich history and archaeological heritage of the region. The exhibits include sculptures, ceramics, ancient coins, jewelry, and other archaeological finds.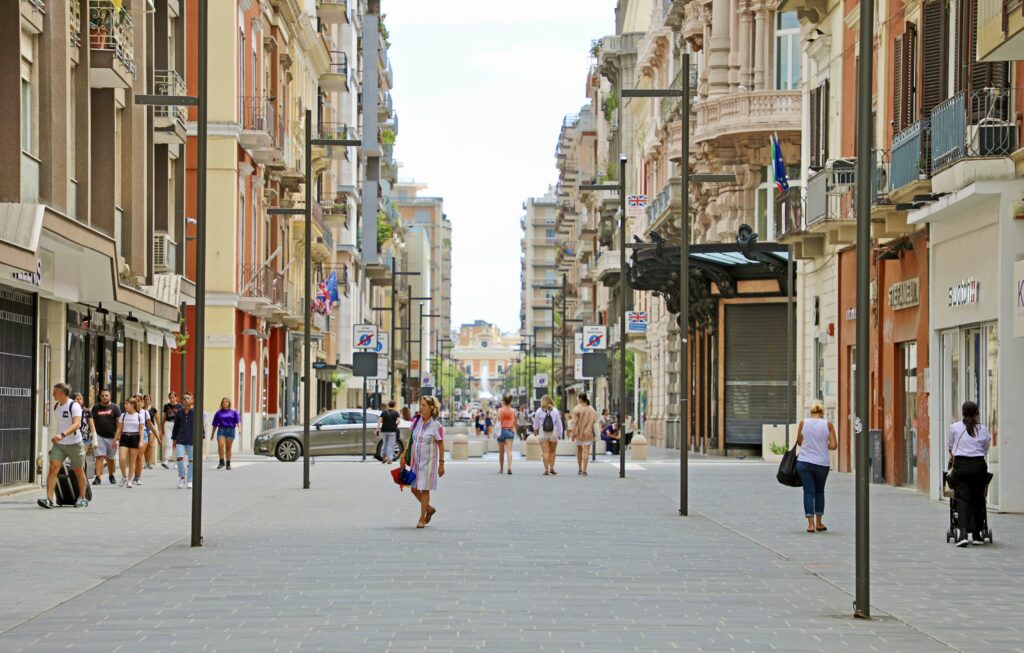 Shopping
If you would rather do some shopping with one day in Bari, head to Via Sparano. It's a bustling street that connects the modern city to Bari Vecchia.
Sparano is lined with shops, boutiques, cafes, and restaurants. It is a popular destination for shopping and leisurely strolls among both locals and tourists.
You'll find both designer shops (Prada, Gucci, Max Mara, etc) and mid range brands. I had broken my sunglasses, so stopped in at the Ray Ban store.
Lungomare
In the late afternoon, head to the seaside promenade known as the Lungomare Nazario Sauro.
Enjoy a stroll along the water and take in the views of the Adriatic Sea, as well as the colorful fishing boats and luxury yachts docked in the harbor.
Alternatively, you could hit the beach. Pane e Pomodoro Beach is a small sandy beach located just a short walk from Bari Vecchia. It's popular with locals and visitors alike and offers great views of the sea and the city.
Teatro Petruzzelli or Teatro Margherita
Finally, end your one day in Bari with a visit to (or performance at) the Teatro Petruzzelli. It's a grand opera house that is one of the largest and most prestigious in Italy.
The theater was built between 1898-1903. It was designed by architect Angelo Corcella in an ornate and opulent style, combining elements of Neo-Classicism and Art Nouveau.
The theater has a seating capacity of approximately 1,500 and is known for its impressive stage and opulent interior. The auditorium features beautiful decorations, including intricate stucco work, ornate balconies, and a majestic chandelier.
You can take a tour of the theater to see its ornate decorations and learn about its rich history. Or, catch a show (ballet, play, or opera) there in the evening.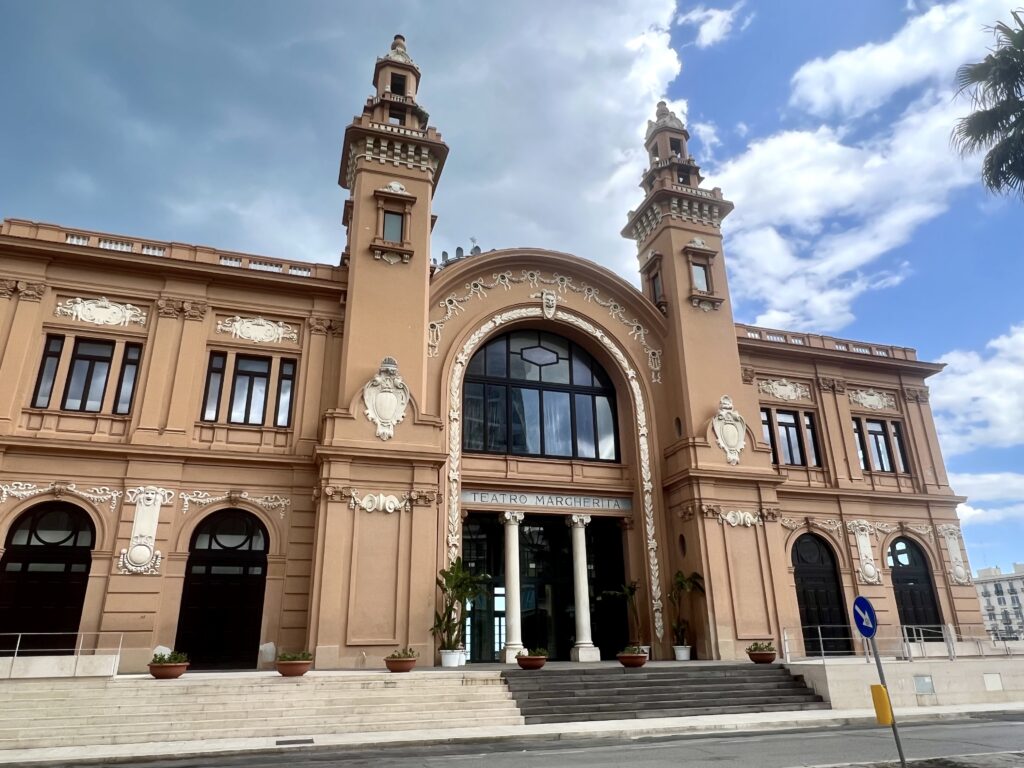 If the Petruzzelli is sold out, you can check out its rival — Teatro Margherita.
It's located on the waterfront promenade known as Lungomare Imperatore Augusto. The theater is named after Margherita of Savoy, the Queen of Italy at the time of its construction.
Teatro Margherita was designed by the architect Luigi Santarella and was inaugurated in 1914. It is an excellent example of Art Nouveau architecture and features a distinct and elegant facade.
Dinner
For dinner in Bari, you have loads of delicious options. You should try to sample the local goods, which include orecchiette pasta, eggplant, focaccia barese, burrata cheese, polo (octopus), and pettole (mini fried dough balls).
Check out La Ouscezze. It's a delightful trattoria with a rustic setting serving up Pugliese specialities (which do not include pasta!).
I advise getting the tasting menu (only 25 euros). You can still pick out your main course.
Be sure to make a reservation as it's a popular local spot. I left at 9:30 pm and there was a line outside!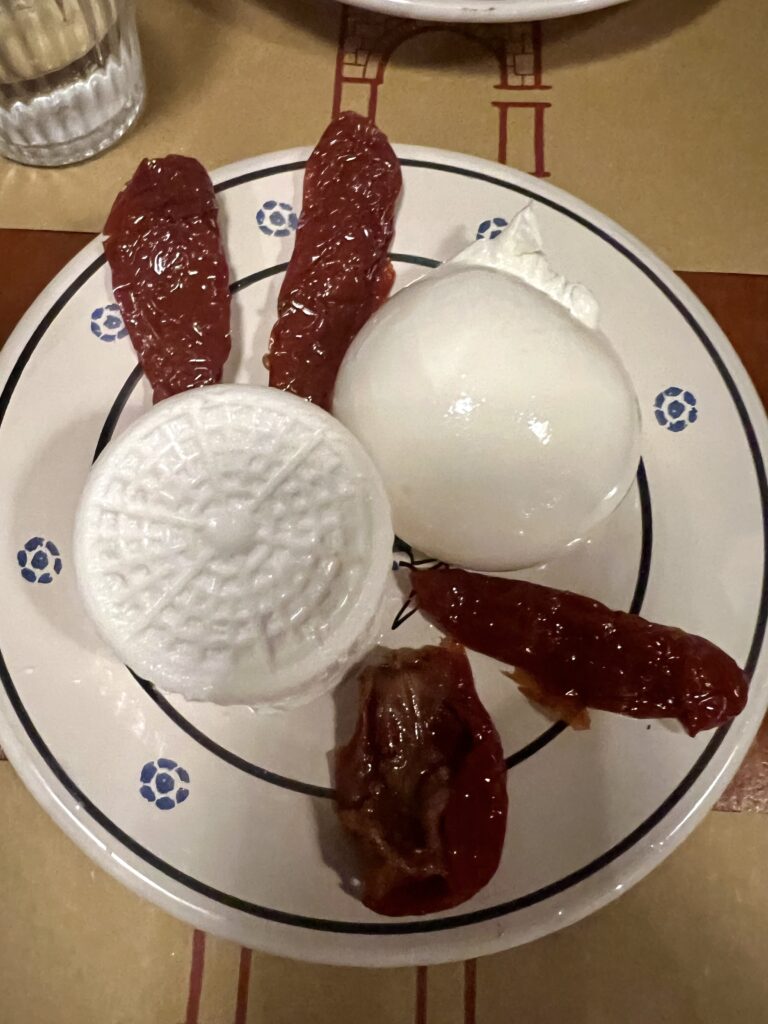 Terranima known for its innovative cuisine, which combines traditional Puglian ingredients with modern techniques. The menu changes regularly to reflect the seasons and the availability of local produce.
La Cecchina is a classic trattoria located near the Basilica di San Nicola. It offers up hearty, homemade dishes such as orecchiette with turnip greens, meatballs, and roasted meats.
Al Pescatore is the go-to spot for fresh seafood. I sampled the calamari and octopus.
Le Nicchie is another great choice in Bari Vecchia. It's a cozy restaurant serving up traditional Puglia cuisine.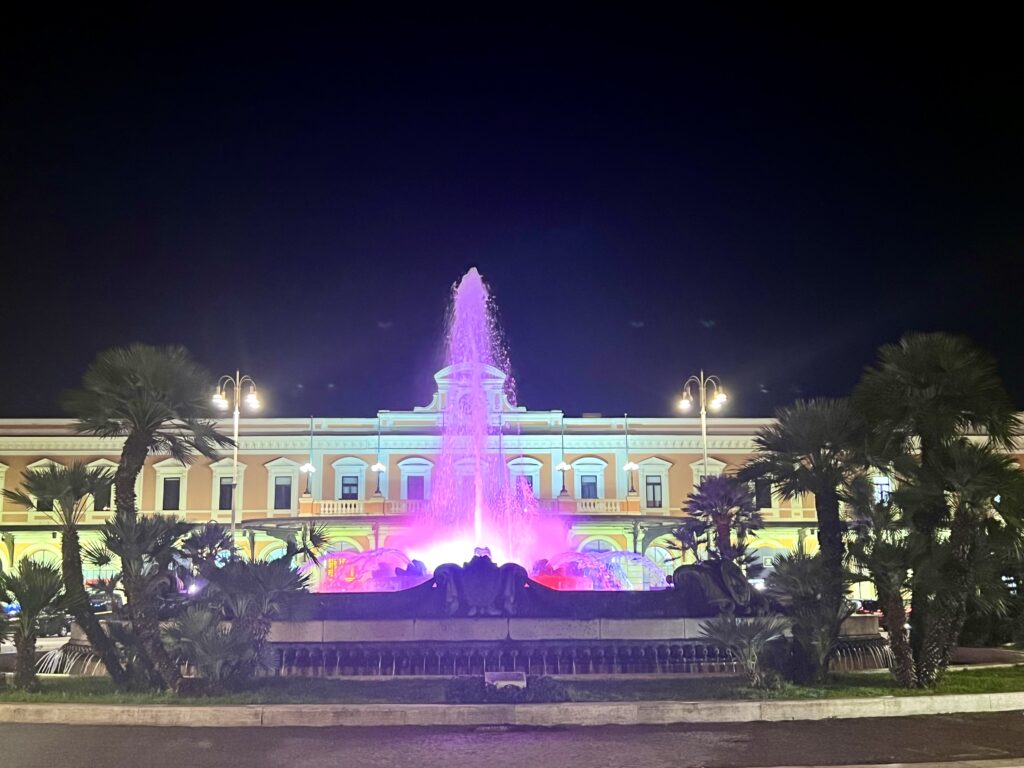 Tips For A One Day In Bari Itinerary
Here are some must know tips for spending 1 day in Bari.
1. How To Get To Bari
Bari is the largest city in Puglia. Bari has an international airport, Bari Karol Wojtyła Airport (BRI).
It's well-connected to several cities in Italy and other countries. You can fly directly to Bari from major hubs or connect through other Italian cities.
Bari is also easy to get to by train. Bari Centrale is a major rail hub in southern Italy and you can easily reach it from Rome or Naples via high speed train. The train station is efficient and easy to navigate.
If you are driving, Bari is connected to the A14 highway, also known as the Autostrada Adriatica. It runs along the eastern coast of Italy.
Bari also has a busy port with ferry connections to various destinations, including Greece, Croatia, Montenegro, and Albania.
2. How To Get Around Bari
I walked everywhere in Bari, including from the new town to the old town. Bari Vecchia, in particular, is easy to explore on foot.
If you don't want to walk, Bari has a small metro system and an extensive bus network. There's also a bike sharing system called BikeMi.
You can also grab a taxi on the street or at taxi stands in the main squares. You can also call and order one or have your hotel arrange one.
There are also cute tiny tuk tuks, which are a nice alternative to cars. You can rent one or hire a driver. You can also book a guided bike tour or a guided Segway tour. You can also rent a bike.
If you are renting a car in Bari, I would pick it up on your way out of the city. You won't want one in Bari and parking is difficult.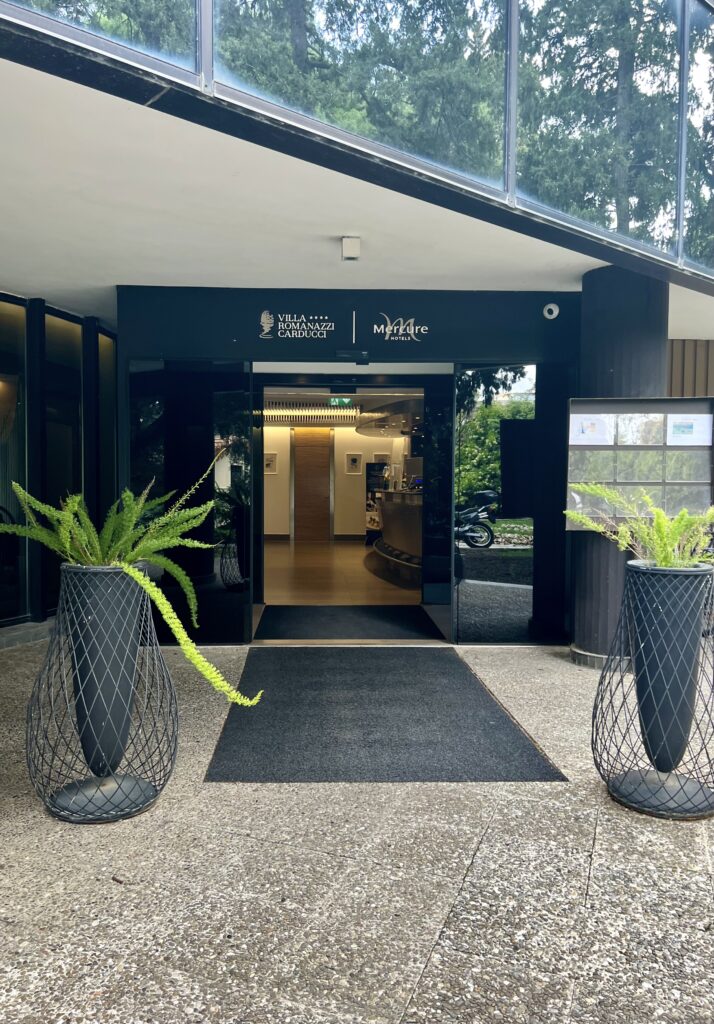 3. Where To Stay In Bari
This itinerary is focused on Bari Vecchia. So, with one day in Bari, it's probably best to stay near the old town. There are no real luxury hotels in Bari, but there are some solid options.
iH Hotels Bari Oriente is a 4 star hotel near the Petruzzuli Theater that's been recently restored. Hotel Imago is a chic and modern hotel near the theater and old town.
The iH Hotels Bari Grande Albergo delle Nazioni is a luxury hotel located on the seaside promenade with great views of the Adriatic. It's also a good base for exploring the old town.
If you are catching the train from Bari Centrale or taking day trips from Bari, you might want to stay near there. I had an early train departure, so opted for the Mercure Villa Romanazzi Carducci Bari, which is only a 5 minute drive or 10 minute walk from the station. It's a chic modern hotel with a pool and nice grounds.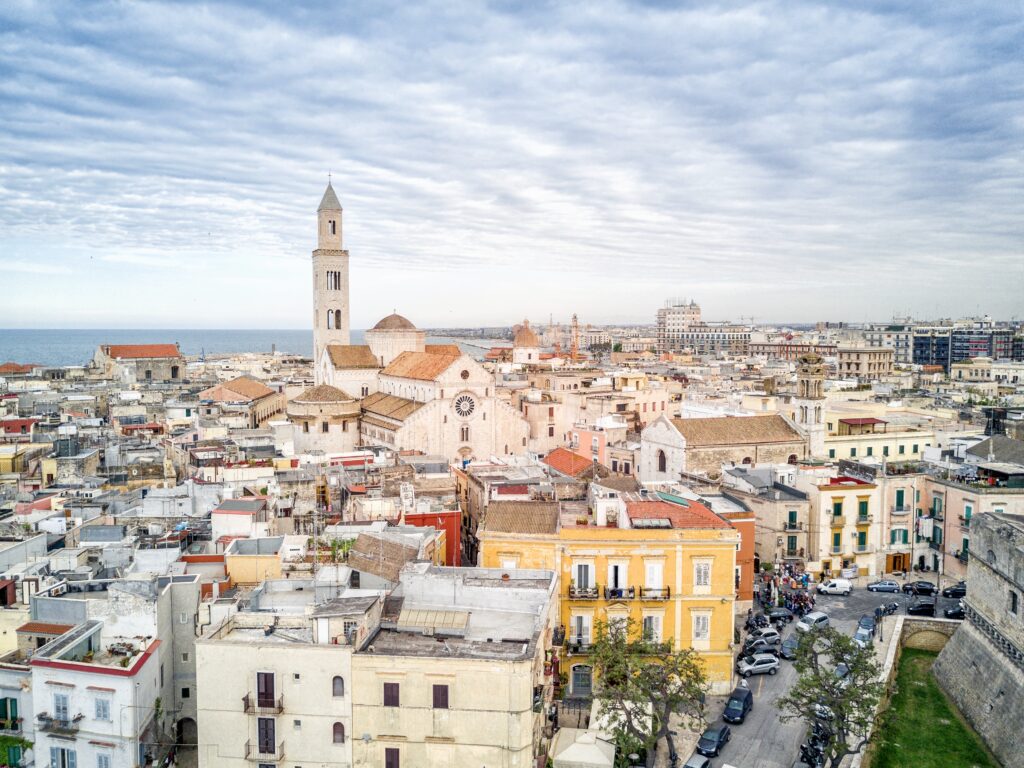 4. Is One Day Enough In Bari?
One day in Bari is enought to see the city's top attractions. They are mostly located in Bari Vecchia and are easy to walk too.
If you have more than 1 day in Bari, you can visit more museums or take a day trip.
5. When Is The Best Time To Visit Bari?
I visited in spring and I think that's a splendid time to visit Bari. The crowds are manageable and you can enjoy blooming flowers, festivals, and outdoor activities.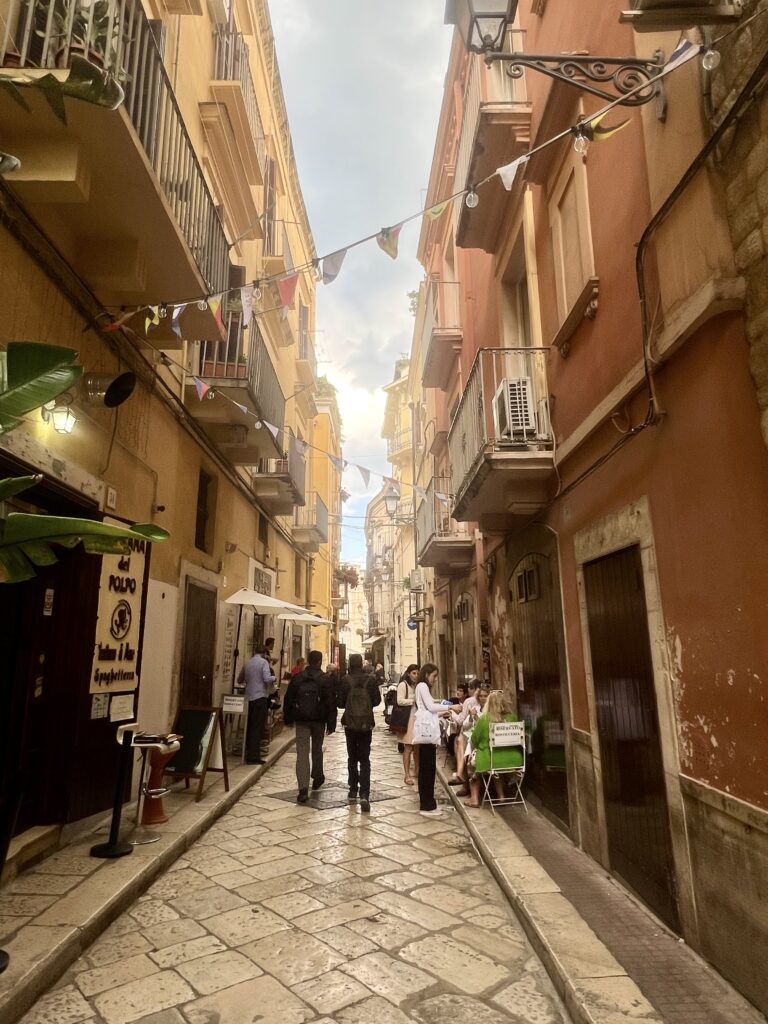 Summer is high season in Bari. But, since it's not the coast, it's still not terribly hot. Winter will be quieter and a bit chilly.
6. Is Bari Worth Visiting?
I think Bari is worth visiting. Plus, chances are, you will enter and exit Puglia through Bari. This means you can easily spend a half day or full day in Bari.
Bari has some historic religious and cultural sites and an enchanting old town. To be sure, it's not as picturesque as other towns in Puglia.
Yet, on the other hand, it feels like an authentic Italian town. It's a less touristy place where you can mix with locals and experience real Italian life.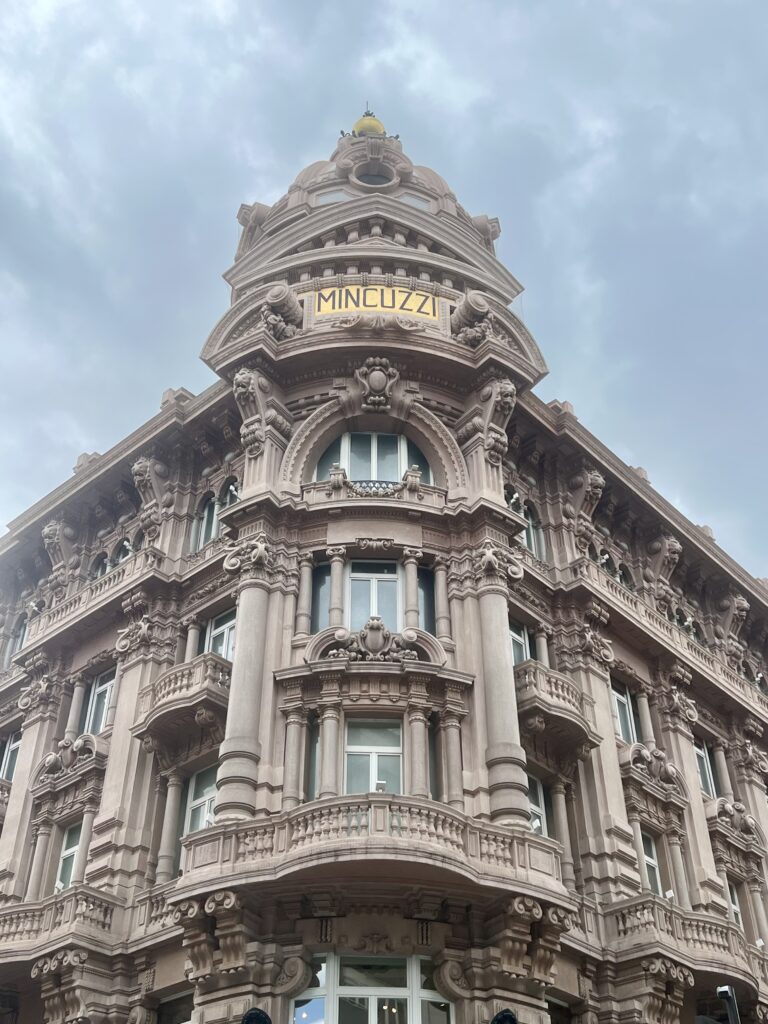 7. Is Bari A Good Base For Puglia?
Bari is a super convenient gateway to Puglia. Yet, I don't think the city makes an ideal base for visiting the region.
For one thing, it's a bit too far north, although I guess you could reach any destination by car or train without much difficulty. For another, it's a rather large city (by Puglia's standards) and not the prettiest for a long term stay.
If you have one base in Puglia, I'd pick something more central and scenic like Ostuni, Polignano al Mare, or Monopoli. This will allow you to go north or south to visit places with more ease. Both of these smaller towns have train stations and are extremely picturesque.
If you really want to see Puglia, a rental car is a must. You can see more than just the popular cities and have freedom to take detours.
8. More Than One Day in Bari?
If you have more than a day in Bari, there are plenty of wonderful things to see nearby.
Polignano a Mare
Polignano al Mare is a picture perfect limestone town. It's famous for its white pebble beach surrounded by grotto-like cliffs.
The best thing to do in Polignano is explore its atmospheric old town and wander down all the tiny streets. Along the way, you'll have amazing vistas of the Adriatic.
Polignano is loaded with delicious eateries. For a truly unique experience, you should dine at the cave restaurant at the Grotta Palazzese. To visit, you can book a guided tour from Bari.
Molfetta
Molfetta is a charming seaside town just 15 miles north of Bari. It's know for its rich architeture, white washed houses, labyrinthian old town, and grand cathedral. If you are heading straight to Molfetta, you can book a private transfer from Bari Airport.
Trani
Trani is a chic town on the Adriatic Sea, just 25 miles from Bari. It's known for its historic sites, including a dramatic Romanesque cathedral. It's a perfect place to kick back and enjoy seafood with sea views. Art lovers can book a guided walking tour.
Martina Franca
Martina Franca is a stunning Baroque town built on a hill overlooking vineyards and olive trees. You'll want to explore the old town's narrow alleys, Baroque architecture, and charming whitewashed houses adorned with iron balconies.
You can also pay a visit to the Basilica di San Martino and the Palazzo Ducale. If you opt to visit this charming town, you can book a guided walking tour with a wine tasting.
I hope you've enjoyed my one day in Bari itinerary. You may enjoy these other Italy travel guides and resources:
If you want to spend one day in Bari, pin it for later.