Planning a trip to the Amalfi Coast? This is the ultimate one week in Amalfi itinerary.
The storied coast has been an "it" destination since Roman times, a place where you can truly enjoy la dolce vita. It's a romantic and balmy enclave of towering cliffs, sea-tumbling villages, lemon groves, and lush gardens.
Capri is a chic island off the coast. (Above all, don't visit it as a day trip!) Positano and Ravello are beguiling towns, one set into a cliff and one a clifftop idyll. You'll find a stunning cathedral and other charming hamlets as well.
READ: 2 Days in Capri Itinerary
Overview Of One Week in Amalfi Coast Itinerary
Here's a snapshot glance of what you can see with 7 days on the Amalfi Coast:
Day 1: Visit Naples
Day 2: Depart Naples to Capri
Day 3: Capri
Day 4: Travel To Positano
Day 5: Positano
Day 6: Travel to Ravello
Day 7: Ravello
This itinerary assumes you've arrived in Naples, checked into your accommodation, and are ready to go first thing in the morning.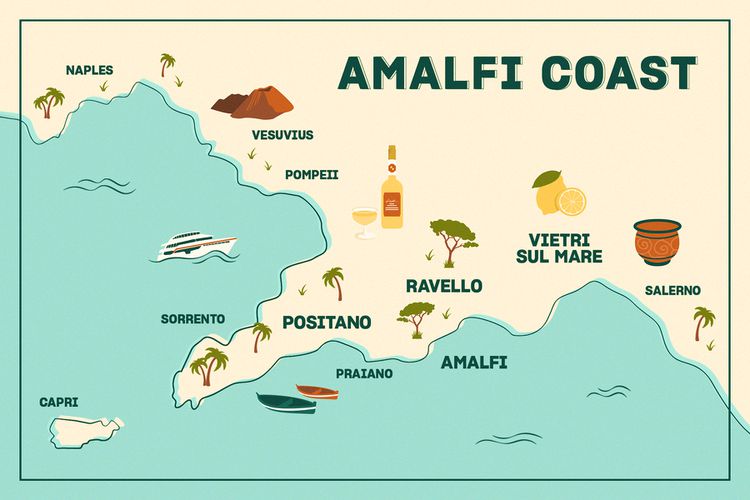 Before You Go: Here's How To Plan Your Visit To The Amalfi Coast
If you're in a hurry, below are some of the top tours, hotels, and experiences for the Amalfi Coast. Don't forget to plan ahead when visiting, especially in high season.
Best Tours & Experiences: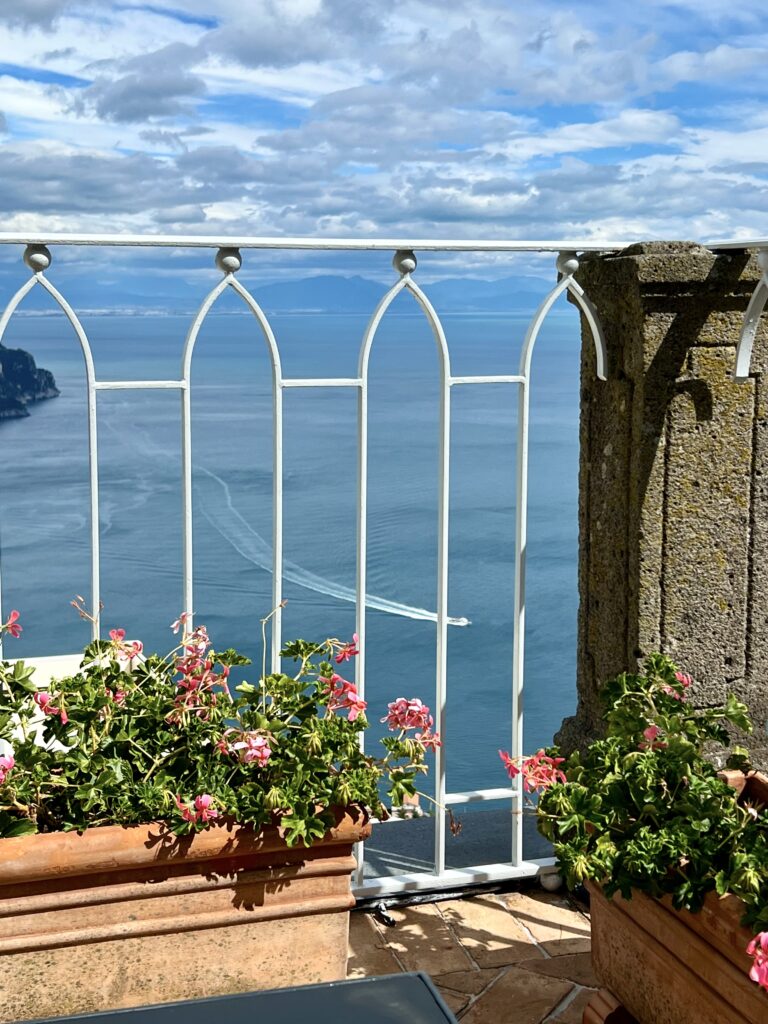 Best Hotels:
Here are some suggestions for hotels in Amalfi.
Naples: Eurostars Hotel Excelsior, The Britannique Naples, Grand Hotel Vesuvio, ROMEO Napoli
Capri: Hotel Caesar Augustus, Capri Palace, J.K. Place Capri, Hotel Punta Tragara
Positano: Palazzo Mura, La Sirenuse, Il San Pietro, Hotel Poseidon
Ravello: Hotel Caruso, Hotel Villa Cimbrone, Palazzo Avino, Villa Maria
Sorrento: Grand Hotel Excelsior Vittoria, Ely Suites, Palazzo Marziale
Praiano: Hotel Onda Verde, Hotel Villa Maria Pia,Tromonto D'Oro
Best Bases For The Amalfi Coast
In terms of a base for this itinerary, it depends on your preferences and budget. You could pick just one place to stay and day trip from there.
You could follow this one week in the Amalfi Coast itinerary to a tee. You would spend 1 night in Naples, 2 nights in Capri, 2 nights in Positano, and 2 nights in Ravello.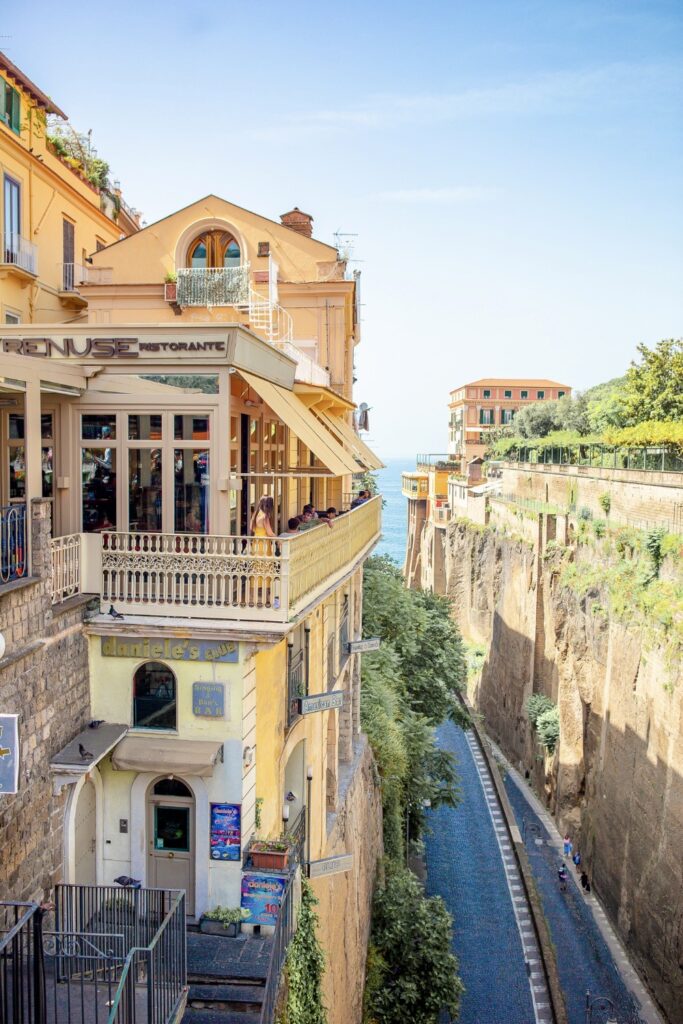 If Positano is too busy or too touristy for you, you could base in Praiano instead. It's centrally located between Positano and Amalfi. Alternatively, after one day in Naples, you can base yourself in just Capri and Ravello.
It's true that Ravello isn't a transportation hub. But it's easy to get around by hiking, buses, and taxis. Your hotel may also have a shuttle. Ravello is also quieter and less crowded in Ravello, a huge factor in its favor to my mind.
As you may know, hotels in the Amalfi Coast are extremely expensive and geared toward high end tourism. This is one of Europe's most popular and pricey vacation spots. It's a good place for a special occasion splurge.
If you need something more reasonably priced, you could base yourself in Sorrento travel around from there. Sorrento has a wide range of accommodations and is still close enough to be a practical base.
You can also check out hotels in Salerno, Scala, Cetara, or Vietri sur Mare.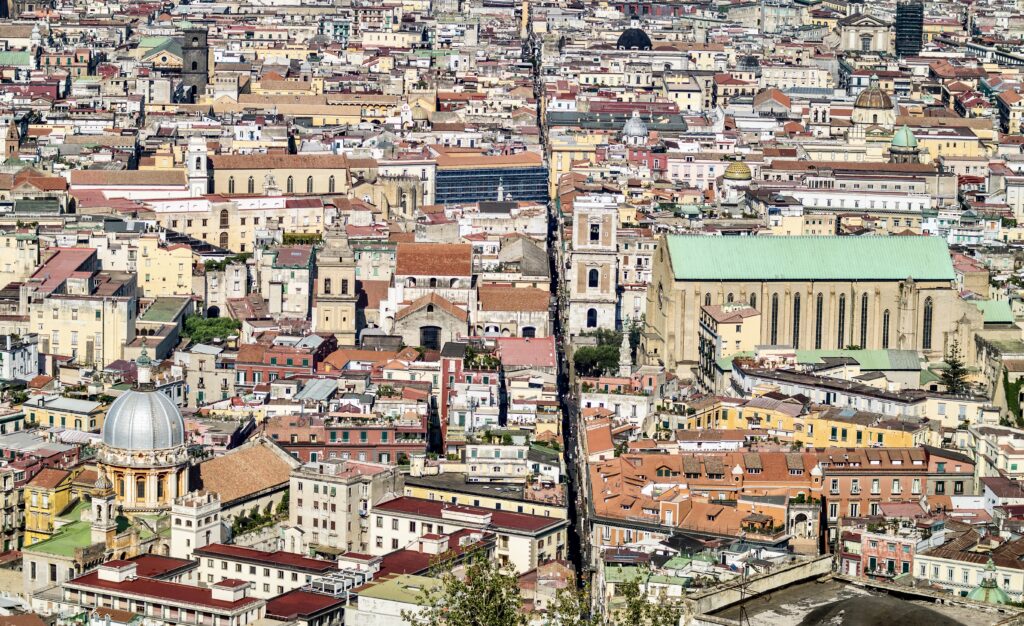 One Week Amalfi Coast Itinerary: Best In 7 Days
Here's my recommended 7 days in the Amalfi Coast itinerary. I've tried to give you a mix of hotspots and some hidden gems.
Day 1:Naples
Naples is the most common jumping off point for a one week Amalfi Coast itinerary. But many Amalfi visitors bypass the city.
I advise against that unless you're really pressed for time. Naples is a vibrant and uniquely Italian city. It boasts some of Italy's best food and the price point is hard to beat.
This itinerary assumes you've arrived in Naples and are ready to start your day first thing in the morning. One day in Naples will be a whirlwind. There's so much to see in the birthplace of pizza.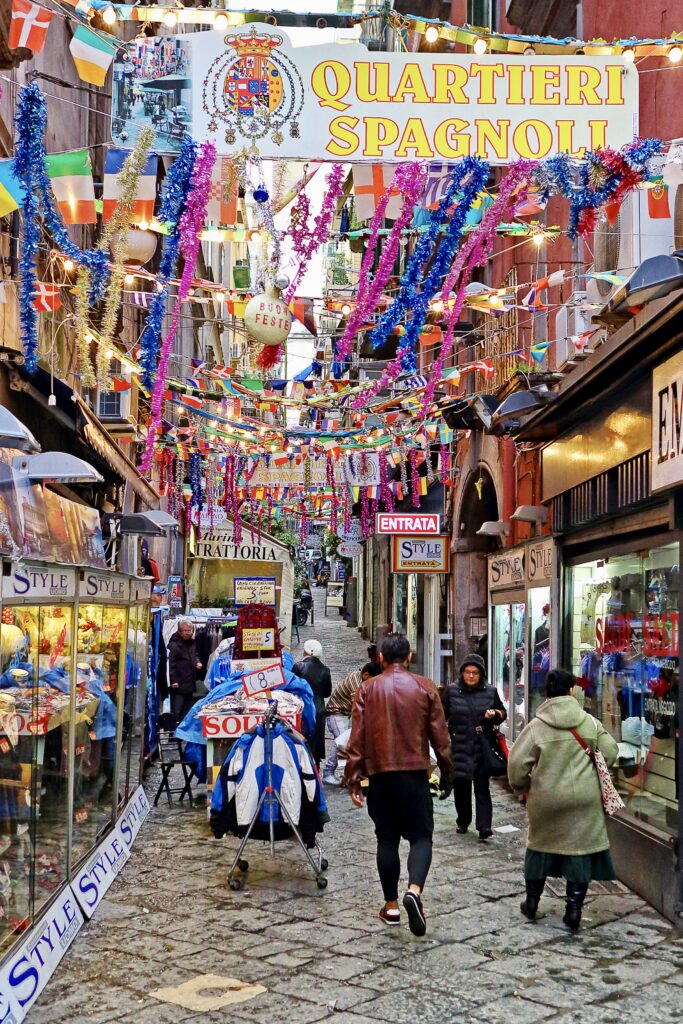 Historic Center
I would spend most of your day in the historic center. The two main streets are Scappanapoli and Via Tribunali. All the sites fall along them or just off them.
Visit some of Naples' beautiful churches — Gesu Nuovo, the Cloister of Santa Chiara, Sansevero Chapel, San Domenico Maggiore, San Lorenzo Maggiore, and Naples Cathedral.
Sansevero Chapel is a real highlight. It's an over-the-top Baroque treasure trove of artistic wonders. The exquisite Veiled Christ is one of the world's most beautiful sculptures.
The chapel is always sold out. You won't be able to visit unless you book a timed entry ticket well in advance. Alternatively, if tickets are sold out, you can book a walking tour that includes a visit to the chapel.
The Cloister of Santa Chiara is also a beautiful must see. It's a peaceful haven amid the cacophony of Naples' streets. It's full of beautiful frescos and a majolica tiled courtyard.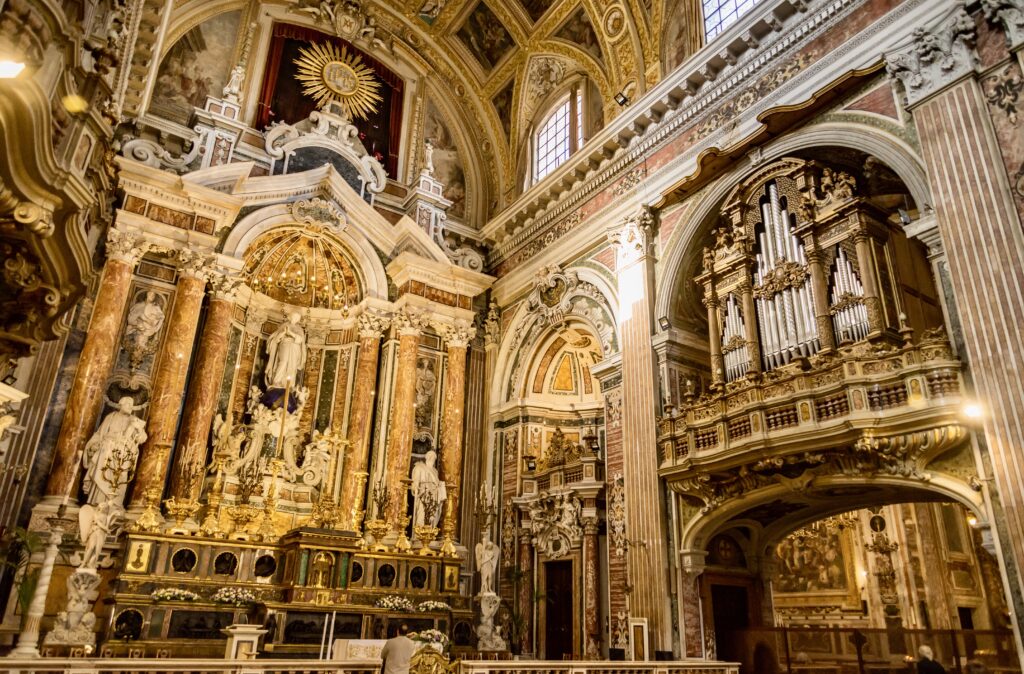 Pizza
Break for lunch at one of Naples' iconic pizzerias. The most famous ones are Gino Sorbillo and Antica Pizzeria de Michele. But you really can't get a bad meal at any pizzeria.
You could also book a Naples street food tour or a walking food tour.
Archaeological Museum
After lunch, head to the Naples National Archaeological Museum. This is one of the world's best museums. Truly!
It houses Roman statuary, Egyptian artifacts and mummies, a Secret Cabinet of erotic Roman mosaics, and frescos and mosaics from Pompeii and Herculaneum. The statuary in the Farnese Collection is stellar. It rivals anything you will see in Rome.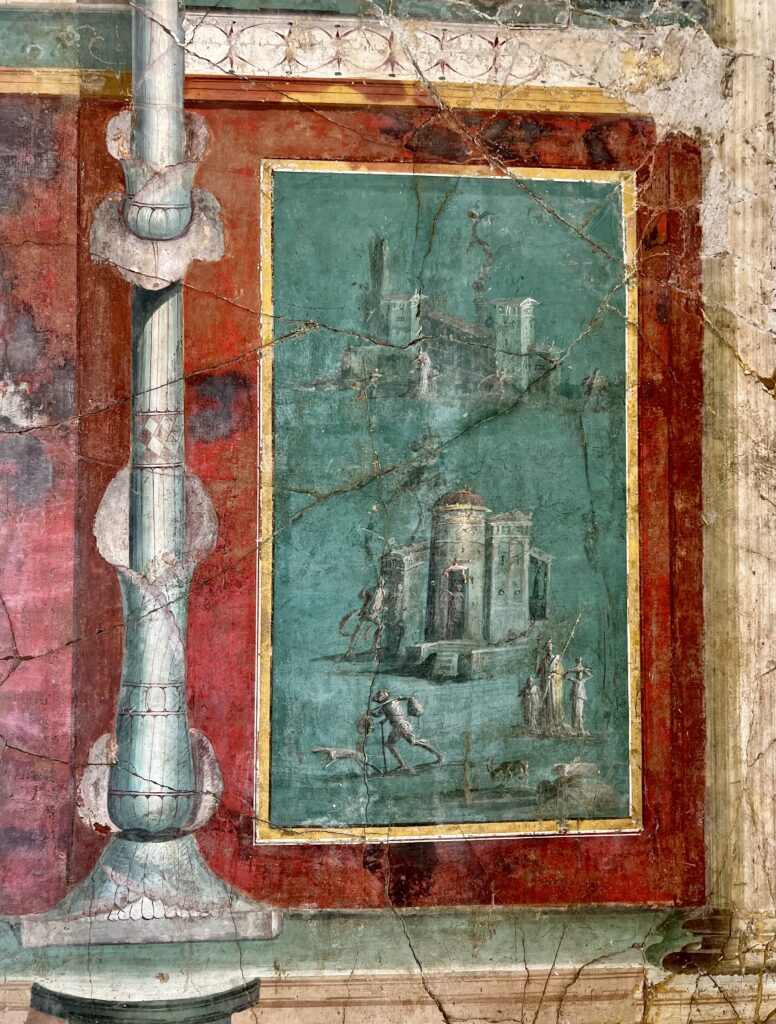 In high season (May to September), I advise booking a skip the line ticket. This is an extremely popular museum.
I took this private tour of the museum with an archaeologist and loved it! My guide was incredibly knowledgable about everything in the museum. You can also book a small group tour.
For more information and tips, here's my complete guide to the Naples Archaeological Museum.
Chiaia or Piazza Plebiscito
In the late afternoon, have an apertivo in the lively Piazza Bellini. Then, in the evening, head to either the Chiaia neighborhood or Piazza Plebiscito.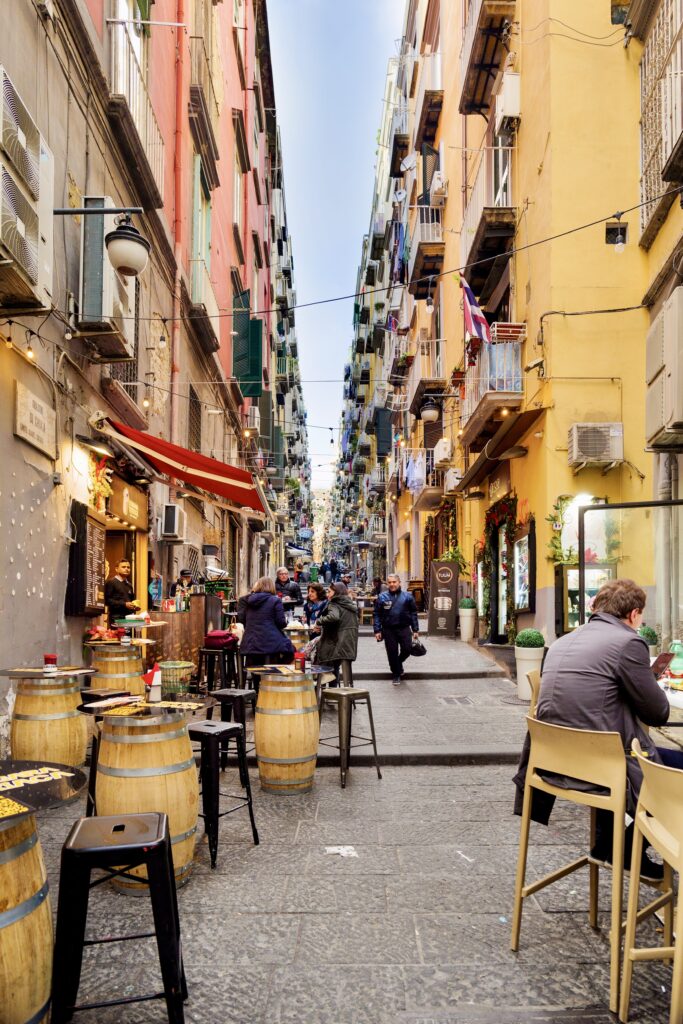 The tony Chiaia district is a captivating neighborhood located in the western part of Naples. It has adorable side streets and pedestrianized areas. There are loads of high end shops, wine bars, and chic eateries (you'll need a reservation!)
Piazza Plebiscito is on the waterfront. Its Naples' grand main square and is home to the Royal Palace, the Church of San Francesco di Paola, and the two statuesque equestrian monuments by Antonio Canova.
Tour the square and then head to a cute trattoria or cafe in the adjacent San Ferdinando neighborhoods.
Cafe Grambinus is a beautiful historic cafe. There are plenty of cookeries and pizzerias that line the side streets.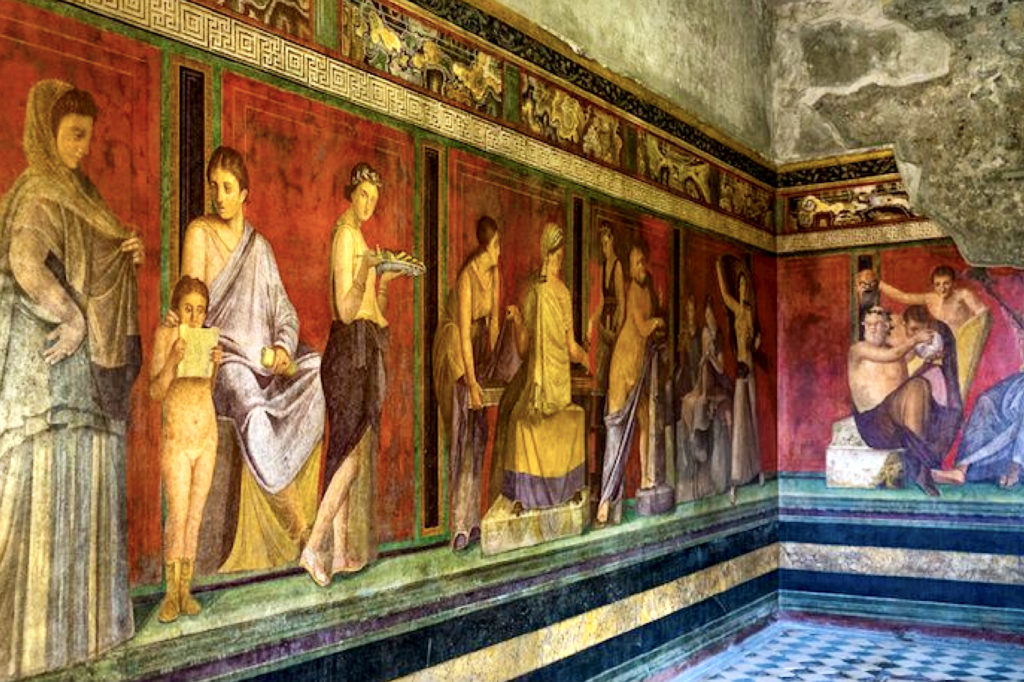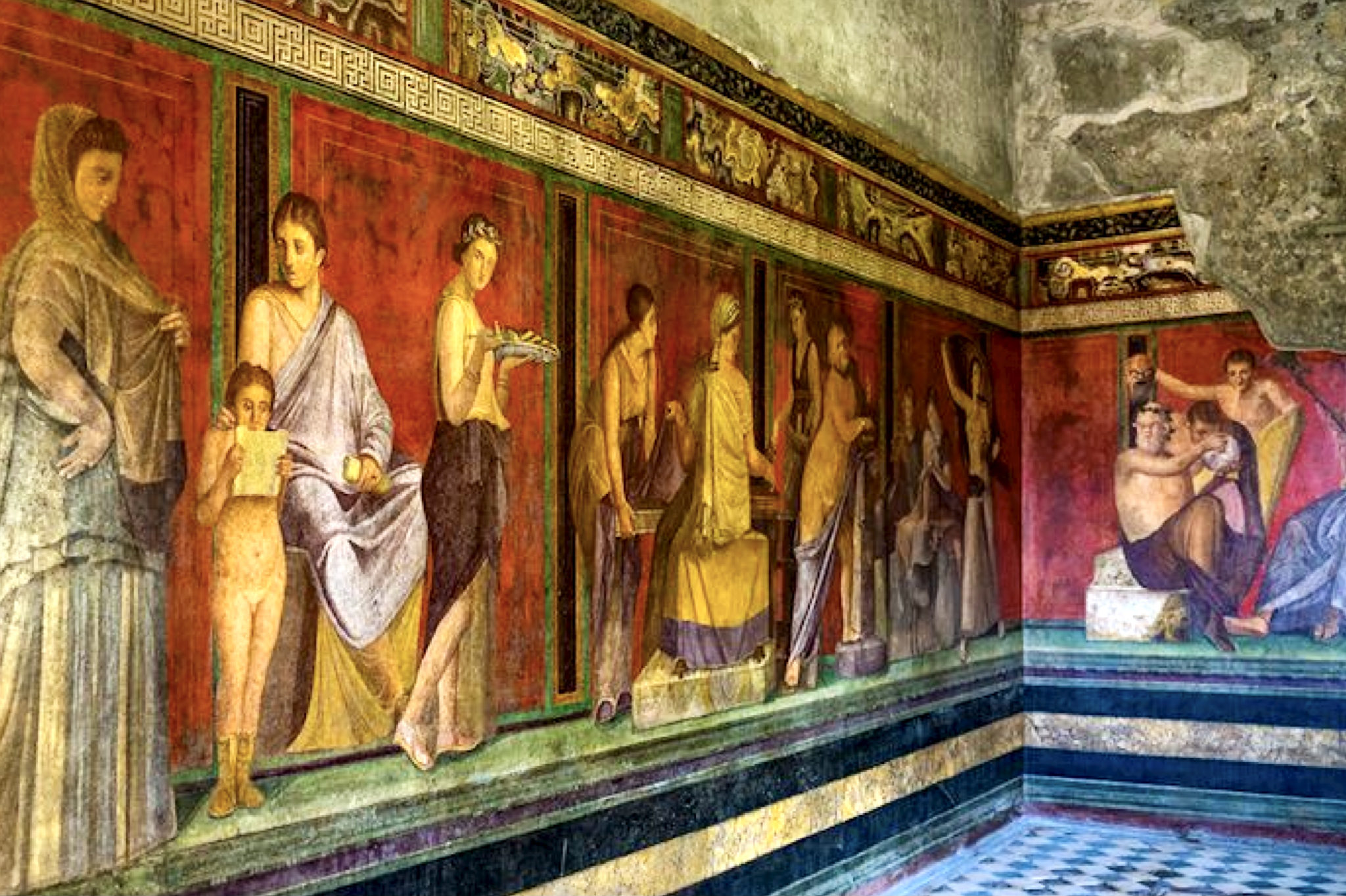 Alternative: Pompeii
Is Pompeii your real priority? If so, with one day in Naples, you could go to the Archaeological Museum in the morning and Pompeii in the afternoon.
It's useful to see the museum first because that's where the excavations from Pompeii are housed. It will make a visit to Pompeii a bit more meaningful.
At a minimum, you'll need to book a Pompeii entrance ticket and perhaps a private transfer to Pompeii. I also advise booking a 3 hour tour to Pompeii with an archaeologist.
You can pick your departure time and have your own "to do" list for Pompeii. For more information about everything to see, you can check out my ultimate guide to visiting Pompeii.
You could also forgo the museum and take a full day tour to both Pompeii and Mount Vesuvius. The hike to the crater is sublime and there are some great wineries on Vesuvius.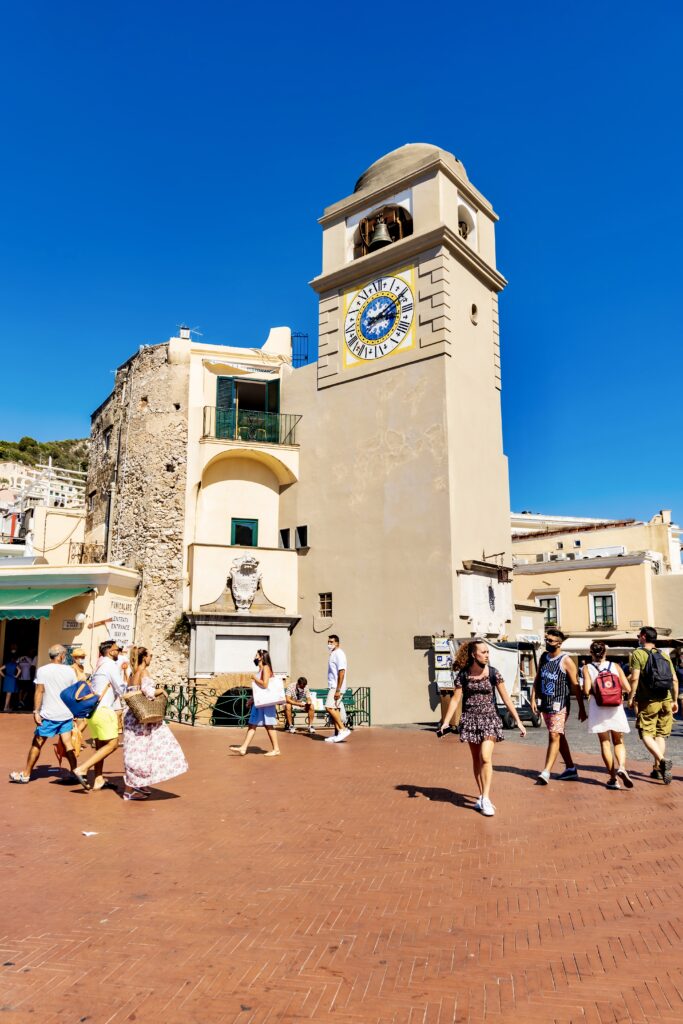 Day 2: Capri: Capri Town
One day 2 of your 7 days in Amalfi, take the ferry from Naples to the mystical island of Capri in the morning. It takes about 50 minutes. You can also book a private transfer by speedboat from Naples.
You'll disembark in Marina Grande. From there, you can take a taxi or the funicular to your accommodation and check in.
In Capri, you can live the high life on a magical island set in a sapphire blue sea. Have an apertivo in the Piazzaetta, do some high end window shopping, and enjoy the views from the island's amazing hiking trails.
Start in Capri Town. It's an immaculate village that's chic in the extreme. The heart of the town is the Piazzetta, or main square. Do some window shopping down the tony Via Camerelle.
Spend your afternoon hiking or at a beach club or hotel pool. Hiking is one of the true pleasures of Capri because the vistas are so mesmerizing.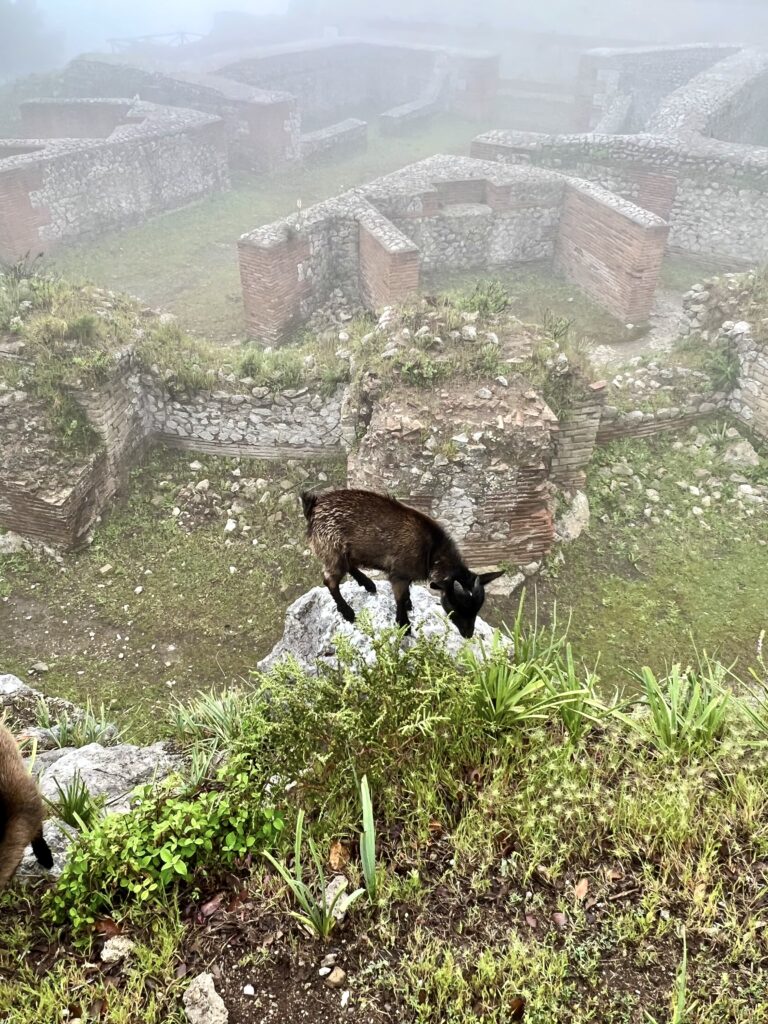 Begin with a hike to Villa Jovis. It's the ruins of what once an opulent Roman villa from which Emperor Tiberius ruled Rome.
From there, hike along the coastal trail. You'll pass a grotto called Matermania, get peaks at the sea, and land at Tragara Belvedere. From there, you'll have full on views of the Faraglioni, the jagged limestone stacks jutting from the sea.
On the way back to Capri Town, check out the Gardens of Augustus and the tranquil cloister of the Certosa di San Giacomo. The gardens offer up fantastic views and you can see the snaking path of Via Krupp right below you.
As an alternative to hiking, you can lounge at a hotel infinity pool taking in the views. Or, you can make a reservation at La Fontelina Beach Club and sip aperol spritzes in the afternoon.
This iconic beach club is near the Tragara viewpoint. It's a pebbly beach with lounge chairs on rock formations. It overlooks the Faraglioni rocks.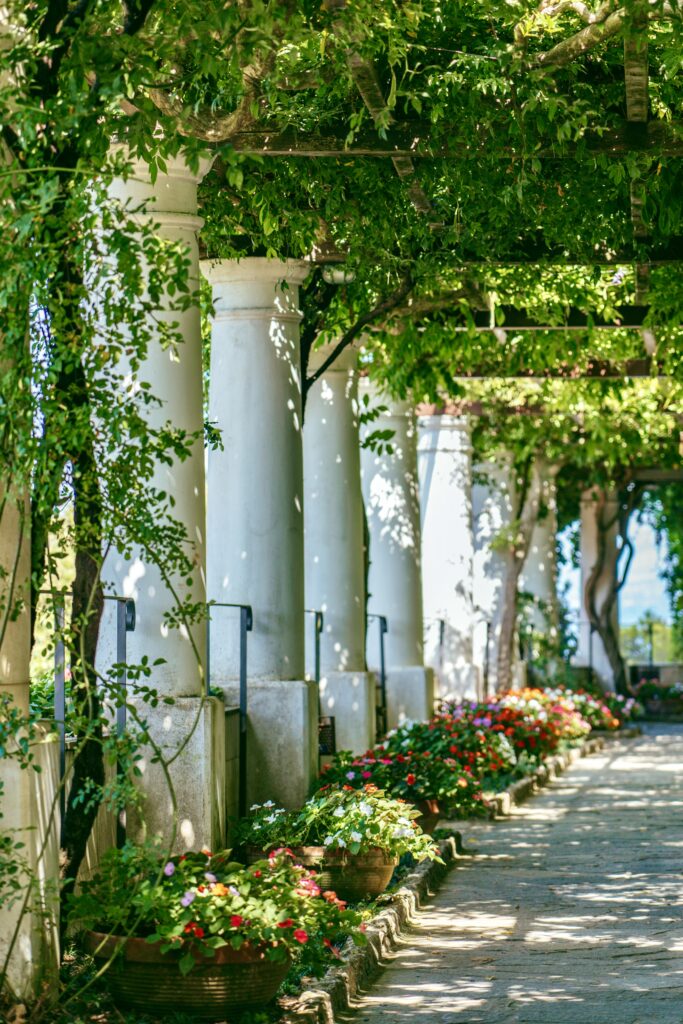 Day 3: Capri: Anacapri & Blue Grotto
One your next day on Capri, explore its other hamlet, Anacapri. You could start with a visit to the famous Villa San Michele, which opens at 9:00 am.
The beautiful villa is now a museum housing a romantic display of ancient artifacts and statuary. It has a stunning garden offering up amazing panoramic views.
Then, take a stroll through Anacapri. It's not quit as chichi as Capri Town.
But you'll still find a good sampling of designer duds and other goodies. You should pop into the Church of San Michele just to see its stunning majolica floor.
In the afternoon, either head up to summit of Mount Solaro or head to the Blue Grotto.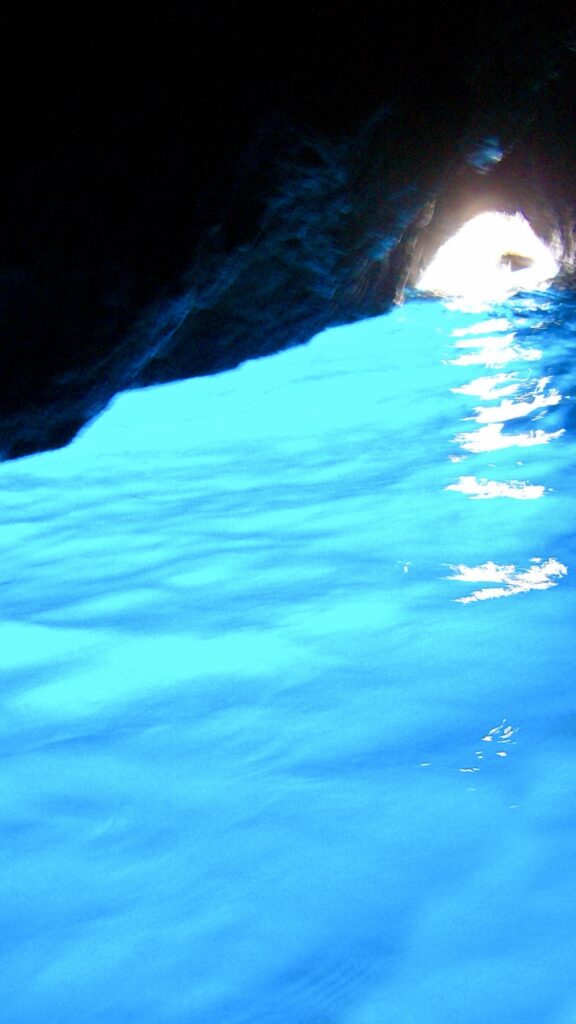 Mont Solaro offers up some of the best vistas in Capri. You can take the chairlift up and hike up. The chairlift leaves from Piazza Vittoria in Anacapri.
Alternatively, take a guided boat tour or head to the Blue Grotto. The Blue Grotto is always busy, but less so in the late afternoon.
It's a famous natural sea cave that's Capri's #1 attraction. The cave's interior is bathed in a brilliant blue glow.
It's created by sunlight filtering through an underwater cavity and reflecting off the limestone walls. It's beautiful, truly an otherworldly effect. If it's a priority for you, I would book a guided tour in advance to ensure a spot.
For more information and tips on Capri, you can check out my 2 days in Capri itinerary.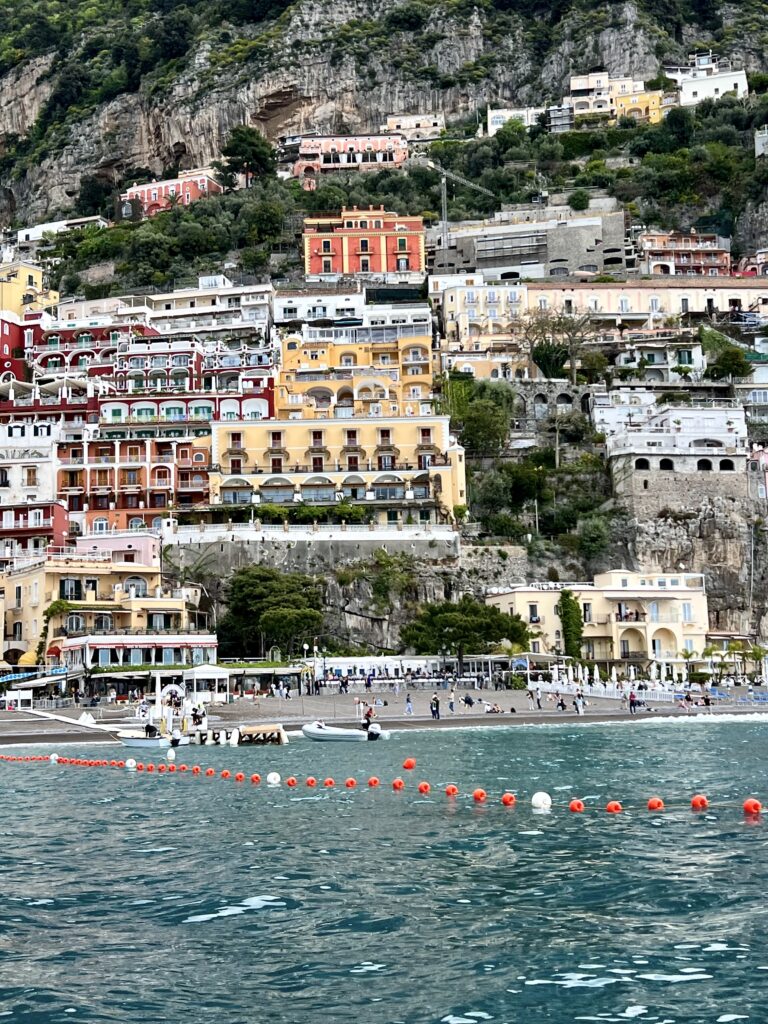 Day 4: Positano
The next morning, head back to the mainland to Positano. You can get there by private transfer or ferry.
Positano is generally considered the Amalfi Coast's most photogenic town. It has a near vertical jumble of pastel colored houses clinging to cliffs and a black sand beach lined with stripy umbrellas.
Positano is exceedingly popular. Know that you'll be sharing the town with hordes of other visitors. I was last there in early May and the streets were already mobbed.
Yet, it still retains some of its old world magic, especially at off peak hours or after day trippers have left.
Spend your first day pottering around the town and soaking up the atmosphere. From the marina, the main drag is Via Mulini.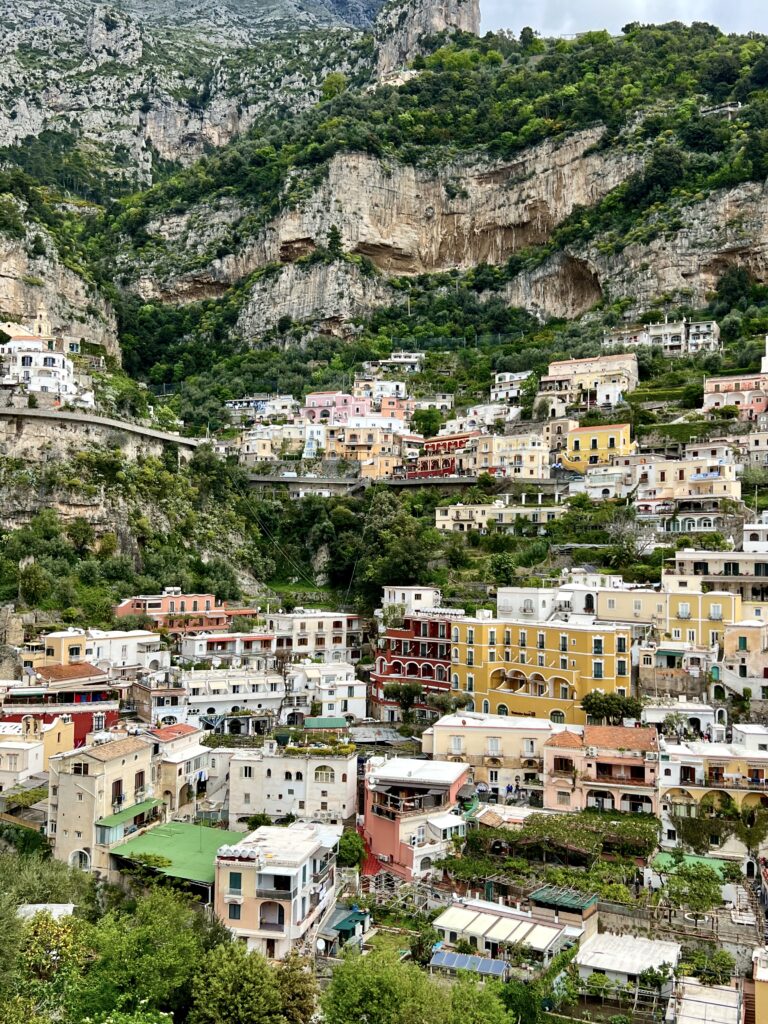 Parts of it are shaded with vines and bougainvillea trellises. You can take a selfie in the flower filled arch in the middle of the street.
Pop into Santa Maria Assunta. You'll recognize the church straight away. It's Moorish green and yellow tiled dome is in every postcard and photo of Positano.
Inside is the prized 13th century Black Madonna icon above the high altar. According to legend, when pirates tried to steal the icon, a storm battered them. When they left the icon ashore, the store abated instantly.
Then, continue wandering up. Positano requires some climbing! The side streets are full of numerous little boutiques and shops, with wares spilling out onto the street.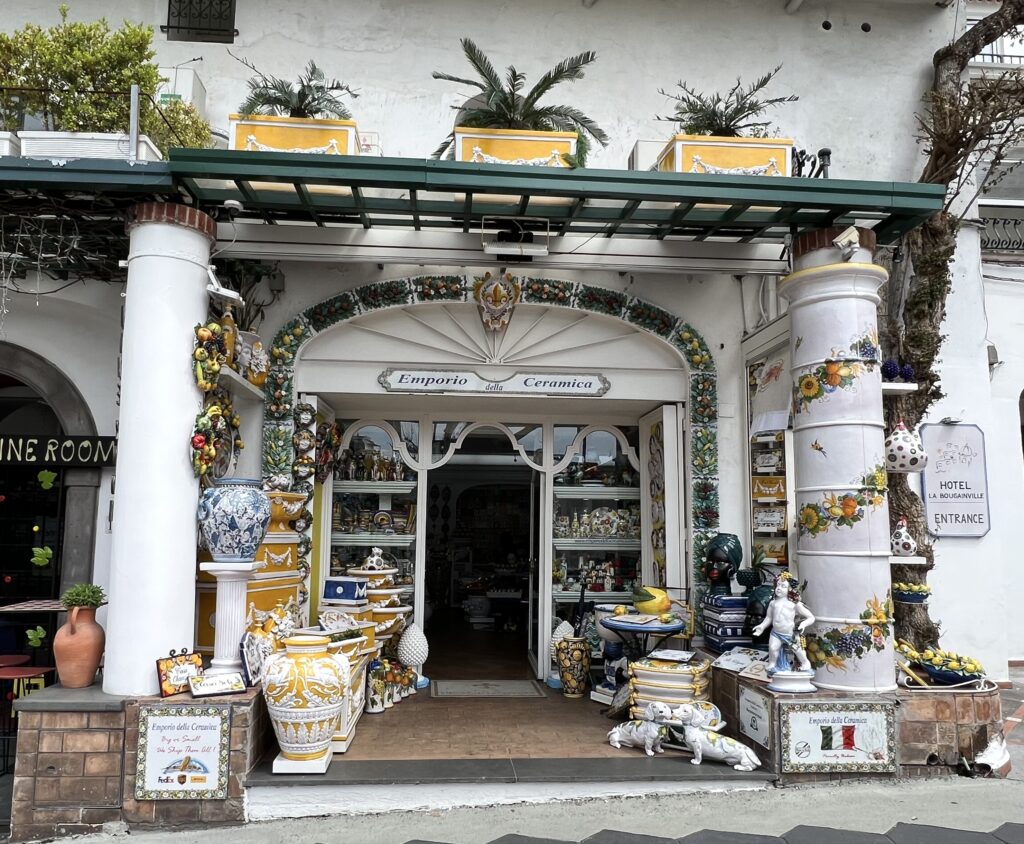 At Piazza Mulini turn right on Via Christoforo Colombo. You'll find more shops and eateries. From here, you'll have the classic view of Positano with its majolica domed church.
Grab lunch here and then head to the other side of the town down Via Pasitea. You'll find more shops, quaint cafes, and panoramic vistas. There's another pretty church, Sant Caterina, to explore.
In the evening, splurge on a restaurant with killer cliffside views. Some classics include La Sponda at La Sirenuse Hotel, La Terrace in Hotel Eden Roc, Maestro's in Villa Treville, or Il Tridente at Hotel Poseidon.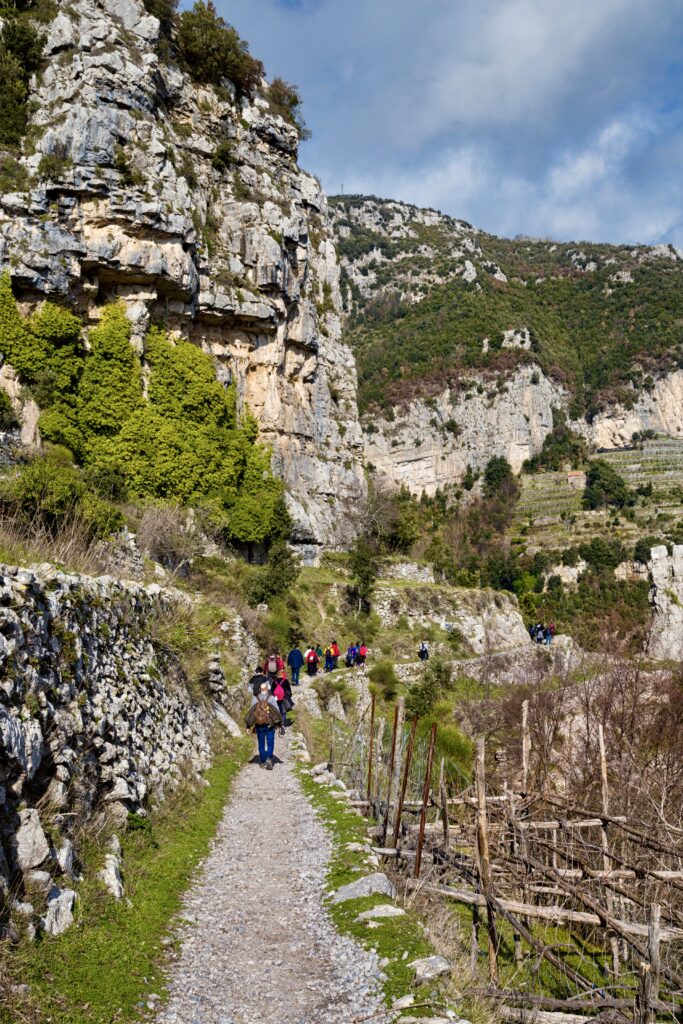 Day 5: Positano
Your next day in Positano, hike the iconic Path of the Gods. It's a 5 mile long trek from Bomerano to Nocelle.
The hike moderately difficult and will take 3-4 hours. Bring water and a hat because it's sunny the whole way.
You can book a taxi or a private transfer to Agerola Bomerano where the hike begins. Or you can book a guided tour. You can also catch the bus from Amalfi town.
The Path of the Gods is known as the best hike on the Amalfi Coast. It's a series of shepherds' trails that follow the contours of the hills above the coast from Positano to Praiano.
You will often find yourself very close to the edge of the cliff. Once you finish the hike in Nocelle, you can either walk to Positano or take a bus or taxi to wherever you are staying on the Amalfi Coast.
After your hike, spend the rest of the day relaxing on the beach, one of Positano's greatest pleasures. The main beach is Spiaggia Grande. You'll have to pay for a sun lounger.
You can also sunbathe on Spiaggia Fornillo. It's more low key than the Grande.
Alternatively, you could take a boat tour along the coast to see the magnificent cliffs, hidden coves, and breathtaking views. You can opt for a guided tour or rent a private boat to explore at your own pace.
Day 6: Ravello
From Capri, make your way to Ravello. Take the ferry to Amalfi town. From there, you can taxi up to the town, take a bus, or have your hotel arrange a private transfer.
Historic Center
Ravello is a tiny town with a charming town square and car free center. Start with a visit to Villa Rufolo. It's a gorgeous Moorish-style villa dating from the 13th century.
It has a romantically crumbling cloister, a tower to climb, and beautiful manicured gardens. The highlight is the Wagner Terrace where you'll have oh-my-god postcard views of the Amalfi Coast.
Then, inspect Ravello Cathedral. It's an ancient church full of treasures that's a combination of Romanesque and Baroque styles. Inside, you will find two exquisite pulpits and a Baroque chapel dedicated to Ravello's patron saint, St. Panteleone.
Then, wander the town and poke in and out of all the amazing ceramic shops.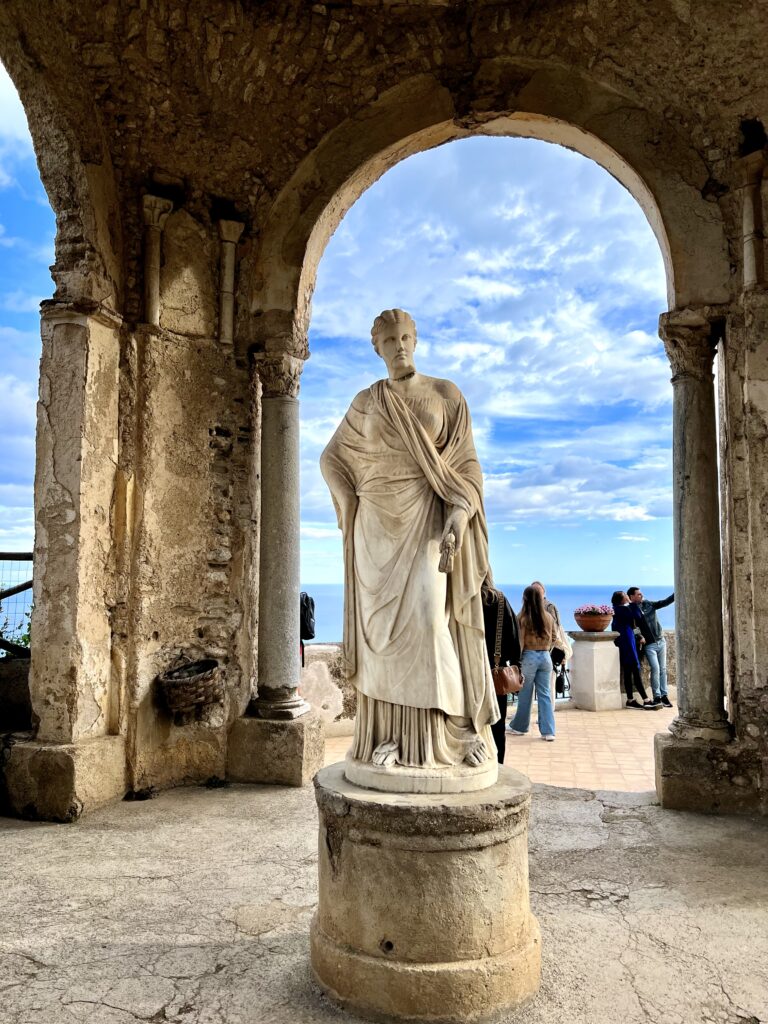 Villa Cimbrone
In the late afternoon or early evening, make your way to Villa Cimbrone. It's my favorite spot in Ravello.
You can only get there on foot. It's a literal garden in the sky, perched on a 1,000 foot cliff. The villa grounds are filled with romantic follies, ancient statuary, and storybook gardens.
The highlight is the stunning Terrace of Infinity. It's lined with Roman-style busts from the 18th century and guarded by a statue of the Roman goddess Ceres. From the terrace, you'll have jaw dropping views of the azure sea and the Amalfi Coast.
Day 7: Ravello
On the last day of your one week in Amalfi Coast itinerary, see some of Amalfi's other quaint towns.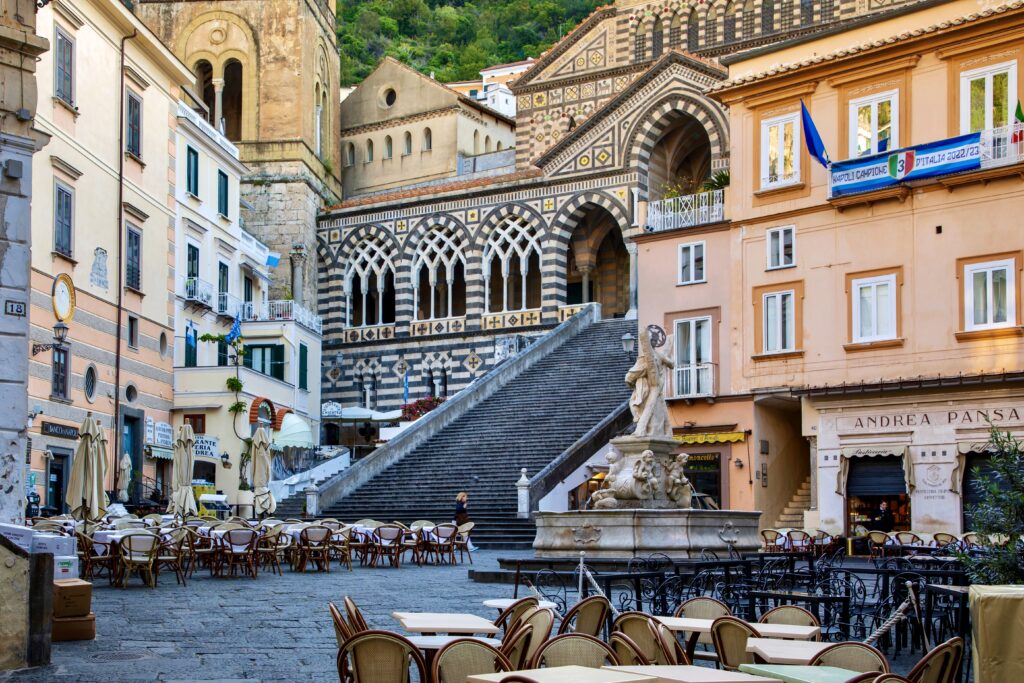 Amalfi Town
In the morning, hike down from Ravello to Amalfi town. You can also take a taxi or bus. But the hike is meandering and glorious with beautiful views and coastal vignettes.
Amalfi is a cheery town. Much like Positano, it has tightly packed houses that tumble down to the port below. It also boasts one of Italy's most beautiful churches that is well worth a visit.
Amalfi Cathedral is located in the heart of town in the bustling Piazza del Duomo. It's a large complex.
You can visit the Cloister of Paradise (where you enter), the Basilica of the Crucifix, the Diocesan Museum, the Crypt, and the cathedral itself.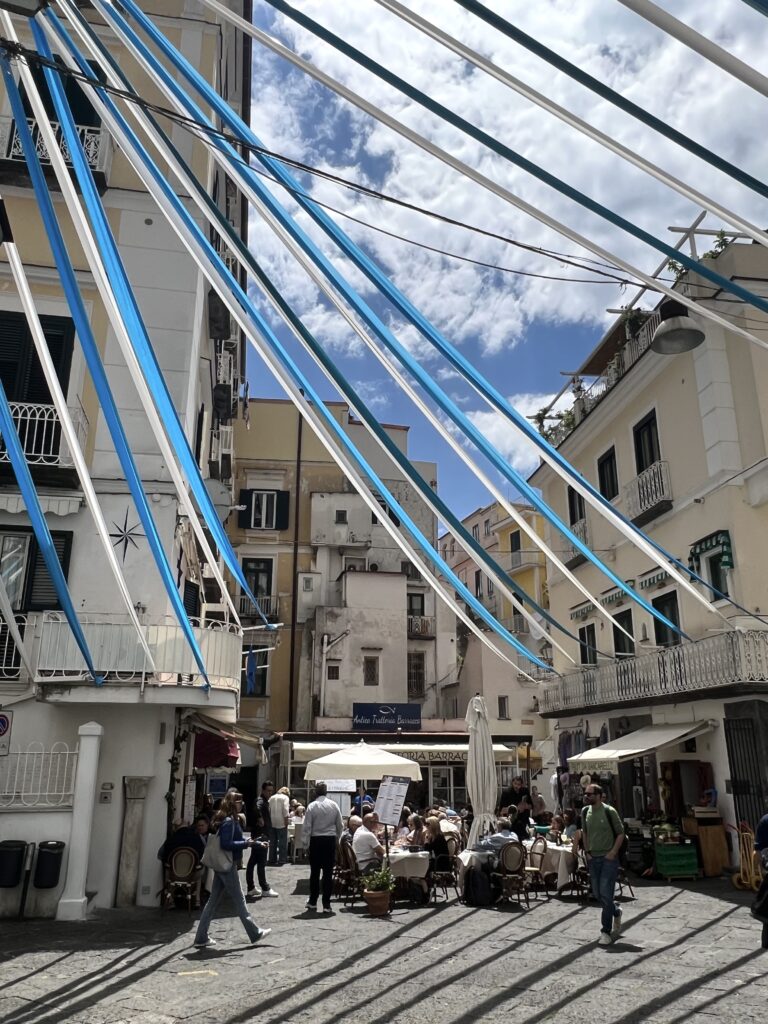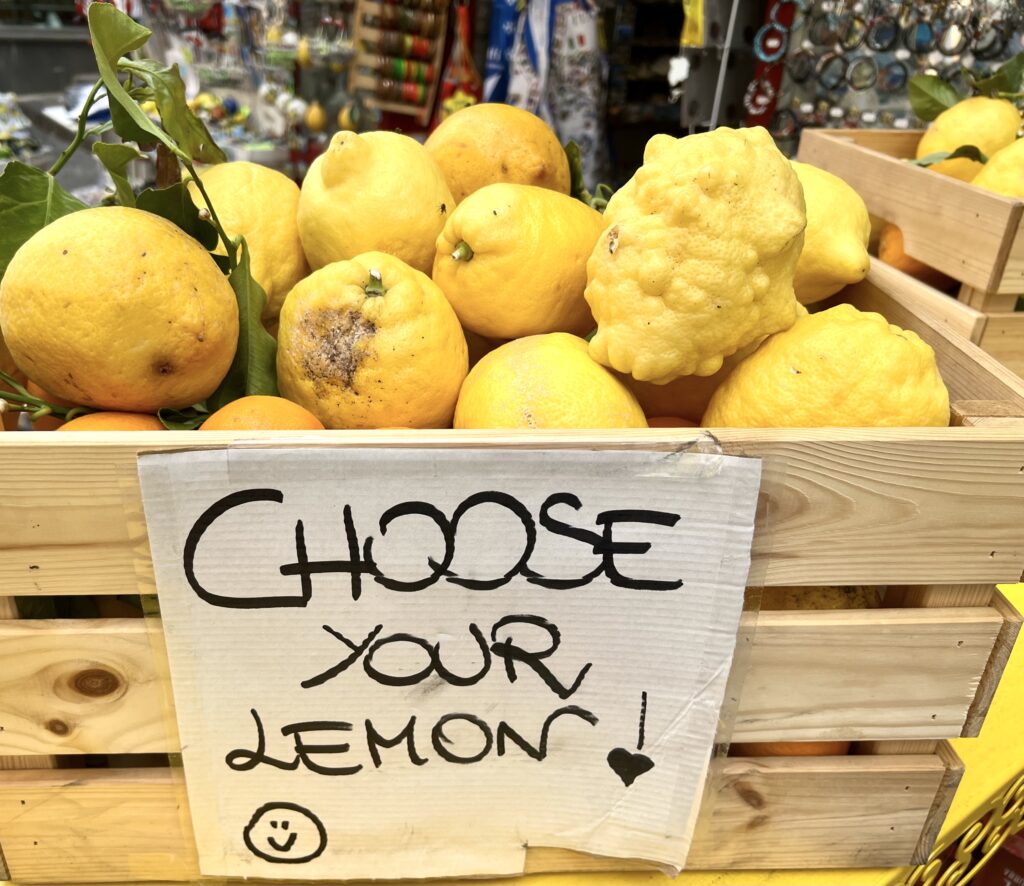 For more information, here's my complete guide to Amalfi Cathedral.
You should also explore Amalfi's back streets and ancient stairways. This is where you can escape the crowds and find some excellent trattorias for lunch.
If you are interested in the history of Amalfi, you can visit the Paper Museum. Paper was a major trading product for the town and the museum is housed in an ancient mill.
Atrani
From Amalfi, you can walk to the village of Atrani. It's an adorable hamlet just 10 minutes from Amalfi.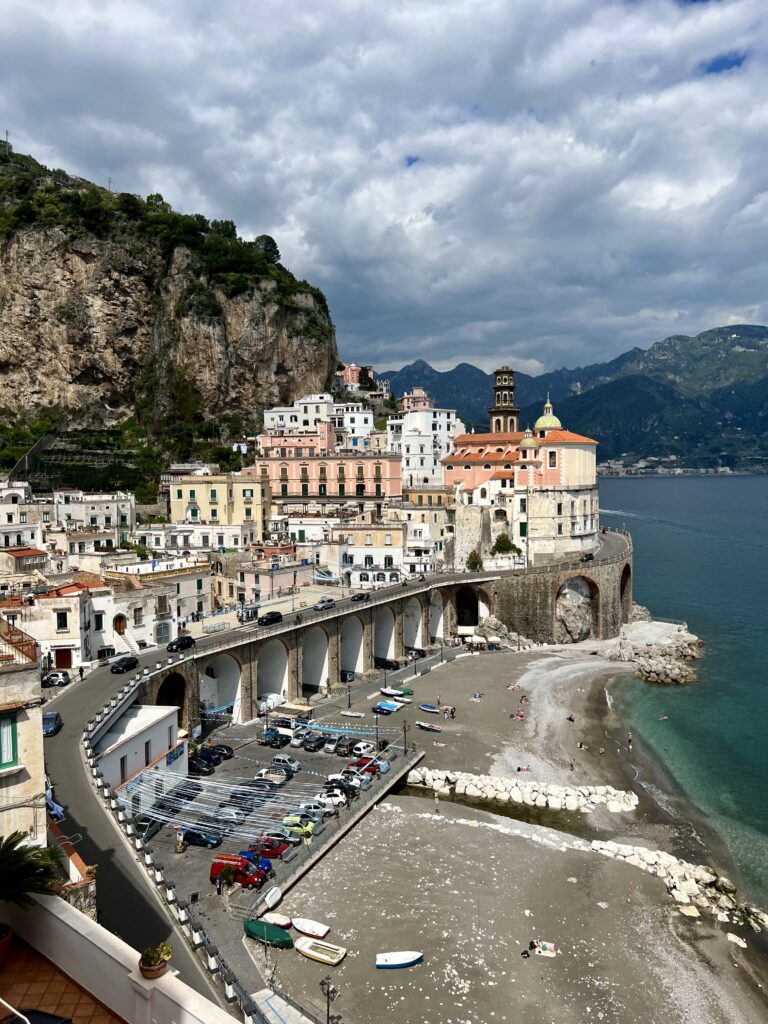 Atrani has pretty whitewashed homes and some lovely churches. It's just 10-15 minutes from Amalfi town.
The main square is Piazza Umberto I. There's a nice beach, which is a peaceful place to laze in the sun.
If you are ambitious, you can hike the "Ravello Challenge" back to Ravello. It's a super steep hike straight up hill that takes about one hour.
But there are plenty of places to stop, catch your breath, and take in the views. You can also taxi or take the bus to get back to Ravello.
Maiori & Minori
Alternatively, you could visit the quieter towns of Maiori and Minori from Ravello. The two towns are linked by the Path of the Lemons.
Maiori has a lovely swathe of sandy beach and a palm-lined promenade. Have a pastry at Paticceria Napoli and check out the lemon colored Church of Santa Maria a Mare, with its postcard views.
Minori is a tiny town that's 20 minutes from Maiori. And it has an archaeological gem — Villa Romana.
It's is an ancient Roman villa that dates back to the 1st century A.D. The villa was discovered in the 1930s and is partially excavated. Highlights include thermal baths, mosaic floors, and frescos.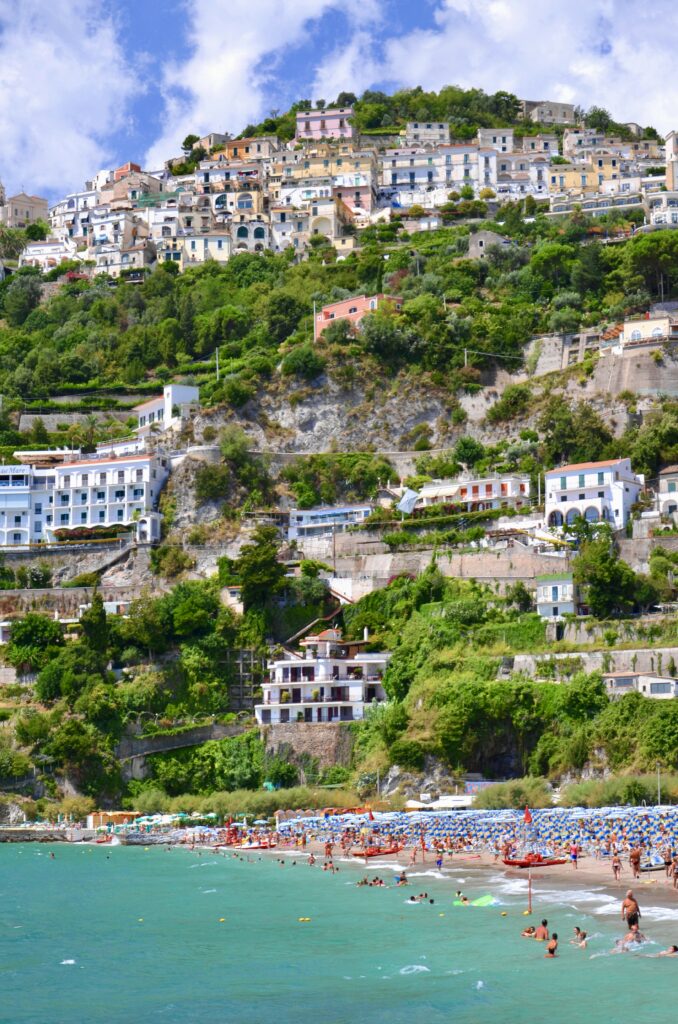 Vietri Sul Mare
A third alternative is to visit Vietri Sul Mare. It's about 7 miles from Ravello.
The lovely town is still a bit of a hidden gem in Amalfi. It's know for its myriad ceramic shops.
You can also visit the Museo Della Ceramica Vietrese. And wander through the town's lovely cathedral.
The town also boasts a stunning beach, Spiaggia Della Crestarella, set on crystal clear waters. So, you can indulge in a double dose of shopping and sunbathing.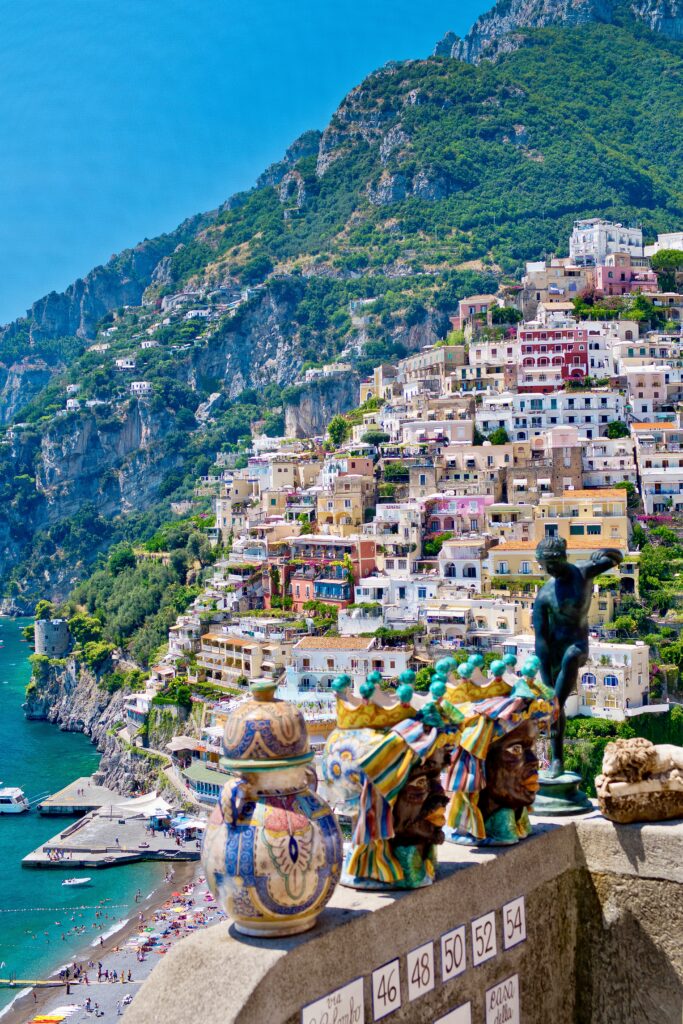 Tips For Spending 1 Week In The Amalfi Coast
Here are some must know tips for spending 7 days in the Amalfi Coast.
1. How To Get To The Amalfi Coast
The closest international airport is Naples International Airport Capodichino. But you can also fly into Rome's Fiumicino Airport.
From Naples airport, you can take a taxi or book a private transfer to your hotel. You can also book a private transfer from Rome or take the train from Rome to Naples. From the airport, the Leonardo Express takes you to Rome Termini, the main train station.
Naples also has a major train station that's well connected to other cities, Napoli Centrale. Take the Circumvesuviana train from Naples Central to Sorrento (roughly one hour ride) and then hop on a bus or ferry to your final destination.
From Naples, you can take the ferry, a hydrofoil, or a private transfer by speedboat to get to Capri.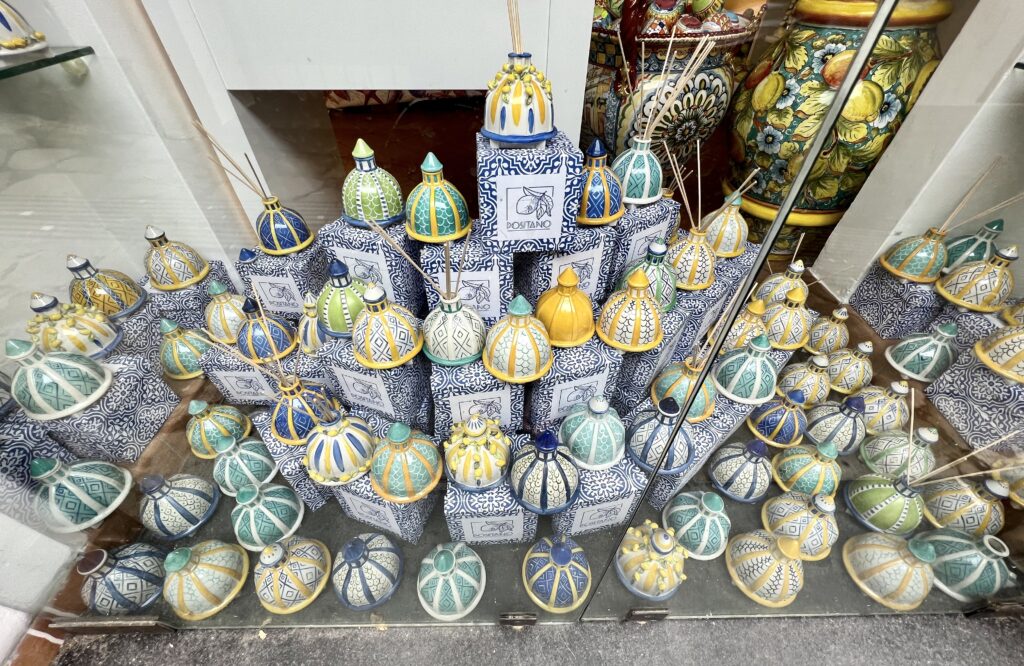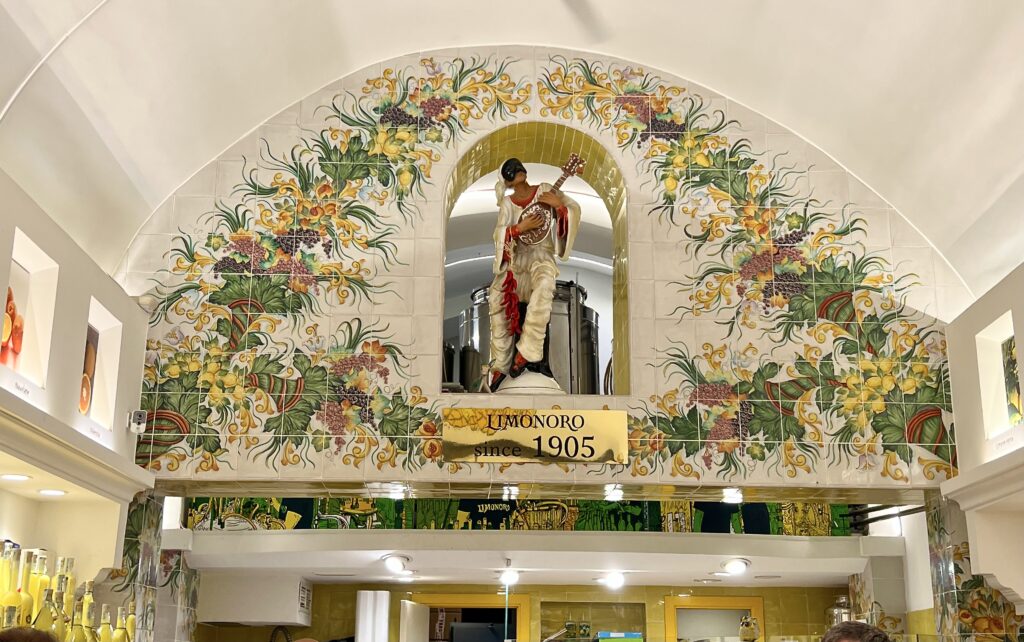 I only recommend renting a car for brave drivers visiting in the off season. Otherwise, you should expect crazy traffic and traffic jams since there's only one main road.
Parking is also very expensive. In high season, it will be difficult to find a parking spot.
2. How To Get Around The Amalfi Coast
You can get around the Amalfi Coast by car, taxi, bus, boats, or ferry.
The SITA bus service operates along the Amalfi Coast, connecting the main towns and villages. Ferry services are available that connect the major towns like Positano and Amalfi.
Buses can get extremely busy in high season and there will be queues. Remember to validate your ticket when you get onboard.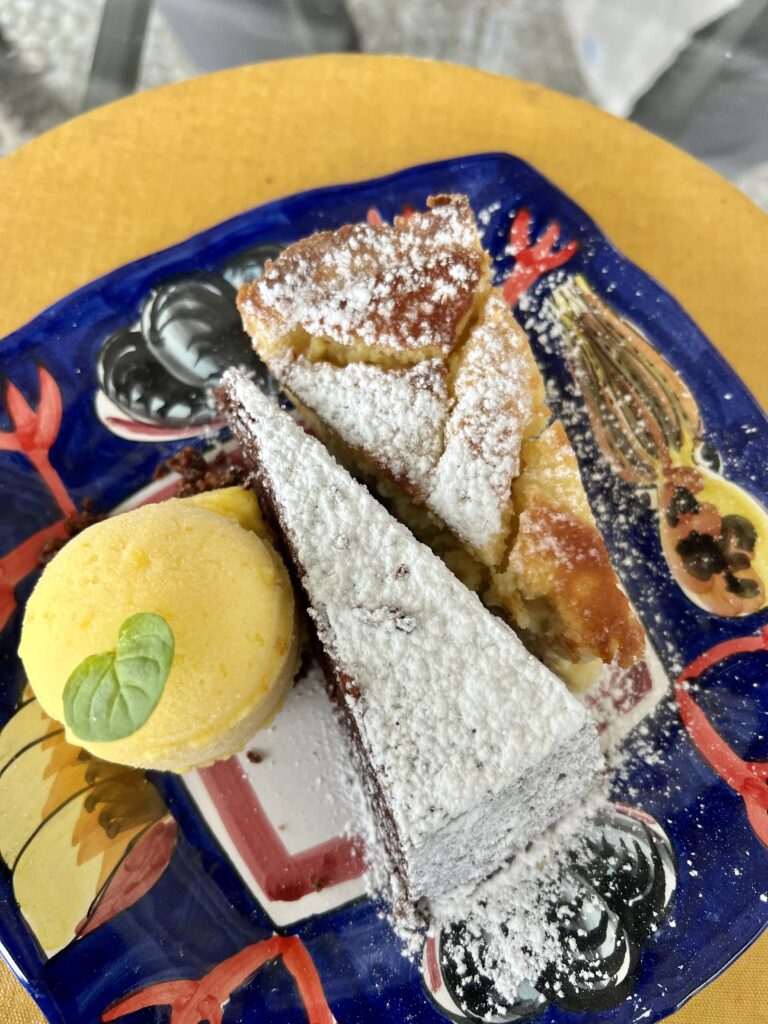 Renting a scooter is a fun way to zip around Amalfi. I am also a huge fan of hiking in this glorious area. It's a heady combination of exercise and views.
3. When To Visit The Amalfi Coast
When to visit depends on your preference for weather and tolerance for crowds.
I think late spring (May) and fall (September/October) is the best time to visit the Amalfi Coast. In the spring, the gardens and landscapes are at their most lush and the wisteria are blooming. You may get some rain if you arrive in April.
In the summer, you should prepare for epic crowds, which can cut into your enjoyment of the serene place.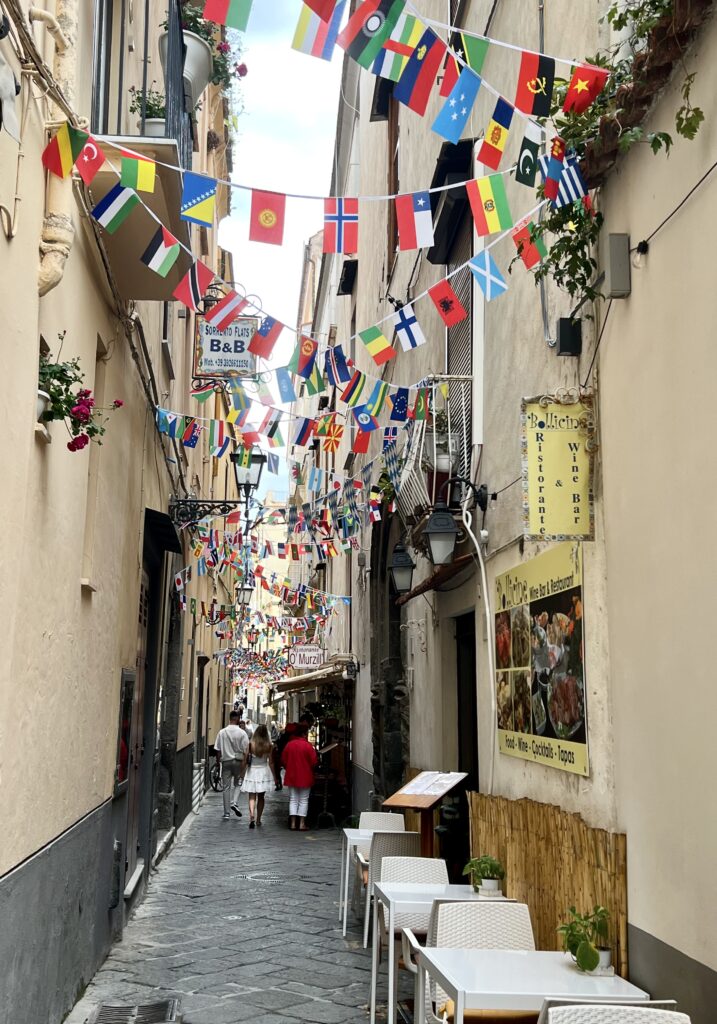 4. Other Places To Explore On Or Near The Amalfi Coast
Sorrento
I did visit Sorrento near the beginning of my 10 day Amalfi Coast visit. The town didn't bowl me over and that's why I haven't included it above. It was also packed with tourists.
Yet, Sorrento is still appealing and has a charming old town with a maze-like grid of streets. The skinny Via San Cesareo is a riot of lemon-themed shops and brightly colored ceramics. Sorrento also has some pretty churches and plenty of hotels.
Cetara
Cetacea is a picturesque fishing village of Cetara Known for its exceptional seafood. It has long been a favorite among visitors seeking delectable culinary experiences.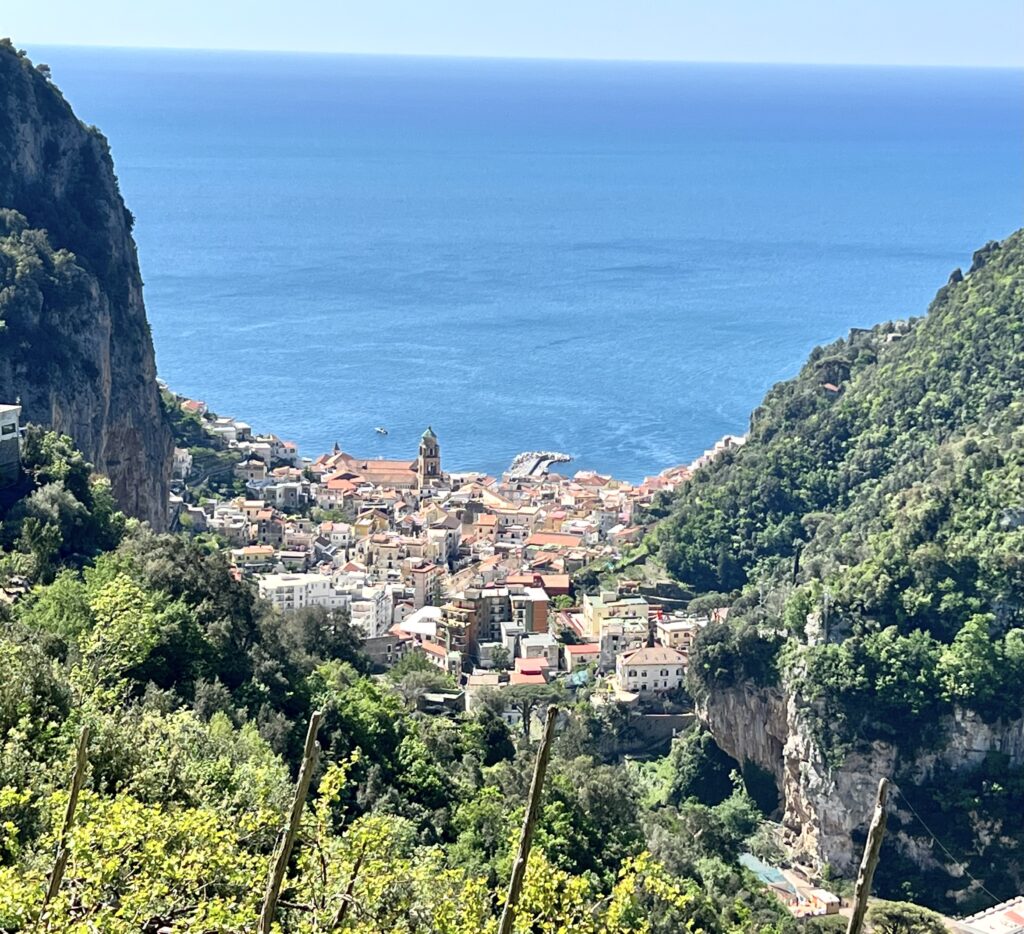 Scala
Nestled high in the hills above Amalfi, the town of Scala offers a serene escape. It has a quaint charm and breathtaking views, especially of Ravello.
You can explore its narrow streets, admire the historic architecture, and immerse yourself in the peaceful ambiance of this hidden gem.
Cilento
Just south of Salerno lies the Cilento region. Cilento is known for its lush green landscapes, pristine beaches and the ruins at Paestum. It also has some broad sandy beaches and a grand Carthaginian monastery.
Paestum is really worth your time. It's not as well known as Pompeii or the Valley of the Temples in Agrigento Sicily. But it boasts some towering Greek temples that you can actually walk around.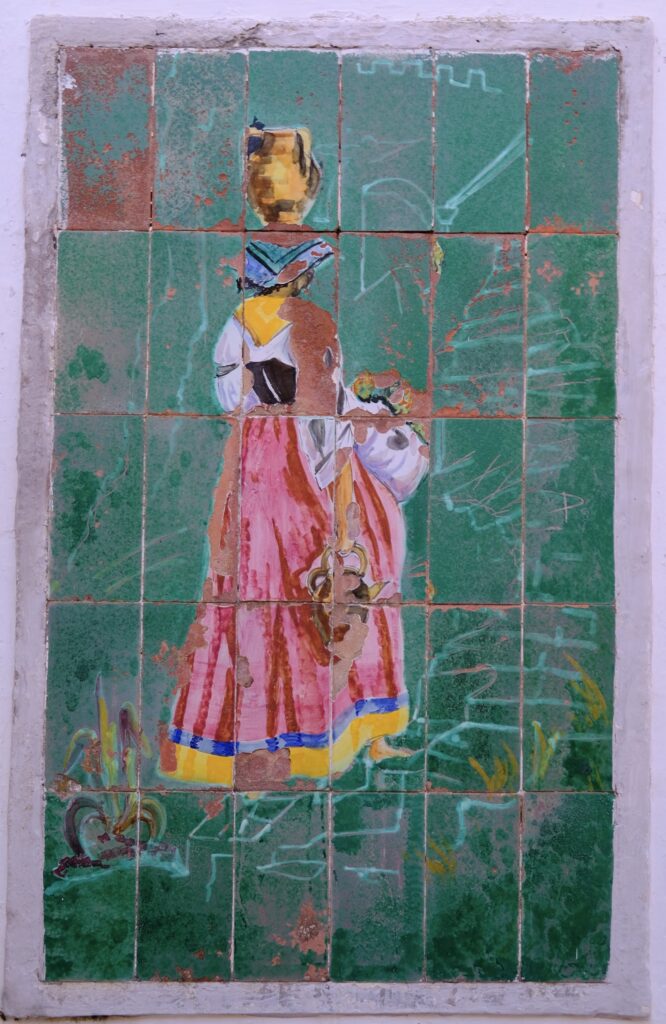 5. How Many Days Should You Spend In The Amalfi Coast?
I think one week is a good amount of time to budget for the Amalfi Coast. That will allow you to see Naples, the island of Capri, and many of the lovely towns on the coast itself.
If you skip Naples, you could do it in fewer days. If you skip Capri (not technically on the Amalfi Coast), you could dedicate just 3-4 days for a visit.
I say, the more days the better, if your pocket book can stand it. There's plenty to see and you want to have some leisure time to just soak up the views and vibes.
And that's a wrap for my one week in the Amalfi Coast itinerary — the coast with the most! You may enjoy these other Italy travel guides and resources:
If you'd like to spend 7 days on the Amalfi Coast, pin it for later.