Nestled in the Bay of Naples, the island of Capri is one of the most beautiful places on planet earth.
It's been a resort island and haven since ancient times. Its magnetic charm enchanted Roman emperors like Tiberius, who built lavish villas there.
You'll be enchanted too. To help you discover the island's magic, I've put together the perfect one day in Capri day trip itinerary.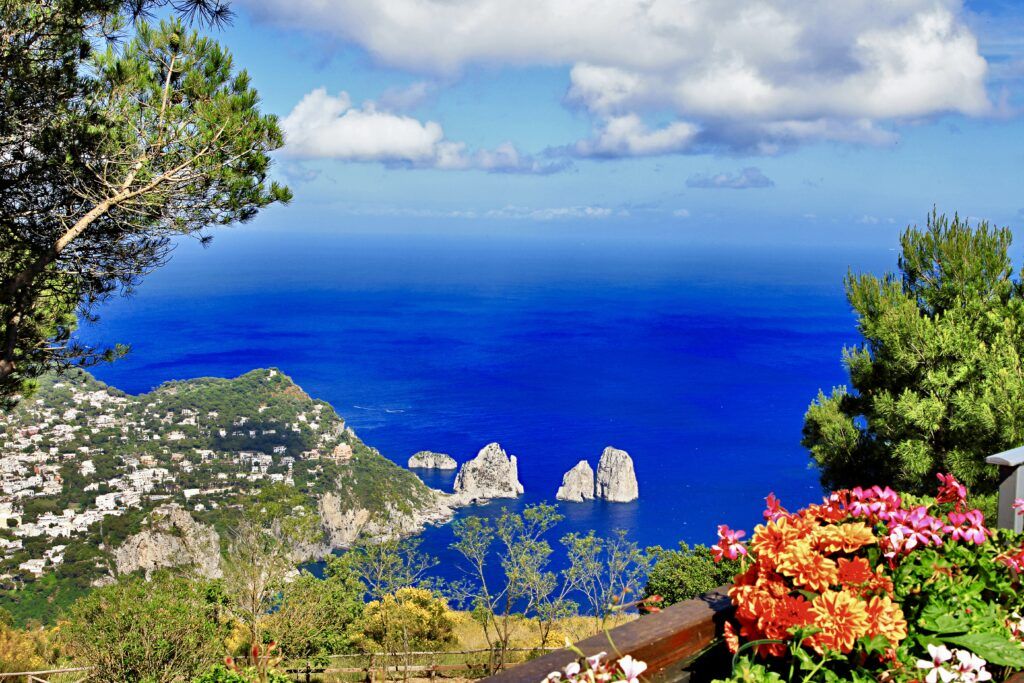 A Short History of Capri
Capri was settled by the Ancient Greeks in the 8th century BC and was part of Magna Grecia. There's a bit of debate about the name of the island.
"Capri" is a Greek word that means wild boar. Others instead say that the word refers to "Capra," or goat, because the Romans referred to it as goat island.
The first Roman Empire to come to Capri was Augustus. He famously said, "Island of goats, you have made me august and envious at the same time."
The most celebrated property on the island was Tiberius's swishy villa, Villa Jovis. Tiberius ran the Roman Empire from his digs, making it the imperial base around 30 AD.
It was a bragging point for Tiberius. He could dispatch messengers to get to Rome and back in a single day. In effect, Tiberius worked remotely like many of us do today.
Tiberius' rule was followed by Caligula, who also spent time on the island.
Throughout the medieval era, Capri underwent various changes, shifting between different rulers like the Byzantine Empire, the Kingdom of Naples, and even the Saracens.
By the 16th century, Capri fell under Spanish rule, becoming part of the Kingdom of Naples. The 18th and 19th centuries saw Capri become a refuge for notable figures, drawing in artists, intellectuals, and writers from around the world.
Fast forward to the present day, and Capri is still the elite playground of the affluent and renowned. They flock to Capri for its exclusive hotels, fine dining establishments, and high-end couture boutiques.
Overview Of Capri
Capri is part of southern Italy, near the Sorrentine peninsula.
It's an island divided into two parts, with a valley in between. There's a big port at the mouth of the island, Marina Grande.
There are two towns, Anacapri and Capri Town. Capri Town is accessible via funicular, bus, or taxi. Anacapri sits above Capri and can be reached by bus or taxi.
People usually arrive in Capri from Naples or Sorrento. You can take the high speed boat, a slower boat, a private charter, or book a private transfer. (Nitty gritty details in the tips section at the end.)
On arrival, many people say "what's the big deal." This may reflect the fact Marina Grande is not very pretty and very touristy.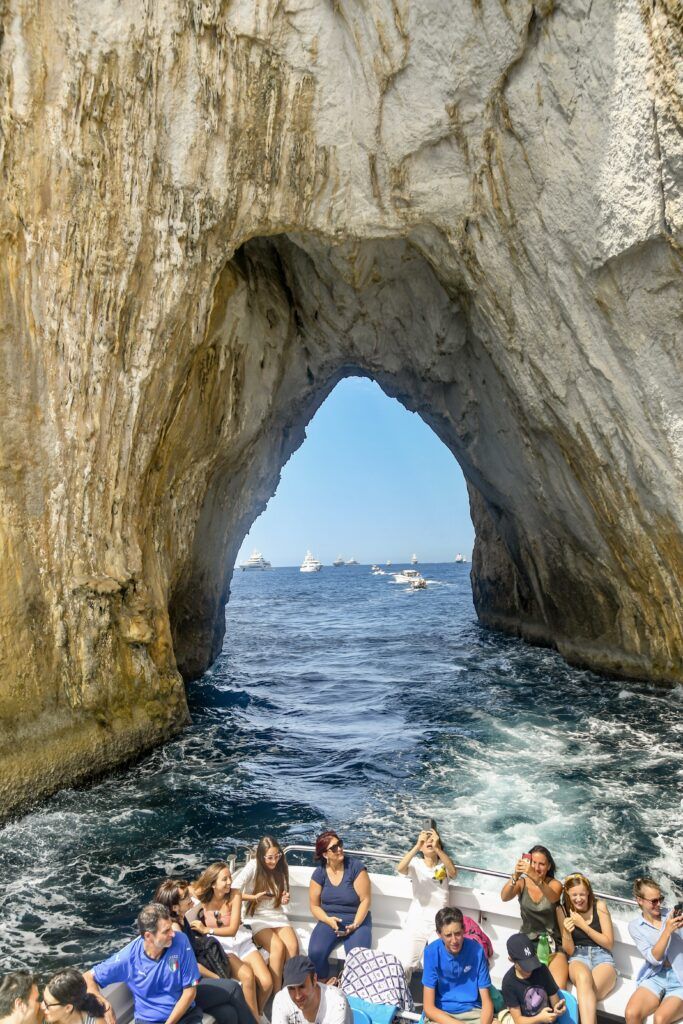 Well, the big deal is the natural beauty of the island itself!
A good way to see for yourself is to take boat ride around the island and look at it from the sea. Some guided day trip tours include this option or you can book a boat tour on your own.
>>> Click here to book a 2 hour boat tour around the island
It's not easy to get around the island itself. In fact, perhaps the most convenient and efficient way is to is hire a driver and take a custom automobile.
They're tweaked for the narrow roads and have the roof cut off. You can also rent scooters to get around or take the bus.
You'll need to be prepared, psychologically, to share the island with other people.
Overview Of One Day in Capri Itinerary
Here's a snapshot glance of what you can see on a day trip Capri:
Blue Grotto
Anacapri
Villa San Michele
Mount Solaro
Capri Town
Gardens of Augustus
Villa Jovis
Best Tours & Experiences:
Here are some tours you might consider booking. Be sure to reserve well in advance for high season.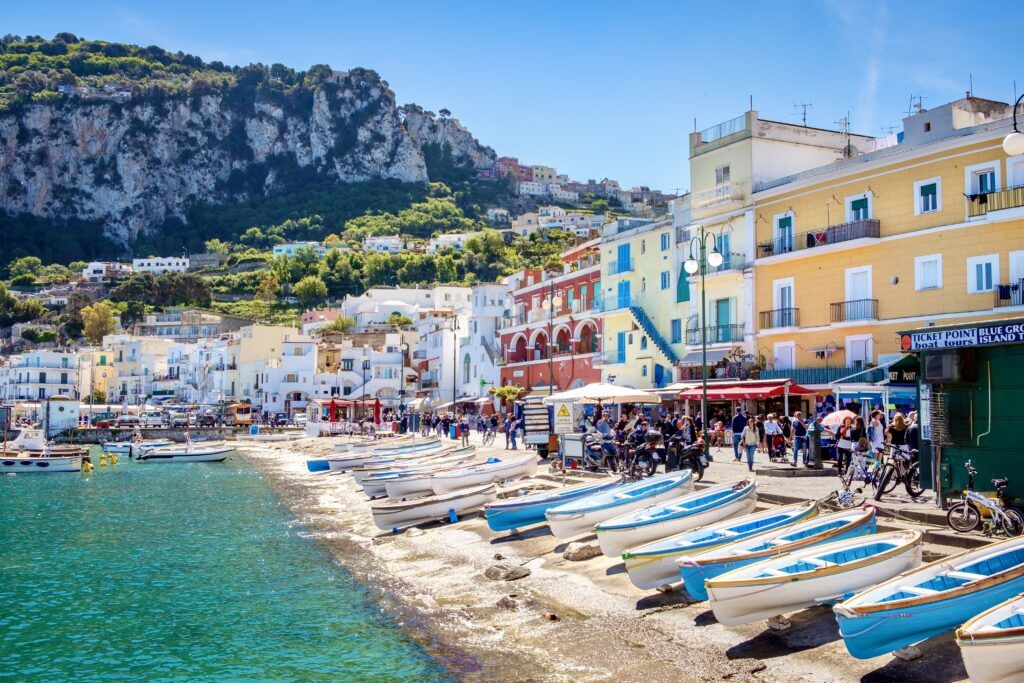 One Day In Capri Itinerary
There's a lot to do in Capri with just one day. My itinerary is crafted with the active traveler in mind and covers all the top attractions on the island.
However, with limited time, you may need to be realistic about how much you can fit in. So, feel free to pick and choose from the array of activities I've outlined.
Your ferry will drop you off at Marina Grande. From there, make you way to either the Blue Grotto or Anacapri.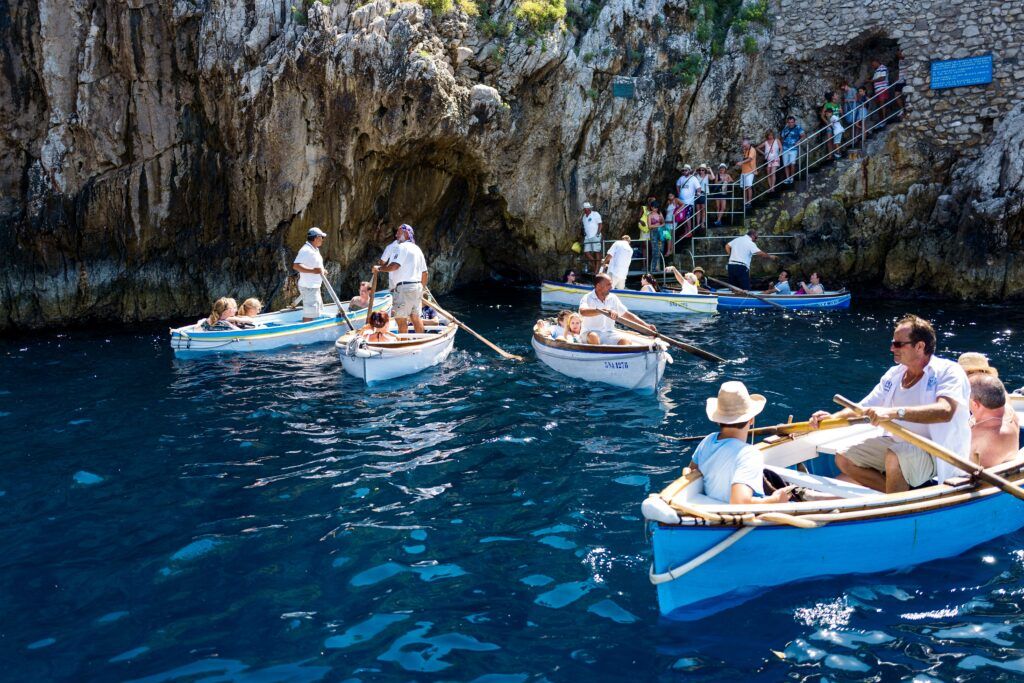 Blue Grotto
You should decide in advance whether you want to visit the famous Blue Grotto.
If you do, it's best to go in the morning. This is when the lighting is optimal. To enter, you've got to actually lie down in your boat because the entrance is only 4 feet high.
Expect to invest a fairly significant amount of time for this endeavor. There's a lot of waiting involved and it could take up much of your morning. And the visit inside is only 5 minutes.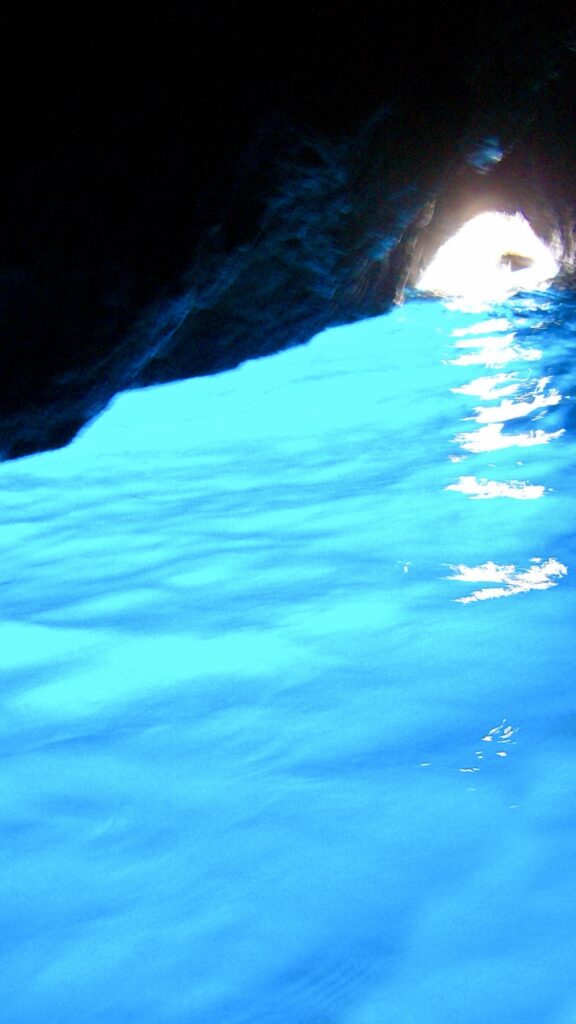 Yet, the grotto is a truly unique geographical phenomenon.
Sunlight penetrates through the cave and bounces off the limestone floor. It creates an otherworldly radiant blue that's just mesmerizing.
You have to see it at low tide when the water is calm. If it's high tide, you won't be able to visit. You might have your visit abruptly cancelled. So, it's a good idea to have backup plans.
Historians believe that Tiberius used the Blue Grotto as a private swimming pool and placed statues in there. Several of them are now in a museum in Anacapri.
Anacapri
If you skipped the Blue Grotto, start your one day in Capri in the town of Anacapri. Or head there when you're done at the grotto.
Anacapri is Capri's less visited town. Nonetheless, it's quite pretty.
Piazza Vittoria is the main square. Via Orlandi is the main street and a great place to shop.
Narrow streets lined with whitewashed houses and colorful flowers create a charming ambiance as you stroll through the town.
Anacapri is renowned for its local crafts and artisan shops, offering up handcrafted ceramics, textiles, and other unique products.
You may want to visit the pretty Villa San Michele.
It was designed by Swedish doctor Axel Munthe. Munthe's wanted a "Greek temple, with light light light everywhere."
Today, the villa is a museum housing art and antiques — ancient relics, statues, and eclectic furnishings. You can walk through the atrium, mosaic floors, loggia, and chapel.
Replicas of iconic sculptures like Rome's Spinario and Florence's Putto with Dolphin adorn the villa. The garden features a wisteria-draped pergola, boasting stunning views.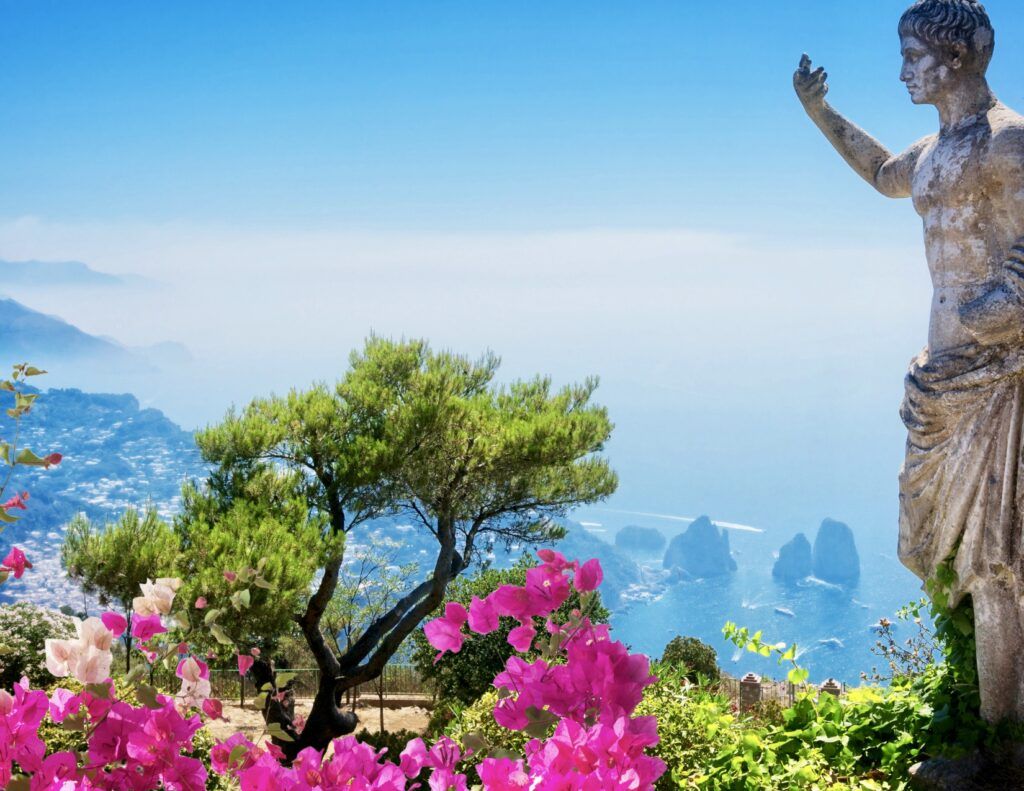 Mount Solaro
The next thing you'll do is hop on a chairlift to head up to Mount Solaro. It departs from the Piazza Vittoria and takes about 10 minutes each way.
It's very safe. The operators are excellent and are used to visitors that might be apprehensive.
It's a surreal experience. You're hovering above white sugar cube homes. As you ascend, it gets more and more quiet. All you hear is wind.
Once you get off the chair at the top, you're 2,000 feet above sea level. There are a few terraces to visit to look out over the island. You'll be dazzled with the best views on the island. You've probably seen the view in photos of Capri.
You can see the Fragalioni rocks. They're limestone sea stacks. They've become iconic and a symbol of Capri. You can actually sail through the arch of one of them.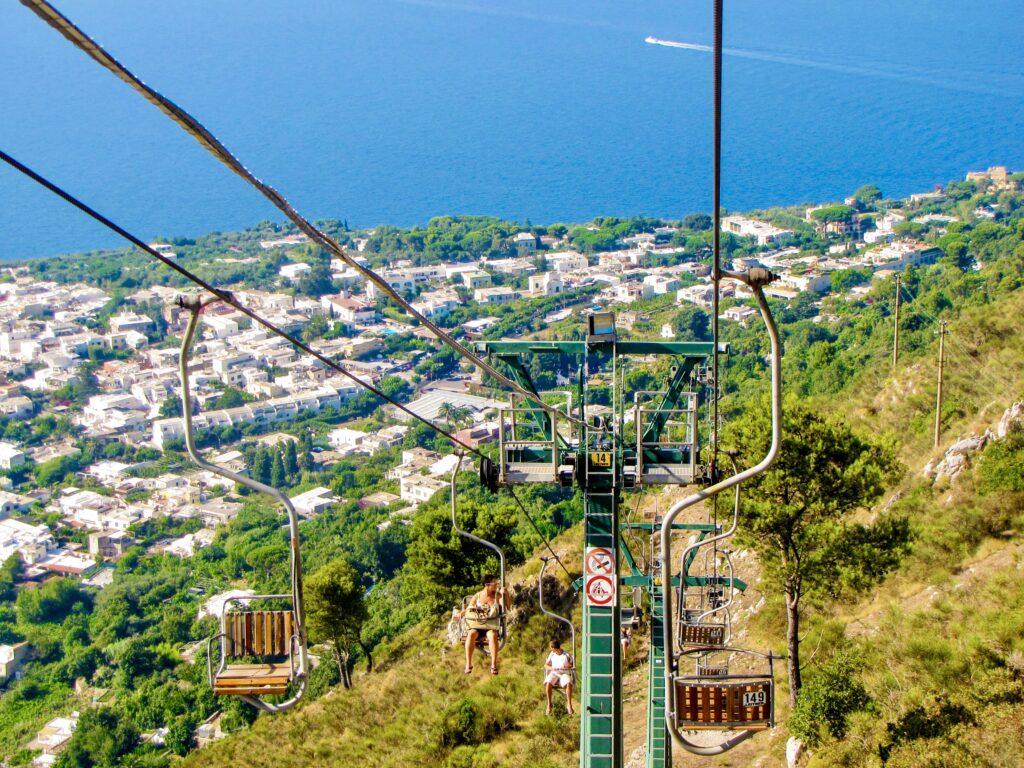 According to the Odyssey, these were boulders that were hurled into the sea by the cyclops Polyphemus. According to Virgil, this is the place where the sirens once lived.
The rocks are so famous that they have names. Stella is the rock firmly affixed to the cliffside, flanked by its counterparts.
The middle rock is Faraglione di Mezzo. The one nearest to the expanse of the open sea is called Faraglione di Fuori or Scopolo.
After Mount Solaro, have lunch at Da Gelsomina. We loved the family run restaurant. It was one of our best meals on our Amalfi Coast trip.
But if you've been to the Blue Grotto and are pressed for time, grab some food in Anacapri before moving on to Capri Town. Or pick up a panino to go.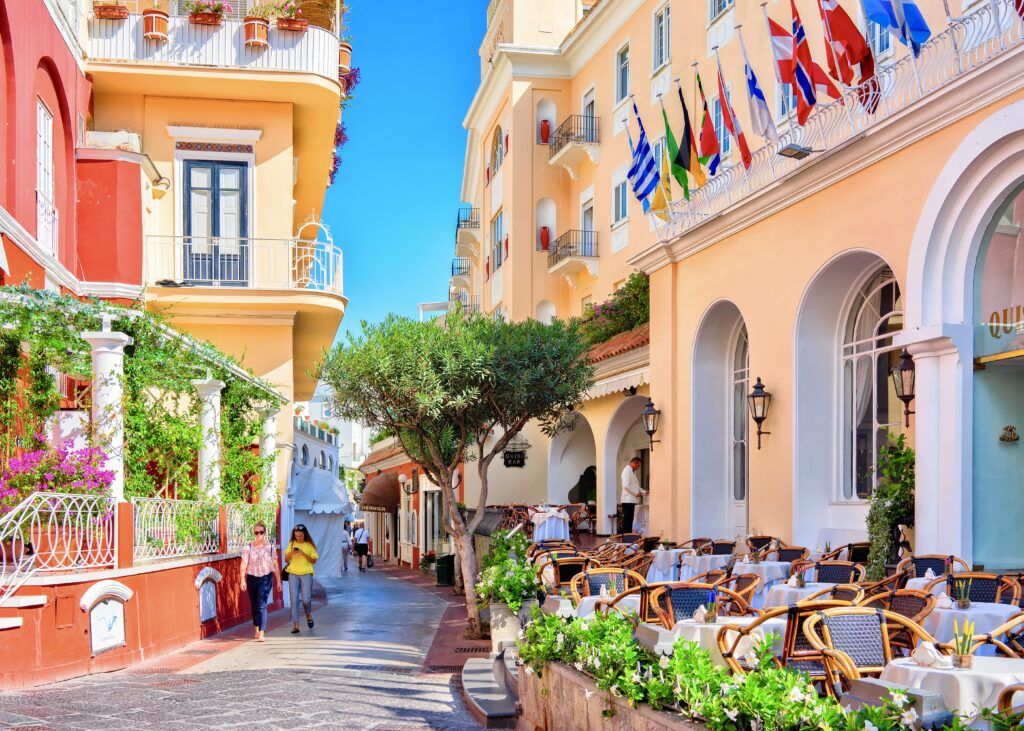 Capri Town
Capri Town is pretty small, but very beautiful and boasts some well known luxury hotels. The main square is Piazza Umberto I, also known as the "Piazzetta."
The most iconic thing is the clock tower. You may recognize the design. It's the same as the popular Capri Watch.
On a lookout point in the square, you will find a ceramic map of Capri. It shows the topography, landmarks, and coastline of the island.
You look out at Capri as the same time as you're looking at a map of Capri. The views are stunning. You can see Mount Solaro.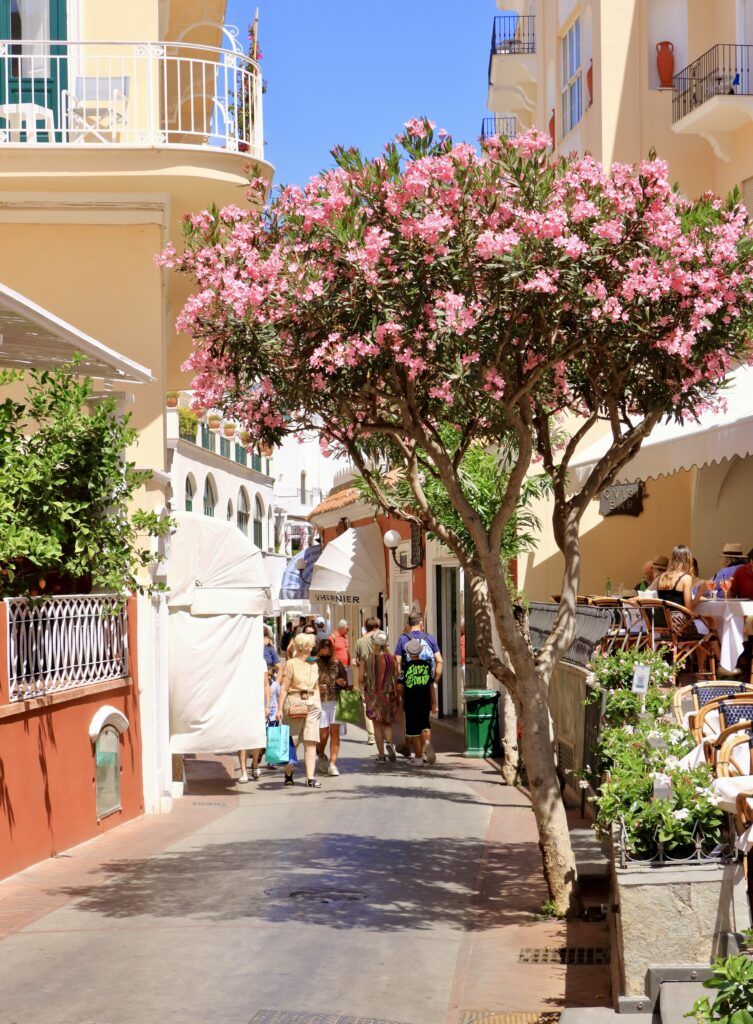 Capri Town is a great place for high end shopping (or window shopping). You'll find luxury brands on Via Vittoria Emanuele or Via Camerelle.
Marina Piccola
Less than a mile down the road is the Marina Piccola. It's a 20-30 minute walk. Many of the boat tours depart from here.
There's a little pebbled beach and some prestigious beach clubs. (Beaches are rather scarce in Capri.)
This particular area of Capri is associated with an ancient myth. In the Odyssey, that this is where the sirens sang their songs.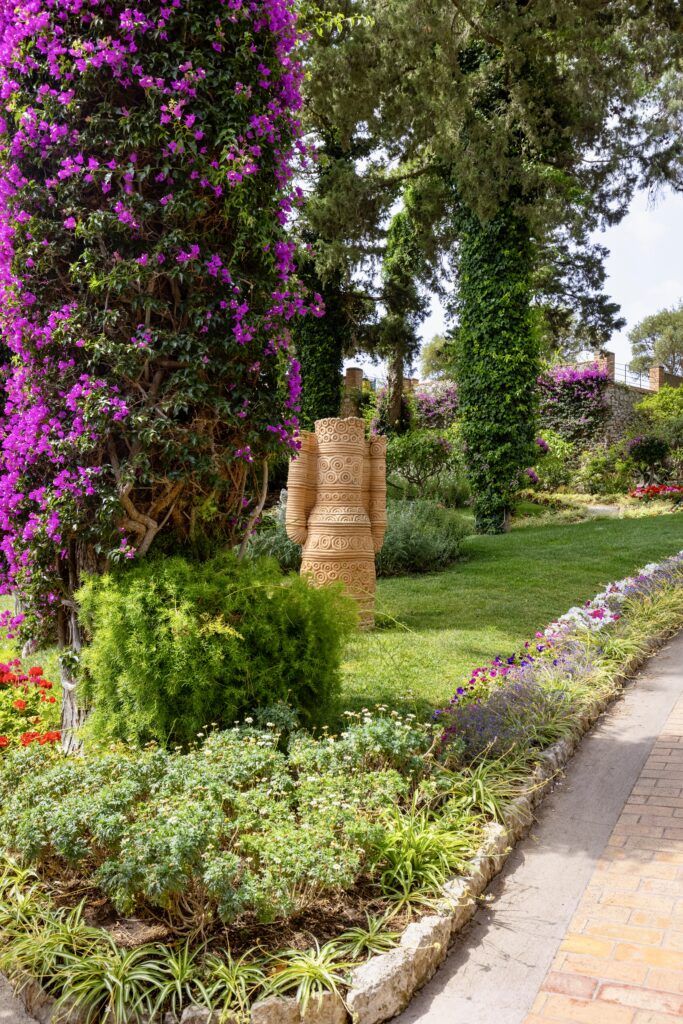 Gardens of Augustus
If instead of beaches you like gardens, head to the Gardens of Augustus.
They're a series of flower bedecked terraces and gardens scattered with Roman statuary. It will only take 5-10 minutes to walk through the gardens. Be sure to sit down and take a selfie on the beautiful majolica bench.
But what you really come here for is the views! And they are definitely worth the price of admission.
From the garden's observation deck, you have the classic Capri photo shot. You'll be dazzled with panoramic views of the famous Faraglioni rock formations, the Marina Piccola bay, and the Mediterranean Sea.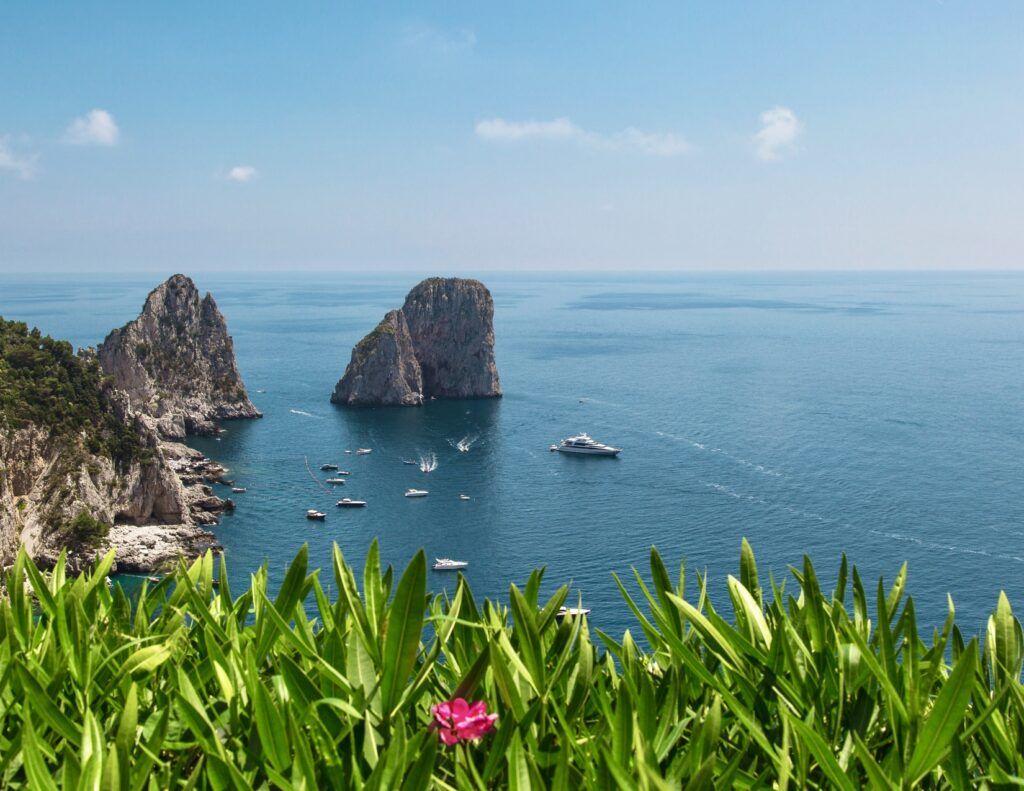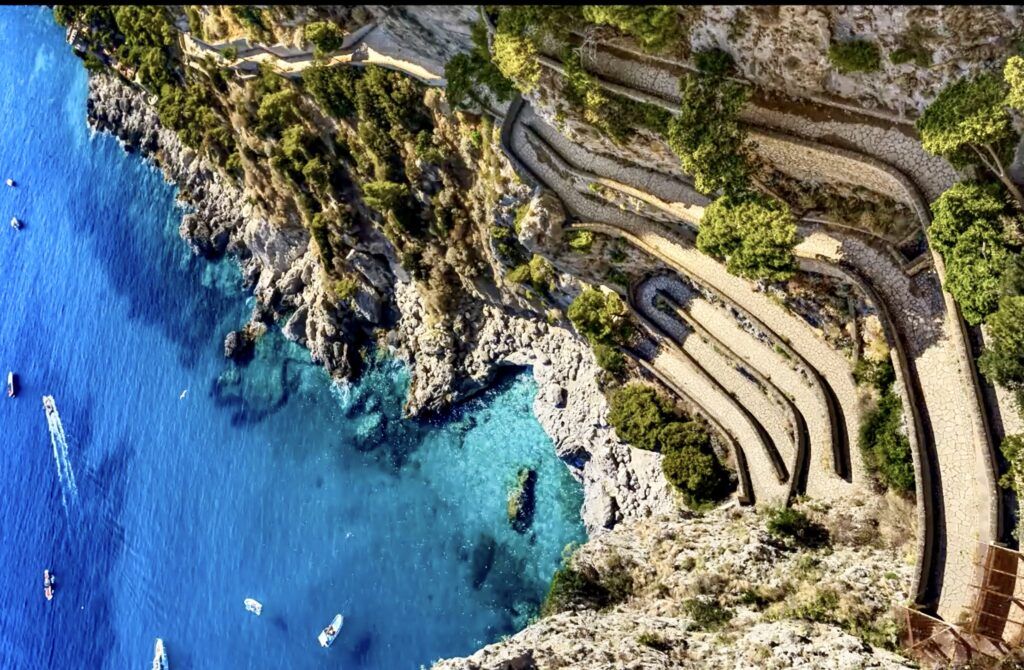 On the other side, you'll have the iconic view of Via Krup. It's known for its unique switchback layout.
It zigzags 300 feet down the cliffside from the area near the Gardens of Augustus to Marina Piccola. You used to be able to walk down. But the walkway is closed now because of falling rocks.
If you're done with your one day in Capri, take the funicular back down to Marina Grande to catch your ferry back to the mainland.
Villa Jovis
But, if you have time left in your day and enjoy Roman ruins, catch a ride or hike to Villa Jovis. Emperor Tiberius built the villa in 27 AD and it's at the highest point of the island.
Much of it still preserved and standing. It looks a bit like when you're walking by the Palatine Hill in Rome. You can see arches and the footprint of the villa, including the layout of the various rooms, courtyards, and terraces.
Rumors and anecdotes about Emperor Tiberius's extravagant parties, hedonistic behavior, and lavish lifestyle at Villa Jovis have persisted throughout history. Although whether they really happened is up for historical debate. It's possible that he was just trying to get away from his domineering mother Livia.
If you're accompanied by a guide, they'll eagerly point out a fascinating spot known as Tiberius' Leap behind the villa. Steps lead down to the platform.
According to legend, it's the very spot from which Tiberius is said to have cast down his adversaries and those who fell short of his expectations in romantic affairs.
Be aware that Villa Jovis may not always be accessible, sometimes limiting its opening to weekends even during peak season. I've heard that financial constraints have led the Italian state to struggle with maintenance, resulting in some deterioration of the site. It's indeed regrettable!
If the villa is closed, there's still a chance to explore. Look for a gap in the wire gate to the left of the entrance. That's the pathway I used to venture in myself.
From the villa, you'll have splendid views of the Amalfi Coast. If time permits (which it probably doesn't), you can walk back on the coastal trail, Via del Pizzolungo.
The walk is about 1.5 to 2 hours long. Along the way, you'll see Belvedere di Tragara, the Grotto di Matermania, and the Arco Natural.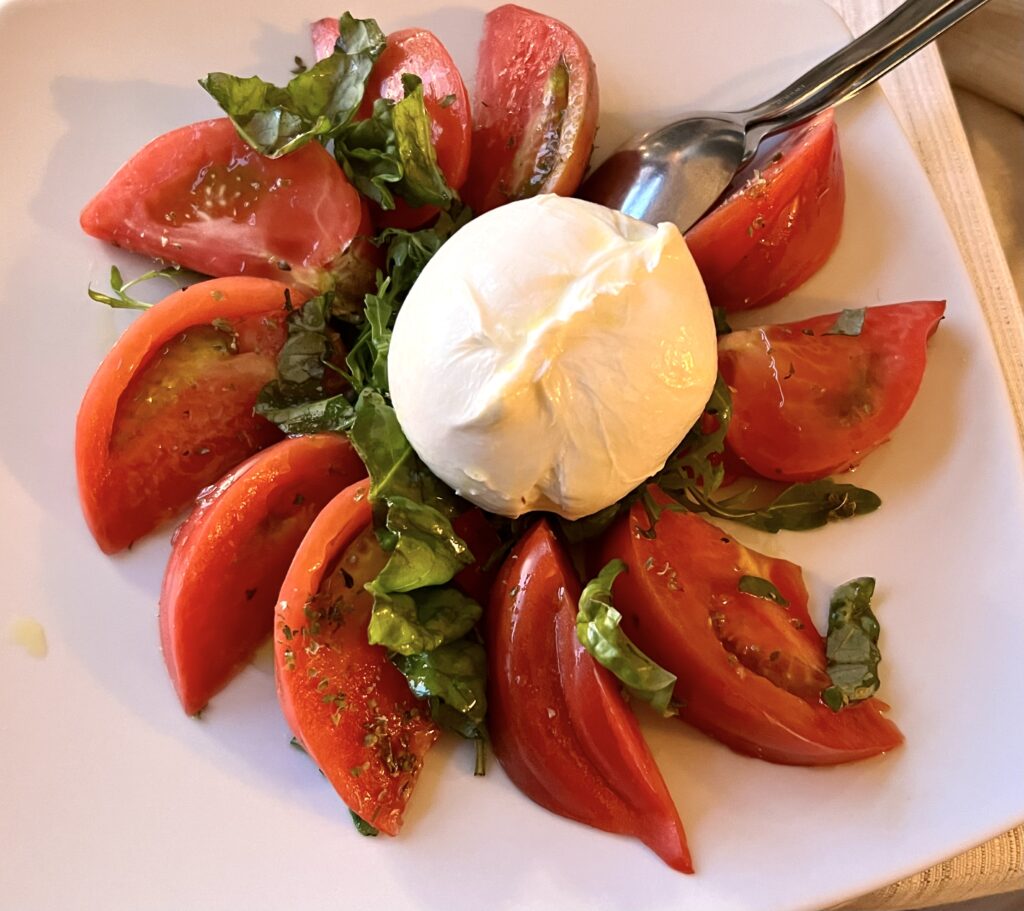 Departure or Dinner
If you are day tripping to Capri, it's time to return home. Make sure to check when the last ferries depart and have pre-booked tickets.
The last ferry to Sorrento departs around 6:30 pm. The last ferry to Naples departs around 8:00 pm. You can check the ferry schedules and book tickets on Ferryhopper.
If you are overnighting, there are plenty of dinner options.
The cuisine here is a celebration of simplicity and freshness, with a farm-to-table ethos that shines through in every dish. Try to sample the seafood, caprese salads, caprese ravioli, and lemon-infused desserts.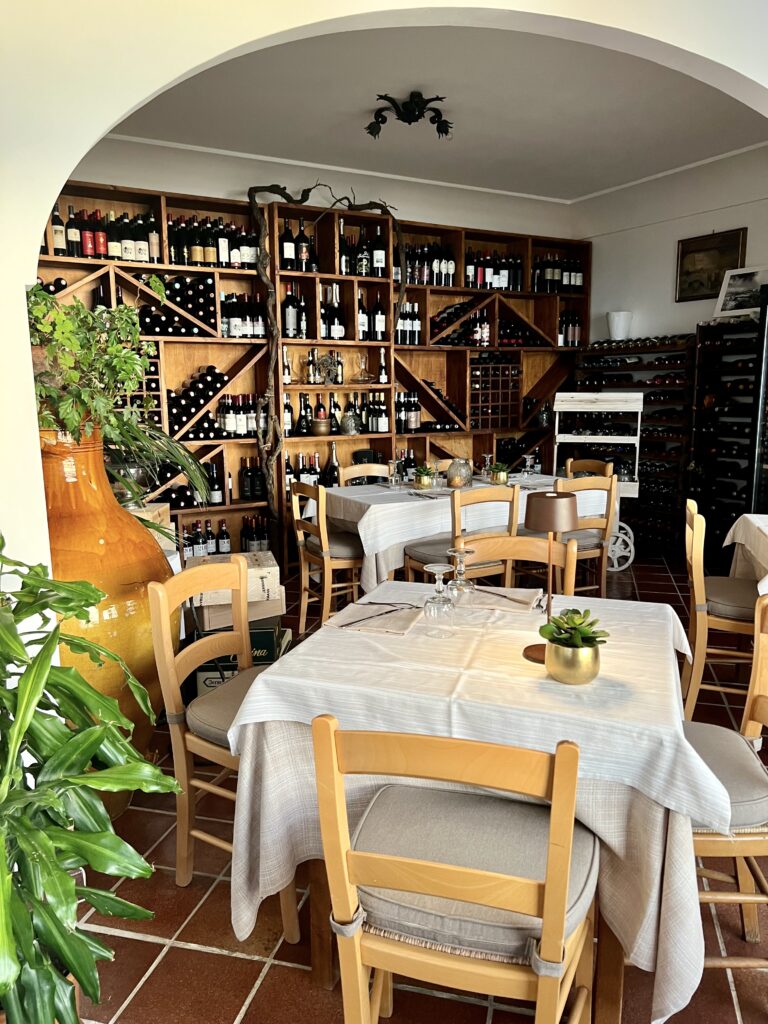 I mentioned Da Gelsomina above. if you didn't have time for a leisurely lunch, you can have dinner there. A shuttle will pick you up and take you back to your accommodation.
For those seeking a Michelin-starred experience, Capri Palace boasts three exceptional options. L'Olivo, with its delectable seafood offerings and breathtaking vistas, serves up cuisine that's as visually stunning as it is flavorful.
Terazza Brunella is another gem where you can dine in style with captivating views. Nestled close to the belvedere of the same name, this spot adds an extra touch of romance to your dining experience.
If you're in search of a unique setting, Da Paolino is a delightful choice. Set within a garden flourishing with lemon trees, you'll be seated beneath a fragrant canopy of citrus.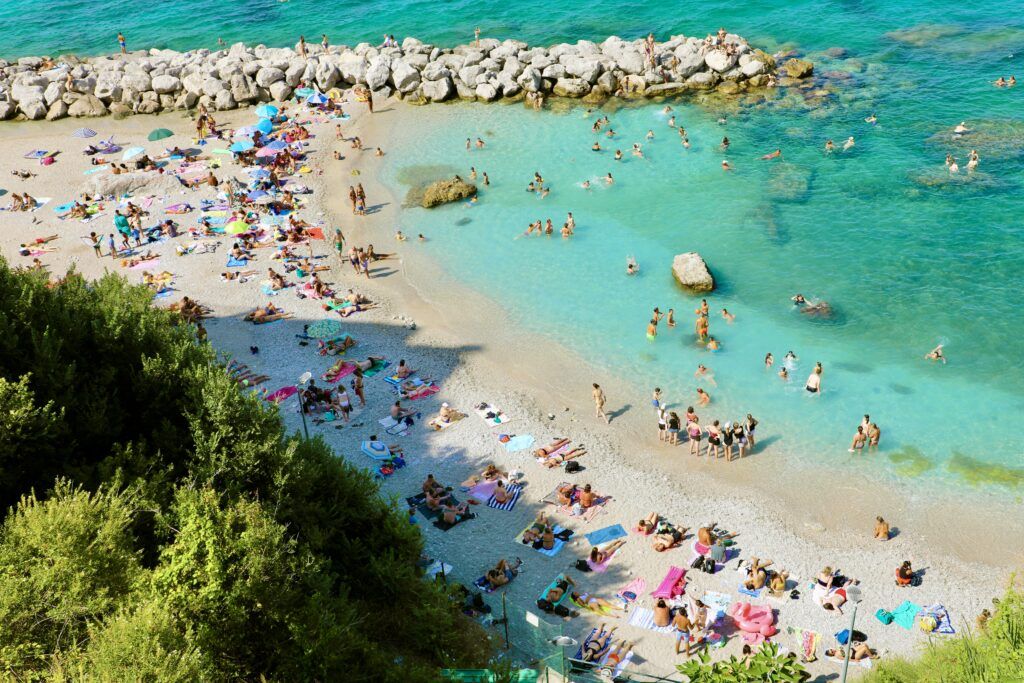 Tips For A One Day In Capri Day Trip Itinerary
Here are some must know tips to help you plan your day trip to Capri and navigate the island.
1. How To Get To Capri
Most people arrive in Capri by ferry. The easiest way to get to Capri is by ferry or hydrofoil. You can catch a ferry from Naples, Sorrento, Amalfi, or Positano.
None of them take more than about 40-60 minutes. I've linked the ferry schedules by town.
Book early because they're often sold out. I don't advise taking the slow ferry for a day trip. It will eat up too much of your time.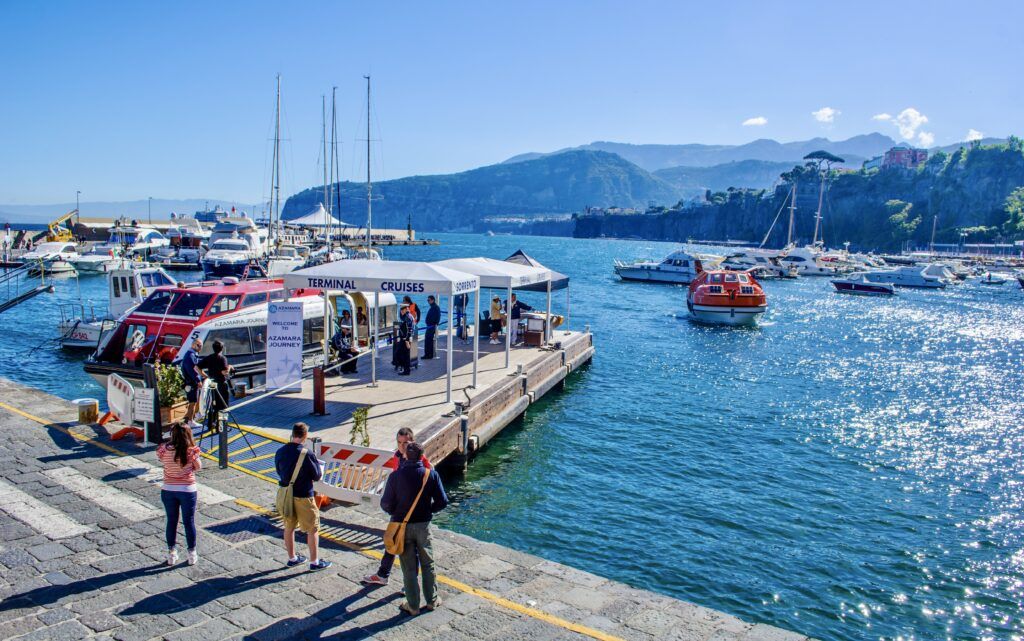 Ferries from Naples to Capri depart from the Molo Beverello and the Calata Porta di Massa. Ferries from Sorrento depart from Marina Piccola (not from Marina Grande).
The ferry ride is pretty fun and scenic. For the best views of Mount Vesuvius and the Amalfi Coast, sit on the left.
Another option is to book a private transfer by speedboat from Naples or a private transfer from Rome.
Many people find it easiest to get to Capri on a guided tour from Sorrento or a guided tour from Naples. Then, you don't have to worry about ferry and transportation logistics or getting around the island on your own.
2. How To Get Around Capri
You'll arrive in Marina Grande.
The Funicolare di Capri, a charming funicular railway, links the marina with Capri Town. It's on the western side of the port, offering easy access.
In addition to the funicular, you have the choice of taxis and SPICC buses to navigate the island.
Taxi stands are conveniently located at the marina. The bus system is also very easy to navigate and inexpensive. But you should expect long lines in high season.
Another good option is to rent a scooter for the day. You can cover a lot of ground with a scooter without waiting for transport.
3. Where To Stay In Capri
If you decide to stay overnight, you'll want to stay either in or around Capri Town or Anacapri. The top hotels are:
I stayed at the Hotel Caesar Augustus near Anacapri and couldn't have been happier.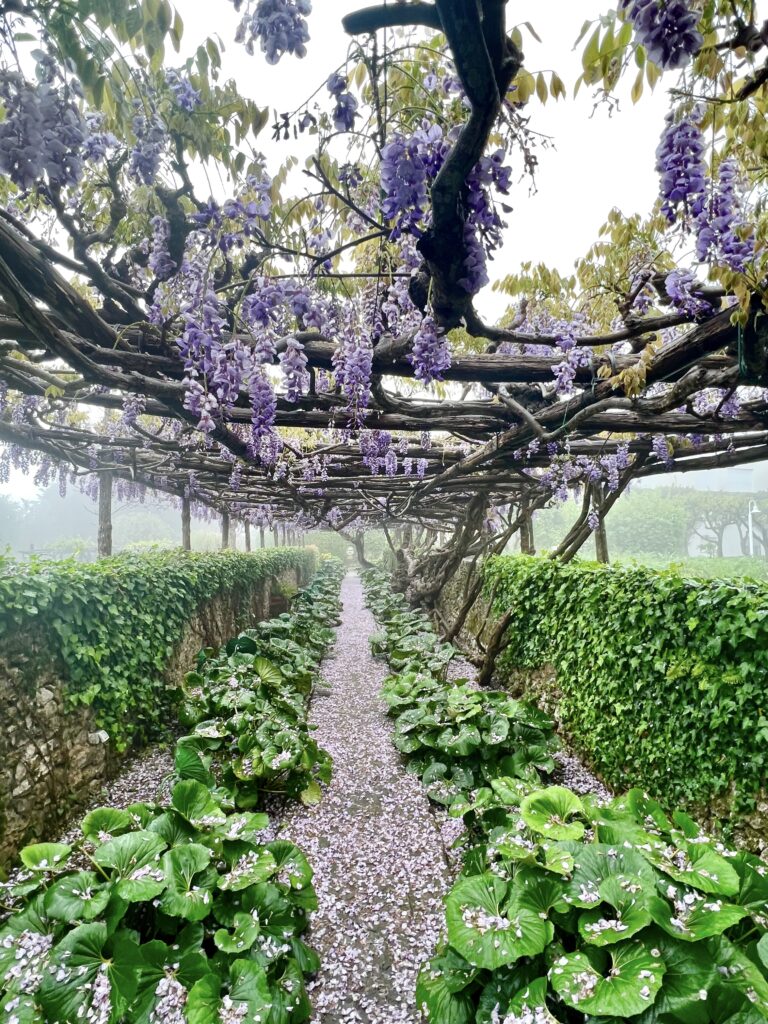 4. When To Visit Capri
Capri stands among the world's most breathtaking destinations IF the weather aligns favorably. Rainy or foggy conditions may obscure the island's beauty. So, sunny skies are the ultimate companion for your visit.
On my most recent sojourn in early May, we had fluctuating weather conditions and some fog. A local guide shared that spring's arrival appears to be tardier with each passing year.
With this in mind, targeting a trip for late May or the transitional periods of September and early October may be the best.
During the summer months, you'll have mega crowds. This is high season. Winter brings cooler temperatures and certain closures that might affect your plans.
5. Is One Day In Capri Enough?
One day is Capri is not enough to see everything. The island is fairly big and the attractions are spread out.
But it's enough to pick and choose some highlights to see and have a great one day in Capri or day trip to Capri. If you have more time, you can check out my 2 days in Capri itinerary.
I hope you've enjoyed my one day in Capri, itinerary and day trip guide. You may enjoy these other travel guides and resources for southern Italy:
If you'd like to spend one day in Capri, pin it for later.