Looking for some destination inspiration for a trip to Italy's Puglia region? You've come to the right place. This is the ultimate guide to the most beautiful places to visit in Puglia, for your Puglia bucket list.
Captivating Puglia is nestled in Italy's picturesque south on the "heel" of the boot. With its pristine beaches, charming towns, and rich history, Puglia offers a treasure trove of both natural and cultural wonders.
From the whitewashed towns perched on hilltops to the crystal-clear waters of the Adriatic Sea, this enchanting region is a haven for those seeking authentic beauty, tranquility, and a truly delectable cuisine.
Overview Of The Puglia Region
There are six main natural areas in Puglia:
Gargano: The Gargano is located in the north of Puglia. It has beautiful beaches, the Umbria forest, and the islands of Lesina and Varano.
Central Adriatic Coast: This area includes the capitol of Puglia, Bari, and other beautiful coastal towns like Trani, Molfetta, and Conversano.
Murgia: The Murgia area is a vast area the includes centuries old villages and beautiful landscapes. You'll find the towns of Altamura, Gravina, Noci, and Matera.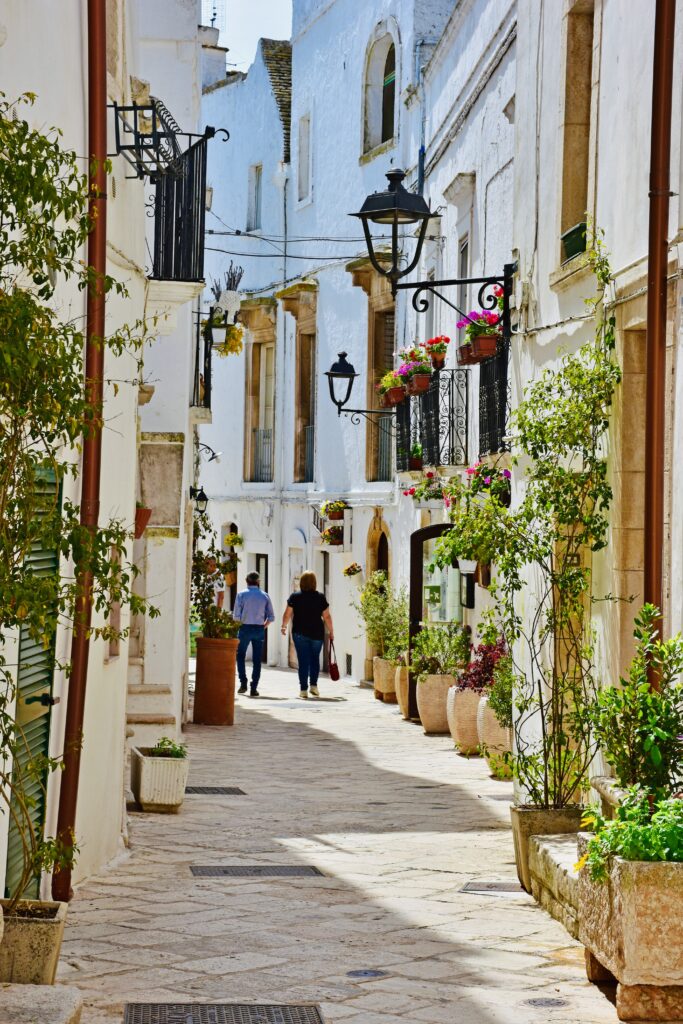 Itria Valley:
This is the trulli area of Puglia filled with historic towns. You will find the world famous stone dwelling scattered throughout the area and concentrated in the UNESCO-listed Alberobello. Apart from the fairytale Alberobello, you'll find the enchanting towns of Martina Franca, Locorotondo, Cisternino, Osutni, and Monopoli.
Salento: The Salento peninsula is famous for the Baroque city of Lecce, its crystal clear waters, and beautiful coastline. You'll also find the towns of Otranto, Gallipoi, Santa Maria di Leuca, and Nardo.
Taranto: The Taranto area boasts a beautiful coastline. It has stretches of sandy beaches, clear blue waters, and picturesque cliffs.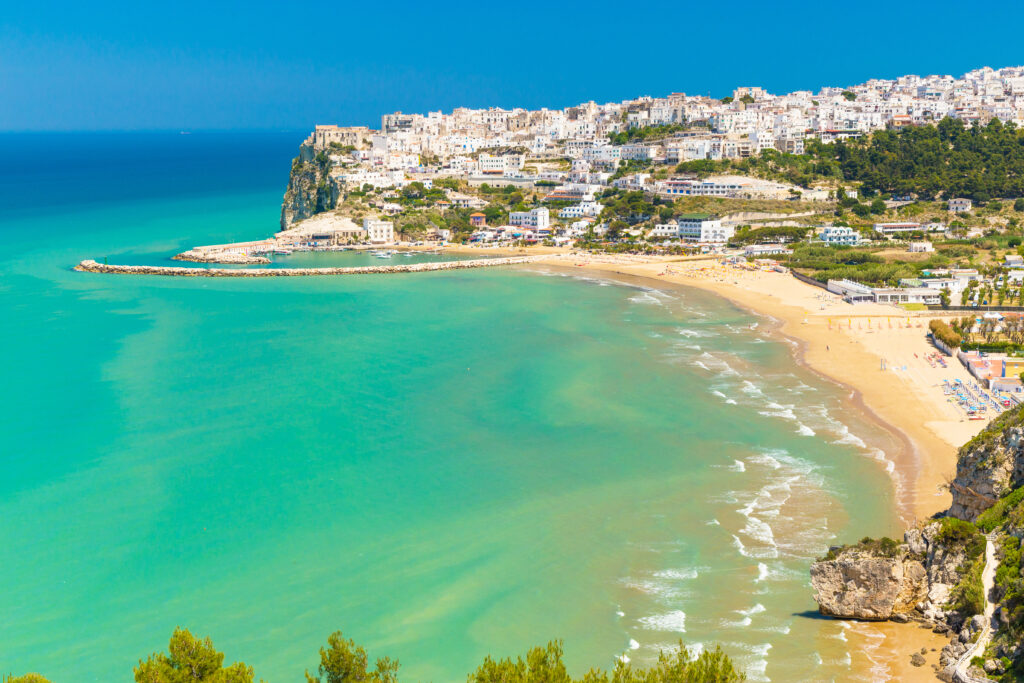 Beautiful Places To Visit In Puglia
Here's my round up of the 25 most beautiful places in Puglia. These include the best cities, towns, and destinations to visit.
1. Gargano
The Garagano area is the northern most part of Puglia. It's a lesser visited region known for its lush national park, coastal villages, inlets, and sea caves.
One of the prettiest areas is the salt pans near Margherita di Savoia. The ecosystem is a protected wetland and home to pink flamingos and other bird species. You can visit on a trekking or biking tour.
The Gargano region is home to several enchanting coastal towns that are worth visiting. Those include Vieste (more below), Marrinata, and Peschici.
It's also an ideal region for outdoor enthusiasts. You can go sailing or windsurfing along the coast, try your hand at fishing, or take a boat tour to explore sea caves and hidden beaches. The area also offers opportunities for horseback riding and birdwatching.
>>> Click here to book a trekking tour in the Gargano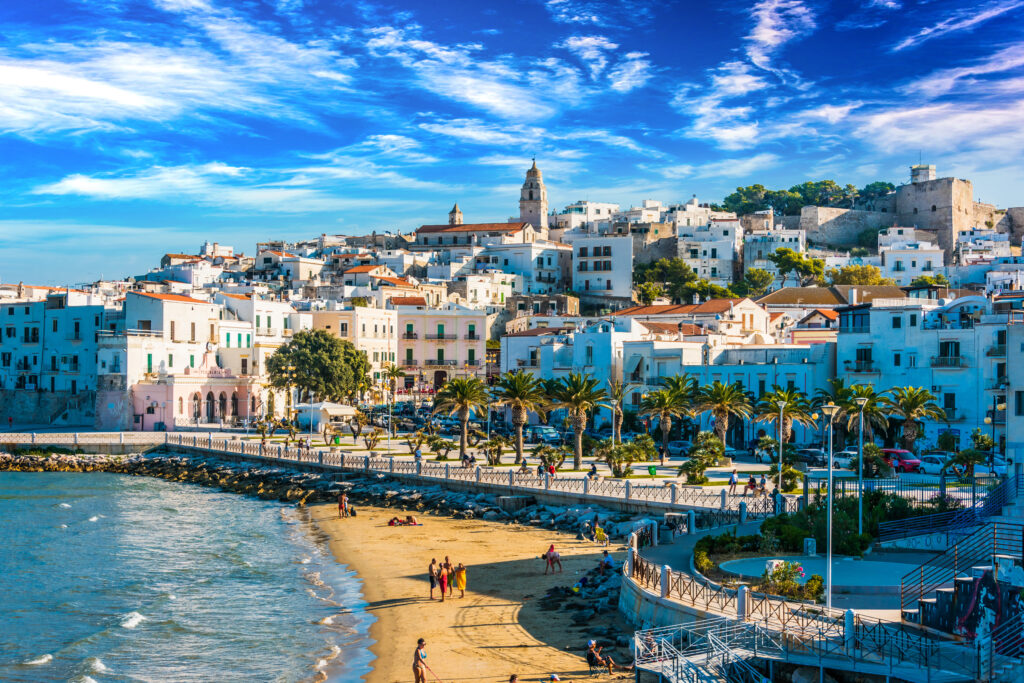 2. Vieste
Vieste is one of the most beautiful places to visit in Puglia. It's simly gorgeous.
The village has white-washed houses, pristine turqoise water, and beautiful beaches. In fact, it has an over 18 mile stretch of unspoiled beach and sea caves.
The Castle Beach is the most famous. It has golden white sand, a promeade, and plenty of restaurants and bars. It's guarded by Pizzomunoo monolith rock, which is over 80 feet high.
Apart from its glorious beaches, Vieste also has a quaint old town. It features a mighty Swabaian castle, cathedral, and whitewashed homes set in narrow cobbled lanes.
>>> Click here to book a guided walking tour of Vieste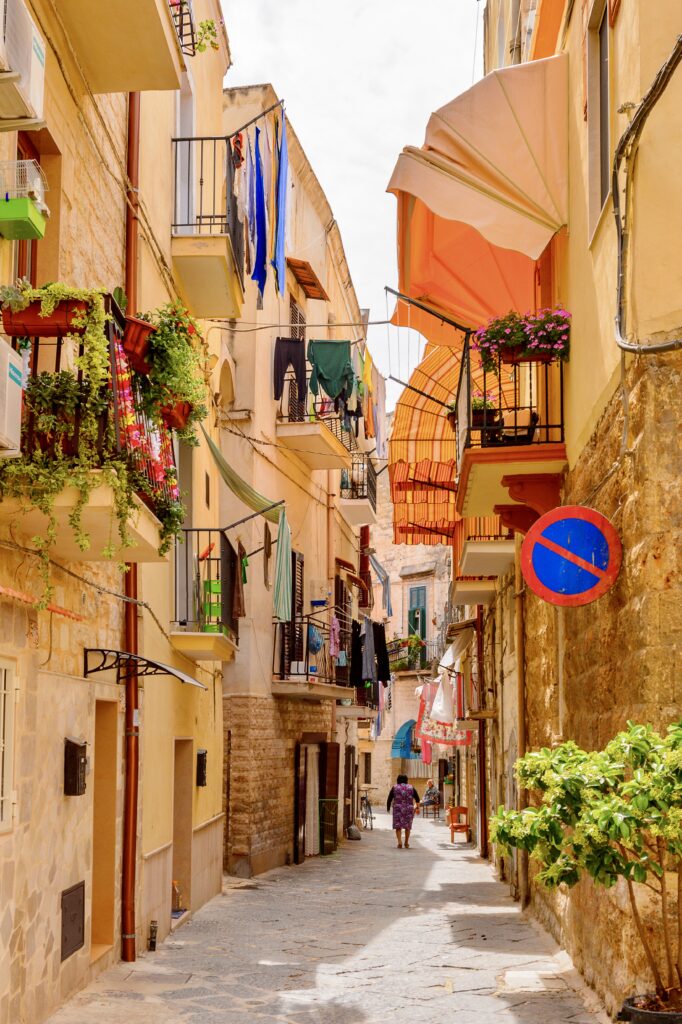 3. Bari
Bari is the largest city and a must visit place in Puglia. It boasts a delightful blend of history and charm, with an authentic and vibrant centro storico called Bari Vecchia.
The #1 attraction in Bari is undoubtedly the Cathedral of Saint Nicholas. It's a magnificent Romanesque church. It's also a pilgrimage site that houses the relics of the saint. Inside, you can marvel at 12th century frescoes.
Visitors should also see the Basilica of San Sabino. It's another splendid example of Puglian Romanesque architecture.
The massive Norman-Swabian Castle is a fascinating fortress harking back to Bari's medieval past. Inside you'll find a large collection of archeological items from the prehistoric, Roman, and medieval eras.
For a taste of local culture and cuisine, take a stroll along the Strada dell'Orecchiette. You can witness Italian nonnas making and selling the traditional pasta known as orecchiette.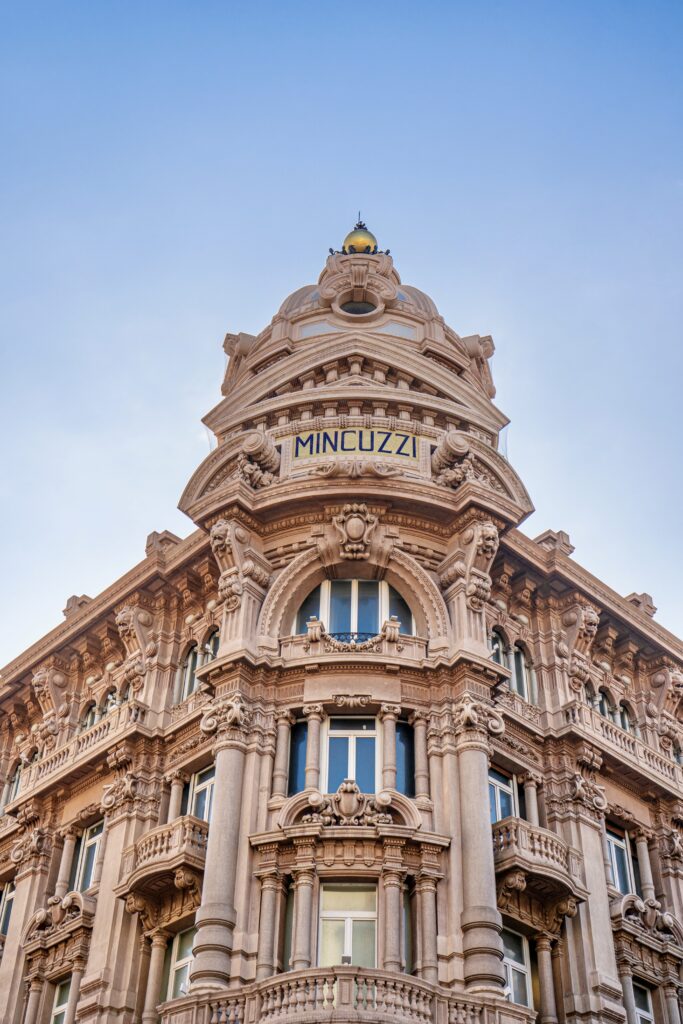 If shopping is on your agenda, head to Via Sparano da Bari, a bustling street dotted with designer stores.
To experience Bari's waterfront charm, take a leisurely walk along St. Nicholas Pier. You'll have splendid views of the Adriatic.
You can also observe local fishermen at work and perhaps witness the intriguing "curling of the octopus," a traditional ritual that enhances the tenderness of this local delicacy.
For more information on what to do in Bari, you can check out my one day in Bari itinerary.
Top Experiences In Bari: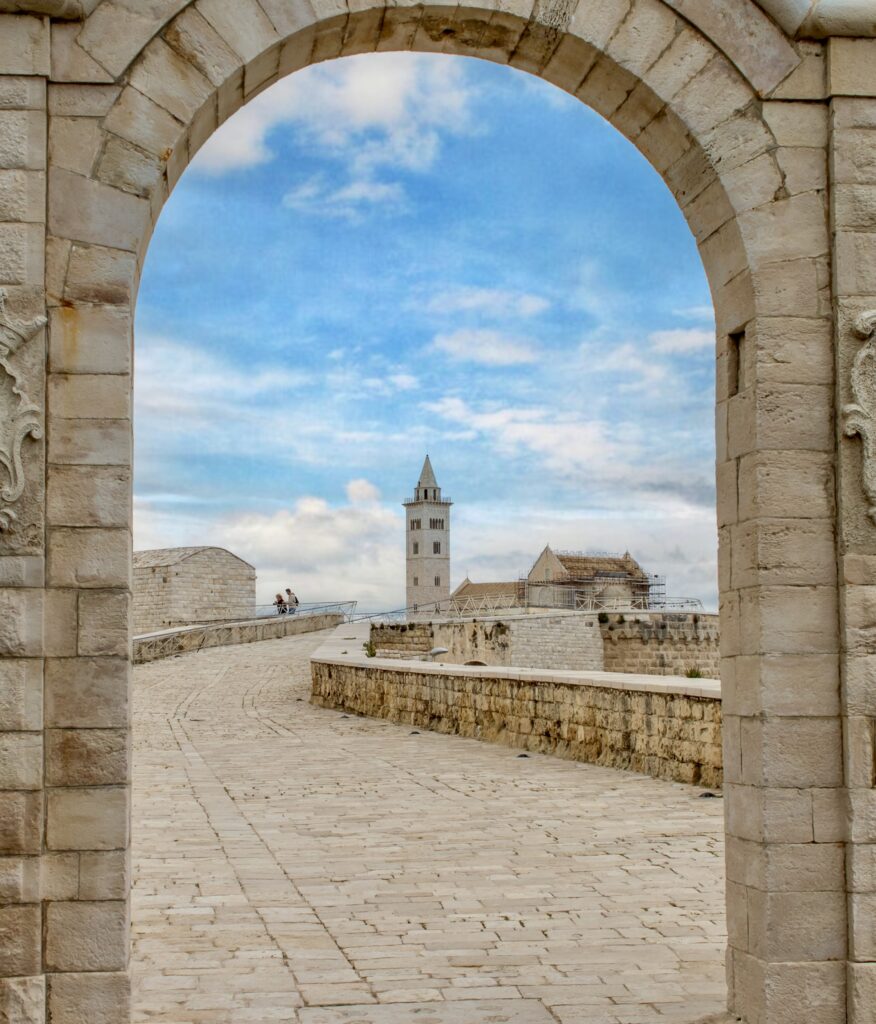 4. Trani
Trani is known as the "pearl of the Adriatic." The town exudes a captivating charm with its picturesque streets, ancient edifices, and the laid-back ambiance of the Mediterranean. This hidden gem in Italy will definitely put a smile on your face!
At the heart of Trani lies its 12th century Romanesque cathedral, an architectural masterpiece made of pink limestone. It has a unique feature that sets it apart — a high pointed arch in the passage beneath the bell tower. The cathedral is especially beautiful at sunset when the stone captures the sun's orange light.
Another highlight is the town's Swabian Castle, an imposing fortress that evokes tales of medieval knights and battles of yore. It's a classic example of medieval military architecture. It features massive stone walls, fortified towers, and a strategic location overlooking the Adriatic Sea.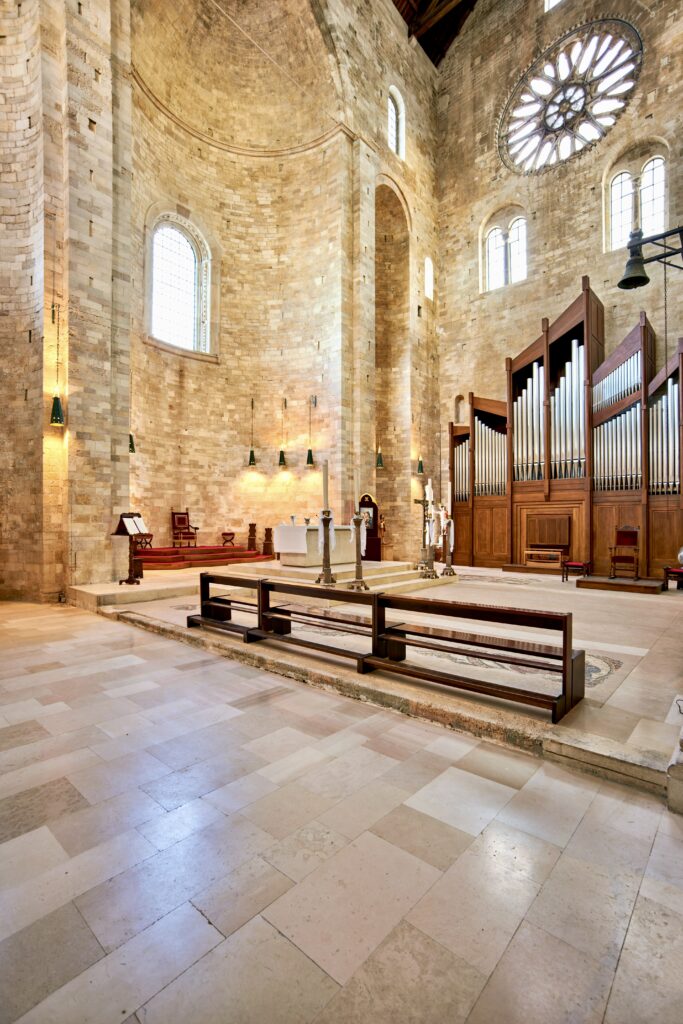 Trani's harbor is also enchanting. On a leisurely sunset stroll along the waterfront, you can admire the colorful fishing boats bobbing on the gentle waves, while the lighthouse adds a touch of romanticism to the scene.
For those with a penchant for gastronomy, Trani is a true foodie paradise. There are a remarkable six Michelin-starred restaurants featuring delectable seafood.
But Trani's allure doesn't stop there. The town's golden sand beaches invite visitors to unwind and revel in the Mediterranean sunshine. You can also visit the nearby Castel del Monte, a UNESCO-listed site.
For more information, here's my one day in Trani itinerary.
Top Experiences In Trani: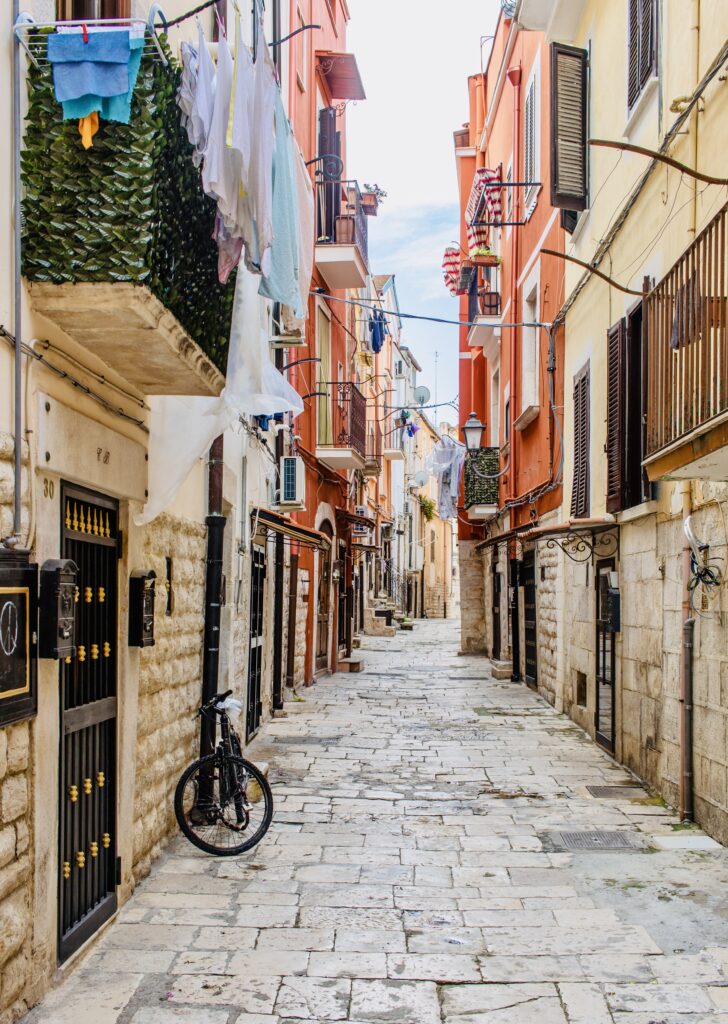 5. Barletta
Barletta is a charming town on the coast full of life. It's considered a city of art and there's plenty to do in this beautiful place in Puglia.
The town's Norman-era castle houses the city's Civic Museum. It's home to historical artifacts, paintings by regional artists, and a lapidarium.
The Di Nittis picture galley is also worth a visit if you like Impressionism. It's dedicated to a painter from Barletta that was known by the more famous French Impressionists. The gallery also hosts temporary exhibitions.
The top church is Barletta is the Basilica of the Holy Sepulcher. It's a Romaneque-Gothic medieval church dating back to the 12th century. Its facade features a rose window and intricate stone carvings.
Inside, you'll find religious artworks, statues, beautiful frescoes, and treasures from Palestine. Right next to the church is the Colossus of Barletta. It's considered one of the greatest examples of Byzantine sculpture.
>>> Click here to book a guided our of Barletta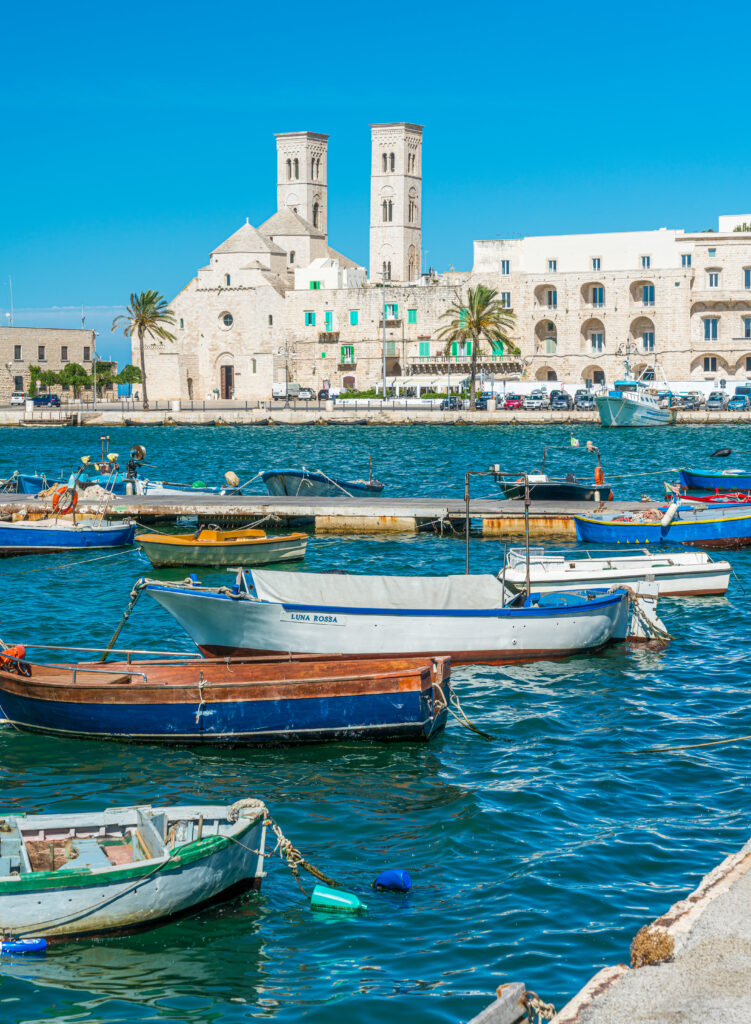 6. Molfetta
Molfetta is a beautiful place to visit in Puglia located between Bari and Barletta. The seaside town exudes a unique charm, captivating visitors with its distinct "liquid" main square.
Like many villages in Puglia, Molfetta has seen centuries of history and art. The historic center stands on a small promontory called St. Andrew's island.
It's a warren of charming streets and cafes. In the center is the Passari Tower. From the top, you have stunning views of the Adriatic.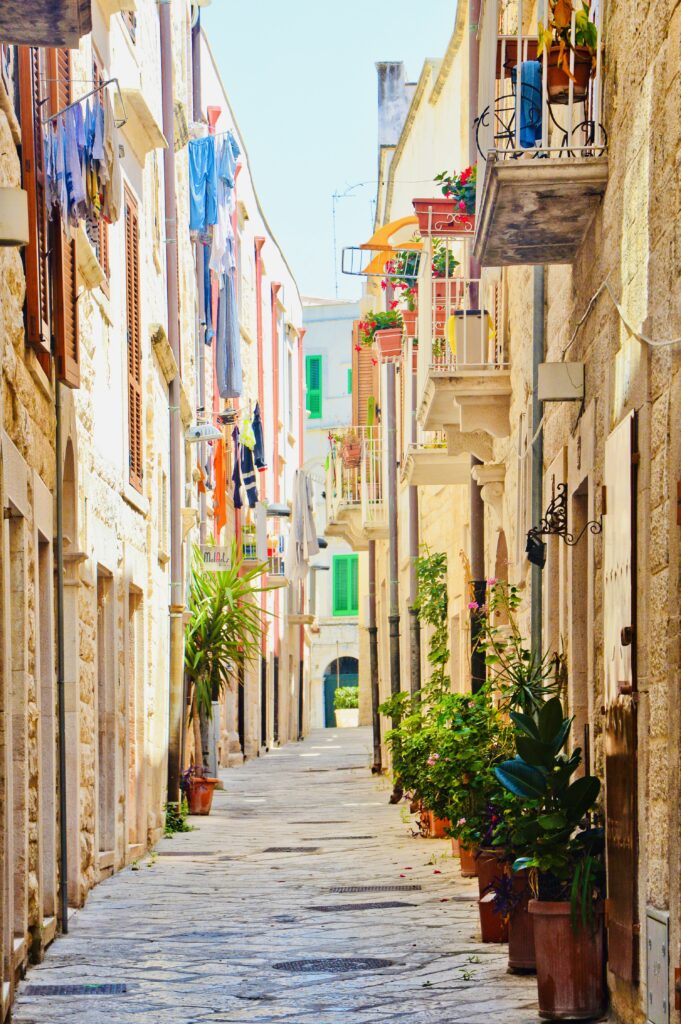 On the edge of the centro storico stands a majestic 13th century cathedral. It has distinctive twin bell towers that rise almost 130 feet. Inside is a unique nave with three aligned domes of different sizes.
Next to the cathedral is a splendid port. You'll find a large lighthouse and a series of shipyards that have survived since the Middle Ages.
Molfetta is also home to crystal clear waters and free public beaches. The best one is Cala San Giacomo. There are also plenty of private lidos offering up water activities.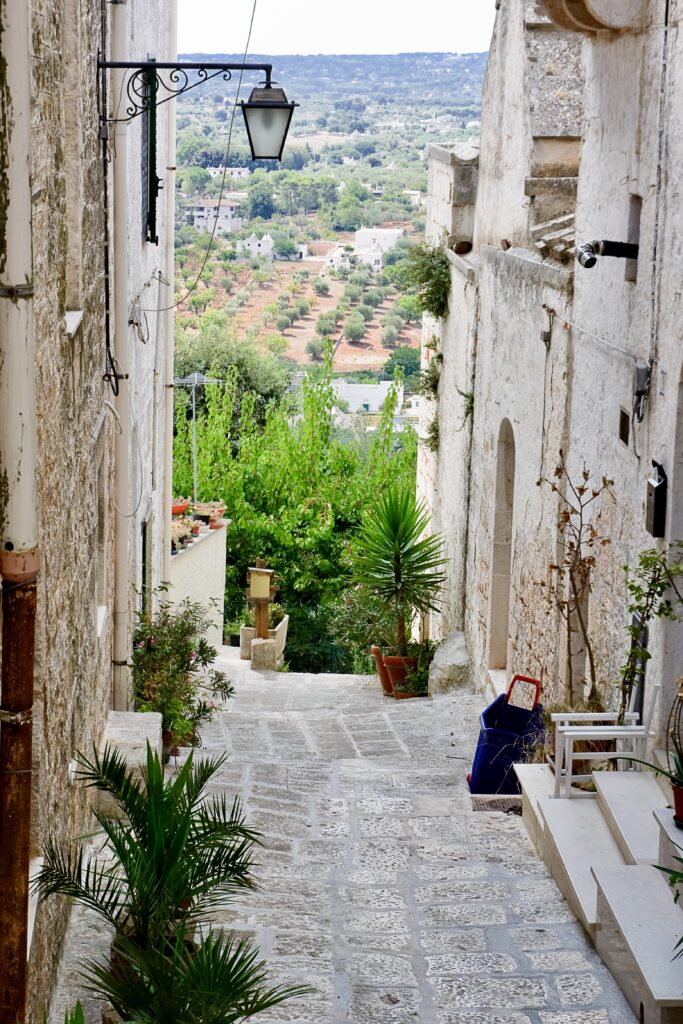 7. Cisternino
Nestled in the picturesque region of Puglia, Cisternino is another must visit in Puglia. It's a charming town that exudes rustic beauty and a relaxed vibe.
Cisternino exudes old world charm, with lovely whitewashed buildings, narrow winding streets, and traditional stone houses. As you wander through the town's historic center, you'll discover enchanting alleyways, quaint squares, and ancient churches.
Head to the main square, Piazza Vittorio Emanuele II, where locals gather. Grab a seat at one of the charming cafes or trattorias. At History Vignola, you can sample the espresso fredo.
Experience the lively atmosphere of the local market, where you can find fresh produce, artisanal crafts, and traditional products. It's a great place to immerse yourself in the local culture and pick up some souvenirs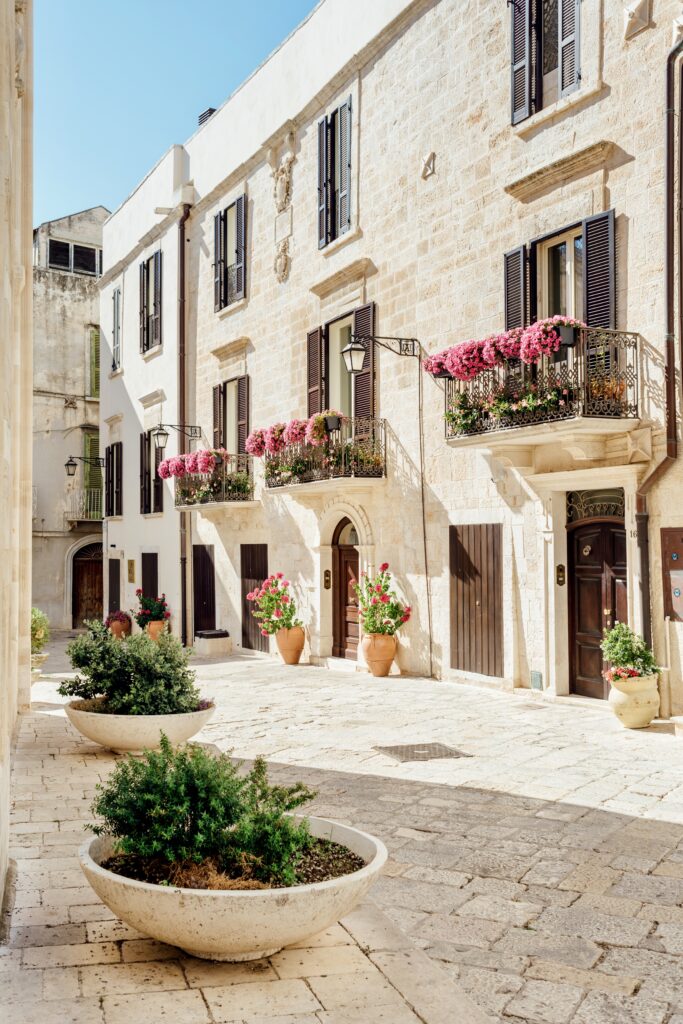 8. Conversano
Conversano is a charming town in the Bari province. The town is known for its historical significance and architectural beauty.
The town's historic center is lovely with narrow winding streets, medieval buildings, and a majestic castle.
Built in the 11th century, the Conversano Castle, also known as the Castello Aragonese, is a prominent landmark in the area. It's a well-preserved medieval fortress that offers panoramic views of the town and the surrounding countryside.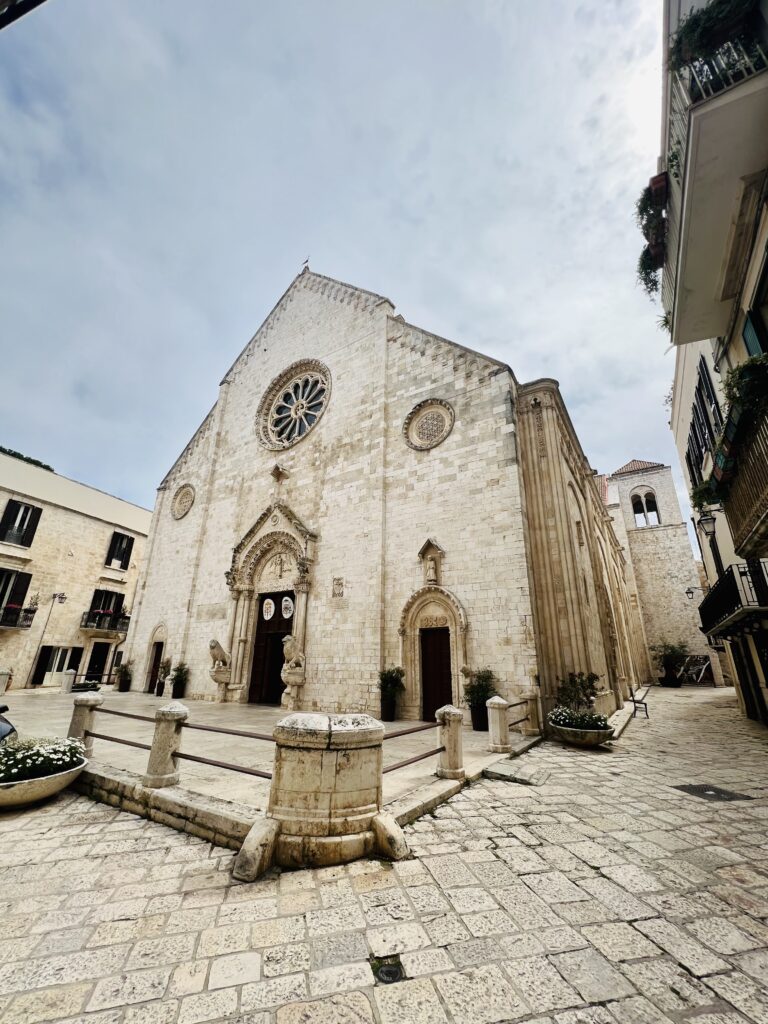 The castle is home to a museum complex, the Polo Museale. It houses several different museums, which house archaeological finds, historic artifacts, and contemporary art. The complex often hosts cultural events and exhibitions.
You can also visit the stunning Romanesque Cathedral, dedicated to the Assumption of the Virgin Mary. It has an impressive facade. The interior is quite majestic, with ornate altars, statuary, and chapels.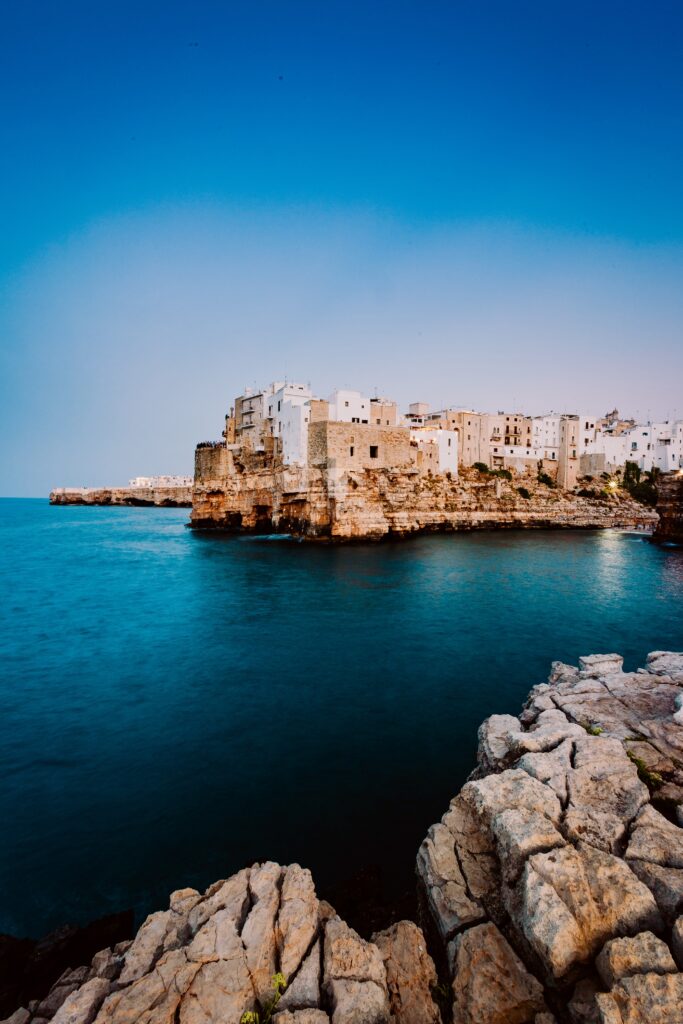 9. Polignano a Mare
Polignano a Mare is a truly one of the best places to visit in Puglia. it's a captivating snow-white town that boasts a fantastic centro storico.
Its winding streets are adorned with flowering plants. And, as you explore, you'll be treated to incredible views of the sparkling Adriatic Sea.
Start your journey on Via Roma, the bustling main street. It's filled with chic shops, delightful eateries, and gelato shops that will tempt your taste buds.
But the true charm of Polignano lies in its charming backstreets. Here, you'll find tiny artisan shops and stumble upon poems written on walls and steps.
Polignano a Mare is renowned for its stunning inlets, hidden caves, and picturesque coves along the coastline. The crown jewel is Lama Monachile Beach, located right in the heart of the town.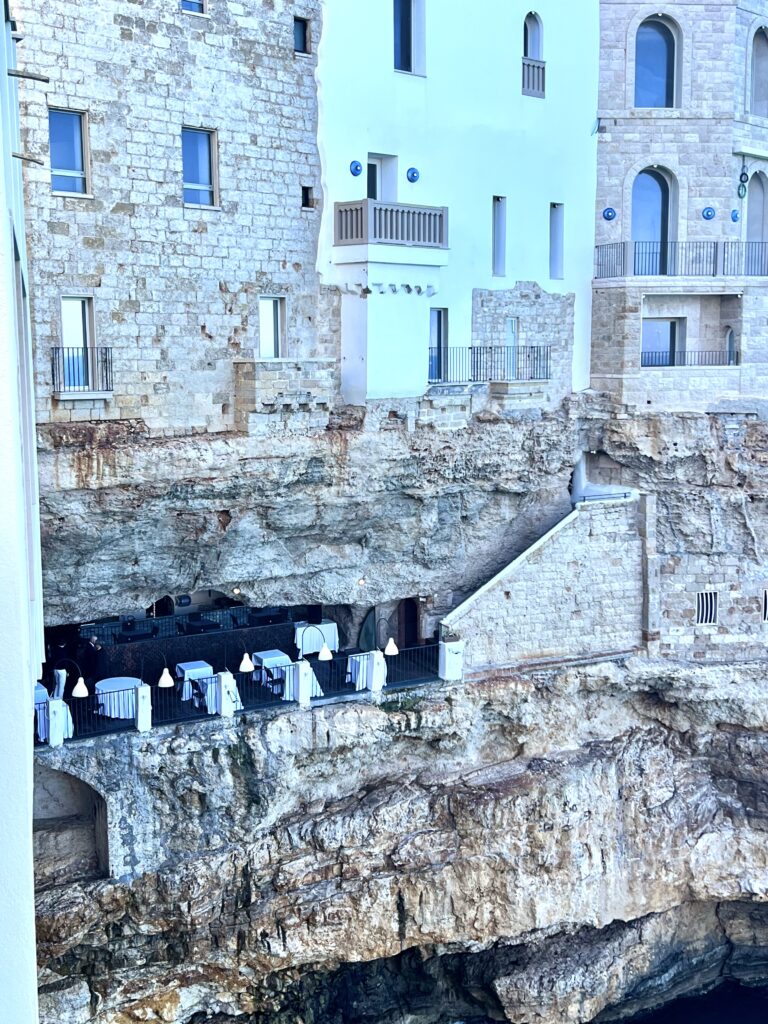 For a truly unique experience, don't miss the Grotto Palazzese. It's an exquisite cave that houses a one-of-a-kind restaurant and 5-star hotel. You can dine within its ancient walls.
You'll also want to take a leisurely stroll along Lungomare Domenico Modugno or Lungomare Cristofero Columbo. These promenades offer stunning views of the sea.
The Lungomare Domenico Modugno is home to a famous statue honoring the town's native son, Domenico Modugno. The renowned singer-songwriter transfixed the world with the iconic song Volare.
Top Experiences In Polignano a Mare: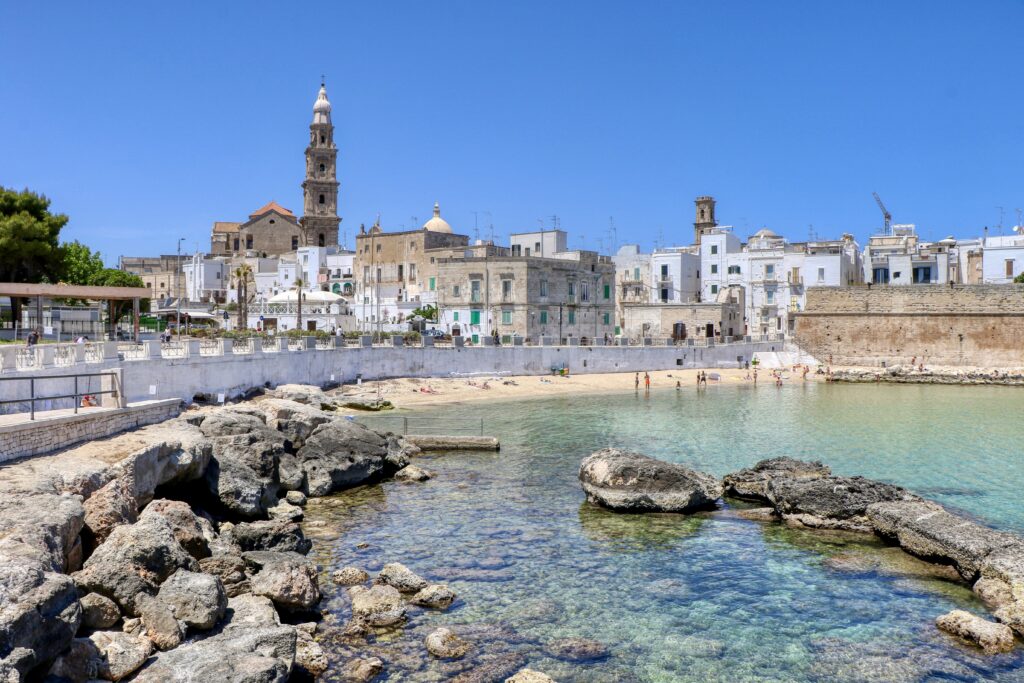 10. Monopoli
Monopoli is a less visited place in Puglia, except by beach lovers in the summer. But I really liked its authentic laid back vibe.
The first thing that stands out about Monopoli is its huge historic center. It's full of ancient squares, noble palaces, and whitewashed houses.
There's also a large concentration of landmarks and ancient churches. Monopoli Cathedral is an impressive edifice for a small town.
It's dedicated to the Madonna della Madia, an icon that came from the sea in the 12th century. Inside, you'll find an ornate Baroque interior with impressive frescos, marble statuary, and a Byzantine altar.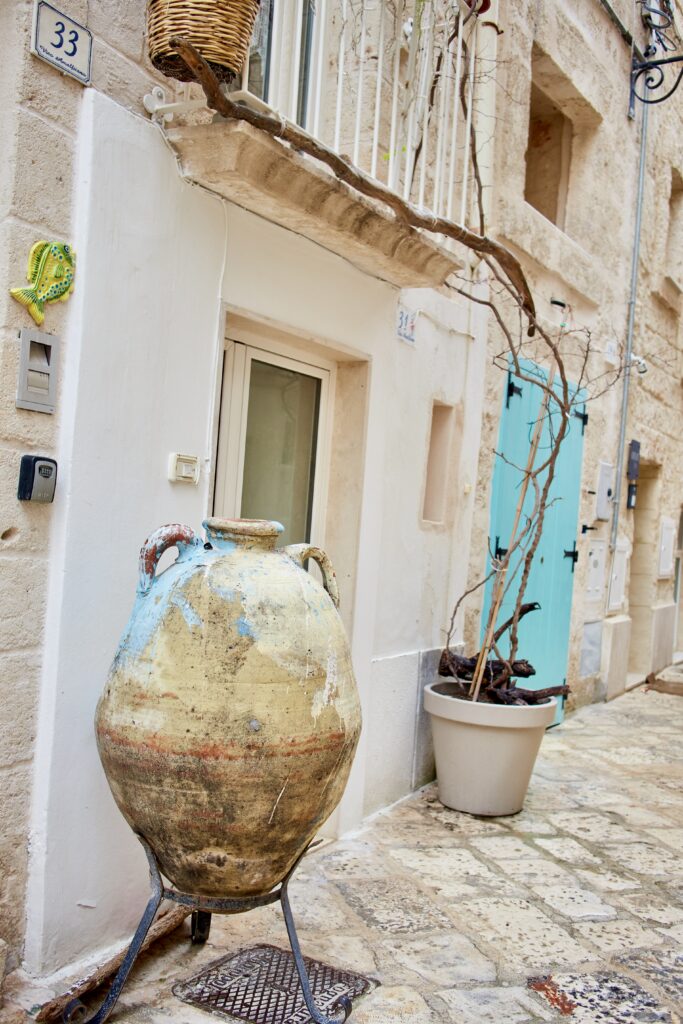 Another important monument in the historic center is the 16th century castle along the harbor. The defensive fortifications were built by Charles V.
Monopoli also boasts beautiful beaches and a picturesque coastline, which are its top draw. You can relax on the sandy shores, take a dip in the clear blue sea, or explore the nearby coves and inlets for a more secluded experience.
The harbor area of Monopoli is vibrant and lively, with colorful fishing boats and charming waterfront restaurants. It's a great place to enjoy a leisurely stroll, savor fresh seafood, and soak in the coastal ambiance.
Top Experiences In Monopoli: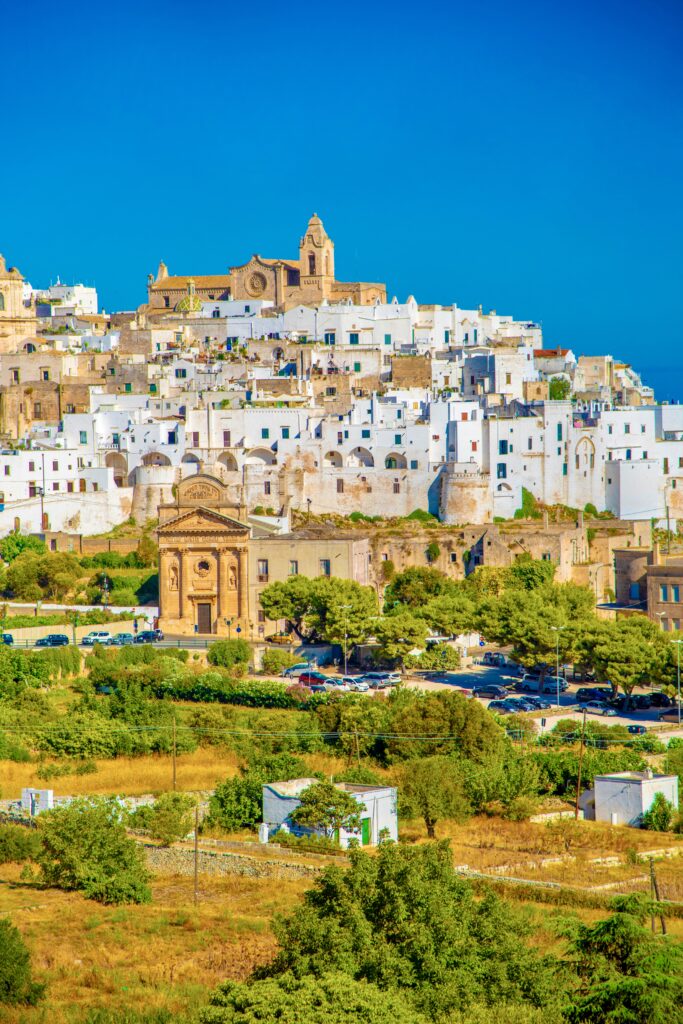 11. Ostuni
Ostuni is an absolute must visit place in Puglia. It's known as the brilliant "White City" of Puglia. Other towns are positively beige in comparison to Ostuni!
It will transport you to a picturesque setting reminiscent of Greece. Ostuni boasts a captivating old town and several landmarks.
Ostuni Cathedral is an architectural gem with Spanish-influenced Gothic design. It boasts an impressive Venetian-style facade and rose window. Step through its doors to admire the stunning interior adorned with ornate decorations and breathtaking frescoes.
The enchanting old town is the highlight of Ostuni You'll get lost in whitewashed streets and winding lanes. Every corner comes alive with the vibrant colors of blooming flowers, and friendly felines lazily lounge along the quaint paths.
Pair a centro storico stroll with a leisurely walk along the city walls. They offer captivating views of the surrounding landscape and an Instagrammable blue door.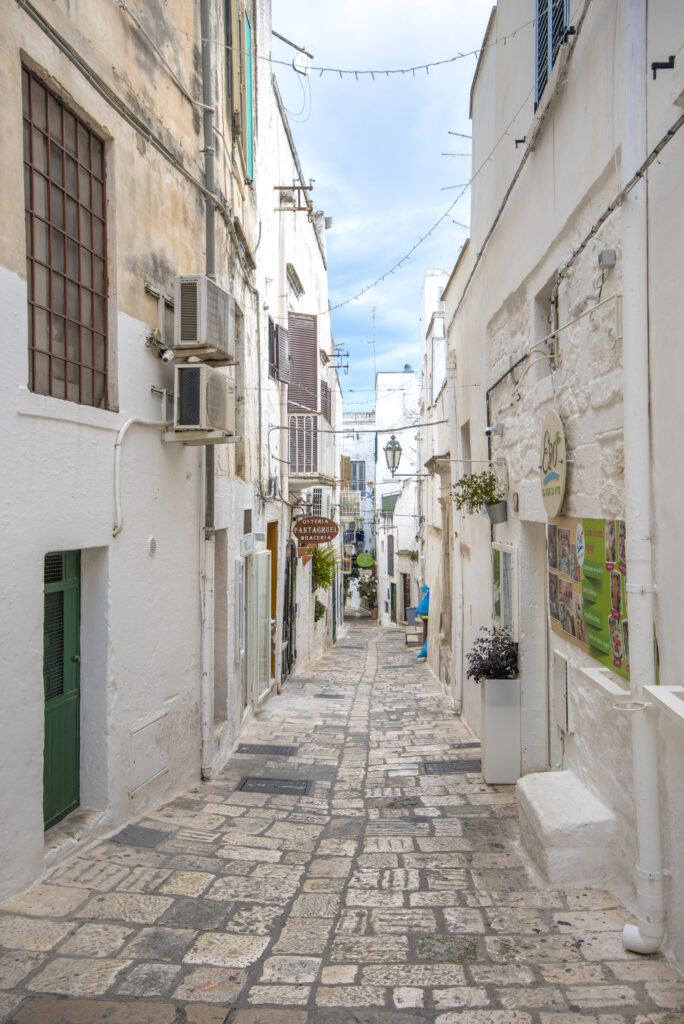 Shoppers will enjoy the local artisan shops and boutiques. You'll find an array of unique handcrafted ceramics, textiles, and souvenirs to bring home a piece of Ostuni's charm.
For history enthusiasts, the Archaeological Museum, Museo Archeologico Francesco Ribezzo, has an impressive collection of prehistoric artifacts from the Paleolithic and Neolithic eras. Additionally, the Diocesan Museum, adjacent to the cathedral, showcases a treasure trove of religious and historic artifacts.
You should also make your way to the vibrant Piazza della Libertà, the heart of Ostuni and its lively "living room." The triangular square hums with activity. You can say hello to the towering sculpture of St. Oronzo, the town's patron saint.
Top Experiences In Ostuni: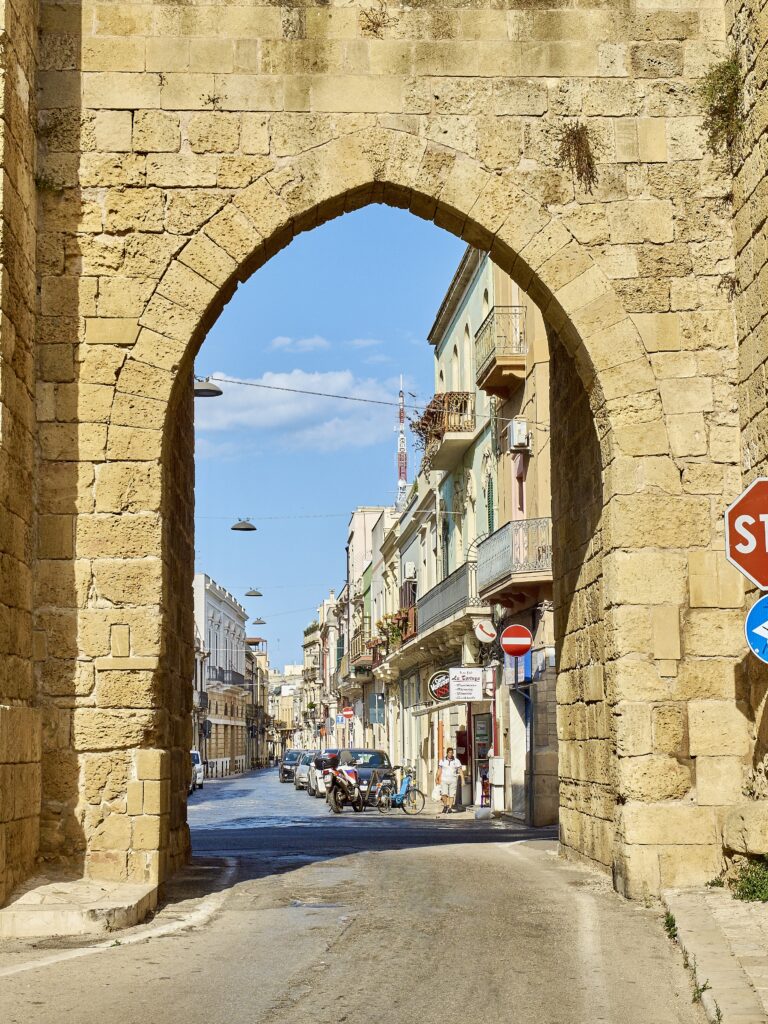 12. Brindisi
Brindisi is home to the largest port in Puglia. It's a major point of embarkation for ferries and cruise ships to Greece and beyond.
In classical times, the city marked the end of the Via Appia from Rome. The spot is marked by the Colonne Terminali della Via Appia, two ancient Roman columns.
Today, Brindisi contains a number of attractions that make it worth visiting. The top sites are the Church of San Benedetto and the Church of San Giovani al Sepolcro.
San Benedetto is the city's cathedral. It's a stunning example of Romanesque architecture. Step inside to admire the intricate details and beautiful interior.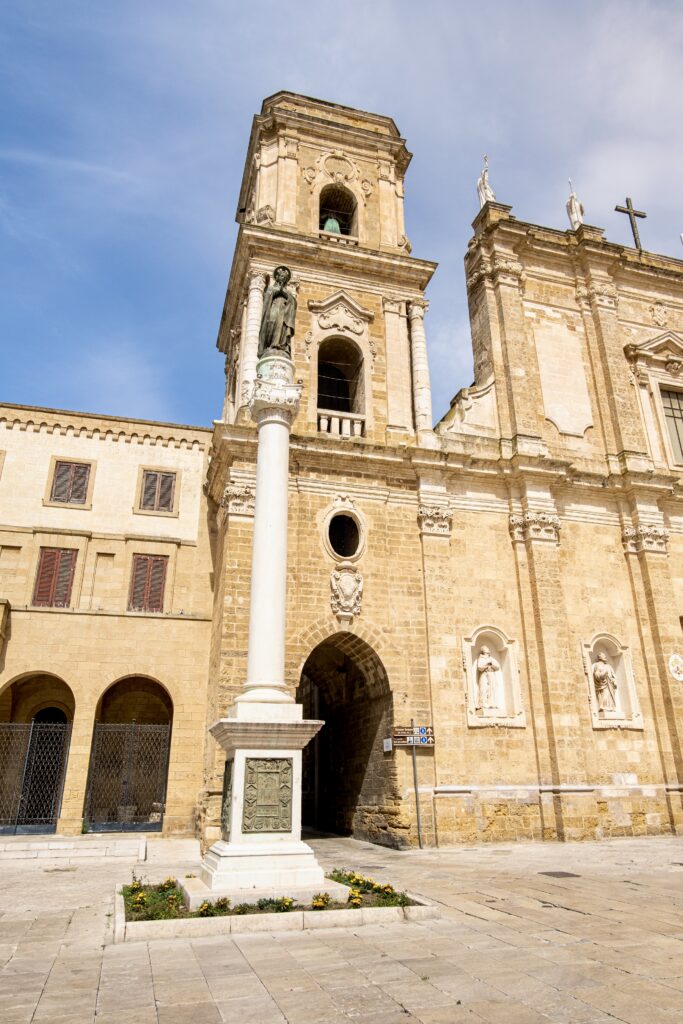 The Sepolcro was built by the Knights Templar around 1000. It's a unique round church. The church is a mix of architectural styles, including Romanesque and Gothic elements.
History buffs should also head to the Museo Archeologico Provinciale F. Ribezzo on the Piazza Duomo. The museum is housed in the 17th century Palazzo Ribezzo, a beautiful building in itself.
The museum's exhibits include artifacts from prehistoric times to the Roman period. Displays include ancient pottery, statues, mosaics, jewelry, and relics from various archaeological sites and necropolises around Brindisi.
>>> Click here to book a guided tour of Brindisi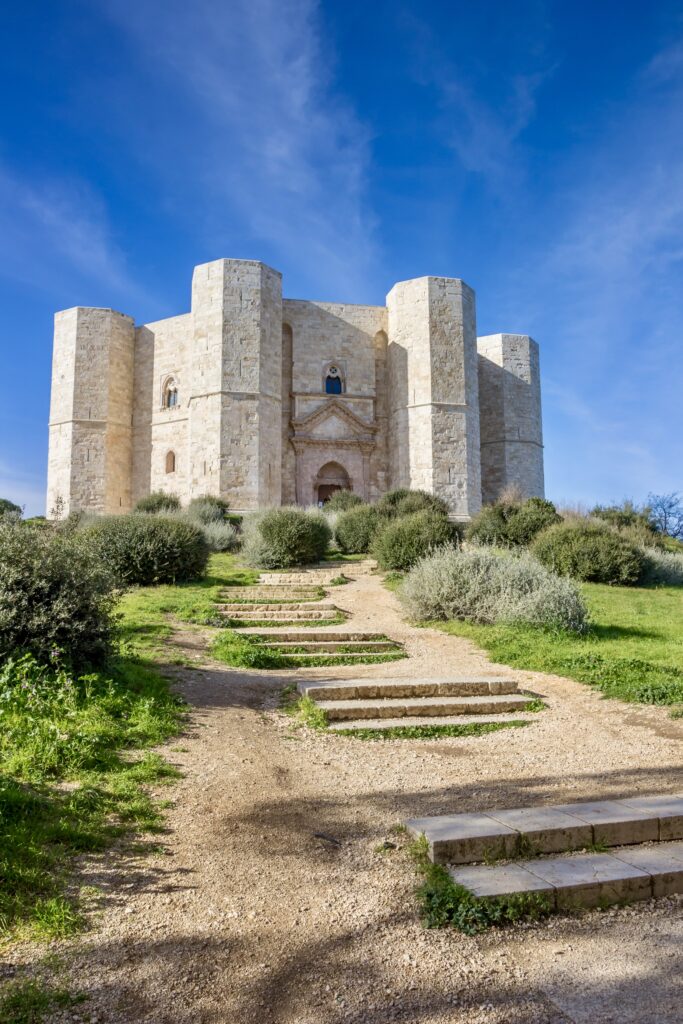 13. Castel del Monte
Castel del Monte is one of the most famous landmarks in Italy and a must visit destination in Puglia. It was built in the 13th century by Emperor Frederick II.
The castle is known for its unique for its octagonal shape, with eight towers at its eight vertices. The innovative architectural design blends elements of Gothic, Romanesque, and Islamic styles.
The architecture has given rise to various legends about the castle. Some claim it was a place of initiation. Others say it's in the shape of the emperors crown. Still others claim it once housed the Holy Grail.
Whether the stories are true or not, they indicate how much this beautiful place in Puglia was admired by all.
You can only visit the castle by reservation. Only 30 people are allowed in at one time. The car park is a mile away, but there is a shuttle bus.
>>> Click here to book a guided tour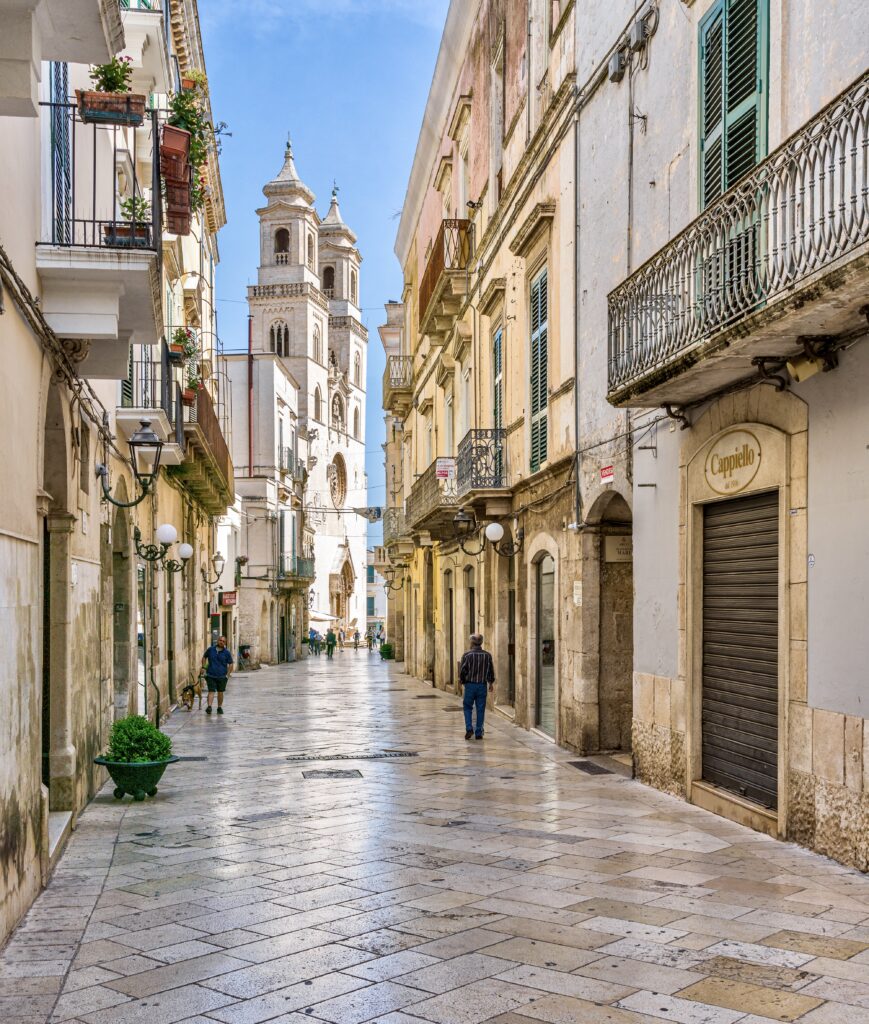 14. Altamura
Altamura is a town in the Murgia region nicknamed the "Lioness of Apuglia." The town has ancient origins, with evidence of human presence dating back to the Paleolithic era. The area has been inhabited by various civilizations, including the Peucetians, ancient Greeks, and Romans.
Altamura was the site of an incredible discovery — a well-preserved skeleton of a Neanderthal man, known as the "Man of Altamura." A team of speleologists and paleontolists made the find in 1993.
It was discovered in the Grotta di Lamalunga, a limestone cave near Altamura. The discovery marked a significant finding in the field of paleontology. And a museum circuit has sprung up around this find.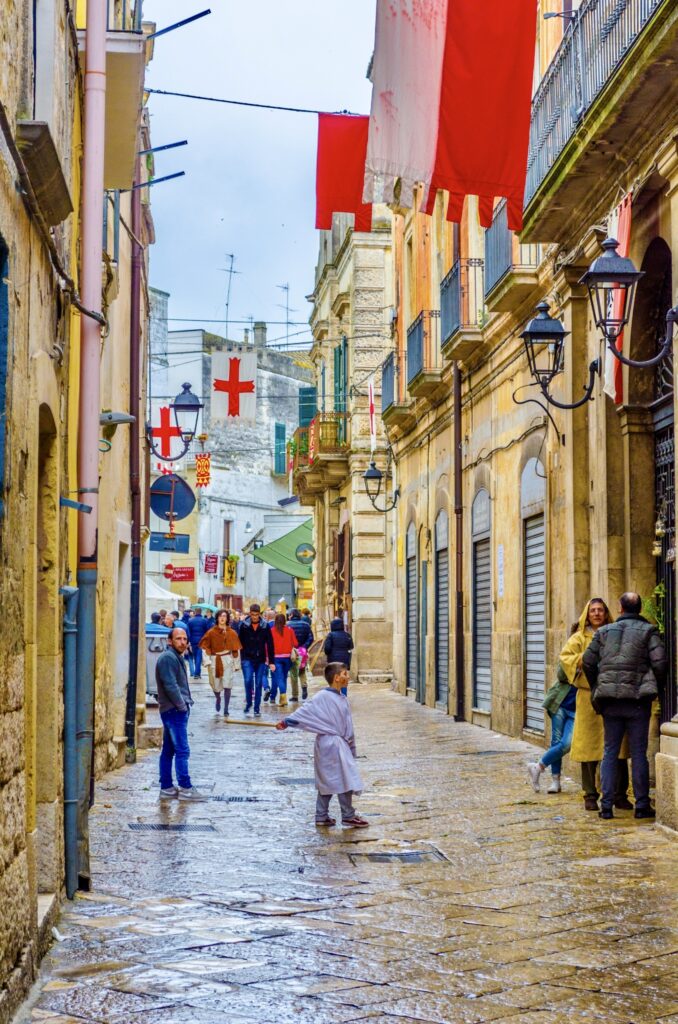 The Lamalunga Visitor Center gives you an overview and history of the Altamura Man. The Palazzo Baldassare has a full scale reconstruction of the place where the skeleton was found. And the National Archaeological Museum covers a historical path from the Stone Ages to the Middle Ages.
Apart from the museums, Altamura is home to a splendid medieval cathedral, built on the orders of Frederick II. The cathedral is a stunning example of Apulian Romanesque architecture.
The interior has a Latin cross layout with three naves and several chapels. One of the main highlights inside the cathedral is the "Altare delle Stimmate" (Altar of Stigmata), a magnificent work of art created by the sculptor Stefano da Putignano in the 16th century.
Altamura's historic center is known as Città Vecchia. It's a dream to wander. It consists of a set of small cobbled streets, squares, and 80 cloisters. It features well-preserved Medieval and Renaissance architecture.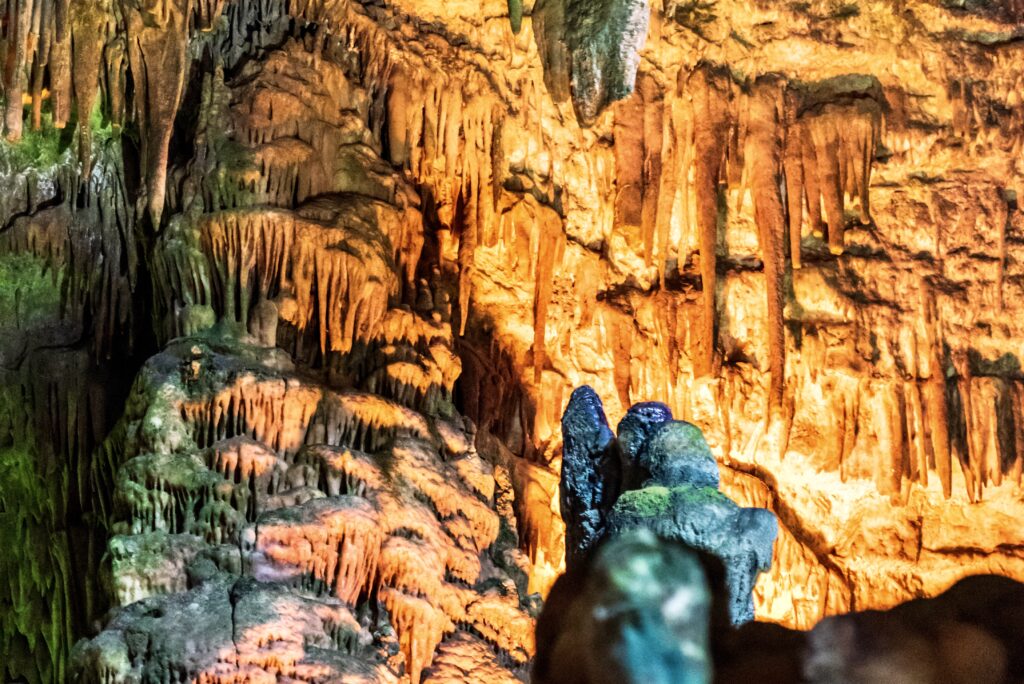 15. Grotte de Castellana
The grotto is a vast network of caves. It's over 11,000 feet long and over 400 feet deep.
It was carved over the centuries by water pouring through limestone. It's just 11 miles from Alberobello.
A long tunnel leads to the the Grave. It's a huge chamber lit by a skylight, through which streaks of sun enter. The eerie light has given rise to all sorts of spooky legends about demons and lost souls.
From the Grave, a series of paths take you to other underground rooms, filled with stalagmites and stalactites. At the end is the Grotta Bianca. It's a gleaming white cave with alabaster rock formations.
Visits are only by guided tour. Bring an extra layer of clothing because the grotto is chilly year round.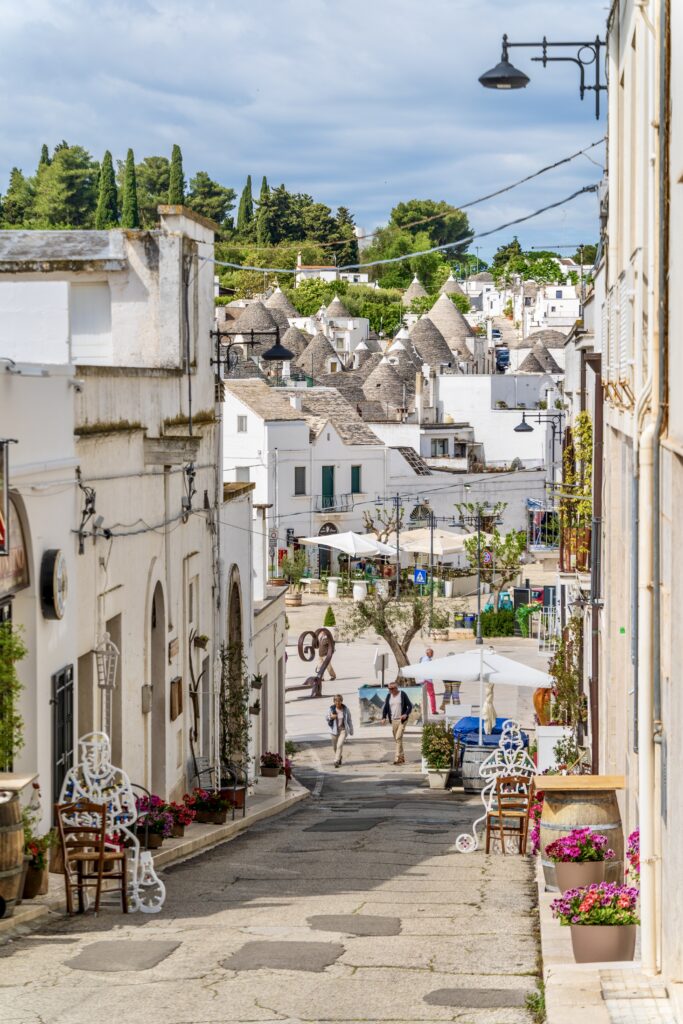 16. Alberobello
Alberobello is a captivating town and must visit place in Puglia. It's world famous for its unique and enchanting trulli houses. Most date from the 16th to 19th centuries.
You can't come to Puglia without seeing them! These traditional dry stone dwellings with conical roofs create a fairytale-like atmosphere that you won't find anywhere else.
As you wander through the narrow streets, you'll be surrounded by clusters of trulli. Each one is adorned with white symbols and religious motifs, adding to the town's distinctive charm.
Alberobello's main trulli district, known as Rione Monti, is a UNESCO World Heritage site and a true architectural wonder.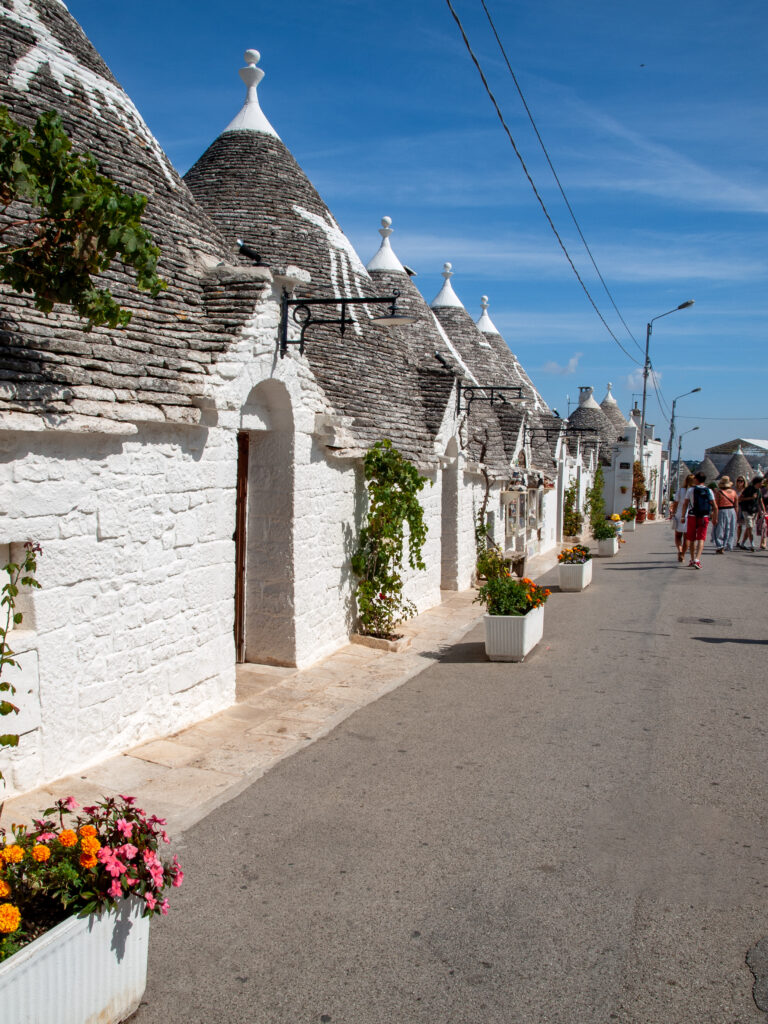 But the trulli aren't just for show. Many locals still call them home, giving visitors a glimpse into the town's traditional way of life.
Be sure to visit the Trullo Sovrano, the only two story trullo in Alberobello, It now serves as a museum, providing insights into the trullo's history and construction techniques.
Alberobello is exceeding popular and can be very crowded in high season. For the best experience, come at off peak hours or stay overnight in a trulli hotel.
Top Experiences In Alberobello: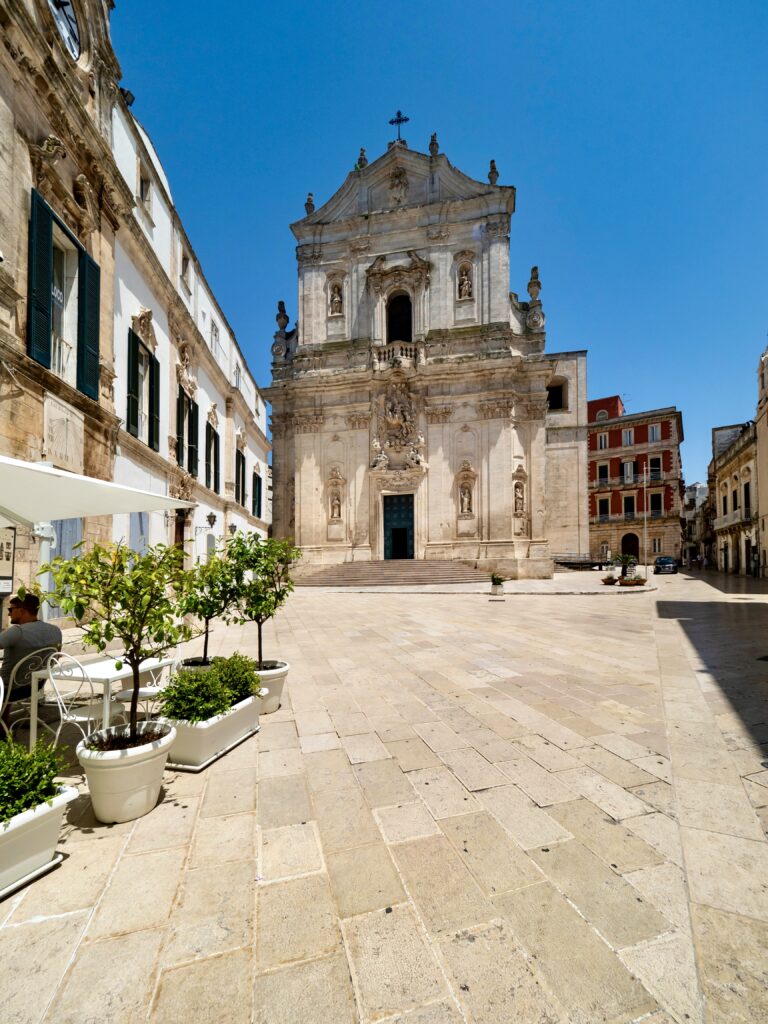 17. Martina Franca
Martina Franca is a lively town with a pretty historic center. It's a mix of Baroque finery and whitewashed lanes. The town was founded in the 10th century by coastal residents fleeing Saracen attacks along the Adriatic Sea.
When you arrive, park outside the historic center on Bia Giuseppe Aprile or Via Verdi. The town's two main squares are Piazza Plebiscito and Piazza Immacolata. The Main Street is Via Cavour.
In the former, you'll find the Basilica of San Marino. The facade is richly adorned with Baroque relief sculptures depicting episodes form the life of St. Martin.
In Piazza Immacolata, stop in at a centuries old landmark, Caffe Tripoli. The specialty here is granita di caffe, espresso with whipped cream.
>>> Click here to book a Baroque and Rococo walking tour of Martina Franca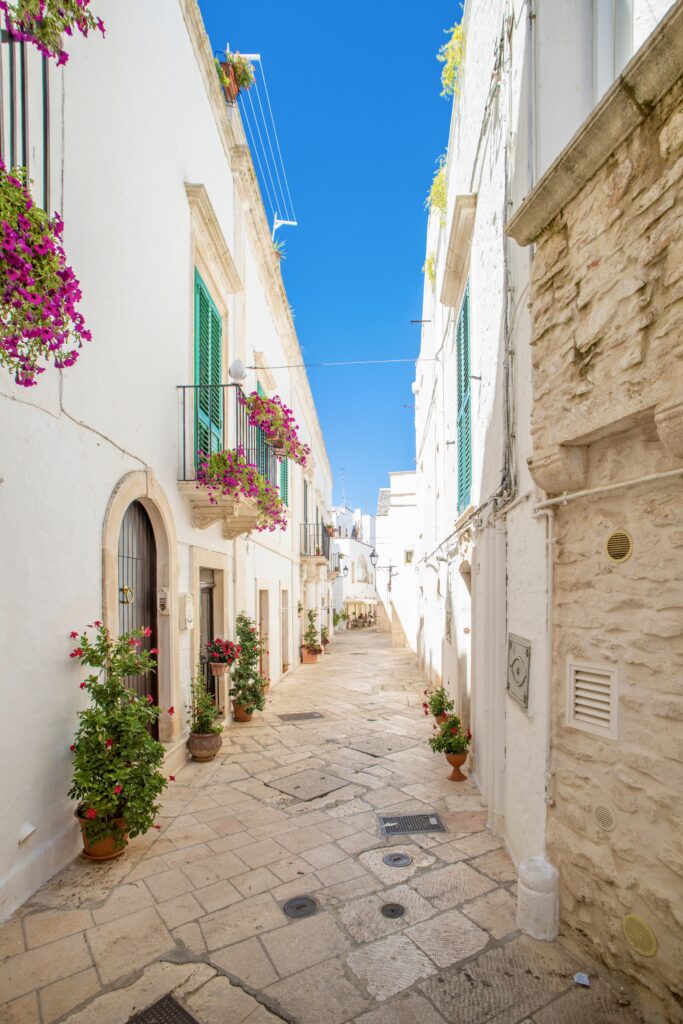 18. Locorotondo
Locorotondo is one of the most beautiful places to visit in Puglia. The cheerful small town makes a nice stop while driving from Alberobello to Ostuni.
Locorotondo means "round place" and you can see why. The town consists of a ring of bright white houses with pointed gable roofs called cummerse.
In the historic center, streets of light colored stone are flanked by white houses. They hug the contours of the hilltop in near perfect concentric circles. Surrounding them are the old protective walls.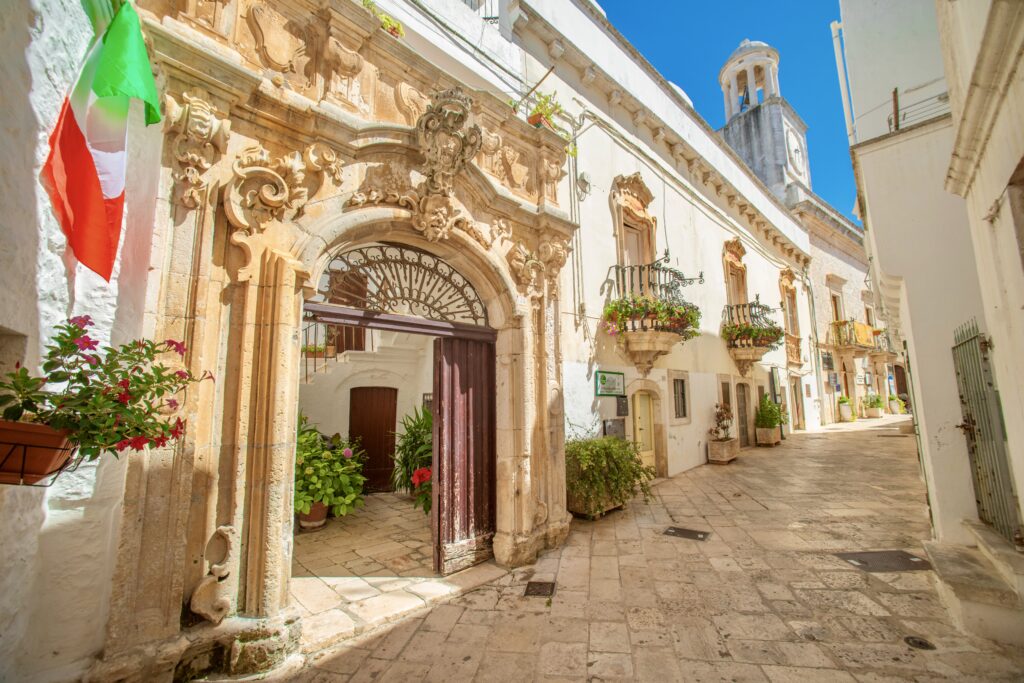 Locorotondo is home to some lovely Baroque churches. You can see the domes rising above the rooftops.
One of the most notable churchesis the Church of St. George the Martyr (Chiesa di San Giorgio Martire). This church features a Baroque facade with intricate architectural details and decorative elements typical of the Baroque style.
Locorotondo is also famous for its white wine. You can sample it in any of the local bars and restaurants in town.
>>> Click here to book a guided tour of Locorontondo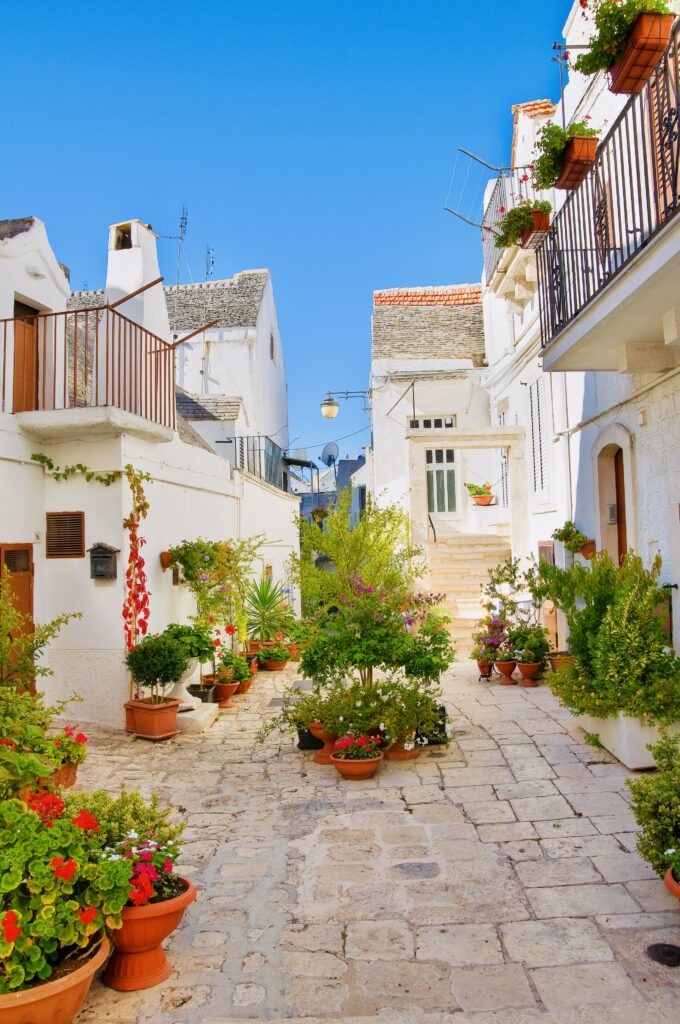 19. Noci
The charming town of Noci is nestled in the picturesque Murgia region. Surrounded by rolling countryside and dotted with walnut trees, Noci offers travelers an authentic Italian experience.
Noci boasts quaint streets, well-preserved architecture, elegant palazzi, and rustic stone houses. Its historical landmarks, like the elegant Chiesa Madre and the beautiful Church of Santa Maria della Croce, reveal a rich cultural heritage.
The locals in Noci are known for their warm hospitality, making visitors feel right at home. As you explore the town, don't miss the chance to indulge in the local culinary delights, from mouthwatering almond-based pastries to the finest regional wines.
Noci's strategic location in the Murgia area also makes it an excellent starting point or base for discovering nearby attractions like Alberobello and Locorotondo.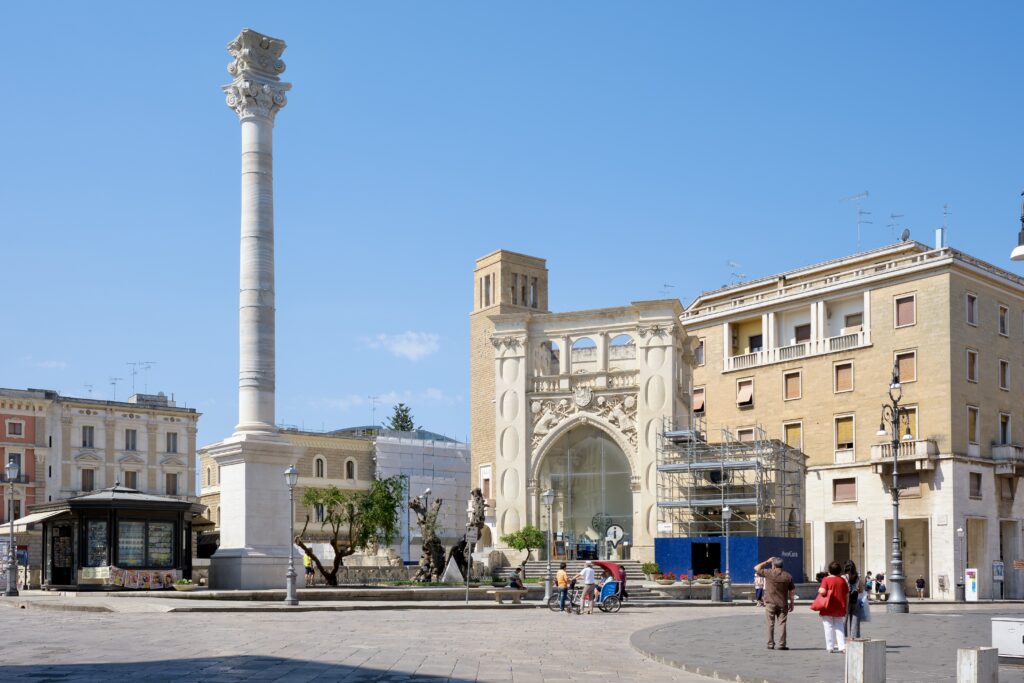 20. Lecce
Lecce is a sophisticated city that combines Baroque architecture, urban elegance, and typically southern Italian charm.
The handsome historic center is clad in an irresistibly warm golden limestone. The buttery limestone proved easy to carve. As a result, Lecce is an extravaganza of Baroque excess with intricately decorated churches and palaces.
Start your explorations of this must visit place in Puglia at Piazza Sant'Oronzo. There, you'll find a 2nd century Roman column called Colonna Romano. It's topped with a statue of the saint.
In the south side of the piazza there are ruins of a 1st century Roman amphitheater. Nearby is Lecce's Roman Theater.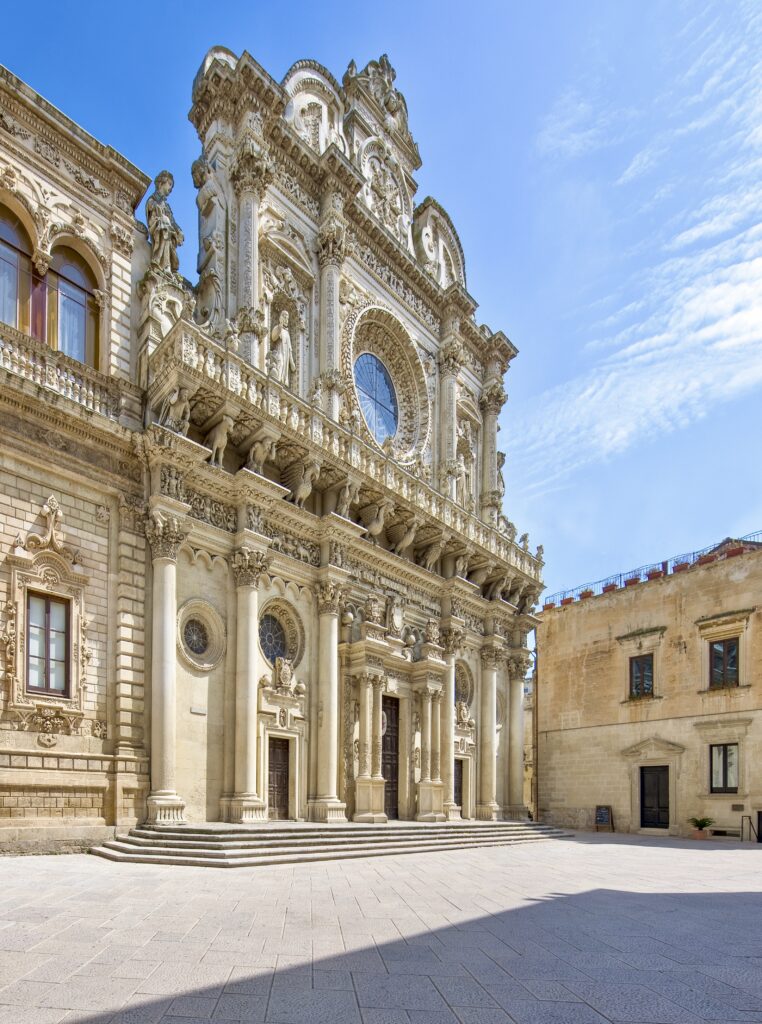 To the west of the piazza is a string of amazing Baroque churches. To get an eyeful of their facades, follow Via Vittorio Emanuele and its continuation, Via Giuseppe Libertini, past the Duomo.
You'll pass the Chiesa di Sant'Irene, the Chiesa di Santa Theresa, and the Basilica di San Giovanni Battista.
But Lecce's piece de resistance is the Basilica of Santa Croce, where the Barocco Leccese hits fever pitch. Designed by Italian architect Riccardo Zimbalo, the facade is crammed with goddesses, lions, angels, and sea creatures.
You should also admire the Duomo. Lecce's cathedral stands in an enclosed square, a dramatic setting. The chiseled facade was reworked by a student of Zimbalo.
Top experiences In Lecce: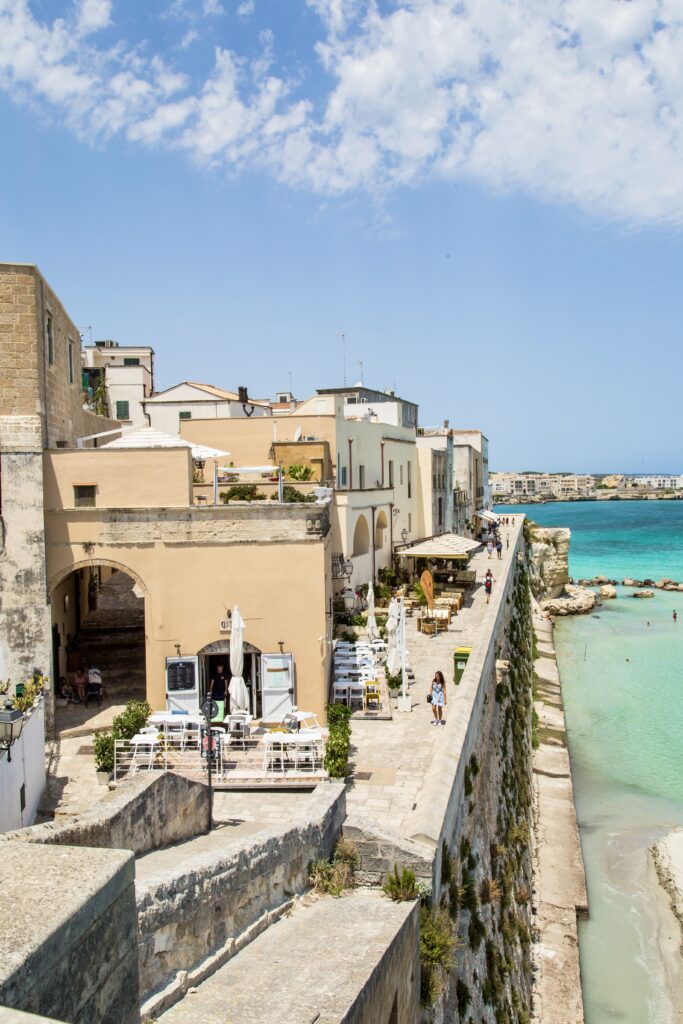 21. Otranto
Otranto is the easternmost city in Italy. It's a coastal town of Greco-Mesapian origin, dating from the 8th century. Two colors dominate here — the turquoise blue of the sea and the gleaming white of the old quarter.
The most famous landmark is the formidable 11th century Otranto Cathedral. It boasts a stunning floor mosaic of the Tree of Life.
It was created in the 1160s by the artist-monk Pantleone. You will recognize some famous characters such as Adam and Eve, Noah, King Arthur, and Alexander the Great.
Another thing to see in Otranto is the Aragnese Castle. It's a 15th century sea-facing castle surrounded in part by a moat. Today, the castle hosts temporary exhibitions.
To envision Otranto's past, simply follow the path of the historic city walls that encircle the old town. These walls date back to a somber chapter in the 15th century when they were erected after a devastating siege.
>>> Click here to book a walking tour of Otranto
22. Cave of Poetry
The Cave of Poetry is in the province of Lecce in the southern part of the Salento peninsula. It's a natural sinkhole with crystal-clear turquoise waters. It was formed by the erosion of limestone over time.
It's become a popular swimming, diving, and cliff jumping spot. It's a rare chance to swim in waters surrounded by rocky cliffs.
To swim in the Grotta della Poesia, there are two options. The first option is to take a leap of faith jump from the edge of the cliff. The second option involves descending a relatively narrow and sometimes slippery staircase carved into the rock.
Bring some cash becasue there's a entrance fee and you'll need to pay for parking.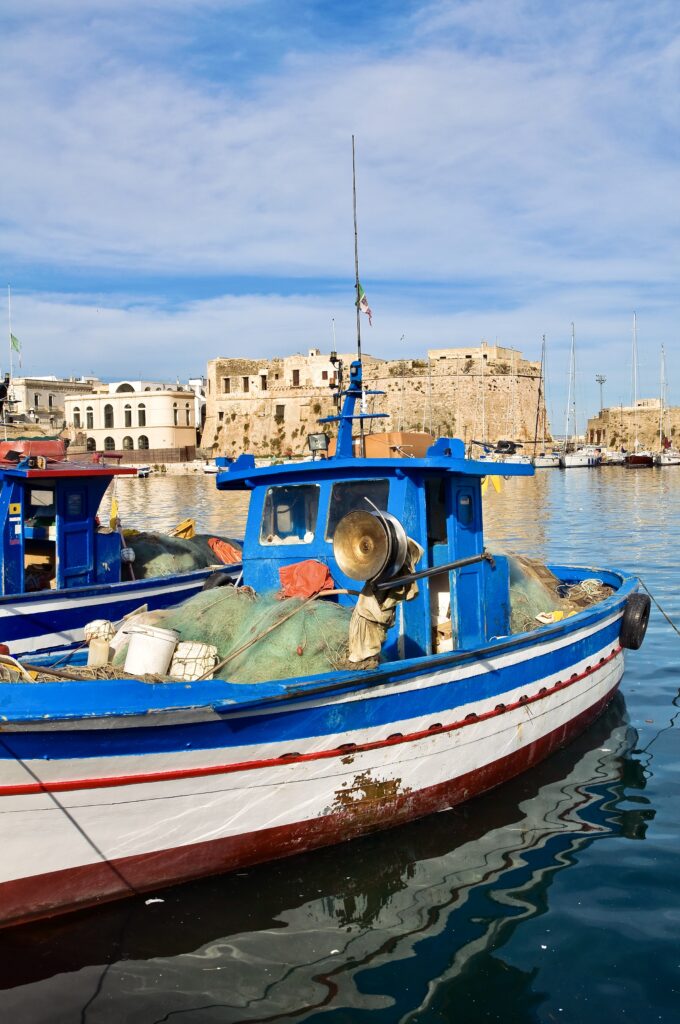 23. Gallipoli
Gallipoli is an eye catching seaside town. Its wave washed old town is located on an island and connected to the mainland via a bridge. It's a fetching labyrinth of narrow streets, historic buildings, and charming squares
The star attractions of the old town are the Angevin Castle and the Basilica of St. Agatha. There are 17 most Baroque churches and monasteries, some connected by secret tunnels.
The castle was constructed during the Angevin rule in the 13th century, serving as a defensive stronghold against various invaders. It features a robust and imposing medieval design, complete with thick stone walls, watchtowers, and battlements.
The Basilica of St. Agatha in Gallipoli features an elegant Baroque-style facade, adorned with decorative elements and statues that add to its visual appeal.
The interior of the basilica is equally impressive. It boasts a grand nave, high vaulted ceilings, and ornate altars that showcase intricate religious artwork. One of the highlights is the veneration of Saint Agatha's relics, which are preserved within the church.
Gallipoli is, naturally, also known for its beaches. The Purity Beach is located at the foot of the old town. Other sandy beaches include the Baia Verde and the Spiaggia Degli Innamorati or "Lover's Beach."
>>> Click here to book a day trip from Lecce to Otranto and Gallipoli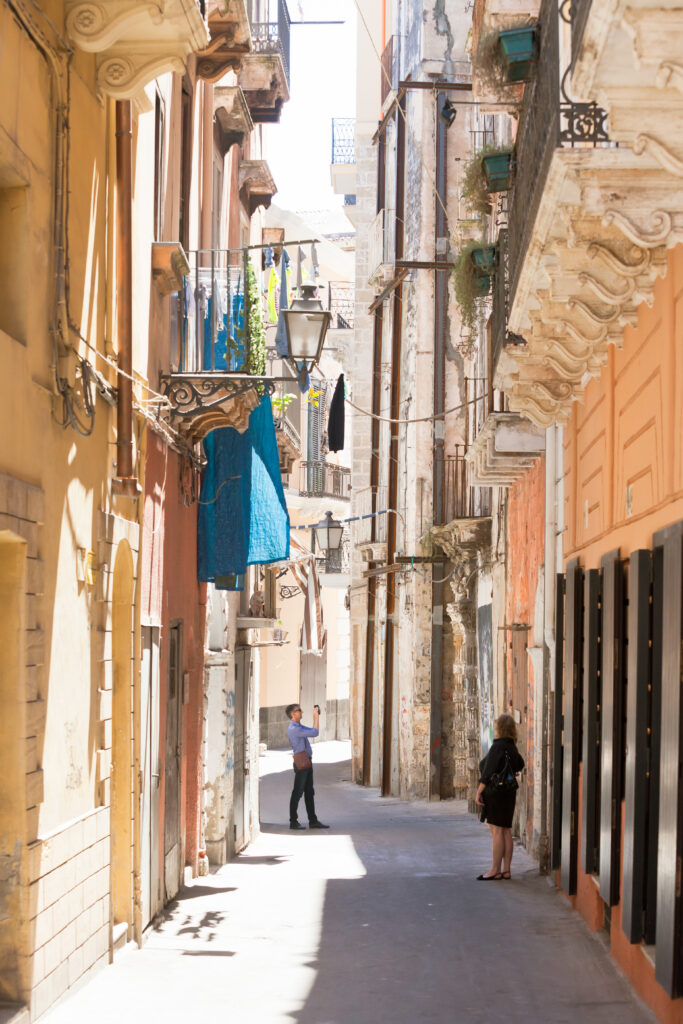 24. Taranto
Like Brindisi, Taranto has a long and distinguished history. Though it's now a major port and was bombed during WWII, its ancient heart survives. The city is home to many wonderful churches, quaint lanes, and an imposing fortress.
Taranto's Duomo is largely unchanged since the 11th century. Officially known as the Cathedral Basilica of San Cataldo, this Romanesque-style cathedral is an architectural gem. The highlight is the Chapel of San Cataldo.
The old town is a warren of old, crumbling streets. And the fish market on Via Cariata is a must visit.
The market in Taranto is typically held in the early mornings, starting around dawn, when the fishermen bring in their fresh catches from the sea. It's a lively and colorful affair, where you can purchase fish, shellfish, octopus, squid, and more.
The Museo Nazionale or MARTA on Via Cavour may be Taranto's top attraction. In southern Italy, it's second only to the National Archaeological Museum of Naples. It houses an impressive collection of artifacts from the Magna Graecia period, including ancient Greek pottery and sculptures.
>>> Click here to book a guided history tour of Taranto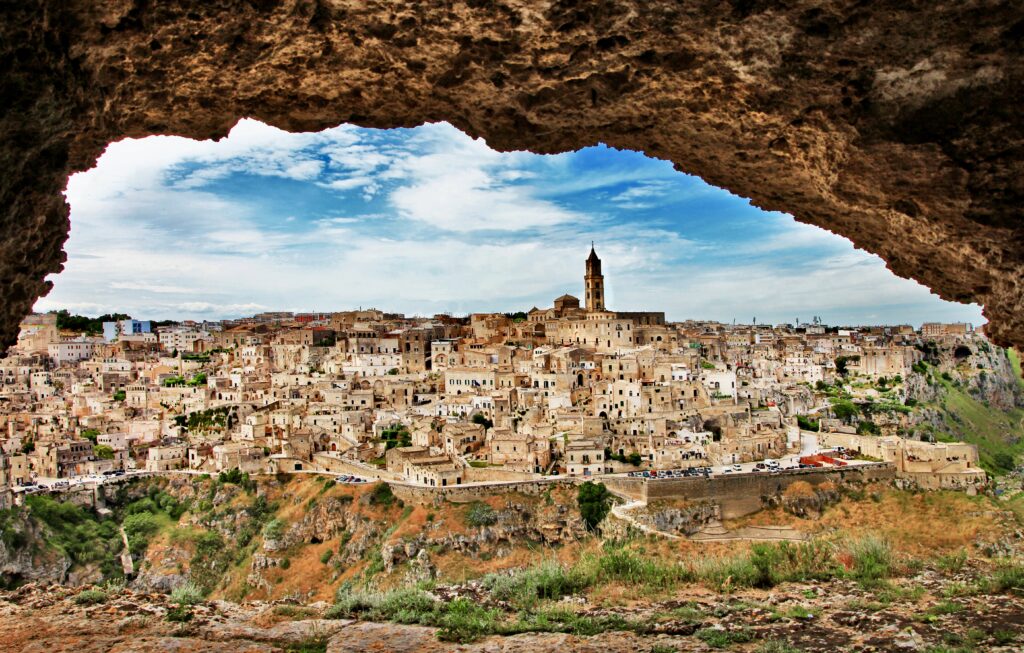 25. Matera
Matera is a captivating city in Italy's Basilicata region. It's also part of Murgia and considered a must-visit spot on any Puglia itinerary.
Matera is all about its enchanting caves called sassi. Over 9,000 years old, it's the world's oldest continuously inhabited city.
You'll find around 3,000 cave houses and 150 cave churches in the town. In the past, when these dwellings fell into ruin and people faced poverty, Matera was labeled the "Shame of Italy." But today, it proudly stands restored as a UNESCO World Heritage site.
There are two sassi districts, Barisano and Caveoso. Follow the signs, and you'll be on the main route, Strada Panoramica dei Sassi. The districts are a vertical maze of lanes and stairways.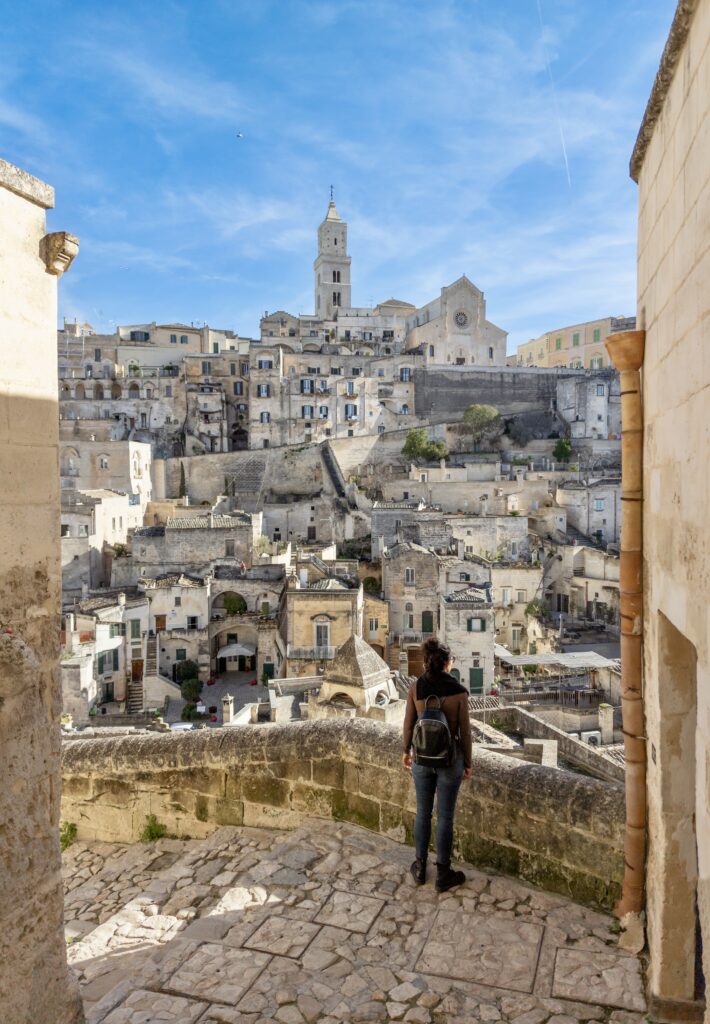 Don't miss the remarkable rock cave churches. Santa Maria di Idris, for example, is a stunning example from the 10th century, with beautiful medieval frescoes inside and two viewpoints.
For a unique experience, visit the nearby Casa-Grotto di Vico Solaria. It's a cave museum where you can explore former living quarters for donkeys and pigs, getting a glimpse into the town's past.
Matera has more to offer with fascinating museums like MUSMA (contemporary sculpture), Museo Nazionale Ridola (archaeological finds), and Museo d'Arte Medievale e Moderna (sacred and contemporary art).
Top Experiences In Matera:
I hope you've enjoyed my guide to the most beautiful places to visit in Puglia. For more information on where to eat, stay, and play in Puglia, you can check out my one week in Puglia itinerary.
You may also enjoy these other southern Italy travel guides and resources:
If you want to visit the best places in Puglia, pin it for later.