Planning to spend one week in Puglia? That's a fantastic idea! To help you along, I have the ultimate 7 days in Puglia road trip itinerary.
Puglia offers a perfect blend of history, natural beauty, and authentic Italian experiences. It's a land of whitewashed towns, breathtaking coastlines, and delectable cuisine.
The countryside is filled with stone walls, wildflowers, and twisted olive trees. You can enjoy the charming trulli houses of Alberobello, the sun-kissed beaches of Monopoli, and the Baroque charms of Lecce.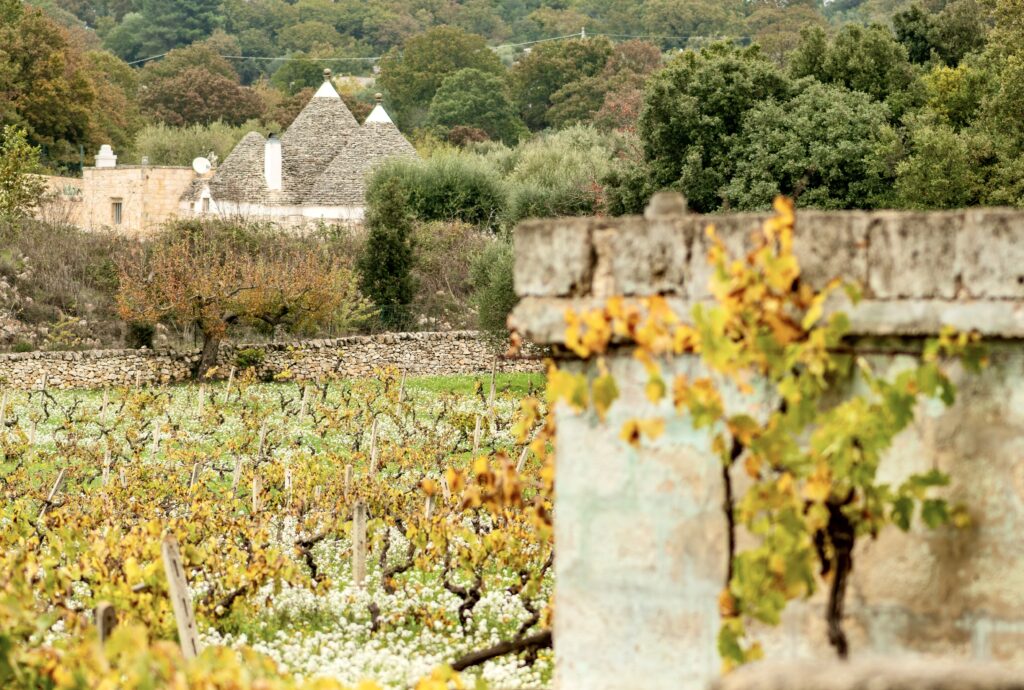 In this comprehensive one week in Puglia itinerary, I guide you through the must-visit towns, iconic landmarks, and cultural delights that make Puglia a truly enchanting destination.
I also give you must know tips for visiting, options for extending your trip, and tips on where to stay and where to eat.
Overview Of One Week In Puglia Itinerary
Here's a snapshot glance of what you can see with 7 days in Puglia. This itinerary assumes you have arrived in Puglia, checked into your accommodation, and are ready to go first thing in the morning.
Day 1: Polignano a Mare
Day 2: Monopoli
Day 3: Ostuni
Day 4: Matera
Day 5: Matera & Martina Franca
Day 6: Alberobello (& Locorotondo)
Day 7: Lecce
More time? Bari, Trani, Molfetta, Otranto, Gallipoli
Best Tours
Here are some of the best tours and experience you may want to book in Puglia. In high season, be sure to book in advance!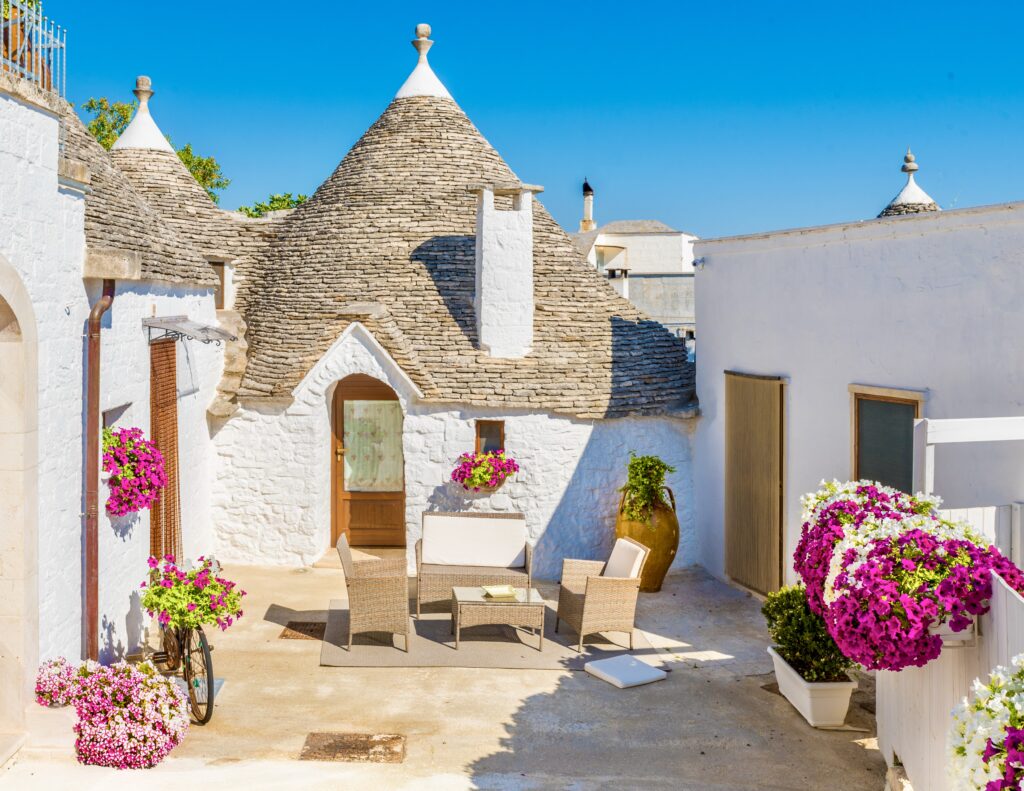 Where To Base In Puglia
Puglia is fairly small region. If you don't like moving hotels, you could set up shop in one base and day trip from there.
If you want a central base, you should stay in or around Polignano a Mare, Monopoli, or Ostuni. You can drive to all your other destinations.
If you don't have a car, you may want to think about basing in Bari because the city has, by far, the most transportation options. Plus, there are many guided tours that leave from Bari.
You could also stay in Lecce the entire time. From there, you can also day trip to places on this itinerary.
However, there is something to be said for having more than one base in Puglia. You could split up your trip into 2-3 bases.
For example, spending a night or two in Matera and Alberobello is an unmissable experience.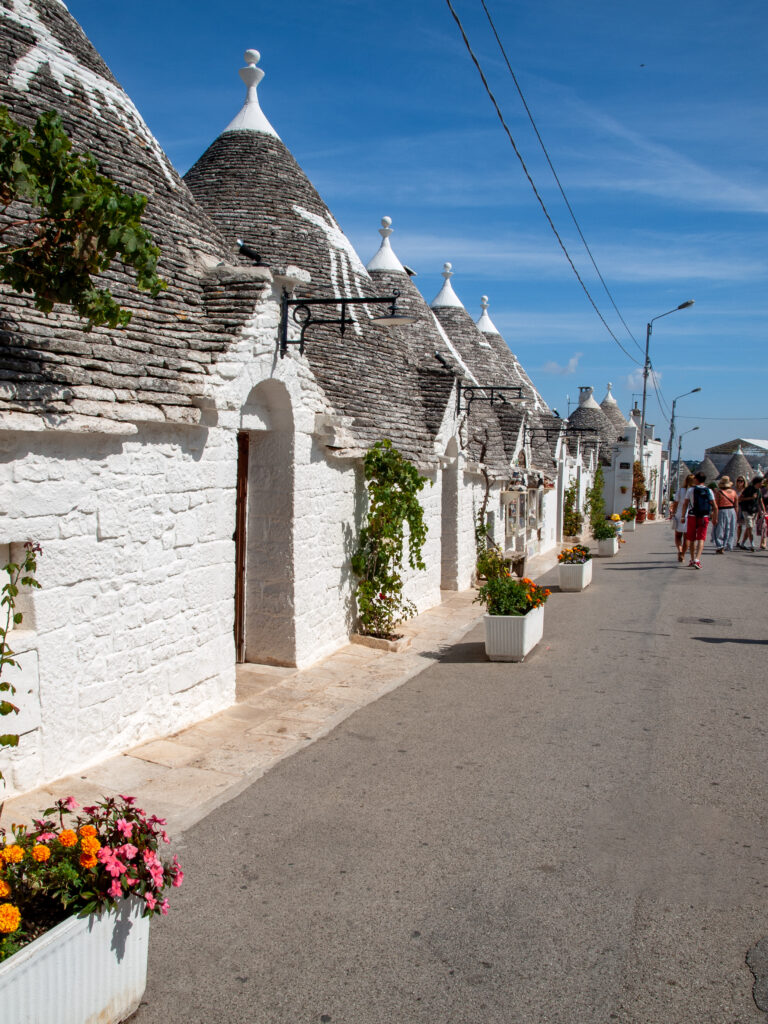 Matera is home to unique cave hotels that are thousands of years old. Alberobello is home to the iconic trulli (medieval cone-shaped homes). Staying overnight in a trullo or cave is an adventure in and of itself.
Here are a few of my favorite hotels in Puglia:
I'll go into more detail below in the tips section.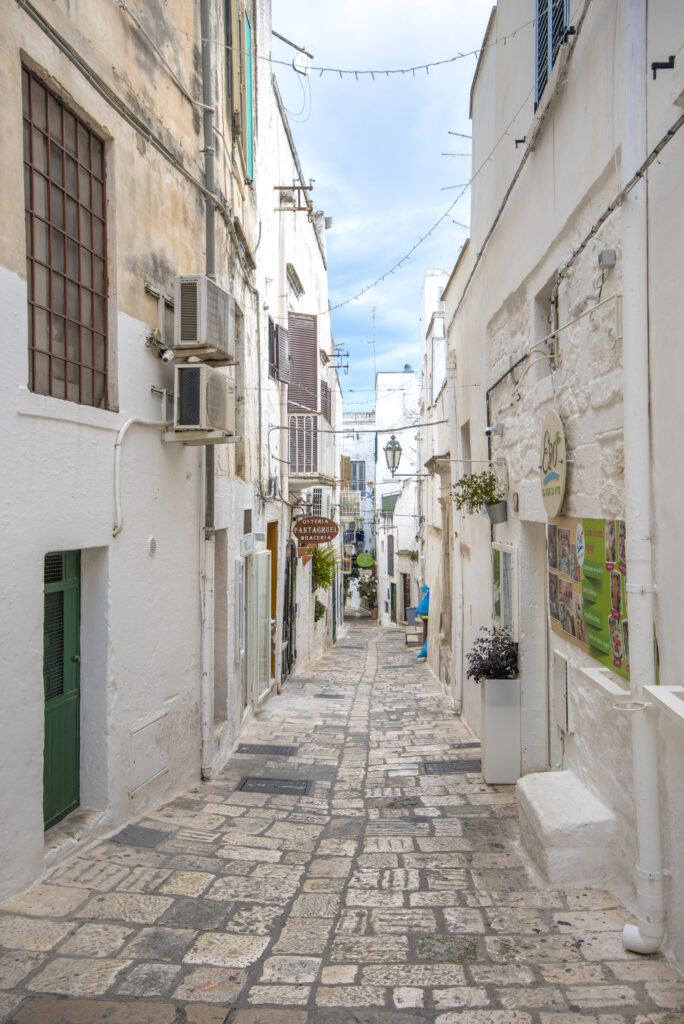 Best One Week In Puglia Road Trip Itinerary
There are many ways to structure a one week in Puglia itinerary. But this is my recommended point to point 7 days itinerary to see the best of Puglia.
You could also reverse the order of this itinerary and start in Lecce and end in Bari. You can get to Lecce on a high speed train from Rome, the Frecciarossa (Red Arrow), in a little over 5 hours.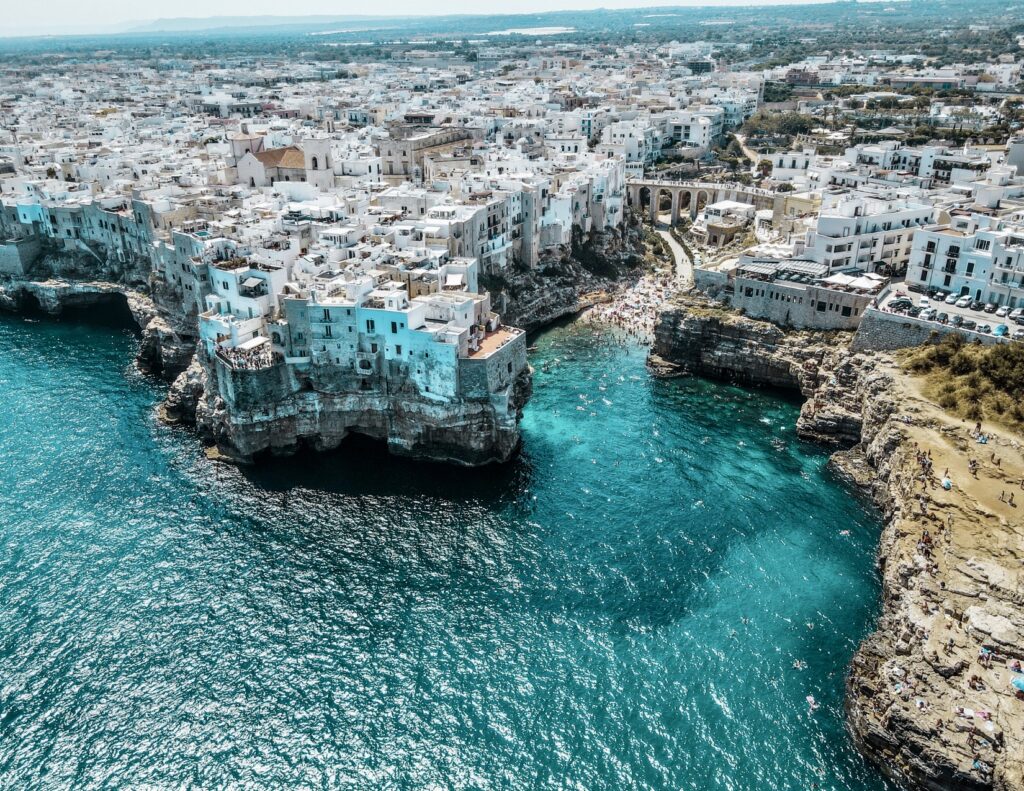 Day 1: Polignano a Mare
On day 1, begin your one week in Puglia in Polignano a Mare. It's a beautiful snow white town with a fantastic centro storico and an iconic beach, Lama Monachila. Its winding streets are adorned with flowering plants and offer incredible views of the Adriatic Sea.
Explore Via Roma, the main street filled with chic shops, eateries, and gelato shops. And don't miss the charming back streets, where you'll find poems written on walls and steps.
Polignano is famous for its stunning inlets, caves, and coves along the shoreline. The most renowned is Lama Monachile Beach, located in the town center. Another must visit spot is the Grotto Palazzese, a small but exquisite cave that houses a restaurant and 5 star hotel.
Take a leisurely stroll along Lungomare Domenico Modugno or Lungomare Cristofero Columbo for beautiful views.
The former is where you'll find the famous statue of Domenico Modugno, the singer-songwriter and a native of Polignano. He's famous for the song Volare, which you'll no doubt recognize when you here it playing in the square.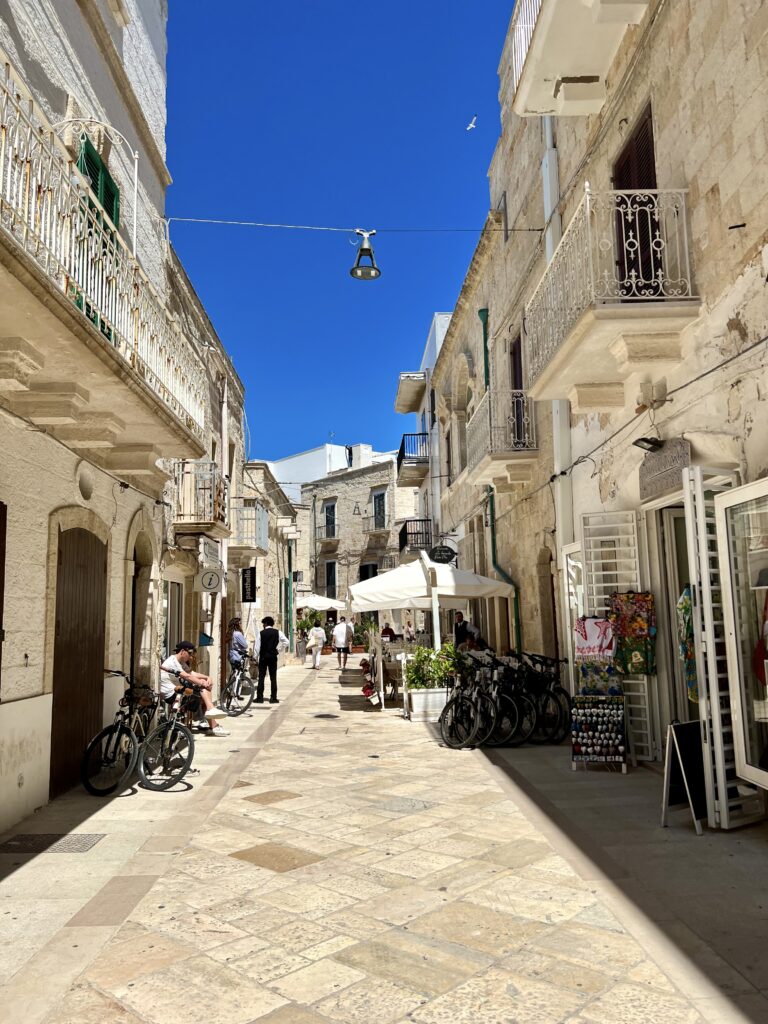 Consider joining a boat cruise to explore the coves, taking a boat cave tour, or indulging in a street food tour while in Polignano.
During my stay in Polignano, I had the pleasure of dining at some fabulous restaurants. Osteria dei Mulini, Restaurant Antiche Mura, and Specchie Sant'Oronzo. Even the street food café, Olio su Pane, served up delicious panini and other treats.
Here are some of the best tours and experiences you may want to book in Polignano a Mare:
READ: One Day In Polignano a Mare itinerary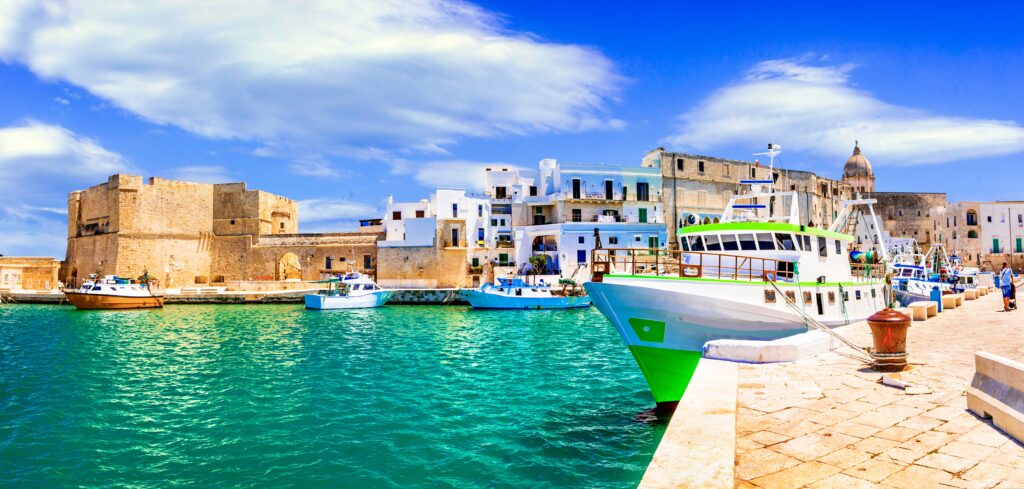 Day 2: Monopoli
On the second day of your 7 days in Puglia itinerary, explore the captivating seaside town of Monopoli. It's a bit of a hidden gem (though not in summer). It offers a delightful blend of narrow streets, a magnificent cathedral, and inviting trattorias.
Unlike the more touristy Puglian towns of Polignano or Alberobello, Monopoli boasts an authentic, lived-in atmosphere that gives it immense charm.
Begin your day in Monopoli itinerary by exploring the Old Port, also known as Porta Antica. Take a moment to admire the blue and red fishing boats gently swaying in the blue water.
Take a stroll through the historic center of Monopoli, and get lost in its labyrinthian streets. Marvel at the quaint whitewashed houses adorned with charming sage green shutters, iron balconies, and cascading flowers.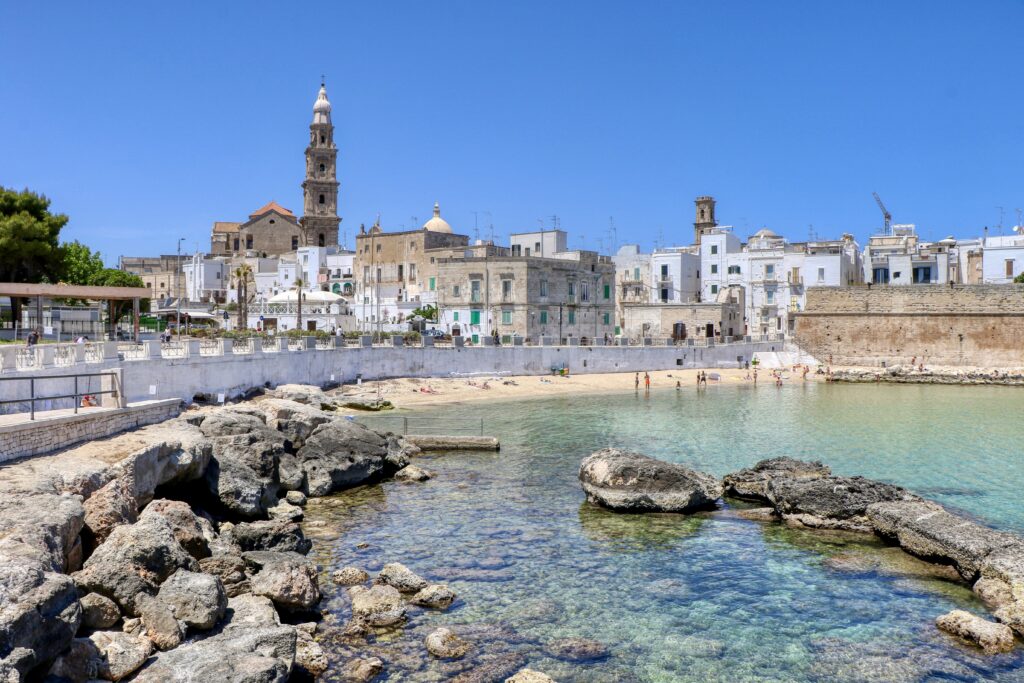 Don't miss the picturesque Vico Gesuiti. It has enchanting string lights and arcaded arches that add a touch of romance.
For a delightful experience, make your way to Piazza Giuseppe Garibaldi. It's a charming square nestled in the heart of the old town near the port.
Take an espresso break or unwind with an evening aperitivo at one of the cozy cafes, restaurants, or bars that line the square. And don't forget to treat yourself to a delicious gelato from Bella Blu Gelateria.
To soak in more of the town's lively ambiance, head to Piazza Vittorio Emanuele II. This picturesque square offers a delightful view of the harbor and is bustling with cafes and locals.
Be sure to visit the remarkable Monopoli Cathedral. It's an impressive cathedral for a small town.
Step inside and you'll find a beautifully adorned interior. It's a triumph of colored marble and Baroque excess. There are remarkable frescoes, elaborate altars, and a magnificent wooden ceiling.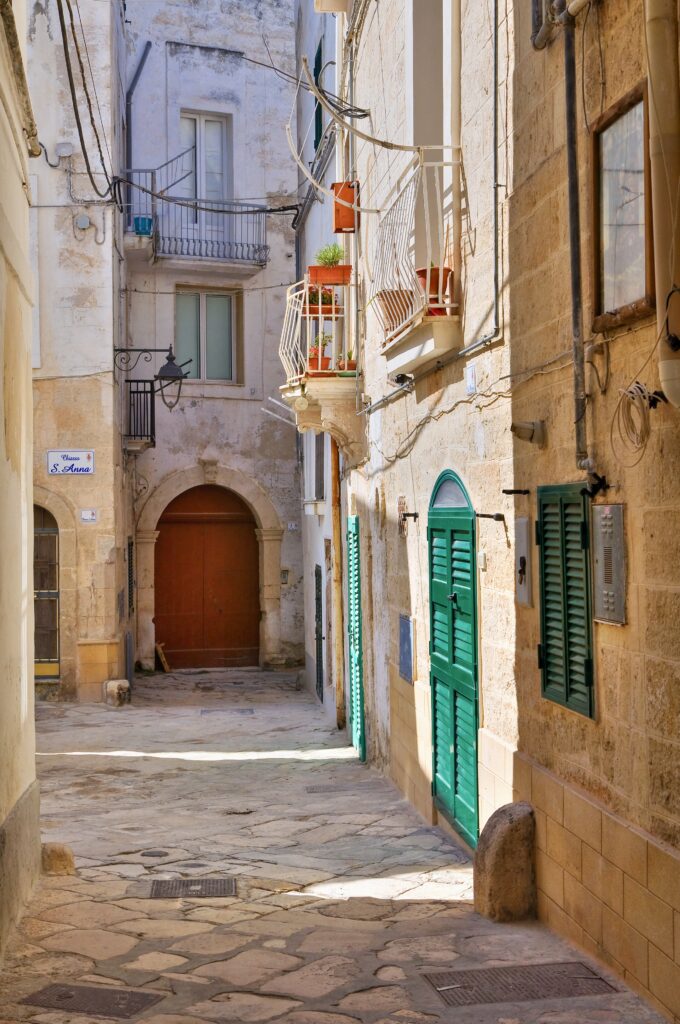 The cathedral is also home to the venerated icon of the Madonna della Madia. It's in a chapel behind the high altar. Across the street is the Diocesan Museum, with paintings by regional artists.
As the evening approaches, take a leisurely stroll along the picturesque Lungomare. You'll also find an ancient defensive tower that provides panoramic views when you climb to its top.
Immerse yourself in the local atmosphere by enjoying an aperol spritz in the vibrant Piazza Garibaldi.
Afterward, treat yourself to the freshest seafood at one of the many excellent restaurants in Monopoli. Sample the culinary delights at La Locanda Sul Porto or Gaia Osteria Popolare, where I had memorable dining experiences.
Here are some of the best tours and experiences that you may want to book in Monopoli: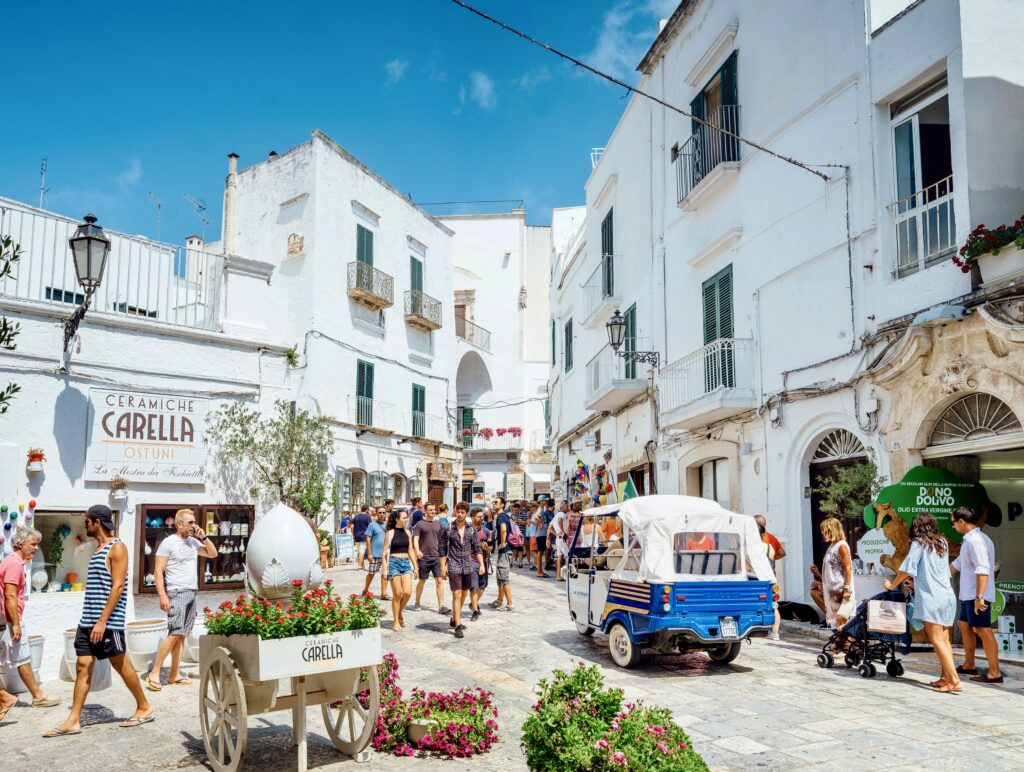 Day 3: Ostuni
On day 3, you'll visit Ostuni, the beautiful "White City" of Puglia. You may feel like you've been power beamed to Greece.
Begin your morning at Ostuni Cathedral. It's a Spanish-influenced Gothic cathedral with an impressive facade. Step inside to discover the beautiful interior adorned with ornate decorations and stunning frescoes.
Then, amble through the whitewashed streets and winding lanes of the historic old town. Colorful flowers adorn every corner and friendly felines lounge on the paths.
When it's time for lunch, head to Cielo. It's a charming eatery with whitewashed vaulted ceilings in a renovated grotto. Or try another atmospheric spot, Taverna della Gelosia.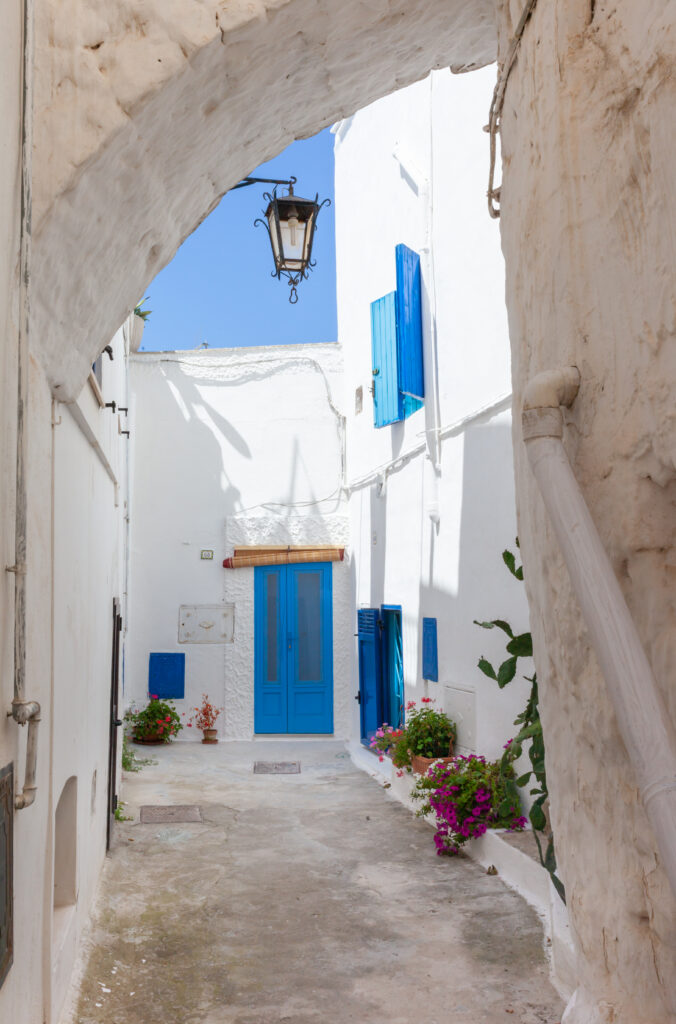 In the afternoon, continue your exploration of Ostuni. Walk the city walls. Visit the local artisan shops and boutiques. You can find unique handcrafted ceramics, textiles, and souvenirs.
If you want to hit a museum, history enthusiasts buffs can visit the Archaeological Museum, Museo Archeologico Francesco Ribezzo. The museum showcases a remarkable collection of prehistoric artifacts, including items from the Paleolithic and Neolithic periods.
Explore the displays of Messapian artifacts, Bronze Age finds. There's also a fascinating assortment of Greco-Roman busts and architectural fragments.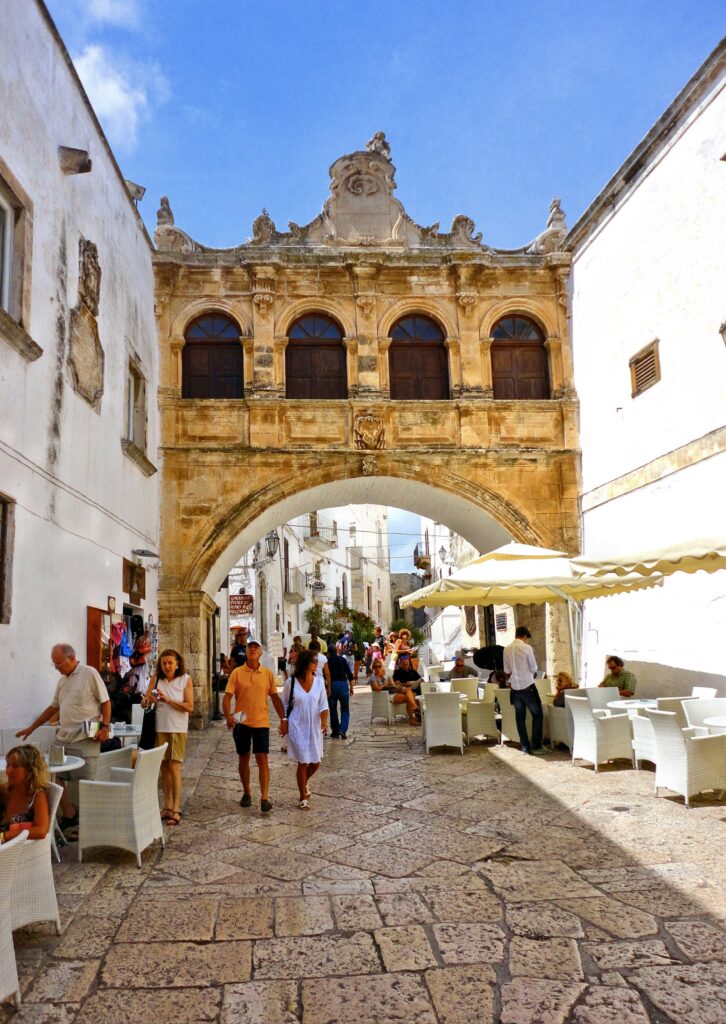 For other religious and historic artifacts, head to the Diocesan Museum. It's located on the ground floor of the Episcopal Hall, adjacent to the cathedral.
Recently opened in 2017, this museum houses a captivating collection of sacred artworks.
Marvel at the intricately crafted paintings, sculptures, and liturgical objects on display. Discover historical documents and other ancient artifacts that provide insights into the rich cultural heritage of the area.
At cocktail hour, head towards the vibrant Piazza della Libertà. It's the main square of Ostuni and its "living room."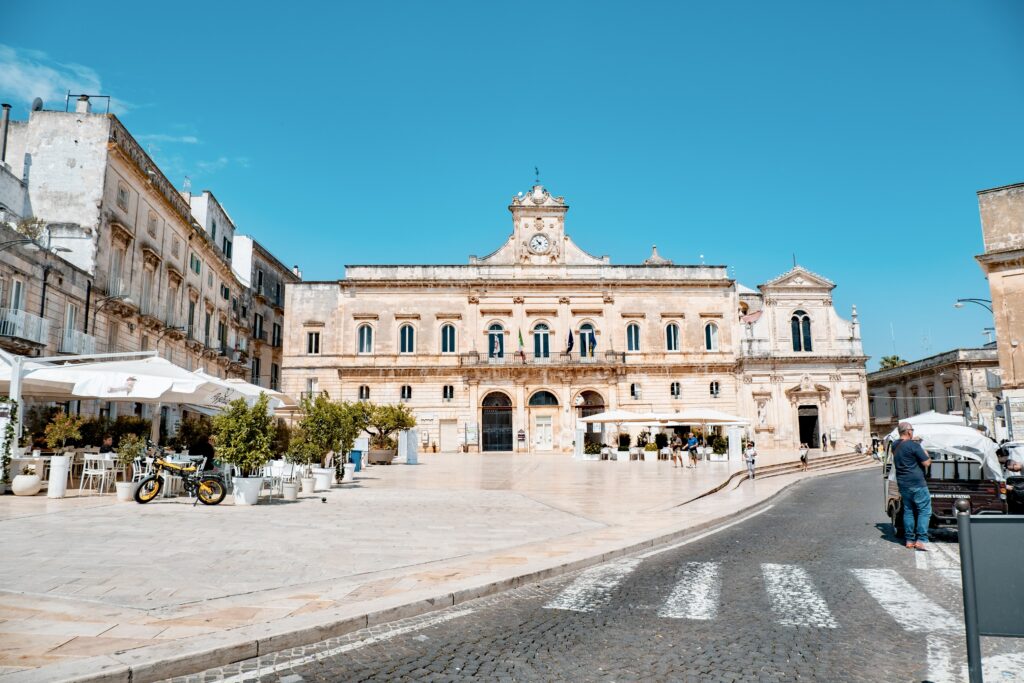 The triangular square is a hub of activity and a perfect spot to immerse yourself in the town's atmosphere. You'll find the impressive St. Francis Palace and St. Francis Church, two prominent landmarks in the city.
Here are some Ostuni tours you may want to book: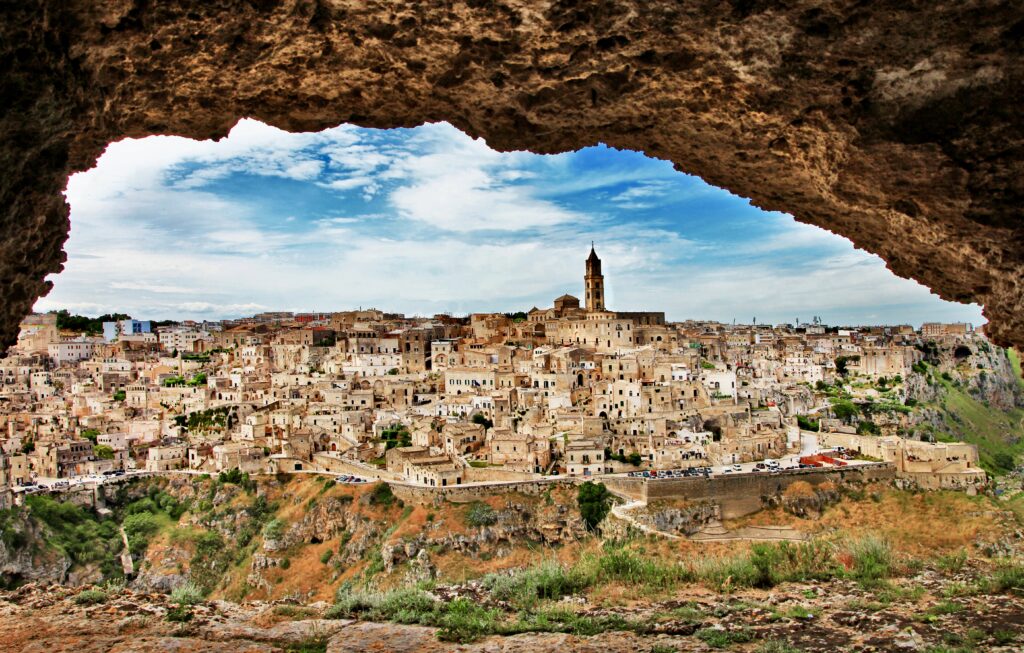 Day 4: Matera
Day 4 of your one week in Puglia itinerary takes you to the captivating city of Matera. It's known for its enchanting sassi cave dwellings.
With a history spanning 9,000 years, Matera holds the title of the world's oldest continuously inhabited city. The town exudes an ancient charm that will transport you back in time. It's a highlight of any southern Italy itinerary.
Matera boasts around 3,000 cave houses and 150 cave churches. When they fell into ruin and the residents were impoverished, Matera was considered the "shame of Italy."
Now, the sassi are meticulously restored and recognized as a UNESCO World Heritage site. For a unique experience, you should definitely consider staying in a cave hotel in this extraordinary destination. It's beyond romantic!
The best way to see Matera is to book a walking tour of the sassi. You can also book a private tour or a food and wine tour.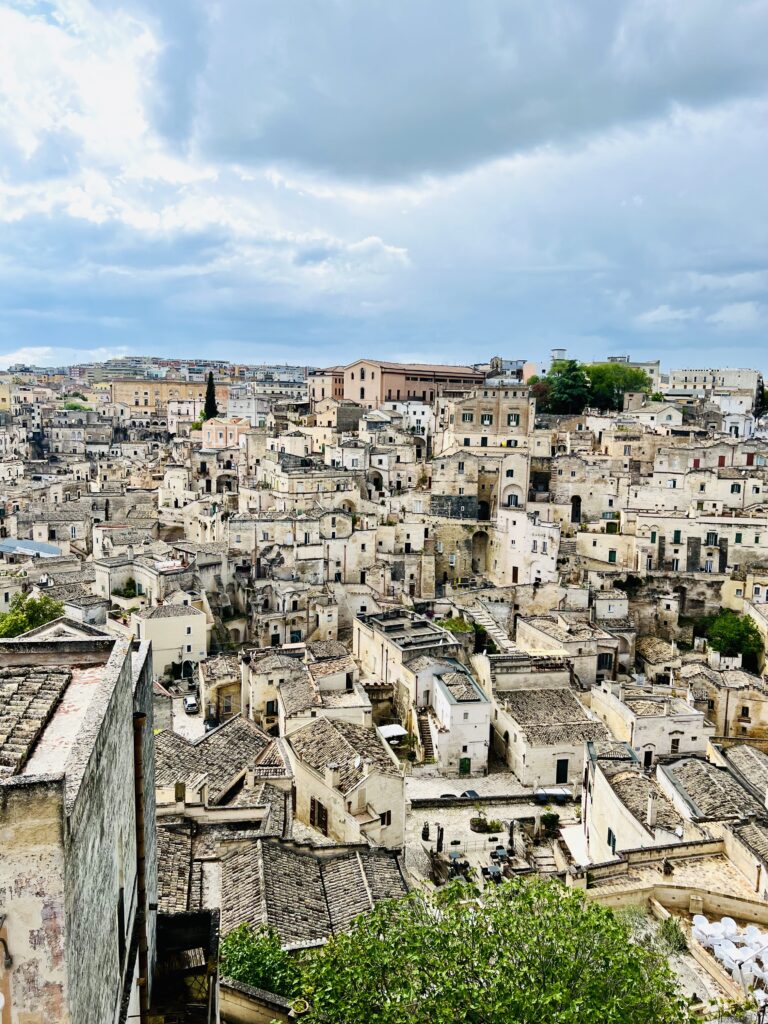 There are two sassi districts, Barisano and Caveoso. There are multiple access points throughout Matera, such as Piazza Vittorio Veneto, Piazza Duomo, and Piazza San Francesco.
Look out for signs to guide you along the way. The main route is Strada Panoramica dei Sassi.
Don't miss the opportunity to visit the remarkable cave churches. In particular, Santa Maria di Idris is a particularly impressive example from the 10th century. Positioned on a hill, it offers stunning views of the sassi and boasts beautiful medieval frescoes inside.
>>> Click here to book a tour of the rock churches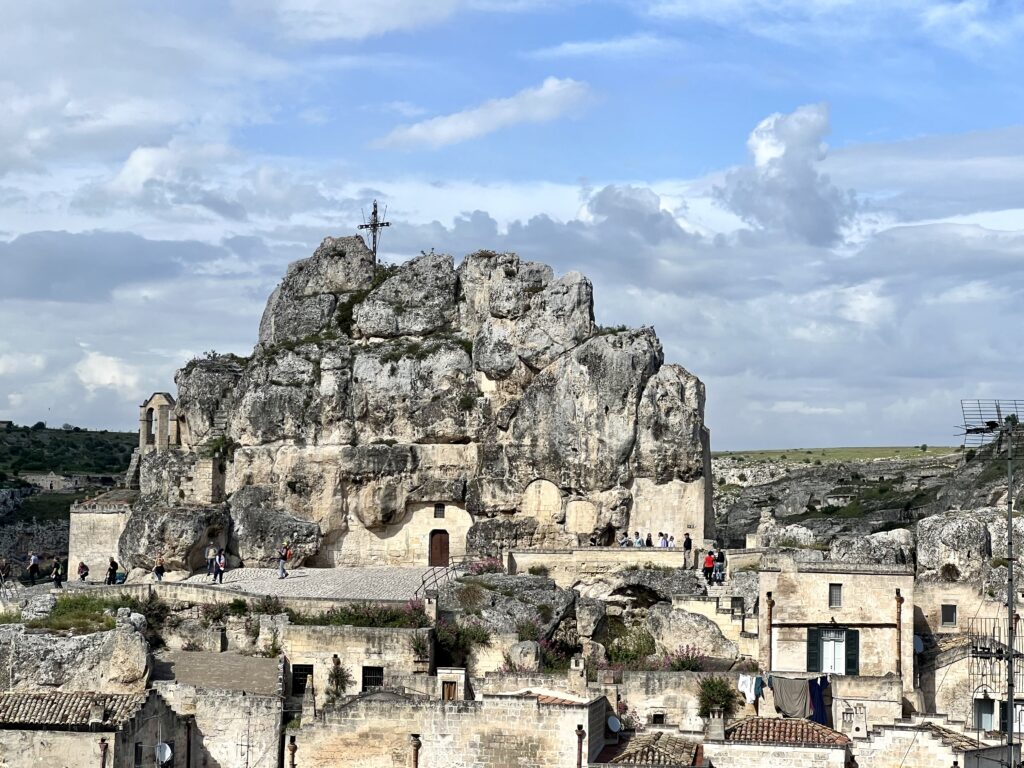 Just south of the church, you'll find the Casa-Grotto di Vico Solaria, a cave museum where you can discover the former living quarters for donkeys and pigs.
Matera also offers a range of fascinating museums to explore, including MUSMA, dedicated to contemporary sculpture, Museo Nazionale Ridola, showcasing archaeological finds, and Museo d'Arte Medievale e Moderna, featuring sacred and contemporary art.
As evening falls, take a leisurely stroll along Via Ridola. It's a charming street dotted with shops, cafes, and restaurants.
Indulge in a delightful dinner at a cozy trattoria, savoring local specialties such as orecchiette pasta, lamb, and delectable cheeses. I recommend Baccanti and Ristorante Burro Salato for a memorable dining experience in Matera.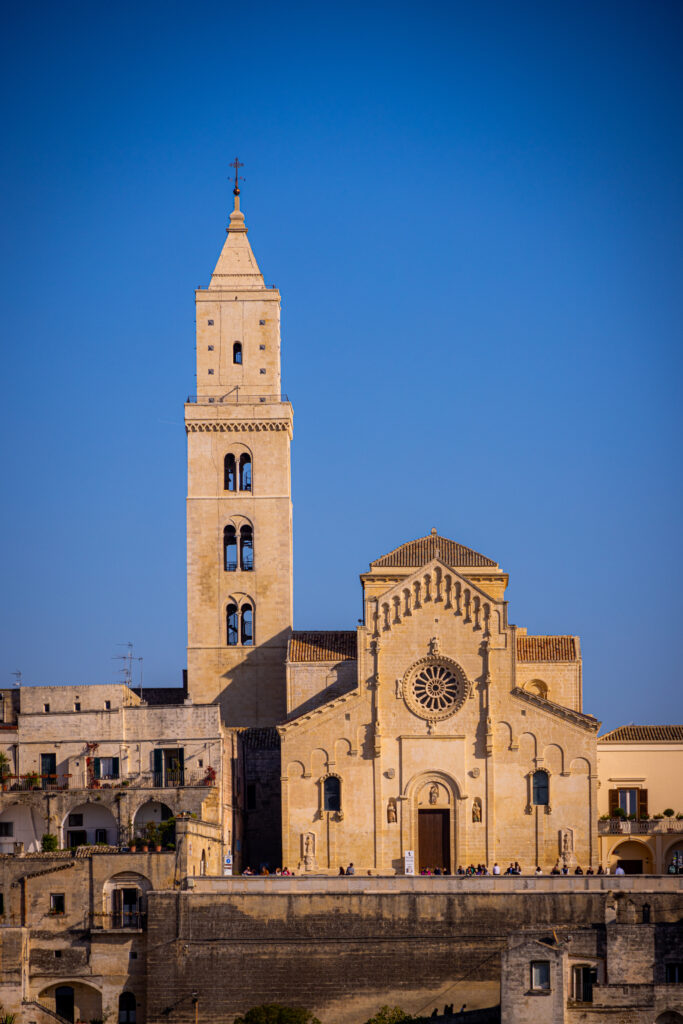 Day 5: Matera + Stops on way to Alberobello
Spend the morning of day 5 in Matera. Begin with a visit to the Matera Cathedral. Located in a charming side street, the cathedral will leave you in awe with its impressive architecture, intricate details, and fascinating frescoes.
There's also a unique cave-like nativity scene. For breathtaking views of the gorge, climb up the bell tower and take in the panoramic vista.
Afterward, wander over to the adjacent Piazza Duomo, where you can enjoy the picturesque surroundings and take in the stunning panoramic views of the Sassi districts from the belvedere.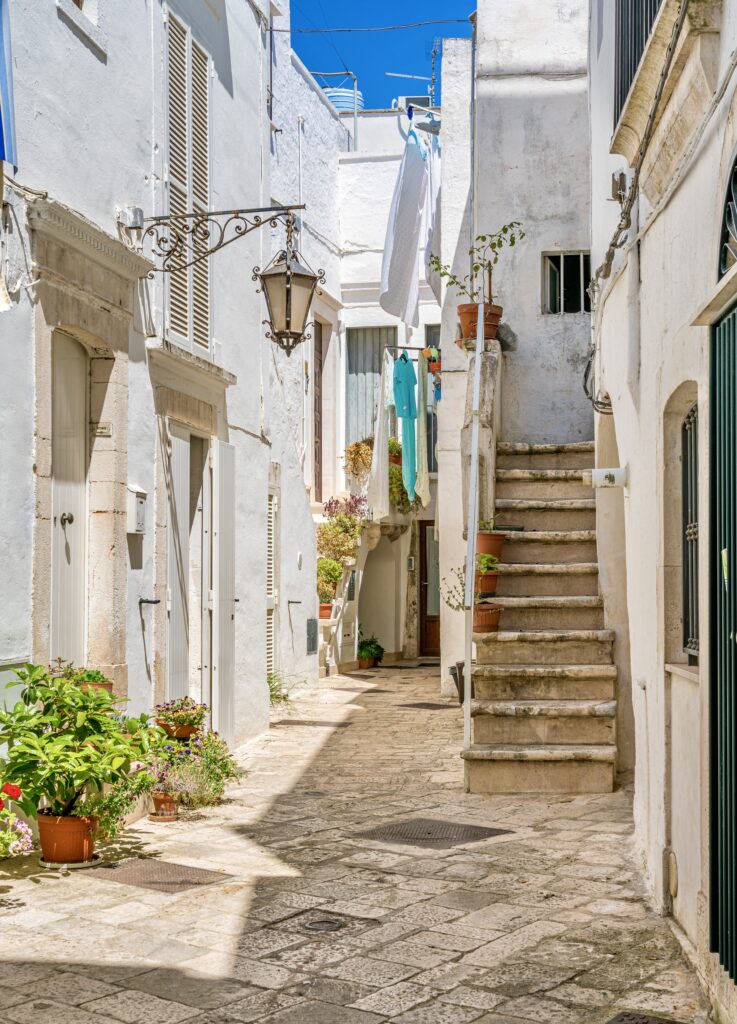 Then, head to Alberobello with a stop in Martina Franca. It's about 34 miles west of Matera.
Martina Franca is a pretty Baroque town with an excellent historic center. You'll find narrow winding streets, whitewashed houses, and elegant buildings adorned with decorative balconies and ornate facades.
Piazza Roma is the central square of Martina Franca and serves as a vibrant hub. It is surrounded by elegant buildings and is a great place to relax, enjoy a coffee, or observe the local life. The square is often home to cultural events and festivals.
You'll want to visit San Martino Church. It's considered an important example of Puglian Baroque archtiecture. Inside, you'll find an ornate interior with intricately carved altars and frescoes.
The Ducal Palace houses two museums. One is dedicated to the Pianell Forest and the other to contemporary art exhibitions.
>>> Click here to book a Baroque and Rococo walking tour of Martina Franca
When you're done in Martina Franca, head to Alberobello. It's just 11 miles down the road.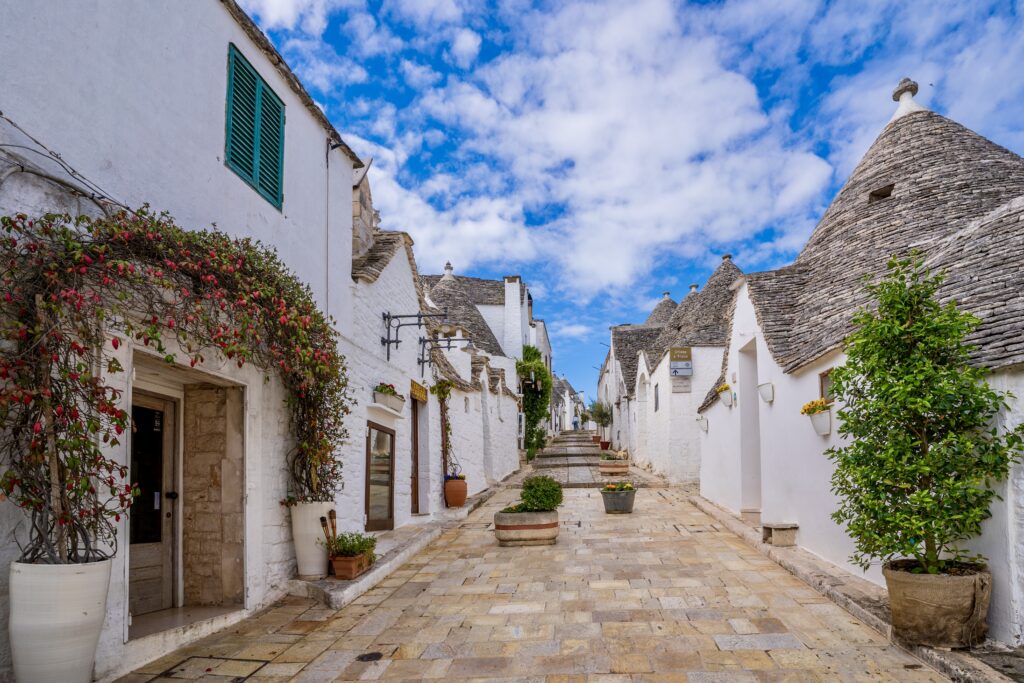 Day 6: Alberobello
Alberobello is a captivating town that's an absolute must see with one week in Puglia. It's renowned for its unique and picturesque trulli houses. These charming round stone buildings with conical gray slate roofs populate the town, totaling over 1500 in number.
You should definitely expect crowds. Alberobello is exceedingly popular.
Despite that, Alberobello still exudes a fairytale vibe. The town is akin to a fantasy film set.
The trulli are scattered throughout the eight streets of the Rione Monte. Some are adorned with astrological or astronomical symbols on their roofs.
To truly appreciate their beauty, head to one of the town's many belvederes. Belvedere Santa Lucia and the belvedere on the left side of Piazza del Popolo offer particularly stunning views.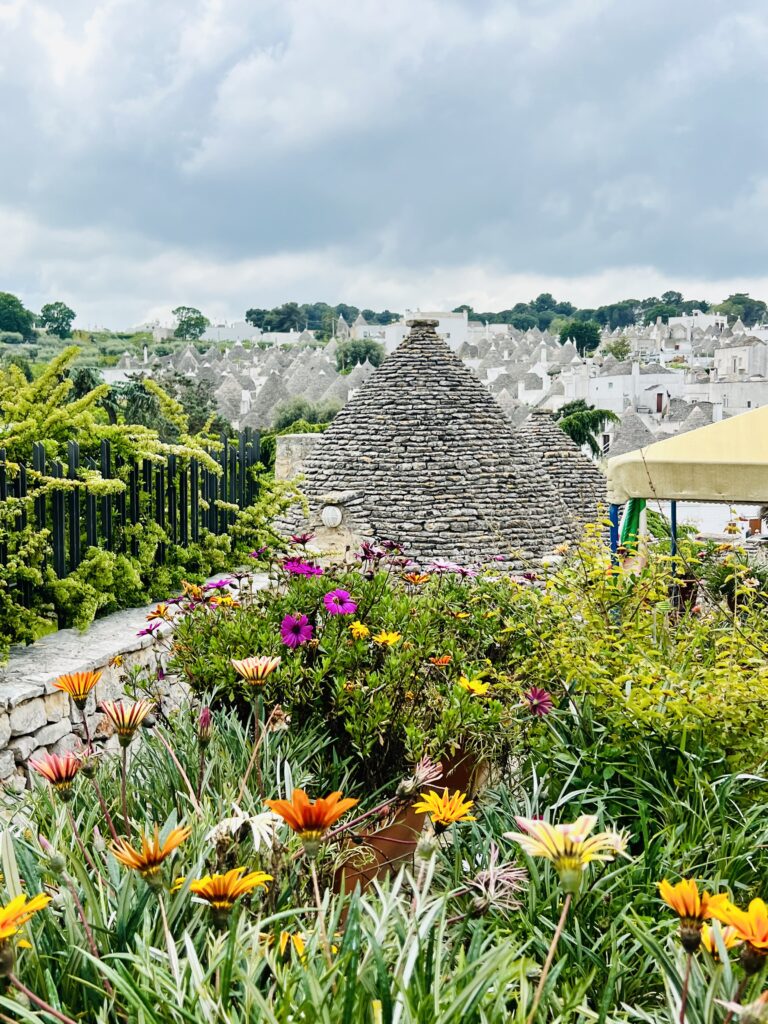 Alternatively, consider a guided walking tour to explore the trulli in-depth. As you meander through Alberobello's labyrinthine streets, be sure to visit iconic trulli landmarks like Trullo Sovrano and Trullo Siamese.
Venturing to the Rione Ain Piccola reveals a more authentic part of Alberobello. There are nearly 400 trulli in this less crowded residential section of town.
Alberobello is also a fun place to take a guided food tour, an e-bike tour with foccacia tasting, or a cooking class. I feasted on some really exceptional focaccia at Enoteca Regional and learned the art of making mozzarella at my guide Mimmo's trullo.
If time permits, you could opt to split your day between Alberobello and the neighboring (and less crowded) town of Locorotondo.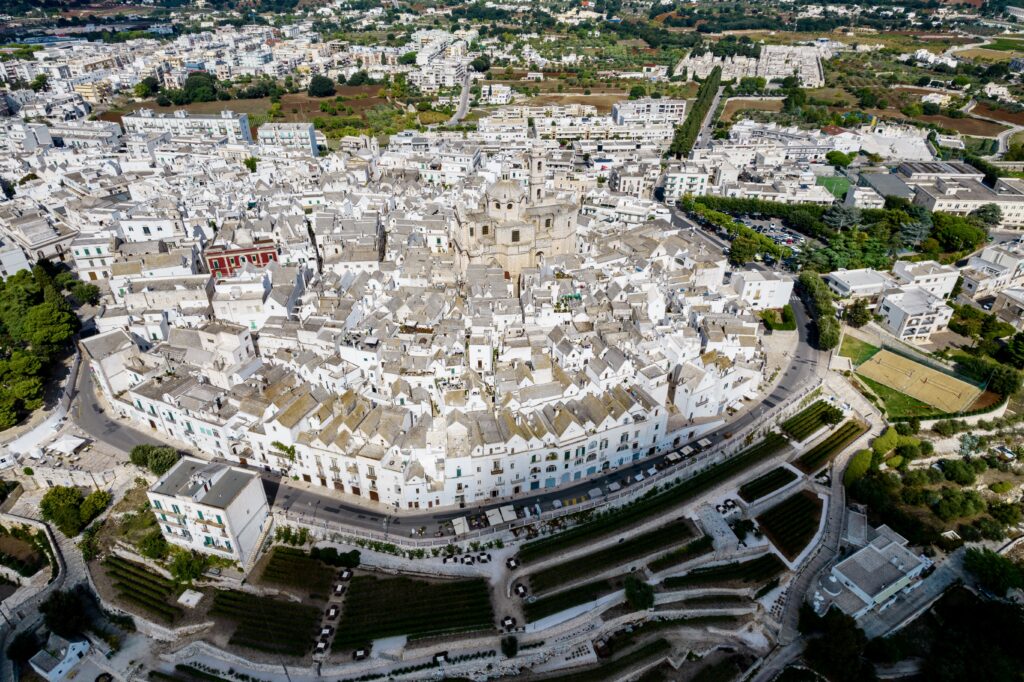 Locorotondo captivates with its circular design, narrow streets, whitewashed houses with sloped roofs called cumerse, and balconies adorned with vibrant flowers.
Don't miss the striking Palazzo Morelli, featuring an eye-catching carved portal. San Giorgio, the main church, showcases a beautiful Baroque facade and a stunning rose window. Step inside to admire the ornate interior adorned with intricate altars and Neapolitan frescoes.
>>> Click here to book a guided tour of Locorontondo
Alternatively, you could spend the afternoon visiting the Grotte di Castellana. It's approximately 12 miles northwest of Alberobello.
The grotto is a complex of underground caves renowned for its impressive stalactite and stalagmite formations. The site offers guided tours for visitors to explore its fascinating underground world, including the famous "White Cave" with its stunning calcite formations.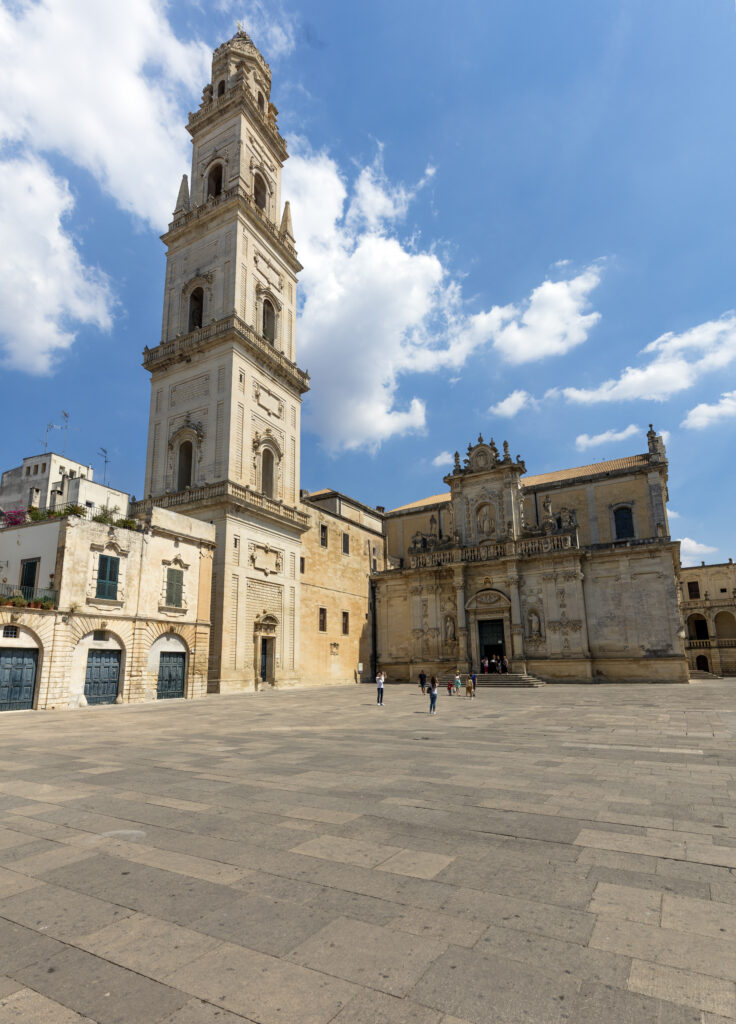 Day 7: Lecce
Polish off your one week in Puglia with a visit to the splendid city of Lecce. This beautiful city in the Salento region is often hailed as the "Florence of the South."
Known for its lavish Baroque architecture, Lecce is a maze of narrow streets that will enchant you at every turn. All the buildings are made of lovely cream-colored pietra leccese, or Lecce stone.
>>> Click here to book a Baroque architecture walking tour
Begin at the heart of the city, Piazza del Duomo. The stunning Lecce Cathedral, Bishop's Palace, and Seminary form a magnificent architectural ensemble. As evening falls, the floodlights illuminate the square, lending a touch of magic.
The Duomo, with its intricate facade, stands as a testament to the craftsmanship of Giuseppe Zimbalo. He was the principal architect of Lecce's Baroque transformation. Just a stroll away is Zimbalo's final masterpiece, Santa Maria del Rosario on Via Vittorio Emanuele II.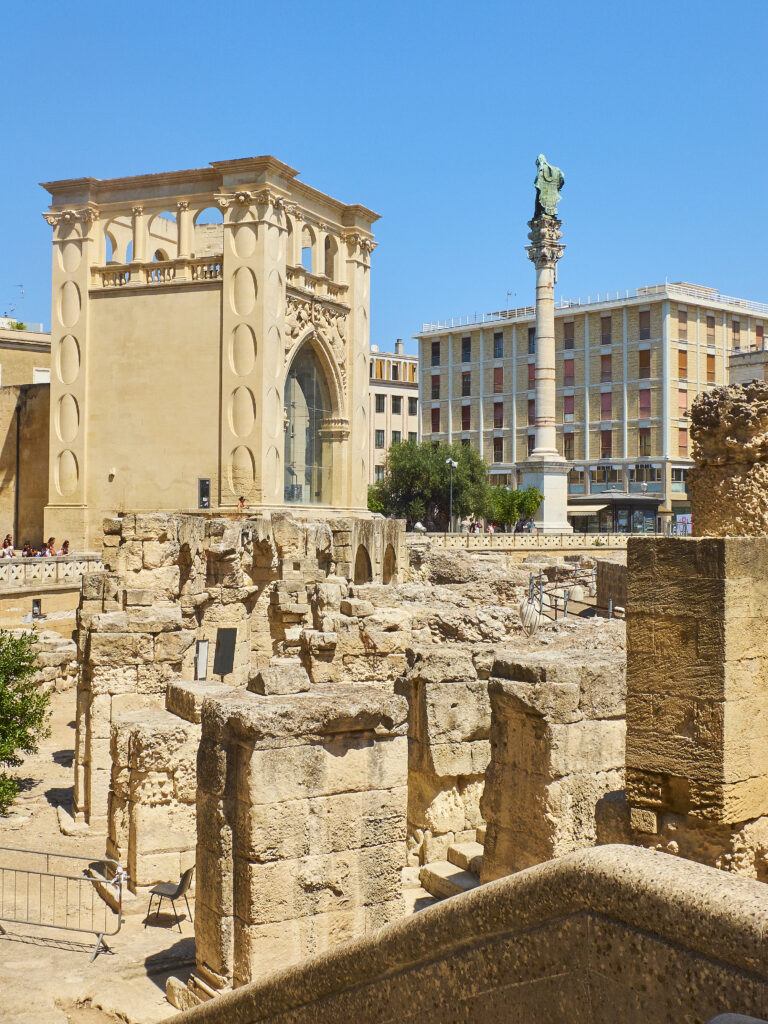 Don't miss Piazza Sant'Oronzo to the east. There, you'll find the sunken remains of a Roman amphitheater, built in the 2nd century by Emperor Hadrian. The square is also home to the Colonna di Sant'Oronzo and two other gems, the Sedile and the Church of San Marco.
Heading north on Via Umberto, you'll come to the magnificent Basilica of Santa Croce, the epitome of Lecce's frenzied Baroque style.
It's adorned with intricate carvings, ornate decorations, and a facade adorned with mythical creatures, angels, and symbolic motifs. Indeed, Santa Croce is considered one of Italy's most beautiful churches.
In the early evening, join the lively crowds at Piazza Sant'Oronzo for an apertivo. Indulge in a glass of Salice Salentino, a renowned local wine, at Caffe Alvino or one of the charming wine bars on Via Umberto.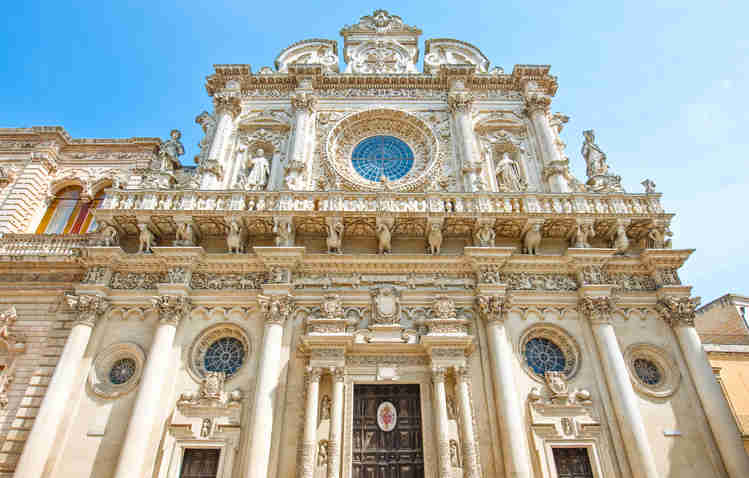 Lecce also boasts a plethora of rustic restaurants serving up hearty southern Italian cuisine. Don't miss the culinary delights at Crianza or La Vecchia Osteria da Totu.
Here are some tours you may want to book in Lecce: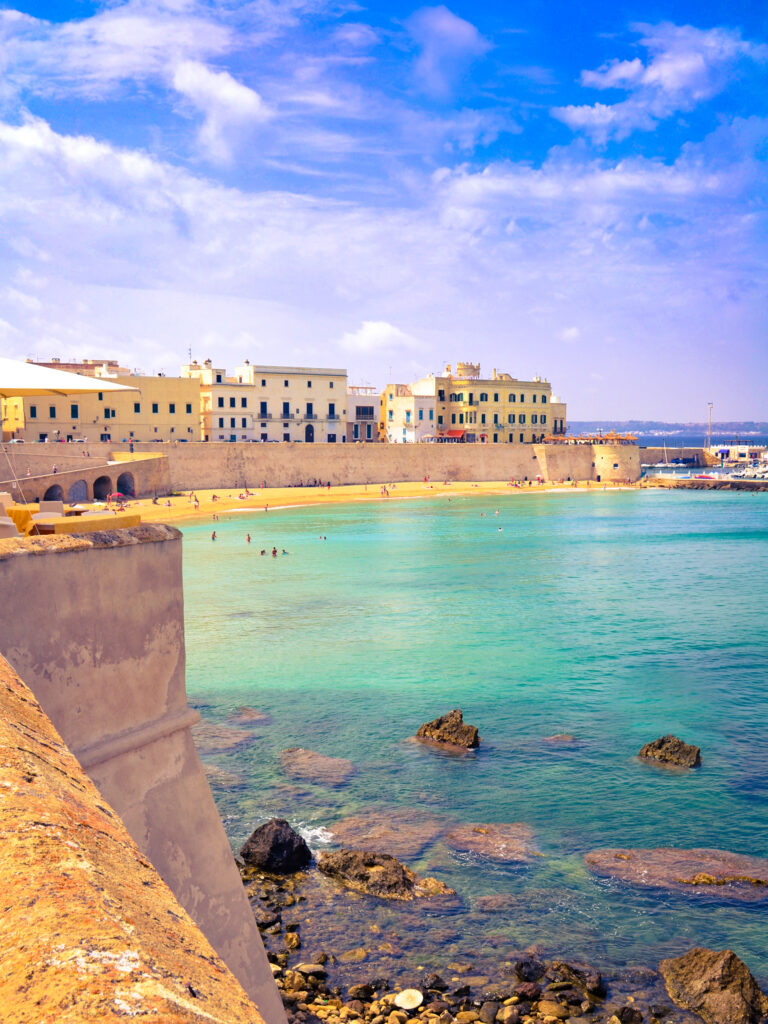 Alternative One Week In Puglia Itinerary
If you're a purist and completionist, you may want to leave Matera off your Puglia itinerary. It's very close to Puglia in the Murgia region, but technically in Basilicata. Most people, however, associate it with a Puglia road trip.
If you leave off Matera, you could have a Puglia itinerary that looks like this:
Day 1: Bari
Day 2: Polignano a Mare
Day 3: Monopoli
Day 4: Ostuni
Day 5: Alberobello
Day 6: Lecce
Day 7: More of Lecce or Otranto/Gallipoli
This version of a 7 day Puglia starts in Bari. Bari is the capitol and transportation hub of northern and central Puglia.
Most people skip over Bari. But I kind of liked the town. There was plenty to see and it reminded me somewhat of Naples.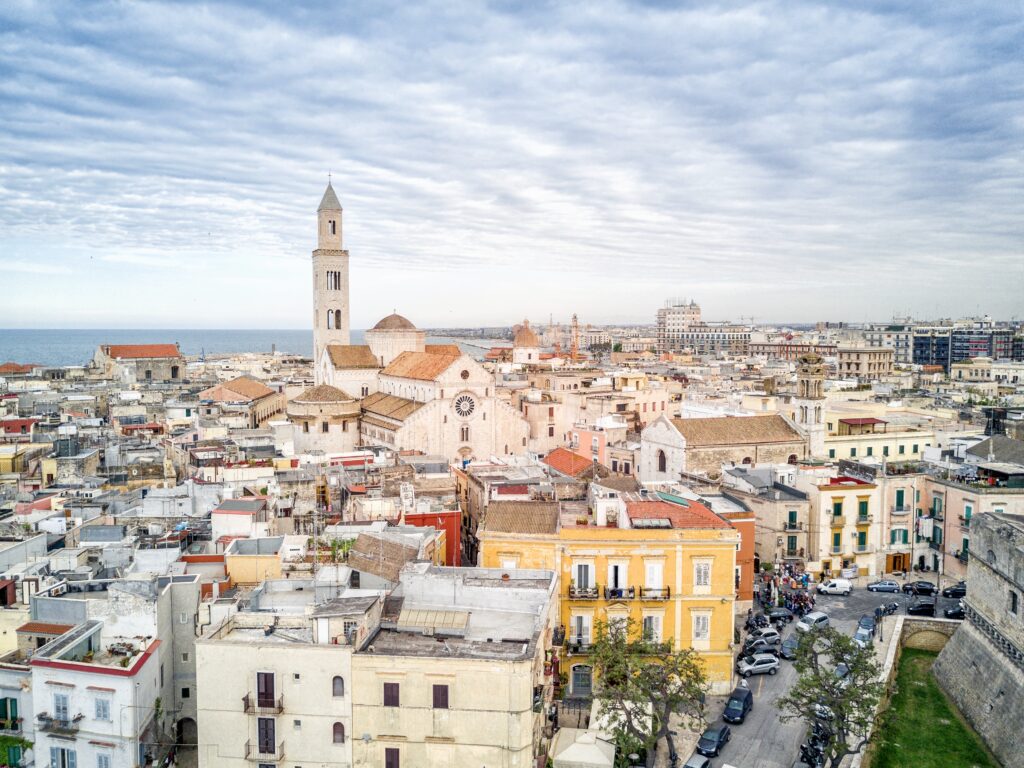 More Than 7 Days In Puglia?
If you have more than 7 days in Puglia, there is plenty more to see and do in the region.
Bari
As I mentioned above, you could spend one day in Bari at the beginning or end of your one week in Puglia itinerary. Bari is the largest city in the region, but is still entirely walkable. Bari has an authentic centro storico and the people are irrepressible and enthusiastic.
The #1 attraction in town is the Cathedral of Saint Nicolas. The lovely Romanesque church is a pilgrimage site because it holds the relics of the saint. It also has some 12th century frescos.
You'll also want to visit the Basilica of San Sabino, the Norman-Swabian Castle, and the Strada dell Orechiette. The latter is the famous street where you'll find nonnas making and selling pasta. If shopping is on your agenda, head to Via Sparano da Bari, with designer stores galore.
You should also stroll along St. Nicholas Pier. You'll see plenty of fisherman and may witness a ritual known as the "curling of the octopus," a process that makes it more tender.
Some tours you may want to book in Bari include: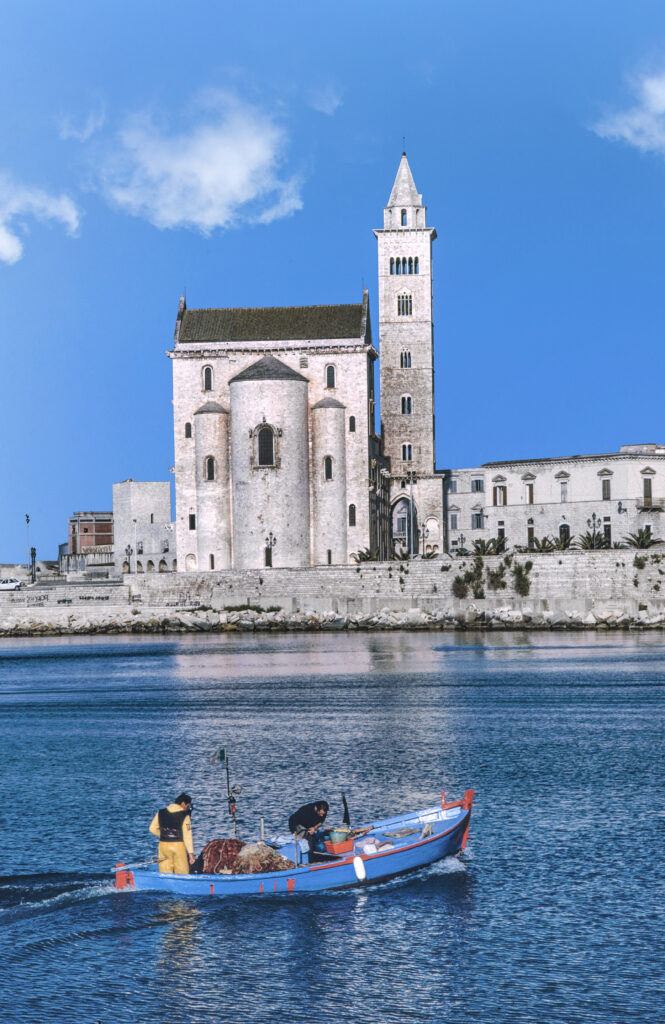 Trani & Molfetta
Just north of Bari, you could visit the towns of Trani and Molfetta.
Trani is known as the "pearl of the Adriatic." It's a lovely town with narrow streets, ancient buildings, and a relaxed Mediterranean atmosphere. It boasts a 12th century Romanesque cathedral, a Swabian Castle, and golden sand beaches.
The harbor is a vibrant area, perfect for a sunset stroll. Here, you can admire the colorful fishing boats and visit the lighthouse. Trani is also a foodie town, with 6 Michelin restaurants and some of Italy's best seafood.
>>> Click here to book a walking tour of Trani with an olive tasting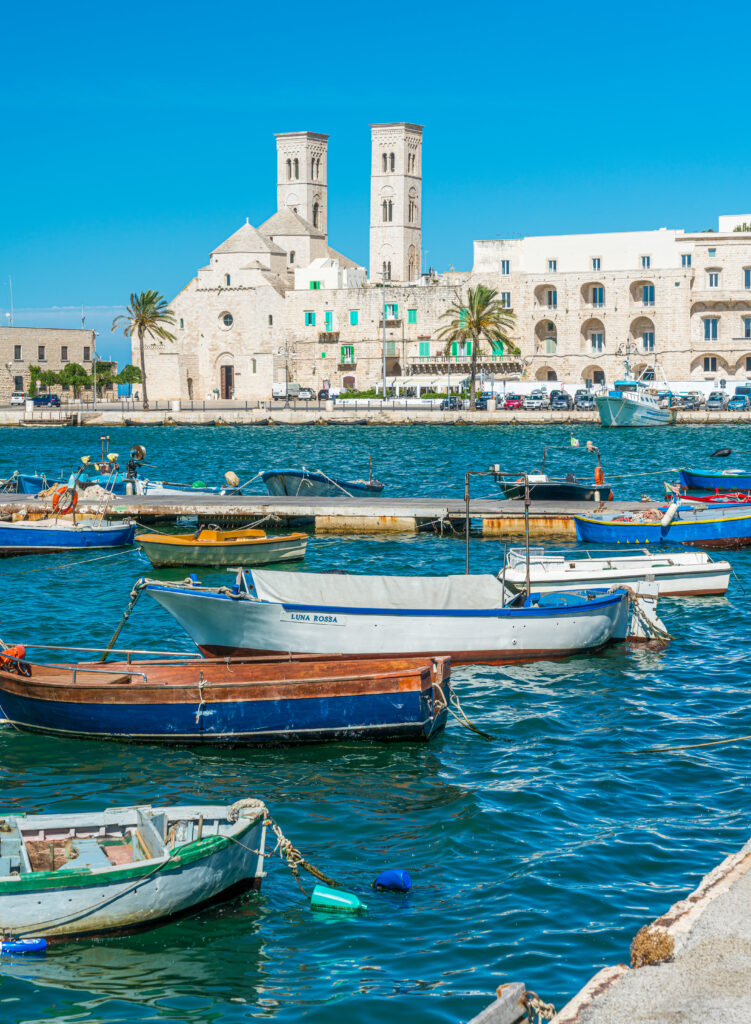 Molfetta is a beautiful town with a "liquid" main square. The backdrop is the towers of a 13th century cathedral.
The anicent center has Baroque churches and the Neolithic site of Pulo. The lovely harbor is filled with cafes, shops, a small casbah, and a promenade.
Otranto & Gallipoli
You could also explore more of the Salento region south of Lecce. Otranto and Gallipoli both make good day trips from Lecce.
Otranto is a UNESCO protected city set in aqauarmine blue on the Adriatic Coast of the Salento peninsula.
It has a beautiful fortified historic center, a magnificent 12th century cathedral with a stunning mosaic floor, and a maze of narrow streets.
>>> Click here to book a walking tour of Otranto
Otranto is famous for its Aragonese Castle, which is now a cultural center. It combines medieval and Renaissance architectural styles. Inside, the castle, you can explore courtyards, chambers, and even climb the towers to enjoy panoramic views.
>>> Click here to book a day trip from Lecce to Otranto and Gallipoli
Practical Tips For A One Week Puglia Itinerary
Here are some must know tips for spending 7 days in Puglia.
1. Where Is Puglia?
Puglia is a region located in the southern part of Italy. It occupies the southeastern portion of the Italian peninsula, extending into the Adriatic Sea.
Puglia is bordered by the regions of Molise to the north, Campania to the west, and Basilicata to the southwest. It has a long coastline that stretches along the Adriatic Sea to the east and the Ionian Sea to the southeast.
Puglia encompasses the "heel" of of Italy's "boot." It's known for its stunning coastal landscapes, charming historic towns, and rich cultural heritage.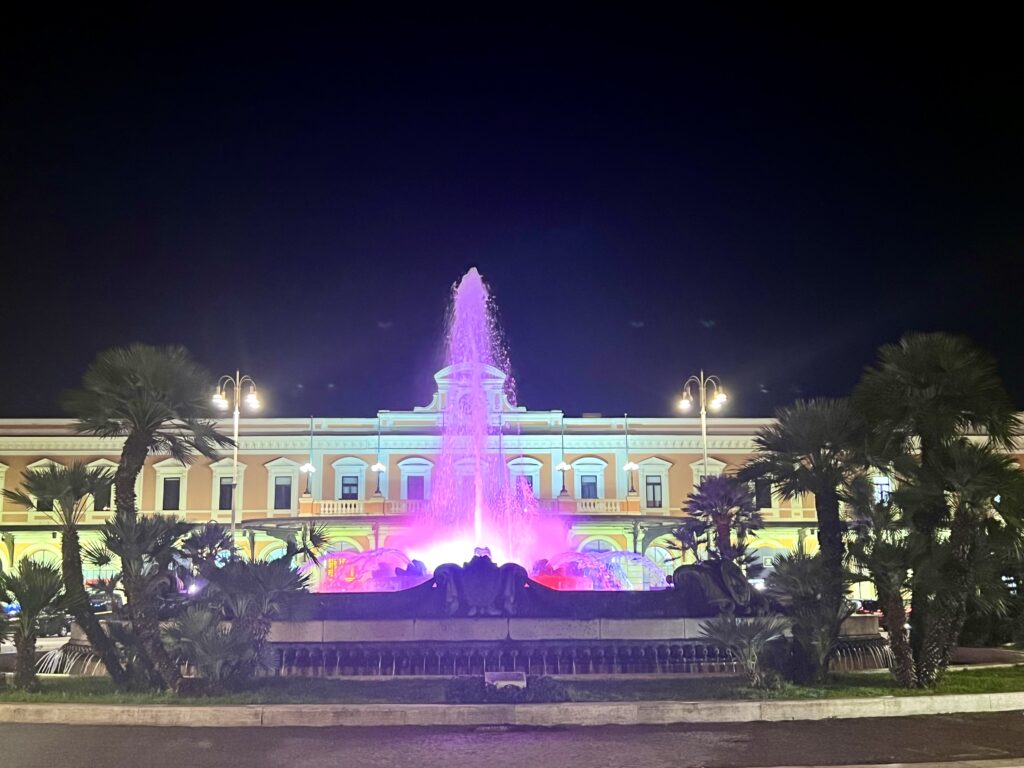 2. How To Get To Puglia
Puglia has two airports for convenient access: Bari and Brindisi. Both airports are on the east coast, with Bari approximately 77 miles north of Brindisi.
These airports provide international flight connections, making them the ideal starting point for your Puglia adventure. Alternatively, if you're exploring other parts of Italy, taking a train to Bari, Lecce, or Brindisi is a viable transportation option.
Once you've arrived in Puglia, pick up your rental car. If driving is not your preference, you can opt to hire a driver. Or use private transfers and guided tours.
Most likely you'll be starting in Bari due to the airport and train station. I think it's worth spending half a day in Bari, if you have the time.
Spend half a day visiting the centro storico and take a guided day trip to Castel del Monte, a UNESCO site.
If you don't like cities all that much, you can skip Bari, pick up your car, and proceed to your first base in Polignano a Mare. You can also book a private transfer from the airport to Polignano a Mare and pick up your car later.
If you are driving from Rome, it's 4.5 hours to Polignano a Mare.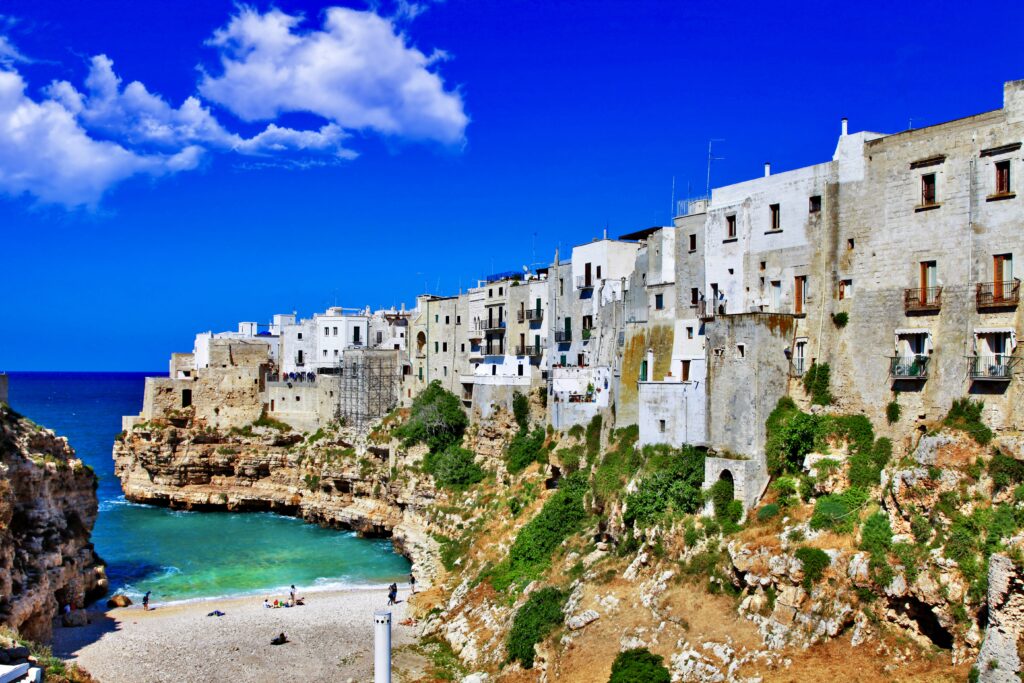 3. How To Get Around Puglia
Once you've arrived in Puglia, I highly recommend having a car. There is somewhat limited train connectivity in Puglia.
Driving will allow you to easily and efficiently navigate between the region's diverse towns and picturesque landscapes. You can visit everything on your own schedule and stop/stay at some out of the way places.
I thought the driving was pretty easy. You'll want to park outside the centro storico of a town and walk in. You may encounter some potholes along the way. Puglia's roads aren't as well maintained as, say, Tuscany.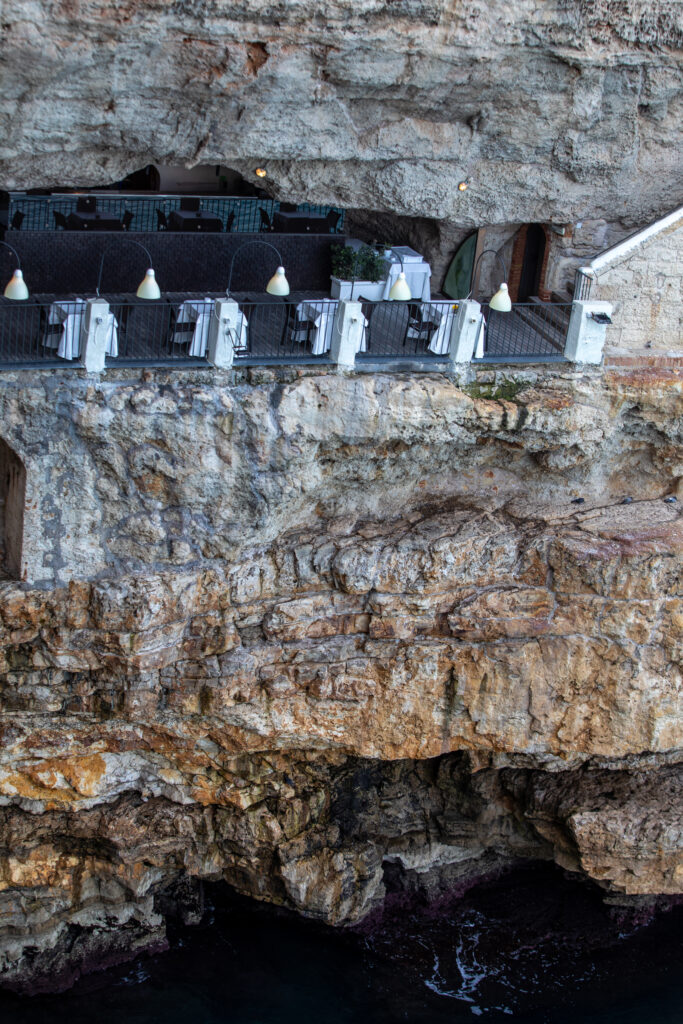 4. Where To Stay In Puglia
You could stay in just one place in Puglia and day trip from there. Or, base yourself in or near Polignano a Mare, Ostuni, or Monopoli.
While Alberobello isn't as central, you may want to stay 1-2 nighst there just to experience staying in a trulli.
Some recommended hotels in all the towns I've mentioned include:
Trani: Palazzo Filisio Hotel Regia, Dimore Marinare
Polignano a Mare: Hotel Grotta Palazzese, Giovi Relais
Ostuni: Hotel Relais La Sommita, Paragon 700, Masseria Le Carrube
Monopoli: Hotel Don Ferrante, Palazzo Indelli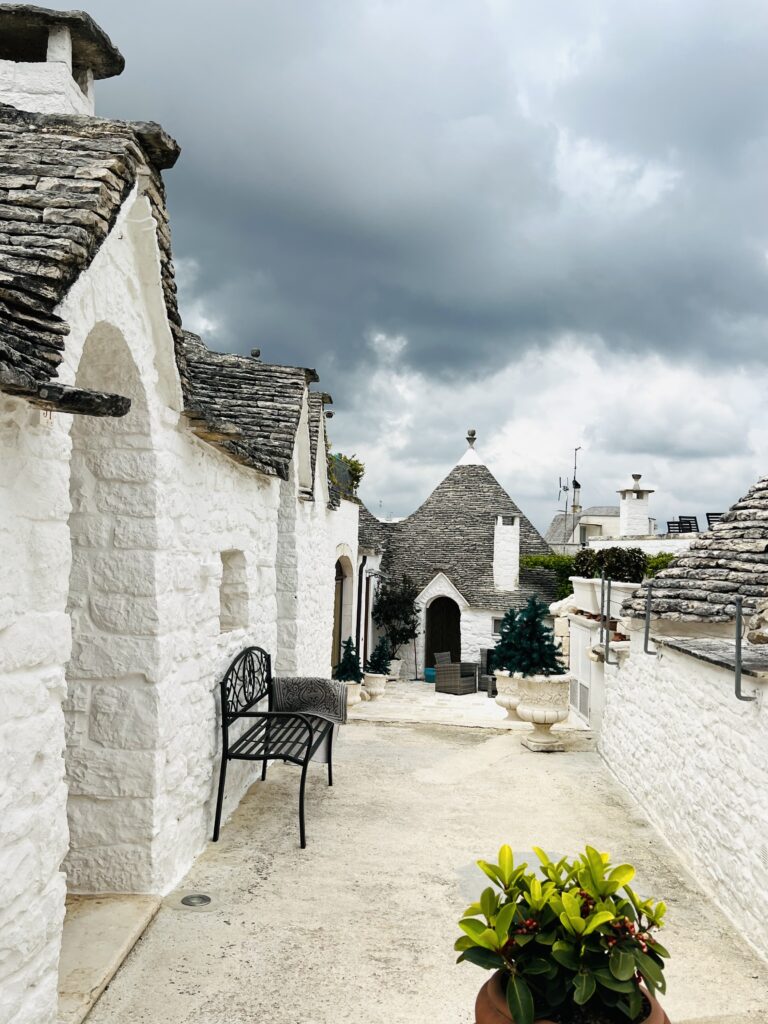 Alberobello: La Mandorla Luxury Trullo, Trullo Essenza-Trulli Anti Charme & Relax, Romantic Trulli
Matera: Sextantio Le Grotte, Aquatio Cave Hotel & Spa, Palazzo Gattini
Lecce: Palazzo BN, La Fiermontine Palazzo Bozzi, Palazzo Luce,
Otranto: Palazzo De Mori, Masseria Longa, Hotel Palazzo Papaleo
I also recommend staying in a masseria in Puglia. It's a classic experience and lets you relax in the countryside.
Masseria are fortified farm compounds, usually with a central reception area and lounge areas and separate stone buildings scattered on the property. They were originally built for protection and defense.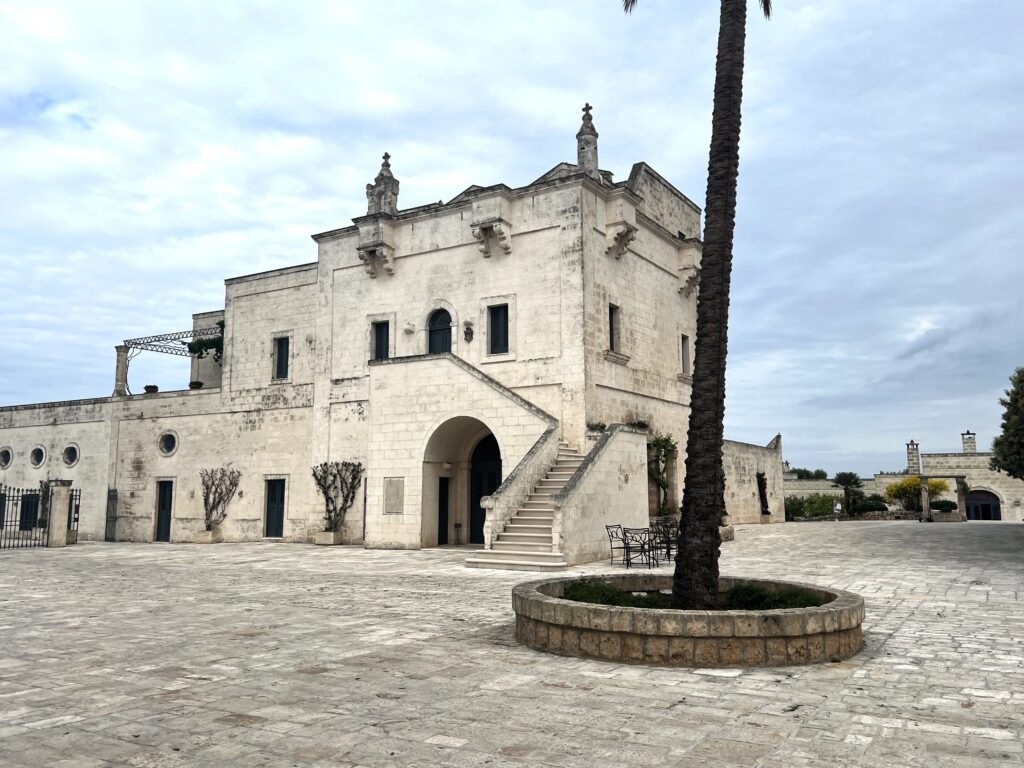 Masseria San Domenico was one of my favorites. You'll feel like you're staying on the grounds of a castle. And, in fact, its watch tower belonged to the Knights of Malta. It has a spectacular pool.
Masseria Il Melograno is a beautifully restored 17th century fortified farmhouse. It's surrounded by olive groves. It has large luxe rooms, a spa, and a pool.
Masseria San Francesco is a pretty masseria with massive olive trees, distant blue ocean views, and a stunning pool.
If you want to make like Madonna, you can stay at the uber luxe Borgo Egnazia. She celebrated her 60th birthday there. While it's probably out of reach for most of us mere mortals, the price drops drastically off season.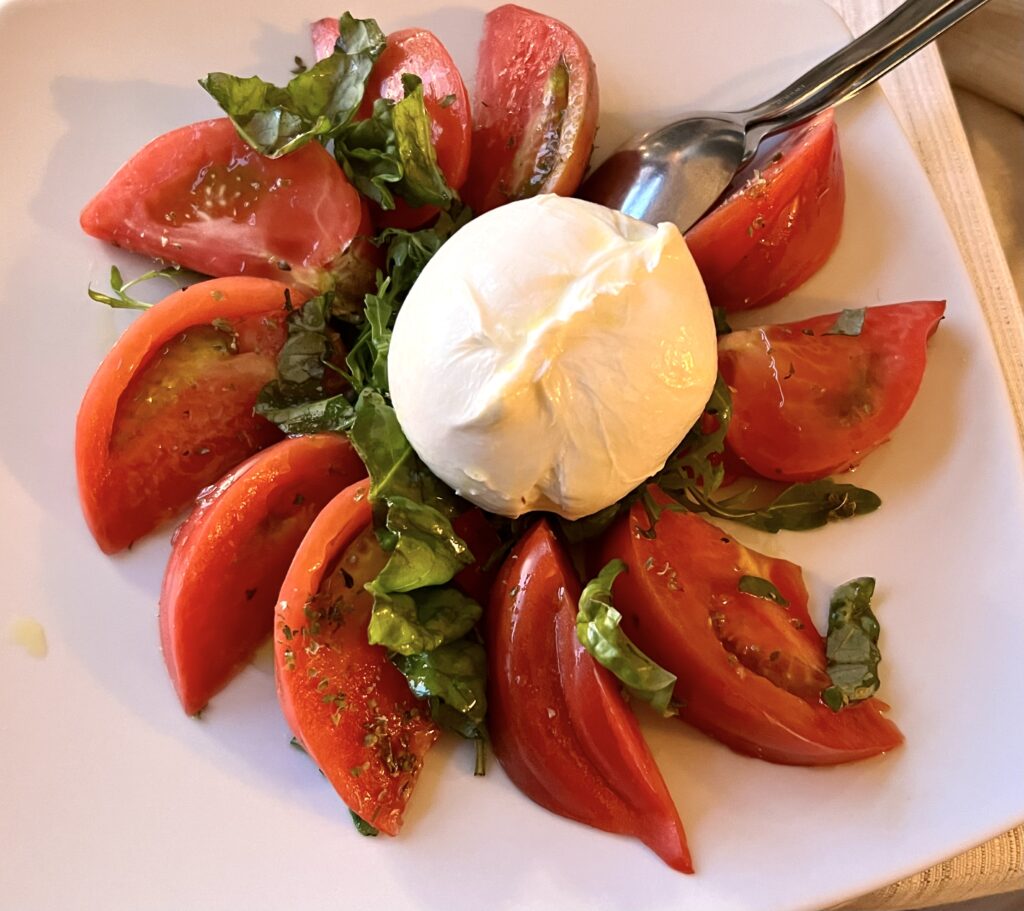 5. What To Eat In Puglia
The food in Puglia is to die for! It's seriously good.
Apulian cuisine is varied and rich in unique products. You'll find delicious vegtables, cheese, seafood and homemade pasta. They're made with humble, yet utterly fresh, ingredients.
The most typical pasta is orecchiette, an ear-shaped pasta. You can buy it right on the street in Bari.
There are some amazing Puglian specialties you should sample while spending one week in Puglia.
orechiette with turnip greens or ragu
focaccia barese (chewy dough topped with tomatos and olives)
bombetta (rolls of meat and cheese)
pettole (small fried dough balls served with powdered sugar or honey)
fava bianche e cicoria (white broad beans and chicory)
pasqualino (sandwich with tuna fish, capers, salami, and cheese)
baccala in black tempura (a salt cod dish)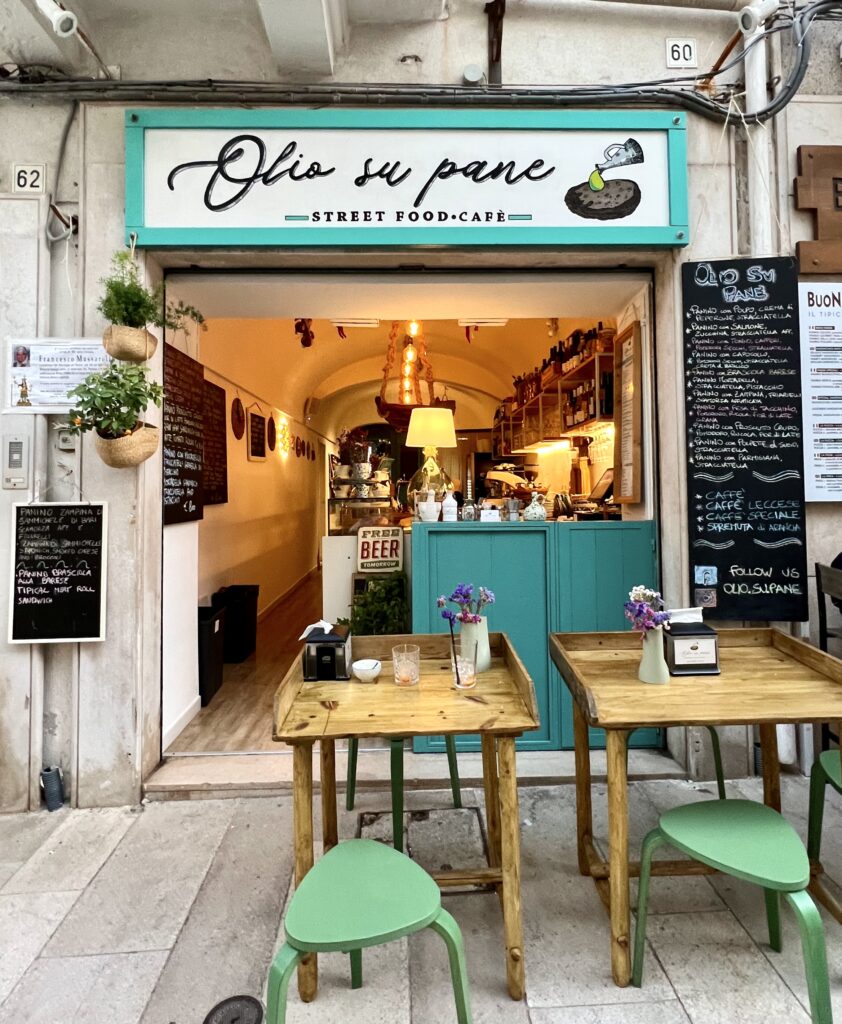 I also wanted to mention some of my favorite restaurants in Puglia. Here are some by town:
Trani: Quintessenza, Memorie di Felix Lo Basso, Osteria Frangipane
Molfetta: Il Vecchio Gazebo
Polignano a Mare: Osteria di Chichibio, Grott Palezzese, Osteria dei Mulini, Restaurant Antiche Mura
Monopoli: La Locanda Sul Porto, Gaia Osteria Popolare, Angelo Sabatelli (about 12 miles away), Osteria Perricci, Ristorante Al Buco
Ostuni: Taverna della Gelosia, Porta Nova, Restaurant 700, Cielo, Dish
Alberobello: Trattoria Terra Madre, Ristorante La Cantina, or Ristorante La Nicchia, Trulli e Puglia Wine Bar
Lecce: Crianza, La Vecchia Osteria da Totu
Otranto: L'altro Baffo, Atlantis Bel Ami
6. When To Spend One Week In Puglia
I think the shoulder season is the best time to visit Puglia — May/June and September/October. The weather will be excellent and very sunny. And in June and September it's still usually warm enough to hit the beaches.
In July and August, Puglia is quite crowded, with vacationers coming for the beaches. But this is the best time for swimming and water sports.
In the winter, the coastal areas are fairly mild. But other areas can get chilly and you may get rain. On the other hand, you will have the place to yourself!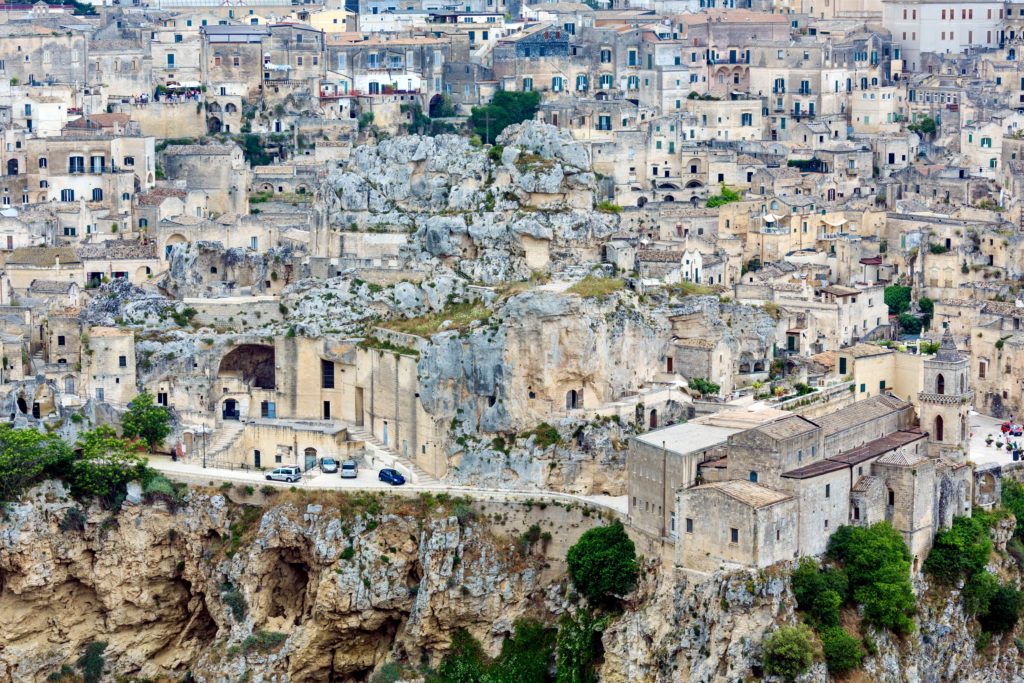 7. Is Puglia Worth Visiting?
Yes! Puglia is a fantastic region in Italy.
Sure, it doesn't have the glitz and glamor of Tuscany, Amalfi Coast, or Venice. And the fact that it's a bit far afield from these hotspots means it's automatically somewhat less visited.
Yet, Puglia is a diverse region that offers something for everyone — history buffs, foodies, sun seekers, and architecture afficiandos. The coastline stretches forever, there are natural spectacles, Baroque and Romanesque architecture, and UNESCO sites.
Plus, it's easier on the pocketbook than Italy's most popular places and not — yet — marred by overtourism.
For all these reasons, Puglia is one of the fastest growing tourist regions in Europe. So get there before everyone else does!
I hope you've enjoyed my one week in Puglia itinerary. You may enjoy these other southern Italy travel guides and resources:
If you want to spend 7 days in Puglia, pin it for later.