Dreaming of a 7 days in Italy trip? This one week in Rome and Amalfi Coast itinerary takes you to two of Italy's most iconic destinations.
This carefully curated itinerary gives you a perfect blend of history, culture, stunning coastal vistas, and delectable cuisine.
Ancient wonders await in Rome, where you can explore the Colosseum, Roman Forum, the Pantheon, and Vatican City.
Then, venture south to the breathtaking Amalfi Coast. Visit picture-perfect villages perched on cliffs, wander through charming streets in Positano and Amalfi Town, savor culinary delights, and find tranquility in Ravello's villa gardens.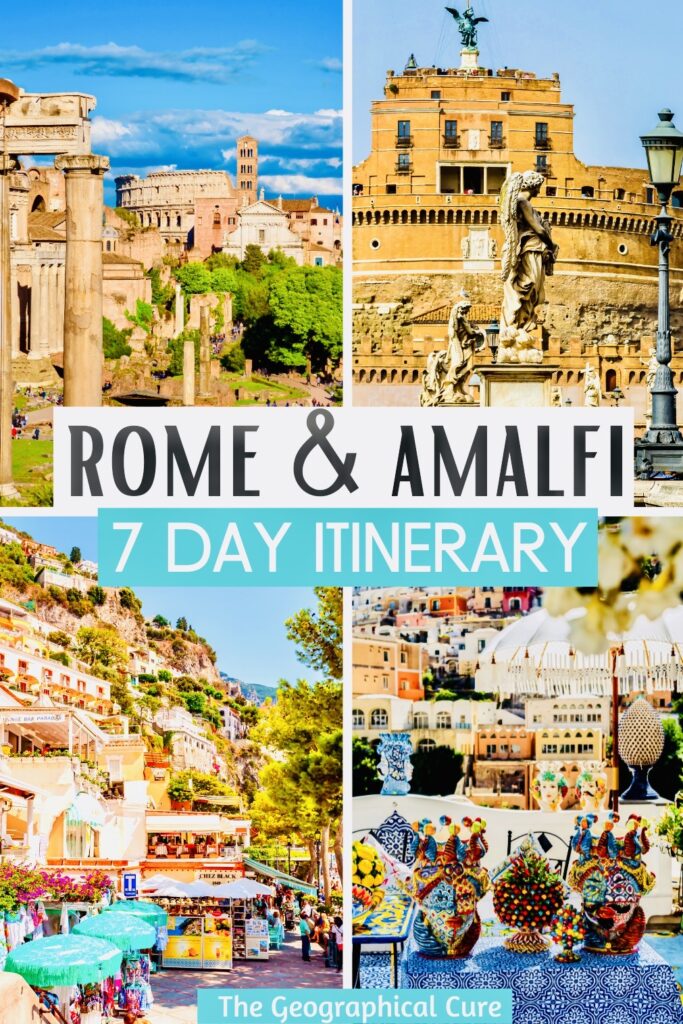 Overview Of One Week In Rome & Amalfi Coast Itinerary
Here's a snapshot glance of what you can see with one week in Rome and the Amalfi Coast:
Day 1: Explore Rome (ancient ruins & Monti)
Day 2: Explore Rome (centro storico)
Day 3: Explore Rome (Vatican City)
Day 4: Day trip to Pompeii or Sorrento
Day 5: Transfer to Positano
Day 6: Day Trip To Capri
Day 7: Amalfi & Ravello
I don't recommend a car for this 1 week in Rome and Amalfi itinerary. You won't want one in Rome at all. Most of the city is a ZTL zone, which means private cars can't drive there.
And driving in the Amalfi Coast is too tricky. There's just one one main road. It's twisty, congested, and narrow. It's far easier to use a combination of guided tours, transfers, or ferries to get around this region.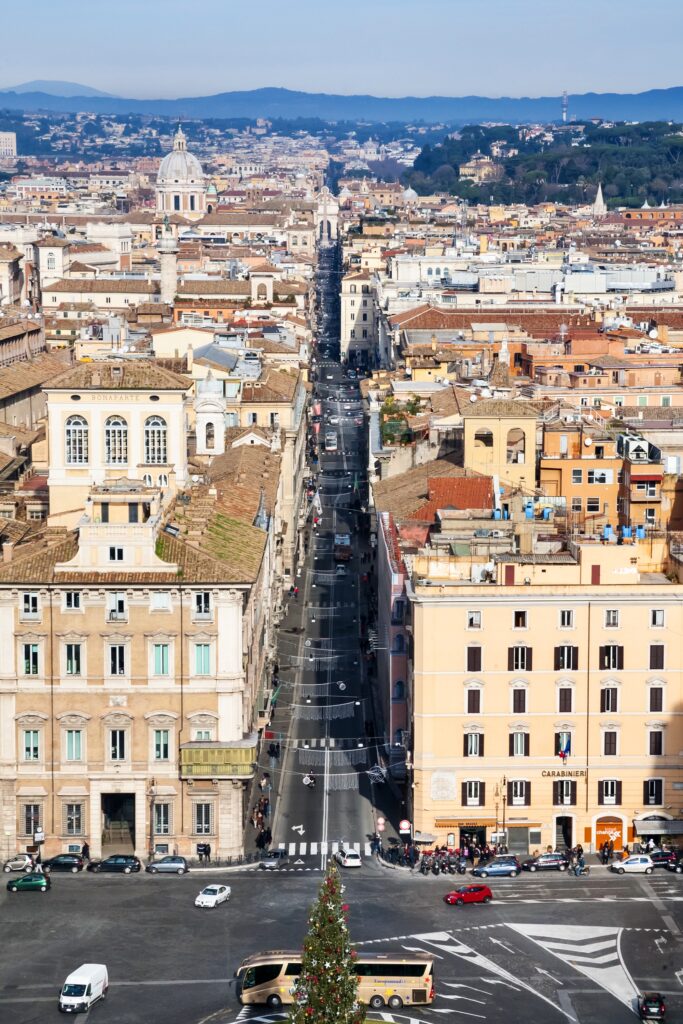 With this itinerary, you can spend 3-4 nights in Rome and then the remainder of your time based in Positano. (Or, add in one night in Sorrento.)
If you've already been to Rome, you could spend 1-2 days in Rome and 1-2 day in Naples. And instead of basing in Positano, you could instead choose to stay in Capri and Ravello. Thus, another alternative itinerary could be:
Day 1: Rome
Day 2: Rome or Naples
Day 3: Rome or Naples
Day 4: Ferry to Capri
Day 5: Capri
Day 6: Ferry to Amalfi Town
Day 7: Ravello
For more information on Naples, you can check out my one day in Naples itinerary and my 3 days in Naples itinerary.
For this alternative itinerary, you could base in Rome, Naples, Capri, and Ravello.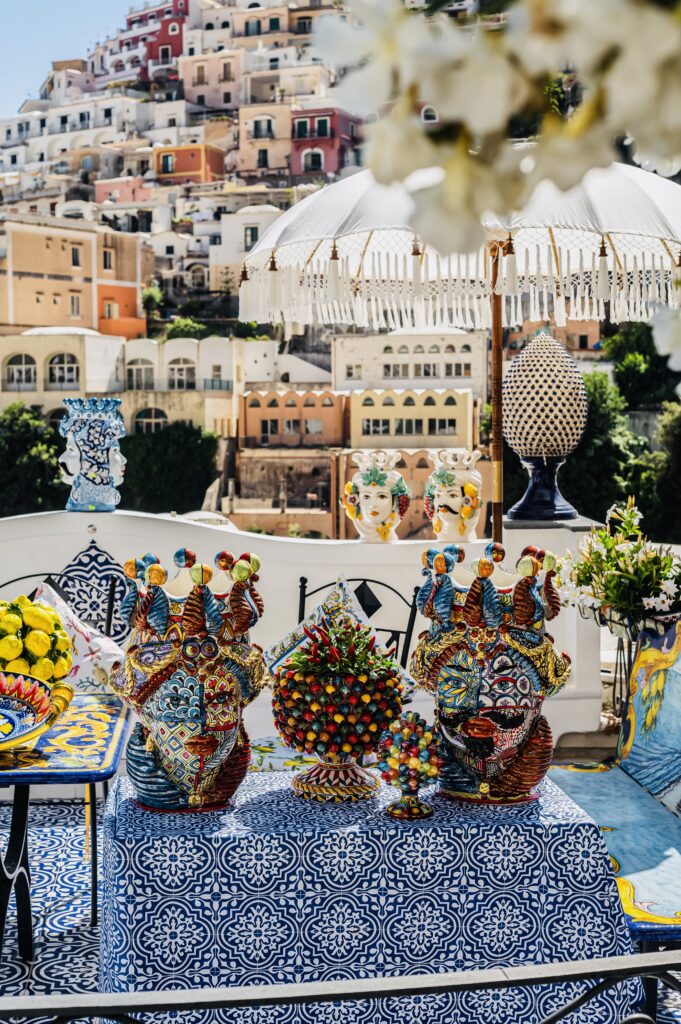 Best Tours In Rome & The Amalfi Coast
Here are some of the best tours and experiences you can book. In high season, reserve well in advance to make sure they're not sold out.
Best Hotels
Rome: Hotel Hassler Roma, Palazzo Manfredi, Rome Cavalieri, J.K. Place Roma, Hotel Maalat, Deco Roma
Amalfi Coast: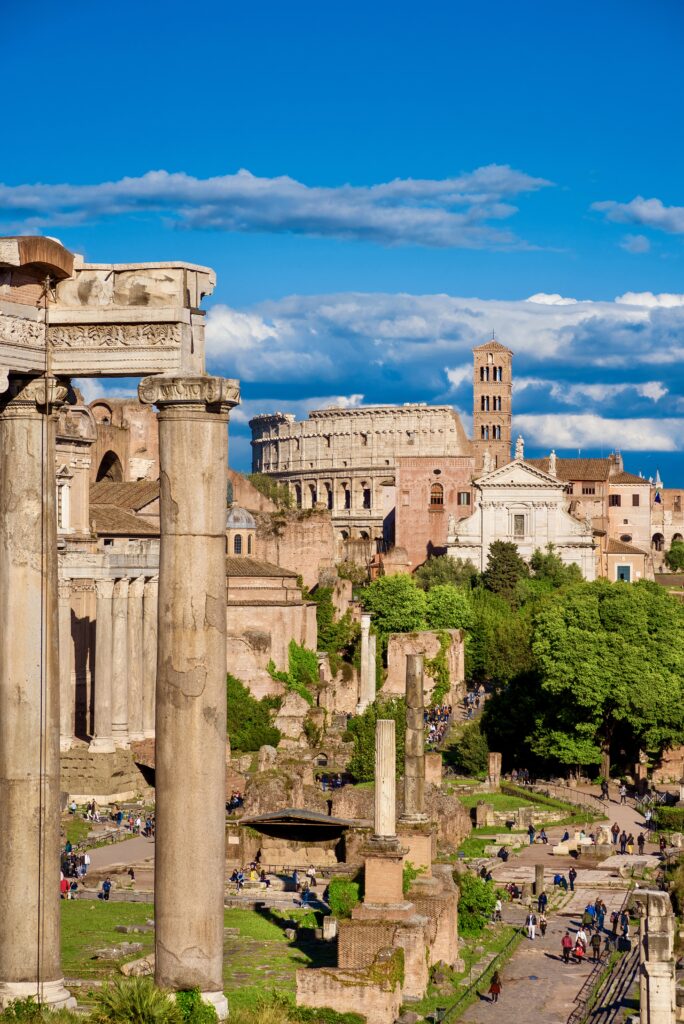 One Week In Rome & Amalfi Coast Itinerary
So, let's get going. Here's the best way to spend 7 days in Rome and the Amalfi Coast.
Day 1: Explore Rome: Ancient Ruins
Rome is a sprawling outdoor museum that transports you to a bygone era at every turn. And nothing beats a tour of the imperial ruins, which is how you'll kick off your itinerary.
The iconic Colosseum once hosted gladiatorial contests and spectacles. It stands as a grand symbol of Roman engineering and entertainment.
The Roman Forum is an ancient political and cultural center. It was where ancient Romans gathered to debate politics, business, and social issues. The forum showcases the remnants of majestic temples, basilicas, and triumphal arches.
Palatine Hill is the legendary birthplace of Rome and where the emperors and nobility lived. Here, you can explore the ruins of imperial palaces and luxurious gardens. Plus, the Palatine Museum is packed with ancient goodies.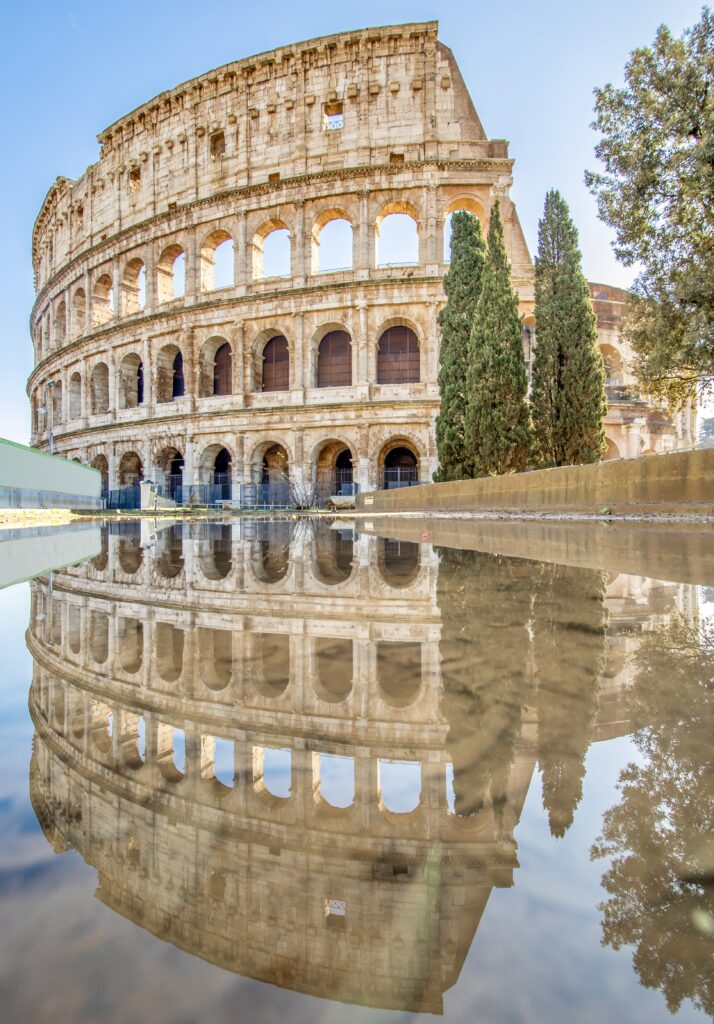 Most tickets include entry to all three imperial ruins — Colosseum, Palatine Hill, and the Roman Forum. There are plenty tour options you can choose from, including:
I've done all types of tours and just visited on my own. But I really enjoyed tour #4 from my list because the underground colosseum is fascinating.
After visiting the imperial ruins, make your way to the Monti neighborhood for lunch and a stroll. To make your way there, you can begin your walk from the exit gate of the Colosseum or travel down Via dei Fori Imperiali.
I advise the latter route. On a walk down Via dei Fora Imperiali, you can see Trajan's Forum, the Forum of Nerva, the Forum of Augustus, and Trajan's Column.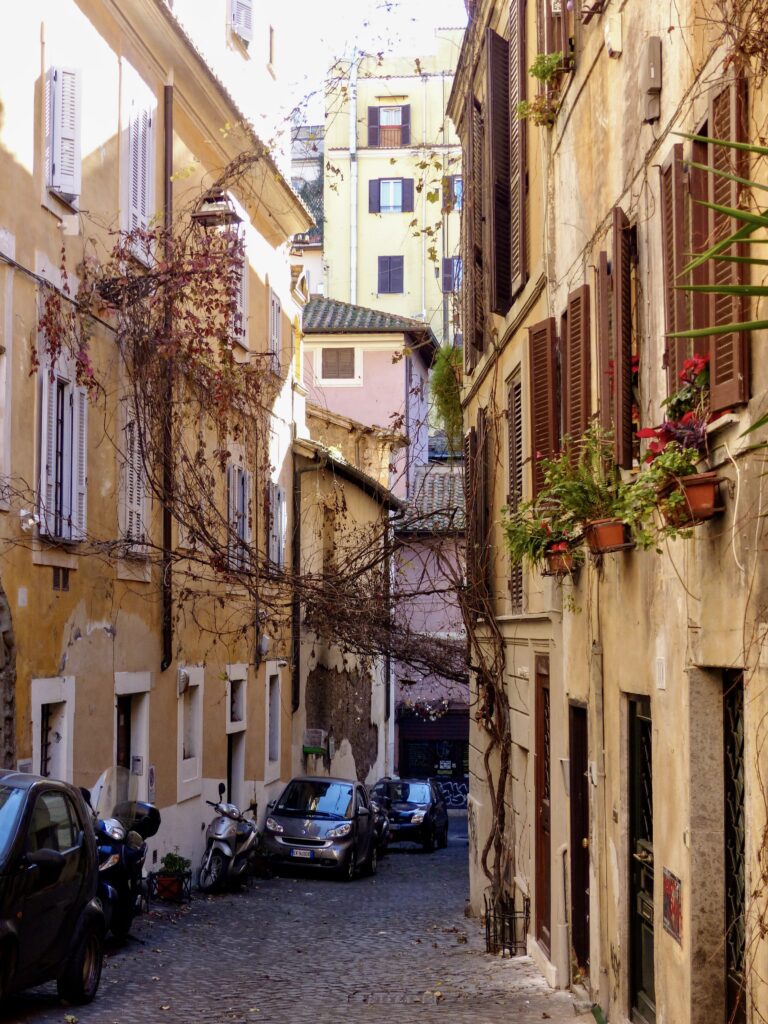 The delightful Monti district is nestled across several of the city's historic hills, earning its name "Monti" meaning "mountains." This charming area offers a wonderful blend of local boutiques, chic shops, and trendy eateries.
While in Monti, be sure to visit the captivating Santa Maria Maggiore Basilica, renowned for its stunning mosaics and rich history. Don't miss the bustling Piazza dell Madonna dei Monti. It's a lively square where you can people-watch and savor refreshing gelato to beat the heat.
Stroll along Via Urbana, a picturesque street adorned with cobblestone lanes, chic art galleries, and vintage shops, creating an artistic and trendy atmosphere that is a true reflection of Monti's allure.
Monti is also a great place to take a guided food tour or a guided wine tasting tour.
Day 2: Explore Rome: Centro Storico
On the second day of your Rome-Amalfi itinerary, you'll start your sightseeing with the Borghese Gallery. It's one of the world's best small museums and opens at 9:00 am. Visits are limited to 2 hours.
The museum is housed in an exceedingly opulent palace. Every ceiling is a masterpiece and the collection is astounding.
The Borghese houses Roman, Renaissance, and Baroque artworks. It's home to work famous pieces by Raphael, Caravaggio, Titian, and Canova. The Venetian Room itself is a marvel.
The Borghese has timed entrances with very limited tickets, so you need to plan in advance. It's absolutely essential to book a skip the line entry ticket. They sell out weeks in advance.
Given that there are so many masterpieces, you may also want to book a guided tour. This 2.5 hour small group guided tour gives you an extra half hour in the museum. You can also book a private tour.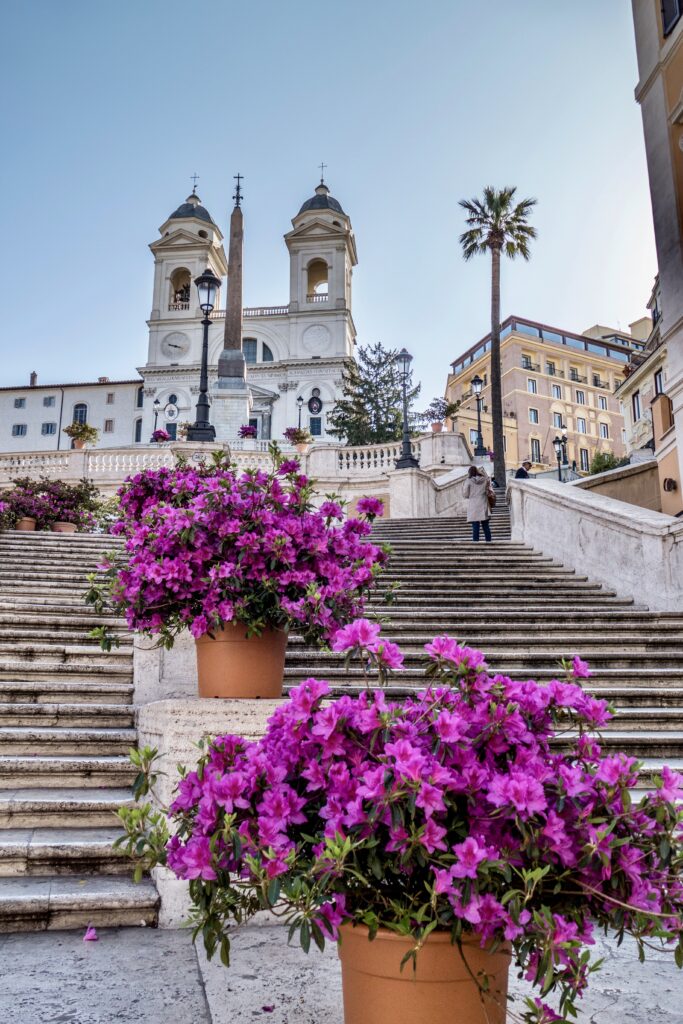 After your museum visit, head over to the Spanish Steps. Known as "Scalinata di Trinità dei Monti" in Italian, the steps are one of Rome's most iconic landmarks. The 135 steps connect the Piazza di Spagna at the base with the Trinità dei Monti church at the top
From there, head south to the spectacular Trevi fountain. Admire the central sculpture of Neptune, the god of the sea in Roman mythology. Toss a coin in the fountain to ensure your return to Rome.
Next, head inside the Pantheon. Built nearly two thousand years ago, it's the best preserved monument from Ancient Rome. It's renowned for its iconic dome with an oculus, which allows sunlight to illuminate the grand interior.
The Pantheon used to be free to visit. But that changed in July 2023. You'll need to pre-book a ticket to avoid a long wait in line.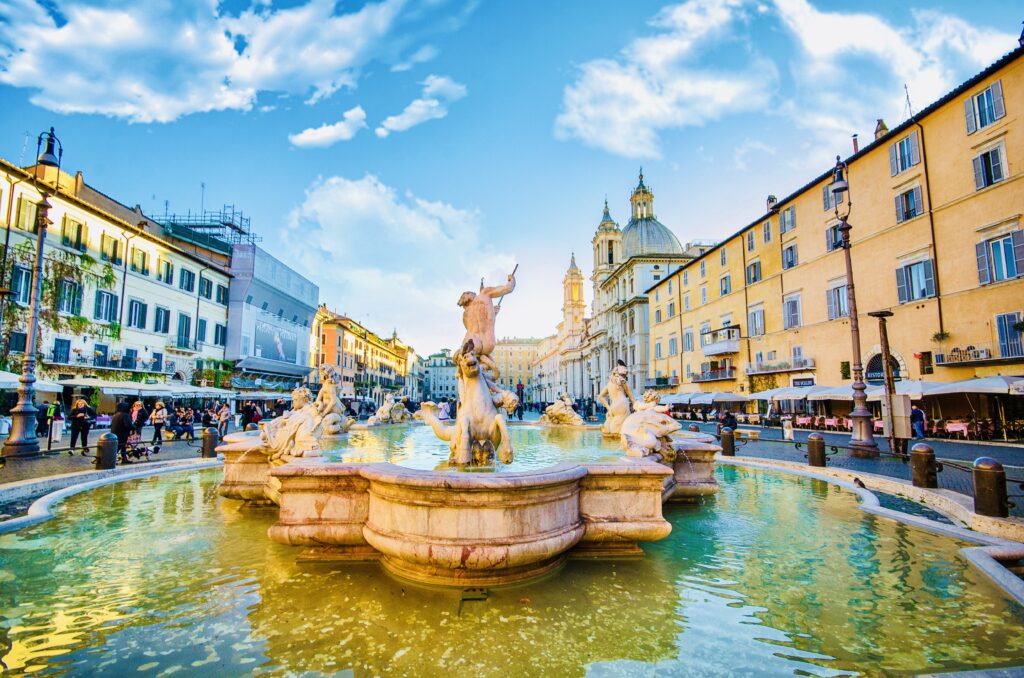 To the west lies the Piazza Navona, one of the world's most beautiful squares. It's home to several impressive landmarks.
The centerpiece is the grand Fountain of the Four Rivers, designed by Bernini. It features an obelisk and four allegorical figures representing the four major rivers of the world.
On one end of the square stands the Baroque Sant'Agnese in Agone Church, known for its striking facade and rich history. The square is also lined with charming cafes and restaurants. This makes it an ideal place to sit down and and take a break.
If you're an art lover, just south of the piazza are several museums — the National Museum of Rome, Palazzo Spada, the Barracco Museum (free!), and the wonderful Palazzo Massimo.
READ: Best Museums in Rome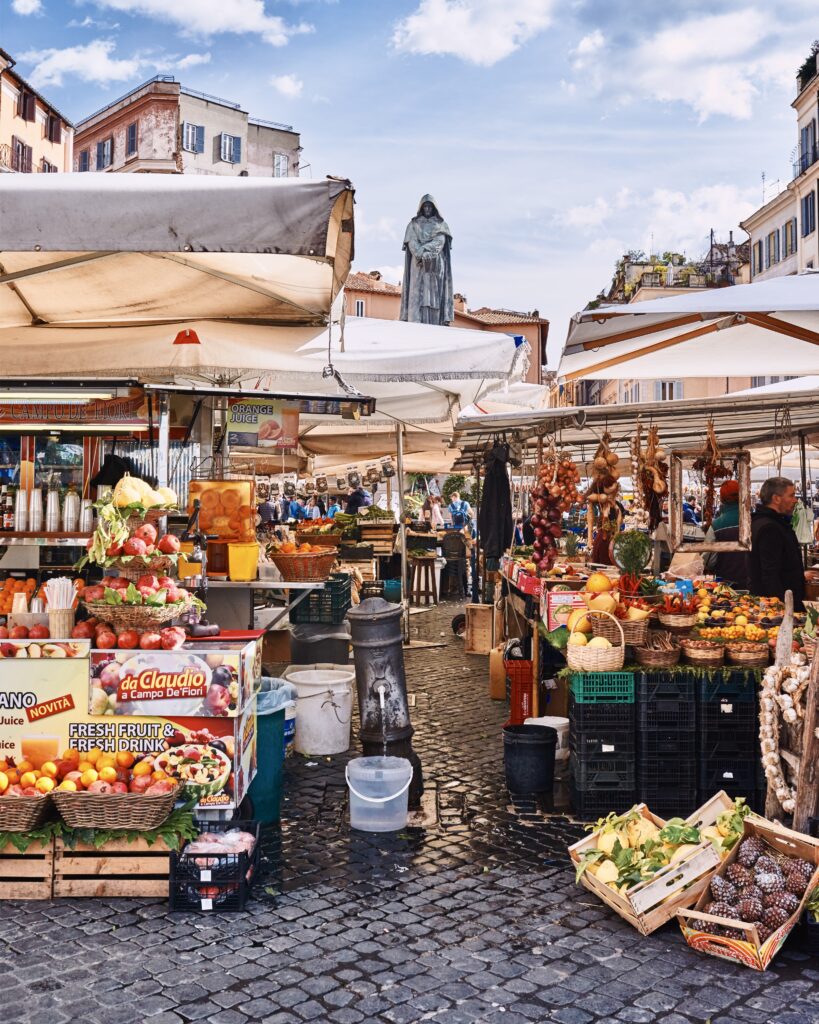 Be sure to check out Campo de' Fiori. It's a bustling square in Rome known for its lively atmosphere and daily market. Vendors sell fresh produce, flowers, and local products. It's a popular spot for both locals and tourists to stroll around.
Polish off your afternoon in Piazza Venezia. Head up the glass elevator of the Vittorio Emanuele II Monument, known as the altar of the fatherland. Sunset is the best time.
>>> Click here to book a skip the line ticket for the glass elevator
In the evening, head across the river to the Trastevere neighborhood. It's a charming and picturesque neighborhood, known for its narrow cobblestone streets, colorful medieval houses, and vibrant nightlife.
This bohemian district offers a delightful mix of trendy boutiques, traditional trattorias, and historic churches. It's a great place to go on a guided walking tour or indulge in a food tour.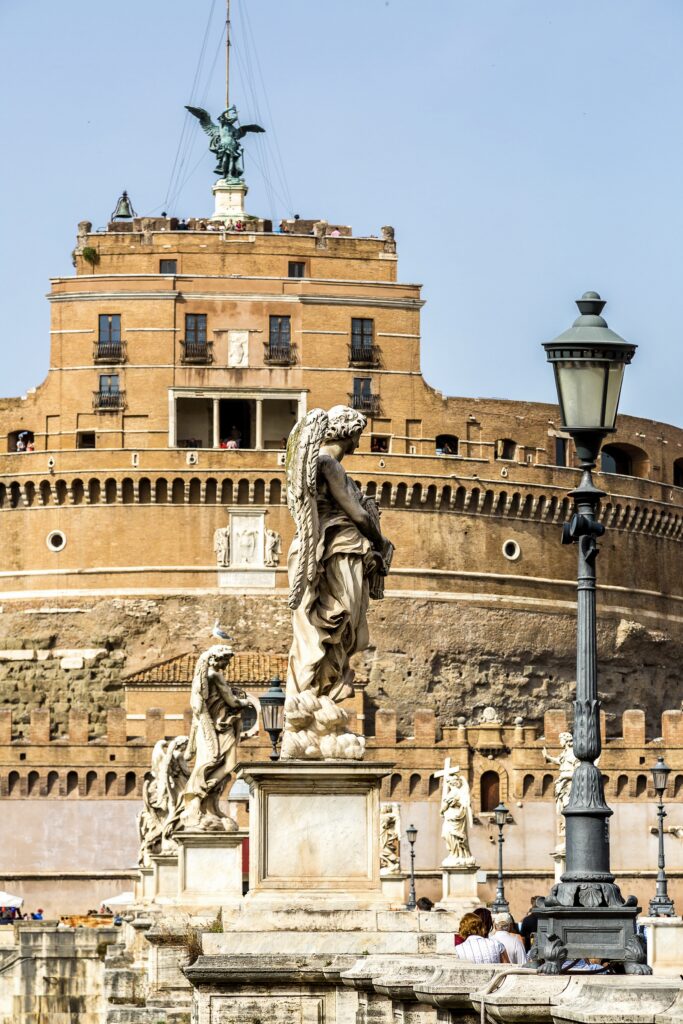 Day 3: Explore Rome: Vatican City
On day 3 of your 7 day Rome-Amalfi itinerary, head to Vatican City. I don't recommend hitting the Vatican Museums first thing in the morning. That's when most people go, and it's simply too crowded then.
So start your day with a visit to Castel Sant'Angelo, also known as the Mausoleum of Hadrian. It's an iconic Roman fortress located near the Vatican City.
Originally built as a mausoleum for Emperor Hadrian and his family, it later served as a papal residence and a prison. Today, visitors can explore its impressive architecture, frescos, artifacts, and enjoy panoramic views of Rome from its rooftop terrace.
>>> Click here to book a ticket for Castel Sant'Angelo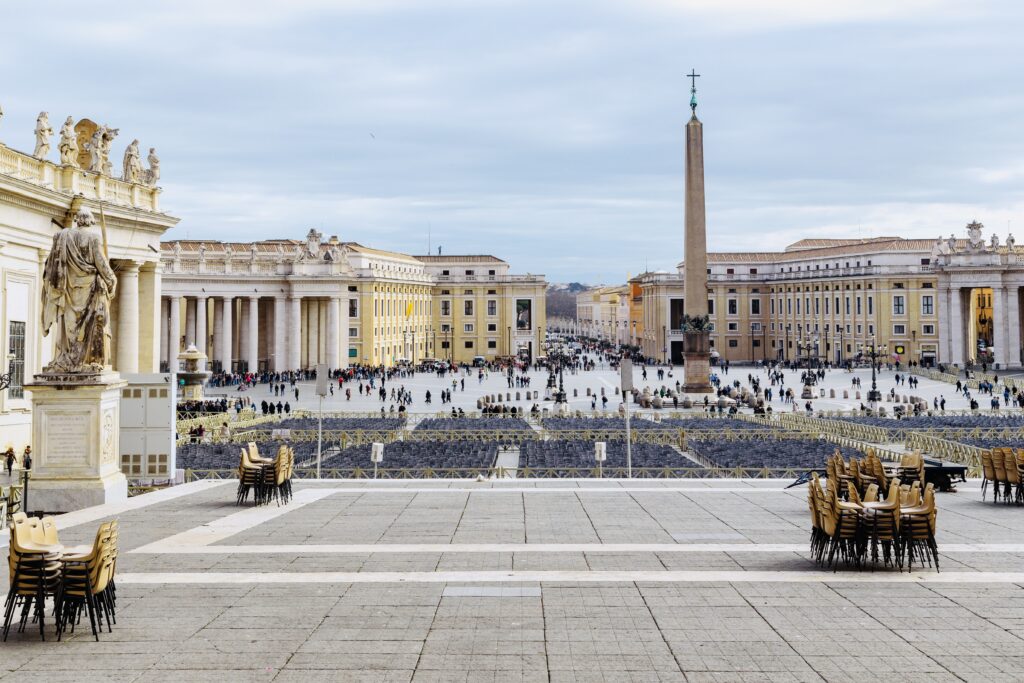 After the castle, head to the world famous St. Peter's Basilica in St. Peter's Square. Entry is free, but you'll need to go through a security line.
St. Peter's Basilica is an awe-inspiring masterpiece of Renaissance and Baroque architecture. Its colossal dome dominates the skyline of Rome.
As the largest Christian church in the world, it's a place of great religious significance and a testament to human artistic achievement. The interior is adorned with magnificent Bernini sculptures, paintings, and intricate mosaics, and a breathtaking Bernini-designed baldachin.
>>> Click here to book a tour of the basilica with a dome climb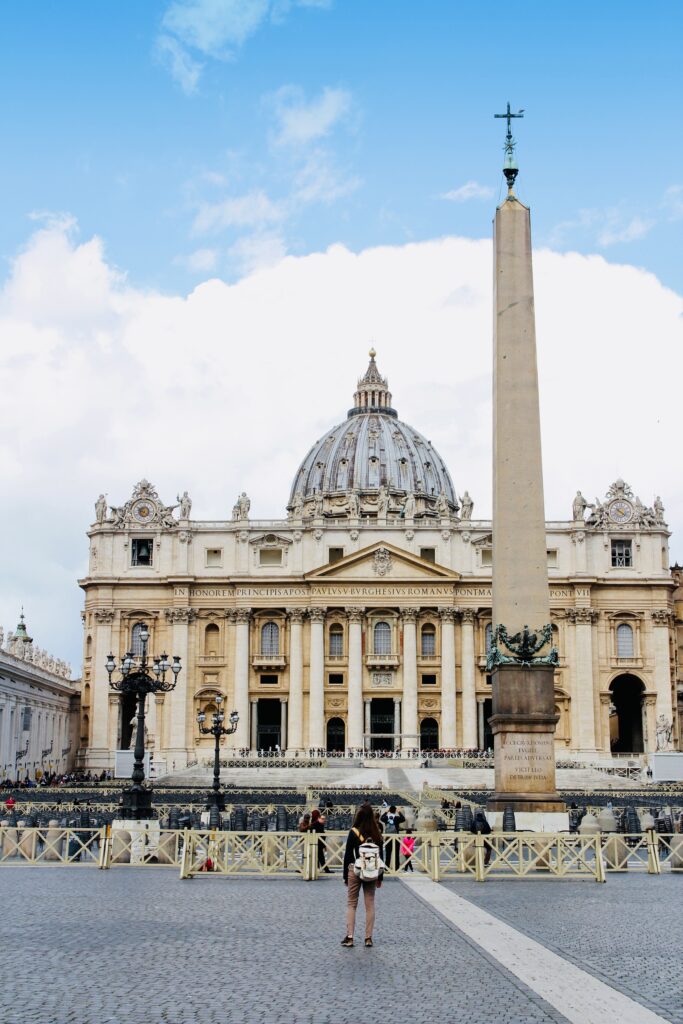 When you're done there, head to the magnificent Vatican Museums. The Vatican Museums house an extraordinary collection of art and sculptures.
They are among the world's most visited landmarks, drawing millions of visitors each year. With over 70,000 works of art, the museums boast some of the planet's most famous masterpieces.
A museum path guides you through the wonders. The highlights are the Round Hall, Gallery of the Maps, the Pio-Clementine Museum, the Vatican Pinacoteca, the Raphael Rooms, and the iconic Sistine Chapel.
Regardless of when you choose to visit the Vatican, it's a must to pre-book a skip the line ticket in advance.
Additionally, consider joining a guided tour with skip-the-line access. This can help you make the most of your visit and avoid waiting in long queues.
Here are some to consider:
If you want to avoid crowds, you might book an off hours tour: a small group first entry Vatican experience or a 3 hour night tour of the Vatican.
For more information and must know tips you can check out my ultimate guide to the Vatican and my one day in Vatican City itinerary.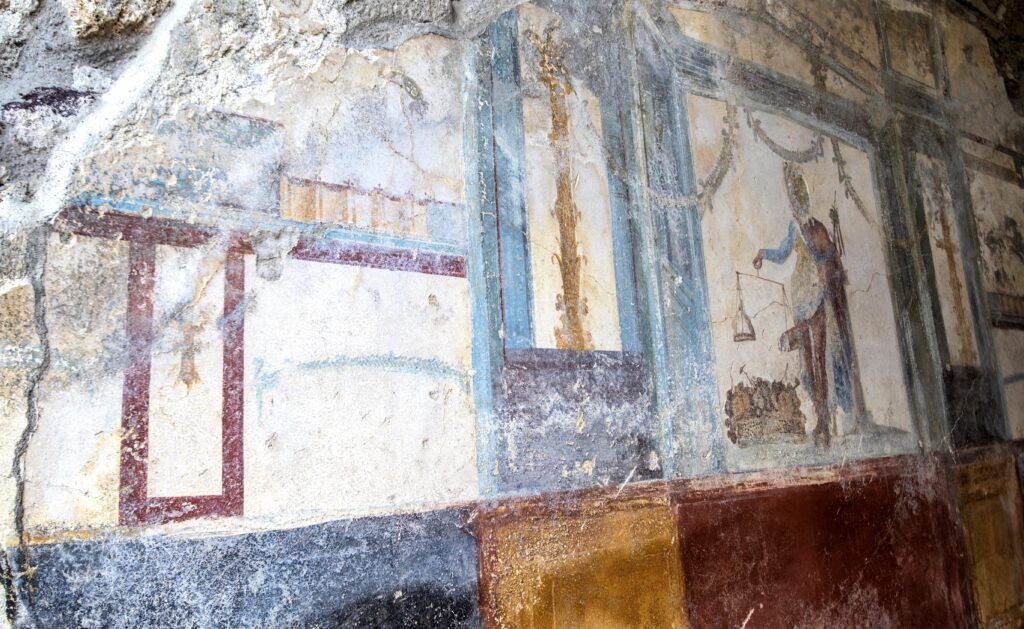 Day 4: Day Trip To Pompeii Or Sorrento
On day 4 of this one week Rome + Amalfi itinerary, you can choose between visiting Pompeii and Vesuvius or heading straight to Sorrento.
History buffs should do the former. Those that want more time on the Amalfi Coast should do the later.
Pompeii
Pompeii is a UNESCO site near Naples. It was once a vibrant ancient Roman city. Today, it's one of the most visited archaeological sites in the world.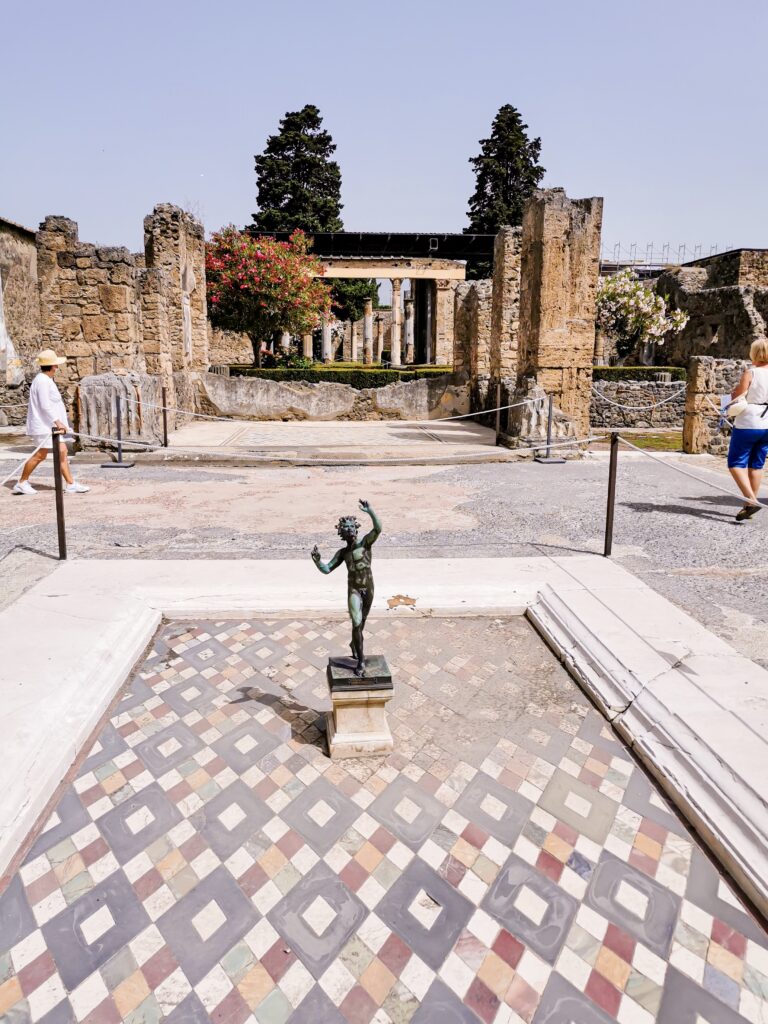 Buried under volcanic ash by Mount Vesuvius in 79 A.D., it remained hidden until its rediscovery. Today, visitors can explore its well-preserved ruins, providing a fascinating insight into the daily life, art, and architecture of ancient Romans.
Highlights include the forum, the baths, the amphitheater, the brothel, and some amazing frescoed villas. Some of the frescos are newly preserved (House of the Vettii and the Villa of Mysteries). New discoveries are made all the time.
For more information and tips, here's my complete guide to visiting Pompeii. You'll definitely need to book a skip the line ticket in advance. And, to get the full backdrop, you may want to book a tour with an archaeologist.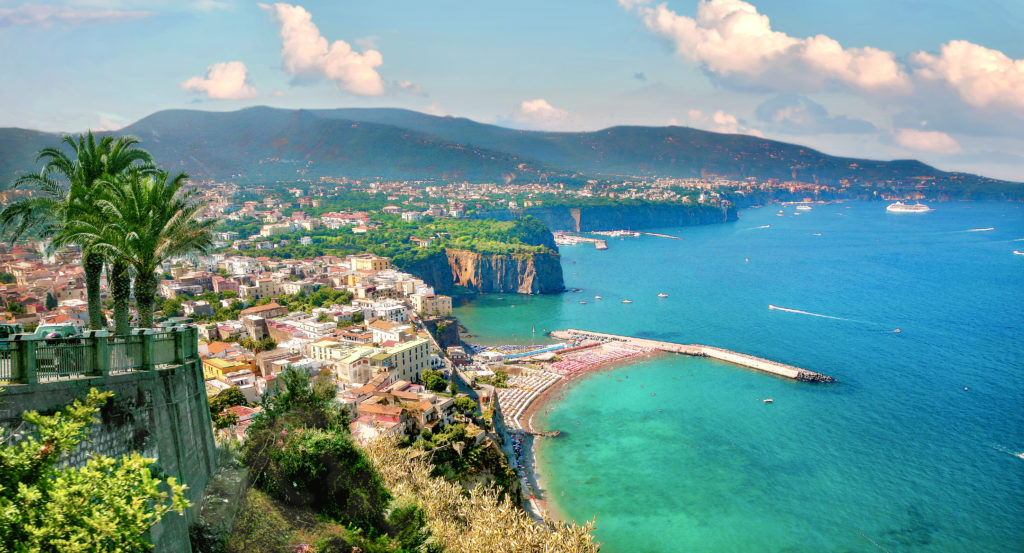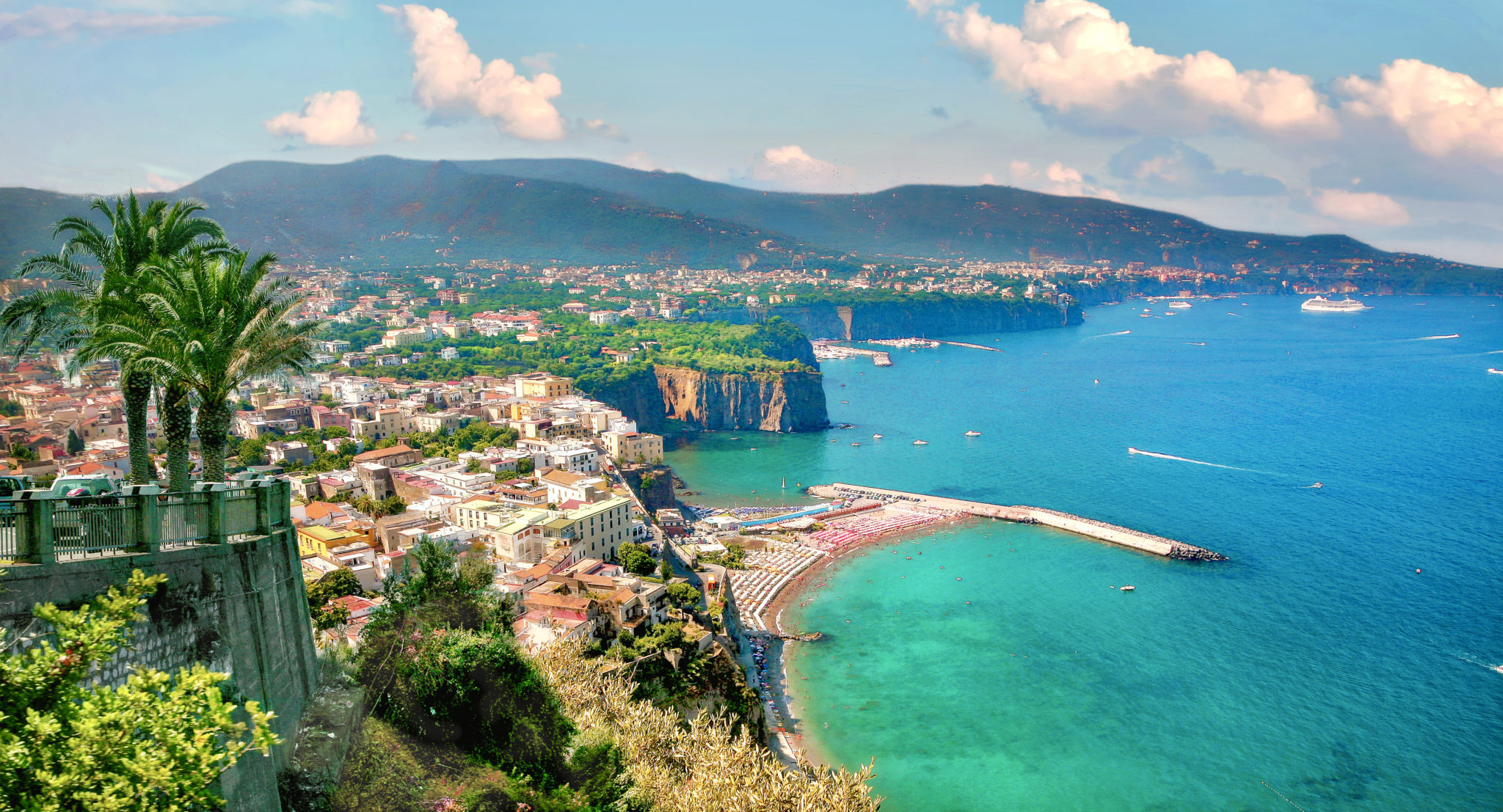 Sorrento
If you've already been to Pompeii or just want more of the Amalfi region, head instead to the town of Sorrento.
It's a charming coastal town with breathtaking views of the Bay of Naples, colorful cliffside buildings, and lush gardens. The town's location makes it an excellent base for exploring the Amalfi Coast and nearby attractions.
Stroll through Sorrento's narrow cobblestone streets. They are lined with artisan shops, boutiques, and family-owned trattorias serving mouthwatering Italian cuisine. Don't miss a taste of the local limoncello, a lemon liqueur produced in the region known for its citrus groves.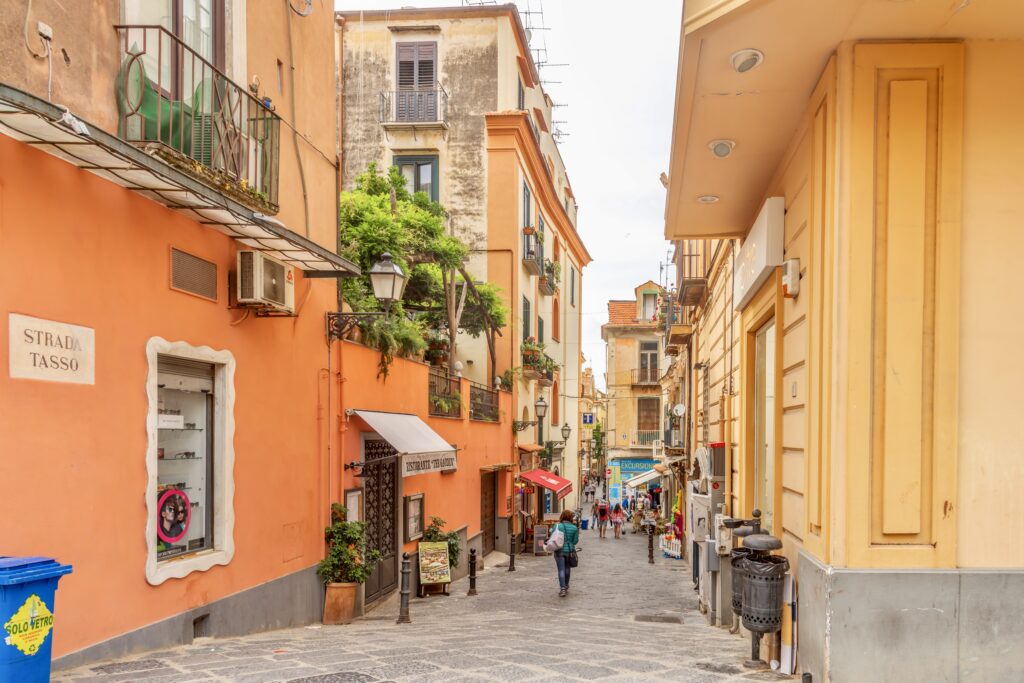 Sorrento's main square, Piazza Tasso, is a lively hub. This is where locals and tourists gather to savor coffee, indulge in gelato, and people watch.
For history enthusiasts, Sorrento boasts ancient ruins, including the Villa Pollio Felice, and the 14th-century Sedil Dominova, a stunning architectural gem. The nearby Sorrento Cathedral, with its imposing bell tower, is another must-see landmark.
For breathtaking vistas, head to Villa Comunale, a beautiful public garden overlooking the Gulf of Naples. Enjoy a peaceful sunset or enjoy a sunset cruise with prosecco and limoncello.
>>> Click here to book a guided walking tour with limoncello tasting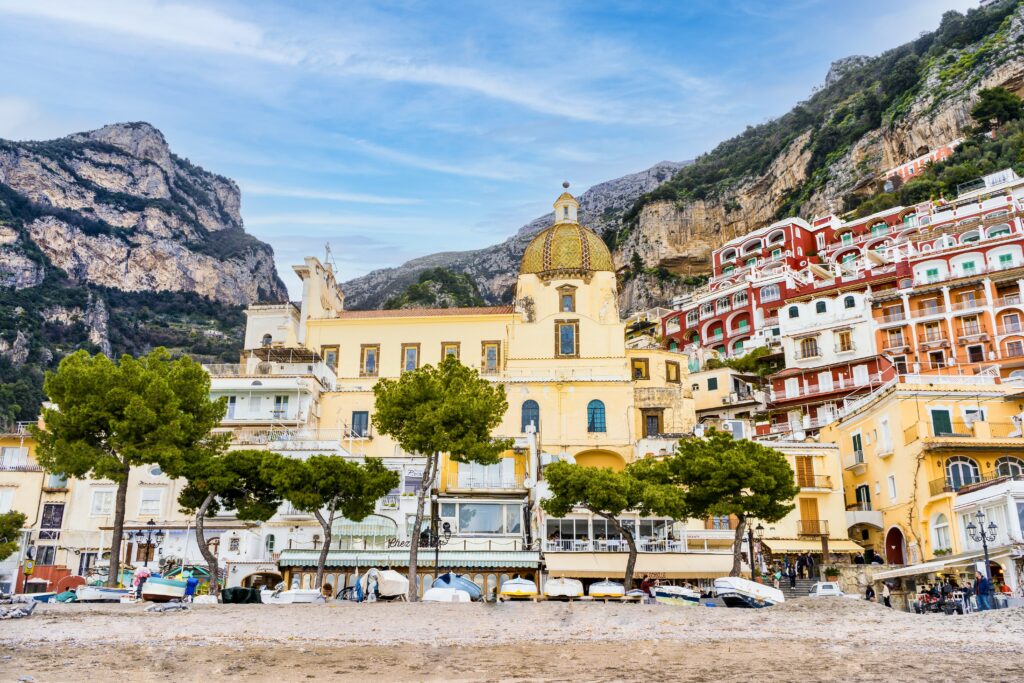 Day 5: Transfer to Positano
If you are traveling from Rome, you can take the train to Naples and then board a bus or book a private transfer to Positano. If you visited Pompeii from Naples, you can take the SITA bus to Positano or book a private transfer.
Perhaps a more efficient way to move to Positano is to book a tour of Pompeii that includes a transfer from Naples to Positano. This guided tour gives you 2 hours of sightseeing in Pompeii and then deposits you in Positano.
That way, you can begin day 5 of your 7 day Rome and Amalfi itinerary first thing in the morning. The only downside is that 2 hours isn't all that much time to spend in Pompeii.
Positano, oh, the charm of this Amalfi Coast gem! With its pastel-colored houses perched on cliffs and a smooth golden sand beach dotted with stripy umbrellas, it's no wonder it's a photographer's paradise.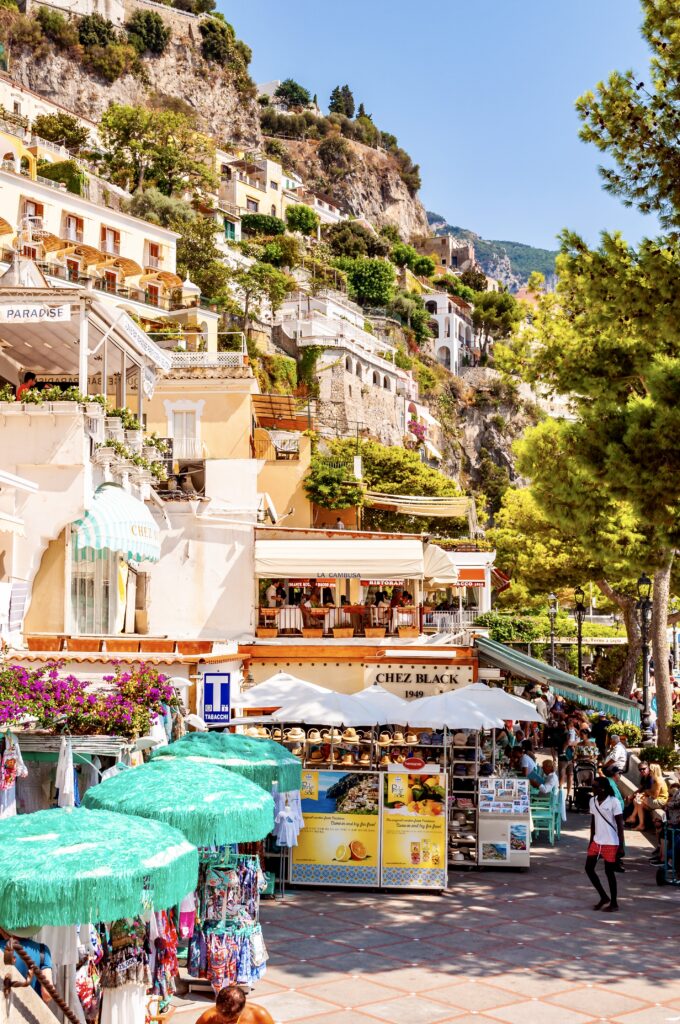 Unfortunately, Positano is no secret. It's a buzzing hub of tourists, especially during peak hours. So expect and prepare for crowds.
Start your day strolling along Via Mulini, the main drag shaded with vines and bougainvillea. Don't miss the chance for a selfie under the flower-filled arch in the middle of the street.
Make your way to Santa Maria Assunta, the iconic church with its green and yellow Moorish dome. Inside, you'll find the 13th-century Black Madonna icon, steeped in legend and mystery.
Now, brace yourself for some uphill wandering! The side streets are brimming with cute boutiques and shops, overflowing with tempting goodies.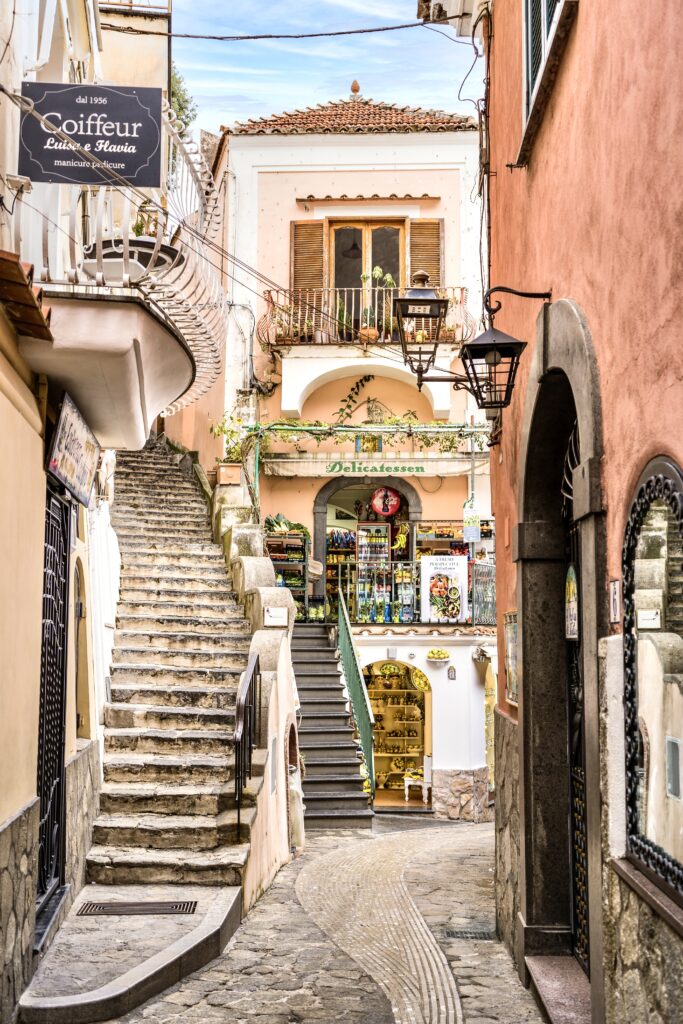 Turn right on Via Christoforo Colombo from Piazza Mulini to catch the classic view of Positano and its charming church with the majestic dome.
Lunchtime calls, and you'll be spoiled for choice with delightful eateries along Via Pasitea. More shops, more cafes, and more sweeping vistas await. Don't miss the lovely Santa Caterina church on the other side of town.
You can spend your afternoon in aimless wandering. Or you may want to tackle the famous Path of the Gods hike.
As the evening draws near, indulge in a cliffside dining experience. Pamper yourself with breathtaking views and delectable dishes at renowned restaurants like La Sponda, La Terrace, Maestro's, or Il Tridente.
Another good idea is to take an evening sunset cruise around the Amalfi Coast.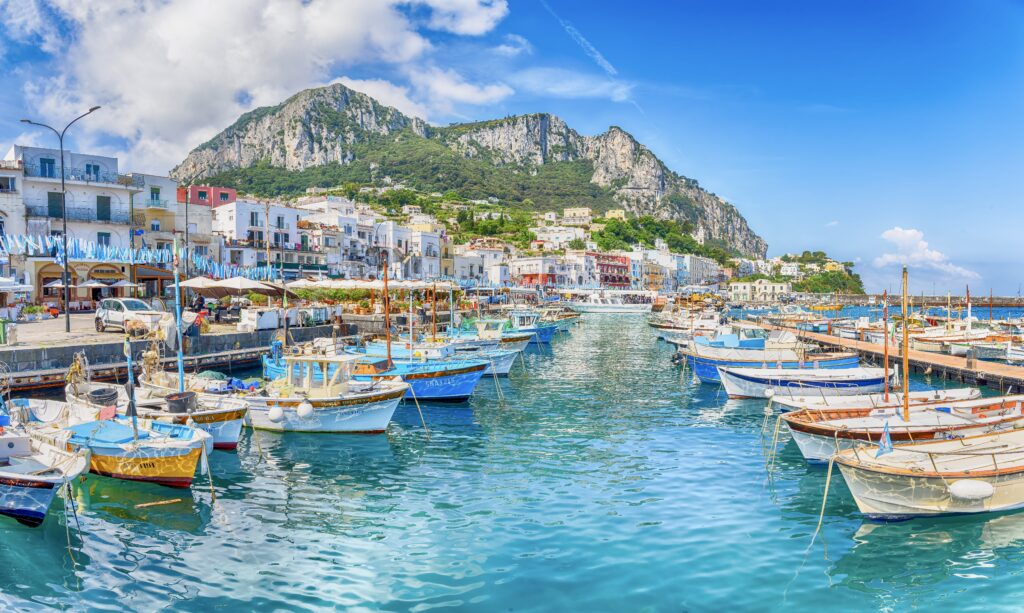 Day 6: Day Trip To Capri
No one week Rome & Amalfi Coast itinerary would be complete with a visit to the breathtaking island of Capri. If the weather is fair, it's one of the most beautiful places in the world.
There are several ways you can get to Capri from Positano:
Capri dazzles with breathtaking cliffs, enchanting emerald waters, and picturesque towns. A favorite destination for centuries, this Italian island has enchanted everyone from Roman emperors to modern-day celebrities.
Capri offers a perfect blend of natural beauty and a mild climate, making it a popular resort spot. Emperors Augustus and Tiberius were notably drawn to its charms.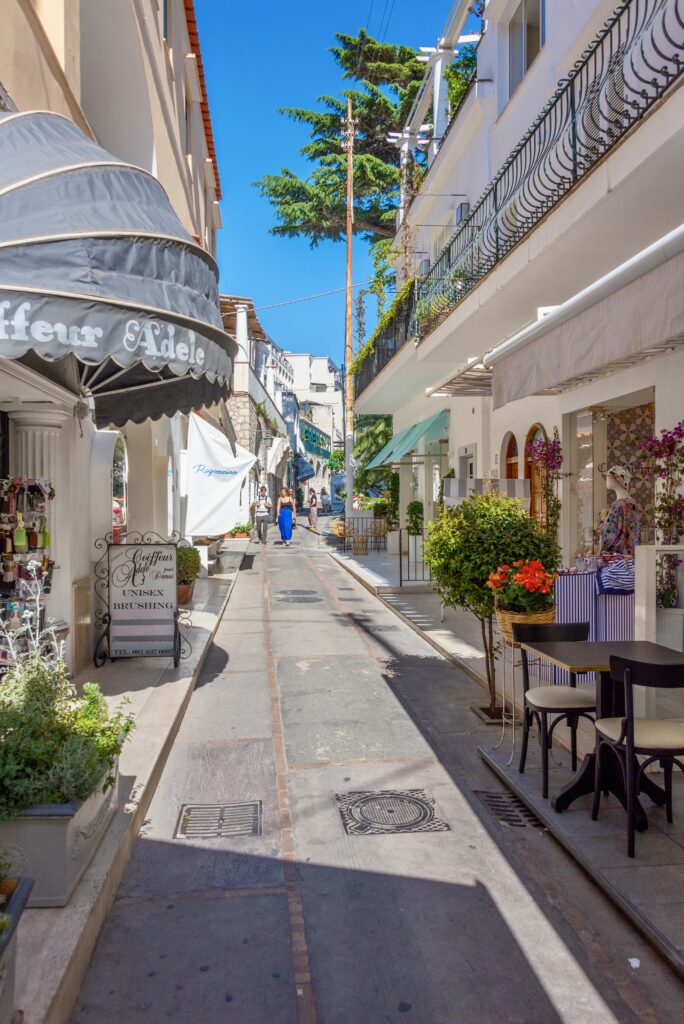 Explore Capri Town, the island's main village. It exudes an undeniably chic ambiance. The heart of the village is Piazza Umberto I and you can shop till you drop on Via Camerelle.
Venture to Anacapri, the island's other charming town, and visit the famed Villa San Michele.
>>> Click here to book a guided walking tour of Capri Town and Anacapri
Top off your day by taking in the panoramic views from the top of Mount Solaro. You can reach the top either by hiking or taking a scenic chairlift ride. To make the most of your visit, consider taking the chairlift up and then enjoying a leisurely walk down.
In lieu of Mount Solaro, you might want to explore the Blue Grotto. It's a stunning sea cave that can be admired on a guided tour.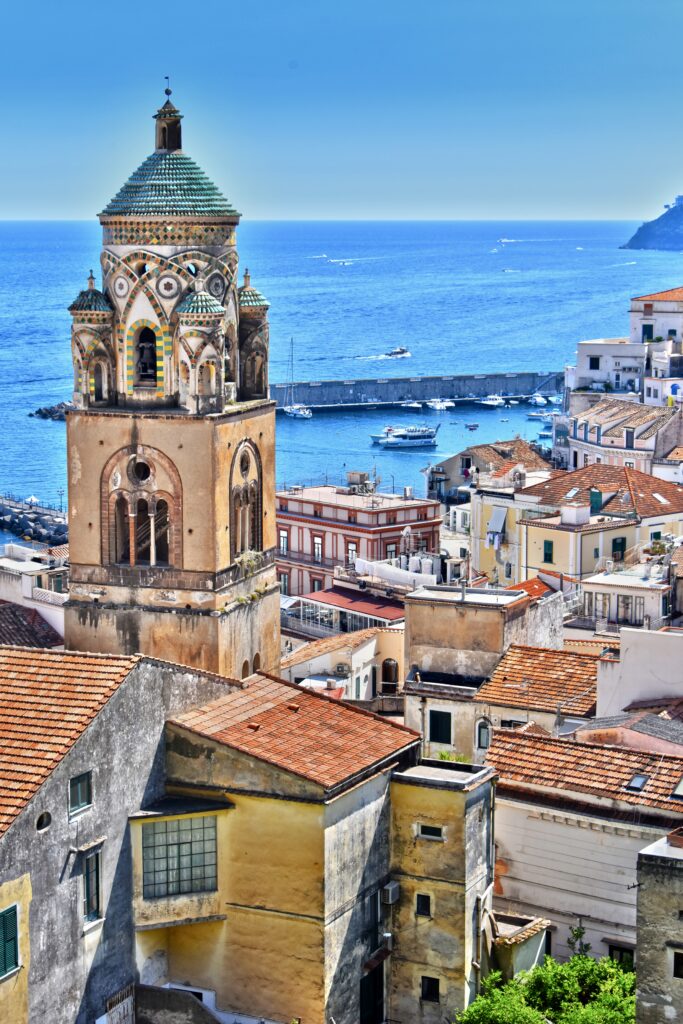 Day 7: Amalfi & Ravello
One the final day of your one week in Rome and Amalfi itinerary, visit the towns of Amalfi and Ravello. From Positano, you can take the ferry to Amalfi Town and take the bus or hike up to Ravello. Or you can book a guided tour from Positano.
Amalfi Town
Amalfi Town, a charming coastal gem, has a fascinating history as one of Italy's maritime powers. The bustling seaside village has a vibrant atmosphere and historic charm.
Don't miss the magnificent Amalfi Cathedral. It's a true masterpiece with Byzantine, Romanesque, and Moorish flourishes and a gorgeous cloister.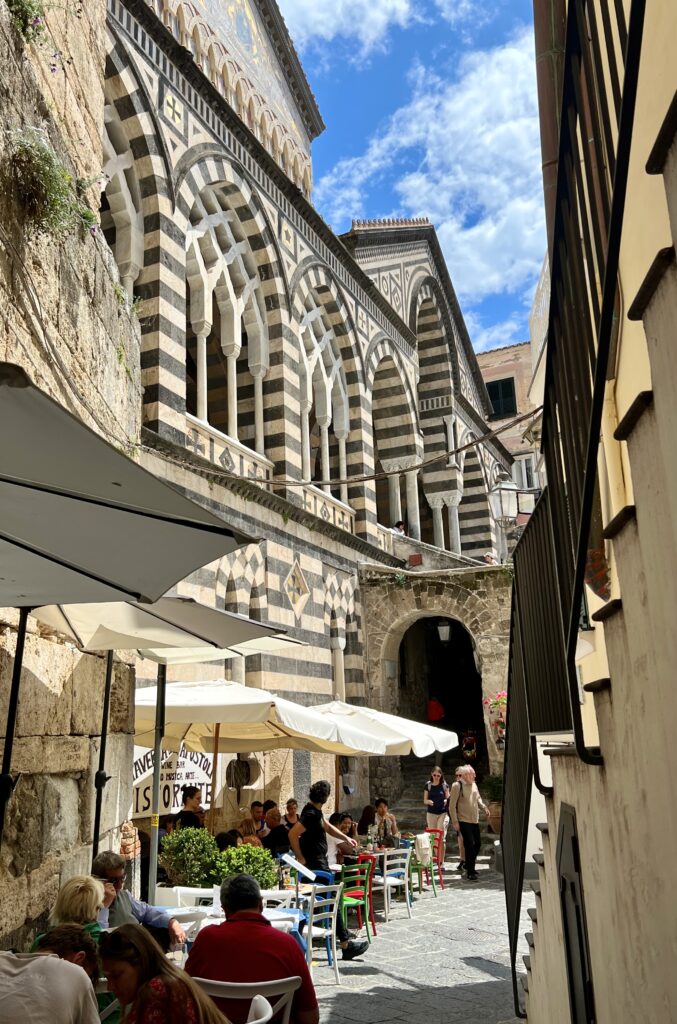 Get lost in the labyrinth of quaint streets that lead to hidden corners of the town and the "ancient stairways."
If you want to make the hike up from Amalfi Town to Ravello, you can visit the charming village of Atrani en route.
Atrani's narrow alleys and colorful houses are simply enchanting. Its small beach, adorned with umbrellas and boats, offers a tranquil spot to relax and soak up the coastal atmosphere.
For more information and tips, you can check out my one day in Amalfi Town itinerary.
Ravello
In the afternoon, explore the town of Ravello. To my mind, it's the most beautiful town on the Amalfi Coast. I say this because of the breathtaking panoramic views and garden villas it offers up.
You can catch a bus, hike, or take a taxi up to Ravello. If you're hiking, it will take 1-2 hours.
Begin with a stroll through the old town. You'll be wowed by shop after shop of beautiful ceramics.
Visit Ravello Cathedral in the main square, which boasts two gorgeous pulpits. Then, head to next door to Villa Rufolo. It's famous for its beautiful gardens and stunning panoramic views of the Amalfi Coast from the Wagner Terrace.
From Villa Rufolo, make the short trek to Villa Cimbrone, my favorite spot in Ravello. It's best to visit at sunset.
Villa Cimbrone is a luxurious retreat boasting stunning gardens, with roses, hydrangeas, and wisteria pergolas. There are crumblier sculptures and follies. From its famous Terrace of Infinity, you'll have mesmerizing panoramas that will leave you in awe.
And that's a wrap for my one week in Rome and the Amalfi Coast itinerary. You may find these other southern Italy guides useful:
If you'd like to spend 7 days in Rome and the Amalfi Coast, pin it for later.