Are you on the hunt for a 2 days in Matera itinerary? You've come to the right place!
Located in the Bailicata region of southern Italy, Matera is one of the world's most ancient cities. The city of golden limestone has been inhabited for at least 9,000 years.
Matera is all about caves — a vast honeycomb of thousands of caves set in cliffs above the gorge of the Gravina River. It's difficult to describe its beauty unless you see it in person. It's everything you've heard and more!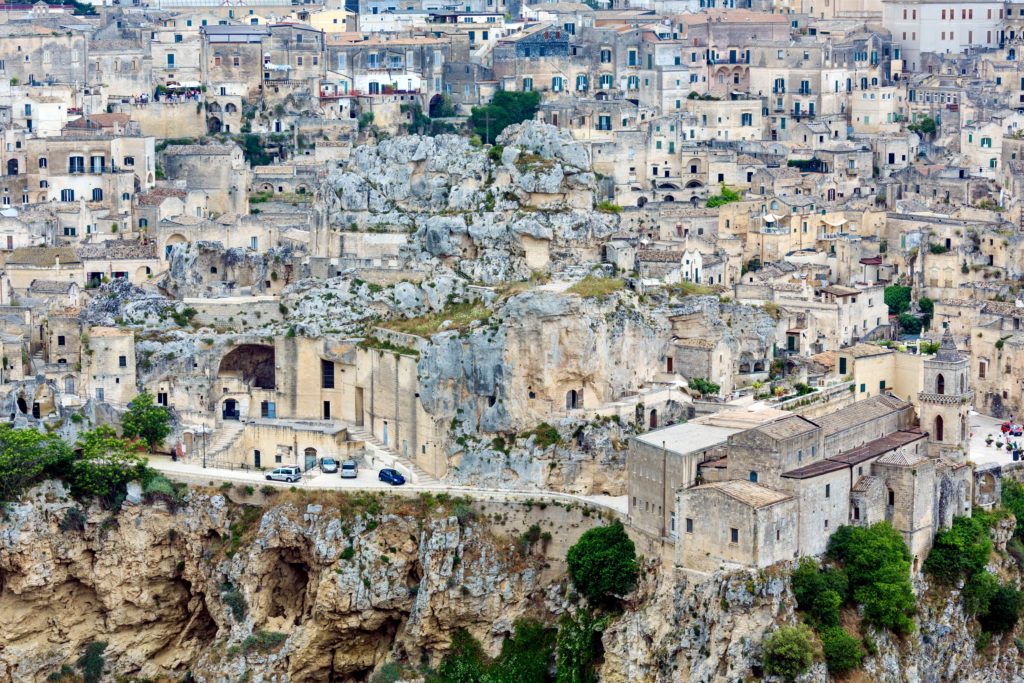 Over the centuries, Matera has been home to various civilizations, including the Romans, Byzantines, Lombards, and Normans. Each left their mark on the city's architecture and culture.
During the 20th century, Matera faced a period of extreme poverty and neglect, leading to a significant decline in living conditions for its residents.
The cave dwellings, or "sassi," which were once inhabited, became overcrowded and unsanitary. This earned Matera the unfortunate nickname of the "Shame of Italy."
Eventually, this dire situation prompted the government to take action. Through extensive renovation efforts and cultural preservation, the sassi were renovated and preserved.
In 1993, recognizing the historic significance of the sassi, Matera became a UNESCO World Heritage Site. In 2019, Matera was named the European Capital of Culture.
Thanks to its ancient aesthetic and unparalleled beauty, Matera has become a popular filming location for blockbuster films, including the renowned James Bond film No Time To Die.
>>> Click here to book a tour of the James Bond filming locations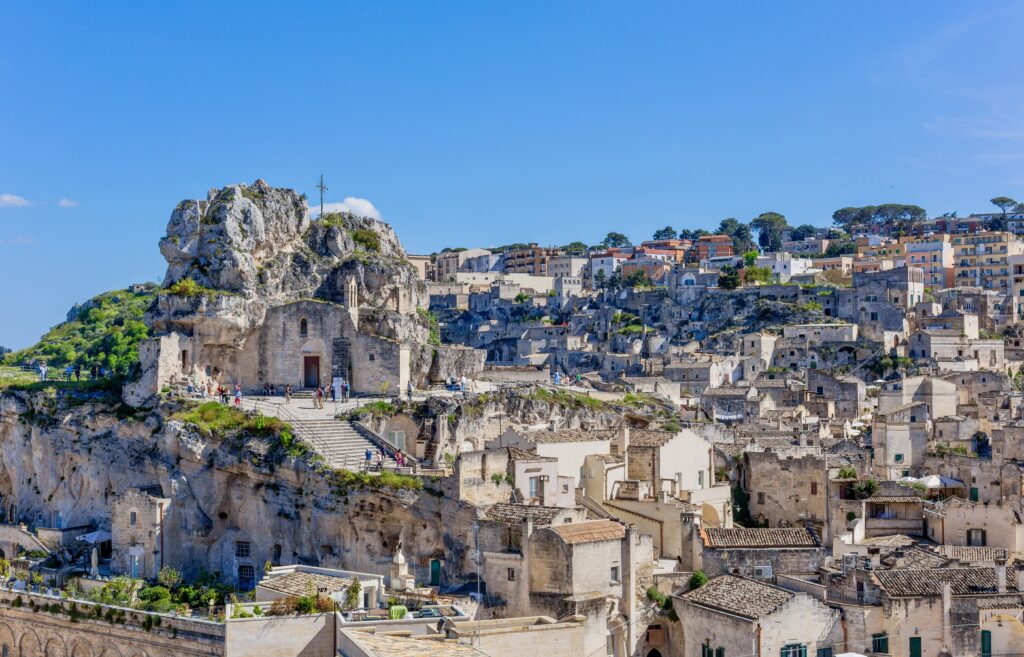 Overview Of 2 Days In Matera Itinerary
Matera is basically divided into three districts. The Civita is at the top of the town where the Duomo stands. Below that are the two sassi, the cave dwellings of Matera.
Sasso Barisano is to the north and Sasso Caveoso to the southeast. The lanes of one meander right into the alleyways of the other.
Here's a quick snapshot of what you can see with 2 days in Matera:
Here are some of the top experiences in Matera. Be sure to book ahead in high season!
You may want to book the Matera City Pass. It's valid for 2 days and includes entry to many of the city's top attractions.
2 Days In Matera Itinerary
This Matera itinerary allows for a logical progression through the city. You can add or subtract things to suit your own pace of travel.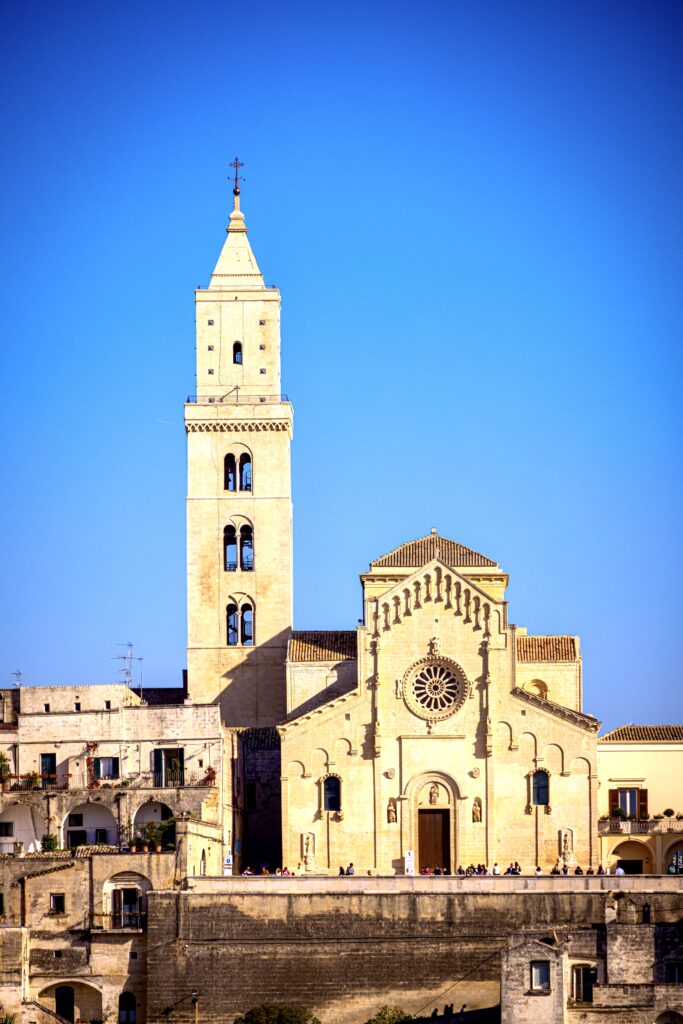 Day 1 of 2 Days in Matera
Matera Cathedral
Begin your Matera adventure with a visit to the city's cathedral. Perched at the top of the city, the church is Matera's most important monument.
You don't enter through the front facade of the cathedral. Rather, the entrance is on Via Duomo. Tickets are 3.50 euros.
The church is open daily from 9:00 am to 7:00 pm and you can also visit the museum.
The cathedral dates from the 13th century and boasts the classic Apulian Romanesque architectural style. It's dedicated to the Madonna della Bruno and St. Eustace and has been newly restored.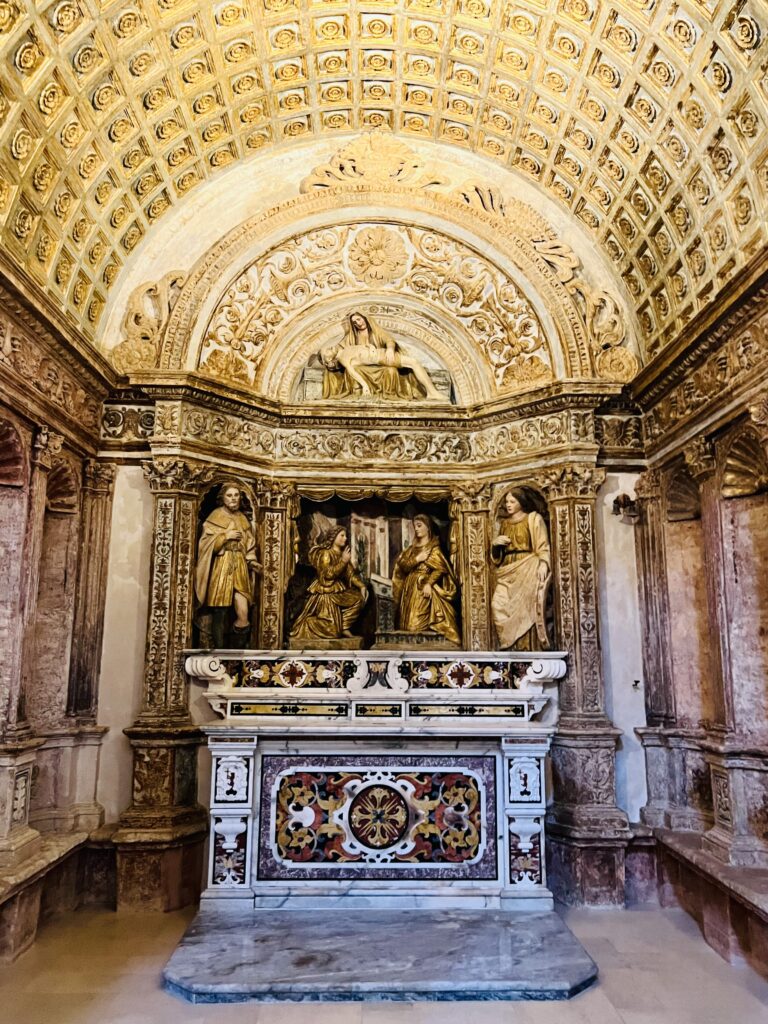 Inside, it's a triumph of Baroque with ornate stucco, golden decorations, and frescoed ceilings.
The presbytery has an elaborate marble altar with a painting of the Madonna and Child. The Chapel of the Annunciation has 16th century sculptures.
An incredibly unusual thing to see is the 14th century nativity scene in the Chapel of the Crib. It's a massive sculptural group carved from stone and set in a cave. You'll see goats, sheep, cattle, dogs, etc.
In front of the church is an amazing lookout point. From it, you'll have fantastic views of the sassi.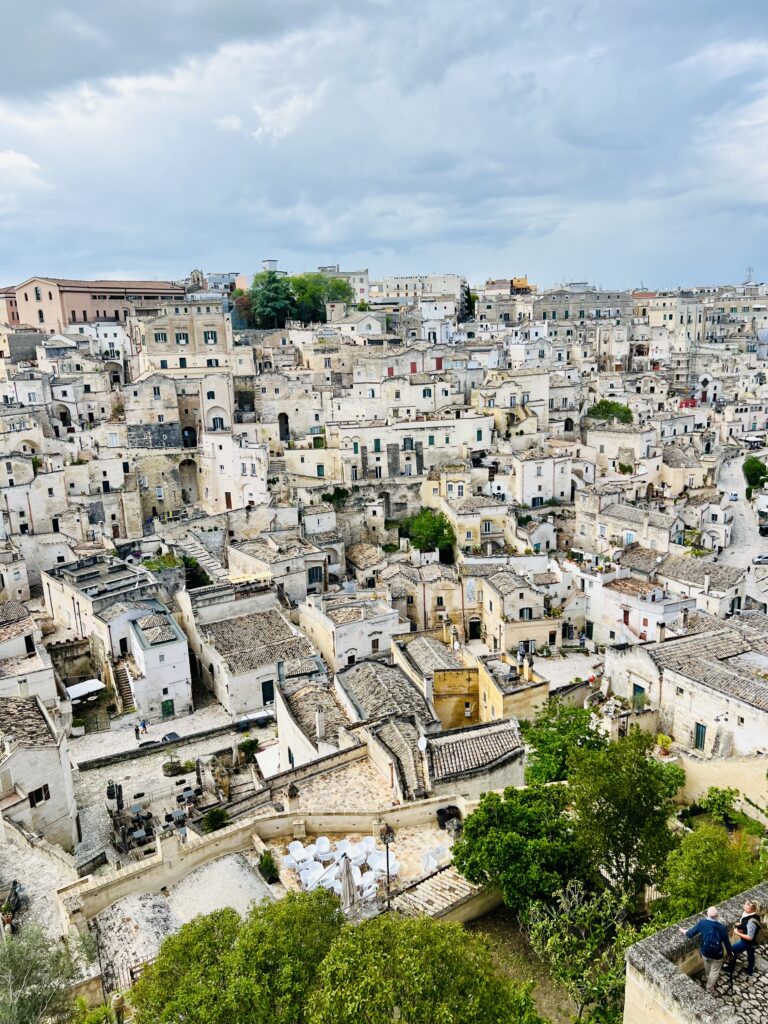 Casa Noha
Before you dive into the sassi, stop into Casa Noha. It's a small interactive museum with 4 informational videos just a few minutes from the cathedral.
They tell you everything you need to know about the history of Matera beginning with the pre-historic period. There's a special emphasis on the period after WWII when Matera was an impoverished colony.
It will only take about 25-30 minutes and is a great introduction to exploring the sassi. You'll be glad you took the time.
>>> Click here to pre-book a ticket
Note: If you book a guided walking tour of the sassi, you can probably skip Casa Noha, as your guide will fill you in on Matera's history.
Sasso Barisano
After your dose of history, head to the northern part of Matera, just southwest of the cathedral, to explore this charming Sasso Barisano.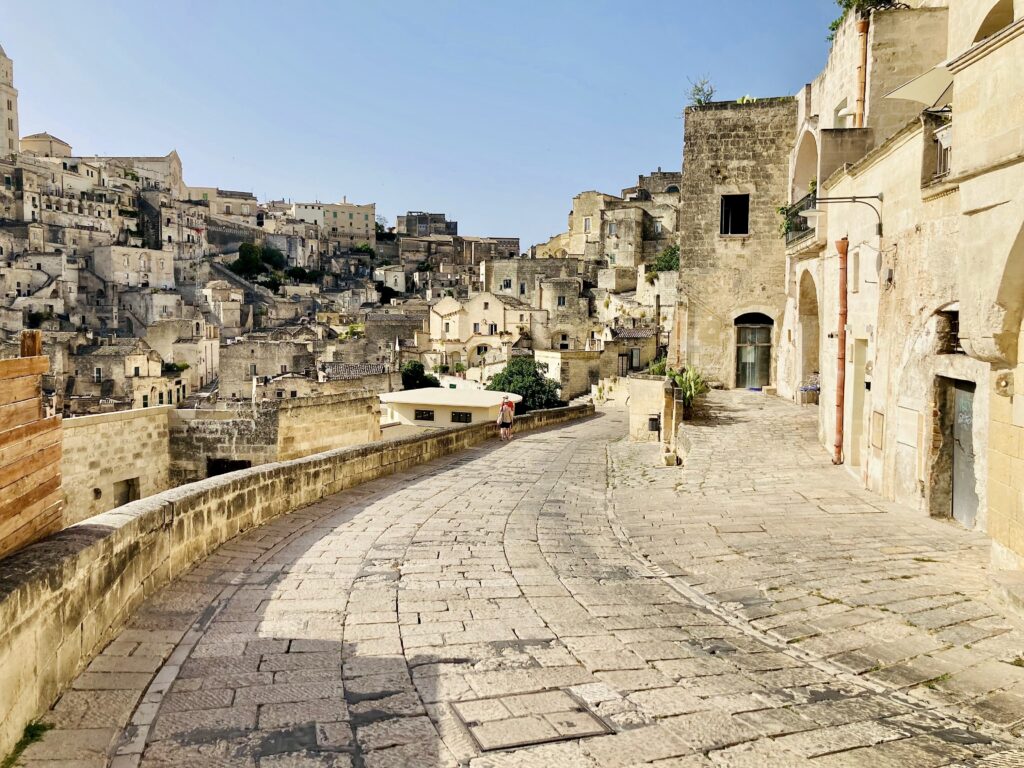 As you stroll through the streets, take in the captivating blind alleys and the picturesque balconies and belvederes..
While you're in the area, make sure to visit the Church of San Pietro Barisano. This remarkable church is carved directly into the soft tufa rock, seamlessly blending with the surrounding cave dwellings. Its origins trace back to the 12th century, making it one of the oldest churches in Matera.
You'll also want to visit the Casa Cava, Matera's cultural center. It's the world's only underground exhibition space. Spread across 900 square meters, the center has ten rooms, including an extraordinary underground auditorium that can accommodate up to 140 people.
Renowned by international architecture magazines, the auditorium reflects Matera's profound artistic renaissance.
Piazza Vittorio Veneto
Next, you'll find yourself in Piazza Vittorio Veneto. The square is lined with picturesque buildings, cozy cafes, and inviting restaurants, making it a delightful place to explore.
One of the highlights of this area is the Palombaro of Matera, an extraordinary underground chamber situated 55 feet below ground level. A true marvel of ancient civil engineering, this site holds particular appeal for history enthusiasts.
Within the chamber lies one of the world's largest stone-cut cisterns, a fascinating discovery made in 1991. The cistern is ingeniously connected to an intricate network of canals, once used to collect precious rainwater.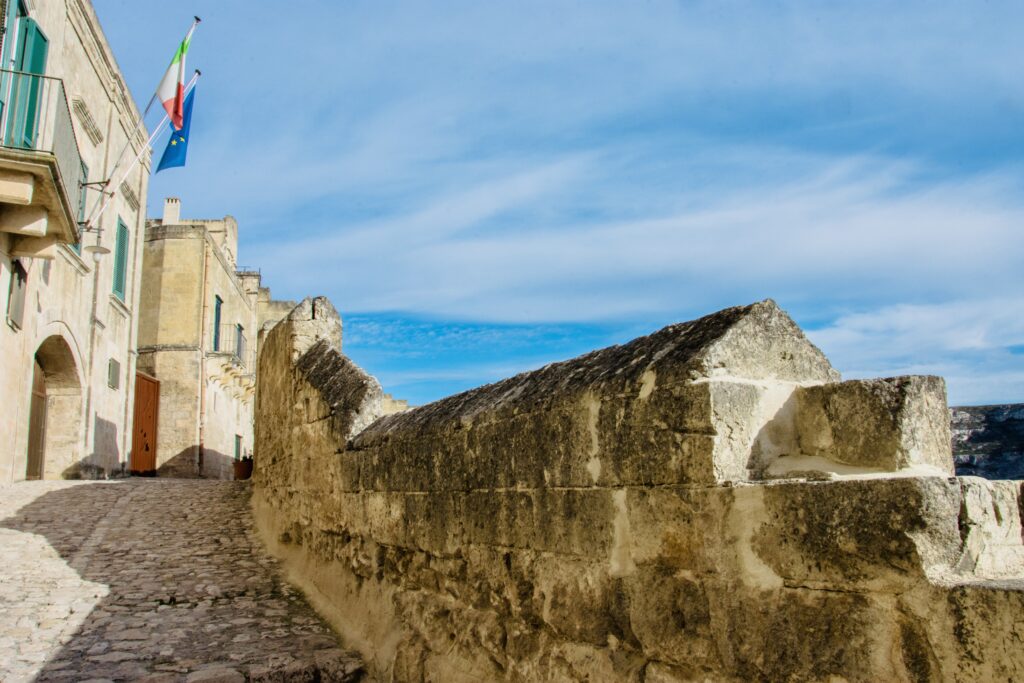 MUSMA – Museum of Contemporary Sculpture Matera
If you're an art lover, you can pop into MUSMA (if you can find it!). The modern art museum is housed in the 16th century Palazzo Pomarici on Via San Giacomo.
In galleries, courtyards, and a hypogeum, the museum displays works by a wide ranging international roster of artists from the 19th century to the present.
Belvedere Piazzetta Pascoli
At sunset, head to Belvedere Piazzetta Pascoli to enjoy the panoramic view of the sassi.
Have an aperitivo at Area 8. Dine in style at one of Matera's many great restaurants. I enjoyed my dinners at Baccanti, Osteria al Casale, and Trattoria del Caveoso. Polish it off with a gelato at Il Vizi degli Angeli.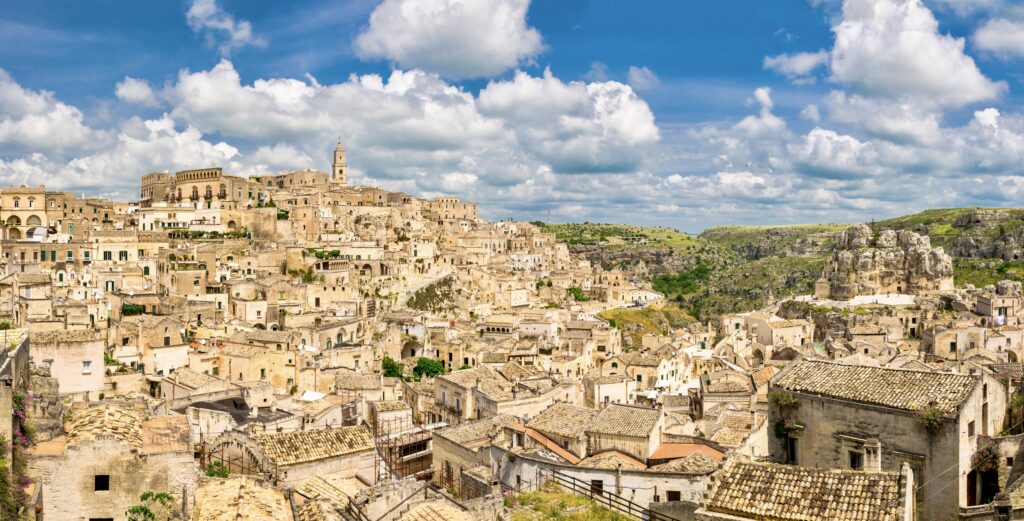 Day 2 Of 2 Days In Matera
Sasso Caveoso
On the second day of your 2 days in Matera itinerary, check out Sasso Caveoso. The main drag through this sassi district is Via Bruno Buozzi.
Sasso Caveoso is characterized by its rugged and natural appearance, featuring numerous caves carved into the soft tufa rock. It's a bit more picturesque than Sasso Barisano.
Casa Grotta di Vico Solitario
The Vico Solitario cave house is a must see near the Idris church. This tiny museum recreates how a peasant society lived until a few decades ago.
It's furnished exactly as it would have been back in time. You'll see everyday objects, tools, and spaces dedicated to animals. And a ridiculous high bed that kept occupants off the cold stone floor.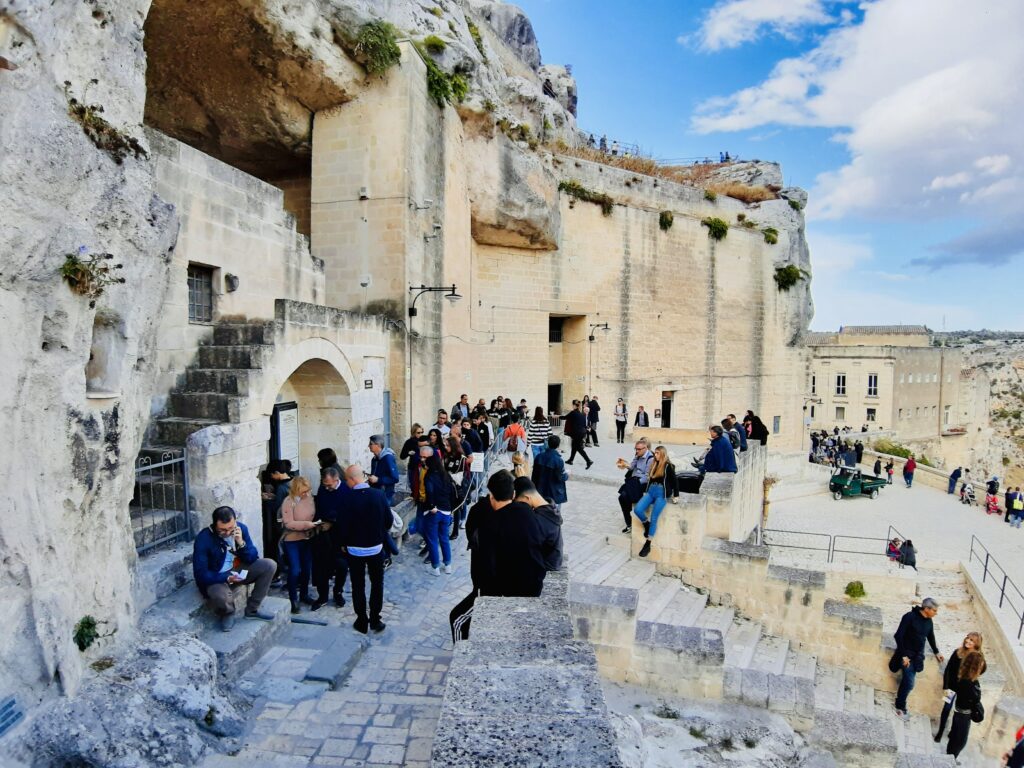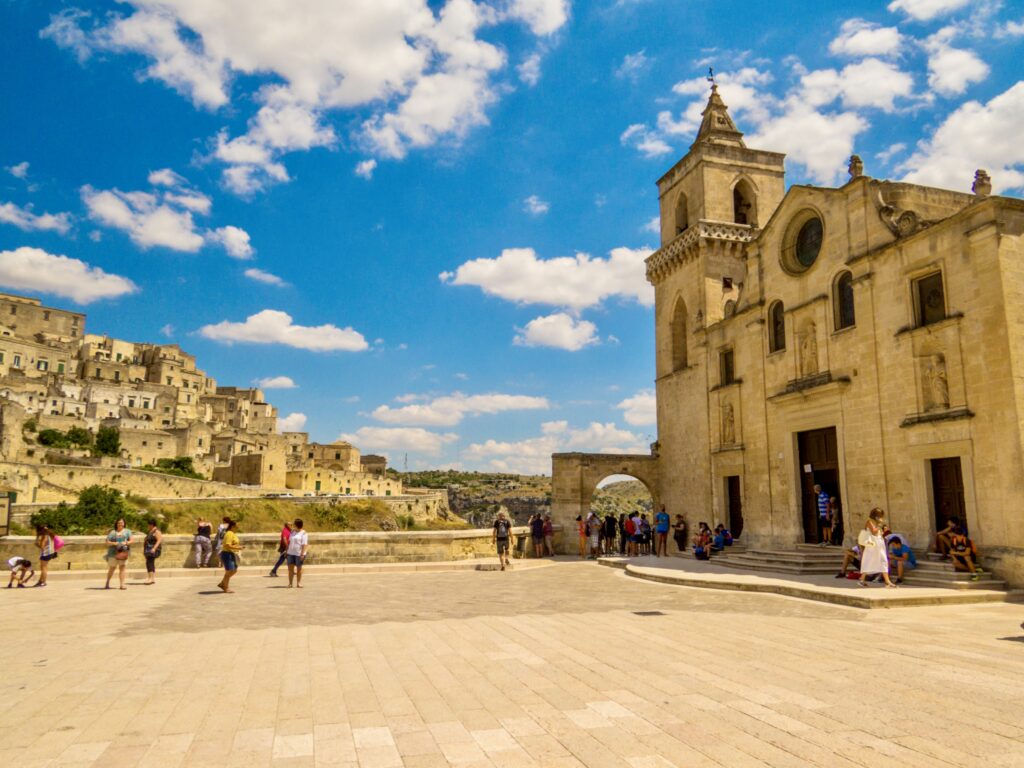 Church of San Pietro Caveoso
The Church of San Pietro Caveoso is a Baroque church that seems a tad over restored. It dates from 1218, but has been renovated and expanded many times. But it has a spectacular setting, built on the edge of a cliff with a large piazza in front.
Inside, it's quite lovely and full of artworks (although it's a bit dimly lit). You can nab a great snapshot of the church from the Idris Church, which is next door.
Piazza Pascoli To Piazza Sedile
After visiting the church, follow Via Bruno Buozzi to Piazza Pascoli. There, you'll find Palazzo Lanfranchi, a 17th century palace that houses the National Museum of Medieval Art.
Opened in 2003, the museum houses sacred art, Renaissance and Baroque sculptures, religious objects, and the paintings of Carlo Levi. You'll be wowed by the Noble Floor and the lovely cloister.
Continue down Via Ridola, which is one of the city's main drags. You'll come across the National Museum Domenico Ridola, the Church of Santa Chiara, and the Purgatory Church.
The Purgatory Church is especially fetching. It's an 18th century Baroque church, constructed between 1725 and 1747. It features an intriguing display of numerous skulls, skeletons, and death-related decorations.
The church was purposefully designed as a "purgatory church." It's a place people could offer prayers for souls stuck in limbo between heaven and hell.
Further down Via Ridola you'll find the Church of San Francesco d'Assisi. It's the only building to survive from the monastic era. You'll see an impressive nave and an over-the-top Baroque gilt altar.
Then, visit Belvedere Via D'Addozio. It offers a breathtaking view of the Sassi and the Murgia National Park. You can capture some memorable photos.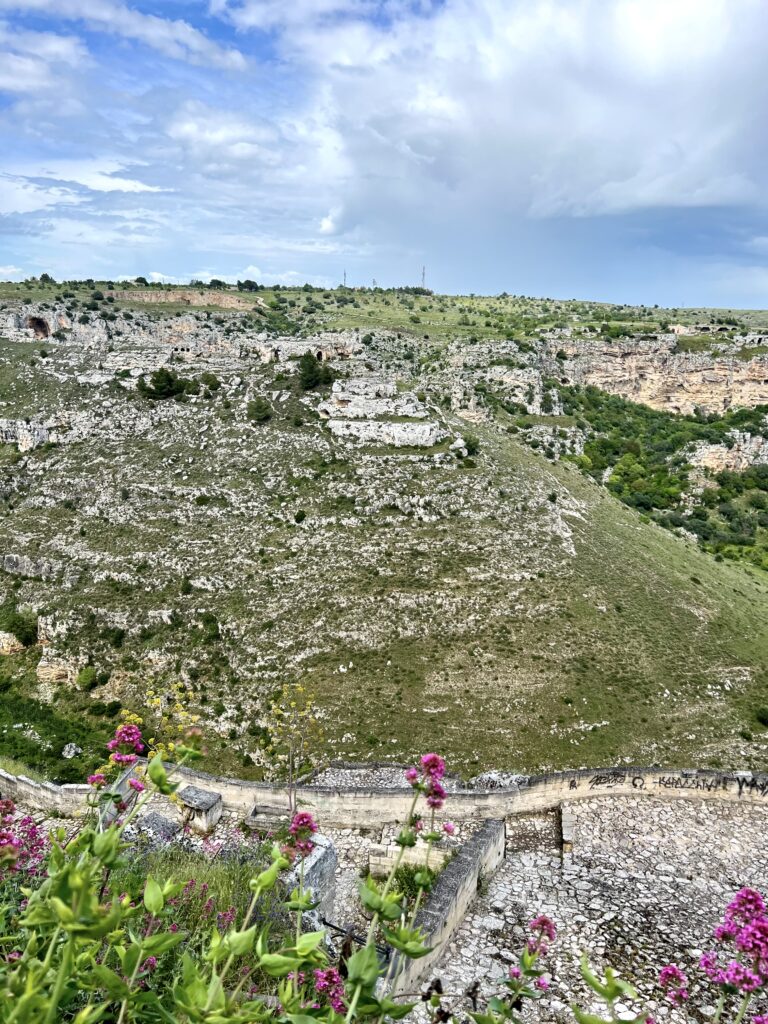 Murgia National Park
In the afternoon, after lunch, take a hike in Parc della Murgio Materana. It sits along the gorge of the Gravina Rover just below the town. The access point is off Via Madonna della Virtu.
The park offers several hiking trails that allow you to explore the rugged landscape and ancient rock formations of the region. This where you'll have some of the best views of the sassi.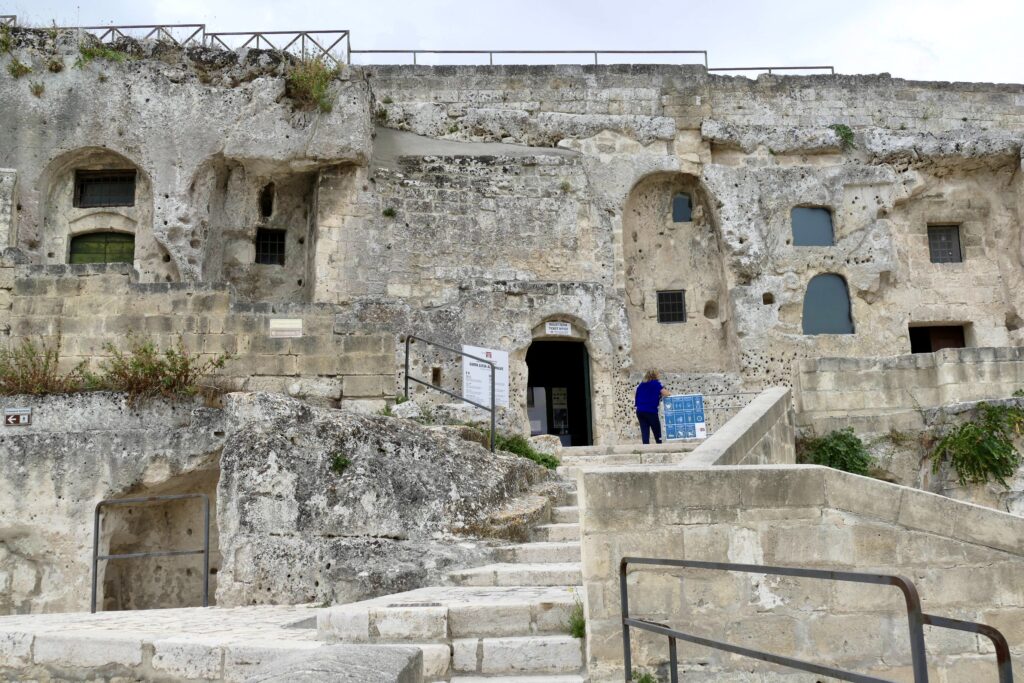 Rock Churches
Finish your day by visiting some of Matera's ancient rock-hewn churches in Sasso Caveoso. Of the 48 churches, there are a few must sees.
Santa Lucia alle Malve was a convent for Benedictine nuns. In the 13th century, they frescoed chapels and living quarters. Tickets are 4 euros.
The Church of Madonna delle Virtù and San Nicola dei Greci are in the northern part of town. They are a fusion of two churches.
Carved into the rocky cliffs of the Sasso Caveoso, they are adorned with captivating frescoes depicting biblical scenes and religious figures. There's a unique blend of Byzantine and Baroque styles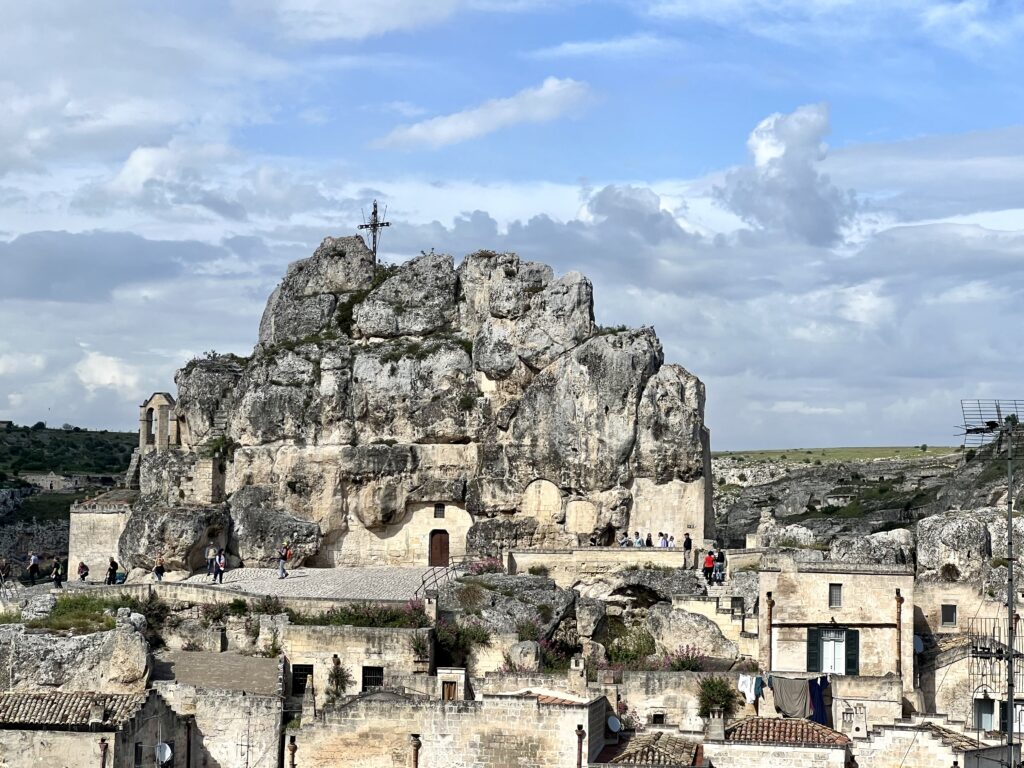 Perhaps the most famous is the Church of Madonna di Idris.
This church is one of the most important places of worship in Matera and is located in the heart of the Sassi district. It's dug into a mound of rock and topped with an iron cross.
Inside, the church houses Byzantine frescos. And its perch offers stunning panoramic views from all angles. You won't be in a hurry to leave!
>>> Click here to book a tour with entry to the rock churches
In the evening, pull up a beanbag and have a cocktail in a cave at Zipa Cafe. Relax at a trattoria. Or perhaps you'd like to book a dining experience at a local's house or take a private cooking class.
Tips For A 2 Days In Matera Itinerary
Here are some must know tips for spending 2 days in Matera and answers to frequently asked questions.
1. How To Get To Matera
By Plane:
The nearest airport to Matera is Bari Karol Wojtyła Airport (BRI), which is approximately about 40 miles away in Bari Puglia.
From the airport, you can reach Matera by various means of transportation. The most convenient option is to rent a car, take a taxi, or book a private transfer to Matera.
Alternatively, you can take a shuttle or public bus to Bari Centrale railway station and then continue to Matera by train.
By Train:
The train station in Matera is called "Matera Centrale" or "Matera Centrale FS" (Ferrovia dello Stato). From Bari, the journey takes about 1.5 to 2 hours, depending on the type of train.
From the Matera train station, you can easily reach the town center by taking a short taxi ride or by walking 20-30 minutes.
You an also take a train from Naples, which takes about 4.5 hours. You can also book a private transfer from Naples.
By Car:
Driving to Matera is the most convenient way to reach the city, and you'll have flexibility to explore the surrounding sights.
However, Matera is difficult to drive in and you'll want to have pre-selected a parking spot before you arrive. Matera has several public parking lots. But availability can be limited during peak tourist seasons.
If your accommodation is within the sassi, it's unlikely that you'll find parking nearby. It's a good idea to contact your hotel beforehand for parking recommendations to ensure a hassle-free experience during your stay.
By Guided Tour:
You can also get to Matera via a guided tour. You can book a guided day tour from Bari to Matera or a day trip from Naples to Matera.
If you are on the Amalfi Coast, you can get to Matera with a private transfer from Sorrento or a private transfer from Positano.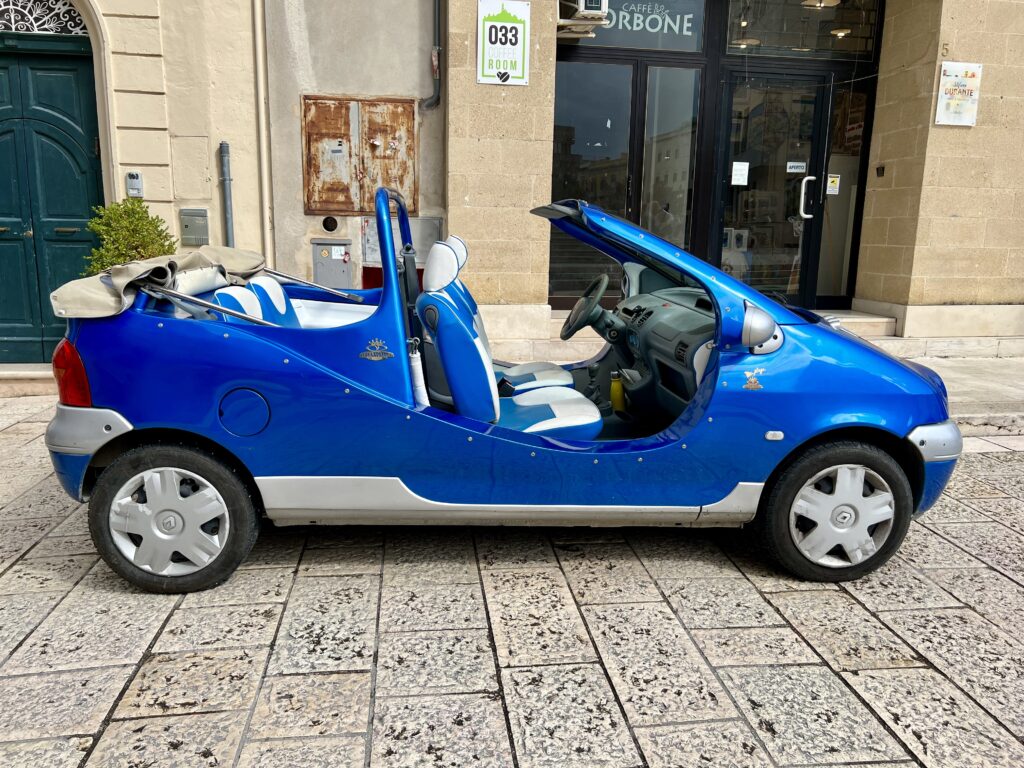 2. How To Get Around Matera
The easiest way to get around Matera is on foot. Just be prepared for a lot of climbing and wear comfy footwear.
Most of the sassi districts are pedestrianized and closed to traffic. So you won't have to battle cars.
The streets are also filled with cute little tuk tuks that you can hail to get to and fro. Or you can opt for an open top bus tour or tuk tuk tour. Tuk tuks are super fun and the drivers are often knowledgeable guides.
3. Where To Stay In Matera
The best place to stay in Matera is at one of its famous cave hotels. It's an unmissable experience that you won't forget.
I stayed in the uber romantic Sextantio Le Grotte. It's like it was designed by a high end decorator channeling the Flinstones!
The hotel is located at the edge of Matera near the cathedral and overlooks the Gravina canyon. Furnishings have a rustic chic vibe. The rooms are lit only by candlelight. Breakfast is served in a former 13th century church.
Aquatio Cave Hotel & Spa is another luxury cave hotel similar to the Sextantio. The best part is its magnificent indoor spa pool and jacuzzi.
If you want a more modern hotel, check out Palazzo Gattini. It's housed in a beautifully restored 16th century palazzo on Piazza Duomo, which blends modern amenities with historic charm and elegance. It has a spa, rooftop terrace, and excellent restaurant.
Il Palazzotto Residence & Winery is a charming 10 room boutique hotel. It's a romantic place with cave-like rooms. You can take cooking lessons in the cave-kitchen, sample wine, or head to the owner's vineyard estate.
You should also check out Air Bnb. Many of the sassi caves have been modernized and converted into rental units.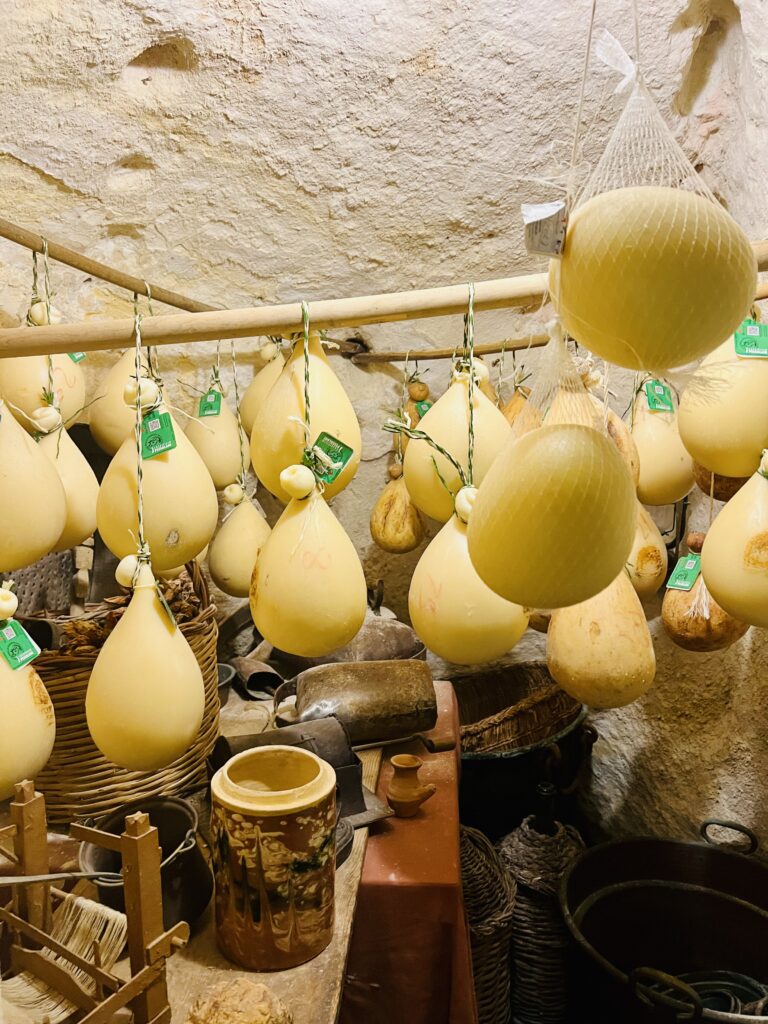 4. What To Eat In Matera
The food in Matera is similar to what you will find in Puglia — focaccia, panzerotti, fresh pasta, charcuterie, etc. Deep flavors and fresh ingredients. You'll find fresh cheeses like burrata and legumes such as chickpeas and fava beans.
Matera is famous for its bread, the pane di Matera. Who knew bread could be so good?
The bread is baked with local wheat in a wood fired oven. It has a crispy crust, while instead it is soft and fluffy. You can pick some up at Pane & Pace.
One typical dish in Matera is pecora alla pignatta. It's a lamb stew simmered for hours with fresh herbs and asparagus. You can also try peperoni cruschi, dried crunchy red peppers.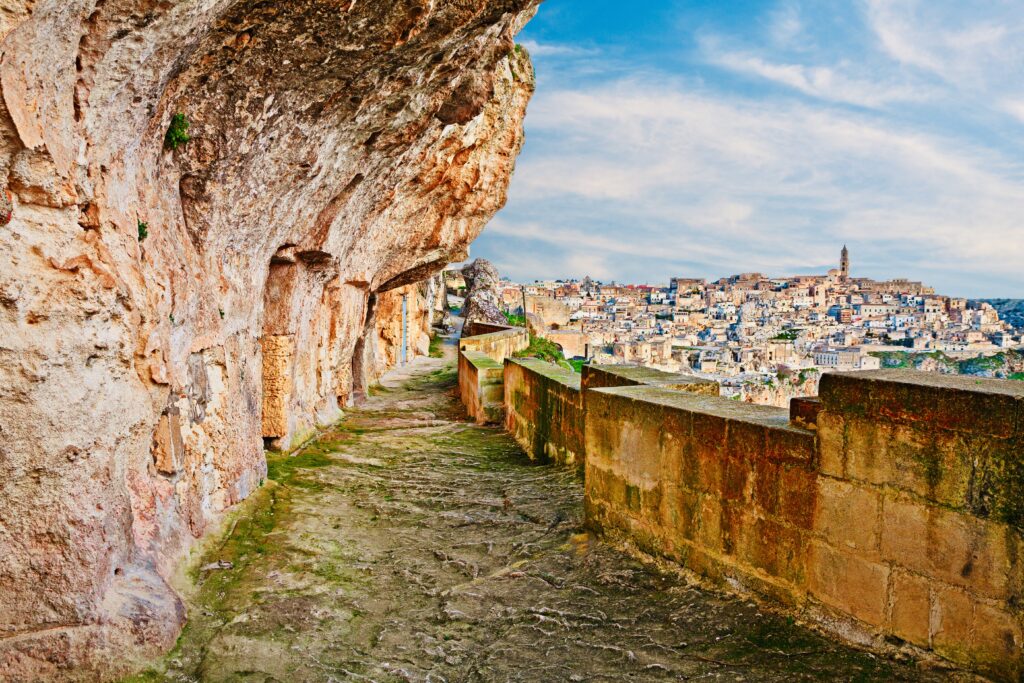 5. When To Visit Matera
Like much of Europe, shoulder season (spring and fall) is the best time to visit Matera.
I don't advise visiting in the summer unless you're a heat lover. The temperatures can get up to 120 degrees.
If you are a festival person, you may want to visit for the Feast of Madonna della Bruna on July 2. A beflowered wooden statue of Mary is carried in a procession, then destroyed by the people as a symbol of rebirth.
6. How Many Days To Spend In Matera
Most people only spend one day in Matera, as part of a Puglia road trip itinerary. But I think Matera deserves 2 days or at least an overnight.
The wonders of Matera are endless! There are a vast number of sassi, rock churches, and museums to explore.
Plus, with another day, you don't have to hurry. You can soak up the time warp vibe and unique ambiance at your leisure.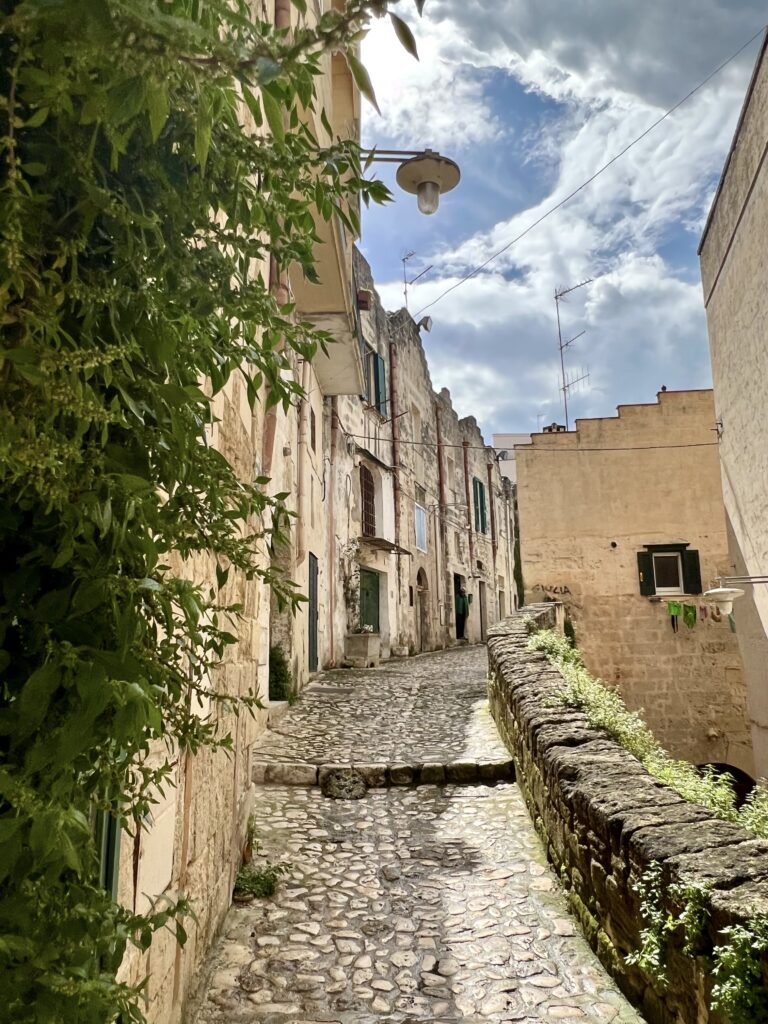 Matera makes a great stopover on the way from Naples/Amalfi Coast to Puglia. And, in my opinion, it's equally beautiful at night.
7. More Than 2 Days In Matera?
If you have more than two days in Matera or are a speedy sightseer, there are plenty of other things you can do in Matera, including:
I hope you've enjoyed my 2 days in Matera itinerary. You may enjoy these other southern Italy travel guides and resources:
if you'd like to visit Matera, pin it for later.