Planning a visit to Palermo Italy? I've got you covered with the perfect one day in Palermo itinerary. This guide covers all the top attractions and the best things to do in Sicily's sizzling capital.
Palermo is unlike any other Italian city, boasting a unique blend of cultures and a rich history shaped by a succession of conquering kingdoms. The result is a stunning tapestry of ancient remnants and a vibrant melting pot culture.
For those following the UNESCO trail in Europe, Palermo offers a treasure trove of 8 UNESCO sites to explore. Prepare to be mesmerized by the world's best-preserved Arab-Norman architecture and a slew of Baroque churches.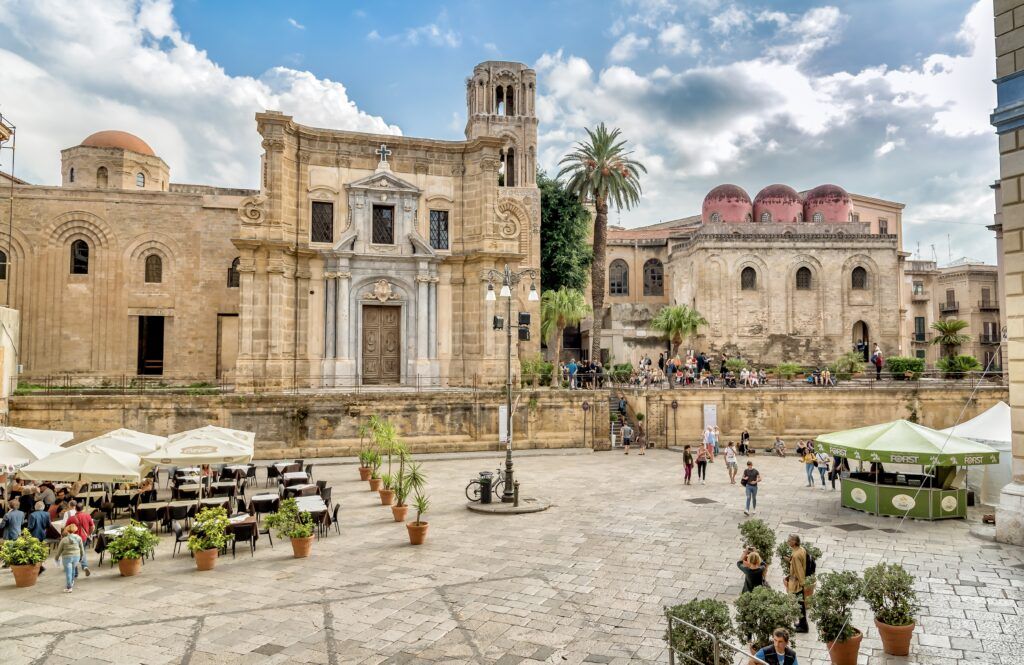 And let's not forget the culinary delights – Palermo's markets and farm-to-table cuisine are nothing short of wondrous. There are a crop of ambitious restaurants and new wine bars. And all that comes at a reasonable price point.
Now, I must admit that Palermo can be a bit polarizing – drawing mixed reviews from some visitors. If you're not a fan of bustling cityscapes and traffic, Palermo might seem gritty and not immediately win you over.
But the city's picturesque decay has given way to a fresh vibrancy. Certain areas partially pedestrianized. Monuments are restored and neighborhoods are gentrified.
Along with Naples, Palermo is one of the best cities in southern Italy.
Overview of One Day In Palermo Itinerary
Here's a snapshot glance of what you can see with one day in Palermo:
Palermo Cathedral (1 hour)
Norman Palace & Palatine Chapel (1.5 hours)
Lunch (1 hour) or food tour
Fountain of Shame (10 minutes)
Piazza Bellini Churches (1-1.5 hours)
Archaeological Museum or Palazzo Butera (1 hour)
Teatro Massimo (45 minutes)
Quattro Canti & Via Maqueda (30-45 minutes)
There's a lot to do in Palermo in one day. This is a pretty active itinerary, covering the city's highlights. I've given you estimated visit times. You'll need to add in time for walking from place to place as well.
But you don't have to include everything on the itinerary. You can subtract activities from the list if it's too busy for your taste and mode of travel.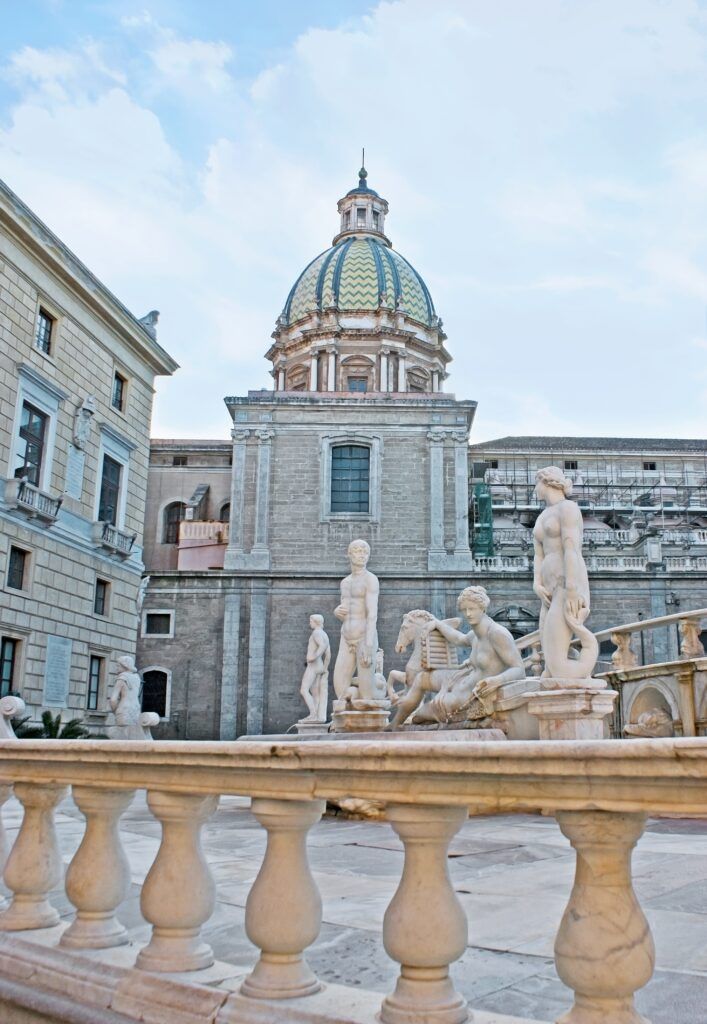 Best Tours & Experiences:
Here are some essential links for a 1 day in Palermo. Be sure to book well ahead in high season:
An efficient way to see the city quickly or get an overview is to take a guided walking tour. The guides are always knowledgeable and often storytellers. Plus, they will point out things along the way that you might overlook.
But you can also easily explore on your own with skip the line tickets and this itinerary as a guide.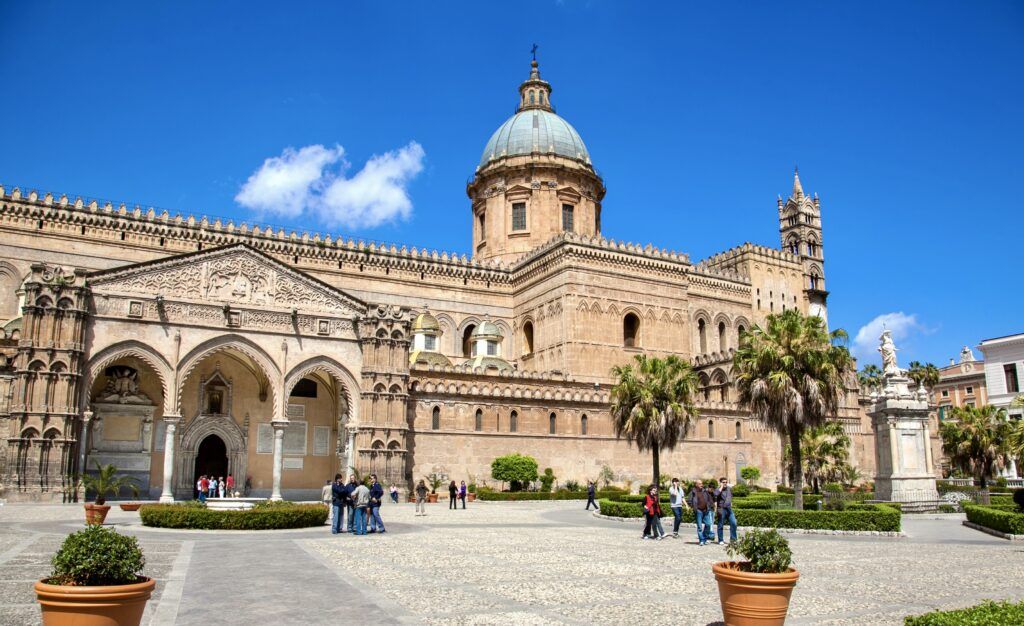 Palermo Cathedral
Begin your sightseeing at the stunning Palermo Cathedral. If you're an early bird, the cathedral opens at 7:30 am.
The Norman-style cathedral dates back to the 12th century and features an impressive mix of architectural styles. At the center of the facade, you'll find a monumental Islamic-style portal adorned with a variety of sculptural elements.
Be sure to take some time to explore the cathedral's interior and admire its ornate decorations, tombs, and frescoes.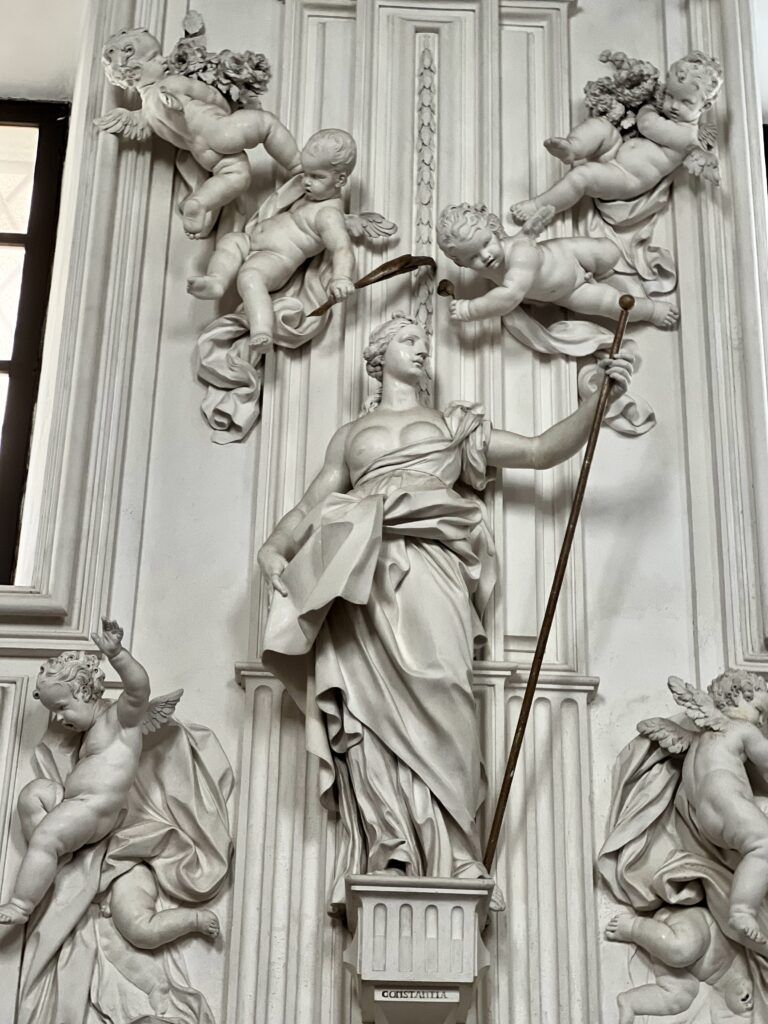 Entry to the cathedral nave itself is free. But there are several variations of tickets, depending on what you want to see.
For 15 euros, you can see everything including the tombs, treasury, crypts, rooftop terrace, and the Diocesan Museum.
To me, the rooftop terrace was the best part. The views are spectacular. You get there via a combination of elevator and walking.
Here's my complete guide to Palermo Cathedral. Click here to book a skip the line ticket for the cathedral from the official website. You can also visit the cathedral on a guided art and architecture tour.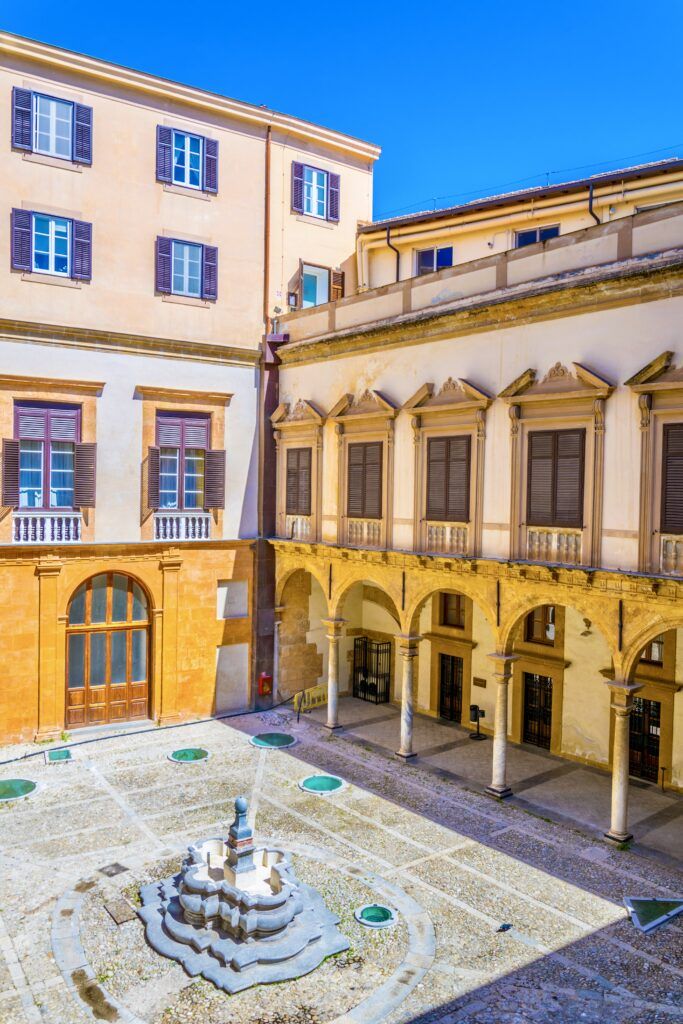 Norman Palace & Palatine Chapel
Your second point of call is the Palazzo dei Normanni, just down the road. It's one of the city's most important historic buildings and renowned for its dazzling mosaics.
The impressive palace was originally built in the 9th century and has been home to a number of different rulers over the centuries. The palace features a mix of architectural styles, including Norman, Gothic, and Renaissance.
The star is the UNESCO-listed Palatine Chapel. It stuns with captivating 12th-century mosaics by Byzantine artists. They were commissioned by Roger II, William I, and William II.
At the core, the central apse houses the iconic Christ Pantocrator. He's depicted as strong and wise, book in hand and making a blessing gesture.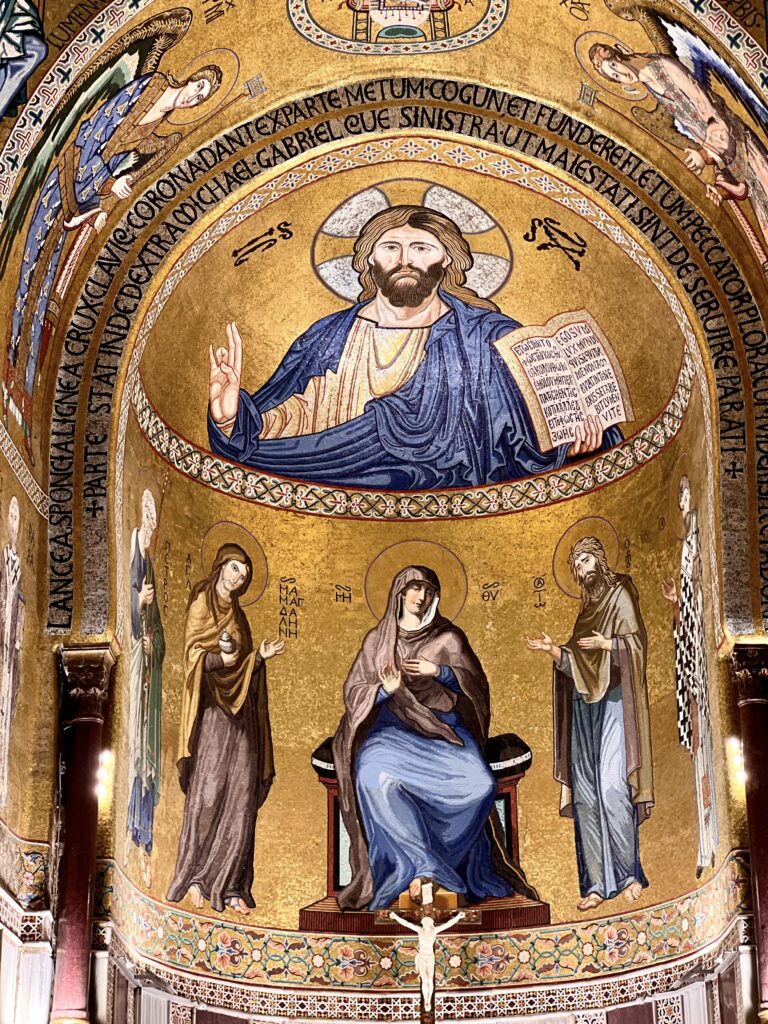 Scenes of old and new weave through, showcasing Christ's life. Ascending a grand staircase takes you to the Royal Apartments on the second floor.
Don't miss splendid rooms like the Sala Pompeiana, draped in Pompeian-style frescoes, and Sala de Ruggeiro, flaunting golden tesserae mosaics of exotic creatures.
You purchase tickets are at the palace's front ticket office. Expect sun-soaked lines and a warm, possibly long, wait.
I strongly suggest booking a skip the line ticket in advance on the palace website. You may want to book a guided tour because there's almost no signage and no audio guide. You can also book a private tour.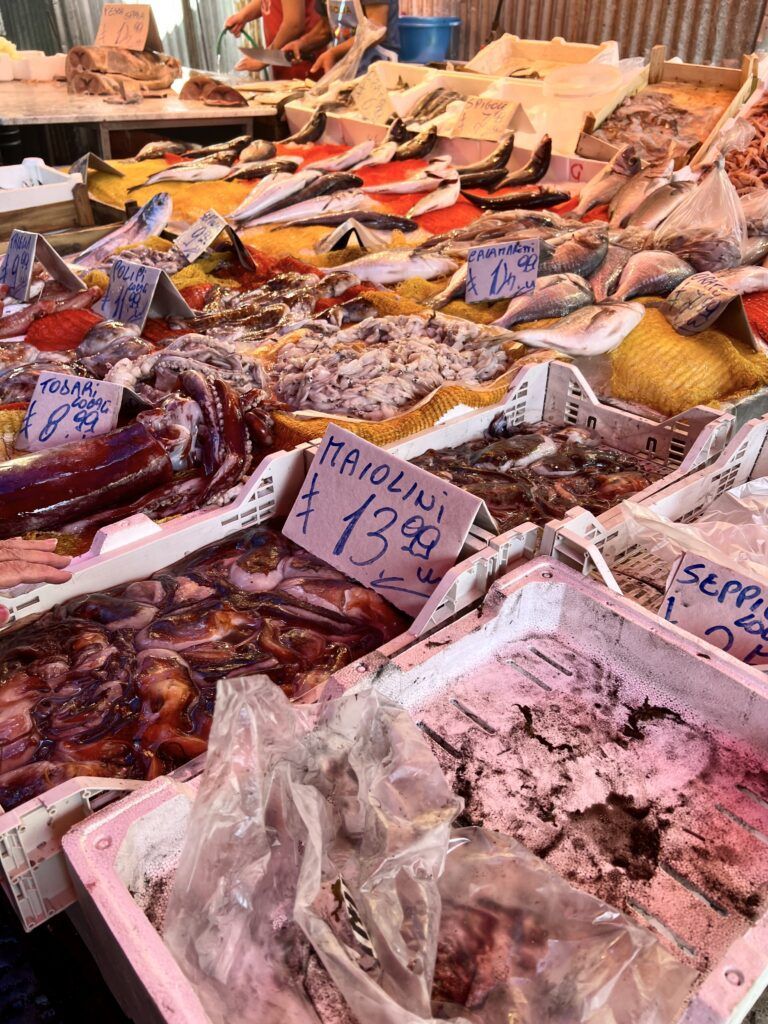 Lunch
For lunch, you have several options. You could sit down and relax at a trattoria. But this will take some time. So, you may want to save that option for dinner later.
It's easy to eat in the street. You can grab lunch to go from a local street food vendor and sample Palermitan specialties like arancini, panelle, and sfincione.
You'll see food carts around. But a good place to grab grub is at the bustling Ballarò Market, which centers around Via Ballarò.
The market is one of the city's oldest and most vibrant markets. You'll find a wide variety of fresh produce, meats, cheeses, and other local specialties. You can grab something to go or sit down for a quick bite.
If you don't want to brave the markets yourself, you can book an afternoon food tour.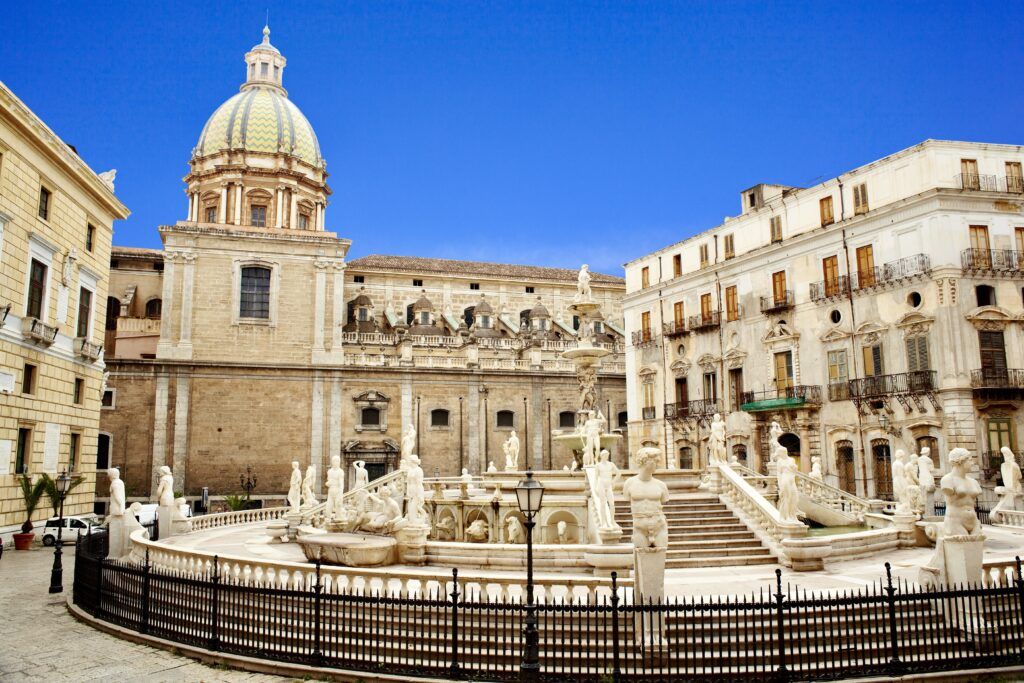 Fontana Pretoria
After lunch, head to Piazza Pretoria to see the intricate Fontana Pretoria, a massive Renaissance fountain. Created by Francesco Camilliani in the 16th century, it stands as a rare instance of Renaissance art in Sicily.
The fountain is adorned with sculptures of the 12 Olympic gods. The pinnacle features a statue of the goddess Diana, revered as the Roman goddess of the hunt, the moon, and childbirth.
The sculptures' nudity led to the locals to dub it the "Fountain of Shame," due to their aversion to public nudity.
Interestingly, the Palermo official who acquired the fountain in a card game left it dismantled in 664 parts. However, the Palermitan Senate later invested substantial effort and funds to reassemble this masterpiece.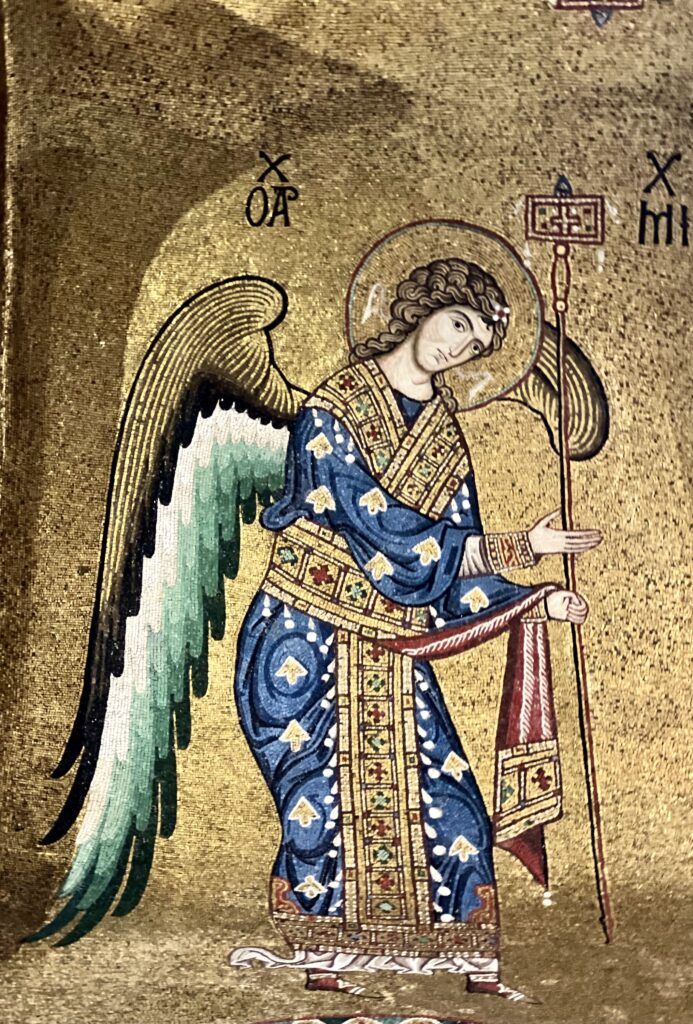 Piazza Bellini
Right next door is Piazza Bellini. It's home to a trio of wonderful churches that are part of Palermo's UNESCO designation.
The church of Santa Maria dell'Ammiraglio (also known as the Martorana) is is a mesmerizing medieval gem.
Expertly restored in the 19th century, the church boasts a eye popping cycle of 12th century Byzantine-style mosaics, meticulously crafted by Greek artisans.
Some of the mosaics predate those found in the Palatine Chapel. Highlights are the coronation of King Roger II by Christ and a commanding Christ Pantocrator.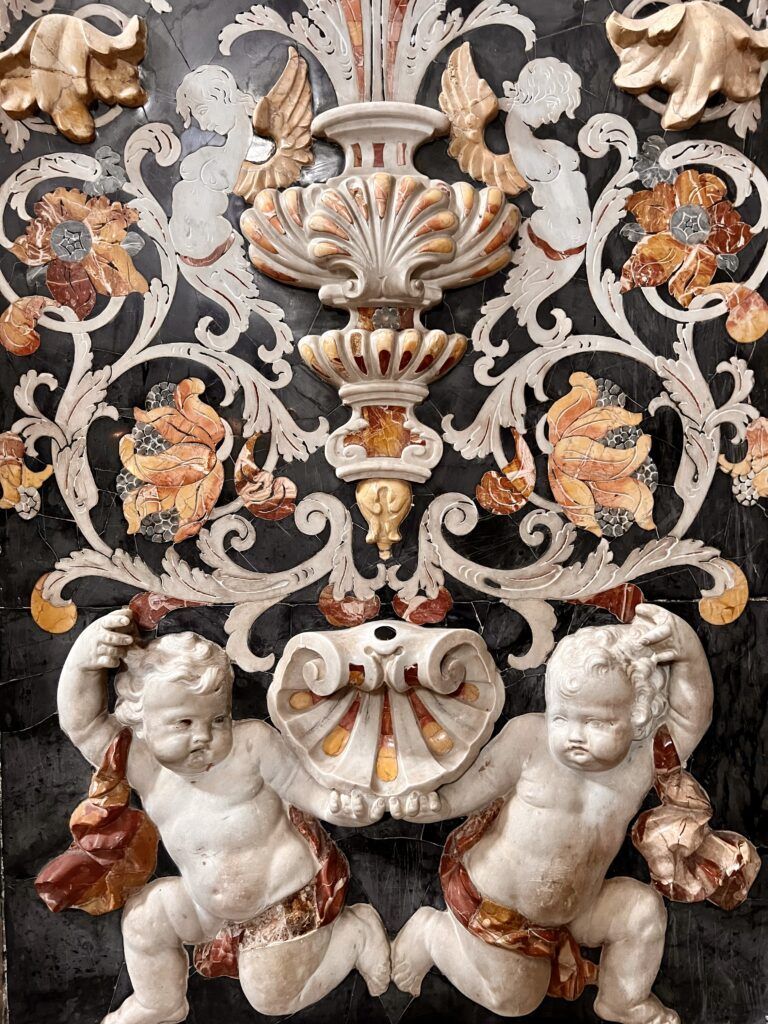 Santa Caterina is a Baroque marvel. It's practically bursting in ornate stucco decorations by the legendary Giacomo Serpotta.
For an added treat, ascend to the rooftop terrace for breathtaking panoramic views of Palermo. There's also a beautiful courtyard, fountain, and onsite bakery for Sicilian sweets.
San Cataldo is a splendid Norman church from the 12th century. Its roof boasts three remarkable red domes that command attention.
Step inside to find an adorned sanctuary – intricate Byzantine-style mosaics, elegant marble columns, and ornate arches.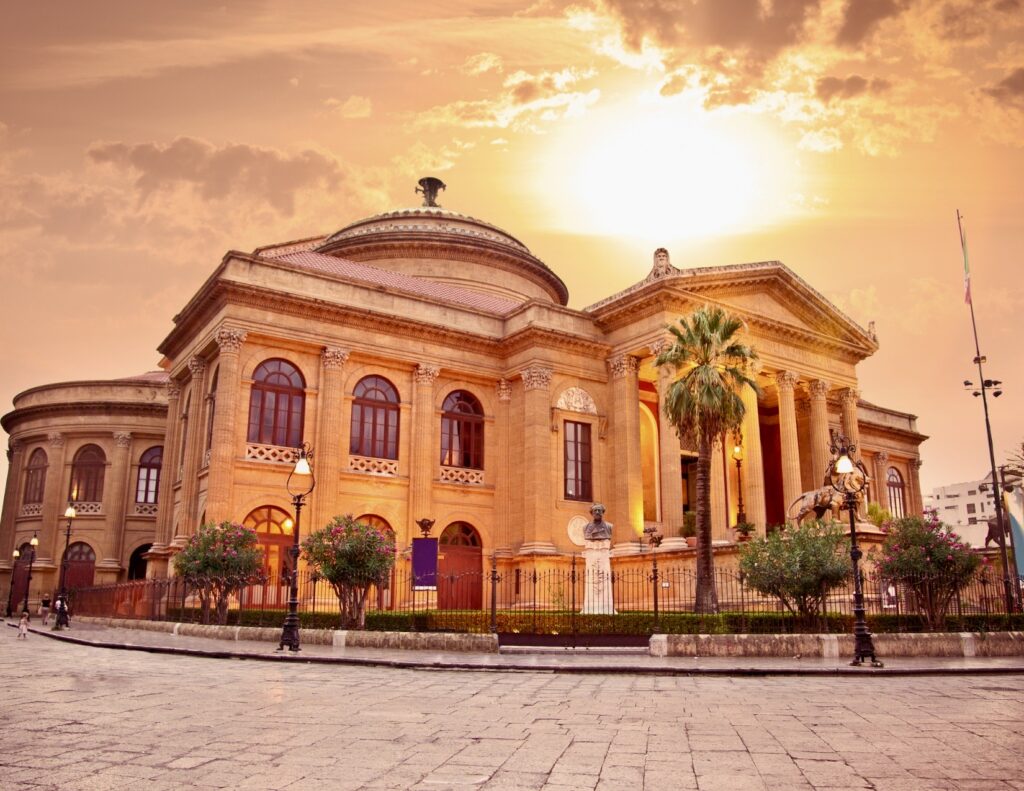 Teatro Massimo
Next, explore the Teatro Massimo, one of Europe's largest opera houses. The Massimo sits atop Via Maqueda. At over 7,700 square meters, it's grand and sprawling. It debuted in 1897 with Verdi's Falstaff.
The exterior is Neo-Classical, with a grand staircase akin to a Greek temple. You may recognize it. The staircase was featured in The Godfather trilogy's climax.
Inside, Art Nouveau elegance reigns in gold and red details. The theater is renowned for its top-notch acoustics and decor.
You can take a 30-minute guided tour available in English, Italian, French, and Spanish. Explore the foyer, auditorium, royal box, and Pompeiian-style fresco-clad room.
Museum Alternative: Archaeological Museum Or Palazzo Butera
Instead of the opera house, you could opt for one of Palermo's museums.
History buffs will love the Salinas Archaeological Museum. After a 10 year renovation, it reopened in 2017. It ranks among Europe's finest archaeological museums, offering insight into Palermo's past.
The vast collection showcases Greek, Roman, and Phoenician artifacts. There are also treasures from the ancient temples of Selinunte on Sicily's southern coast.
Highlights not to miss include the remarkable Bronze Ram, the Torso of Stagnone, and the Selinute metopes.
Don't forget to take in the grandeur of the Fountain of Triton in the entrance courtyard and see the Palermo Stone in the small cloister. This stone played a pivotal role in establishing the chronology of ancient Egyptian Pharaohs.
If you are an art lover, you may want to head to Palazzo Butera instead. Palermo is not particularly know for its art work and this palace fits the bill.
Opened in 2021, it's a grand 18th century aristocratic palace that's been fully renovated. The sumptuous rooms have frescoed ceilings, Tiffany lamps, Faberge sculptures, Art Nouveau glassware, and other objets d'arte.
The palace also houses the eclectic art collection of Francesca and Massimo Valsecchi. It's a mix of ancient art and contemporary art. There's also a rooftop cafe with harbor views.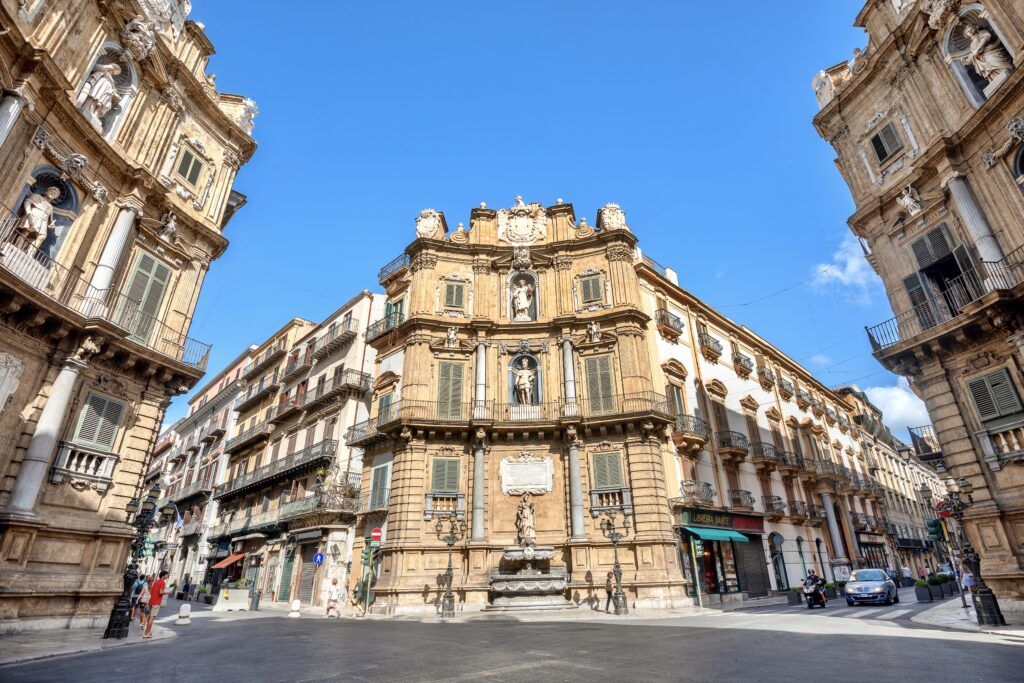 In the early evening, do what the Palermitans do — take a passeggiata, or walk, at sunset. Start at Quattro Canti and stroll down the pedestrianized Via Maqueda.
Quattro Canti, also known as Piazza Vigliena, is a stunning Baroque square located in the heart of Palermo's historic center.
It's known for its distinctive four cornered architecture from the 17th century. Four buildings each feature a niche containing a statue representing one of the four seasons, the four Spanish kings of Sicily, and the patronesses of Palermo.
Just minutes from the Quattro Canti is the stunning Church of the Gesu, It's open until 6:30 pm, so try to get there in time to see it.
Constructed from 1610 to 1680, it remains the sole surviving example of early Baroque architecture in Sicily. And it's one of the most exuberantly decorated churches you will ever cast eyes on.
It's a frenzy of stucco by Serpotta. You can admire intricately carved statues and sculptural groups and elegantly twisting columns. Frescoes grace the vaulted dome and chapels, attributed to Pietro Novelli.
The evening is also the perfect time to take a sunset sailing trip or take a pizza making class.
Dinner
After your passeggiata, have a cocktail at Maqueda Bistro or Dal Barone. For views, you can try DOBA Restaurant and Terrace.
Then, enjoy a seafood dinner at a local trattoria like L'Acerba Osteria Dinamica, sampling Sicilian delicacies. If you prefer Michelin dining, check out Mec Restaurant or Osteria dei Vespri.
For pizza, Orchestra di Gela is a new hotspot. And Procopio Pizzeria is divine.
More Than One Day in Palermo?
If you have more time in the city, there are some other great attractions in Palermo.
You can get spooked in the Capuchin Crypt, relax on Mondello Beach, go to the Sicilian puppet theater, day trip to Agrigento's Valley of the Temples, or take a half day trip to Monreale and Cefalu.
For more information and ideas, you can check out my complete guide to the 30+ top attractions in Palermo.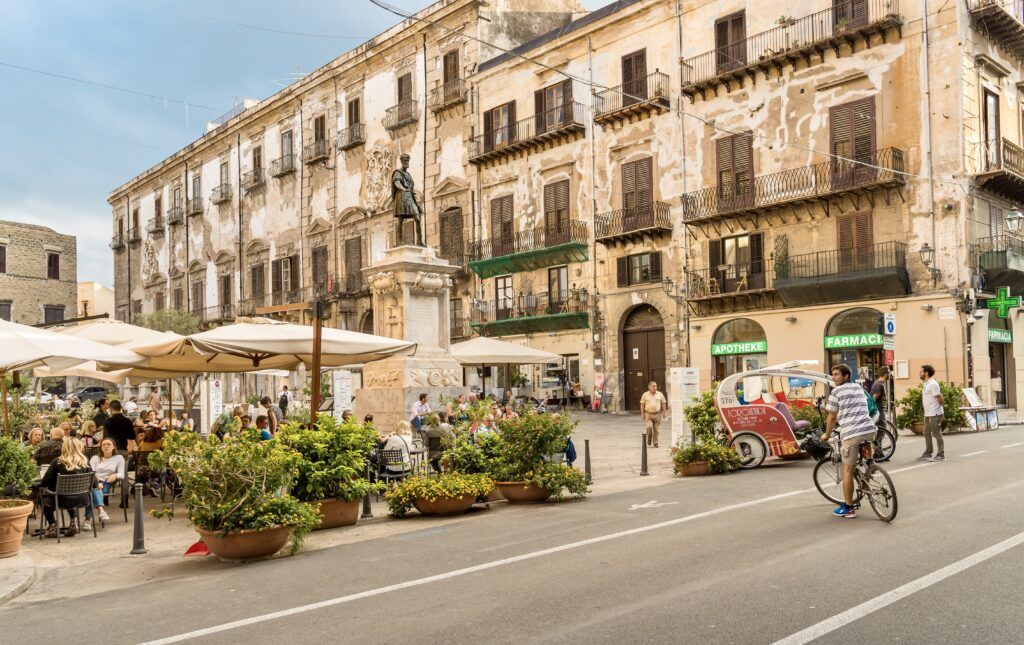 Tips For A one Day in Palermo Itinerary
1. How To Get To Palermo
Palermo is home to its own international airport, Falcone-Borsellino Airport. You can fly into Palermo from Rome, London, Paris, Milan, New York, and Barcelona.
A taxi to the city center is about 40 euros. However, be wary of inflated charges targeted at tourists. To sidestep negotiations, consider booking a private transfer to your accommodation –- a smart and painless move I personally opted for.
If you are traveling by train, a train ferry across the Strait of Messina is an option to reach Palermo.
Though car rentals are available, I strongly advise against driving within Palermo itself. The city's wild streets and crazy traffic make it an extremely challenging endeavor.
If you intend to explore Sicily by car (and you should), you can collect your rental vehicle when departing the city.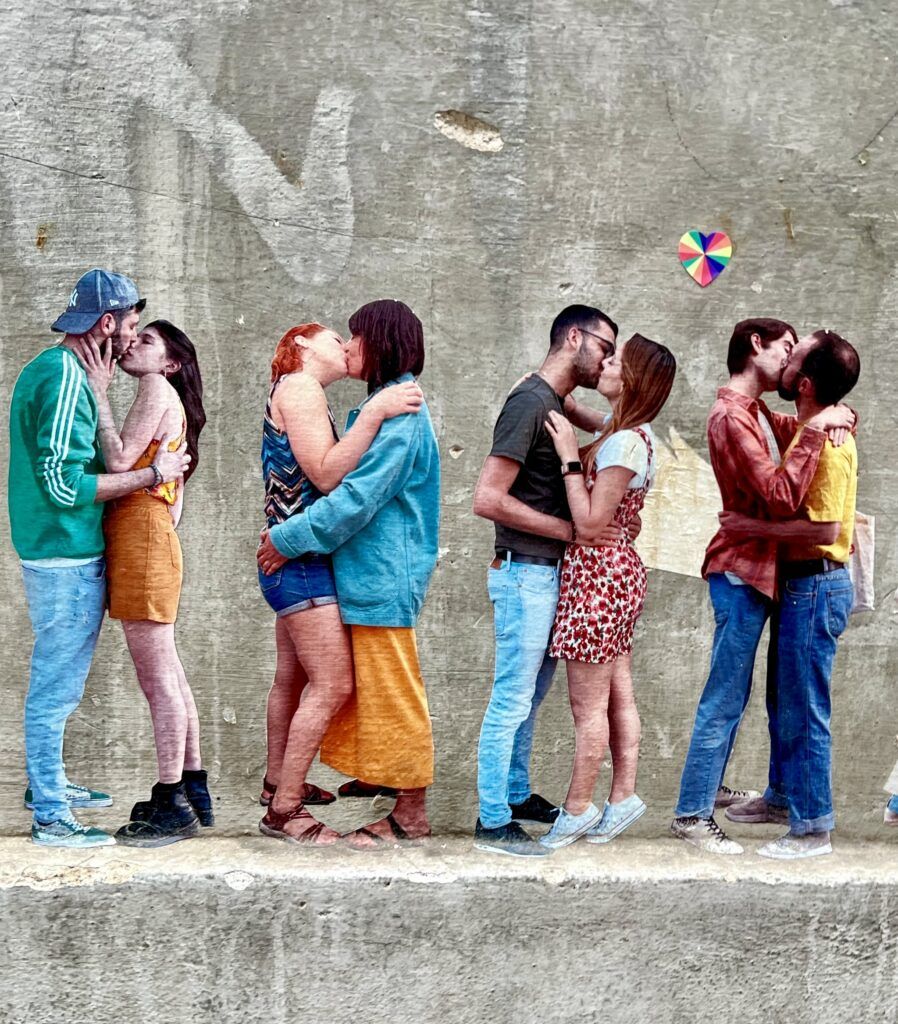 2. How To Get Around Palermo
Palermo is a city perfect for strolling. Most of the attractions are within reasonable walking distance.
Public transportation can be inconsistent, and taxi availability can be hit or miss. While taxi stands are present at major piazzas, they're not always readily available.
For those who want a quick way to get around, consider renting an e-bike or scooter, (though maneuvering amidst cars and pedestrians might pose a challenge).
You can also go on a guided biking tour. Or take the hop on hop off bus.
3. When To Visit Palermo
Palermo is a year-round destination.
While summer caters to beach enthusiasts, it does usher in crowds and intense heat. If sandy shores are a priority, the shoulder seasons also offer an equally enjoyable beach experience.
April is the sunniest month. For a blend of warmth and fewer showers, October is also as a good choice. You'll get pleasant temperatures and drier days.
Winter in Palermo can be balmy. But it can also be surprisingly chilly and many accomodations aren't heated.
I don't recommend visiting Palermo on a Sunday or Monday. To Palermitans, Sunday is a day of leisure. So many sites close early. On Monday, as is typical in Europe, many museums and attractions are closed.
4. Where To Stay In Palermo
Palermo is not known for its hotels, and you should expect small rooms. If you are finicky, I'd advise booking at the best hotel your budget can bear.
I recommend staying in La Kalsa, the historic center. It's near most of the top attractions in Palermo.
On my last visit, I stayed in both the Kalsa and Capo neighborhoods. Capo is also fairy central.
Porta di Castro is an elegant boutique hotel housed in what was once a medieval chapel. Casa Nostra is another nice boutique hotel inside a historic palace with a secret garden.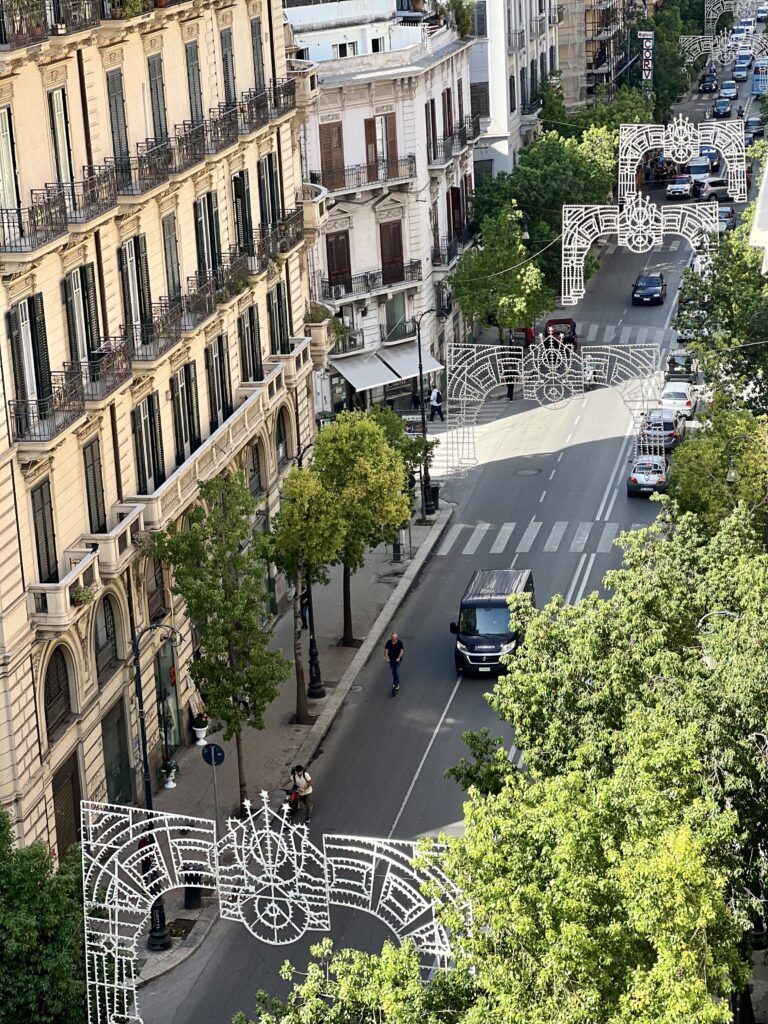 The Hotel Ambasciatori is a four star hotel in the heart of the historic center in Via Roma. It has a rooftop terrace for breakfast with one of the best viewpoints in Palermo.
If you want something luxe, check out the Palazzo Valentino. There are sophisticated guest rooms with period furniture. You can reserve individual rooms or apartments.
For a boutique hotel, the 16th century Bastione Spasimo has lush grounds and a swimming pool. It's near the Botanical Gardens.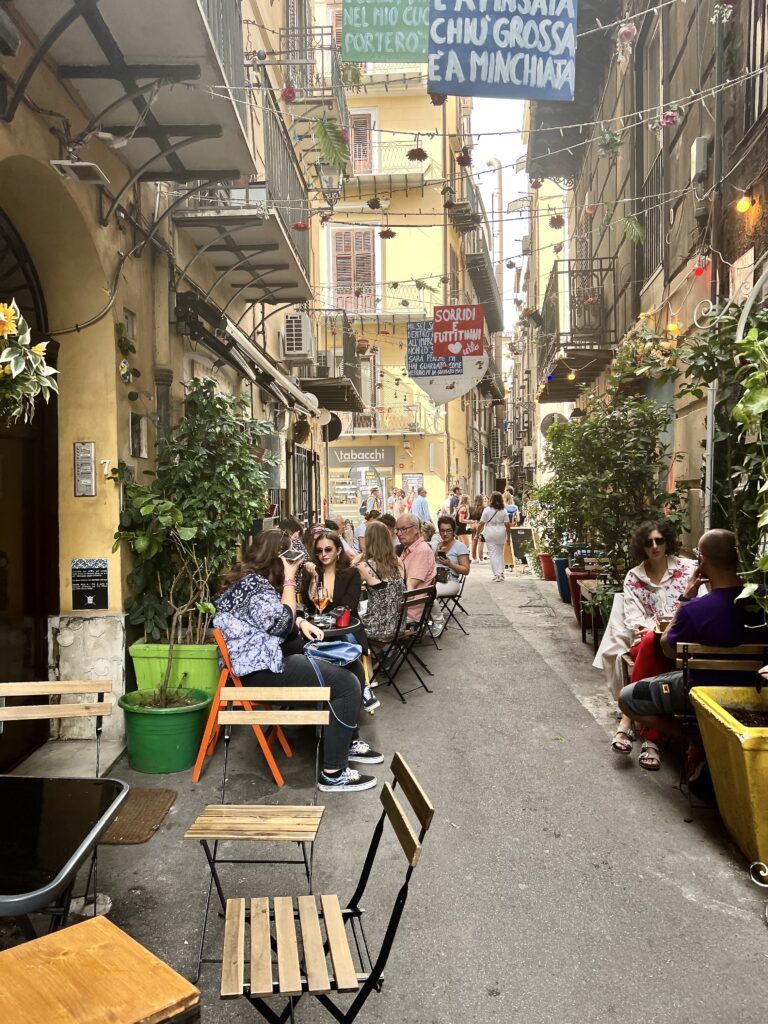 5. Is One Day In Palermo Enough?
No, it's not enough to see all the attractions in the city. Palermo is a relatively large city that merits a multi-day visit or repeat visits. But one day is enough to get a feel for the sunny Sicilian city and see the top sites.
I hope you've enjoyed my one day in Palermo itinerary. You may enjoy these other Sicily travel guides and resources:
If you want to spend one day in Palermo, pin it for later.