Planning a vacation in France's Loire Valley? This is the ultimate guide to taking a one week road trip in the Loire Valley.
I give you must know tips for visiting the Loire. If you have extra time in France, I also give you tips for extending your stay in France's Brittany or Normandy regions.
Studded with beautiful chateaux, the UNESCO-listed Loire Valley is full of aristocratic pomp and architectural grandeur.
Gliding gently east to west, the Loire River cuts through a valley carpeted with verdant fields, vineyards, and rolling hills. Aside from Chartres, the gateway to the Loire, the Loire towns aren't much of a draw.
No, it's the enchanting and centuries old fairytale castles that are the dazzling must see attractions and landmarks in the Loire Valley.
These stunning chateaux come complete with extravagant facades, opulent interiors, and splendid gardens. The best way to see these beauties is on a Loire Valley road trip.
The Loire Valley is an easy journey from Paris. This one week in Loire Valley itinerary assumes you arrive in Paris. You could also fly into Nantes and reverse the order of this itinerary.
If you want to spend some time in Paris first (a sensible choice), here's my 2 day itinerary for Paris, 3 day itinerary for Paris, 5 day itinerary for Paris.
Overview Of Loire Valley Itinerary
Here's a quick snapshot of what you'll see with this Loire Valley road trip itinerary:
Day 1: Depart from Paris, stop in Chartres en route to Blois
Day 2: Visit Chateau de Chambord and Chateau de Cheverny from Blois
Day 3: Drive to Amboise and visit Chateau d'Amboise and Chateau du Clos Luce
Day 4: Visit Chateau de Chenonceau and Chateau de Chaumont
Day 5: Drive to Chinon, stop at Chateau de Villandry and Chateau d'Usse
Day 6: Visit Chateau de Langeais and Chateau Azay-le-Rideau
Day 7: Visit Royal Abbey Fontevraud and Chateau d'Angers
Extra time? Head to Brittany or Normandy
For this 7 day Loire Valley itinerary, you'll have three bases: Blois (2 nights), Amboise (2 nights), and Chinon (3 nights).
You could also opt to stay for 4 nights in either Blois or Amboise instead of moving your base. If you're more of a city person, you can also base yourself in Orleans (eastern Loire) and Tours (western Loire).
I give you some pointers on where to stay in the tips section below.
On this one week itinerary, you'll see up to 20 of France's most beautiful chateaux. These are some of the most famous and unmissable landmarks in France.
This Loire Valley itinerary is perfectly adjustable. You can shorten it or lengthen it.
If you don't have time for one week in the Loire, you can opt to see just the major attractions (the four "Cs") listed on days 2-4 of the itinerary. This itinerary is simply more leisurely and allows you to experience some of the hidden gems of the Loire Valley.
A Short History of the Loire Valley
The Lorie Valley is synonymous with French history and French royalty.
The Loire was a major artery during Ancient Rome. The Loire's conquest began under Julius Caesar. Rome's first emperor, Augustus, brought peace. The Romans even introduced the first grape vines.
The first chateaux in the Loire were doughty medieval fortresses, beginning in the 9th century. They were built to stave off marauding Vikings. Massive fortified walls and keeps were de rigeur.
During the 100 Years War, the interminable siege between France and England during the Middle Ages, the Loire Valley was a boundary between the warring forces.
In 1453, Charles VII regained his crown with the help of Joan of Arc. She led an army to the city of Orleans in the Loire and defeated the English troops.
After that, the Loire Valley became the center of courtly life and scandal. Kings installed their mistresses in swishy chateaux.
The bourgeoise elite all purchased homes in the Loire to demonstrate their wealth and influence.
Francois I built the first Renaissance castles in the Loire. A lover of Italian Renaissance art, the king even persuaded Leonardo da Vinci to move to France from Milan and join his court.
As a result of all that royal and aristocratic patronage, the Loire is jam packed with extravagant chateaux, with a rather astonishing architectural and artistic heritage.
The Best One Week Loire Valley Itinerary
Here's my recommended 7 days in the Loire Valley driving tour, which covers all the best destinations, landmarks, and must visit attractions in the Loire Valley.
Day 1: Depart from Paris, Stop in Chartres en Route to Blois
Chartres has a rich history, charming streets, interesting medieval churches, and museums and galleries focusing on French art. It's one of the most beautiful towns in northern France.
Chartres is famed for its massive 13th century Cathédrale Notre-Dame, designated a UNESCO site in 1979. Finished in 1220, the Gothic cathedral features 2 towering spires, flying buttresses, ornate sculptures, a 16th century astrological clock, relics, and elaborate rose windows — all you'd expect in an architectural wonder.
Interesting, however, the 2 steeples don't match. One's in the Gothic style and one's in a Romanesque style. The cathedral's south, west, and north entrances all boast ornate triple portals.
The cathedral's most stunning feature is its dramatically hued stained glass. Chartres has one of the best medieval collections of stained glass in the world. It's especially renowned for its "Chartes Blue" color tones.
The colorful windows survived the French Revolution and both world wars. During WWII, they were taken down and temporarily stored in the Church of Saint-Emilon. Scout out the Jesse Window, the Blue Virgin Window, the Noah Window, and the South Rose Window.
You can also climb 350 steps up the lacy north tower, known as Clocher Neuf. There, you can inspect the rooftop and the flying buttresses.
If you have time, visit Chartres' Musee des Beaux-Arts. It's a fine arts museum housed in the former home of Chartres' bishops.
The museum is creaky and dusty, but there are treasures worth admiring. The collection includes works by Francisco de Zurbaran, Jean-Baptiste-Simeon Chardin, Maurice Vlaminck, and Chaim Soutine.
Time: Paris to Chartres 1:30
Time: Chartres to Bloise 1:37
Address for Chartres Cathedral: 16 Cloitre Notre Dame, 28000 Chartres France
Hours: 10:00 am to 12:30 pm & 2:00 pm top 7:30 pm
Entry fee: free, 3 € for the crypt, 7.50 € for the north tower
Day 2: Visit Chateau de Chambord and Chateau de Cheverny
1. Chateau de Chambord
The Chateau de Chambord is the big daddy of Loire Valley chateaus. Building started on this massive over-the-top Renaissance chateau in 1519.
Commissioned by Francois I, a lowly hunting lodge was boldly transformed into a ostentatious monument to royalty and royal sport. It's rumored that Leonardo da Vinci, who relocated from Rome to France as a court artist, influenced some of the chateau's architectural elements.
The chateau is laid out as a keep in the shape of a cross with four ornate towers, two wings, over 440 rooms, and 365 fireplaces.
At the center is a rectangular keep. The most interesting rooms are the queens chambers on the first floor.
The highlight is Chambord's mind boggling double helix staircase. It whisks visitors from the ground floor to the rooftop and Lantern Tower.
Twin staircases intertwine without actually touching. The rooftop offers breathtaking views over the chateau gardens and valley. You can inspect the cityscape of exuberant sculpted chimneys and turrets.
Click here for a skip the line entrance ticket for Chateau Chambord. Click here to book a 2 hour guided tour to learn all the secrets of this magnificent chateau.
Address: 41250 Chambord France
Hours: 9:00 am to 6:00 pm, closes at 5:00 pm off season
Entry fee: 16 €, parking 6 €
Pro tip: There's a 20 minute film that gives you an overview of the chateau on the ground floor.
2. Chateau de Cheverney
Built in 1625-34, the Chateau de Cheverny represents the zenith of French classical architecture. Designed by architect Jacques Hurault, it's a perfectly proportioned tour de force of symmetry and aesthetic order.
The chateau is so orderly and stately that it's not quite as appealing to me as some of the other more romantically styled chateaux. But the interiors are quite gorgeous.
Inside, the Chateau de Cheverny is sumptuously furnished with many works of art and tapestries. Murals in the formal dining room famously depict the story of Don Quixote. Other highlights are paintings by Raphael's studio and Georges de la Tour.
Chateau de Cheverny inspired Moulinsart Hall in the TinTin comic books, which you may remember from your childhood.
In back of the chateau, you'll find the 18th century Orangerie. During WWII, it housed and safeguarded famous paintings such as Leonardo's Mona Lisa. Now, it's a quaint tea room.
Cheverny is also home to 100 hunting dogs. They're a special breed, or cross-breed, of English fox hounds and French Pointer dogs. Their daily feeding is at 11:30 am, if you want to see them lunge at their food on cue.
Click here to pre-book a ticket. Click here to book the iconic hot air balloon ride over Chenonceau.
Address: 4170 Cheverny France
Hours: 9:15 am to 6:30 pm, 10:00 am to 5:30 pm off season
Entry fee: 13.50 €
3. Chateau de Beauregard
If you have a bit of extra time in your day, head to one of the Loire Valley's hidden gems, Chateau de Beauregard. It's just a 15 minute drive from Chateau Cheverny. Like Chambord, Beauregard was a favorite hunting lodge of Francoise I.
The chateau's highlight is the 17th century Renaissance style Portrait Gallery. In it, you'll find 327 paintings of European royalty. They include recognizable figures such as Cardinal Richelieu, Francis Drake, Henry VII, Ann Boleyn, and a score of French kings.
When you're done examining The Who's Who, escape to the landscaped park. Beauregard has one of the best rose gardens in the Loire Valley.
There's also a Portrait Garden, with facts sheets and pictures hanging from trees. It's the brainchild of landscape architect Gilles Clement.
Address: 12 Chemin de la Fontaine 41120 Cellettes France
Hours: 10:30 am to 6:00 pm
Entry fee: 12.50 €
3. Royal Chateau de Blois
The Chateau Royal de Blois was the favorite residence (and architectural project) of 7 kings and 10 queens of France. With its various Medieval, Gothic, Renaissance, and Classical facades, the chateau reflects all of France's great architectural periods.
In 1429, Joan of Arc visited the castle to be blessed before doing battle with the English.
The Chateau de Blois was fully restored in the 19th century. It also houses the Blois Fine Arts Museum, with approximately 35,000 art works from the 16th and 17th century. It boasts masterpieces by Ingres, Rubens, and Boucher.
Other Chateau Blois highlights are: (1) loggia staircase, decorated with Francois I's salamanders; (2) the Studiolo, where Catherine de Medici kept her stash of poisons; and (3) the king's apartments.
It was in these apartments that Henry III murdered his arch rival Duke Henry I of Guise.
Click here to book a skip the line entrance ticket.
Address: 6 Place du Château, 41000 Blois, France
Tickets: 7 €
Hours: 9:00 am to 6:30 pm
Day 3: Drive to Amboise. Visit Chateau d'Amboise and Chateau du Clos Luce
1. Chateau d'Amboise
On day 3, head to the charming (if a bit touristy) town of Amboise. It's just a 35 minute drive from Blois.
The Royal Chateau d'Amboise is a Renaissance jewel, with a taste of Italy and some medieval gargoyles thrown in for good measure. It features the Loire Valley's iconic gray slate cone-shaped rooftops. Designed by Italian master masons, Chateau d'Amboise is known as the "First Italianate Palace in France."
Chateau d'Amboise is perched on a rocky outcrop overlooking the town of Amboise. The chateau was the childhood home of luminaries such as King Charles VIII, Francois I, and Mary Queen of Scots. Charles VIII was responsible for its Italianate remodeling, done in 1492.
At the invitation of Francois, Renaissance artist Leonardo da Vinci was a guest at the chateau. Leonardo brought some of his favorite paintings along with him to Amboise — Sainte Anne, and a special little piece called the Mona Lisa.
Da Vinci is buried in the chateau's Chapelle St.-Hubert, also called, naturally, the da Vinci Chapel.
Click here to book a skip the line entrance ticket.
Address: Montee de l'Emir Abd el Kader, 37400 Amboise France
Hours: 10:00 am to 6:30 pm. On weekends, opens at 9:00 am
Entry fee: 15 €
2. Chateau du Clos Luce
If you're a fan of famed Renaissance artist Leonardo Da Vinci, a visit to 15th century Chateau du Clos Luce is a must do.
A transplant from Italy, Leonardo lived and worked in this grand manor home the final 3 years of his life (1516-19). It was connected to Chateau Amboise by an underground tunnel.
On a visit to Clos Luce, you can walk in the footsteps of the famous Italian polymath artist.
READ: Guide To the Leonardo Trail in Milan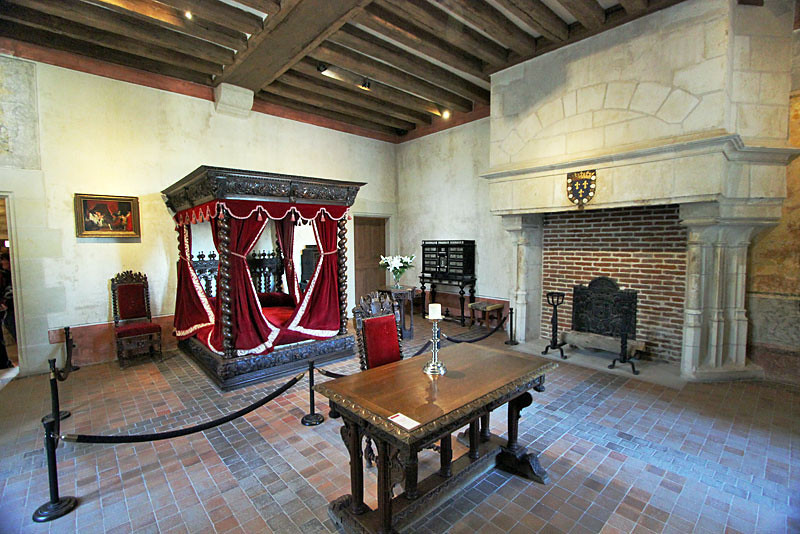 Leonardo didn't paint in Amboise. Instead, he focused on his imaginative contraptions and masterminded elaborate court celebrations with special effects.
You can see Leonardo's study, bedroom, and chapel. There are scale models and sketches of some of his fantastical inventions — automobiles, machine gun, assault chariots, and more. And a replica of the Mona Lisa, the original of which is in the Louvre.
Click here for a skip the line ticket to the chateau. Click here to book a guided tour of both Amboise and Chateau Clos Luce.
Address: 2 Rue du Clos Luce 37400 Amboise France
Hours: 9:00 am to 6:00 pm
Entry fee: 18 €
Day 4: Visit Chateau de Chenonceau and Chateaux de Chaumont
1. Chateau de Chenonceau
Built in the 16th century by Thomas Bohier, the elegant and art-filled Chateau de Chenonceau is the most famous and romantic of the Loire Valley chateaus. Inspired by palaces in Venice, the chateau spans the River Cher with picturesque palace arches for boats to glide under.
Chenonceau housed and was influenced by a succession of famous women over the centuries — Diane de Poitiers (mistress of Henry II), Catherine de' Medici (wife of Henry II), and Louise Dupin. It's nicknamed the "Ladies Chateau."
Poitiers added the five arch bridge to span the River Cher. Medici transformed the Poitiers' bridge into a two story promenade and ballroom gallery, which resembled the Ponte Vecchio in Florence Italy. Chenonceau was also the site of Francis II's marriage to Mary Queen of Scots.
Highlights of the meticulously maintained chateau are the lavishly decorated ceilings, intricate tapestries, the ornate chapel, the ballroom, the bedrooms of Medici and Poitiers, and Medici's Green Study.
A stunning long hallway, the Medici Gallery, is paved in black and white marble and flanks the Cher River. The gallery has an exhibition showing the roles that the queens and mistresses played in creating this beautiful castle.
In Medici's Green Study, she governed France as regent for her son. There are paintings by Tintoretto, Van Dyck, Veronese, Correggio, and Poussin.
There are restaurants at Chenonceau to grab lunch — the Orangerie in the Green Garden and the Creperie near the main entrance. Chenonceau also has two stunning formal gardens, created by Poitiers and Medici. You could opt for a picnic lunch in the gardens.
Click here to pre-book a ticket. Click here to book the iconic hot air balloon ride over Chenonceau.
Address: 37150 Chenonceau France
Hours: 9:00 am to 7:00 pm, closing at 5:00 from October through March
Entry fee: 15.50 €, 19.50 € with audio guide
2. Chateau de Chaumont-sur-Loire
Just a half hour from Chenonceau is the beautiful Chateau de Chaumont. The castle combines a medieval facade with 19th century furnishings inside.
Construction began around 1465 and continued until 1510. The chateau has elaborate gardens and hosts a "Festival International des Jardins" in high season.
Catherine de Medici purchased the chateau after her husband Henry II died. There, she entertained various astrologers, including Nostradamus.
READ: History of the Medici Dynasty
In 1559, however, Catherine kicked Diane de Poitiers, Henry II's mistress, out of the Chateau de Chenonceau and gave her the fortress-like Chaumont instead. She also made Diane hand over the crown jewels Henry had given her.
In 1875, the heiress Princess de Broglie purchased and renovated the chateau. The most beautiful room is the Council Chamber. Rather high maintenance, she also had the entire village razed and rebuilt.
Be sure to inspect the Italian tiled floor in the Salle du Conseil, luxe period furniture from the 16th and 18th centuries, and the impressive stables built by the Prince de Broglie.
Address: 41150 Chaumont-sur-Loire, France
Hours: 10:00 am to 7:00 pm
Entry fee: 14 €
Day 5: Drive to Chinon, stop at Chateau de Villandry and Chateau de Usse
On day 5 of you're one week in the Loire Valley, you'll drive to your next base, the town of Chinon. It's just a little over an hour drive from Amboise.
Chinon is renowned for its hilltop castle, medieval quarter, and fine red wines. Visit the Royal Fortress and then move on to Chateau Villandry and Chateau d'Usse.
1. Royal Fortress of Chinon
Chinon's pride and joy is its doughty castle, the Chateau de Chinon, perched on a cliff on the edge of town. Dating from the 12th century, the castle was home to the court of Henry II and Eleanor of Aquitaine.
It's Clock Tower, the Tour de l'Horloge, showcases exhibits of the historic meeting between Joan of Arc and the future Charles VII.
A virgin warrior and French national heroine, Joan of Arc convinced King Charles VII to fight the English invasion in the 15th century.
There are splendid views across the Vienne River from the castle walls.
Click here to book an entrance ticket. Chinon is also the perfect place to go on a guided wine tour.
Address: 2 Rue du Château, 37500 Chinon, France
Hours: 9:30 am to 7:00 pm
Entry fee: 10.50 €
2. Chateau de Villandry
This lovely Renaissance chateau was completed in 1756, for its owner Jean le Breton. Chateau Villandry was the last large Renaissance chateau built in the Loire.
If you have a passion for gardens, this is the chateau for you. Depending on your time and interest, you may want to just visit the gardens and not go inside the chateau. Though the interior does feature a show Oriental Room, complete with a gilded Moorish ceiling.
Villandry is most renowned for its beautiful landscaped gardens. There are acres of manicured gardens, decorative ponds, arbors, a maze, fruity trees, vineyards, and themed gardens. The gardens are at their peak in mid-summer.
You get a bird's eye view of the gardens from the chateau's only medieval remnant, the donjon of the keep. The chateau now offers a virtual tour of its famed gardens and a virtual video tour of both the chateau and gardens on its website.
Click here to book a morning tour of the chateau and Chateau de L'Islette.
Address: 3 Rue Principale, 37510 Villandry, France
Hours: 9:30 am to 6:30 pm
Entry fee: 12.50 €, gardens only 7.50 €, audio guide 4 €
3. Chateau d'Usse
Chateau d'Usse is famous as the inspiration for Perrault's Sleeping Beauty fairytale and Disneys famous Cinderella Castle. You can immediately see why. The charming chateau has a romantic turret-topped exterior.
Situated on the edge of Chinon forest, Chateau d'Usse was built for the Built family in the 15th century. The castle changed hands many times. In 1885, the Count de Blacas bought the chateau and his ancestors still live there today.
Inside it boasts dreamy spiral staircases, unusual frescos, and 17th century tapestries.
Take a stroll in the French gardens as well. They were designed by Le Notre of Versailles fame.
Address: 37420 Rigny-Usse
Hours: 10:00 am to 7:00 pm, closing at 6:00 pm off season
Entry fee: 14 €, audio guide 3 €
Day 6: Visit Chateau Langeais and Chateau Azay-le-Rideau
1. Chateau de Langeais
The Chateau de Langeais was founded in 992 by Foulques Nerra. He was an early count of Anjou and a celebrated builder of medieval castles.
The castle was destroyed during the Hundred Years' War in the 14th and 15th centuries. It was later rebuilt by King Louis XII in the mid-to-late 15th century.
It's considered an excellent example of late medieval architecture — with crenellated battlements and pointy defensive towers.
Langeais is perfectly preserved both inside and out. Over 15 rooms, there's original 15th century period furniture and scores of Flemish and Aubusson tapestries.
Address: Place Pierre de Brosse, 37130 Langeais, France
Hours: 9:30 am to 6:30 pm
Entry fee: 9.80 €
2. Chateau Azay-le-Rideau
This petit chateau is one of France's most romantic hidden gems. Situated on an island in the middle of the Indre River, the moat-ringed Chateau Azay-le-Rideau dazzles with fanciful turrets and decorative stonework.
Honoré de Balzac dubbed it a "multifaceted diamond set in the River Indre."
The chateau's most famous feature is its open loggia staircase. The staircase is Italianate in style and overlooks the central courtyard. And it's decorated with salamanders and ermines, symbols of Francois I and Queen Claude.
Just along the river from Azay-le-Rideau castle is the hidden gem Chateau de l'Islette, where you can escape the crowds. Its privately owned, but open to the public. Far from Paris, during the 1890s, l'Islette was the secret love nest of two great French sculptors Camille Claudel and Auguste Rodin.
Click here to book a ticket to the chateau. Click here to book a tour of the chateau with Villandry and a wine tasting.
Address: Rue de Pineau, 37190 Azay-le-Rideau, France
Hours: 9:30 am to 6:00 pm
Entry fee: 12.20 €
Day 7: Visit Royal Abbey Fontevraud and Chateau d'Angers
1. Abbey Fontevraud
A stone's throw from Chinon is the UNESCO-listed Royal Abbey of Our Lady of Fontevraud. The abbey is the perfect balance of past and present. You can visit, dine, sleep, and even enjoy a permanent new art museum.
Found in 1101, Fontevraud is Europe's largest monastic complex, founded in 1101. In its heyday, the abbey housed four priories and 800 nuns. Napoleon used three of the priories as a prison until 1963.
Perfectly restored, Fontevraud is a fascinating complex of religious buildings, cloisters, refectory, and dormitories. It's a maze of stone.
You'll also find the Plantagenet tombs of Henry II, his wife Eleanor of Aquitaine, and their son Richard the Lionheart in abbey nave.
Address: 49590 Fontevraud-l'Abbaye, France
Hours: 10:00 am to 8:00 pm
Entry fee: Click here for different options
2. Chateau Angers
Chateau Angers was the fiefdom of the powerful dukes of Anjou and the Plantagenets. The formidable Chateau d'Angers is an impressive black and stone affair.
It's ringed by battlements and 17 watch towers that stretch 500 meters. The "black" stone is actually blue schist.
The chateau houses one of France's great treasures — the 14th century Apocalypse Tapestry, the Tenture de l'Apocalypse.
Louis I, Duke of Anjou, commissioned the set of tapestries from Hennequin de Bruges in 1375. The 300+ foot tapestry depicts the story of Judgment Day.
Address: 2 Promenade du Bout du Monde 49100 Angers
Hours: 10:00 am to 6:30 pm in high season, closing at 5:30 off season
Entry fee: 9.50 €, which includes access to the gardens
3. Chateau de Montreuil-Bellay
If you have the time and energy to squeeze in one more chateau, head to the medieval Chateau de Montreuil-Bellay, about 10 miles south of the town of Saumur where you should have dinner.
There have been fortifications on this site from the 11th century. The current chateau was built between the 13th and 15th centuries. It served a defensive purpose during the 100 Years War. When that war was over, the chateau received a Renaissance facelift and elegant additions.
The highlight of the chateau is the wine cellars. Legend holds that when the wine was made, the vintners would swear to a portrait of Rabelais: "When my glass if full, I empty it. When it is empty, I complain."
Address: Place des Ormeaux, 49260 Montreuil-Bellay, France
Hours: Click here
Entry fee: € 12.00
4. Dinner in Saumur
Saumur is a pretty town in the Loire, with a sophisticated but laid back vibe. It has a good culinary scene, so it's a nice stop for dinner and Loire wine.
For wine tasting, head to the Maison du Vins. For dinner, try Le Pot de Lapin or the Michelin-starred La Gambetta and l'Aromate.
Saumur also has its own fairytale chateau, the Chateau de Saumur. The chateau was built in the 13th century by King Louis XI. In 2001, a chunk of the defensive fortifications collapsed and is now being restored.
Extra Time in France?
If you have more than one week in the Loire Valley, head to the adjacent Brittany or Normandy region.
1. Brittany Option
Brittany is a dramatic and wild region of northwest France. Brittany is deliciously varied. There's spectacular scenery — heathland, marshes, a jagged coastline, stunning sand beaches, and azure waves.
Brittany is just stuffed with secret medieval villages where you can disappear down a cobbled lane into history. If you want to get off the beaten path and explore the secret towns of France, Brittany makes the perfect escape.
In Brittany, the Breton language is still proudly spoken. It's actually closer to Welsh than to French. The further west you go, the wilder Brittany gets. If you want sun, be sure to visit between March and October.
Brittany is divided into four departments: Finistere in the west, Cotes-d'Armor in the north, Ille-et-Vilaine int northeast, and Morbihan in the south. Here's my guide to the 20 most beautiful towns in Brittany.
From the Loire Valley, I'd drive straight to either Rennes or all the way to Brittany's most famous landmark, Mont Saint-Michel.
READ: Complete Guide To Visiting Mont Saint-Michel
Alternatively, you could start your Brittany vacation in southern Brittany in Vannes and work your way to the west and north ending with Mont Saint-Michel. If you drove directly from your last chateau stop, Chateau d'Angers, the driving time from there to Vannes is just 2 hours.
Click here for a skip the line ticket to the Mont. Or click here for a walking tour of the town with optional ticket for the abbey.
Time: Chinon to Rennes 2:40
Time: Chinon to Mont Saint-Michel 3:20
Time: Chinon to Vannes: 3:00
2. Normandy Option
Normandy is steeped in history. In Normandy, legendary figures like William the Conquerer and Joan of Arc changed the course of history.
Normandy's landscapes inspired the Impressionist painters. D-Day beaches commemorate the horror of WWII. In Bayeux, a 1,000 year old tapestry tells the story of medieval warfare and sieges.
Handsome Normandy is crammed with appealingly diverse landscapes. From its picturesque pastures to its ancient fishing harbors, Normandy is a bucolic melange of medieval towns, sun-drenched seaside resorts, and towering Gothic cathedrals.
For some Normandy destination inspiration, here's my guide to a one week road trip in Normandy and a guide to the most beautiful towns in Normandy.
If you plan on a visit to Normandy, you may want to reverse the order of this itinerary and start in Chinon and end in Blois. From Blois, it's 2.5 hours to Giverny. Giverny is a perfect first stop in Normandy.
There, you'll find the magnificent house and gardens of Claude Monet, the father of French Impressionism. Click here for a ticket and guided tour of the property.
Tips For Visiting the Loire Valley
Here are some must know tips for spending 7 days in the Loire Valley.
1. When To Go?
The Loire Valley has something to offer all year round. However, if you want to get the most out of your holiday and enjoy the chateaux's beauty inside and out, the best time to visit the Loire Valley is in late spring and early summer.
During mid May and early June, the days get longer, the weather heats up, and the flowers start to bloom.
The crowds are also significantly smaller than in July and August, when you should expect crowds and long lines. But in summer, there will be more events, nighttime illuminations, and concerts.
2. How To Get There
You can rent a car from Paris and drive to Chartres. But the fastest way to get from Paris to the Loire Valley is by TGV train.
You could take the train to Chartres and pick up your rental car there. You can purchase train tickets in advance online on the official website. You should book well in advance to secure the cheapest price.
If you want to skip Chartres altogether to get right to chateaux hopping, direct trains from Paris' Austerlitz train station leave daily. It takes approximately 1:30 to reach Blois.
3. How To Get Around
Renting a car is by far the most convenient way to see the Loire Valley chateaux. You can set your own itinerary and explore at your own pace. You'll see more of the off the beaten path chateaux that you can't reach by public transport.
Roads in the Loire Valley are well-paved and signs point you to the chateaux. With the exception of Chambord, the chateaux have free parking.
READ: Guide To Renting a Car and Driving in Europe
4. Chateaux Pass
There is no "pass" per se. You can buy package passes for some chateaux at the towns' local tourists offices.
Basically, the more chateaux you visit, the more you'll save. Click here for some information on passes and reduced rates.
But each chateau is under separate management. Some of the chateaux are privately owned (Villandry and Azay-le-Rideau), and do their own ticketing. Some don't participate in a combination pass and only sell tickets at the gate.
5. Hot Air Ballooning
A number of hot air balloon tours depart from the regions of Chinon and Amboise. The early evening hot air balloon ride are the best. You'll have beautiful views of the castles and cities.
This is a great option and was a highlight of my Loire Valley trip. Here are your two best options:
6. Where Two Stay In The Loire Valley
As I mentioned, you can stay in Blois, Amboise, and Chinon. If you want bigger town, try Orleans or Tours. The best hotel options by city are:
If you want to splurge a magnificent hotel near Chateau Chambord and Blois, check out the stunning Relais de Chambord. Another beautiful hotel 20 minutes from both Blois and Amboise is the Domain des Hauts de Loire.
I hope you've enjoyed my itinerary for visiting the Loire Valley chateaux. You may enjoy these other travel guides and itineraries for France:
If you need a Loire Valley itinerary pin it for later.