Planning a road trip in Europe? Here are my must know tips for renting a car and driving in Europe, to help you have a smooth journey.
Nothing makes me happier than a European road trip. It's by far my preferred way to travel through Europe.
You can set your own itinerary, change it on a whim, and visit off the beaten path destinations where public transport is either non-existent or a major hassle.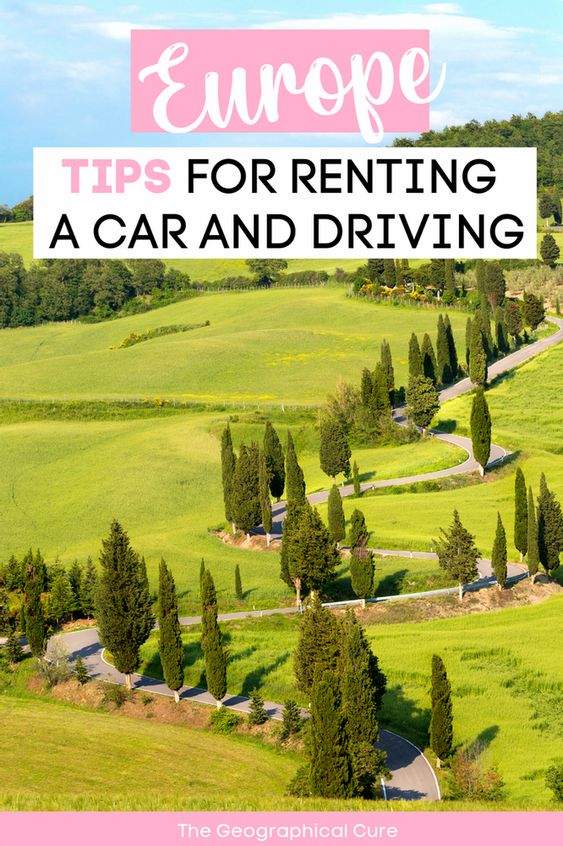 I love the freedom of independent travel. You're not beholden to bus or train schedules. Plus, border crossings are a breeze in Europe.
But renting a car in Europe can be both pricey and tricky. And there are some things you should be aware of about driving in Europe, some pitfalls you should try to avoid. I know, I've made some mistakes in my many years of renting and driving cars in Europe.
It's not intimidating to drive in Europe, so don't be put off. But it is absolutely more challenging than driving in the United States.
Tips For Renting and Driving a Car in Europe
Here are the key things you need to know about renting a car and driving in Europe.
1. How To Rent a Car
Personally, I refuse to spend hours pricing out individual companies. I book with Auto Europe.
It's a consolidator company, which functions like a giant search engine finding the best rates for your trip. It's similar to using Kayak or Momondo for flights.
You pay Auto Europe for the rental. They give you a voucher to pick up your car in Europe. Generally, they will book you with a larger company, with a wide choice of pickup and drop off locations.
Your best bet is to book ahead if you want a good deal, particularly if you want to travel to popular destinations in Europe during high season. Six months in advance seems to be the sweet spot for the best rates.
I'd rent the smallest compact car you can, since driving and parking in Europe can be stressful (or near impossible) with a large car.
If you're not traveling solo, extra drivers cost more per day. If you want to save money, pick a designated driver and a designated directions guru.
European cars are rented in 24 hour periods. That means you need to select your pickup and drop off times carefully. If you pick up the car at 10:00 a.m. on the first day and drop it off after noon on the last day, you'll be charged another day's rental for just those two hours.
2. Get Full Insurance Coverage
Typically, rental cars in Europe come with a basic Collision Damage Waiver (CDW), but this isn't exactly insurance. It only covers the car for up to € 1000 to 3000 worth of damage. This is the amount they hold on your credit card until you return the car in one piece.
To make sure you're prepared for any contingency, pre-book full coverage online with Auto Europe. It's cheaper than at the counter. Then, you won't have to worry about accidents, fender benders, or outright crashes.
3. Automatic vs Manual Transmission
If you know how to drive a clutch (like me), you're in luck. Stick shifts and manual transmissions reign supreme in Europe.
Automatic cars are more vastly more expensive to rent than manual cars. It may be double the price.
You must specify what type you want when booking. If you are desperate for an automatic, you may have to rent a bigger and pricier car.
If you've never driven a manual car before, please don't try to learn in Europe. The twisty steep roads will be impossible to navigate without a practiced hand. I find them stressful sometimes because, in the US, I'm usually driving an automatic.
If you've never driven a clutch car, it's much safer to get an automatic, even if it costs more. But there aren't many automatics. Supplies are limited. If you want one, book way in advance.
4. Putting Your Rental Car In Reverse
Didn't think this was an issue? Think again!
Never EVER leave your rental car parking lot without knowing how to put your car in reverse. It most likely won't be obvious. There's almost never an "R" indicator.
Every car I've had has had a different mechanism to put the car in reverse. You may have to apply downward pressure on the gear shifter, turn/twist/ lift the collar of the shifter (or a combination of these maneuvers), or even press a button to get the car in reverse.
One of my last rental cars, I left without checking. Then I was stuck trying to park. I had to google YouTube videos to figure out how to put the particular model in reverse.
The same thing goes for the gas cover. Be sure you know how to open it before leaving the lot. Or, you could be frazzled as you're trying to gas up the car on empty. And, it's always better not to let your car get close to empty, in case you get lost.
Pay attention to whether your rental car takes regular petrol or diesel fuel, so you fill up with the correct type at gas stations.
5. GPS
I wouldn't rent a GPS. I find the ones in rental cars can, on some occasions, are outdated or confusing. I always get international data and use my iPad or cell phone for navigation.
Most of the time Google Maps works in Europe. But not always.
If you tend to be directionally challenged like me, this can make driving solo stressful. But, usually, the GPS starts working again if you keep driving.
It's always gotten me to where I need to go, even when I got lost in the wilds of Croatia during a forest fire. Though I will admit to driving in seeming circles at times.
You should expect to make some wrong turns. That just goes along with driving in Europe.
6. One Way Rentals
It's always cheaper to return your car where you picked it up. There's an additional fee for one way car rentals in most European countries.
For example, if you want to drop off the rental car in a different city than where you started from, there will be a charge. I almost always do this. The price difference is fairly negligible, especially given the convenience you get not having to backtrack to your original pick up location.
But dropping your car off in a different country is a whole different story. These fees can be astronomical. Usually it adds a few hundred euros to your rental fee.
But if the start and end points are quite far apart, or if the drop off point is a remote location, the one way rental fee can top $1,000. Certain places seem to be especially expensive for one way cross border trip drop offs (Italy, Spain, Scandinavia, and far eastern Europe).
When I was planning a recent vacation (which was cancelled due to Covid), I was planning to drive from Bologna Italy to Switzerland and drop my car in Zurich. The extra cost for dropping the car in Switzerland was over 550 euros for what amounted to a 5.5 hour return drive. It seemed steep.
7. International Driver's License
An International Driving Permit or "IDL" is a valid form of identification in 150 countries worldwide.
Rules can change from place to place. But, right now, you'll need an IDP if you plan to drive in the following countries: Austria, Bosnia-Herzegovina, Croatia, Greece, Hungary, Italy, Poland, Romania, Slovenia, Slovakia, or Spain.
If you're pulled over, the officer won't want to look at your US license.
Go to Triple AAA in advance. You can get an IDP for $20 and they'll take your photos there. An IDP is valid or a year. Btw, it doesn't replace your license. You still need to carry both when you drive.
8. Vignettes
Some countries in Europe require a "vignette." This is a sticker placed on the windshield to indicate that you paid highway taxes. You can purchase one at a border crossing or at the first service station past the border.
Stop right away to buy one. Don't dally or it'll cost you. You'll be pulled over and fined.
Countries that require vignettes, right now, include Austria, Czech Republic, Slovakia, Romania, Switzerland, Hungary, Slovenia, and Bulgaria.
9. European Roads and Round Abouts
Driving in Europe is extremely different from driving in the United States. European roads, especially country roads, are a lot windier.
There are hair raising hairpin turns and steep up and down hills. It's perfectly common not to see a painted line dividing your lane from the oncoming traffic lane.
And Europeans love their roundabouts. They're much more common than the 4 way intersections found in the US. In a roundabout, traffic continually flows in a circle around a center island.
Don't be scared of them. Take it slow. You'll get used to them. Yield to other cars already inside. Remember to signal when you want to exit the roundabout.
If it's unclear where to exit, just take another lap around the circle while you're mulling it over. It's not always easy to speed read foreign road signs in the roundabout while also paying attention to traffic.
If you have your own GPS, turn the sound on so that it will announce which exit to take.
Round abouts are one reason why it can be better to have a traveling companion on a European road trip. They can tell you in advance "exit at noon" or "take the third exit."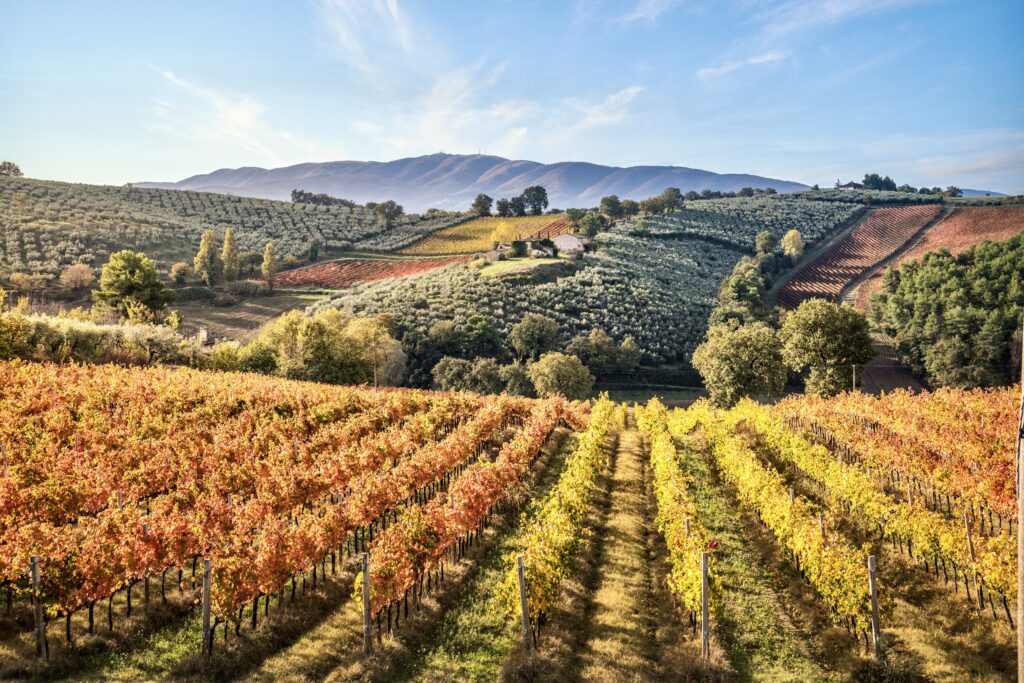 10. European Drivers
In general, European drivers drive faster and more aggressively than much of the United States. Don't bother with the left "race car" lane. Europeans will whiz by you.
They probably won't use the signals or indicators either. And tailgating is common.
Some countries are crazier than others. I was recently in Sicily, a country where driving is a big more difficult.
In Sicily, driving rules are ignored and traffic lights are mere decorations. They drive so manically you'd have to guess they have a strong belief in the afterlife.
Cities are worse than the highways, to be sure. So try to avoid driving in any cities.
11. Don't Speed
Many European countries rely heavily on automatic traffic cameras to enforce their speed limits, rather than using highway patrol officers like the United States.
Often cameras are "announced" with a special sign, allowing you time to slow down right before them. But if you're not looking for these signs, you could miss it and end up with a ticket mailed to upon your return vacation.
You should go the speed limit and ignore other drivers who may be speeding. If you don't and you get a ticket, the rental car company can pass on your details to the authorities (and levy a fine on top of that).
12. Quirky Driving Rules
There are some rules you should be aware of:
It's illegal to talk on your phone while driving.
Seatbelts are required.
Do not drink and drive in Europe. The blood alcohol limit is generally lower, at 0.05%. France is at 0.02% and you need your own breathalyzer.
You cannot turn right on a red light. You must wait until green.
Some countries (Slovenia) you need to put on your hazard lights when backing up.
Drivers in Spain are required to care an extra pair of glasses.
Some countries you must use headlights at all times (Norway, Sweden, Finland, Turkey).
13. Restricted Driving Zones
In many historic cities around Europe, there are areas where tourists are not allowed to drive rental cars. In Italy, for example, they are called ZTL Zones. Each country may have a different term for them. Generally, the ZTL sign is a circle with a blank white center and red outline.
These zones typically have extremely narrow streets and aren't equipped to handle much vehicle traffic. They are restricted to local residents with permits, or open only during certain times of day.
Do NOT drive into these zones. They are covered with traffic cameras. If you enter one at the wrong time, without a permit, you will automatically get a hefty fine sent to you — sometimes months later.
And it can be extremely expensive. Especially, if as I have done, you inadvertently drive into a zone and get picked up by multiple cameras.
This is one reason not to bother with a rental car while you're in a big city. Rome? They will fine you like crazy.
To compensate for these driving snafus, I tend to park my rental car on the outskirts of any small town and walk into the historic center. If you're in a big European city, you can park on the outskirts and take public transportation in. It's a smart idea to research the parking lot closest to your destination before you arrive.
14. Parking
Now we get to one of the most important aspects of driving in Europe: parking. It's important to think about where you'll park your car both at your destination(s) for the day and at your home base.
I tend to stay in Air Bnbs when I travel. This means that, when booking, you have to pick an apartment with parking included or know where you can put your car overnight not too far afield. Your host should be able to give you pointers.
If your Air Bnb comes with parking, you might want to ask your host about the size of the parking space. In Europe, parking spaces are ultra tiny.
It's always cramped quarters no matter what you're told. The European idea of a "large" parking space would be considered quite small in the US.
Some of my most harrowing moments driving in Europe have been in parking lots. At two different Air Bnbs, my designated spot was on a car elevator. You may find yourself in a clutch car heading up or down a steep spiraling ramp. You have to be patient and take a few passes at easing your car into the designated spot.
If you're staying at a hotel, be sure to check on parking (and the attendant fees) in advance. They may not have enough spots for all guests.
When you've hit the road and are off to your intended destination, budget money for parking fees. You almost always have to pay for parking anywhere in Europe. Most often, you'll do that via a very confusing machine. Or, you may need cash.
If you're in a garage parking lot, keep your ticket with you and pay at the kiosk station before getting in your car to leave. If you're parking on the street, go the "automatic" parking stand.
Put in your cash for X amount of time. Then take the ticket and display it in your car window.
If you're parking in a town, the tricky thing is to ascertain whether you're parking in a legal spot. The street signs will likely be in a European language. Use google translate to decipher them.
If you park illegally, you will likely get a ticket. If you ignore the ticket, as I have many times before, it may follow you home.
I recently got a ticket, 2 years later, for illegally parking in Coimbra Portugal in 2019. You need to pay these tickets if you want to return to the country that issued them.
15. Tolls
The procedure varies by country and can be confusing. In some countries (Italy and France), you take a ticket at the first toll and then insert it at the exit toll to determine how much is due.
If you can get an easy pass from your rental company, that's the way to go. Otherwise, make sure you have cash on hand.
16. Age Requirement
You've got to be 25 to rent a car in Europe. In some countries (Slovenia), you also have to have had your license for a set time (like 2 years).
17. Returning Your Car
You should also check in advance exactly where you'll be returning your car. I usually return mine at an airport right before my flight. Budget time to do this.
More importantly, figure out in advance precisely where to return it. Often the rental car return lots aren't well marked or obvious like in the US. Once, in Spain, my designated return spot was in an unmarked parking garage.
I hope you've found these tips for renting and driving a car in Europe helpful. You may enjoy these 7-10 day Europe road trip itineraries:
If you need tips for renting a car and driving in Europe, pin it for later.