Are you in search of some unique experiences in Provence? Look no further than my guide to discovering over 17 hidden gem towns and villages in the region. While Provence is a beloved destination among travelers, there are still some captivating, lesser-known places waiting to be explored.
These hidden gems are quintessentially Provençal, with enchanting medieval streets, breathtaking cliffside views, dreamy seascapes, and picturesque pastel houses adorned with French blue shutters. You'll feel like you've stepped back in time as you explore these charming towns.
Provence is beguilingly romantic. Everything is sun-kissed and lavender wafts in the air.
Provence is so beautiful that artists like Renoir, Chagall, Cezanne, and Picasso flocked there. They adored the sun-drenched light, which Matisse described as "soft and tender, despite its brilliance."
Whether you're seeking a quiet retreat or an off-the-beaten-path adventure, you'll find something to delight you in Provence's hidden gems. So why not step off the tourist trail and discover the beauty and magic of these lesser-known towns and villages?
Provence stretches from the region of Occitanie in the west to Italy in the east to the Rhone Valley in the Roman town of Orange in the north. It includes both the beautiful French Riviera (Cote D'Azur) and what people traditionally think of as inland Provence.
The Romans were there in full force. Provence is dotted with ancient Roman ruins and historic sites. The Provencal landscape is incredibly diverse — mountains, beaches, lavender-filled plains, pink salt marshes, and oceans of vineyards.
The Most Beautiful Hidden Gems in Provence
Here are my picks for the 17 must visit secret towns and villages in Provence. These hidden gems will appeal to people who want to get off the beaten path while road tripping in southern France.
I guarantee these picturesque hamlets will enchant you. Like me, you'll never forget them and dream of returning for another dose of romance and wonder.
I also give you tips for where to stay.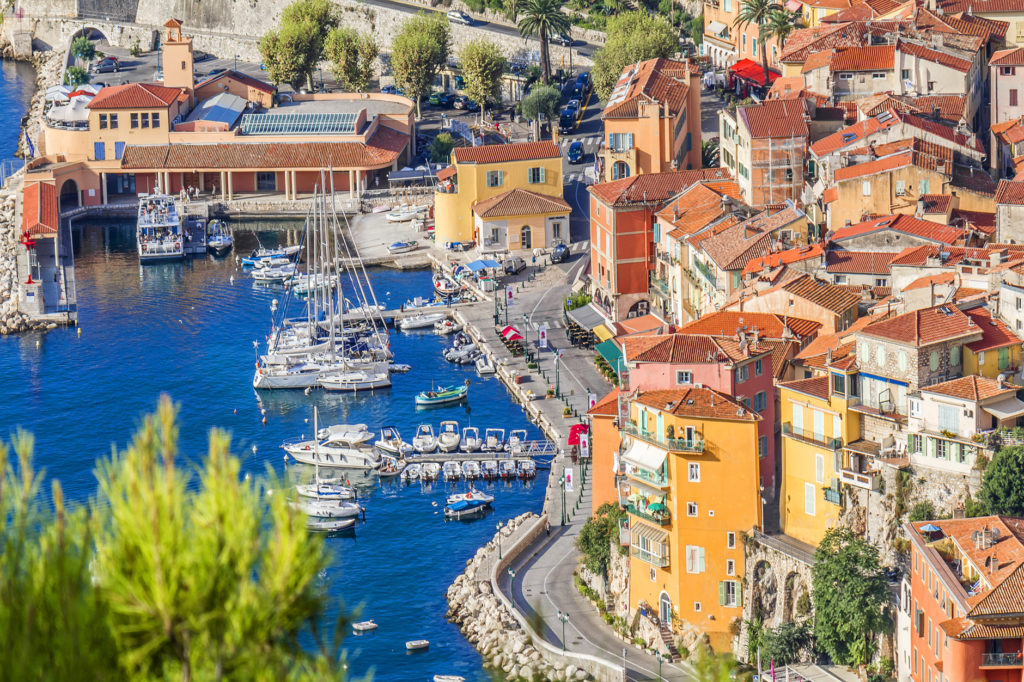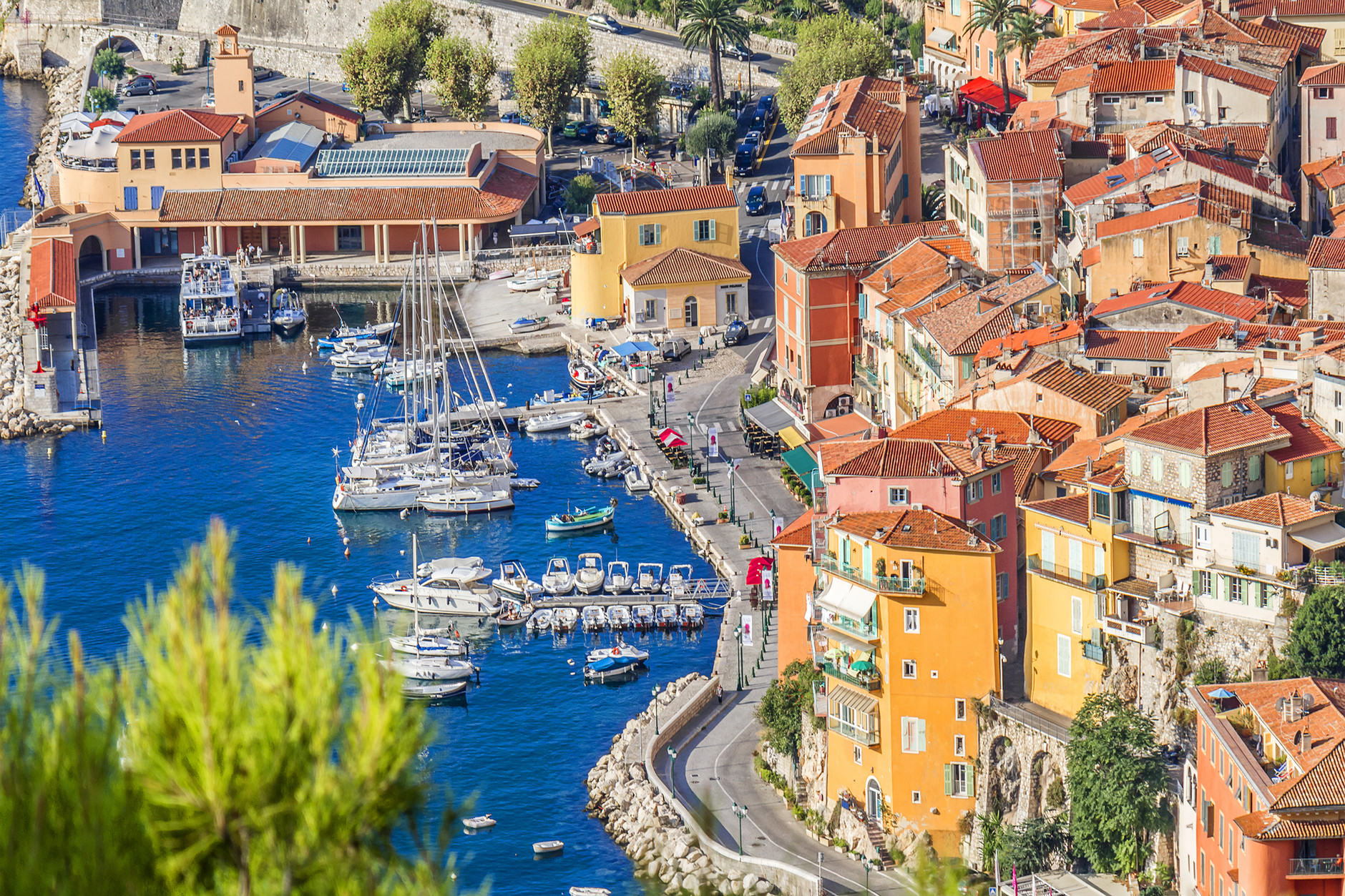 1. Villefranche-sur-Mer: French Riviera Hidden Gem
Villefrance-sur-Mer is a lovely less touristy village, just a stones throw from Nice. Serently quiet, the village makes a perfect base for the French Riviera. Villefranche-sur-Mer boasts pretty faded pastel houses cascading down to the waterfront.
Though its tiny, there are plenty of things to do in Villfranche-su-Mer. There are beaches for sun bathers, an old town for explorers, a citadel for history buffs, and artistic gems for culture vultures. The old town is truly quaint and dates from the 13th century.
Villefranche-sur-Mer is tailor made for aimless wandering. Get lost in the maze of streets and amble up and down the stone staircases. Duck into Rue Obscure, a dark passageway under the town hall.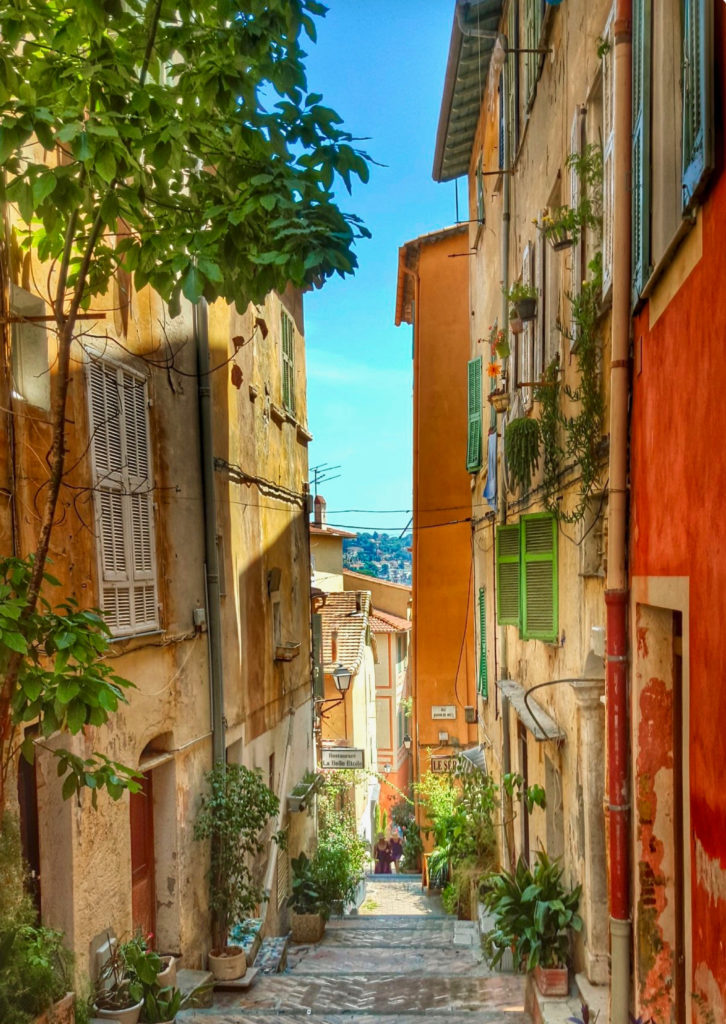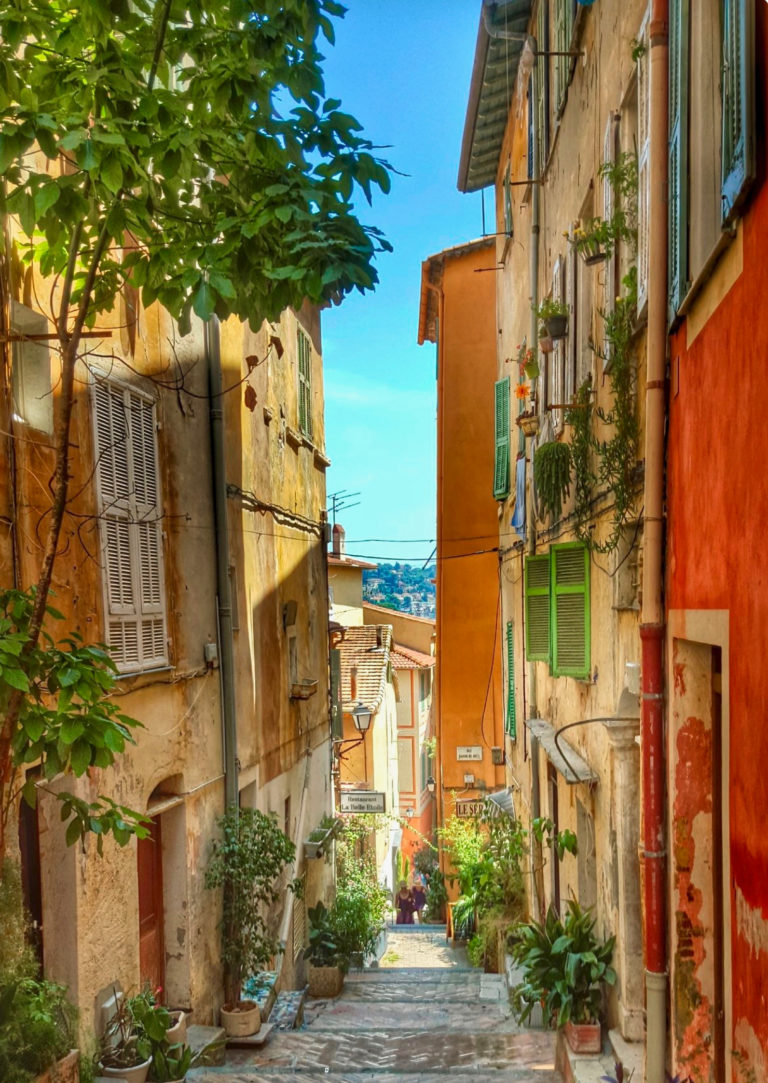 Villefranche-sur-Mer has some pretty churches too. The Eglise Saint-Michel is an 18th century Italian Baroque affair.
Saint-Pierre Chapel is a 16th century church along the water. Inside, you'll find restored murals by artist Jean Cocteau depicting the life of the local fishermen.
Don't miss the 16th century Citadelle Saint-Elme. Built by the Duke of Savoy, this rather domineering citadel now houses the town hall, museums, and an outdoor theater.
If you want a half day trip, head to the pretty in pink Rothschild Villa, the villa of Béatrice Ephrussi de Rothschild, in Saint-Jean-Cap-Ferrat. It's a lovely Italian palazzo with nine beautiful gardens. You'll have a rare glimpse into the lifestyles of the uber rich.
Where to stay: La Reserve de Beaulieu
2. Porquerolles Island: Isolated French Riviera Paradise
The pristine oasis of Poquerolles Island is a wisp of land off the coast of southeastern France. Porquerolles is an unspoiled tropical island that needs no glitz. It's a sanctuary of birds and butterflies with fetching beaches.
Porquerolles is a little remote and can only be accessed by boat from the town of Hyeres, a fact that makes it delightfully less touristy.
The French government bought 80% of Porquerolles Island in the 1970s. Porquerolles is protected from overdevelopment and is now a national park. This makes Porquerolles one of the best places to visit on the French Riviera.
With sweeping white beaches and limestone cliffs, Porquerolles is a place to relax and enjoy life. You can easily sink into the languorous rhythm of beach-to-meal and back again.
Plage de la Courtade is an easy walk from the village. The more secluded Plage de Notre Dame is one of Europe's best beaches, a little crescent cove of white sand and Caribbean blues.
If you're more ambitious, stroll among the eucalyptus and pine trees, snorkel in the crystal clear waters, or have a picnic. Renting a bike is also an excellent way to tour the seven miles of the island.
Where to stay: Hotel Les Medes, Villa Sainte-Anne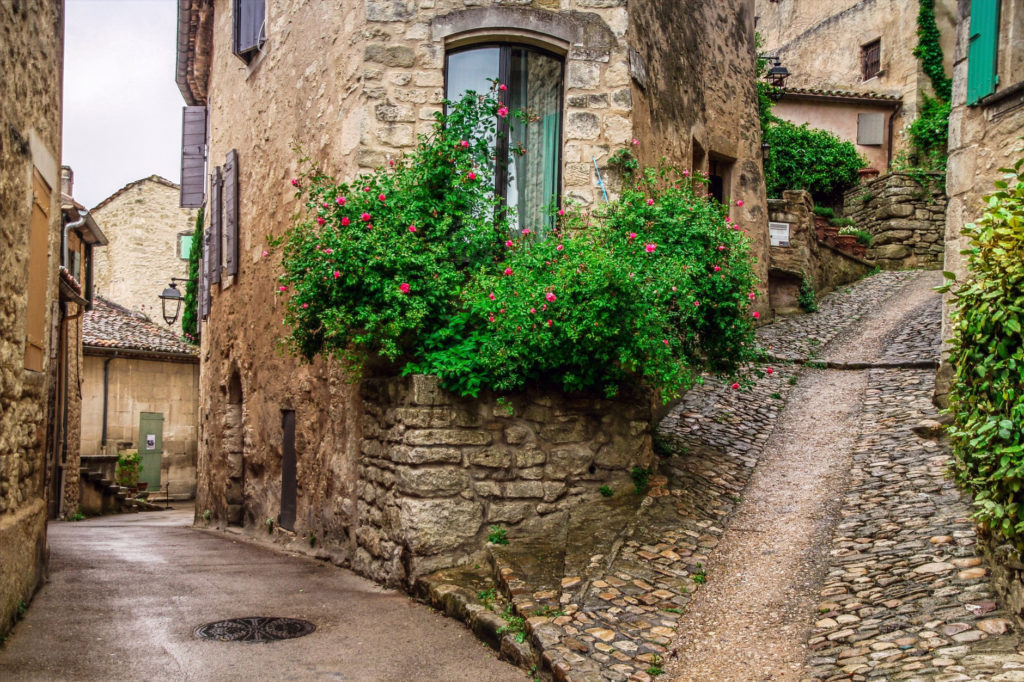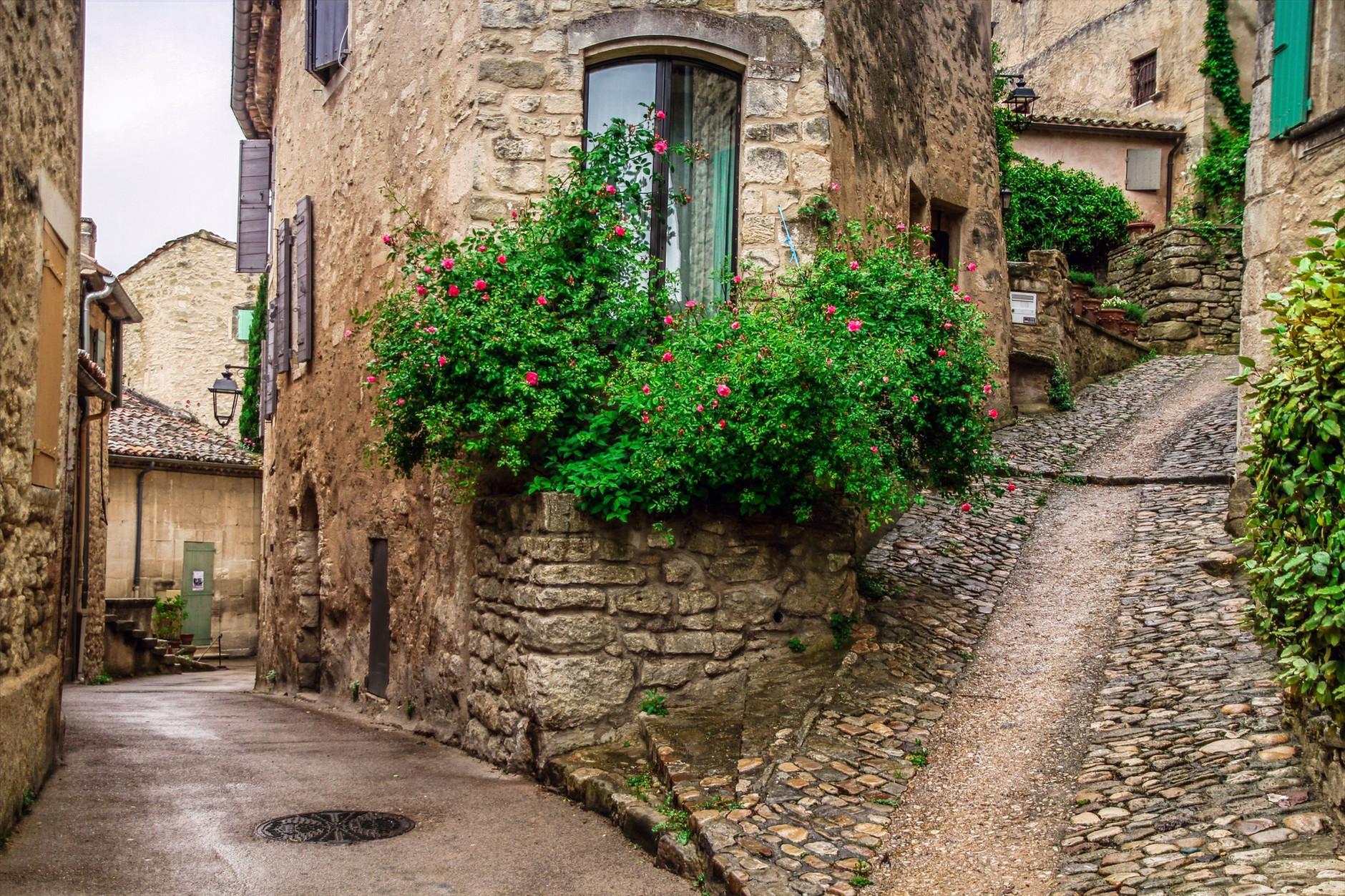 3. Lacoste: History Buffs' Medieval Provencal Town
Little Lacoste is fetchingly perched on a hilltop in the Luberon area of Provence, overlooking the nearby (and much larger) village of Bonnieux.
The hidden gem of Lacoste isn't an "orange city" like Roussillon. But in the sunset glow, it's a nice rusty coral hue.
Lacoste is paved with stone and is full of cobbled narrow alleyways and picturesque houses. Its oldest building, the Mason Forte, dates from the 9th century. Most other buildings date from the 16th century.
The Chateau du Marquis de Sade, also known as the Chateau de Lacoste, gets its name from the infamous French libertine who stayed there on and off while he was scandalizing 18th century society.
Now, the chateau is privately owned by French designer Pierre Cardin. But it's open to visitors in July and August or by reservation.
All this makes Lacoste a must visit village in Provence for history buffs. But Lacoste is also a center of SCAD, the Savannah College of Art and design. Art lovers can visit the impressive gallery and gift shop.
Where to stay: Les Cabanes de la Fontaine, Maison d'Etienne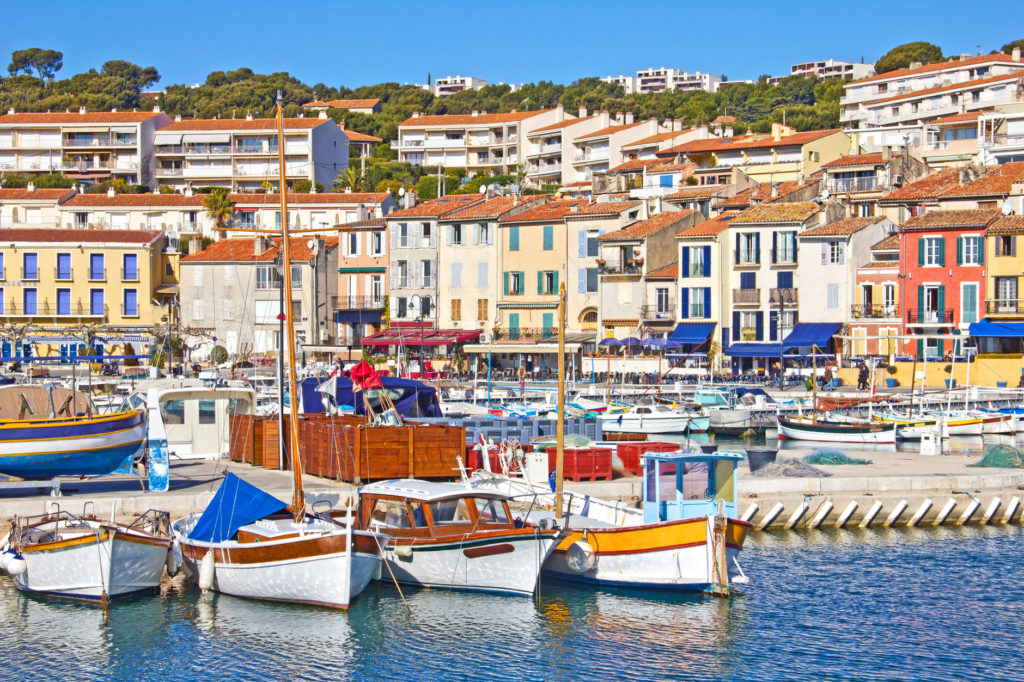 4. Cassis: Dramatic Beaches & Cliffs
Just east of Marseilles lies a little Mediterranean gem, Cassis. It's an unpretentious port town, hidden far way from tourist magnets like Nice or St. Tropez.
Cassis is flanked by craggy cliffs called the "Calanques de Cassis." They're a great place to hike, sunbathe in the hidden alcoves and beaches, and swim.
Cassis has a beautiful old town — with cobbled backstreets, pretty cottages, and well worn shutters. It's downright dreamy, with postcard views at every turn.
Visit the market on Place Baragon to pick up some lavender themed souvenirs. Outdoor cafes line the length of the port.
France's highest sea cliff, the Cap Canaille, is just a short drive from Cassis. It's worth a short stop for the incredible Mediterranean views.
You can visit Cassis on a half day tour from Aix-en-Provence.
Where to stay: Hotel Les Roches Blanches, Hotel de la Plage Mahogany
5. Saint-Paul-de-Vence: a Culture Vulture Stony Haven
To my mind, Saint-Paul-de-Vence is one of the prettiest villages in Provence. It should definitely be on your itinerary for southern France.
Saint-Paul-de-Vence is an otherworldly ancient village, the oldest town in the French Riviera. It's a nice alternative to the more popular Eze, though it can get busy as well in high season.
Saint-Paul-de-Vence sits on a hill above Nice and Antibes. The town has sweeping views over vineyards and is a meticulously maintained historical sweet pot. It will enchant you with palms and cypresses.
Saint-Paul-de-Vence is a must see French village for culture lovers. The town inspired the Impressionists and Picasso.
In counterpoise to its ancient craggy feel, it's a thriving artsy community of cosmopolites. It's famous for its modern art museum, the Maeght Foundation, and plethora of contemporary art galleries.
In fact, just 15 minute away you can also visit the Musée Renoir. The museum is housed in Renoir's former family home in Cagnes-sur-Mer.
Saint-Paul-de-Vence has several main attractions — Saint-Michel-du-Puy Church, a medieval castle, and its atmospheric cemetery. The latter is the resting place of famed French painter Marc Chagall. He lived there for almost 20 years.
If you're hungry, try feasting at La Colombe D'Or. For many years, this grand stone mansion was treated like a home away from home by artists like Picasso.
READ: Guide to the Picasso Museum in Paris
You can visit the town on a half day guided tour from Nice or book a private half day tour that includes the pretty village of Eze. You can take a full day wine tour in Sant-Paul-de-Vence and Bellet.
Where to stay: Le Domaine Du Mas De Pierre Hotel, Hotel Le Hameau, Toile Blanche
6. Lourmarin: Alternative to Overcrowded Gordes
Loumarin is a secret village in Provence not too far from the more popular and tourist-fly Gordes. Aside from its 15th century castle, there's delightfully not much to see or do in Lourmarin.
Just soak up the quaint town center and views. Its narrow lanes spiral up to the belfry.
After your walkabout, indulge at one of Lourmarin's chic eateries or boutique stores. The cafe culture clusters around the place de l'Ormeau.
Lourmarin also has a 15th century Gothic-Renaissance chateau. The Chateau decayed into ruin and was scheduled for auctioned and demolition.
But it rescued in the nick of time by Robert Laurent-Vibert, a rich industrialist and literary scholar, who restored it. The chateau now hosts wine tasting and performances in the evening.
Lourmarin has some literary cache to boot. Existentialist writer and philosopher Albert Camus lived in Lourmarin in the 1950s and is buried there. Author Peter Mayle moved there not so long ago. Both add to the village's cachet.
You can visit Lourmarin and other Luberon villages on a day tour from Aix-en-Provence. Or book a half day trip to Lourmarin and Ansouis from Aix.
Where to stay: Hotel Bastide de Lourmarin, Le Moulin, a Beaumier Hotel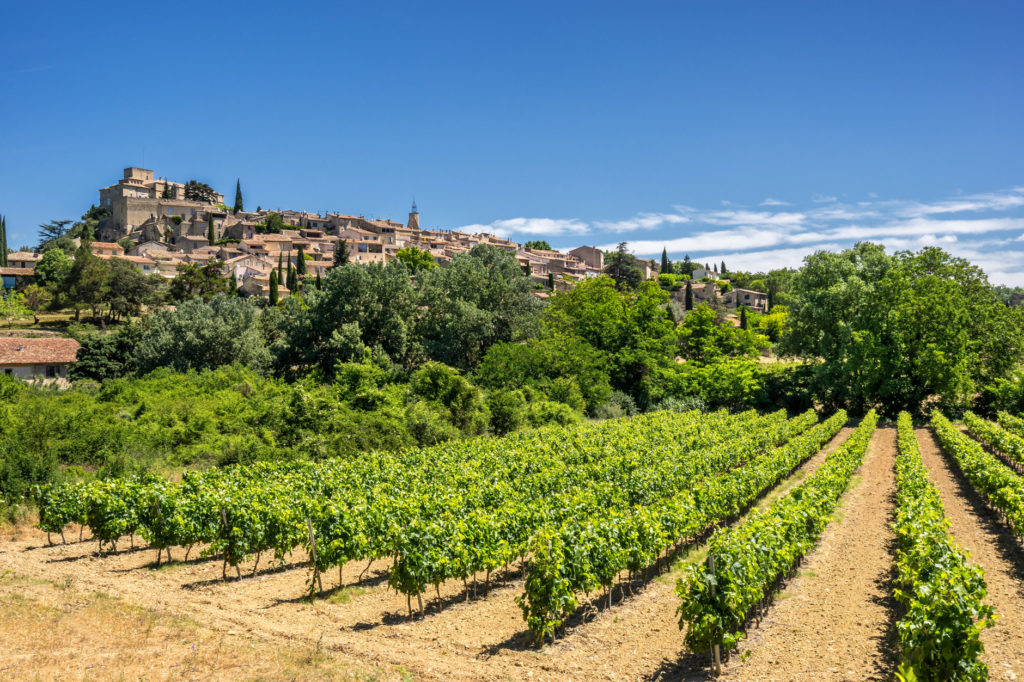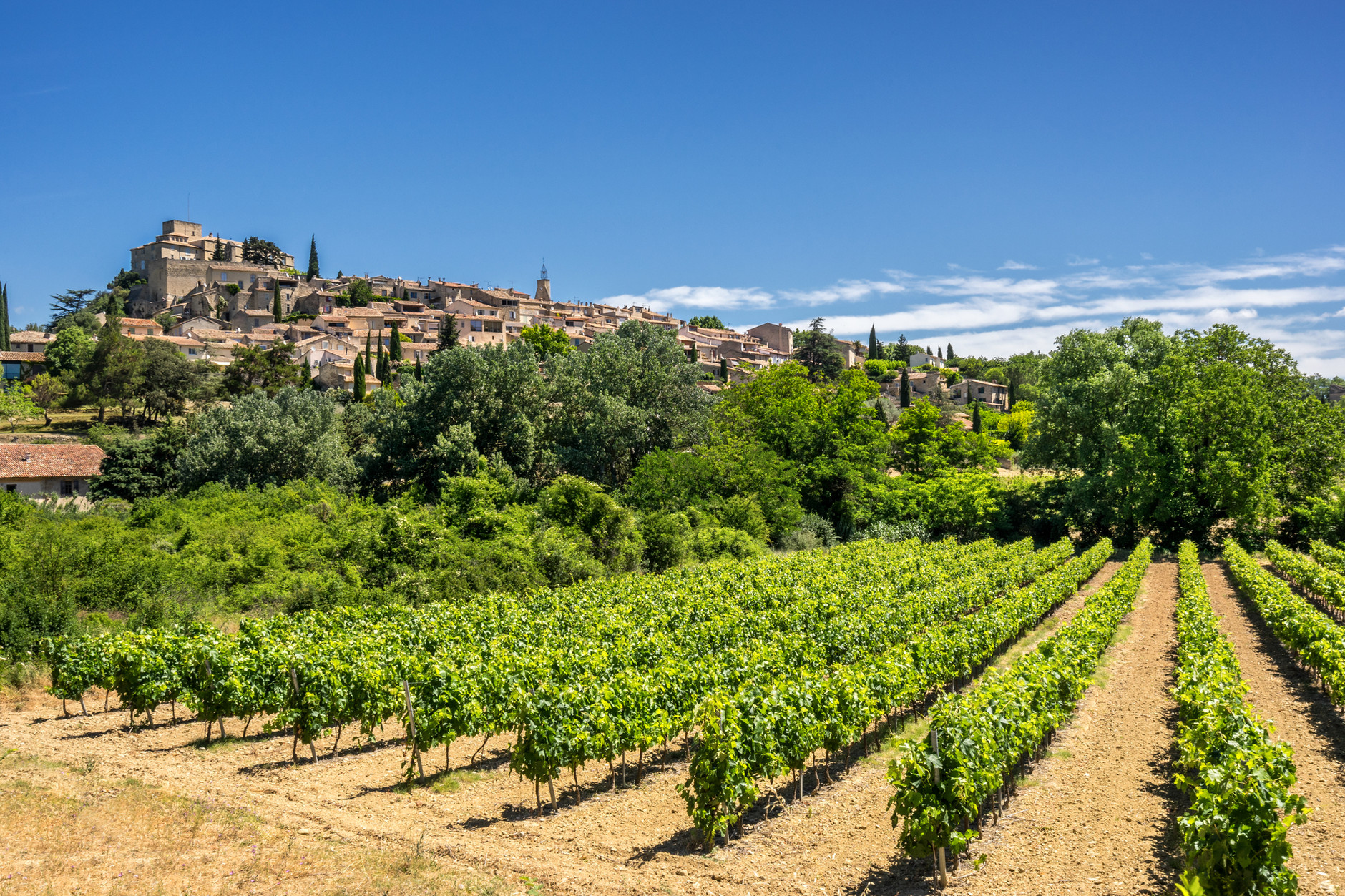 7. Ansouis: Must See Village in the Luberon
Ansouis is another of France's les plus beaux villages that just oozes charm. It's a typical Luberon village. It clings to a craggy outcrop and is stuffed with stone houses, cobbled streets, and well worn window shutters.
Anouis is just 30 minutes north of Aix-en-Provence. The town is definitely worth a detour or half day trip.
Ansouis first appears in the records around 963. Its crowned with a 12th century medieval castle, Chateau d'Ansouis.
You can only visit on a guided tour in French. But from it, you'll have sweeping views of Mount Sainte-Victoire, the mountain that inspired Cezanne, from the terrace.
Ansouis' old town is filled with houses, artisan shops, and boutiques, housed in buildings from the 15th century.
La Closerie serves up excellent food. L'Art Glacier offers 50 flavors of ice cream, including lavender, sage, and lily of the valley flavors.
Built into the town's original ramparts, the 12th century St. Martin Church is worth a visit. The church has an imposing facade of creamy stone. The austere exterior belies the ornate treasures awaiting you inside.
Where to stay: Un Patio en Luberon
8. Seguret: Tourist Free Gorgeous Village
Seguret is a small village east of Mount Ventoux. It's officially classified as one of France's "les plus beaux villages." But you'd never know it.
When I was there, virtually no one else was. I guess the hype of the other Provencal hilltop villages outweighs the simple beauty of Seguret.
You enter the cobbled town via an archway called the Porte Reynier. Inside is a village full of character and charm. Naturally, the charm is magnified by the lack of tourists. Stone houses line narrow stony streets.
The main square boasts a 17th century bell tower and similarly aged fountain called Fonaine des Mascarons.
Be sure to visit the small 12th century Romanesque Church of Saint-Denis and the Chapel of Notre-Dame des Graces.
You can walk to the nearby ancient castle ruins via a footpath. The nearby village of Cairaine is also charmingly stoney. If you're road tripping in Provence, and have flexibility, you should stop there too.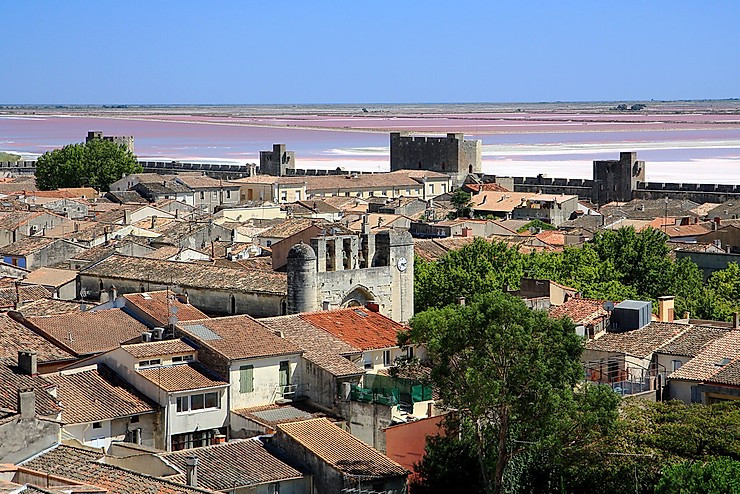 9. Aigues-Mortes: Pink Salt Flats & Flamingos
The ancient fortified town of Aigues-Mortes lies in the Camargue. The Camargue is a river delta where the Rhone meets the sea, just 30 minutes outside Arles, a must see Roman town in Provence.
Not only is the Camargue an outdoor enthusiast's and birdwatcher's dream, it's a very off the beaten path destination in southern France.
On my joyride, I saw wild bulls and white horses galloping in the countryside and pale pink flamingos flapping their wings in the salt flats.
The fortified town of Aigues-Mortes is a must see site in the Camargue. It's a walled town that dates to the crusades.
Known as the city of "dead water," it's a perfectly preserved example of 13th century military architecture. The city walls encircle 6 towers, including the famed Constance Tower.
South of the town, the vast flooded lands are home to an exceptional flora and fauna, the pink salt flats.
After you explore this "living museum," head to the quaint medieval town of Saintes Marie de la Mer. You can climb the ramparts for killer views over the Camargue.
You can visit the village and the Camargue on a day tour from Avignon.
Where to stay: Boutique Hotel des Remparts & Spa, Hotel Les Templiers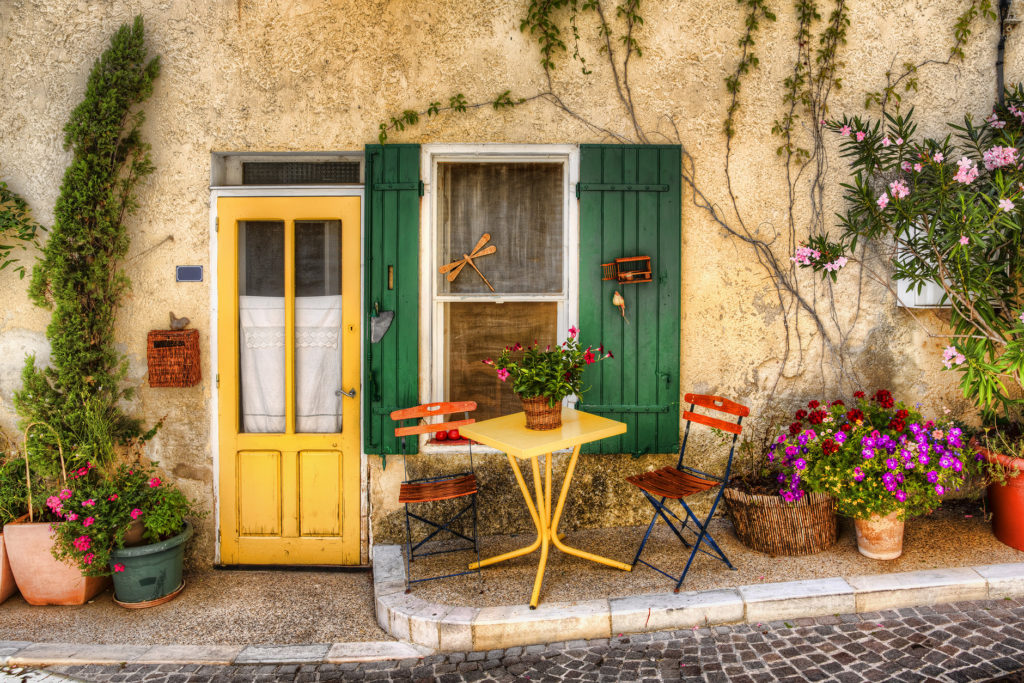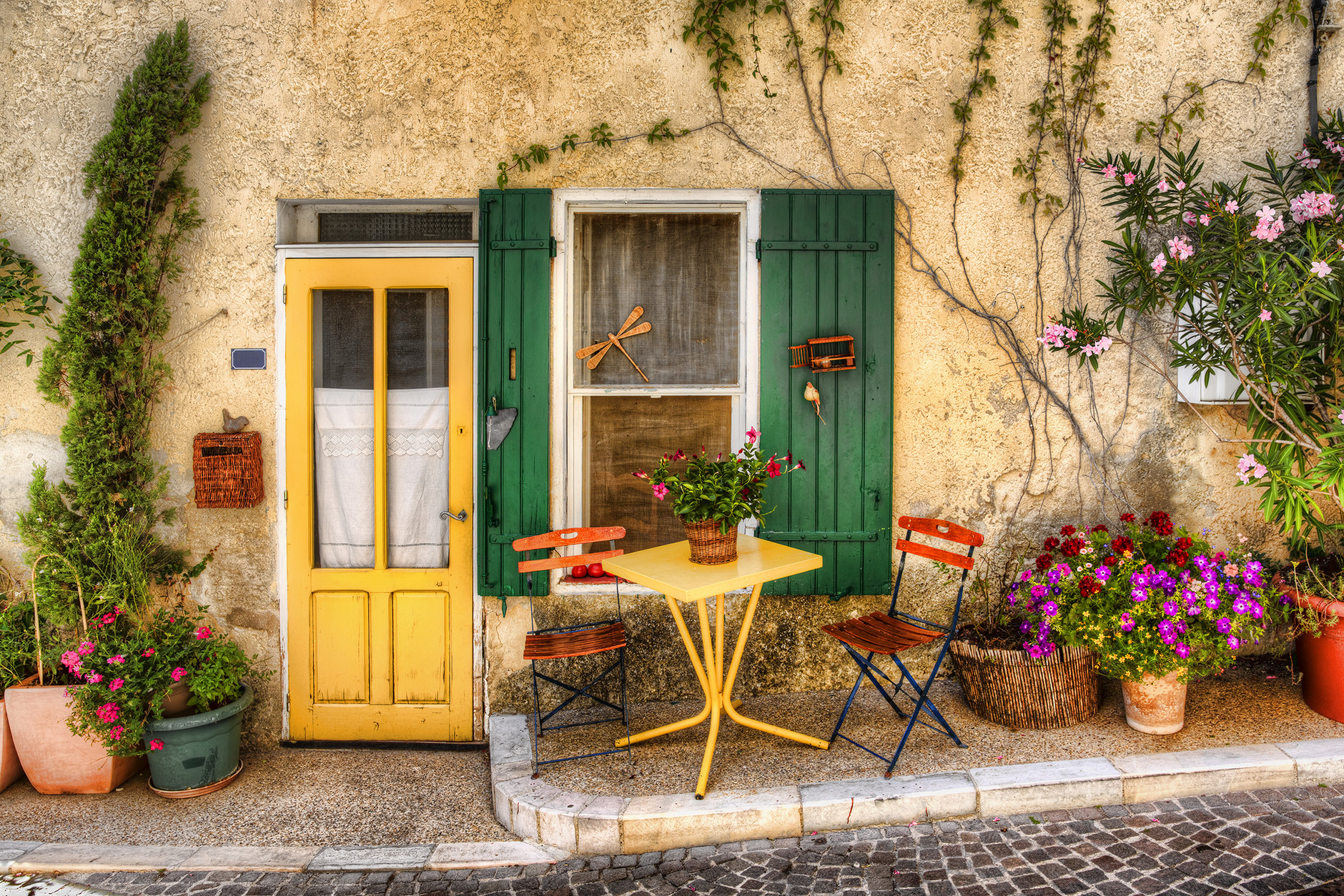 10. Beaumes-de-Venise: White Gold Wine
Beaumes-de-Venise is a tiny village built into cliffs in the Ventoux Mountains. The world "beame" means cave or grotto, and refers to the caves built into the cliffs.
Beaumes-de-Venise is in a wine growing area of Provence. It's famous for its "white gold" muscat wine and rich Cotes du Rhone reds. You can taste both varieties at the village's wine school. Wine shops line the Avenue Raspail, and you can pop in for a tasting.
Beaumes-de-Venise boasts a large 16th-century church. Its clock tower is topped by a wrought-iron belfry. At the highest point of the village, you'll find the ruins of the 12th century feudal chateau.
Where to stay: Le Clos Saint Soaurde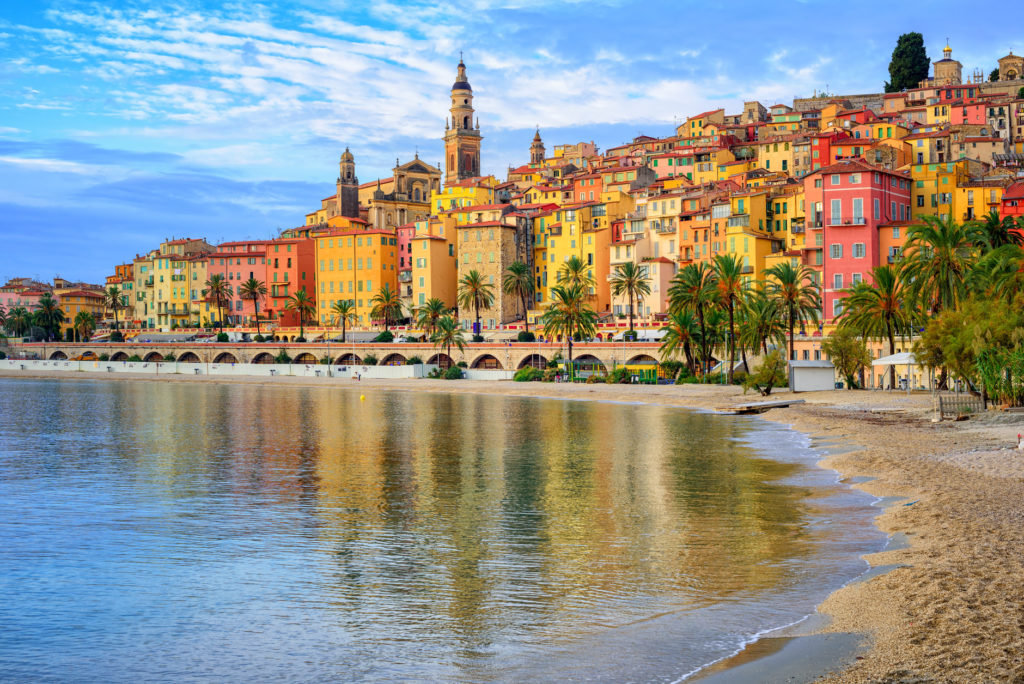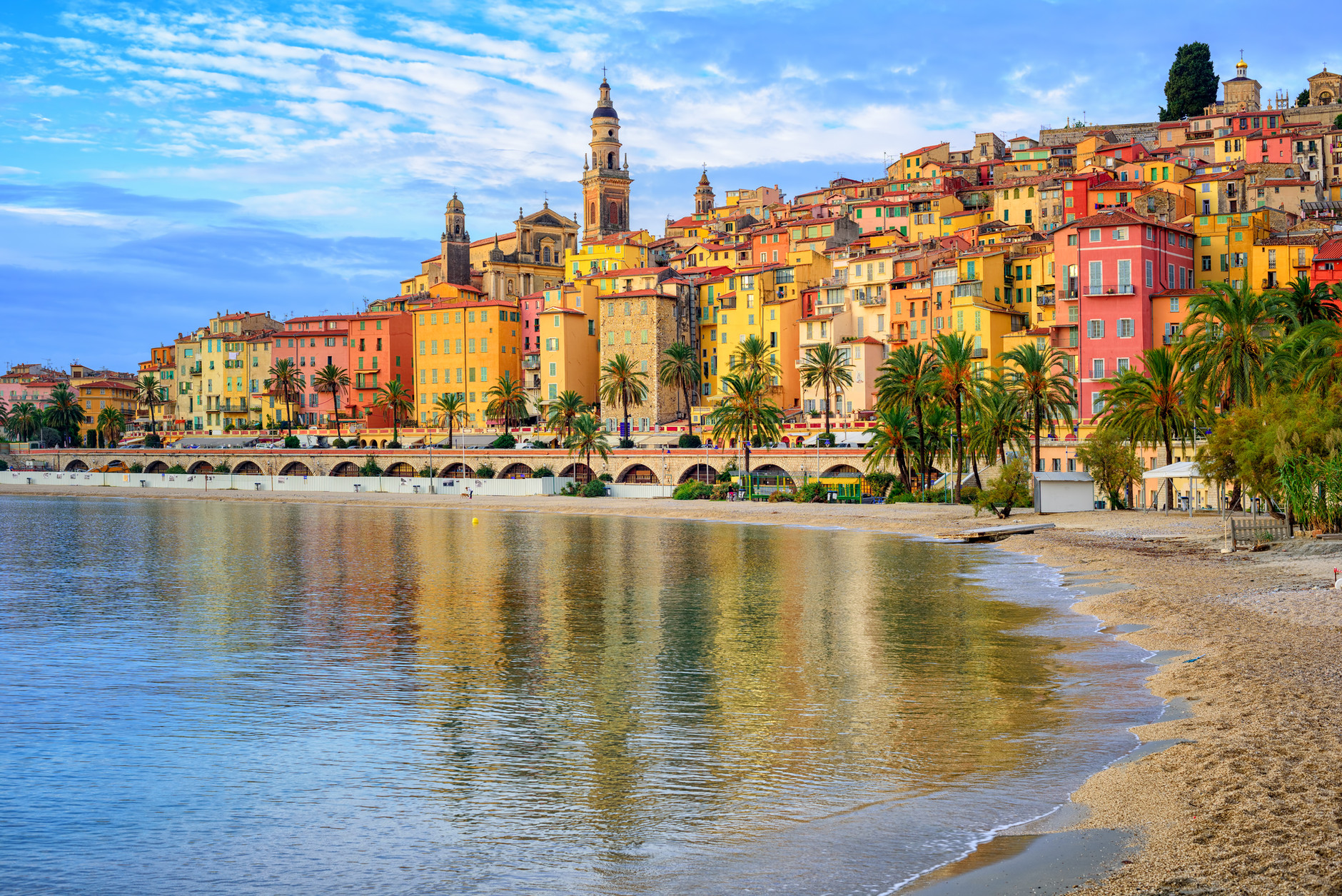 11. Menton: Dressed in Pretty Pastels
Menton is a stunningly beautiful little seaside town, with palm trees languorously lining the shore. Almost bordering Italy, Menton is a prefect day trip from Nice.
The sleepy village is artistically composed of candy colored houses with terra cotta roofs stacked atop each other. It's warmer than other Riviera towns, with a unique micro climate.
Menton was popular with English notables, including Queen Victoria and Winston Churchill. Menton is also famous for its association with Cocteau, the French Surrealist artist, film director, and friend to Pablo Picasso.
You can find Cocteau's work in the Musee Jean Cocteau. Cocteau described Menton as an endless "source of myth and inspiration."
Looking for specific things to do in Menton? In the center of Menton is the Basilica St. Michel, in a beautiful plaza, offering rooftop views.
Down Avenue de la Madone, you'll find the pale pink Carnoles Palace, once owned by the Grimaldi family and now housing a fine arts museum. Another key attraction in Menton is its botanical garden.
Menton is famous for citrus, which grows year round due to the balmy climate. You can buy lemon-infused anything.
Menton even has a popular lemon festival. If you're hungry, try the lovely Petit Port or Mirazur (with a Michelin star).
Where to stay: Best Western Premiere Hotel Prince de Galles, Belambra Clubs Hotel Le Vendome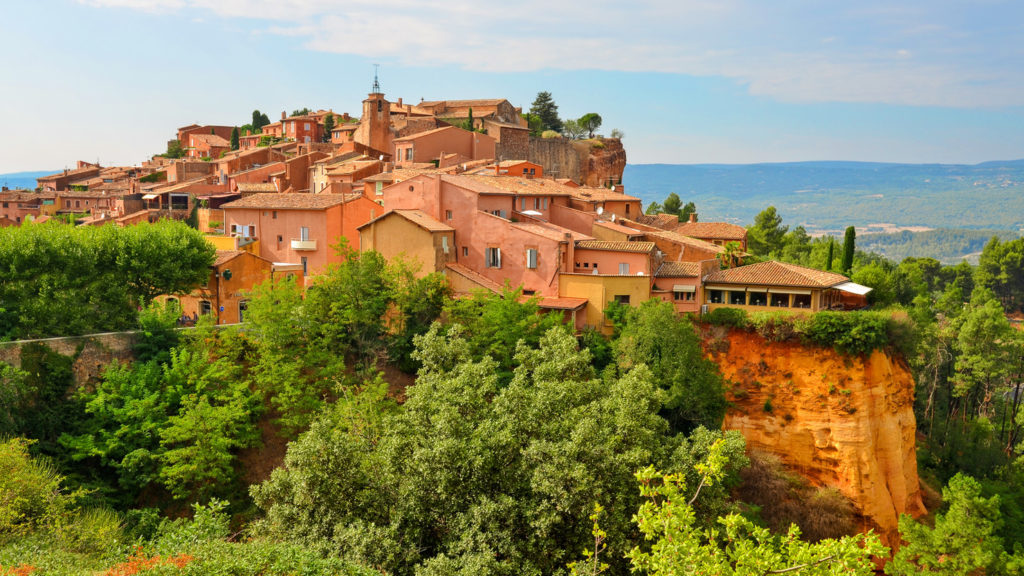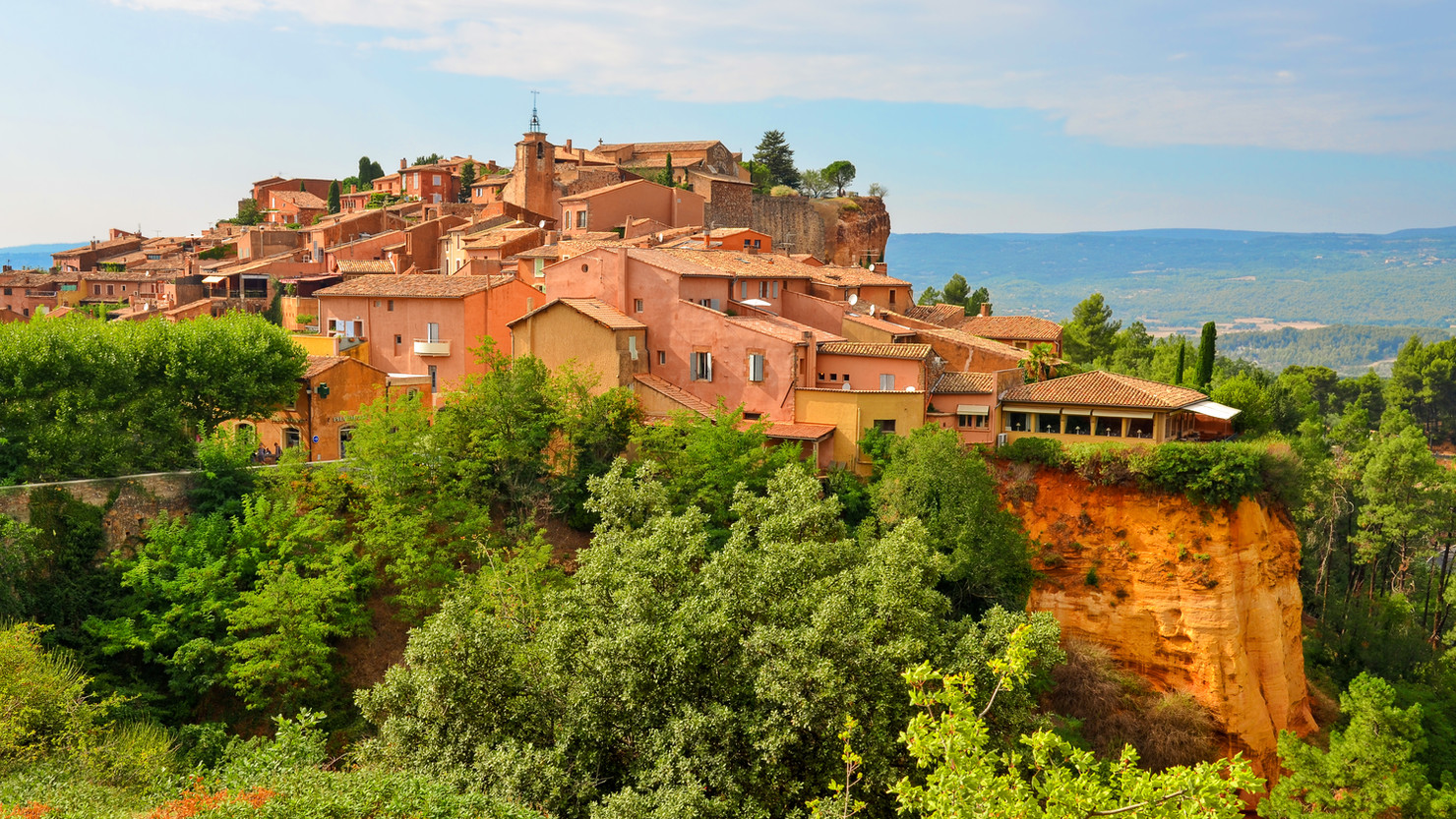 12. Roussillon: Striking Color Palette
Roussillon is easy to fall for. It's a hilltop village in the Luberon valley in eastern Provence, nicknamed the "Orange Town."
The tiny hamlet is nestled in a striking ochre ridge. Roussillon isn't exactly "secret," but it's so unique that I had to include it.
Legend holds that the cliff's orange color resulted from a medieval squabble. The town beauty, Seramonde, fell in love with a troubadour.
But the lord of Roussillon loved Seramonde too and dispatched his rival by murder. Distraught, Seramonde threw herself off the cliff. Her blood stained the cliff forevermore.
Or so they say. It's a compelling tale, no doubt. But the cliff was actually stained by the ochre pigment used to build the town.
The adorable town itself gleams with a spectrum of yellow, pink, orange, and red shades. While there, you can visit Roussillon's Sentier des Ocres, the Ochre Trail.
It's a nice hiking trail where you'll see the rock formations up close. Don't wear white!
You can visit Roussillon and other Luberon villages on a day tour from Aix-en-Provence.
Where to stay: Hotel & Spa la Cle des Champs, Hotel Les Ambres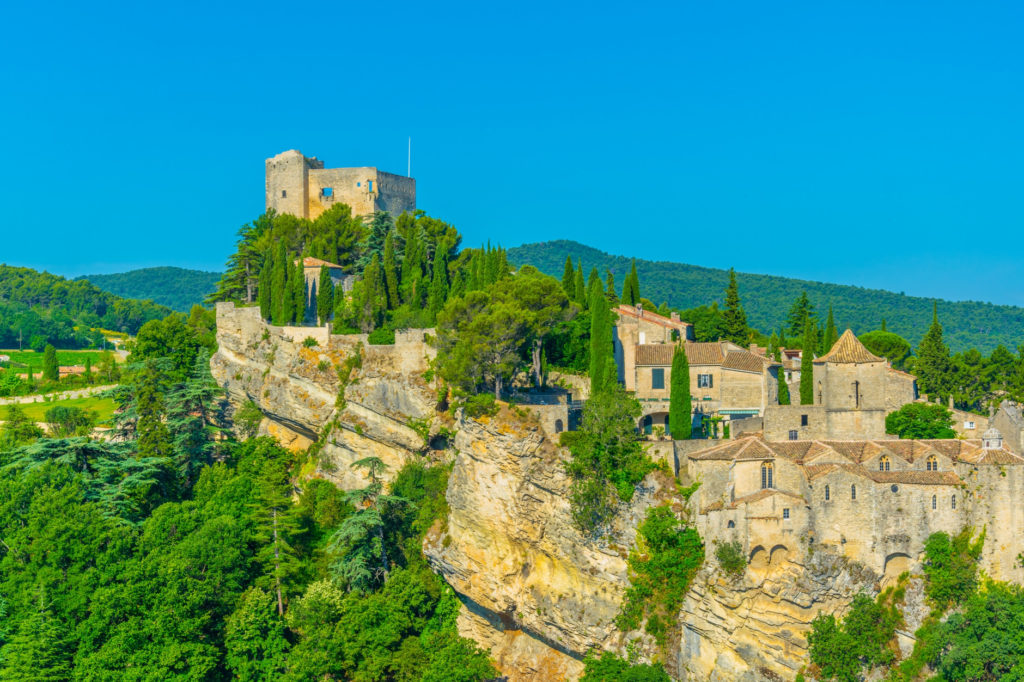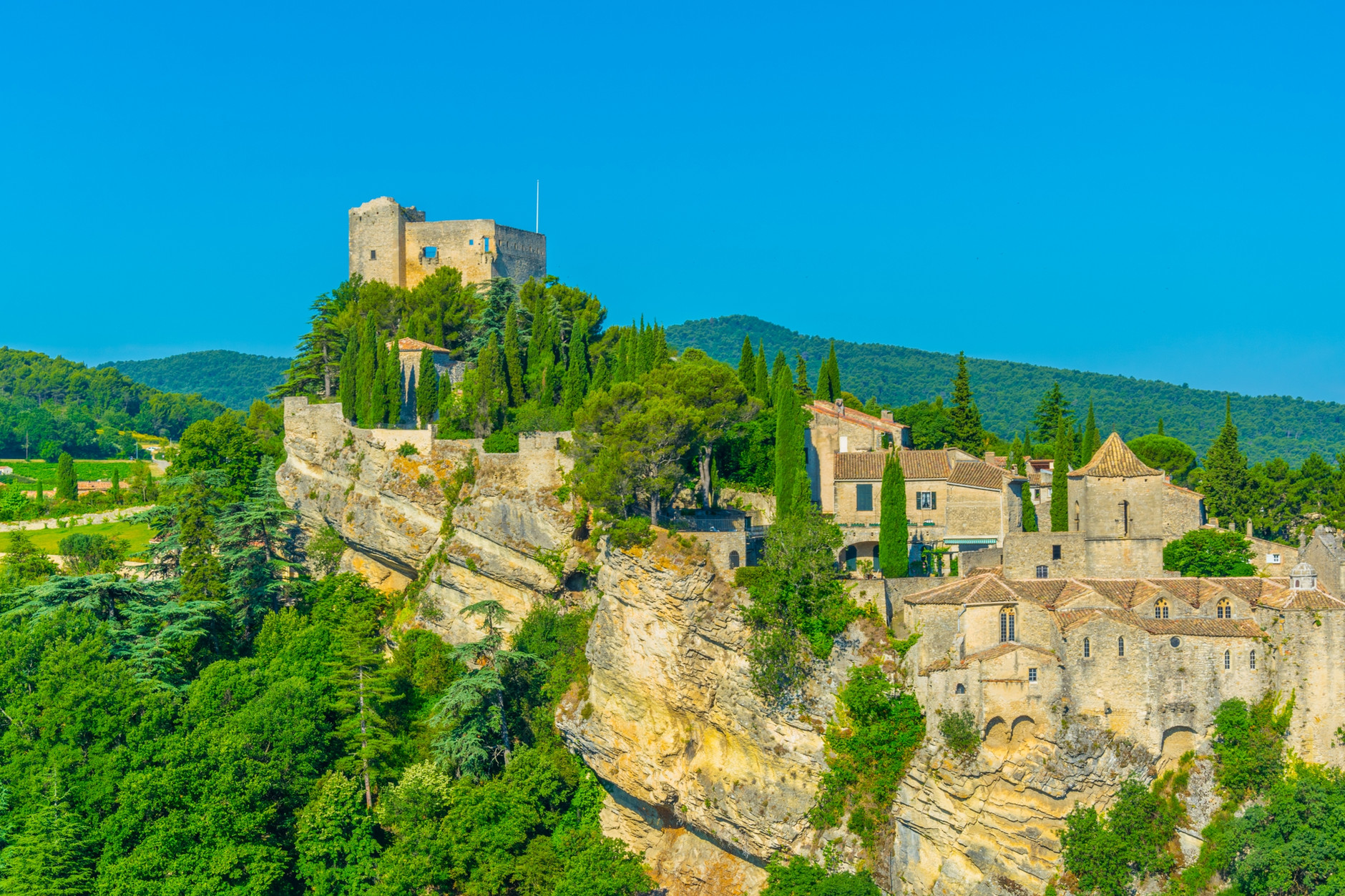 13. Vaison-la-Romaine: Medieval Meets Roman
The lovely Vaison-la-Romaine is a hidden gem in northern Provence, away from Provence's main tourist destinations. Vaison-la-Romaine is an ancient town made almost entirely of stone and dotted with spiky cypress trees.
Seated on the Ouvèze River, the town is dual faceted and split in two, with an upper medieval town and a lower Roman town — an efficient "two for one" dose of history. Vaison-la-Romaine was one of my favorite stops in Provence.
Cross the ancient Roman bridge spanning the Ouveze River. Hike up through the medieval gate. Then, you're in Vaison's car free medieval part.
There's nothing particular to see there. But it's so lovely you'll have trouble ungluing your camera from your face.
Based in the lower city, the Roman part of Vaison-la-Romaine was discovered in 1907. It's the most important Gallo-Roman site in France.
The luxuriousness of the restored patrician villas, filled with beautiful mosaics, reveal that Vaison was a prosperous Roman town.
When you're done admiring the mosaics, head to the 1st century Roman theater. No one will be there. Take center stage and sing your own aria.
Where to stay: Hostellerie le Beffroi, Les Chambres du Moulin a Huile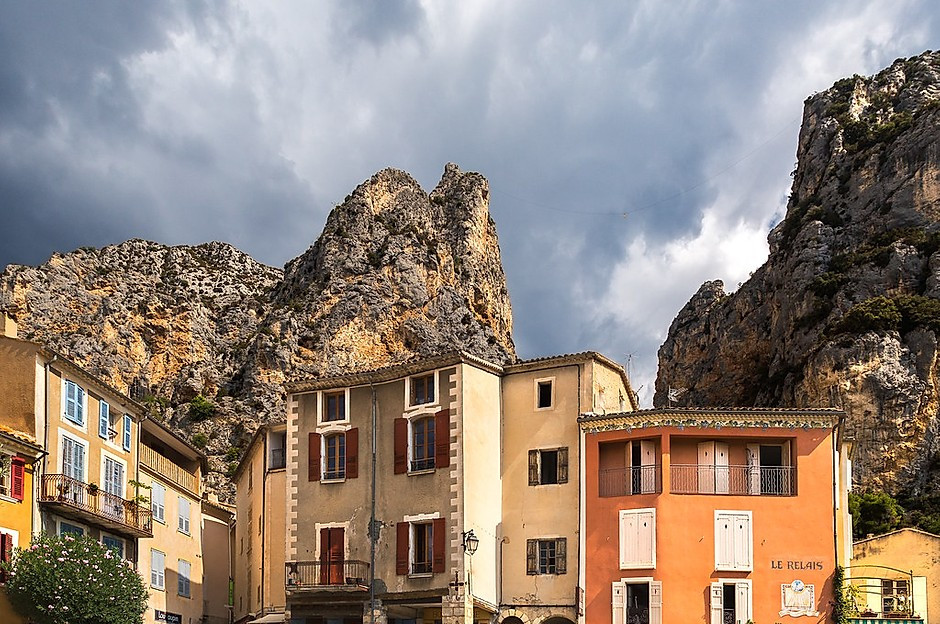 14. Moustiers-Sainte-Marie: Starry Cliffs
Moustiers-Sainte-Marie is an authentic medieval village near the ever-so-beautiful and underrated Gorges du Verdon in southern France. Dramatically located on the Adou river, this tiny village is one of France's "les plus beaux villages."
You can easily see why. Moustiers is encrusted between two limestone cliffs, complete with a cascading stream and waterfall. A golden star, hooked to an iron chain, hangs between the cliffs.
Naturally, the star is the subject of local legend. One tale holds it was hung in the 10th century by a grateful crusader.
Another says that doomed lovers jumped off the cliffs to their death and their families installed the star in their memory. To carry on the romantic tradition, Moustiers replaces the star as needed by helicopter.
Moustiers is not the easiest place to park. Look for paid lots close to the village. Then, wander through the knotty narrow streets and browse in Moustiers' acclaimed pottery shops.
A 17th century monk from Italy introduced the secret of enamel-making and it was revitalized in the 19th century.
Check out the 13th century Notre Dame de Beauvoir, the most significant historic landmark in Moustiers. It's at the end of a rather steep stone path. But it's worth the trek for the views.
In the middle ages, it was a pilgrimage spot. Still born children were brought there and allegedly revivified for a few moments to be properly baptized.
You can tour the town and Verdon Gorge on a guided day tour from Aix-en-Provence.
Where to stay: Hotel La Bastide de Moustiers
15. Uzès: A Golden Hued Village Near Pont du Gard
Uzès is a honey hued historic town dating back to Roman times. It has a charming baguette-in-hand-on-the-way-home-from-the-market vibe.
Uzès' Renaissance architecture is beautiful. Its elegant squares are the perfect place for lunch or espresso.
I chose the outdoor patio of Restaurant Ten, with its atmospheric ribbed vaulted ceilings, on the Place Aux Herbes for lunch.
You can also visit Le Duché, the duke's residence. The dukes of Uzes have lived in this impressive chateau castle on and off for a thousand years.
But, mostly, just stroll the creamy limestone streets and admire the renovated architecture. Along the way, you'll see the Cathedral of St. Theodorit, the leaning Fenestrelle tower, and the medieval garden.
Just 20 minutes from Uzes lies the mighty UNESCO-listed Pont du Gard. It's a surviving scrap of a Roman aqueduct that's a UNESCO site.
The aqueduct was an engineering marvle that originally took water from Uzès to Nimes. The aqueduct soars over the Gardon River and its dramatic gorge. Don't hesitate to dip your feet in or indulge in a cooling-off swim.
You can visit Uzes and the iconic Pont du Gard on a day tour from Avignon.
Where to stay: Boutique Hotel Entraigues, Maison d'Uzes Relais Châteaux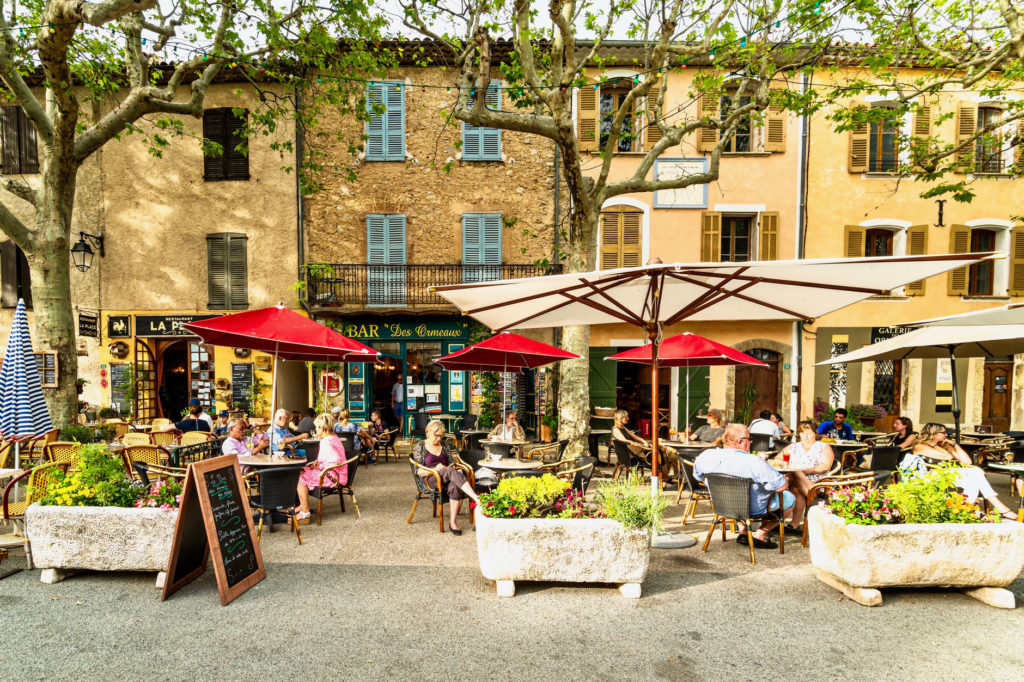 16. Tourtour, Provence
Tourtour is an adorable hidden gem in Provence. Like Cordes-sur-Ciel in Occitanie, it's a fairytale village in the sky, actually nicknamed the "village in the sky in Provence."
Tourtour is listed as one of France's les plus beaux villages and is known for its wine.
The main thing to do is stroll the cobbled streets of the well-restored authentic village. They're lined with pretty Provencal homes in pastel hues or stone. Admire the many fountains and manicured gardens in the pretty squares.
True to its name, which translates to "tower towers," Tourtour has two large towers, the 11th century Grimaud Tower and the 17th century Clock Tower.
Tourtour also has two turreted castles. In the historic center, the most ancient castle dates from the 12th century. It now houses an art gallery.
The other castle, Chateau de Raphelis, houses the town hall. Outside, it's adorned with bluebonnet colored shutters. Inside, there are bronze sculptures by the artist Bernard Buffet, who spent his final years in the town.
Tourtour is dominated by the Church of St. Denis. Built in the 11th century, it was partially reconstructed in the 14th while maintaining its Romanesque style.
The church has three bells from the 17th century. The panoramic views from the top are a sight to behold. In addition, Tourtour boasts no less than eight chapels.
Where to stay: La Bastide de Tourtour
17. Sault: Lavendar Fields
Sault is a charming hidden gem in Provence with stunning lavender fields that will take your breath away. It's the perfect spot to relax and unwind while enjoying the beautiful scenery and quaint local shops.
The town has a Lavender Museum called La Maison de la Lavande. It's a small museum that showcases the history and production of lavender in the region, as well as its uses and benefits. The museum has a gift shop where you can purchase a variety of lavender-based products, such as essential oils, soaps, and perfumes.
But Sault isn't just about lavender. The town is also home to some fascinating historical sites, like the 12th century Romanesque church of Notre-Dame-de-la-Tour and the impressive defensive walls that once protected the town from invaders.
Plus, the local cuisine is absolutely delicious, with fresh ingredients and flavors that are sure to delight your taste buds. Whether you're a history buff, a nature lover, or just looking for a peaceful getaway, Sault has something for everyone.
I hope you've enjoyed my guide to the secret hidden gems of Provence. If you're obsessed with visiting Europe's hidden gems like me, check out these other travel guides and resources:
If you'd like to visit the beautiful and secret small towns in Provence, pin it for later.