Planning a trip to southern France? Welcome to one of Europe's most famously picturesque regions.
Here's my 10 days itinerary for southern France This road trip itinerary takes you to the drop dead gorgeous regions of Occitanie and Provence.
This stunning road trip route is one of the best in Europe. It's dense with amazing must see medieval villages, Roman ruins, UNESCO-listed landmarks, and loads of lavender and old world charm.
Occitanie lies in France's warm and sensuous southwest corner, a merger of the former regions of Languedoc-Roussillon and the Midi-Pyrenees.
Occitanie is a secret out-of-the-way land of wine and wonder — chock full of art, castles, wine, and cassoulet. There's a dense mix of architectural beauty and UNESCO sites. And Occitanie is blissfully not chock full of tourists.
Provence is a dreamy, bucolic history book of a land, perfect for a geographical cure. Provence has everything the mind conjures when you think of Provence — medieval lanes, clifftop panoramas, lyrical seascapes, pastel houses with French blue shutters, and a "step back in time" vibe.
Provence is beguilingly romantic. Everything is sun-kissed and lavender wafts in the air.
Provence is so beautiful that artists like Renoir, Chagall, Cezanne, and Picasso flocked there to paint its landscapes. They adored the sun-drenched light, which Matisse described as "soft and tender, despite its brilliance."
There are plenty of great destinations to explore in this southern France road trip itinerary. This super detailed 10 day itinerary is perfectly adjustable.
You can make it shorter or longer, depending on your available vacation time or personal pace of travel pace. I've tried to give you a balance of cities and leisurely villages, with day trip options as well.
I think driving in southern France is a breeze for the most part, easier than other European countries. But, if you want some driving tips, here's my complete guide to rending a car and driving in Europe.
Overview of 10 Days in Southern France Itinerary
Here's a quick snapshot of what you'll see with 10 days in the south of France:
Day 1: Explore Toulouse
Day 2: Day Trip to Carcassonne
Day 3: Day Trip To Albi and Cordes-sur-Ciel
Day 4: Drive to Arles, stop in Uzes and Pont du Gard on the way
Day 5: Explore Arles
Day 6: Day trip To Les Baux and Avignon, dinner in St. Remy
Day 7: Drive to Lourmarin, stop in L'Isle-sur-la-Sorgue and/or Menerbes on the way
Day 8: Explore Lourmarin and Bonnieux or Lacoste
Day 9: Day Trip to Gordes and Roussillon
Day 10: 3 Options for a Day Trip: Aix-en-Provence, Vaison-la-Romaine, or Moustiers-Sainte-Marie + Verdon Gorge
This itinerary assumes you've already flown into Paris and taken the high speed TVG down to Toulouse.
The train takes 5 hours. Or flown directly to Toulouse, where your south of France sojourn begins.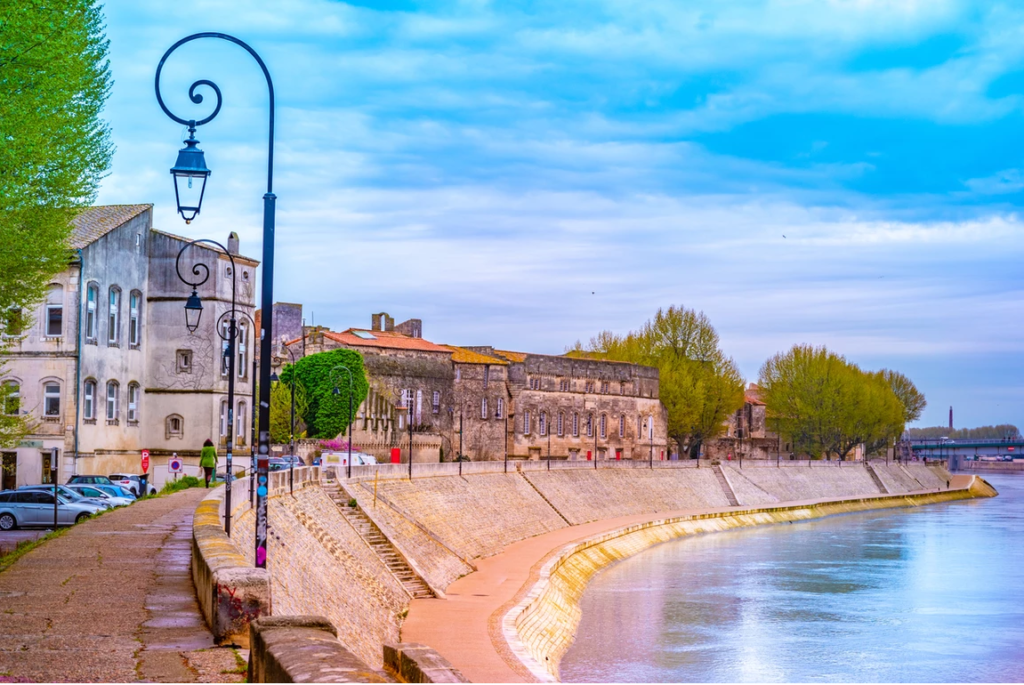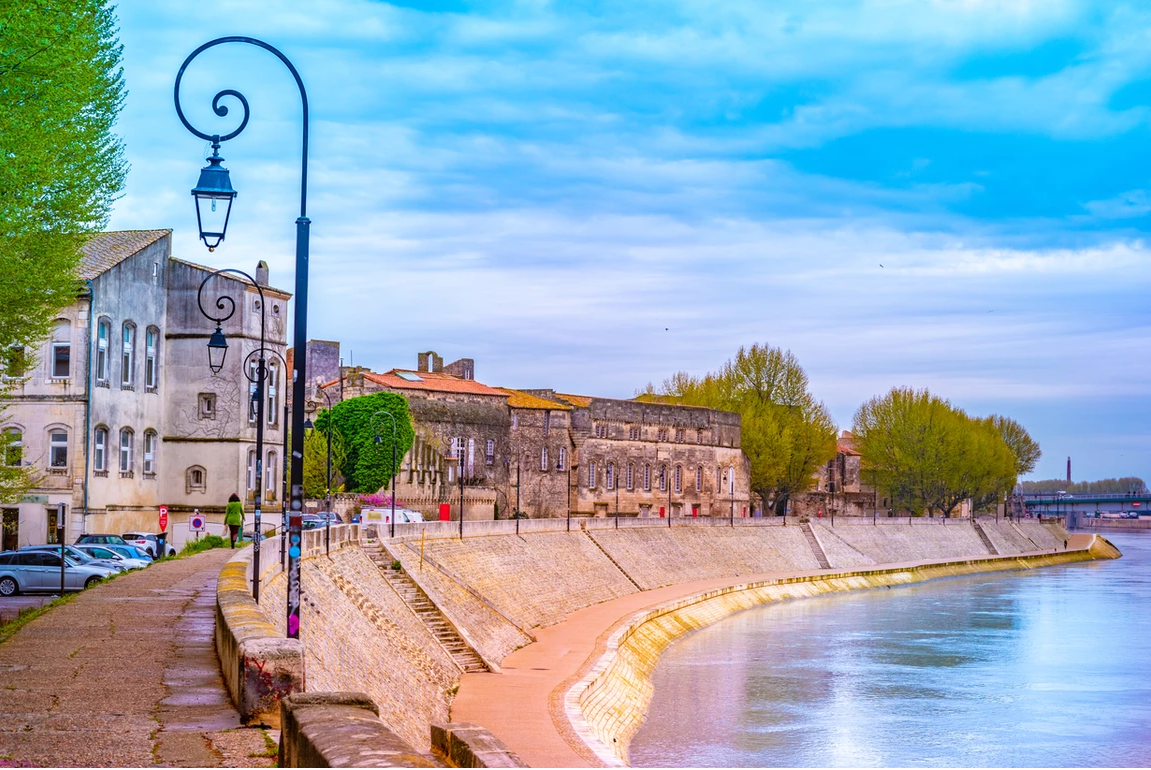 Where To Stay With This Southern France Itinerary
You'll have 3 bases in your 10 days in southern France:
(1) Toulouse (3 nights)
(2) Arles (3 nights)
(3) Lourmarin (4 nights)
Toulouse covers the western region of southern France. Arles covers the middle region with access to Provence.
Lourmarin is an adorable village in the Luberon Valley of Provence where you can get away from it all. There many other options in the Luberon. You could also opt to stay in Menerbes, Bonnieux, or Roussillon, for example.
1. Toulouse Hotels
Toulouse has some beautiful hotels, with both luxury and historic places to stay.
La Cour des Consuls Hotel and Spa is a stylish luxury property with a lovely terrace and spa.
Le Grand Balcon Hotel is a cool boutique hotel featuring 1930s era decor. Grand Hotel de l'Opera is an elegant boutique hotel with a central location.
Pullman Toulouse Centre Ramblas is a luxury hotel with modern decor.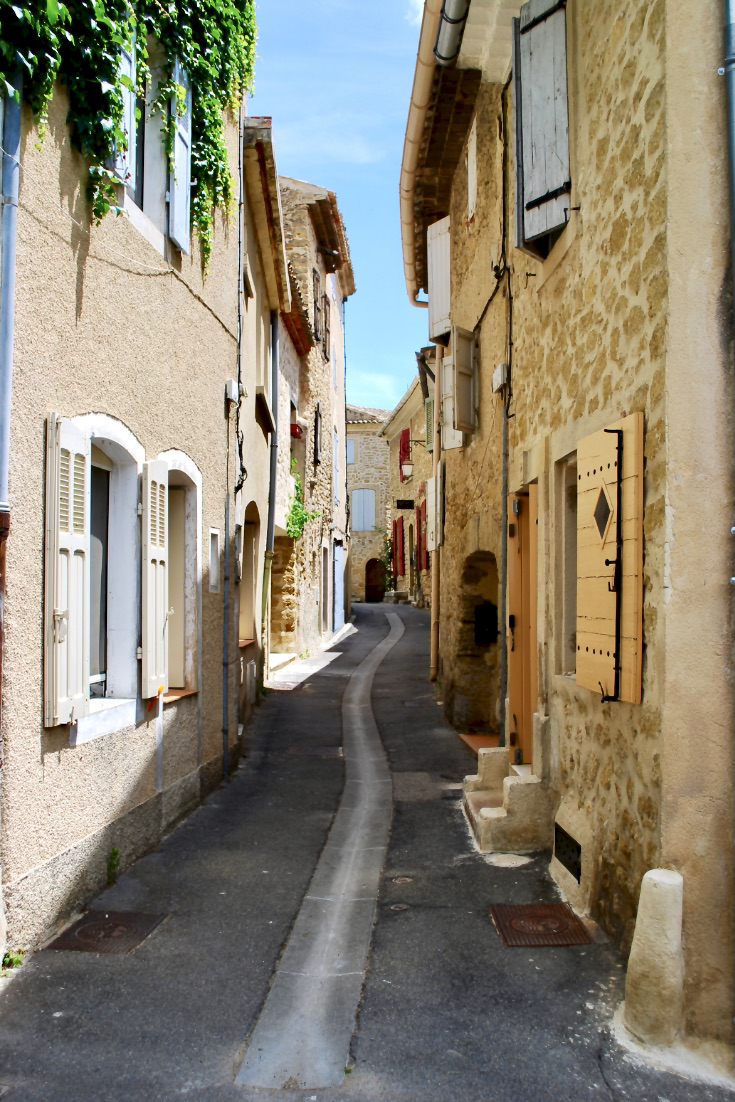 2. Arles
For Arles, look at the Hotel & Spa Jules Cesar Arles (in a former convent) or the Hotel Particular (elegant boutique hotel). There's also the astoundingly pretty L'Arlatan.
3. Lourmarin
In Lourmarin, check out the Hotel Bastide de Lourmarin, Le Moulin, a Beaumier Hotel ,or Le Galinier (boutique hotel).
The Luberon Valley is also a great place to rent an Air BnB or plac3e on VBRO.
Distances between towns and destinations are close in southern France, so you don't really have to move around that much. These three bases give you a taste of Occitanie, Provence, and the Luberon Valley in Provence.
10 Days in Southern France Itinerary
Here's how I recommend you spend ten days in beautiful Southern France.
Day 1: Explore Toulouse
Toulouse is an incredibly beautiful and underrated city in southwest France. Toulouse is set ablaze with reds, pinks, and oranges.
Known as La Ville Rose, Toulouse is easy to fall for. It makes the perfect base for day tripping in this area. You'll be there 3 nights.
Start day one of your tens days in southern France itinerary in the beautiful city of Toulouse. Known as La Villa Rose, Toulouse is an incredibly beautiful and underrated city in southwest France. Toulouse is set ablaze with reds, pinks, and oranges.
Toulouse is easy to fall for. It makes the perfect base for day tripping in this area. You'll be there 3 nights.
You may want to sart off with a walking tour of the cobbled lanes in the historic center to get oriented. You can book a small group sightseeing walk with a local. Or a private walking tour or a private history tour.
Or, if you're ready to go, n the morning, head to the Place du Capitole, Toulouse's grand central square. It's been the seat of government since the 12th century.
Pedestrianized since 1995, the square is lined with lavish red brick buildings. It has a polished marble floor emblazoned with the Occitan cross, a medieval symbol of the region.
The Place du Capitole is where Toulousains and tourists congregate. It's a central hotspot filled with shops, cafes, and restaurants galore. You can easily wile away time people watching over an espresso.
A popular spot, where you'll have to vie for a table, is Le Florida. At night, the Capitole is lit up, to stunning effect.
Then, head out to inspect some of Toulouse's magnificent churches. The Convent of the Jacobins has 14th century frescos.
The adjacent church is exquisite and houses a column that resembles a "palm tree," called the "Palm of the Jacobins." It's an architectural wonder made up of a double nave and star-shaped vault under a massive column.
The Basilica of Saint Sernin is a magnificent well-preserved Romanesque basilica, and one of the greatest churches in France.
It's Toulouse's most defining landmark and a must see site. Built between 1080 and 1120, the basilica is now a UNESCO site.
After lunch, head to the best museum in Toulouse, the Musee des Augustins. Musee des Augustins houses a treasure trove of Roman, Gothic, and Renaissance sculpture.
And it has an eclectic cache of paintings from the 17th to 20th centuries, including art by Rubens, Ingres, Delacroix, Courbet, and Rodin.
The medieval cloister and garden are especially magical, surrounded by salons filled with evocative statues, sculptures, and gargoyles.
In the late afternoon, stroll through the Carmes neighborhood. I was absolutely entranced by this neighborhood, where I stayed in a stunning Air Bnb. Carmes feels like a small village with ancient streets and an authentic vibe.
The neighborhood's colorful architecture is just stunning. Carmes is also home to myriad small organic food markets, restaurants, music shops, and small cafes.
When you're ready for a pre-dinner cocktail, head to N°5 Wine Bar on Rue de la Bourse. In 2017, N°5 Wine Bar was voted the best wine bar in the world.
It's a relaxed hipster spot with an expert-level menu for oenophiles. There's a very small and cozy restaurant downstairs.
I was in Toulouse for four days, so I had plenty of time to sample the carnivore-heavy food. Toulouse is quite the culinary powerhouse.
I can recommend the following restaurants: Michel Sarran, Le Florida, Le Colombier, Le Carpaccio, and Les Jardins del'Opera.
Day 2: Day Trip to Carcassonne
On day 2 of your southern France itinerary, head to the UNESCO-listed town of Carcassonne. The town is a 1:15 drive from Toulouse. It's an easy day trip from Toulouse.
You can go by car or train. Or you could book a guided day tour to the Carcassonne from Toulouse. Or take a half day tour that combines Carcassonne and the Canal du Midi.
Carcassonne is magnificent and will take your breath away. Carcassonne is the middle ages revealed.
It's a 13th century fantasy world of towers, turrets, walls, winding alleys, and moats set on the Aude River. As historian Anthony Horowitz has said, "In no other city I've visited does history feel so alive."
Carcassonne boasts an almost surreal double row of fortified walls stretching nearly 2 miles with 52 watch towers — each one crowned with fantastical "witch hat" turrets.
The town will appeal to fans of the knight in shining armor era, a group in which I unabashedly include myself. The medieval streets are fairytale perfect.
Not surprisingly, Carcassonne was added to the UNESCO World Heritage List list in 1997. The old town of Carcassonne is free.
But you need a ticket to access the city walls. To avoid queues, pre-purchase an online ticket and access the storied site via Chateau Comtal, the medieval keep.
Because tourists flock in droves to the walled city, you should attack the citadel at off peak hours or off season. You can also cross the Pont Vieux and visit the lower city, the Bastide St.-Louis.
It's inappropriately named the "new town," when in fact it was built in the 13th century. It has a magnificent tree-lined square, the Place Carnot, where you can relax and let the world go by over a coffee or glass of wine.
For the full scoop, read my complete guide to Carcassonne. Be sure to buy skip the line tickets for the complex.
You may want to book a guided walking tour for this historic UNESCO wonder. Here's one sample walking tour and another 2 hour guided tour with a slightly different emphasis.
Day 3: Day Trip To Albi and Cordes-sur-Ciel
1. Albi
Albi is a serious and ancient town, a wondrous and surprising must see destination in southwest France. Even if you're a Francophile, you might not have heard of Albi.
In France, though, it's a favorite among art lovers. If you don't want to drive you can book a guided day trip tour from Toulouse to Albi. While you're there, you can go on a guided gourmet food walk.
Albi has been inhabited since the Bronze Age. The town was listed as a UNESCO site in 2010. It's a strangely affecting place, despite the weight of its past or perhaps because of it.
Situated on the Tarn River, Albi is a perfect combination of medieval architecture and a vibrate urban center. Albi is an episcopal city, clad in orange-red brick and militaristic architecture.
The town symbolizes the Catholic victory over the pesky Cathar rebels, a monkish religious sect that defied accepted convention.
Albi has two truly imposing citadels — Albi Cathedral and the Berbie Palace — that are both UNESCO-listed. The mighty Saint Cecilia Cathedral is a 13th century masterpiece of southern Gothic style.
Built by the Bishop of Albi, it's a place of superlatives both inside and out. It's nicknamed the "crucible of faith" and is one of the largest brick structures in the world. Inside, you're swathed in blue.
Like Albi Cathedral, the 800 year old Berbie Palace is an all brick affair with stout walls of extraordinary height and thickness.
Aside from the Pope's Palace in Avignon, it's one of the best preserved castles in France. The palace was formerly the residence of the Albi's archbishops.
The Berbie Palace also houses a truly amazing single artist museum, which is a French treasure. It's dedicated to an artist you've likely heard of and that the Albigeois adore — Henri Toulouse-Lautrec, one of the founding fathers of Modernism.
The Post-Impressionist artist of exalted birth was born and lived in Albi, before decamping to absinthe-sodden Montmartre in Paris to paint dancers at the Moulin Rouge.
He died at a young age, just 36, of complications of syphilis and alcoholism.
But Toulouse-Lautrec didn't really leave Albi. Some of his most seminal works are there, in one of the best small museums in Europe.
Sure, there's great Lautrec works in Paris. But, in Albi's museum, you get a comprehensive picture of his entire life and career, not just a snapshot.
Here's my guide to visiting Albi.
2. Cordes-sur-Ciel
When you're done admiring Albi, drive 30 minutes to Cordes-sur-Ciel, which seems to float in the sky. Hence its name, which translates to ropes on the sky.
If you'd like to get the full scoop on these medieval sites, you can take a guided day tour of both Albi and Cordes.
Cordes-sur-Ciel is so ancient, so cobbled, so dreamy that it has a time warp feel. The dawn of modernity seems to have passed it over, exodus style, leaving a sweetbox escape for those who want to step back in time.
The little village began life in 1222, founded by Count Raymond VII of Toulouse.
During the Albigensian Crusade, the 20 year war between the Cathars and the French crown, Cordes-sur-Ceil was prosperous. Its wealth derived from the leather, textile, and silk industries.
Today, Cordes-sur-Ciel is an artsy village, a treasure trove of local art. Its cobbled streets are filled with quaint galleries, ateliers, and cats.
You can find contemporary painting, pottery, sculpture, handmade jewelry, glassware, woodcarvings, and artisanal leather.
You can also visit the Musée de l'Art du Sucre et du Chocolat, dedicated to sugar. As a lover of backed goods, I applaud this kind of museum.
And Cordes boasts the lovely Jardin des Paradis, which is recognized as one of the most "Remarkable Gardens in France."
If you happen to visit between December and February, don't miss the town's annual truffle market, where harvesters come to sell their "black gold."
If you want to read more about this idyllic hilltop village and how I almost lost my friend's iPad there, read my story.
If you want to stay in the area for dinner, try Estepona. It's set in the rolling countryside with a view of Cordes-sur-Ciel.
If not, head back to Toulouse where you have so many foodie options. It's a 1:20 drive back to Toulouse.
Day 4: Drive to Arles: Stop in Uzes and Pont du Gard on the way
On day 4 of your 10 days in Southern France itinerary, you'll head to your next base, the wonderful town of Arles in Provence.
On the way, stop in the classic French village of Uzes and the UNESCO-listed Pont du Gard, a well-preserved Roman aqueduct.
1. Uzes
Uzès is a honey hued historic town dating back to Roman times. It's a honeypot of a village with a charming baguette-in-hand-on-the-way-home-from-the-market vibe.
Uzès' Renaissance architecture is beautiful. Its elegant squares are the perfect place for lunch or espresso. I chose the outdoor patio of Restaurant Ten, with its atmospheric ribbed vaulted ceilings, on the Place Aux Herbes for lunch.
You can also visit Le Duché, the duke's residence. The dukes of Uzes have lived in this impressive chateau castle on and off for a thousand years.
But, mostly, just stroll the creamy limestone streets and admire the renovated architecture. Along the way, you'll see the Cathedral of St. Theodorit, the leaning Fenestrelle tower, and the medieval garden.
READ: Guide to Uzes
2. Pont du Gard
Just 20 minutes from Uzes lies the mighty Pont du Gard. It's a surviving scrap of a Roman aqueduct that's a UNESCO site. The aqueduct was an engineering marvel that originally took water from Uzes to Nimes.
The aqueduct is massive, despite taking only 5 years to build. The bridge is 48.8 meters high, 275 meters long, and sports 52 arches.
Pont du Gard was the highest aqueduct in the Roman Empire. There are three tiers of arches, one on top of the other. You can only access the upper tier via a guided walk in July and August.
The aqueduct soars over the Gardon River and its dramatic gorge. Don't hesitate to dip your feet in or indulge in a cooling-off swim.
Then, you'll leave Occitanie and head into Provence. It's a 45 minute drive to your next base, Arles.
Day 5: Explore Arles
Arles is a fantastic and underrated UNESCO town in Provence, just brimming with historic treasures. You may want to orient yourself at the outset with a 2 hour walking tour or a half day tour with all the Roman and Van Gogh sites.
To be sure, Arles is not synonymous with the languid romance and Disney perfection of Provence's tiny hilltop villages. But for the more discerning, Arles awaits, ready to wrap its tentacles around the warm blood of your heart.
Arles is beautifully situated on the Rhone River. It brims with sensuality, Rose, the smell of lavender, and Roman goodies a plenty. Throw in a huge dollop of art, two smidgeons of Mediterranean influence, and a dash of Italian flavor, and you have an ideal base for Provence.
Plus, Arles is a veritable playground of ancient Roman ruins. You'll find the massive Amphitheater (inspired by Rome's Colosseum) a Roman Theater, and Constantine's Baths.
You may want to book a guided walking tour of the highlights of this historic city.
After checking out the historic center, take a stroll through Les Alyscamps. This is another one of Arles' famous Roman attractions.
Les Alyscamps is a tree-lined Roman necropolis a short distance outside the old town walls that dates from 241 B.C.
Arles was also home to Post-Impressionist star Vincent Van Gogh. It was here that Paul Gauguin and Van Gogh formed their "studio in the south," launching a new movement in art history.
Some of Van Gogh's best paintings were created in Arles, like Starry Night Over the Rhone, Yellow House, Sunflowers, and Cafe Terrace at Night. Van Gogh claimed that, in Arles, he painted "with the gusto of a Marseillais eating bouillabaisse."
You can get your Van Gogh fix at the Fondation Vincent Van Gogh. Recently opened in 2014, it's housed in the beautifully restored Hotel Leautand de Danines, a stone mansion off the Place du Forum.
You can also follow in Van Gogh's footsteps by walking the Van Gogh Trail in Arles. It's marked by 10 steel and concrete "easels" with photos of the paintings.
You can also book a guided walking tour that focuses Arles' Van Gogh attractions and the Roman sites.
For dinner, head to Rue du Docteur Fanton. Try Gaboulet, Les Filles du 16, or Le Plazza la Paillotte.
Near the Roman Arena, I also loved Le Criquet and Chardon. If you are ready to splash out on a Michelin-starred restaurant, head to L'Atelier.
Here's my complete guide to visiting Arles, with practical information and tips for visiting. If you love all things Van Gogh, check out my article on the Van Gogh murder mystery — did Van Gogh really commit suicide or was he murdered?
Day 6: Day Trip To Les Baux and Avignon
1. Les Baux
On day 6 of your 10 days in southern France, head to the stony hilltop town of Les Beaux. It's is a popular spot, just 25 minutes down the road from Arles.
Les Baux the second most visited site in southern France (after the Pope's Palace). But don't let that put you off.
If you want to avoid tourist clogged streets, go there in off season and spend a half day. Les Baux is tiny, after all.
Les Baux is home to a great medieval castle. It's now mostly in ruins, but the stone slabs are very atmospheric.
And they remind you that Les Baux once fended off mauranding bands of medieval villains. It was eventually destroyed by Cardinal Richelieu in the 14th century, when the fortress fell into rebel hands.
Nowadays, Les Baux is just the castle ruins and the lovely cobbled town. There's only one main street with some side alleyways to meander down.
You won't get lost and you don't need a guide.
There are souvenir shops aplenty, the best ones sell beautiful Provencal fabrics. There are also quite a number of good art galleries.
If you want to lunch in Les Baux, try La Cabro d'Or or Le Mas d'Aigret.
2. Avignon
It's just a 45 minute jog north from Les Baux to Avignon. Though famous for its rhyme and medieval bridge, I didn't find Avignon quite as charming as other towns in Provence.
Though the town is full of trendy outdoor eateries and boutiques. But Avignon is a must visit for history buffs just for its brooding Popes Palace.
To get your started, you can book a walking tour of Avignon with skip the line tickets to the palace. There's also a 3 hour walking tour with wine tastings.
The popes haven't always lived at the Vatican in Rome. I had long forgotten this little factoid until I was plotting an itinerary for my southern France road trip.
From 1309-77, the popes lived in the enchanting riverside town of Avignon, rather than in Rome. That period was called the "Avignon Papacy."
Today, you can tour the magnificent Pope's Palace, where these rebellious French popes once lived. Built in 1335-52, it's the largest Gothic building in western Europe and Avignon's main attraction.
The imposing facade resembles medieval fortified churches. You can gasp at the Pope's private apartments, frescoes, and the soaring chapel. And see what it actually looked like in the 14th century on a histopad.
Be forewarned, parking in Avignon is a nightmare. It's easiest to head straight to the parking garage in the Pope's Palace. The entrance is right outside the city walls.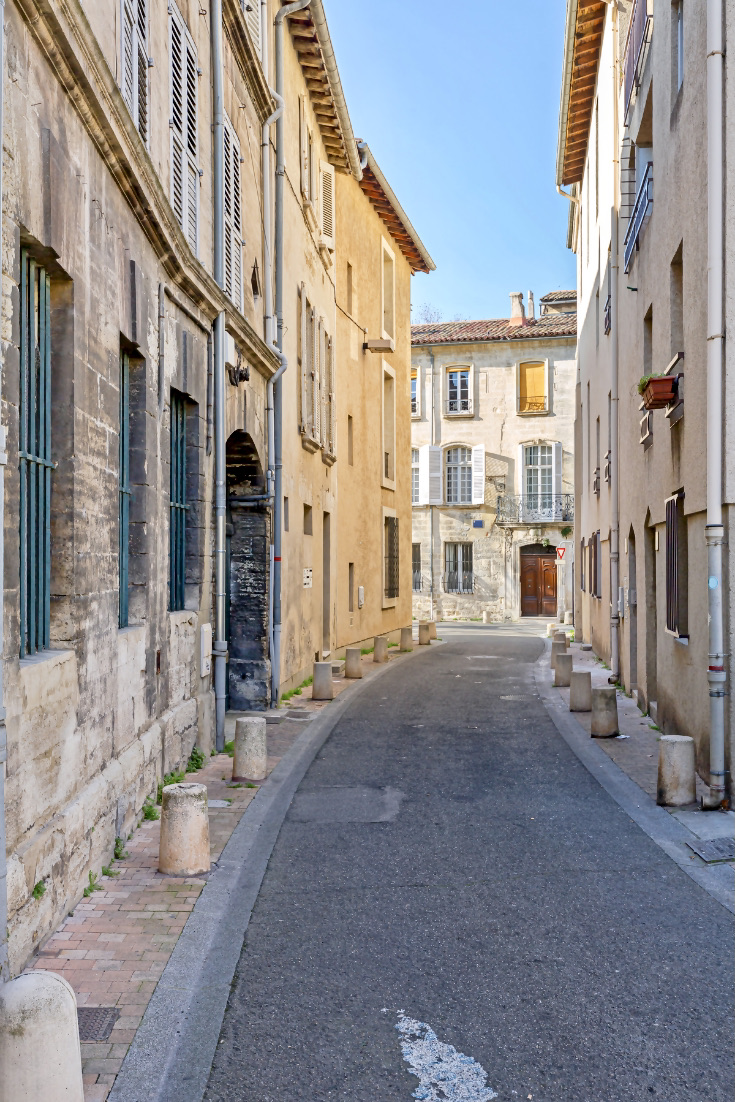 Be sure to enjoy the other splendors of Avignon. Stroll down Rue de Teinturiers. Walk out on the famous bridge that inspired the children's song, Pont Saint Benezet.
For stunning views, head to the Jardin des Doms. From there, you can even spy Mount Ventoux, of Tour de France fame.
Have dinner in Avignon. If you're a foodie, Avignon has several Michelin starred restaurants: La Vielle Fontaine, Pollen, and La Mirande.
Alternatively, on your way back to Arles, stop in the immaculate village of Saint-Remy-de-Provence for dinner. That's what I did.
Popular St. Remy is overflowing with high quality restaurants. We had a wonderful meal at Maison Drouot. In 35 minutes, you're back in Arles.
Day 7: Drive to Lourmarin, stop in L'Isle-sur-la Sorgue or Menerbes on the way
On day 7, you'll drive to your next base, Lourmarin, in Provence's Luberon Valley. On the way, you can visit L'Isle-sur-la-Sorgue, Menerbes, or both towns.
1. L'Isle-sur-la-Sorgue
L'Isle-sur-la-Sorgue is just an hour from Arles. Dubbed the "Venice of Provence," L'Isle-sur-la-Sorgue is a lively market town, split in two by the Morgue River.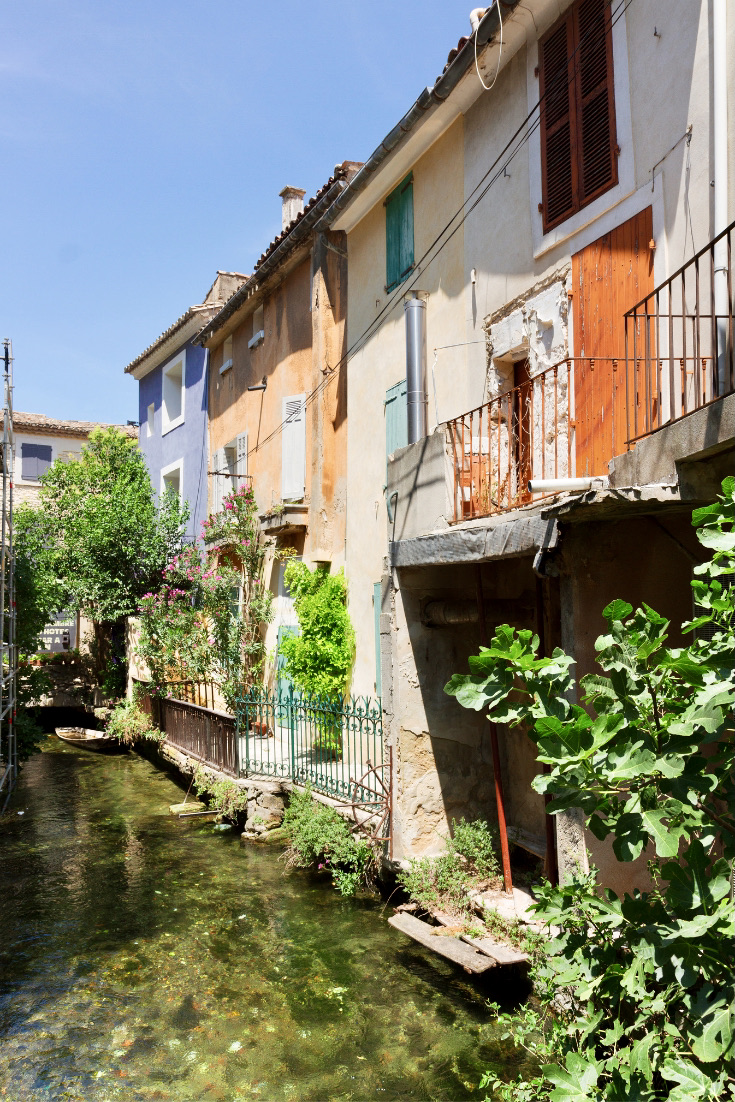 Its crystal clear water babbles under pedestrian bridges adorned with flower boxes. It's not as adorable as the classic Provencal villages, but still unique with mossy waterwheels and geraniums.
The town revolves around its church square and two pedestrianized streets, Rue de la Republique and Rue Carnot. There are plenty of shops, eateries, and museums to entertain.
The town erupts in a carnival-like market frenzy each Sunday and Thursday. Held along the quay of the Morgue River, the Sunday market is world famous for its antiques.
Outside of the Saint-Ouen in Paris, it's one of Europe's largest flea and vintage markets.
2. Menerbes
Pretty Menerbes is just 20 minutes away from L'Isle-sur-la-Sorgue. The town is another one of France's "les plus beaux villages."
It was the village that launched a thousand book sales. Menerbes is famous as the setting for Peter Mayle's book A Year in Provence.
The pretty town is dressed in French blue shutters and pink bougainvillea. It's fairly upscale with tony shops, wine bars, and chic cafes.
Rue Corneille lead to the town's cute chateau, which you can admire from the outside. Stop in at the House of Truffles and Wine for lunch/dinner or a tasting. Or try Le 5, a cute outdoor bistro.
Menerbes is also home to the beautiful 18th century Dora Maar House. The lothario Pablo Picasso purchased it in 1944 for his former lover and muse, Dora Maar, a Surrealist photographer.
He did it out of guilt. Maar had a mental breakdown after Picasso dumped her. The house is now an art foundation.
Your next base, Lourmarin, is just 20-25 minutes down the road. I think it makes a perfect base in the Luberon because it's quieter, less crowded, and less touristy than other uber popular villages in the area.
READ: Guide to the Picasso Museums in Europe
Day 8: Explore Loumarin and Bonnieux or Lacoste (or both)
On day 8 of your 10 days in southern France, you can visit Lourmarin, Bonnieux, Lacoste, or all three.
1. Lourmarin
Spend your morning exploring your new base. Lourmarin is a secret Luberon village not too far from tourist-fly Gordes.
Aside from its 15th century castle, there's delightfully not much to see or do in Lourmarin. Just soak up the quaint town center and views. Its narrow lanes spiral up to the belfry.
After your walkabout, indulge at one of Lourmarin's chic eateries or boutique stores. The cafe culture clusters around the Place de l'Ormeau.
Lourmarin also has a 15th century Gothic-Renaissance chateau. The chateau decayed into ruin and was scheduled for auction and demolition.
But it was rescued in the nick of time by Robert Laurent-Vibert, a rich industrialist and literary scholar, who restored it. The chateau now hosts wine tasting and performances in the evening.
Lourmarin has some literary cache to boot. Existentialist writer and philosopher Albert Camus lived in Lourmarin in the 1950s and is buried there.
Author Peter Mayle also lived in Lourmarin. Both add to the village's cachet.
2. Lacoste
In the afternoon, meander 15 minutes down the road to Lacoste or Bonnieux (or both).
Lacoste is fetchingly perched on a hilltop overlooking the nearby (and much larger) village of Bonnieux. In the sunset glow, Lacoste has a nice rusty coral hue.
Lacoste is paved with stone and is full of cobbled narrow alleyways and picturesque houses. Its oldest building, the Mason Forte, dates from the 9th century. Most other buildings date from the 16th century.
3. Bonnieux
The village-perche of Bonnieux is especially spectacular from a distance. It's one of the few Luberon towns that isn't pedestrianized.
Still, it has cobbled film set alleyways for you to wander and artsy galleries for you to explore.
Friday, there's a local market with the usual tasty produce. If you're interested in bread, the Boulangerie Museum is housed in an ancient stone building.
But the best reason to visit Bonnieux is for the panoramic views from the church at the town's tip top, the 12th century Vielle Eglise. You look out over the valley and Mt. Ventoux.
Stay in Bonnieux for dinner. For a splurge, reserve a spot at the two Michelin star Restaurant Edouard Loubet.
Day 9: Day Trip to Gordes and Roussillon
On day 9, you'll head to two of Provence's most famous and popular villages, Gordes and Roussillon.
1. Gordes
The photogenic village of Gordes is just 40 minutes away from Lourmarin, perched on an escarpement of the Vaucluse Mountains.
Gordes is the Luberon's most impressively situated hill town and perhaps its crown jewel.
A long winding road takes you there. And you won't be the only one. Gordes gets crowded during the day.
Though it's hard to imagine, Gordes was once a ghost town of derelict buildings. It was revivified by Avignon's theater festival. Directors clamored to find picture-perfect Provencal villages for their films.
Today, Gordes is a beauty, epitomizing rural French charm. Its homes are fully restored and it's chock full of luxury hotels, like Hotel La Bastide de Voulonne.
Pop into one with a terrace for a goblet of wine and stunning views over the Luberon Valley.
Strolling Gordes' cobbled streets is a feast for the senses. There's not much to do, except for its Tuesday market. The 11th century Gordes Castle also houses contemporary art exhibits.
Just outside Gordes lies the remote Abbey Notre-Dame de Senanque, set in a picturesque sea of lavender. It's long been discovered by tourists just for its bucolic setting. Visit in July or August for the most glorious purple views.
The abbey is still a functioning Cisterian abbey. It was built in 1148 in reaction to the excesses of the Benedictine abbeys and their fat monks.
The utterly simple church is always open. You can tour the abbey and its cloisters.
2. Roussillon
Just 15 minutes from Gordes, Roussillon is easy to fall for. It's a lovely hilltop village, nicknamed the "Orange Town." The tiny hamlet is nestled in a striking ochre ridge.
The adorable town gleams with a spectrum of yellow, pink, orange, and red shades. It's said there are 17 different shades of ochre in the village.
Roussillon has winding streets, pretty squares, and adorable pastel shuttered homes. It attracts an artsy crowd. There are 8 galleries in the tiny town.
While there, you can visit Roussillon's Sentier des Ocres, the Ochre Trail. It's a nice hiking trail where you'll see the colorful rock formations up close.
There's a 30 minute trail and a 60 minute trail. Don't wear white!
If you want to combine Lourmarin, Gordes, Roussillon, an Bonnieux on one big trip, you should consider booking this 6 hour guided tour of the Luberon Valley.
If you decided to base in Avignon rather than a small town, there's also a popular guided day tour of the Luberon from Avignon.
3. Forcalquier
If Gordes and Roussillon are too Disney-fied for your taste and you want to really get off the beaten path, try the ancient village of Forcalquier.
It's a picturesque town an hour from Lourmarin, but vastly less crowded than showstoppers like Gordes or Roussillon.
Forcalquier dates to Roman times. Its historic streets have plenty of interesting architecture — convents, chapels, bell towers, and Gothic fountains. One 15th century fountain commemorates the wedding of Henry III and Eleanor of Provence.
Forcalquier hosts the biggest market in the area on Monday in the Place du Bourget opposite the Cathedral. Thursday, there's a farmer's market.
Day 10: 3 Options for Day Trips: Aix-en-Provence, Vaison-la-Romaine, or Moustiers-Sainte-Marie + Gorges du Verdon
On the final day of your 10 days in southern France itinerary, I give you 3 options for day trips from Lourmarin, depending on what you're in the mood for and how long you want to drive: (1) Aix-en-Provence; (2) Vaison-la-Romaine; or (3) Moustiers-Sainte-Marie.
If you want to laze around a pretty French town, head to Aix-en-Provence. If you want to explore an amazing medieval town with a dollop of Roman ruins, head to Vaison-la-Romaine.
If you want to see one of France's most beautiful villages, head to Moustiers-Sainte-Marie and take a peak at the Gorges du Verdon.
Here are the estimated driving times:
Drive from Lourmarin to Aix-en-Provence: 40 minutes
Drive from Lourmarin to Vaison-la-Romaine: 1:15
Drive from Lourmarin to Moustiers-Sainte-Marie: 1:30
Drive from Moustiers-Sainte-Marie to Verdon Gorge: 40 minutes
1. Option 1: Aix-en-Provence
Aix-en-Provence is a chic little university town known as the "city of 1,000 fountains." It's full of attractive leafy boulevards, cobblestone lanes, and a fortressed historic center.
The ancient city wall still stands. In contrast to the tiny Luberon villages, Aix almost seems like a big city, reminiscent of the Left Bank of Paris.
The picturesque Le Cours Mirabeau is the central artery, which makes the perfect stroll through the old town. Stop in to inspect Saint Sauveur Cathedral, with Gothic influences, and the 15th century town hall.
There's also an open air market three times per week. Aix is a great place to take a food tour.
If you're a fan of the Post-Impressionist artist Paul Cezanne, he was born in Aix and you can visit his studio, the Musee-Atelier Cezanne. The Musee Granet also boasts 9 Cezanne paintings.
2. Option 2: Vaison-la-Romaine
The lovely Vaison-la-Romaine is a hidden gem in northern Provence, away from Provence's main tourist destinations. Vaison-la-Romaine is an ancient town made almost entirely of stone and dotted with spiky cypress trees.
Seated on the Ouvèze River, the town is dual faceted and split in two, with an upper medieval town and a lower Roman town — an efficient "two for one" dose of history.
Cross the ancient Roman bridge spanning the Ouveze River and hike up through the medieval gate. Then, you're in Vaison's car free medieval part.
There's nothing particular to see there. But it's so lovely you'll have trouble ungluing your camera from your face.
Based in the lower city, the Roman part of Vaison-la-Romaine was discovered in 1907. It's the most important Gallo-Roman site in France.
The luxuriousness of the restored patrician villas, filled with beautiful mosaics, reveal that Vaison was once a prosperous Roman town.
When you're done admiring the mosaics, head to the 1st century Roman Theater.
No one will be there. Take center stage and sing your own aria.
3. Moustiers-Sainte-Marie + Gorges du Verdon
This would be a busier day trip. But, for the ambitious, Moustiers-Sainte-Marie is a must see authentic medieval village near the ever-so-beautiful Gorges du Verdon.
Dramatically located on the Adou river, this tiny village is one of France's "les plus beaux villages."
You can easily see why. Moustiers is encrusted between two limestone cliffs, complete with a cascading stream and waterfall. A golden star, hooked to an iron chain, hangs between the cliffs.
Moustiers is not the easiest place to park. Look for paid lots close to the village.
Then, wander through the knotty narrow streets and browse in Moustiers' acclaimed pottery shops.
A 17th century monk from Italy introduced the secret of enamel-making and it was revitalized in the 19th century.
Check out the 13th century Notre Dame de Beauvoir, the most significant historic landmark in Moustiers. It's at the end of a rather steep stone path. But it's worth the trek for the views.
In the middle ages, the church was a pilgrimage spot. Still born children were brought there and allegedly revivified for a few moments to be properly baptized.
4. Gorges du Verdon
Just 40 minutes from Moustiers is the impressive Verdon Gorge. It's the most spectacular canyon in France.
Stunning blue-hued water cuts between limestone rock formations. You can hike, kayak, or cliff jump. If you have time, a 2 hour driving circuit takes you on a scenic route from Moustiers to Trigance.
More Time in Southern France?
Do have more than 10 days in Southern France? Keep heading east to the French Riviera and Nice.
Nice is a chic and beautiful city. You can drive the breathtaking coastal road to Monaco.
Some of the Riviera towns are too glitzy or over-touristed for my taste. But there's some beautiful villages to explore — Eze, St. Paul de Vence, Grasse, and Cassis.
I hope you've enjoyed my 10 day is southern France itinerary. You may enjoy these other travel guides and resources for France:
If you'd like to spend 10 days in southern France, pin it for later.