Planning a trip to Italy? Here's my itinerary for one action packed one day in Milan, a city in the Lombardy region of northern Italy. Stylish Milan is a fascinating and vibrant city with serious arts scene, breathtaking must visit attractions, and gastronomical delights.
Milan is one of Europe's most underrated cities. To my mind, Milan definitely deserves several days, if you have the ample time on your Italy itinerary. But I know many visitors are anxious to see the many other beautiful towns in Italy or visit Rome and Venice.
So, I've condensed the absolute top attractions in Milan into a detailed, hour by hour DIY itinerary to help plan 1 perfect day in Milan. You'll need to start early and pre-purchase tickets online for the Duomo complex and Leonardo da Vinci's The Last Supper.
If you have more than one day in Milan, you can proceed more slowly and easily spread this itinerary out over two days in Milan.
One Day In Milan Itinerary
Let's have a day out in Milan, from the Duomo to the Navigli. Here's what you'll see and do in one perfect day in Milan.
8:00 AM: Luini
Start your 1 day Milan itinerary at Luini. It's just minutes away from the Duomo. Luini is a Milanese institution and its panzerotti a signature dish.
A panzerotto is a tasty half moon concoction of fried dough filled with mozzarella, tomato, ham, or eggplant. When you've indulged and are sufficiently caffeinated, head to Piazza del Duomo, the beating heart of Milan.
9:00 AM: Duomo Complex
The Duomo is the nickname for Milan Cathedral, a world renowned edifice and true marvel. Built over 600 years beginning in 1368, the Duomo is Milan's flamboyant Gothic masterpiece.
The cathedral has 135 marble spires and 3400 statues. It's the fourth largest church in the Europe, second in size in Italy only to St. Peter's Basilica in Rome.
Milan's Duomo Complex consists of five sites: (1) the cathedral itself, (2) the cathedral's rooftop terrace; (3) the Duomo Museum; (4) the crypt; and (5) the archaeological area.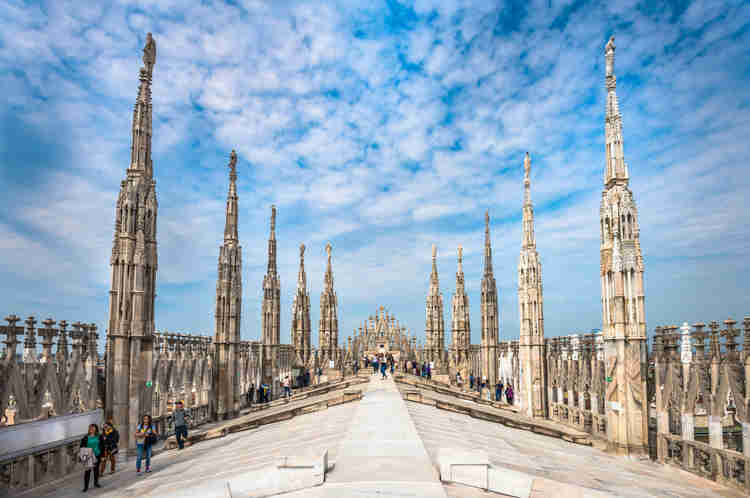 Ideally, you should plan to visit the rooftop first for an overview. Then head to the Duomo Museum to learn the history of the Duomo. After being educated, head inside to the cathedral, crypt, and archaeological sites.
The rooftop terrace is one of Milan's most amazing experiences. It can be reached either via a staircase or an elevator. But even after the elevator, you've got to plod up some narrow steep steps.
And the elevator is one way. You have to hoof it back down. So keep this in mind if there are mobility issues in your travel group.
READ: Guide To Italy's Most Beautiful Churches
From the rooftop, you have an excellent view of the details of the intricate stonemasonry, especially the fanciful gargoyles that serve as drains You can see the panorama of the entire city before you.
To make sure your visit is efficient and you skip any long queues, I recommend getting the combined skip the line fast track option for all five Duomo sites. That's the only way to see everything efficiently, if you have only one day in Milan.
Click here to buy a ticket online in advance. When you arrive at the Duomo, make sure to get in the fast track line.
If you don't buy a ticket online, you probably need to arrive early, around 8:00 am. Purchase a ticket from the machines near the Duomo Museum. You'll need to make sure your shoulders and knees are covered to enter the Duomo.
12:00 PM: Galleria Vittorio Emanuele II
You next stop on your one day Milan itinerary is the Galleria Vittorio Emanuele II. It's right on the Piazza del Duomo.
The galleria is the pride of Milan. Built from 1865-77 by Giuseppe Mengoni, the dreamy Galleria is the oldest covered shopping arcade in the world. It may be the most elegant as well. The Galleria is outfitted in classic Renaissance style with marble, iron, and glass.
You can admire the admire the mosaics of Asia, Africa, Europe, and America in the vault above. The floor is covered with mosaics representing Italy's key cities. The bull that's the symbol of Turin is a big draw. Legend holds that if you take a spin on his private parts, good luck will follow.
Inside the Galleria, you'll find luxury brands (Gucci, Prada, Versace) and high end restaurants. Even if you're not planning on buying anything, it's still worth checking out for the beautiful architecture and design.
1:00 PM: Lunch in the Brera District
Head to Milan's Brera district for lunch. It's approximately a 15 minute walk from the Piazza del Duomo.
Brera is a romantic and sophisticated district in the historic center of Milan. It's considered the artistic center of Milan. With its cobblestone lanes, Brera has been compared to the Montmartre neighborhood in Paris. Eat lunch and have a wander around.
For lunch in Brera, you've got some really good options. You can try Obicà Brera a stylish mozzarella bar that's become a hot concept in Italy. (There's one opposite the Duomo as well.) Besides the fresh mozzarella, Obicà has a mouthwatering lineup of other Italian delicacies.
Alternatively, for classic dishes with a modern twist, try Daniel Ristorante. If your heart is set on a more traditional Milanese meal, go with the veal osso bucco with risotto. You'll need to make reservations for this elegant Michelin-starred eatery.
3:00 PM: Pinacoteca di Brera or Castle Sforza
After a leisurely lunch and reboot, I recommend visiting either Pinacoteca di Brera or Castle Sforza. You won't have time to do both. If you want to see Leonardo's The Last Supper later you have to choose.
1. Pinacoteca di Brera
As its name suggests, the Pinacoteca di Brera is right in the Brera district. The museum is Milan's premiere museum and a must see site for art lovers.
Its exquisite collection is housed inside the beautiful late 17th century Palazzo Brera. The museum has a magnificent collection of Italian art, especially religious-themed works from the 14th to 16th centuries. It's one of the best museums you've never heard of.
The Pinacoteca di Brera boasts important pieces by the likes of Raphael, Caravaggio, Guercino, Bellini, Rubens, and Titian. The museum's must see masterpieces are Caravaggio's Supper at Emmaus, Francesco Hayez's The Kiss, Andrea Mantegna's Lamentation of Christ, Raphael's Marriage of the Virgin, and Bellinis's Pieta.
If you get madonna and saints fatigue, the Brera also has a high quality modern art collection. Here's my complete guide to the Brera Museum.
READ: Guide To the Caravaggio Trail in Rome
2. Castle Sforza
If you prefer castles to museums, head to Castle Sforza on the edge of the Brera district. The Castello Sforzesco is one of Milan's most stately structures.
It's a splendid example of Renaissance architecture, the product of mercenary-turned-politician Francesco Sforza. It was the former seat of the Dukes of Milan.
Today, the castle houses various museums: the Pieta Rondanini museum, the Art Gallery, the Archaeological Museum, and the Museum of Decorative Arts. Though the castle courtyards are free, there's a fee for the museums.
Inside, you'll find Michelangelo's moving final (unfinished) sculpture, the Rondanini Pieta. It was found in his studio after he died at age 89.
There's also an elaborate ceiling fresco by Leonardo da Vinci in the Salle del Asse. It depicts a garden pergola with 16 mulberry trees bound together by a golden rope.
As with The Last Supper, painted in seco fresco, it was in a state of disrepair. After conservation, it's now back on display for the first time since 2013.
READ: Guide To all the Paintings of Leonardo da Vinci
After a walk around Castello Sforzesco's extraordinarily thick walls, if you have extra time, don't resist another stroll in the lush parkland behind the castle. Parco Sempione is an ideal spot for wandering and relaxing.
5:00 PM: Leonardo's The Last Supper at Santa Maria delle Grazie
Now it's time for one of the highlights of your one day in Milan itinerary — seeing Leonardo's The Last Supper.
Hop on the metro or take a taxi to the UNESCO-listed Santa Marie delle Grazie. The closest metro stop is Conciliazione or Cadorna.
From there, it's a 10 minute walk. The guided tour itself is only 20 minutes, so it's a quick detour from Milan's historic center.
The Last Supper is one of the world's most iconic paintings, found on the back wall of the refectory in Santa Maria delle Grazie. No painting is so familiar, save for the Mona Lisa at the Louvre.
Painted by Leonardo da Vinci, the billboard size wall painting is a Renaissance masterpiece. It shows the moment when Christ reveals that one of his apostles will betray him. You can see the varying psychological reactions.
READ: Guide To the Paintings of Leonardo da Vinci
You've got to be organized and reserve your timed entry slot in advance to see this quasi-restored, yet still beautiful, masterpiece. Advance reservations are mandatory and can be made 2-3 months in a advance.
I've written a complete guide to everything you need to know about seeing The Last Supper — what to expect, how to get tickets, and an analysis of the painting itself.
Here's my complete guide to visiting Leonardo's The Last Supper. It gives you must know practical tips for visiting and an overview of the history of Leonardo's fresco.
READ: Guide To Milan's Must See Masterpieces
6:30 PM: Apertivo in the Canals of the Navigli
Hand me my Negroni! Now, it's time to relax and enjoy the Italian custom of apertivo, a cultural phenomenon popularized in Milan. Apertivo is a Milanese twist on happy hour with pre-dinner cocktails and free nibbles. To indulge, head to the buzzing Canals of the Navigli.
The Navigli is a picturesque canal area full of life, history, and character. It's where locals go to escape the bustle of the city. Milan's canal system dates from the late 13th century, when canals were installed to carry marble to the Duomo for construction. The canals were designed in part by Leonardo.
The Navigli area is THE place to be at night. The area is crammed with trendy speakeasies, cafes, restaurants, clubs, and vintage clothing stores. You can also take a canal or gondola cruise.
If you'd rather stay in the Duomo area, you could stop in at the bougie Terrazza Aperol on Via Ugo Foscolo. It's a very touristy place. The upside is a strategic view over Piazza del Duomo. The downside that comes with a great view — long lines and higher prices.
8:30 PM: Dinner
Make reservations in advance for one of Milan's finest restaurants to finish off your day. The traditional Milanese specialities are hearty fare — risotto, veal cutlets, osso buco, pappardelle pasta in mushroom sauce, and meat filled ravioli. But there are plenty of more exotic and modern dishes as well.
If you want to dine in style, try Contraste, Restaurant Giacomo Arengario (with Duomo views), or Joia (vegetarian). If you want to check out the opera house La Scala, you could dine at the elegant Il Marchesino.
If you want something more casual, try Pescaria, Dongio, 28 Posti, or Piz. For the best cheap food, including street food in Milan, click here for a local's guide.
I hope you've enjoyed my one day in Milan itinerary. If you'd like to visit other amazing cities in Italy, here are some of my other Italy travel guides and resources:
10 Day Road Itinerary for Italy
10 Day Itinerary Milan To Rome
If you want to spend 1 epic day in Milan, pin it for later.