Planning a trip to Brittany France?
Here's my guide to the most beautiful towns in Brittany, a dramatic and wild region of northwest France. Brittany is deliciously varied. There's spectacular scenery — heathland, marshes, a jagged coastline, stunning sand beaches, and azure waves.
Brittany is also just filled with secret medieval towns and villages where you can disappear down a cobbled lane into history.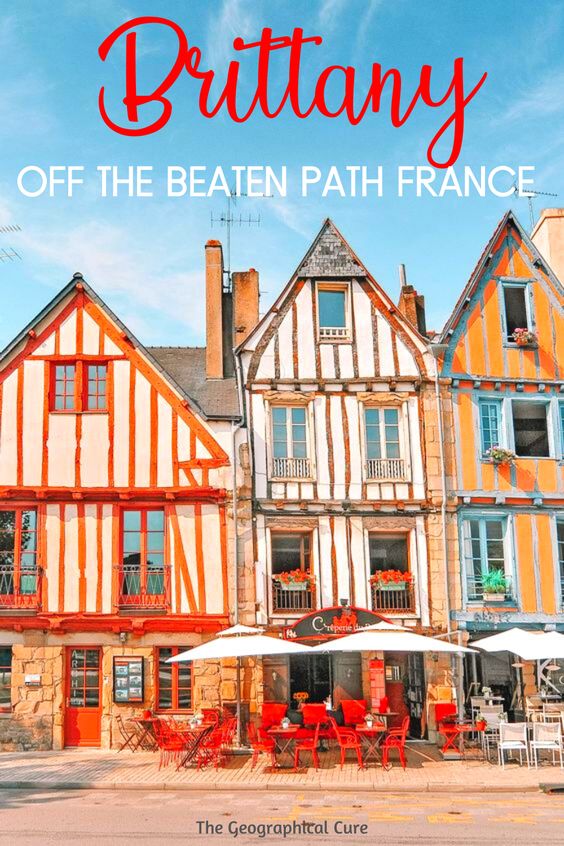 If you've been in Paris or just want to get off the beaten path and explore secret areas of France, Brittany makes the perfect escape.
In Brittany, the Breton language is still proudly spoken. It's actually closer to Welsh than to French. The further west you go, the wilder Brittany gets. If you want sun, be sure to visit between March and October.
And don't forget to sample the crepes. Crepes are to Bretons what pasta is to Italians.
20 Beautiful Towns in Brittany France
Brittany is divided into four departments: Finistere in the west, Cotes-d'Armor in the north, Ille-et-Vilaine int northeast, and Morbihan in the south. Let's take a tour of the most beautiful villages in all four areas.
1. Daoulas
Daoulas is a beautiful town in Brittany that's Shakespeare famous. Shakespeare's father lived in Daoulas. He was a cloth merchant who exported precious fabrics to London. Daolus is even mentioned in Henry IV, Part I.
If, like me you're a ruin luster, Daoulas is famed for the early Gothic ruins of an ancient Augustinian abbey.
The abbey was founded in 500 AD on the banks of the river. The cloister is a unique example of a 12th century Romanesque cloister. Today, it's a cultural center.
2. Locronan
Locronan is one of Brittany's plus beaux villages and also designated as a "little City of Character." It was a rich merchant village in the middle ages.
So picturesque are its streets that Locronan has been the filming location for several historical films, including Roman Polanski's Tess.
The centerpiece is the Grand Place of Locronan. It's graced with gorgeous buildings, dating from the 16th to the 18th centuries — granite homes, slate roofs, and fetching shutters.
Don't miss the 15th century Church of Saint-Ronan. The chief feature is its belfry, which lost its spire in a lightening storm. Another lovely building is the Notre Dame Chapel of Bone-Nousbelle.
3. Rochefort-en-Terre
Rochefort-en-Terre is one of France's les plus beaux villages and a must see village in Brittany. It was voted "France's favorite village" in 2016.
It's difficult to imagine a more beautiful and well-manicured French hamlet. Rochefort-en-Terre is fairytale-perfect and almost mind blowing, a sensation I had upon glimpsing the beautiful Rothenburg ob der Tauber on Germany's Romantic Road.
Rochefort-en-Terre is an architectural dream, beautifully sited on a hilltop overlooking the Valley of Arz. It's a town where rich merchants built lavishly decorated chateaus. Most date from the 17th century.
The mansions run from the Rue de Porche to the Place du Puits. They're made of granite and half timbers and adorned with corbelled turrets, sculptures, and wood carvings.
As you stroll, inspect the Notre Dame de la Tronchaye church, which dates from the 16th and 17th centuries. It's famed for a statue of the Virgin Mary, which was discovered by a shepherdess in a tree trunk.
The most swoonful place in Rochefort-en-Terre is the Place du Puits. It's the perfect intimate village setting with stone buildings, hanging iron signs, a fountain, and flower boxes on every facade.
Pop into L'Art Gourmand for delicious chocolatey things. If hunger calls, try Le Café Breton, boasting original medieval decor. There are plenty of crepes and waffles to be had as well.
4. Josselin
The town of Josselin sits on the Nantes-Brest canal. Its fortress, Chateau Josselin, was ravaged over the years, including by Cardinal Richelieu. But three round towers with conical roofs still remain. The fortress was restored in the 1860s.
Josselin is a seductive medieval ensemble. It's home to medieval half timbered houses, the flamboyant gothic Basilica Notre-Dame du Roncier, and a lively Saturday market.
Climb to the top of the bell tower of the basilica for panoramic views over the town and surrounding area.
The basilica is Josselin's finest building after the fortress. There's a cardinal's coat of arms carved on the doorway. The pulpit is an 18th century wrought iron masterpiece.
5. Locmariaquer
Lochmariaquer means a "place consecrated to Mary." It's a resort town, offering promontory views of the Morbihan coast. Beautiful homes line the seductive Rue Lafayette.
Aside from being a pretty village, Lochmariquer is a Stone Age paradise for history buffs and ruin lusters. It's the site of the most renowned Breton menhirs or standing stones, dating from between 3500 and 1800 B.C.
The stones (or burial chambers) were aligned, in part, to reflect the movement of the sun and moon. One dolmen, Mane Rethual, can be entered along a cover tunnel. The Gran-Menhir is a single piece of granite, 280 tons.
6. Paimpont
Paimpont is a village of lakes and chateaus. It's reputedly the birthplace of the Lady of the Lake, from the Arthurian legends, who resurrected Lancelot. The Paimpont Chateau houses a museum devoted to Arthurian lore.
Surrounded by an ancient forest, Paimpont is the perfect stepping off point to explore the legendary forest of Brocéliande, which was supposedly home to King Arthur and the wizard Merlin.
Many trails lead from the town into the forest.
For those more interested in historical sites, the town's ancient abbey dates from 1199. It was built on the sacred site of a 17th century monastery and has a stunning lakeside location.
7. Ploumanac'h
Ploumanac'h is one of the most beautiful towns in Brittany. It's located on spectacular "pink granite coast," halfway along the northern coast.
It's essentially a glittering secret seaside. Ploumanac'h's ruddy pink granite rock formations create an utterly surreal coastline. The town's active edge of the world lighthouse stands guard.
Befitting a coastal town, Ploumanac'h contains both a beach area (Ploumanac'h-Plage), and an inland village (Ploumanac'h-Bourg). "Plou" means parish and "manac'h" means monk.
The most popular footpath in Ploumanac'h starts from the main beach area and undulates along the Sentier des Douaniers for three miles. Enjoy the soft dreamy granite and unusual vistas.
8. Fougeres
Tiny little Fougere is a delightful medieval village, only 40 minutes from Brittany's chief city, Rennes. Fougeres is a must see for its fairytale-like chateau, the Chateau de Fougeres. The cutest spot in Fougeres is the Place du Marchix with its half timbered mansions and gardens.
For a delightful stroll through town, start at the parking lot near the chateau. Walk through Porte Sainte, the only remaining gate to the walled city. The chateau is on your left.
The chateau is more than 1000 years old. It has 13 towers connected by ramparts.
After circling the ramparts, head to the medieval quarter to visit Saint-Leonard church. There's also a hilltop garden, the Jardin Public, next door. From the Church of Saint-Leonard you have the best view of the chateau.
9. Vannes
The medieval town of Vannes is one of the best places to visit in the Morbihan (southern) region of Brittany. Vannes is an ancient town famous for its iconic cobbled lanes, narrow streets, and walled fortifications.
As you stroll, enjoy the phenomenal art and architecture. Visit the magnificent Saint-Pierre Cathedral, the Hotel de Ville de Vannes, the Musée des Beaux-Arts de Vannes, and Henry IV Square.
Vannes is also known locally for its great foodie scene — especially crepes, local cider, and seafood. If you need a meal in Vannes, you're in luck. Vannes is home to several Michelen starred restaurants, including Le Pressoir.
10. Roscoff
Roscoff is a charming seaside town located in the Finistère region on the northern coast. It's officially designated a "town of character." You can explore the harbor, beaches, and the attractive architecture.
Roscoff is filled with 16th and 17th century buildings. The main sites are its 16th century church and botanical gardens.
Other highlights of this pretty Breton town include the historic botanical garden of Georges Delaselle Garden and the heritage museum of Maison des Johnnies et de l'Oignon de Roscoff.
11. Carnac
Carnac is a small, charming town on Brittany's southern coastline. Carnac's claim to fame is its Neolithic stones, the Carnac Stones. They are the world's largest and densest collection of Neolithic monuments, with almost 3000 stones.
If you are a ruin luster, Carnac is a mandatory stop in Brittany. Erected by the pre-Celtic people, the stones may date to as early as 4500 BC. They consist of single standing stones called menhirs and multi-cluster stones called dolmens.
Their actual purpose remains mysterious. Various theories claim they were used for ceremonies, burial sites, and even astrological purposes.
The town of Carnac itself is divided into Carnac-Ville and Carnac-Plages (beaches). At the town center is the 17th century church, St. Cornely, and the Museum of Prehistory. Carnac-Plages is an seaside resort on Quiberon Bay, with fine sandy beaches and plenty of shops and restaurants.
12. Saint-Malo
Saint-Malo is a charming walled town, thrust out into the sea and straight out of the history books. Founded in the 1st century, Saint Malo became a prominent Roman fortified site.
In the 17th and 18th centuries, it was a famous port used by trade ships and pirates alike. Saint Malo starred in the wonderful and evocative book All the Light We Cannot See, winner of the 2015 Pulitzer Prize.
The best things to do in Saint Malo are to wander along the town's 12th century ramparts (a rewarding 1 mile romp), which encircle the town, and explore the ancient churches. Though seriously damaged in WWII, Saint Malo was restored to perfection. To see it all, you may want to book a guided walking tour.
Saint Malo Cathedral also dates from the 12th century. It has some beautiful stained glass windows.
But strolling the cobbled streets is the main attraction. Discover Maison Hussaye, the oldest house in the city with a cute turret. After a stroll, head to the beach and relax.
13. Quimper
The postcard perfect town of Quimper is one of Brittany's most beautiful and oldest towns, located along the Odet River. Originally settled during Roman times, Quimper is the Celtic capital of the region. It's all Gothic architecture, footbridges, and ancient cobbled lanes.
Quimper's most famous landmark is the Cathedral of St. Corentin, built between the 12th and 18th centuries.
If you're an art lover, you can wile away a couple hours in the Musee des Beaux-Arts or Quimper's Pottery Museum. Quimper had an economic boom in the 17th century thanks to its pottery trade.
If you're a fan of the BBC's Poldark series, you may remember that Quimper is where Ross Poldark makes a daring rescue of Dwight Enes from prison. The episode (Season 3, Episode 5) was filmed onsite at the former convent turned prison in real life in 1790.
14. Auray
Auray has all the components of a quaint, easy on the eyes town.
Located in the port of Saint-Goustan, Auray is fill with historic half-timbered and stone houses. It's is a lovely place with chic restaurants, tony cafes, and arty boutiques.
Auray dates back to the 1600s and 1700s, when the port was a major trading hub and source of international sales. The town even welcomed Benjamin Franklin in 1776 when he sought French assistance in the Revolutionary War.
15. Saint-Suliac
Saint-Suliac is another of Brittany's plus beaux villages. It's a charming tiny fishing village, located between Saint-Malo and Dinan.
Its pretty granite houses, dating from the 14th and 15th centuries, are adorned with flowers, painted shutters, and fishing nets.
There's not much to do besides enjoy the swoonful scenery. There's an attractive 13th century church, one of Brittany's oldest. You'll want to photograph every nook and cranny.
If you promenade down the Rue des Besnieres, you'll come to a statue of the Virgin of Grainfollet, which was thought to protect the villagers from the likes of cholera.
16. Moncontour
Beautiful Moncontour is another of France's "les plus beaux" villages. It's a medieval walled town perched on a hill at the confluence of two rivers.
Based on its location, Moncontour was a strategically important medieval village. Richelieu battered the town in the French Revolution. But its doughty fortress still remains.
The old town of Moncontour is incredibly charming. Its half timbered houses date from the 17th century, when Montocour was a wealthy trader in hemp and linen. The most delightful ones are on the Rue des Dames, Rue du Docteur Sagory, and the Place du Martray.
Moncontour also has a 16th century parish church with a belfry, Saint-Mathurin. It boasts superb stained glass windows, which ornament the choir and the nave.
17. Dinan
Hanging on the side of a cliff, Dinan is one of the most famous and magical villages in Brittany. In all of France really.
If you only have time for one stop in Brittany, make it Dinan. It's an impeccably preserved ancient city that escaped the bombing of WWII.
Dinan is a walled village with hefty ramparts, cobbled lanes, and half timbers everywhere. Dinan has barely changed since the middle ages. What could be more romantic?
The best thing to do in Dinan is to simply savor its old world charm. Wander the port, walk the ancient medieval walls (1.8 miles), admire the 14th century Chateau de Dinan, and visit St. Sauveur Basilica.
The basilica dates from the 12th century. It's a charming blend of Romanesque and Gothic architecture. It has striking modern stained glass in a well lit nave.
But Dinan's absolute must see site isn't really a site at all. It's a street, the Rue du Jerzual.
It's the pedestrianized main street that winds through the town down to the port. Along the way, you'll pass half timbers with wisteria covered facades, art galleries, and shops.
18. Vitre
Vitre is a beguiling medieval town with a fairytale castle. It boasts Brittany's characteristic half-timbered houses, stones cottages, and quaint cobbled streets.
The spiky castle is called the Chateau de Vitre. You can take a self guided tour. One tower is 6 levels high, affording great views. The fortified castle is small, but authentically foreboding.
The infamous Madame de Sévigné is Vitre's most famous former resident. She was a novelist who fell in love with the chateau-castle and visited frequently.
Her private letters to her daughter — sparkling with wit, intelligence, and gossip — are considered one of the great works of 17th century literature.
19. Mont Saint-Michel
Mont Saint-Michel is one of France's most visited landmarks, dedicated to the Archangel St. Michael. It's a breathtaking Gothic fortress-style island commune rising dramatically from the bay.
Both the rock top abbey and the cobbled alleys will leave you in a medieval state of mind.
The star attraction is the Abbey of Mont Saint-Michel and its lovely cloister. It was settled in 996 by Bendictine monks. For 1,200 years, it's been a Christian pilgrimage site. The abbey is a mix of architectural styles, with religious and military overtones.
After the French Revolution, when France was de-Christianized, the abbey became a prison. It was closed in 1863. In 1979, Mont St. Michel was declared a UNESCO site.
Here's my complete guide to visiting Mont Saint-Michel. Click here to pre-book a skip the line ticket.
You can visit on a full day guided tour from Paris. Alternatively, you can book a guided tour from Bayeux.
20. Cancale
Cancale is a coastal fishing village. It's also the oyster capitol of Brittany, gaining fame when it was featured in Anthony Bourdain's No Reservations.
If you're crazy for oysters, you can even take a tour of the oyster beds with the Saint Malo tourist office.
While known for its oysters, Cancale is beloved for its natural beauty. You may even have a glimpse of Mont St. Michel. Stroll around the port, cruise on a traditional fishing board, and wander in the historic center.
You can even walk to Cancale from Saint Malo.
You may enjoy these other travel guides and resources for France:
If you'd like to visit the most beautiful villages in Brittany, pin it for later.