Are you someone who enjoys traveling with a specific theme in mind? If so, I have an exciting guide just for you! In this guide, I'll take you on a delightful trip through the Impressionism Trail in Normandy region.
On the Impressionist Trail, you'll have the opportunity to explore 13 of Normandy's most picturesque towns. You can immerse yourself in the birthplace of the Impressionist movement and see the breathtaking landscapes that inspired these talented artists.
Many of these charming Normandy towns are conveniently located for day trips from Paris, making them perfect for a weekend getaway as well.
Some towns are popular tourist destinations, while others are hidden gems waiting to be discovered. You can even combine these delightful towns for an unforgettable road trip through northern France.
READ: Beautiful Towns In Normandy
While Paris was the capital of 19th century art, it was Normandy that played a significant role in shaping modern art. Normandy and Impressionism are inherently linked, forming an inseparable bond.
No other place is as intertwined with a particular art movement as Normandy is with Impressionism. The Impressionist painters not only shared a unique style focused on capturing light and color, but they also found a shared muse in Normandy.
Many of the greatest artists of the genre, such as Claude Monet, Alfred Sisley, Berthe Morisot, Pierre-Auguste Rodin, Camille Pissarro, and Vincent Van Gogh, either lived in or drew inspiration from Normandy.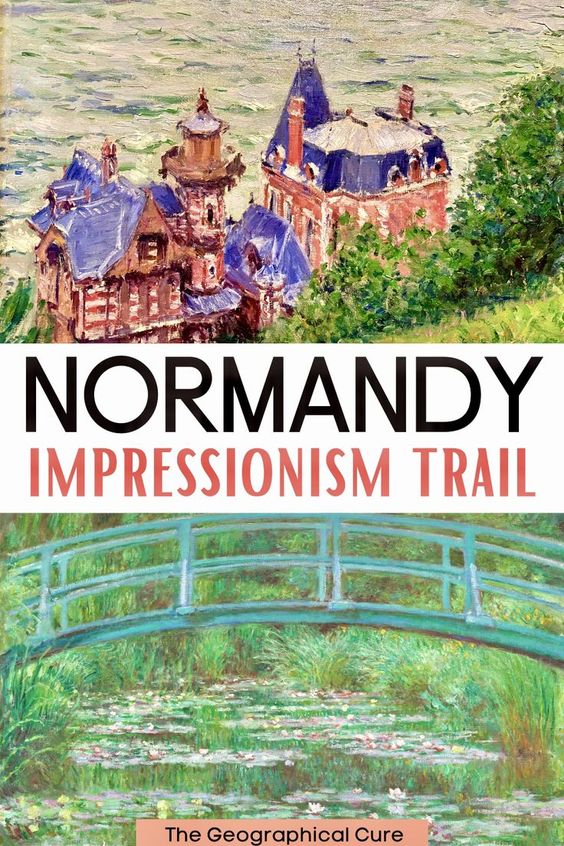 Seeking refuge from the bustling city life of Paris, these painters were drawn to the idyllic scenery that they sought to immortalize on their canvases. They followed the meandering path of the Seine River to the captivating towns of Normandy, which offered a picturesque coastline closest to Paris.
It's easy to understand why Normandy captivated the hearts of the Impressionists. With its reflective waters, ever-changing hues, and atmospheric weather patterns, Normandy provided the perfect backdrop for the new school of open-air painting.
Steeped in history, Normandy is dotted with fairytale villages filled with fetching half timbered architecture and cobbled squares. The region has stunning coastline vistas, unspoiled beaches, postcard worthy landscapes, and soothing sea breezes.
READ: One Week In Normandy Itinerary
And then there's the light. Normandy has a certain luminescence, an incandescent clarity that infuses the bright blue skies and fluffy white clouds. The light continually changes, sometimes in shadow and then the next instant brightening in the moody skies.
What Is Impressionism?
Impressionism emerged as the pioneering movement that marked the beginning of modern painting. During the late 19th century, it was a renegade art movement that stirred controversy. Faced with repeated rejection of their works by the established Salon, which was endorsed by the government, the artists took matters into their own hands by organizing independent exhibitions.
In stark contrast to their predecessors, the Impressionists defied the strict rules imposed by the hierarchical and oppressive art establishment. These rules demanded paintings to have a defined, polished appearance and portray idealized subjects from history, literature, or mythology.
Undeterred by the intense criticism, the Impressionists carved their own path and revolutionized the approach to painting. Instead of depicting subjects based on familiar knowledge, the artists chose to capture what they saw and felt in their surroundings. They embraced the fleeting moments, the play of light, and the evoc
The Impressionists had a clear goal in mind: to convey the transient and sensory impact of a leisurely scene—the immediate impression that objects made on the eye in a fleeting moment.
They achieved this through their distinctive techniques, characterized by quick and spontaneous brushwork, a lighter color palette, and a focus on capturing the effects of light. In fact, Monet famously described their approach as the "search for instantaneity."
What set the Impressionists apart was their preference for painting outdoors, a practice known as "plein air." This was quite unconventional at the time, as most artists worked indoors. The invention of portable paint tubes greatly facilitated this outdoor painting revolution.
Impressionism made its debut at an exhibition that was disparagingly referred to as the "Exhibition of the Impressionists" in 1874. Critics vehemently disliked the artwork.
They considered the Impressionists' sketch-like style to be unfinished, scandalous, and downright ugly. However, these negative reactions did not deter the Impressionists from pursuing their unique artistic vision.
In particular, Monet's painting, Impression: Sunrise, shocked the public. One sneering critic decried the work as nothing more than an "impression," worse than wallpaper. The insult stuck and gave birth to the name of the radical movement.
The Impressionists were initially inspired by Edouard Manet. But he was not a formal member of their group.
The fountainhead and messiah was Claude Monet, who is synonymous with the movement. Monet was one of the few artists to achieve financial and critical success in his lifetime.
But the savaged eventually became the revered. Impressionism became a global force. Impressionist insults were consigned to the dust bin of history. Today, Impressionism is one of the world's favorite genres, a crowd pleasing blockbuster — with lines for museums and exhibitions around the world.
Impressionism Destinations in Normandy
Let's follow the Impressionism Trail in Normandy, visiting pretty town after pretty town. Part of the attraction of these Normandy destinations is that they look exactly as they did over a century ago when the Impressionists fell in love with the region.
You can see Normandy as the Impressionists saw it. You can photograph scenes the Impressionists rendered. You'll likely experience the feeling of deja vu, as if you've just stepped into a famous or beloved painting.
Here are 13 places in Normandy to walk in the footsteps of the Impressionists:
1. Giverny
I'll kick start this list with the most famous Impressionism-related destination in Normandy — Giverny. Giverny is the land of Claude Monet. In Giverny, you won't see any Impressionist masterpieces. Instead you'll gain insight into Monet's artistic mind and live in his most famous paintings.
Giverny is home to the pastoral paradise that is house and garden of Claude Monet, where the artist lived the second half of his life. In Giverny, Monet funneled his newfound wealth into his other passion, horticulture. He meticulously composed an ethereal and exquisitely staged garden.
Monet said "what I need most are flowers." In virtuoso fashion, Monet molded nature into his creative vision, shaping his subjects exactly as he wanted to paint them. The gardens are immensely popular — a pilgrimage for Monet fans, Francophiles, and avid gardeners.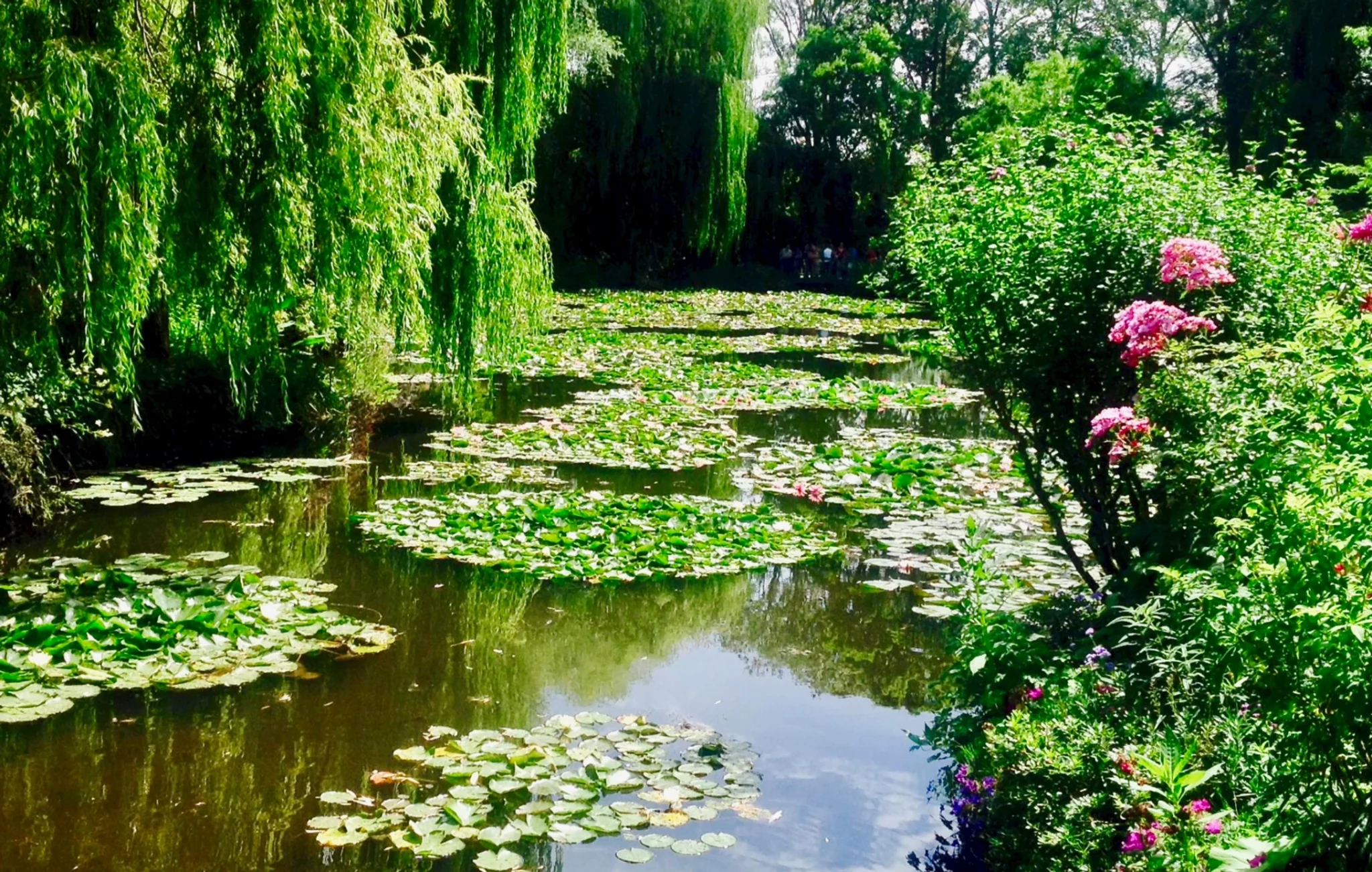 In Monet's gardens, a world of flowers in every color fill your field of view, nodding slightly in the breeze. It looks like a paint factory explosion or a few flicks of Monet's paintbrush.
There are two parts to Monet's labor-of-love gardens — the Clos Normand flower garden and the Water Garden. The Clos Norman is a boldly colored display and expressly Western. The Water Garden is organic, Asian-themed, and more exotic.
Clos Normand is structured traditionally in a formal French garden manner. Yet, it feels wild and overgrown in a pleasing, messy, impressionistic kind of way. Designated pathways (and signs) take you around the gardens. The central alley features iron arches, adorned with climbing roses, that span a path of summer blooming nasturtiums.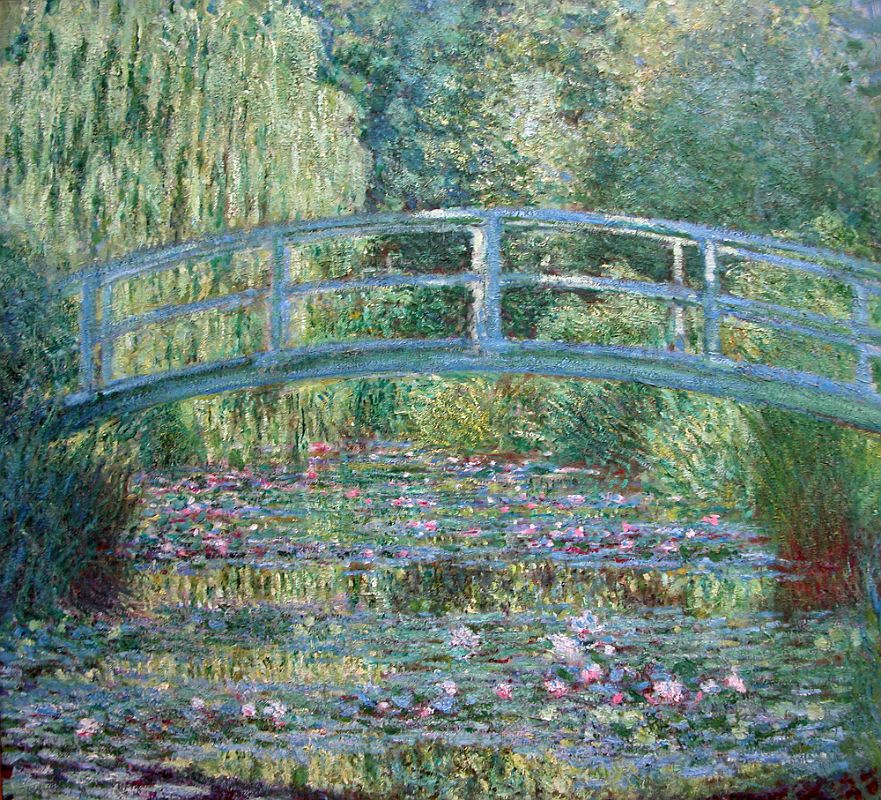 The Water Gardens have a man-made pond, framed by flowers. As they brush the water's surface, a canopy of weeping willows creates rippled indentations. The pond is adorned with an adorable humpbacked Japanese bridge. The Water Garden is a lush oasis of clear pools, huge ferns, and a forest of tall green bamboos.
With its whimsical water lily covering, the pond quickly became one of Monet's favorite subjects. Monet created over 250 paintings of his beloved water lilies. They were the singular focus of the last decades of his career. The intensely-colored lilies are a theater-like recreation of the experience of physically being at a pond.
You can also visit Monet's house, a rambling candy floss pink farmhouse with bright green shutters covered in ivy. Inside, Monet chose the palette. Each room has a single color scheme. The prettiest room is the bright yellow dining room.
>>> Click here to book a guided tour from Paris to Giverny
If you are a Monet fan, Giverny is a must visit destination in Normandy to glimpse the magical gardens that inspired hundreds of his paintings. It's the perfect complement to getting your Monet fix at Paris' Musee d'Orsay, Musee de l'Orangerie, and the Musee Marmottan Monet.
2. Vernon
Right next door to Giverny is the quaint town of Vernon. Its streets are full of charmingly sagging half timbered homes, historic chateaux, and landscapes immortalized by Monet.
Vernon's most captivating site is Le Vieux Moulin, the old mill. Painted by Monet, it picturesquely straddles two piers of an ancient bridge.
Vernon also has a pretty church, the Eglise de Vernon. Monet once exclaimed, "I found the silhouette of the church so remarkable that I absolutely had to paint it." He painted several versions during 1893-94. The ones from 1894 are noticeably more abstract.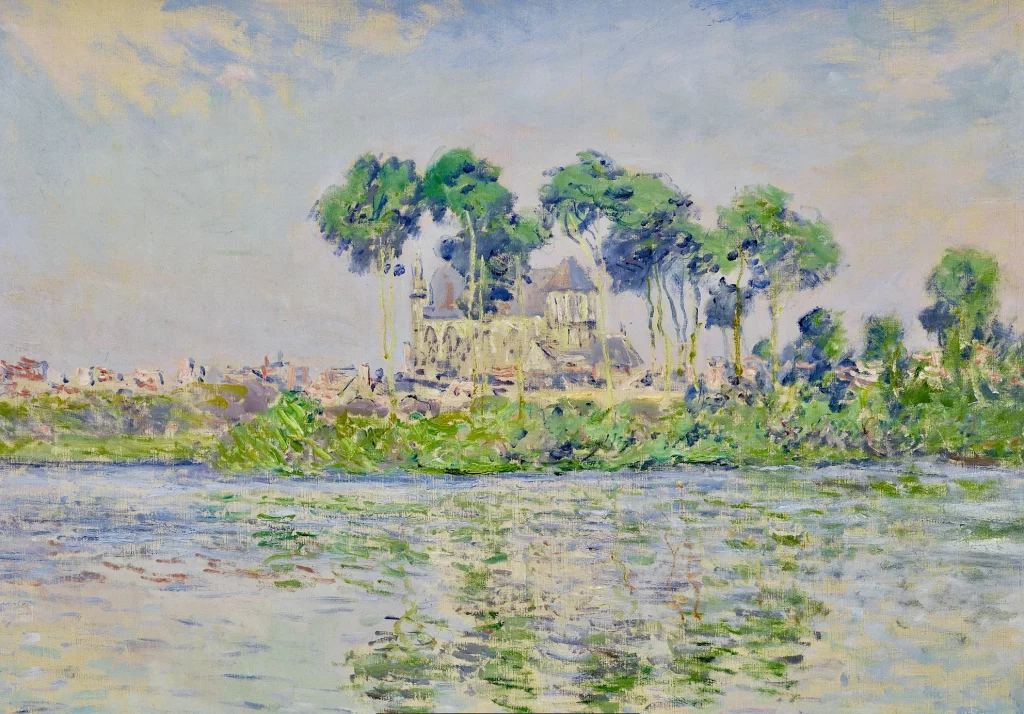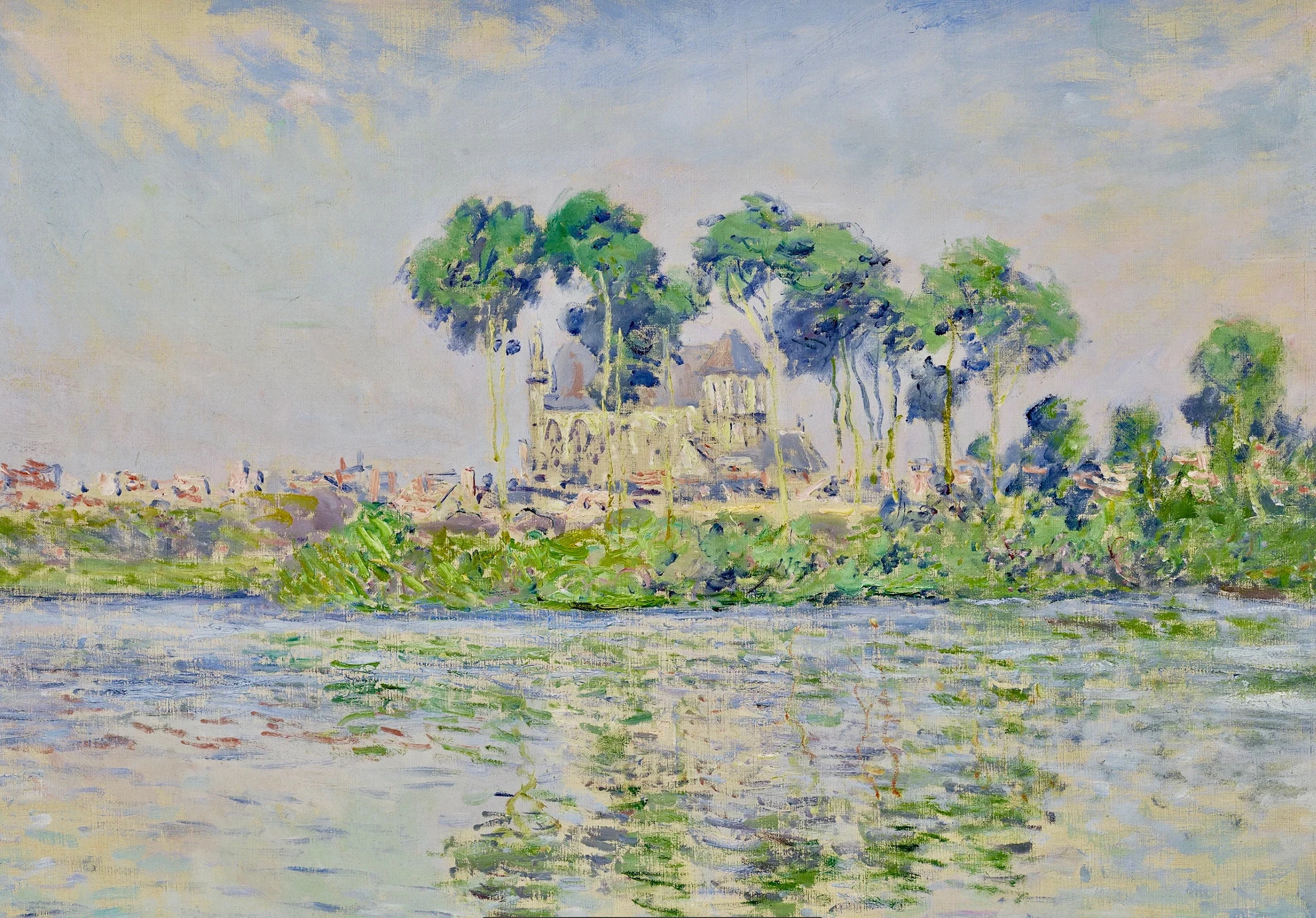 Vernon has a museum dedicated to the Impressionist painters of this area, the Musee Alphonse-Georges Poulain.
The museum's claim to fame is that it's the only regional museum with original Monet works, including a round water lily painting. You'll also see paintings by Monet's step-daughter, Blanche Hoschede-Monet.
3. Auvers-sur-Oise
Auvers-sur-Oise is a lovely underrated French village, surrounded by wheat fields and set on the banks of the Oise River. It's technically on the edge of Normandy. But I had to include Auvers-sur-Oise because of its artistic pedigree.
Auvers-sur-Oise was the home of the legendary painter Post-Impressionist painter Vincent Van Gogh. Van Gogh described Auvers as "gravely beautiful." To him, the quiet village calmed his nerves and inspired his art.
Van Gogh spent the last 70 days of his life creating 70 paintings in Auvers-sur-Oise. When he died in 1890, Van Gogh was buried in the village with his brother Theo.
Common wisdom holds that Van Gogh, a notoriously tortured soul, committed suicide. But there is growing evidence that it was murder. You can read my analysis of the whodunit here.
Some of Van Gogh's greatest masterpieces were painted in Auvers-sur-Oise, including Crows Over Wheatfield, the Portrait of Dr. Gachet, and Church at Auvers. The 12th century Romanesque-Gothic Church of Auvers is sober and beautiful. It's instantly recognizable as the subject of one of Van Gogh's most famous paintings.
You can visit Maison Van Gogh, where the artist lived out his final days. If you're feeling especially arty, you can also visit the studio-home of Charles-Francois Daubigny. Daubigny was an important member of the Barbizon school, a precursor oeuvre to Impressionism.
With his friends Camille Corot and Honore Daumier, Daubigny decorated the home with paintings and massive floral murals. You can also stop by the House of Dr. Gachet, Van Gogh's friend and confidant, which is now an art gallery. Van Gogh immortalized Dr Gachet in a famous portrait in the Musee d'Orsay.
>>> Click here to book a guided day trip to Giverny and Auvers-sur-Oise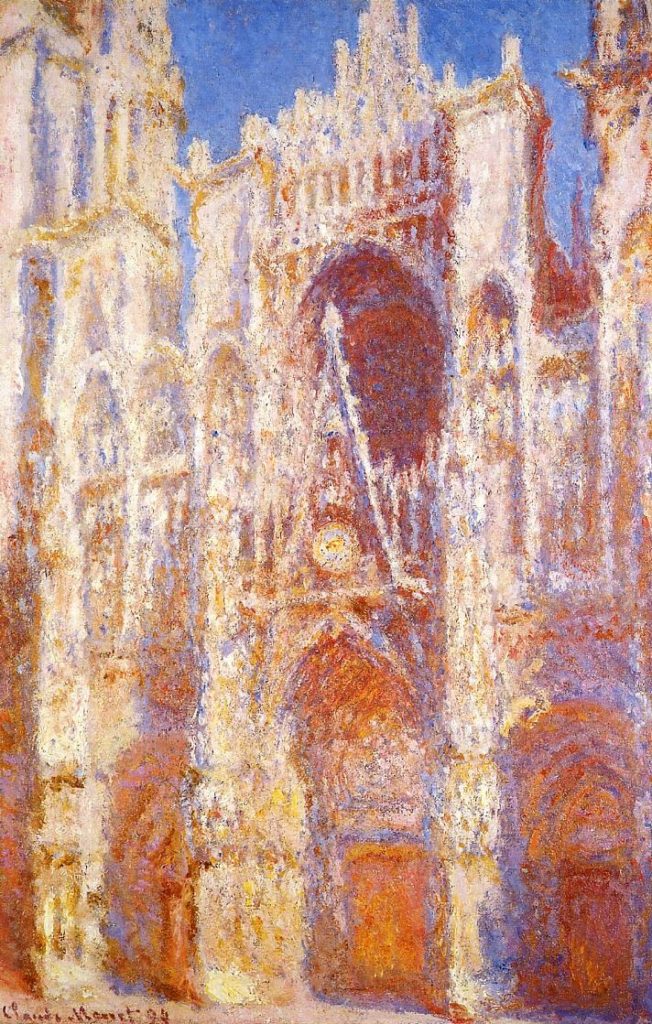 4. Rouen
If you love Impressionism, Rouen is a must visit town in Normandy. The town inspired countless Impressionists — Claude Monet, Camille Pissarro, Alfred Sisley, and Paul Gauguin. Plus, Rouen is grandiose and drop dead gorgeous, one of France's prettiest towns.
Rouen is 2000 years old, pre-dating even Julius Caesar. Rouen is one of Normandy's most engaging and historically rich destinations, with half timbered homes and twisty medieval lanes. With its lantern tower piercing the clouds, Cathedrale Notre-Dame de Rouen is Rouen's crown jewel.
Constructed between the 12th and 14th centuries, the magnificent Flamboyant Gothic cathedral is one of the tallest in France. Inside, the nave soars four stories high. But it's the cathedral's lacy western facade that's made it enduringly famous.
>>> Click here to book a walking tour of Rouen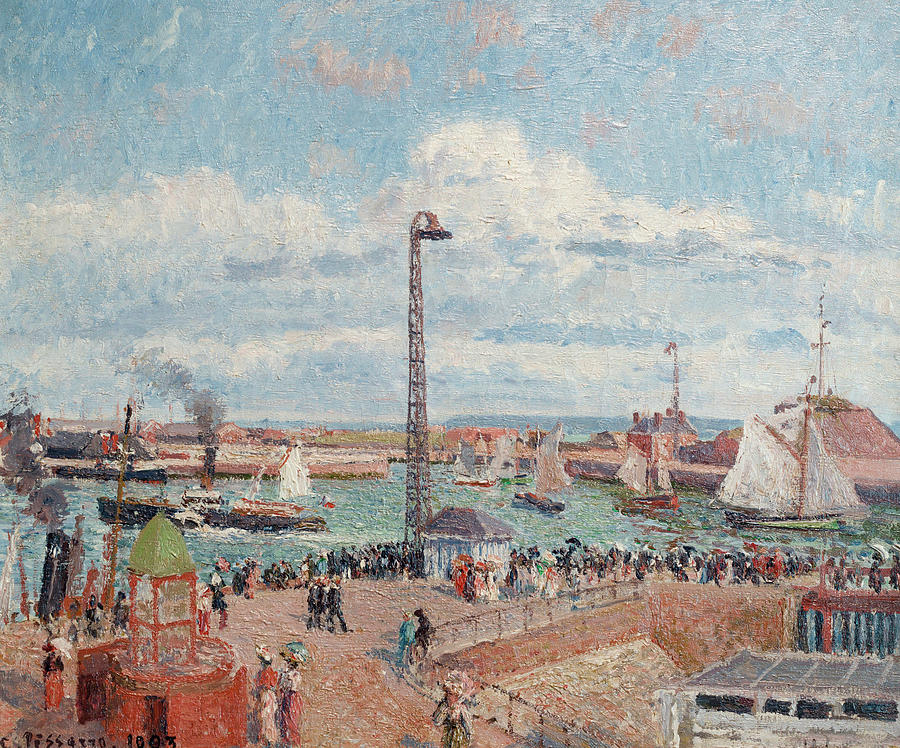 Monet spent parts of 1892 and 1893 in Rouen, during February-March-April, when the light was best. He painted 31 versions of the cathedral, extreme close ups of one part of the pale filigreed stone facade. Sometimes he worked on 14 canvases at once. Monet groaned: "Everything changes, even stone."
In each Monet canvas, the light is different depending on the time of day. The cathedral almost loses its objective identity as its bulk is translated into a heavily impastoed surface of misty color. The cathedral series was a watershed moment in Monet's career.
At Rouen's fine Musee des Beaux Arts, admission is free. The museum has one of France's largest collections of Impressionists outside Paris. It includes the private collection of Francois Depeaux. He was a visionary collector, a wealthy industrialist, who collected 600 Impressionist paintings and endowed Rouen with many of them.
Eleven of Monet's cathedral paintings are on view. You can also find works by fellow Impressionists Sisley, Caillebotte, Renoir, Pissarro, and Degas.
5. Le Havre
Le Havre is a UNESCO-listed town that was largely obliterated during WWII. The town was rebuilt by the Belgian architect Auguste Perret, a mentor to Le Corbusier. His post-war modernist vision still marks the town.
Le Havre's location at the mouth of the Seine estuary gave the town exceptional light. The water runs in a current, giving off glimmer and glints as the light catches it.
Le Havre's port, dockyards, beaches, and regattas inspired all the major players in Impressionism.
Claude Monet grew up in le Havre. In 1872, when he was 32, he painted the famous and controversial harbor scene Impression: Sunrise. The Post-Impressionist Raoul Dufy was also born in Le Havre.
You may not have Le Havre on your Normandy bucket list because the town is modern rather than quaint. But the once gritty town has become a dynamic art center. The Andre Malraux Museum of Modern Art (known as MUMA) is an excellent reason to visit Le Havre.
Housed in a light-filled building overlooking the Seine, MUMA boasts one of the largest collections of French Impressionism in the world. It's a mini Musee d'Orsay without the crowds. There are works by Boudin, Monet, Renoir, Degas, Sisley, Pissarro, Courbet, and Dufy.
MUMA boasts the largest collection of art works of Pre-Impressionist Eugene Boudin in the world. Most of the Boudin pieces — comprising water colors, oil paintings, engravings, and sketches — were donated to MUMA by Boudin's brother.
6. Saint-Adresse
The village of Saint-Adresse is right near Le Havre. It's another Impressionist haunt. Monet's father and aunt lived in a villa in this fashionable seaside resort.
In the summer of 1867, Monet stayed with his aunt in Saint-Adresse. Monet painted several paintings of the beach, only several of which survive today. The paintings reveal the beginnings of the revolutionary style that would become Impressionism.
While in Saint-Adresse, take a promenade on the beach. Panels show you exactly where the Impressionist painters put up their easels.
7. Honfleur
Honfleur is a classic Norman town, sometimes called "the jewel of Normandy." In Honfleur, the Seine flows into the English Channel, reflections mirrored in the Vieux Bassin or old harbor.
Honfleur is lined with gorgeous 16th to 18th century row houses with slate roofs and facades. Honfleur also has some beautiful churches and is laced with a maze of tiny cobbled streets. The medieval Church of Saint Catherine is the largest wooden church in France, and Honfleur's spiritual heart.
All this beauty besotted the Impressionists and fellow artists and writers. Baudelaire once declared, "Honfleur has always been the dearest of my dreams."
>>> Click here to book a guided walking tour of Honfleur
Honfleur was the birthplace of Eugene Boudin, a precursor of Impressionism. Boudin was a self-taught artist a bit older than the more famous Impressionists. But, foreshadowing their oeuvre, Boudin wasn't beholden to the day's staid orthodoxies.
He was interested in clouds, the coast, and the sun on the beachside. And painted them in brooding, fantastical, and luminous ways. Boudin was nicknamed the "King of Skies."
Boudin would heavily influence Claude Monet. Boudin encouraged, even nagged, Monet to abandon the studio and paint landscapes outside.
With Boudin's mentoring, Monet claimed that "the veil was torn from my eyes … I grasped what painting could be." Monet fell in love with nature and began studying light effects. Impressionism was born.
Together, the two artists lived and worked in the their favorite hideaway, the Hotel La Ferme Saint Simeon. It's a unique 17th century timber framed inn, whose grounds feature tranquil marshes leading to the shoreline.
The original inn of La Ferme Saint Simeon still exists today. It houses an expensive hotel, which is draped with wisteria and houses a Michelin starred restaurant. If you're a Monet fan, you can book his favorite room, #22.
Honfleur itself is a cultural treasure. The town boasts 95 art galleries, with works by contemporary painters keeping Boudin's spirit alive.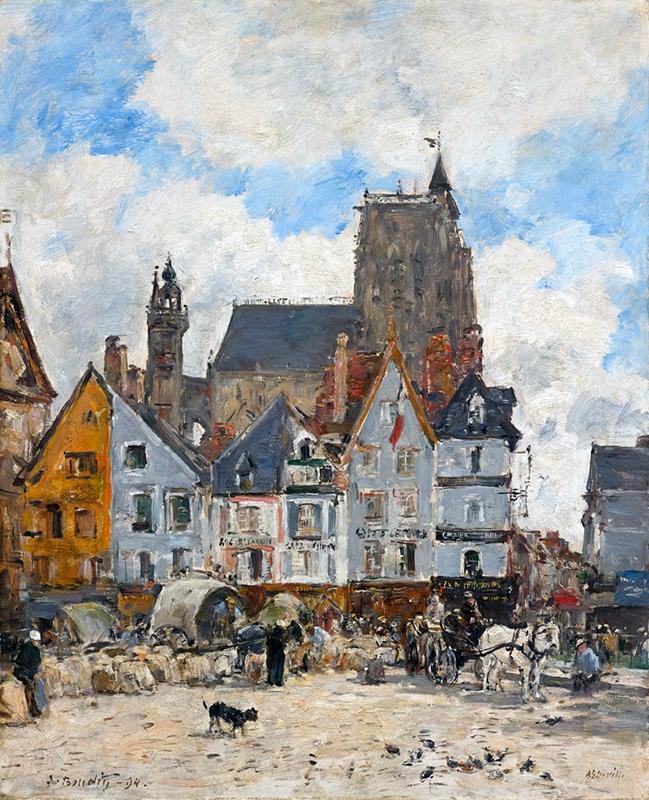 Housed in a 19th century chapel, the Musee Eugene Boudin is a pleasing small museum. You'll find myriad samples of Normandy Impressionism, especially the Honfleur School.
There are plenty of meteorological coastal scenes by its namesake painter Boudin (shown above), particularly his beach scenes showing aristocrats taking "healthy" saltwater baths.
There are also paintings by the likes of Courbet, Monet, Vuillard, Sisley, and Pissarro. You can see how Boudin inspired later masters, who took Boudin's techniques to the next level.
8. Deauville
From Honfleur, it's just a 20 minute drive to glamorous Deauville, a favorite spot of wealthy Parisians. Deauville is like the Hamptons of Paris, a convenient beach resort just far enough away from city life. It's known as the "Parisian Riviera."
Deauville is a beautiful town, stuffed with aristocratic Anglo-Norman mansions from the Victorian era. They're elegant old world half timbered homes with Queen Anne style accents. They're even more distinctive and ornamental than those in Alsace.
Aside from architecture, Deauville is renowned for its stately seaside strand (Promenade des Planches), horse racing, and film festivals.
In addition to attracting Parisians, Deauville also enamored the Impressionist painters. Those included Monet, Berthe Morisot, Boudin, and Gustave Caillebotte.
Lured by the setting, they set up their easels outside on the beach and painted Deauville's beautiful coastal landscapes.
>>> Click here to book a guided walking tour of Deauville
9. Trouville-sur-Mer
Like its neighbor Deauville, Trouville is an elegant Belle Epoque resort town, although more down to earth. In Trouville, majestic villas flank a golden beach with a boardwalk. In summer, the beach is dotted with colorful beach huts. The sea air is bracing.
Monet and Boudin especially loved Trouville. They were lured by the long sandy beach and seaside ambience.
They painted memorable scenes of the 19th century bourgeoisie, in all their finery, promenading along the beachfront. Monet even spent his honeymoon there, after marrying his first wife Camille.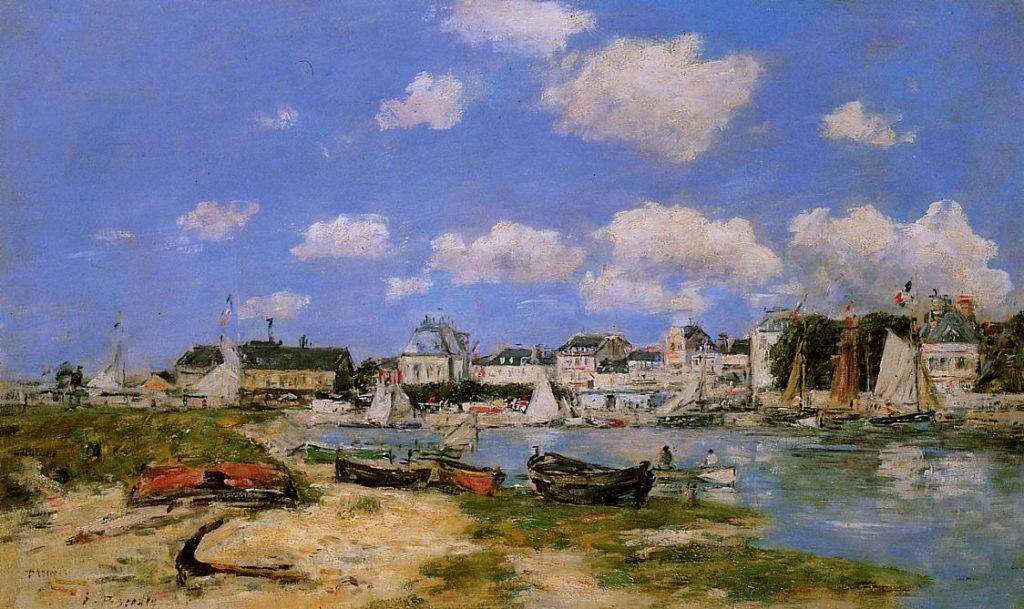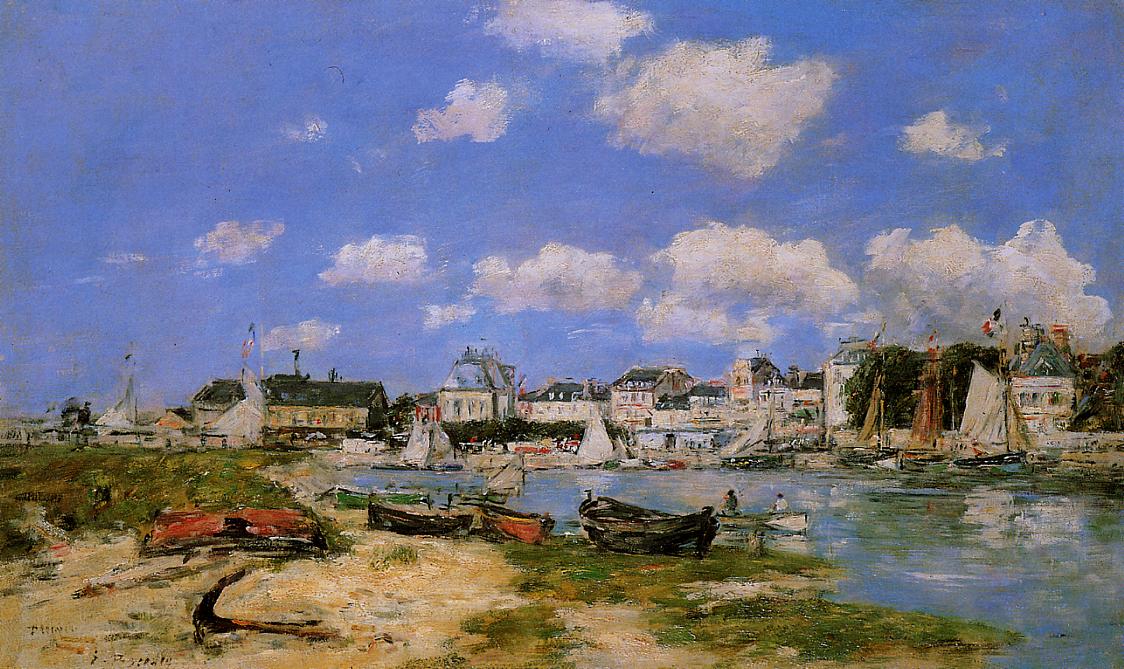 10. Etretat
Just 12 miles from Le Havre, Etretat is another must visit town on the Impressionist Trail in Normandy. Sleepy Etretat is a classic old world French town with mesmerizing scenery.
Etretat is set on the sea. Waves crash against the shores of a jagged chalky coastline, with a pretty beach promenade. A monumental arch, Porte d'Aval, plunges into the sea. It's France's version of England's White Cliffs of Dover.
The town's beauty inspired artists like Monet, Henri Matisse, Boudin, and Gustave Courbet. The cliffs, known as the Elephant and the Needle, were one of the artists' favorite spots to paint.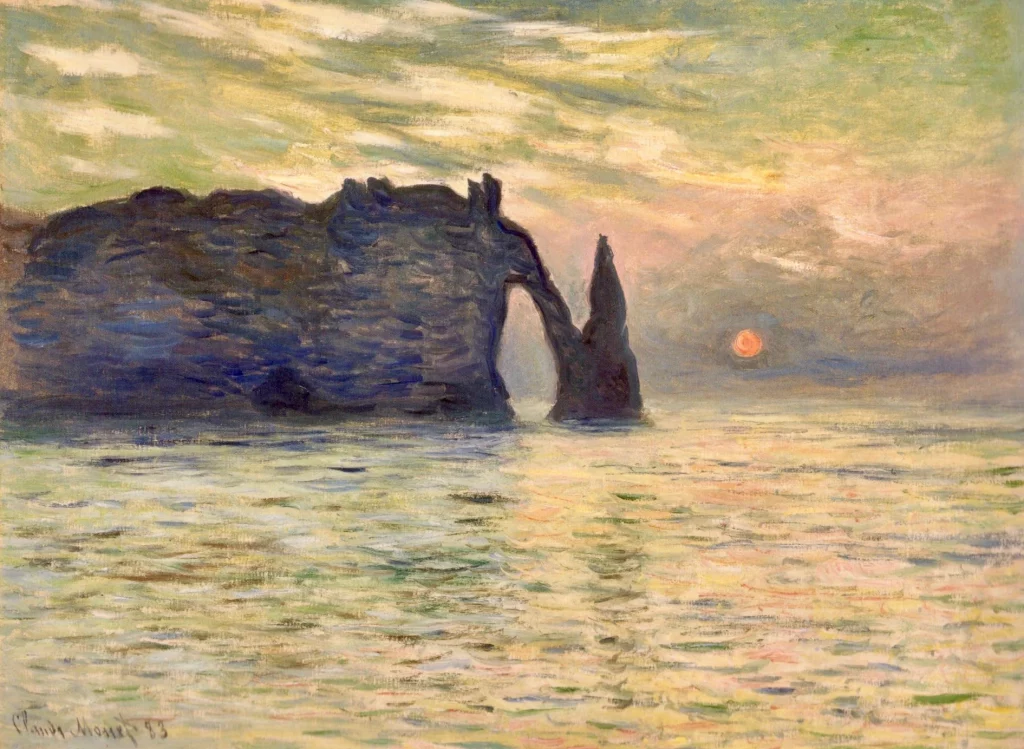 When Monet was in Etretat in February 1883, he painted almost daily from the breach. He wrote to his wife rhapsodizing about the cliffs. Monet called Etretat "superb," though he was "enraged not be more skillful in rendering" the landscapes.
Monet returned to Etretat in 1885 and 1886. Altogether, he painted 18 works of Etretat's blue shadowed cliffs in one month.
As you walk along the seaside path, you'll find placards depicting the precise spots where Monet painted some of his most famous paintings. You can hike to the top of the arch via a pathway and stairs to see different perspective of the alabaster cliffs.
Monet wasn't the first artist to paint in Etretat. Before him, Realist painter Gustave Courbert and Romantic painter Eugene Delacroix had come. Monet even acknowledged that it was "audacious" of him to try to paint the same cliffs that Courbet had painted so expertly.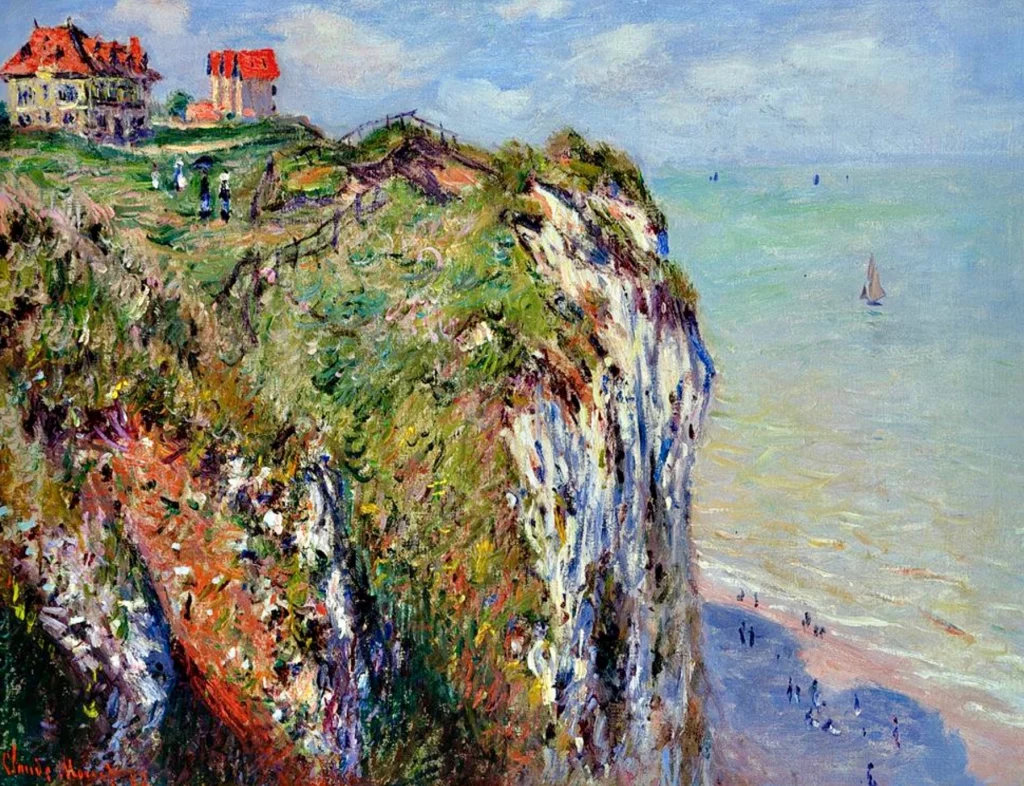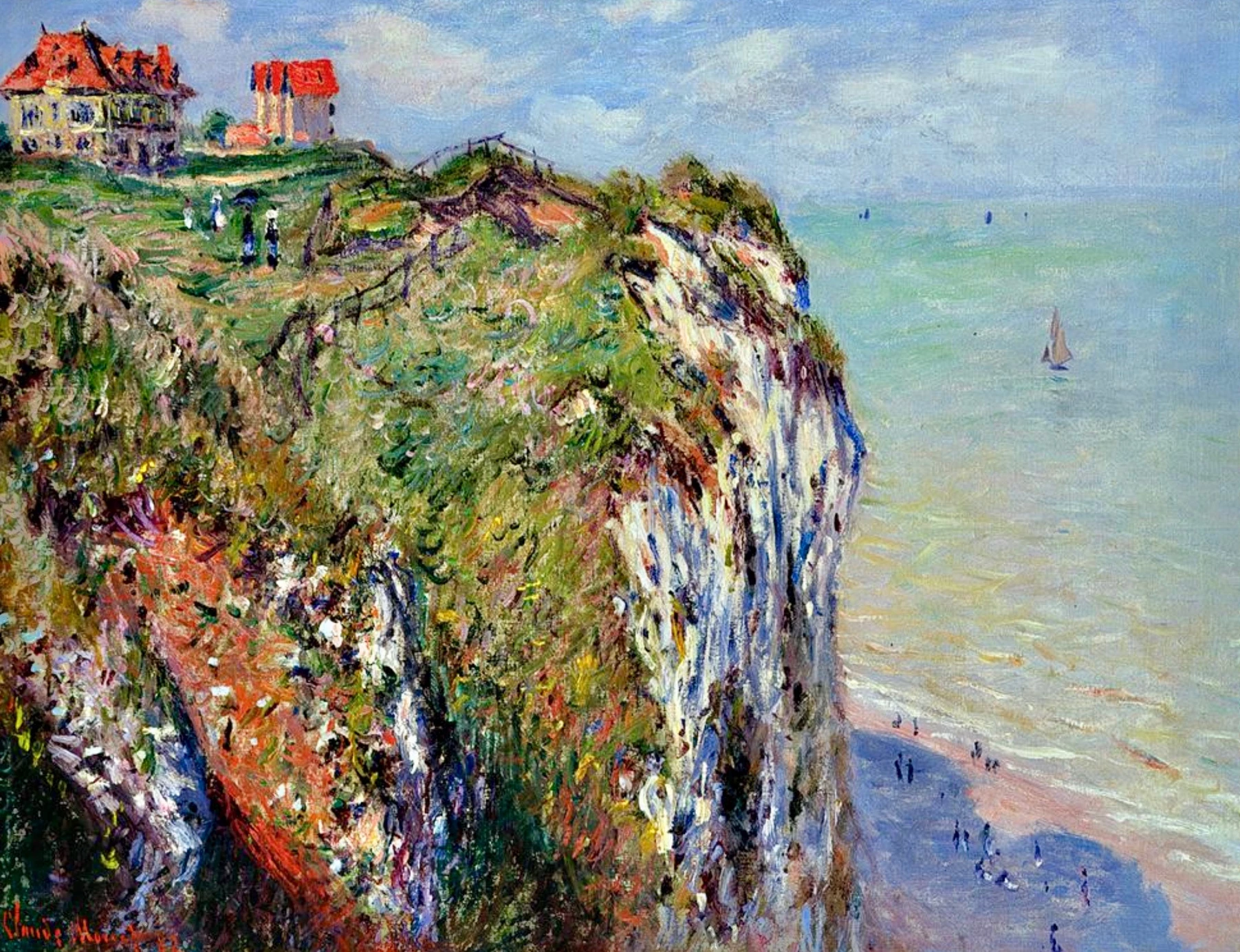 11. Dieppe
Dieppe is a quaint fishing town, on the English Channel, at the mouth of Arques river. It's known as the birthplace of seaside swimming in France. At the beginning of the 19th century, Dieppe was also a bustling commercial hub.
Dieppe's gorgeous beaches, chalk white cliffs, and port are lovely — attracting both vacationers and Impressionists.
Artists seduced by Dieppe included Monet, Pissarro, Gauguin, Renoir, and Boudin. Pissarro painted the town church in the morning sun. Gauguin painted the Dieppe port. Monet painted the port at different times of the day. Morisot painted scenes from everyday life, of women and children amidst nature.
On a clifftop overlooking pebbly Dieppe Beach is the centuries old Chateau de Dieppe, now a small museum. The chateaux is an imposing and well-preserved fortified castle. It features a nice collection of 19th century Impressionism.
Take the path from the Rue de la Barre up to the top. Plus, from this perch, you have a fantastic panoramic views of Dieppe and the beaches.
In the museum, you can see all the Dieppe landscapes painted by artists like Pissarro and Renoir, from 1870 to 1915. You'll see Boudin's well-dressed aristocrats on a windy beach, Monet's color-washed sunrises and sunsets, and Pissarro's port scenes.
12. Vetheuil
The village of Vetheuil is just inside Normandy. It's tucked beneath a chalk escarpment halfway along the Seine's solemn procession from Paris to the northern coast. Vetheuil's main landmark is its 13th century Gothic-Romanesque Church of Notre-Dame.
Monet rented a house in Vetheuil in 1878. It was a formative time for him, presaging his prodigious Giverny output. Monet painted more than 150 works in Vetheuil between 1878-81. He produced ravishing landscapes the Seine, gardens, and poppy fields in iridescent shimmering hues.
Monet also painted the church repeatedly. Monet wasn't interested in the architecture. As later with Rouen Cathedral, he was attracted by the optical effects of light and weather on the building's facade. Monet likely painted Vetheuil from his boat, which functioned as a floating studio.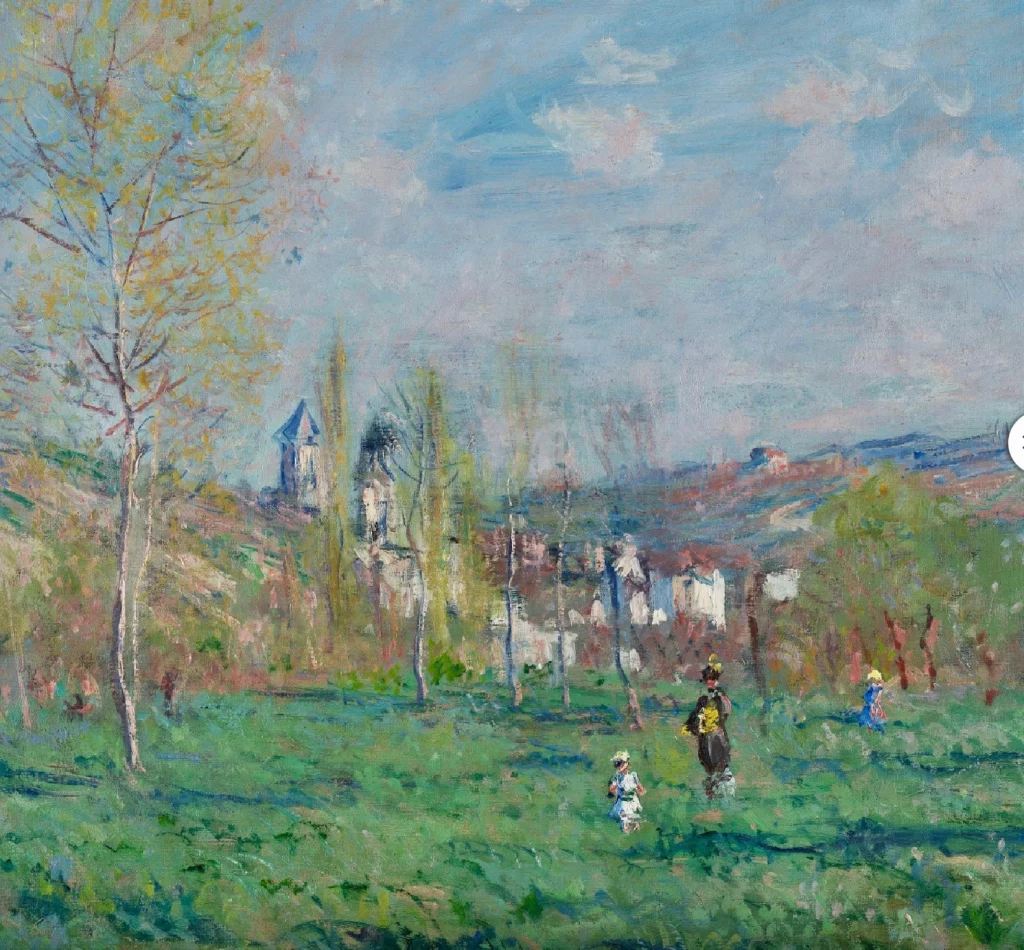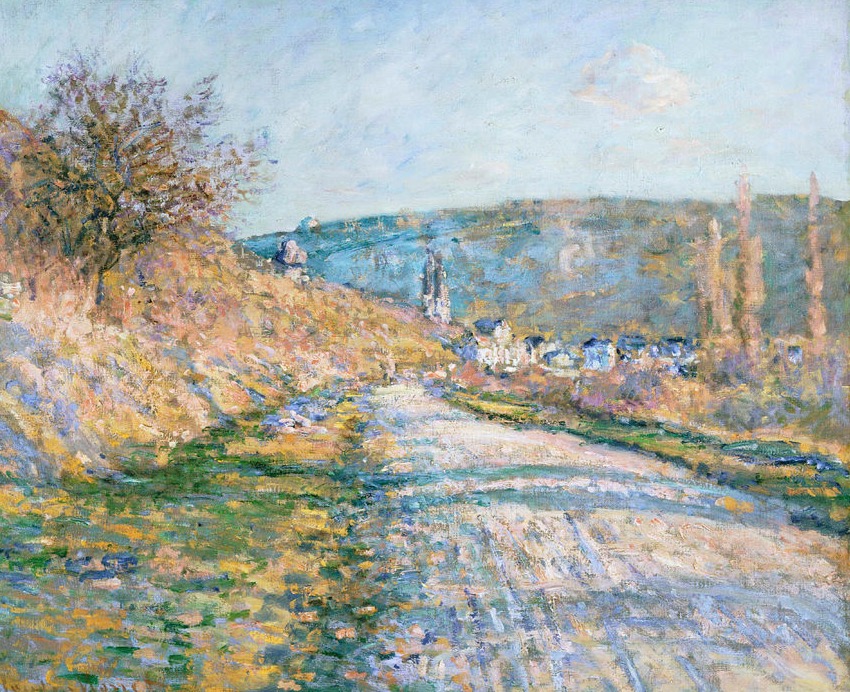 In Vetheuil, Monet's wife Camille became desperately ill and died at just age 32 in 1879. Even in tragedy Monet wouldn't, or couldn't, stop painting. His rendering of Camille Monet on her Deathbed hangs in the Musee d'Orsay in Paris.
Monet stayed in Vetheuil until 1881. Monet would later return to Vetheuil in 1901. He created a series of 15 painting of the same subject — a view of the riverbank punctuated by the church at sunrise or sunset.
Today, Monet's former house is an inn. You can also visit Camille's grave in the village's graveyard.
13. Mont St.-Michel
A crown jewel of the Normandy, the UNESCO-listed Mont St-Michel is a pretty-as-a mirage island abbey. A medieval stage set, its slender spires, stout ramparts and rocky outcrops rise dramatically from the sea. They stand guard over gleaming sands laid bare by a receding tide.
The abbey is one of the most visited pilgrimage sites in Christendom. The Mont's star attraction is the abbey crowning its top. Painters adored Mont St-Michel.
Neo-Impressionist painter Paul Signac has the most famous renditions. In 1897, he immortalized Mont St-Michel in seven paintings using a variation of Georges Seurat's Pointillism technique.
The painting is beautiful. It captures the abbey in the shimmering morning light at sunrise, with small patches of color that resemble bright mosaics.
>>> Click here to book a ticket to Mont St.-Michel
READ: Complete Guide To Visiting Mont Saint-Michel
I hope you've enjoyed my guide to the Impressionism Trail in Normandy. You may enjoy these other France travel guides and resources:
If you'd like to explore Impressionist painting in Normandy, pin it for later.