Ready for a French fairytale? Here's my guide to the 30+ of the most beautiful towns in Northern France for your bucket list.
Northern France is a wonderful travel destination and one of the best places to road trip in France. Some of these beautiful towns in northern France can even be done as day trips from Paris. Northern France is also easily accessible from England.
Northern France includes the regions of Oise, Picardy, Normandy, Brittany, Champagne, and Grand Est.
It's difficult to encapsulate the sheer variety of Northern France. For example, rugged and wild Brittany has a completely different character and feel to its pastoral neighbor Normandy.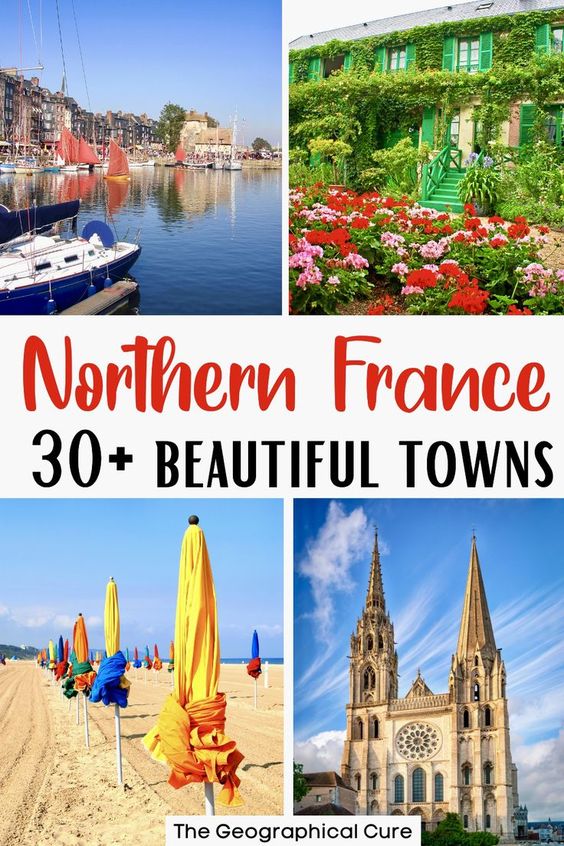 Most people dream of visiting the lavender fields and dreamy towns of Southern France. But there's a million reasons to visit Northern France instead. The region is a spectacular land of natural and man-made beauty.
Northern France is rich in historic sites, cultural heritage, and appealingly diverse landscapes. It's a romantic melange of must see medieval towns, sun-drenched seaside resorts, chandeliered chateaux, and towering Gothic cathedrals.
The farm to table gastronomy in Northern France is first rate haute cuisine. And, oh la la, the cheese! Lille especially has some fantastic eateries. And the bubbly in Champagne is some of the world's most famous fizz.
30+ Beautiful Towns To Visit in Northern France
Let's take a tour of the prettiest and most unmissable towns in Northern France. If you're wondering where to go in this region, this guide may give you some destination inspiration.
1. Amiens
Amiens is a sophisticated town with some of the best shopping in northern France. Amiens is sometimes called the "Venice of Northern France" because of its canals.
The city even has floating market gardens that you can visit by boat. Amien's cutest neighborhood is the canal district of Saint-Leu. Cafes and shops line cobblestone streets.
But the pride and joy of Amiens is its mighty Gothic cathedral. The 13th century Cathedrale Notre-Dame d'Amiens is the largest cathedral in France. It's an 800 year old UNESCO-listed icon of French Gothic architecture. It packs a punch.
The enormous cathedral is known for the beauty and harmony of its architecture and art. It has a triple portal facade similar to nearby Reims Cathedral.
The central door is flanked with statues of the apostles. The facade has been recently cleaned and appears quite white.
Inside, the stone vaulted nave reaches almost 140 feet. According to locals, the volume is double that of Paris' Notre Dame. Most of the glass is clear, as the windows were blown out during the world wars. But that means the church is flooded with natural light.
You can walk through the "labyrinth," a typical medieval church feature. A black line leads you to the center, which represents paradise.
You may have to wait in line to secure paradise. While inside, admire the 16th century choir, with wood carved stalls and over 4,000 figures.
Then, climb the 307 steps of the north tower for fabulous views from the top. Amiens Cathedral has a nighttime "son et lumieres" show. It's specifically designed to show the polychromatic colors of the facade as they appeared in the Middle Ages.
2. Arras
The town of Arras is quiet and unexpectedly charming. It's an elegant town full of lovely squares and grand 17th and 18th century Flemish-Baroque architecture.
Its two main squares are the Grand Place and the Place des Heros. A market runs in the Place des Heroes on Thursday and Saturday.
In 2005, the Belfry of Arras was designated a UNESCO, along with 56 other belfries in France and Belgium. The entry is just inside the Town Hall, where the tourist office is also located.
Construction of the belfry began in 1463 and took almost a century to complete. The top of the belfry offers amazing views. You can take an elevator most of the way, with a few additional steps to hike up.
Arras also has a warren of underground passages, called Les Boves, dating from the 10th century. They were originally chalk mines.
But were later used by the Allies in WWI as they prepared for the Battle of Arras, a major British offensive. If you want to re-live history, you can take a guided tour.
3. Auvers-sur-Oise
Auvers-sur-Oise is a lovely underrated French village, surrounded by wheat fields and set on the banks of the Oise River. The legendary painter Vincent Van Gogh described Auvers as "gravely beautiful." To him, the quiet village calmed his nerves and inspired his art.
In Auvers, you can walk in Van Gogh's footsteps. Van Gogh spent the last 70 days of his life creating 70 paintings of Auvers-sur-Oise. He was buried in the village with his brother Theo, and you can visit his grave.
Common wisdom holds that Van Gogh committed suicide, as a notoriously tortured soul. But there is growing evidence that it was murder. You can read my analysis of the whodunit here.
Some of Van Gogh's greatest masterpieces were painted in Auvers — Crows Over Wheatfield, the Portrait of Dr. Gachet, and Church at Auvers. The Roman-Gothic Church of Auvers is sober and beautiful. It was built between 1137-1227, and is instantly recognizable as the subject of one of Van Gogh's most famous paintings.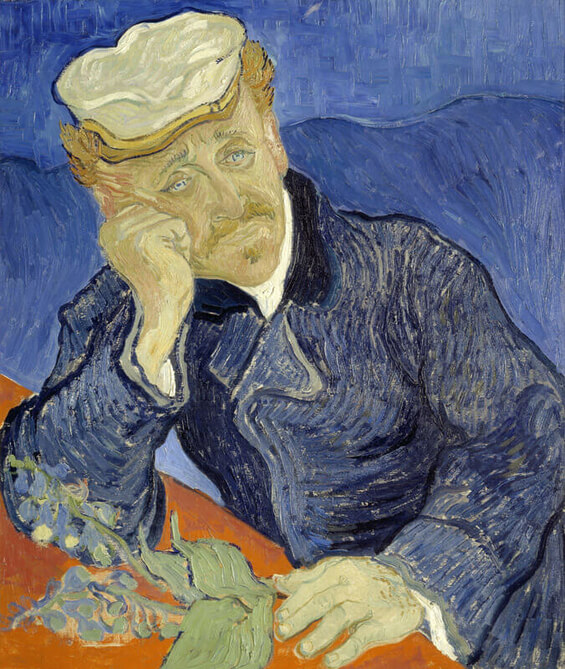 If you're feeling especially arty, you can visit the studio-home of Charles-François Daubigny. Daubigny was an important member of the Barbizon school, a precursor
oeuvre to Impressionism. With his friends Camille Corot and Honore Daumier, he decorated the home with paintings and massive floral murals.
You can also stop by the House of Dr. Gachet, Van Gogh's friend and confidant, which is now an art gallery.
The Chateau d'Auvers is also stately and impressive. It's a 17th century Louis XIII-style building. And it features an immersive multimedia Impressionist exhibit, with a beautiful garden to boot.
4. Bayeux
The Norman town of Bayeux is a lovely town that played an outsized role in French history. It's the site of the Norman invasion of France in 1066 and WWII's D-Day landings of 1944.
Most people go to the village of Bayeux to see the thousand year old, and exceedingly long (230 feet), Bayeux Tapestry.
Housed in the Bayeux Tapestry Museum, the tapestry chronicles the events leading up to William's invasion of France. In 50 scenes, it focuses on the battle of Hastings and the showdown between William and King Harold II.
It's unclear when the The Bayeux Tapestry was created. But historians speculate that it was not long after the events it depicts.
The tapestry is remarkably well-preserved given its age, though it has been restored several times. The Bayeux tapestry (actually an embroidery) was most likely created by William's queen, Matilda, and her court.
The Nazis seized the tapestry during WWII and took it to the Louvre, which they had commandeered and were using as a clearinghouse for art theft. After the war, the tapestry was returned to Bayeux, its rightful owner.
READ: Underrated Masterpieces of the Louvre
But Bayeux isn't just a piece of cloth, however impressive. Full of medieval architecture, the town itself is delightful and fairytale-like. Honey colored stone buildings are topped with black slate roofs. Flowing flower boxes spill into the narrow lanes.
While you're strolling, pop into Bayeux's Notre Dame Cathedral. This rather large church was consecrated in 1077. It's thought to be the original home of the Bayeux Tapestry. Fierce gargoyles on the exterior scowl down at you.
For history buff, the D-Day beaches are nearby. You can immerse yourself in the history of Operation Overlord. You can book a guided day tour from Bayeux.
5. Chantilly
The beautiful Northern France town of Chantilly is just 30 miles from Paris, so makes an easy day trip. The village of Chantilly is quaint, with houses with glowing tan facades. Chantilly is renowned for its Chantilly Cream, if you have a sweet tooth.
The must visit site in Chantilly is the opulent Chateau de Chantilly. This imposing palace is a 19th century version of Renaissance architecture. The chateaux is wrapped with a fairytale lake.
The chateau was built by Henri d'Orléans, son of the last king of France Louis-Philippe. He was a great patron of the arts and made Chantilly the showcase for his masterpieces.
Andre Le Notre designed the gardens. The 18th century stables are original and now contain an equestrian museum.
READ: Famous Chateaux in France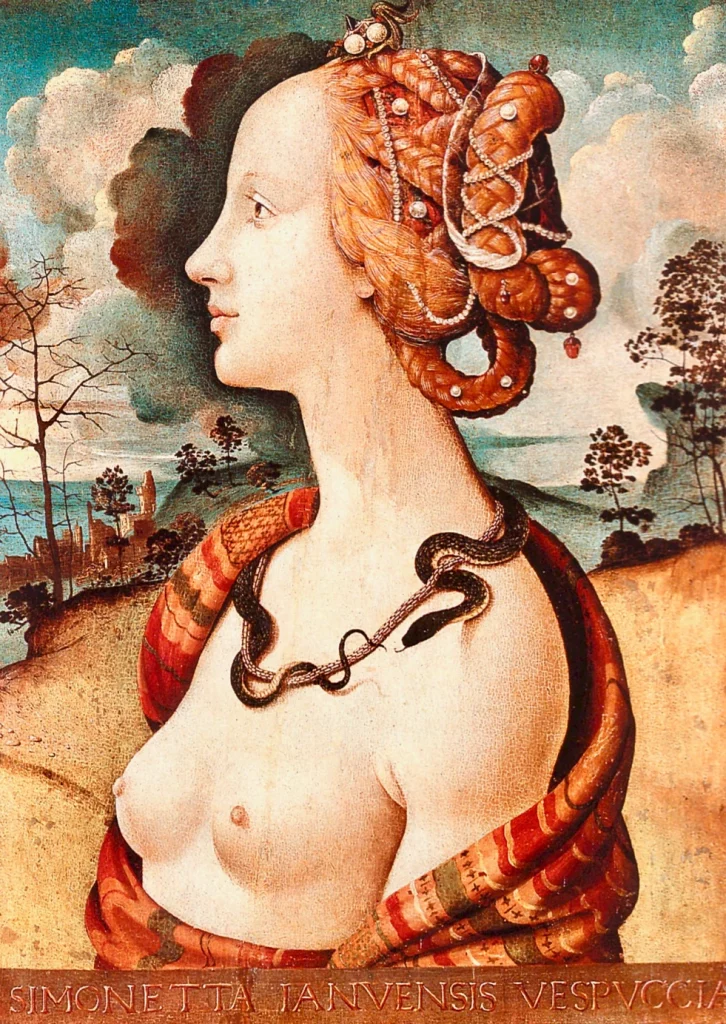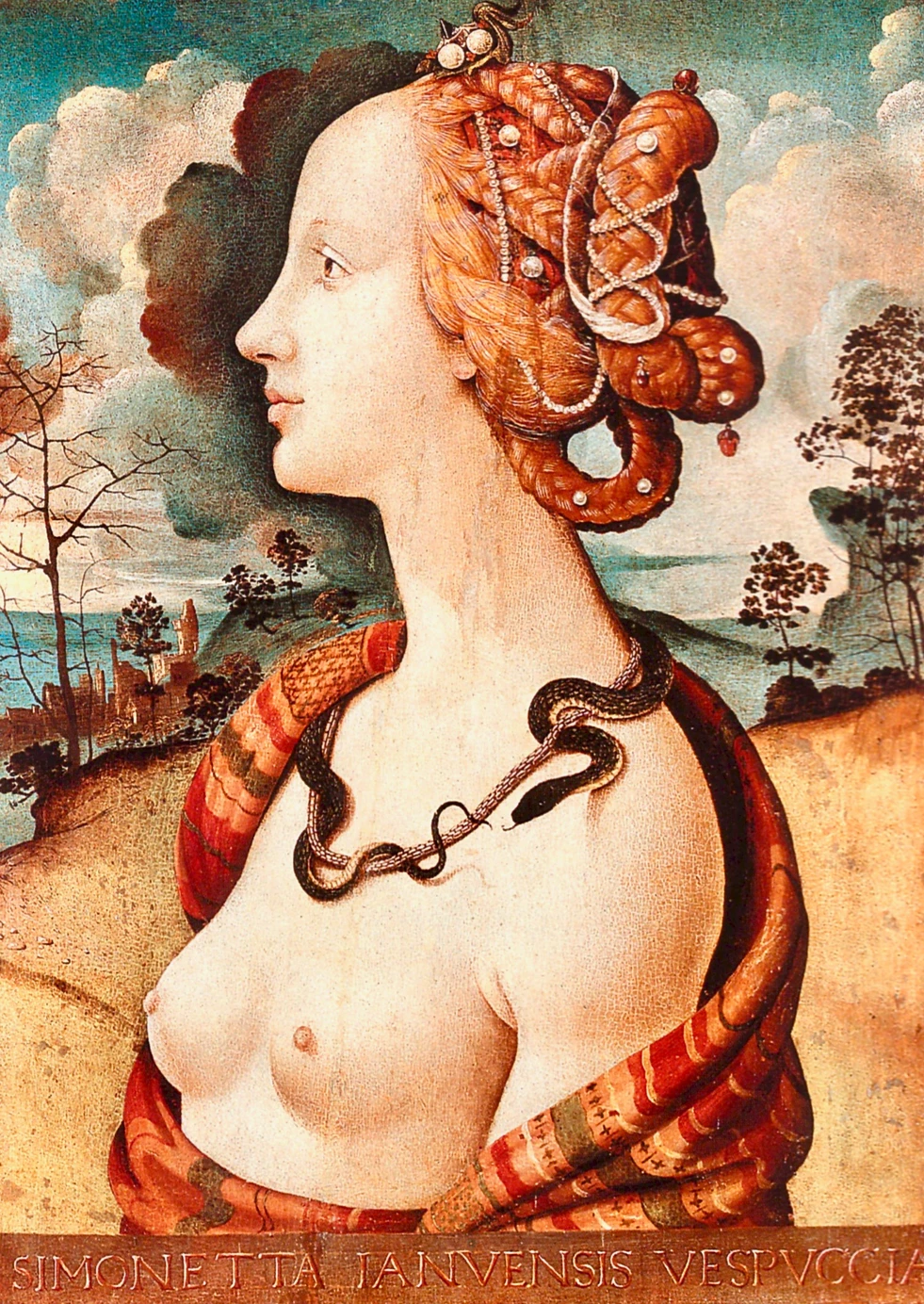 Inside, you can see how 18th and 19th century royalty lived. The recently-restored interiors were designed by Eugene Laminators in the 1840s.
The grand rooms, in striking red, gold, and purple colors, are sumptuous — with damask covered walls, marquetry-inlaid furniture, and inlaid marble floors.
You'll also find Chantilly's crown jewel, the Musée Condé. The museum is chock full of precious art, sculpture, and a breathtaking library with medieval manuscripts.
The most valuable pieces are the Renaissance paintings by Raphael, Botticelli, Giotto, Delacroix, Ingres, and Lippi. This is one of the best collections in all of France, after the Louvre.
READ: Guide To Botticelli's Paintings
6. Chartres
Step off the train in Chartres, just southwest of Paris, and the two very different steeples of its glorious 13th-century cathedral loom above. Chartres is typically a day trip for visitors to the French capital.
But it's ideal to spend a night or two away from the crowds thronging Paris and savor the tranquility of Chartres.
Chartres has a rich history, charming streets, interesting medieval churches, and museums and galleries focusing on French art. Chartres is most famed for its massive 13th century Cathedrale Notre-Dame, designated a UNESCO site in 1979.
Architect Eugene Viollet-le-Duc called Chartres Cathedral "the greatest and surely the most beautiful monument of this kind that we possess in France."
Finished in 1220, the Gothic cathedral features 2 towering spires, flying buttresses, ornate sculptures, a 16th century astrological clock, relics, and elaborate rose windows — all you'd expect in an architectural wonder.
Interesting, however, the 2 steeples don't match. One's in the Gothic style and one's in a Romanesque style. The cathedral's south, west, and north entrances all boast ornate triple portals.
The cathedral's interior is intimidating, built on a superhuman scale. The most stunning feature is its dramatically hued stained glass, almost 3/4 of an acre of gentle light. Chartres is especially renowned for its "Chartres Blue" color tones.
The cathedral also has a collection of relics, including the Sainte Voile (Holy Veil) said to have been worn by the Virgin Mary when she gave birth to Jesus, which has lured pilgrims since the Middle Ages.
You can also climb 350 steps up the lacy north tower, known as Clocher Neuf. There, you can inspect the rooftop and the flying butresses.
An $18 million restoration of the cathedral began in 2009. It's been controversial. Some critics labelled its interior restoration a "catastrophe," "cultural vandalism," and a "gaudy pastiche."
You should also visit Chartres' Musee des Beaux-Arts. It's a fine arts museum housed in the former home of Chartres' bishops.
The museum is creaky and dusty, but there are treasures worth admiring. The collection includes works by Francisco de Zurbaran, Jean-Baptiste-Simeon Chardin, Maurice Vlaminck, and Chaim Soutine.
You can visit Chartres on a guided day trip from Paris.
7. Deauville
Glamorous Deauville is a beautiful town in northern France. It's a favorite spot of wealthy Parisians.
Deauville is like the Hamptons of Paris, a convenient beach resort just far enough away from city life. It's known as the "Parisian Riviera."
Deauville is a beautiful town, stuffed with aristocratic Anglo-Norman mansions from the Victorian era. They're elegant old world half timbered homes with Queen Anne style accents. They're even more distinctive and ornamental than those in Alsace.
Aside from architecture, Deauville is renowned for its stately seaside strand (Promenade des Planches), horse racing, luxury shopping, and film festivals.
In addition to attracting Parisians, Deauville also enamored the Impressionist painters.
Those included Monet, Berthe Morisot, Boudin, and Gustave Caillebotte. Lured by the setting, they set up their easels outside on the beach and painted Deauville's beautiful coastal landscapes.
Right next door to Deauville is Touville-sur-Mer. Like its neighbor Deauville, Trouville is an elegant Belle Epoque resort town, although more down to earth.
In Trouville, majestic villas flank a golden beach with a boardwalk. In summer, the beach is dotted with colorful beach huts.
8. Dijon
When you hear the word "dijon" you think of mustard, right? In Dijon, you can enjoy free tastings of almost any mustard imaginable.
But Dijon France is so much more than just its culinary specialty. It's an adorable hidden gem, southeast of Paris and resembling a mini-Paris.
Dijon is the capital of Burgundy and designated a UNESCO site for its vineyards. Dijon was the birthplace of Gustav Eiffel, of Eiffel Tower fame.
Dijon is sophisticated, and filled with medieval architecture, cobbled lanes, and elegant shops. Its main attraction is the Palace of the Dukes of Burgundy, an incredible architectural ensemble. The palace also houses a nice museum, the Musee des Beaux-Arts.
The symbol of Dijon is the owl, and you'll see owls adorning its architecture and footpaths. The Owl's Trail, or Parcours de la Chouette, guides you to the main attractions in Dijon. Try to spy the owl on the facade of Notre-Dame Church.
9. Dinan
Hanging on the side of a cliff, Dinan is one of the most famous and magical villages in Brittany. In all of France really. If you only have time for one stop in Brittany, make it Dinan. It's an impeccably preserved ancient city that escaped the bombing of WWII.
Dinan is a walled village with hefty ramparts, cobbled lanes, and half timbers everywhere. Dinan has barely changed since the middle ages. What could be more romantic?
The best thing to do in Dinan is to simply savor its old world charm. Wander the port, walk the ancient medieval walls (1.8 miles), admire the 14th century Chateau de Dinan, and visit St. Sauveur Basilica.
The basilica dates from the 12th century and is charming blend of Romanesque and Gothic architecture. It has striking modern stained glass in a well lit nave.
READ: Most Beautiful Villages in Brittany
10. Epernay
Epernay lies in the Champagne region, about an hour outside Paris. Epernay is a jewel of graceful streets and centuries old mansion.
It's the perfect laid back alternative to Reims, where you'll be swamped by tourists sipping bubbly and gawking at the magnificent Reims cathedral. Though quaffing champagne is always glamorous, prepare for uneven cobbled roads on your walkabout.
In Epernay, you'll find some of the most famous champagne houses — Moët & Chandon, Perrier Jouët, Mercier, and Pol Roger. Some of Pol Roger's fame derives from the fact that it was Winston Churchill's champagne of choice. He had it for lunch every day.
If you're staying in the Champagne region for a long weekend, Epernay makes a fantastic base. It's very central to all the champagne houses.
11. Etretat
Etretat is another must visit town on the Impressionist Trail in Normandy. Sleepy Etretat is a classic old world French town with absolutely mesmerizing scenery.
Etretat is set on the sea. Waves crash against the shores of a jagged chalky coastline, with a pretty beach promenade. A monumental arch, Porte d'Aval, plunges into the sea. It's France's version of England's White Cliffs of Dover.
The town's beauty inspired artists like Claude Monet, Henri Matisse, Eugene Boudin, and Gustave Courbet. The cliffs, known as the Elephant and the Needle, were one of the artists' favorite spots to paint.
The best way to admire the seascape is to walk along the cliffs. On your walk, you'll come across the Chapel of Notre-Dame-de-la-Garde. The original was destroyed in WWII, but it was rebuilt in the 1950s.
As you walk along the seaside path, you'll find placards depicting the precise spots where Monet painted some of his most famous paintings. You can hike to the top of the arch via a pathway and stairs to see different perspective of the alabaster cliffs.
When you're done admiring the caves and tunnels carved into the cliffs, head down to the sparkling turquoise waters of Etretat Beach. The water is cold, but the pebbles are soft and smooth, not hard on the feet.
Etretat's town center is quaint and shouldn't be ignored. It's bursting with shops, eateries, and art galleries.
Cider is a local specialty and there are plenty of crepes. There's also quite a number of small bed and breakfasts — a testament to Etretat's appeal to (mostly) French tourists.
12. Gerberoy
Located in the Oise region, the beautiful small town of Gerberoy is a "plus beaux village de France."
Time warp Gerberoy is filled with charming cobbled streets and half timbered buildings clad in painted shutters and flowers. It's known as the "City of Roses." It's a perfect day trip from Paris.
The early 20th century artist Henri Le Sidaner put Gerberoy on the map. The town was recommended to him by sculptor Auguste Rodin. Sidaner captured its 17th and 18th century houses, winding lanes, and profusion of roses.
READ: Guide to the Rodin Museum in Paris
The Gardens of Sidaner are one of Gerberoy's must see sites. It's a three level Italianate garden, filled with roses and wisteria, boasting views over Gerberoy.
You can also visit the Jardin des Ifs. This garden is listed as a Jardin Remarquable, with a stunning topiary yew garden.
Gerberoy also has plenty of adorable squares, eateries, galleries, and museums to keep you busy. Have lunch at Les Remparts. Check out the Collegiate Church of Saint Pierre, begun in the 11th century and completed in the 15th century.
13. Giverny
Just 50 miles northwest of Paris lies Giverny, home to Monet's stunning house and gardens. Giverny is a one-of-a-kind pastoral paradise, born from the great artist's obsession. It's a must see site for art lovers and Monet addicts in France.
Monet lived half his life in Giverny. You won't find any original Monet paintings. Instead, you'll feel as if you've stepped into one of his utopian paintings.
In Giverny, Monet, a devoted horticulturist, created an ethereal and exquisitely staged garden in the French-Norman countryside.
With the scent of roses wafting in the air, Monet's garden is one of the world's most beautiful and popular gardens.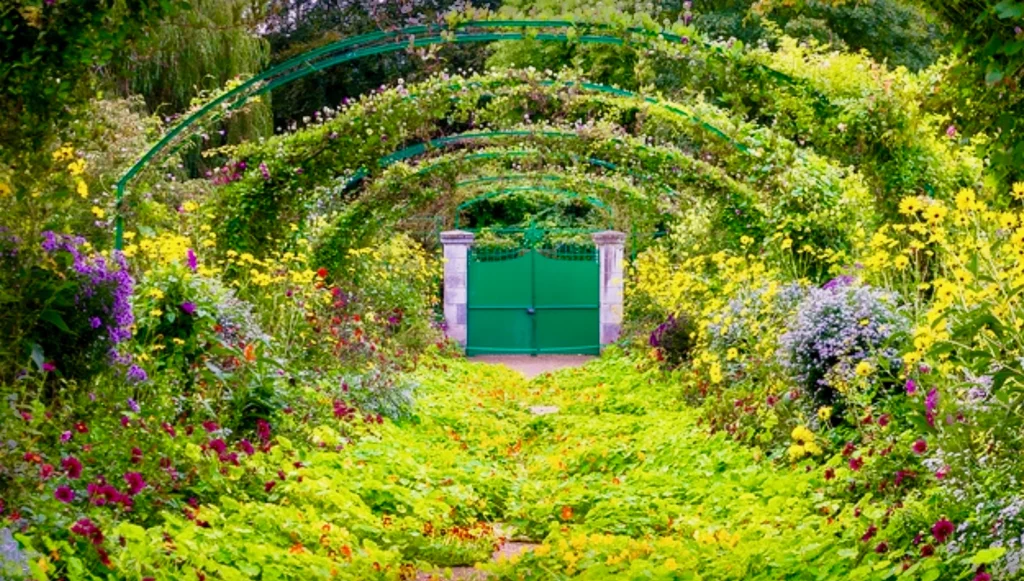 To wander through Monet's Garden is akin to living in one of his paintings. A world of flowers of every color fills your field of view, nodding slightly in the breeze. It looks like a paint factory explosion, or a few flicks of Monet's paintbrush.
There are two parts to Monet's labor-of-love gardens — the Clos Normand flower garden and the Water Garden. The Clos Norman is a boldly colored display and expressly Western. The Water garden is organic, Asian, and more exotic.
The two gardens are connected by a tunnel passing under the road. The gardens are immensely popular — a pilgrimage both for Monet fans, Francophiles, and avid gardeners.
Here's my complete guide to visiting Giverny. You may want to book a guided day tour from Paris.
14. Honfleur
Honfleur is a classic Norman town, sometimes called "the jewel of Normandy." In Honfleur, the Seine flows into the English Channel, reflections mirrored in the Vieux Bassin or old harbor. The novelist Baudelaire once declared, "Honfleur has always been the dearest of my dreams."
Honfleur is lined with gorgeous 16th to 18th century row houses with slate roofs and facades. Honfleur also has some beautiful churches and is laced with a maze of tiny cobbled streets.
The medieval Church of Saint Catherine is the largest wooden church in France, and Honfleur's spiritual heart. It was built in the 15th century by sailors.
All this beauty besotted the Impressionists and fellow artists and writers. Art historians claimed that Honfleur was the "birthplace of Impressionism. There, local artist Eugene Boudin urged Monet to paint outside in "plein air," changing the course of art history.
READ: The Monet Guide To Paris
Honfleur is a cultural treasure. The town boasts 95 art galleries, with works by contemporary painters keeping Boudin's spirit alive.
Housed in a 19th century chapel, the Musee Eugene Boudin is a pleasing small museum. You'll find myriad samples of Normandy Impressionism, especially the Honfleur School.
There are plenty of meteorological coastal scenes by its namesake painter Boudin.
There are also paintings by the likes of Courbet, Monet, Vuillard, Sisley, and Pissarro. You can see how Boudin inspired later masters, who took Boudin's techniques to the next level.
To see it all, you may want to book a guided walking tour.
15. Laon
I have big love for Laon France. It's a delightful hidden gem in France, especially if you're looking for an authentic, un-touristy town.
Laon is an ancient medieval village, perched high on a steep limestone rock. It's encircled by walls with formidable gates, and is one of France's oldest historical centers. There are more than 80 historic monuments in what was once the capital of the Carolingian Empire in the early Middle Ages.
Begin with a leisurely stroll down Rue Châtelain, Laon's pedestrianized main drag. The quaint signs may remind you of the Musée Carnavalet in Paris.
Poke in and out of the quaint artisan and antique shops. Eventually, you'll arrive at the stunning main attraction of Laon, it's massive Gothic cathedral.
From miles away, you can see the towers of the beautiful Cathedral of Notre Dame de Laon. It is one of the earliest and finest Gothic cathedrals in France, dating to the 12th century.
It's known for its six imposing towers and is a key stop on the pilgrimage route to Santiago in Spain. It's unspoiled by modernity or excess adornment and a bit endearingly grimy.
But what most enchanted me, and what sets Laon Cathedral apart from its cathedral brethren, is the nature of the adornment that does exist. There's a veritable farm on the upper towers — 16 oxen in total.
Local legend holds that the sculptures are a tribute to the animals who hefted the granite up the steep hill. The accompanying adorable menagerie of animal gargoyles also demands your attention.
16. Le Havre
Le Havre was largely obliterated during WWII. The town was rebuilt by the Belgian architect Auguste Perret, a mentor to Le Corbusier. His post-war modernist vision still marks the town, earning a UNESCO designation.
Le Havre was a favorite haunt of the Impressionist artists. Its location at the mouth of the Seine estuary gave the town exceptional light.
The water runs in a current, giving off glimmer and glints as the light catches it. Le Havre's port, dockyards, beaches, and regattas inspired all the major players in Impressionism.
Claude Monet grew up in le Havre. In 1872, when he was 32, he painted the groundbreaking harbor scene Impression: Sunrise. The Post-Impressionist Raoul Dufy was also born in Le Havre.
READ: Guide to Paris' Musee Marmottan Monet
You may not have Le Havre on your Normandy bucket list because the town is modern rather than quaint.
But the once gritty town has become a dynamic art center. The Andre Malraux Museum of Modern Art (known as MUMA) is an excellent reason to visit Le Havre.
Housed in a light-filled building overlooking the Seine, MUMA boasts one of the largest collections of French Impressionism in the world.
It's a mini Musee d'Orsay without the crowds. There are works by Boudin, Monet, Renoir, Degas, Sisley, Pissarro, Courbet, and Dufy.
17. Lille
Are you wondering if Lille is worth visiting? My answer is most definitely, yes! Lille is one of France's best kept secrets. It may be one of the most underrated cities in Europe.
Lille is France's fourth largest metropolis, but still eminently walkable. Lying close to the Belgian border, Lille offers visitors a plethora of historical, architectural, gastronomic, and outdoor attractions. It's an amazing and eminently likable French city.
Vieux Lille, the old city, is striking. It has two gorgeous squares: Le Grand Place and Le Place du Theatre.
Lille has winding cobblestone streets, quaint shops, and restaurants. The Place aux Oignons is especially lovely. There is beautiful Flemish architecture, different from other places in France.
Lille also has a splendid museum, the Palais des Beaux-Arts de Lille. Inaugurated in 1892, Lille's Fine Arts Museum has France's second largest collection after Paris' Louvre.
Its cache of 15th to 20th century paintings is sublime, including works by Rubens, Van Dyck, Manet, and a host of other artists. The Belle Epoque-style museum itself is a work of art, decorated with even more works of art.
Lille also has a hopping craft beer scene, some seriously pungent Maroilles cheese (also called Gris de Lille), and restaurants galore. La Capsule, and it was a hip, stylish watering hole.
18. Lyons-la-Forêt
In Haute Normandy, the charming small town of Lyons-la-Foret is set in a large beech forest. The stunning town is one of France's Les Plus Beaux Villages. It's surrounded by the kind of idyllic farmland that people associate with the Norman and Breton countryside.
Lyons-la-Foret is a classic French village with half-timbered houses, mostly dating from the 17th and 18th century. The town has cozy cafes, quaint antique shops, and a covered marketplace.
On Thursdays, in the town's heart, shops are abuzz with trade.
Many artists were attracted to the pretty town, including Claude Monet. The town was also a filming location for two different versions of the film Madame Bovary.
While there, be sure to see Saint-Denis Church, dating from the 15th century, and the Cordeliers and Benedictines Convents. The Place des Trois Moulins has three picturesque water mills and a small garden.
19. Maincy | Vaux-le-Vicomte
In Maincy, less than an hour from Paris, you'll find Vaux-le-Vicomte. It's the prettiest privately owned chateau in France, a pinnacle of 17th century elegance. The chateau is so lavish that it landed its original owner in jail for life.
When Princess Elizabeth visited in 1948, she pronunced Vaux-le-Vicomte "more beautiful than Versailles!" In fact, Vaux le Vicomte was the inspiration for Versailles. Built between 1656-61, it's a fine example of France Baroque architecture.
The chateau is situated on a 1,200-acre estate in Maincy, about 50 minutes from central Paris. There won't be nearly as many tourists here as at Versailles or Fontainebleau, and it's just as lovely.
Designed by Le Vau, the chateau was originally owned by the ill-fated Nicholas Fouquet, Louis XIV's finance minister and the wealthiest man in France. In 1661, against his friends' advice, Fouquet invited the king and his entourage to a luxurious dinner reception.
Three weeks later, teeming with jealously at such grandeur, a peeved Louis XIV ordered Fouquet's arrest on embezzlement charges.
After a three year trial, Fouquet spent 19 years in prison. Louis XIV packed up Le Vau and his team of artists and delivered them to Versailles.
Vaux-le-Vicomte can be visited year round, except for an annual winter closure. You can tour the lavishly furnished chateau and explore private royal apartments, ceremonial salons, reception areas, staff quarters, and the basement kitchen. Tickets can be purchased on site or online.
On Saturdays in the summer, the Le Notre gardens are lit with 2,000 candles during "candlelit evenings" every Saturday. The candle evenings usually run from from May 4 to October 5. There's also theatrical shows and concerts at the chateau.
20. Mont St-Michel
A crown jewel of the Normandy, Mont St-Michel is a pretty-as-a mirage island abbey. A medieval stage set, its slender spires, stout ramparts and rocky outcrops rise dramatically from the sea. They stand guard over gleaming sands laid bare by a receding tide.
The hulking abbey is one of the most visited pilgrimage sites in Christendom. The Mont's star attraction is the abbey crowning its top.
The mystical abbey was settled in 996 by Benedictine monks. The abbey is a mix of architectural styles, with religious and military overtones.
After the French Revolution, when France was de-Christianized, the abbey became a prison. It was closed in 1863. In 1979, Mont St.-Michel was declared a UNESCO site.
Here's my complete guide to visiting Mont St.-Michel. You can visit the Mont on a guided day trip from Paris or a day trip from Bayeux.
21. Nancy
Nancy is a beautiful town in northern France known for its stunning Art Nouveau and Renaissance architecture. Nancy was once the capital of a powerful Duchy of Lorraine.
The town lies at a the crossroads between northern and southern Europe. During the 18th century, Stanislas Leszczynski, the deposed king of Poland, beautified the city with palatial monuments.
Nancy has both an old town and a new town, which seamlessly connect. Ville Neuve is the commercial heart of the town, full of shops and a covered food market. Vieille Ville is a tangled maze of cobbled streets, home to galleries, craft shops, and several historic mansions. The main drag is Grand Rue.
The 15th century Ducal Palace on Grand Rue houses the Musee de Lorraine (under renovation until 2023). The ornate facade resembles the Chateaux de Blois.
The palace contains a Gothic-Renaissance cloister. Off to one side is the Chapelle de Cordeliers, which was modeled on the Medici Chapel in Florence.
READ: 3 Day Itinerary for Florence
The heart of Nancy is the royal square, the UNESCO-listed Place Stanislas. The pedestrianized square is lovely, with creamy stone facades, fountains, and Rococo-style wrought iron railings. Two monumental statues are framed by ornate Rococo porticos.
On one corner is the unmissable Musee des Beaux-Art. It has a diverse collection of European paintings, furniture, and artifacts.
It has a startlingly good modern art collection with works by Picasso, Modigliani, Matisse, and Bonnard. But the museum's real treasure is the stunning collection of Daum Art Deco glass on display in the underground floor within remnants of the city walls.
READ: Guide To Paris' Picasso Museum
Other pretty squares are the Place de la Carriere (lined with 18th century mansions) and the Place Vaudemont. Off Place Vaudemont, you'll find the Rue des Marechaux, nicknamed La rue Gorumande. On that street, you'll find the most famous Nancy restaurant, La Gentilhommiere.
22. Pierrefonds
The quaint town of Pierrefonds is home to a fairytale castle, the Chateau de Pierrefonds.
In 1857, Napoleon III hired the famed architect Eugene Viollet-le-Duc to rebuild the romantic ruins of Pierrefonds Castle. Napoleon III longed for a lavish castle, fit for a king and evoking a medieval fantasy.
Viollet-le-Duc was inspired by Coucy Castle, one of my favorite French ruins. He sought to maintain an equilibrium between a fortified palace with beautiful state rooms and a residence.
The rooms are recreated in vibrant rich colors as they would have appeared in the Middle Ages, with medieval motifs like St. George and the Dragon.
Here's my complete guide to Pierrefonds Castle.
23. Provins
Provins is an utterly quaint medieval walled city and a perfect easy day trip from Paris. Like many medieval towns, Provins has an older "upper" city and a slightly more modern "lower" city.
You arrive in the lower city, or ville basse. As you start climbing, you'll see the ramparts and Tower de Caesar.
The atmospheric Provins is filled with historic and architectural gems, including no less than 58 listed historic monuments. The town is a designated UNESCO site and was once home to a great medieval fair. If you're on the UNESCO trail in France, this is a must see site.
On your visit, inspect the Tower Cesar, a well preserved medieval tower. Then, walk the ramps and the moat and take in the world's most charming medieval bookstore.
You should also visit the underground tunnels, Les Souterrains. Provins is famous for its roses, so you'll find rose everything in its tiny shops.
24. Quimper
Originally settled during Roman times, Quimper is the ancient Celtic capital of the westernmost region of France and proud of it. The bright Breton city of Quimper is all bright architecture, footbridges, ancient cobbled lanes, and bagpipers.
Quimper's most famous landmark is the Cathedral of St. Corentin, built between the 12th and 18th centuries. Quiimper is also lined with beautiful 17th century townhouses.
If you're an art lover, you can wile away a couple hours in the Musee des Beaux-Arts or Quimper's Pottery Museum.
Quimper had an economic boom in the 17th century thanks to its pottery trade. You can pick up some gorgeous hand painted faience ceramics, with blue flour-de-lys, for souvenirs at La Civette or Heoligou.
If you're a fan of the BBC's Poldark series, you may remember that Quimper is where Ross Poldark makes a daring rescue of Dwight Enes from prison. The episode (Season 3, Episode 5) was filmed onsite at the former convent turned prison in real life.
25. Reims
The town of Reims (pronounced Raaaance with a swallow of the n) is the unofficial capital of France's Champagne region.
The town is decorated with Art Deco buildings and has some of France's best champagne houses — Mumm, Veuve Cliquot-Ponsardin, Tattinger, and Ruinart. The hard part is choosing. (I picked Veuve Cliquot.)
On each tour, you'll see the man made chalk tunnels, the crayeres. They offer the perfect temperature and humidity for the second fermentation.
With or without a glass of champagne, don't forget to visit the Cathedrale Notre-Dame de Reims in Reims France. It's one of Europe's greatest cathedrals.
Some experts think it's France's most beautiful cathedral, surpassing even Notre Dame de Paris. Reims Cathedral was designated a UNESCO site in 1991. There are over 2,000 sculptures on or inside the cathedral.
Reims Cathedral was built over 60 years, beginning in 1211. The ornate western portal is distinctive for its beauty, unity, and harmony.
There are three main doors, all with a theme carved in limestone — the passion, the coronation of Mary, and the Last Judgment (from left to right).
Across the top is the Gallery of Kings, with statues of 56 unnamed kings of France. On the sides, you can see the massive flying buttresses that support the building.
Inside is the real treat. You step into a towering 500 foot nave.
You're greeted by a wall of 52 intricately carved statues. Admire the choir and 1954 stained glass windows in the south transept, which replaced the ones damaged in WWI.
The interior's undisputed highlight is in the apse behind the altar. There, you'll see the catastrophically beautiful stained glass windows created by the painter Marc Chagall in 1974.
It's rare to see a modern artist working to such stunning effect in a ancient church. In 2011, six abstract windows were added, flanking the Chagall pieces.
Reims Cathedral is also the spot for the coronation of French kings, making it the equivalent of Westminster Abbey in England. Joan of Arc made an appearance in Reims, crowning Charles VII in 1429.
The Saint-Remi Basilica is also included in Reims UNESCO designation. I's an acclaimed Gothic masterpiece. The naves and the transept date from 1000.
You may want to book a guided walking tour of Reims. Or take a champagne tour from Paris.
26. Rochefort-en-Terre
Rochefort-en-Terre is one of France's les plus beaux villages and a must see village in Brittany. It was voted "France's favorite village" in 2016.
It's difficult to imagine a more beautiful and well-manicured French hamlet. Rochefort-en-Terre is fairytale-perfect and almost mind blowing, a sensation I had upon glimpsing the beautiful Rothenburg ob der Tauber on Germany's Romantic Road.
Rochefort-en-Terre is an architectural dream, beautifully sited on a hilltop overlooking the Valley of Arz. It's a town where rich merchants built lavishly decorated chateaux. Most date from the 17th century.
The mansions run from the Rue de Porche to the Place du Puits. They're made of granite and half timbers and adorned with corbelled turrets, sculptures, and wood carvings.
As you stroll, inspect the Notre Dame de la Tronchaye church, which dates from the 16th and 17th centuries. It's famed for a statue of the Virgin Mary, which was discovered by a shepherdess in a tree trunk.
The most swoonful place in Rochefort-en-Terre is the Place du Puits. It's the perfect intimate village setting with stone buildings, hanging iron signs, a fountain, and flower boxes on every facade.
Pop into L'Art Gourmand for delicious chocolatey things. If hunger calls, try Le Café Breton, boasting original medieval decor. There are plenty of crepes and waffles to be had as well.
27. Rouen
Medieval Rouen is 2000 years old. It's one of Normandy's most engaging and historically rich destinations, with half-timbered homes and winding medieval lanes.
With its lantern tower piercing the clouds, Cathddrale Notre-Dame de Rouen is Rouen's crown jewel.
Rouen's central square is where Joan of Arc, the teen who rallied France to drive out the English, was tried for heresy and burned at the stake in 1431. During WWII, Allied bombing raids laid waste to the city. A lot to endure, no?
But Rouen is still lovely and its cobbled old town is a joy to wander. Stroll the length of the Rue du Gros Horloge, the pedestrianized main drag, to Notre-Dame Cathedral.
Along the way, take in all the colorful half timbers, the Place du Vieux Marche, the massively ornate Great Clock, and the Joan of Arc Church. If you have time, climb the clock tower's 100 steps for panoramic views.
Rouen's Notre Dame Cathedral is a landmark of art history, one of Europe's best cathedrals. Constructed between the 12th and 14th centuries, the cathedral was built on the foundations of a 4th century basilica.
The cathedral rises 151 meters tall, making it one of the tallest in France. The Dukes of Normandy were traditionally crowned and buried there. Richard the Lionhearted insisted his heart be kept there.
You can still see what Impressionist artist Claude Monet painted more than a century ago. Monet spent parts of 1892 and 1893 in Rouen. He painted 31 versions of the cathedral, extreme close ups of one part of the pale filigreed stone facade.
Sometimes he worked on 14 canvases at once. Monet groaned: "Everything changes, even stone."
Inside, Rouen Cathedral is High Gothic at its best. The nave soars four stories high. In length, only Amiens Cathedral and Reims Cathedral are longer. Many of Normandy's most famous citizens are buried there, including Richard the Lionheart and early Norman rulers Rollo and William I.
Rouen also has a wonderful museum, the Musée des Beaux-Arts. It has masterpieces from the 15th century to the 21st century, including works from Velasquez, Van Dyke, Delacroix, Gericault, Delaroche, and the Impressionists.
To get the full scoop, you may want to book a guided walking tour.
28. Saint-Malo
Saint-Malo is a charming walled town, thrust out into the sea and straight out of the history books. Founded in the 1st century, Saint Malo became a prominent Roman fortified site. Though seriously damaged in WWII, Saint Malo was restored to perfection.
In the 17th and 18th centuries, the town was a famous port used by trade ships and pirates alike. Saint Malo starred in the wonderful and evocative book All The Light We Cannot See, winner of the 2015 Pulitzer Prize.
The best things to do in Saint Malo are to wander along the town's 12th century crenellated ramparts (a rewarding 1 mile romp), which encircle the town, and explore the ancient churches. You mount the stairs at St. Vincent Gate.
Saint Malo Cathedral also dates from the 12th century. It has some beautiful stained glass windows. But strolling the cobbled streets is the main attraction. Discover Maison Hussaye, the oldest house in the city with a cute turret. After a stroll, head to the beach and relax.
29. Senlis
Historic Senlis will appeal to medievalists and history-architecture buffs. Although it's a tad larger than Sarlat in the south, it has a similar vibe.
You could also combine a visit to Senlis with a visit to Chateau de Chantilly, which is just 15 minutes away.
Senlis has a rich history. It's a royal town and was the cradle of the Capet Dynasty. Hugh Capet was the Lord of Senlis before becoming King in 987. Senlis was a royal seat from the time of Clovis in the 5th century to Henri IV in the 16-17th centuries.
Senlis is bursting with ancient buildings and relics from the 10th to18th centuries. A large portion of its ancient Gallo-Roman walls are intact and you can admire the 16 lookout towers.
Stroll the winding cobblestone streets and admire the stone houses. Senlis is the kind of town you can get lost in. Many streets still sport names from the middles ages, signifying the occupation of their residents.
There's also a historic abbey, a medieval cellar, and the ruins of a Roman arena that you can visit. Opposite the cathedral are the 12th century remains of a royal castle, now part of an open air garden.
Senlis' cathedral, the Cathédrale de Notre Dame, is an imposing highlight of Senlis. Built between 1150 and 1191, it's 10 years older than Paris' Notre Dame.
It's an impressive reminder of Senlis' past power. It has a 78 meter tower and a magnificent carved-stone Grand Portal that is thought to have inspired the one in Chartres' cathedral.
30. Troyes
Visitors to France's Champagne region usually make a beeline for the more famous Reims. But Troyes, further south, is a beautiful medieval town in northern France, just bursting with romance.
I definitely preferred it over Reims. And there are plenty of champagne houses to visit nearby.
Troyes is unpredictably pronounced "twa." But it rolls off the tongue in a languid chic French kind of way. Troyes also has a big heart. Literally, it has a big heart embedded along the Canal du Trevois. The two ton metal sculpture is the symbol of the romantic town.
The main activity in Troyes is simply strolling around the well-preserved historic center. There's no need to seek out romance. It will assault you from all angles and, unless you are a complete skeptic, you'll be entranced.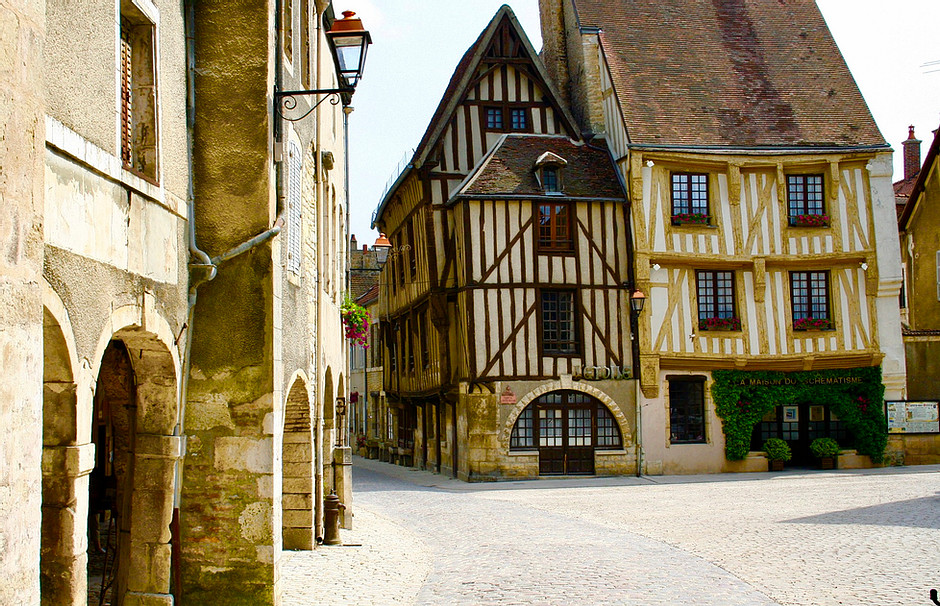 Everywhere you look, there are multi-colored half-timbered houses in pastel palettes with vertical, horizontal, and diagonal stripes. The buildings lurch and slouch with an engaging lack of symmetry.
Troyes is known as the village of "ten churches," so there's plenty to see.
Be sure to at least take in the Gothic Cathedral of Saint Peter and Saint Paul and the slightly grimier Basilica of Saint Urbain. There's also some cultural heft to go along with all the Gothic splendor.
Tucked behind the cathedral is the Musee d'Art Moderne. It's an unexpectedly good museum housing a private collection in the bishop's palace. It has an abundance of modern art, especially Fauves, including works by Degas, Rodin, Matisse, Picasso, Modigliani.
31. Versailles
Here comes the Sun King. France's most famous Baroque chateau is the Chateau de Versailles, where Louis XVI and Marie Antoinette spent their last days. The UNESCO-listed palace is one of the most frequented sites in the world.
Versailles was once the center and cultural heartbeat of Europe, until the French Revolution. The Sun King Louis XIV used Versailles as his royal seat from 1682 to 1789.
The Palace of Versailles is ornately decorated, to say the least. It's massive, flashy, and very, very gold. The opulence is overwhelming. Even the bathrooms are gold-plated. You enter through the Neo-Classical portals designed by Ange-Jacques Gabriel.
As exemplifies the Baroque style, Louis XIV's palace was decorated with gilding, stucco, arabesques, frescoed vaulted ceilings, mirrors, and tromp l'oeil effects.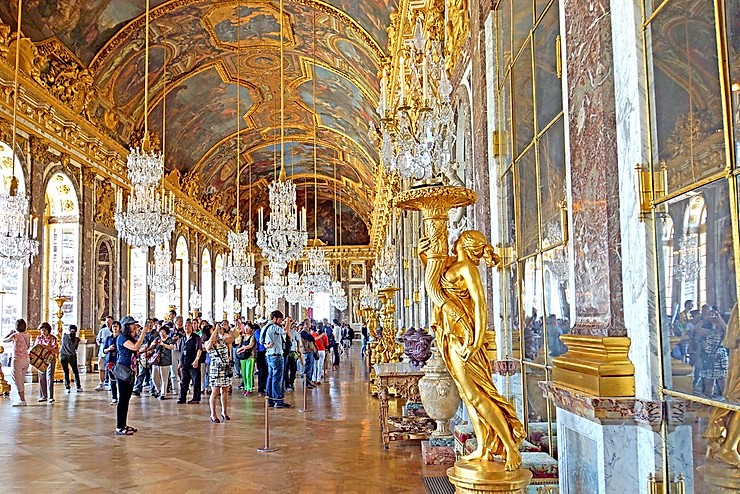 The king waged architecture like he waged war. The Charles Le Brun-decorated apartments were in the center, because the world revolved around Louis XIV.
The Hall of Mirrors is 220 feet long. Overlooking the gardens, it has 357 mirrors, chandeliers, ceiling frescos, and marble walls. The Hall of Battles is even longer, at almost 400 feet, lined with oil paintings by Eugene Delacroix and Jean-Honore Fragonard.
But the palace itself wasn't enough for the king who ruled by divine right. In 1687, Louis XIV built the Grand Trianon. This swishy pad is where Louis XIV escaped the viper pit of court life and pursued his affair with Madame de Montespan.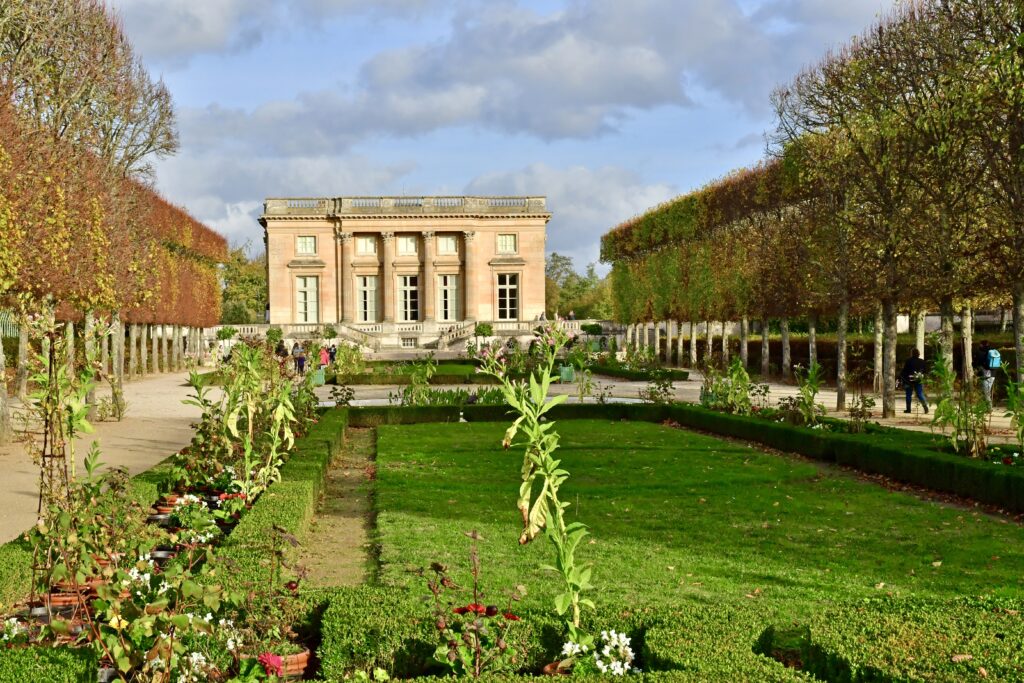 The architect, Jules Hardouin-Mansart, described the refined structure as "a little palace of pink marble and porphyry, with marvelous gardens."
Aside from Louis XIV, Versailles' most famous occupant was Marie Antoinette. The queen made major changes to the palace's decor in the 18th century. With the exception of the Hall of Mirrors, the interior is more Louis XVI style than Louis XIV style.
Marie Antoinette also adored the Petit Trianon, a little Neo-Classical palace on the grounds. When Louis XVI inherited it, he gifted it to his queen, saying "This pleasure house is yours."
The Petit Trianon bears her distinctive decorative style — ornate floral motifs run amok in cornflower blue, lilac, and green, without the glitz of the main palace.
Marie Antoinette also created a pastoral fantasy, the Hameau de la Reine. On the surface, the Queen's Hamlet appeared as a rural village of crackled tumbledown cottages and wisteria vines. (The countryside was fashionable at the time.) But inside, the cottages were decked out.
Designed by Andre Le Notre, the gardens of the Palace of Versailles are a vast showstopper. Louis XIV wanted a verdant display to demonstrate his power and to entertain VIPs.
It's one of the most influential landscape designs in French history — with a series of geometric gardens, groves, fountains, and parks.
READ: Filming Locations for the BBC Series Versailles
32. Veules-les-Roses
The charming coastal hamlet of Veules-les-Roses is one of Normandy's prettiest and oldest spots. So lovely is Veules-les-Roses that's it's been voted one of France's Les Plux Beaux Villages.
The villages is a hidden gem in Normandy, usually overlooked by tourists. Victor Hugo famously frequented the town, spending his summers at the home of playwright Paul Meurice. There's a memorial to Hugo on the town beach.
READ: Guide to the Victor Hugo Museum in Paris
Perched on the River Veules, the town has been inhabited since the 4th century. Veules-les-Roses has more thatched cottages, stone houses, and picturesque water mills than any photographer could want.
The road that winds through town is dubbed the Champs-Elysées. Be sure to pop into the 13th century Church of Saint Martin.
Thanks to its seaside location, Veules-les-Roses also has a pebbly beach set amid dramatic white cliffs. You can walk the cliff path for amazing vistas.
The town is known for its oysters and fresh seafood. It even has four Michelin starred restaurants, including Les Galets on Rue Victor Hugo.
I hope you've enjoyed my guide to the most beautitful towns in Northern France. You may enjoy these other France travel guides and resources:
If you'd like to visit the most beautiful and historic towns in northern France, pin it for later.