Looking for some places to visit near Paris without crowds? Here's my guide to 18 of the best secret and unusual day trips from Paris.
If you're visiting the City of Light, you've discovered that Paris can be intense. You'll be jowl to jowl with people queuing up to see the Mona Lisa or the Eiffel Tower.
You'll never get tired of Paris. But sometimes it's good to get away from the urban hustle and bustle.
The obvious day trip options are Versailles, Giverny, and Mont Saint-Michel. But, if you're tired of crowds, pick something different. Opt for a more unusual off the beaten path destination.
The region around Paris is studded with beautiful medieval towns, UNESCO sites, sumptuous chateaux, and even ruins. You're spoiled for choice.
These less touristy Paris day trips are just as magical as the more famous sites. And they won't leave you with tourist phobia from heaving crowds.
C'est parti!
Best Off the Beaten Path Day Trips From Paris
Here are my picks for the best less touristy day trips from Paris. These Paris day trip options are all near Paris. So, you won't have too far to travel.
1. Auvers-Sur-Oise: In Van Gogh's Footsteps
Auvers-sur-Oise is a lovely underrated town. It's one of the most beautiful towns in northern France. Auvers is surrounded by wheat fields and set on the banks of the Oise River.
Auvers was once the home of the Post-Impressionist artist Vincent Van Gogh. The legendary painter described Auvers as "gravely beautiful." To him, the quiet village calmed his nerves and inspired his art.
Van Gogh spent the last 70 days of his life creating 70 paintings of Auvers-sur-Oise. He was buried in the village with his brother Theo.
Common wisdom holds that Van Gogh committed suicide, as a notoriously tortured soul. But there is growing evidence that it was murder. You can read my analysis of whodunit here.
In Auvers, you can walk in Van Gogh's footsteps. Some of Van Gogh's greatest masterpieces were painted in Auvers , including Crows Over Wheatfield, the Portrait of Dr. Gachet, and Church at Auvers. You can see them in the Musee d'Orsay while you're in Paris.
The Roman-Gothic Church of Auvers is sober and beautiful. It was built between 1137-1227, and is instantly recognizable as the subject of one of Van Gogh's most famous paintings.
If you're feeling especially arty, you can visit the studio-home of Charles-François Daubigny. Daubigny was an important member of the Barbizon school, a precursor oeuvre to Impressionism.
With his friends Camille Corot and Honore Daumier, he decorated the home with paintings and massive floral murals. You can also stop by the House of Dr. Gachet, Van Gogh's friend and confidant, which is now an art gallery.
The Chateau d'Auvers is also stately and impressive. It's a 17th century Louis XIII-style building. And it features an immersive multimedia Impressionist exhibit, and has a beautiful garden.
How to get from Paris to Auvers-sur-Oise:
By Train: Trains run about every 20 minutes from Gare Saint-Lazare or Gare du Nord. Check here for times.
By Car: 20+ miles north of Paris, about :45 min drive
2. Chateau de Vincennes: Medieval Palace
Lying in the eastern suburbs of Paris, at the end of metro line 1, is the 14th century Chateau de Vincennes. It's a super easy day trip from Paris. I'm surprised more people don't go.
Like Fontainebleau, the château began life as as a royal hunting lodge in the 12th century. King Louis VII was known to dispense justice beneath the trees.
During the 13th century, the lodge was transformed into a larger, palatial estate for the French kings.
In the 14th century, the venerable building you see today was reconstructed, renovated, and modernized. It became a royal seat and the primary royal residence until Versailles was completed.
In 1337, a 52 foot Donjon was added. Chateau de Vincennes became the tallest medieval fortified structure in Europe.
The chateau is wholly intact with a keep, dungeon, moat, and fortified concentric walls. That's pretty unique.
When the royals decamped to Versailles, the chateau was used as a prison. The Marquis de Sade, Voltaire, Mirabeau, Diderot were all imprisoned there.
The Gothic chapel Sainte-Chapelle is definitely worth a look, just for the stained glass windows and bright interior. It was founded in 1379 and updated over the centuries. The chateau is a very underrated place outside Paris. Don't miss it, if you're a history buff.
How to get from Paris to Chateau de Vincennes:
By Train: By train, RER A to station Vincennes
By Metro: Take line (1 the yellow line) from anywhere in Paris in the direction of Chateau de Vincennes to the end of the line, the "Chateau de Vincennes" stop.
Address: Avenue de Paris, 94300 Vincennes, France
3. Chateau de Coucy: Romantic Ruins
The Château de Coucy lies two hours north of Paris. It's situated between the towns of Laon and Soissons.
In the calamitous 14th century, the chateau was the greatest fortress castle in Europe, lorded over by the warrior nobleman Enguerrand de Coucy.
Both the chateau and Coucy were the subjects of Barbara Tuchman's award-wining book A Distant Mirror, which is a fantastic read.
The chateau is mostly in ruins now. In 1917, it was occupied by Germans.
As a parting salvo, the retreating Germans detonated the imposing keep with 28 tons of explosives. The Château de Coucy Flickr account has a photo of the chateau being destroyed.
Why would someone want to visit ruins? Well, personally I have serious ruin lust — a taste for heroic destruction and picturesque decay. Ruins are romantic and sometimes melancholy.
They put your imagination to use, rather than just eyeballing an ornate gold leaf Baroque church. And sometimes ruins tell more affecting stories than a perfectly coiffed building.
The sheer scale of the chateaux ruins is stunning. The south and west front of the massive lower court once boasted eight towers.
The towers of the west front have dislocated from the wall due to bad foundation. It is a surreal sight to see them lying in the grass, as if the German bombing happened yesterday.
The site has extensive information placards with historical photos, reconstruction images and text in English.
You will get a heavy dose of history. The Chateau de Coucy can also be combined with a day trip to the Chateau de Pierrefonds, just 45 minutes southwest.
How to get from Paris to the Chateau de Coucy:
By train: Train from the Gard du Nord, 1:20
By car: 75 miles, about 1:40 drive
4. Chateau de Vaux-le-Vicomte: Underrated Baroque Beauty
Vaux-le-Vicomte is the perfect less touristy day trip from Pairs. It's prettiest privately owned chateau in France. When Princess Elizabeth visited in 1948, she pronunced it "more beautiful than Versailles!"
In fact, Vaux le Vicomte was the inspiration for Versailles. Built between 1656-61, it's a fine example of France Baroque architecture.
It's situated on a 1,200-acre estate in Maincy, about 50 minutes from central Paris. There won't be nearly as many tourists here as at Versailles or Fontainebleau, and it's just as lovely.
The chateau was originally owned by the ill-fated Nicholas Fouquet, Louis XIV's finance minister. In 1661, against his friends' advice, Fouquet invited the king and his entourage to a luxurious dinner reception.
Three weeks later, teeming with jealously at such grandeur, a peeved Louis XIV ordered Fouquet's arrest on embezzlement charges. After a three year trial, Fouquet spent 19 years in prison.
The beautiful chateau can be visited year round. Though it does close annually in the winter.
You can tour the lavishly furnished château and explore private royal apartments, ceremonial salons, reception areas, staff quarters, and the basement kitchen. Tickets can be purchased on site or online.
In the summer, the gardens are lit with 2,000 candles during "candlelit evenings" every Saturday. In 2019, the candlelight dinner evenings run from from May 4 to October 5. There are also theatrical shows and concerts at the chateau.
How to get from Paris to Vaux le Vicomte:
By Train: From Gare de l'Est, take the direct train Line P (in the direction of Provins). Get off at the Verneuil l'Etang train station. There is a "Châteaubus" shuttle to pick you up from the Verneuil l'Etang train station to the Château de Vaux-le-Vicomte.
By Car: about 50 minutes
By Guided Tour: You can also visit Vaux-le-Vicomte on a guided day tour from Paris.
5. Laon: a Medieval Cathedral Town
I have big love for Laon France. It's a delightful hidden gem in France, especially if your'e looking for an authentic, un-touristy town.
Laon is an ancient medieval village, perched high on a steep limestone rock. It's encircled by walls with formidable gates, and is one of France's oldest historical centers.
There are more than 80 historic monuments in what was once the capital of the Carolingian Empire in the early middle ages.
Begin with a leisurely stroll down Rue Châtelain, Laon's pedestrianized main drag. The quaint signs may remind you of the Musée Carnavalet in Paris.
Poke in and out of the quaint artisan and antique shops. Eventually, you'll arrive at the stunning main attraction of Laon, it's massive Gothic cathedral.
From miles away, you can see the towers of the beautiful Cathedral of Notre Dame de Laon. It is one of the earliest and finest Gothic cathedrals in France, dating to the 12th century.
The cathedral is known for its six imposing towers and is a key stop on the pilgrimage route to Santiago in Spain. It's unspoiled by modernity or excess adornment and a bit endearingly grimy.
But what most enchanted me, and what sets Laon Cathedral apart from its cathedral brethren, is the nature of the adornment that does exist.
There is a veritable farm on the upper towers — 16 oxen in total.
Local legend holds that the sculptures are a tribute to the animals who hefted the granite up the steep hill. The accompanying adorable menagerie of animal gargoyles also demands your attention.
If you leave for Laon early enough, on your journey back you might consider stopping to see Crépy-en-Valois.
It's a tiny medieval village on the same train line. It's quite adorable with a 12th century chateaux, abbey ruin, quaint streets, and a nice park.
How to get from Paris to Laon:
By Train: From the Gard du Nord, fastest train 1:30, check here for times.
By Car: about 1:50 drive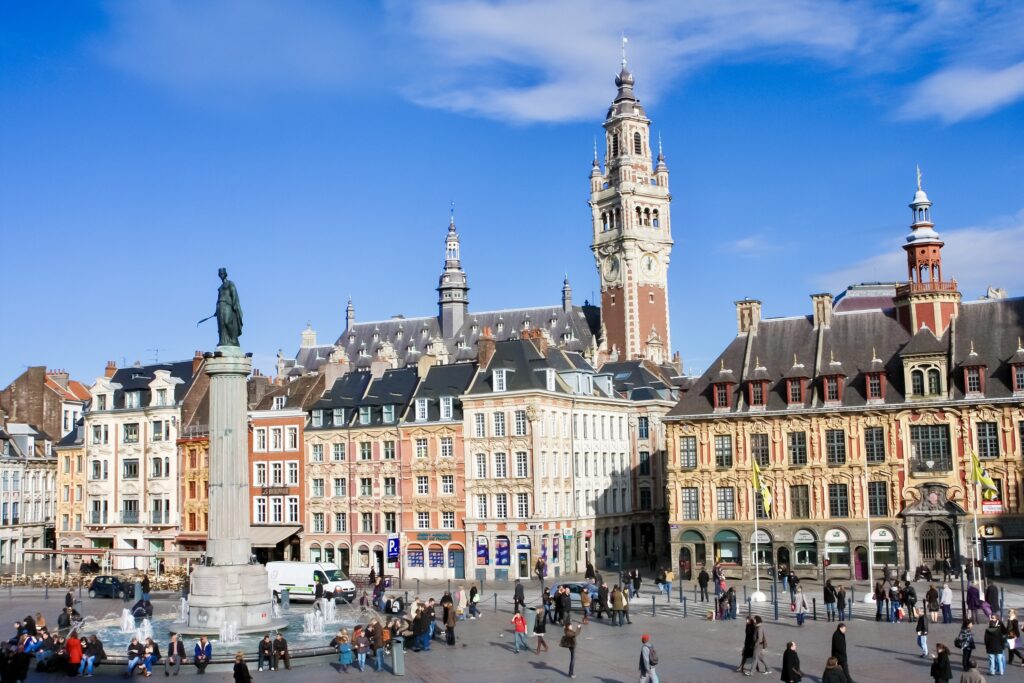 6. Lille: Where France Meets Belgium
Are you wondering if Lille is worth visiting? My answer is most definitely, yes! Lille is one of France's best kept secrets. It may be one of the most underrated cities in France.
Lille is France's fourth largest metropolis, but still eminently walkable. Lying close to the Belgian border, Lille offers visitors a plethora of historical, architectural, gastronomic, and outdoor attractions.
It's an amazing and eminently likable French city. I wasn't prepared to like it so much.
Vieux Lille, the old city, is striking. It has two gorgeous squares: Le Grand Place and Le Place du Theatre. It has winding cobblestone streets and quaint shops and restaurants.
The Place aux Oignons is especially lovely. There is beautiful Flemish architecture, different from other places in France.
Lille also has a splendid museum, the Palais des Beaux-Arts de Lille. Inaugurated in 1892, Lille's Fine Arts Museum has France's second largest collection after Paris' Louvre.
Its cache of 15th to 20th century paintings is sublime, including works by Rubens, Van Dyck, Manet, and a host of other artists. The Belle Époque-style museum itself is a work of art, decorated with even more works of art.
Lille also has a hopping craft beer scene, some seriously pungent Maroilles cheese (also called Gris de Lille), and restaurants galore. I stopped in at La Capsule, and it was a hip, stylish watering hole.
I usually stay in Air Bnbs. But, in Lille, I stayed at the boutique hotel L'Esplanade Lille, and adored it.
How to get from Paris to Lille:
By Train: super convenient high speed TGV from the Gard du Nord, about 1 hour duration, check times here.
By Car: about 2:20 drive
7. Provins: A Medieval UNESCO Village
Provins is an utterly quaint medival walled city and a perfect, easy day trip from Paris. Like many medieval towns, Provins has an older "upper" city and a slightly more modern "lower" city.
You arrive in the lower city, or ville basse. As you start climbing, you'll see the ramparts and Tower de Caesar.
The atmospheric Provins is filled with historic and architectural gems, including no less than 58 listed monuments. It is a designated UNESCO site and was once home to a great medieval fair.
If you're on the UNESCO trail in Europe, this is a must see site and incredibly easy day trip from Paris.
On your visit, inspect the Tower Cesar, a well preserved medieval tower. Then, walk the ramps and the moat.
Take in the world's most charming medieval bookstore, and visit the underground tunnels, Les Souterrains. Provins is famous for its roses, so you'll find rose everything in its tiny shops.
How to get from Paris to Provins:
By Train: Take the SNCF Transilien Line P from Gare de l'Est. Trains leave every hour, and the journey takes about 1:20.
By Car: about 1:15 drive
Guided Tour: You can also book a guided tour to Provins.
8. Rouen: Joan of Arc's Haunt
Medieval Rouen is 2000 years old. It's one of the most engaging and historically rich destinations in Normandy. You wouldn't think it would be a less touristy day trip from Paris. Yet it is.
Rouen has a turbulent history. It was devastated by fire and plague during the Middle Ages and occupied by the English during the Hundred Years War.
Rouen's central square is where Joan of Arc, the teen who rallied France to drive out the English, was tried for heresy and burned at the stake in 1431. During WWII, Allied bombing raids laid waste to the city. A lot to endure, non?
But Rouen is still lovely and its cobbled old town is a joy to wander. Stroll the length of the Rue du Gros Horloge, the pedestrianized main drag, to Notre-Dame Cathedral.
READ: Most Beautiful Towns in Normandy
Along the way, take in all the colorful half timbers, the Place due Vieux Marche, the Great Clock, and the Joan of Arc Church. If you have time, climb the clock tower's 100 steps for panoramic views.
Rouen's Notre Dame Cathedral is a landmark of art history, one of Europe's best cathedrals. Today, you still see what Claude Monet painted more than a century ago, constructed between the 12th and 14th centuries.
The cathedral is free to visit. Built on the foundations of a 4th century basilica, the cathedral rises 151 meters tall, making it the tallest in France.
Inside, many of Normandy's most famous citizens are buried, including Richard the Lionheart and early Norman rulers Rollo and William I.
But it's the cathedral's lacy Flamboyant Gothic facade that made it enduringly famous. Claude Monet painted 30 versions of it.
READ: The Monet Guide To Paris
Rouen also has a wonderful museum, the Musée des Beaux-Arts. It has masterpieces from the 15th century to the 21st century, including works from Velasquez, Van Dyke, Delacroix, Gericault, Delaroche, and the Impressionists.
Depending on how fast you move and your agenda, it's also possible to combine Rouen with a day trip to Giverny to see Monet's gardens, about an hour away.
How to get from Paris to Rouen:
By train: nearly hourly trains, 1.5 hours ride, check online
By car: about 1:45 drive
Guided Tour: You can also book a 9 hour guided tour from Paris.
9. Senlis: An Authentic Medieval Village
Historic Senlis will appeal to medievalists and history-architecture buffs. Although it's a tad larger than Sarlat in the south, it has a similar vibe.
You can also combine a visit to Senlis with a visit to the nearby Château de Chantilly, just 15 minutes away.
Senlis has a rich history. It's a royal town and was the cradle of the Capet Dynasty.
Hugh Capet was the Lord of Senlis before becoming King in 987. Senlis was a royal seat from the time of Clovis in the 5th century to Henri IV in the 16-17th century.
Senlis is bursting with ancient buildings and relics from the 10th to18th centuries. A large portion of its ancient Gallo-Roman walls are intact and you can admire the 16 lookout towers.
Then stroll the winding cobblestone streets and admire the stone houses. Senlis is the kind of town you can get lost in.
Many streets still sport names from the middles ages, signifying the occupation of their residents.
There's also a historic abbey, a medieval cellar, and the ruins of a Roman arena that you can visit. Opposite the cathedral are the 12th century remains of a royal castle, now part of an open air garden.
Senlis' cathedral, the Cathédrale de Notre Dame is a imposing highlight of Senlis. Built between 1150 and 1191, it's an impressive reminder of Senlis' past power.
The cathedral has a 78 meter tower and a magnificent carved-stone Grand Portal that is thought to have inspired the one in Chartres' cathedral.
How to get from Paris to Senlis:
By Train: Take the train from Gard du Nord from Paris to Chantilly, then take a bus to Senlis. Check train times here.
By Car: about 1 hour drive down the A1 highway, with free parking outside the town center
10. Troyes: A Gorgeous Village Bursting With Romance
Visitors to France's Champagne region usually make a beeline for the more famous Reims. But Troyes, further south, is a hidden gem medieval village just outside Paris.
Troyes is just bursting with romance. I definitely preferred it over the more popular Reims. And there are plenty of champagne houses to visit nearby.
Troyes is unpredictably pronounced "twa." But it rolls off the tongue in a languid chic French kind of way. Troyes also has a big heart.
I mean, literally, it has a big heart imbeded along the Canal du Trevois. The two ton metal sculpture is the symbol of the romantic town.
The main activity in contemporary Troyes, one of which I wholly approve, is simply strolling around the well preserved historic center.
There's no need to seek out romance. It will assault you from all angles and, unless you are a complete skeptic, you'll be entranced.
Everywhere you look, there are multi-colored half-timbered houses in pastel palettes with vertical, horizontal, and diagonal stripes. The buildings lurch and slouch with an engaging lack of symmetry.
Troyes is known as the village of "ten churches," so there's plenty to see. Be sure to at least take in the Gothic Cathedral of Saint Peter and Saint Paul and the slightly grimier, Basilica of Saint Urbain. And there is some cultural heft to go along with all the Gothic splendor.
Tucked behind the cathedral is the Musee d'Art Moderne. It's an unexpectedly good museum housing a private collection in the bishop's palace.
The museum has an abundance of modern art, especially Fauves, including works by Degas, Rodin, Matisse, Picasso, Modigliani.
How to get from Paris to Troyes:
By train: from Gare de L'Est, about 1:40, check times here.
By car: about 2 hours
11. Chateau de Sceaux
Sceaux Castle is a dreamy little chateau-castle that be reached easily from Paris. The chateau was originally built in 1670. But it was demolished during the French Revolution.
In 1856, it was re-built by the Duke of Treviso. The castle lies in a beautiful estate with a cherry blossom orchard and Orangery, which makes a spring visit enticing.
Like Versailles and Vaux-le-Vicomte, the gardens of Sceaux were designed by master landscaper André Le Nôtre. There are fountains, green spaces, and trees galore. And the grounds are free to visit.
Sceaux was one of the filming locations for the BBC series Versailles. If you want to avoid crowds and still see some beautiful architecture, Sceaux makes a perfect day trip from Paris.
How To Get To Sceaux from Paris:
Address: Chateau de Sceaux, 92330, Sceaux
By train: RER B to Bourg-la-Reine, Sceaux ou Parc de Sceaux; Bus: lines 192, 197
By car: 35 minute drive
12. Chateau de Monte-Cristo: Dumas' Gaudy Pleasure Palace
Literature lovers should day trip to the swishy pleasure house of the famed novelist Alexandre Dumas. In 1847, with characteristic panache and elan, Dumas unveiled a dashing new estate to his coterie of friends and fans.
It was one of the greatest architectural follies of its time — a miniature Renaissance chateau and a Gothic house set in Le Port-Marly outside Paris.
Naturally, Dumas christened the chateau the "Chateau de Monte-Cristo" and the Gothic house the "Chateau D'If." The novelist Honore de Balzac once described the duo as "one of the most delicious follies ever created … the most royal sweetbox in existence."
The Chateau de Monte-Cristo was an over the top palace for an over the top man. And it ultimately became Dumas' undoing, as it bankrupted him.
The Chateau de Monte-Cristo was an over the top palace for an over the top man. And it ultimately became Dumas' undoing, as it bankrupted him.
It's now a house museum dedicated to Dumas' life and novels. And it's chock full of mementos of the writer. The chateau is the perfect place get off the beaten path outside Paris.
If you're a super fan of Dumas' novels, this is the place to be. Here's my complete guide.
How To Get to the Dumas Chateau from Paris:
Address: Château de Monte-Cristo 78560 Le Port-Marly
By Bus: Take Bus 10. Get off at Les lampes. Walk down the avenue Kennedy, then take the first right on the Chemin des Montferrand.
By Car: It's a 25 minute drive. Take the autoroute A13. Exit at Saint-Germain-en-Laye onto N186. There is an automatic gate giving access to the chateau's car park. Ring the bell for access.
13. Dijon: an Adorable Medieval Foodie Town
When you hear the word "dijon" you think of mustard, right? But Dijon France is so much more than just its culinary specialty. It's an adorable hidden gem, located southeast of Paris. Dijon is what you imagine a mini-Paris would look like.
Dijon is the capital of Burgundy and designated a UNESCO site for its vineyards. A little known fact is that Dijon was the birthplace of Gustav Eiffel, of Eiffel Tower fame.
Dijon is sophisticated. The hidden gem town is filled with medieval architecture, cobbled lanes, and elegant shops.
Its main attraction is the Palace of the Dukes of Burgundy, an incredible architectural ensemble. The palace also houses a nice museum, the Musée des Beaux-Arts.
The symbol of Dijon is the owl, and you'll see owls adorning its architecture and footpaths.
The Owl's Trail, or Parcours de la Chouette, guides you to the main attractions in Dijon. Try to spy the owl on the facade of Notre-Dame Church.
How To Get To Dijon From Paris:
By train: TGV Trains leave regularly from the Gare de Lyon and take 1:45.
By car: It's slower to go by car, almost 3 hours.
14. Epernay: Champagne Day Trip
Epernay lies in the Champagne region. The town is about an hour outside Paris.
Epernay is a laid back alternative to Reims, where you'll be swamped by tourists sipping bubbly and gawking at the magnificent Reims cathedral.
In Epernay, you'll find some of the most famous champagne houses — Moët & Chandon, Perrier Jouët, Mercier, and Pol Roger.
Some of Pol Roger's fame derives from the fact that it was Winston Churchill's champagne of choice. He had it for lunch every day.
f you're staying in the Champagne region for a long weekend, Epernay makes a fantastic base. It's very central to all the champagne houses.
How To Get To Epernay From Paris:
By car: 1:40 drive
By train: The train takes 1:15 from the Gare de L'Est
By tour: If you want to sample the champagne without worrying about driving, consider signing up for guided day tour from Paris.
15. Arras: a UNESCO Belfry
I liked Arras more than I expected too, actually. It's quiet and charming — full of lovely squares and grand 17th and 18th century Flemish-Baroque architecture.
Its two main squares are the Grand Place and the Place des Heros. From Arras, you can also visit the Battle of the Somme memorials.
The Belfry of Arras is a landmark in France. It was designated as a UNESCO site in 2005, along with 56 other belfries in France and Belgium.
Construction began in 1463 and took almost a century to complete. And the top of the belfry offers amazing views. You can take an elevator most of the way, with a few additional steps to hike up.
Arras also has a series of underground passages, called Les Boves, dating from the 10th century. They were originally chalk mines.
But were later used by the Allies in WWI as they prepared for the Battle of Arras, a major British offensive. If you want to re-live history, you can take a guided tour.
How To Get To Arras From Paris:
By car: 2 hour drive
By train: TGV from the Gare due Nord, 50 minutes
16. Ile de Chatou: Impressionists' Island
The Ile de Chatou is called the "Island of the Impressionists." It's a tiny island on the Seine that was a hangout place and favorite haunt of the Impressionists. Chatou has been called the "prettiest place on the outskirts of Paris."
In Chatou, you can walk in the footsteps of the Impressionists. The artists would meet in cafes, have leisurely luncheons, and go boating. They'd also set up their easels outside and paint.
On the island, you'll find a marked Impressionism Trail created by the Musee Fournaise. It's marked with signs with replicas of paintings by Monet, Pissarro, and Sisley.
You'll see the same views that the Impressionists saw. You can photograph the same scenes that they painted.
The artists would often go to the Maison Fournaise Restaurant. It was immortalized by Renoir in one of his most famous paintings, Luncheon of the Boating Party.
The whole island has been renovated — the restaurant, museum, and boating workshop. Twice a year (March and October) there's a huge Antique Fair held on the Island.
READ: 3 Day Impressionism Itinerary For Paris
How to get to Ile de Chatou from Paris:
By car or taxi: 10 minutes
By train: Hop on the RER Line A to Germain-en-Laye. Disembark at Chatou Croissey. From there, it's a 10 minutes walk. Or, you can take a river boat there on a full day tour.
17. Lyons-la-Foret: Fairytale Village
In Haute Normandy, the charming small town of Lyons-la-Foret is charmingly set in a large beech forest. The town is one of France's Les Plus Beaux Villages.
It's surrounded by the kind of idyllic farmland that people associate with the Norman and Breton countryside. It's the perfect off the beaten path day trip from Paris.
Lyons-la-Foret is a classic French village with half-timbered houses. They mostly date from the 17th and 18th century.
The town has cozy cafes, quaint antique shops, and a covered marketplace. On Thursdays, in the town's heart, shops are abuzz with trade.
Many artists were attracted to the pretty town, including Claude Monet. The town was also a filming location for two different versions of the film Madame Bovary.
While there, be sure to see Saint-Denis Church, dating from the 15th century, and the Cordeliers and Benedictines Convents. The Place des Trois Moulins has three picturesque water mills and a small garden.
While there, be sure to see Saint-Denis Church, dating from the 15th century, and the Cordeliers and Benedictines Convents. The Place des Trois Moulins has three picturesque water mills and a small garden.
This area also has some great hiking options. The Chemin des Ecoliers is a pleasant 3 mile forested stroll.
How to get to Lyons-la-Foret from Paris:
By car: 1:15 drive
By train: 2 hours from St Lazare station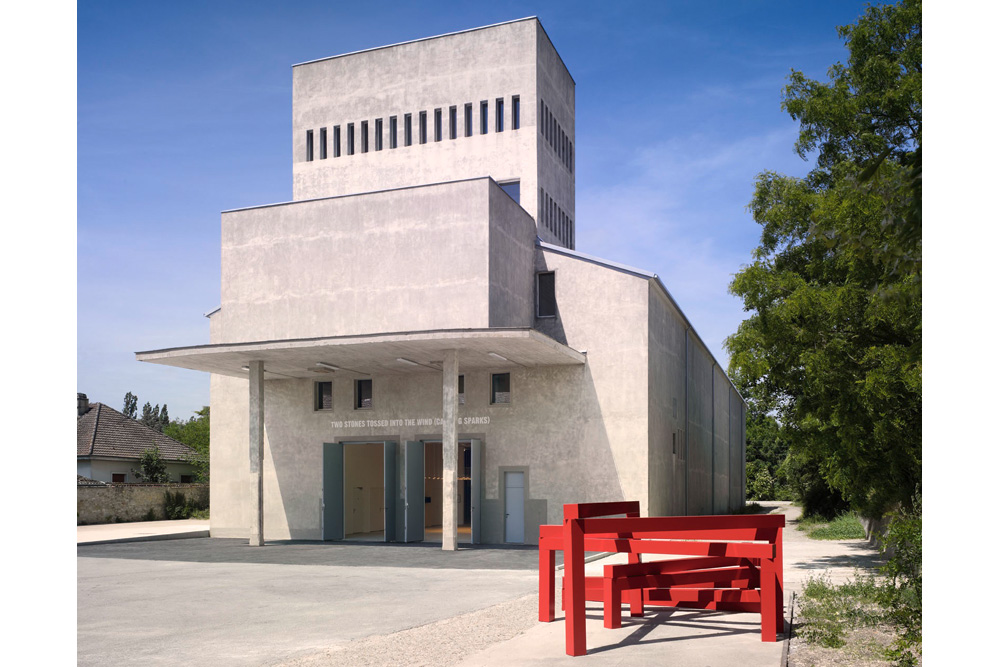 18. Le Silo
Do you love contemporary art? If so, one of the most unusual day trips form Paris is a visit to Le Silo.Just an hour northwest of Paris, it's the private art gallery of collectors Francoise and Jean-Philippe Billarant.
Their collection is housed in an old 1940s grain silo that, after renovation, looks like a concrete cathedral. It's a vast collection of Minimalist and Conceptual art
There are 100 works on display. The spaces are redesigned every 2 years.
You'll see works by Robert Barry, Donald Judd, Sol LeWitt, Richard Serra, and Daniel Buren, Felice Varini, Carl Andre, and Stanley Brown.
It's free to visit the collection. But you must make a reservations. Numbers for each visit are limited, usually two groups of 30 to 100 visitors a week.
How to get to Le Silo from Paris:
By Car: 1 hour
By Train: 1.5 hours from Gard du Nord station
I hope you've enjoyed my guide to the less touristy day trips from Paris. You may enjoy some of my other Paris travel guides and resources:
If you'd like to take an off the beaten path day trip from Paris, pin it for later.