"A beacon to the world reflecting the power and glory of God himself." — Louis XIV, describing Versailles and conflating himself with God.
Here's my guide to the filming locations in and around Paris for the BBC's racy period series, Versailles. In the opening shot of Season 3, Louis XIV unveils his greatest architectural masterpiece to date — the Hall of Mirrors of Versailles. In the process, the flashy Sun King conflates himself with God and seeks absolute power.
Versailles is set against of backdrop of power, love, intrigue, and war. In 1667, a young Louis becomes king. He's a ruthless and dramatic monarch. My daughters would call him "extra."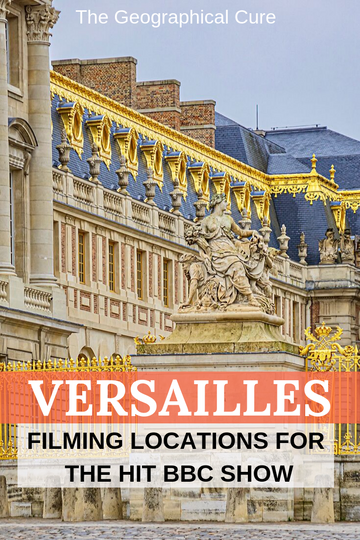 The series is about Louis' quest to create the most beautiful palace in Europe and seize absolute control over France and, well, anything else that strikes his fancy.
It's also about his fraught affairs with women, from his boring and besieged wife to his glamorous mistress Madame de Montespan.
The final season features early rumblings of trouble that led to the French Revolution as a backdrop. There's also brewing unpleasantness between Catholics and Protestants.
Throw in the usual love affairs, vicious gossip, and the competitive dynamic between Louis and his brother Philippe I, Duke of Orléans, and you've got yourself a compulsively watchable series.
Versailles had a whopping budget of £24 million – twice the amount given Downton Abbey. Season 1 entered the record books as the most expensive French television show ever made. Some of the wigs cost £4,000. The sets were lavish. Some were meticulously recreated to exactly mirror 17th century Versailles.
The BBC's Versailles Show Isn't All Filmed at Versailles
The Versailles series is filmed at its namesake, the Palace of Versailles, of course. Some of the palace's best known features, including the Marble Court, the Hall of Mirrors and the opulent gardens, were filming locations.
But the entire series couldn't be filmed there.
Versailles gardens are open 7 days a week to tourists. The palace is only closed on Monday. So the producers were limited to just one day a week to film key scenes.
And there was other another issue. Versailles other famous occupant, Marie Antoinette, made major changes to palace's decor in the 18th century. So, with the exception of the Hall of Mirrors, the interior wasn't particularly period appropriate, being Louis XVI style instead of Louis XIV style.
The show found 20 other chateaus to film certain segments, especially those featuring an "unfinished" Versailles.
Filming Locations for BBC's Versailles in France
Here's your ultimate guide to the principal TV filming locations for the BBC series, Versailles. Though the show became controversial for some raunchy libidinous scenes, the real reason to watch the show is the splendid scenery.
1. Palace of Versailles
The Palace of Versailles is massive, flashy and very, very gold. The opulence is overwhelming. Even the bathrooms are gold plated. It's the most famous and popular day trip from Paris. It has been a UNESCO site since 1979.
Louis XIV transformed his father's hunting lodge into a monumental palace in the mid 17th century. Located in the quaint suburb of Versailles, the baroque palace was France's political capital and royal seat from 1682 until October 5, 1789.
That fateful day, revolutionaries dragged Louis XVI and Marie Antoinette from Versailles back to Paris. They were imprisoned in the Conciergerie and eventually guillotined.
The show features the Gardens, the Marble Court, and the Hall of Mirrors of Versailles. The ornate front courtyard, the Cour d'Honneur, is also used.
The Hall of Mirrors appears in the premiere of Season 3. Louis swings open the doors and his courtiers gasp in amazement at the opulent over-the-top hall.
The hall was finished in 1684 and has 357 mirrors. Painintgs by George Le Brun decorate the length of the vaulted ceiling. Some of them portray Louis XIV as an actual persons, not a mythological figure, for the first time. In 2004-07, the hall was extensively renovated to the tune of $16 million.
Paved in black and white marble, the Marble Court (shown above) is festooned with balustrades, busts, statues, and vases. The three arched windows of the king's first floor bedroom are fronted by a gilded balcony set on eight marble columns.
Carriages would drive into the Marble Court and up to its beautiful gilded door, where they'd set down their nobles. Some of Versailles "arrival" scenes were shot there.
Address: Place d'Armes, 78000 Versailles
Hours: Tues to Sun 9:30 am to 6:30 pm
Getting there: Trains leave from Gare Montparnasse and Gare Saint Lazare in Paris
2. Chateau Vaux-le-Victomte
This was Versailles before Versailles existed.
Vaux-le-Vicomte is the prettiest privately owned chateau in France. When Princess Elizabeth visited in 1948, she pronunced it "more beautiful than Versailles!" Built between 1656-61, it's a fine example of French Baroque architecture with elaborate gold paneled halls.
It's situated on a 1,200-acre estate in Maincy, about 50 minutes from central Paris. The geometric gardens are divine, a crowning glory. There won't be nearly as many tourists here as at Versailles. It's just as lovely, and perhaps more tasteful.
In fact, Vaux le Vicomte was the inspiration for Versailles. It was originally owned by the ill-fated Nicholas Fouquet, Louis XIV's finance minister. In 1661, against his friends' advice, Fouquet invited the king and his entourage to a luxurious dinner reception.
Three weeks later, jealous of such grandeur, a peeved Louis XIV ordered Fouquet's arrest and seized the estate. He stole the statues and tapestries for Versailles. But otherwise left Vaux-le-Vicomte intact.
In Versailles, Vaux-le-Vicomte is the most featured filming location and home to many interior scenes. In the past, the chateau was used as a stand-in for Versailles in The Affair of the Necklace (2001) and Marie Antoinette (2006).
Address: 77950 Maincy, France
Getting there By Train: From Gare de l'Est, take the direct train Line P (in the direction of Provins). Get off at the Verneuil l'Etang train station. In the summer, there's a "Châteaubus" shuttle running from the Verneuil l'Etang train station to the chateau.
By Car: about 50 minutes
3. Chateau de Sceaux, an Easy Day Trip From Paris
Sceaux Castle is a dreamy little chateau-castle that be reached easily from Paris. The chateau was originally built in 1670. But it was demolished during the French Revolution.
In 1856, it was re-built by the Duke of Treviso. The castle lies in a beautiful estate with a cherry blossom orchard and Orangery, which makes a spring visit enticing.
Like Versailles and Vaux-le-Vicomte, the gardens of Sceaux were designed by master landscaper André Le Nôtre. There are fountains, green spaces, and trees galore. And the grounds are free to visit.
If you want to avoid crowds and still see some beautiful architecture, Sceaux makes a perfect day trip from Paris.
In the Versailles series, Sceaux doubles as Versailles during the construction scenes.
Address: Chateau de Sceaux, 92330, Sceaux Opening times: 10:00 am to 1:00 pm & 2:00 pm to 6:00 pm, open during lunch on weekends (closes at 16:30 pm on Sundays and 5:00 pm from November to March) Getting there: RER B to Bourg-la-Reine, Sceaux ou Parc de Sceaux; Bus: lines 192, 197 Entry fee: Permanent collections: €1.50-€3. Temporary exhibitions: € 2.50-€4 (Free for children and under 26)
4. Chateau de Maisons-Laffitte
Maison-Lafitte is a 17th century beauty, located northwest of Paris. It was built by renowned architect François Mansart between 1630-35. It's a milestone in French cultural history because it was one of France's first Baroque palaces.
Nobody in France had seen anything like it. When the chateau was finished in 1651, people would travel long distances just to catch a glimpse. The chateau has commanding views of the forest of Saint-Germain-en-Laye and the Seine.
In the Versailles series, the chateau's lavish ballroom was used for party and dance scenes. The camera-friendly grand white staircase also appears in several scenes.
Address: 2 avenue Carnot, 78600 Maisons-Laffitte
Hours: 10:00 am to 12:30 pm & 2:00 pm to 5:00 pm
Entry fee: 5 €
5. Chateau de Lésigny
Lésigny is a Renaissance chateau located just 12 miles outside of Paris. It's a fortress like Renaissance chateau surrounded by a moat, which makes it very picturesque, a trait movie producers appreciate.
In Versailles, the chateau was used for scenes of the lower nobles and their living quarters, to contrast their circumstances and ranks from those of the inhabitants of Versailles.
Address: Rue de la Croix 77150 Lésigny
6. Chateau de Champs-sur-Marne
Only 30 minutes from Paris, this stately Neoclassical chateau was built about 20 years after the Palace of Versailles. The chateau is a typical rural leisure residence, built in 1703-08 for Louis XIV's financier, Paul Poisson de Bourvallais. Inside, the chateau contains sumptuous Rococo and Chinoiserie decor.
For garden lovers, Champs-sur-Marne has beautiful formal gardens to explore, with fountains and parterres. They were created by a pupil of Le Notre. As such, the chateau was mainly used for some of Versailles' exterior shots.
The chateau has been a popular filming location. It was the main location for Dangerous Liaisons and Swann in Love.
Address: 31 Rue de Paris, 77420 Champs-sur-Marne
Hours: Wed to Mon, 10:00 am to 12:15 pm & 1:30 pm to 5:00 pm
Entry fee: € 8, under 18 free
Getting there: one hour, take RER A
7. Chateau de Pierrefonds
The turreted and Disney-esque Pierrefonds was saved from ruin by Napoleon III. Napoleon III longed for a lavish castle, fit for a king and evoking a medieval fantasy. He hired famed Gothic Revival architect Viollet-le-Duc to restore the castle.
The exterior is imposing. It was used as Camelot in the BBC series Merlin. The interior is filled with lush polychrome rooms. Scenes from Versailles take place in the Grand Salle des Preuses. Here's my guide to visiting Pierrefonds Castle.
Address: Rue Viollet-Le-Duc, 60350 Pierrefonds, France
Hours: Open daily May 2 to Sept 4 from 9:30 am to 6:00 pm, Sept 5 to April 30 from 10:00 am to 1:00 pm & from 2:00 pm to 5:30 pm. Closed Mondays from Sept 5 to April 30
Entry fee: Adults 7.50 €, Under 18 free, 18-25 4.50 €
I hope you liked my guide to the filming locations for Versailles. You may enjoy these other Paris travel guides and resources:
If you like Versailles, pin it for later.