"I am not proud, but I am happy; and happiness blinds, I think, more than pride."
–– Alexandre Dumas
Here's my guide to visiting Alexandre Dumas' Chateau de Monte Cristo in Le Port Marly France. The chateau is an easy day trip from Paris. I tell you about the life of Dumas and what to see at his gaudy pleasure palace chateau, which is a hidden gem in France.
On June 25, 1847, with characteristic panache and elan, the famous novelist Alexander Dumas unveiled a dashing new estate to his coterie. It was one of the greatest architectural follies of his time — a miniature Renaissance château and a Gothic house set in Le Port-Marly outside Paris.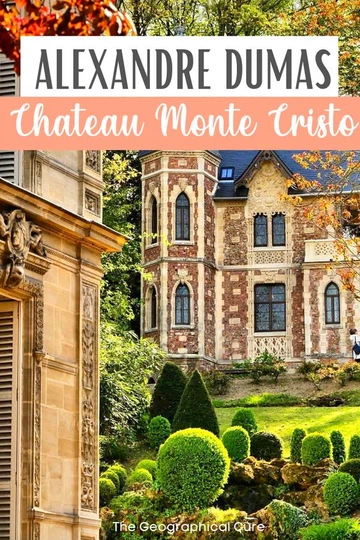 Naturally, Dumas christened the chateau the "Château de Monte-Cristo" and the Gothic house the "Chateau D'If." Balzac once described the duo as "one of the most delicious follies ever created … the most royal sweetbox in existence."
Everything about the life and times of Alexandre Dumas was filled with romance. He was big, loud, and likely unscrupulous. His life mirrors or exceeds that of his fictional heroes. Dumas was a best selling author, a chronic womanizer, and, surprisingly, a master chef.
The Château de Monte-Cristo was an over the top palace for an over the top man. And it ultimately became his undoing. Was the folly a sort of revenge for the follies of his lifestyle? Or did Dumas simply exit the world in high style, as dramatically as he entered it?
Let's assess.
A Short Biography of Alexandre Dumas
Dumas grew up poor and of mixed race in France. His father, nicknamed the Black Devil, advanced further than any black man in the French army.
But he insulted Napoleon and was imprisoned. He died of stomach cancer when Dumas was only 4 years old, plunging the family into abject poverty.
At age 20, Dumas hit the road for Paris. At first, he was a copy writer. But soon he began writing play after play in the romantic style of the times. He was an instant success, from his first play, Henry III.
Dumas became a literary rock star. He turned his attention to full length novels, then produced in serialized form. He wrote 12 lengthy novels before 50. He was paid by the word, so wasn't editing for brevity. He was known to sit at his desk for 14 hours a day.
It was his good fortune to coincide with the rise of the popular press and the printing revolution, which lowered the price of books.
And Dumas' novels were action packed and entertaining. His first hit was The Three Musketeers in 1844. That same year, he wrote another swashbuckling hit, The Count of Monte Cristo. With Victor Hugo, he became France's greatest writer. His writing was a tour de force of pure narrative verve.
Revenge Is A Dish Best Served Cold
The Count of Monte Cristo was the first revenge novel in history.
It's 1300 pages long with a cavalcade of complex characters. It's a swashbuckling romantic adventure. Dumas played on peoples' emotions of jealousy and passion. It's escapist literature, really. But don't be a snob. Dumas made literature accessible to everyone, unprecedented at the time.
The story went thusly. The protagonist, Edmund Dantes, is set to lead a perfect life. He's just received a substantial promotion and is set to marry the woman of his dreams. Then three betrayers (Villefort, Danglers, Mondego) conspire to rob him of his life.
He is falsely accused of being a Bonapartist and winds up in prison for 14 years in the Chateau d'If. The prison is a place of no return, gated by water on all sides. While there, Dantes meets a fellow inmate who teaches him about history, culture, and sword fighting.
He learns of a secret treasure on a secret island — the island of Monte Cristo. Eventually, Dantes escapes, finds the treasure and uses it to exact his revenge. His revenge is calculated, a dish served cold. But he gives up his ultimate revenge, realizing that perhaps he's gone too far.
I re-watched the 2002 movie version of The Count of Monte Cristo recently. It's very different than the extremely complicated book. But watching it made me wonder, is revenge still a thing?
In the 19th century, it was acknowledged as a universal human emotion. There was a certain visceral thrill to doling out revenge. It appealed to people. It made them buy Dumas' novels.
Today, revenge is mostly seen as pointlessly destructive and forgiveness lauded as a substitute therapeutic cure.
Personally, the one time I intentionally exacted revenge, on an unrepentant bully, I found it mostly satisfying. I didn't much like pursuing due process and would have preferred a sterner punishment. But the punishment doled out guaranteed that that scoundrel, or others, wouldn't continue to harass or defame me.
Score one for revenge!
Dumas, The Ardent Lover
Dumas' talent for revenge writing certainly made him appealing to the ladies. He became The Count of Many Mistresses.
After arriving in Paris, he began an affair with Marie Duplessis. He described her as "one of the last of those rare courtesans who had a heart." But he couldn't afford her. Not yet.
Eventually, Dumas made millions on revenge and spent much of it, lavishly, on his mistresses. He married at some point, but didn't let that stop him. He was reputed to have over 500 mistresses at one point. Even love affairs became a dull repetition, though he repeated them far and wide, driving one mistress to attempt suicide.
He had an illegitimate son, Alexandre Dumas fils, whom he acknowledged as his own. There may have been other children as well.
Paying for his wife, many mistresses, and offspring proved expensive. But Dumas didn't let that stop him either. He was willing to go into debt. He had a spending compulsion. The lasting symbol of that compulsion is the Chateau de Monte Cristo.
What To See at Dumas' Chateau Folly, Chateau Monte Cristo
Dumas' folly, the Château de Monte-Cristo, was built on the profits from revenge writing. It's now a house museum dedicated to Dumas' life and novels. And it's chock full of mementos of the writer. If you're a super fan of Dumas" novels, this is the place to be.
1. The Dumas' Salon
The chateau was designed and built by the Parisian architect architect Hippolyte Durand. Durand was famous, having previously designed the Lourdes basilica. No expense was spared. Warned that it would cost several hundred thousand frances, Dumas replied "I certainly hope so!"
Dumas longed for some peace and quiet in the countryside to do some writing. His Paris apartment was a constant parade of artists, society figures, and tramps. Dumas instructions to Durand were:
"Monsieur Durand, you are to trace out an English garden on this very spot, in the midst of which I want a Renaissance château, facing a Gothic house that is surrounded by water… there are springs, you will use them to make me some waterfalls."
2. Exterior Facade
The finished product, now restored, is a romantic opera set. The exterior of the château is a tawny limestone, with delicately carved details, capped by two metal cupolas. It was inspired in part by Château d'Anet, a Loire Valley mansion that King Henry II built for his mistress Diane de Poitiers.
On the second floor above the window are reliefs of writers Dumas admired. The front door is adorned with sculptures of women that look like the muses on posters by Mucha. Above the entrance, in florid fashion, is inscribed Dumas' motto: "I love those who love me." And he certainly entertained many mistresses there.
3. Chateau d'If Writing Studio
Durand also built Dumas a separate writing studio on the grounds, dubbed the Château d'If, after Dante's prison. The chateau's furnishings were reputed to be luxurious and eclectic beyond belief. Dumas declared, "Here I own a tiny earthly paradise."
Many others enjoyed the earthly paradise and suckled off the teet of Dumas' generosity. To debut his grand folly, Dumas hosted a dinner for 600, many of whom he didn't even know. He frequently held extravagant dinner parties. He partied like there was no tomorrow. Like the hard drinking musketeers, he knew no moderation.
The museum explores, room by room, the different parts of Dumas' outsized life.
One room focuses on his many mistresses and illegitimate children. Another room focuses on Dumas' plays and journalism.
4. Moorish Room
The Moorish room was originally built by artisans Dumas brought back from a trip to Tunisia. The walls are decorated with ornate stucco sculptures and arabesques. The Moorish Room has been restored to its original glory, with funds from King Hassan II of Morocco.
5. Dining Room
The dining room reminds us that Dumas' last work was a massive cooking dictionary. "I want to end my literary work of five hundred volumes with a cookery book," Dumas said. The tubby ever-expanding author liked to eat and cook.
Dumas' Grand Dictionnaire de Cuisine, a volume that traveled the alphabet from A-Z was his last great project. The cook book recommended a "gluttony of delicate souls," and was "not for an untaught bride." The book includes recipes, society gossip, bits of culinary history, and the writer's meditations on entertaining.
Sadly, Dumas never saw it published. The writer's pet project, which he called "the pillow of my old age," was released posthumously in 1873, three years after his death.
Dumas' Denouement
In 1850, Dumas was heavily in debt. The final straw was when Dumas' theater, the Théàtre Historique, went belly up. Dumas was forced to auction off all the chateau's exotic furnishings. Then, he was forced to sell the entire estate to, of all people, an American dentist.
Dumas left the country to flee his creditors. He lived in Belgium, Russia, and Italy, moving frequently to avoid those in hot pursuit. His chateau folly changed hands over the years, and fell into disrepair in the 1960s. It was supposed to be bulldozed.
But Dumas fans wouldn't let that happen. The Friends of Alexandre Dumas Society was swiftly formed and managed to prevent demolition. The estate was bought by surrounding towns, which began restoring the chateau until it opened as a museum in 1994.
In 1870, Dumas died in poverty at his son's house. His books fell out of fashion, as the Romantic Period ebbed.
But the second half of the 20th century brought a renewed interest in his work. Dumas scholarship thrived. Unpublished manuscripts were discovered as recently as 2002.
At the bicentennial of his birth, then-president Jacques Chirac presided over Dumas' ashes being interred in the Panthéon, alongside Voltaire, Rousseau, Hugo, Zola, and other giants of French culture.
Now the Chateau de Monte Cristo is a romantic oasis outside Paris where Dumas fans can re-live the stories of the great author.
And it's a reminder of how hubris, especially architectural excess, can come back to roost. It wouldn't be a stretch to think that fate looks its revenge on a man who lived calamitously and greedily his whole life. Fate exacted a revenge for hubris and for extravagant living. The revenge was cruel, seizing Dumas' pride and joy, his royal sweetbox.
Practical Information for the Chateau de Monte Cristo:
Location: Between St-Germain-en-Laye and Le Port Marly, west of Paris
Address: Château de Monte-Cristo 78560 Le Port-Marly
How to get there:
By Train: Take a train from Gare Saint Lazare to Marley-le-Roi SNCF station or on the RER line A to Saint Germain-en-Laye.
By Bus: Take Bus 10 from the station, signed to Saint Nom la Bretèche. Get out at Les lampes. Walk down the avenue Kennedy, then take the first right on the Chemin des Montferrand.
By Car: 25 minute drive. Take the autoroute A13. Exit at Saint-Germain-en-Laye onto N186. Follow signs to Saint-Germain-en-Laye. At the 6th traffic light, go left toward Marley le rod. Take the chemic du haut des Ormes to the Clinique de l'Europe. There is an automatic gate giving access to the chateau's car park. Ring the bell for access.
Hours: Open April 1 to November 1 10:00 am to 12:30 pm & 2:00 pm to 6:00 pm
Entry Fee: 8 euros
Tel: 0033 (0)1 39 16 49 49
You may enjoy these other Paris travel guides and resources:
• Tourist traps to skip in Paris
If you'd like to visit Dumas' Chateau Monte Cristo, pin it!