Looking for guidance on what see with just one day in Paris? You've come to the right place. In this Paris trip planner, I give you 7 itineraries for spending one day in Paris.
I love Paris, and I've had the pleasure of visiting seven times in my life (so far!).
Paris is a huge city, so you can't see "everything" in one day. But perhaps 24 hours is all you have because you're visiting on a layover or as part of a multi-destination trip.
In that case, you can focus your efforts on one area of Paris or specific attractions dedicated to a theme.
Then, you can see bits and pieces of the City of Light, have a grand day in Paris, and schedule a trip to come back for more.
One Day In Paris Itineraries
Here are my specialized itineraries for spending one day in Paris.
There is something for everyone here. You can pick an itinerary based on your personal interests or pick a district of Paris you haven't explored yet. I also give you suggestions on where to stay for each itinerary.
If you have more than 1 day in Paris, you can combine these itineraries to create a 2, 3, 4, or 5 day itinerary.
1. One Day In Paris: Right Bank
This one day in Paris itinerary covers the posh ancien regime of Paris — the 1st, 2nd, 8th, and 9th arrondissements on the Right Bank.
Begin with a walk through the gardens of the Palais-Royal. It's a sumptuous palace built for Caarindla Richelieu.
In the courtyard, you'll find the an art installation by Conceptual artist Daniel Buren, dubbed the Colonnes of Buren. It's a fascinating walk-in structure of 260 black and white candy striped columns of varying heights arranged in a dizzying array of monochromatic swirls.
Just around the corner is one of Paris' beautiful covered passages, Galerie Vero-Dodat. Peak in for a quick look.
The passages were all built during the first half of the 19th century. They are full of lovely shops and make a nice escape if the weather is bad.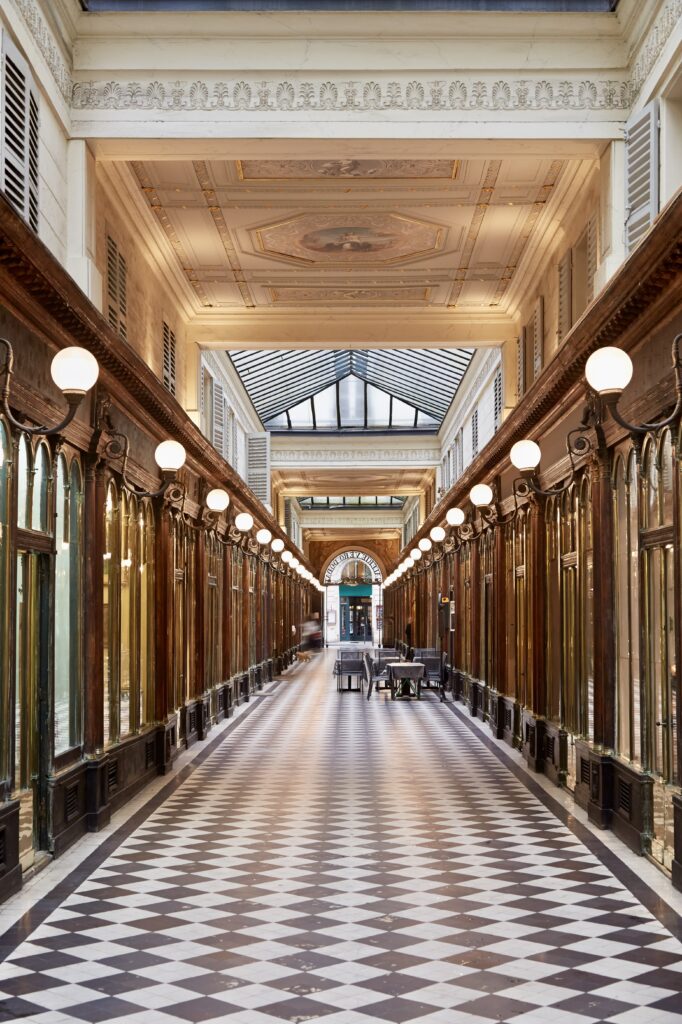 If you like contemporary art, next head to one of Paris' newest museums, the Bourse de Commerce. It contains the art collection of François Pinault and is housed in a beautiful newly-restored historic Parisian building.
>>> Click here to book a skip the line ticket
From there, head to Rue Petit des Champs to check out Galerie Vivienne. It's the most beautiful of all the covered passages full of charming shops. In the winter, it's completely wallpapered in fairy lights.
Continue down the street to Place Vendôme. This is one of Paris' most beautiful and elegant squares.
It's home to Paris' most fashionable and expensive boutiques, especially fine jewelry shops. The sumptuous square will make you wish you were rich.
If you want to take a break, pop into the Ritz Hotel and have a drink at the Hemingway bar.
From there, you can take a shopping break on Rue St. Honore, another glamorous street with a parade of chic boutiques.
Alternatively, you can stop to admire the Place de la Concorde and then head up Rue Royal. Pop into the classy and charming Village Royal with its luxury shops and brasserie.
Rue Royal takes you to La Madeleine Church. Originally intended as a monument to Napoleon's troops, it looks more like a temple than a church. 52 Corinthian columns encircle it.
It's free to go inside and you definitely should. The church features some of the best Romantic era sculpture in Paris.
Place de la Madeleine is a gourmet food lover's fantasy. It's filled with high end shops and eateries like Fauchon, Hediard, and La Maison des Truffe.
After filling your shopping bags, head down the Boulevard des Capucines to the Opera Garnier. The opera house might be the most beautiful building in Paris, especially if you're in the mood for gold.
It's built in a dramatic Beaux-Artes style with eclectic Neo-Baroque elements. Inside, it's a feast for the eyes with a grand staircase and foyer that's akin to the Hall of Mirror at Versailles.
Be sure to book a skip the line ticket in advance. You may even want to book a guided tour.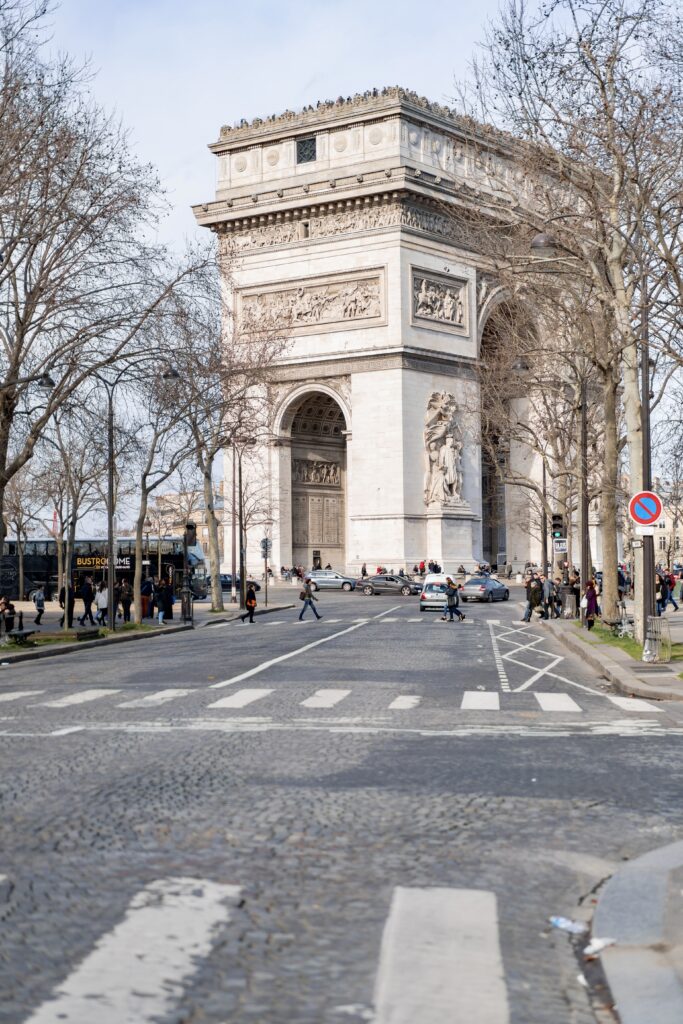 If you didn't stop at a cafe earlier, you can relax or have dinner at Cafe de la Paix across from the opera house. Opened in 1862, it's one of Paris' grandest cafes.
After that, it's time for the classic stroll down the Champs-Élysées and climb up to the observation deck of the Arc de Triomphe.
The monument offers up one of the best views in Paris and is open until 10:30 pm. Make sure you've pre-booked a skip the line ticket to avoid long queues.
Napoleon commissioned the magnificent arc to commemorate his victory at the Battle of Austerlitz.
Where To Stay: Hotel de Crillon, Grand Hotel du Palais Royal, Hotel Plaza Athenee, Four Seasons George V, Hotel Le Royal Monceau Raffles Paris
2. One Day In Paris: Les Halles & Le Marais
This next one day in Paris itinerary starts in the Les Halles district, the most central area of Paris.
A spectacular canopy covers the Forum des Halles shopping mall, the largest in town. This is just a landmark to get you started.
First head into St. Eustache Church. Built between 1532 and 1632, it's a renowned for its unusually large dimensions.
The outside is late Gothic, while the inside is Renaissance. But what Saint-Eustache is known for (like La Madeleine) is its pipe organ, the largest in France.
Then, head down the lively and pedestrianized Rue Montorgueil. This is a popular cafe-lined street that's fun to stroll. You'll find cafes, bakeries, wine shops, fish shops, cheap stands, and flower sellers.
During the holiday season, Rue Montorgueil morphs into Rue des Bulles (Bubble Street). The street is covered with a "roof" of gold and white balloons. There are a raft of Champagne-driven entertainments, tastings, and happy hours.
READ: Things To Do In Paris In Winter
If you want to stop for a coffee or snack in this area, try Le Paradis. It's a gorgeous cafe with a canopy of flowers.
From there, head to the Centre Pompidou, Paris' wildly popular modern art museum. The building is famous for its radical "structural expressionism" architecture. It looks like a giant space age toy.
Inside, you'll find Europe's finest collection of modern art with works by luminaries like Kandinsky, Pollack, Chagall, Hockney, Picasso, Pollack, Miro, Klee, and Matisse. Be sure to pre-book a skip the line ticket to avoid waits.
Aficionados of modern art may want to book a highlights tour of the museum. You also have free entry to the Pompidou with the Paris Museum Pass.
Next, you'll walk about 10 minutes to the Marais. It's a buzzing Parisian neighborhood that was untouched by the Houssmannian rebuilding frenzy in the middle of the 19th century.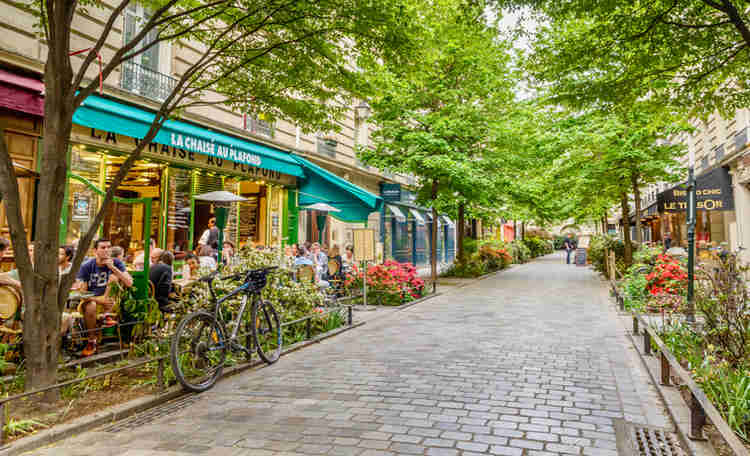 The sheer density of its historical and architectural wealth is amazing, almost overwhelming. Stepping into the disorderly Marais, much like Montmartre further north, is like stepping back in time.
The Marais is loaded with unique boutiques, art galleries, hotspot cafes, and gourmet restaurants. In short, the Marais has it all, making it one of Paris' most delightful districts.
To make sure you don't miss anything, you may want to book a guided walking tour or a walking + tasting tour with Secret foods.
Just wandering the cobbled streets is a treat. You'll want to be sure to stroll down Rue Francois-Miron, Rue de Sevigny, Rue des Rosiers, Rue Saint-Antoine, and Rue des Francs-Bourgeois.
In addition to being pretty, the Marais is also very museum dense.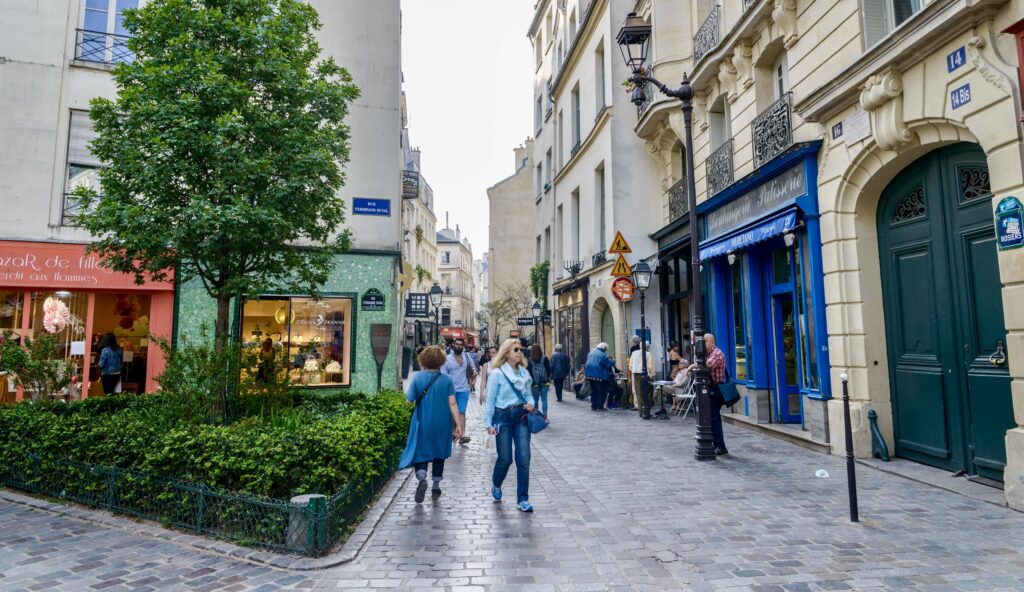 You can choose from:
The Picasso Museum is my favorite. Housed in a beautifully renovated mansion, it traces the entire course of Picasso's career.
It's an incredibly popular museum in Paris. To see it and avoid lines, you need to book a skip the line ticket. Entry is also included in the Paris Pass.
Finally, take a stroll in the Place des Vosges. It's perhaps the top attraction in the Marais and one of the most beautiful places in all of Paris.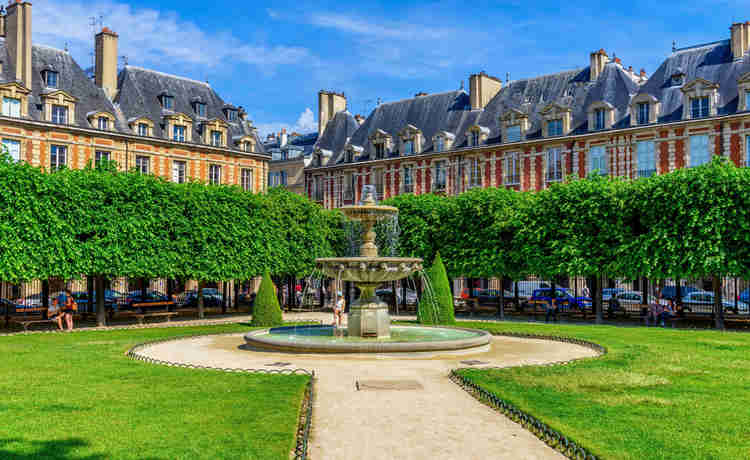 The grand square was the brainchild of King Henry IV and inaugurated by Louis XIII in 1612, who moved in with his wife Queen Anne of Austria. Originally called the Place Royale, it's now the oldest square in Paris.
The aristocracy followed the king's lead, building the grand mansions that rim the square and imbue it with glamor. They are a perfectly symmetrical vision of rose-toned brick and stone with steep sloping roofs, dormers, and arcaded passageways.
The Marais is a great place for cocktails and dinner. There are loads of cafes, restaurants, and an Eataly Paris. I particularly like Jaja and Bien Ficele.
You can also check out the oldest food market in Paris, the Marche des Enfansts Rouge (open until 8:30 pm). Or, book a 3 hour guided food tour.
Where To Stay: Pavillon de la Reine, Villa Beaumarchais, Hotel Les Bains, Cheval Blanc, Sinner Paris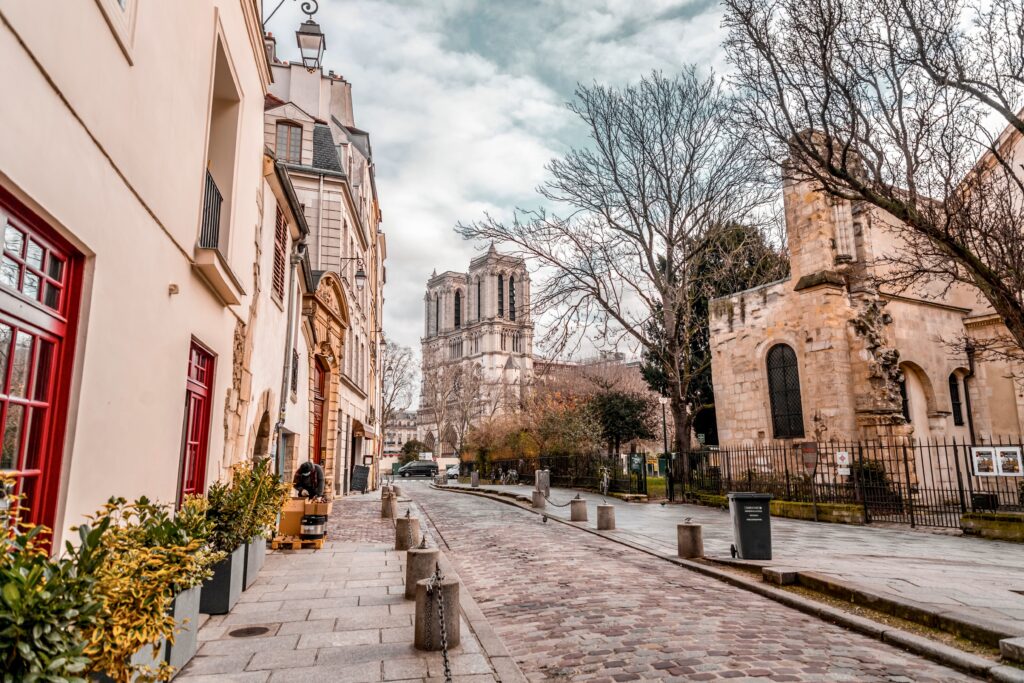 3. One Day In Paris: Les Îles & Left Bank
This one day in Paris itinerary takes you to the other side of the Seine, the islands of Paris and the storied Left Bank.
You'll start your day on the Île de la Cite. You can admire the exterior of Notre Dame Cathedral (which will hopefully re-open by the summer of 2024). The Gothic cathedral with its dramatic flying buttresses and lacy facade is 859 year old.
Your first point of call will be the UNESCO-listed Sainte-Chapelle, which opens at 9:00 am.
Sainte-Chapelle is a 13th century royal chapel and a masterpiece of Gothic architecture and stained glass. It's impossible to overstate how beautiful it is.
There are always long lines to see this historic monument. So be sure book a skip the line ticket in advance on Get Your Guide, Tiqets, or the chapel website.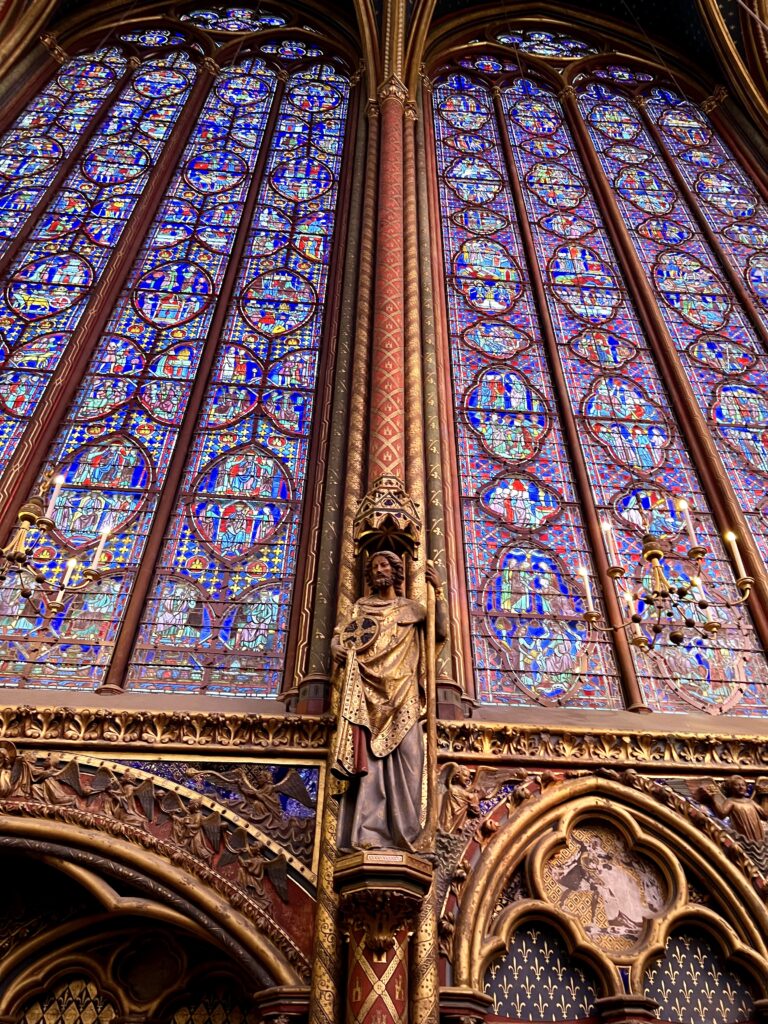 When you're done, cross the Petit Pont Bridge. That will deposit you in the Latin Quarter at Rene Viviani Square, where you'll find the oldest tree in Paris.
Start by admiring the churches of St. Julian Le Pauvre and Saint-Severin. The former is an ancient church with a 12th century interior (and under renovation). The latter is a beautiful Gothic church with lovely stained glass, both ancient and modern.
Then, pay a visit to the Cluny Museum. You'll find precious medieval artifacts from Notre Dame and Sainte-Chapelle. You can also visit the ruins of ancient Roman baths, with an especially well-preserved frigidarium.
You also have free entry to the museum with the Paris Museum Pass. You can also visit the Cluny as part of a guided tour of the Latin Quarter.
From the Cluny, stroll past the Sorbonne, the Pantheon, and St-Etienne-du-Mont Church. Be sure to sally down the picturesque Rue Mouffetard. This is the perfect spot to grab lunch from a boulangerie or a crepe from a food stall.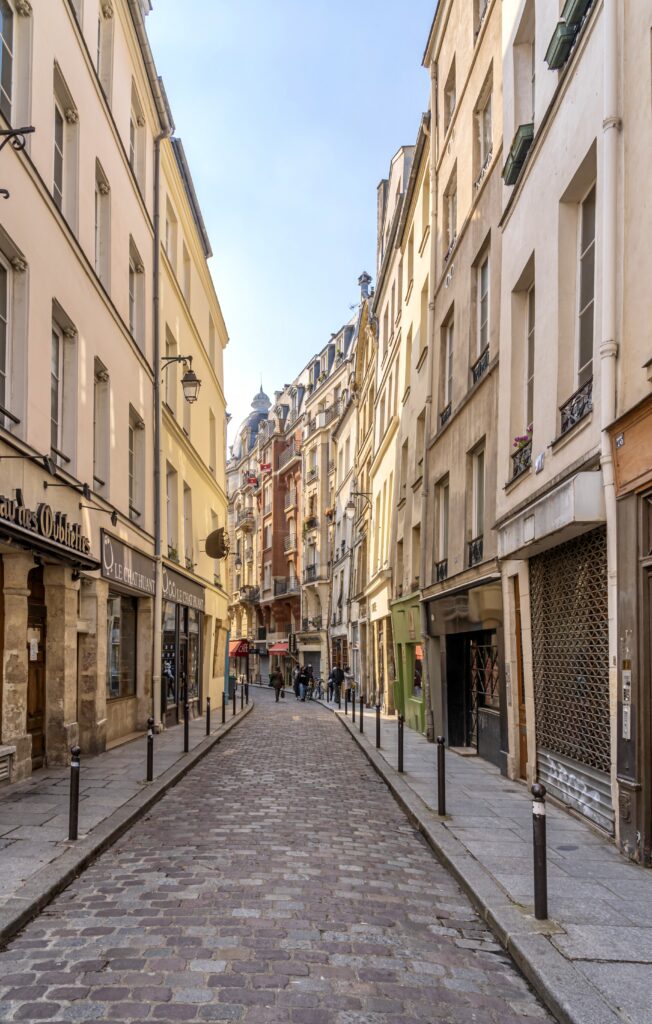 From the Latin Quarter, you will then head west to the iconic Saint-Germain neighborhood.
It's the intellectual heart of Paris and a quintessential Parisian neighborhood — with cafes, cobbled streets, and Haussmann architecture. Saint-Germain was home to many of the 19th century's greatest writers and artists.
You'll want to visit Saint-Germain-des-Pres Church, the oldest church in Paris. It dates from 542, when King Childebert built a basilica and abbey to house ancient relics.
Inside, the somber church is mostly Romanesque, with some Baroque flourishes such as the 1840 murals. There are beautiful medieval frescos, stained glass windows, and a starry blue ceiling.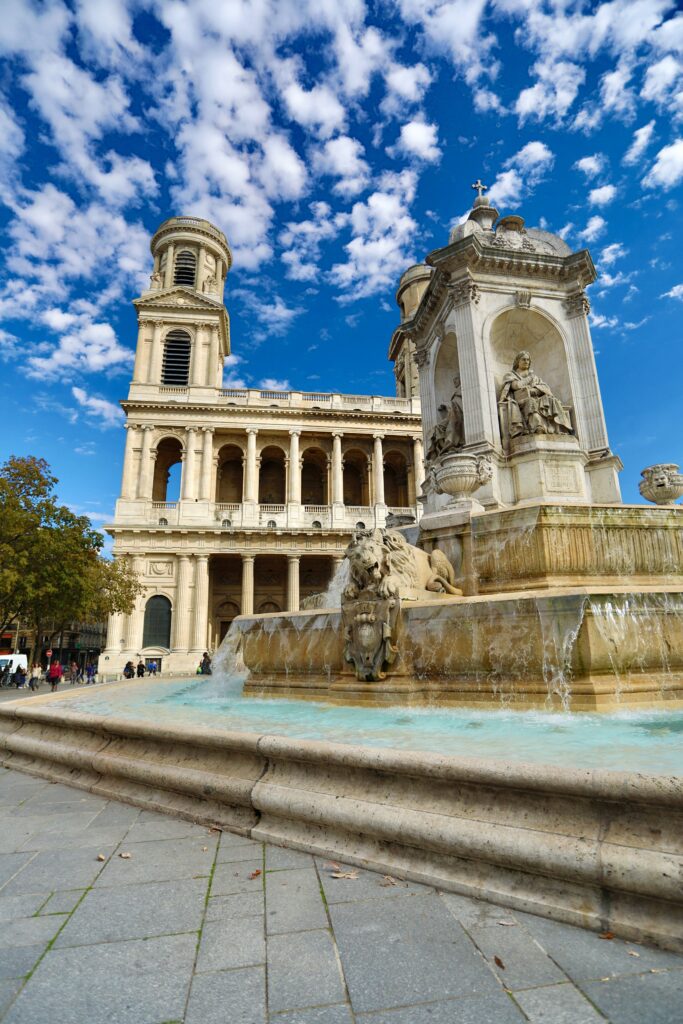 You'll also want to visit St.-Sulpice Church. One of the largest churches in the city, its two soaring (mismatched) towers are a feature of the Parisian skyline.
Inside, you'll find a grand nave and Eugene Delacroix's famous frescoes in the Chapelle des Saints-Ange.
Then, take a stroll down Boulevard Saint-Germain, a grand plane-tree-lined boulevard.
Have a coffee at one of its famously star-studded cafes, Cafe de Flore or Les Deux Magots. Or try the oldest cafe in the city, Cafe Procope, which dates from 1686.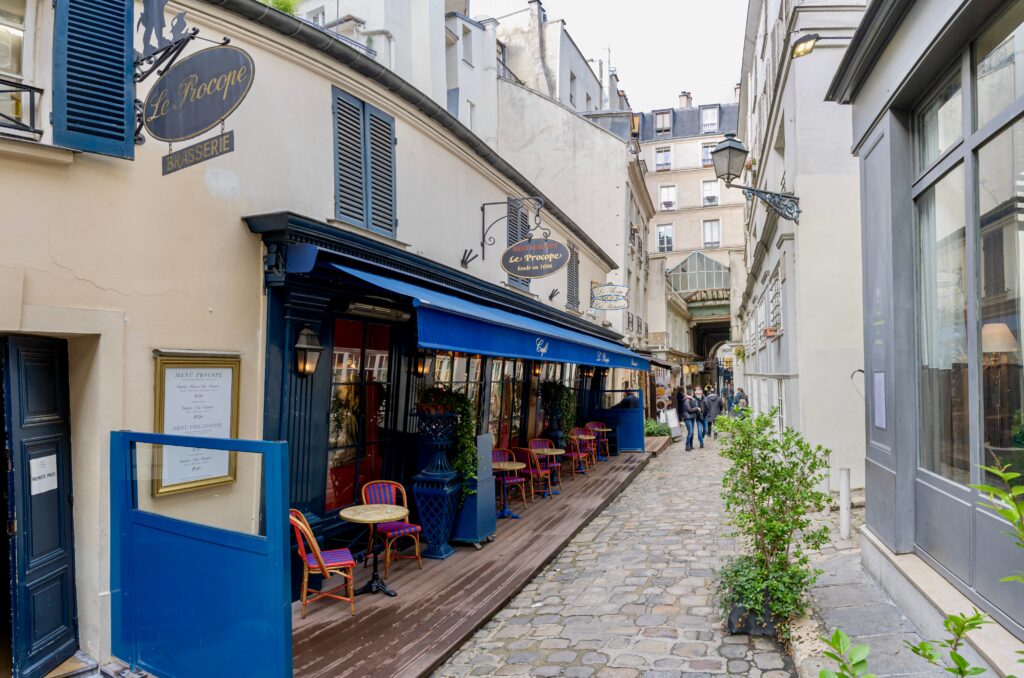 If you are a fan of sculpture, you may want to stop in briefly at the Maillol Museum.
It's a small museum with sculptures by Aristide Maillol and the private collection of his muse Dina Vierny. The museum also hosts wonderful temporary exhibitions.
Saint-Germain is also a great shopping area. The main boulevard is home to high end stores. Rue Bonaparte has luxury boutiques and Rue Jacob is known for its antique shops.
You should definitely take a stroll down the authentic and colorful Rue de Bac. It's one of my favorite streets in the neighborhood.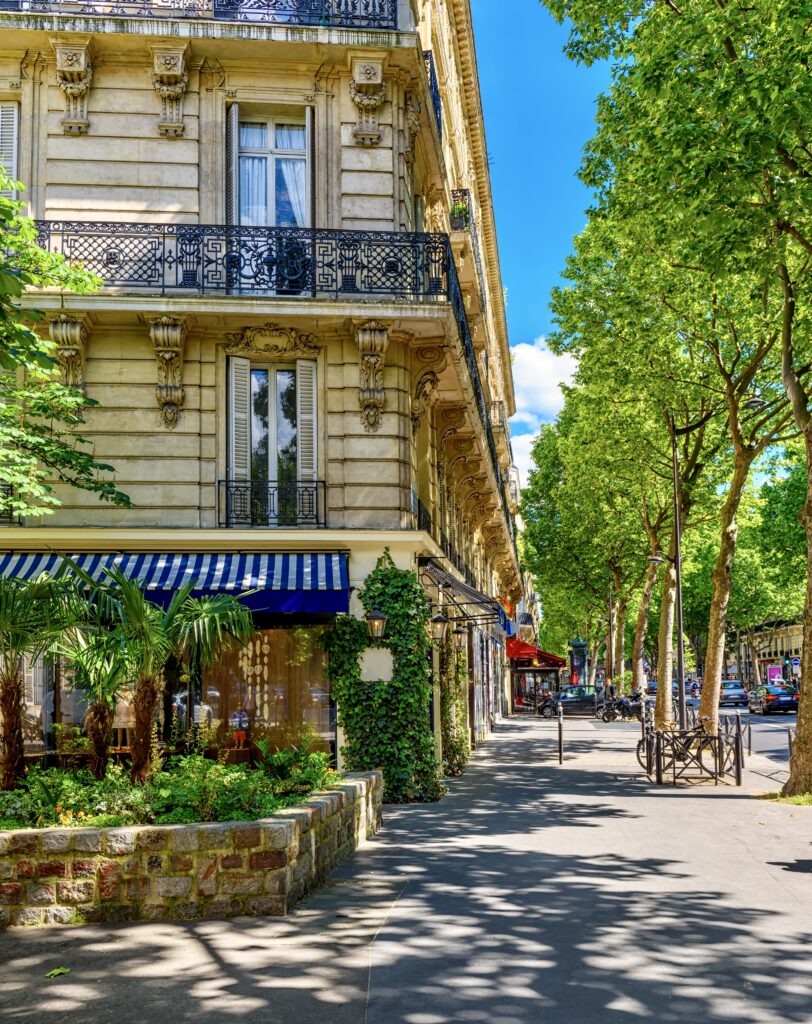 This is where you'll find Le Bon Marche (Paris' oldest department store), La Grand Epicerie (incredibly fancy grocery store), Chapon (chocolate), Patisserie des Reves (pastries), and Androuet (cheese).
Saint-Germain is also an excellent place to go on a food tour. Here are some of your options:
Where To Stay: Relais Christine, Hotel Bel Ami, Pavillon Fauberg Saint Germain, Hotel Plaza Athenee
4. One Day in Paris: Montmartre
If you'd like to spend one day in Paris in the storied neighborhood of Montmartre in the 18th arrondissement, take the metro to the Abbesses metro stop. When you disembark, admire the Art Nouveau canopy of the metro station, one of only 3 left in Paris.
Then, turn around and have a look at the Love Wall in Jehan Rictus garden. It's a 40 square meter art installation, made of enameled lava, with hundreds of ways to say "I love you." The red bits are strategically broken hearts.
Start with a leisurely stroll down some of the non-touristy back streets of Montmartre like Rue Lepic, Villa Leandry, and Avenue Junot. For a more organized visit, you can book a guided walking tour.
From Avenue Junot, you can walk up one of the most beautiful streets in Paris, Rue de l'Abreuvoir. Start in Place Dalida. At the top of the appealingly curving streets is one of Montmartre's most famous cafes, La Maison Rose.
Rue de l'Abreuvoir turns into Rue Corot. This is where you will find the Musee de Montmartre. If you want to immerse yourself in the history and romance of Montmartre's past, there's no better place.
Musee Montmartre is a fascinating art and history museum. It chronicles the raucous history of pleasure-seeking Belle Époque Paris.
It was a time when artists like Pissarro, Picasso, Toulouse-Lautrec, Valadon, Van Dongen, Utrillo, and Modigliani lived and worked in Montmartre and paved the way for modern art.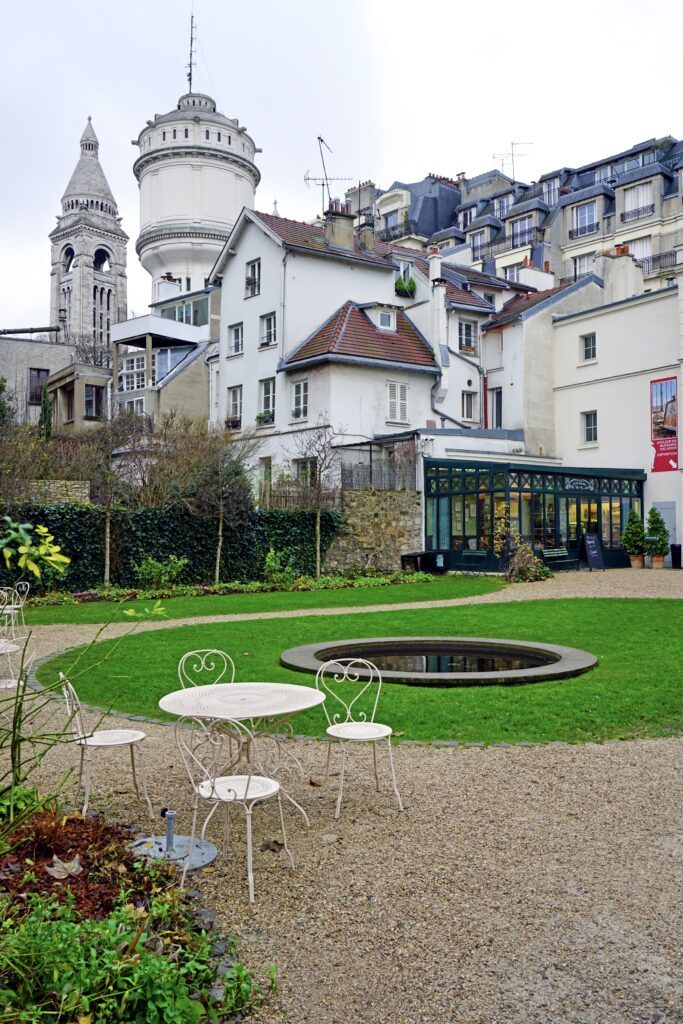 Back then, they were impoverished artists hanging out in seedy cabarets. Now, their canvases sell for millions.
Click here to pre-book a skip the line ticket to the charming museum.
After the museum, at the end of Rue Corot, turn left and then turn right on Rue Lamarck and another right on Rue de la Bonne. This will land you in the Place du Tertre.
It's a colorful (but touristy) spot flanked with cute cafes. You'll find artists creating paintings and caricatures. You'll also have a nice view of the Sacre- Coeur, your next destination.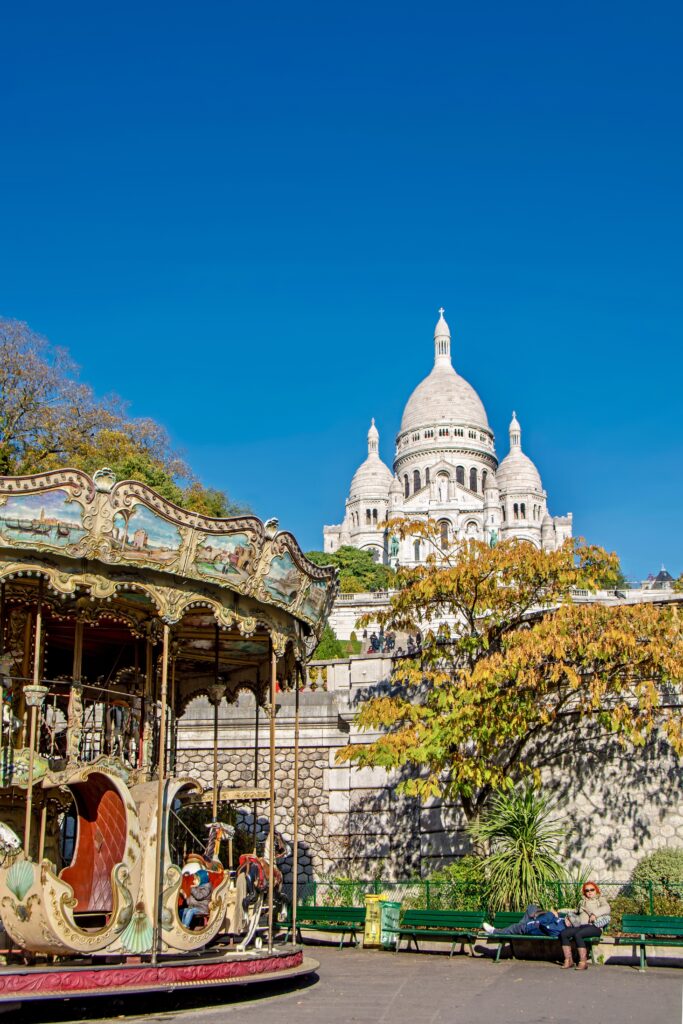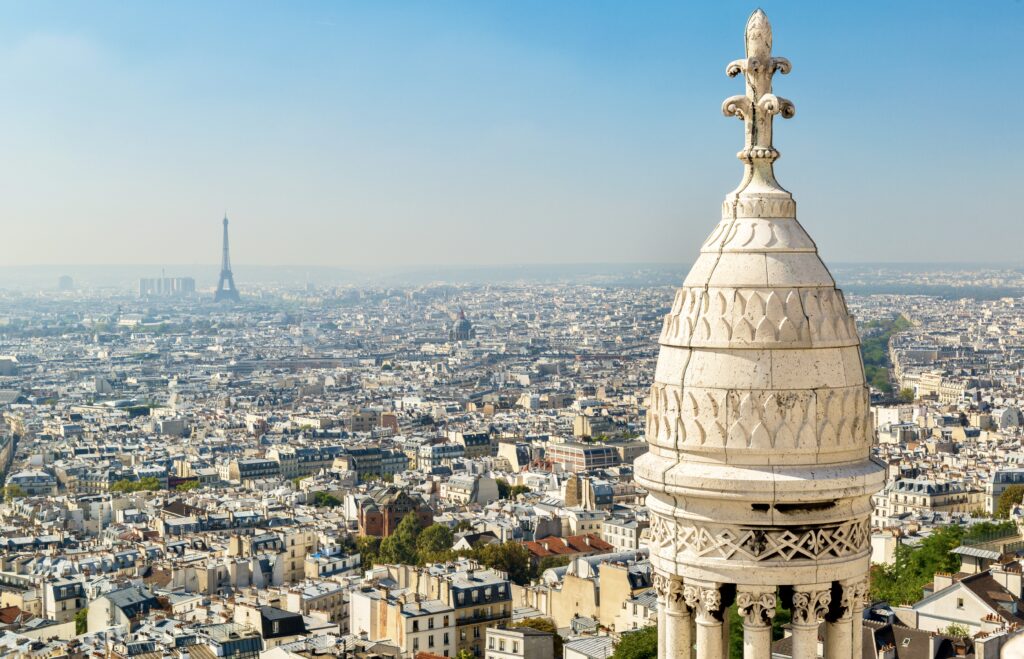 The Roman-Byzantine Sacre-Coeur was guilt to honor the Sacred heart and atone for the blood shed during the Paris Commune. The basilica offers stunning views over Paris from its stairs and from the dome.
For lunch or dinner, there are some beautiful cafes in Montmartre — Cafe les des Moulins, Cafe Consulat, Cafe Poutbot, etc. If you head down the steps from Sacre-Coeur, you'll also find L'ete en Pence Douce.
You can polish off your one day in Paris with an old style cabaret show at Lapin Agile or the Moulin Rouge. You can book a walking tour + Lapin Agile show. Click here to book a ticket for the Moulin Rouge.
Where To Stay: Le Relais Montmartre, Maison Souquet, Mom'Art Hotel & Spa, Timhotel Montmartre
5. One Day In Paris For Art Lovers
Paris just oozes art. It's the most cultured city in the western world. So if you want to spend one day in Paris indulging in the art scene, I have the perfect itinerary.
The Louvre opens at 9:00 am and that should be your first stop. The Louvre is massive, so you need to determine in advance what you want to see. There are works by Leonardo da Vinci, Eugene Delacroix, Ingres, Jacques-Louis David, and Johannes Vermeer.,
To help you decide, you can check out my tips for visiting the Louvre or take a virtual tour of the Louvre. The Denon Wing is the most popular.
With time of the essence in your one day in Paris, it's best not to wait in line to see the postage stamp size Mona Lisa.
Naturally, for the world's most popular museum, you'll need to book a skip the line ticket. To make the most out of your one day in Paris, you may want to book a guided highlights tour.
Next, head to the beloved Musee d'Orsay, where you'll also definitely need a skip the line ticket. The museum houses the world's largest collection of Impressionism and Post-Impressonism art works.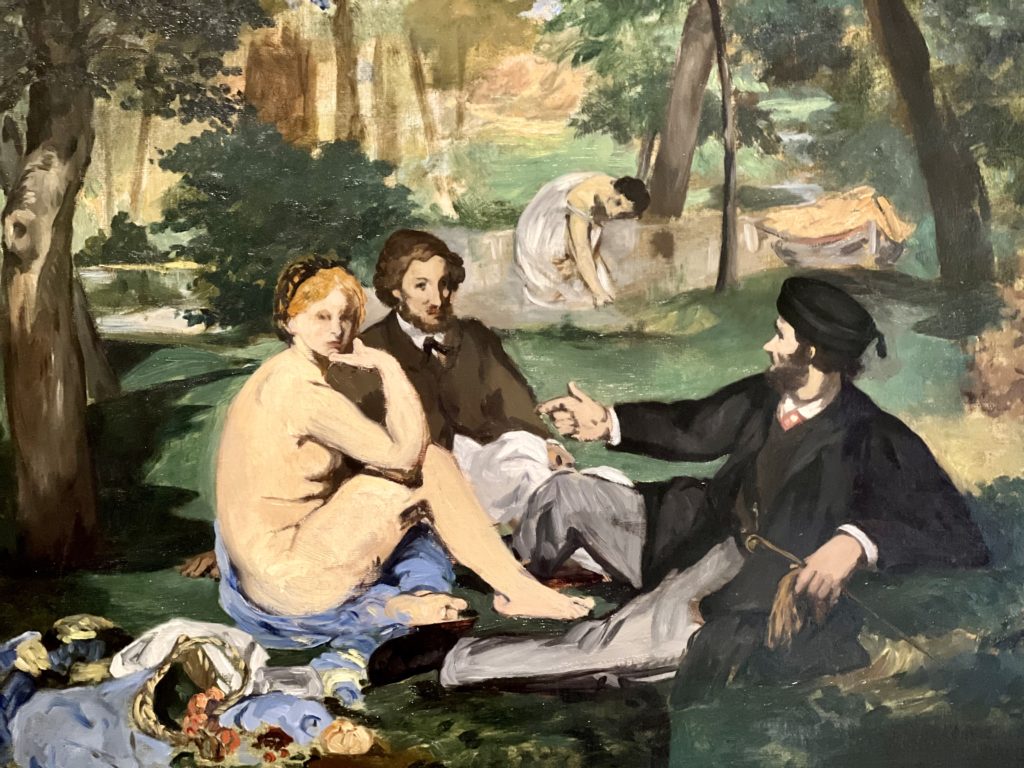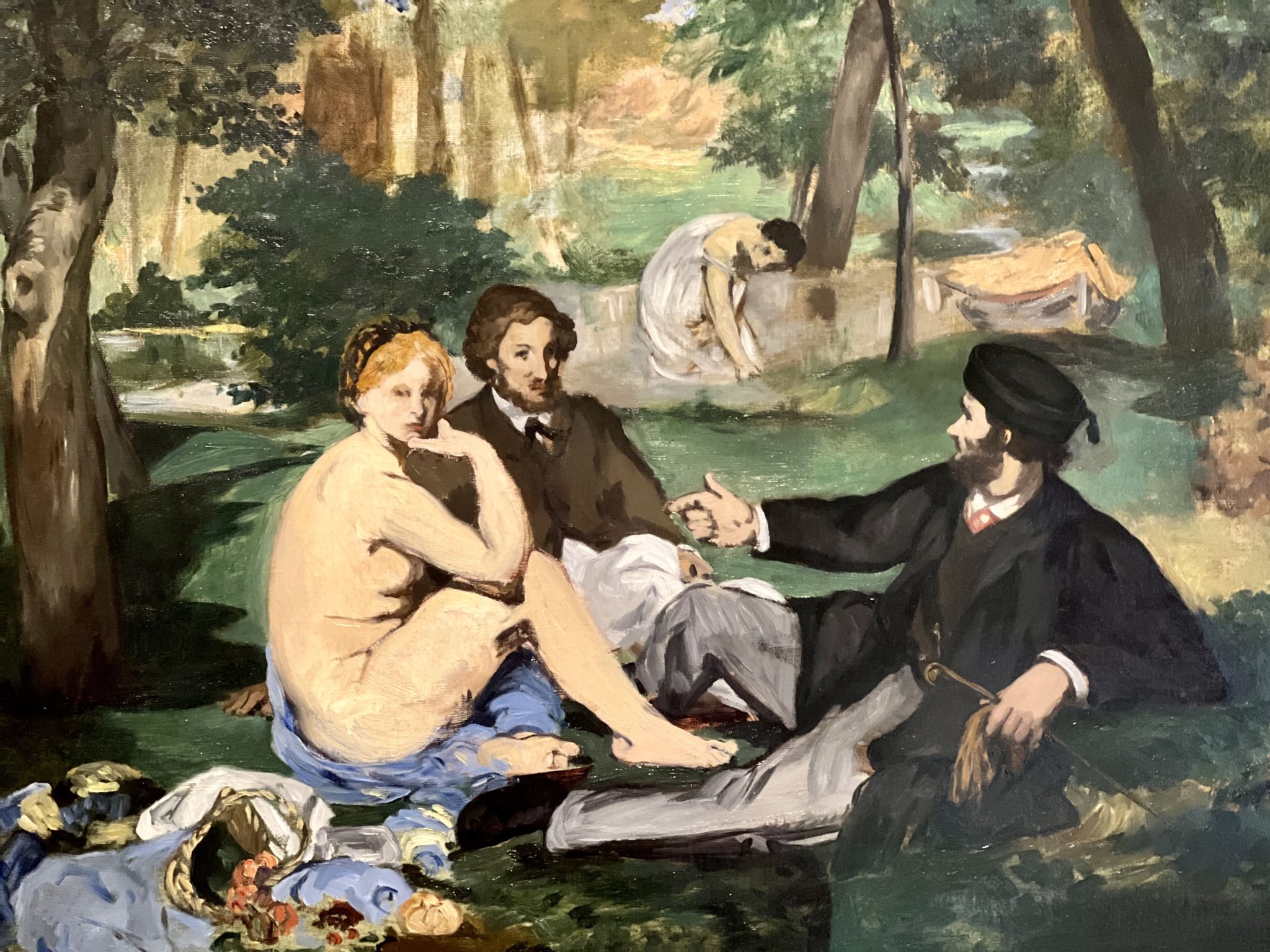 You'll see absolute masterpieces by Monet, Manet, Renoir, Van Gogh, Seurat, and Gauguin. There's also a magnificent collection of sculpture, including many works by Auguste Rodin.
When you're done admiring them, take a lunch break at one of the Orsay's beautiful cafes. The Art Nouveau Cafe Campana near the end of the Impressionist gallery is especially beautiful.
If you need more Impressionism or are simply enamored with Monet's late period water lilies, stop into the Orangerie Museum. It won't take long.
From the Orangerie, head due east to the Petit Palais. It's a delightful small museum with a Louvre-like collection that's completely free to visit. You might break for a late lunch in the garden cafe.
Hop on the metro or take a taxi to the Le Marais neighborhood. This is where you'll find the Picasso Museum.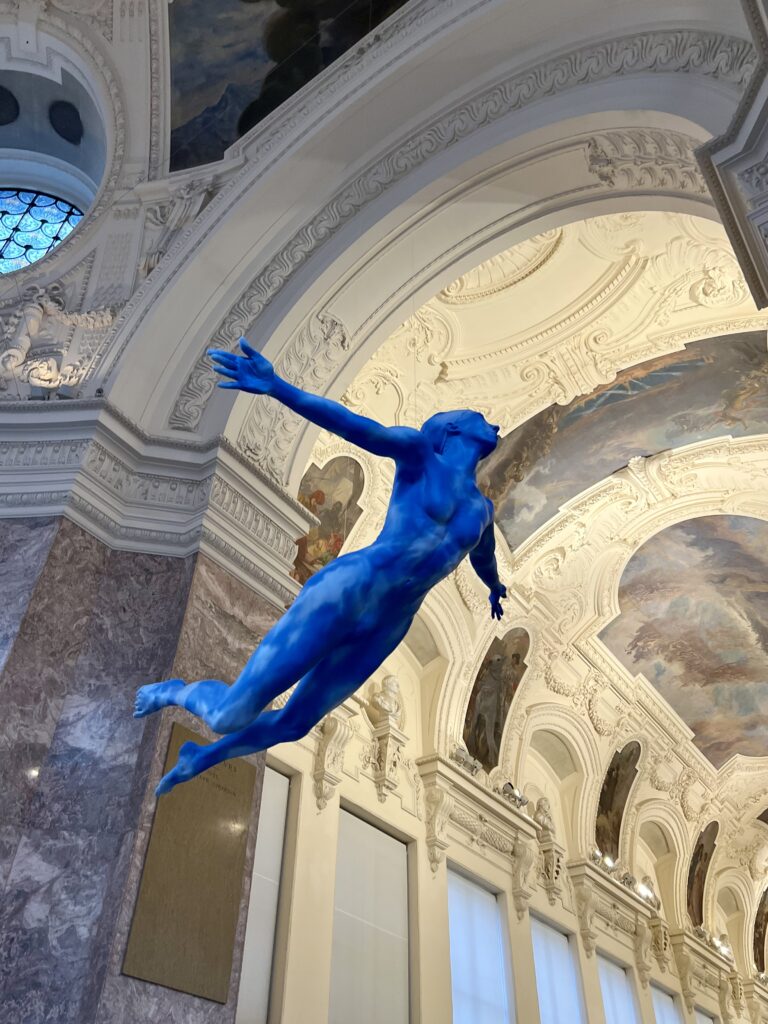 As I mentioned above, it's one of the world's best single artist museum, with the largest collection of Picasso works arranged in a sumptuous mansion.
Alternatively, if you want to see the Eiffel Tower up close, you can head to the Musee de Quai Branly-Chirac. The museum also has a great restaurant for dinner with killer Eiffel Tower views, called Les Ombres. Make a reservation in advance!
If you have anything left in the tank, in the evening, head to the Palais de Tokyo. It's open until 9:00 pm. You'll find special exhibitions and a permanent collection in the Musee de l'art Modern.
Many museums also have late night openings once a week. You can check out the list here.
Where To Stay: Grand Hotel du Palais Royal, J.K. Place Paris, Le Meurice, Pavillon Faubourg Saint-Germain & Spa
6. One Day In Paris For History Buffs
This one day in Paris itinerary for history buffs begins in the Latin Quarter. Start your day at the Arènes de Lutèce, which opens at 9:00 am.
The arena was the amphitheater for the ancient Roman city of Lutetia. It's one of the few traces of Rome left in Paris.
Built around 200 A.D., it was one of the largest Roman amphitheaters in Roman Gaul, though not as large as the ones you'll find in southern France. The Arena once seated around 15,000.
Then take a turn in the Pantheon. It's a massive church modeled after the Pantheon in Rome and St. Paul's Cathedral in London.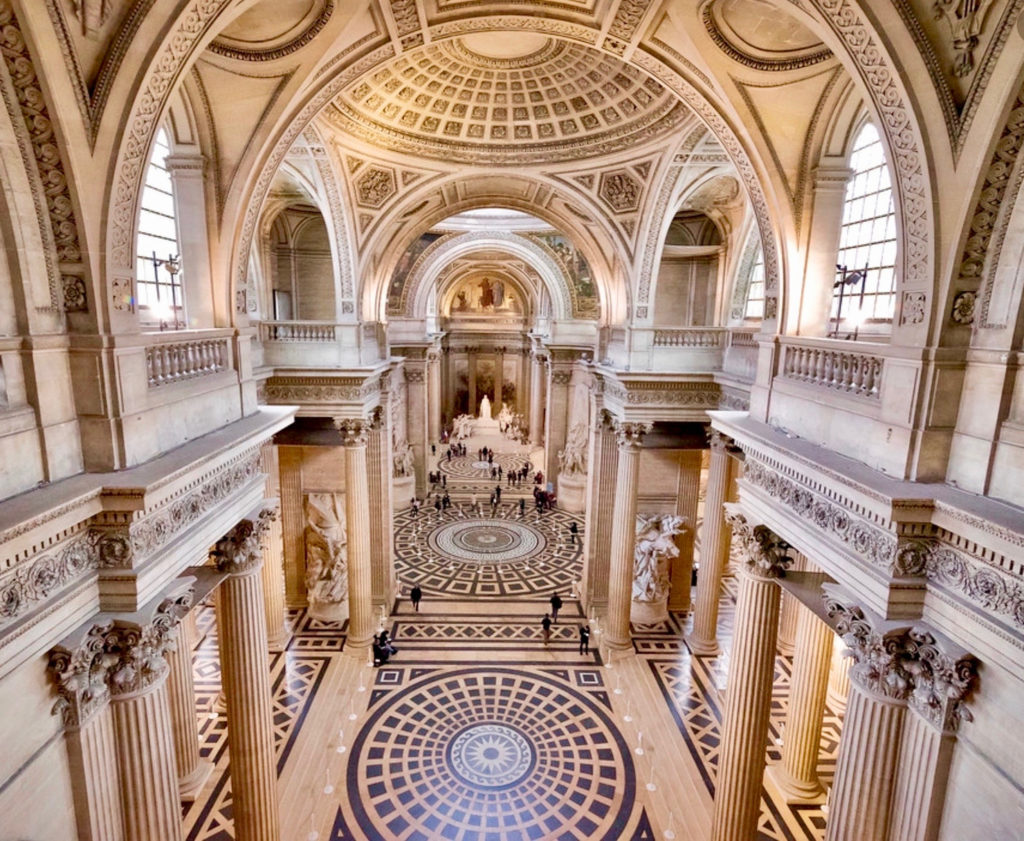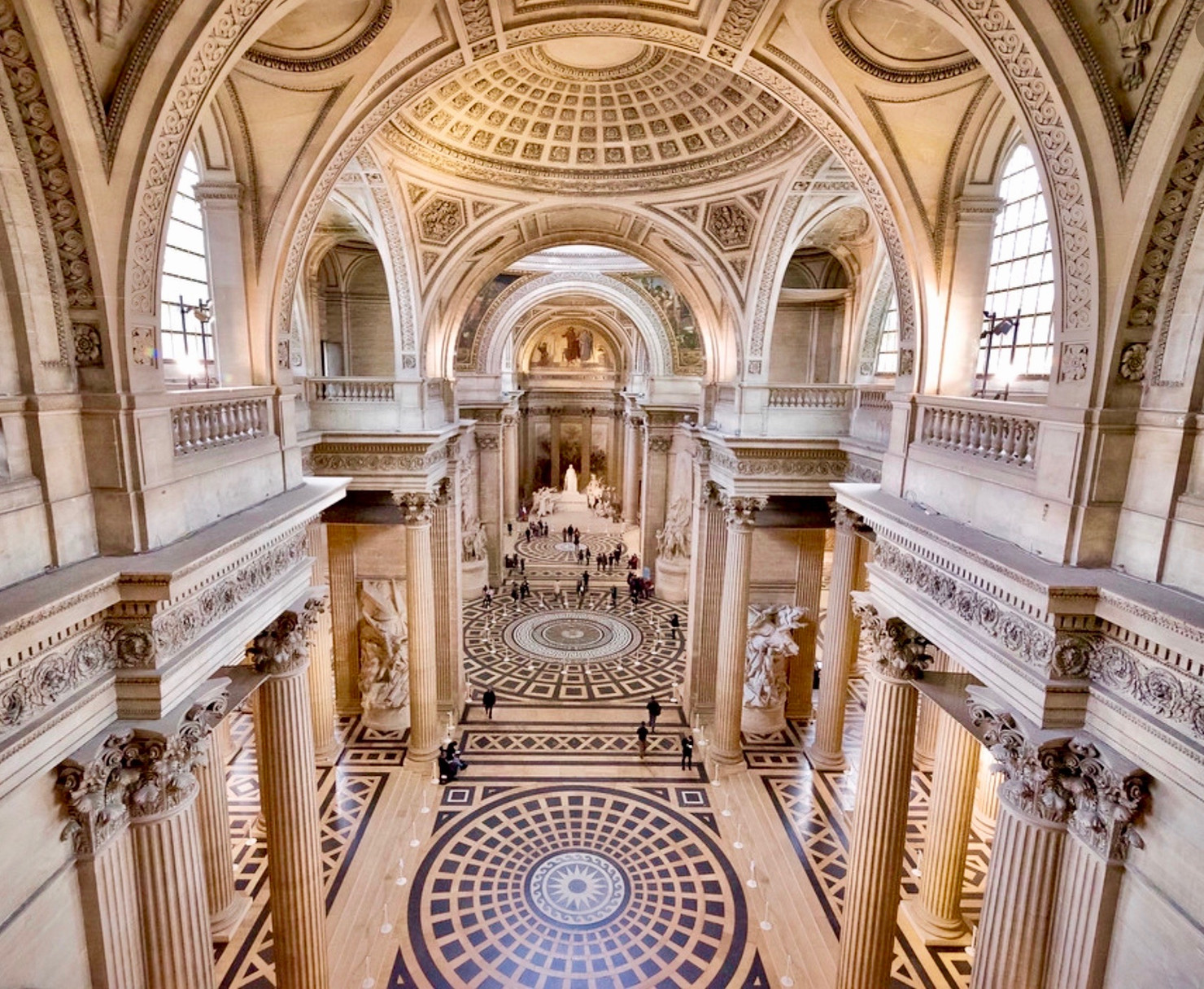 The Pantheon is stuffed full of frescos, statuary, and art works by Anselm Kiefer.
More importantly, it's the burial place for the celebrities of Paris. In the crypt, you can pay homage to Alexandre Dumas, Victory Hugo, Voltaire, and more. Click here to book a skip the line ticket.
Next door to the Pantheon is the Church of St. Etienne-du-Mont. It has a beautiful three tired facade and dates from the end of the 15th century. Inside you'll find the only remaining rood screen in Paris, which once separated the clergy from the riff- raff.
From there, stroll past the Sorbonne and head to the Cluny Museum, which I mentioned above.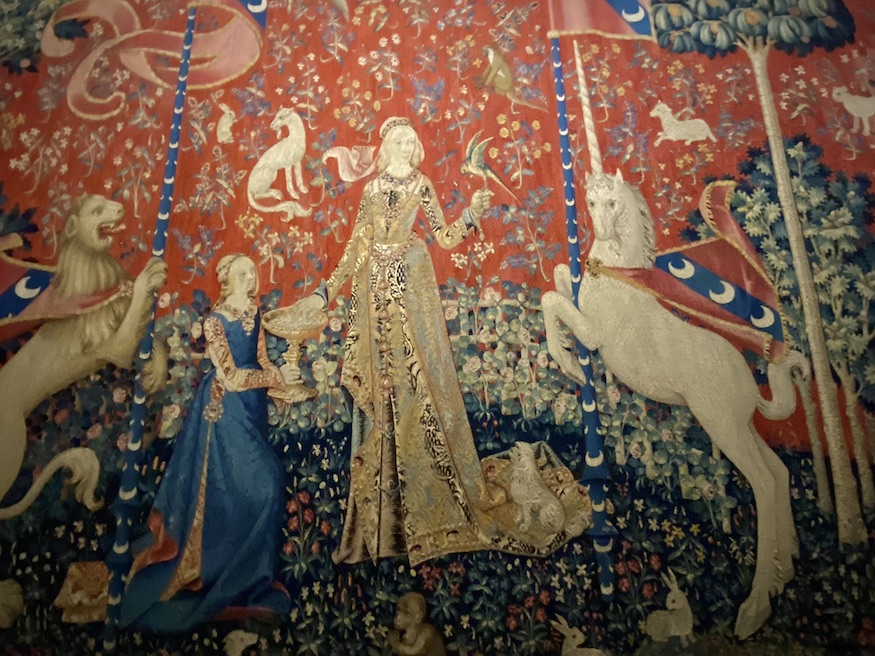 From the Cluny, it's time to visit Sainte-Chapelle and the Louvre, both of which I've covered above. Be sure to have your skip the line tickets in hand.
If you're not a museum person or just don't want to brave the Louvre, head to Les Invalides instead. You'll recognize it by its shimmering gold plated dome.
It's a complex of monuments and museums celebrating France's tumultuous military history. You can visit the Royal Chapel, Napoleon's grand tomb, the Army Museum, and a museum of contemporary history.
The complex has a lot to offer. You may want to book a guided tour. At a minimum, book a skip the line ticket to see Napoleon's tomb and the Army museum.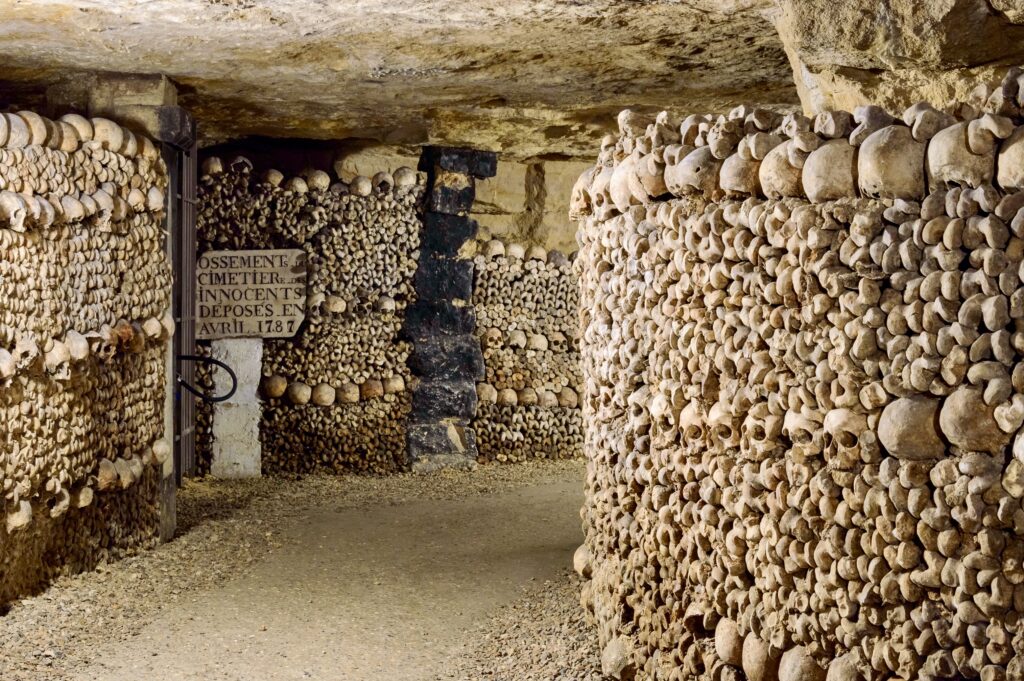 In the evening, tour the Paris Catacombs, Paris' empire of the death. In there Catacombs, you'll see the artfully arranged bones of 6 million Parisians.
Click here to book a skip the line ticket for this very popular attraction.
If you are fascinated with the history of the Paris Catacombs, you might consider this excellent 2 hour guided tour with VIP access. You'll have access to a few corners that the general public doesn't see and have a storytelling guide.
Where To Stay: Relais Christine, Hotel le Lapin Blanc, Hotel d'Aubusson, Le Narcisse Blanc Hotel & Spa
7. One Day In Paris: Main Highlights
Want to try to see it all in one day in Paris? You can give it a go, but it will be a hectic day.
Start out at Sainte-Chapelle at 9:00 am with a pre-booked ticket. Admire Notre Dame.
Then, work your way to either the Louvre or the Musee d'Orsay to admire their collections. Afterward, take a stroll through the Tuileries Gardens to shake off your museum fatigue.
Then, head down the Champs Elysees toward the Arc de Triomphe. You definitely will want to pre-book a skip the line ticket to climb to the roof terrace. You'll have fabulous views, including the Eiffel Tower.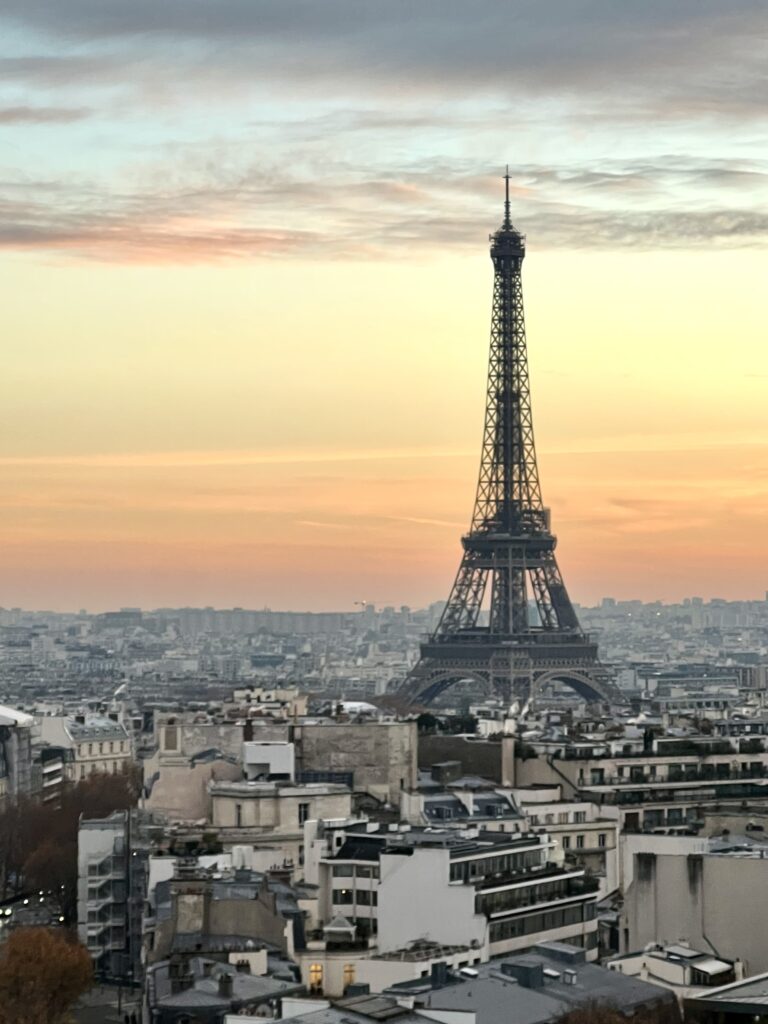 The Eiffel Tower is your last destination of the day, if you want to go to the top. It's always a crazy scene at the tower, so be forewarned.
You can't visit without a skip the line ticket. Determine in advance whether you want summit access and whether you want to climb yourself (fewer lines) or take the elevator.
In the evening, go on a food tour in Saint-Germain-des-Pres to round out your one day in Paris. (Links are in the Left Bank section above.)
Alternatively, if you want to squeeze in a visit to Montmartre, you can take a guided food tour in that neighborhood. Or, if the weather is agreeable, book a Seine River cruise.
Where To Stay: Shangri-La Paris, Maison Villeroy, Four Seasons George V, Hotel Vernet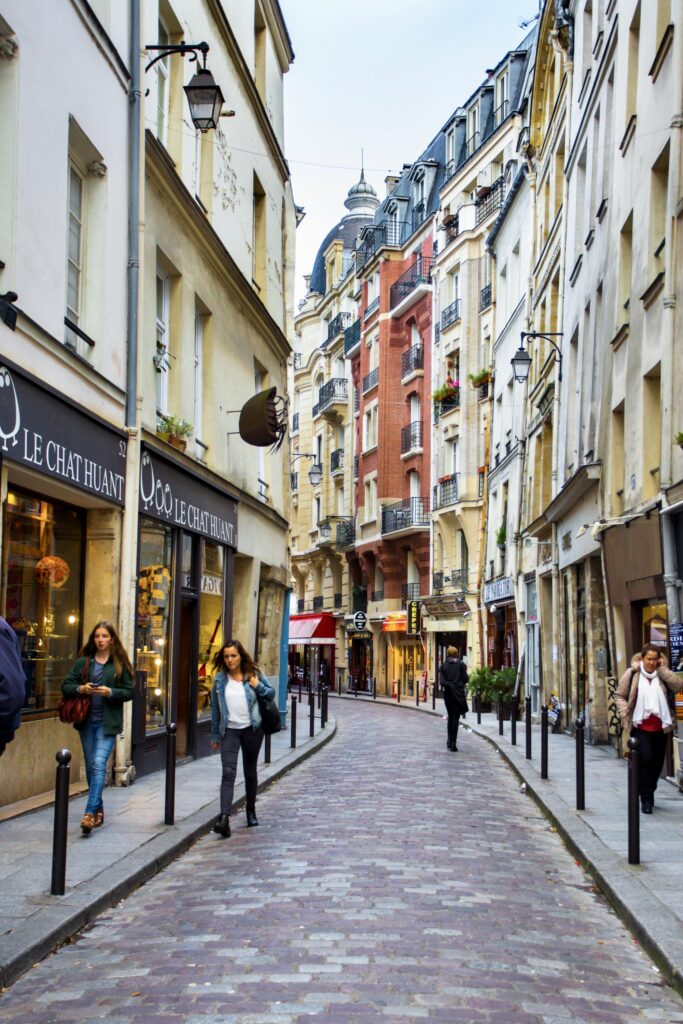 And that's a wrap. I hope you've enjoyed my one day in Paris itineraries.
For tips on visiting Paris, you can check out my tips for planning a trip to Paris and my tips for blending into a local in Paris.
You may enjoy these other Paris travel guides and resources:
If you need a one day in Paris itinerary, pin it for later.