Looking for a fantastic easy day trip from Paris? Head to medieval Provins with this perfect one day itinerary! The town will catapult you back in time and capture your heart.
Provins is an utterly quaint walled town that's only 55 miles from Paris. It's the ancient capital of the Counts of Champagne.
The UNESCO-listed town is a living museum filled with historic and architectural gems, including more than 50 listed monuments. With its ramparts and turrets, visiting Provins is like stepping back in time.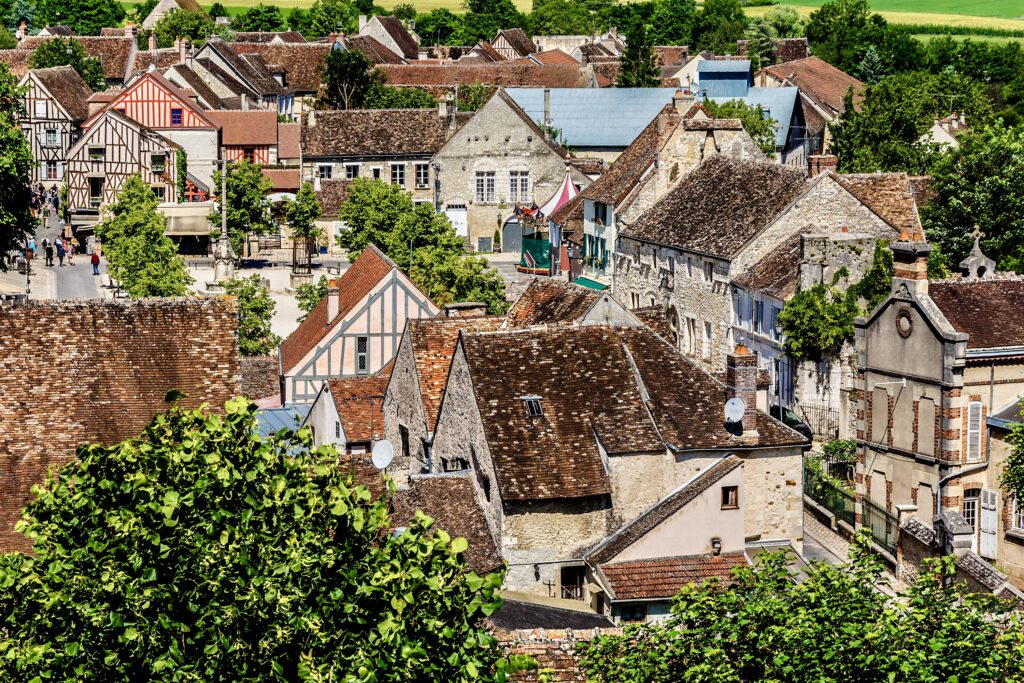 Provins was once home to a great medieval fair. The unsung town boasts ancient half-timbered buildings and a profusion of red roses.
Like many medieval towns, Provins has an older "upper" city and a slightly more modern "lower" city. You arrive in the lower city, or ville basse. As you start climbing, you'll see the ramparts and Tower de Cesar.
If you're on the UNESCO trail in Europe, Provins is a must see town and incredibly easy day trip from Paris.
READ: 18 Unique day Trips From Paris
A Short History of Provins
Provins is ancient. Monks founded the town in the 9th century.
Provins is best known as the Town of Medieval Fairs. The fairs began in 1120 and were a model for other international fairs. They attracted traders from all over Europe.
The town of Provins grew up around a castle in the 11th and 12th centuries. A settlement grew and was then enclosed in the city walls. In the 13th century, the town was expanded again to include a lower town.
Provins was a political and military stronghold for the Counts of Champagne. Under their stewardship, Provins became an important commercial center in France and even minted its own coins. The medieval fair was the largest in Europe.
In the 14th century, Provins prosperity waned somewhat. But, fortunately, the town was not modernized. It just slumbered inside its ramparts.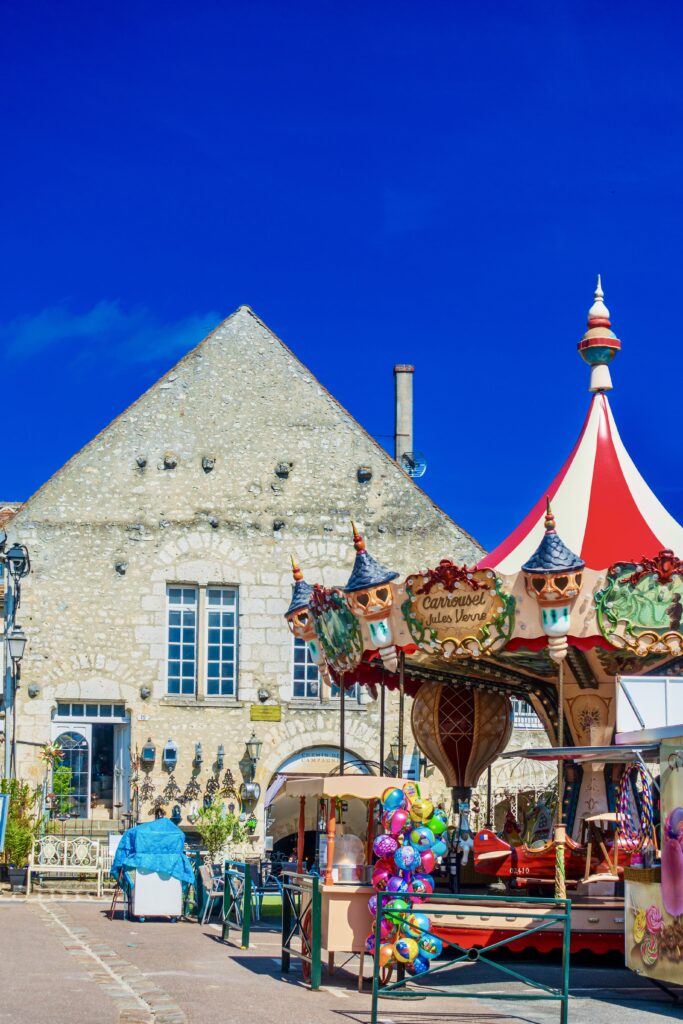 Today, Provins boasts the most impressive rampart moat walls in Europe. In 2001, the town became a designated UNESCO World Heritage site.
Overview Of One Day In Provins
Here's a snapshot glance at what you can see with one day in Provins.
Historic Center
City Walls
Tower of Cesar
Saint Quiriace Collegiate Church
Tithe Barn
Maison Romane
Medieval bookstore
Les Souterrains
Provins Rose Garden
Saint Ayoul Church & Priory
You can stop in at the visitor's center at the main entrance to the upper town and get leaflets and an annotated map.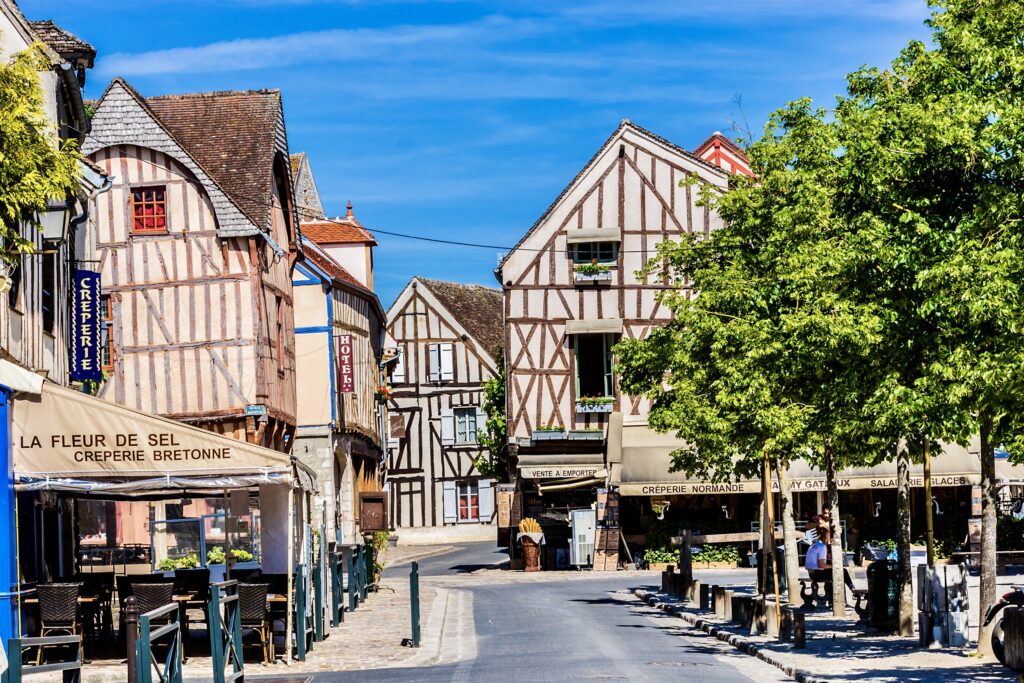 Provins Day Trip From Paris: One Day Itinerary
Here's what to do with one day in Provins on a day trip from Paris.
1. Historic Center
Provins compact center is tailor made for aimless strolling. Winding lanes take you around town.
You'll see many beautiful half-timbered buildings, some lurching gracefully. Many of the homes are adorned with flowers or vines. The fairytale factor is off the charts.
Provins is also famous for its roses, so you'll find rose everything in its tiny shops. You can pick up some rose-flavored honey, soap, or candy at shops like Les Comptoirs.
The main square is the Place du Chatel. It's the central hangout place in Provins.
The square is adorned with an old well and the Croix des Changes, which dates from the 13th century. The cross is where the Counts of Champagne posted their edicts.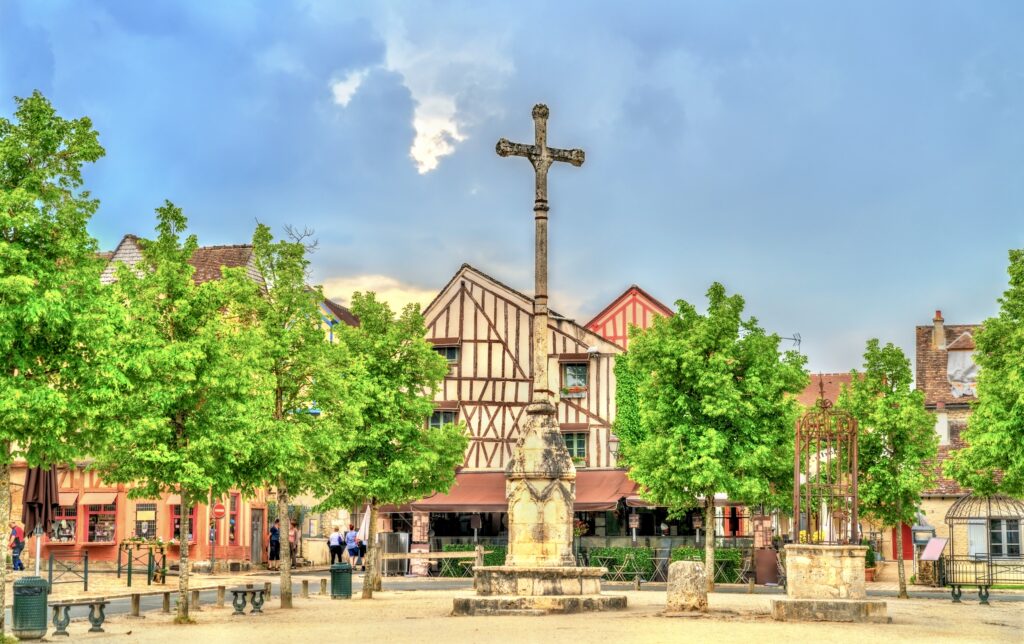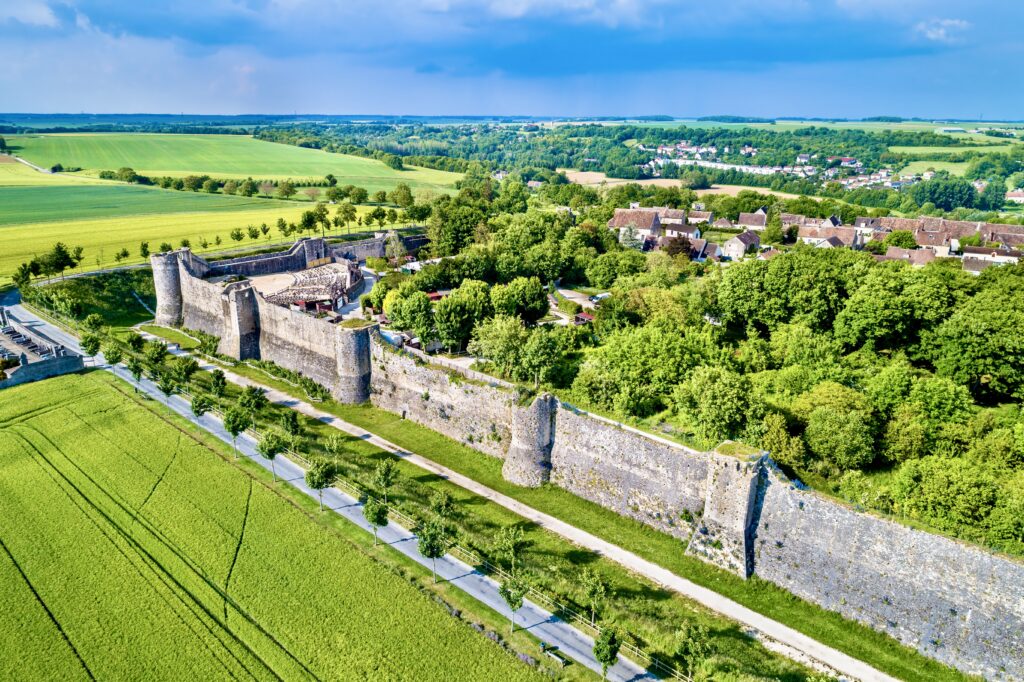 2. City Walls
Naturally, a stroll on the city walls is a must do with one day in Provins. Built between the 12th and 14th centuries, the walls stretch over 4,000 feet and are a formidable site to behold.
As you stroll, you can admire the 2 fortified gateways (Porte Saint-Jean and Porte de Jouy) and 22 towers.
The towers take varying forms. They are square, polygonal, and hemi-cynlindrical. The walls are remarkably well-preserved for their age.
The best way to explore the walls is to walk through either gate. You can walk alongside the walls and on sections of the walls at both gates. At Porte de Jouy, there is an observation deck.
3. Cesar Tower
Another must visit attraction is the 12th century Tower Cesar. It's a well-preserved medieval tower that's the very symbol of Provins.
The tower is an octagonal keep with a square base and four turrets. It was used as a lookout post, a place of refuge in the case of a siege, and a prison.
The tower was covered and bells were added in 1554.
You can explore a vaulted guard room, the governor's chamber, the dungeon, and other 17th century rooms. After you're done, climb the interior stone staircase to the top for fantastic views of the town and countryside.
The best part? You'll likely have the views to yourself with only the company of pigeons.
Address: Rue de la Pie
Ticket: 4.30 €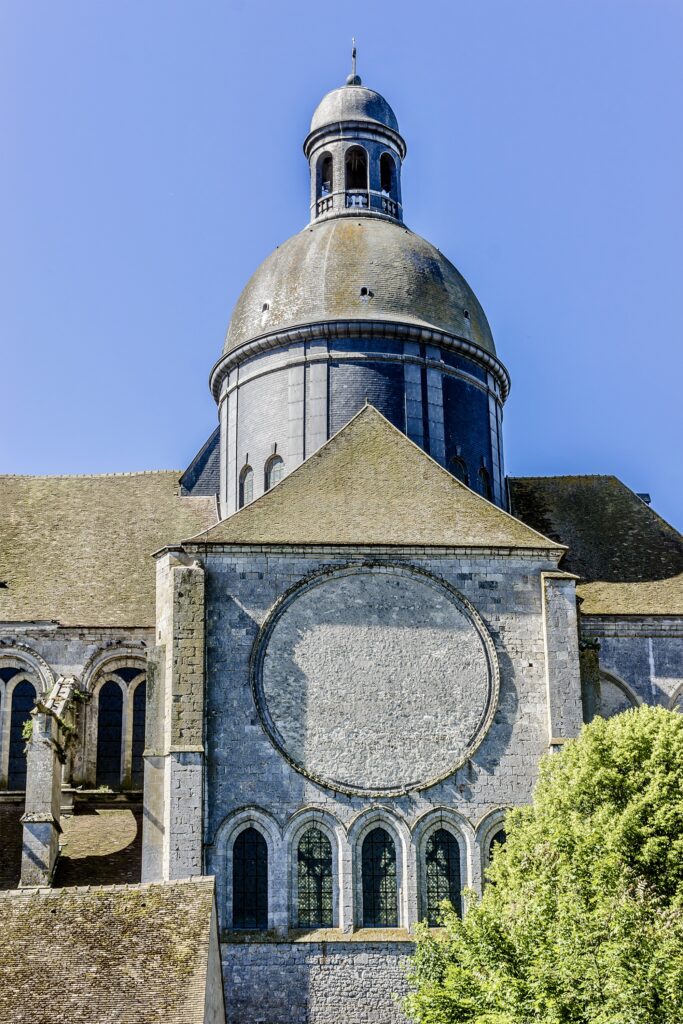 4. Saint-Quiriace Collegiate Church
Saint Quiriace is a rather large Romanesque-Gothic church just down the road from Caesar's Tower. It was constructed in the 12th century by Henri le Liberal.
The zinc dome of the church is visible for miles. Together with the tower, they are the tallest structures in Provins.
Inside, you'll find a light and airy church with white walls and stained glass.
The church wasn't completed until 1700 due to a lack of funds, and the church has a bit of an incomplete feel.
A plaque claims the Joan of Arc visited the church.
Address: Pl. Saint-Quiriace
Ticket: free
5. Tithe Barn
The 12th century Tithe Barn was used in the Middle Ages for market days. Today, it serves as a museum of life in the middle Ages.
The ground floor has a ribbed vault set on six pillars decorated with foliage. A trap door leads to an underground room. There are some cheesy mannequins on display, but the building itself is interesting.
Audio guides take you through the story of medieval life. You'll learn how craftsman, stone cutters, and wool makers lived.
Address: 2 Rue Saint-Jean
Ticket: 4.30 €
6. Maison Romane
The Romanesque House is one of the oldest buildings in Provins, dating from the 10th or 11th century. It's home to the Musee de Provins.
The museum traces the history of Provins from ancient days through the 19th century. It houses a collection of sculptures, ceramics, and religious artifacts.
Address: 7 Rue du Palais
Ticket: 4 €
7. Provins Market
The Provins Market has enlivened the town since the 10th century. The covered market place on Wednesdays and Sundays in Chatel Square near the ramparts.
8. Medieval Bookstore
With one day in Provins, you should also pop into the world's most charming bookstore, Le Roy Lire. It's a medieval-themed book store hidden underground in a 13th century space.
Down steep stone stairs, you can browse history books amid vaulted ceilings and stone walls.
Address: 9 Rue de Jouy
9. Les Souterrains
One of the best things to do in Provins is explore the town's underground tunnels, Les Souterrains. It's an intricate twisting maze hidden beneath cobbled streets in the lower part of the town.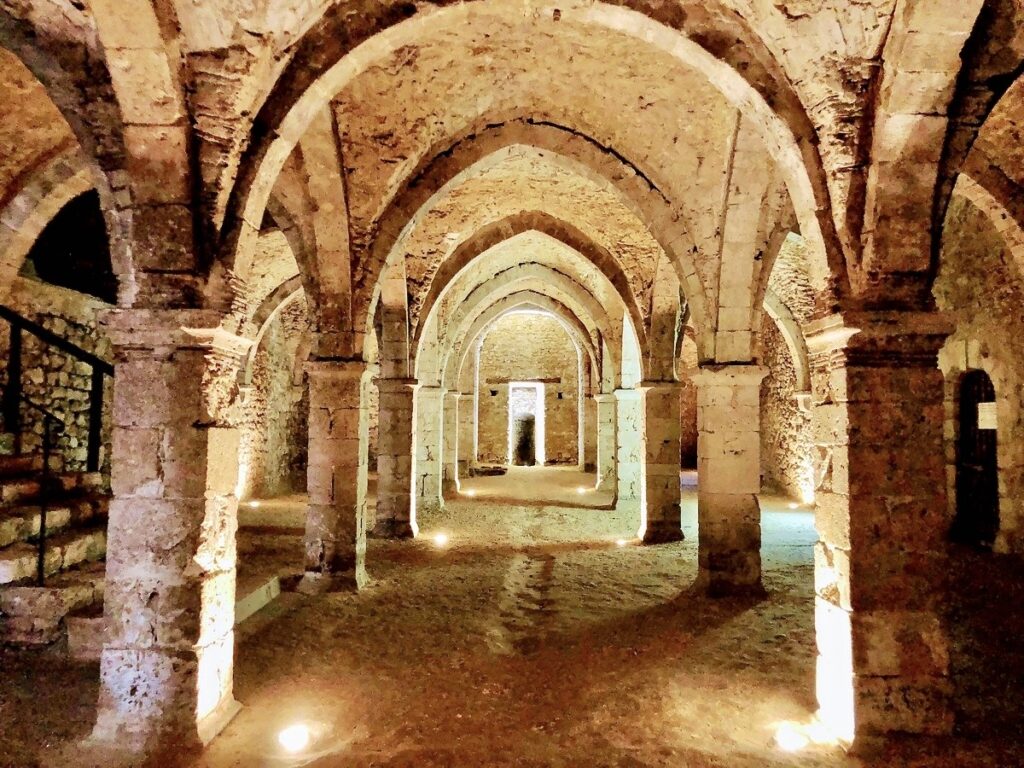 At first, the spaces were mined to extract clay to treat wool. Once the cavities were dug out, they served as military warehouses, shelters during hostile attacks, and storage facilities during the medieval fairs.
Later, the underground rooms were used for clandestine meetings. You will see graffiti and inscriptions on the walls telling the story of the town above, including some Masonic symbols.
Address: 3 Rue Saint-Thibault
Ticket: 4.50 €. English tour additional 4.50 € and is only at 2:30 pm with a maximum of 25 people.
Hours: 2:30 to 4:30 pm in the summer months
10. Provins Rose Garden
Want to stop and smell the roses? If you love flowers, you can also take a stroll around the Provins Rose Garden at the foot of the medieval city. The enchanting garden is adorned with meandering streams and winding paths.
You can learn everything about the history of roses and discover 300 varieties arranged by theme. There is also the official Rose of Provins, which is an old rose variety that dates back to the crusades of 1240.
The best time to visit is June, though some of the modern roses bloom until fall. There is also a tea salon with a sunny terrace and small gift shop onsite.
Address: 11 Rue des Prés
Tickets: spring 7 €, fall 4.5 €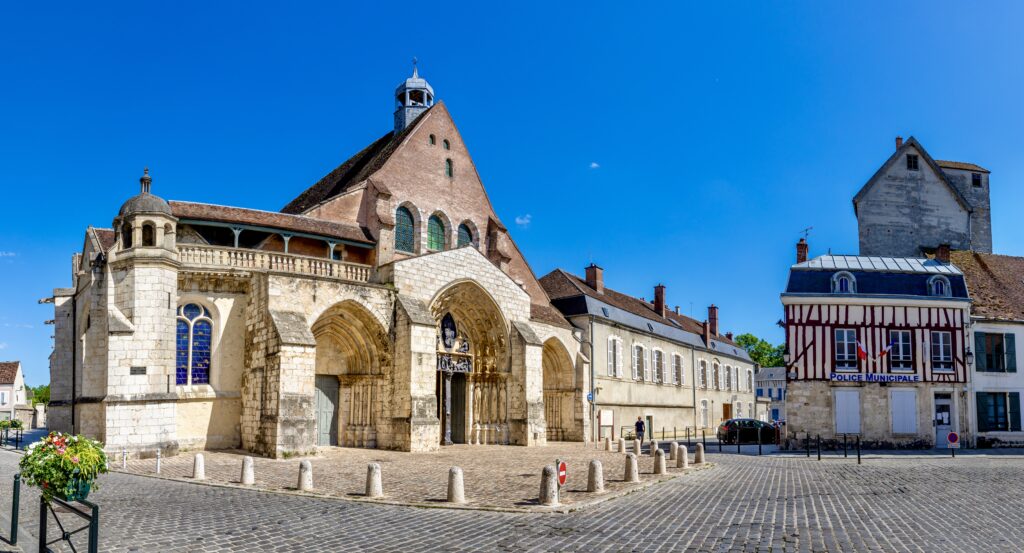 11. Saint Ayoul Church & Priory
This is a 1,000 year old historical site. It all began with the discovery off the relics of Saint Ayoul.
An opulent monastery and church were built, dedicated to the Benedictine order. The church has a large nave, side aisles, and chapels radiating from the choir. Over the centuries, the complex has been constantly restored and reworked.
The central Romanesque portal is beautiful, with intricate contemporary bronze sculptures giving it a modern twist.
The priory part of the church reopened its doors in 2019 after 15 years of restoration. It consists of a cloister, chapter house, and chapels.
Address: 2 Cr des Bénédictins
Ticket: Church is free; priory is 4.30 €
Practical Tips For A One Day In Provins Day Trip
Here are some must know tips for taking a Provins day trip from Paris
1. How To Get To Provins
By Car:
Provins is just 55 miles from Paris. You can drive there in a little over one hour. As you approach the town, signs point you to the city center.
By Train:
Trains leave every hour for Provins from the Gare de l'Est and take about 1:20. That's how I visited. To get to the upper town (where the city walls are), it's about a 40 minute walk.
Trains from Provins back to Paris run until late in the evening, so you can have a full day.
By Guided Tour:
If you don't want to worry about transport logistics, you can book a guided day tour from Paris.
2. How To Get Around Provins
Provins is small and easily walkable. There is also a trolley to carry you through town with guided commentary from May though August.
3. Where To Eat In Provins
There are plenty of places in Provins to pick up a crepe or sandwich for lunch. And cafes line the Place du Chatel.
For dinner, you might consider Aux Vieux Ramparts. You can sit outside the half-timbered building sipping wine under umbrellas. Be sure to make reservations.
Trattoria du Val serves up Italian food, with everything from pizza to gnocchi. La Terrasse du Chatel offers fine French food and a good wine list, set inside stone walls.
If you have a sweet tooth, you should visit Creneaux Chocolate on Rue de la Citadelle. You can get handmade chocolate as well as ice cream and sorbet.
4. Is Provins Worth Visiting?
If you like magical medieval towns, then Provins is 100% worth visiting. It's so rare to see intact medieval walls like these.
The town's time capsule appeal is sure to charm the socks off you. Ramparts, fortified gates, half-timbered houses … Provins is the living witness of a bygone era.
Plus, Provins a lot closer to Paris than Carcassonne, a similar fortified town in southern France.
5. When To Visit Provins
I've visited Provins in April and February. I wouldn't really recommend a winter visit unless you are going for the Christmas market.
I was lucky and didn't get rained on. But it was very chilly.
The best time to visit Provins is the shoulder season, spring or fall. That way, you will get mild weather and can escape the brunt of the summer crowds. In the spring, you'll also see beautiful wisteria vines.
If you plan to visit Provins in June, you should arrange your trip around the two day Medieval Festival. Costumed actors parade and perform historical reenactments. You'll learn all about the medieval arts of chivalry, falconry, hawking, and warfare.
6. Where To Stay In Provins
If you decide to extend your day trip to Provins and stay overnight, there are some options.
You can check out Le Cesar Hotel, Hotel Aux Vieux Ramparts, or the Royal Hubert. As I mentioned above, the Aux Vieux Ramparts has an excellent restaurant.
6. Things To Do Near Provins
If you have more than one day in Provins, there are plenty of other things to do nearby.
Chateau Fontainebleau is about an hour away. A former residence of kings, the royal castle was inhabited for 800 years and is a UNESCO site.
You can explore 1500 rooms in the opulent castle. Enjoy a walk in the garden or take a hot air balloon ride. Click here to book a skip the line ticket.
At the edge of the forest of Fontainebleau is the picturesque medieval town of Moret-sur-Loing. The town is postcard pretty and inspired the Impressionist painters. It's full of half-timbered homes and fortified gateways.
The pretty town of Meaux is also an hour away from Provins. It has a wealth of well-preserved heritage architecture, is famous for its Brie cheese, and is home to the Gothic Saint-Etienne cathedral.
I hope you've my guide to spending one day in Provins on a day trip from Paris. You may enjoy these other Paris travel guides and resources:
If you want to spend one day in Provins, pin it for later.