Did you known there were other Notre Dames in France? And some of them right outside Paris? Here's my guide to 5 must see churches outside Paris that are famous must see landmarks and attractions in France.
On April 15, 2019, when the namesake Notre Dame burned in Paris, I cried. The world cried with me. 800 years of history was threatened when a raging fire engulfed the renowned Gothic cathedral, destroying its roof and soaring central spire. The skyline of Paris changed.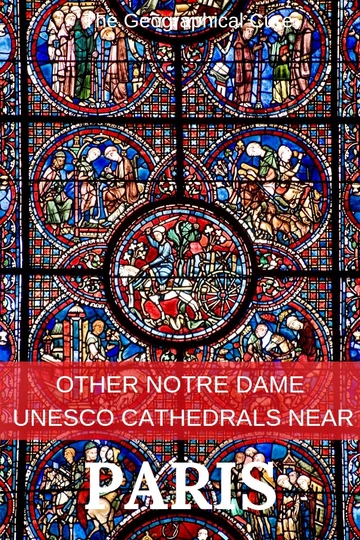 But Notre Dame's been rebuilt before. After the French Revolution, the cathedral was an eyesore, half ruined from the excesses of the French Revolution. With a groundswell of public support thanks to Victor Hugo, Notre Dame was restored by Gothic revivalist architect Eugene Viollet-le-Duc. And it will be restored again.
In the meantime, dry your tears. There are other "Notre Dames" outside Paris also dedicated to "Our Lady" that you can visit. They're just as extraordinary. Some architecture critics think they exceed Notre Dame de Paris in beauty.
Here's my guide to the best Notre Dame cathedrals outside Paris. These cathedrals provide some of the best day trips from Paris, especially if you're on the UNESCO trail. And they are must see sights in France in their own right.
Other Must See Notre Dames in France
Here are France's other glorious Notre Dame churches, which are must see landmarks in France.
1. Cathédrale Notre-Dame de Reims, Champagne Region
With or without a glass of champagne, don't forget to visit the Cathédrale Notre-Dame de Reims in Reims France. It's one of Europe's greatest cathedrals. Some experts think it's France's most beautiful cathedral, surpassing even Notre Dame de Paris.
It was built over 60 years, beginning in 1211. The ornate western portal is distinctive for its beauty, unity, and harmony. There are three main doors, all with a theme carved in limestone — the passion, the coronation of Mary, and the last judgment (from left to right).
Across the top is the Gallery of Kings, with statues of 56 unnamed kings of France. On the sides, you can see the massive flying buttresses that support the building.
Inside is the real treat. You step into a towering 500 foot nave. You're greeted by a wall of 52 intricately carved statues. Admire the choir and 1954 stained glass windows in the south transept, which replaced the ones damaged in WWI.
But the interior's undisputed highlight is in the apse behind the altar. There, you'll see the catastrophically beautiful stained glass windows created by the painter Marc Chagall in 1974.
It's rare to see a modern artist working to such stunning effect in a world famous church. In 2011, six abstract windows were added, flanking the Chagall pieces.
Reims Cathedral is also the spot for the coronation of French kings, making it the equivalent of Westminster Abbey in England. Joan of Arc made an appearance, crowning Charles VII in 1429.
Reims Cathedral was damaged during WWI. While the structure survived, its roof was destroyed. It was completely rebuilt in the 1920s. Instead of timber, heat resistant concrete was used to rebuild the roof.
Reims is an example of a loyal and successful renovation, hewing closely to the original but with modern materials. Something for Parisians to ponder, as government officials decide whether to make Notre Dame a Nouvelle Dame.
Reims Cathedral was designated a UNESCO site in 1991.
Practical Information for Visiting the Cathédrale Notre-Dame de Reims:
Address: Place du Cardinal Luçon, 51100 Reims, France
Hours: Open daily 7:30 am to 6:15 pm
Entry fee: Free. You can rent a tablet video guide. You can also reserve and book a 1 hour guided tour and climb the tower to the rooftop. On most summer evenings, there is a free 25 minute sound and light show beginning at dark.
Getting there: By train, it's 45 minutes via TGV from Paris' Gare de l'Est. The cathedral is a 15 minute walk from the train station. If you're driving, it takes approximately 1:30. You can park in metered spots or in the well-signed parking lot near the cathedral.
2. Cathédrale Notre-Dame d'Amiens, Picardy Region
The 13th century Cathédrale Notre-Dame d'Amiens is the tallest Gothic church and largest cathedral in France. It's an 800 year old UNESCO-listed icon of French Gothic architecture. It packs a punch.
The enormous cathedral is known for the beauty and harmony of its architecture and art. It has a triple portal facade similar to Reims Cathedral. The central door is flanked with statues of the apostles. The facade has been recently cleaned and appears quite white.
Inside, the stone vaulted nave reaches 42 meters. According to locals, the volume is double that of Paris' Notre Dame. Most of the glass is clear, as the windows were blown out during the world wars. But that means the church is flooded with natural light.
You walk through the "labyrinth," a typical medieval church feature. A black line leads you to the center, which represents paradise. You may have to wait in line to secure paradise. While inside, admire the 16th century choir, with wood carved stalls and over 4,000 figures.
Then climb the 307 steps to the north tower for fabulous views from the top. Like Reims Cathedral, Amiens has a nighttime "son et lumieres" show. It's specifically designed to show the polychromatic colors of the facade as they appeared in the Middle Ages.
The cathedral escaped serious damage from WWII. It was designated a UNESCO site in 1981.
Practical Information for Visiting the Cathédrale Notre-Dame d'Amiens:
Address: 30 Place Notre Dame, 80000 Amiens, France
Hours: From Oct 1 to Mar 31: 8:30 am to 15:30 pm. From Apr 1 to Sept 30: 8:30 am to 6:30 pm.
Entry fee: Free. To access the towers, the fee is 5.50 euros for adults, free under 18. The towers are closed on Tues and Sun mornings. Audioguides are available at the tourist office in Amiens.
3. Cathédrale Notre-Dame de Chartres
Chartres is famed for its massive 13th century Cathédrale Notre-Dame, designated a UNESCO site in 1979. Finished in 1220, the Gothic cathedral features 2 towering spires, flying buttresses, ornate sculptures, a 16th century astrological clock, relics, and elaborate rose windows — all you'd expect in an architectural wonder.
Interesting, however, the 2 steeples don't match. One's in the Gothic style and one's in a Romanesque style. The cathedral's south, west, and north entrances all boast ornate triple portals.
The cathedral's most stunning feature is its dramatically hued stained glass. Chartres has one of the best medieval collections of stained glass in the world. It's especially renowned for its "Chartes Blue" color tones.
The colorful windows survived the French Revolution and both world wars. During WWII, they were taken down and temporarily stored in the Church of Saint-Emilon. Scout out the Jesse Window, the Blue Virgin Window, the Noah Window, and the South Rose Window.
You can tour the Romanesque crypt. Built in 1024, it pre-dates the cathedral. Before the cathedral was built, it was thought to be a Druid site.
You can also climb 350 steps up the lacy north tower, known as Clocher Neuf. There you can inspect the rooftop and the flying butresses.
An $18 million restoration of the cathedral began in 2009. It's been controversial. Some critics labelled its interior restoration a "catastrophe," "cultural vandalism," and a "gaudy pastiche." The lead architect, Patrice Clavel, disagrees, claiming that "there is no reason to be nostalgic about dirt."
But the cathedral has lost the mysterious patina of age. Some features of the cathedral were erased with the painting and whitewashing of its columns and walls. Faux stone joint lines were used. LED lights replaced candles. The shrine of "the Black Madonna" is now white.
Is Chartres now authentic or a simulacrum? You'll have to visit to assess.
It largely depends on how you feel about grim and authenticity vs. more interventionist preservation. Plenty of purists like dirt. Others prefer to see the medieval cathedral as it appeared in the 13th century. One things for sure. Chartres Cathedral now upends the usual view of Gothic architecture as dark and gloomy.
Practical Information for Visiting the Cathédrale Notre-Dame de Chartres:
Address: 16 Cloitre Dame, 28000 Chartres
Hours: Open daily 8:30 am to 7:30 pm. Open until 10:00 pm on Tues, Fri & Sun during July and August.
Entry fee: Free
Tours: There's a 45 minute audioguide tour for 4.20 euros. If you want a combo ticket that includes an audioguide for the tower, it's 6.20 euros. Malcolm Miller, an expert on Chartres Cathedral also gives highly acclaimed tours Mon-Sat at noon and 2:45 pm.
Getting there: Trains leave hourly from Paris' Gare Montparnasse. The cathedral is a 10 minute walk from the Chartres train station. Chartres is a one hour drive by car.
4. Cathédrale Notre-Dame de Laon, Aisne Region
Laon is an ancient medieval village perched high on a limestone rock. Its crowning glory is the Cathédrale Notre Dame de Laon (pronounced Lon). The cathedral can be seen from miles away.
Constructed between 1160-1230, Laon Cathedral is one of the oldest Gothic cathedrals in France, pre-dating even the Notre Dame in Paris.
It's known for its six imposing towers and as a key stop on the pilgrimage route to Santiago in Spain. It's a musty, dusty, and ancient affair, unspoiled by modernity or excess adornment, and with little of the elegance of its Parisian counterpart. I loved it.
Perhaps what most enchanted me, and what sets Laon Cathedral apart from its other Notre Dame siblings, is the nature of the adornment that does exist. There's a veritable farm on the upper towers — 16 oxen in total. Local legend holds that the sculptures are a tribute to the animals who hefted the granite up the steep hill.
You could almost hear a low, deep mooooooooooo-ing sound. There's also an unusual rhinoceros gargoyle.
Once inside, I was stunned by the sheer scale of the place. The 360 foot church has a four level vaulted nave supported by Roman style columns with ten bays. There's some restored stained glass and a lovely 18th century choir grill. The local white limestone also lends a certain luminosity and peacefulness.
Practical Information for Visiting the Cathédrale Notre-Dame de Laon:
Address: 8 rue du Cloître Laon
Hours: Open daily between 8:30 am to 6:30 pm
Entry fee: free
Getting there: Traveling via train or car from Paris takes a little over 1:30.
5. Cathédrale Notre-Dame de Rouen, Normandy
Medieval Rouen is 2000 years old. It's one of Normandy's most engaging and historically rich destinations, with half-timbered home and winding medieval lanes. With its lantern tower piercing the clouds, Cathédrale Notre-Dame de Rouen is Rouen's crown jewel.
Constructed between the 12th and 14th centuries, the cathedral was built on the foundations of a 4th century basilica. The cathedral rises 151 meters tall, making it one of the tallest in France. The Dukes of Normandy were traditionally crowned and buried there.
One tower is dubbed the Butter Tower, for the naughty citizens' medieval indulgence. Though butter was banned under strict religious rules, you could escape this edict — all sins forgiven — by making a donation at the Butter Tower.
Inside, Rouen Cathedral is High Gothic at its best. The nave soars four stories high. In length, only Amiens Cathedral and Reims Cathedral are longer. Many of Normandy's most famous citizens are buried there, including Richard the Lionheart and early Norman rulers Rollo and William I.
There's an interesting two story high Escalier de la Librarie (Booksellers' Stairway). The first floors dates from the 15th century. The second floor dates from the 18th century.
But it's the cathedral's lacy western facade that's made it enduringly famous. The facade is styled in a highly ornate Flamboyant Gothic fashion and is a sight to behold. Claude Monet painted 30 versions of it. So intriguing were Monet's paintings, that Pop artist Roy Lichtenstein reproduced them using modern printing techniques in 1969.
Practical Information for Visiting the Cathédrale Notre-Dame de Rouen:
Address: Place de la Cathédrale 76000 Rouen
Hours: Opening hours are here
Entry fee: Free
Getting there: Trains run to Rouen several times per day fro St-Lazar, the fastest one is 1:10.
6. Cathedral Notre Dame de Senlis, Senlis
Senlis itself is a fantastic secret day trip from Paris. And you might be rather surprised that such a diminutive town is lorded over by an impressive cathedral. Built between 1153-91, under the reign of Louis VII, Notre Dame de Senlis is listed as a historic monument in France.
It's in the heart of medieval Senlis, surrounded by cobbled lanes and ancient stone buildings. Pure old world French charm.
The cathedral seems a little lopsided, with one massive 78 meter tower, completed in the 13th century. Two tall columns flank the facade, preventing the entrance from being engulfed by the tower. Its magnificent carved-stone Grand Portal is thought to have inspired the one in Chartres' cathedral. Inside, there's pretty stained glass.
Practical Information for Visiting Cathedral Notre Dame de Senlis
Address: 1 Place Notre Dame, 60300 Senlis, France
Hours: 8:30 am to 7:00 pm
Entry fee:
Getting there: Take the train from Gard du Nord from Paris to Chantilly, then take a bus to Senlis. Check train times here. By Car, it's about 1 hour drive down the A1 highway
Pro tip: Senlis is only 20 minutes from Charles de Gaulle airport. So if you have a layover, it's a perfect detour.
Were you surprised that there were this many "Notre Dames" in France? If you're traveling in northern France, I hope you'll check out some of these beautiful UNESCO cathedrals. They can't replace Paris' elegant and besieged beauty. But they're some of Europe's most beautiful churches and they are easy day trips from Paris.
You may enjoy these other France travel guides and resources:
• Secret hidden towns in France
• 10 day itinerary for southern France
• Charming hidden gems in Provence
• Guide to Monet's Gardens in Giverny
• The Impressionism trail in Normandy
• 30+ beautiful towns in northern France
• Beautiful villages of Brittany
• Beautiful villages in Normandy
If you'd like to visit France's other Notre Dames, pin it for later