Here's my guide to tacky tourist traps and overrated sites to skip in Paris. Sometimes, you have to gush over a lauded must see attraction. And sometimes you need to levy justified criticism, to give readers the real lowdown on a particular site.
I've written a "what to skip" post for decoding Lisbon and London. Paris deserves the same treatment.
I like to avoid nightmarish throngs, and Paris is often crowded. Everyone is traveling nowadays. And it's not just Americans. There are plenty of travelers from Europe, China, India, and Russia.
The problem is that the big ticket tourist attractions don't grow in size to meet demand.
So you have to carefully assess whether these overhyped attractions are worth visiting. Or whether you're zen enough to endure the wait.
To be sure, sometimes you've got to grit your teeth, practice patience, and suck it up for Paris. Or purchase pricey skip the line tickets. (You can't be spontaneous in the City of Light.)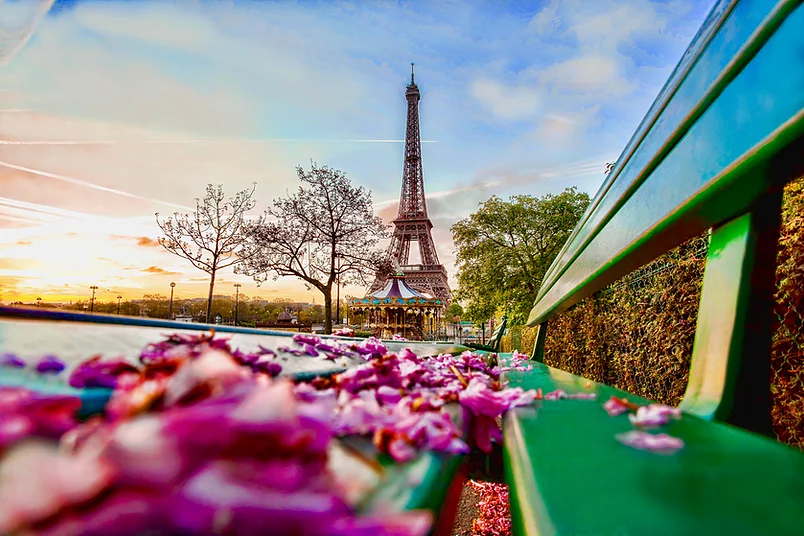 But not for things that don't really merit it. The boring and beaten path isn't always the way to go. And can be awfully unpleasant.
The problem isn't the destination — Paris is sublime — but where you're going.
Here are 11 of the worst tourist traps in Paris. Granted, some of them are frequently described as "must see" sites. But not to me.
There are so many amazing sites to put on your Paris itinerary. You can safely cross these supposed must see sites off your Paris bucket list.
Along with identifying tourist traps to avoid in Paris, I give you some alternative sites for your Paris visit. These alternative are lovely hidden gems in Paris, where you can enjoy Paris without the heaving crowds.
Overrated Tourist Traps To Avoid in Paris
Here's my list of tourist traps to avoid and alternative hidden gems in Paris:
1. Tourist Trap: The Eiffel Tower
Alternative Viewpoints: Montparnasse Tower, Pantheon Tower, or the Pompidou Center
I know, the Eiffel Tower is on everyone's bucket list and Instagram feed. It's one of the world's most visited sites. It's lacy ladder of vertical bridges is impressive.
But there are better places for views in Paris that don't involve hordes of people, high security, pickpockets, scams, and vendors pestering you to buy tacky trinkets.
Nowadays, moreover, the base of the Eiffel Tower is encircled in an 8 foot high bullet proof glass enclosure. To even walk under the Eiffel Tower, you've got to go through a metal detector and bag screening.
It's far better to gaze fondly at the Iron Lady than to go up her. It's just not worth the cost and the long queues.
You can find great views of the Eiffel Tower from Avenue de Camoens, Pont de Bir-Hakeim, and Rue de l'Universitie. Or the most popular spot, the Trocadero.
If you must go up the Eiffel Tower, it's essential to pre-book a timed entry ticket online. You can't wait until you arrive in Paris.
But, be forewarned, skip-the-line access doesn't apply to either the second floor elevators leading up to the summit or the elevators on the descent.
You'll have to queue up. You can opt for the less crowded stairs instead, if you don't mind hoofing it.
For the quintessential Paris view, try Montparnasse Tower instead. Go at night when the Eiffel Tower light show happens (on the hour), to get in your Eiffel Tower fix.
Alternatively, climb the tower in the Pantheon, an underrated hidden gem in Paris. The grand neoclassical basilica was built after a king's near death experience and celebrates the greatest heros of France. The colorful wall paintings tell the tempestuous history of 18th and 19th centuries France.
People tend to walk by and not go into the Pantheon. But the interior is the most fascinating part. As an added bonus, the rooftop boasts one of the best viewing points in Paris. When you're done investigating the Pantheon, you can stroll in nearby Luxembourg Gardens.
If you love modern art, you likely have the Pompidou Center on your Paris itinerary. The Pompidou Center houses Paris' best modern and contemporary art collection (and one of the best in the world).
It's also architecturally unique, designed as an "evolving spatial diagram." And it boasts beautiful views over Paris from the top floor.
READ: Guide To the Best Museum in Paris
2. Tourist Trap: The Champs Élysées
Alternative: Rue de Martyrs
I usually avoid this area of Paris. I'm not a shopper and the Champs Elysees is too touristy and busy.
And it's not even very pretty actually. If you're obsessed with French luxury brands, definitely visit their flagship stores. But most of the merchandise is available online and in retail stores worldwide.
If you do visit the Champs Élysées, take time to get a picture of the Arc de Triomphe. And consider going up to the viewing platform. This is a much better view than the Eiffel Tower view, IMHO.
>>> Click here to book an Arc de Triomphe rooftop ticket
For better shopping (and more great rooftop views), head to Paris' venerable department stores, Printemps and Galleries Lafayette, in the Opera District, Paris' 9th arrondissement.
But the problem with these "grand magasins" is that they're also so popular that they've become a tad Disney-esque.
At Galleries Lafayette, there's now a "Glasswork" observation platform (with a line, of course) to view the spectacular stained glass dome and a bouncy trampoline for kids.
As an alternative to the Champ Élysées, try strolling the Rue de Martyrs, especially if you're in Montmartre. This steep high street is the heart and soul of the trendy South Pigalle neighborhood, dubbed "SoPi."
It's a half mile of deliciousness and magic crammed with over 200 cafes, restaurants, groceries, chocolatiers, fromageries, and bars.
There's even a book written about it by NYT journalist and former Paris denison, Elaine Sciolino. I liked it so much I included it on my list of 20 best books about Paris.
On the Rue des Marytrs, you can buy anything. And there's a speciality shop for everything, from rare cheese to sponge cake to gourmet dried herbs.
So numerous are these single product shops that French food critics have dubbed Rue des Martyrs the "La Rue du Monoproduit."
3. Tourist Trap: The Louvre and the D'Orsay
Alternative: Paris' Small Secret Museums
If you love art or big ticket sites, the Louvre is likely on your Paris bucket list. But the Louvre is the largest, busiest, most visited museum in the world. It has 35,000 works of art and is a palace itself. It's intimidating.
And it's a madhouse — a bacchanalia of crowds, flashes, selfie sticks, languages, and people trying to skip queues and touch the art. It can be overwhelming, especially for a first time visitor.
Don't expect to "conquer" the Louvre in one day. Lonely Planet estimates "it would take nine months to glance at every piece" inside. Gericault's Raft of the Medusa is, I think, the best painting at the Louvre.
If you're ambitious enough to brave the august limestone fortress, have a solid strategy in advance. An all day, drive by marathon is decidedly not the way to go. The Louvre is best experienced in bite sized pieces to avoid brain sapping overstimulation and a distaste for rest for the rest of mankind.
After all, who likes being shoved and bumped in a mass herd? If you must go, book a skip the line ticket for Wednesday or Friday night when the Louvre is open until 9:45 pm.
But there are so many exquisite small museums in Paris to visit in lieu of the Louvre. If you're in Paris for a very short time, the Louvre is entirely skippable. There are plenty of small secret museums in Paris and wonderful free museums in Paris.
Some people recommend the Musee d'Orsay as a less crowded alternative to the Louvre. But I don't, unless you're there off season.
It's just a tick down in popularity from the Louvre and is also incredibly packed with adoring fans. It's understandable that you'd want to see its vaunted collection of Monet and Van Gogh.
But you can see some glorious Monet paintings, including his water lilies, at the Orangerie or Marmottan Museum.
4. Tourist Trap: Leonardo da Vinci's Mona Lisa
Alternative: Leonardo's Virgin and Child with St. Anne
Everyone who goes to the Louvre flocks to the famous Mona Lisa.
I think the Mona Lisa is best seen as a high resolution image on your computer. Trust me, it's small. And the crowds to get relatively close to it are huge.
You won't be able to get a photo without a selfie stick or camera in it. So, if you're visiting the Louvre, it's best to forget the da Vinci masterpiece and hunt down the Louvre's underrated masterpieces.
In fact, in the very same room as the Mona Lisa is another da Vinci masterpiece, The Virgin and Child with St. Anne.
This was Leonardo's last painting and one that he worked on for 20 years. It was meticulously cleaned and restored in 2010.
READ: All of Leonardo da Vinci's Paintings
It now glows luminously from the canvas, despite some controversy about possible over-cleaning. It's just as compelling and mysterious as the Mona Lisa.
But it's mostly ignored by the crowds. Perhaps because, unlike the Mona Lisa, it was never stolen from Louvre with the ensuing publicity.
>>> Click here to book a timed entry Louvre ticket
5. Tourist Trap: Sacré-Cœur and Place du Tertre
Alternatives: South Pigalle
The Sacré-Cœur is the epitome of an overwrought, out of control tourist trap in Paris. The architecture of the church itself is kind of tacky and unappealing in my view (inside or outside). Plus, you can't take photos inside.
The one thing the Sacré-Cœur has going for it is a tower with spectacular views. But not at sunrise; its too smoggy. And not at sunset either; the pickpockets are out in force.
The Place du Tertre is one of Paris' most famous squares, plastered on countless postcards. It's world famous for its painters and cafes. These days, the square is filled with rather cheesy caricaturist-artists painting right before your eyes.
I would skip these two places, unless you really must visit the tourist sections of Montmartre. Parts of Montmartre are beautiful, steeped in history, and reminiscent of its past artistic significance. Other parts are full of tourists, vagrants, and petty criminals.
The lower and western parts of Montmartre are more quaint. You could start your walking tour near the Rue des Abbessess instead of the calamitous Rue de Steinkerque.
>> Click here to book a walking tour of Montmartre's hidden gems
At the Rue de Abbesses metro, you can pop into the Église Saint-Jean de Montmartre. It has the beauty and quietude that the tourist infested Sacré-Cœur lacks.
If you want to get off the beaten path near Montmartre, head to the adjacent neighborhood of South Pigalle. In fin de siècle Paris, "SoPi" was a scandalous red light district.
SoPi has smartened up and become a hotbed for Paris' "bobos," or bourgeoise bohemians. It's got buzzy culture, gourmet snacks, vintage speakeasies, tony boutiques, and some great small museums.
6. Tourist Trap: The Moulin Rouge
Alternative: Opera Garnier or Opera Bastille
The Moulin Rouge once was a revered cabaret show. Now, it's just a campy and inauthentic tourist trap. There's lots of red velvet and fancy costumes. But the technical wizardry of the cabaret dancers is subpar, especially for the sticker shock price.
Paris is a city of culture. Why go to a tacky bordello-type show when you're there? Instead, head to the gorgeous Opera Garnier (the lair of the Phantom of the Opera) for a ballet or take in an opera at the Opera Bastille.
>>> Click here to book a skip the line ticket for the Opera Garnier
If you prefer classical music, head to the Philharmonie de Paris. Opened in 2015, it's the home of the Paris Orchestra. Designed by world-famous architect Jean Nouvel, its modern setting has become a sensation.
7. Tourist Trap: Palace of Versailles
Alternative: Grounds of Versailles or Another Chateau
Versailles is everyone's favorite day trip from Paris. But it takes all day, assuming you want to see everything on offer. And the crowds and lines are insufferable.
If you're visiting Paris, visit Paris. Only visit Versailles in the dead of winter.
If you really must visit Versailles, you don't necessarily have to tour the palace, although the vaunted Hall of Mirrors is, in fact, quite dazzling. The tour is a slap dash quickie affair with a lot of empty rooms on offer. Instead, you could opt for the quieter pleasures of the expansive gardens and Marie Antoinette's haunts — the Petit Trianon and the Hameau.
Better yet, if chateau hopping is on your agenda, book a guided day tour to Chateau Vaux-le-Vicomte or Chateau Fontainebleau. They're both much less crowded than Versailles. Or, try some of these off the beaten path day trips from Paris.
8. Tourist Trap: The Catacombs
Alternative: Conciergerie or Pere Lachaise Cemetery
The Catacombs is a subterranean necropolis with more than 6 million artfully arranged skeletons. While it is mildly interesting with a noir-ish haunting vibe, requires a ghastly long wait.
I can't believe anyone describes the Catacombs as a "Paris hidden gem." You can face queues of up to 2 hours or more.
I don't stand in line for anything in the world that long. (Except maybe an international flight.) And the Catacombs is mostly just endless piles of human bones. You're gawking at dead folks.
And not only does it take ages to enter, it takes an age to exit. If you want a gloomy Paris history lesson, be sure to splurge on a skip the line timed entry ticket. And they don't come cheap.
The audio guide is pretty decent. The stairs are long and narrow.
But, honestly, the Conciergerie is terrific alternative to the Catacombs, if you want a glimpse of Paris' dark past. There, you can re-live the French Revolution in an actual UNESCO site.
Perched on the Île de la Cité, the Conciergerie has had myriad incarnations. It's morphed from a medieval palace to a notorious pre-guillotine prison to a public museum. There's an exhibit about its most famous prisoner, Marie Antoinette.
>>> Click here to book a ticket to the Conciergerie with a histopad
Or, you can take the metro to Pere Lachaise Cemetery. It's the world's most visited cemetery.
Its appeal lies not just in death, but in the fact that it's a brooding aggregation of French culture. Hundreds of celebrities, writers, artists, and musicians are buried there. This is where you come to honor the brilliant minds.
9. Tourist Trap: Rue de la Huchette In The Latin Quarter
Alternative: Places des Vosges
Rue de la Huchette is a vaunted street in Paris' Latin Quarter. I honestly don't see the attraction.
To me, it's a tacky, busy, and over-touristed carnival. It's like going to a boardwalk district in Ocean City NJ. And the restaurants there are seriously unappetizing, crappy gyros and the like.
If you find yourself there, steer into nearby Rue de la Parcheminerie. The Latin Quarter isn't just one touristy street. The Latin Quarter is is the lively heart and soul of the left Bank — a tangle of medieval narrow streets with soulful asymmetrical architecture that seems alive.
Or, leave the area completely, grab some falafel in the Marais, and head to the elegant and quiet Places des Vosges. While there, if you're obsessed with Victor Hugo and the grandeur of Les Miserables, stop in at the Victor Hugo Museum (which is free).
>>> Click here to book a walking tour of the Marais
10. Tourist Trap: Seine Dinner Cruise
Alternative: Canal St. Martin
Don't do it. Paris is a culinary power house, so you shouldn't waste time on a Seine dinner boat cruise. You'll be served terrible reheated food.
Boat tours are definitely a lovely way to see Paris. But instead of a dinner tour, hop on a regular Bateaux Mouche tour.
Or, even better, take the Batobus, which is a boat service on the Seine with 7 stops. Unlike the Bateaux Mouche, you can hop on and hop off at your whim.
Or, even better, pick up goodies for a picnic on the Canal Saint Martin where the locals hang out. The Canal Saint Martin is a hip and vibrant area in the 10th arrondissement, filled with charm and street art.
You can also board a barge and blisffully float down the canal. If you're ready for a cocktail, try Le Comptoir General.
If the Seine is calling your name — as it calls everyone's — the Seine riverbanks are now perfectly usable. Paris is converting more and more of its embankments to pedestrian-friendly promenades.
On a nice day, the riverbanks are filled with skateboarders, cyclists, and pedestrians. Quite a few pop-up bars and cafes have opened along the river. It's worth a linger or stroll.
11. Tourist Trap: Rue Cremieux
Alternative: Colonnes du Buren at the Palais Royal
Rue Cremieux has been liked to death by Instagrammers. Rue Cremieux is regularly labelled one of Paris' most beautiful streets.
It's a small cobblestone street located in the 12th arrondissement, near the Bastille. The painted pastel facades of the private homes are pretty French macarons, reminiscent of Portobello Street in London.
But today, Rue Cremieux is a victim of its own success. It used to be a "secret place" few travelers knew about.
Now it's been discovered by color-loving, photo-op hungry Instagrammers. And they don't admire it quietly either, treating it like their own concert hall or yoga studio.
Residents are fighting back. They've started Club Cremieux on Instagram to showcase bad tourist behavior. And asked the city to close down their street to visitors in the evenings and on weekends, the busiest times for Instagrammers.
If you want a cool Instragram photo, there's another excellent spot — the Colonnes de Buren at the Palais Royal. The palace's Cour d'Honneur is the site of a futuristic art installation created by acclaimed French conceptual artist Daniel Buren in 1985-86.
The Colonnes were initially controversial, deliberately presenting a jarring contrast to the classically designed palace.
The installation is a dizzying walk-in structure of 260 black and white candy striped marble columns of varying heights. The installation is interesting and provides a photogenic backdrop.
12. Shakespeare and Company Bookstore
Alternative: Abbey Bookstore
Facing the Seine, Shakesapeare and Company is the most famous English language bookstore in Paris.
From 1921 to 1940, the bookshop was the stomping grounds of such esteemed novelists such as Hemingway, Fitzgerald, Gertrude Stein, and Ezra Pound. Irish writer James Joyce reportedly used the shop as his office.
These days, the bookstore is more of a tourist trap than a meeting place for the literary minded. It's always packed with tourists, with long lines even to get inside during high season.
Instead, head to the charming the Abbey Bookstore, another charming anglophone bookstore in the Hotel Dubuisson.
It sells new, vintage, and rare books, lovingly offered up in massive floor to ceiling piles. The bookstore also serves up coffee and the delicious smell wafts among the books.
You may enjoy these other Paris travel guide and resources:
If you'd like to avoid Paris tourist traps, pin it for later.