Planning a trip to southern France and wondering what to see and do?
Here's my guide to must visit landmarks and monuments in Southern France. This guide will particularly appeal to culture vultures and history buffs.
Southern France is a living history book. It's sheer perfection and just packed with some of Europe's best cultural attractions. You'll be in seventh heaven. I promise.
These must see landmarks are in the Provence and Occitanie regions of Southern France. They're naturally beautiful regions where the ever-present sunshine casts a luminescent glow on the historic goodies and crooked olive groves.
Two thousand years ago, southern France was part of Roman Gaul, so you'll get a heady sampling of ancient Roman ruins.
The region is also littered with UNESCO sites, doughty medieval fortresses, and towering cathedrals.
Ahhhhh! Je l'adore.
Southern France is so mesmerizing I can't wait to go back for another geographical cure.
In the meantime, I'm giving you the full scoop on all the best landmarks and places to go in southern France for history lovers.
From Toulouse to Avignon, it could take days or week to discover southern France. Hopefully, you've got a good chunk of time to soak in the sumptuous landmarks on offer in southern France.
Historic Landmarks And Monuments In Southern France
Here are my pick for 25+ must visit landmarks and attractions in the south of France. If you're wondering what to see in southern France, put some of these monuments on your bucket list.
1. Albi Cathedral, Albi
The historic town of Albi made the UNESCO list in 2010. It's crowning glory is Albi Cathedral, a must visit landmark in southern France.
The mighty Saint Cecilia Cathedral is a 13th century masterpiece of southern Gothic style. Built by the Bishop of Albi, it's a place of superlatives both inside and out.
It's knicknamed the "crucible of faith. It's one of the largest brick structures in the world. The fearsome exterior gives no hint of the extravagant art and craftsmanship inside the blue hued interior.
Like Albi Cathedral, the 800 year old Berbie Palace is an all brick affair with stout walls of extraordinary height and thickness.
Aside from the Pope's Palace in Avignon, it's one of the best preserved castles in France. The palace was formerly the residence of the Albi's archbishops.
You can visit Albi on a guided day trip tour from Toulouse.
2. Berbie Palace, Albi
The Berbie Palace is another imposing forties-like building in Albi. Built between 1277 and 1308, it was the home for Albi's bishops in the middle ages.
The structure has an imposing brick keep flanked by four towers. A second keep was added to house the Chapel offer Lady.
The palace also houses a museum dedicated to an artist you've likely heard of — Henri Toulouse-Lautrec.
The post-Impressionist artist was born and lived in Albi before he decamped to Montmartre in Paris to paint dancers at the Moulin Rouge and create his iconic art nouveau posters.
READ: Guide To Paris' Montmartre Neighborhood
But Toulouse-Lautrec didn't completely leave Albi. Some of his most seminal works are there, in one of the best single artist museums in Europe. At the museum, you get a comprehensive picture of his entire life and career.
3. Basilica Saint-Sernin, Toulouse
Toulouse is a feast for the eyes. It's a lovely, relaxing city with infinite restaurants, blushing churches, fascinating architecture, and a delicious regional cuisine.
READ: Guide To The Top Attractions In Toulouse
The city has a UNESCO site to boot, the Basilica Saint Sernin. The basilica is holy ground in Toulouse, a stop on the pilgrimage road to Santiago de Compostela, and a famous landmark in southern France.
The church is a magnificent well-preserved Roman basilica and one of the greatest churches in France. Built between 1080 and 1120, it's Toulouse's most ancient and defining landmark.
Saint Sernin is a fine example of Romanesque architecture in the characteristic Toulousian red brick, designed in a crucifix. The site houses the remains of its eponymous 4th century saint, Saint Sernin.
He met his death in gruesome fashion, when pagans tied him to a bull and dragged him down the Rue du Taur in 250 A.D.
READ: One Day in Toulouse Itinerary
4. Convent of the Jacobins, Toulouse
Founded in 1215, this monastery is a southern Gothic masterpiece. It's a prime attraction in Toulouse, and yet still an oasis of peace and quiet.
The convent was badly damaged during the French Revolution, but was restored in the 1950s. You can still see some of its 14th century frescos.
The adjacent church is exquisite and houses a column that resembles a "palm tree," called the "Palm of the Jacobins." It is an architectural wonder made up of a double nave and star-shaped vault under a massive column.
The convent also houses the relics of the philosopher Thomas Aquinas, sometimes called the Aristotle of Christianity. Each year on January 28, his feast day, a service is held honoring the saint.
5. Musée des Augustins
Set in a massive 14th century convent, the Musée des Augustins is Toulouse's finest art museum. It was definitely my favorite museum in Toulouse.
Musée des Augustins houses a treasure trove of Roman, Gothic, and Renaissance sculpture. And it has an eclectic cache of paintings from the 17th-20th centuries, including art by Rubens, Ingres, Delacroix, Courbet, and Rodin.
It even has a few prints by Toulouse-Lautrec, who was born in nearby Albi and is the region's celebrated son.
READ: Guide To the Toulouse-Lautrec Museum
The medieval cloister and garden are especially magical, surrounded by salons filled with evocative statues, sculptures, and gargoyles.
6. Citadel Of Carcassonne, Carcassonne
Carcassonne is a breathtaking sight that transports you to a 13th century fantasy world. With its towering structures, spiky turrets, sturdy walls, meandering alleyways, and surrounding moats, it truly captivates the imagination. This fortified city is unquestionably one of the top historic landmarks to explore in southern France.
For medieval enthusiasts, Carcassonne is like stepping into a dream world. The citadel boasts a remarkable double line of fortified walls that span nearly 2 miles, adorned with 52 watchtowers, each crowned with enchanting "witch hat" turrets.
Wandering through the town's medieval streets is almost mind blowing. It's no wonder that Carcassonne was granted UNESCO World Heritage status in 1997, recognizing its outstanding cultural and historical significance.
The citadel includes the Château Comtal, the central castle of the upper town dating from the 12th century with an amazing 31 towers. Cast your eyes to the roofline so you don't miss the gargoyles.
The Basilica of Saints Nazaire (Carcassonne's main church) also has lovely 12th century stained glass and stonework.
For the full scoop on this dreamy UNESO town, read my complete guide to Carcassonne. You may want to book a 2 hour guided walking tour to get the complete historical and archaeological backdrop.
You can easily visit Carcassonne from Toulouse. You may want to book a guided day trip tour. Or a half day guided tour that combines Carcassonne and the Canal du Midi.
7. The Canal du Midi, Carcassonne
Just across Carcassone's Pont Vieux sits the Canal du Midi, another UNESCO World Heritage Site.
The canal was a major 17th century feat of engineering, designed during the reign of Louis XIV to link the Mediterranean and the Atlantic.
You can stroll along the banks or take a guided boat tours. There's a quite nice 8 km circular walk of the River Aude, starting at the Pont Vielle in the medieval city.
If you've been besieged by tourists in Carcassonne, this is your chance to escape to the peaceful countryside with only the occasional jogger for company.
8. Cathar Castle Ruins, Lastours
The Cathars were a fastidiously monkish and zealously religious Christian sect. They believed that all earthly things (including themselves) were tainted and sinful.
The Cathars aspired only to the purity of early Christianity. They were outraged by the worldliness of the medieval papacy and its debauched Catholic clerics.
After a startling rise in Cathar popularity, the Catholic Church had had enough of the pesky rebels. In 1208, Pope Innocent III announced a crusade to eradicate them.
Led by the bloodthirsty Simon de Montfort, cross-bearing armies laid seige to the Cathars. They fought valiantly, but had a long and agonizing demise.
Evidence of the Cathar struggle can be found in the vestiges of their castles, sprinkled throughout Occitanie. The castles are all attractively perched on hilltops.
It's hard to visualize grizzly battle scenes when surrounded by such seductive mountain scenery. France embraces its Cathar past, and you'll see signs proclaiming that "You are in Cathar Country."
The village of Lastours boasts the best ruins, perched on a rocky spur of the Black Mountains. It's only 10 miles north of Carcassonne.
You you can hike up the incredibly steep gorge via a rugged mountain trail. Access was obviously not meant to be painless. But it's well worth the hike.
9. Arenes de Nimes, Nimes
The town of Nimes was founded as a Roman colony in the 1st century B.C.
Nime's centerpiece, and key reason for visiting, is its fantastic Roman arena.
The 20,000 seat Arènes de Nîmes was built in 70 A.D. It's a perfectly symmetrical two level stadium.
When first built, the arena hosted gladiator fights, animal chases, and even (shudder) executions. The walls had ingenious features, like trap doors and lifts for "performers."
This magnificent landmark in France looks great for its age. Nowadays, it hosts bullfights and concerts.
>>> Click here to book a walking tour of Nimes
10. Maison Caree, Nimes
While in Nimes, also check out the Maison Carree. It's a superbly preserved Roman structure known as the "square house."
The house was commissioned by Caesar's right hand man, Marcus Agrippa, circa 19 B.C. and built by an unknown architect. It's in the classic Vitruvian style, with elaborate Corinthian columns and decorative motifs.
READ: Nutshell History of Ancient Rome
You can book a 2 hour guided walking tour of Nimes historical center. You can also visit Nimes and the Pont du Gard on a guided day tour from Avignon.
11. Orange Amphitheater, Orange
Located in the Rhone Valley, Orange is not in and of itself a must see destination in southern France. But for history lovers, it is and you'll need a few hours. Besides, it's pretty charming.
Orange has both a Roman triumphal arch and the spectacular ruins of a Roman Theater you'll just love.
Because of their historical importance, they're both designated UNESCO sites. There's also an excavations of a Roman temple near the theater.
Louis XIV called the Orange Theater "the finest wall in my kingdom." Indeed, it's one of the greatest ancient Roman sites in all of Europe.
For four centuries, it was the main entertainment venue of Roman Orange. There's a large statue of Emperor Augustus center stage, just to remind you of his importance.
There's an opera festival held in the Orange Roman Theater every August. Not only is it used for operas, it's also used for rock concerts. What a venue!
And you can't miss Orange's Triumphal Arch. The triumphal arch was the official entrance to the Roman town and it's quite beautiful.
It was also built during Augustus' reign. It has a nice three arch bay and is decorated with military and naval themes.
You can visit the theater and other Roman sites on a guided day tour from Avignon.
12. Pont du Gard: UNESCO Roman Aqueduct
The mighty Pont du Gard is the most famous landmark in southern France. It's a surviving scrap of a Roman aqueduct that's a UNESCO site.
The aqueduct was an engineering marvle that originally took water from Uzès to Nimes. The aqueduct soars over the Gardon River and its dramatic gorge.
The aqueduct is massive, despite taking only 5 years to build. The bridge is 48.8 meters high, 275 meters long, and sports 52 arches.
Pont du Gard was the highest aqueduct in the Roman Empire. There are three tiers of arches, one on top of the other. You can only access the upper tier via a guided walk in July and August.
In late June, the temperature had soared to the mid-90s. So after our visit, we dipped our feet in the Gardon River to cool off. It's a popular place to swim as well. From the river, you have a great perspective view of the aqueduct.
You'll want to book a skip the line admission ticket. You can visit the Pont du Gard on a small group day trip from Avignon.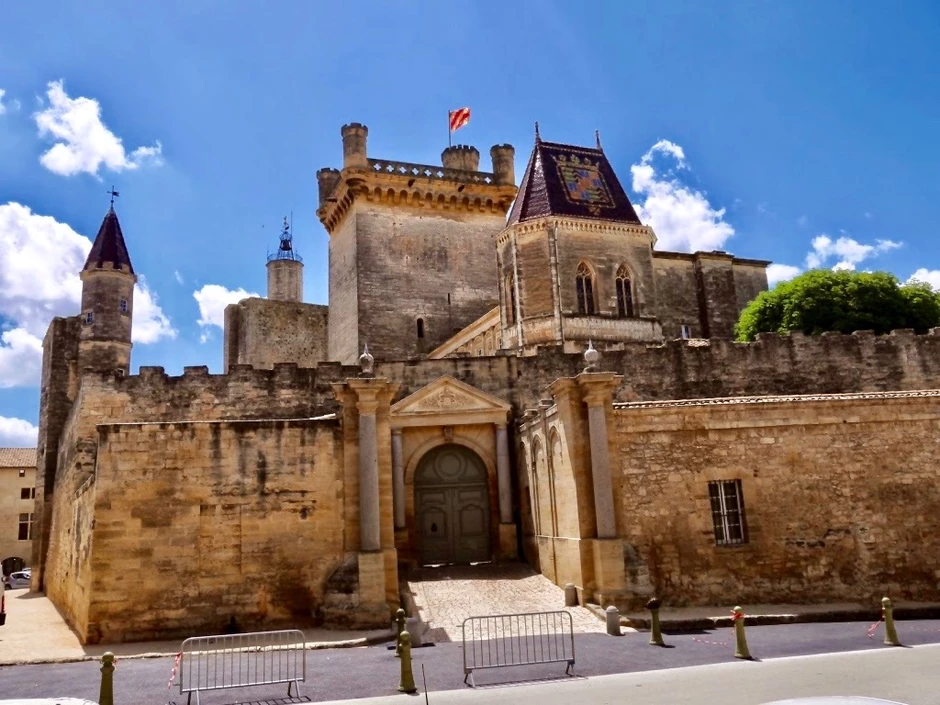 13. The Duke's Castle, Uzes
Uzès most dominant landmark is the medieval Duke's Castle, called the Duchy. It's a walled structure smack in the middle of the town, complete with turrets, that serves as the Duke's residence.
The dukes of Uzès have lived in the castle for over a thousand years. The present duke is #17. The castle serves as his summer home.
The castle's a bit of an architectural mishmash with a 12th century tower, Gothic chapel, and Renaissance facade. After the French Revolution, the castle was partly in ruins.
Beginning in 1951, the Marchioness of Crussol set about restoring the Duchy. The present Duke and Duchess of Uzes continue to renovate.
Tucked behind the Duchy is a modern recreation of Uzès' medieval gardens. From there, you can climb the King's Tower (100 steps) for a panoramic view. Your castle entry fee includes access to the viewpoint atop the donjon.
Here's my guide to visiting Uzes. You can visit Uzes and the Pont du Gard on a guided day tour from Avignon.
14. The Pope's Palace, Avignon
The Pope's Palace in Avignon is one of the most famous historic landmark in southern France. It's the largest Gothic structure in Europe.
The popes haven't always lived in Vatican City. From 1309-77, the popes lived in the enchanting riverside town of Avignon, rather than in Rome. That period was called the "Avignon Papacy."
This episode in history created drama akin to an HBO mini series. In the 14th century, Rome was in chaos. In 1309, Clement V moved to Avignon to escape the mess and for his own safety.
Thereafter, no pope wanted to leave. It's southern France, after all, and they liked their swishy digs. Upon the pleading of Rome, an elderly and more pliable Gregory XI finally moved "home" in 1377.
But the next pope was the mentally unstable Urban XI. The French cardinals rejected him, along with many European countries.
This led to a schism between France and Italy, a standoff where there were dual popes. Then there were deaths and poisoning and all matter of infighting until, finally, a single pope was agreed upon.
Today, you can tour the magnificent Palais des Papes (Palace of the Popes), where these rebellious French popes lived. The edifice was built in 1335-52 and is Avignon's main attraction.
The imposing facade resembles medieval fortified churches. You can gasp at the Pope's private apartments, frescoes, and the soaring chapel. And see what it actually looked like in the 14th century on a histopad.
Parking in Avignon is a nightmare. If your' driving, your best bet is to head straight to the parking garage in the Pope's Palace. The entrance is right outside the city walls.
You can book a guided walking tour of Avignon that includes skip the line tickets to the Pope's Palace. You can also book a 4 hour guided tour that covers both the old town and the palace.
READ: One Day in Avignon Itinerary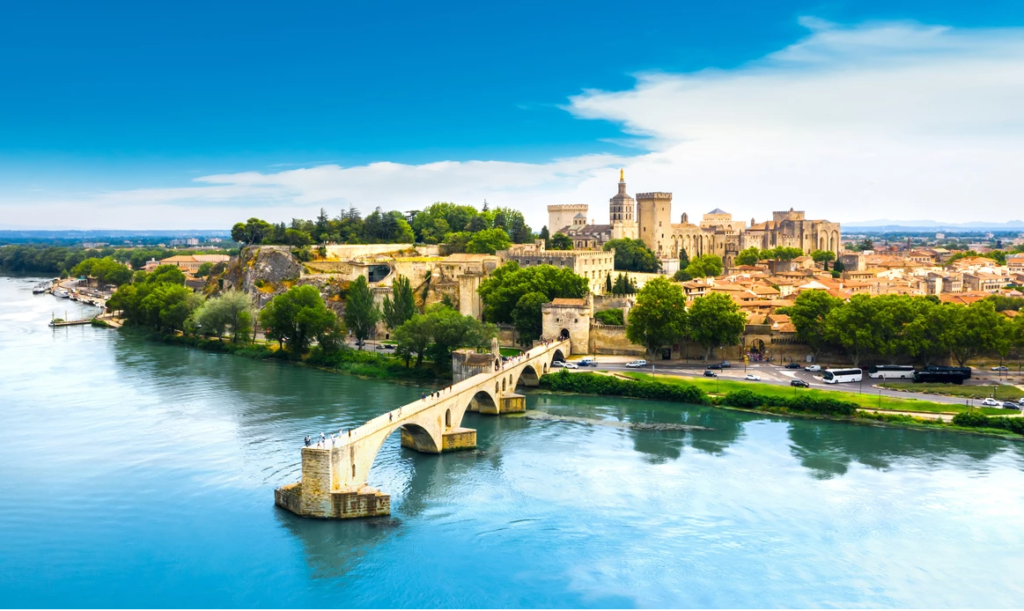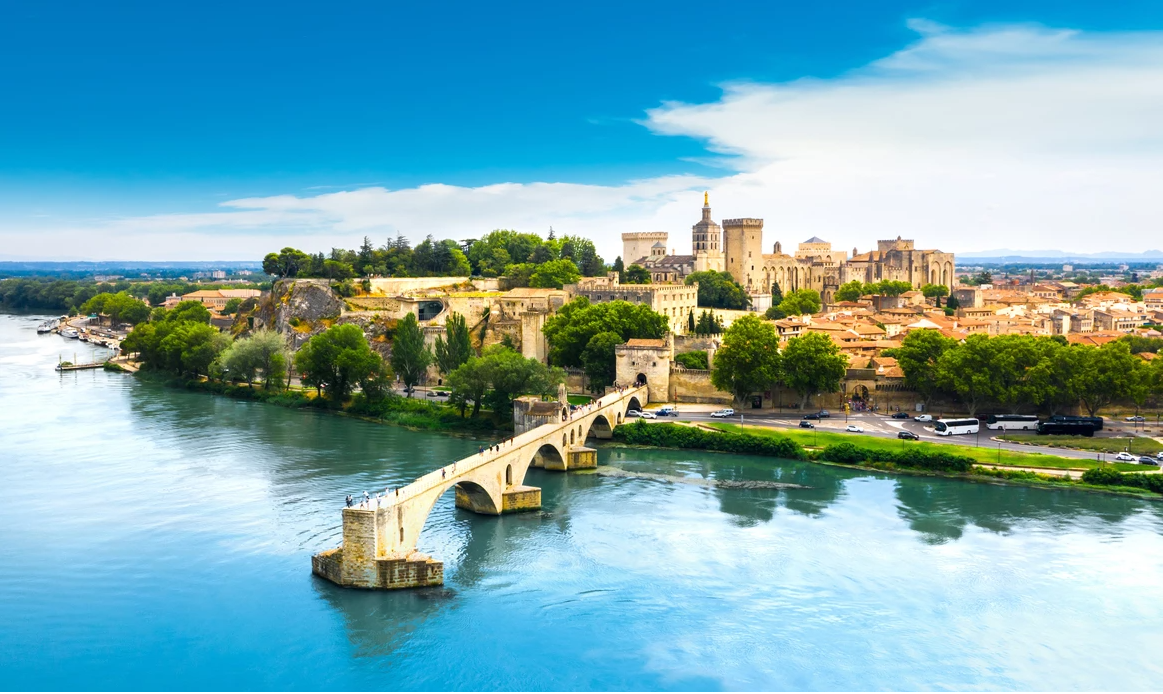 15. Pont Saint Benezet, Avignon
Pont Saint Benezet is the famous Avignon bridge that inspired the children's song. It's a UNESCO site as well.
Building began in 1177. In medieval times, the bridge was an important pilgrimage route for travelers going from Italy to Spain.
In 1226, Louis VIII of France laid siege to Avignon and destroyed the bridge. But the citizens rebuilt it.
But, over time, many of the arches were swept away due to flooding of the Rhone River. All that's left are four arches and a tower.
16. Roman Amphitheater, Arles
Arles is a fantastic and underrated UNESCO town in Provence, just brimming with historical treasures and Roman ruins.
Now that we've covered Arles' top cultural attractions, let's get down to the things that make Arles a UNESCO destination.
Like nearby Nimes, Arles' amphitheater was inspired by Rome's Colosseum and is largely intact. Built in the 1st century when Augustus reigned, the two tiered arena can hold up to 25,000 people.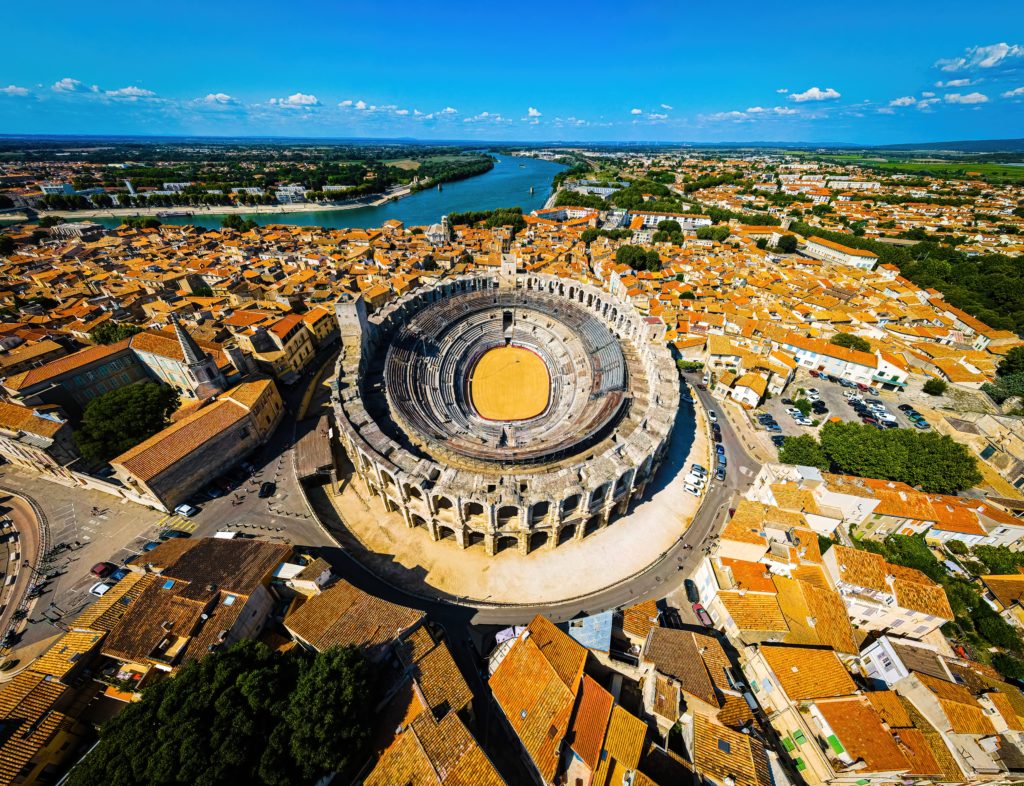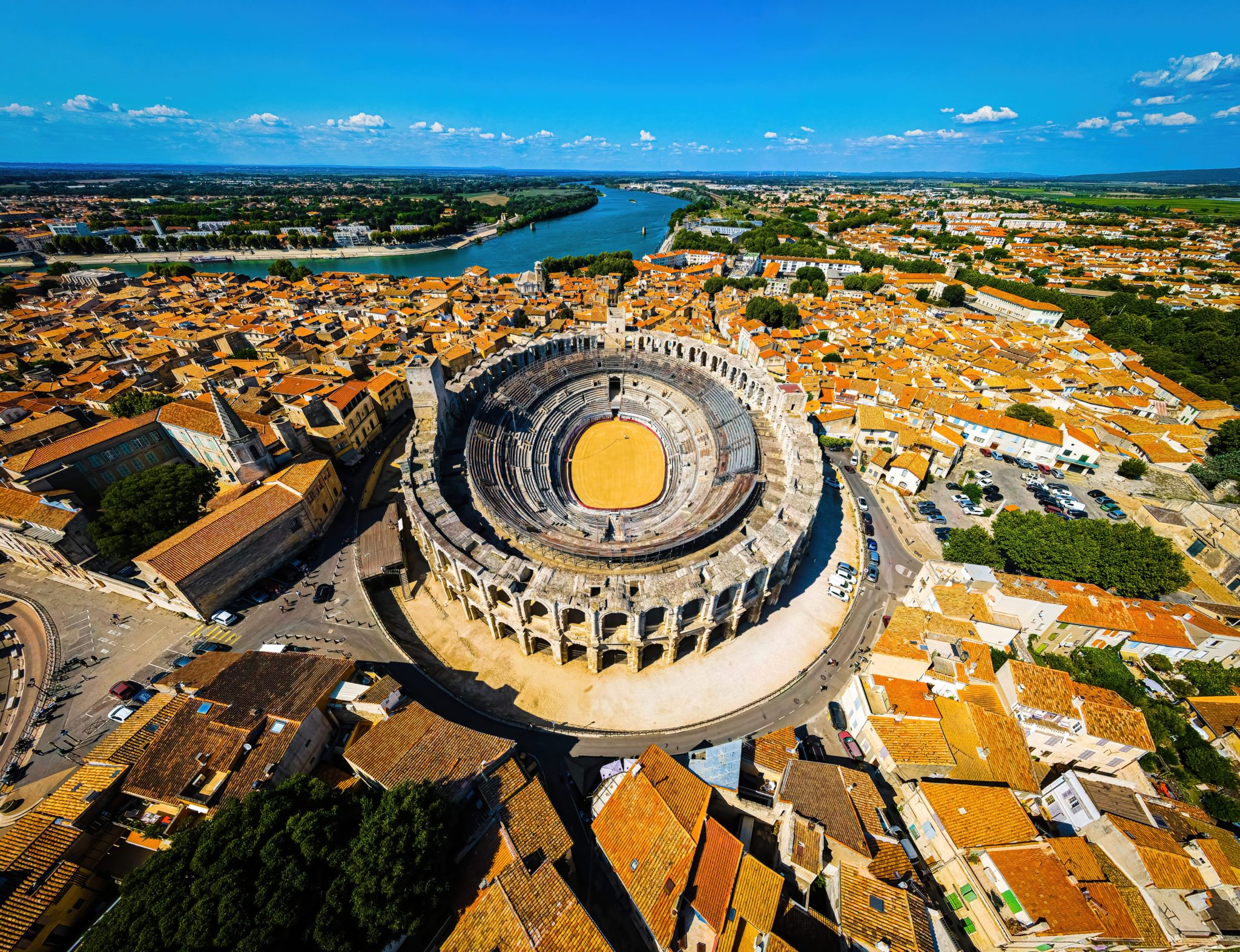 The amphitheater is beautifully preserved. Much of the structure's original architecture remains, including terraces, galleries, and the original Roman drainage system.
Today, the arena hosts spectacles and concerts befitting a cultural hot spot. It also features Camargue-style bull runs and controversial bullfighting, which while beloved by Picasso is controversial or illegal elsewhere in France.
You can book a guided walking tour of the city to see all its Roman ruins.
You can also visit Arles on a guided day tour of historic sites from Avignon. Or on a guided day tour from Aix-en-Provence.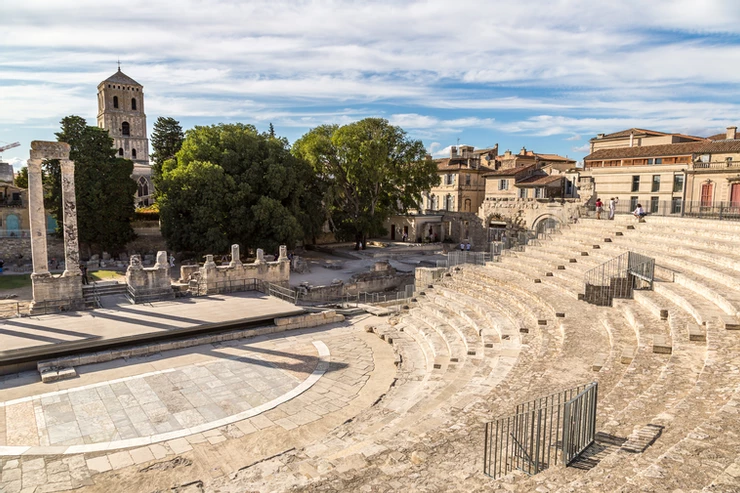 17. Roman Theater, Arles
Another top attraction in Arles is the Roman Theater in the Rue de la Calade.
Like the Arena, Arles' Roman Theater is of Augustian vintage. With seating for 8,000, it's as large as the famous theater in Orange France.
While I was there, I was lucky to witness a dance performance at night.
With the lights flickering across the roman stones and the few remaining pillars standing guard in the darkness, I felt catapulted back in time. It was exactly as affecting as it ought to have been.
18. Constantine's Baths, Arles
My next stop was the Baths of Constantine, which date from the 4th century A.D. and were part of the imperial palace of the Roman Emperor Constantine the Great.
Only a small part of the original site is excavated, but it is well-preserved and you can glimpse some of the engineering that supported it.
Roman baths were, of course, an important part of Roman public and social life and are now fittingly part of Arles' UNESCO classification.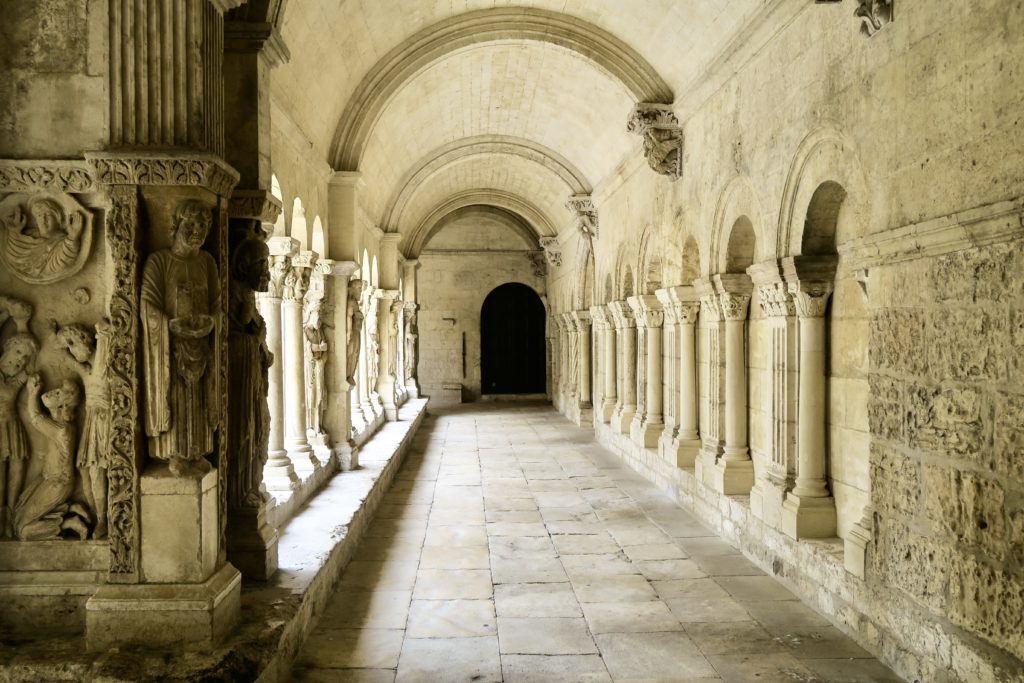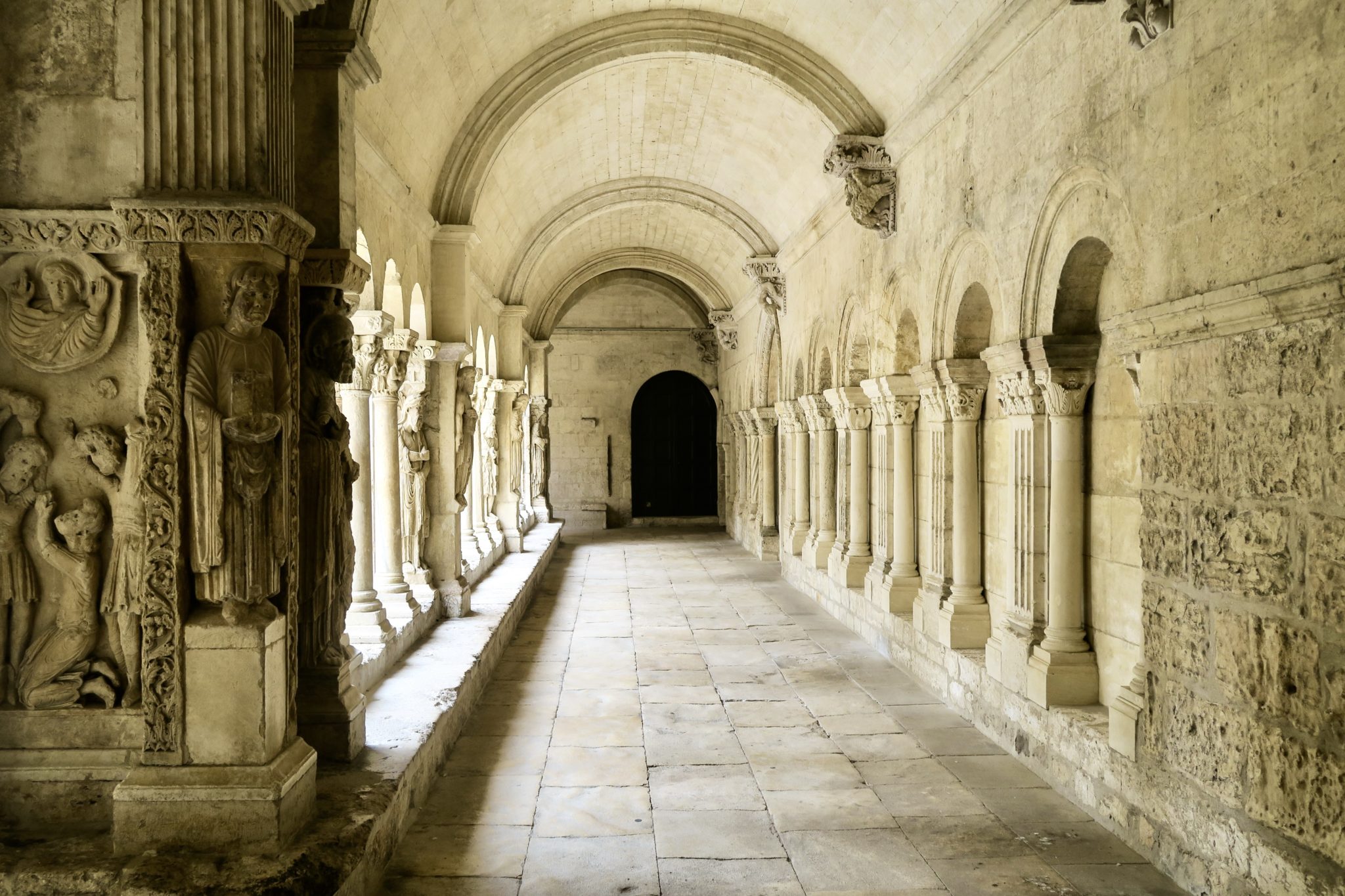 19. Eglise St. Trophime, Arles
When the Roman sites are a fait accompli, tucked away in the northeast corner of the Place de la Republique is the Eglise St.Trophime. The church is a remarkable example of medieval architecture
It was constructed over several centuries from the 12th to the 15th century. Recognized for its historical significance, it earned a spot on the UNESCO World Heritage list in 1981.
The church is distinguished by its intricately carved Romanesque portal. It depicts biblical stories through sculptural artistry. Inside, the atmosphere is austere yet adorned with remarkable details.
Among its notable features, St. Trophime houses an extraordinary collection of Romanesque sculptures, including a captivating piece that appears like an "approved public stoning." These sculptures showcase exceptional craftsmanship and artistic expression.
The church has been laser cleaned. That removing some of the time-worn grime that once added character.
The stunning cloister is exceptionally well-preserved. It offers a separate entrance for visitors and features informative displays to enhance your understanding and appreciation of its historical significance.
20. Les Alyscamps, Arles
Alyscamps is a famous tree-lined Roman necropolis a short distance outside the walls of the old town. It's near Jardin d'été, shadowed by the Chaine des Alpilles Mountains.
Dating from 241 BC, Les Alyscamps is a hybrid place, both a lichen covered stone cemetery for former aristocrats and a serene tree-lined promenade for those of more recent vintage.
During the middle ages, it was forbidden to bury the dead inside the city walls for religious and hygienic reasons. Cities like Arles created suburban "Aurelian Ways" lined with tombs just outside the city.
Alyscamps was the most coveted burial site outside of Rome. In fact, it became so popular that sarcophagi were shipped from around Europe to be interred.
Legend holds that Jesus Christ himself attended the burial ceremony of Saint Trophimus (the first bishop of Arles), leaving an imprint of his knee on a sarcophagus lid.
21. The Camargue
When I think of southern France, my mind immediately turns to enchanting medieval villages and bucolic lavender fields. I don't expect to see top notch wildlife. So imagine my surprise when I arrived in the Camargue.
I saw wild bulls and white horses galloping in the countryside and pale pink flamingos flapping their wings in the salt flats. Because of its biodiversity and natural splendor, the Camargue is on the tentative UNESCO list.
The Camargue is a river delta where the Rhône meets the sea, just 30 minutes outside Arles in Occitanie. It's an outdoor enthusiast's and birdwatcher's dream.
The Camargue is also a very off the beaten path destination in southern France. Visitors can hike, cycle, or ride horses in peace and quiet.
Or unwind by cruising the waterways. If you want to see thousands of flamingos, they're on the coast between Les Stes Maries and Salin-de-Girard. Boats leave from Les Stes Maries.
And don't forget the adorable villages. The fortified town of Aigues-Mortes is a must see site in the Camargue. It's a perfectly preserved example of 13th century military architecture.
After you explore this "living museum," head to the quaint town of Saintes Marie de la Mer. You can climb the ramparts for killer views over the Camargue.
To visit, you can take a guided 4 x 4 safari day tour from Arles. You can also book a guided tour that leaves from Avignon. You can also explore the Camargue on a fun guided e-bike tour with food and wine.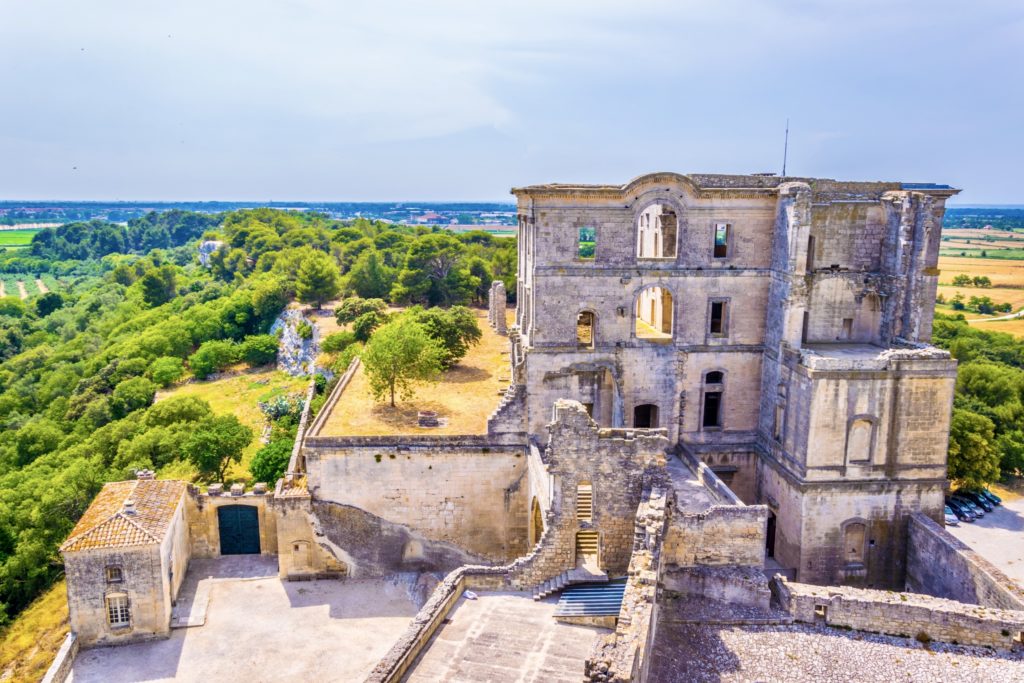 22. Abbey de Montmajour, Arles
Just 15 minutes northeast of Arles is the monumental Abbey de Montmajour.
The ancient Benedictine abbey was founded in the 10th century. It was built between the 10th and 18th centuries.
Because of the different building initiative, the abbey is an ensemble of a Roman cloister, Romanesque abbey church, a cave chapel, and a necropolis dug right into the rock.
In the Middle Ages, it was an important place of pilgrimage. Van Gogh was fascinated with the abbey and went there to paint.
23. Les Baux Castle, Les Baux In Provence
Les Baux is a popular spot, located in the heart of the Apilles Mountains and perched on a cliff. It's the second most visited site in southern France (after the Pope's Palace).
But don't let that put you off. If you want to avoid tourist clogged streets, go there in off season and spend a half day. Les Baux is tiny, after all.
Les Baux is home to a great medieval castle. It's now mostly in ruins, but the stone slabs are very atmospheric. And they remind you that Les Baux once fended off mauranding bands of medieval villains.
It was eventually destroyed by Cardinal Richelieu in the 14th century, when the fortress fell into rebel hands. The population of Les Baux dramatically declined afterward.
You can visit Les Baux as part of a Van Gogh-themed day tour from Aix-en-Provence. Or as part of a Provence sightseeing tour from Avignon.
24. Senanque Abbey
Situated right near the beautiful town of Gordes, the Notre-Dame de Senanque is a Cistercian abbey in Provence. Founded in 1148, some parts were destroyed in the Wars of Religion.
In 1988, a small group of monks returned. You can take a guided tour of the abbey church, cloisters, monks' cells, and the Chapter House.
The abbey offers a fascinating glimpse of the austere (yet serene) surroundings of the Cistercian monks, who led lives of asceticism, poverty, contemplation, and manual labour.
Pray and work was their motto. At the time, the monks were a great counterpoint to the excesses of the catholic church.
25. Roman Ruins, Vaison-la-Romaine
The hidden gem town of Vaison-la-Romaine in Provence has an upper medieval town and a lower Roman town — an efficient double dose of history.
Based in the lower city, the Roman part of Vaison-la-Romaine was discovered in 1907. It's the most important Gallo-Roman site in France.
The luxuriousness of the restored patrician villas reveal the Vaison was a prosperous Roman town. Don't miss the Maison Apollon, Maison Laure, or Maison Tonelle.
The villas were once filled with beautiful mosaics, mostly in geometric patterns. The most intricate ones are from the Peacock Villa. To learn more about Vaison's roman ruins, head to the Archaeological Museum, where you can also see the peacock tiles.
I also loved Vaison's 1st century antique theater, dating from 20 A.D. It was empty, so my travel partner impulsively took center stage and sang an aria. Talk about reliving history.
READ: One Day in Vaison-la-Romaine Itinerary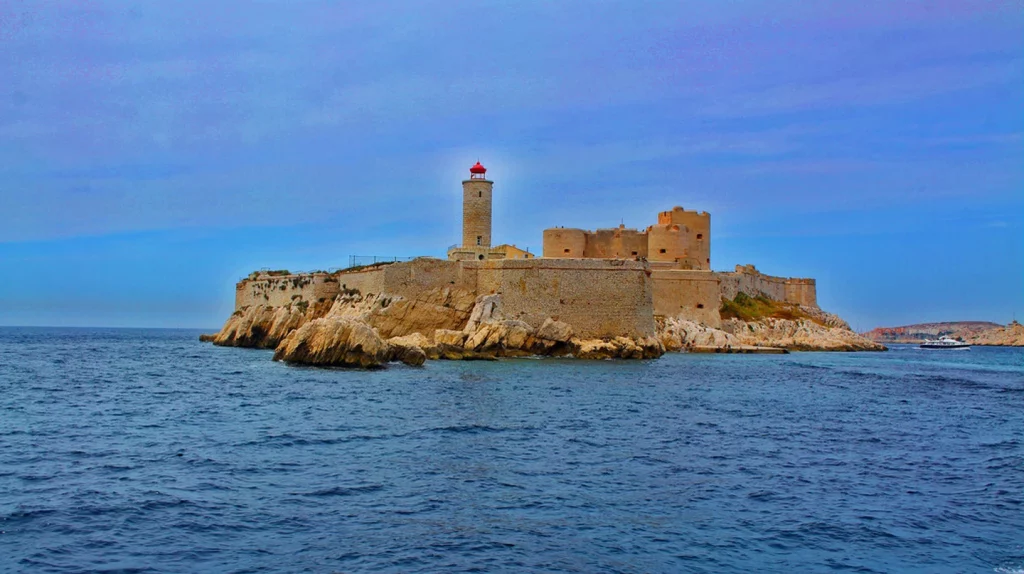 26. Chateau d'If
Château d'If is an old island prison off the coast of Marseilles. It was made famous by Alexandre Dumas in his classic novel, The Count of Monte Cristo. It's where his hero, Edmond Dantès, was wrongly imprisoned for years.
Construction began in 1524 and finished in 1531. It has three storeys, built in the shape of a square. It's protected by towers, with cover for archers and guns.
But the design wasn't conducive to military use. So the chateau was converted to a prison.
I hope you've enjoyed my guide to the must visit landmarks and monuments in Southern France. You may enjoy these other France travel guides and resources for France:
If you'd like to visit historic landmarks and attractions in southern France it, pin it for later.