"When everyone else is losing their heads, it is important to keep yours." — Marie Antoinette
Fascinated with Queen Marie Antoinette? Here's my guide to the Marie Antoinette Trail in France.
It gives you an overview of her life. And you'll discover all the sites and attractions in and around Paris that are associated with the infamous queen.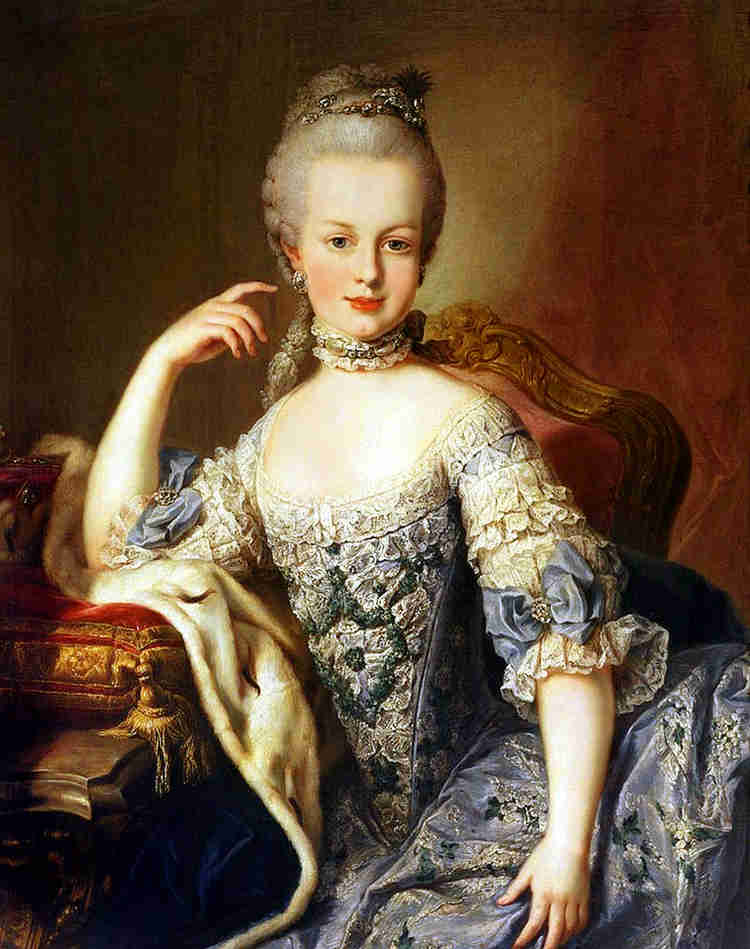 Some of them are in the heart of Paris. Other sites are easy day trips from Paris. They're all fascinating and well worth your time.
I used to think that Marie Antoinette was the instrument of her own failure. A privileged, tone deaf dumb dumb in a pretty dress. And I still think that to a degree.
For many years, she was a hedonistic, luxury-loving, superficial shopaholic. She did some crazy things. But that's not all she was.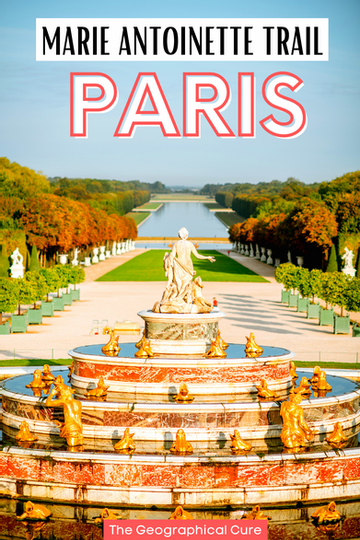 Marie Antoinette: Scapegoat Queen or Dimwit Hedonist?
Marie Antoinette was also a young girl trapped in the viper pit of the French court, bored by a loveless marriage.
She was an unintentional and conspicuous celebrity at a crucial time in French history. When revolutionary fever was in the air and the exalted notion of absolute monarchy was about to vanish.
In the image wars of the time, Marie Antoinette's reputation was exaggerated and weaponized. In a nasty bit of propaganda, she was relentlessly slut-shamed.
She was touted, French flags waving with vicious righteousness, as the sole cause of the starvation and poverty of the working class.
A fairy tale life turned into tragedy, Marie Antoinette was guillotined in 1793 on false charges. But she held her head high during the horrific deed.
Maybe that's why she fascinates us. Marie Antoinette was full of faults, as are we all. But she was also manipulated — a victim of unforgivable slander, sexism, and misogyny.
We empathize with her plight. Perhaps we're relieved we've escaped such a tragic fate. Or perhaps we haven't.
In this guide, I give you a sneak peak at Marie Antoinette's eventful, helter-skelter life in Paris. And I give you a tour of all the Marie Antoinette sites in and around the capital of France.
They're beautiful and intriguing places. For history or palace lovers, many are must see sights on your Paris itinerary.
Short Biography of Marie Antoinette
Marie Antoinette was born in 1755. She grew up in the swishy Schönbrunn Palace, the summer pad of the Hapsburgs.
There, she received early lessons in the ways of the rich and privileged.
READ: 3 Day itinerary for Vienna
At 14, still a young innocent, she was packed off to France to marry the best catch in Europe and heir to the French throne, Louis Auguste, later Louis XVI.
They married in the Royal Chapel of Versailles.
1. The Teen Queen
For all her privilege, her troubles started early. Louis wasn't her Prince Charming.
In fact, he was her polar opposite. Where she was charming, bubbly, and graceful, Louis was introverted, insecure, and awkward.
Even worse, Louis had psycho-sexual problems. They didn't consummate their marriage for 7 years, a situation which was largely blamed on Marie Antoinette.
The poor girl was also homesick. She was adjusting to the back biting rituals of the French court. Austria was a backwater by comparison.
At first, all was relatively well. People were charmed by Marie Antoinette. When she was 19, Louis was crowned in Reims Cathedral.
But her ineffectual husband didn't really want to be king. He distracted himself from his distasteful royal duties by hunting and ignoring his comely wife.
This didn't sit well with Marie Antoinette. Who would like it?
Bored, she looked for something to fill her life. With stars in her eyes, she became caught up in the pleasures of Paris — masked balls, the theater, the glamorous Paris Opera scene, and gambling.
She became a fashion icon. But her new gowns and gambling debts took a toll on the Royal Treasury.
She finally consummated her marriage (with helpful advice from her visiting brother) and had a children (she would have 4).
She also holed up in the Petit Trianon, a small chateau that was Louis' gift to her, to have some much needed alone time. It became a more intimate, parallel court.
But a queen was supposed to be 24/7 in the public eye. So that set the gossips chattering.
2. The Scandal of the Century: the Affair of the Diamond Necklace
When you're a woman, things you like get used against you.
Marie Antoinette's high profile hijinks, runaway spending, gambling debts, and her love of the Petit Trianon ignited unwelcome gossip. She was nicknamed "Madame Deficit" for her seemingly careless greed.
Cloistered in Versailles, Marie Antoinette was rather oblivious to the moniker or its derivation. She had no clue that the vast majority of French people were feudal peasants, hopes crushed by the king's high taxes, with no social mobility.
Aside from her spending addiction, there were rumors that Marie Antoinette had a long term affair with a Swedish count, Axel de Fersen.
Historians have long debated the nature of their mysterious relationship. There's still dissent, despite some decoding of love letters. Was it a true romance or platonic admiration?
In any event, Marie Antoinette had enemies at court and the situation was rife for wagging tongues and other villains.
Enter: the con job of the diamond necklace, a piece of jewelry that Marie Antoinette never wanted and never owned.
A Paris jeweler created a 2800 carat diamond necklace, a very hideous one in my opinion. He hoped that Louis XV would purchase it for his last mistress, the infamous Madame du Barry.
Louis XV died, and the jewelers appealed to Louis XVI to purchase the atrocity. Marie Antoinette refused the necklace, wanting to save the cash for the French navy.
Enter: a swindler, taking advantage of Marie Antoinette's reputation as an acquisitive powdered dandy.
The con artist and prostitute Jeanne de Lamotte Valois hatched a plot. She approached an out-of-favor cleric, Cardinal de Rohan, in an evening tete a tete, disguising herself as Marie Antoinette.
LaMotte asked him, very sweetly, to purchase the necklace discretely for her. Wanting to curry favor, the cardinal secured the necklace from the jeweler and handed it to the "queen's" footman, LaMotte's lover in disguise. The duo fled to London and sold the necklace for parts.
When the first payment came due, there was shock. Marie Antoinette denied any knowledge of the exorbitant necklace.
Louis XVI was furious. He put the cardinal on trial.
But, in a direct slap in the face to the queen, the cardinal was acquitted. The necklace forever became known as "the Queen's necklace," a supposed sign of her avarice.
3. The Public Image Wars
The affair of the diamond necklace only further stoked revolutionary zeal and anti-royal sentiment.
Marie Antoinette was blamed for France's woes and deliberately targeted. Historian Robert Darnton wrote that the ensuing defamation had "no parallel in the history of vilification."
Marie Antoinette was labeled a wanton slut who had a "fury in her uterus." She was erroneously attributed the famous "let them eat cake" epithet.
And it wasn't just words.
Gossip was reinforced with printed libel. Smutty cartoons that were effectively political pornography were circulated widely.
In 1000s of anti-queen pamphlets, Marie Antoinette was graphically illustrated having illicit relations, group sex, and any perversity the revolutionaries could invent.
The message to the masses was that France's ruin was due to the debauchery and decadence of a woman. By extension, her villainy reflected poorly on Louis, who was already viewed as an impotent king, in more ways than one.
It was the revolutionaries' an all out attack on the ancien régime, with Marie Antoinette as the proverbial sacrificial lamb.
4. Arrest, Trial & Death
Marie Antoinette was now the most hated woman in France. All that was left was to imprison her in a cage.
On July 14, 1789, the Bastille, a fortress prison in Paris, fell to an angry mob. Marie Antoinette and Louis XVI tried to escape to Austria in 1791. But they were caught near the border and taken to Paris.
They were confined in the Tuileries Palace, the royal residence that once formed the western side of the Louvre. (The palace is long gone, but you can still stroll in the lovely Tuileries Garden.)
For the next two years, their presence became the object of revolutionary fury.
The Declaration of the Rights of Man and of the Citizen was enacted. Still, some architects of the revolution, like Robespierre, Desmoulins, and Danton, were not satisfied. These extreme Jacobins wanted the Ancien Régime utterly eradicated.
Egged on by Marie Antoinette, Louis XVI refused to accept a constitutional monarchy. He secretly plotted counter-revolution.
This was perhaps Marie Antoinette's biggest error and worst flaw. She couldn't let go of the deeply ingrained notion of absolute monarchy. It backfired.
Louis XVI was tried for treason and sentenced to the guillotine on January 21, 1793. In August 1793, Marie Antoinette was indicted.
The charges read like the libelous pamphlets. She was accused of treason, adultery, sexual deviancy, and corruption. Even incest with her son.
Pending trial, she was stashed in the Conciergerie for 10 weeks. It was a gloomy, moldy dungeon. The public would bribe jailers to have a peak at the famous prisoner.
Marie Antoinette's show-trial began in October. She was sentenced to death by guillotine.
Her hair was shorn. She was taken to the Place de la Revolution and publicly beheaded.
Marie Antoinette became a symbol of the revolution. But she wasn't the cause of the revolution. France was in dire financial straits before her reign.
And it's involvement with the American Revolution was expensive and only sowed a desire for independence at home.
Now, Marie Antoinette is viewed as a complex and dramatic figure in French history. She's no longer just a notoriously decadent queen.
She's also a symbol of someone unjustly accused, whose life was hijacked and manipulated by the patriarchy. The revolutionaries didn't care who she actually was. They just used her to advance their agenda.
Where To Find Marie Antoinette Sites In And Around Paris
Now that you've had the whole historic backdrop, are you in the mood to see Marie Antoinette's stomping grounds in Paris?
They're incredibly interesting, a testament to her exalted life and her unjustified demise. Here are 8 Marie Antoinette related attractions in or near Paris.
1. Versailles
The UNESCO-listed Palace of Versailles was once the center and cultural heartbeat of Europe, until the French Revolution.
Versailles is massive, flashy and very, very gold. The opulence is overwhelming. Even the bathrooms are gold-plated.
As exemplifies the Baroque style, the palace was decorated with gilding, stucco, arabesques, frescoed vaulted ceilings, mirrors, and tromp l'oeil effects.
I'm just going to focus on Marie Antoinette's association with Versailles. She lived there from 1770-89.
The Queen's Apartments consist of the Queen's Bedroom, the Nobles' Room, the Royal Table Antechamber, and the Queen's Guard Room. They were recently renovated beginning in 2016 and are now back open to the public.
The Queen's Bedroom was not exactly private. Marie Antoinette received her "toilette" there, suffering through a public display in accordance with the royal court's strict etiquette. She greeted friends and visitors there as well.
Marie Antoinette also gave birth to her children in her boudoir. Legend holds that the queen nearly suffocated because so many people pressed in to see her first daughter.
Marie Antoinette hated the adjacent Nobles' Room she inherited. It was decorated in a gaudy Louis XIV style. She redecorated it all, except for the ceiling. Mahogany and green damask were her replacement theme.
Marie Antoinette's Antechamber was used for dining. She and the king only used it once a week, contrary to prior practice, because they preferred private dinners. It was restored in 2009-10.
In the Queen's Guards Room, 12 guards were on duty day and night, guarding the Marble Staircase and monitoring entry to the Queen's Bedroom. Marie Antoinette never spent time here, so didn't bother to redecorate.
But it was in the Guards Room that she almost met her end for the first time. On October 6, 1789, rioters entered the Queen's Chambers. Marie Antoinette escaped to the King's Apartments. But the rioters put pitchforks through the bed.
Marie Antoinette loved the Gilded Room. She had her trusty architect, Richard Mique, redecorate it for her. It bears her classic wood paneling with imbedded and encrusted flourishes.
Click here to book a skip the line ticket to Versailles. You can also book a guided day tour from Paris.
Address: Place d'Armes, 78000 Versailles
Hours: Tues to Sun 9:30 am to 6:30 pm
Getting there: Trains leave from Gare Montparnasse and Gare Saint Lazare in Paris
2. Petit Trianon at Versailles: Marie Antoinette's Crash Pad
After the glitz and opulence of Versailles, the Petit Trianon is a breath of fresh air. Really. It has a sort of discrete charm.
In fact, unless you particularly love palaces, I recommend that you visit the Petit Trianon and the Hamlet on a day trip from Paris in lieu of the main palace, for a more crowd free experience.
Built in 1762-68, the chateau Petite Trianon was originally a gift from Louis XV to his mistress Madame du Barry.
When Louis XVI inherited it, he re-gifted it to Marie Antoinette. "This pleasure house is yours," he told her.
You can feel the spirit of Marie Antoinette at every turn. She said: "When I at Trianon, I am myself." It was here that Marie Antoinette took her geographical cures, escaping from constrained court life.
In culture vulture style, she completely redecorated the tiny palace. It bears her distinctive decor and ornamentation — ornate floral motifs run amuk in cornflower blue, lilac, and green.
Marie Antoinette didn't want the glitz of Versailles. She wanted a picturesque escape.
In one room, you'll find Marie Antoinette's exquisite harp. She wasn't the sharpest knife in the drawer.
But she was musically gifted, playing well enough to accompany Antonio Salieri, the Austrian composer and Mozart rival who visited her court.
There's also Marie Antoinette's infamous pale blue boudoir with mirrored interior shutters that the queen could raise and lower at will.
People imagined mirrors surrounding a bed for secret trysts, but the queen was just trying to dissuade curious eyes.
Whatever trysts there were at Petit Trianon did not include Louis. He spent not a single night at the Petit Trianon, and was on invitation only basis. Although he did occasionally pop by to row boats on the pond.
Address: Place d'Armes 78000 Versailles
Hours: Daily 12:00 pm to 6:30 pm, closed Mondays
Entry: 12 € for an Estate of the Trianon ticket
Getting there: It's a 20-30 minute walk through the gardens from Versailles.
3. The Queen's Hamlet or Hameau de la Reine at Versailles
Not content with just the Petit Trianon, Marie Antoinette hired two architects to create a pastoral fantasy for her.
On the surface, the resulting Hamlet appeared to be a rural hamlet of crackled tumbledown cottages and wisteria vines. The countryside was fashionable at the time. But inside, the cottages were decked out.
Though it does represent the frivolous side of Marie Antoinette, the Disney-esque Hamlet is still a lovely retreat.
Critics say she was "playing" peasant or milkmaid, but that's unclear. She may have just enjoyed living and strolling in the bucolic settings with her children.
There are three distinct spaces of the frivolous but lovely Hamlet.
The first is the Queen's quarters consisting of cottages whose rustic exteriors concealed fancy interiors.
Second, there were the agricultural buildings — the barn, the dairies, the fisherman's cottage, and the guard house.
Third, there was the farm area, including stables, a pig sty, a sheep pen, and a hen house. The farm was destroyed by Napoleon in 1810-12, but recreated in 2006.
Address: Chateau de Versailles, 78000, Versailles
Pro tip: Wear good shoes
4. Chateau de Fontainebleau
Less than an hour from Paris lies the stunning Chateau de Fontainbleau, which is a UNESCO site. To me, Fontainebleau is a vastly more fun day trip from Paris than the over-touristed Versailles.
The chateau boasts 800 years of royal patronage. The NYT calls Fontainbleau "the single greatest assemblage over time of French architecture and décor still in its original state."
Fontainbleau is grand, but not as coldly opulent as Versailles. Protocol was more relaxed here. Marie Antoinette enjoyed Fontainbleau. She left her mark on two rooms in the chateau.
READ: 30 Best Chateaux in France
The first is the Turkish boudoir, her private bedroom, built in 1777. It was inspired by the Orient, a decorative fad at the time.
Here, Marie Antoinette would entertain an inner circle of friends, enjoying her private retreat from court life amid burning incense.
It was recently restored to its original glory. The chateau says the textiles and upholstery were the "work of master goldsmiths."
You can only visit the Turkish boudoir on private guided tours.
The other private space Marie Antoinette created is known as the "silver boudoir." It doesn't have the exotic style of the Turkish Bedroom, but it's also rich in details.
It has a more classic design, with a heavy use of inlaid mother-of-pearl. You can see this room on the self-guided tour of the royal apartments.
Click here to book a skip the line ticket to the chateau. You can also visit on a guided day tour from Paris.
Address: 77300 Fontainebleau, France
5. La Conciergerie
The Conciergerie fortress was Maire Antoinette's gloomy prison after her arrest. It was built in the 6th century. I think it's one of Paris' hidden gems.
The Conciergerie was the residence of Clovis, the first King of France, and used to be a royal palace. Today's version of the Conciergerie dates from 1200.
In the 14th century, the kings and queens of France abandoned the gloomy Gothic palace and decamped for brighter digs.
When King Charles V, the last royal resident, moved out, he appointed the first "Concierge" and renamed the building La Conciergerie.
The Concierge oversaw the police and supervised the prisons. During the Reign of Terror after the revolution, "enemies of the people" were imprisoned without trial and duly "sentenced." The verdict was either innocent or death, no murky middle ground.
The Conciergerie became the "antechamber of the guillotine," the last stop before people were marched to the Place de la Concorde and decapitated. Its stunning and atmospheric vaulted ceiling in the Hall of Soldiers, the Salon des gens d'armes, was declared a UNESCO site in 2006.
Downstairs, there's an exhibit featuring Marie Antoinette, the Conciergerie's most famous prisoner. It's decidedly unsatisfying and not "her cell."
It's a rather kitschy memorial, a reconstructed staging of her cell with her posed in a long black veil. It's not the real deal.
The actual cell was demolished and is now an expiatory chapel, so it's been altered as well. I wish the actual cell had been left intact.
Click here to book a skip the line ticket that also includes entry to Sainte-Chapelle.
Address: 2 Boulevard du Palais 75001 Paris
Entry fee: 11.50 €
Hours: Open daily, 9:30 am to 6:00 pm
Metro: line 1, station Châtelet, line 4, stations Saint-Michel or Cité, lines 7, 11 and 14, station Châtelet
6. Place de la Concorde
The Place de la Concorde has a sordid history indeed. It's the largest square in Paris, located between the Champs-Élysées and the Tuileries Gardens.
But during the revolution, the Place de la Concorde was the home of the blood-stained guillotine. In 1792, revolutionaries tore down the statue of Louis XV in the square and renamed it the Place de la Revolution.
During the Reign of Terror, Robespierre used the guillotine so frequently, that legend holds that ankle deep blood ran in the square. More than 1200 people were executed there.
In 1836, a massive Egyptian obeslisk was placed in the square, a gift to the French government from Egypt. In the 1830s, two fountains were added.
Today, the Place de la Concorde is the finish line for the Tour de France bike race.
7. La Chapelle Expiatoire
The Expiatory Chapel lies in Paris' 8th arrondissement, in the Square Louis XVI, off Boulevard Haussmann.
It's on the site of a mass graveyard from the French Revolution, where Marie Antoinette's and Louis XVI's bodies were unceremoniously thrown after their executions.
In 1814, the monarchy was restored. In 1815, Louis XVIII, Louis XVI's brother, commissioned a chapel. It was erected in memory of Marie Antoinette and Louis XVI.
The chapel was intended to represent France's atonement for regicide. In 1914, the chapel was listed as a Historic Monument.
Built by Francoise Leonard Fontaine, the chapel is neo-classical in style. Inside, there are sculptures of the royal couple. Marie Antoinette is shown kneeling to religion.
You can also read etched versions of Louis XVI's will and the last letter written by Marie Antoinette, though the latter is of disputed authenticity.
Address: 29 rue Pasquier, 75008 Paris
Hours: Open all year on Thurs, Fri, and Sat from 1:00 pm to 5:00 pm
Entry: Adults 6 euros, under 18 free
Pro tip: The chapel is a 10 minute walk from the more famous Église Madeleine
8. Basilica Cathedral Saint-Denis
Just outside the Paris city limits lies a completely overlooked hidden gem in Paris — the fantastic and sorely underrated Cathedral Basilica de Saint-Denis.
It's downright astonishing that there aren't more tourists there. Really, I don't say this lightly. It's a French national treasure.
Saint-Denis is the birthplace of Gothic architecture. It heralds Europe's transition from a clunky Romanesque style to a more elegant Gothic one. It's one of the most historic and religiously important buildings in Paris.
Saint-Denis is the preferred burial site of French royalty, showcasing the death styles of the rich and famous.
It's a museum of monumental French religious sculpture. More importantly, it holds the funeral effigies of Marie Antoinette and Lousis XVI.
They were commissioned by Louis XVIII in 1815, no doubt to put an exclamation point on the Bourbon Restoration.
The effigies are supposed to be quasi likenesses. Marie Antoinette's face appears similar to contemporaneous portraits.
But her hair is way too curly and her dress is from the 19th century. She seems to be leaning toward her husband, signaling the closeness of their marriage in its later years.
When you're done with the main nave of Saint-Denis, venture into the dimly lit Romanesque crypt. Parts of the crypt survives from the 8th century. You'll find the tombs of St. Denis (possibly) and the Bourbon Chapel.
The Bourbon Chapel is open to the public. It holds the remains of the kings and queens that were tossed into the open cemetery during the revolution.
With few exceptions, the bodies couldn't be identified. They were placed in an ossuary, which is marked by a black plate in the crypt.
Click here to book a ticket to the basilica.
Address: 1 rue de la Legion D Honneur, 93200 Saint-Denis, France
Hours: Open Apr 1 to Sept 30: Mon to Sat from 10:00 am to 6:15 pm & Sun from noon to 6:15 pm. From Oct 1 to Mar 31: Mon to Sat from 10:00 am to 5:15 pm & Sunday noon to 5:15 pm
Entry fee: Entry to the main nave is free. Access to the tombs and crypt is adults 9.5 €
Metro: Gare Saint-Lazare and the Champs-Élysées
Pro tip: It's cold inside, even in the summer.
I hope you've enjoyed my guide to the Marie Antoinette trail in France.
Though vilified, she ultimately decided that there was more to life than big hair and diamonds.
Re-tracing her steps in Paris is a romantic endeavor, drawn from a romantic and compelling historical time.
You may enjoy these other Paris travel guides and resources:
If you'd like to follow the Marie Antoinette Trail in Paris, pin it for later.