If you want to immerse yourself in the history and romance of Montmartre, there's no better place than the Musee Montmartre. This is the ultimate guide to what to see in this charming art and history museum, which takes you back in time to the Belle Époque.
The Montmartre Museum is housed in an atmospheric 17th century manor house, the Maison Bel Air. It's the oldest house in Montmartre.
It was built in the middle of the 17th century and restored in 1959 to house the museum. Opened in 1960, the museum is away from the tourist throngs and feels closer to the time period that it documents.
The museum chronicles the raucous, bohemian history of pleasure-seeking Belle Époque Paris, which lasted from 1870-1914. In the nightclubs and brothels of Montmartre an extraordinary artistic revolution was fermented.
It was a time when artists like Pissarro, Picasso, Toulouse-Lautrec, Van Dongen, Utrillo, and Modigliani lived and worked in Montmartre and paved the way for modern art. Back then, they were impoverished, but now their canvases sell for millions.
The museum has over 6,000 works of art in its permanent collection and it puts on some wonderful exhibitions. It has a beautiful inner garden, a reconstructed artist's atelier, and overlooks Montmartre's last vineyard.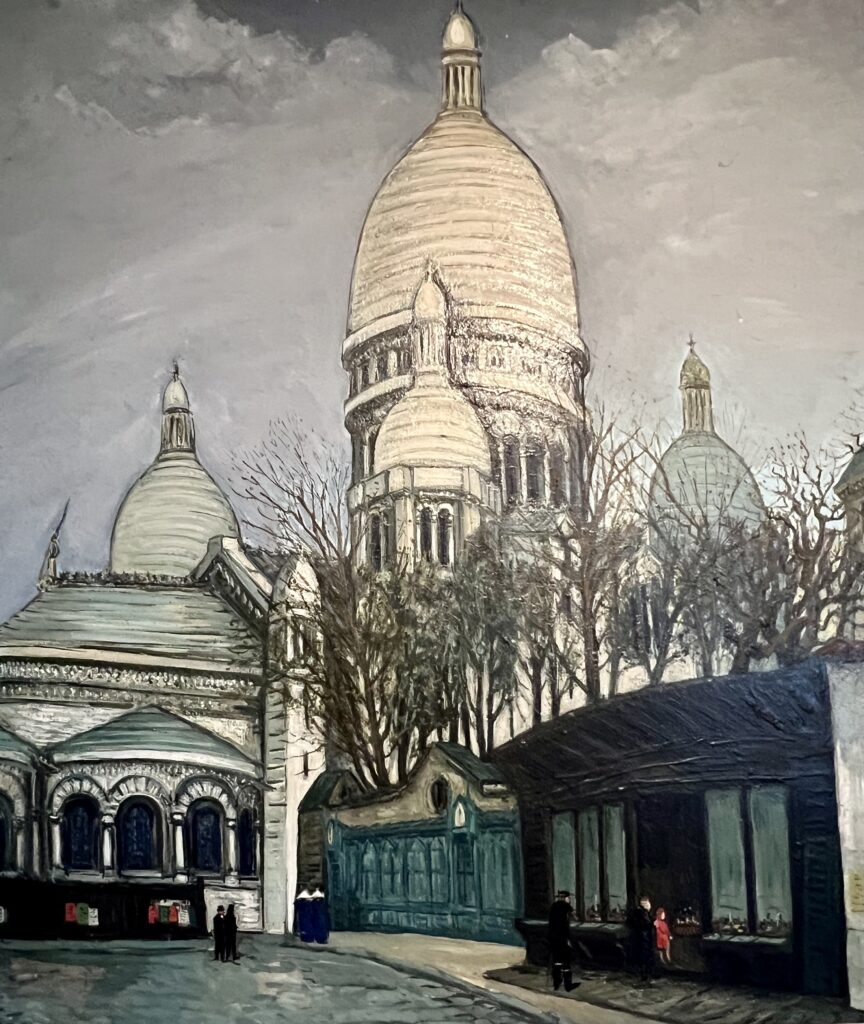 History of Montmartre
Until 1960, Montmartre was a semi-independent rural village of its own and outside the Paris city limits. Without Paris taxes, it was an inexpensive place to live and drink.
Many of the citizens were gypsum miners and tradesmen. They were revolutionaries in spirit, and had a reputation for socialism.
Beginning in the 1870s, artists and creative types were drawn to this rebellious area with cheap rent. First came the Impressionists and Post Impressionists.
In its "golden age," Montmartre was home to seedy cabarets like Le Chat Noir and Le Lapin Agile. The dance halls were filled with artists lingering and painting free-spirited models. It was universally accepted to live a drunken ragged lifestyle in the bawdy cabarets.
The Sacre-Coeur went up in the late 19th century. So did the apartment buildings. But the Montmartre historical society saved the Maison du bel Air from demolition.
By 1900, struggling artists like Picasso, Modigliani, Braque, and Utrillo set up shop in Montmartre and painted in the Bateau Lavoir and other studios.
In 1960, the Musee Montmartre opened, also occupying the adjacent Hotel Demarne. The museum presents a history of Montmartre from 1850 to 1950.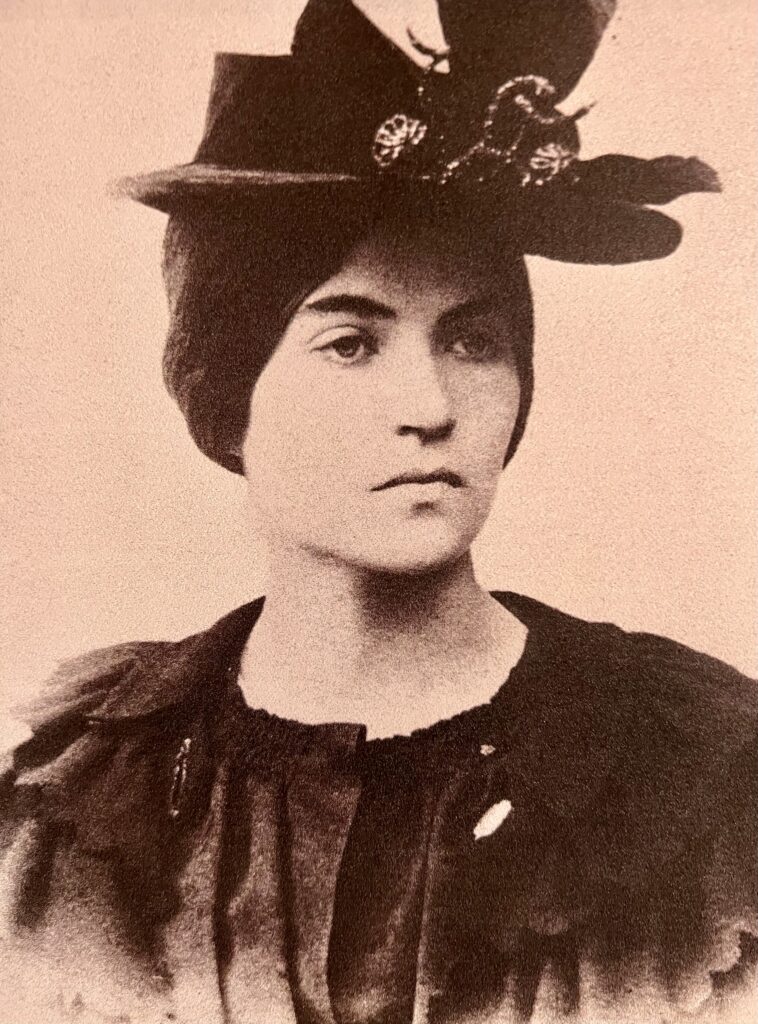 Artists of Montmartre
A who's who of penniless but ambitious artists lived in Montmartre in the 19th and early 20th centuries — Renoir, Valadon, Bernard, Dufy, Toulouse-Lautrec, Modigliani, Van Gogh, and Picasso.
Picasso moved there from Barcelona in 1904. He lived in the seedy artist's den, the dilapidated Bateau Lavoir on Place Emile Goudeau, along with Kees van Dongen, Juan Gris, and Amedeo Modigliani. Initially, Picasso traded paintings to pay his bar tabs.
The Bateau Lavoir was where he painted the groundbreaking Demoiselles d'Avignon in 1906, a painting that would change the course of art history and make Montmartre the birthplace of modern art.
Valadon and Utrillo lived in the museum itself. Renoir and the composer Eric Satie also lived there.
Renoir painted his masterpieces Moulin de la Galette and Jardin de la rue Cortot in the museum gardens from 1875 to 1877.
You'll also find a tree strung with a swing to evoke Renoir's famous work La Balançoire. Those paintings are now in the Musee d'Orsay.
Montmartre's grip on the absinthe-addled artists lasted until around 1912 or so. After that, frustrated with tourists, they decamped to a new neighborhood, Montparnasse.
Guide To The Musee Montmartre: What To See
The Musee Montmartre is spread out over two buildings. It's logically presented and well-curated. You'll find a hit parade of the art scene in its heyday in fin-de-siècle Paris– paintings, photographs, posters, and artifacts.
Here are some of the highlights of a visit to the Musee Montmartre.
1. Valadon Paintings
Suzanne Valadon was a rare and rebellious woman. She lived a flamboyant life and managed to fit in with the macho bad boys of Montmartre.
Her career trajectory went from circus performer, to artist model, to painter. She only gave up the circus after a terrible fall that broke her back. Instead, she began modeling in her teens.
Valadon taught herself to paint while modeling for Renoir and Toulouse-Lautrec. Toulouse-Lautrec and Edgar Degas mentored her and encouraged her budding career as a painter.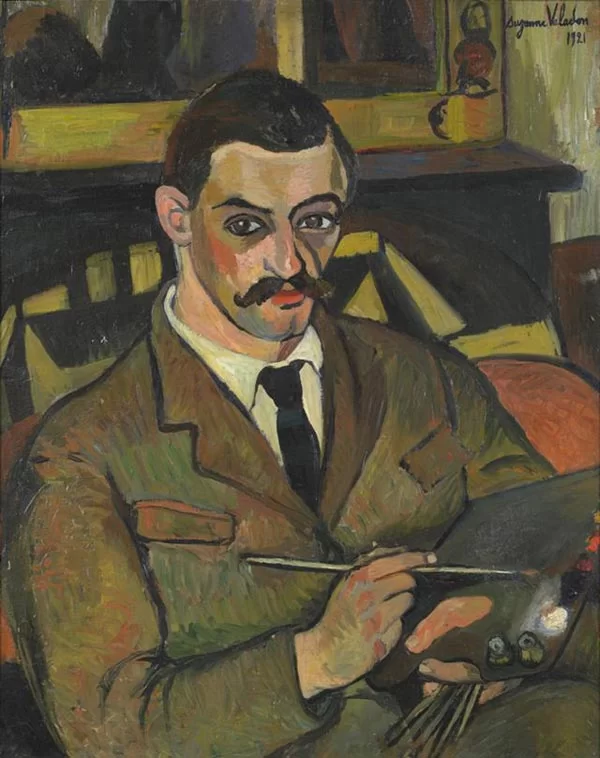 With a precise but powerful line, she produced frank, forceful, and unsexy treatments of nudes and self portraits. Her Adam and Eve double portrait of she and her then husband may have been the first full male nude ever painted by a European woman.
Valadon famously had affairs with her employers and fellow painters, including Toulouse-Lautrec whom she mocked. At just 18 she had a love child, Maurice Utrillo, who became a painter as well. It was rumored that Renoir was the father.
Her painting La Roue above evokes the circus, one of the artist's favorite themes. The painting has a dramatic viewpoint. The viewer has the impression of a frozen image, an acrobat with no face.
2. Utrillo Paintings
Maurice Utrillo was an enfant terrible who struggled with a double-whammy of alcoholism and mental illness. By age 15, Utrillo had devolved from an disturbed child to an advanced alcoholic whose benders landed him in jail or a psychiatric facility.
Yet, the painter and her son were both fiercely devoted to one another. To channel his frantic energy, Valadon took Maurice on as a student.
Art did not replace the bottle. Still, painting obsessively, Utrillo produced a surprising amount of it. By 1910, he had achieved critical acclaim. In the early 1920s, he was the most popular painter in Paris and eclipsed his mother's fame.
Utrillo became noted for his naive streetscapes and landscapes of Montmartre and Paris. They were empty or animated only by small, barely sketched figures. They all had a melancholy, murky, and lugubrious quality.
3. Toulouse-Lautrec Posters
Toulouse-Lautrec was born in Albi in 1864 to a wealthy and inbred aristocratic family, descended from the Counts of Toulouse. But he preferred the the gritty underbelly of the dance halls. In 1894, he moved into a brothel claimed that he "never felt more at home."
Toulouse-Lautrec painted cancan girls and blowsy barmaids, helping to launch the careers of dancers like Jane Avril. He was a lucid and uncompromising observer and painter.
Toulouse-Lautrec also helped popularize posters as a way to disseminate the more modern aesthetic. Because of their spontaneous style, the posters were used to advertise the cabarets in Montmartre.
The poster of La Goulue (Louise Weber) above is one of the first produced by the artist. She is kicking up her legs while doing the cancan on the floor of the Moulin Rouge. The poster was popular and considered a work of art in and of itself, thereby challenging the prevailing academism.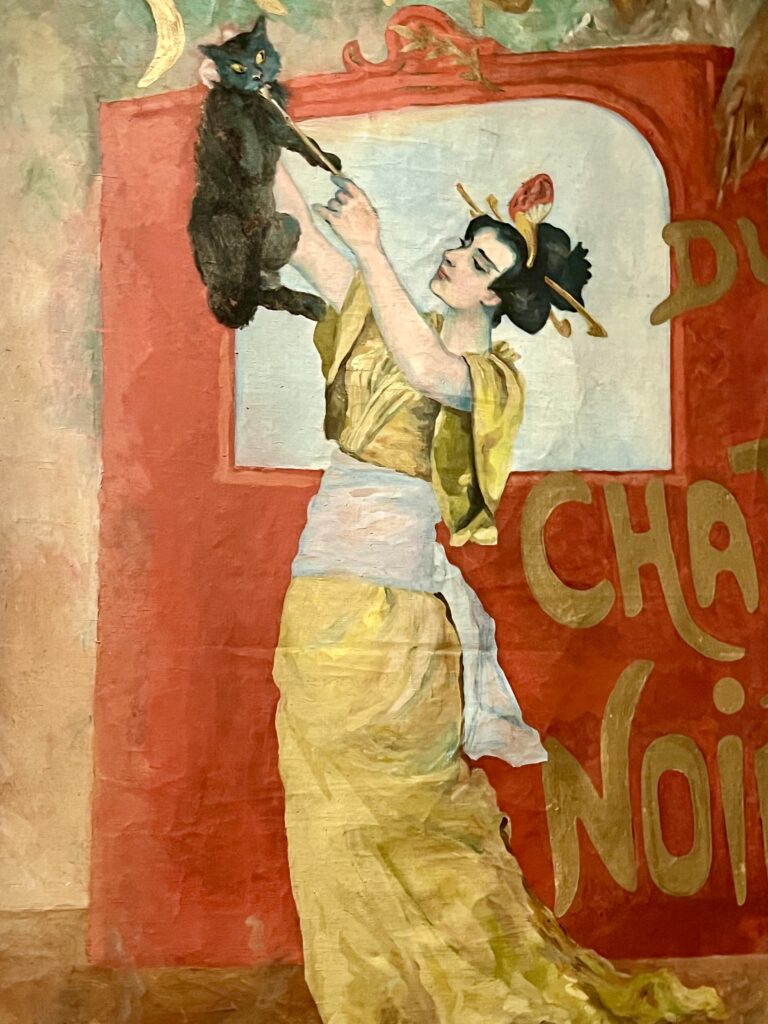 4. Le Chat Noir Posters
Founded by Roldolphe Sales, the Chat Noir was the first of the Montmartre cabarets, in business from 1881 to 1897.
During 16 years, Montmartre really blossomed. With its growing success, a second Chat Noir was opened in 1885. A sign exhorted passerby to be "modern."
It was a Louis XIII style cabaret with Gothic furnishing. The exterior had a distinctive sign — Le Chat Noir, a black cat on a crescent moon.
Le Chat Noir was most of all a meeting place for arts. The cabaret organized the sale of paintings and even published a magazine.
5. Lapin Agile
The Cabaret du Lapin Agile was a famous watering hole and favorite spot for artist, poets, and singers to meet. The group included people like Renoir, Apollinaire, Modigliani, Max Jocob, and Picasso.
In 1875, caricaturist Andre Gill a logo for the new cabaret showing a rabbit with a cap and scarf jumping out of a pot with a bottle of wine.
Picasso made a famous painting of Lapin Agile, which hung in the bar and absorbed smoke for years. Eventually, it ended up in the collection of the Metropolitan Museum of Art.
The Lapin Agile still operates as a restaurant and cabaret. If you want to travel back to yesteryear Montmartre, you should make a reservation.
6. French Cancan
The Musee Montmartre has an entire room devote to the French cancan. You can even watch videos of it being performed.
In 1889, a new cabaret opened at the foot of Montmartre to challenge the others, the Moulin Rouge. The owners invested in extravagant decoration, a large dance floor, and fantastical shows inspired by the circus.
In contrast to other cabarets, the Moulin Rouge was a very modern, wallpapered in mirrors. Above it, rose a life-size red windmill.
The Moulin Rouge was the birthplace of the cancan, a dance commercialized in the 1920s. The dancers Jane Aveil and La Gouloue made it symbol of carefree decadence. The dance soon spread to every ballroom in Montmartre.
Like Lapin Agile, the Moulin Rouge is still in operation, offering up "evenings with a whirlwind of feathers, sequins and rhinestones." Click here to book a ticket.
7. Studio of Valadon and Utrillo
The painter Suzanne Valadon lived and worked in the Maison du Bel Air with her son Maurice Utrillo and partner André Utter between 1912 and 1926.
On the second floor, you'll find an exact replica of their studio with reproduction of Valadon's paintings.
The designer Huber Le Gall recreated it using contemporaneous paintings and photographs. Prioritizing historical accuracy, he identified each object and set out to find it in flea markets and antique shops.
The artists had a small living room, which is filled with period furniture, a settee, fireplace, and reproductions of Valadon's paintings. Bars on the window prevented a frequently drunken Utrillo from throwing things at passerby.
In an adjacent room is the paintings desk and a small bed. It's as if she never left.
8. Temporary Exhibitions
The museum also has a separate exhibition space, which is airier and better lit than the permanent collection.
When I was there, I saw an excellent exhibition on Pablo Picasso and Fernande at the Bateau Lavoir. Fernande was Picasso's first model and muse.
If you are attending an exhibition, it's possible to book a guided tour online on Saturday morning at 11:00 am. Spaces are limited, so reservations are essential.
Practical Guide & Tips For Visiting The Musee Montmartre
1. Tickets & Tours
Click here to pre-book a skip the line ticket to the Musee Montmartre and its gardens. You may even want to book a small group walking tour of hidden Montmartre or a 2.5 hour walking tour.
2. Practical Information
Address: 12-14 rue Corot, 75018 Paris
Entry Fee: 13 €, audio guide is free
Hours: Daily from 10:00 am to 6:00 pm (open until 7:00 pm from April to October)
Metro: Ligne 12 Lamarck Caulaincourt or Ligne 2 Anvers (then take the funicular)
3. Pro Tips:
The museum has a cafe, Café Renoir. It's in the Renoir gardens and has a glass roof, decorated in the spirit of a winter garden. If you just want to visit the cafe and not the museum, you'll have to pay a 5 euro charge at the ticket office.
There is also a shop with books on Montmartre, the artists, and some lovely gifts and trinkets.
You should budget at least 2 hours to visit the museum. You won't really need the audio guide because there is plenty of signage in English.
4. Is The Musee Montmartre Worth Visiting?
100% yes. It should be on everyone's itinerary for Montmartre, especially if you want the historic backdrop of Paris' most decadent era.
The museum is a rare one, which will appeal to both art lovers and history buffs. Through its exhibits, you can viscerally connect with Montmartre's folklore, when cutting edge art and joie de vivre went hand in hand.
You'll be thrilled with this up close and personal look at how these seminal artists lived, even if for just a brief time. You can almost catch an echo of the artists and courtesans walking the cobblestones, sipping absinthe, or arguing at cafes.
The Musee Montmartre is also good prep for visiting the Musee d'Orsay, where you'll find the masterpieces painted by the artists in Montmartre.
I hope you've enjoyed my guide to the Musee Montmartre. You may enjoy these other Paris travel guides and resources.
If you need a guide to the Musee Montmartre, pin it for later.