Looking for some unusual things to do in Paris? Here's my guide to the best small and (mostly) secret museums in Paris.
Beyond the glittering I.M. Pei Pyramid at the Louvre lie some of Paris' greatest treasures. You can peak into artist studios, ogle at themed collections, and enjoy in situ art in a glamorous palaces.
Plus, you can admire all this great Parisian art without the crowds. Let's face it.
Most visitors to Paris are hitting the big three — the Louvre, the Musee d'Orsay, and the Pompidou Center. A visit to these overcrowded museums can be utterly terrible and a mood buzzkill.
The hordes of tourist are all vying for a spot in front of a masterpiece, with cell phones, selfie sticks, and tablets held aloft. It's almost like the Louvre invented crowds, the situation is so dire. To avoid all this nastiness, pick a Paris hidden gem.
Paris is literally overflowing with small museums and collections where you can escape the crowds and admire high quality fine art in blissful quietude.
You could spend a month visiting all the wonderful small museums in Paris. To help you along, I've picked my top 13 must visit secret museums in Paris.
Best Small Secret Museums in Paris
Here are my picks for the best hidden gem museums in Paris. For many of them, entry is included in the Paris Museum Pass.
1. Musée National Eugène Delacroix
The Delacroix Museum is an eccentric little gem of museum. It's off the beaten track in Paris and designed for art lovers.
It's set on the lovely Place de Furstenberg, off the Rue Jacob, in the trendy Left Bank neighborhood of Saint-Germain-des-Prés. When I lastvisited, it was nearly empty.
It has an intimate setting, housed in Delacroix's final apartment and studio before his death in 1863. I tend to love museum-ateliers. They're so revelatory.
Delacroix is known as the founder of the Romantic Period of painting. He rejected the Academy's idea of precise drawing.
Instead, he adopted a flowing, convulsive brush style. When you look at a Delacroix, you see "fuzziness, smears, fibrillating paint, irradiated color that destabilize space and emulsify objects."
You won't see anything as stunning as Delacroix's famous Liberty Leading the People (that draws massive crowds at the Louvre) at his studio.
What you'll find is lush religious and historical paintings and drawings by Delacroix and others, as well as personal objects and mementos. Delacroix had an obsession with large cats, and you'll see some of those paintings.
The museum's most important piece is Mary Magdalene in the Desert, which was admired by Baudelaire. He said Delacroix's works had "a kind of furious rivalry with the written word."
There's also a short film about Delacroix's paintings at Saint Sulpice, the nearby 17th century church in the Latin Quarter.
I would advise coming to the museum before visiting the church to have a more informed view of the recently restored paintings on display there, which are Delacroix's best murals.
Practical Information for the Delacroix Museum
2. Musée National Gustave Moreau
The Gustave Moreau Museum is another utterly uncrowded art spot. It's tucked away in the 9th arrondissement in an area of grand mansions known as Nouvelle-Athènes or South Pigalle. If you are sightseeing in Montmartre, it's just a 15-20 minute walk.
Gustave Moreau was a prolific 19th century French symbolist painter. He was an art school dropout inspired by Delacroix.
Some consider his oeuvre a precursor to Surrealism. Henri Matisse was one of his students, and Moreau influenced many 20th century artists.
This museum, like the Delacroix Museum, was Moreau's family home. He transformed it into an atelier and kept the first floor as his apartment. It's absolutely stuffed with his sometimes macabre paintings and drawings.
With copious art and half finished sketches, you can almost imagine what life was like for a Fin de siècle artist in Paris.
There are over 1,300 paintings, watercolors and sketches. There are 5,000 drawings of mythological, biblical, and literary subjects. There's not much curation; you are largely left to interpret the works yourself.
This is fairly typically of museums self-designed by eccentric artists or art collectors. But that's OK, you can come up with whatever narrative you want or that suits your mood.
Once you head up the gorgeous spiral staircase, you'll find Moreau's bright well-lit studio.
Many drawings are behind curtains and some have to slid from drawers to be viewed. Don't be lazy, take a peak.
Practical Information for the Musée National Gustave Moreau
3. Musée Jacquemart-André
The Jacquemart-André is another oddly overlooked small museum in Paris. It's located just off the Champs-Elysées in the 8th arrondissement. The Jacquemart usually empty unless there's a special exhibition.
Then, the Parisians flock in and you'll need to pre-purchase a ticket. When I was there one February, I seemed to be the only English speaking person in line.
The mansion dates to Baron Haussmann's massive renovation of Paris. Édouard André and Nélie Jacquemart wanted their home to be as grand and beautiful as the new Paris.
So they set about creating a gorgeous art collection and renovating the mansion to showcase their pieces.
And there are some masterpieces. The museum has Dutch pieces by Rembrandt and Van Dyke and a large collection of 14th and 15th century Italian art.
The painting of St. George and the Dragon, shown above, is deemed one of the greatest achievements in Italian Renaissance art. It's the jewel of the Jacquemart-André.
Another astonishing piece is a massive 1745 Tiepolo fresco titled Henri III Being Welcomed to the Contarini Villa. It greets you at the top of the spectacular main stairway.
Here's my complete guide to the Jacquemart-Andre. Click here to book a skip the line ticket.
Practical Information for the Musée Jacquemart-André:
4. Musée Marmottan Monet
The Musée Marmottan Monet is one of the best small museums in Paris. It's a tucked away in Paris' sleepy, posh 16th arrondissement. Because of its far flung location, it's largely devoid of tourist throngs.
I was dragged there against my will — I don't like Impressionism much. But I had no excuse. I was staying in the 16th arrondissement, and little effort was required to get there. If you're staying in the center of Paris, it's absolutely worth a detour by metro. And it's not far past the Eiffel Tower.
The Musée Marmottan Monet was once home to art critic and collector Paul Marmottan, who bequeathed his collection of Napoleonic art objects. It has a specially built basement gallery.
The gallery contains an exceptional overview of Monet's work, over 300 pieces. You'll discover everything from his early caricatures to his late works at Giverny. The museum also has paintings by fellow Impressionists Renoir, Dégas, Gaugin, Manet, and Morisot.
READ: 3 Day Impressionism Tour of Paris
But Monet's water lilies are the star of the show. They're massive, especially compared to the usual postage size Impressionist painting. And they sparkle with pure vivid color. I found them mesmerizing.
The museum also has Monet's famous painting, Impression, Sunrise. The painting is significant because it gave birth to the name of the art movement. It was first shown at what was derogatorily dubbed the "Exhibition of the Impressionists" in 1874.
Here's my guide to visiting the Musee Marmottan. Click here to book a skip the line ticket and guided tour.
Practical Information for the Musée Marmottan Monet
5. Musée de Montmartre
Most people come to Montmartre, but never visit the Montmartre Museum, lost in the twisty cobbled streets of the charming Parisian neighborhood. That's a shame. The museum's a compelling charmer and full of history.
It's housed in an atmospheric 17th century manor house, Maison bel Air. It has a beautiful inner garden with the famous swing from Renoir's 1876 painting.
The Swing is a companion piece to the Ball at the Moulin de la Galette, which is also in the Musée d'Orsay.
Founded in 1960, the museum chronicles the raucous, bohemian history of late 19th century Montmartre. It captures a celebrated time, steeped in history and immortalized in art.
Artists like Pissarro, Picasso, Toulouse-Lautrec, Van Dongen, and Modigliani lived in Montmartre, and paved the way for modern art.
READ: Guide To the Top Attractions in Montmartre
Renoir, Valadon, Bernard, Dufy, and Utrillo lived in the museum itself. Eric Satie the composer also lived there, and there's a room dedicated to him. On the second floor, you'll find an exact replica of the studio of Valadon and her son Marcus Utrillo.
You'll feel thrust into the wild, gritty period that was Belle Epoque Paris. You will learn about the avant-garde artists' studios at the Bateau Lavoir and the infamous animated cabarets of the Lapin Agile and the Moulin Rouge.
There's an entire room dedicated to the French can can.
For more information, here's my guide to the Musee Montmartre. Click here to pre-book a skip the line ticket
Practical Information for the Musée de Montmartre:
6. Musee d'Art Moderne de la Ville de Paris
Off the typical tourist circuit, the Musée d'Art Moderne de la Ville de Paris (or "MAM" as it is known) is another wonderful small museum. It's must visit nerve center for modern art.
MAM is in a prime location in the eastern wing of the Tokyo Palace, overlooking the Seine and the Eiffel Tour.
It was inaugurated in 1961 and boasts over 10,000 works of art from the 20th and 21st centuries. The museum has high ceilings, open spaces, and is filled with colorful eye-catching art.
The permanent collection is free to the public and and showcases major artistic movements, including Fauvism, Cubism, Surrealism, and Orphism. There are works by Matisse, Picasso, Derain, Chagall, Modigliani, and Sonia and Robert Delaunay.
The Electricity Fairy (shown above) is the pièce de résistance of MAM. It's a monumental work, 10 x 60 meters and the world's largest painting, which makes it impervious to theft.
It was commissioned for the curving walls of the Pavilion de L'Electricite et de la Lumiere at the Exposition Internationale de Paris in 1937. It has 250 painted panels covering an entire room of the museum.
MAM was also the scene of a dramatic one man "Spiderman" art theft that has been described as the "heist of the century." On a chilly spring day in 2010, in the dead of night, Vjeran Tomic did the deed.
He cut a padlock, smashed a ground floor window, and snuck into MAM unhindered when the museum's security system failed. The stolen paintings, which included a Matisse, Picasso, Modigiliani, Léger, and Braque, are still missing.
Practical Information for the Musee d'Art Moderne de la Ville de Paris:
7. Petit Palais: Musée des Beaux Arts de la Ville de Paris
Why does no one stop into this stunning small museum in Paris? It's inexplicable. The newly renovated museum collection is free, absolutely free, and a joy to take in.
Like its sister palace the Grand Palais, the Petit Palais was built for Paris' 1900 World Fair. It became a museum in 1902.
The museum was designed in the beaux arts style by famous architect Charles Girault. It's a charming small museum in Paris that's easy to cover in an hour or so.
It has French paintings, sculpture, and artifacts from the late 19th and early 20th centuries. Its collection includes artists as diverse as Rembrandt, Fragonard, Delacroix, Cézanne, Courbot, Corot, Monet, Rodin, Sisley, Pissarro, and many others. There's also a section dedicated to Roman and Greek art.
If you want to avoid queues at the Louvre, come here and see art of a similar scope and quality.
Here's my complete guide to the Petit Palais.
Practical Information for the Petit Palais:
8. Musée National Picasso-Paris
Ah, I adore Paris' Picasso Museum. It's not exactly "secret," I suppose. But I love it so much I had to include it on my small museum list.
It definitely qualifies as small, as are most single artist museums. The eponymous museum is housed in the gorgeous Baroque Hotel de Sale in the Marais neighborhood.
What I love most about the museum is that it houses all the art that Pablo Picasso could not part with, donated to France by his heirs.
It's a personal collection that he created, curated, lived with, and kept nearby his entire life. It represents all the artistic periods of his life, all the women he loved, and reveals his extraordinary range and talent.
Picasso was a lothario and chronic womanizer. He was a one man female wrecking ball who once said "love is the greatest refreshment" and then never left the concession stand.
The Picasso Museum is organized chronologically. As you stroll through, you can see the progression of his artistic styles and the succession of his long suffering female casualties — Fernand Olivier, Olga Khoklova, Dora Maar, Marie Therese-Walter, Francoise Gilot, and Jacqueline Roque. His art and his loves were always intertwined.
Here's my guide to the Picasso Museum. Click here to book a skip the line ticket. The museum is so amazing that you may also want to book a 2 hour guided tour.
Practical Information for the Picasso Museum
9. Musée Rodin: Founder of Modern Sculpture
The Rodin Museum is one of my favorite small museum in Paris. It's an atypical, unstuffy museum. A verdant retreat.
You can stroll through a lovely verdant garden where you accidentally bump into the artist's masterful sculptures.
Generally considered the father of modern sculpture, Rodin curated the museum and placed his sculptures amidst the garden's pointy hedges and leafy groves.
The museum is laid out in chronological order. Here, you'll find some of Rodin's most famous pieces — The Thinker, The Kiss, The Gates of Hell, Monument to Balzac, Young Girl with Flowers in Her Hair, etc.
The early years of Rodin's career were difficult ones. His work was non-traditional, unpopular, and often seemed unfinished. His subjects were unconventional too — not royalty or the rich, just people he knew.
Rodin's sculptures were imbued with introspection and emotion – imperfect, pained faces, and tense bodies. The expressive and erotic nature was quite revolutionary for the time.
His work was constantly rejected by the Salon. No one appreciated his penchant for realism until much later in his career.
The museum also has an impressive of Camille Claudel's works. Claudel was Rodin's student and muse, an unsung sculptor herself, and had a tumultuous 10 year affair with Rodin.
Like so many affairs with artists, it ended tragically. She eventually descended into madness, and destroyed many of her sculptures.
But she was likely the inspiration for Rodin's iconic The Kiss sculpture. She's also had posthumous fame. In 2017, she got her own museum in Nogent-Sur-Seine France, an easy day trip from Paris.
Here's my guide to the Rodin Museum. Click here to book a skip the line ticket.
Practical Information for the Musée Rodin
10. Zadkine Museum
Two blocks from the lush Luxembourg Gardens, in the heart of Montparnasse, lies the secret Zadkine Museum. You can blink and miss it, it's so well hidden.
It's situated behind an industrial building that seems inconsistent with anything artistic.
But just to the left is a small seemingly private driveway. If you follow it, you arrive at the Zadkine Museum. Voila!
The intimate museum occupies the first floor of a two story house and has an impressive sculptural garden. It was formerly Zadkine's home and studio, where he lived and created his atelier for 40 years.
Entering the museum, you'll find a procession of small well-lit rooms with glass ceilings and white walls. The museum presents all periods of Russian expat Zadkine's work in roughly chronological order.
It traces the "primitivism" of his first sculptures in wood or stone, to the strict geometry of his Cubist works, to his more expressionistic works, and finally to the pared down neoclassicism of his final years.
The heart of the museum, much like the Rodin Museum, is the lovely garden, dotted with terrific sculptures. There, you'll find Zadkine's Torso of a Destroyed City, a smaller scale version of his most famous piece, The Destroyed City, in Rotterdam. Other seminal garden works include Orphee, Rebecca, and The Human Forest.
The elegant little Zadkine Museum is well off the beaten path. But it's well worth an hour or two of your time, especially if you like sculpture.
Practical Information for the Zadkine Museum
11. Maison de Balzac: Novelist's Lair
In the 16th arrondissement, close to the magnificent Rue Berton, lies the Maison de Balzac. This small single artist museum in Paris offers an immersion into the daily life of one of France's greatest writers, Honoré de Balzac.
Toiling away in his writing study, Balzac edited the entire Human Comedy and wrote some of his other masterpieces. Fleeing creditors, Balzac moved into the house on 1840 under the name of his mistress.
The furniture is mostly gone due to subsequent moves, but it is still evocative and packed with interesting momentos. You'll find Balzac's famous cane, paintings, engravings, illustrations, and documents about his loved ones. And you will see his fabulous carved writing desk and chair.
Of Balzac's 11 different Paris residences, this is the only surviving one. Be sure to peek through the windows. There are commanding views of the Eiffel Tower.
Practical Information for Visiting the Maison de Balzac:
12. Victor Hugo Museum: Quirky House Museum
If you're obsessed with Victor Hugo and the grandeur of Les Miserables, visit the writer's former pied-à-terre, the Musée Victor Hugo. It's a quirky off the beaten path museum in Paris. The museum is on the second floor of the Hôtel de Rohan-Guéménée at 6 Place des Vosges.
Hugo lived there from 1832 to 1848. The museum is an impressionist form of academic preservation. The house is reconstituted from several of the writer's residences and that of his mistress, Juliette Drouet.
Still, it's a romantic place, like the swashbuckling and romantic author. And, surprisingly, it reveals that Hugo was not only a prolific writer and womanizer, but had a sub-speciality in interior design.
The museum is intended to give visitors a sense of what Hugo's daily existence might have looked like. Thematic rooms are arranged with furniture and works of art that Hugo created or are from his personal collections.
You'll see first editions of his books, family portraits, photographs, sheet music, and 350 drawings by Hugo, as well as paintings and sculptures that were created in his honor.
READ: Complete Guide to the Victor Hugo Museum
Practical Information for the Victor Hugo Museum
13. Maillol Museum: Single Artist Sculpture Museum
The Maillol Museum is beloved single artist museum. And it's definitely a hidden gem in Paris.
The museum was founded by Maillol's late-in-life muse and model Dina Vierny. After Maillol's death, she inherited the bulk of his art work. As a Paris art dealer, Vierny worked tirelessly to promote his work and, eventually, created the Maillol Museum.
Maillol was a sculptor and sometimes painter, who adopted an old school craftsman style. His full bodied sculptures offer an absolute stability.
Some look like the very image of determination. In contrast to Rodin, whose sculptures were in a continuous state of drama and uproar, Maillol's sturdier pieces seem effortless, idealized, and more reserved.
The museum showcases Maillol's most important drawings, engravings, pastels, tapestry panels, ceramics, and sculptures that epitomize his calm, modern classicism. They range in date from 1899 to 1940.
The permanent collection also includes works by Picasso, Monet, Degas, Duchamp, and Kandinsky.
Here's my complete guide to the Musee Maillol.
Practical Information for Visiting the Maillol Museum: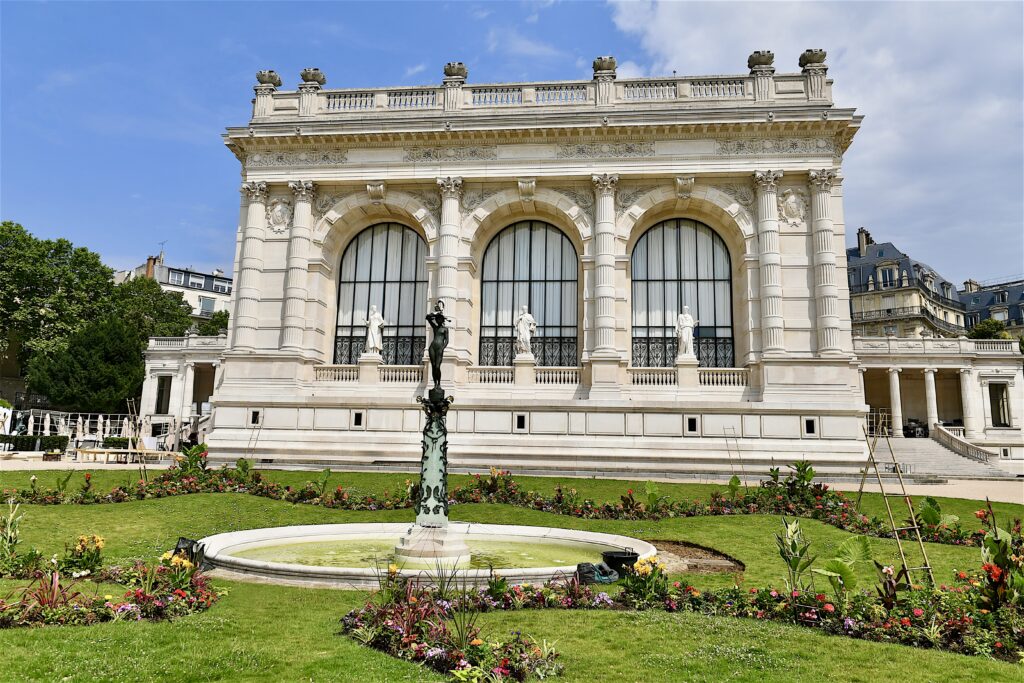 14. Palais Galliera: Fashion
The Palais Galliera is a small museum in Paris dedicated to fashion and the history of fashion. Its official name is the Palais Galliera – Musee de la Mode de la Ville de Paris.
The collection is housed in a Renaissance palace built by the Duchesse de Galliera, then Paris' wealthiest woman.
Newly renovated, the permanent collection takes a generalist approach to the history of fashion since the 18th century. You'll find designer costumes, jewelry, walking sticks, hats, shoes, bags, fans, gloves, parasols and umbrellas.
This museum is a surprisingly hot ticket in Paris. I was just there for a temporary exhibition on Frida Kahlo and it was completely sold out.
Practical Information for the Palais Galliera
I hope you've enjoyed my guide to Paris' small secret museums. You may enjoy these other Paris travel guides:
If you'd like to visit Paris' small museums without the tourists, pin it for later.