So you're planning a trip to Tuscany? Welcome to one of my favorite destinations in Europe. To help you have the best experience, I've put together a step-by-step one week in Tuscany itinerary.
When you think of Tuscany, you might picture idyllic landscapes dotted with vineyards, olive trees, and charming hilltop towns with warm, honey-colored hues. It's a region that embodies the good life, or "la dolce vita," with its enticing mix of culture, food, and wine.
Exploring Tuscany's art-filled hill towns is a must-do experience, but with so many beautiful places to visit, it can be overwhelming to plan. Despite their similarities, each town has its own unique character that will leave a lasting impression.
To help you make the most of your visit to Tuscany, we've put together a guide to some of the region's hidden gems and highlights that will take your breath away.
Overview Of One Week In Tuscany Itinerary
Here's a quick snapshot of what you'll see on my recommended 7 days in Tuscany itinerary. It's a loop that starts and ends in Florence. Along the way, you'll see some of the prettiest villages in Italy.
This Tuscany itinerary assumes you have 7 full days in the region. Plan to arrive in Florence the evening before, so you can get settled into your accommodation and be ready to go the next morning.
Day 1: Florence
Day 2: Lucca & Pisa
Day 3: San Gimignano + Volterra
Day 4: Val d'Orcia: Montepulciano + Pienza
Day 5: Sienna
Day 6: Monteriggioni + Cortona
Day 7: Arezzo
One Week In Tuscany Itinerary
Here's how I suggest spending one perfect week in Tuscany.
As with all of my suggested itineraries, I recommend that you use this one week in Tuscany itinerary as a guide. You can tailor it to suit your individual interests, needs, and pace of travel.
Day 1: Florence
Your Tuscan adventure begins in Florence, known as the Cradle of the Renaissance. This city is a treasure trove of Renaissance art and history, unmatched by any other place.
Florence caters to diverse interests, from museum lovers and foodies to history buffs, architecture enthusiasts, and even those who prefer to aimlessly stroll through its ancient, winding streets.
If you have only one day in Florence, it's important to plan ahead and purchase skip-the-line tickets for the attractions you wish to visit. This will save you time and allow you to make the most of your limited time in this enchanting city.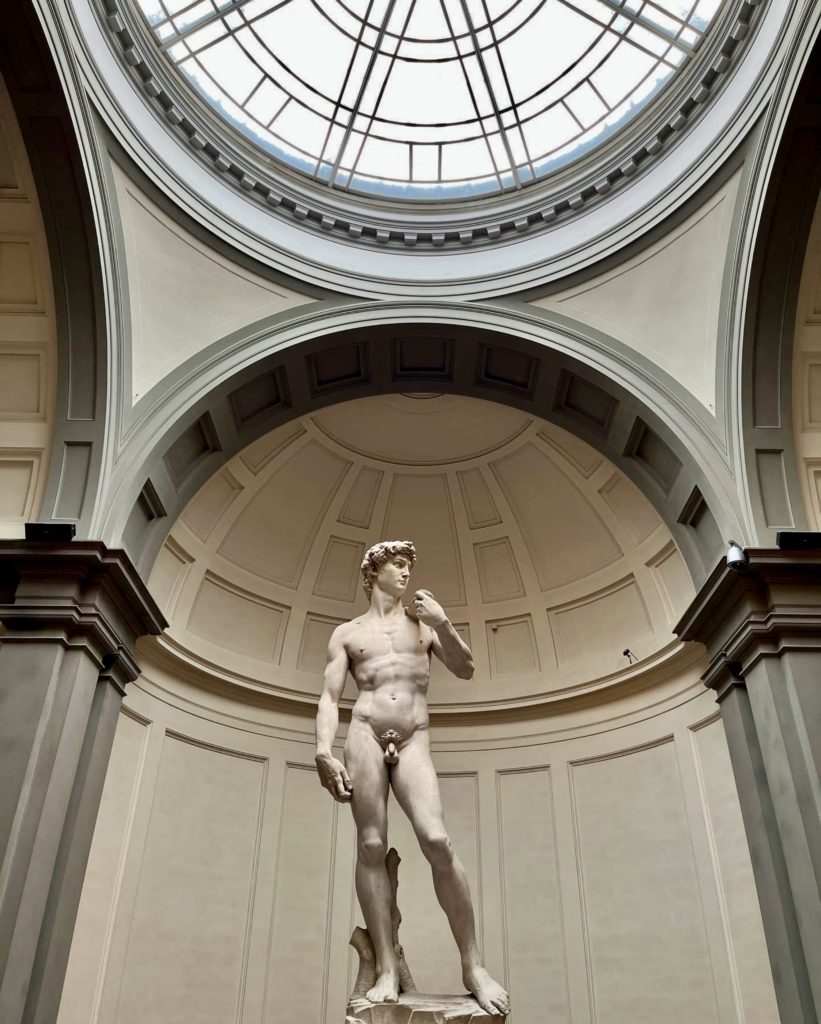 What To Do in Florence
Start your first day in Florence bright and early at the Accademia Gallery. The museum opens at 8:15 am. You'll need to pre-book a timed entry ticket.
The Accademia is home to the world's most famous sculpture, Michelangelo's David. You can also see Michelangelo's Slaves and some masterpieces from the early Renaissance and Mannerist periods.
When you're done admiring David, walk 10 minutes to the Medici Chapels. You'll need to pre-purchase a time slot ticket for this attraction as well; it's hugely popular. You can admire the Chapel of the Princes and the New Sacristy.
The latter is a space that was entirely designed and decorated by Michelangelo. You'll see seven more Michelangelo sculptures, including one of his most famous pieces, Night.
Your next stop is the Duomo complex. It consists of 5 separate sites: Florence Cathedral, Brunelleschi's dome, the Baptistery, the Duomo Museum, and the Giotto Bell Tower.
If you buy the Brunelleschi ticket, you have entry to all the sites. Start with the stunning Duomo Museum to get the history of the Duomo complex and learn how Brunelleschi's dome was built.
Pop quickly into the Baptistery, which is currently under renovation. It's probably not worth waiting in security lines to visit the interior of the Duomo when time is short.
But it's definitely worth climbing Brunelleschi's dome. It's a long climb not for the faint of heart. But you'll get to inspect the Giorgio Vasari frescos in the cupola and you'll have fantastic panoramic views of Florence.
Then, grab some lunch. La Grotto Guelfa is near the Duomo complex and has some tasty food.
After fueling up, it's time to visit to the Uffizi Gallery. It's Florence's premiere museum and one of the best museums in the world. This is where you come to admire Botticelli, Leonardo da Vinci, and Michelangelo.
The museum is huge and just stuffed with masterpieces. You could spend hours there. The most popular rooms are the two Botticelli Rooms and the Raphael and Michelangelo Room.
You won't be able to visit the Uffizi, almost in any season, without pre-booking a skip the line timed entry ticket. Once inside, keep the ticket with you because they ask for it at several checkpoints.
You may want to book a guided tour of the museum. The last time I was there, I booked a 2+ hour private guided tour. The guide was excellent and made the museum come to life for my husband, who's not really an art lover like me.
After swooning over Botticelli's Birth of Venus, take a stroll in the beautiful Piazza della Signoria, Florence's central square. It's the jackpot of outdoor street art.
The piazza is filled with sculptures by the greatest artists of the Renaissance. At the center is a massive fountain with the god Neptune gleaming in white marble.
Then, visit the Palazzo Vecchio, which is in the same square. It's a doughty medieval fortress on the outside and a resplendent Renaissance palace filled with artistic treasures on the inside.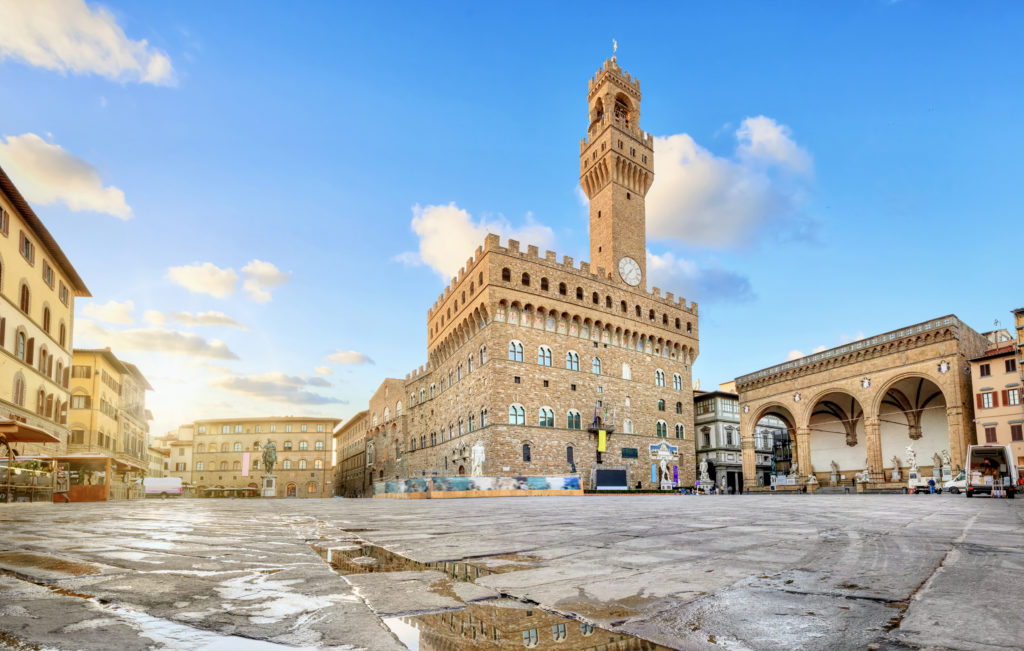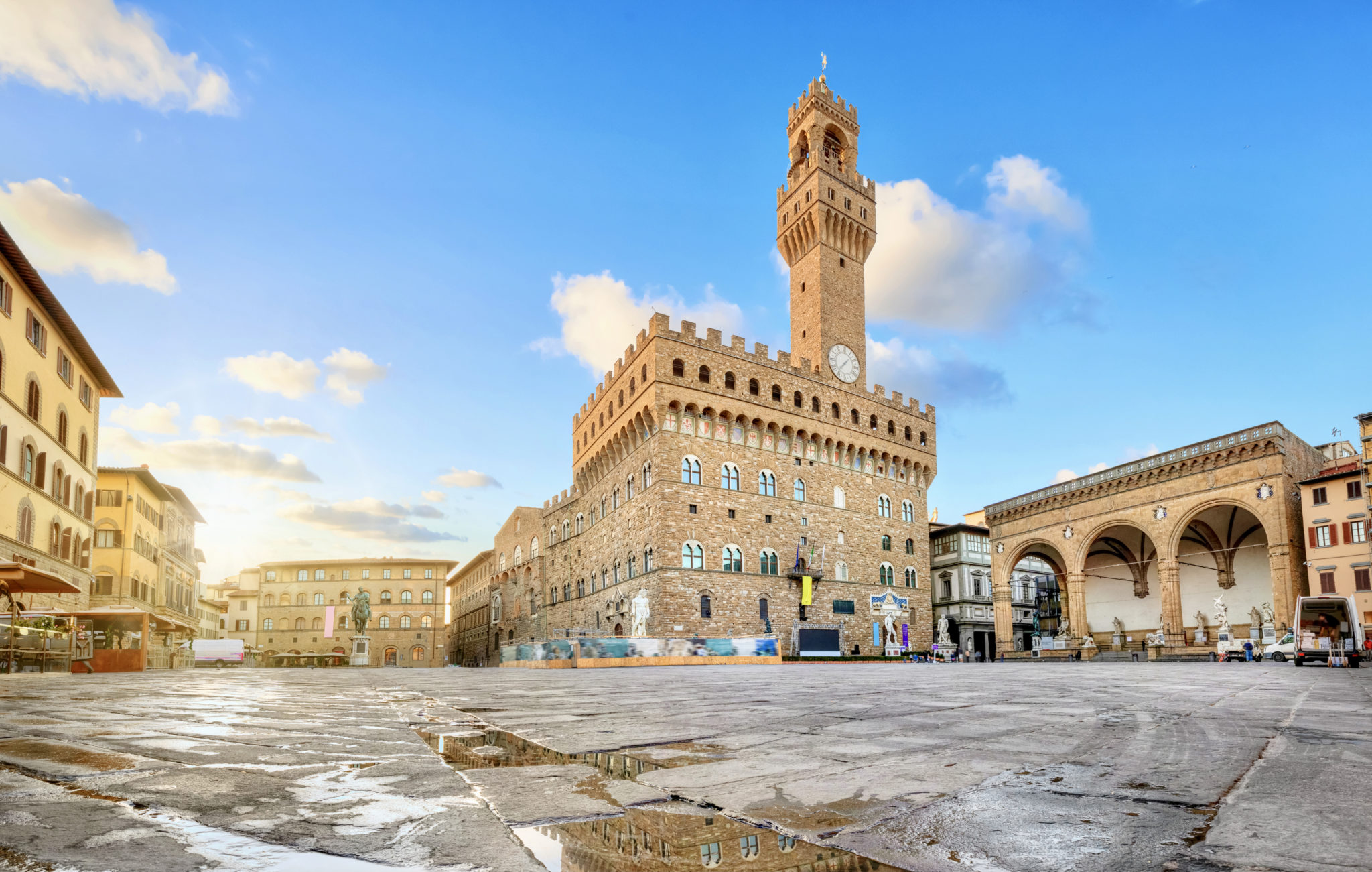 The Palazzo Vecchio was Florence's seat of power, the home of the City Council that governed the Republic of Florence.
Inside, you can explore the grand Hall of the Five Hundred, admire Michelangelo and Donatello sculptures, and gaze admiringly at beautiful Renaissance frescos at every turn.
Click here to book a skip the line ticket with a time slot reservation. You may also want to book a guided secret passages tour with lunch. This guided 2 hour tour covers the palace and the Piazza della Signoria.
To end your day, stroll over the Ponte Vecchio into Florence's trendy Oltrarno neighborhood.
There are some amazing restaurants there. I liked Beccafito, Cammillo Trattoria, and Osteria dell'Enoteca.
If you want to spend more time in Florence, you could eliminate Arezzo on day 7. I also have a 2 days in Florence itinerary and a 3 days in Florence itinerary.
Both of these itineraries tell you where to stay in Florence and give you must know tips of visiting.
Day 2: Lucca & Pisa
On day 2 of your one week in Tuscany, head to Lucca and Pisa. The two towns are close together so you can cover them both in one day.
I would dedicate most of your day to Lucca, leaving a couple hours for Pisa either at the beginning or end of your day. Lucca is one of Italy's best kept secrets, while Pisa attracts hordes of tourists who come to see the famous Leaning Tower.
What To Do In Lucca
Lucca is a picturesque town that enchants all who visit with its stunning camera-ready facades and charming atmosphere. The town sits on the Serchio River in northwest Tuscany, and its 16th century walls have remained remarkably intact.
Begin your day with a leisurely 2.5-mile walk around the city walls for breathtaking views. Alternatively, you can book a 2 hour guided walking tour.
Then, head to Via Fillungo, Lucca's bustling pedestrian street. Here you'll find Torre delle Ore, or the Clock Tower, which offers panoramic views from the top. Don't forget to climb up and take in the sights!
From Via Filling, walk over to Lucca's distinctive square, Piazza Anfiteatro. It's a stunning piazza built around an ancient Roman arena.
Also pop into the Chiesa di San Michele. Begun in 1070, it's one of Lucca's most famous churches and was built on the town's former Roman forum.
The church has an arresting facade in the Pisan style of Romanesque architecture. The marble stripes feature a confection of loggias, arcades, and twisty columns. The interior, however, is quite plain.
Grab some lunch and then head to the Torre Guinigi. It's 230 steps to the top for fabulous views over the rooftops of Lucca.
The last thing to see is the Duomo, dating from the 11th century. Lucca Cathedral has a Romanesque facade and an elegant portico in the bottom level.
Before stepping inside, take a look at the reliefs over the doorway by Nicola Pisano.
The key thing to see inside is the Volto Santo. It's a life crucifix sculpture of a dark skinned Jesus. It was carved by Nicomedus, who legend holds witnessed the crucifixion.
If you want to eat in Lucca, you can try Buralli, Buca di Sant'Antonio, or Trattoria da Giulio. Or grab some gelato at Santini or Cremeria Opera.
You can book a 2 hour guided walking tour in historic Lucca, go on a food and wine tour, or visit Lucca and Pisa on a day trip from Florence.
What To Do In Pisa
Then, it's time to explore Pisa's Field of Miracles. Pisa is about a 30 minute drive from Lucca.
The Field of Miracles is a true spectacle. It's a simply splendid assemblage of Romanesque, Gothic, and Early Renaissance art and architecture. The entire complex is designated a UNESCO World Heritage site.
You may want to book a 2 hour all inclusive tour to explore the monuments on the Field of Miracles.
The monuments include the famous Leaning Tower, the Duomo di Pisa, the Baptistery, the Monumental cemetery, the Duomo Museum, and the Museum of Sinopie.
The Leaning Tower is incredibly popular and crowded. You can climb its spiral staircase for magnificent views.
But you absolutely must book a time slot ticket in advance to ensure a spot. Weeks in advance.
You can only visit by a guided tour that lasts 30 minutes. If you are late, you forfeit your slot.
You need to be fit to climb the tower. Otherwise, it's best admired from the ground.
Pisa's Field of Miracles boasts many impressive sights, but the true treasure is the exuberant Duomo. This stunning example of Pisan Romanesque architecture is a sight to behold.
The Duomo's facade is adorned with striking black and white marble stripes, quarried from the famous Carrara quarries. Inside, you'll discover a spacious Latin cross plan with five aisles, including a central nave and two flanking aisles on each side.
The Duomo also houses works by esteemed artists such as Giambologna, Ghirlandaio, and Cimabue, but the true masterpiece is the Gothic pulpit carved by Giovani Pisano in the early 14th century.
Don't miss the other stunning pulpit in the Baptistery, crafted by Nicolas Pisano.
For more information, here's my complete guide to the top attractions in Pisa.
Day 3: San Gimignano + Volterra
On day 3, you'll visit the medieval towns of San Gimgnano and Volterra. They're only 40 minutes apart.
The best plan is to try to arrive in San Gimignano early enough to beat some of the day trippers. Park in the parking lot in the southern end of the city near Via Roma. After visiting, head to Volterra for lunch and the rest of the day.
What To Do In San Gimignano
Tiny San Gimignano is one of Italy's most celebrated villages. It's an adorable UNESCO-listed town that should definitely be on your one week in Tuscany itinerary.
San Gimignano is a romantic glamor girl of Tuscany. As you stroll San Gimignano's cobbled lanes, you'll feel like you've stepped into a time machine.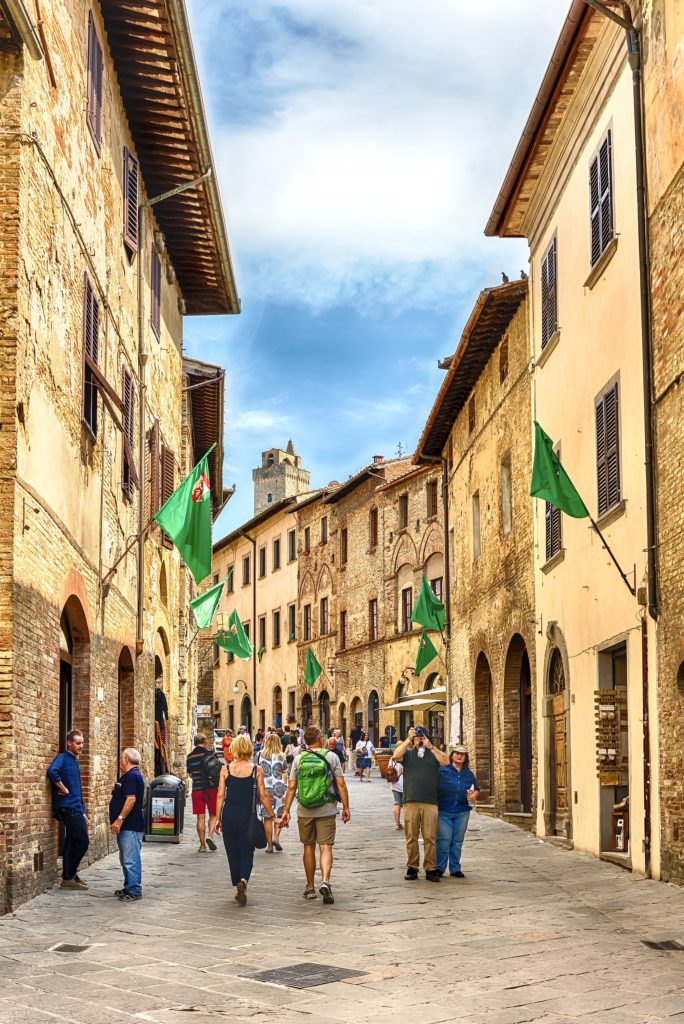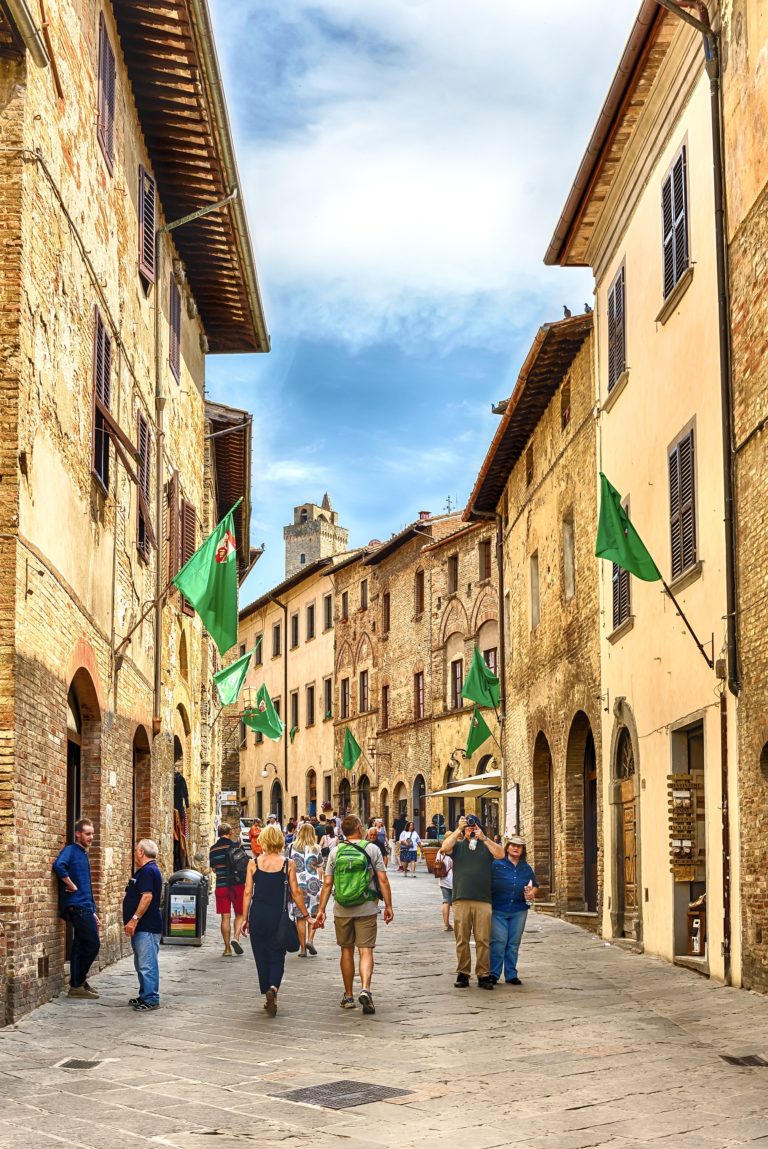 Nicknamed the "Medieval Manhattan," San Gimignano is famous for its "Bella Torres" or "Beautiful Towers."
The historic center of San Gimignano is stunning. One main path through town links the gates at both ends.
You can walk from one to another in about 10 minutes. But you may want to book a 2 hour guided walking tour to get an overview of the town's history and top attractions.
The central square is the Piazza del Duomo. This piazza is where most of San Gimignano's historic attractions are all jammed together in a compressed urban setting.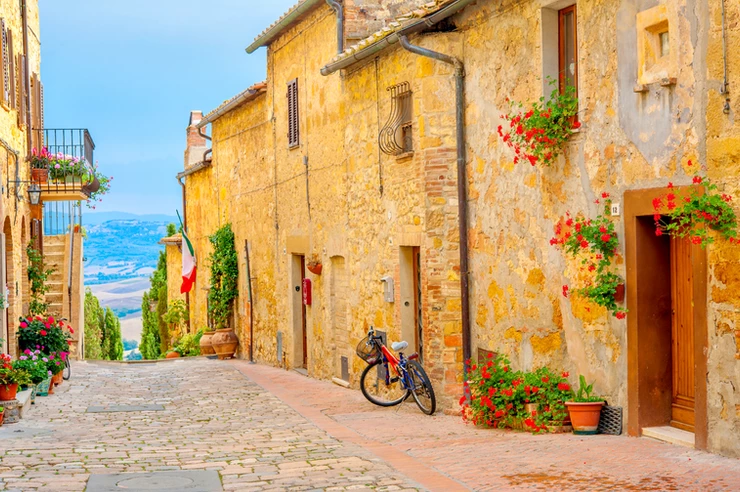 You should definitely pop into the Duomo. It has some beautiful frescos painted by Early Renaissance luminaries such as Ghirlandaio, Benozzo Gozzolli, and Taddeo di Bartolo.
The Palazzo del Popolo houses the town's Civic Museum. The museum's highlight are two important rooms: the Camera del Podesta (Room of the Mayor) and the Sala Dante (commemorating he visit of the poet).
Upstairs, you'll find masterpieces by a host of Sienese and Florentine painters, including Filippino Lippi and Benozzo Gozzoli.
Before leaving San Gimignano, you should climb Torre Grossa, which is right next the palazzo. Climbing the tower is not the easiest feat. The 218 cantilevered steps zig and zag as you head to the roof.
Then, head to Volterra for lunch and the afternoon. It's about a 40 minute drive.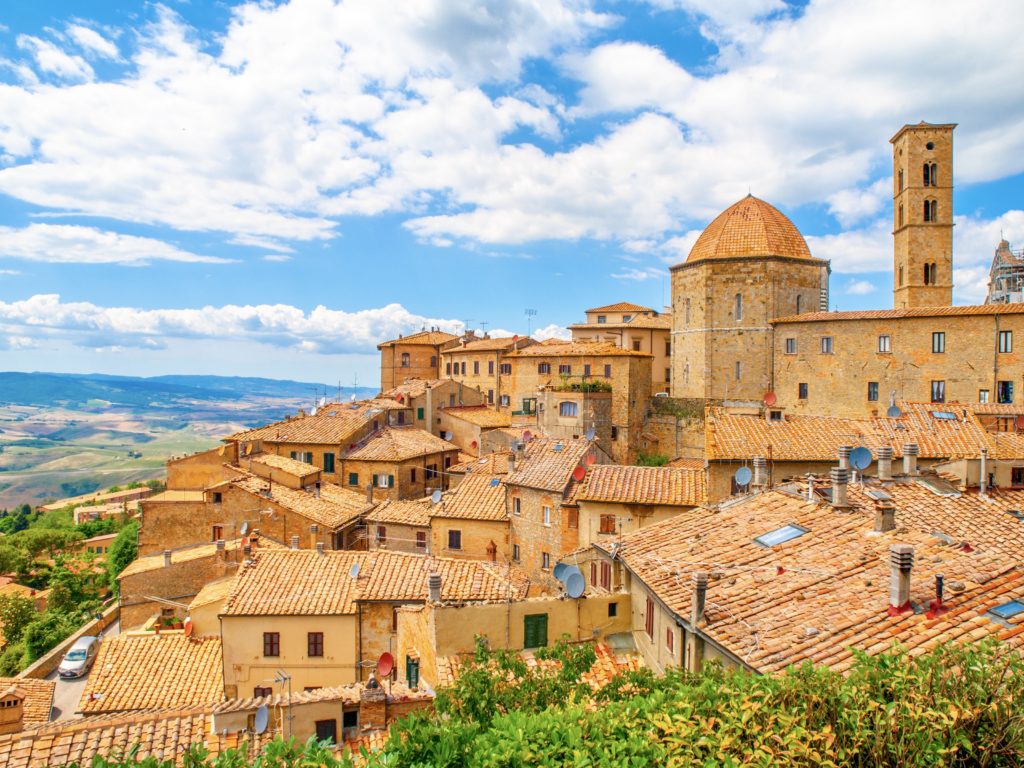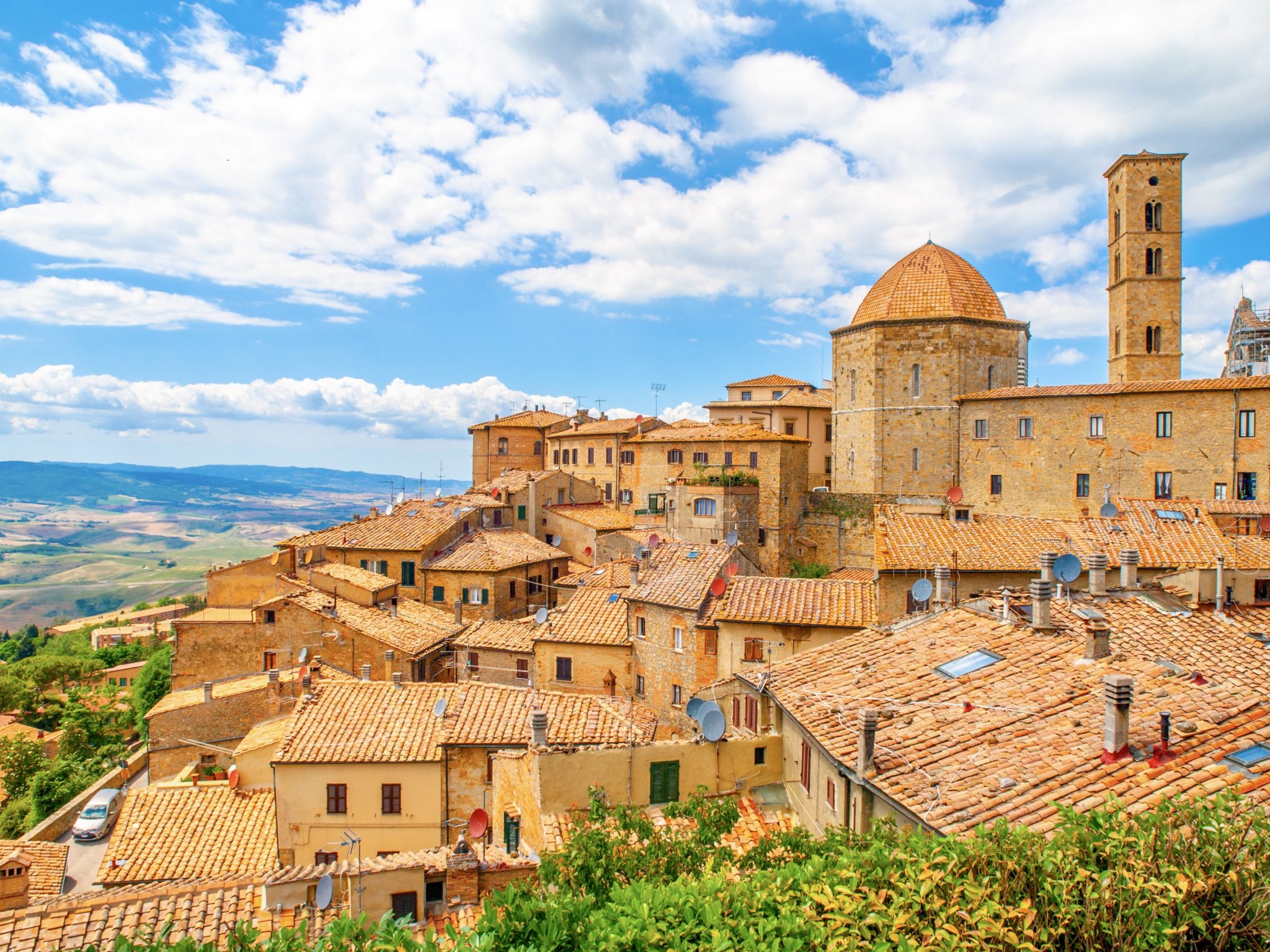 Volterra is best known for its 4th century B.C. Etruscan origins. It's a stony town set against volcanic hills and ringed by medieval walls.
What To Do in Volterra
Start your visit in Volterra at the Porta all'Arco, the city's ancient gateway. It's Volterra's main landmark, built by Etruscans in the 3rd century B.C.
The road leads you upward, zigzagging to the heart of Volterra, the beautiful medieval Piazza dei Priori. There, you'll find the Palazzo di Priori.
Built in 1208, it's said to be the oldest building of its kind in Tuscany. It was likely the model for Florence's own magnificent Palazzo Vecchio.
In the council chamber on the first floor, you can admire the huge fresco of the Annunciation by Jacopo di Cione and Nicolò di Pietro Gerini. Climb the tower for spectacular views of the town and the surrounding countryside.
The Duomo is in the same square. It houses a famous Deposition. Around back is the Baptistery decorated in striped marble bands.
You'll want to visit the Church of San Francesco, with frescos by Cenni di Francesco telling the Legend of the True Cross.
You should also visit Volterra's Roman ruins, which include an impressive Roman Theater from the 1st century B.C.
If museums are on your agenda, try the Pinacoteca (for Renaissance art), the Etruscan Museum (Etruscan artifacts), or the Torture Museum (ancient torture instruments).
The Etruscan archaeological museum is of major importance. It contains probably the most comprehensive collection of Etruscan stone carvings anywhere in the world.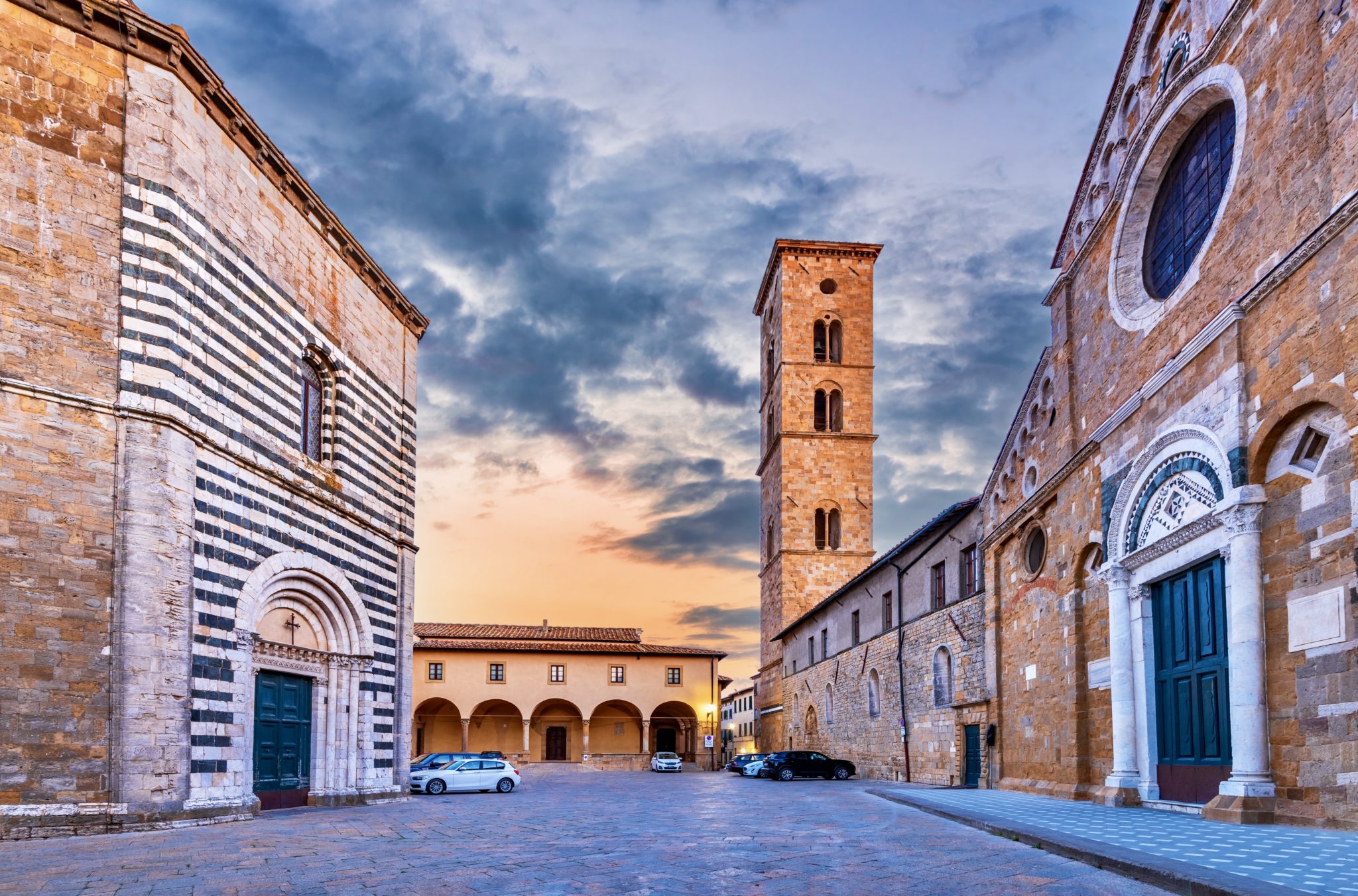 Don't forget to pop into the 12th century Volterra Cathedral. It has a richly decorated Renaissance ceiling coffered in blue and silver that will wow you. There's also an intricate pulpit with Romanesque carvings.
If you're in Volterra for lunch and/or dinner, try Ristorante-Enoteca Del Duca or La Vecchia Lira.
Click here to book a guided walking tour of Volterra.
If you want to book a guided day trip from Florence to Volterra, check out this 9 hour guided tour that includes lunch and wine tasting. You can also book an 8 hour guided tour that includes both San Gimignano and Volterra.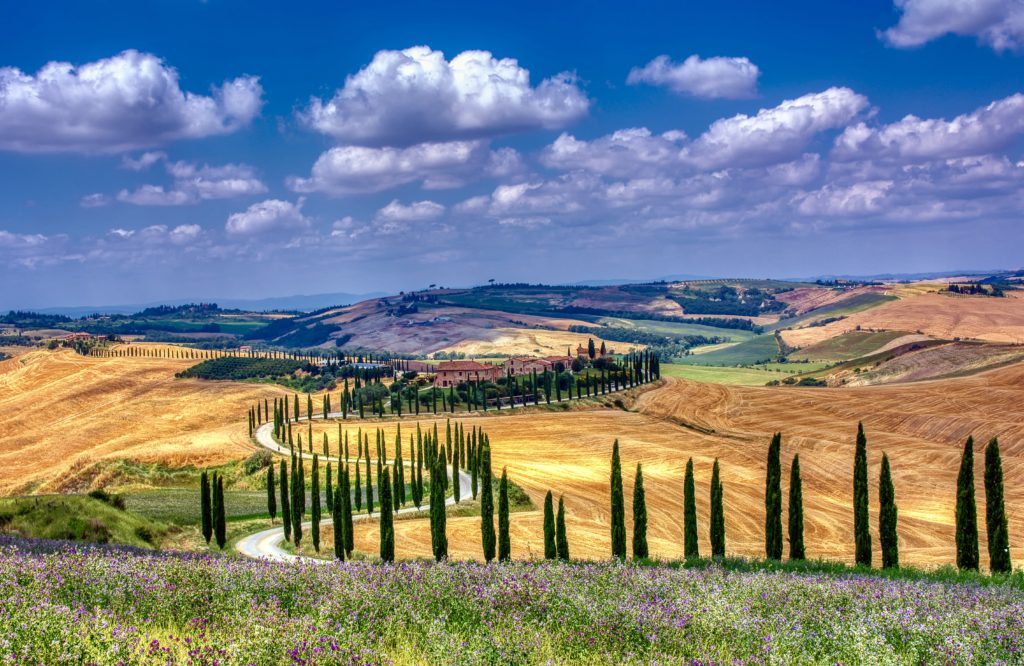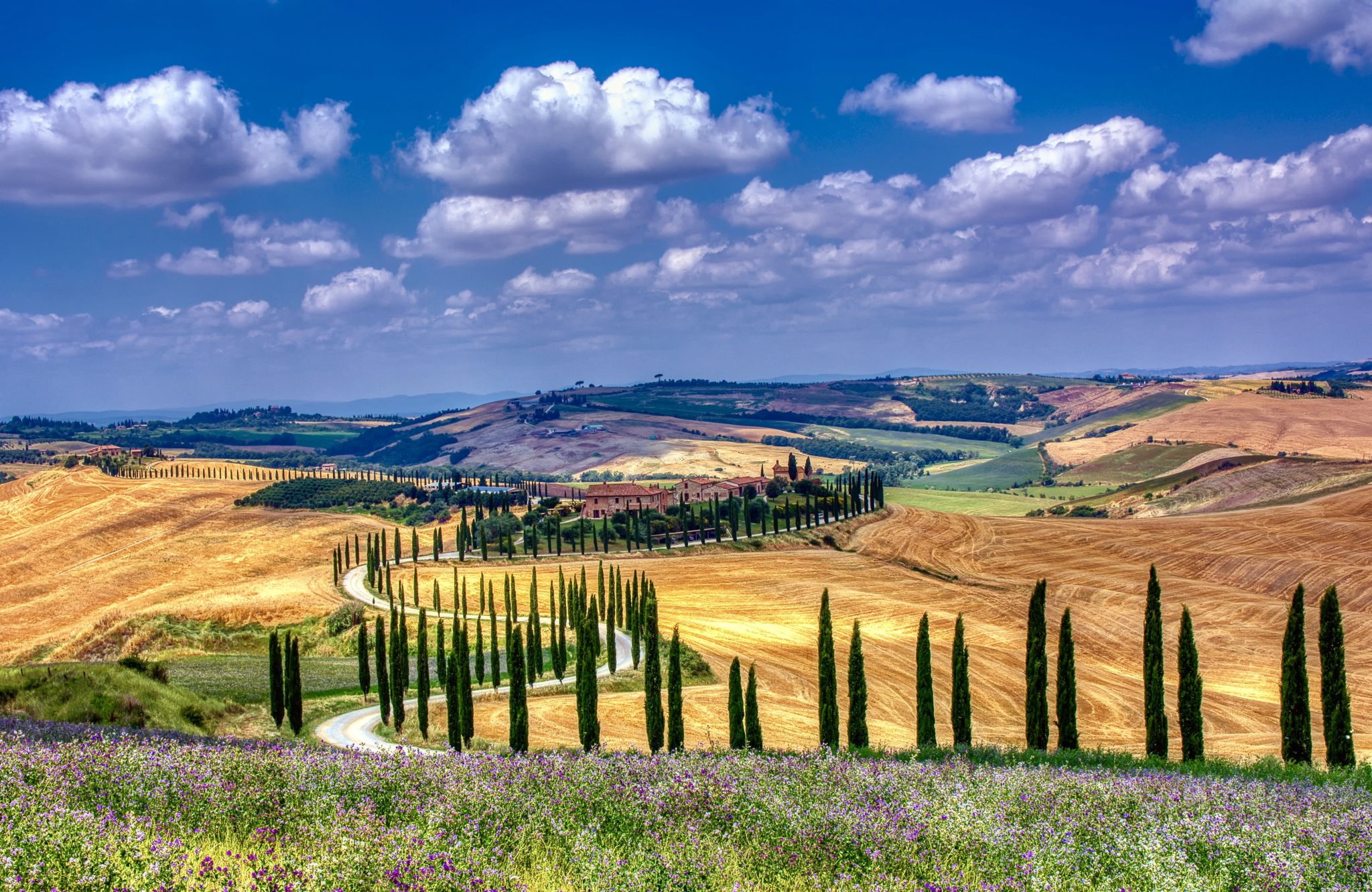 Day 4: Val d'Orcia: Montepulciano and Pienza
On day 4 of your 7 day in Tuscany itinerary, head to the Val d'Orcia. In 2004, it became a UNESCO Heritage Site.
It's an austerely beautiful part of Tuscany, just southwest of the hill town of Montepulciano in the province of Siena. Think of rolling hills, olive groves, and wine tastings.
The Val d'Orcia was one of the first places in Europe to be intentionally designed with aesthetics in mind. The previously uncultivated land was carefully tilled and small woods were left between plots of land. In addition, cypress trees were planted, and the area is dotted with charming farmhouses and tiny villages.
No matter when you visit, the Val d'Orcia's landscape offers breathtaking views. In the spring, the fields are lush and green, adorned with vibrant poppies. In the summer, the region is covered in golden sunflowers. And in the fall, the hills turn into a mesmerizing shade of gold after the harvest.
Plan to visit two of the Val d'Orcia's prettiest towns, Montepulciano and Pienza. As an alternative to Pienza, if you want to visit thermal springs, you can head to Bagni San Filippo.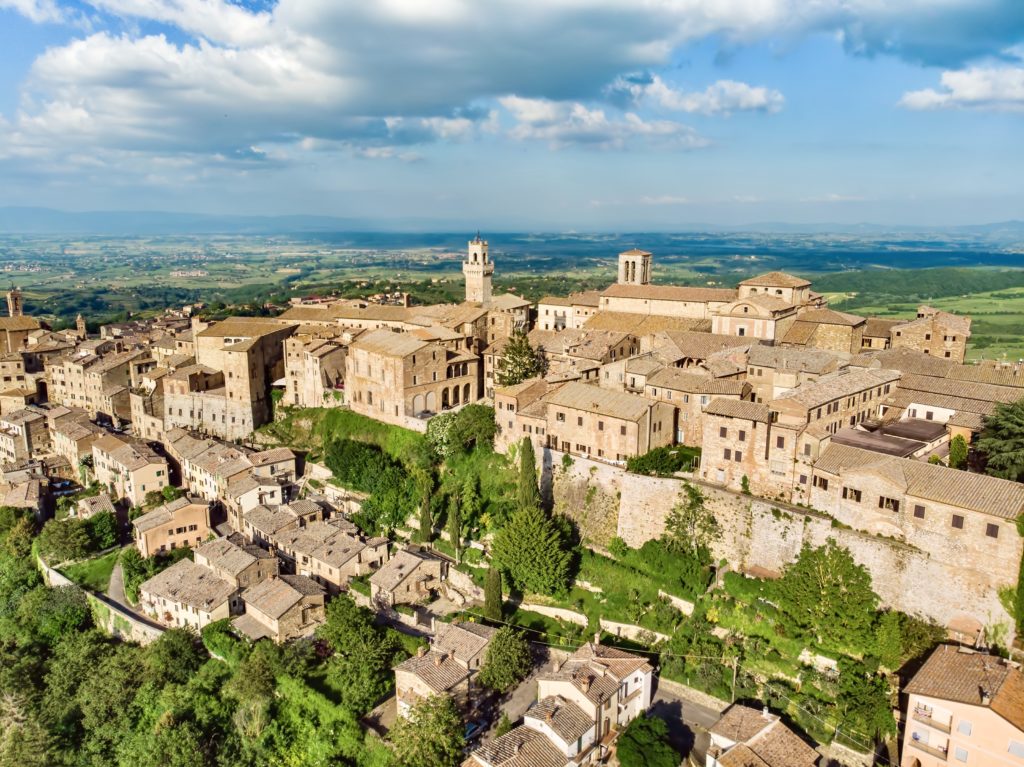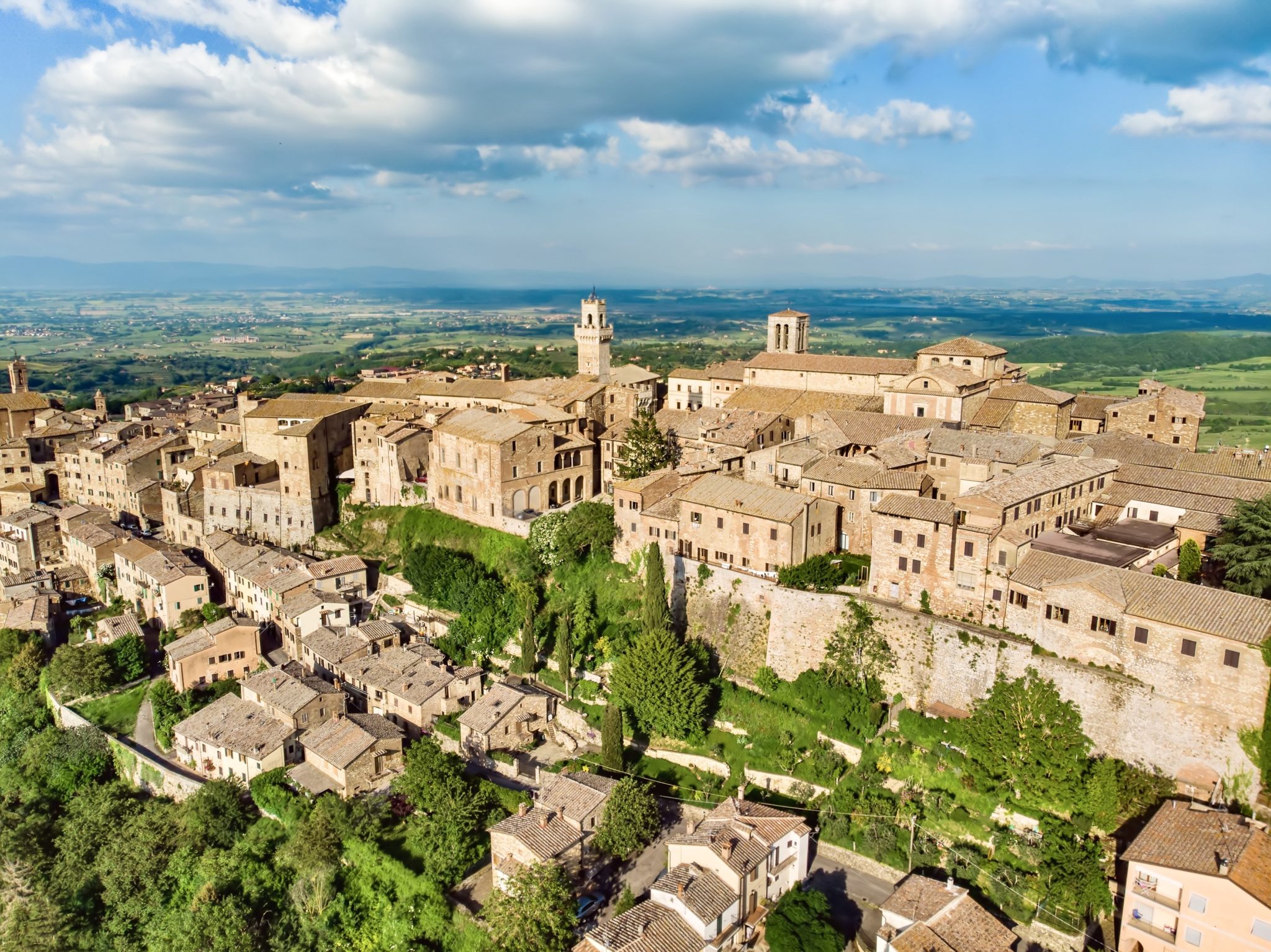 What To Do In Montepulciano
Montepulciano is an enchanting medieval village famous for its velvety vino nobile red wine. But you don't have to be a wine lover to visit Montepulciano.
Montepulciano is utterly beautiful and synonymous with most peoples' images of Tuscany. It's perched on a limestone ridge and draped in vineyards.
Montepulciano has Renaissance palazzi and churches of a splendor far beyond its dimensions. Its architectural beauty led Montepulciano to be dubbed the "Pearl of the 1500s."
There are plenty of amazing things to do in Montepulciano. If you haven't been to Montepulciano before, you may want to book a guided walking tour to get the lay of the land.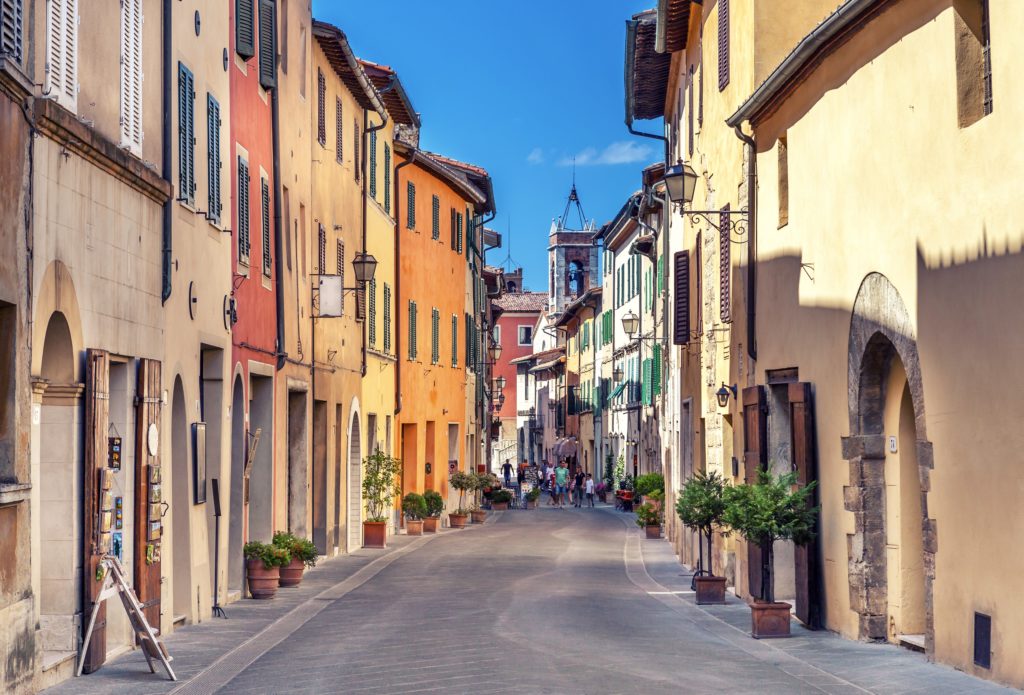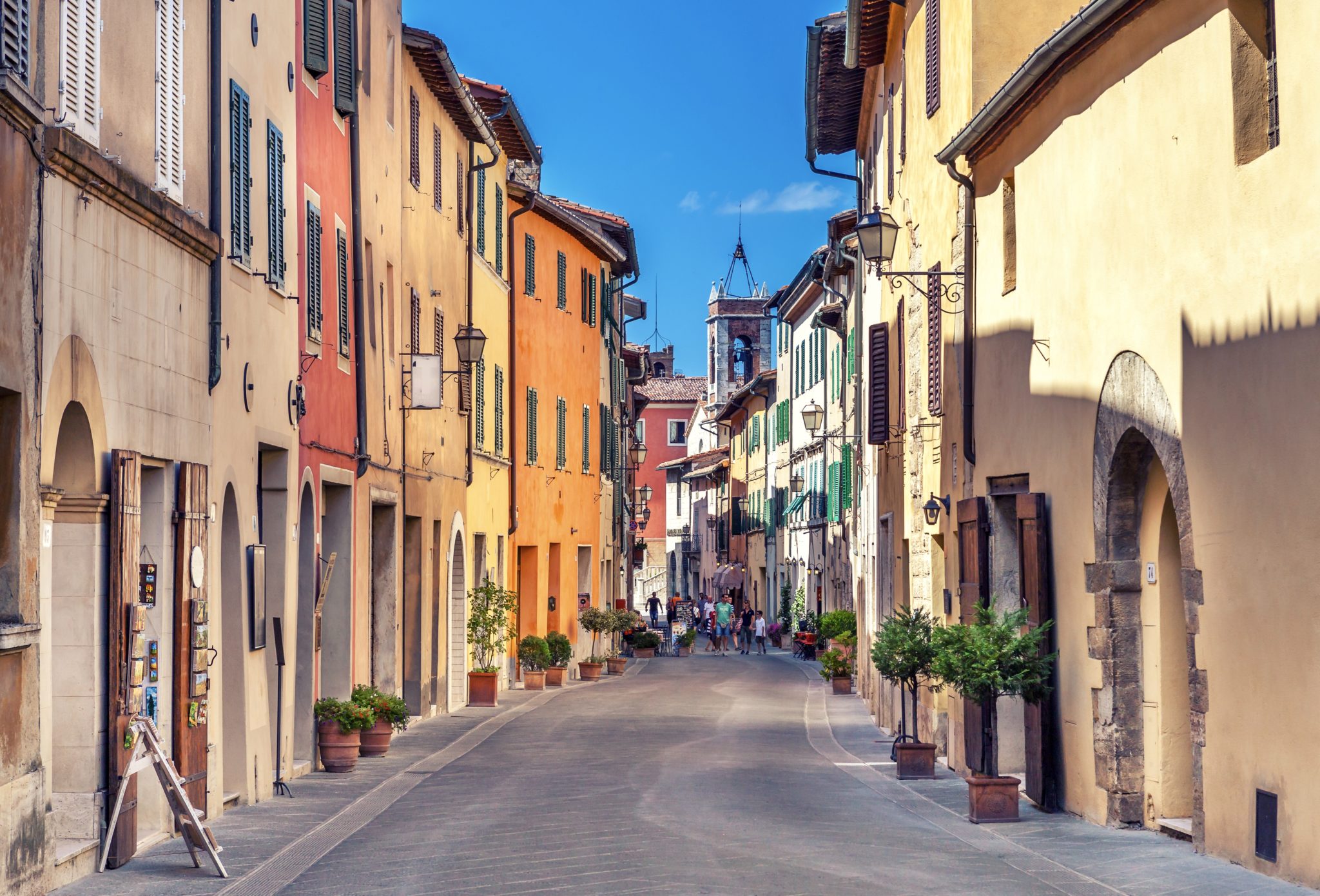 If not, the first thing to do in Montepulciano is stroll the pretty main drag, Il Corso. The street is filled with cafes, shops, and grand facades of Renaissance and Baroque palazzi.
Piazza Grande is the monumental center of Montepulciano. It contains all of Montepulciano's most important Medieval and Renaissanace architecture — a clock tower, the Duomo, Palazzo Contucci, and a beautiful well.
The Duomo was designed by Ippolito Scalza. It has an unfinished rusticated facade, similar to the Basilica of San Lorenzo in Florence. Inside, there are some important funerary monuments and paintings.
Next visit Palazzo Communale, which is Montepulciano's town hall. Plan on climbing the palace's tower.
It's a steep climb. But it's worth the effort for the amazing panoramic views over the town, Piazza Grande, and countryside.
The last thing to see in Montepulciano is the stunning San Biagio Church.
It's one of the most beautiful Renaissance churches in Italy. The impressive church is the masterpiece of Anthonio da Sangallo the Elder. It was built between 1518-45.
The church has a creamy honey-colored travertine facade, which contrasts nicely with the surrounding cypress trees. The facade is flanked by a detached bell tower, though the design originally called for two symmetrical towers.
While you're in Montepulciano, you may want to take a vespa tour of the beautiful country side. Or, go wine tasting in a nearby vineyard.
What To Do In Pienza
Pienza is just 20 minutes from Montepulciano. It's known as the first "ideal Renaissance town." Pienza was the brainchild of Enea Silvio Piccolomini, who would later become Pope Pius II.
In the 14th century, a renowned scholar-diplomat named Piccolomini transformed his humble hometown into a miniature Renaissance city designed for the people who lived there.
To achieve this remarkable feat, he enlisted the help of architect Bernardo Rossellino, who drew on the teachings of his mentor, Leon Battista Alberti, and the principles of Renaissance town planning.
The result was a radical departure from the disorderly medieval towns that preceded it. Rossellino's design brought harmony, rationality, and geometric precision to the urban landscape, creating a beautiful and functional space for the people of the town to live and work in.
To get the full lowdown on Pienza's history and attractions, you may want to book a guided walking tour.
Pienza's main square is the splendid Piazza Pio II.
The trapezoidal square is wrapped with Pienza's most impressive monuments — a cathedral, family palazzo, bishop's residence, and city hall. You'll want to visit all of them.
Pienza Cathedral has a classically-inspired facade made from travertine marble. The triple-arched facade recalls ancient Roman temples or triumphal arches.
Hidden behind it is an airy high-vaulted Gothic cathedral. Illustrious Sienese artists decorated the church with magnificent altarpieces.
The Piccolomini Palace was the domestic summer residence of the Piccolomini family. There's an elegant courtyard and period furniture.
The spacious loggias face the countryside and look out over the first "hanging garden" to be laid out since antiquity.
When you're done admiring the buildings, take a stroll along the Passeggiata Panoramica. It's a natural path along the edge of the town walls offering up a wonderful views over the Val d'Orcia.
Want to have dinner in Pienza? Try Trattoria Latte di Luna on the Corso Rossellini, one of Pienza's main streets. It's a tiny restaurant inside a rose garden.
You can also try Osteria Baccus on Via del Casello. For sweeping views of the Val d'Orcia, pop into La Terrazzo del Chiostro Restaurant.
Abbey of Monte Oliveto Maggiore
If you have extra time in your day, you may want to visit the Abbey of Monte Oliveto Maggiore. The abbey is an impressive set of tall, broad red buildings screened, scored and framed by lines of cypresses.
It's worth the trip just for the fantastic setting. Monks still live in the abbey, looking over its precious art works.
In 1497, the abbot commissioned Luca Signorelli to complete a fresco cycle about the life of Saint Benedict in the Grand Cloister. Signorelli bailed early on in the project, lured away by the commission to fresco the San Brizio Chapel in Orvieto Cathedral.
The job was taken over by a "madman," nicknamed Il Sodoma. He finished the job, creating 35 beautiful frescos.
Some of the frescos contain hidden portraits of the great figures of the day — Michelangelo, Raphael, Leonardo da Vinci, and Lorenzo the Magnificent. There's even an extravagant self portrait of Sodoma.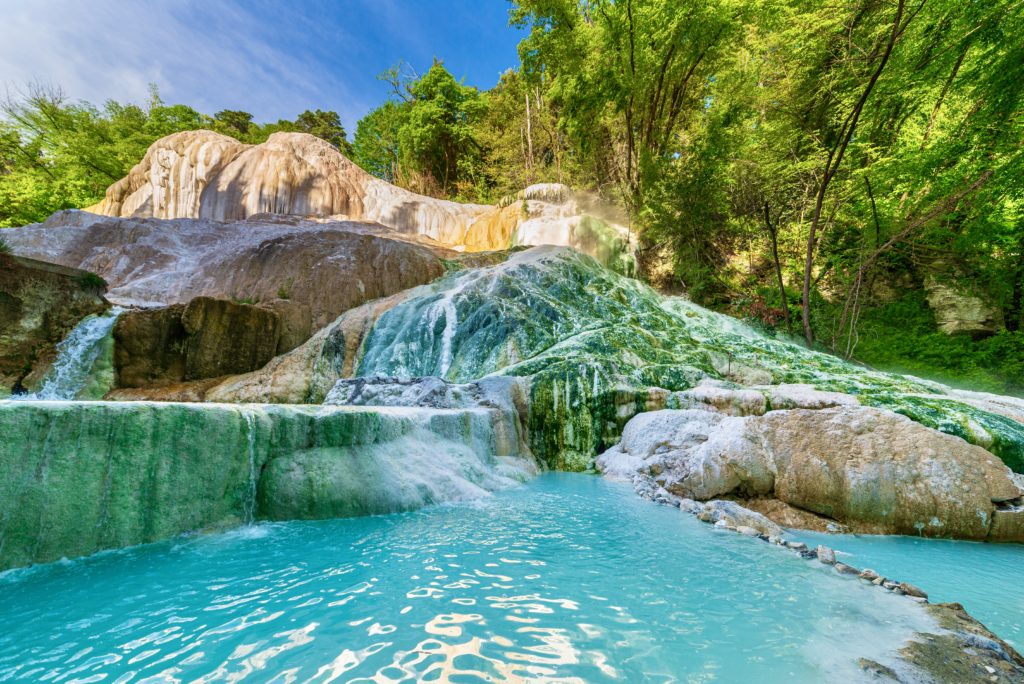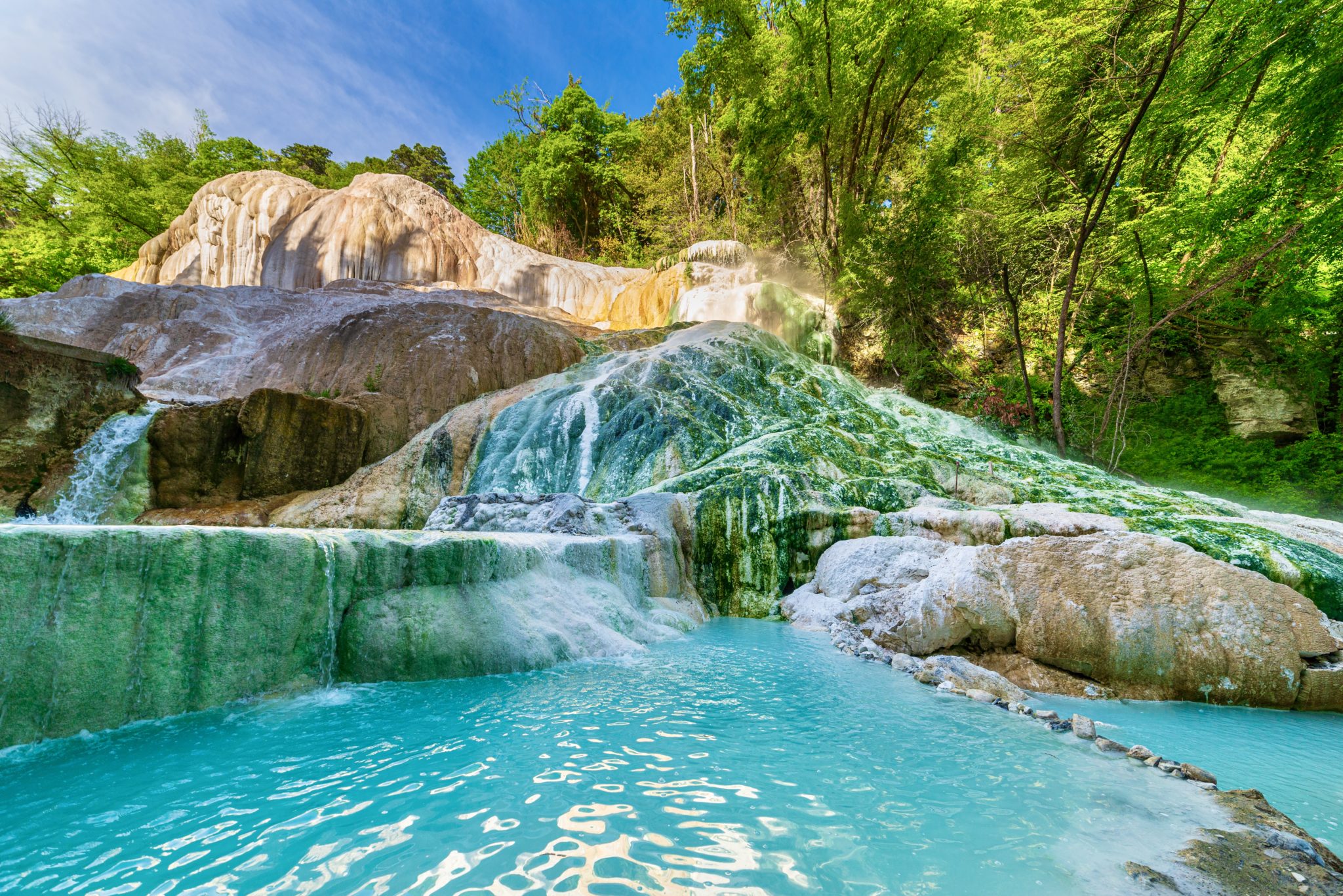 Bagni San Filippo
As an alternative to Pienza, you might consider a good spa soak. Bagni San Filipp is just 16 miles from Montepulciano.
The natural thermal baths are rich in minerals and make for a perfect spa day. The waterfall (nicknamed the "White Whale") and hot pools are surrounded by forests. The springs are completely free to visit.
You can drive there in 30+ minutes from Montepulciano. Or, buses run three times a day from Montepulciano. So make sure to check the timetable and plan accordingly.
Day 5: Sienna
Siena is Italy's most beautiful and beloved medieval city. The town's gorgeous 13th century main square, the Piazza del Campo, is still the city's symbolic and physical heart.
The medieval bareback horse race, The Palio, is still the most anticipated event of the year. And the contrade, or neighborhood associations, still inspire a tribal loyalty as deep as they did in medieval times.
What To Do In Siena
Start your day off with a strong espresso and pastry at either Caffe Fiorella on Via de Citta or Bar Pasticceria Nannini on Via Banchi di Sopra.
Now, fueled up, you're ready to explore Siena's Duomo complex. It includes Siena Cathedral, the Baptistry, the Crypt, the Piccolomini Library, the Facciatone viewing terrace, and the Museo dell'Opera del Duomo Museum.
To see them all, you need to pre-book the Opa Si Pass. Click here to purchase it online in advance.
Siena Cathedral is one of Italy's most beautiful churches, especially for lovers of all things Gothic. It's clad all over in Siena's trademark white and dark green marble.
The greatest artists of the day contributed master works to Siena Cathedral, including Donatello, Pinturicchio, Baldassarre Peruzzi, Ghiberti, Pisano, Michelangelo, and Bernini.
The highlight may be the Piccolomini Library. The library is covered in lively and colorful frescos, They were created by Pinturicchio, possibly with the help of Raphael, who was then his assistant.
You'll also want to visit the Duomo Museum. It houses sculptures and art that were removed form the Duomo.
You'll see sculptures by Pisano, Donatello, and Bernini, along with a gorgeous rose window. There's also a world famous Maesta by Duccio in the Sala di Duccio.
There are 45 accompanying panels. It was the most expensive painting ever commissioned it its time.
The museum is also where you'll find the Facciatone viewing platform. You'll have a great view of Il Campo and its palazzi.
Then head to the Piazza del Campo itself. It's a huge, gorgeous space reached by winding streets that suddenly converge in front of the city's exquisite town hall, Palazzo Pubblico.
Grab some lunch in this area and then visit the Palazzo Pubblico. The palazzo is a harmonious example of early Renaissance architecture. It has a curved brick facade and beautiful triforate arched windows.
The palace was built in 1297-1308 for the Council of Nine, the governing body of Siena. Beside the palazzo soars the slender Tower of Mangia, which you can climb for panoramic views.
There's no elevator. And it's over 500 steps to the top — a somewhat claustrophobic one way trek.
The Palazzo Pubblico also houses Siena's Civic Museum. That museum holds one of the world's most important and intact secular fresco cycles from the Middle Ages and a famous Maesta by Simone Martini.
Click here to pre-book an entry ticket to the palazzo.
If you speed through the palazzo, head next door to the Hospital of Santa Maria della Scala. it's one of Siena's most important museums. There are frescos by Simone Martini, Ambogio and Pietro Lorenzetti, Domenico di Bartolo, and Sebastiano Conca.
If your legs aren't tired yet and you have time, take a hike up to another important church in Siena, the Gothic red brick Church of San Domenico. It's worth it to see the pretty Chapel of Caterina, with frescos by Il Sodoma.
Do some more serendipitous strolling. Then settle in for dinner.
The best places to eat are 5-10 minutes from Il Campo. I recommend La Campagnia dei Vinattieri (Italian food and a great wine cellar), Osteria Il Rialto (cozy seafood spot), and Ristorante Guido (a great tagliolini and wine list).
Alternatively, you can have dinner in a vineyard around Siena. Or take a cooking class that includes dinner.
There's a lot to see in Siena. You may want to book a guided walking tour or a private tour.
Another fun thing to do is go hot air ballooning from Siena. These rides are simply magical. You'll have a bird's eye view of one of Europe's most beautiful landscapes.
You can also book a tour in Siena that includes a visit to a contrada museum, which I highly recommend. You'll gain insight into the contrade and the Palio race.
If you're staying in Florence, there are plenty of guided tours to Siena. One popular day trip combines Siena, Pisa, and San Gimignano, giving you big bang for the buck. You can also book a private tour from Florence.
Day 6: Monteriggioni + Cortona
AM: Monteriggioni or Badia a Colitbuono
Before heading to Cortona on day 6 of your 7 days in Italy, you have two options. You can have a leisurely morning and then have lunch at Badia a Coltibuono. Or spend the morning in Monteriggioni.
Monteriggioni is tiny walled village. It consists of little more than a large pizza, which is guarded by 14 towers set into perfectly preserved stone walls.
Four euros gets you entry to the walls and the museum onsite. You'll only need an hour or two visit. Then have lunch at Il Pozzo, featuring classic Tuscan cuisine that's praised well beyond Tuscany's borders. Make reservations!
Badia a Coltibuono is an ancient 11th century abbey nestled on the hillside of the Monti del Chianti. This was one of my best meals on my last trip to Tuscany. Aside from the meal, you can take a tour of their vineyards or learn about Tuscan honey.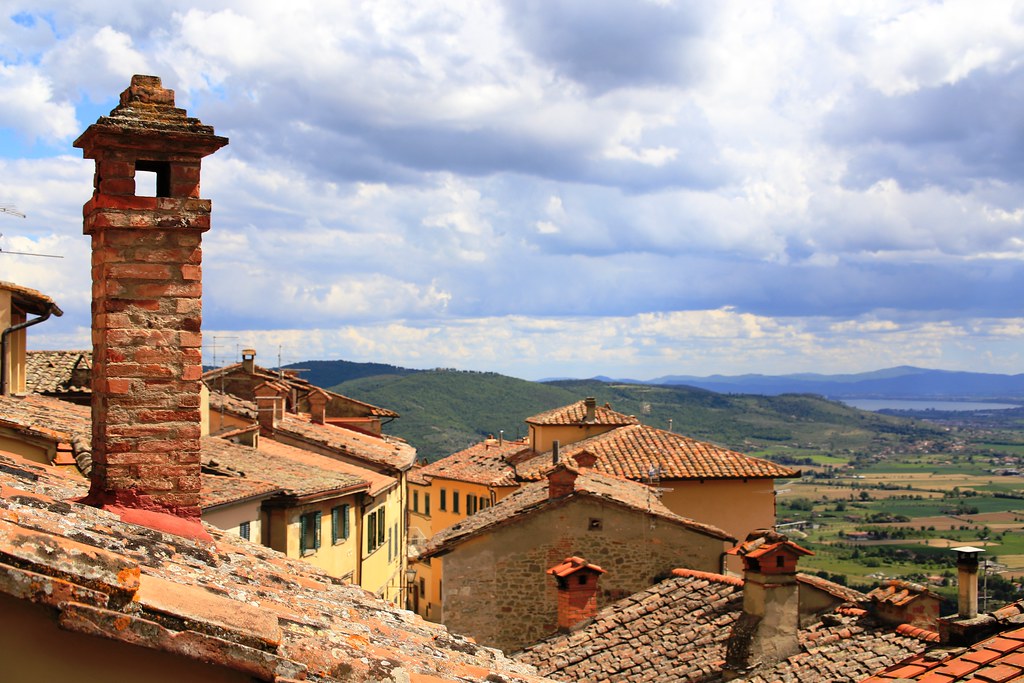 PM: Cortona
After lunch, head to the authentic medieval town of Cortona.
Buttressed against Monte Sant-Egidio, at a height of 2,000 feet, Cortona has the broadest panorama of any hill town in Tuscany.
Cortona was made famous by the movie and book Under The Tuscan Sun. It's a quiet stony charmer.
What To Do In Cortona
Cortona's main street is Via Nazionale, the only flat place in town.
At one end of the street is Cortona's most famous piazza, the Piazza della Repubblica, perfect for lunch and people watching. At the other lies the splendid Piazza Garibaldi.
Cortona has a wonderful little museum you'll want to visit, the Museo Diocesano. It's located in Chiesa del Buon Gesù in the Piazza del Duomo.
The museum has some absolutely superb paintings — works by such Renaissance luminaries as Far Angelico and Luca Signorelli. It also houses the famed Cortona Altarpiece.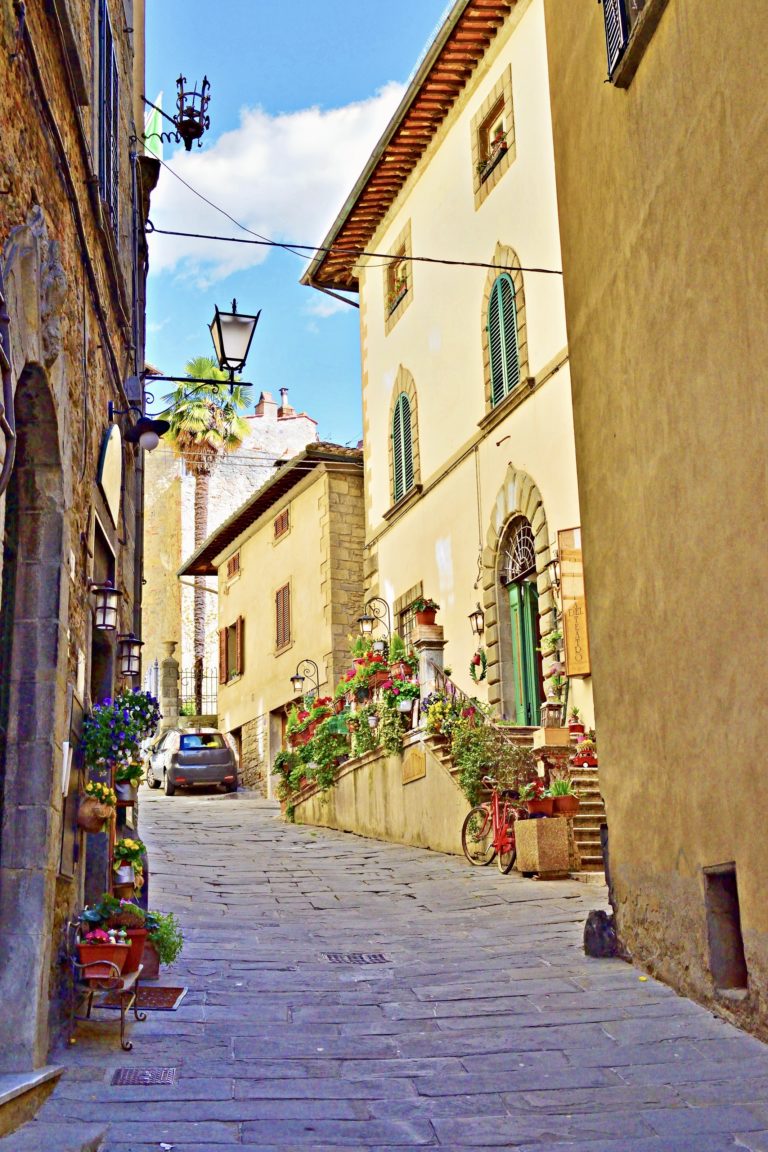 If you like Fra Angelico, the San Domenico Church has a fresco of his just above the entrance.
Cortona's duomo is lackluster and you can skip it. But you may want to pop into the Etruscan museum, if you're a history buff.
But the best part of Cortona is simply strolling the streets. You can brave the steep grades to reach the ruin of the Medici Fortress.
If you want to have dinner in Cortona, I recommend La Bucaccia or Osteria del Teatro.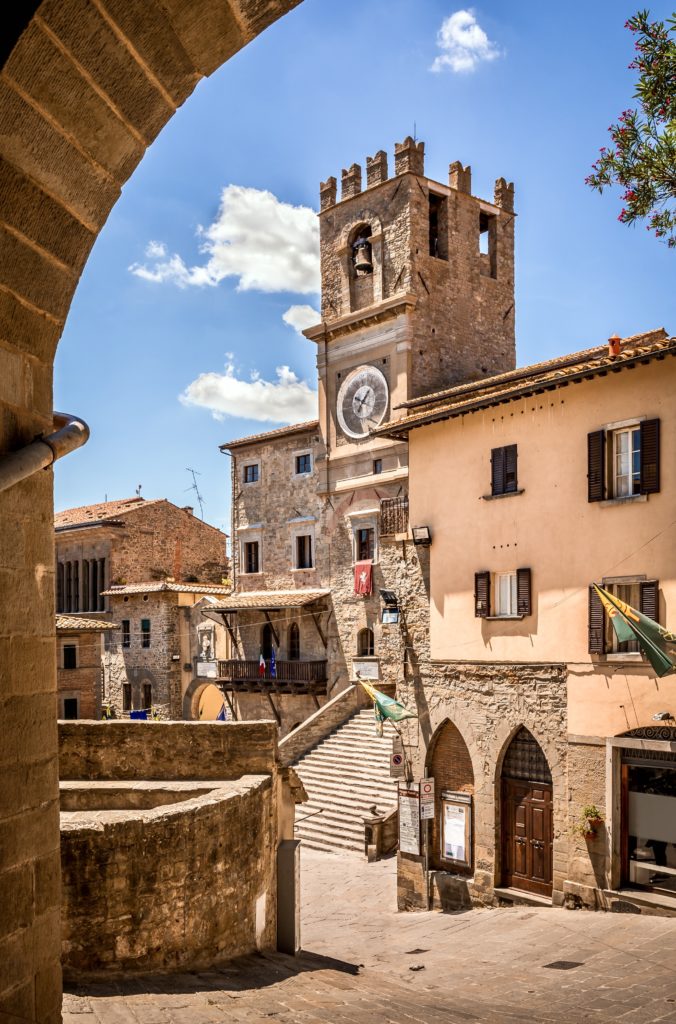 Cortona believes that it has a better bistecca all fiorentina (steak) than Florence because it's closer to the source — the white Chianina cattle in the Val di Chiana.
In Cortona, you can book a guided walking tour. Pasta lovers can also take a cooking class.
Just 15 minutes afield from Cortona, you'll find a 1,000 church in a field of sunflowers (in summer).
The Abbey Church of Farneta was once part of a Benedictine abbey important enough to have been the site of a meeting between Emperor Charles V and Pope Clement VII.
The abbey was saved from centuries of neglect through the restoration obsession of Don Sante Felici, a Benedictine priest. It's a masterpiece of Pre-Romanesque architecture that you may have all to yourself on a visit.
Day 7: Arezzo
On day 7 of your one week in Tuscany, head to Arezzo. If you're looking for an off-the-beaten-path destination with an artsy vibe, you've hit the jackpot!
The town has a charming pedestrianized centro storico (historic center) and a modern town below, offering the best of both worlds.
The main square, Piazza Grande, is a must-see attraction. This quadrangle resembles the parade ground of a fortress and is adorned with amazing old-world architecture that will leave you in awe. Take a break from sightseeing and enjoy a glass of wine at Cafe Vasari while people-watching.
On the north side of Piazza Grande, you'll find a beautiful loggia designed by Vasari, similar in design to the one at the Uffizi Gallery. On the other side, you'll see Arezzo's clock tower at the Palazzo della Fraternita dei Laici. It's a stunning sight that you won't want to miss.
You can climb the clock tower for some amazing views. There's a small terrace at the top. Unfortunately, there's no lift. But it's only 57 stairs to the top.
The top attraction in Arezzo is the Basilica of San Francesco, or St. Francis. It's has a rough brick facade paired with an airy barn-like interior.
The church houses Arezzo's top attraction, Piero della Francesca's Legend of the True Cross fresco cycle. It's hugely important, considered one of the great and most influential frescos of the early 15th century.
Arezzo's local hero is the artist Giorgio Vasari. You'll see his name everywhere.
Vasari is better known today as the biographer of his colleagues than as an artist himself. But, in Arezzo, you can visit his former home, Casa Vasari.
It's an utterly charming museum decorated with frescos by the artist himself. Here's my complete guide to Casa Vasari, with must know tips for visiting
If you're in Arezzo, a visit to its cathedral is a must. The Cathedral of San Donato may have an unremarkable exterior, but its early Gothic architecture dates back to the 13th century, and it took over two centuries to build. The bell tower, added in the 19th century, is a notable symbol of the city.
Inside the cathedral, you'll be treated to breathtaking art pieces such as Piero della Francesca's Mary Magdalene portrait, Vasari's Baptism of Christ, and exquisite terra cotta ceramics by della Robbia.
Another sight to behold is La Pieve, a stunning Romanesque church that dates back to the 11th century. With its ancient beauty and grandeur, it's definitely worth stopping by to appreciate.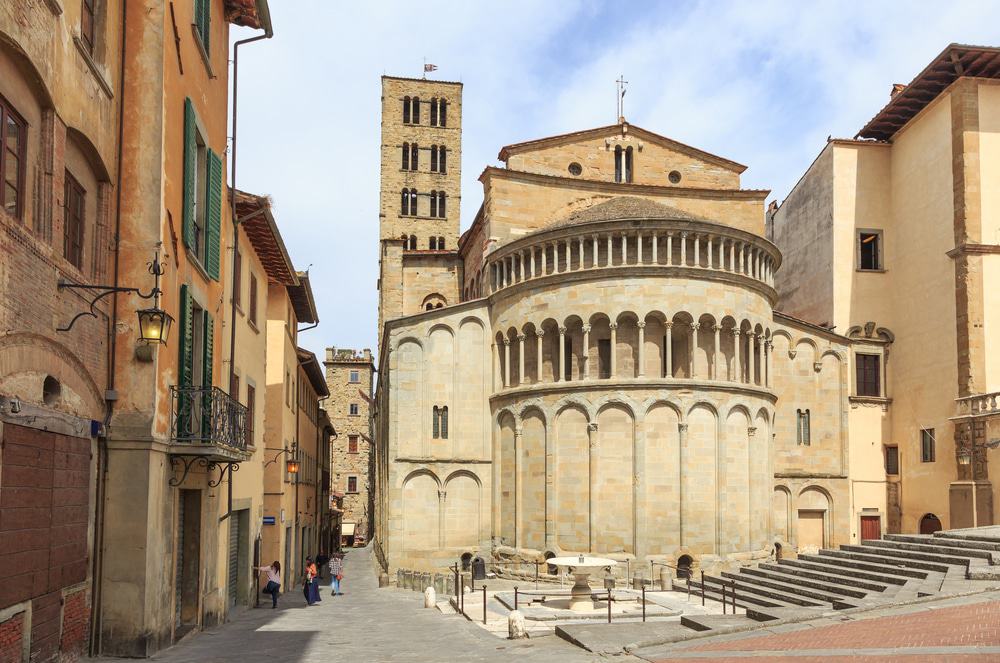 The church is built in the Pisan style of architecture and is Arezzo's most important sacred building.
The lacy facade has three levels of arcades built on top of each other. There are blind arches on the bottom and loggias on the top two floors. The tiered columns are spaced closer as each level rises.
If you are visiting in June or September, you may be able to witness Arezzo's medieval festival, the Joust of the Saracens.
With just one day in Arezzo, you may want to book a guided walking tour to get the lay of the land and see the top attractions. Arezzo is also a fine place to take a food and market tour or pasta making class.
After you're done in Arezzo, head back to Florence to catch your plane or head to your next destination.
Tips For Spending 1 Week In Tuscany
Here are some must know tips for your one week in Tuscany itinerary.
1. How To Get To Tuscany
Most people fly into the Amerigo Vespucci Airport in Florence. You can get there from many major cities in Europe.
You can also reach Florence via the airports in Rome or Milan, proceeding on to Florence via high speed train. Rome is the most convenient hub.
From Florence's airport, take a taxi to your hotel. The ride is about 15 minutes.
2. Where To Stay In Tuscany
This is a big topic. I've done different things when staying in Tuscany — hotels, villas, Air Bnbs.
If you're a city person, you could consider staying in Florence for your one week in Tuscany. Trains and guided tours leave daily from Florence. So you could alternate spending time in Florence with taking day trips from Florence.
But Florence is a pretty busy place. You may prefer some peace and quiet.
If so, then consider renting a villa in the countryside for one week in Tuscany and using that as your base. This is probably my favorite option.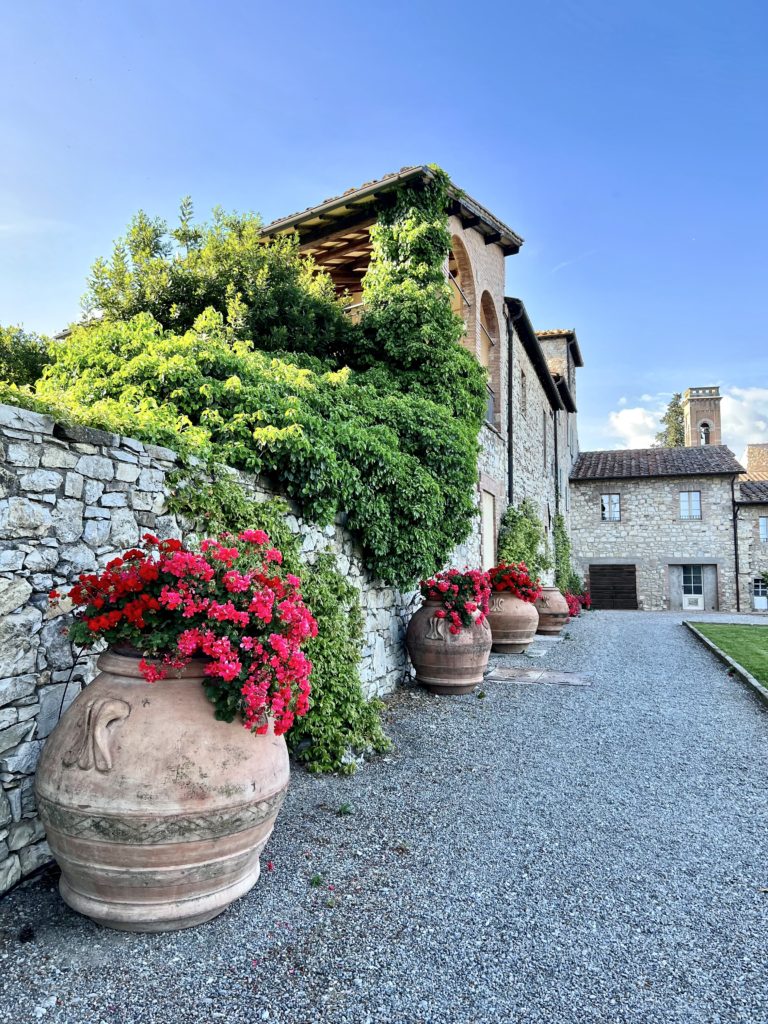 You will have to do some driving to get to your day trip destinations. But it's worth it to come home every night to your own place and not have to move around. Plus, you won't have to eat out every meal.
If you want to rent a villa, I would recommend somewhere in central Tuscany. You may want to stay near San Gimignano, Arezzo, or somewhere in the Chianti region between Florence and Siena. These are all centrally located for sightseeing.
Another option is to pick a couple different hotels as your base. It could be Florence + one of the places I mentioned above. Or, you could split your time between northern Tuscany and southern Tuscany.
In northern Tuscany, stay in the Chianti region or Siena. In southern Tuscany, both Montepulciano and Pienza make good bases.
My last time in Tuscany, I was on a bike tour. I stayed at the Borgo San Felice in the Chianti region about 30 minutes north of Siena. Then, I stayed at Castello del Nero near San Gimignano. Both hotels were utterly divine.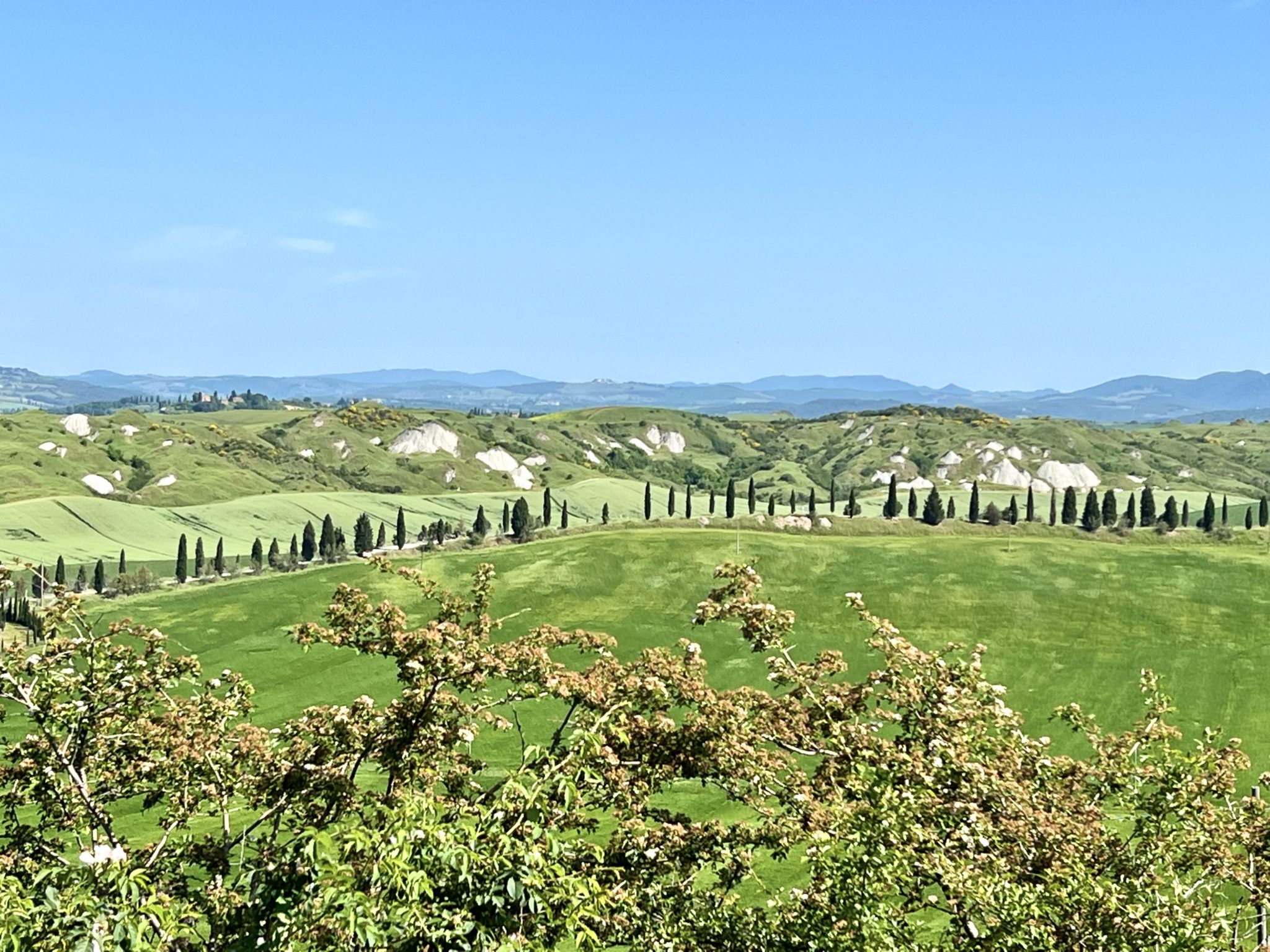 3. How To Get Around Tuscany
I find it easiest to drive around Tuscany. The scenery is gorgeous. Driving through the undulating hills, vineyards, and olive groves is incredibly enjoyable.
Driving also gives you more flexibility for your one week in Tuscany itinerary. For example, on the spur of the moment you may add on another town on a day trip. Or, spend the day in one place and have dinner in another. You can also stop for photos on a whim.
But you can take the train around Tuscany too. Florence, Pisa, Lucca, and Siena are readily linked by public transportation. But not all hill towns have train stations.
If you are not staying overnight in Florence, it's a good idea to take the train to the city to avoid the hassle of parking.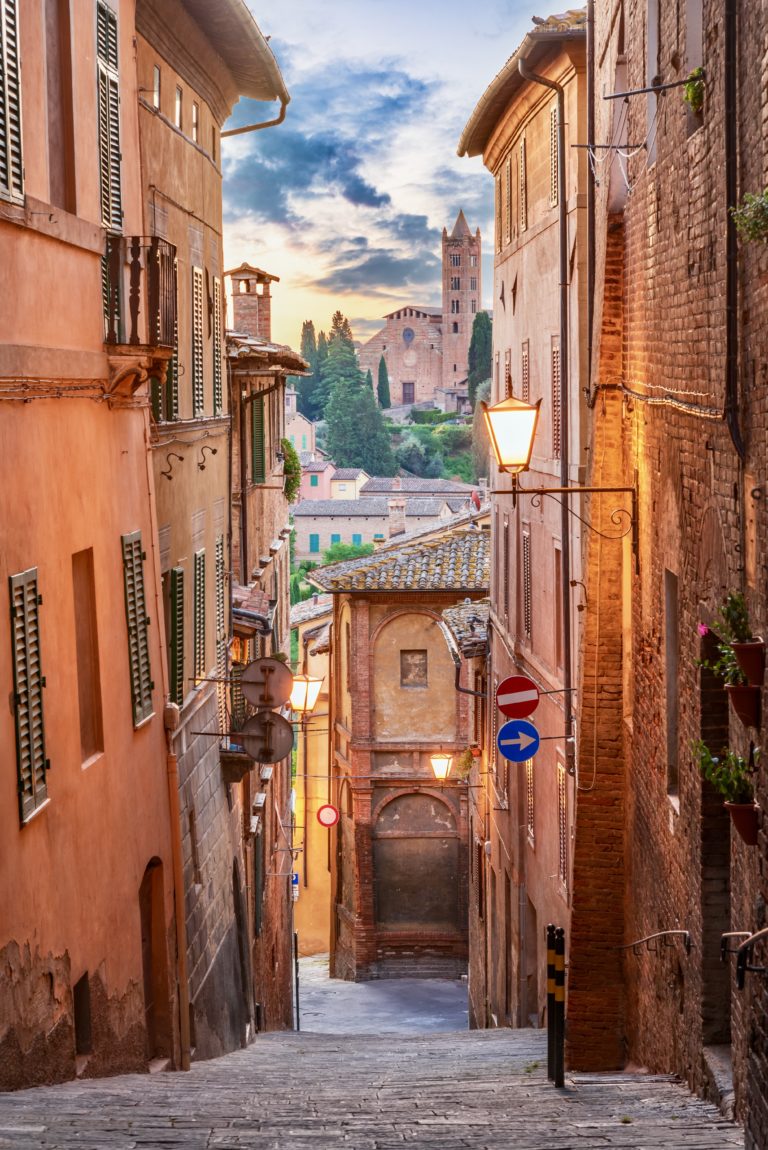 4. Driving In Tuscany
Driving in Tuscany is fairly easy (outside Florence). Try to get a compact car. The roads are narrow and parking places can be tight to get into.
The roads in Tuscany are fairly well paved. There are some toll roads, called the autostrade. But most aren't.
You may want to get a telepass from your rental car agency to help you speed through the tolls. Otherwise, when entering the toll area to pick up your ticket, head to the lane marked "biglietto."
You then pay at an exit booth. There are separate lanes for paying with cash and credit cards. The booths won't be manned.
Be forewarned, gas is very expensive in Italy.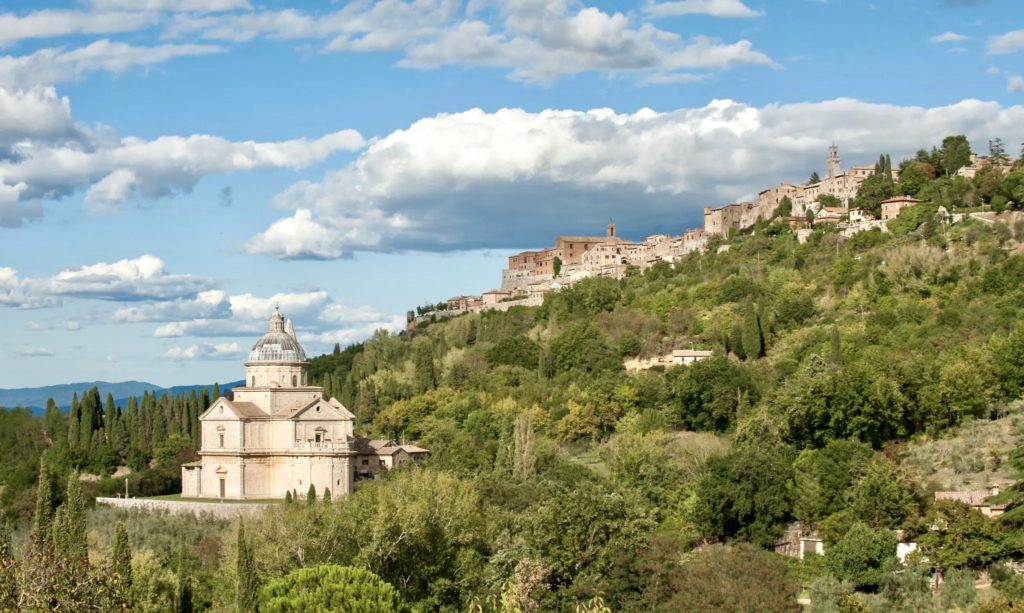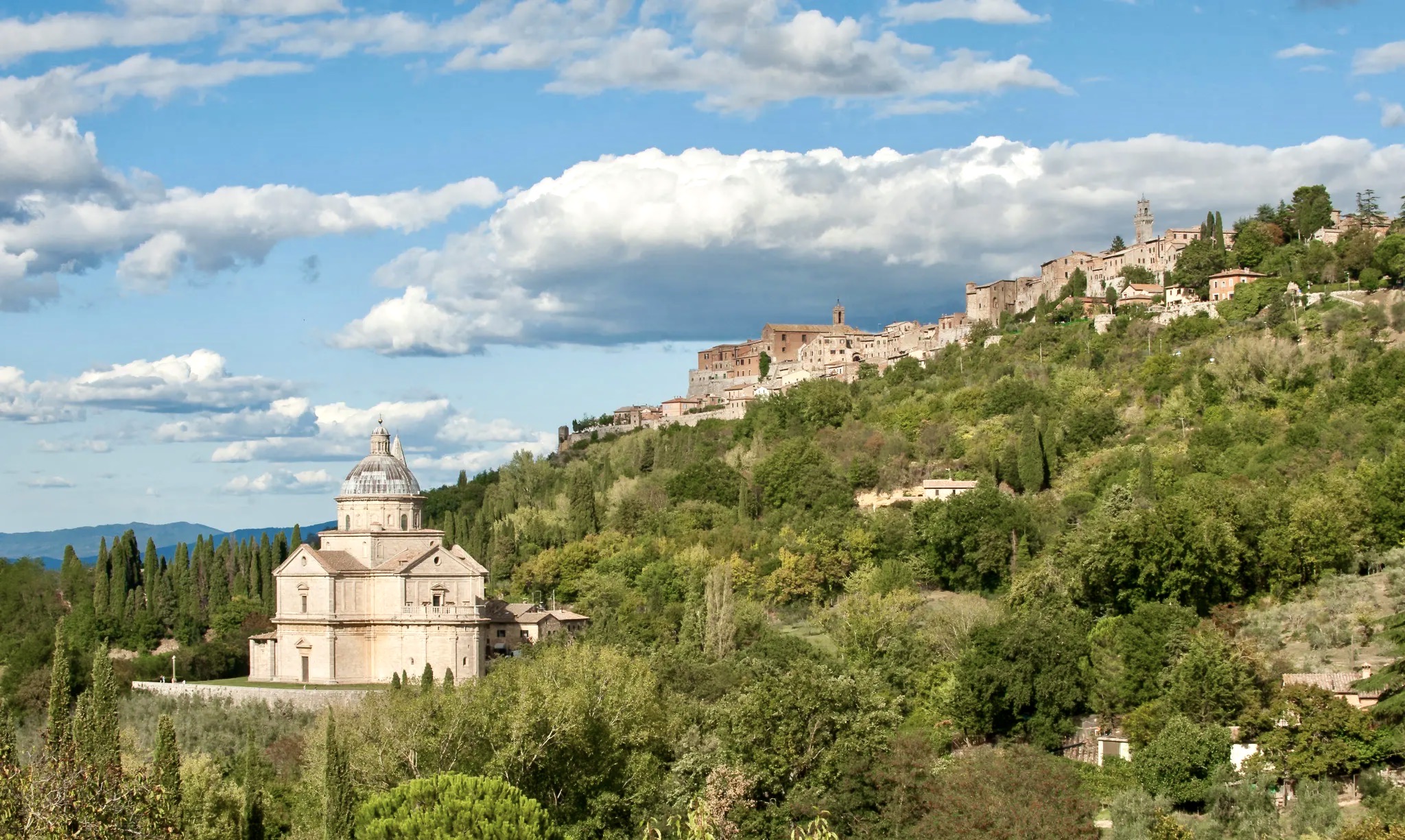 If you've driven in Europe before, you'll know to expect lots of roundabouts. If you have a GPS with voice directions, they're pretty easy to navigate. It's also helpful to have a co-pilot.
You won't want to drive into the centro storico any of the hilltop villages you visit. In many cases, you can't drive into these blue zones without a special permit anyway.
I usually research parking places in advance. But there are usually well marked lots outside the historic center of most towns.
Most lots are "pay and display." You get a ticket for X amount of time and display it in your car window.
The Italians drive pretty fast. But you don't have to. Plus, there are speed cameras everywhere.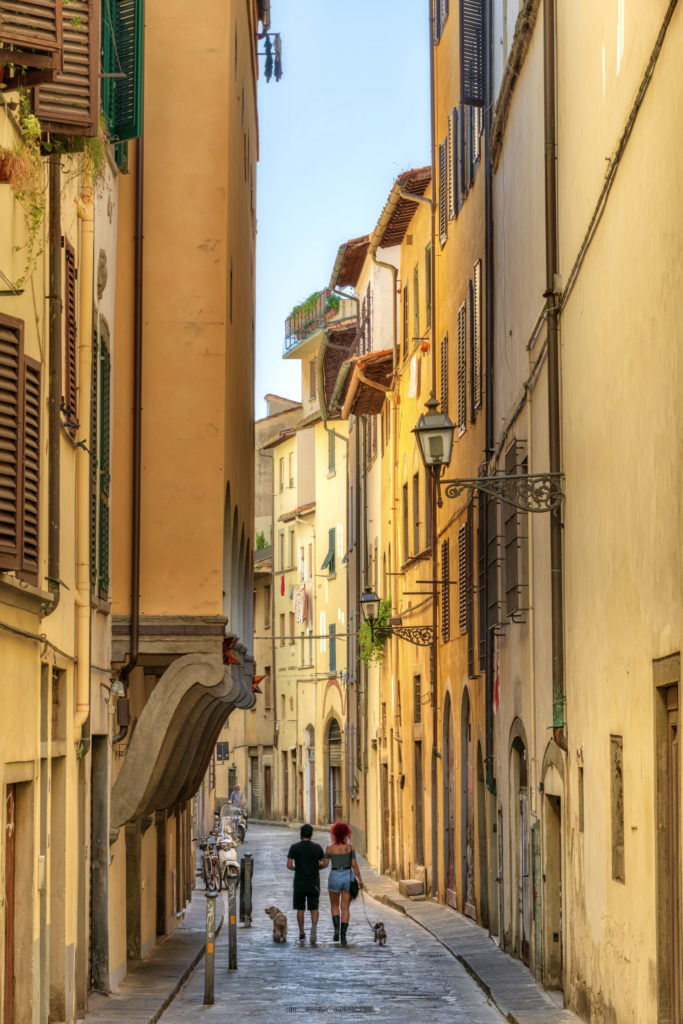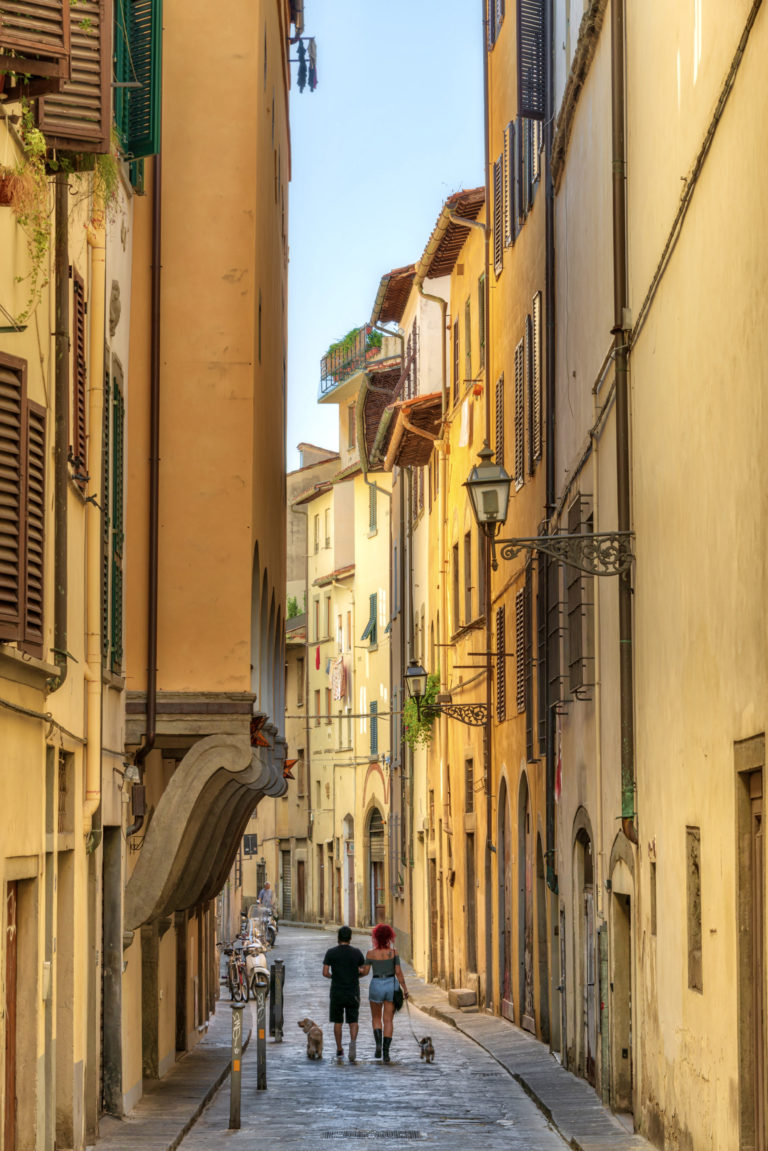 5. Best Time To Visit Tuscany For One Week
The best time to spend one week or 7 days in Tuscany is the spring or fall. The summer tends to be crowded and hot.
You could even visit in November. It's still mild and the crowds have died down.
In the off season (winter), it's possible some attractions will be closed or have shorter hours.
I hope you've enjoyed my guide to spending one week in Tuscany. You may enjoy these other Italy travel guides.
If you need a one week in Tuscany itinerary, pin it for later.