Planning to spend day in Trani on a Puglia road trip? This is the ultimate one day in Trani itinerary. It covers all the top attractions and best things to do in this little seaside city.
Trani is a town where history, culture, and beauty combine to create an unforgettable Italian experience. Once a thriving medieval seaport, Trani boasts charming cobbled streets, medieval architecture, and a serene waterfront.
Trani's storied past is reflected in its well-preserved architectural landmarks, especially the striking Trani Cathedral that graces the waterfront. As you wander through the labyrinthine alleys, you'll encounter quaint squares flanked with local cafes and artisan shops.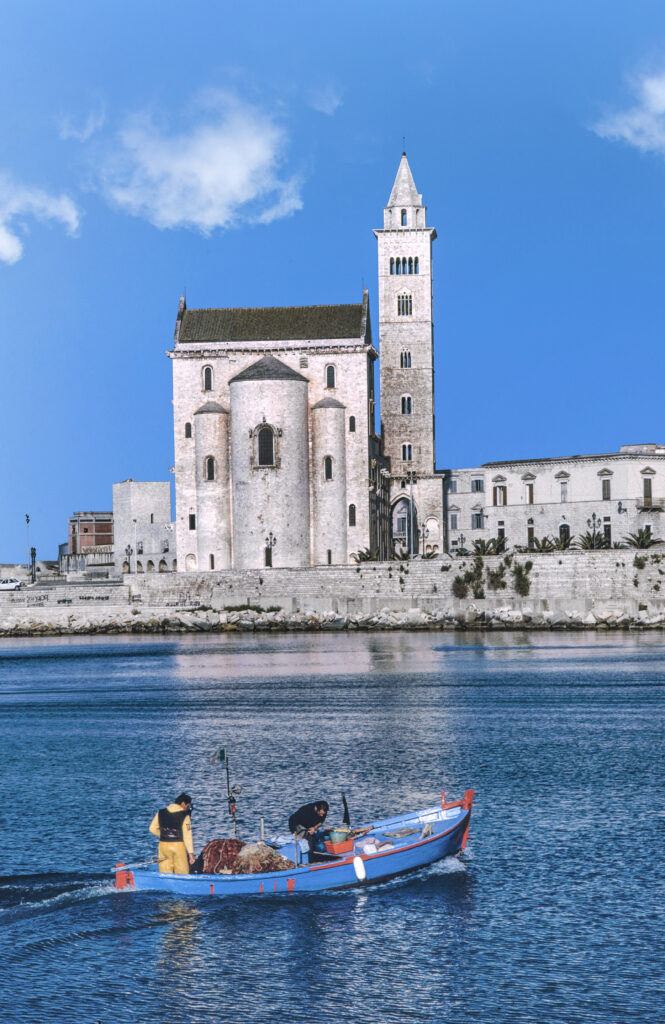 Overview Of One Day In Trani Itinerary
Here's a snapshot glance of what you can see with 1 day in Trani:
Trani Cathedral
Trani Harbor
Historic Center
Swabian Castle
Diocesan Museum
Trani Beach
Castel del Monte
Here are some of the top tours and experiences you can't miss in Trani: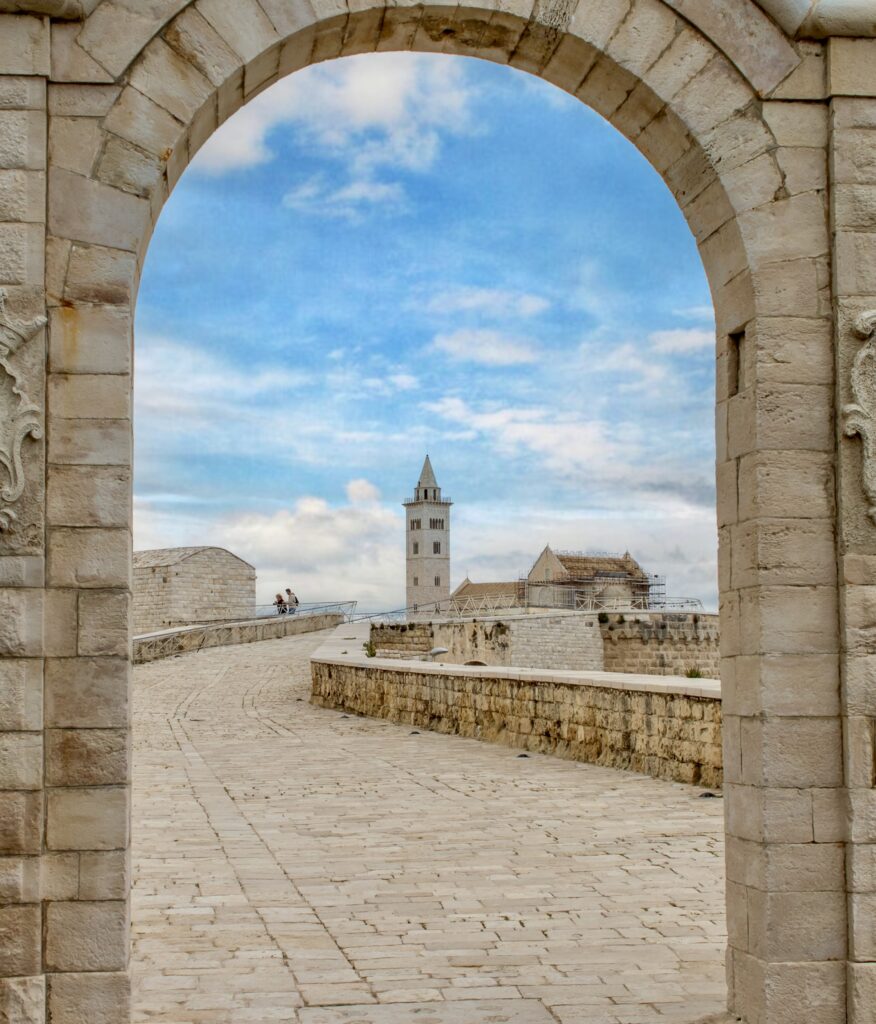 One Day In Trani Itinerary
With this easygoing one day itinerary, you'll have a blast exploring Trani's history, munching on delicious food, and enjoying the coastal vibes of this charming Puglian town.
Trani Cathedral
Start your day with a visit to the impressive Cathedral of San Nicola Pellegrino, a beautiful example of Apulian Romanesque architecture.
It's an architectural masterpiece made of pink limestone that seems to merge with the sea. It was built to rival the Church of San Nicoli in nearby Bari.
The church has a unique feature that sets it apart — a high pointed arch in the passage beneath the bell tower. The interior is a soaring display of arches, columns, and vaults all made from golden limestone.
The bronze entry doors were designed by the same artisan responsible for the beautiful doors of Monreale Cathedral in Sicily. The panels feature dragons, lions, archers, jugglers, and even an image of the artist himself.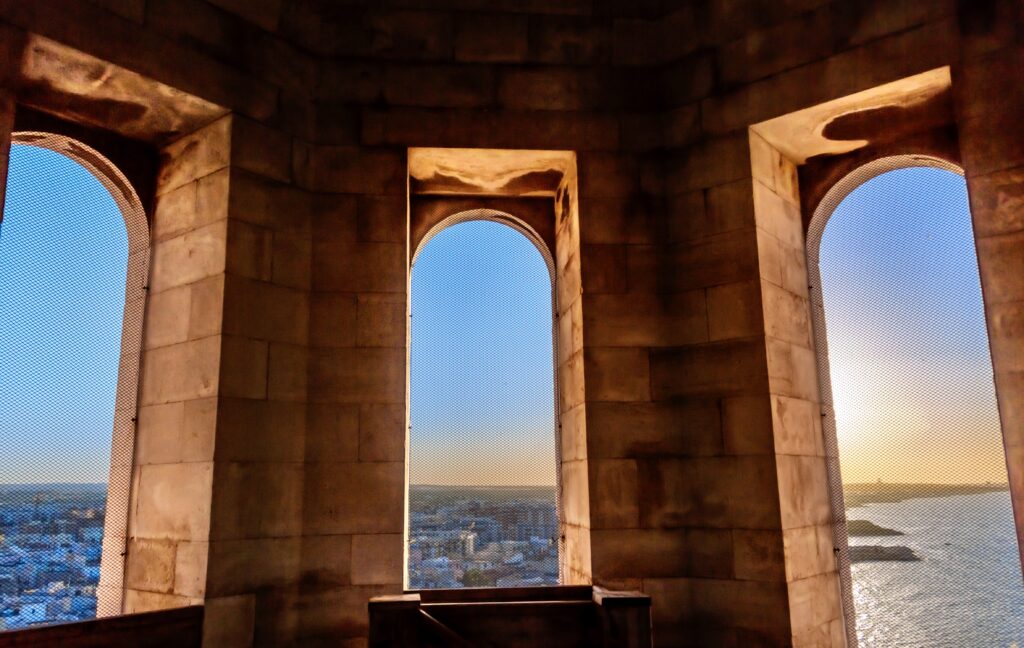 There are three underground crypts. In the main one, you'll find the remains of Trani's patron saint, San Nicola Pellegrino. His tomb rests among a forest of columns. You can also access it from the exterior.
The cathedral's campanile, or bell tower, is almost 200 feet high. It was restored in the 20th century. A long spiral staircase leads to the top.
The cathedral is especially beautiful at sunset when the stone captures the sun's orange light. You might want to return then to climb the bell tower. You'll have beautiful panoramic views of Trani and the Adriatic Sea.
Historic Center & Harbor
Take a leisurely walk along the colorful harbor. It was once the economic center of train. Check out the fishing boats and feel the sea breeze on your face.
Take a leisurely stroll through the historic center with its narrow streets and pretty squares. Don't forget to look up and admire the unique balconies, intricate carvings, and the captivating blend of grand architecture and charming decay that embodies the essence of Southern Italy.
Check out the beautiful medieval Church of Ognissanti, built in the 1100s. It's got some beautiful frescoes inside. The grand interior also boasts altars, sculptures, and religious paintings.
Pop into the Synagogue Museum to learn about Trani's Jewish heritage. And be sure to grab a gelato in the pretty Piazza Teatro.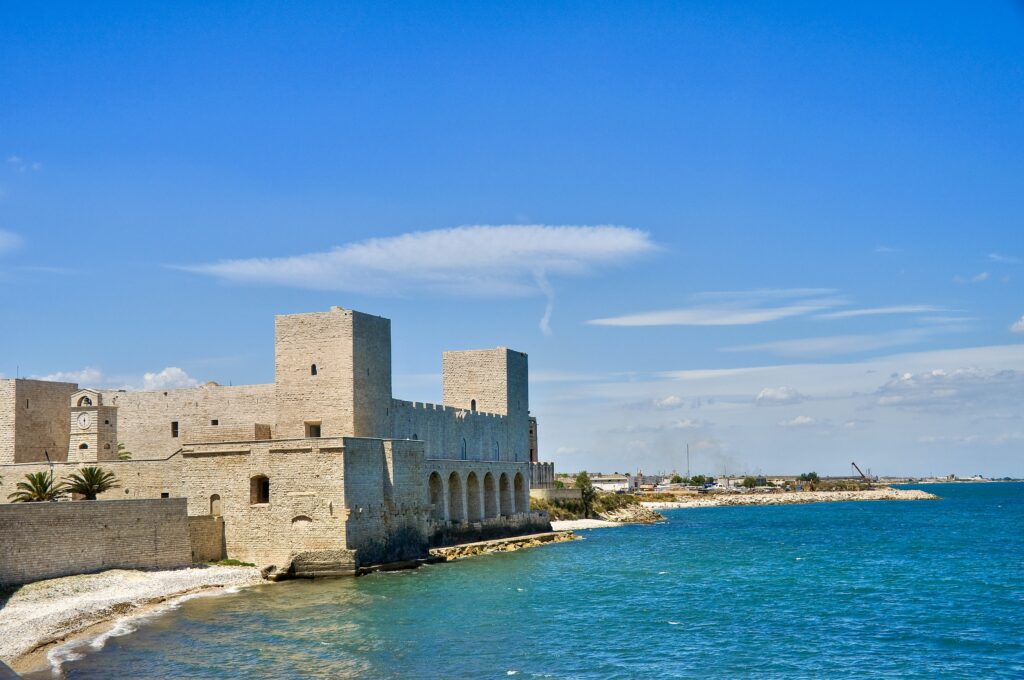 Swabian Castle: Castello Svevo di Trani
Don't miss the enormous 13th century Swabian Castle. It's a cool medieval fortress with awesome views of the town and coastline. On a visit, you'll be immersed in the medieval tales of knights and historic battles.
This fortress is a remarkable showcase of medieval military architecture. It boasts massive stone walls, fortified towers, and a strategic position overlooking the sparkling Adriatic Sea.
The castle features a rectangular layout with corner towers and an inner courtyard, typical of medieval castles. Inside, visitors can explore the historical exhibits and archaeological artifacts that provide insights into the castle's rich history and the various periods it has witnessed over the centuries.
Lunchtime! Head to one of the cute seafood restaurants near the harbor. Try some fresh local dishes like riso patate e cozze (rice with potatoes and mussels) or orecchiette alle cozze (pasta with mussels).
Diocean Museum
After lunch, visit the Diocesan Museum, housed in the fancy Episcopal Palace. Founded in 1975, you'll see a cool collection of religious artifacts, sculptures, and medieval art.
Beach Time
Chill out on Trani Beach in the late afternoon. It's a pebbly beach with white sand.
Soak up the sun or take a dip in the clear Adriatic waters. The beach is well-equipped with amenities, including sunbeds, umbrellas, and beachside cafes,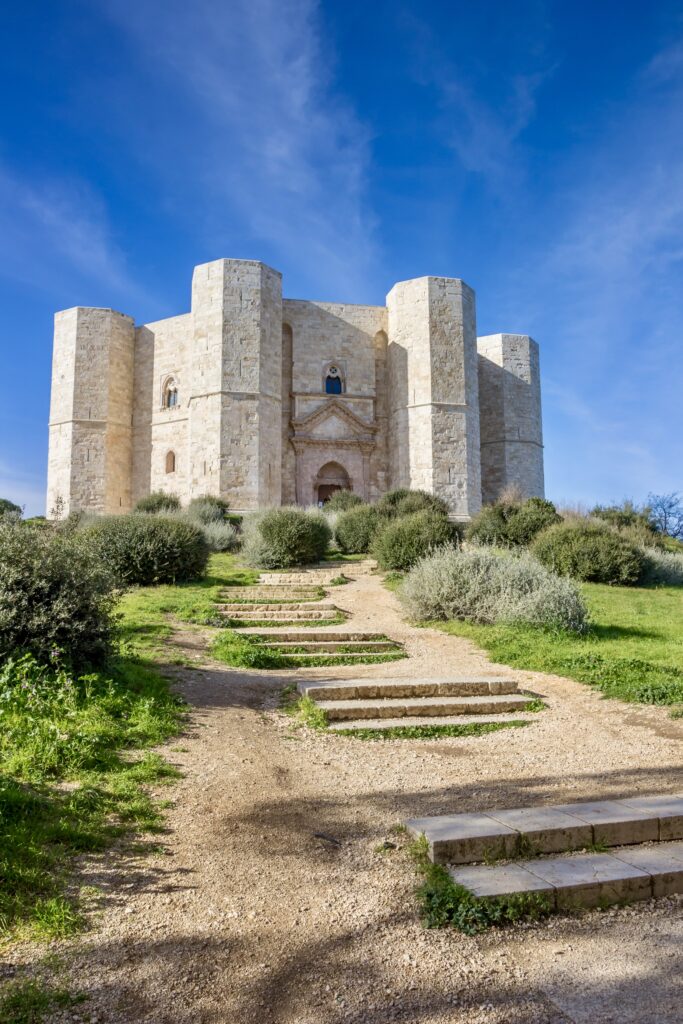 Castel del Monte
As an alternative to hitting the beach, you can head to the UNESCO-listed Castel del Monte.
You can drive there. it's about 25 miles away and takes about 40 minutes to get there. The castle's car park is located a mile away, but a convenient shuttle bus is available for transport.
You can also book a Castel del Monte guided tour from Trani.
Castel del Monte is one of Italy's historic landmarks. Commissioned by Emperor Frederick II in the 13th century, this medieval fortress reflects the emperor's passion for science and mathematics. It boasts a remarkable octagonal shape, featuring 8 octagonal towers at each vertex.
Its architectural ingenuity combines elements of Gothic, Romanesque, and Islamic styles, sparking various legends about its purpose and design.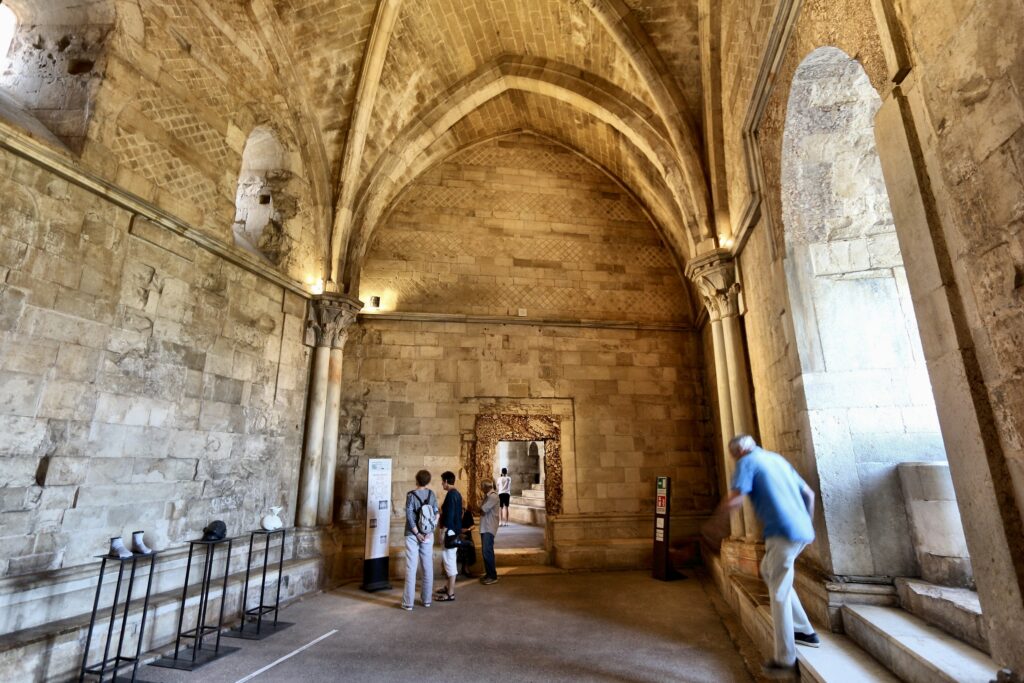 Some believe it served as a place of initiation. Others claim the castle mimics the emperor's crown or once held the Holy Grail. Regardless of the tales, the castle's allure remains undeniable.
As you step inside, you'll find a rather austere, but symmetric, interior. There's a series of interconnected rooms spread across its octagonal layout.
One of the main highlights is the central courtyard, surrounded by elegant columns and arches. From here, you can access various rooms, including the grand hall, which boasts a magnificent vaulted ceiling. It was likely used for official ceremonies and gatherings.
Windows throughout the castle provide breathtaking views of the surrounding countryside.
>>> Click here to book a ticket and tour of the castle
As the sun sets, walk along the promenade for stunning sunset views. It casts a warm glow over the town.
For dinner, head to a local trattoria for some tasty Apulian dishes. Try orecchiette con cime di rapa (pasta with turnip greens) or tiella di riso, patate e cozze (a rice, potato, and mussel casserole) with a glass of local Primitivo wine or Moscato di Trani.
If you have a serious penchant for gastronomy, Trani is a true foodie paradise. The town has an astounding 6 Michelin restaurants. It has some of the best seafood in all of Italy.
After dinner, take a relaxed stroll through the lit-up historic center. It's extremely pretty and magical at night.
Tips For A One Day In Trani Itinerary
Here are some must know tips and FAQs for visiting Trani.
1. How To Get To Trani
If you are driving to Trani, it is right off the A1 autostrada, which follows the Adriatic Coast. Trani is about 20 minutes from Bari, the main city in this area.
You'll want to stash your car as soon as possible on arrival. There are "pay and display" parking lots near the Duomo and Castle Svevo.
The closest airports to Trani is Bari Airport. You can pick up a rental car there.
Trani is also well-connected to Bari and other nearby cities by the regional train service. The journey from Bari Centrale takes approximately 30 minutes to 1 hour, depending on the train type and schedule.
Upon arriving at Trani's train station, you can easily get into town by walking or taking a short taxi ride. It's only a 10-15 minute stroll into town.
2. How To Get Around Trani
The old town of Trani is small and easy to navigate on foot. Many of the town's attractions and points of interest are within walking distance of each other.
If you need to cover longer distances or prefer a faster mode of transportation, you can use local buses or taxis.
3. Where To Stay In Trani
You won't find luxe five star properties in Trani, unlike much of Puglia. But there are some lovely family run hotels.
Palazzo Filisio Hotel Regia is a pretty 4 star hotel just across from the cathedral. It has a charming restaurant and comfy rooms.
Dimore Marinare is a cute bed and breakfast overlooking the harbor. It's close to bars and restaurants and offers spacious rooms with balconies.
B&B Palazzo Paciotti is a restored palace in the old quarter near the cathedral. Rooms are modern with a stylish white take on a traditional four poster bed. The upper level has a sunroom and terrace.
4. When To Visit Trani
The best time to visit Trani is during the shoulder season, which spans from May/June to September/October. During these months, the weather is excellent, with plenty of sunshine. June and September still offer warm temperatures, making it ideal for beach lovers.
July and August are the peak tourist months in Trani. While it can get crowded during this time, it's also the perfect period for swimming and enjoying water sports.
If you prefer a quieter experience, visiting during the winter months is an option. Puglia's coastal areas remain relatively mild. And the upside is that you'll have the place mostly to yourself and it will be much cheaper to visit.
5. Is Trani Worth Visiting?
Trani is definitely worth visiting! As I've detailed, this charming coastal town offers a delightful mix of history, architecture, and beautiful sea views.
The relaxed atmosphere, delicious seafood, and welcoming locals make Trani a hidden gem and one of the best places to visit Puglia.
6. Is One Day In Trani Enough?
Yes, one day is plenty of time to cover Trani. In fact, it's so small, you could opt to just spend a few hours there.
It's an easy day trip from Bari. And it combines well with a visit to Castel del Monte.
And that's a wrap for my 1 day in Trani itinerary. You may enjoy these other southern Italy travel guides and resources:
If you want to spend one day in Trani, pin it for later.