Looking for a one day in Positano itinerary? You've come to the right place!
Viewed from afar, Positano is one of Italy's most memorable little villages, thanks to its truly magnificent position. The town's pink, gold, and red cubes spill down a ravine to the sea.
It's renowned for its stunning landscapes, fetching pastel architecture, and laid back atmosphere. Positano is the the very essence of the Amalfi Coast.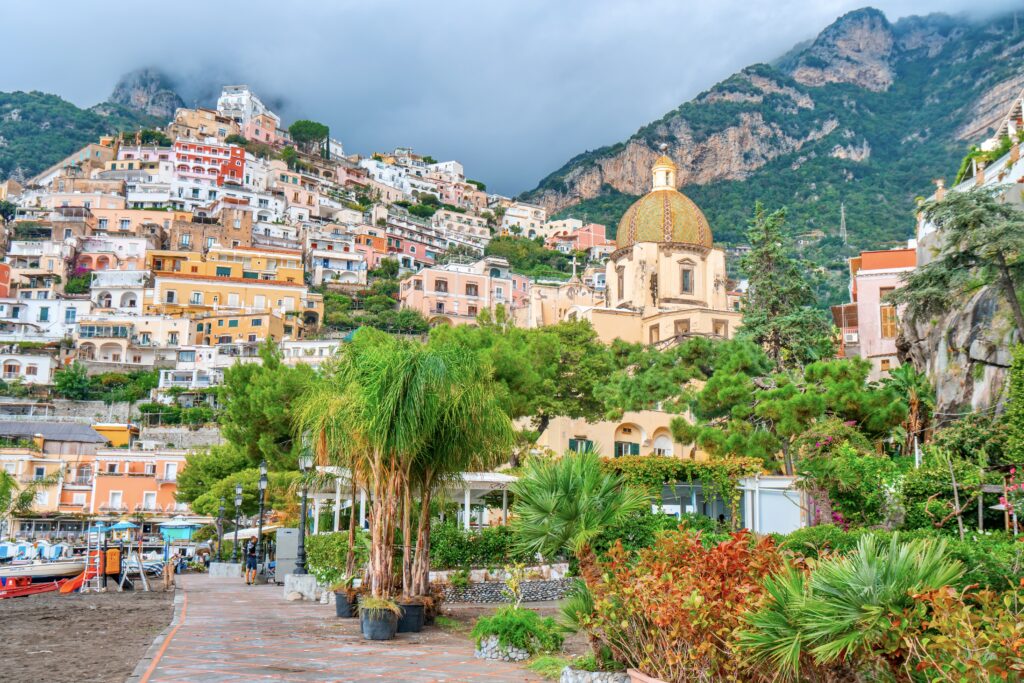 Positano was once a sleepy village known only to a handful of outsiders. It enjoyed some success in the 12th and 13th centuries. But never challenged Amalfi Town for power.
The town's moment of glory came in the 1960s when it became, along with Capri, one of the favored retreats of the la dolce vita set. As a result, today it's immensely popular.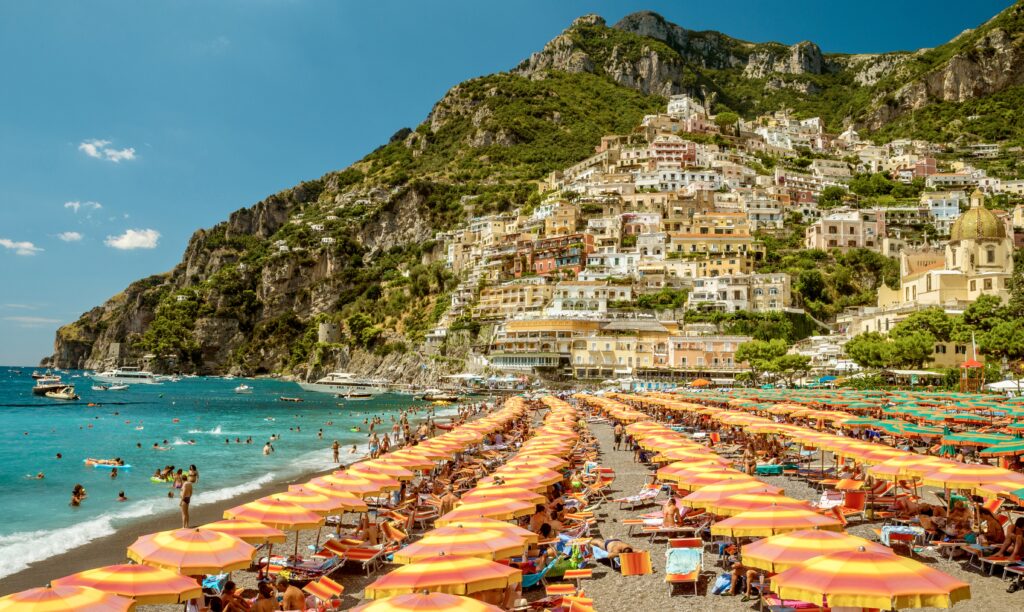 Overview of One Day In Positano Itinerary
Here's a snapshot glance of what you can do and see with 1 day in Positano:
Historic center
Church of Santa Maria Assunta
Spiaggia Grande
Path of the Gods
Amalfi Town
Best Tours In Positano
Here are some of the best tours and experiences you can book. In high season, reserve well in advance to make sure they're not sold out.
One Day In Positano Itinerary
Here's a detailed itinerary to experience the best of Positano:
Start your day with a leisurely breakfast at a local cafe.
Have a freshly baked pastry, avocado toast, granita, or cappuccino while taking in the breathtaking views of the Mediterranean Sea. Check out Cafe Positano, Casa e Bottega, and Lemon Point.
Historic Center
Next, explore the charming streets of Positano's historic center. The main drag is Via Mulini.
Parts of it are shaded with vines and bougainvillea trellises. You can take a selfie in the flower filled arch in the middle of the street.
Wander through the souk-like labyrinth of alleys laced with bougainvillea. There are non-stop local boutiques offering stylish clothing, handmade sandals, bright handmade ceramics, and other unique souvenirs.
In Positano, you will find a distinctive style of hand made ceramics known as "Positano ceramics" or "Majolica." These ceramics are famous for their colorful and vibrant designs. Traditional motifs often include lemons, flowers, and sea-inspired patterns.
Then, continue wandering up. Positano requires some climbing! The side streets are full of numerous little boutiques and shops, with wares spilling out onto the street.
At Piazza Mulini turn right on Via Christoforo Colombo. You'll find more shops and eateries on this next main drag. From here, you'll have the classic view of Positano with its majolica-domed church.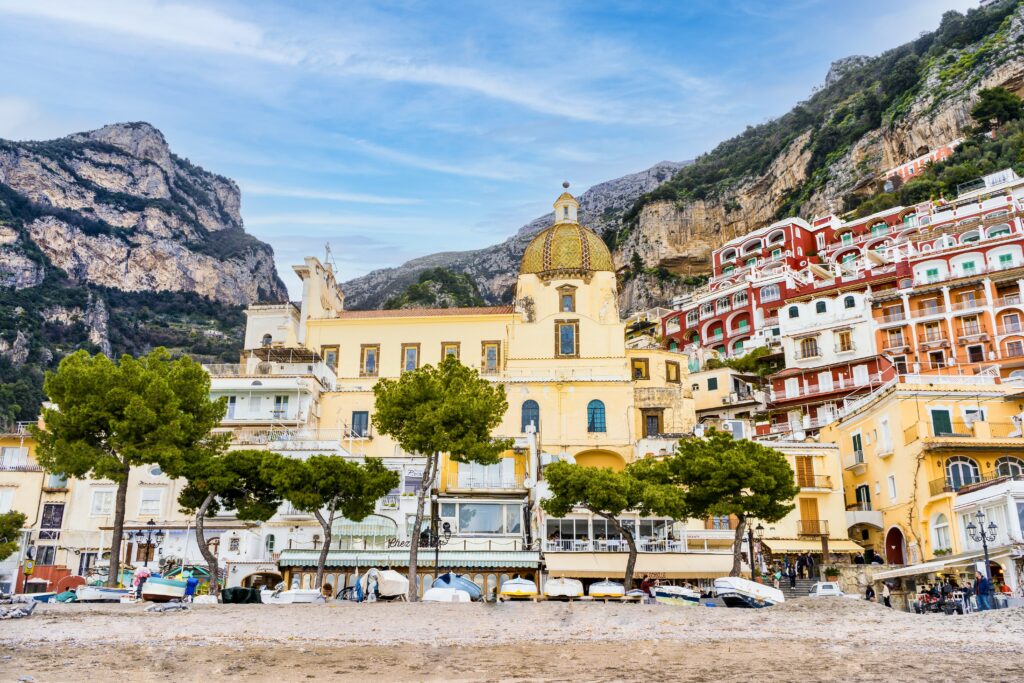 Church of Santa Maria Assunta
On your way through town, don't forget to visit the iconic Santa Maria Assunta Church. It's Positano's main church. It was founded in the 13th century as a Benedictine monastery.
It's famous for its exquisite majolica dome, which you see in all the postcard shots of Positano.
The church is home to the prized 13th century Black Madonna icon above the high altar. According to legend, when pirates tried to steal the icon, a storm battered them. Sailors heard the icon chant "Posa Posa' (put me down).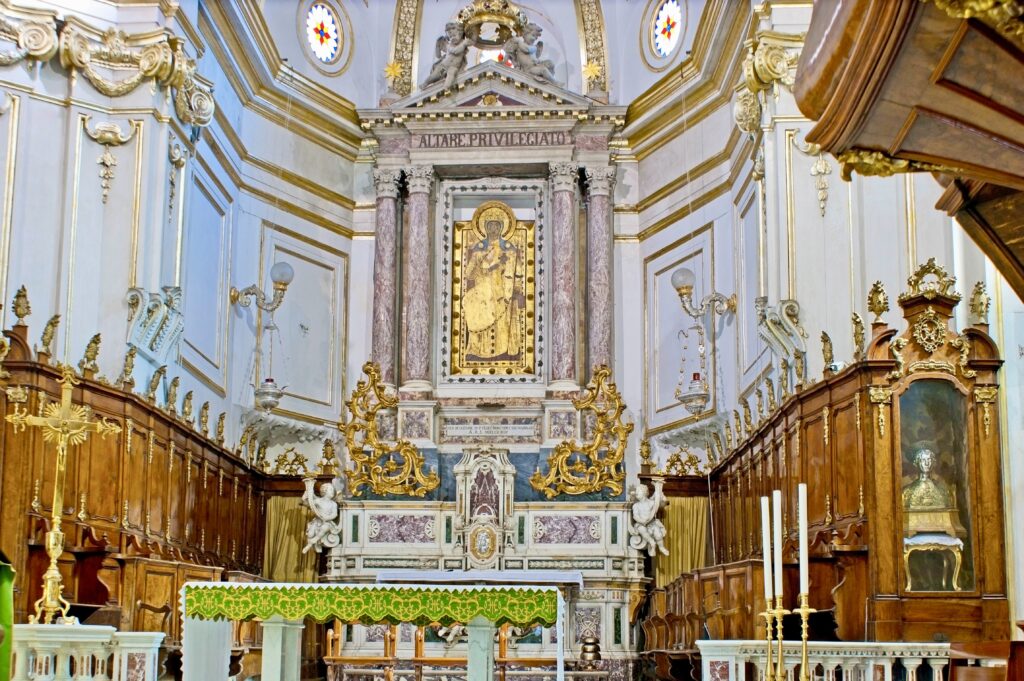 When they left the icon ashore, the store abated instantly. And Positano received its name.
For lunch, indulge in some delectable Italian cuisine at a traditional trattoria. Avoid the tourist traps along the beach and venture to the outskirts of town.
Savor freshly caught seafood, homemade pasta, and a glass of local wine while enjoying the pleasant sea breeze. I liked the Furore Bianco Fiorduva, a crisp white wine blend.
After lunch, you have several options for your afternoon in Positano. You can hit Spiagga Grande for some R&R, hike the Path of the Gods, or ferry to Amalfi Town to see the cathedral and historic center.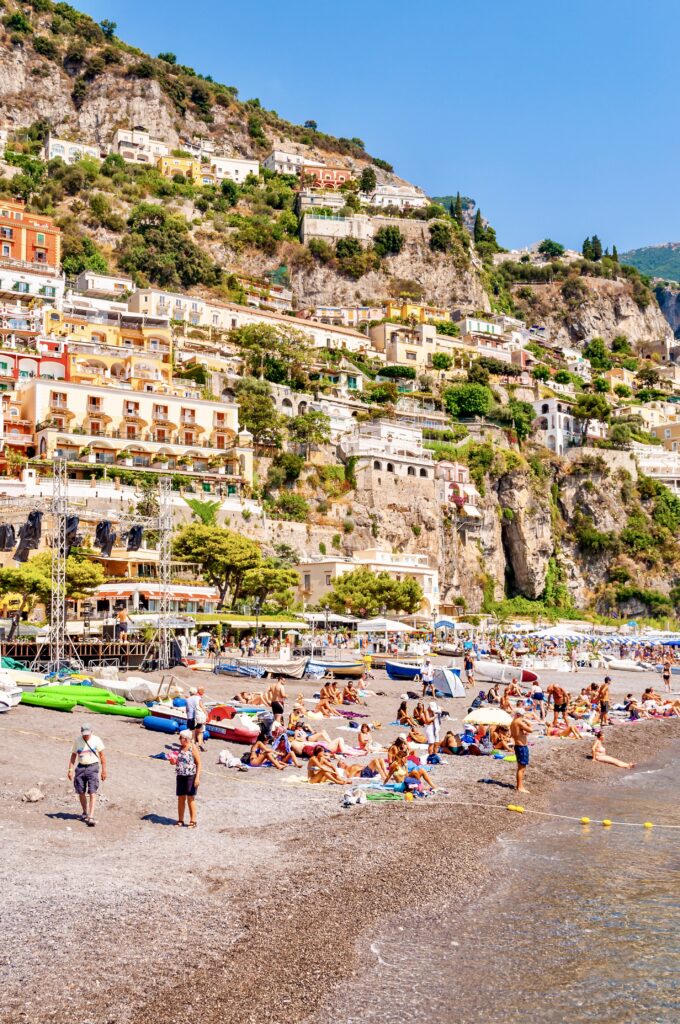 Beach Time
The first option is to head to one of Positano's beaches to soak up the sun and enjoy the crystal clear waters. Positano has two beaches: the main beach, Spiaggia Grande, and Fornillo.
Spiaggia Grande is a famous parasol strewn beach with about 1,000 feet of beachfront. Fornillo is a short walk 15 minute off to the right.
You can swim at either for free. But you may want to rent an umbrellas and sunbeams.
Take a dip or simply relax on the sandy shores, immersing yourself in the relaxing coastal ambiance.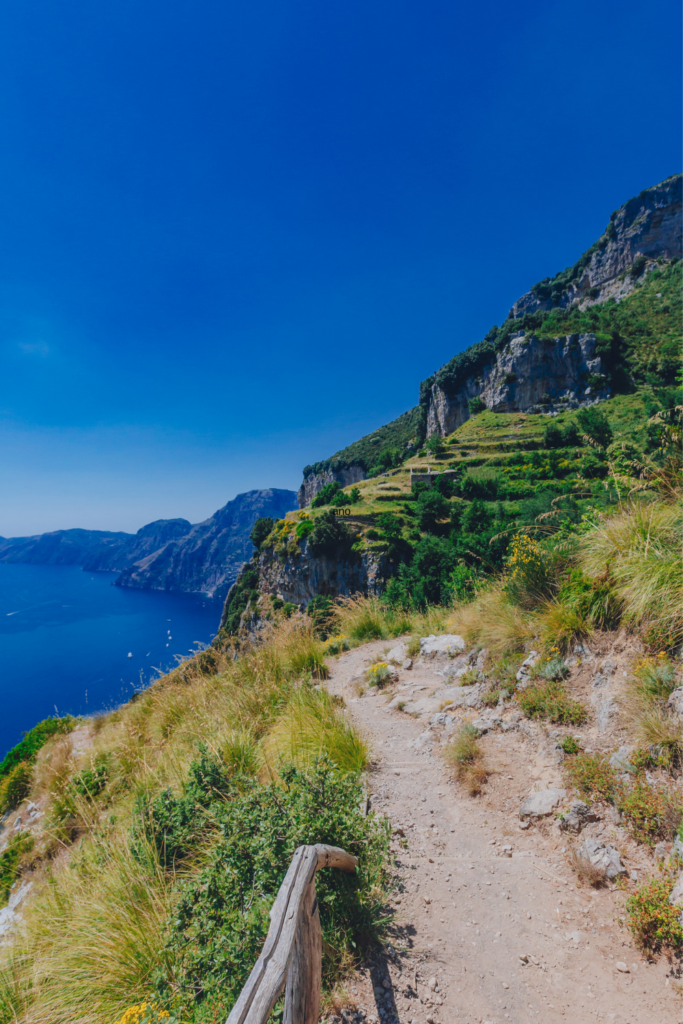 Path Of The Gods Hike
If you are up for some exercise and want to escape the crowds, take on a memorable adventure with the famous Path of the Gods, Il Sentiero degli Dei. This scenic 3.5 mile trail treats you to jaw-dropping views of the Amalfi Coast and rugged cliffs.
It's an ancient shepherds' route that winds along the hills from Positano to Praiano, sometimes right at the cliff's edge. (Beware if you are afraid of heights!)
You'll stroll through diverse landscapes — fragrant lemon groves, terraced vineyards, caves, and precipitous cliffs.
Once you reach Nocelle, you can decide to walk back to Positano or catch a bus or taxi to your Amalfi Coast accommodation. It's a thrilling hike, leaving you with unforgettable memories of this stunning region.
To get to the start of the trailhead, it's most sensible to book a taxi or a private transfer to Agerola Bomerano. If you plan on hiking, it's a steep 2 hour walk.
For maximum efficiency, you can book a guided tour and have someone else take care of the transportation logistics. You can also catch the bus from Amalfi town.
READ: Review of Backroads' Amalfi Coast Hiking Tour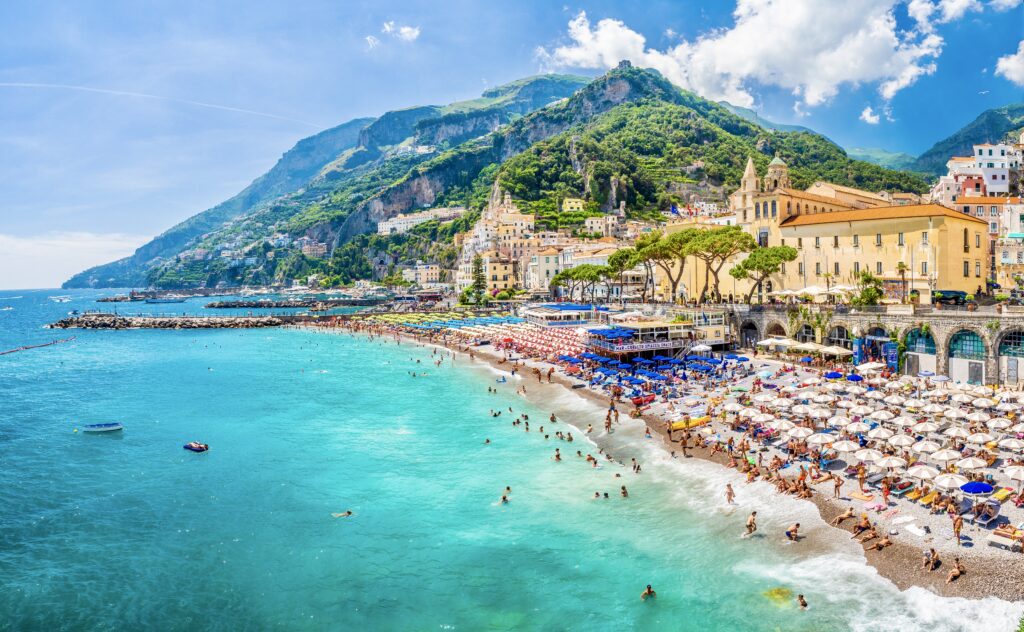 Visit Amalfi Town
A third choice is to visit Amalfi Town. It exudes a delightful charm, much like Positano.
The town's vibrant ambiance is heightened by its tightly packed houses that gracefully cascade down to the enchanting port below. While here, don't miss the opportunity to visit one of Italy's most beautiful churches, the Amalfi Cathedral, a true gem worth exploring.
Nestled in the bustling Piazza del Duomo, the Amalfi Cathedral stands as a grand complex, inviting visitors to step into its rich history.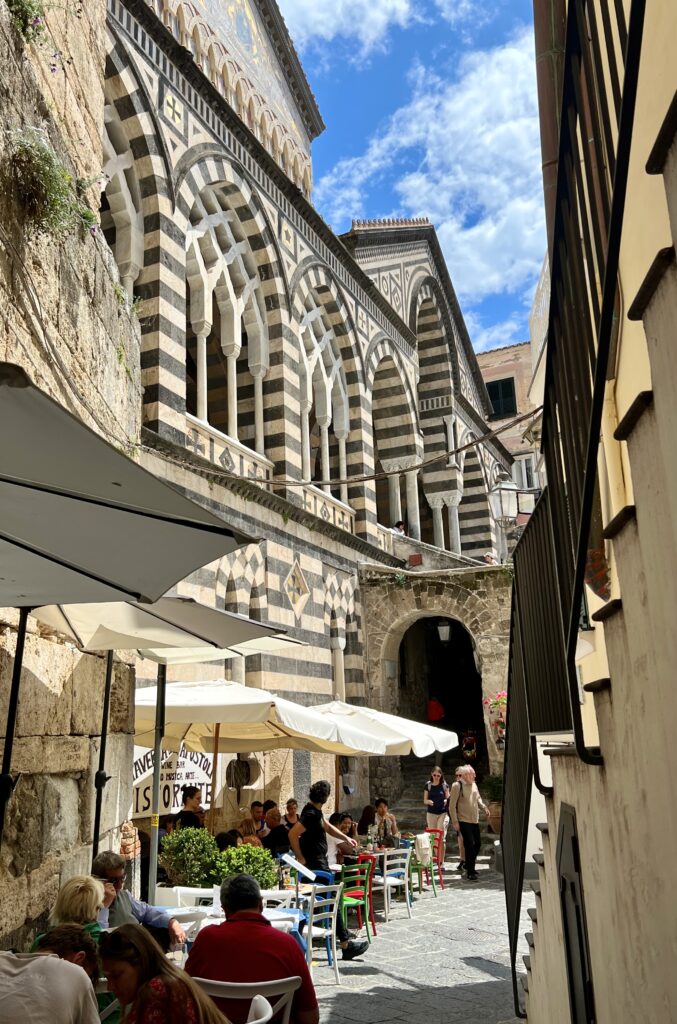 Within its walls lie the Cloister of Paradise, the Basilica of the Crucifix, the Diocesan Museum, the Crypt, and the awe-inspiring cathedral itself. For detailed info for this architectural marvel, be sure to check out my complete Amalfi Cathedral guide.
Don't limit your exploration to the main square. Venture into Amalfi's hidden alleys and ancient stairways to escape the crowds. Here, you'll uncover charming trattorias, perfect for indulging in a delightful snack or break.
If you're intrigued by the town's history, make time for the Paper Museum. This unique attraction offers insights into Amalfi's past as a prominent center for paper trading and is housed within an ancient mill.
As the sun sets, head back to your Positano hotel to unwind and freshen up.
Consider taking a sunset cruise or have an aperitivo. Franco's Bar and Aldo's Cocktail Bar offer up great views. They're both on Via Cristoforo Colombo.
Reserve dinner at a cliffside restaurant. Feast on local specialties, such as seafood risotto or eggplant parmigiana, while savoring panoramic views of the illuminated coastline.
Or, if you want to learn how to cook, take a cooking class that includes dinner and a market tour. I didn't take a class myself when I was there. But I saw signs everyone advertising cooking classes and saw visitors making pasta and the like.
After dinner, take a romantic stroll along the beach, with the twinkling lights of Positano reflecting on the water.
Alternatively, head to one of the vibrant bars or lounges for a nightcap and live music. The go to place is Music on the Rocks, a dramatic beachfront nightclub.
Tips For A One Day In Positano Itinerary
Here are some must know tips and FAQs for visiting Positano.
1. How To Get To Positano
The best way to get to Positano depends on your starting point.
If you are arriving from another city in Italy, the most convenient option is to take a train to Naples and then transfer to a regional train or bus to Sorrento. From Sorrento, you can take a local bus, a ferry, or book a private transfer to Positano.
If you are flying into Italy, the nearest major airport to Positano is Naples International Airport (NAP). From the airport, you can take a direct bus or book a private transfer to Positano.
Alternatively, you can rent a car and drive to Positano. If you are driving from Naples, it takes about 2 hours. However, keep in mind that the Amalfi Coast roads can be narrow and winding, so driving can be challenging for some.
Positano has several paid parking lots located on the outskirts of the town. These lots are usually the best option as they are relatively more spacious and offer shuttle services or easy access to the town center.
Some popular parking lots include Parcheggio Centro, Parcheggio Multipiano, and Parcheggio del Porto.
If you are planning a day trip to Positano, you can visit on a guided tour. Here are some of your options:
2. How To Get Around Positano
Positano is small and easy to navigate on foot. Many of the town's attractions and points of interest are within walking distance of each other. But the town requires some up and down climbing.
If you need a fast way to get around or to travel to nearby towns, buses, boats, and taxis are convenient options.
A yellow shuttle bus also circles the village from top to bottom. And you can always rent a scooter to get around.
3. Where To Stay In Positano
Be prepared to bust your budget if you decide to stay overnight in Positano. Hotels are expensive and there's just not that much inventory.
Palazzo Mura is a charming boutique hotel nestled in the heart of the town. The hotel features beautifully decorated rooms with a touch of traditional Italian design.
From the rooftop terrace, guests can enjoy panoramic views. If the hotel is too pricey, you can still visit the garden-filled courtyard and have an apertivo on the vine-draped patio.
La Sirenuse is a luxurious 5 star hotel, renowned for its elegant ambiance and impeccable service. The hotel exudes timeless glamour.
Each room is offers magnificent views of the sea and the town below. Guests can indulge in the hotel's Michelin-starred restaurant and the cliffside infinity pool.
ll San Pietro may be my favorite place to stay in Positano. It's a historic luxury hotel with a laid back vibe.
The hotel's private beach, infinity pool, Michelin restaurant (Zass) and lush gardens provide the perfect settings for relaxation and indulgence. It's outside Positano proper, but the hotel has a shuttle service to get you where you want to go.
Hotel Poseidon is a 4star hotel right in the heart of Positano, just a short walk from the beach and the town's attractions. You can enjoy the hotel's rooftop terrace, which features a pool with panoramic views of Positano.
If these hotels give you sticker shock, you can also stay in nearby Praiano or Amalfi Town.
In Praiano, you can check out the Hotel Onda Verde, Hotel Villa Maria Pia, or Tromonto D'Oro. In Amalfi Town, check out Hotel Santa Caterina, Hotel Marina Riviera, Hotel Luna Convento, and Residenza Luci.
4. When To Visit Positano
The ideal time to explore Positano is during the shoulder season, which extends from May/June to September/October. This period offers excellent weather with abundant sunshine. And June and September still provide warm temperatures for beach enthusiasts to enjoy.
In July and August, Positano experiences peak tourism, leading to crowded streets and attractions. However, this time of year is perfect for indulging in swimming and water sports activities.
For a more tranquil experience and a budget-friendly trip, consider visiting Positano during the winter months. Then, Positano has charm to spare.
The coastal areas remain relatively mild, and you'll have the opportunity to explore the town with fewer tourists around.
5. Is Positano A Tourist Trap?
Positano is decidedly not a hidden gem. Its history has left a halo of dreamy intrigue on the town and it is tourist fly popular.
Positano first became popular among artists in the 18th and 19th century. In the 20th century, it was a famous movie location and was discovered by the jet set glitterati. Tourists followed in droves.
So, in some ways, Positano has become a victim of its own success. The picturesque area is often throttled with crowds, especially in the summer months. Thousands of tourists are disgorged from buses and ferries many times a day. The food can be overpriced and mediocre.
Yet the village's timeless charm and natural beauty still make it worth visiting. It's an eyeful, although perhaps in need of a slight paint job.
To avoid the claustrophobic siege, the best way to experience Positano is to visit off season, early in the morning, or in the evening. And avoid the weekends.
5. Is One Day In Positano Enough?
Yes, one day is plenty of time to cover Positano. In fact, it's so small, you could opt to just spend a few hours there.
6. More Than One Day in Positano?
If you have more than 1 day in Positano, there are plenty more options!
You can visit the fairytale town of Ravello up in the mountains. It's home to the garden sanctuaries of Villa Cimbrone and Villa Rufolo.
You can visit the ruins of Pompeii, which is just 22 miles away. You can take a day trip to the magical island of Capri. Or, one of my favorite options, take a vespa tour of the Amalfi Coast.
And that's a wrap for my 1 day in Positano itinerary. You may enjoy these other southern Italy travel guides and resources:
If you want to spend one day in Positano, pin it for later.