Here's my guide to 10 amazing free museums in London. London is literally overflowing with fantastic museums displaying world class art, ranging from the prehistoric to modern periods. Whatever your art geekery, London has an outlet for it.
You could spend a lifetime visiting these must see museums in London. They're rich, diverse, and endlessly fascinating.
Even better, many of London's best museums are free, absolutely free. Or at least free to visit the permanent collection.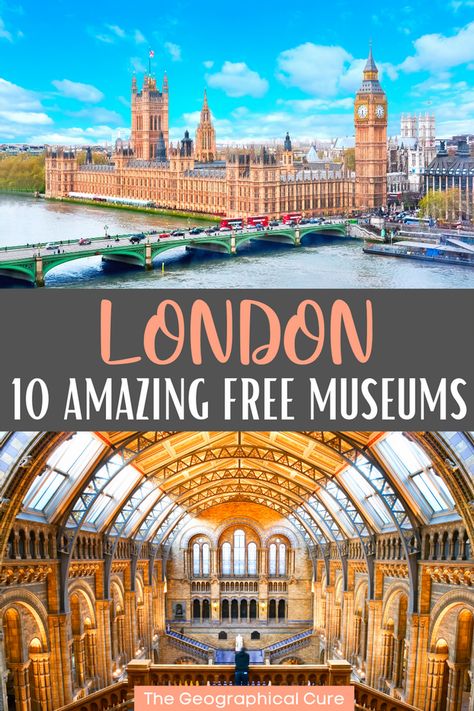 You may have to buy tickets for special exhibitions. But, for the most part, you can soak up exquisite art without emptying your wallet.
In a city like London that tends to be expensive, you can't beat free. Especially if you're on a budget.
If you want a virtual preview, the museums have parts of their collections on Google Arts & Culture.
10 Best Free Museums in London
Read on for my picks for where you can see the best free art in London. Prepare to be immersed.
1. Tate Modern, London's Modern Art Museum
One of my favorite spots in London is the Tate Modern. Opened in 2000, it's housed in the former Bankside Power Station. The industrial look seems fitting for its cutting edge art. In 2016, the museum was expanded, renovated, and a viewing terrace was added.
Today, the Tate Modern is home to room after room of world famous international modern and contemporary art. It's not just limited to paintings either.
They're installations, sculptures, films, and photography. The Tate Modern is organized by theme, and isn't chronological.
Among other modern art masterpieces, you can clap your eyes on Andy Warhol's Marilyn Diptych, Marcel Duchamp's Fountain, Amadeo Modigliani's Peasant Boy, Pablo Picasso's Nude Woman in a Red Armchair, Georgio de Chirico's the Uncertainty of the Poet, and Henri Matisse's The Snail, and Salvador Dali's Lobster Telephone.
Don't miss the room with Mark Rotho's luminous Seagram Murals, with their deep hues of black, blue, purple, and red. They were inspired by the Michelangelo's Laurentian Library in Florence.
The murals were Rothko's first public commission. They were intended to hang in a swanky Four Season restaurant. Unhappy with the proposed setting, Rothko reneged on the deal, returned the commission, and reclaimed his paintings.
In the 1960s, after negotiation, Rothko gave nine of the murals to the Tate Modern, which the director called "a princely gesture."
Rothko insisted on a permanent, exclusive room for the murals. They're displayed as Rothko intended — in a dimly lit space where you can absorb their meditative character.
The Tate Modern also offers a stunning free view, so you can skip expensive tourist traps like the London Eye. There's a viewing platform on the top floor of the Blavatnik Building. Just ride the elevator to the 10th floor.
Address: Bankside, London SE1 9TG
Hours: Sunday to Thursday 10:00 am to 6:00 pm, Friday to Saturday 10:00 am to 10:00 pm
Entry fee: free
Tube station: Southwark and St. Pauls
Pro tip: You can take a virtual tour on Google Arts & Culture
2. The British Museum: Museum of the World
In the artsy Bloomsbury area, you'll find one of the world's foremost museums, the British Museum. Opened in 1753, it's a universal museum and an unmissable site in London.
The British Museum has a massive collection of the world's most important historic artifacts. It seeks to provide a cross cultural understanding of art owned by "humanity."
But it's owned by humanity in name only. Many of the goodies on display date from England's reign as a major world super power.
It's utterly amazing how much stuff the Brits gobbled up, with their obsessive fervor for quirky collecting.
Most famously, the British Museum holds title to the Elgin Marbles, effectively acquired by conquest. They're in Room 18. These beautiful friezes and sculptures once formed part of the Parthenon on the Acropolis of Athens, built between 447 and 438 B.C.
The man responsible for their divorce from Athens was Lord Elgin, a British Ambassador. In the midst of Ottoman upheaval, he procured a dodgy and ambiguous permit to excavate and export Parthenon frieze relics to England. Greece has repeatedly asked for their return, but to no avail.
The Parthenon marbles aren't the only Greek sculptures on display. There are many rooms dedicated to Greek and Roman sculpture.
Other must see highlights of the British Museum are the Egyptian mummies, the renowned Rosetta Stone, the Assyrian lion hunt reliefs, the Lindow Man, the Lewis Chessmen, and the Sutton Hoo Ship Buria.
Here's my complete guide to the British Museum.
You can book a 2 hour guided tour of the British Museum or a 2.5 hour private tour. You can even have afternoon tea at the museum or book a special guided tour for kids and families.
You can also book a longer 5.5 hour guided tour that covers both the British Museum and the National Gallery of Art, which is just 15 minutes away on foot.
Address: Great Russell St, Bloomsbury, London WC1B 3DG
Hours: Open daily 10:00 am to 5:30 pm. On Friday the museum is open until 8:30 pm
Entry fee: Free, but the audio guide is £7
Tube station: Four options: Tottenham Court Road, Holborn, Russell Square, or Goodge Street
Pro Tips:
The British Museum is very child friendly offering child appropriate routes for the museum. To avoid long lines, use the back entrance on Montague Street.
You'll still go through security. But there are far fewer people at this entrance. The museum's bookshop is amazing!
3. The National Gallery: European Paintings
On the north side of the Trafalgar Square is the National Gallery. The museum is incredibly diverse, featuring 2,000 European paintings from the 13th to the 19th centuries.
You'll find familiar names like Rembrandt, Leonardo da Vinci, Michelangelo, Botticelli, J.M.W. Turner, Monet, and Van Gogh.
The most famous painting on display is Leonardo da Vinci's The Virgin of the Rocks. But Van Gogh's Sunflowers also draws hordes of admirers.
The gallery is an artistic experience in and of itself. It has soaring ceilings and glass topped domes. The floor of the entryway is covered with beautiful mosaics depicting the Labors of Life, the Pleasures of Life, and Modern Virtues.
You'll probably need a few hours to tour the place. You could spend the entire day there, if you were so inclined.
The museum does offer subject based audio guides, so you can focus in a particular topic, instead of wandering aimlessly.
Here's my complete guide to the National Gallery. Though it's one of London's best free museums, you may want to book a guided tour because it's massive.
Address: Trafalgar Square, London WC2N 5DN
Hours: Daily 10:00 am to 6:00 pm, until 9:00 pm on Friday
Tube station: Charing Cross
Pro tip: There are free guided tours daily at 11:00 am 2:30 and at 7:00 pm on Friday night. You can a virtual tour on Google Arts & Culture.
4. Natural History Museum: Almost a Cathedral
Opened in 1881, London's Natural History Museum is housed in a stunning Victorian building in the South Kensington neighborhood. It looks more cathedral-like than museum-ish.
Even if you're not interested in natural history, you should still stroll by — the facade of the building is just so grand and stunning.
When you walk in, the grandure continues. You're greeted by a massive whale skeleton suspended from the roof in the Central Hall.
The museum's not ultra high tech. But it does have an "escalator through the earth." And skeletons of the first Tyrannosaurus Rex and Iguanadon ever found, among its 70 million specimens.
Filled with dinosaur skeletons, the Blue Zone is the museum's most popular area. It focuses on all life forms from dinosaurs to the smallest invertebrates.
The Red Zones focuses on the planet Earth. The Orange Zone is the Darwin Center, with exhibits collected by Darwin himself. And the Green Zone focuses on earth sciences with displays of gems, meteorites, fossils, and minerals.
This museum is massive. You really can't see everything in one day. Pick a zone or, if you have time, make multiple visits. Or book a guided tour to see the highlights.
Address: Cromwell Road, London SW7 5BD
Hours: Daily 10:00 am to 5:50 pm
Tube stations: South Kensington and Gloucester Road
Pro tip: You can take a virtual tour of the museum on Google Arts & Culture
5. Victoria and Albert Museum: Decorative Arts
Not far from the Natural History Museum is the Victoria and Albert Museum. It really doesn't have much to do with either monarch. But the immense museum is named for the royal couple who did so much to support the many triumphs of the Victorian era.
The Victoria and Albert Museum is a non-stuffy museum with an eclectic collection of national treasures in the field of decorative and design arts.
The huge collection illustrates the far reach of the British Empire. Virtually every medium is represented — photography, furniture, jewelry, paintings, ceramics, etc.
You may want to use their "Greatest Treasures Guide" to ferret out the best pieces, if you have limited time.
When you walk inside, you'll see a stunning display — American glass artist Dale Chihuly's glass chandelier.
The must see objects at the Victoria and Albert Museum include the Ardabil Carpet (world's oldest oriental carpet from 1539), Tipu's Tiger (a Sultan's toy), and a replica cast of Trajan's Column in Rome.
I also like the Paul and Jill Ruddock Galleries. The rooms are filled with Renaissance sculptures, including a life size replica of Michelangelo's David that lives in Florence.
And don't miss the Photography Galleries. There's always something new there. In 2018, those galleries were expanded, doubling their space.
If the weather is nice, head to the museum's John Madejski Garden when you're done ogling the art. It's an enclosed courtyard garden, almost like a monastery cloister.
From there, you get a good look at the beautiful facade of the Lecture Theater, which was once the original entrance to the museum. On the triangular pediment, you'll see Queen Victoria handing out laurels.
Like London's other free museums, the V&A is massive. If you're not on a budget, you may want to book a private tour.
Address: Cromwell Rd, Knightsbridge, London SW7 2RL
Hours: Daily 10:00 am to 5:15 pm
Tube station: South Kensington
Pro tip: Grab a museum map at the entrance to help plan your visit. You can take a virtual tour on Google Arts & Culture.
6. Tate Britain: Best Of British Art
I don't typically recommend visiting a museum solely for its architecture. But for the Tate Britian, I could make an exception. The museum is a pristine glistening work of art itself.
The museum boasts a domed rotunda, beautiful spiral staircase, terrazzo floors, and Victorian details. Built in the late 19th century, the Tate Britain underwent an extensive renovation completed in 2013. The result is an ultra pretty museum experience.
Plus, there's some spectacular art to be found. Tate Britain features traditional British art from the 16th century to the present.
It's home to J. M. W. Turner's watercolors, Francis Bacon's abstract religious triptychs and screaming popes, and gorgeous Pre-Raphaelite art works.
Some of Tate Britain's most famous paintings include Sir John Everett Millais' Ophelia, John William Waterhouse's The Lady of Shalott, and John Constable's Flatford Mill.
Of special note, there are 8 rooms dedicated to Turner, one of Britian's greatest and most famous artists. In the mid 19th century, Turner shocked his colleagues with his loose brush strokes and fiery palette, presaging the later Impressionist movement.
The gallery includes some of Turner's greatest masterpieces, such as Self Portrait, Peace, Burial at Sea, and Norham Castle, Sunrise.
Heres's my complete guide to the Tate Britain. Click here for a 2.5 hour guided tour of the collection, which I've taken and really enjoyed. You can also book a guided tour of both the Tate Britain and the Tate Modern.
Address: Millbank, Westminster, London SW1P 4RG
Hours: Daily 10:00 am to 6:00 pm
Tube stations: Pimlicco, Victoria, Westminster Pro tip: You can take a virtual tour on Google Arts & Culture
7. The British Library: The Smell Of Rare Books
London's British Library is the world's largest library. While it's not particularly pretty, there's a dashing statue of Newton by Eduardo Paolozzi in the square.
The British Library is also stashed with all kinds of gems: printed books, maps, important documents, and illustrated manuscripts.
The British Library has three free permanent exhibition rooms: the Sir John Ritblat Gallery, the Philatelic Exhibition, and Conservation Uncovered. The Sir John Ritblat Gallery is the most interesting.
There, you'll find Mozart's hand written musical compositions, Lewis Caroll's Alice Adventures, Charlotte Brontë's manuscript for Jane Eyre, the Gutenberg Bible, and the Magna Carta. Beatles' fans will be pleased to find hand written copies of song lyrics.
Address: : 96 Euston Road, London NW1 2DB
Hours: Mon to Th 9:30 am to 8:00 pm, Fri 9:30 am to 6:00 pm, Sat 9:30 am to 5:00 pm, and Sun 11:00 am to 5:00 pm
Tube stations: Euston, King's Cross and St Pancras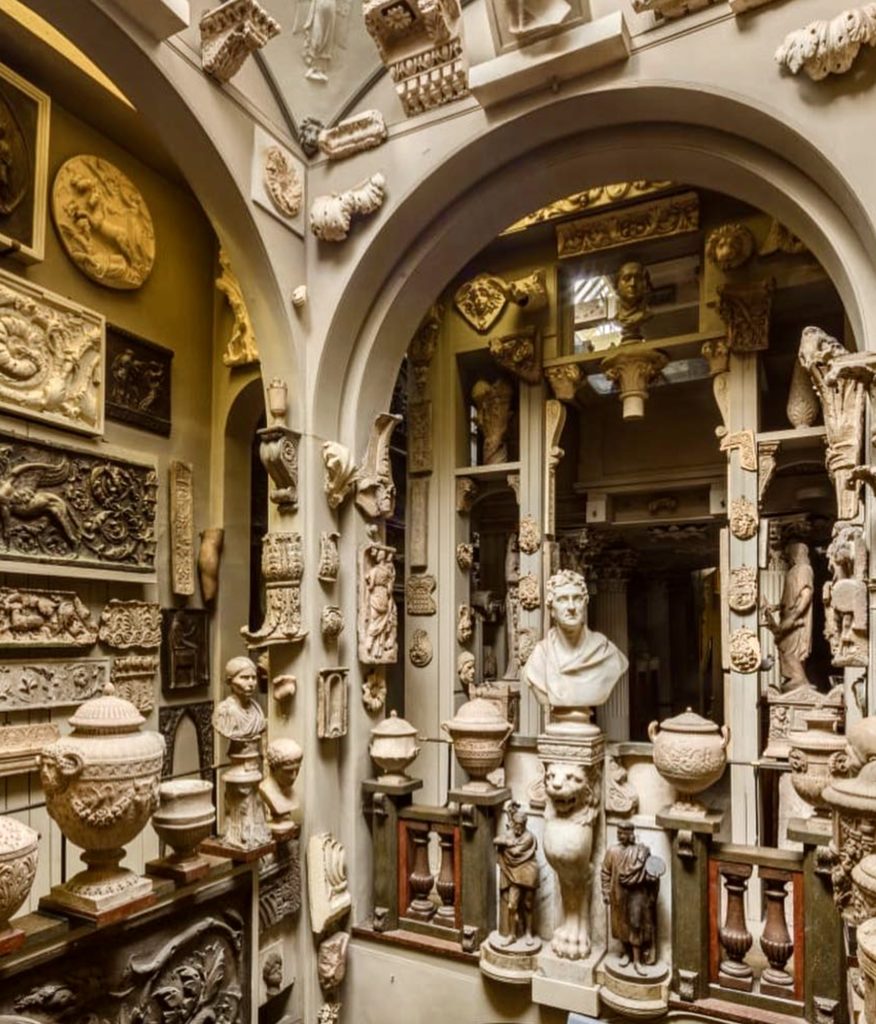 8. Sir John Soane: an Oddball Art Collection
Sir John Soane was one of Britain's foremost Neo-Classical architects and a professor of architecture at the Royal Academy. He created his own museum, and you can feel his spirit and legacy in the cluttered, bejeweled place.
Built in 1812, Sloane designed the gloomily-lit house-museum to hold his vast collection of art and objects from around the world. Soane sometimes used his museum as an educational tool, quizzing his students on the derivation of a frieze or painting.
Soane bequeathed his museum to England on the condition that nothing be changed or moved. In this, he was like American collector Isabella Stewart Gardner, who made the same preconditions for her eponymous museum in Boston. The Soane museum was lovingly restored and, as was the plan, is nearly identical to when Sloane died in 1837.
Soane was a curiosity collector. He purchased art based on whether it amused or interest him, not on its intrinsic significance. You'll find a mishmash of Roman, Greek, and Egyptian artifacts, urns, statues, and vases.
There are also some world class paintings, including ones by Watteau, J.M.W. Turner, Canaletto, and William Thomas Beckford.
Of special note are the paintings by 18th century artist and satirist William Hogarth. Hogarth satirizes the foibles and morality of society. In The Rake's Progress series, a young man inherits a fortune and blithely squanders it.
In 1824, Soane ran out of room for paintings in his main Picture Room. He created a special folding device, which put extra movable walls on hinges.
The paintings held within can only be seen when a museum assistant opens them. So certain paintings are only seen at certain times (check the website).
I'd say the Sir John Soane Museum is one of the best hidden gems in London.
It's an out of the way place. And it's a fascinating sort of time machine or wormhole to English history. After your visit, take a stroll in the nearby park.
Address: 13 Lincoln's Inn Fields, Holborn London
Hours: Wednesday to Sunday from 10:00 am to 5:00 pm, last entry at 4:30
Tube station: Holborn or Temple
Pro tip: On the first Tuesday of the month, there's an evening candlelit tour.
9. Museum of London: History of London
The Museum of London takes you on a journey of the history of the UK's capital city from its prehistoric first settlers around 450,000 BC to today's contemporary multicultural hub. It's rather like the Carnavalet Museum in Paris.
Outside the museum you can see the ruins of old London Wall. They actually placed glass in the museum's Roman section so that you can look at the wall.
I wish I was there right now because there's a special exhibition on the Clash and the making of their iconic album, London Calling. And the exhibition is free!
Address: 150 London Wall, Barbican, London EC2Y 5HN
Hours: Daily 10:00 am to 6:00 pm
Tube station: Barbicon, St. Paul's, Moorgate
10. William Morris Gallery: Art & Crafts Extravaganza
William Morris was an innovative designer in the Arts & Crafts period of the late 19th century. It's a period of design that I just adore. My house is filled with Stickley furniture and arts and crafts pottery.
Morris was a prolific artist. He trained in embroidery, wood engraving, and weaving.
He gained fame for his idealistically patterned designs and wallpapers. Inspired by nature, they featured intricate swirling leaves, thieving birds, rose-filled trellises, and fruit tree branches.
But Morris was also business savvy. He built a successful commercial business, selling household furnishings and textile designs from his Oxford Street shop.
Though raised in privilege, Morris "crossed the river of fire" and became a socialist when he was 50. That decision informed his design aesthetic.
He didn't want to produce designs just for the wealthy. Morris said: "I don't want art for a few, any more than education for a few, or freedom for a few."
The intimate gallery is housed in his house-atelier. It takes you on a tour of the different phases of Morris' life. His beautiful hand crafted designs are on display.
At the entrance to each room, you can read about its original use and furnishing. The gallery also hosts events, including craft workshops, as you might expect.
Address: Lloyd Park, Forest Road, Walthamstow, London, E17
Hours: Open Tuesday to Sunday, 10:00 am to 5:00 pm
Tube station: last stop on the Victoria line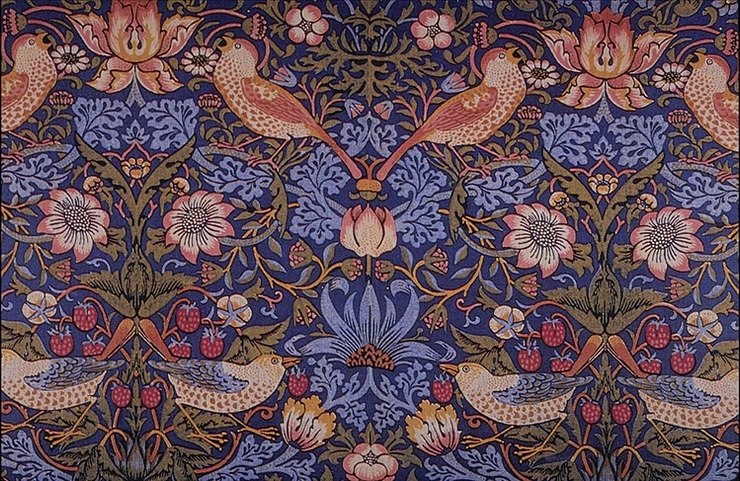 I hope you've enjoyed my guide to London's wonderful free museums. You may enjoy these other London travel guides and resources:
If you'd like to visit London's amazing free museums, pin it for later.