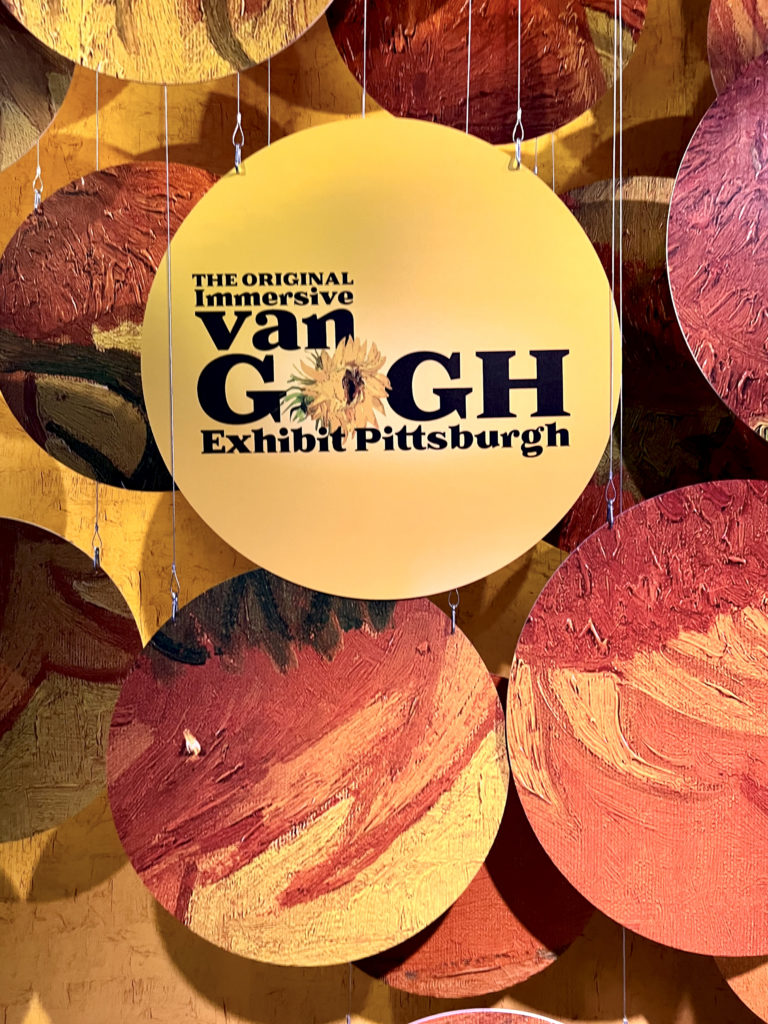 Should you Gogh to Immersive Van Gogh? It depends on how seriously you take your art and how much you want to have fun.
The Immersive Van Gogh show is a spectacle, a welcome balm for pandemic weary folk. It's a chance to escape into Van Gogh paintings you might not be able to admire up close in a museum.
Immersive Van Gogh is a conceptual video installation. The exhibit is part theater part digital art experience. It gives you a multi-sensory, quasi-storytelling experience of Van Gogh's art.
The show is more Instagram than art museum. If you take your art served traditionally, you may be put off by the wall-sized screen savers.
Let's take a look at the mystique surrounding Van Gogh. Then, I'll tell you about the Immersive Van Gogh exhibit and what you'll see and experience at the show.
The Artist Vincent Van Gogh
Van Gogh's life story is the irresistible stuff of legends, a tale of the self martyrdom of the world's most beloved artist.
Van Gogh was a Dutch Post-Impressionist artist who spent most of his life in France. He only sold a few paintings in his lifetime.
Van Gogh fit the stereotype of tortured artist. He was a brilliant but doomed soul in fragile mental health. He had bad luck with women. While his artistic ability evolved, his psychological state disintegrated.
Van Gogh likely committed suicide at age 37 in 1890. He died penniless under suspicious circumstances.
Since his rediscovery, Van Gogh has true star quality. He casts an almost religious spell on his avid fans.
The world is spellbound by the mythology of the cosmic visionary who sliced off his ear and locked himself in an asylum in Provence.
Exhibitions of Van Gogh's work draw millions. A month ago, four of his paintings told for $161 million at Christie's auction house. His Portrait of Dr. Gachet sold for $82.5 million in 1990.
Why? Van Gogh is just so utterly compelling. His unique paintings make us feel things.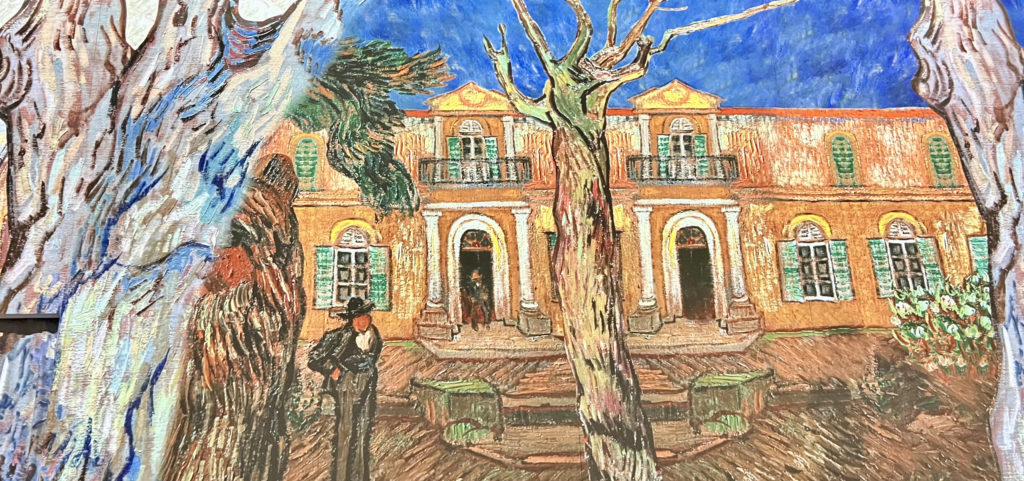 Van Gogh's landscapes and portraits were radical. They were like nothing anyone had painted before. His art works feature swirling lines, emotional honesty, and unexpected and exaggerated swatches of bold color.
Van Gogh used an impasto technique, building up the canvas with thick layers of paint and pastel. The thick application of paint gives his luminous paintings a nervous, dancing quality.
Van Gogh's paintings are intense, raw, and exude a sculptural physicality. It's these hallmarks of his art that make art neophytes, like my husband, love Van Gogh.
Van Gogh painted peasants, roiling skies, and the colored light of the night sky. Toward the end of his life, his brush moved faster and faster. In the last 70 days of his life in Auvers-sur-Oise, Van Gogh created 70 paintings.
Van Gogh exposed himself. His self portraits are palpable and relatable.
From his timid sideways glances, you could almost tell Van Gogh felt frightened or troubled, perhaps driven by a crushing search for his own creative vision. With or without an ear, the portraits reveal his sadness and fierce loneliness.
Van Gogh never had success in his life. Like many of us, he was beset by money woes, worries, isolation, and rejection.
But Van Gogh had tenacity in the face of adversity and was eventually resurrected. It's a tale that makes us feel we're in good company with Van Gogh.
What is Immersive Van Gogh?
The Immersive Van Gogh experience is a mash up of Van Gogh's most famous paintings. They're played floor to ceiling across a large warehouse room with state of the art projection mapping, animation, and music.
The Immersive experiences are wildly popular. They're scheduled to play in dozens of cities in the United States.
The show has become one of the most successful art phenomena in history. At least six different corporate entities are currently battling to dominate the field.
Whatever the reason for the zeal, the thirst for animated projections of Van Gogh paintings is real, and it's everywhere.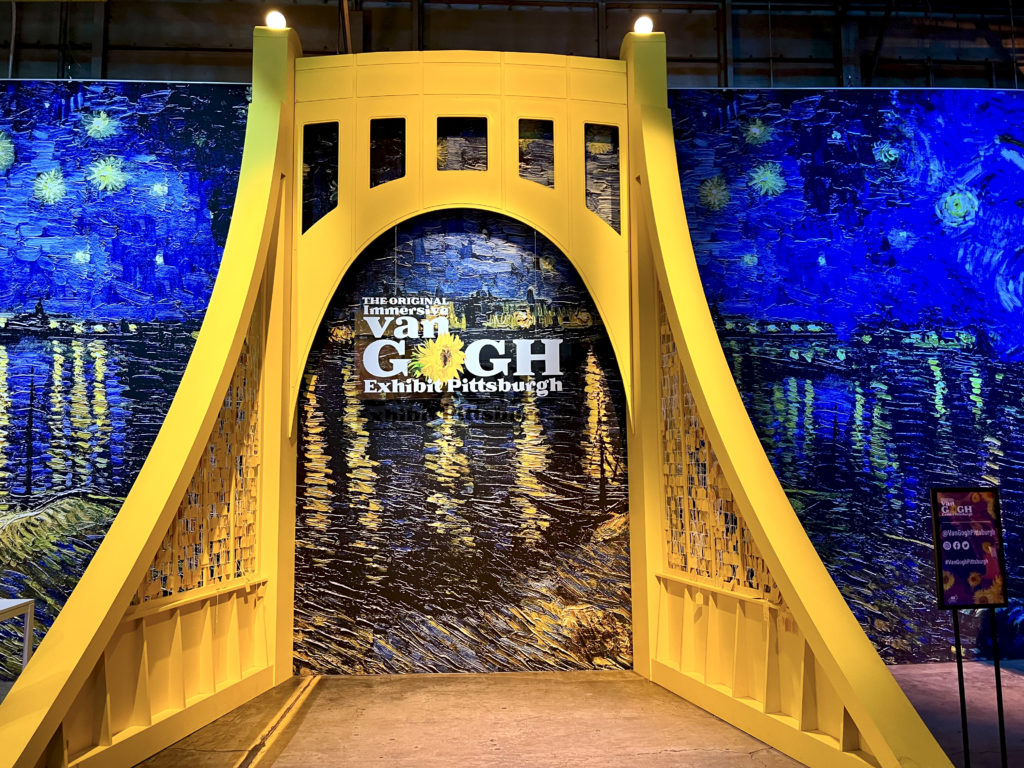 After purchasing tickets in April, last night I saw the Original Immersive Van Gogh in Pittsburgh. It was held at Lighthouse Artspace on the North Side. Even the building was painted with sunflowers.
Immersive Van Gogh is the brainchild of Italian film producer Massimiliano Siccardi. It's about a 60-90 minute long experience.
Viewers are completely wrapped in Van Gogh's greatest hits. The promotors claim that you can "step inside" the paintings, which felt quasi-true. They also claim that you "step into his mind," which felt untrue.
The vivid images are accompanied by "experimental electronic music with pure, ethereal and simple-seeming piano" by composer Luca Longobardi. There are snippets of Handel, Mozart, and Edith Piaf (who sings Non, je ne regrette rien).
To kick off the Pittsburgh show, a 92 foot tall Vincent Van Gogh hot air balloon made a stop on Flagstaff Hill in Oakland. It was one of the balloon's first stops as it travels around the country.
Immersive Van Gogh is next headed for Chicago, Minneapolis, and Los Angeles, among other stops.
Review of Original Immersive Van Gogh
Immersive Van Gogh is certainly a new way of encountering art. It's an enthralling mix of Post-Impressionist fireworks and escapism. You're so overwhelmed by technology, it's almost dizzying.
Upon entering the exhibition space, you are greeted with a gallery of blown up reproductions of Van Gogh paintings. It's a mini preview of the paintings that will be featured in the show.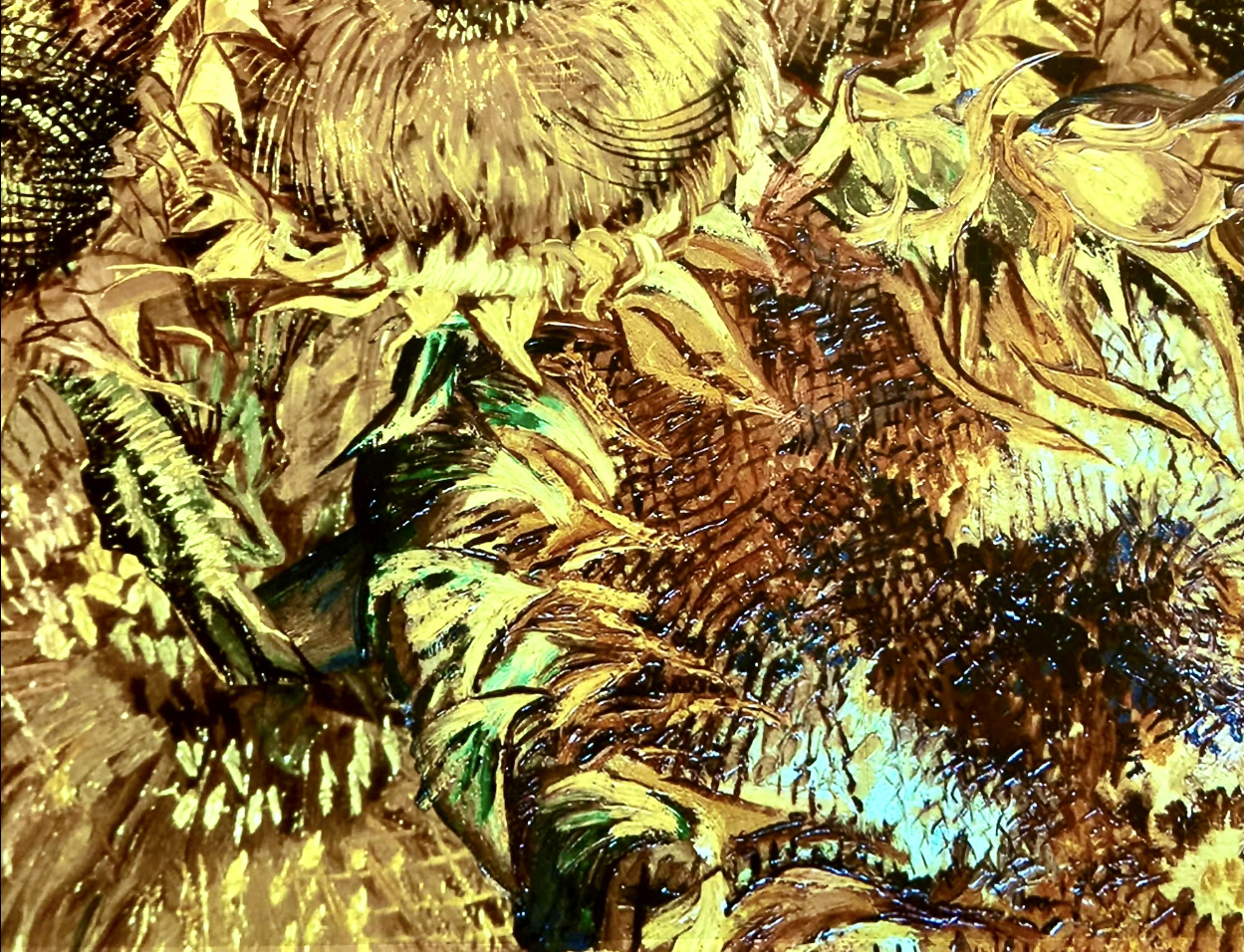 You then enter the signature gallery. You can watch from the floor, a cushion, or a chair. There are circles for social distancing.
Once into the massive main room, there's a 35 minute show that's on a constant loop. Van Gogh's works are shown non-chronologically.
The scenes are loosely based on the artist's inspirations. You can watch the show as many times as you want. You probably want to see it twice.
If you know anything about Van Gogh, you'll likely recognize his most famous paintings — Sunflowers, Postman, The Bedroom, Irises, Starry Night, and his many self portraits.
There are no static museum-style rows of paintings. The animation and effects were magical and sometimes clever. Color builds up, floats, and dissipates across the walls.
Delicate almond blossoms blow across the screen. Black crows cackle and take flight. Candles burn. Purple irises unfurl.
In a charming scene, Van Gogh swats away buzzing white cicadas.
For the finale, a thousand spiky stars bloom in rapid succession. Starry Night (from the Metropolitan Museum of Art) fades into Starry Night Over the Rhone (from Paris' Musee d'Orsay).
My favorite scene was when Van Gogh's various self portraits were simultaneously projected onto the warehouse walls. The animated plant life was stunning too.
On your way out, you're shuttled into a Van Gogh shop and cafe. There are some sensuous selfie backdrops. You can also pick up a coffee mug or book on Van Gogh.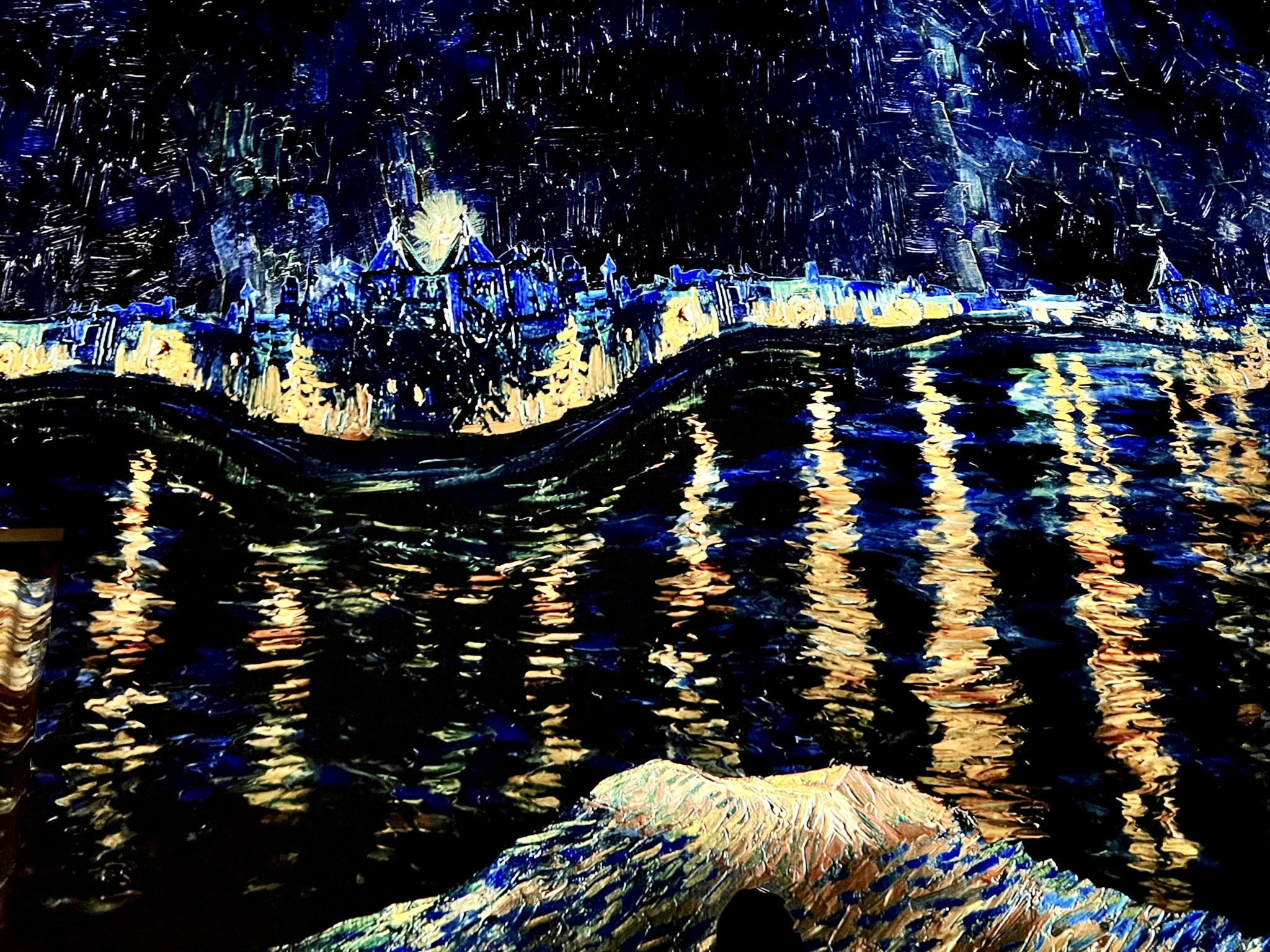 Bottom Line
First off, I enjoyed the show. I won't need to see it again, but I'm glad I went.
On the downside, Immersive van Gogh is marketed as an outpouring of Van Gogh's soul. But the show is not autobiographical.
You find Van Gogh's small images blown out of proportion and flattened. There's none of his soul or actual brush work on display. The brush work is mimicked through motion.
There's no real attempt to be educational either. It's not a Van Gogh art history primer. At bottom, the show could be viewed as a flashy commodification of a complex man.
And yet, in the final analysis, none of that really matters to most of us. (Except for some hyper-critical cynics.) Immersive Van Gogh is a conceptual installation, not real art. We all know that going in.
The show is a fun take on a beloved classic. It's about spectacle, relaxation, and accessibility. It has an emotional impact.
The immersive iteration in no way supplants the experience of seeing Van Gogh's powerful paintings in person. It's just another way to encounter his art.
You can always go to a museum to learn about art. But it's not easy to "read" art without training.
Immersive Van Gogh provides a romantic alternative. Everywhere I looked I saw happy and mesmerized people, almost in awe. No one was looking at their phone except to snap photos.
A couple of nit picky things. I didn't like the way the cushion seating and chairs were completely intermixed. If you were on a cushion behind a chair, your view was partially blocked. The different seating options should have been segregated.
Don't sit near the entrance or exit. You may be distracted, or your view blocked, by people coming or going.
I also had expected the projections to wrap around the walls in a continuously moving way. That wasn't the case. So you might have wanted to see a snippet that was on another wall. If you sit through the show twice, you should change locations in the warehouse.
I also thought the show was overpriced, given that it's fairly short. If you really love Van Gogh, it might be better to support a museum housing his works, if one is near you. In Pittsburgh, you can see three real Van Gogh paintings at the Carnegie Museum of Art.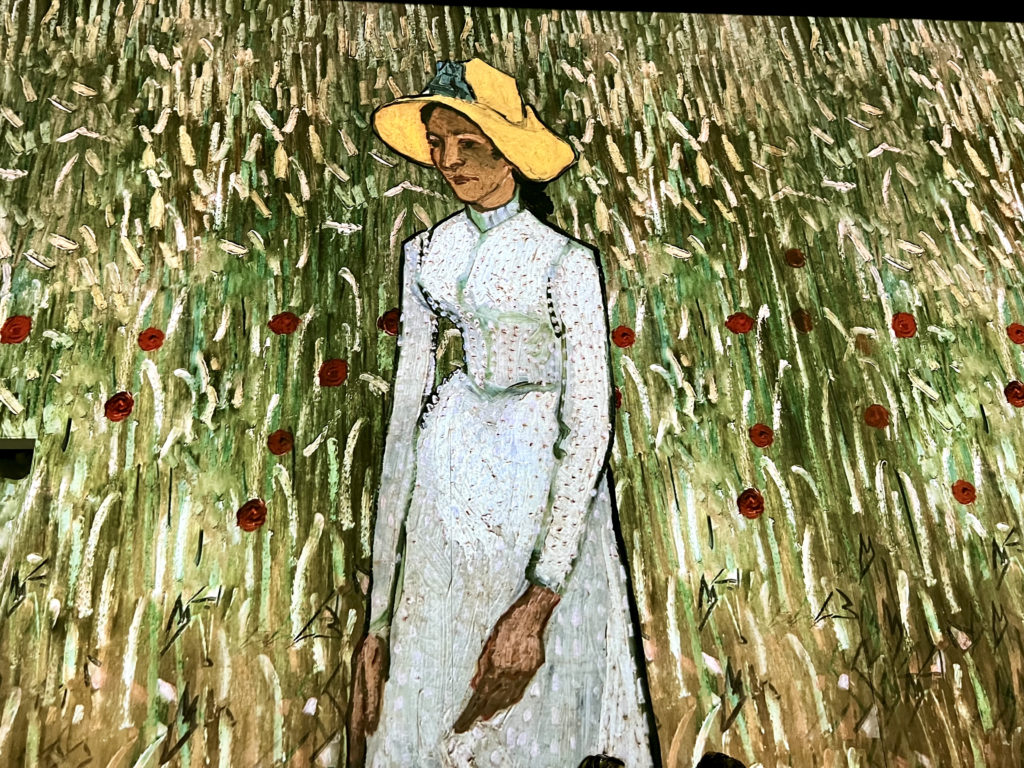 Practical Information For Immersive Van Gogh
Address: Lighthouse Artspace, 720 E Lacock Street, Pittsburgh
Parking: The venue has valet parking. But there's plenty of street parking. I had no trouble parking for a 7:00 pm show.
Tickets: Ticket prices range from $29.99 to $99.99. Prices increase during peak times. I had Premium Flex tickets which allowed us some leeway on arrival time and came with a cushion to sit on. Click here to purchase tickets.
When: The current show will be in Pittsburgh from Oct. 21 through Feb. 6.
Pro Tip: If you want to get dinner before or after the show, try Siempre Algo or Fig & Ash in the North Side.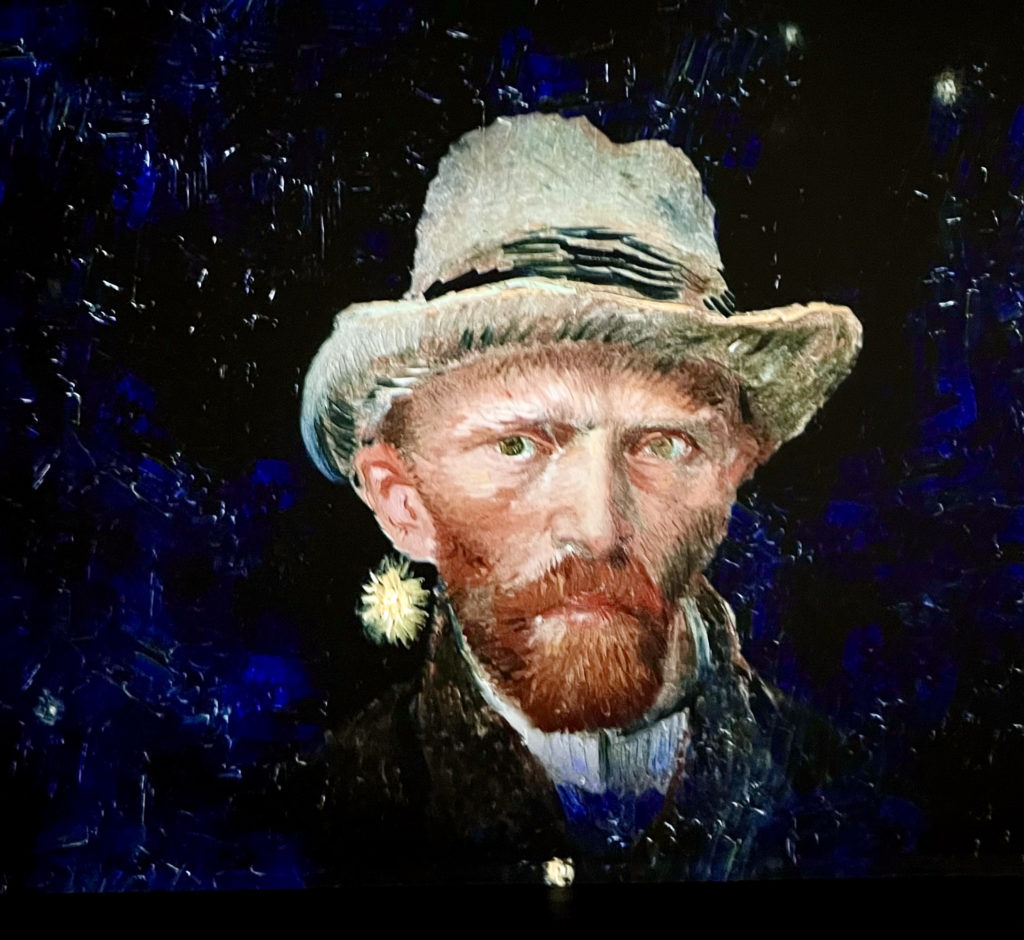 Need more art in your life? You may enjoy these other guides:
I hope you've enjoyed my review of Immersive Van Gogh. If you'd like to see Immersive Van Gogh, pin it for later.