Here's my guide to the best one week fall foliage itinerary in New England. New England is a classic American destination, the perfect place for a road trip.
As a born/bred/educated New England girl myself, I think New England is arguably one of the world's most beautiful places in the fall.
Country roads wind through dense forests, stone walls, covered bridges, and idyllic farm properties.
Orange, red, and gold colors explode, rippling across the mountains. It's the stuff of dreams.
If you want to escape the crowds and fall back into nature, I recommend adding a New England road trip to your USA bucket list.
Here's my sample one week fall foliage itinerary, taking in the best fall colors in New England. I also give you plenty of options for extending your New England road trip if you have more vacation time.
In this 7 day New England itinerary, I spill the beans on the must see scenic spots in New England to experience the festival of colors, where to stay and eat, the top hikes, and photography inspiration.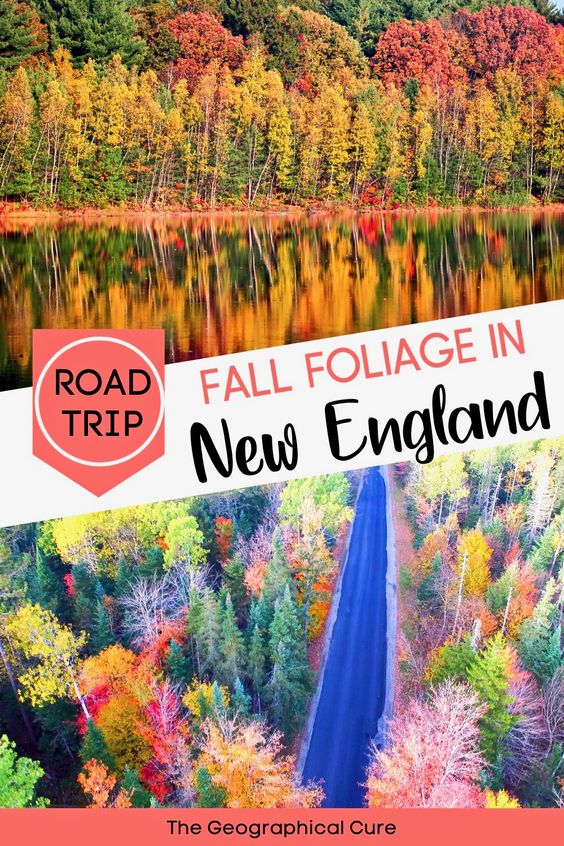 You'll start in the historic New England city of Boston and then head to the Berkshires, Vermont, and New Hampshire. I think New Hampshire and Vermont are the best place to see fall foliage, though I may be a tad biased.
If you have more than one week for your New England fall road trip, I give you some other options in Connecticut and Rhode Island to extend your time in this rural playground.
You can easily turn a 7 day fall foliage road trip into a 10-14 day itinerary for New England and stay longer in each place.
Overview Of One Week Fall Foliage Itinerary In New England
Day 1: Boston MA
Day 2: Berkshires MA
Day 3: Dixville Notch State Park NH
Day 4: Stowe Vermont
Day 5: Smugglers Notch NH
Day 6: White Moutains NH
Day 7: White Mountains NH
Extra Time? Add Burlington Vermont, Connecticut, and Rhode Island
One Week Fall Foliage Itinerary For New England
Let's begin the leaf peeping! Here's where to go for fall foliage with one week in New England.
Day 1: Boston, Massachusetts
Begin your 7 day fall foliage road trip by flying (or driving) into Boston. Beautiful Boston Massachusetts is one of my favorite city in the United States. And fall is the perfect time to visit.
The country's oldest city, Boston is steeped in American history. Boston played a pivotal role in the Revolutionary War.
Boston's sometimes called the "hub of the world" or the "cradle of liberty." The city was the source and inspiration for key ideas that shaped America.
READ: 3 Day Itinerary for Boston
Boston has a great foodie scene, wide open green spaces, quaint neighborhoods, and first rate museums. The prettiest neighborhoods, lit in colors in the fall, is Beacon Hill.
And Boston's got loads of gorgeous fall foliage. To see the colors, head to Boston Public Garden, Boston Common, the Boston Esplanade along the Charles River, Beacon Hill, and Back Bay.
You can book a historic walking tour. The hop on hop off trolley bus takes you to Boston's top attractions. You can also see check out the colors on a fall foliage lunch cruise.
After touring the city, pick up your rental car. Now, it's time for some classic new England fall foliage. If you want to skip the big city altogether on this fall foliage trip, just add in one of my bonus destinations instead.
Where To Stay In Boston:
If you opt for downtown, I like the small XV Beacon or the Klimpton Nine Zero Hotel. You could also splurge at the Ritz Carlton or the Four Seasons.
The Inn at St. Botolph, the Lenox Hotel, and the Hilton in Back Bay are also nice options and central too.
If you can't resist historic Beacon Hill, check out The Boxer, Liberty, or the elegant Whitney Hotel.
Where To Eat In Boston:
Barcelona Wine Bar, SVR, Yvonne's, Beehive, Giacomo's, Sarma, and o ya
Day 2: The Berkshires, Massachusetts
The Berkshires are a beautiful rural region of western Massachusetts that's made up of 30 bucolic villages with some top tier leaf peeping, museums, and restaurants.
It's a place of fall foliage glory In New England. The Berkshires are full of winding roads with rolling meadows and trees ablaze.
For some of the best fall foliage scenery in the Berkshires, take Route 7 and 8 from Great Barrington to North Adams (1:10 hours without stops).
You'll go past storybook farms, wooden barns, and stone walls. And through the cute towns of Stockbridge, Lee, Lennox, and Pittsfield.
Stockbridge and Lenox are the two prettiest towns in the Berkshires, and make a great base for exploring. Stockbridge is home to the Norman Rockwell Museum and some of the Berkshires' beautiful Gilded Age castle-cottages.
Lenox is home to The Mount, Edith Wharton's home, more iconic properties, and fantastic restaurants.
The quaint town of North Adams is an arty town with an eye catching row of multi-colored Victorians called The Porches. If you're in the mood for a museum after some leaf peeping, there are couple really good ones.
Try the Susan B. Anthony Birthplace Museum (in nearby Adams) or the spectacular Massachusetts Museum of Contemporary Art.
The Notch Road leads to Mt. Greylock State Reservation. You can drive up to the summit for Massachusetts' highest viewing point.
There are plenty of marked hiking trails that start from the parking lot. Click here for the online trail map.
Then descend back down, exit the park, and take Route 7. This will take you to the small town of Lanesborough, where you'll see pastures and horse farms. You can pick your own apples at Lakeview Orchard.
Near Route 7, you can also visit the home of Edith Wharton in Stockbridge. On your way back to North Adams, you can stop in Cheshire at the Whitney's Farm Market.
Here's my complete guide to the Berkshires.
Where To Stay In The Berkshires:
In Lenox, you can check out the intimate Wheatleigh resort fashioned as a Florentine palazzo. The Seven Hills Inn is a historic property on beautifully landscapes grounds with cottages.
In Stockbridge, you can stay at the historic Red Lion Inn or the Inn at Stockbridge, a charming B&B.
Where To Eat in the Berkshires:
Gramercy Bistro, Nuedel, Grazie, Mezze, Bistro Zinc, or The Portico at the Wheatleigh
Day 3: Dixville Notch State Park, New Hampshire
On day 3 of your 7 day fall foliage itinerary, get up early and drive 4.5 hours north to Dixville Notch State Park to venture into New Hampshire. Dixville Notch is a very small area. But what it lacks in size, it more than makes up for in unadulterated beauty.
The main road through Dixville features rolling hills and stunning scenery, including beautiful Lake Gloriette. Once there, hike the famed Table Rock Trail. You'll need to pull off the shoulder and park on Route 26.
Table Rock Trail is a 1.5 mile out and back trail, with a relatively steep 700 feet climb. You'll be rewarded with panoramic views over gorgeous Dixville Notch from above. If you've timed it right, you can even enjoy the sunset from your perch.
Another trail leaves from the parking lot of the Whittemore Family Cemetery on Google Maps. The trail winds its way through a vibrant forest, leading to a cute little bridge and stream. When you're done hiking, head back to the nearby town of Colebrook for dinner and shut eye.
Where to stay: La Maison Bleue du Lac, Mohawk Cottages
Where to eat: Black Bear Tavern, Parsons Street, Wilderness
Day 4: Stowe, Vermont
Wake up early, grab some breakfast at Mostly Muffins in Colebrook. Then drive 2 hours west towards Stowe Vermont.
Along the way, you'll pass scads of beautiful fall foliage and adorable rural towns, like the memorable Island Pond in Brighton.
Spend the day exploring the charming town. Where mountainous Stowe really shines is its hiking trails, with a range of options to suit every level of experience. Some take you to towering peaks, others end in waterfalls.
For beautiful fall views of Vermont's Green Mountains, you can ride the ferry across Lake Champlain.
Another option is taking the Gondola Sky Ride at the Stowe Mountain Resort, for more beautiful aerial mountain views.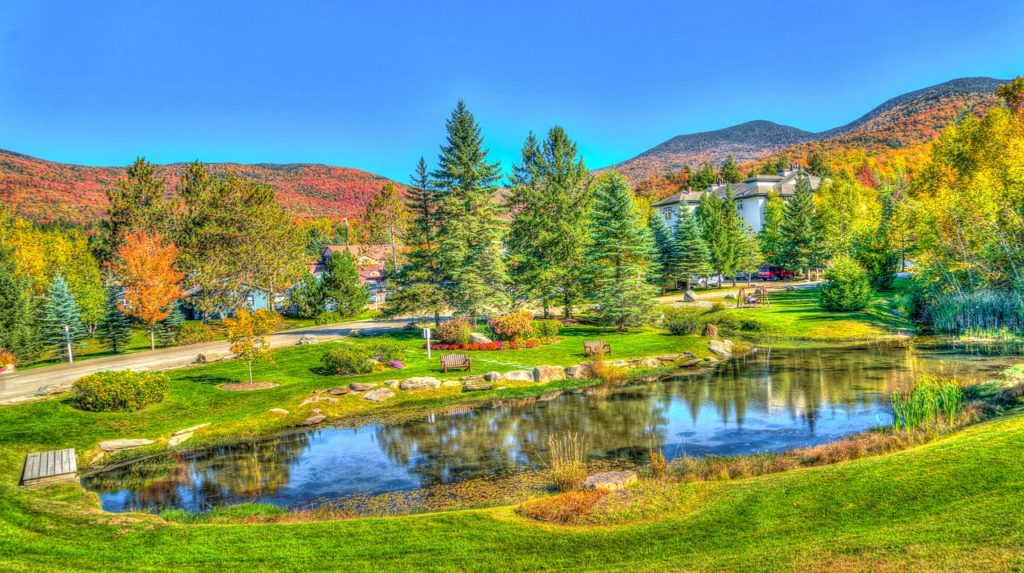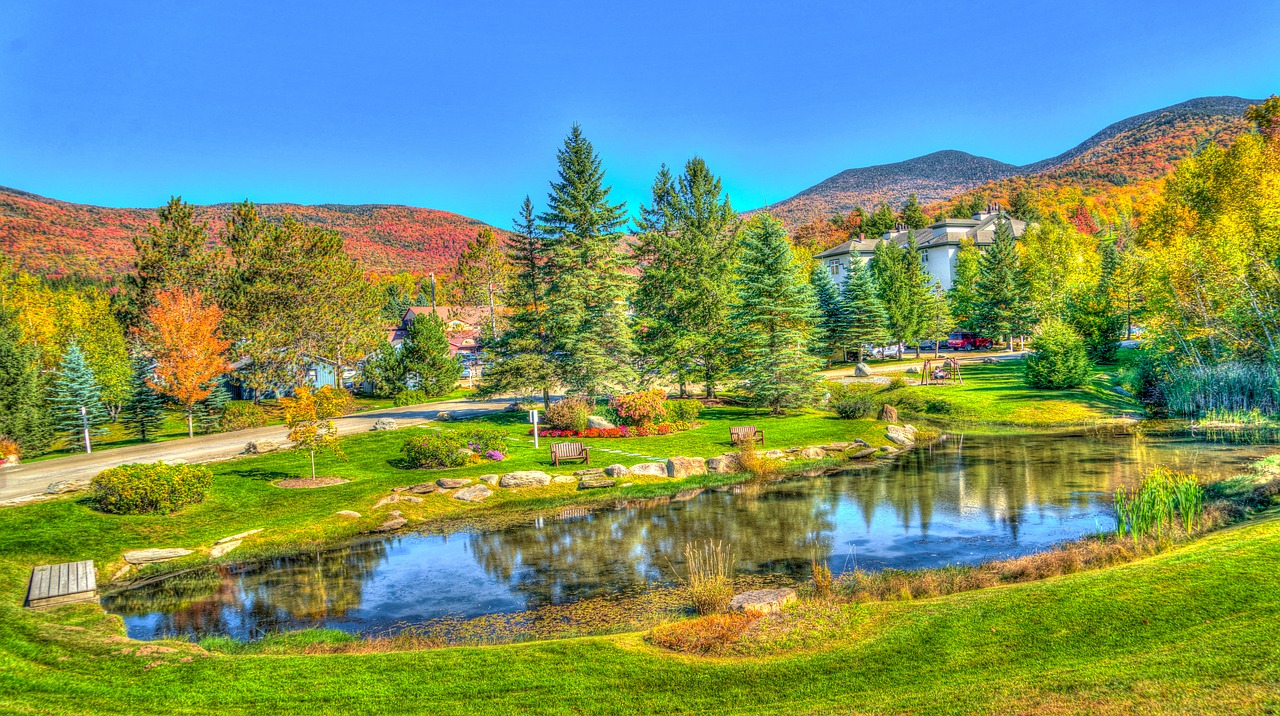 When you're done hiking, snack on some apple cider donuts. Stowe also has a romantic and picture perfect downtown.
Its white steepled church is the focal point. Tiny Main Street is filled with boutiques, crafts stores, and antique shops. There are libraries, museums, theaters, and cultural organizations to keep your entertained.
Where To Stay In Stowe:
Stowe has some very nice hotels. The best option is the Topnotch Resort, with pools, a spa, and saunas. The Lodge at Spruce Peak is another good option. It's at the base of Stowe Mountain and has awe inspiring views of the area's lakes and peaks.
You can also check out the Trapp Family Lodge, with old world Austrian charm.
Where To Eat In Stowe:
Plate, Cliff House, Bistro at Ten Acres, Green Goddess Cafe
>> Click here to book a brewery tour in Stowe
Day 5: Smuggler's Notch, Vermont
Day 5 of your one week New England fall foliage itinerary will be a busy one.
Wake up early and head 20+ minutes to the famed Smuggler's Notch, detouring off Route 100 to Route 108. This magnificent area has a road that goes through a gap between two mountains (termed a "notch").
Smuggler's Notch is similar to Dixville Notch. But it's even more stunning. The mountains on either side are massive.
There are many beautiful twists, hairpin turns, and massive boulders in the road. Unfortunately, there aren't many places to stop and take photos. But there are two parking lots, at the Welcome Center and upper end of the notch.
From Smuggler's Notch, drive south to Pomfret, Vermont. Take Cloudland Road south from Pomfret to Woodstock. You'll drive along cute dirt roads lined with fall colors, rolling hills, and quaint farms.
If you're hungry, stop in Woodstock for lunch at Mangalitsa or the Prince and the Pauper Restaurant.
Stop for a photography break at Sleepy Hollow Farm in Woodstock Vermont. It's a great little stop that captures one of New England's most photogenic farm properties now Instagram famous.
Sugarbush Farm is another local farm property that you can visit. Their maple syrup is famous.
Now, it's time to head back to New Hampshire. At the base of the White Mountains, the town of Lincoln makes a good base for touring this area.
Then you don't have to move every night. Lincoln is a creative foodie town, so plan on some fine dining there after your days of hiking and leaf peeping.
Where To Stay Near Lincoln: Omni Mt. Washington, Sugar Hill Inn, Riverwalk Resort at Loon Mountain, Red Sleigh Inn B&B
Where to eat: The Common Man, Gypsy Cafe, La Vista Italian Cuisine
Day 6: White Mountains, New Hamsphire
On day 6 of your one weeks fall foliage tour of New England, you'll drive the sinuous Kancamagus Highway in the White Mountains.
It's one of the most beautiful fall foliage drives in New Hampshire. You can drive the road with this self guided audio tour.
Be prepared to pump the brakes frequently. You'll be dazzled by the incredibly epic roadside views on this 34 mile stretch of highway.
There a few places to pull over, providing great photo opportunities. Continue east until you hit the Rocky Gorge Parking Lot. Here, you can take a walk along the Swift River and get views of the beautiful Falls Pond.
From Rocky Gorge, backtrack a short distance to drive up Bear Notch Road. Bear Notch features a scenic drive along a mountainside and more roadside pullouts for gorgeous photo opportunities.
At the end of Bear Notch Road, drive north to Crawford Notch State Park.
Here, you can explore the backroads and revel in the beautiful fall colors. If you'd like to do some hiking, there are 35 hiking trails of varying difficulty.
The best hike in this area is the Mount Willard Trail. It's a relatively steep, but short, 3.2 mile out and back hike to a clifftop vista overlooking Crawford Notch. The views are surreal.
Next, continue driving north where you can detour to the Mt Washington Cog Railway. Here, you can ride a historic train to the summit of Mt. Washington.
The mountain is the tallest one in the northeastern United States at 6,289 feet. At night, head back to your base in Lincoln.
Day 7: White Mountains | Franconia Notch State Park, New Hampshire
On day 7 of your New England fall foliage itinerary, you'll head to Franconia Notch State Park. The park is a lovely spot nestled in the White Mountains, just 7 minutes from Lincoln.
Start your day with a sunrise hike up to Artist's Bluff. This is a short 1.4 mile long loop trail up to a hilltop overlooking Echo Lake. The fall foliage here is simply breathtaking.
Continue on to Flume Gorge. This is one of the best stops on a New England road trip. The natural chasm stretches 800 feet along the base of Mt. Liberty.
A boardwalk provides a relatively easy 2 mile loop hike. Waterfalls, streams, and covered bridges keep the eyes riveted the entire way.
You can also be whisked away on the 80 person Canon Mountain Aerial Tramway, which takes you to the top of majestic Cannon Mountain for an "oh wow" view. Cannon Cliff is the northeast's largest vertical rock face. Trails meander on the mountain.
You can also hike the Falling Waters Trail to beautiful waterfalls. Or bike or hike the 8.7 mile Franconia Notch Recreation Path.
The paved trail offer spectacular views of the White Mountains and access to Echo Lake. More adventurous travelers should pull in at Loon Mountain and zipline 700 feet across the Pemigewasset River.
Where to eat: Polly's Pancake Parlor, Lovette's Inn & Restaurant
Extra Time On Your One Week New England Road Trip?
It may be time to head back to Boston or home after your one week New England fall foliage road trip.
But if you have extra time on your hands, there are several places you can easily add to create a longer New England fall foliage itinerary.
1. Burlington Vermont
While you're in Vermont, after Stowe, add a day in the lovely town of Burlington. As the largest town in a state of small hamlets, Burlington has developed a wonderful art scene.
To some, Burlington is akin to a mini Seattle — a politically and socially progressive enclave of college students, regional power brokers, and creative minds.
The city's popular waterfront bike path includes miles of paths, many along Lake Champlain. Stop at Ethan Allen Park, with a 40 foot tower providing mountain views.
If you're a foodie, Burlington will suit. It outshines much of the US with a bounty of locally grown food. Farm to table eating is a well established tradition. There's even excellent street food at Farmers and Foragers Food Truck.
Where to stay: Willard Street Inn, Made INN Vermont
Where to eat: Bleu Northeast Seafood, Hen of the Wood, Juniper
2. Connecticut
If you want to venture south of Boston, Rhode Island and Connecticut also offer excellent fall foliage drives, with rolling foothills ablaze in color.
The best fall drive in Connecticut is the tree-lined State Route 169. This two lane scenic road connects picture perfect towns in a still rural corner of the state, often called New England's "Last Green Valley."
Along this relaxing and uncrowded drive, you'll pass classic churches, orchards, stone walls, and 19th century homes. The pink neo-Gothic Roseland Cottage operates as a museum.
It's open for tours June through mid-October. For a break, stop at Mrs. Bridge's Pantry for some tea and scones.
Another popular fall drive in Connecticut is from Milford to Litchfield. Along the way, you can stop at Hunt Hill Farm, with a gallery, shop, and cafe.
Continue to New Preston, where can you do some antique shopping at Dawn Hill Antiques. Then take the 8 mile drive around Lake Waramaug. In fall, it's encircled with red maples, rusty oaks, and yellow birches.
Where to stay: Winvian, Grace Mayflower Inn & Spa, Inn at Stonington
Where to eat: Arethusa Farm, Schoolhouse at Cannondale
3. Rhode Island
The state of Rhode Island is the home of the red maple, which turns a glorious gold, purple, and scarlet come fall.
Start your tour of tiny Rhode Island in the amazing town of Providence. Providence combines big city sophistication with small town charm, vibrant culture with hot restaurants. Here's may one day itinerary for Providence.
For leaf peeping in Providence, the tree lined vista from Prospect Terrace is stunning. There are beautiful trees along the downtown River Walk and on historic Benefit Street.
Drive north from Providence to the Diamond Hill Vineyards, which specializes in pinot noir. Then drive west to the village of Chepachet, where you'll find Victorian homes and antique shops. A classic stop is at Brown & Hopkins Country Store.
Then hit the road and drive another 40 miles to Exeter. It's lined with pristine hardwood forests with an abundance of red maple, white oak, elm, and poplar trees.
If time allows, you can continue on to the Colonial seaport town of Wickford, opening to Narragansett Bay.
Where to stay: Renaissance Providence, Graduate Providence
Where to eat: Gracie's, Al Forno, Bacaro, Birch, Chez Pascal
When Is The Best Time To Take Fall Foliage Road Trip In New England?
The best time to see New England fall foliage is typically from mid September to late October. Even until early November in some places.
But it varies somewhat by state, fall coming earlier the further north you go. Some states have foliage trackers you can check to determine when peak fall foliage occurs: New Hampshire, Vermont, Massachusetts, and Connecticut.
I hope you've enjoyed my one week fall foliage itinerary in New England. You may enjoy these other United States travel guides and resources:
If you'd like to take a fall foliage road trip in New England, pin it for later.