The Rodin Museum is one of Philadelphia's most beloved institutions. It's located right on the Benjamin Franklin Parkway, Philadelphia's Champs-Élysées. If you love sculpture, it's a must visit attraction in the City of Brotherly Love.
The museum houses one of the most comprehensive collections of sculptures by Auguste Rodin outside of France. It features over 150 of his sculptures, including well-known masterpieces like The Thinker, The Gates of Hell, and The Burghers of Calais.
The museum is set in a beautiful and serene Beaux-Arts building surrounded by formal French gardens. The museum building itself is an architectural gem.
It was designed by architect Paul Cret and completed in 1929. The Neo-Classical design is inspired by the Hôtel Biron in Paris, which served as Rodin's studio and now houses Paris' Rodin Museum.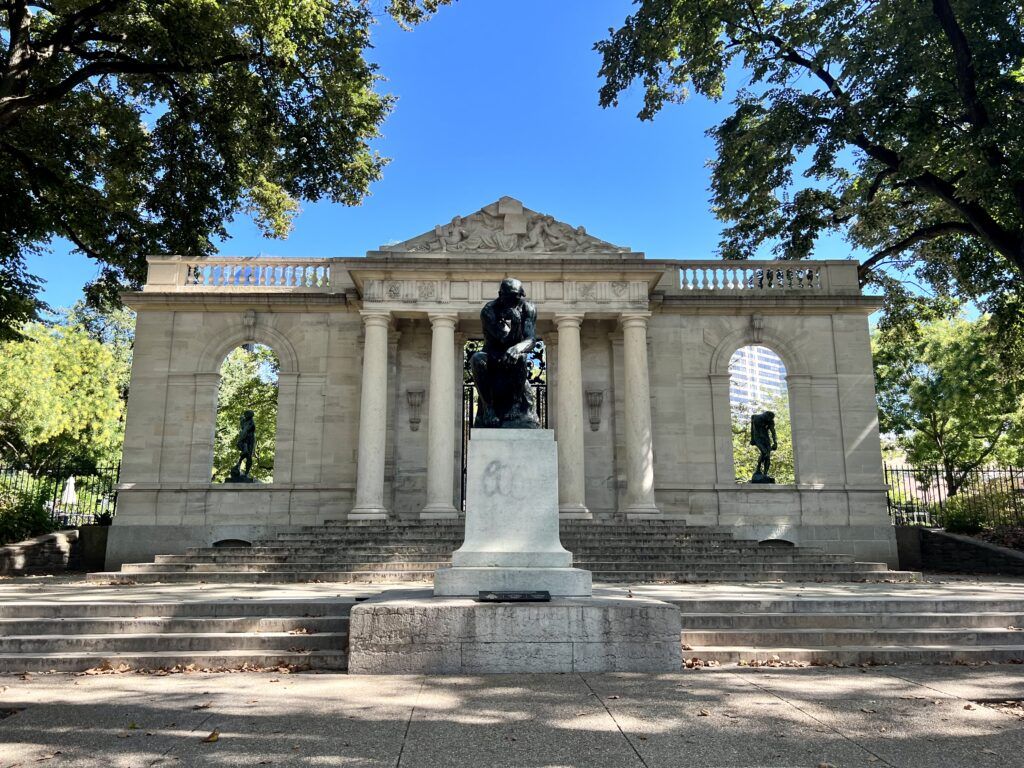 Overview Of Philadelphia's Rodin Museum
History & Layout
The museum's collection was primarily put together by Jules E. Mastbaum, an American businessman. He was a film industry magnate and a generous philanthropist who loved art.
In the early 1920s, he purchased scads of Rodin sculptures, with the intent of creating a museum dedicated to Rodin.
When he passed away, Mastbaum had assembled the largest group of Rodin sculptures outside of Paris and hired an architect to design the museum.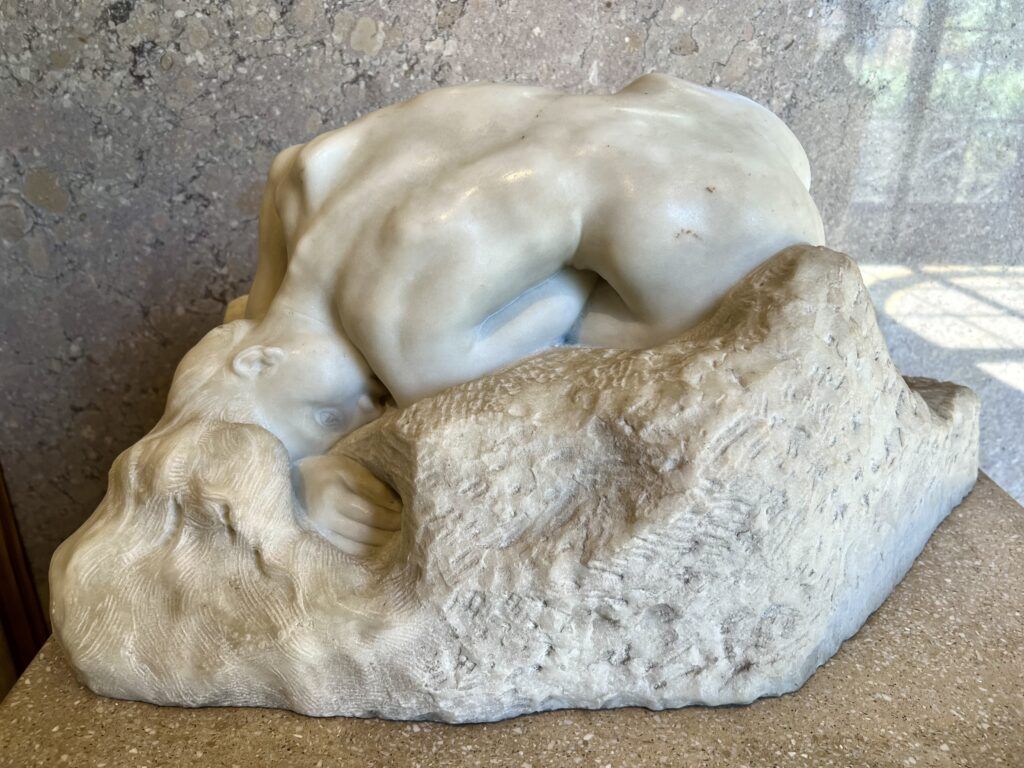 Mastbaum passed away in 1926. But his widow helped make his dream a reality. In 1929, the Rodin Museum opened to the public.
As you approach the museum, a beautiful gate welcomes you in. There are sculptures of Adam and Shade in niches.
Once you pass through the gate, you're in a beautiful formal garden. There's a reflecting pool, large chess set, and fountain. In the gardens on each side of the building, you'll find sculptures of The Three Shades and the Burghers of Calais.
You walk up the steps to the main facade, passing The Thinker on the way. At the central entrance door, you'll find Rodin's Gates of Hell. Study it and then enter the museum via a door to the right.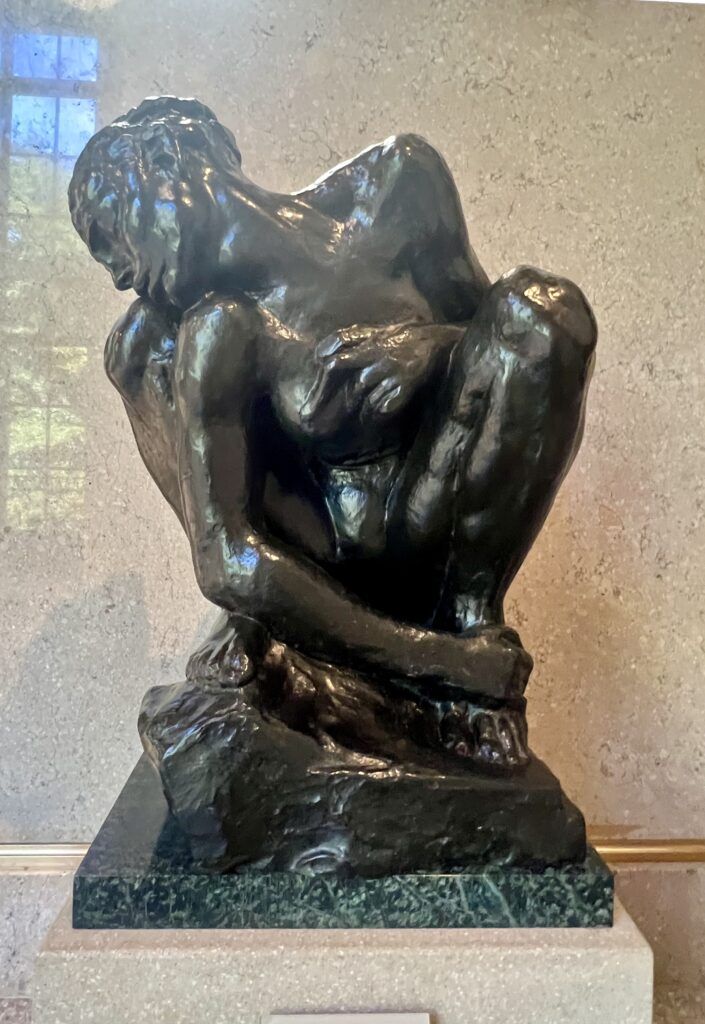 Rodin's works are displayed on a single floor. There's a central room with high ceilings. Other rooms, with red walls, spoke off from that.
You'll find some of Rodin's most famous sculptures and public monuments. Many of the sculptures are of hands and there is a tour dedicated to that topic.
Indeed, French art critic Gustave Kahn once described Rodin as "the sculptor of hands." And he is.
You'll see clenched, furious, sensuous, and damned hands, evoking movement and powerful emotion. Rodin even exhibited some of his hands as individual works of hart.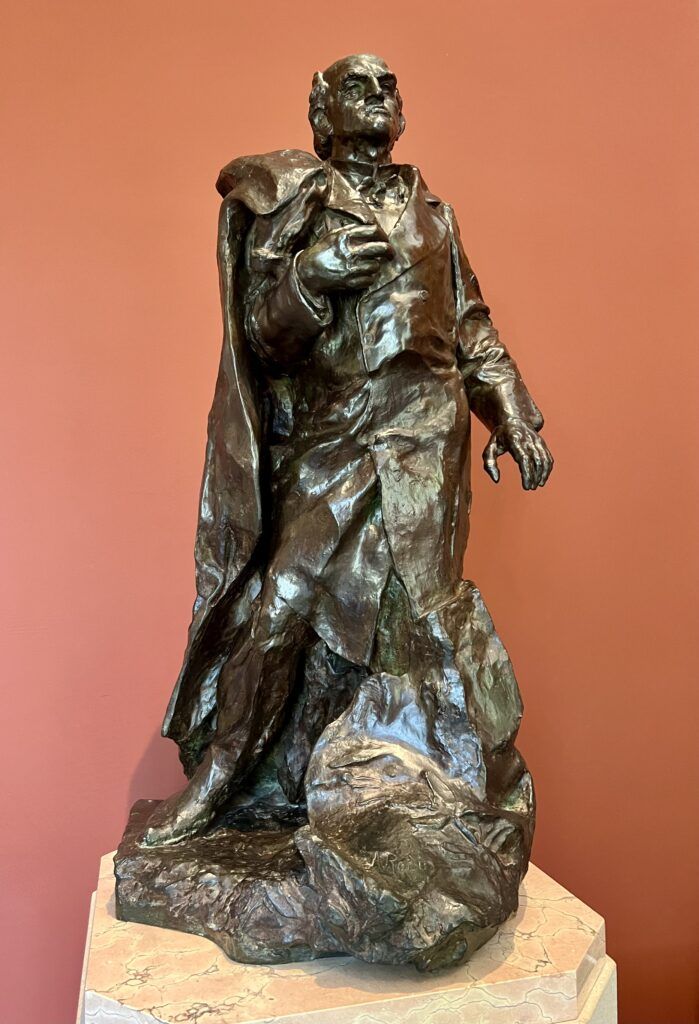 August Rodin
But who was Auguste Rodin? He's often called the father of modern sculpture. Rodin was inordinately talented and known for his expressive art.
He drew inspiration from Michelangelo. Like the Italian artist, he wanted to to capture the raw emotions and physicality in his subjects.
At first, Rodin's works weren't popular with the French salon. But he had a breakthrough in 1877 with the beautiful Age of Bronze.
Before that, in 1866, he met Rose Beuret. She was his lifelong companion and one of his first models.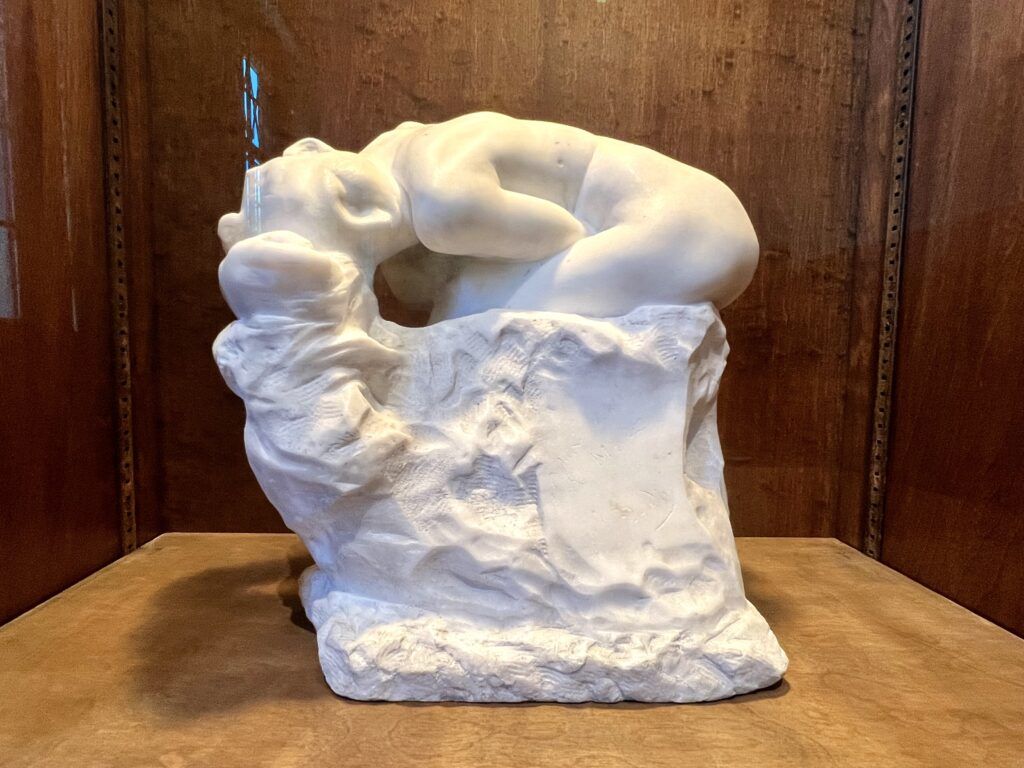 But his student and fellow artist Camille Claudel was likely the love of his life. Their passionate and creative relationship lasted from 1884 to 1898. It broke up when Rodin refused to leave his wife for her.
Claudel eventually landed in an insane asylum, her genius wasted. And Rodin continued his philandering ways.
But his reputation continued to grow. He gained international recognition for his innovative approach to sculpture. His works became highly sought after and he received numerous commissions.
Rodin died in 1917. Many of his sculptures were cast in bronze after his death.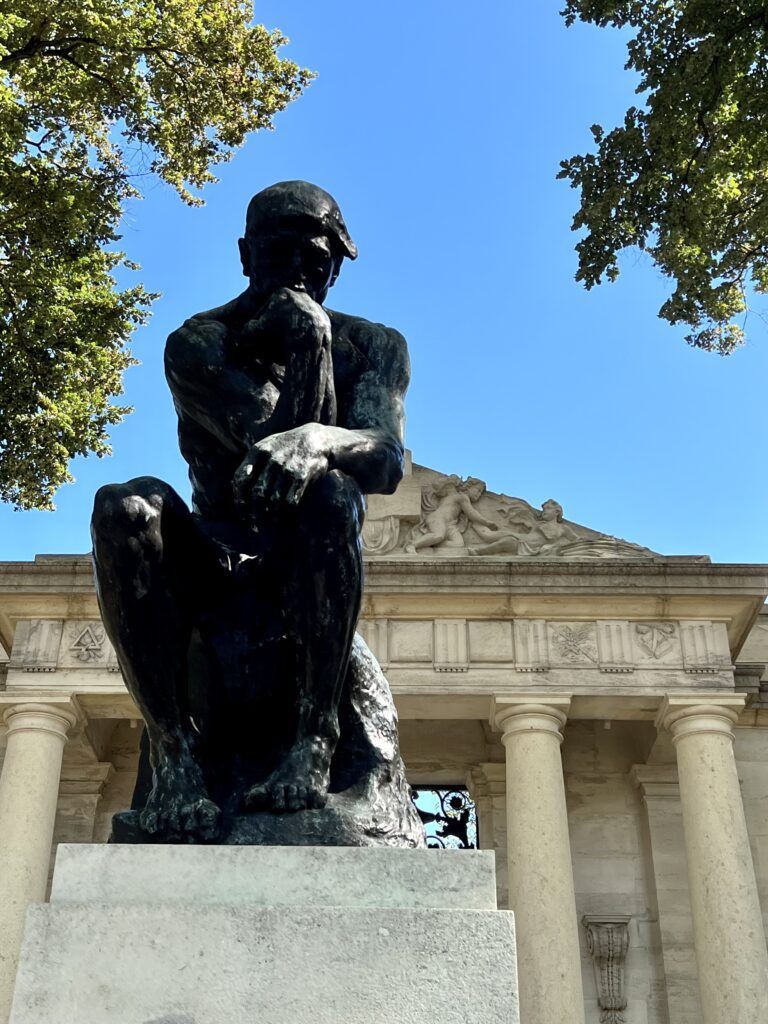 Guide To Philadelphia's Rodin Museum: What To See
Here are some of the must see highlights and artworks of the Rodin Museum.
The Thinker
Along with The Kiss, The Thinker stands as one of Rodin's most famous sculptures, with over 50 casts made.
The seated figure portrays a contemplative and somber man. He's become an emblem of intellectual contemplation. The sculpture was heavily influenced by Michelangelo's style, while also possessing a modern sensibility.
Rodin himself described The Thinker as a figure who "thinks not only with his brain, with his knitted brow, his distended nostrils, and compressed lips, but with every muscle of his arms, back, and legs, with his clenched fist and gripping toes."
The Thinker is prominently featured near the top of The Gates of Hell. He reflects upon the damned souls below, conveying a sense of doubt and introspection.
As I mentioned, The Thinker awaits you near the entrance to the museum. There's also a smaller version inside.
The Kiss
The Kiss is one of Rodin's most cherished sculptures, celebrated for its universal theme of romantic passion. It was the first of Rodin's works to capture the public's affection, despite the bold portrayal of nudity on such a grand scale.
The sculpture is often associated with the illicit love between Paolo and Francesca, characters from Dante's Divine Comedy. It's no surprise that Claudel inspired this masterpiece.
Despite its popularity, Rodin himself didn't provide the sculpture's name. An art critic suggested The Kiss and it stuck.
But Rodin himself didn't love the sculplure. He thought it was merely a "large knick-knack following the usual formula."
The Kiss sculpture you see at the museum is a copy of Rodin's masterpiece by Henri Greber. But it still conveys the intimacy and sensitivity of the moment.
The Gates Of Hell
The Gates of Hell is a colossal sculpture originally intended for a new museum in Paris that never came to be.
Commissioned in 1880, it stands almost 20 feet tall. Rodin devoted 37 years to this work. But he never quite felt it was complete.
For The Gates of Hell, Rodin drew inspiration from Dante's Inferno, an epic poem written in the early 1300s. The doors are decorated with characters that Dante met on his fictional journey through hell.
You'll encounter Paolo and Francesca, depicted differently from The Kiss, reflecting the sculpture's frenetic intensity.
Interestingly, The Gates of Hell doesn't focus exclusively on Dante's themes or follow a strict narrative.
Instead, over 200 figures represent worldly despair, disorientation, and chaos. The sculpture lacks traditional spatial structure. Instead, it's a weightless and chaotic world.
The tortured figures emerge from the bronze surface, contorted and writhing in agony. You'll find smaller versions of The Thinker and The Three Shades on the bronze doors.
It's worth noting that The Gates of Hell was only cast from the plaster model eight years after Rodin's passing.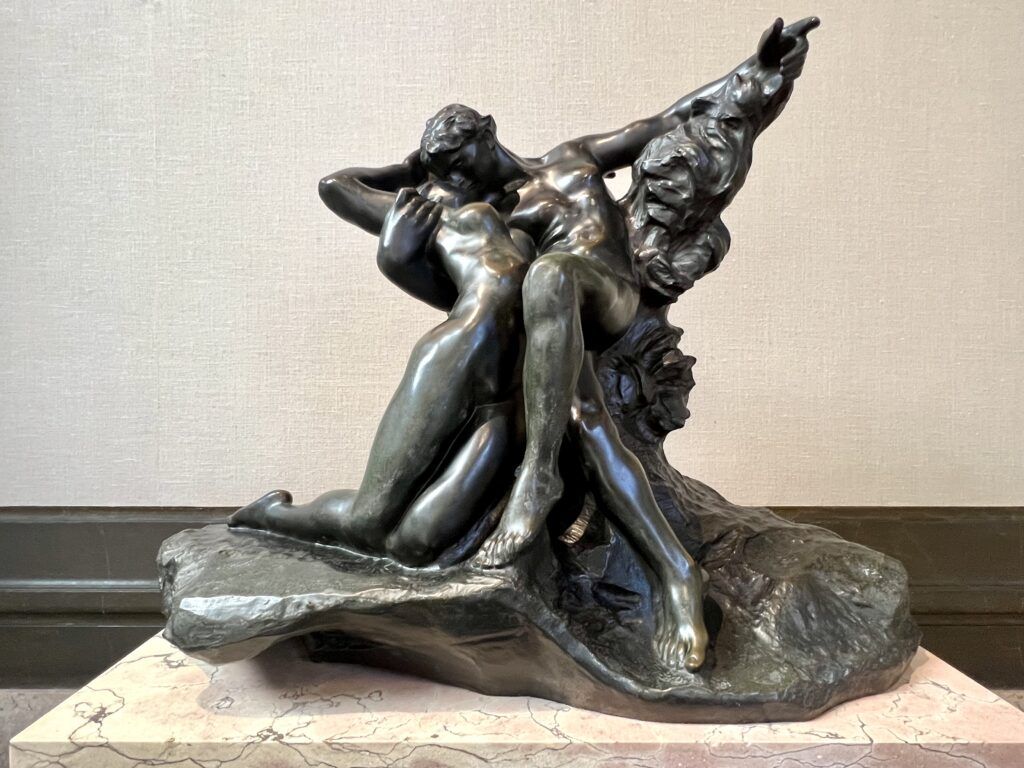 Eternal Springtime
Rodin sculpted Eternal Springtime during a period of intense creativity. This graceful sculpture is a variant of The Kiss. it portrays a tender and erotic embrace between a young couple.
The sculpture developed out of Rodin's ambitious Gates of Hell project. But it was never featured on the portal. Its theme of lovers' euphoria did not align with the tragic theme of the Gates of Hell.
Eternal Springtime has a rhythmic and decorative style reminiscent of 18th century sculpture. The male figure has small wings on his back like the mythological Cupid.
The sculpture enjoyed great success and underwent numerous castings in both bronze and marble. The museum has pieces in both mediums.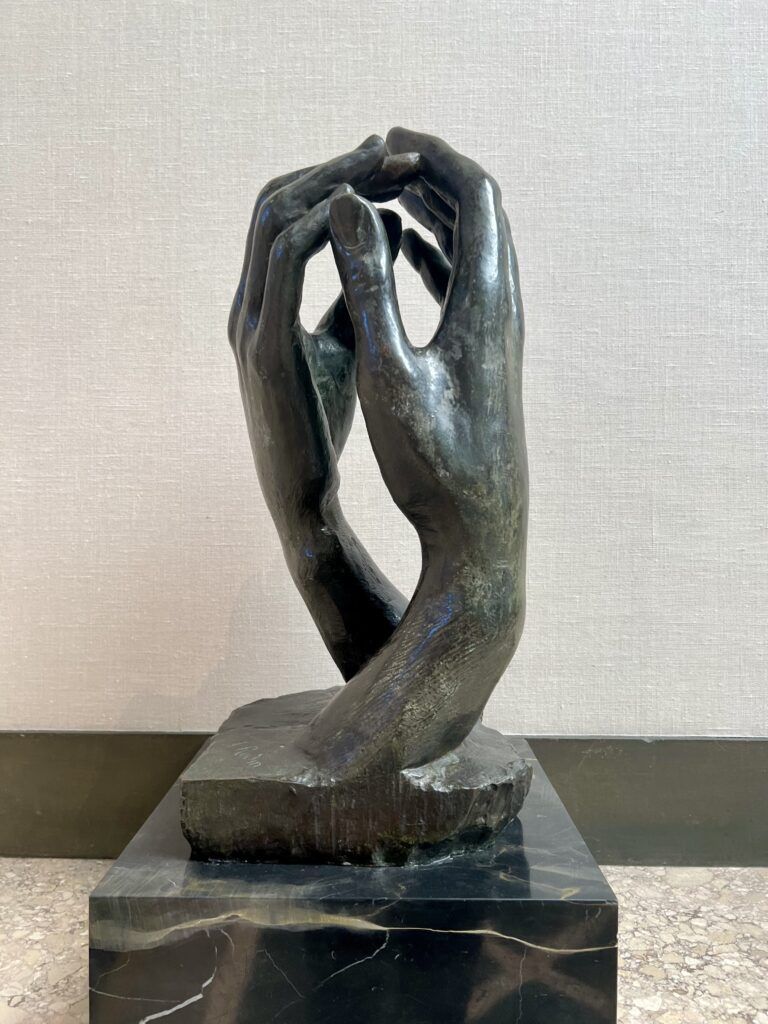 The Cathedral
Created in the late 19th century, The Cathedral is part of a series in which Rodin explored the concept of the human body as a living monument.
The sculpture portrays two intertwined hands with fingertips about to touch.
They are positioned in a way that suggests a spiritual or emotional connection. The right hand suggests a partnership or solidarity between two individuals.
Rodin also thought of his hands as architectural elements. The sculpture was originally entitled The Arch of Alliance. But Rodin renamed the piece after the rib vaulting supporting the ceilings of Gothic cathedrals.
Mignon
In 1864, Rodin met Rose Beuret. She was a seamstress who became his studio helper and mother to his son Auguste-Eugene. She was his lifelong companion, despite his inability to remain faithful to her.
The import of the title, Mignon, is unclear. But it may refer to a popular 1866 opera of the same name by French composer Ambroise Thomas, which featured a jealous and spiteful lover.
Mignon was one of the first works for which Rose modeled. It's a frank and informal bronze bust. Her alert face is framed by spiraling hair.
Mask of the Man with the Broken Nose
In Man with a Broke Nose, Rodin departs from conventional notions of beauty. Rodin was always drawn to the idea that imperfections could reveal character and depth in a person's face.
So for this sculpture, he used a local workman as the model. Though his nose was broken, Rodin gave him a dignified and classicizing portrayal.
Rodin considered the sculpture his "first good piece of modeling." And it "determined all my future work."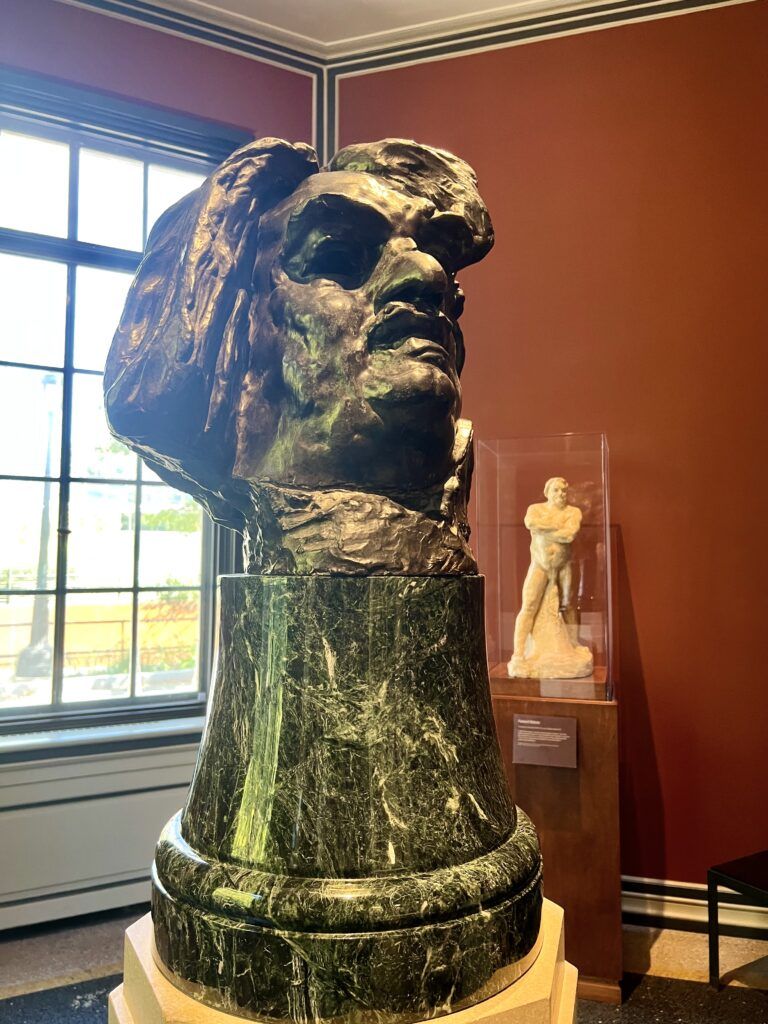 Studies For The Monument To Balzac
When Rodin revealed his monument to the renowned French author Honoré de Balzac in 1898, it faced harsh criticism from the art critics.
Expecting a majestic work, they were taken aback. They described the sculpture in various unflattering ways, such as a "slap in the face," a "stupid monstrosity," and a "toad in a sack."
In fact, the sculpture was so unconventional that the commission abruptly cancelled Rodin's commission, which greatly distressed him.
Balzac was known for his portly figure, hyperactivity, long flowing hair, and strong will, much like his friend Victor Hugo.
Rodin's depiction of Balzac is somewhat incomplete and carries a touch of melancholy. It features the writer in a flowing, monk-like robe that he actually wore while writing.
With his head raised, Balzac appears to scrutinize approaching visitors, while emanating the essence of a creative genius.
The museum has several studies for the final monument, including a Colossal Head, a smaller version of the statue, and studies of Balzac both naked and clothed in conventional attire.
The head was one of Rodin's last studies. The deep hollow of the eyes is paired with a beak-liked nose. Balzac said "Be careful of my nose; my nose is my world."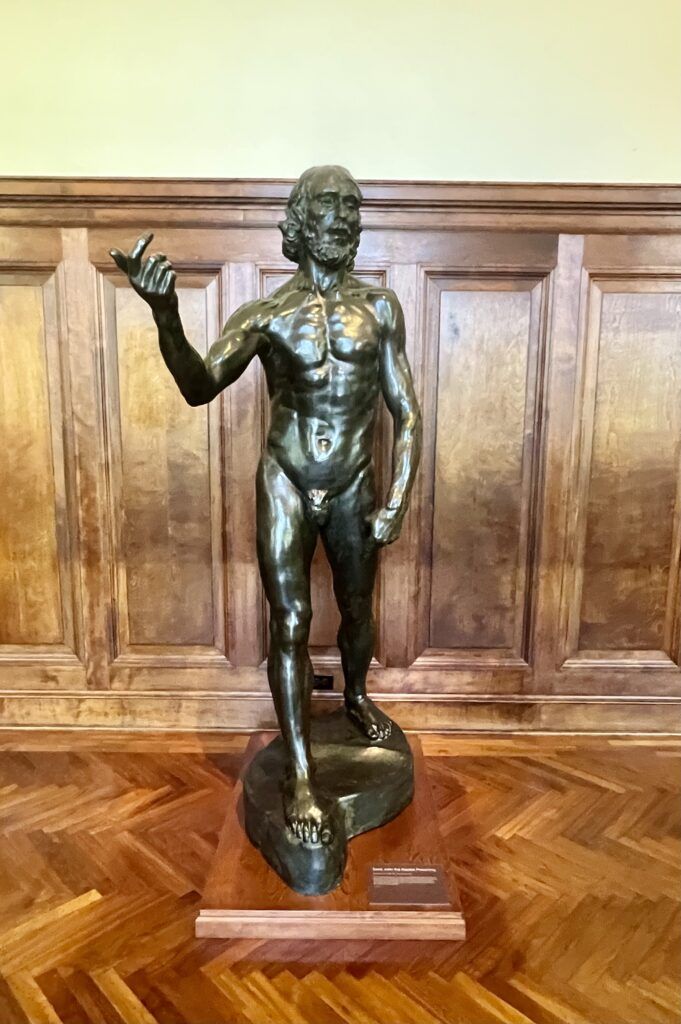 St. John the Baptist
Rodin's St. John the Baptist Preaching depicts John the Baptist, a prominent figure in Christian tradition. Unlike traditional portrayals of the saint, Rodin's interpretation offers a unique and modern perspective.
The sculpture departs from traditional religious iconography. Instead of depicting John in a serene or contemplative pose, Rodin presents him as a passionate and dynamic figure, in the midst of preaching.
John stands with his arms outstretched, exuding a sense of fervor and intensity. His nude body is rendered with muscular and dynamic contours, showcasing Rodin's mastery of capturing the human form in motion.
Rodin's model, Cesar Pignatelli, reportedly told the painter Henri Matisse that Rodin spent an enormous amount of time on the placement of the extended right hand. He carried the partially finished work around trying it out from varying angles.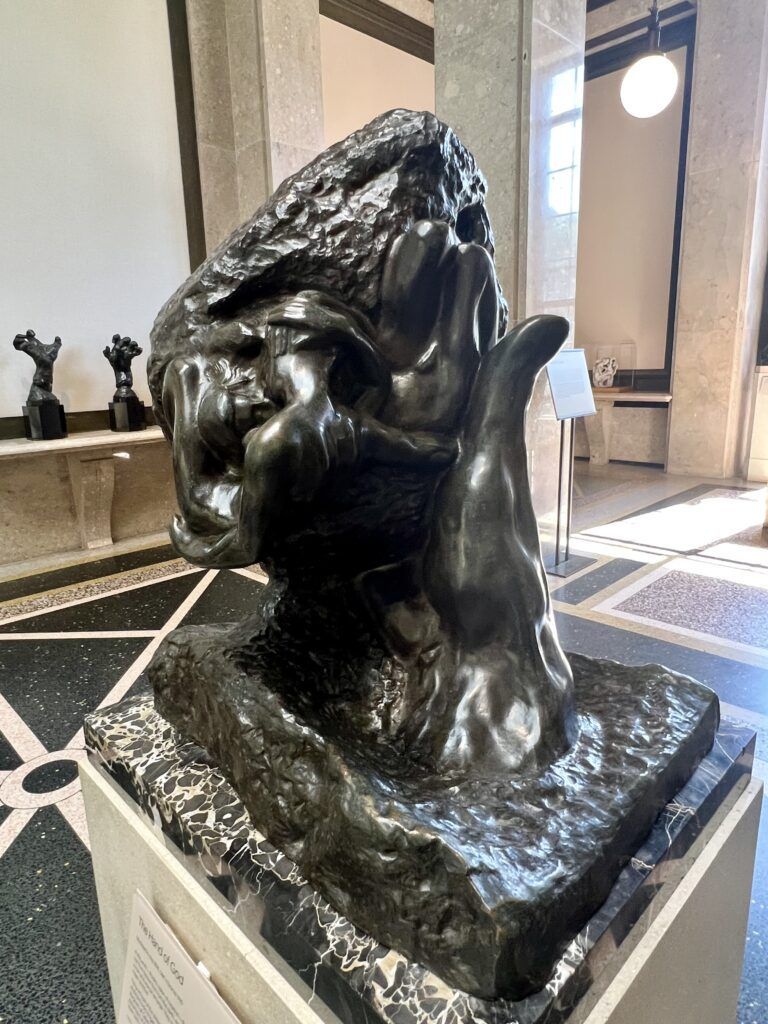 The Hand of God
This work represents Rodin's vision of creation. A disembodied hand appears not from heaven, but from earth.
The hand cradles a rock, from which a man and a woman emerge. They may represent Adam and Eve or simply man and woman. In it, Rodin seems to equate the art of sculpture with the divine process of creation.
This sculpture is also another homage to Michelangelo. He also produced unfinished sculptures with figures appearing to emerge from them, like his slaves in the Louvre.
This portrayal of the divine hand — with its supportive palm and outstretched index finger — appeared on two different men in the Burghers of Calais.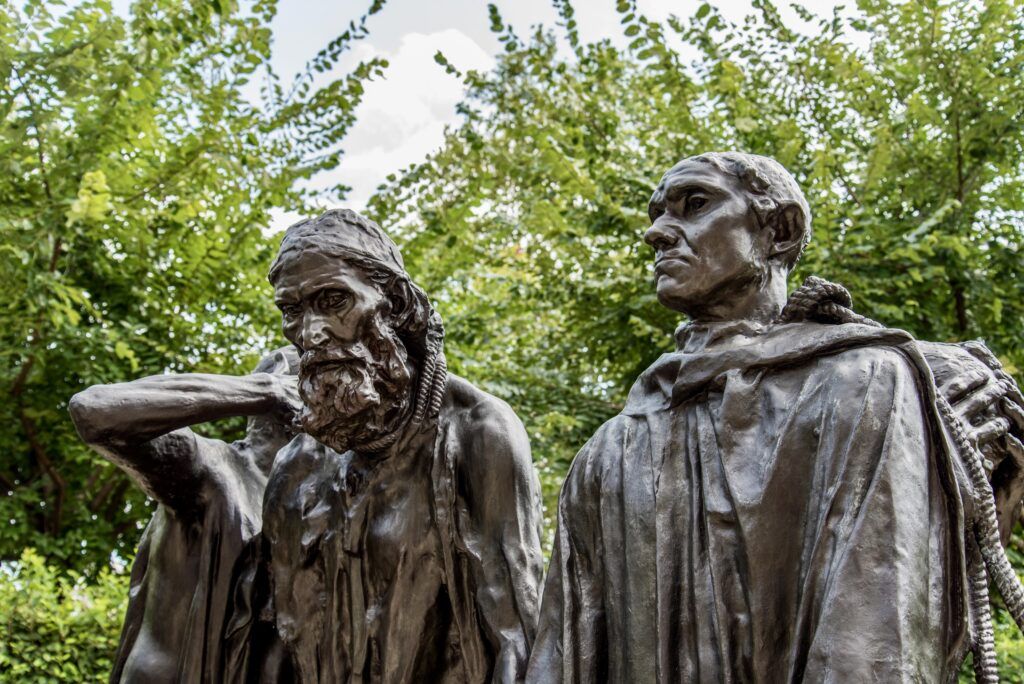 Burghers of Calais
The Burghers of Calais is Rodin's best known public monument. It's a powerful and groundbreaking sculpture that tells a moving story from the Hundred Years War.
During the siege of Calais in 1347, six brave citizens offered their lives to save their town. Queen Phillippa, King Edward III's wife, intervened and spared them all.
In 1885, the City of Calais commissioned Rodin to create a monument commemorating the burghers' heroism. In typical fashion, Rodin portrayed the martyrs in a moment of anguish, just before their sacrifice, capturing their vulnerability and isolation.
Their slumped shoulders and enlarged hands and feet convey their distress. Displayed at street level, the sculpture allows the audience to connect with their pathos.
Like so many of Rodin's pieces, the sculpture was initially met with criticism for its departure from traditional heroic depictions. It challenged the norm of placing a single god-like hero on a pedestal in a moment of triumph. But today it's regarded as a masterpiece of emotional expression in stone, reshaping the course of sculptural art.
The Three Shades
The Three Shades is a reinterpretation of Rodin's earlier sculpture, Adam. It features three identical male figures who are all versions of the muscular Adam. Each is rotated into different positions.
Adam was meant to show an awakening to life. But the shades embody death, sleep, and a loss of consciousness.
The sculpture is notable for its exaggerated features, with heads positioned at odd angles and unnaturally long, stretched-out arms. These artistic choices imbue The Three Shades with a sense of intensity and expressive power.
Another version of The Three Shades stands atop the lintel of The Gates of Hell. Their recurring downward gesture of arms and heads seems to symbolize the inevitability of death.
The shades direct the viewer's gaze toward the dramatic portrayal of sin and damnation unfolding below. They serve as a visual representation of Dante's warning: "Abandon every hope, ye who enters here."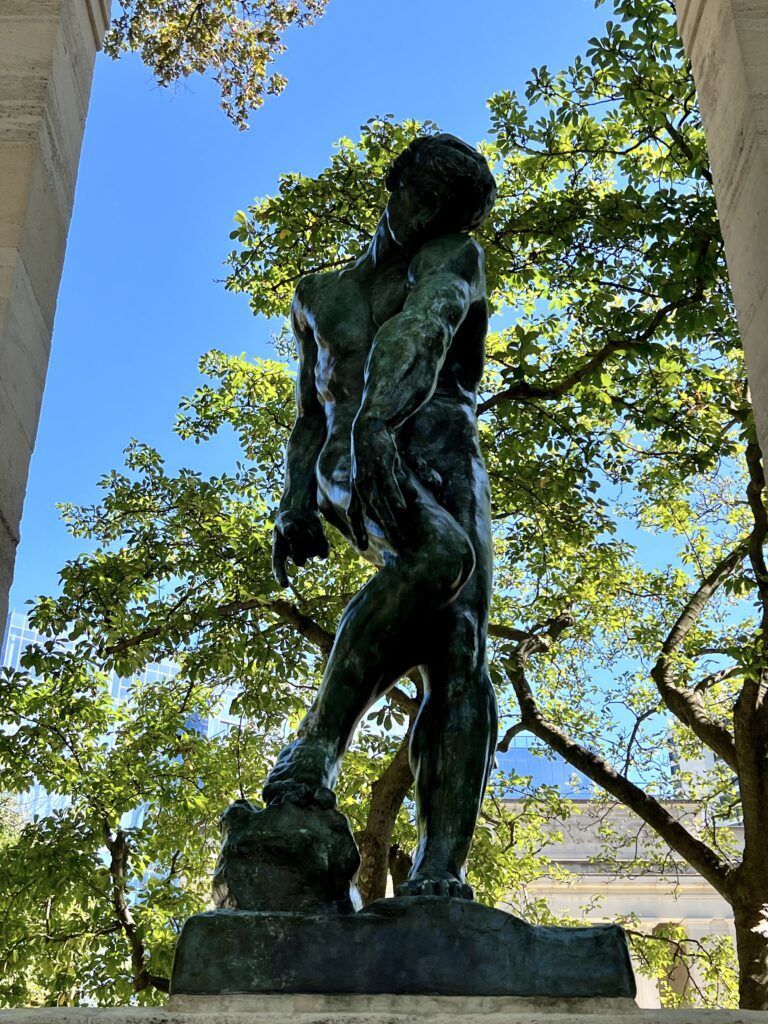 Adam
Adam portrays the biblical figure of Adam, the first man according to the Judeo-Christian tradition. Adam is on the Gates of Hell and is also an independent composition.
Rodin's portrayal of Adam is powerful and dynamic, another tribute to Michelangelo. The figure is muscular and contorted, with an almost tormented expression.
Adam tucks his head into his shoulder. The two awkward arms reach down in parallel movements. You can see tightened tendons from a bent knee.
This particular sculpture helped to cement Rodin's reputation in the United States.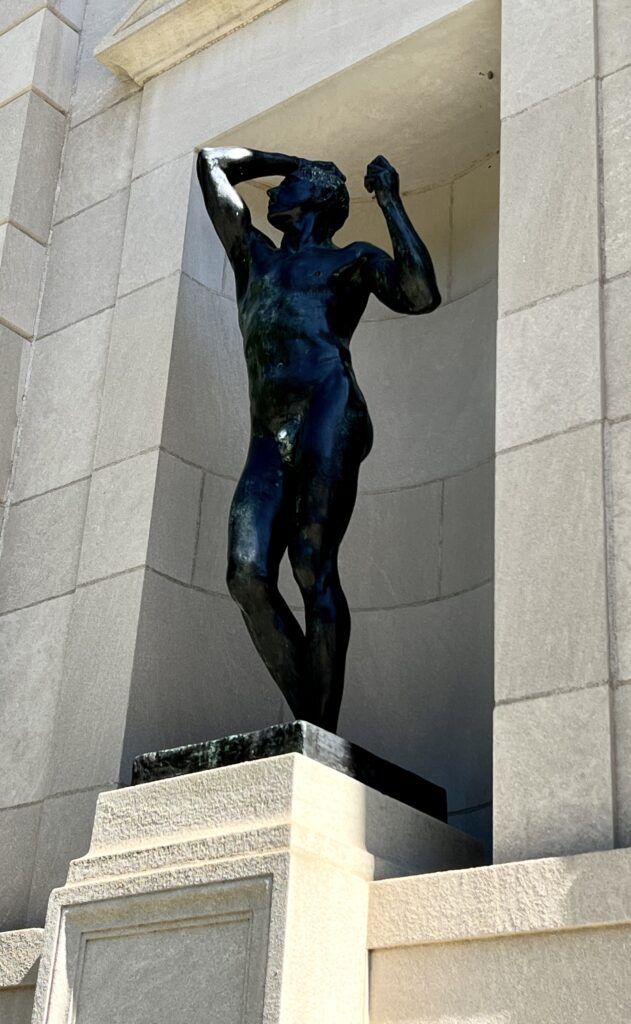 Practical Guide & Tips For Philadelphia's Rodin Museum
Address: 2151 Benjamin Franklin Pkwy, Philadelphia, PA 19130.
You can park in the parking lot for the Philadelphia Museum of Art. It's $20 for the first four hours, $2 each additional hour. If you are visiting on a week day, you may be able to find parking on the street.
You can also get to the museum on the Hop On Hop Off Bus.
Hours: Closed Tuesday through Thursday. Open the other days from 10:00 am to 5:00 pm.
Tickets:
Admission is pay what you can, but they suggest $15 for adults and $14 for seniors. They definitely expect you to pay.
The museum is part of the Philadelphia Museum of Art, so admission to the Rodin Museum is included with admission to that museum. That ticket gives you two day access.
Tours: The museum offers docent tours, and I suggest you time your visit to get on one. The current one is Rodin's Hands, which begins at 3:00 pm.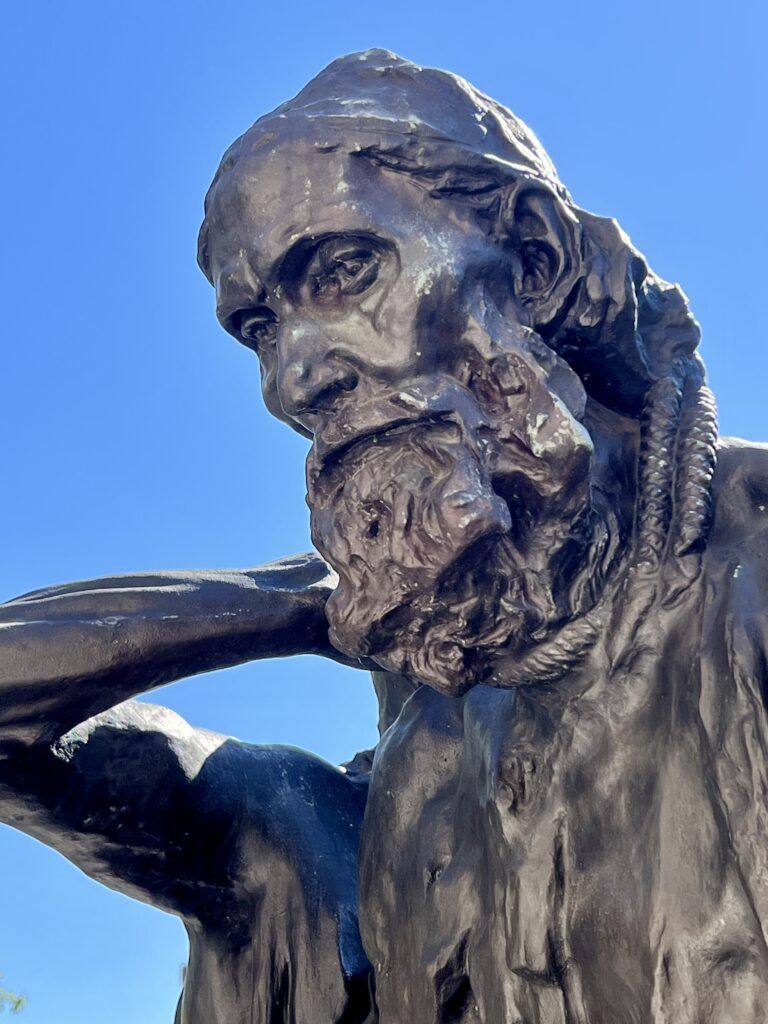 Pro Tips: If you need lunch after your visit, Whole Foods is right next door. If you want more art, the Barnes Foundation is also next door. It's a haven of Impressionism and Post-Impressionism.
How Long To Spend At The Museum: The museum is small and you can see everything in an hour or so.
I hope you've enjoyed my guide to the Rodin Museum in Philadelphia. You may enjoy these other US travel guides and itineraries.
If you need a guide to Philadelphia's Rodin Museum, pin it for later.