Here's my guide to spending 2 perfect days in Cleveland Ohio, a city where hip meets history.
This Cleveland itinerary gives you a step by step two day itinerary for exploring all of Cleveland's must visit sites, attractions, museums, and landmarks.
I also clue you in on what to see, do, and eat in Cleveland. And give you more sightseeing options, if you have extra time in Cleveland.
Cleveland isn't just another midwestern rust belt city anymore. Why should you visit Cleveland? It's a valid question with a forthright answer.
The vibrant and eclectic city of Cleveland has reinvented itself. There are myriad cultural attractions of all varieties, making Cleveland the perfect weekend getaway.
Since it's a waterfront city, you'll even find beaches and sailing.Cleveland's charming neighborhoods are filled with old world architecture and buzzing eateries.
Cleveland is also a booming hot spot for craft coffee shops, micro breweries, museums, and cultural entertainment. History nerds, art lovers, and music geeks will all enjoy Cleveland.
2 Days In Cleveland Itinerary
Here's how to spend the perfect weekend getaway or two days in Cleveland.
I've grouped the top attractions in Cleveland geographically, so you will move logically from one part of the city to the next without wasting time. This way, you'll have an efficient 2 day visit to Cleveland.
Day 1 in Cleveland AM:
On day 1 of your 2 day Cleveland itinerary, you'll explore downtown Cleveland and the neighborhoods of Ohio City and Tremont.
In the morning, you can poke around attractions in the downtown and explore the Rock and Roll Hall of Fame. Cleveland's downtown is revitalized, very compact, and extremely walkable. If you want, you can book a 2 hour guided walking tour.
1. Restore
Start your day bright and early by fueling up at Restore Cold Pressed on Huron Street. It's a pretty cafe filled with plants and lit up by a beautiful teal green mural. You can choose from raw organic juices, açaí bowls, avocado toast, and other breakfast items.
2. Cleveland Arcade
Then head to the Cleveland Arcade. It's a shopping area housed in the Hyatt Regency. It was one of the America's first indoor shopping centers.
Built in 1890, the Arcade was modeled after the Galleria Vittorio Emmanuel in Milan Italy. It was the first building in Cleveland placed on the National Register of Historic Places.
There are many styles of architecture, from Art Nouveau to Art Deco, that converge in this decadent hall. The glass and metal atrium has a 100 foot skylight.
There are scrolling iron balconies. It's worth walking through the two lower levels open to the public, if just to gawk.
3. Explore 4th Street
Just across from the Arcade is Cleveland's bustling and pedestrianized thoroughfare, 4th Street. It's smaller than you might expect, just a few short blocks with white bistro lights strung across the street.
The Cleveland House of Blues is located on East 4th Street. If you're a music lover, be sure to check their events calendar. When I was last in Cleveland, there was a three block long line just to get in.
4. Heinen's Supermarket
Heinen's may be the world's most beautiful supermarket. Think the colorful produce of Whole Foods, but set in a stunning building. Heinen's is a place near and dear to Clevelanders' hearts.
Heinen's is housed in the Cleveland Trust Rotunda, a landmark building in Cleveland. Designed by George Brown Post, the building is an exquisite architectural space inspired by Greco-Roman temples.
It has a leaded glass ceiling and 13 stunning murals depicting the history of the region.
5. Public Square
Public Square marks the center of downtown Cleveland. It's been renovated (several times) into a more park like space.
You'll find a statue of Cleveland's founder, New Englander Moses Cleveland, the massive Soldiers and Sailors Monument, and a fountain. The monument is dedicated to the American Civil War. If you go inside, you'll find four bronze relief sculptures depicting battle scenes.
Public Square is ringed with some of Cleveland's most important buildings: Terminal Tower, Key Tower, 200 Pubic Square, and City Hall.
6. World's Largest Stamp
Right near City Hall in Willard Park is Cleveland's giant "FREE" stamp. The massive sculpture was created by husband and wife artists Claus Oldenburg and Coosje van Bruggen.
Oldenburg is a well known Pop sculptor. Like his other works, this sculpture presents an everyday item on a massive scale. It's meant to reverse the viewer/artwork dynamic, shrinking the spectator.
At 29 x 26 x 49 feet, the Free Stamp is the world's biggest rubber stamp. It's actually made of aluminum and steel and painted with polyurethane enamel. The word "FREE" is a nod to the nearby Soldiers and Sailors Monument.
7. Rock and Roll Hall of Fame
It's a 15+ minute walk from Public Square to the Rock and Roll Hall of Fame. It's better to walk here than drive because parking is rather scarce. The museum is pricey at $30. It's a good idea to pre-book a ticket.
Right now, you need to reserve a time slot online. The museum is open until 9:00 pm on Thursday night.
Housed in a meandering I.M. Pei building, the Rock and Roll Hall of Fame is probably Cleveland's most popular attraction. The museum traces the history of rock and roll and its greatest stars, from the early pioneers to cutting edge bands.
There is loads of memorabilia, including John Lennon's Sargent Pepper suit and piano, Micheal Jackson's sparkly sequined glove, Elvis Presley's jumpsuit and a recreation of his studio, and Stevie Wonder's harmonica. There are listening stations and various interactive exhibits too.
Day 1 in Cleveland PM:
1. Ohio City Neighborhood & Lunch
In the afternoon, head to Cleveland's hippest neighborhood, Ohio City. It's just across the Cuyahoga River from downtown, about a 7 drive. There's metered parking on the streets.
The main drag is 25th Street, which is filled with shops, farm to table eateries, vegan fare, and breweries.
Ohio City is a fantastic place to take a guided food tour or craft brewery tour in Cleveland.
Or, you can start with lunch at either Avo Modern Mexican, The Flying Fig, or Town Hall. Avo is on 25th Street in a chic modern setting.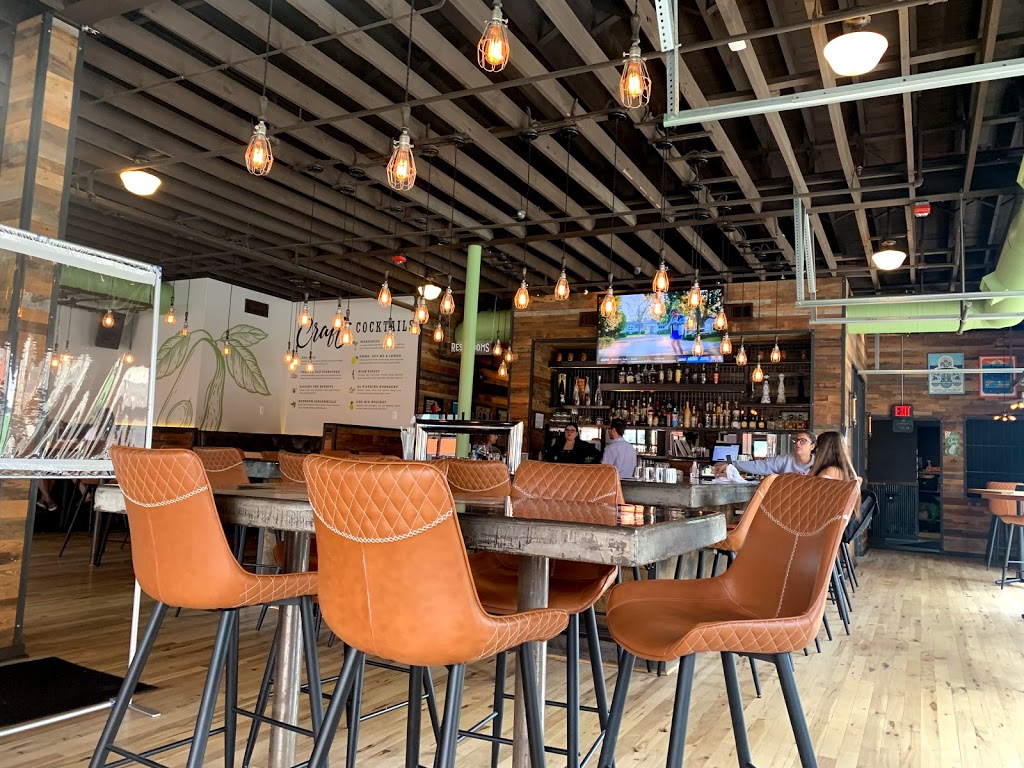 One block from Avo is the amazing Cleveland street art mural, located at the corner of Chatham and West 25th Street. The vintage-y mural was created by street artists Victor Ving and Lisa Beggs.
Flying Fig is an adorable bistro off of the central Market Square. Market Square is a historic square at the corner of 25th and Lorain Streets.
For dessert, check out Mitchell's Homemade Ice Cream, featuring seasonal flavors from local produce. For a craft beer, stop in at Nano Brew.
2. West Side Market
You could also shop for your lunch at West Side Market, Cleveland's 1912 landmark. This is one of the best markets in the United States, with every culinary treat imaginable. You'll almost feel like you're in Europe.
You can find everything here — meats, cheeses, sandwiches, pastries, herbs, gelato — from over a 100 vendors. The market is open Monday, Wednesday, Friday, and Saturday. So be sure to plan your visit accordingly.
If you want to take in the view of the entire market, head upstairs. The (not well marked) stairway is in a corner of the market at the intersection of Loraine and 25th Street.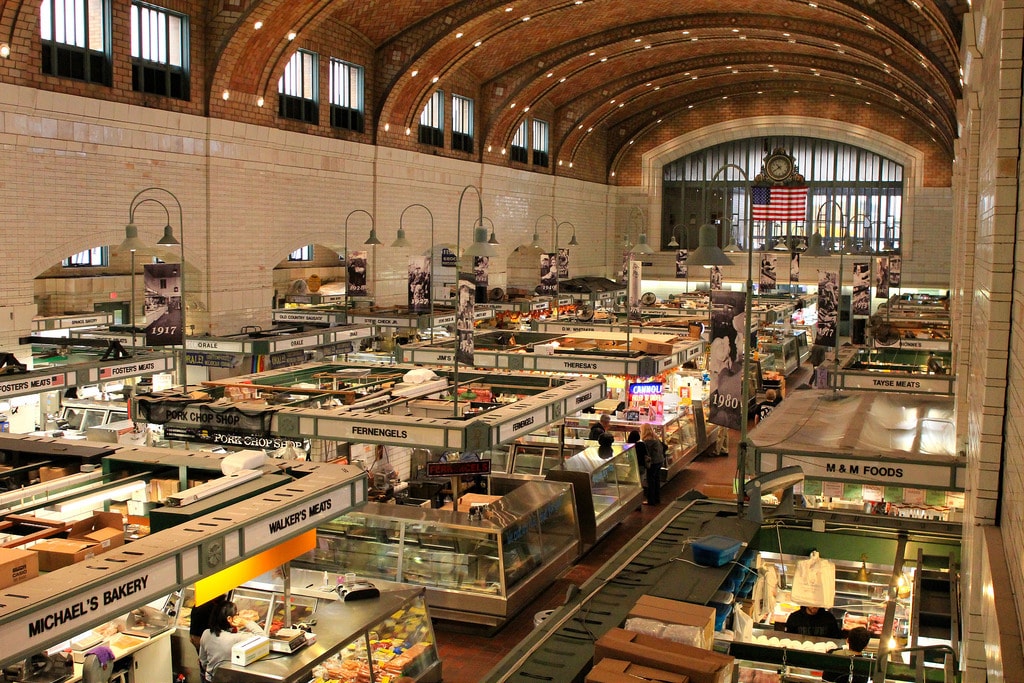 The market can seem overwhelming with so many vendors.You can also book a guided food tour of the market that takes you to 15 food stalls.
3. Loraine Street
Before visiting Cleveland, I'd read that you can browse boutiques and antique shops on Loraine Street. I must confess that I was underwhelmed with Loraine Street.
But there's one place that caught my eye, Helm Collective. This place is just loaded with adorable vintage and antique goodies.
4. Tremont Neighborhood
When you're done wandering Ohio City, head to the adjacent Tremont neighborhood. It's about a 30+ minute walk or 10 minute drive from Ohio City. You'll find plenty of places to park on the street.
Tremont is a historic neighborhood filled with colorful ivy clad Victorian houses, tree-lined streets, and trendy boutiques, eateries, and galleries.
If you want to shop, head down Professor Street. There, you'll find the cute boutiques Banyon Tree and Evie Lou.
After a stroll, you can relax in Lincoln Park, the green center of the neighborhood with plenty of benches and a charming gazebo.
Another Tremont attraction is the A Christmas Storyhouse. The interior is decorated to look like the set of the 1983 movie, which is now a holiday cult classic.
The house is fully interactive. You can try on stuff and even sit on a toilet or climb into a cabinet.
Tremont is an excellent place for dinner, with some of Cleveland's best restaurants. Choose between Fahrenheit or Dante on Professor Street.
If you are visiting Tremont early in your day instead, there are two great breakfast spots: Grumpy's Cafe (dive diner) and Lucky's Cafe (brunch and pastries in a cool setting). At Lucky's. I loved the "Shipwreck."
Day 2 in Cleveland Itinerary, AM:
On day 2 of your Cleveland itinerary, you'll head east to Uptown and Little Italy.
1. Little Italy
Start your day in Cleveland's Little Italy. You can grab breakfast at Presti's Bakery. Fresh goodies like bread, donuts, cookies, cakes, and pastries are all made by hand.
Or, even better, take a guided food tour of Little Italy.
Little Italy is located along Mayfield Avenue and Murray Hill Road. You'll find lots of shops and eateries. Cobbled Murray Hill is very pretty. You'll find Italian ceramics at La Bella Vita. Further down is the cute cafe Algebra.
2. Lake View Cemetery
From Little Italy, after you're fueled up, detour to the Lake View Cemetery. That may sound grim, but it's quite lovely. Established in 1869, Lake View is one of the great Victorian cemeteries in the United States.
Lake View is home to the graves of Cleveland's movers and shakers. There are two things to be sure to see there, the Garfield Monument and the Wade Memorial Chapel.
The Garfield Monument is one of the splashiest US presidential tombs. The monument is 180 feet tall, with golden mosaics and stained glass windows inside. From the balcony, you have nice views of the Cleveland skyline. Nearby is the obelisk tomb of John D. Rockfeller.
The Wade Memorial Chapel is on the National Register of Historic Places. It was built in honor of Jeptha H. Wade, a businessman and philanthropist.
The chapel was designed by the architectural firm of Hubbel & Benes, a firm responsible for some of Cleveland's most prominent landmarks downtown. The interior was designed by Louis Comfort Tiffany. The walls of the chapel are decorated with massive mosaic glass panels.
3. MOCA
If you're a fan of contemporary art, you should next head to MOCA, Cleveland's Museum of Contemporary Art. It's just a 5-10 minute walk from Little Italy.
Honestly, it's worth a visit just for the architecture yourself. It's a stunner both inside and outside.
The building is a stunning glass and steel jewel, with a twisting main staircase. There's also a nice green courtyard to stop for a rest, next to a massive 7 ton hand sculpture called Judy's Hand.
MOCA doesn't have a permanent collection. Instead, it is an exhibition space, housing temporary exhibits on three floors. You may see established names or a new artist's first solo show.
4. Cleveland Museum of Art
The Cleveland Museum of Art is my favorite thing to do in Cleveland, an absolute highlight of the city.
It's an amazing museum, not something you'd expect to find in northeast Ohio. And best of all, it's absolutely free (except for special exhibitions).
The museum is well organized, with plenty of velvet covered benches if your feet grow weary. It has a globe's worth of treasures, everything from Roman antiquities to modern art.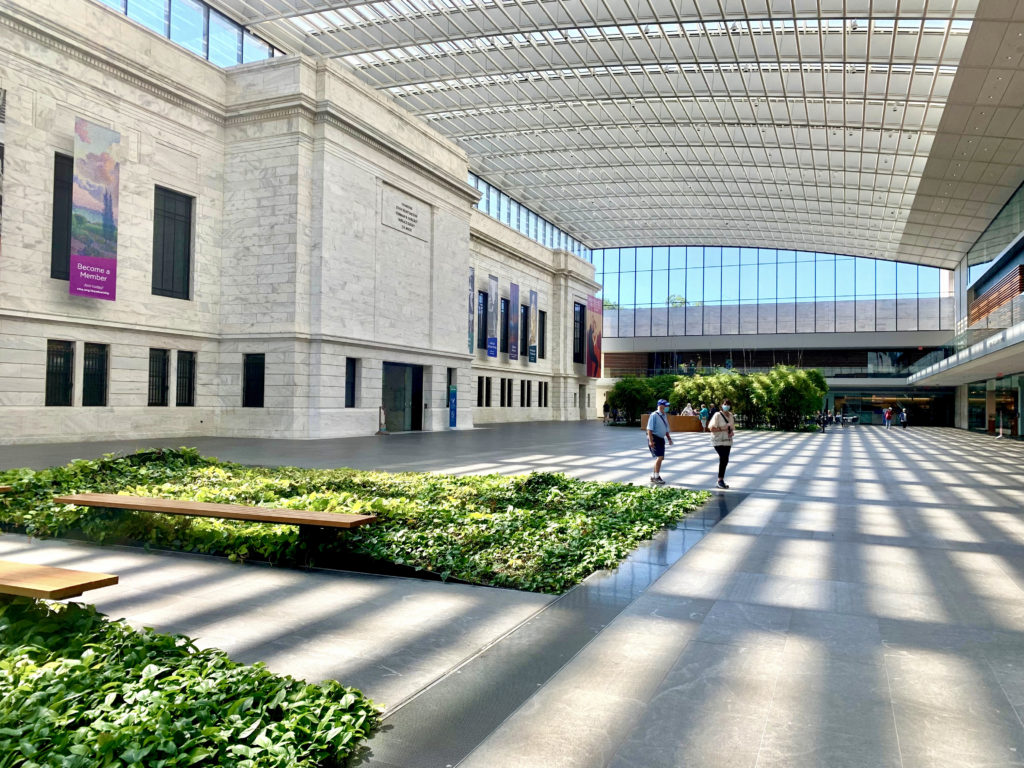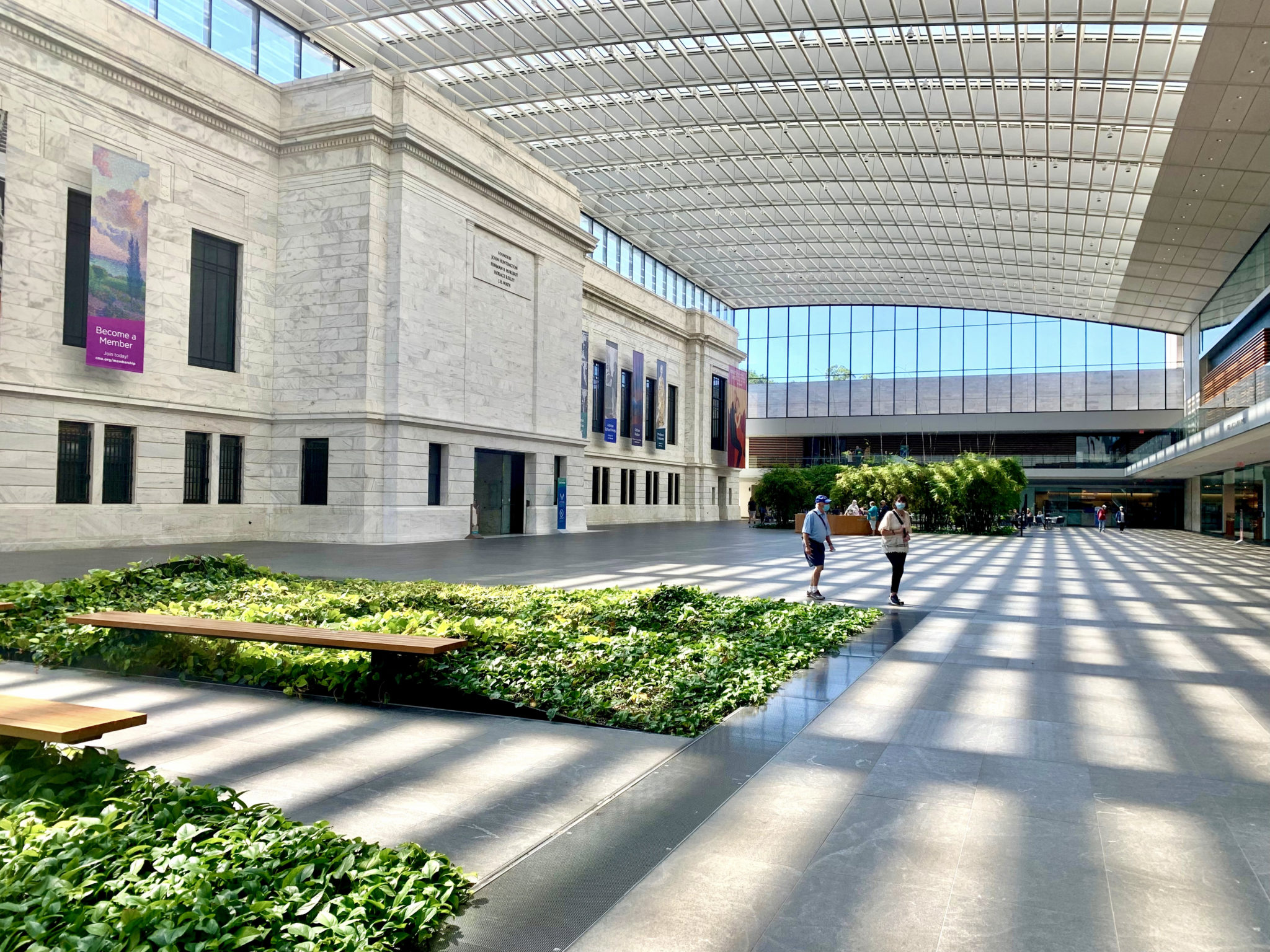 The first floor casts you back in time to the Greek, Roman, Egyptian, and Islamic periods.
The most impressive pieces from antiquity are the Cleveland Apollo (a bronze Greek sculpture that is one of the rarest artworks in the US) and a Roman statue of Marcus Aurelius.
There's also a beautiful collection of Greek vases. And intricate tapestries, which were originally housed in the Chateau Chaumont in the Loire Valley.
READ: Itinerary for France's Loire Valley
There's also a good collection of Medieval and early Renaissance art. My favorite piece was a tondo by Filippino Lippi. But there are also works by Botticelli, Fra Angelico, and Filippo Lippi.
On the second floor, you'll find an impressive collection of French, British, and American art and furnishings from the 16th to 18th centuries. You'll see works by Jacque-Louis David, Thomas Eakin, John Singer Sargent, and a stunning collection of Tiffany stained glass.
In the Neo-classical Gallery, you'll find Charles Meynier's painting cycle Apollo and the Muses.
In the East Wing, you'll find the museum's modern art collections. There are pieces by Picasso (the famous La Vie), Van Gogh, Monet (a massive water lily), Degas, Matisse, and Dali. There's quite a few pieces by the great French sculptor Auguste Rodin, including his magnificent Age of Bronze.
You can download the museum's ArtLens App to get a preview of the museum before visiting.
You could easily spend 2-4 hours there, depending on how much art you want to consume. Since the museum is free, you can always visit multiple times to avoid museum fatigue.
READ: Tips on How To Visit a Museum
5. Botanical Gardens
A mere 1000 feet from the museum, you can shake off any museum fatigue in Cleveland's small but beautiful Botanical Gardens.
The Cleveland Botanical Gardens are a plant-science research center as well as a great thing to do in Cleveland in 2 days.
The gardens are packed with beautiful species of plants, many of which flower. It was first created in 1930 and spans over 10 acres. There's a glasshouse that covers 18,000 square feet and 11 varying gardens outside.
These include the stunning Butterfly Gardens, the Japanese Garden, and the Inspiration Area. Selections include 50 different bird species, 350 rare plant species, and animal species like amphibians and reptiles.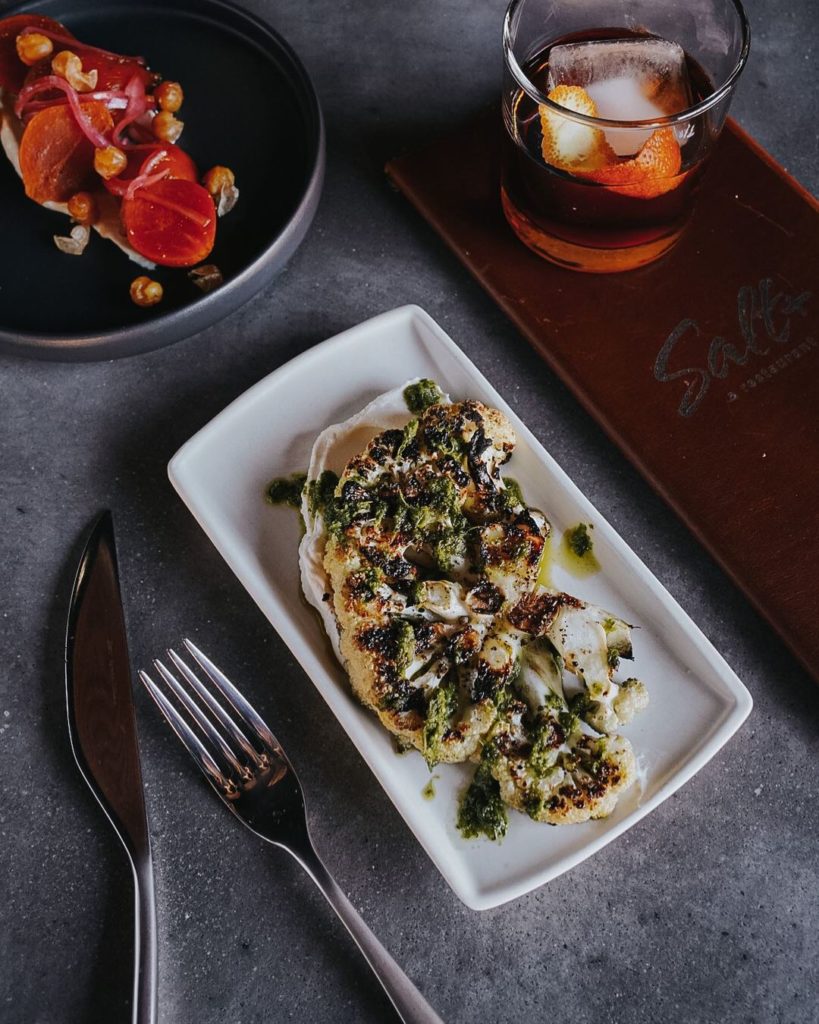 6. Dinner
If you're going to the theater or a concert, have dinner downtown at Adega (Mediterranean), Cibreo Italian Kitchen (Tuscan Italian), or District (American).
For pre-dinner drinks, head to the Azure Rooftop Lounge at the top of the Metropolitan on East 9th Street. Or take a craft brewery tour to check out Cleveland's hip and trendy breweries.
If you're not attending a show in Playhouse Square, head to Cleveland's Lakewood neighborhood for dinner. Lakewood is known for its gorgeous waterfront homes.
But there's a bevy of great restaurants, including Salt.
7. Playhouse Square
Playhouse Square is a regional mecca for all manner of performing arts. Its the second largest arts center in the United States. Playhouse Square is billed as the country's largest arts venue outside NYC, with 9 theaters in a one block radius.
You'll find traveling Broadway shows, concerts, and original local productions. The main theaters are KeyBank State Theatre and Mimi Ohio Theatre.
Playhouse Square is also home to the world's largest outdoor chandelier. At nighttime, it's beautifully lit up. The easiest place to park, though not cheap, is the designated parking garage for Playhouse Square.
8. Cleveland Indians/Gardians
If you're into baseball more than theater, head to Progressive Field to see a Cleveland Indians game. Soon to be the Cleveland Guardians, they play in a clean ballpark with great sight lines.
More Than 2 Days In Cleveland?
Do you have extra time to spend in Cleveland beyond this two day in Cleveland itinerary? If so, here some of the other best things to do and see in Cleveland.
1. Lake Erie Waterfront
There's plenty to do on Cleveland's Lake Erie Waterfront. You can rent a kayak, jet ski, or paddleboat.
It's also a great place to plunk down for locally brewed beers or seafood cuisine at a waterfront restaurant. Try Alley Cat Oyster Bar for lobster rolls and, of course, oysters.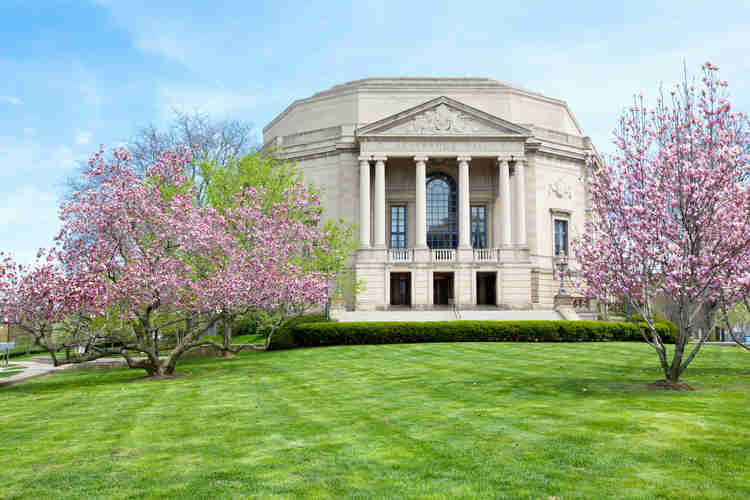 2. Cleveland Orchestra
The Cleveland Orchestra is one of the best in the United States. It performs in the University Circle area in uptown in Severance Hall. The opulent concert hall is one of the most beautiful in the United States. It's nicknamed Cleveland's Taj Mahal.
You should purchase tickets in advance. There's parking onsite.
3. Edgewater Park
This lovely green space in Cleveland is only a 10 minute drive from downtown. It has the only real beach to enjoy in the area, open from mid June to mid August.
You can run, bike, swim, or just relax. The Edgewater Beach House is a multi-functional space with concession stands and a bar.
4. Terminal Tower Observation Deck
Do you like views? If so, the Terminal Tower Observation Deck offers great views of downtown Cleveland, the lakefront, and the surrounding Cuyahoga River Valley.
The tower has also been featured in many movies, such as The Avengers. The tower was once one of the largest buildings in the United States, a milestone in skyscraper architecture.
The observation deck is only open on afternoon weekend. You can buy tickets online here. Or purchase them at the information desk.
5. Great Lakes Science Center
Science geeks should head to the Great Lakes Science Center. It's a museum and educational facility that makes science and technology come to life.
There are interactive exhibits, a theater, and a NASA space center. You can also step aboard the Steamship William G. Mother.
6. Gordon Arts Square
Gordon Arts Square is a quirky up and coming neighborhood. You'll find vintage and artisan shops, boutiques, and three theaters.
The best thing to do in Gordon Arts Square is hit up Brewnuts. You need to go early before they sell out. Expect a line.
Brewnuts is a sunlit combo shop specializing in craft beer based donuts. The shop has different flavors every day. You can check out the goods on Brewnuts' Instagram account.
If you'd like something less caloric, head to Blue Habanero, for street tacos and margaritas. Or grab brunch at Luxe Kitchen & Lounge.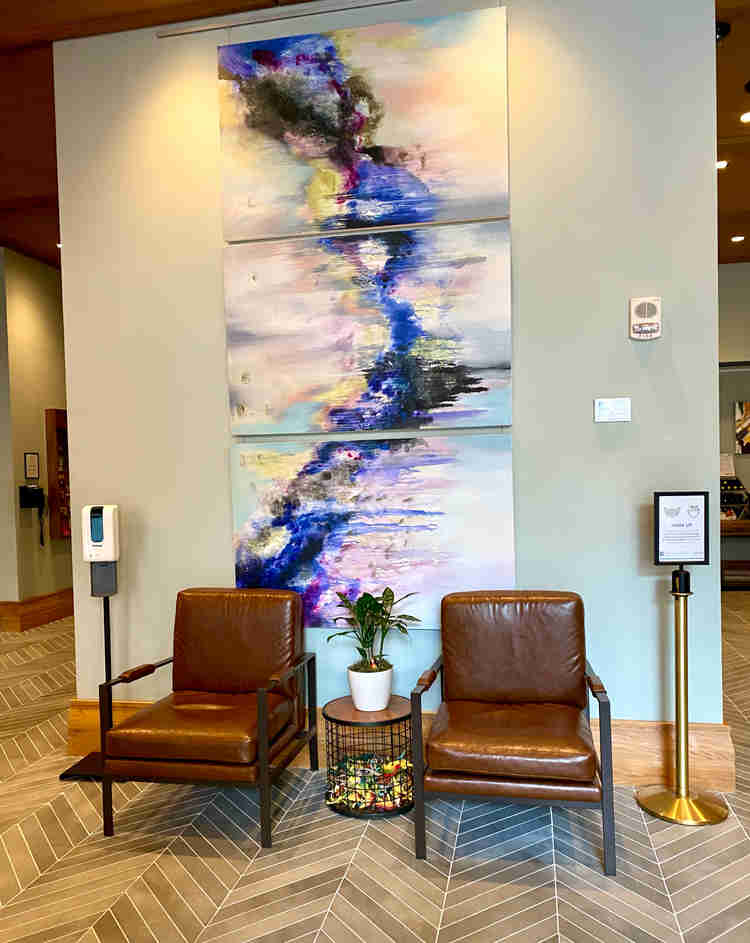 Tips Spending 2 Days In Cleveland
Here are some must know tips for spending 2 days or a weekend in Cleveland.
1. Where To Stay in Cleveland
On this visit, I stayed at the Kimpton Schofield, a historic boutique hotel in the heart of downtown Cleveland.
Kimpton hotels aren't sterile like your standard generic hotel. They have personality, cool decor, and complimentary wine during happy hour every day.
The hotel is in an excellent location: downtown Cleveland, steps away from the Arcade and 4th Street. It's about a 20 minute walk to the waterfront and the Rock and Roll Hall of Fame.
Another cool place is Metropolitan at the 9. It's a hotel with a touch of bling located in the striking Cleveland Trust Building. The hotel is unique because it has an indoor dog park called Bark and a yoga studio.
If you want a more luxe hotel in Cleveland, head to the Ritz-Carlton Cleveland or the Four Seasons. You can also try a reliable standby like the Hilton Cleveland Downtown.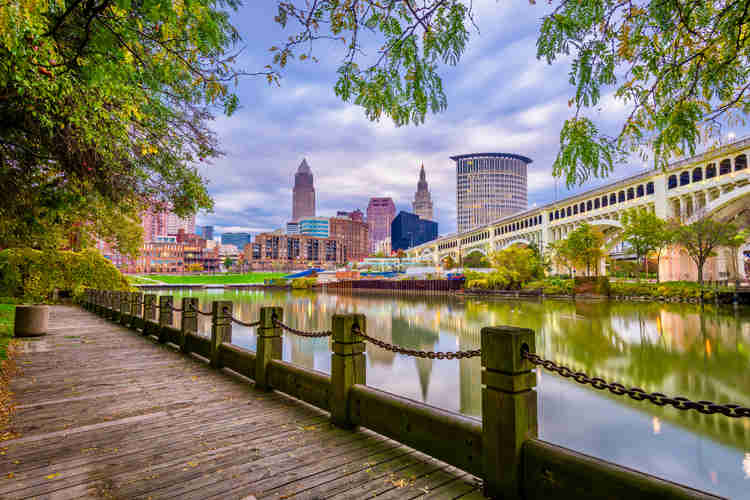 2. Driving and Parking in Cleveland
Cleveland is shockingly easy to drive in. The downtown is eminently walkable. But it's easy to drive to the surrounding neighborhoods or uptown.
Parking downtown is a pain though. If you're staying at a hotel downtown, you'll be socked with a hefty overnight parking charge.
Elsewhere in Cleveland, you can find metered parking. Or, there's street parking. The only place I found difficult to park was on Euclid Avenue uptown and in Little Italy. But I eventually found spots to park.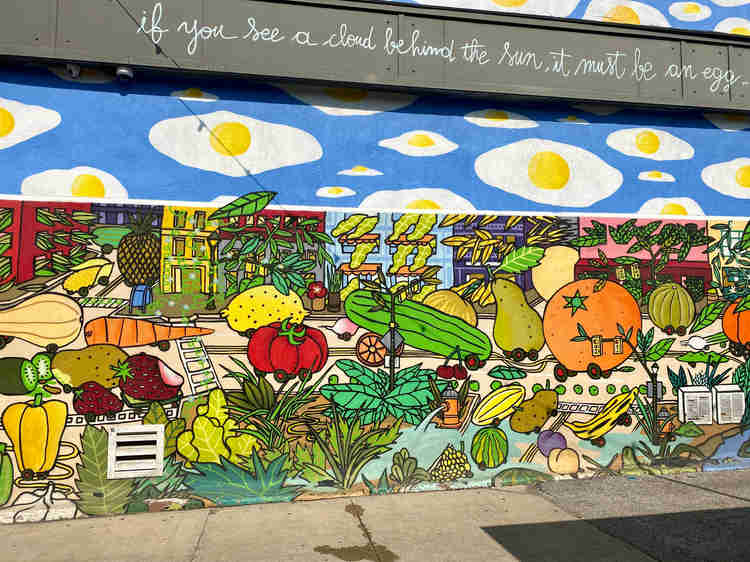 3. How To Get To Cleveland
You can fly to Cleveland. The Cleveland Hopkins International Airport is 12 miles from downtown. The Cleveland Amtrak Station is also located downtown.
Cleveland is near quite a few other cities. You can easily drive from Pittsburgh, Columbus, Akron, Detroit, or Toledo.
I hope you've enjoyed my 2 days in Cleveland itinerary. You may enjoy these other United States travel guides:
If you'd like to spend 2 days in Cleveland Ohio, pin it for later.