Planning a weekend getaway to Washington D.C.? This is the perfect 2 days in Washington D.C. itinerary.
This two day itinerary covers all the top attractions and best things to do in Washington D.C. You'll explore all the amazing monuments, landmarks, world class museums, and beautiful neighborhoods in Washington D.C.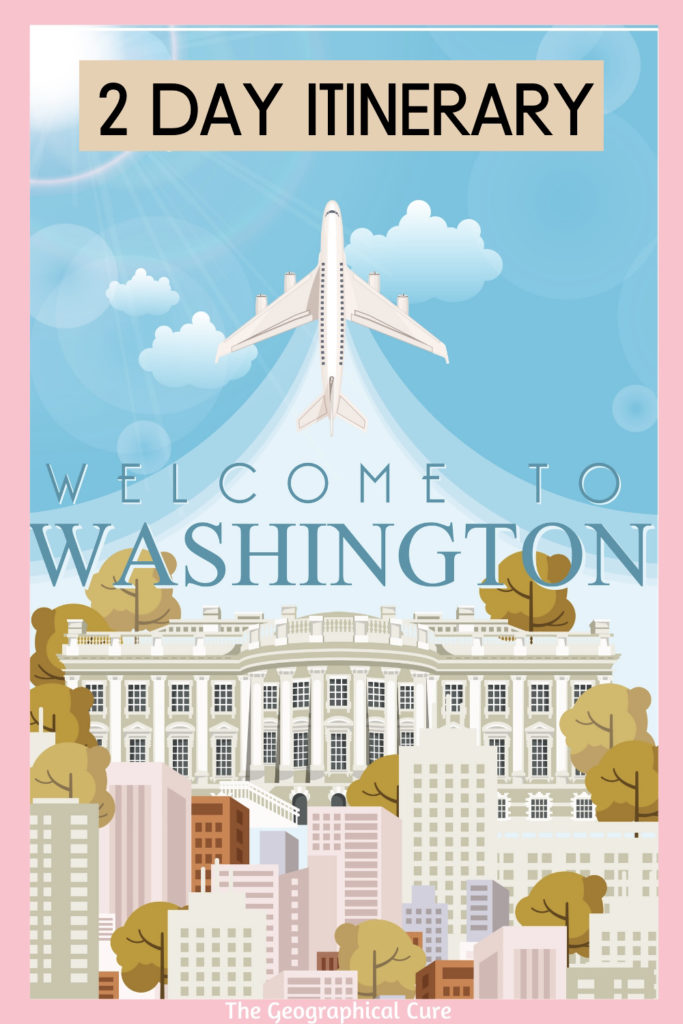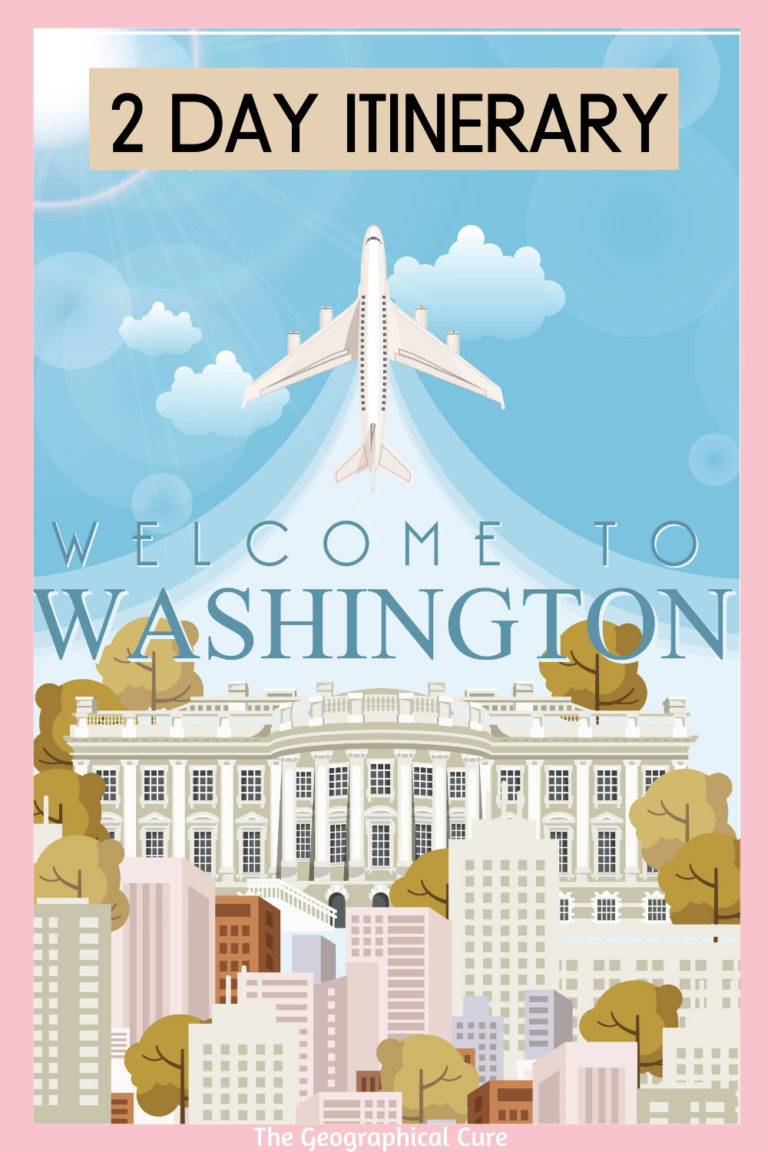 I lived and/or worked in the D.C. area for 20+ years before I decamped to Pittsburgh. In fact, I go back regularly for long weekend visits. I've been to just about every must visit attraction and famous landmark in D.C.
The mere fact that Washington, D.C. is the capital of the United States makes it a powerful and appealing destination. But D.C. is also a city of monuments, museums, and historic neighborhoods.
In fact, no city in the United States does museums like D.C. And, to top it off, most of them are completely free. Plus, D.C. is also home to some charming neighborhoods and trendy spaces.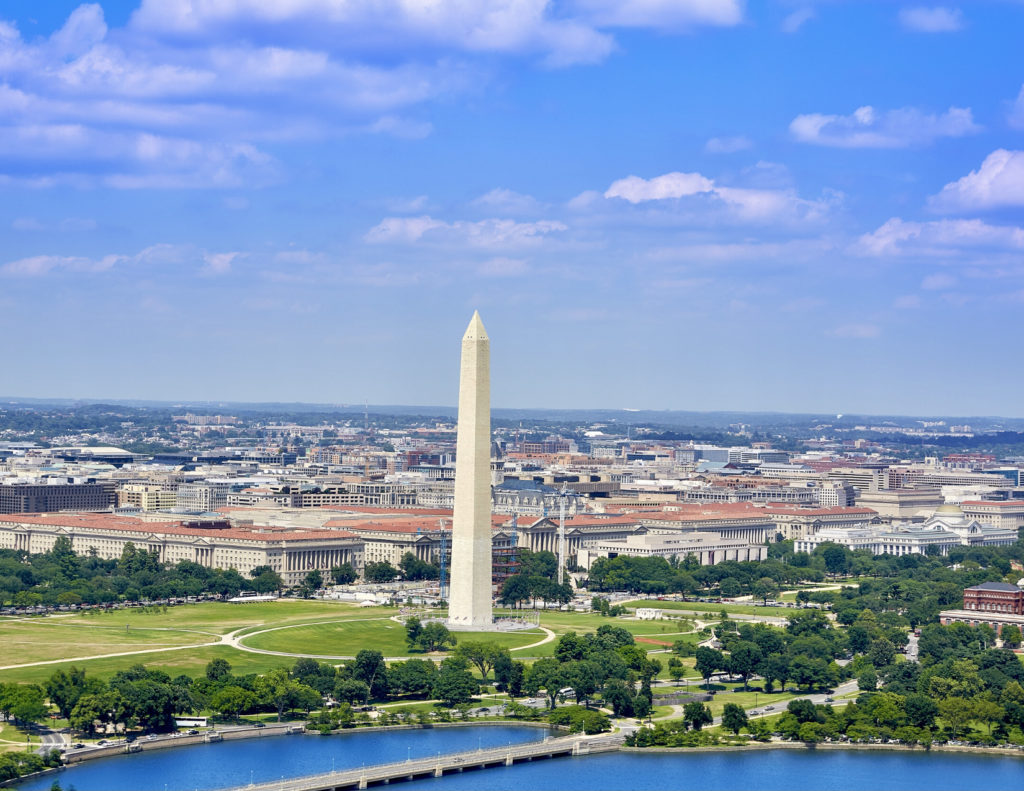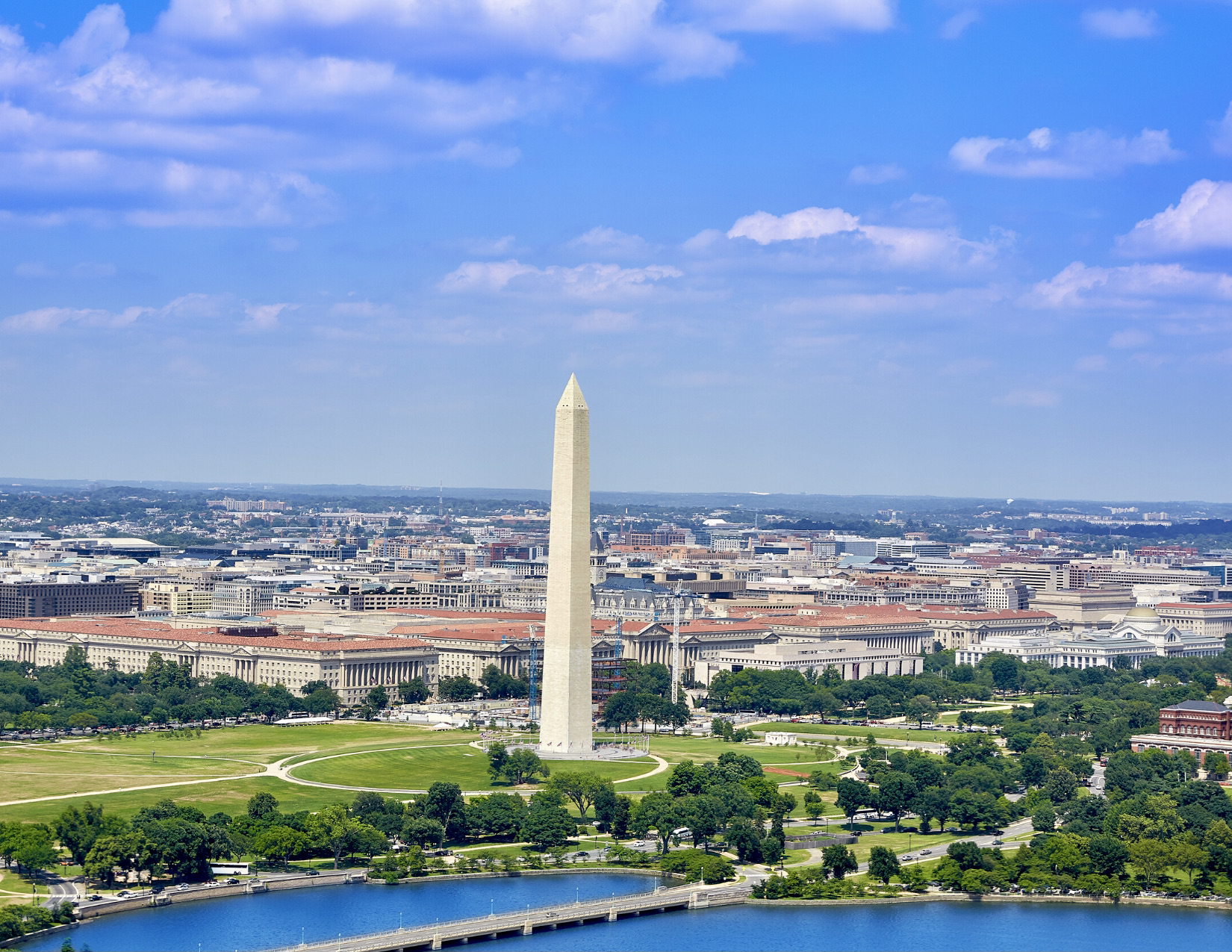 Overview of 2 Days in Washington D.C. Itinerary
Here's a breakdown of what you'll see with two days in Washington D.C. I've listed all the top attractions you can see by geographical location.
You probably won't be able to fit them all in 2 days in Washington D.C. But I wanted to give you all the options. You can pick and choose from all the amazing things to do and see in Washington D.C. that I've listed in this itinerary.
Here's an overview:
Eastern Market
Capitol Hill
Penn Quarter
Smithsonian and D.C. museums
Kennedy Center
Georgetown
National Mall Monuments
More museums
National Cathedral
Dupont Circle and/or Adams Morgan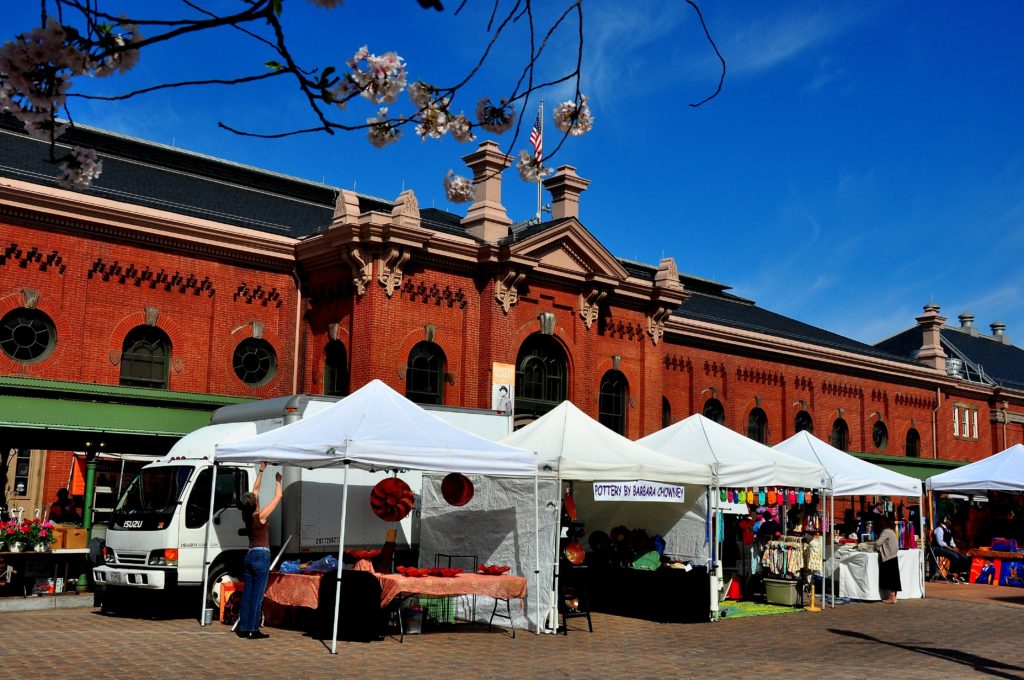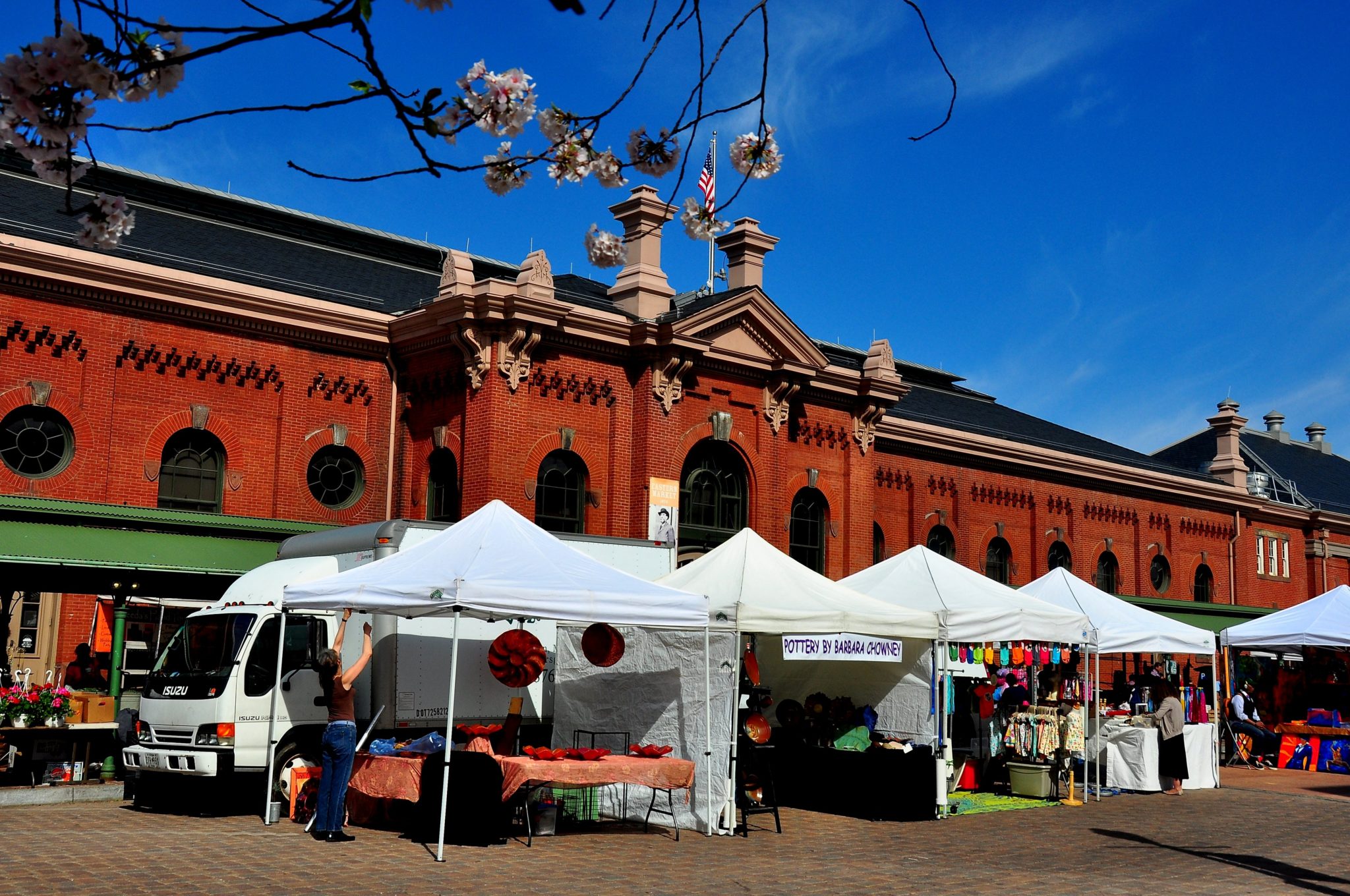 Day 1 Of 2 Days in Washington DC Itinerary
1. Eastern Market
Kick off your two days in Washington D.C. with breakfast at Eastern Market. It opens at 8:00 am.
You can get locally-sourced farm fresh ingredients, including the market's legendary blueberry buckwheat pancakes. On weekends, there are outdoor stalls selling farm produce, flowers, and locals crafts.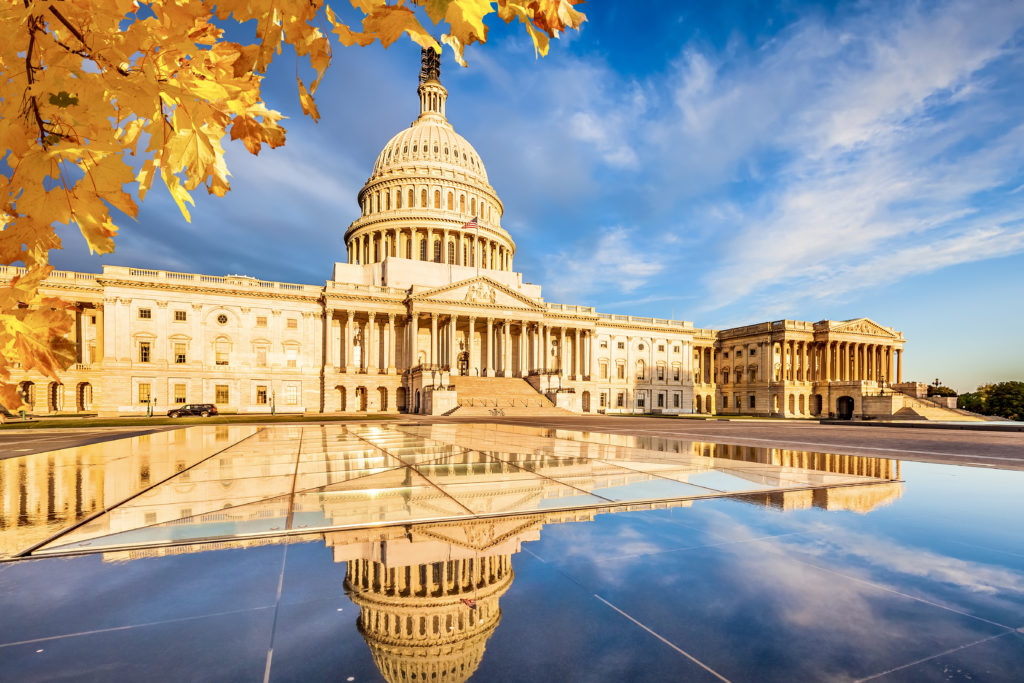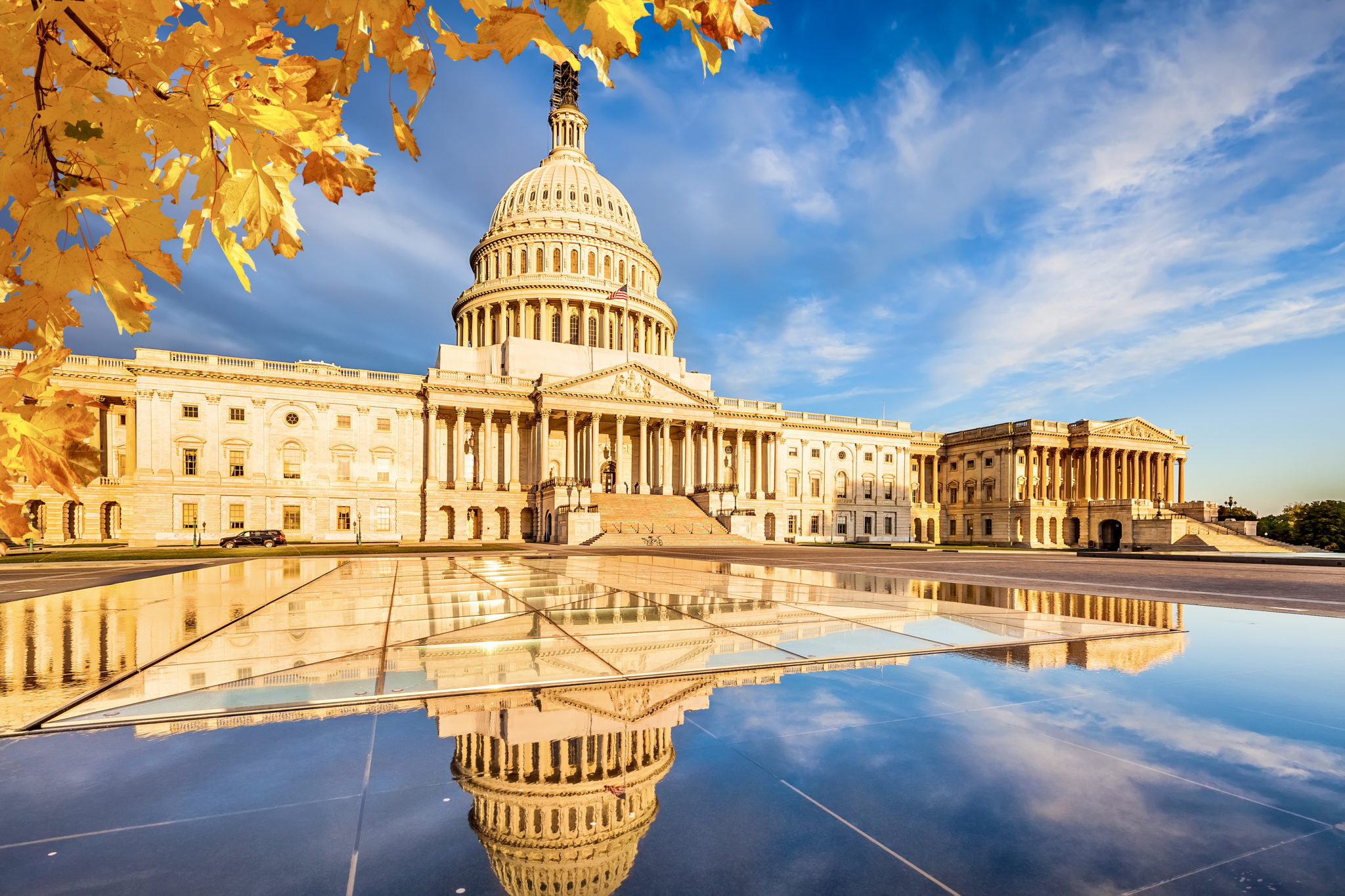 2. Capitol Hill
No visit to Washington D.C. is complete without a visit to Capitol Hill, the reminder of the nation's democratic foundations. Here are some of the attractions you should consider visiting on Capitol Hill.
The major monuments line up on First Street. You can book a 2.5 hour walking tour of Capitol Hill.
U.S. Capitol
After you're fueled up, take a guided tour of U.S. Capitol. It's a white marble building with a dome inspired by the Pantheon in Rome.
You can learn about the history and architecture of the iconic building and the U.S. legislative branch of government.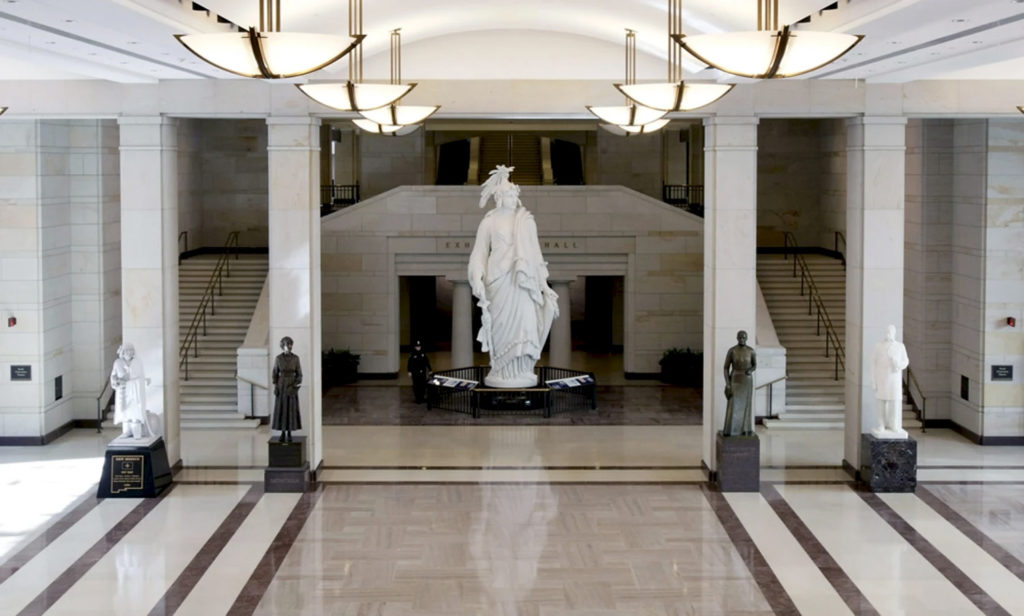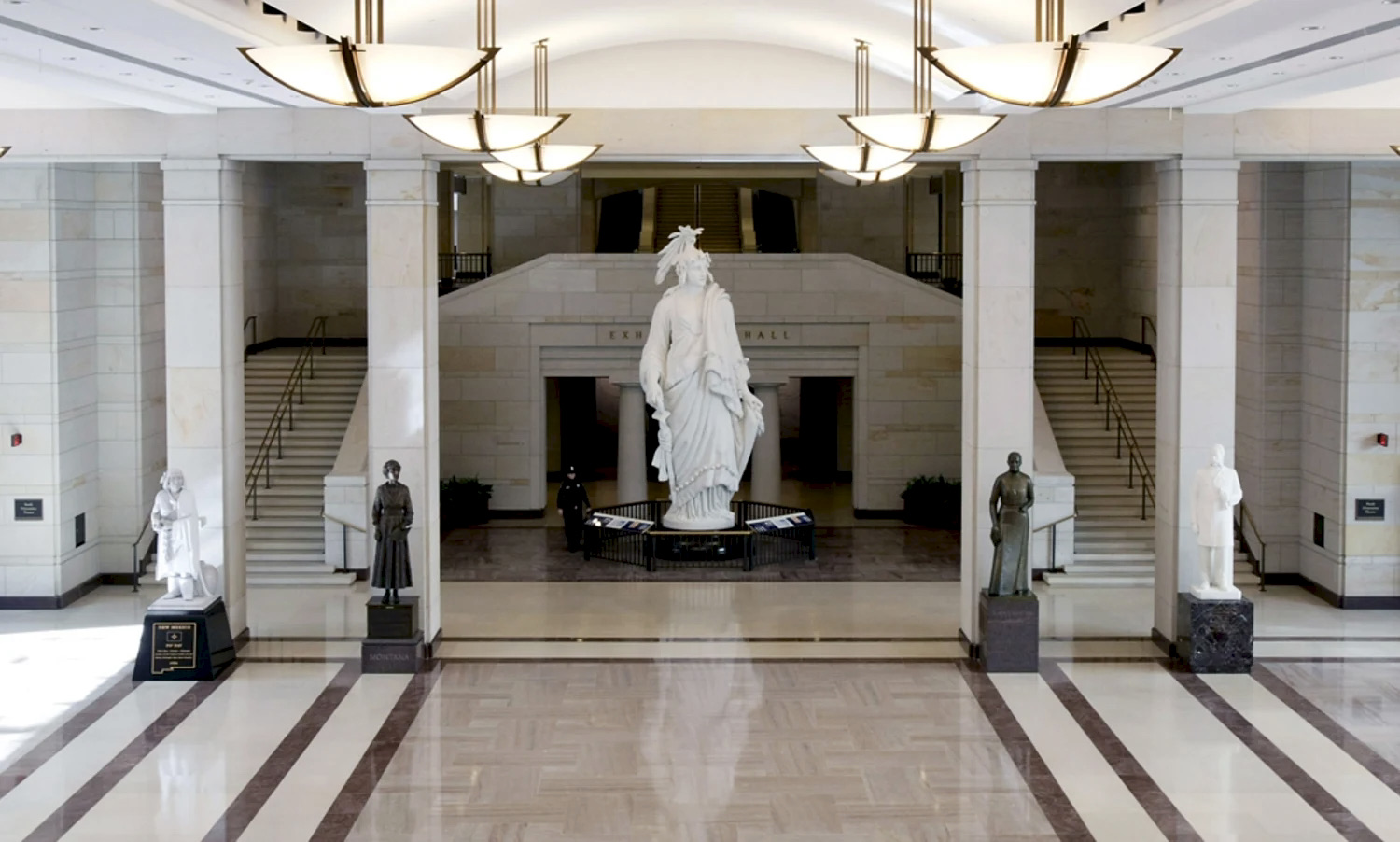 On a tour, you'll see the Hall of Columns, the grandiose rotunda, and the old Supreme Court chambers. From the visitors' gallery, you can watch bills being debated, votes being counted, and speeches being given.
If you don't want to take time to go inside, click here for a virtual tour. You can also just opt to visit the U.S. Capitol Visitor Center and see the exhibit-filled Emancipation Hall.
Library of Congress
If you've taken a tour of the U.S. Capitol, there's an underground tunnel leading to the stunning the Library of Congress. The library is a must visit attraction in Washington D.C. for bibliophiles. It's a dazzling Italian Renaissance building and the world's largest library.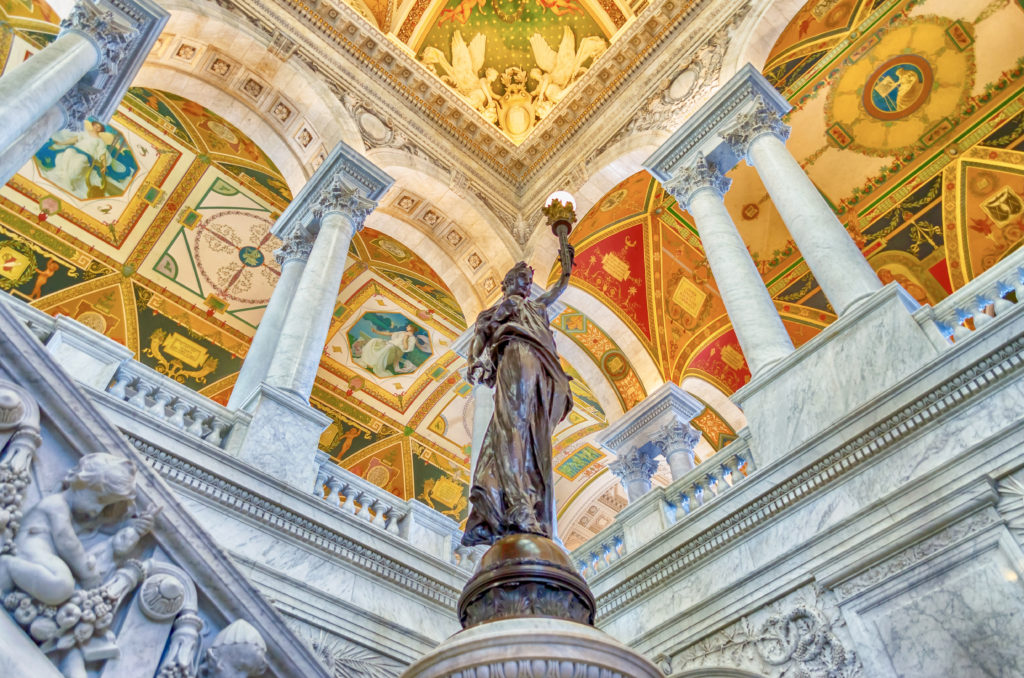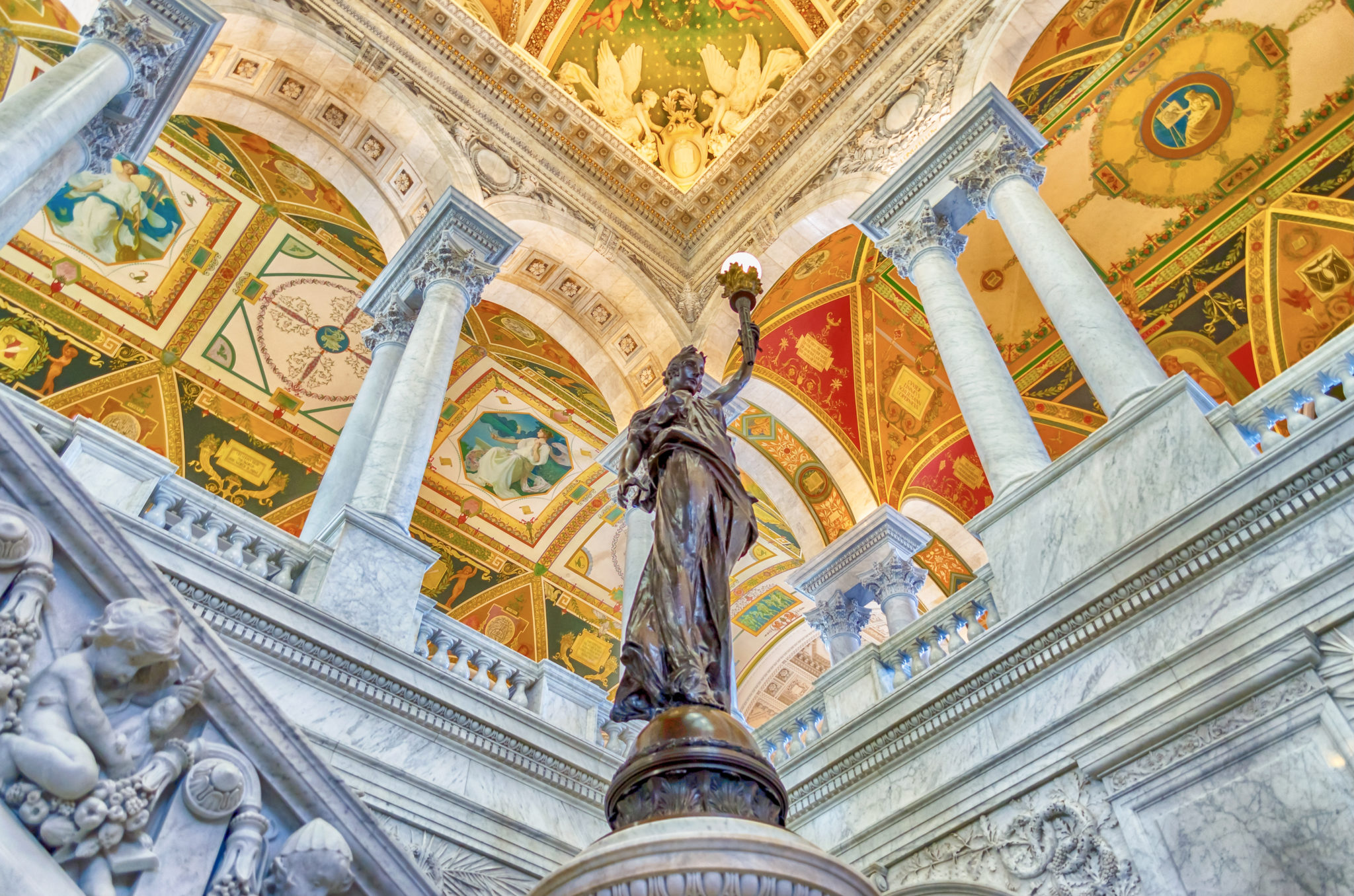 The National Library houses more than 128 million items including books, manuscripts, films, photographs, sheet music, and maps. Besides that, it's full of sculptures, frescos, and architecture mural flourishes.
The Great Hall on the first floor is like a Mediterranean palace. The library's prize possession is the Gutenberg Bible, made in Germany.
The Library offers exhibitions, interactive displays, concerts, films, lectures and special events.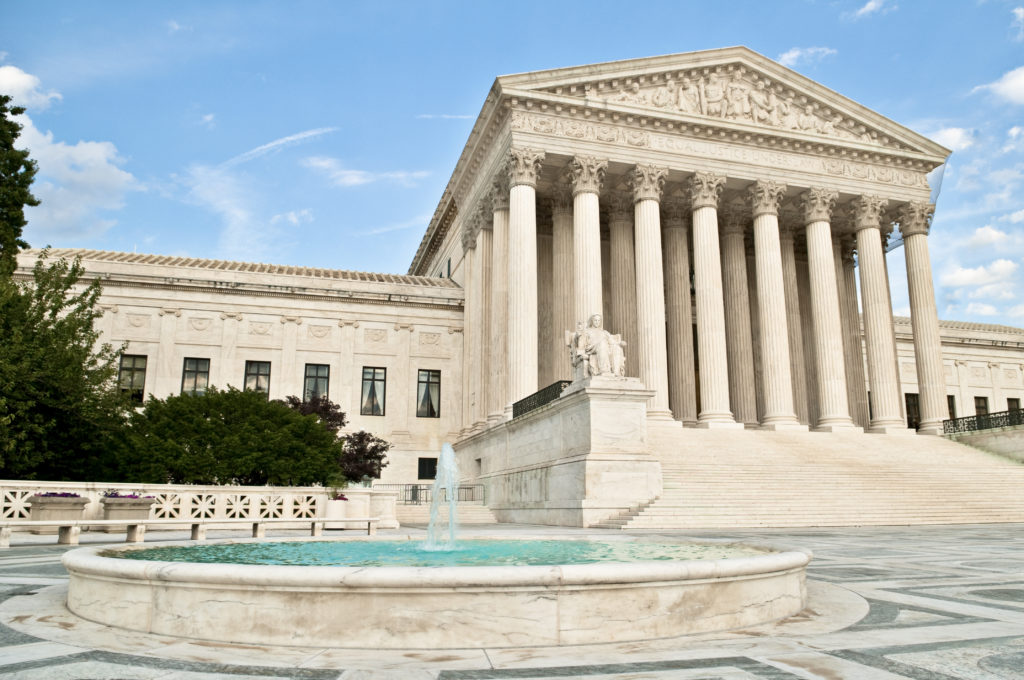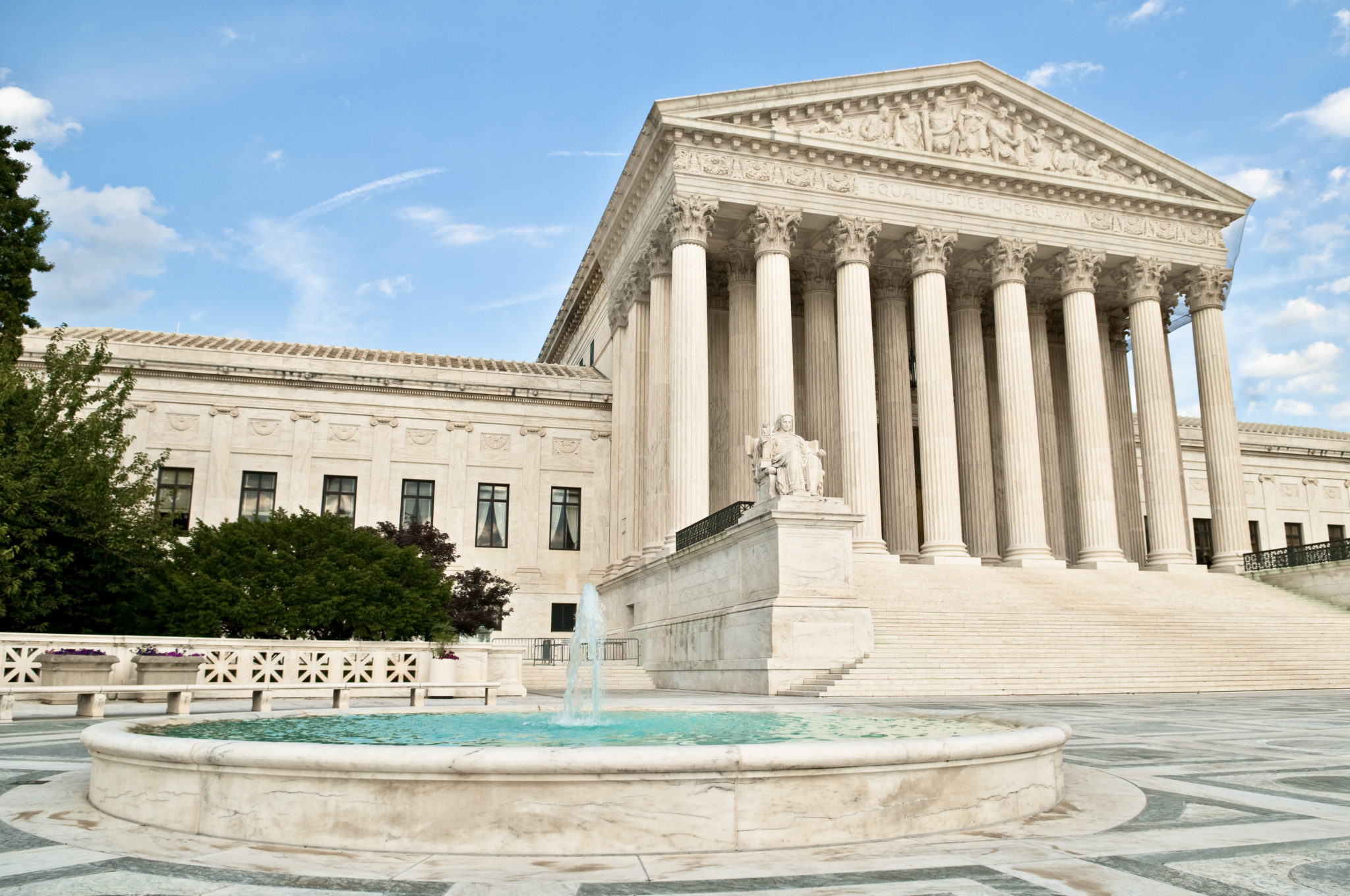 U.S. Supreme Court
The U.S. Supreme Court is the highest judicial body in the land. Built in 1935, it's housed in a lovely Neo-Classical structure.
It's worth going inside as well as taking a snap of the outside. You can tour two floors. The ground floor has an exhibition on SCOTUS history.
Take the spiral staircase up to the Great Hall. You can see busts of the chief justices. If the court isn't in session, you can look into the actual courtroom where the justices hear oral argument.
Click here to plan your visit.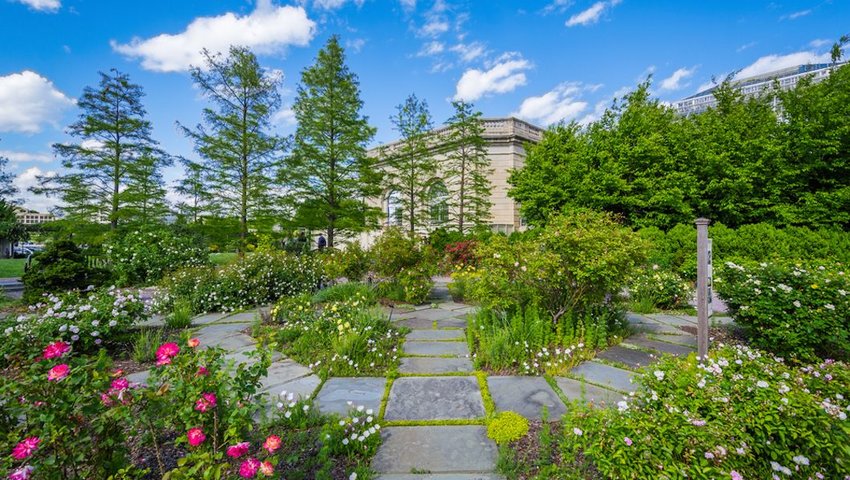 U.S. Botanical Garden
The botanical garden is located right next to the U.S. capitol. It showcases approximately 4,000 seasonal, tropical and subtropical plants.
The garden offers special exhibits and educational programs throughout the year. It was George Washington who wished to include a botanical garden on the National Mall.
Established in 1820, this is the oldest operating botanical garden in the United States. Currently, the outdoor gardens are open and the Conservatory is closed.
3. Penn Quarter
The Penn Quarter is located between Capitol Hill and Downtown D.C.
It's a revitalized historic neighborhood that's become one of Washington DC's hottest destinations. It's know for wide variety of eateries, ranging from fine dining to family-friendly eateries.
This is a good place to grab lunch on day 1 in D.C. Tuck into some international food at Zaytinya (Greek-Turkish),Oyamel (Mexican), or Jaleo (Spanish tapas).
There's also some amazing museums in the area and Ford's Theater.
National Portrait Gallery
The National Portrait Gallery houses one of the most important collections of art in America. You'll find an amazing collection of portraits of America's most famous politicians, celebrities, writers, artists, and influencers.
Through its fascinating works, the National Portrait Gallery tells the story of America, from pre-Revolutionary War to the present. The museum has the world's only complete collection of presidential portraits outside the White House. Be sure to check out the official Obama portraits.
The beautiful Kogod Courtyard is an impressive space in the museum. There are contemporary glass ceilings, contemporary water features, and indoor gardens.
Here's my complete guide to the National Portrait Gallery.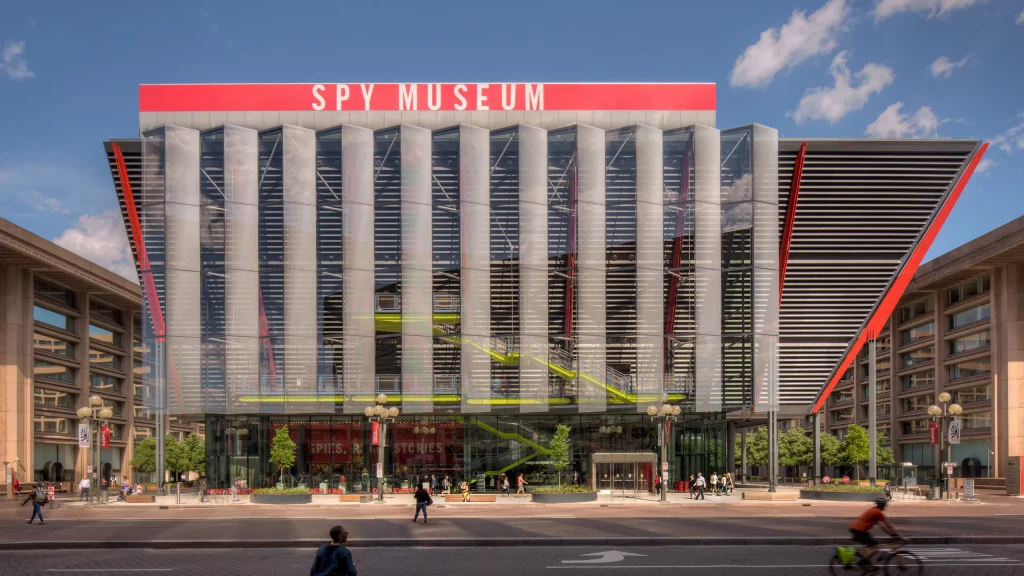 International Spy Museum
The International Spy Museum is a one of a kind museum, which is incredibly popular attraction in Washington D.C.
It's an interactive museum where you can step into the shoes of a spy. You'll start by being given your very own spy identity and undercover mission.
Master CIA spies helped design the museum. You'll see exhibits and artifacts about the history and tools of spy craft. There's even a James Bond exhibit with interactive stations.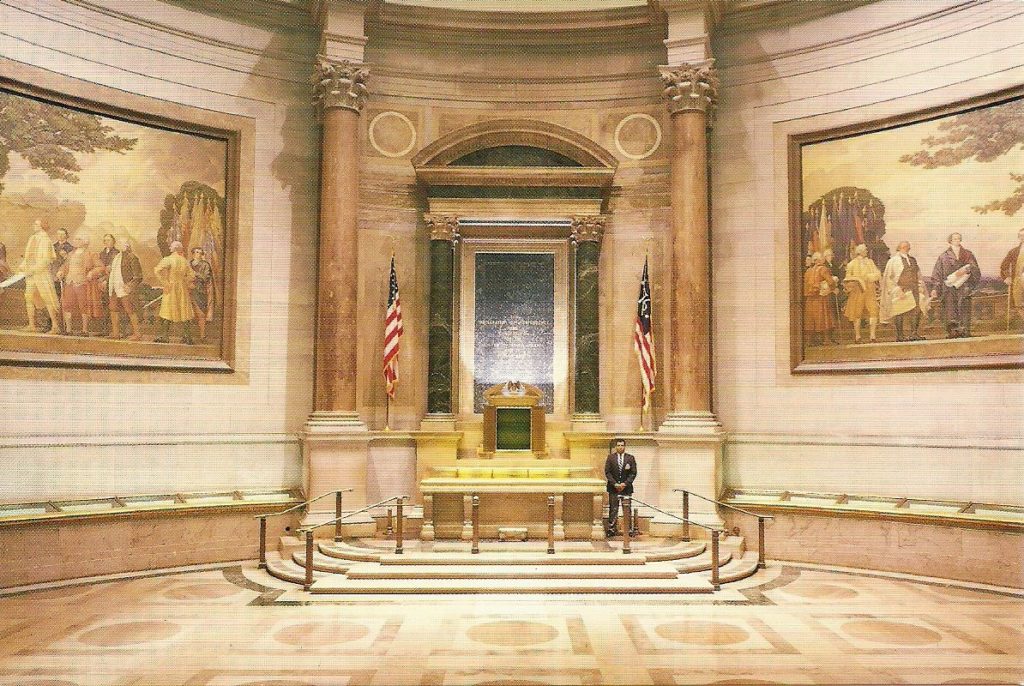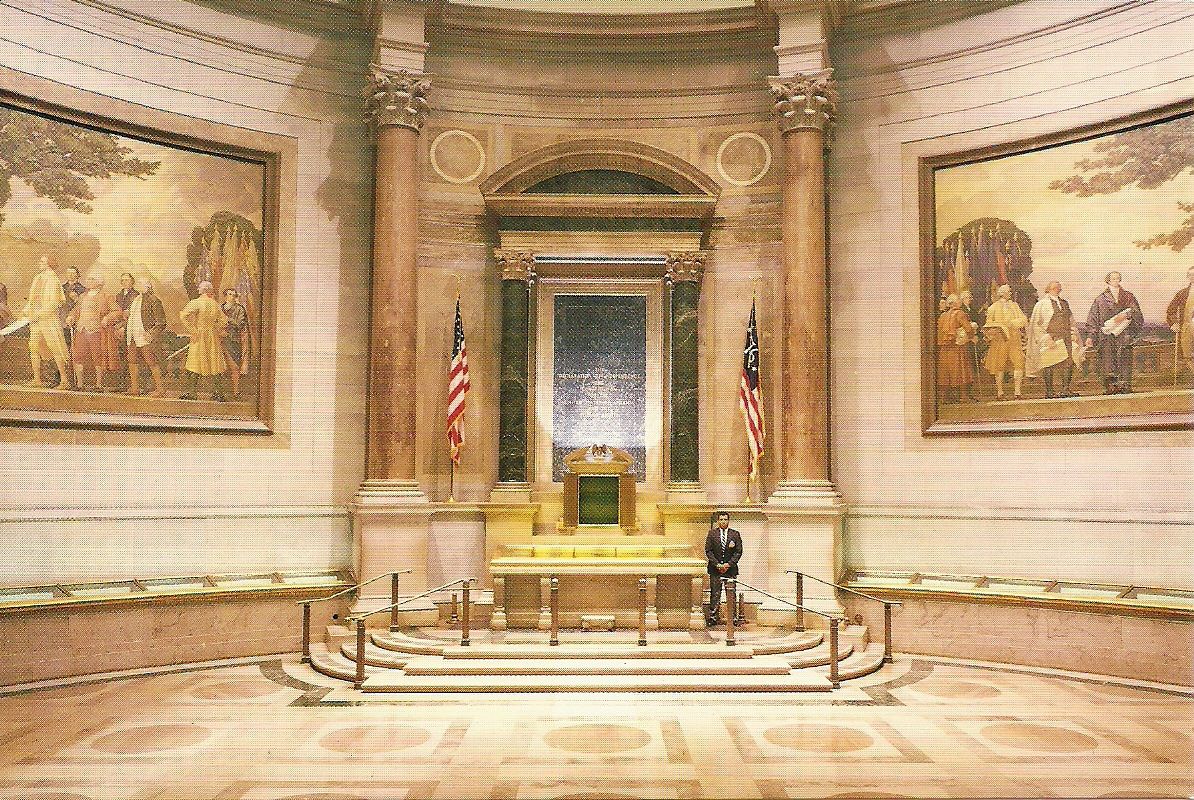 National Archives
The National Archives houses the country's most important documents. The star attractions are the Declaration of Independence, the Constitution, and the Bill of Rights.
Admission is free, but you have to make a timed entry reservation for $1.
Fords Theatre National Historic Site
Ford's Theatre was where John Wilkes Booth shot Abraham Lincoln. The historic theater is still in operation. The exact box Where Lincoln was fatally shot remains on public view.
By 1964, the theater was in ruins and was restored. It underwent another extensive renovation in the early 21st century. In 2009, President Obama officiated the re-opening.
The theater offers museum exhibits, live theatre and immersive learning. Click here to pre-book a ticket.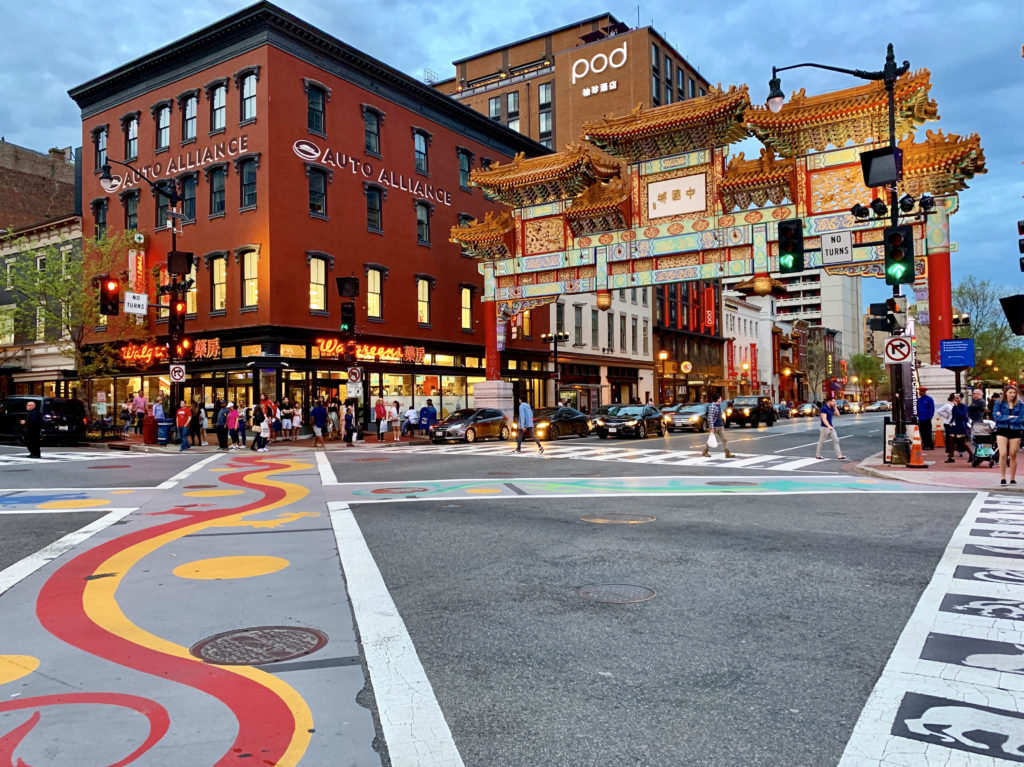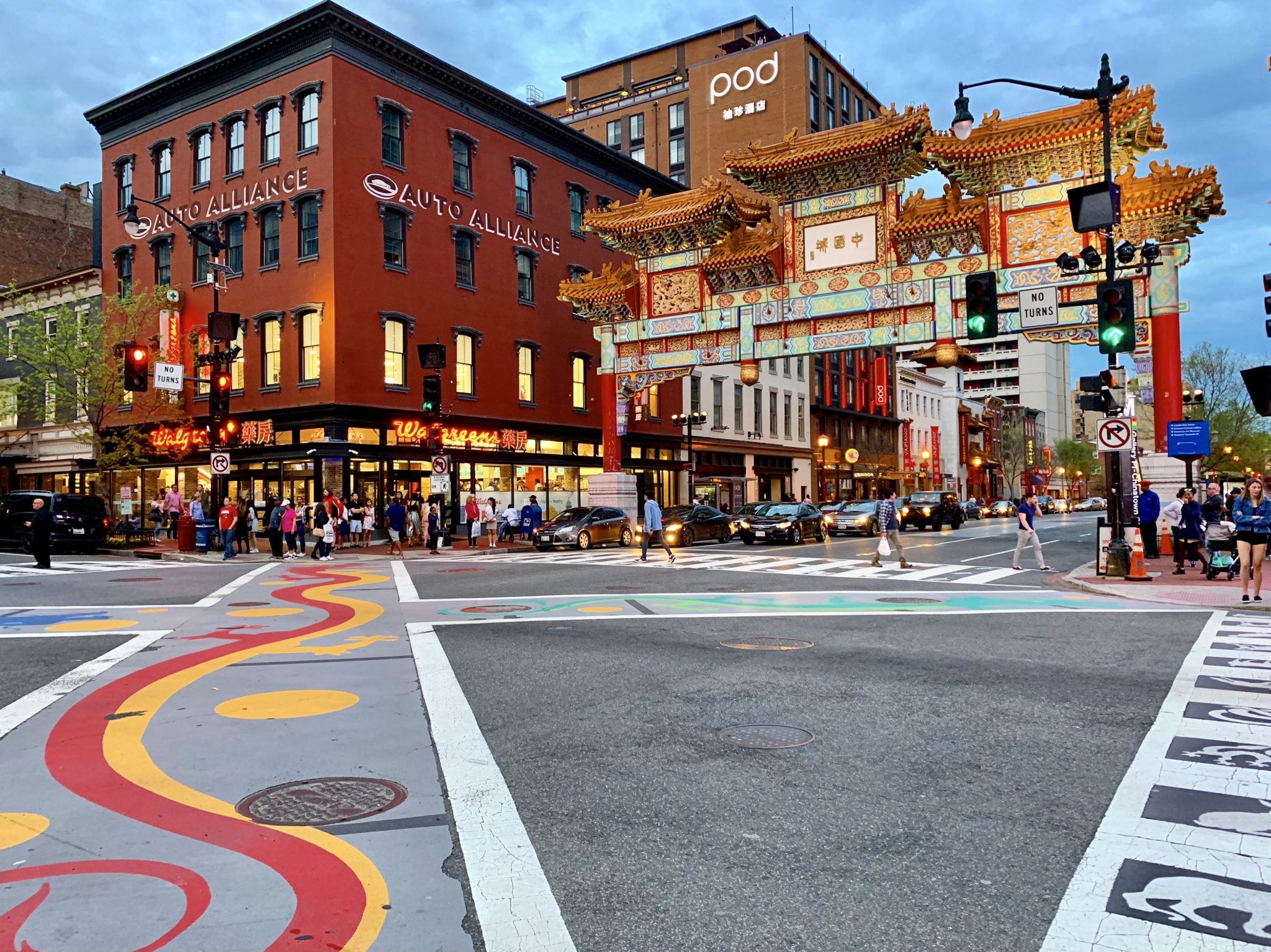 Chinatown
DC's Chinatown is right near the Penn Quarter. It's a small historic neighborhood located on a few blocks between Hi and I Streets NW and 5th and 8th Streets NW.
You can't miss the colorful Friendship Arch. It's one of the largest of its kind outside of China. If you are visiting the end of January or early February, you can attend the Lunar new Year celebrations.
If you didn't eat earlier, you can grab some Chinese good at Reren. Or grab a coffee at Chinatown Coffee Co.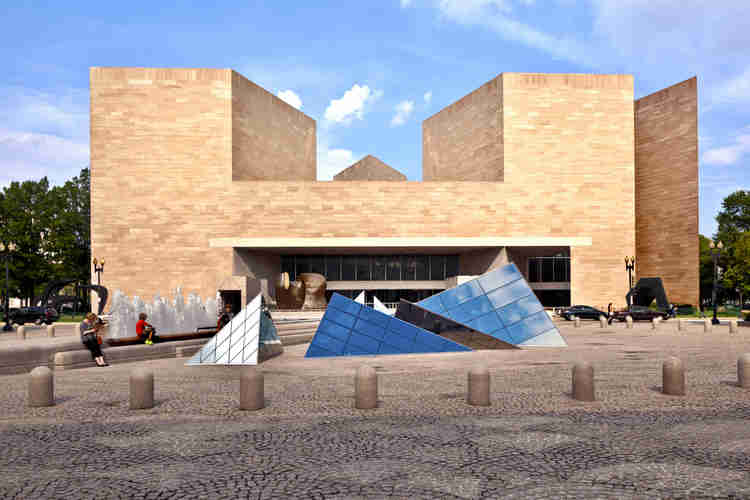 4. Museums
When you're done sightseeing in Penn Quarter, it's time to take in a museum or two. There are plenty of options, for all types of interests.
You'll probably want to visit some on day 1 of your 2 days in Washington D.C. itinerary and some on day 2.
Here are some of my favorite museums in D.C.:
National Gallery of Art
The National Gallery of Art is one of the world's best museums. It's a preeminent cultural institution with a massive and revered collection of American and European art.
In my opinion, the NGA is the #1 attraction in Washington D.C., especially for art lovers. The collection includes over 140,000 paintings, drawings, photographs, sculpture, and decorative arts from the 13th century to the present.
The art ranges from Byzantine/Medieval altarpieces to Pop and Conceptual art. The museum has the only Leonardo da Vinci painting in the Untied States.
Here's my complete guide to the National Gallery Of Art, with 30 masterpieces and tips for visiting. If you'd like a guide tour of this amazing museum, click here to book one.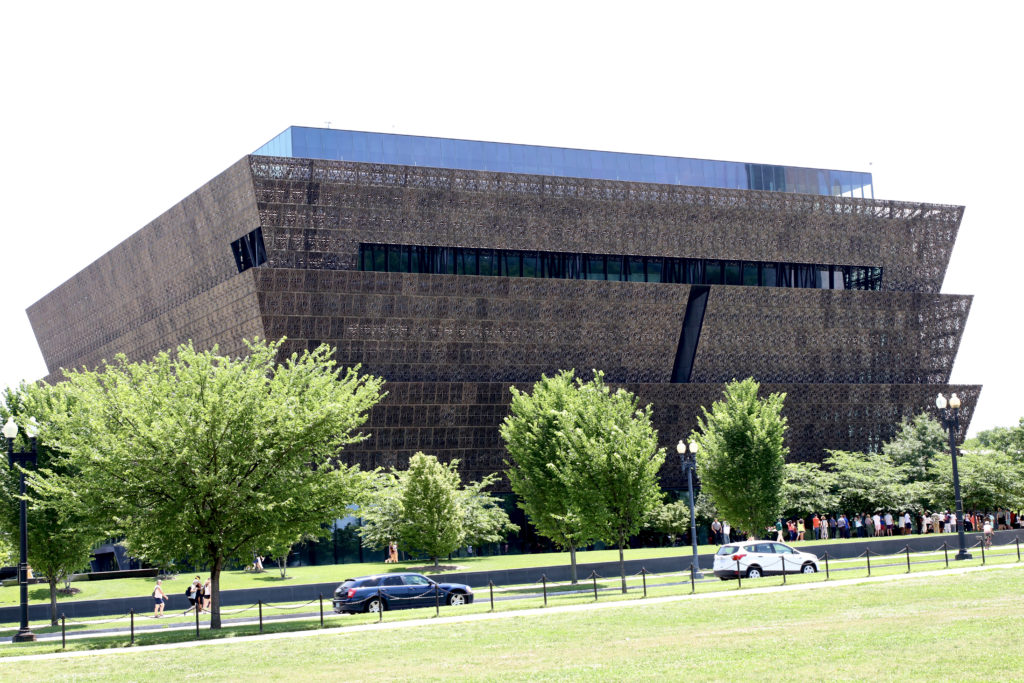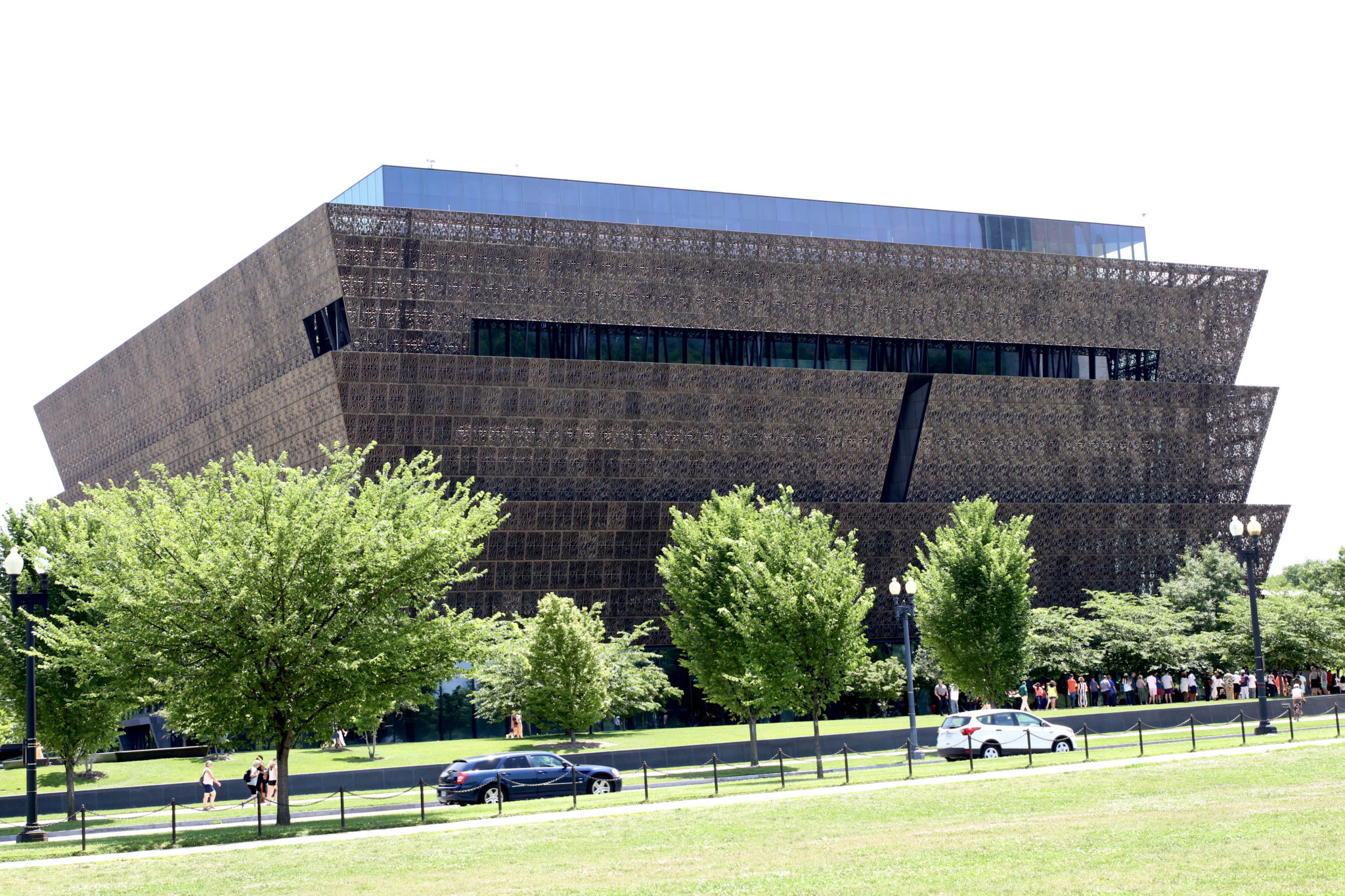 National Museum of African American History and Culture
The National Museum of African American History and Culture is the newest addition to the Smithsonian family. It was inaugurated in 2016 by President Barack Obama.
This Smithsonian museum is a revelation. Over 5 floors, it houses artifacts, photography, and other media reflecting the culture, heritage, and experiences of African Americans.
You'll find Harriet Tubman's personal clothing, slave shackles, a bill of a sale for a young slaved girl, Louis Armstrong's trumpet, and photos of black civil rights activists.
A top exhibit is the Emancipation Proclamation. The top floor has a heavy emphasis on the civil rights era.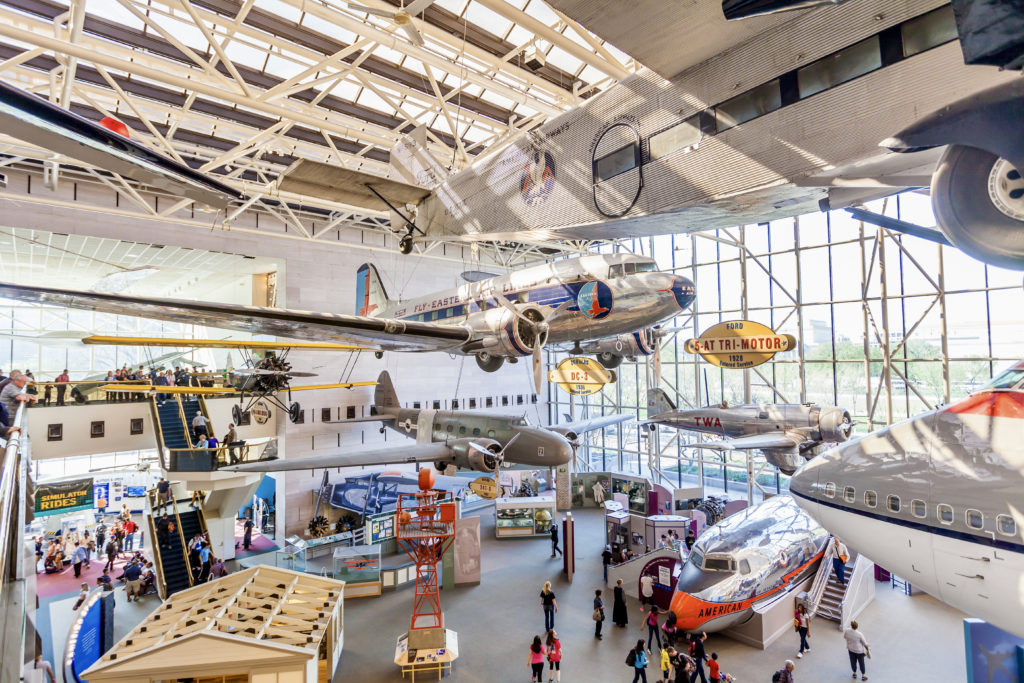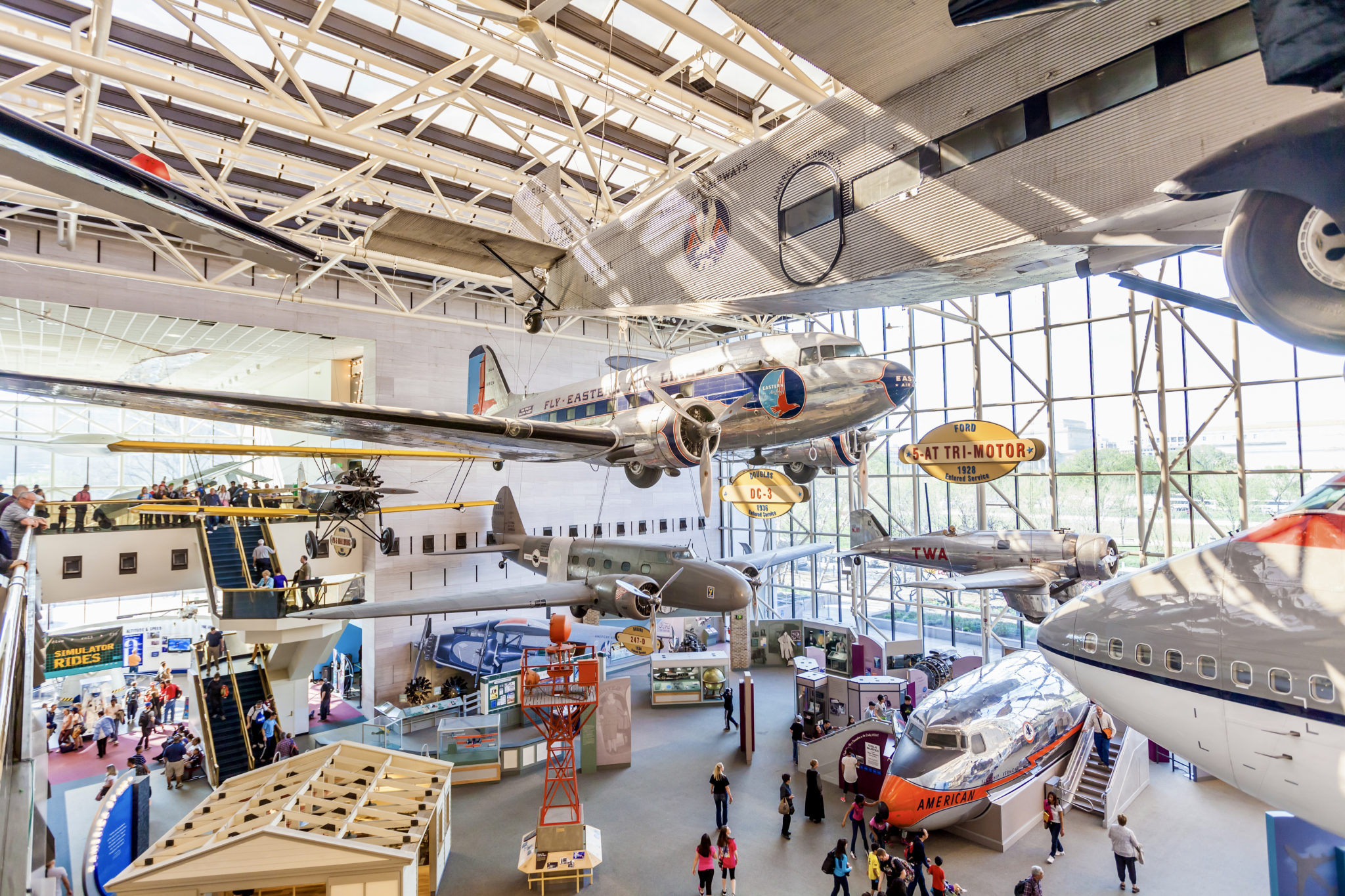 National Air and Space Museum
Founded in 1876, the National Air and Space Museum is one of the most visited museums on the planet. The museum explores the evolution and science of air and space.
It houses the world's largest collection of aviation and space artifacts. The museum has 23 exhibition galleries.
You'll see aircrafts, spacecrafts, Wright Brother experiments, and Charles Lindbergh's Spirit of St. Louis. The museum caters to both children and adults. There are IMAX movies, planetarium shows, and flight simulators.
If you want to visit both the Air and Space Museum and the Museum of American History, great museums for kids, you can book this 2 hour tour.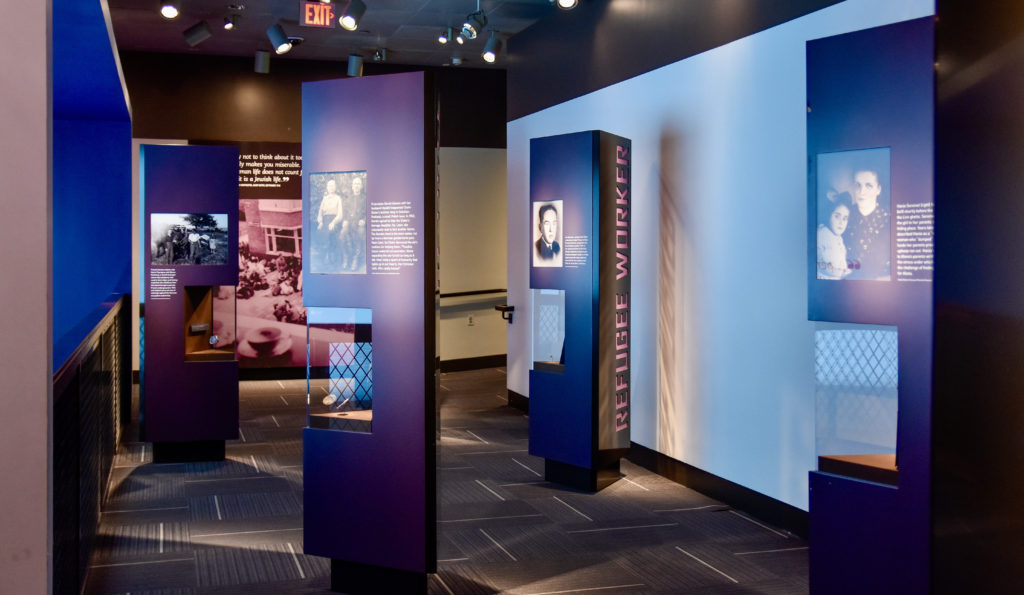 National Holocaust Memorial Museum
The Holocaust Memorial Museum is one of the top attractions in Washington D.C. The Museum is a living memorial to the Holocaust, one of the world's most horrific tragedies. It's a place for somber reflection on man's inhumanity to man.
Founded in 1993, the Holocaust Memorial Museum is a modern museum that captures the visceral memories of a nightmare. It shines a harrowing light on the insane megalomania and brutality of the Nazi party, who stole not just lives but identities.
With unflinching eye-opening detail, the museum documents the rise of the Nazi party and its atrocities. It reveals the demonic not in a grandiose way, but in the most minute bone chilling details.
Here's my complete guide to the Holocaust Museum. The museum is free. But you need to pre-book a time slot online for a $1 fee.
Hirshhorn Museum
The Hirshhorn Museum is where you go to if you're a fan of modern and contemporary art. The museum's vast collection boasts a comprehensive range of pioneering painting, sculpture, photography, and video from 21st century artists.
The museum has works by artists such as Edward Hopper, Constantine Brancusi, Alberto Giacometti, Wilhem de Kooning, and living artists. Free tours take place twice a day. You cans stop in at Dolcezza for an espresso or gelato.
You can also visit the magnificent Hirshhorn Sculpture Garden. It's an outdoor art park filled with world famous, eye catching sculptures by some of the world's greatest artists.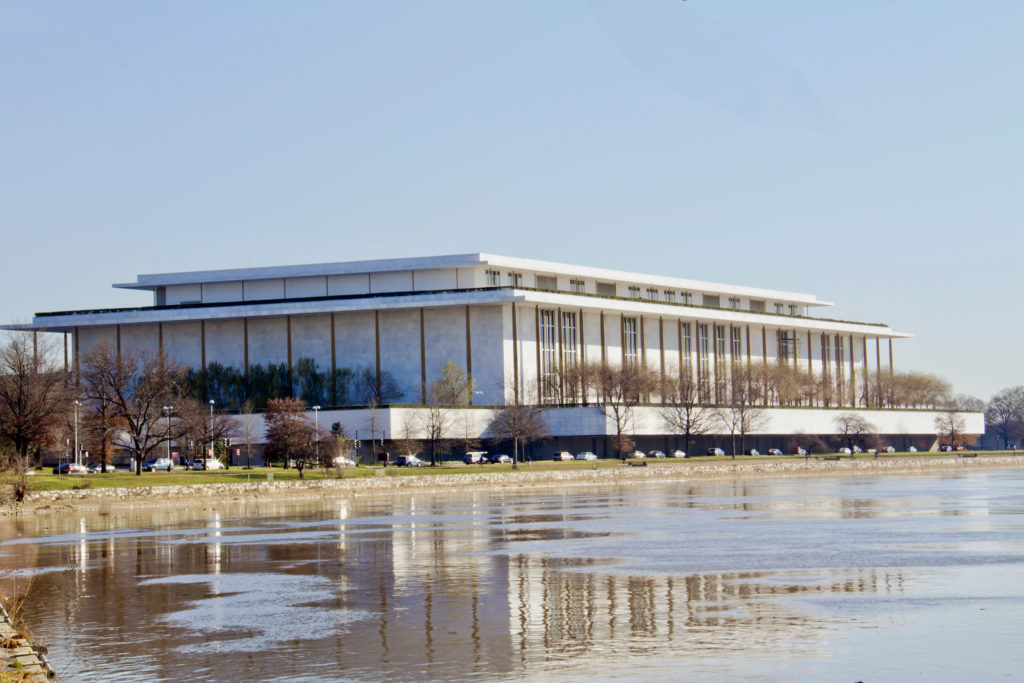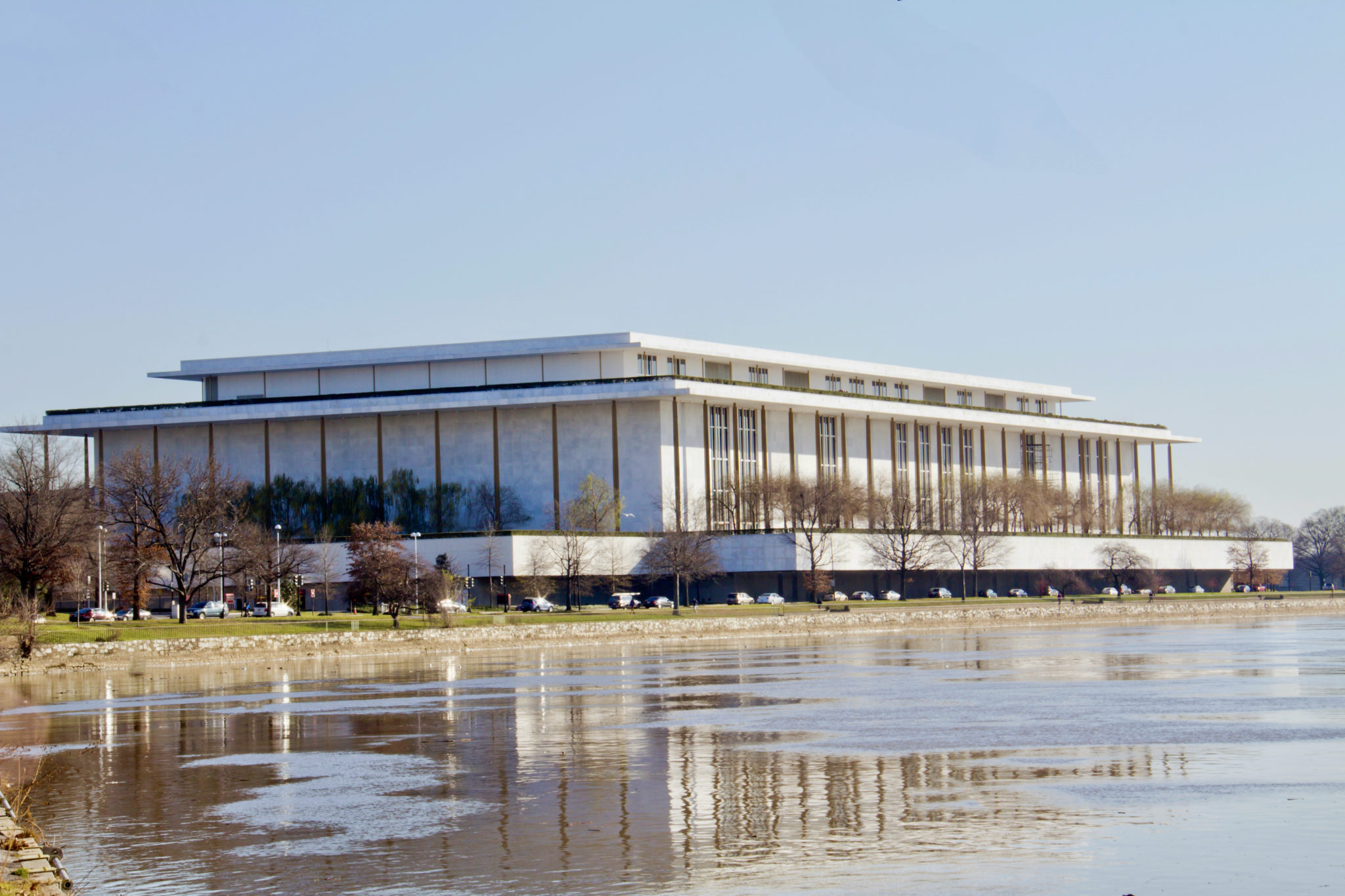 5. Kennedy Center
End day 1 of your 2 days in Washington D.C. itinerary with a performance at the John F. Kennedy Center for Performing Arts. The Kennedy Center has a stunning location overlooking the Potomac River.
This is D.C.'s top performance venue. You can see ballet, opera, symphony or theater.
Did you know that the Kennedy Center has free shows in the evenings? The Millennium Stage hosts a free concert Thursday through Saturday starting at 6:00 pm.
You can also take a free guided tour of the Kennedy Center, which is essentially a living memorial to President Kennedy.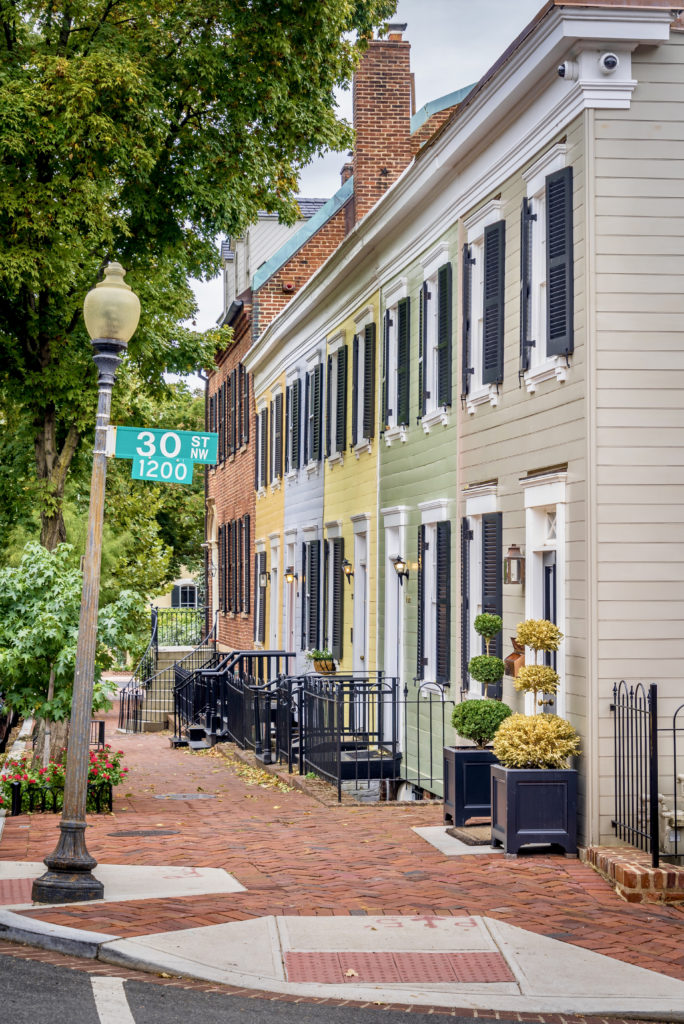 Day 2 of 2 Days in Washington D.C. Itinerary
1. Georgetown
Start the second day of your 2 days in Washington D.C. in the historic Georgetown neighborhood.
It's one of my favorite part of D.C. Georgetown is a mecca for many things, but it does breakfast and brunch especially well.
Have breakfast at the Peacock Cafe on Prospect Street, which is lined with gorgeous historic homes. The cafe is renowned for its eggs Benedict. Or, pop onto the beyond pretty in pink Call Your Mother for a bagel sandwich to go.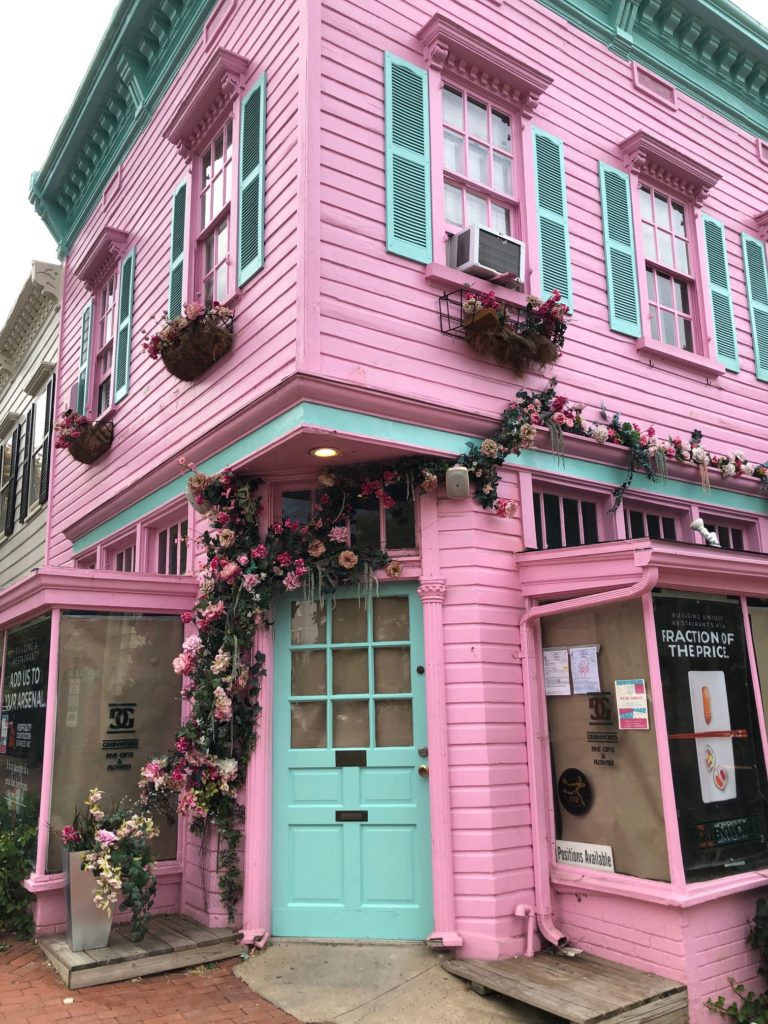 Patisserie Poupon also serves up a gourmet coffee and freshly baked pastries. If you need a snack for later, stop in at Georgetown Cupcakes. for a gourmet cupcakes. Every time I've been lately, there are lines down the street.
In fact, there are so many delicious things to eat in Georgetown, that you may want to book a foodie walking tour to sample them all.
Georgetown is one of D.C.'s oldest neighborhoods. Georgetown is a feast for the eyes. It's famous for its Instagrammable corners, colorful row homes, cobblestone streets, and shopping. There's beautiful Federal and Victorian architecture.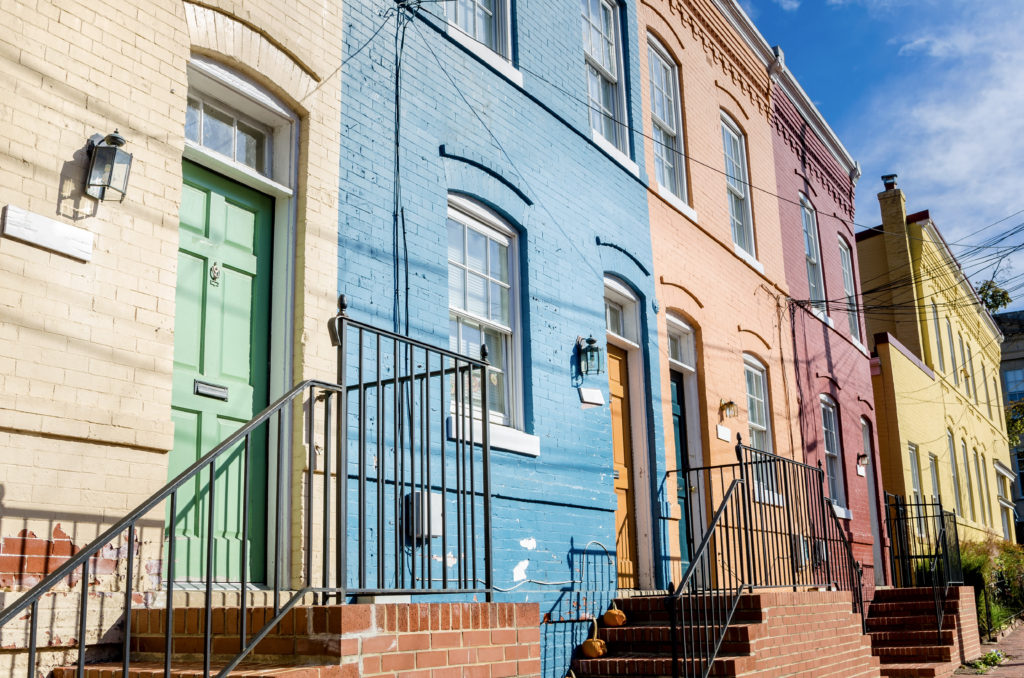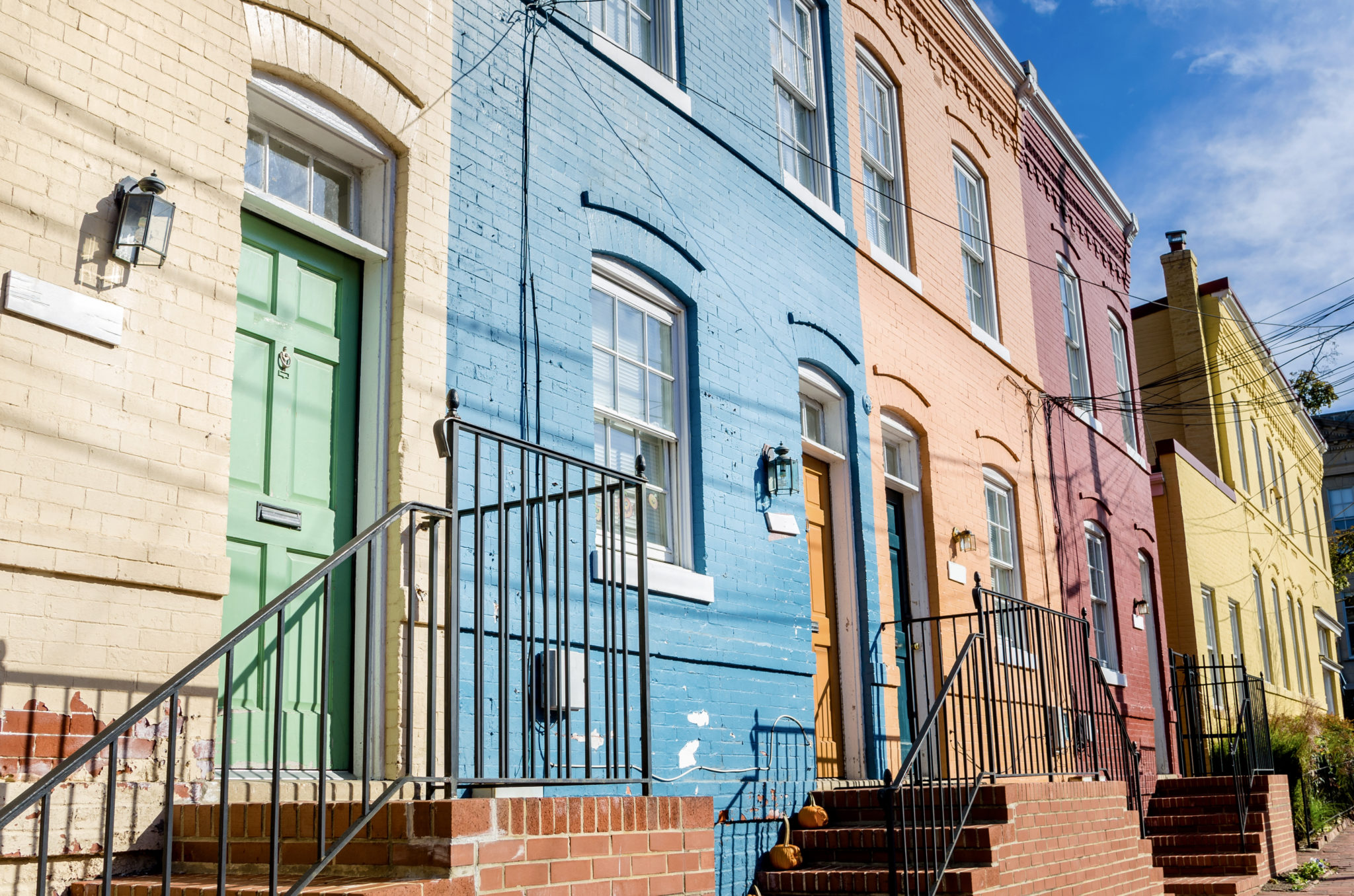 The main drag is M Street. It's a similar vibe to Newbury Street in Boston. Poke into the posh boutiques and unique shops.
You can also take a scenic stroll along the C&O Canal path. The most charming section is between Thomas Jefferson Street and 31st Street.
If you love gardens, be sure to walk through the extensive gardens at the Dumbarton Oaks estate. Over 24 luxuriant acres, you'll find winding path manicured greenery, and lovely fountains. It's also home to an important museum of Byzantine and pre-Columbian art.
Georgetown University is also a must visit. Just stroll around the campus and admire the Gothic-inspired architecture.
If you are an architecture fan, you can also take an architectural walking tour of Georgetown.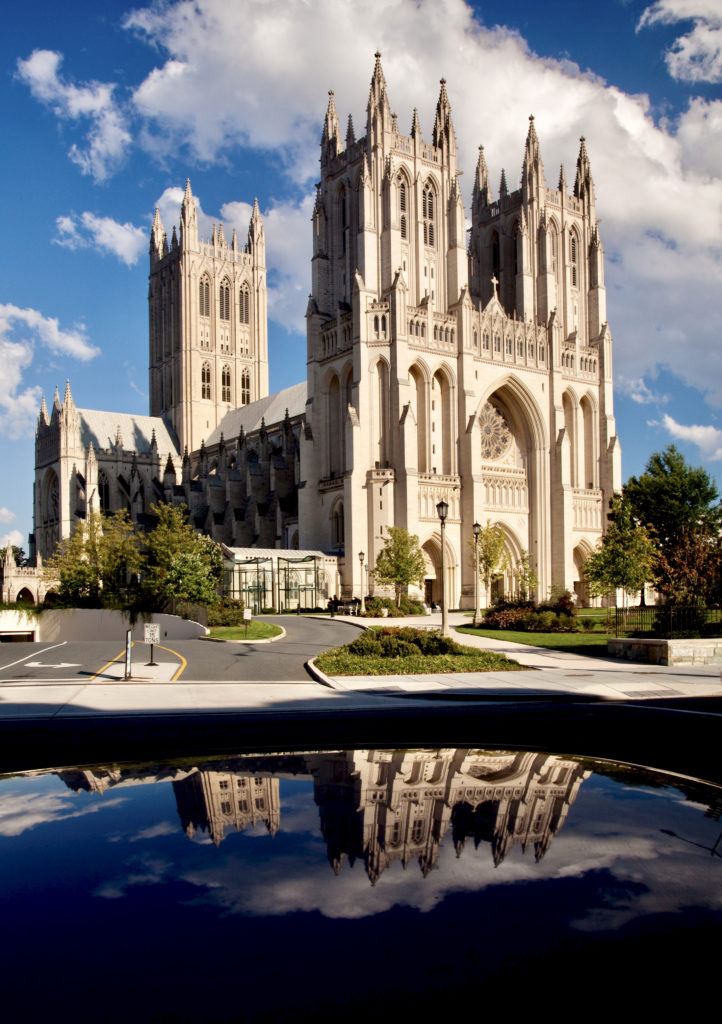 2. Washington National Cathedral
Just north of Georgetown is the National Cathedral. It's a Gothic edifice with some serious Notre Dame vibes.
Completed in 1990, this limestone cathedral has beautiful stained glass windows and 112 gargoyles. There's a medieval style garden to wander in as well.
Sunday services are open to all. Monday through Thursday at 5:30 p.m., evening concerts fill the nave with singing. Other than those times, it's $12 to visit.
Address: 3101 Wisconsin Ave NW, Washington, DC 20016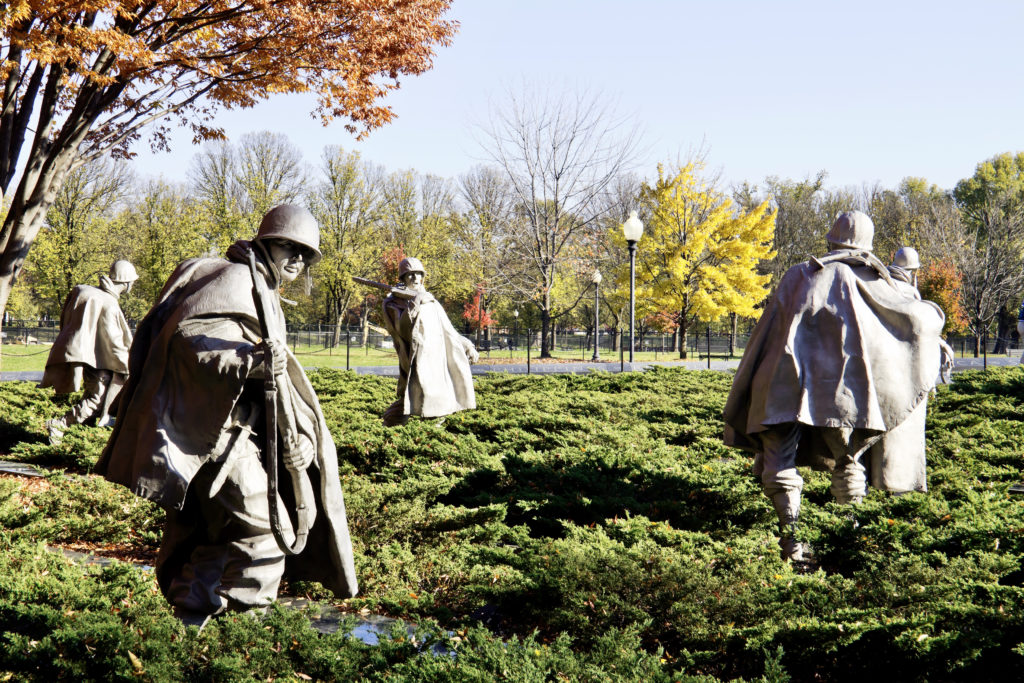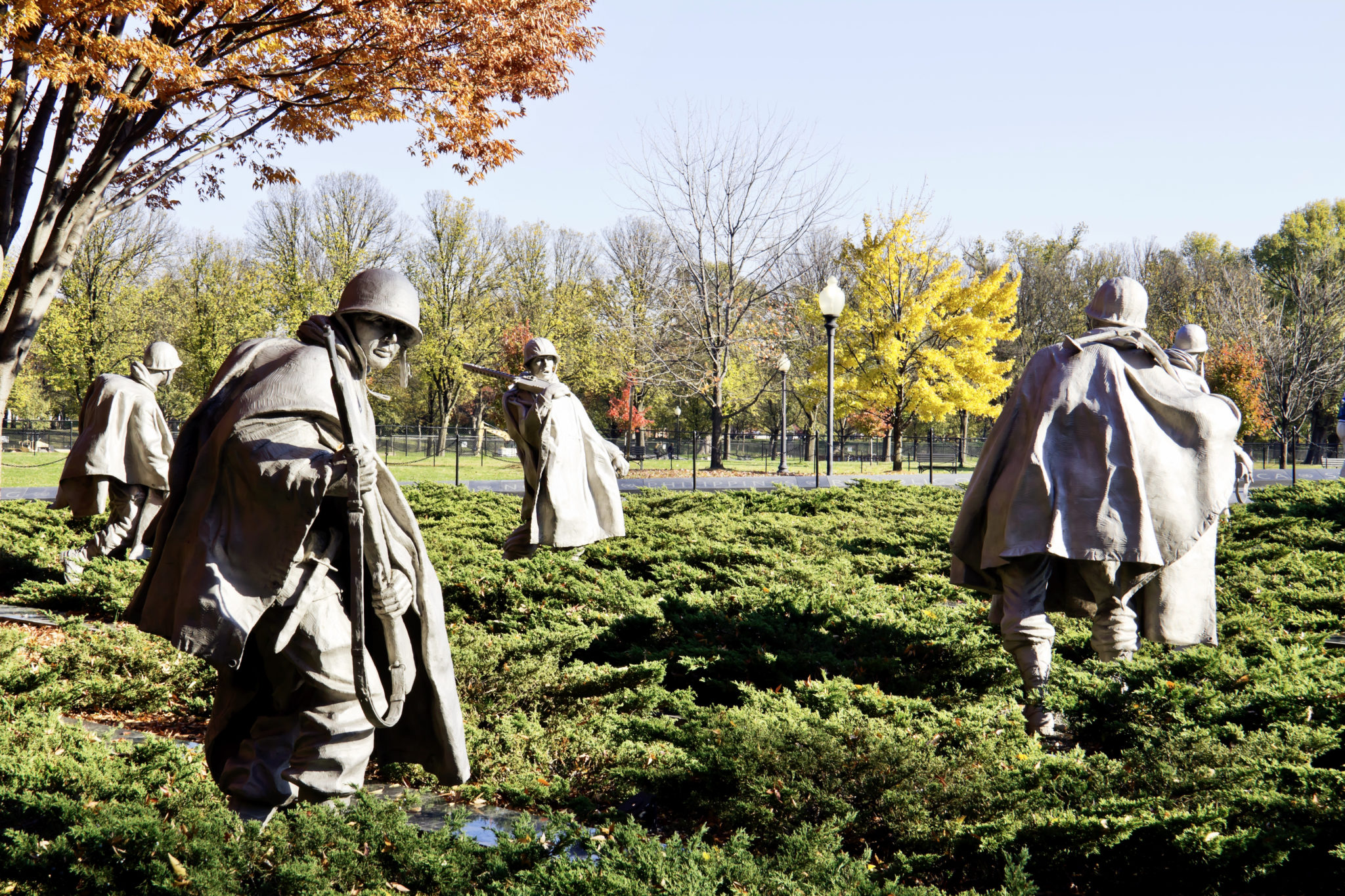 3. National Mall & Tidal Basin Monuments
Taxi or take the subway to the National Mall. The all is home to the most beloved iconic and treasures in D.C. I've written a definitive guide to the National Mall, so I won't repeat myself here.
I'll just describe the 5 most important monuments and memorials to see on the National Mall and the Tidal Basin. You can check out my guide for the full slate of incredible monuments in Washington D.C.
The National Mall is completely walkable. Be sure to wear comfortable shoes.
Not up for walking? Happily, you can take a bike tour or Segway tour of the National Mall. If you want a regular guided bus tour, this tour will fit the bill.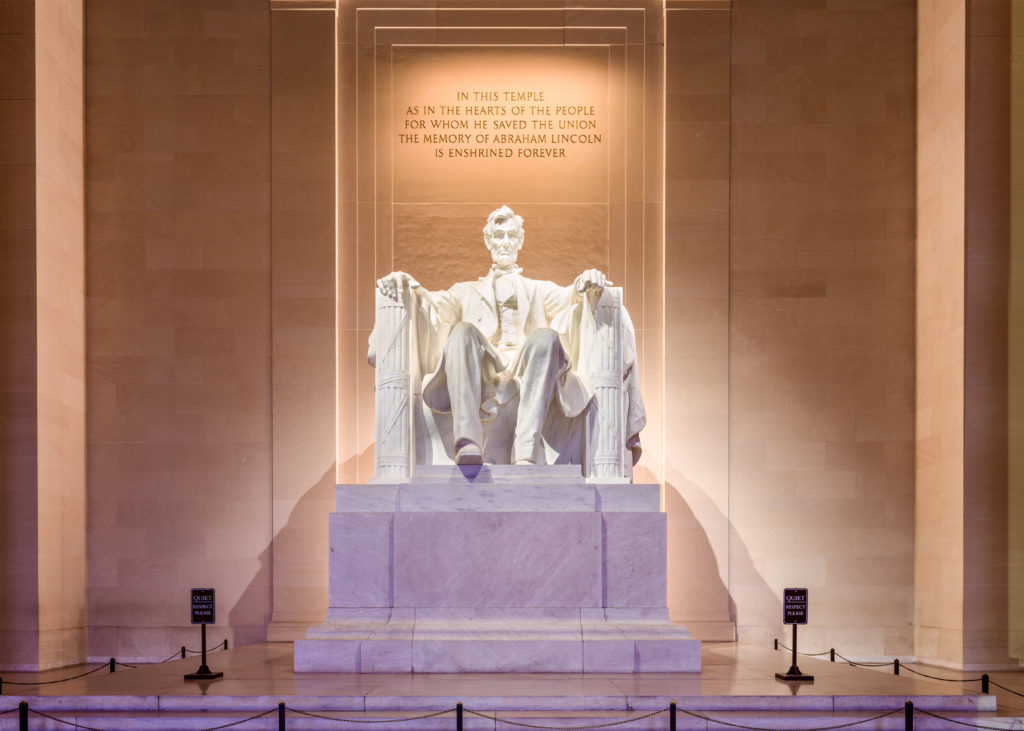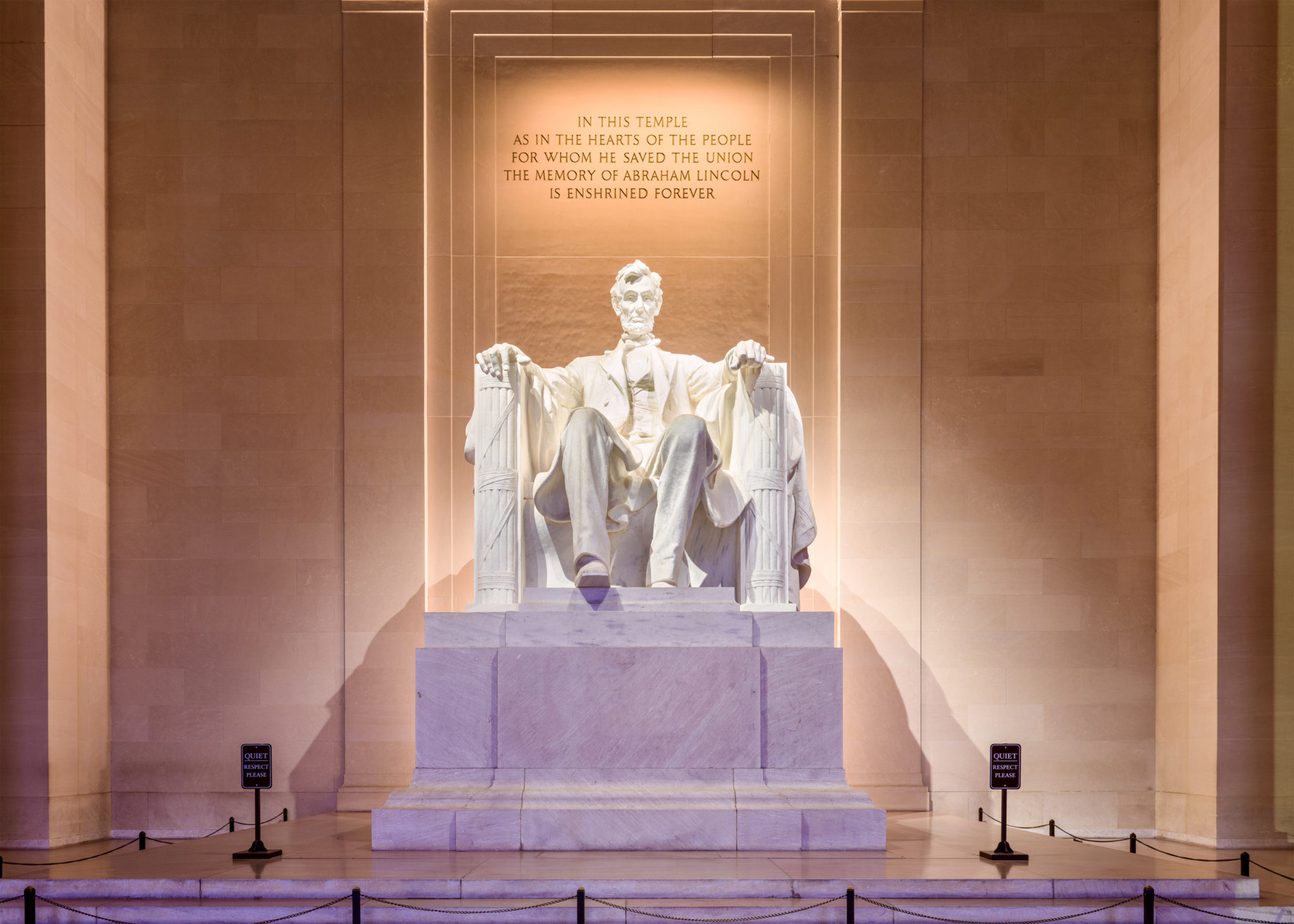 Lincoln Memorial
The Lincoln Memorial is a tribute in marble to our 16th president, Abraham Lincoln. The columned memorial was built to resemble a Greek temple, modeled after the Parthenon.
There are 36 Doric columns. A marble staircase leads up to a sculpture of Lincoln by the American sculptor Daniel Chester French.
It's situated in the center of the memorial chamber and is the visual highlight of the monument. A seated Lincoln is deep in contemplation with hands clenched.
The south wall is inscribed with the words from Lincoln's Gettysburg Address. The north wall is inscribed with the words from Lincoln's second inaugural address.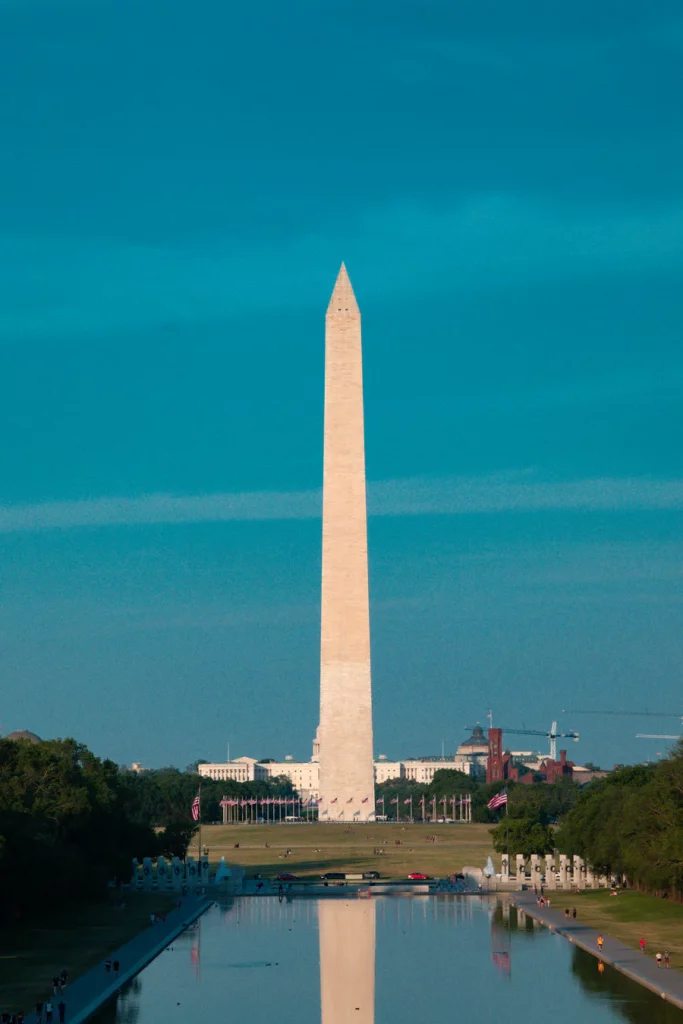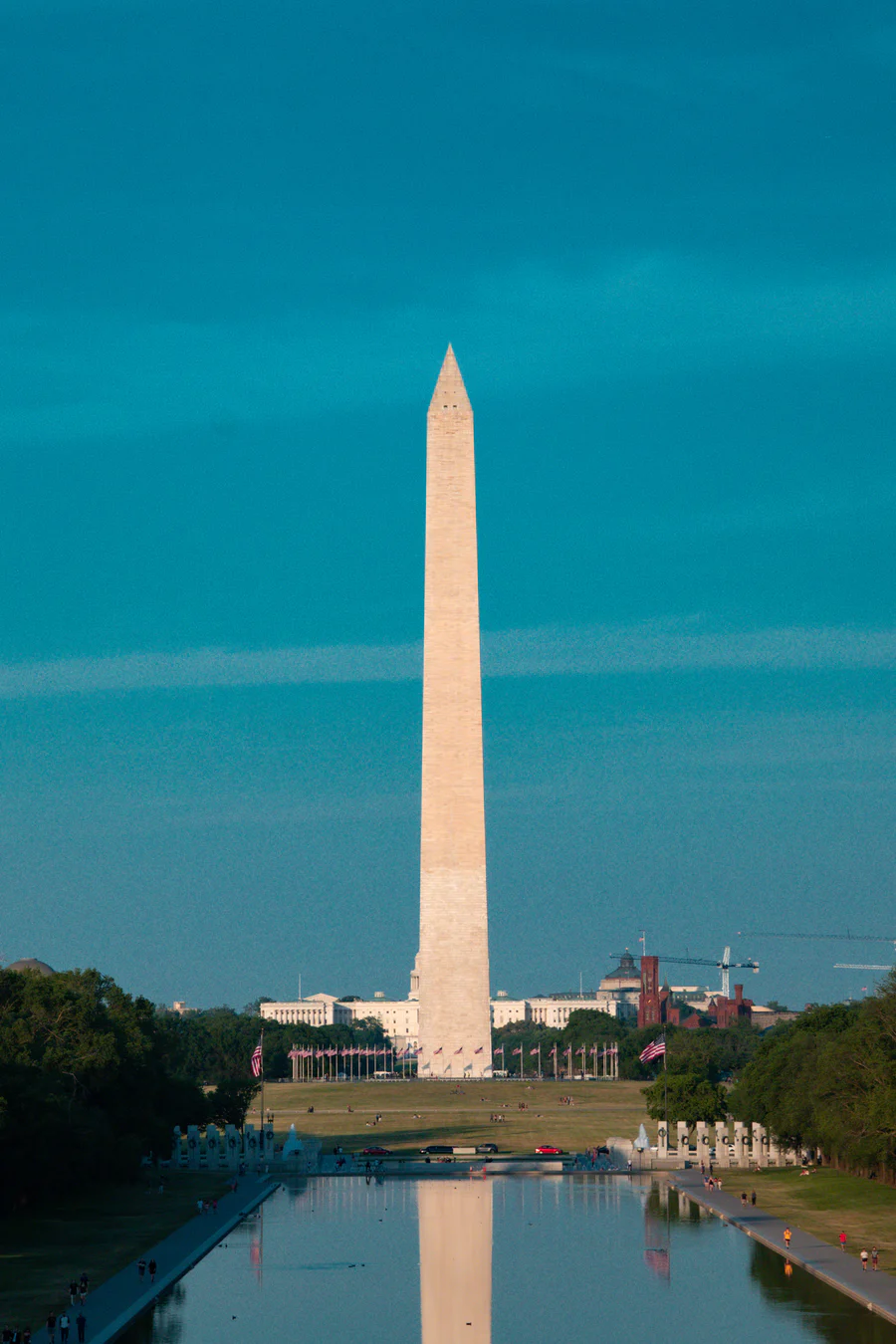 Washington Memorial
The Washington Monument honors the first president of the United States, George Washington. It's the tallest structure in the nation's capital, towering 555 feet above the National Mall.
After design squabbles that latest decades, the obelisk was finally finished in 1885. The monument is the world's tallest obelisk.
After lengthy off and on closures for the pandemic and renovations, the monument reopened to visitors in July 2021. With a timed entry ticket, you can ride the elevator to the top for spectacular views of the city. You'll have to go through several layers of security.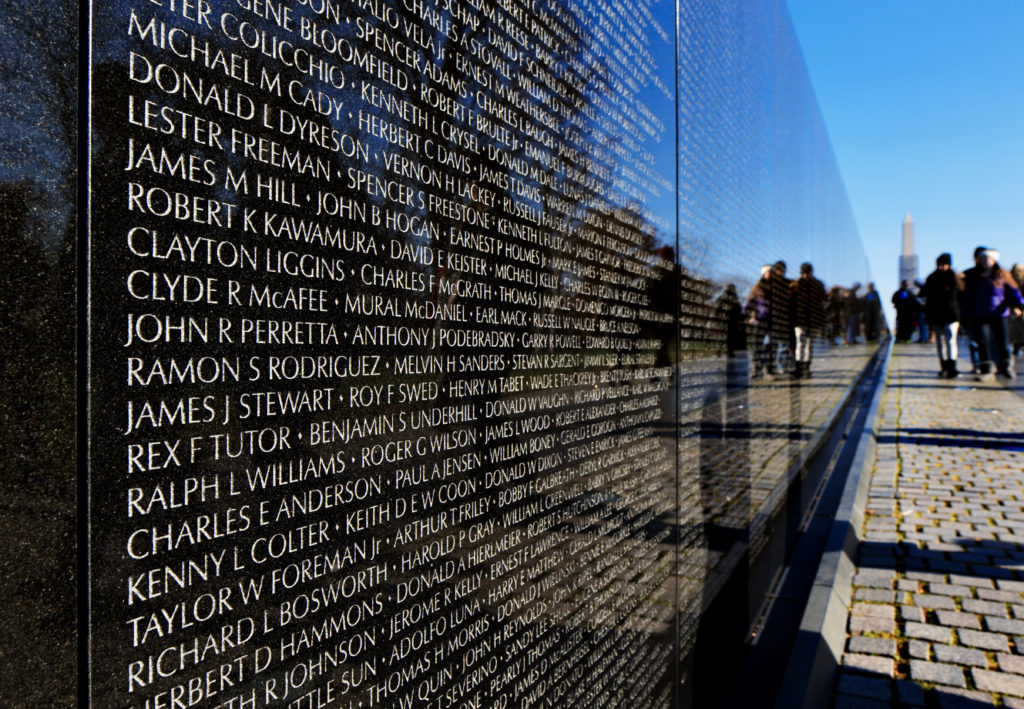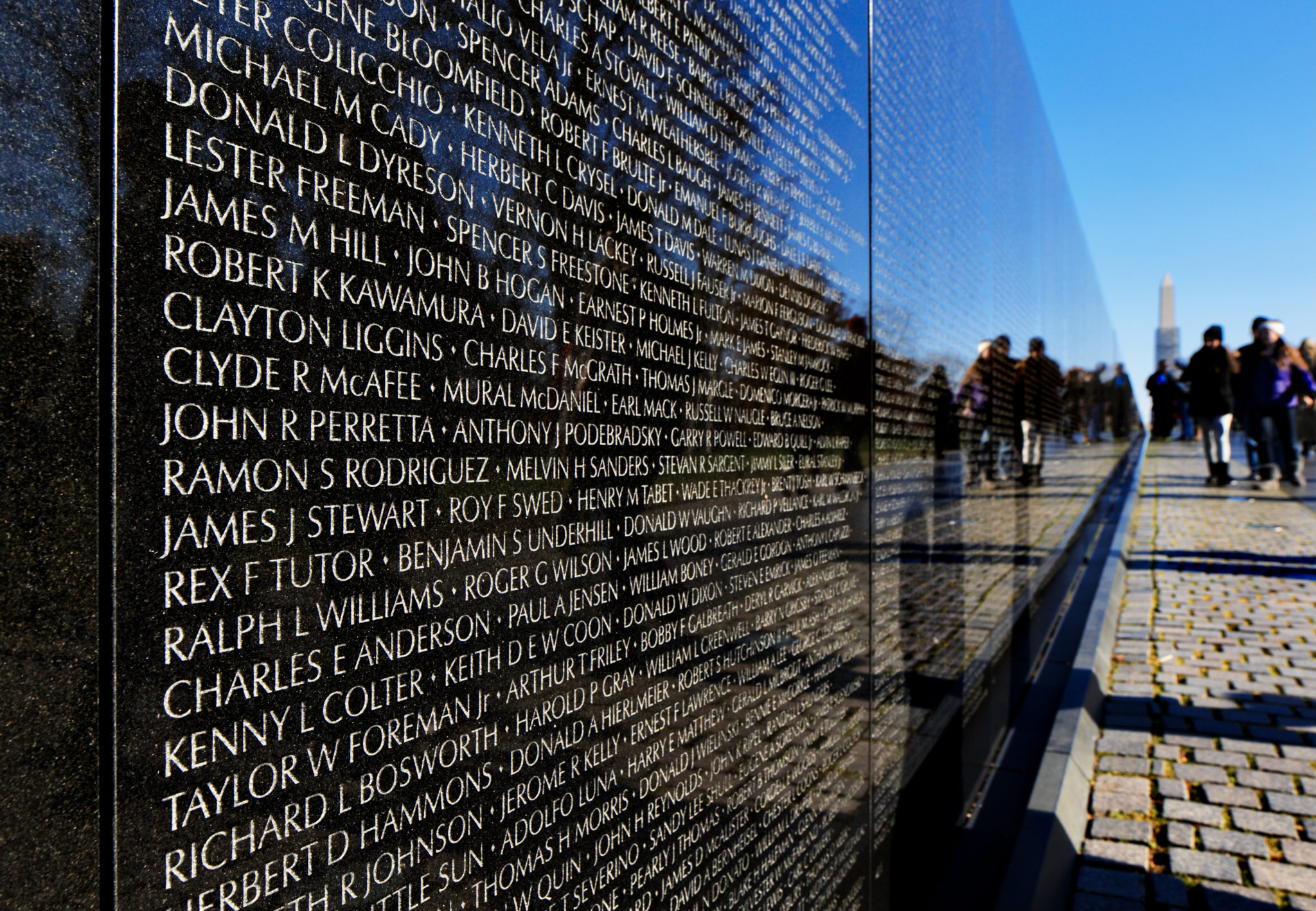 Vietnam Veterans Memorial
Dedicated in 1982, the Vietnam Veterans Memorial is a profoundly moving monument. It's, by far, the most popular memorial on the National Mall. It's as iconic as the Lincoln Memorial and well-cherished.
The memorial is in three parts: the Vietnam Veterans Memorial Wall, The Three Soldiers Statue, and the Vietnam Women's Memorial.
The solemn Memorial Wall, designed by Maya Kin, is the most moving and powerful section. The minimalist wall, which cuts into the earth's surface, was shocking when it was unveiled.
The wall bears the names, in a seemingly never ending account, of over 58,000 of the dead and missing in action from the war of folly.
Jefferson Memorial
The Jefferson Memorial is dedicated to the third president of the Untied States. The Neo-Classical memorial was designed by John Russel Pope.
It's a round white marble gazebo like structure with a fetching location on an island in the Tidal Basin. It was inspired by the Pantheon in Rome, which Jefferson believed was the perfect building.
The memorial is open air. Inside is a 19 foot tall bronze statue of Jefferson, gazing at the White House. The walls of the memorial are engraved with text from is speeches, including the Declaration of Independence.
FDR Memorial
The FDR Memorial is a tribute to the 32nd president, the nation's only four term president. The memorial is immersive. It consists of four red granite outdoor alcoves. They represent each of FDR's terms in office and the historical events that occurred.
Stone expresses the fracture and upheaval of the times. You'll find bronze sculptures of Roosevelt, the First Lady, other citizens, and even a dog. The sculptures depict images from the Depression and WWII.
There are calming waterfalls and pools. This is a good memorial to visit at night. It's more peaceful then and you can see the play of the statues in the shimmering water.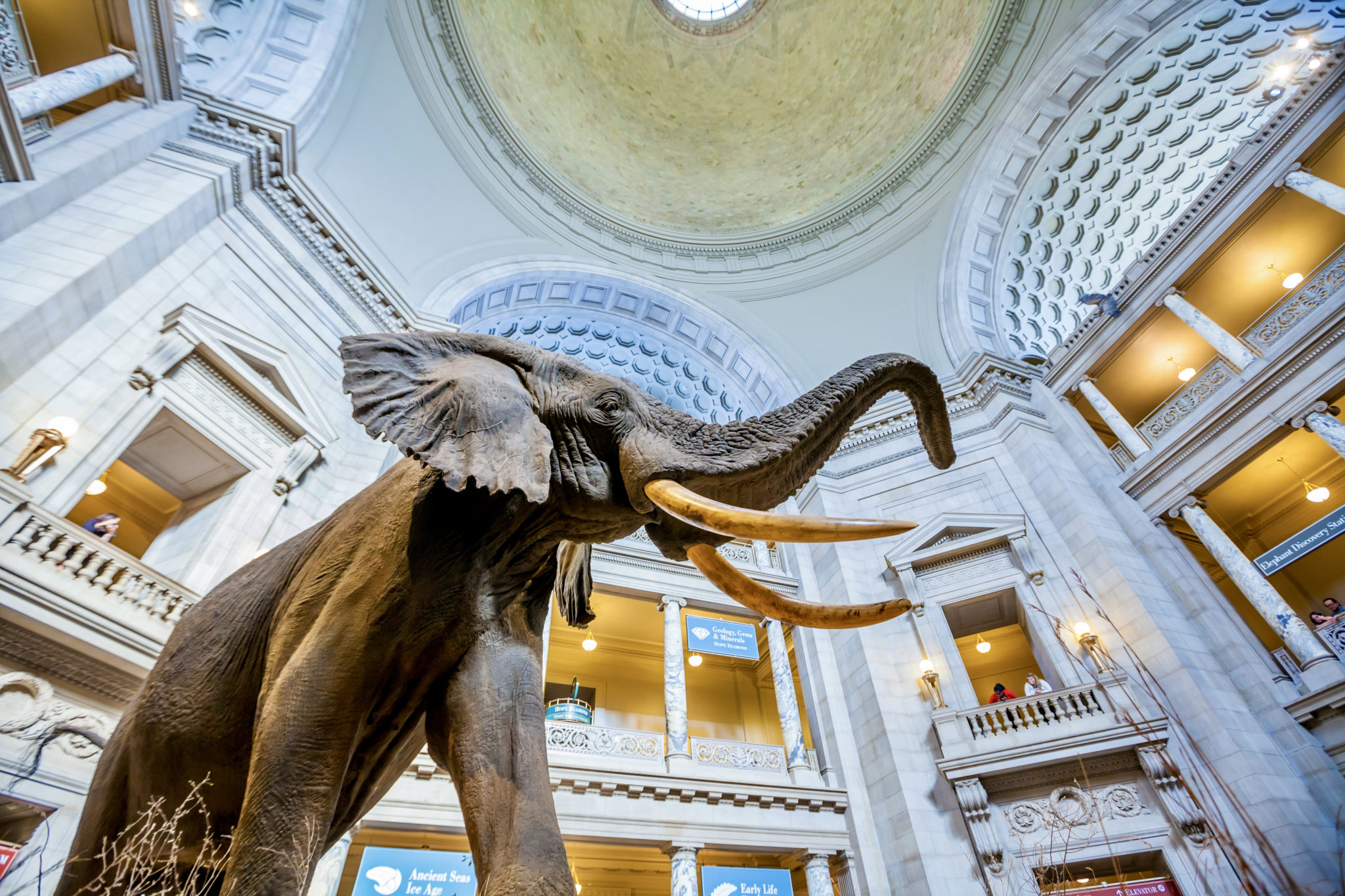 4. More Museums
While you're on the National Mall, you can visit another of DC's vaunted museums. I gave you 5 options above and you can visit one of those. But I also wanted to put a plug in for the National Museum of Natural History.
This massive two story museum is beloved by children, science lovers, and wannabe paleontologists. It boasts the largest natural history collection in the world.
There are over 124 million objects and artifacts. Highlights are the Hall of Human Origins, Sant Ocean Hall, Live Butterfly Pavilion, Last American Dinosaurs exhibit, and a Live Insect Zoo.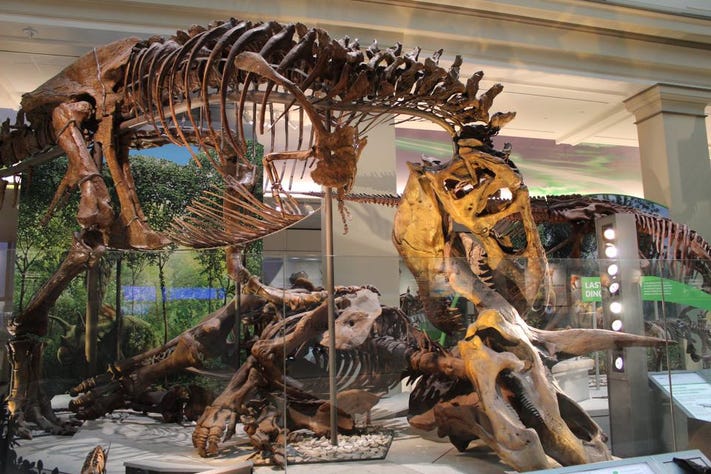 The most famous exhibit is the 46 karat Hope Diamond. Its brilliant blue sparkle caught the eyes of Louis XIV and Marie Antoinette before disappearing during the French Revolution.
The museum is so large and fascinating it could take all day to visit. Click here if you'd like to take a 2 hour guided tour of this fine museum.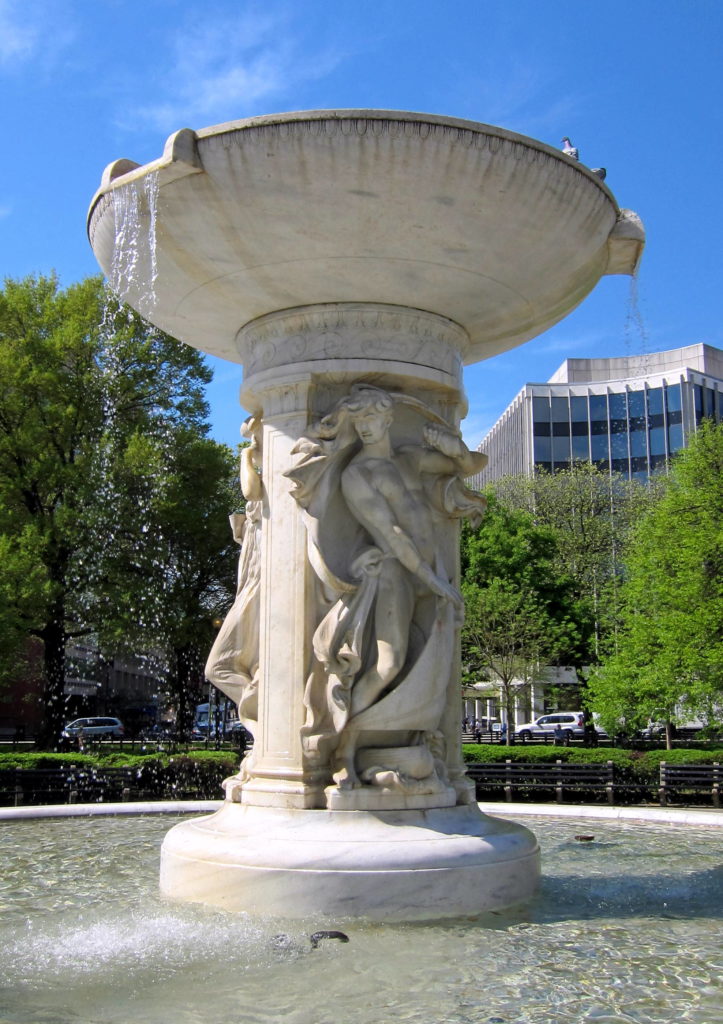 5. Dupont Circle
Finish off your second day in Washington D.C. in Dupont Circle. The cosmopolitan neighborhood is home to art museums, shops, and galleries, especially on the buzzing 14th Street.
Dupont Circle is the heart of Washington, D.C.'s nightlife and a great place for restaurants. In the middle is a majestic fountain by sculptor Daniel Chester French.
As you stroll through the neighborhood, admire the row homes, walk down Embassy Row, or pop into one of the many bookstores.
If it's not too late, visit the brilliant Phillips Collection. It's one of the world's best small museums.
Founded in 1921, the museum is housed in a Georgian Revival house. It was once the family home of the museum's founder, Duncan Phillips.
The Phillips boasts one of the best small collections you'll ever see, with almost 6,000 works. The museum's prize possession is Renoir's Luncheon at the Boating Party.
But the Phillips also holds Impressionist, Post-Impressionist, and Modern works. You'll find paintings by Van Gogh, Cezanne, Morisot, Bonnard, Utrillo, O'Keefe, and Picasso. And there's a magnificent room full of the works of Mark Rothko.
Another museum to visit, or at least admire its exterior, is the Heurich House Museum. It's also known as the Brewmaster's Castle.
The 19th century mansion was built for Christian Heurich, whose brewery was once the largest in D.C .and a household name. It's the city's best preserved example of Ricardian Romanesque architecture, with stunning interiors.
When you're done, have dinner at Pearl Dive Oyster Palace (seafood), Le Diplomat (French), or
Or head to the Adam's Morgan neighborhood, where you can enjoy a lively food scene and sample a global cuisine. Try The Grill from Ipanema, or Letena Ethiopian Restaurant.
Tips For Visiting Washington D.C.
1. How To Get Around Washington D.C.
Washington's subway system, the Metro, is excellent and easy to use. It covers a significant portion of the city and close-in suburbs, making it easy to travel to most major attractions.
For real efficiency, you can also visit D.C.'s landmarks with a hop on hop off bus tour. There's a lot of walking in D.C., so this option will give your feet a break.
You can also get around on a guided Segway tour, a guided bike tour, or hop in a van for a guided moonlight tour.
2. When To Visit Washington D.C.
D.C.'s parks and green spaces make spring the top season for tourists. The city's famed Japanese cherry trees are a draw in and of themselves.
The Cherry Blossom Festival is an annual event. It's held to coincide with the spectacular clouds of pink blossoms surrounding the Tidal Basin. The peak is in March or April.
Autumn in this tree-filled city gives spring some worthy competition. The weather is mild in the fall, typically between 60-80 degrees. October is the best month. Here's my guide to the best fall foliage in and around D.C.
D.C. summers can be brutally hot and humid. But the high temps also mean low hotel rates and fewer crowds at popular attractions.
I don't mind D.C. in winter. The weather can be unpredictable, of course, dreary and gray. But if you have your eye on the city's museums and other indoor destinations, it's a good time to visit to avoid crowds.
3. Seeing the Monuments
Though I've given you a 2 day itinerary for D.C., you can actually visit the monuments and memorials at any time of the day. The ones on the National Mall are open 24 hours a day.
If you've been busy with museums during the day, you can even take a nighttime trolley tour. You can also book a full day tour to see the national monuments.
The best views are from the Lincoln Memorial looking east, the Washington Monument, and the U.S. Capitol.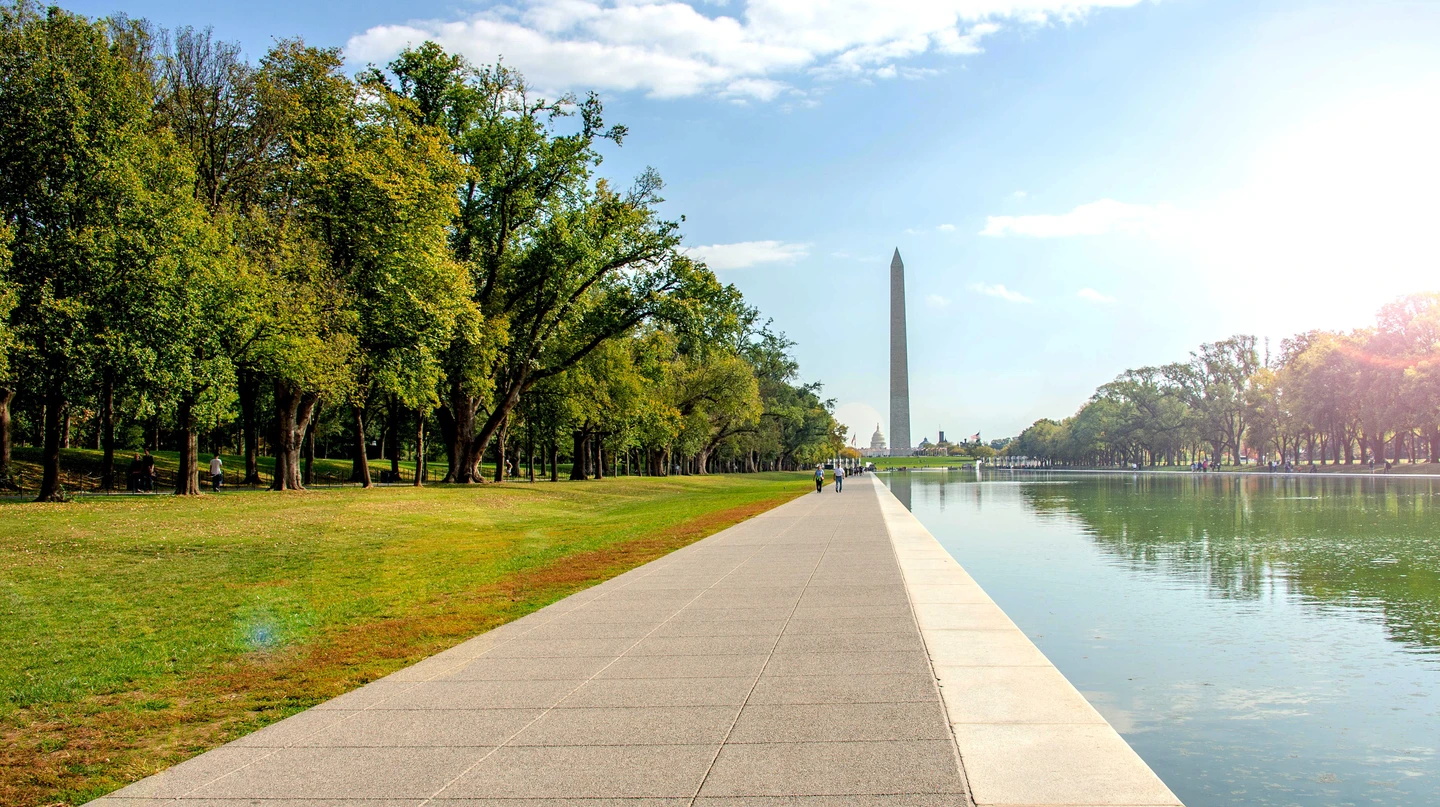 4. Where To Stay in Washington D.C.
Where you should stay in D.C. depends on your personal preference. Because D.C. has a great metro system, you can stay off center and quickly get to the main attractions.
If you want to stay near the National Mall and the Smithsonian museums, try the Mandarin Oriental, the Riggs Washington DC, or Hyatt Place.
If you want to stay in Georgetown, there are some really excellent options. You could book at the Fairmont Washington D.C., Rosewood, or the Graham Georgetown.
If you want to stay in the Dupont Circle area, check out the Dupont Circle Hotel or the Royal Sonesta.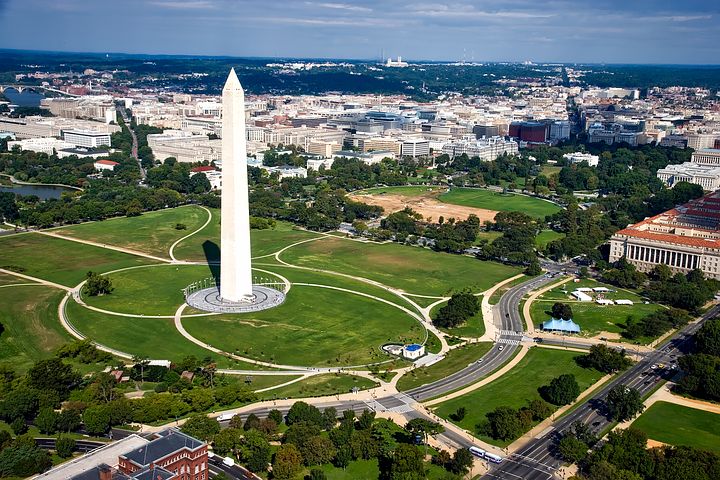 If you want to stay downtown, the Willard InterContinental is a classic choice. The Willard is home to the "Oval Office bar," Round Robin Bar. The Willard is also D.C.'s prime location for afternoon tea.
More Time In Washinton D.C.?
If you have more than 2 days in Washington D.C., you can check off more of the bucket list items I've described above.
Alexandria Virgina
I recommend a visit to Alexandria Virginia. The beautiful old town offers a step back into America's Colonial days and you can admire the cobbled streets and clapboard houses.
Stroll down King Street and indulge at one of its many eateries. Stop into historic Christ Church, where George Washington worshipped. And shop for arts and crafts at the cool Torpedo Factory.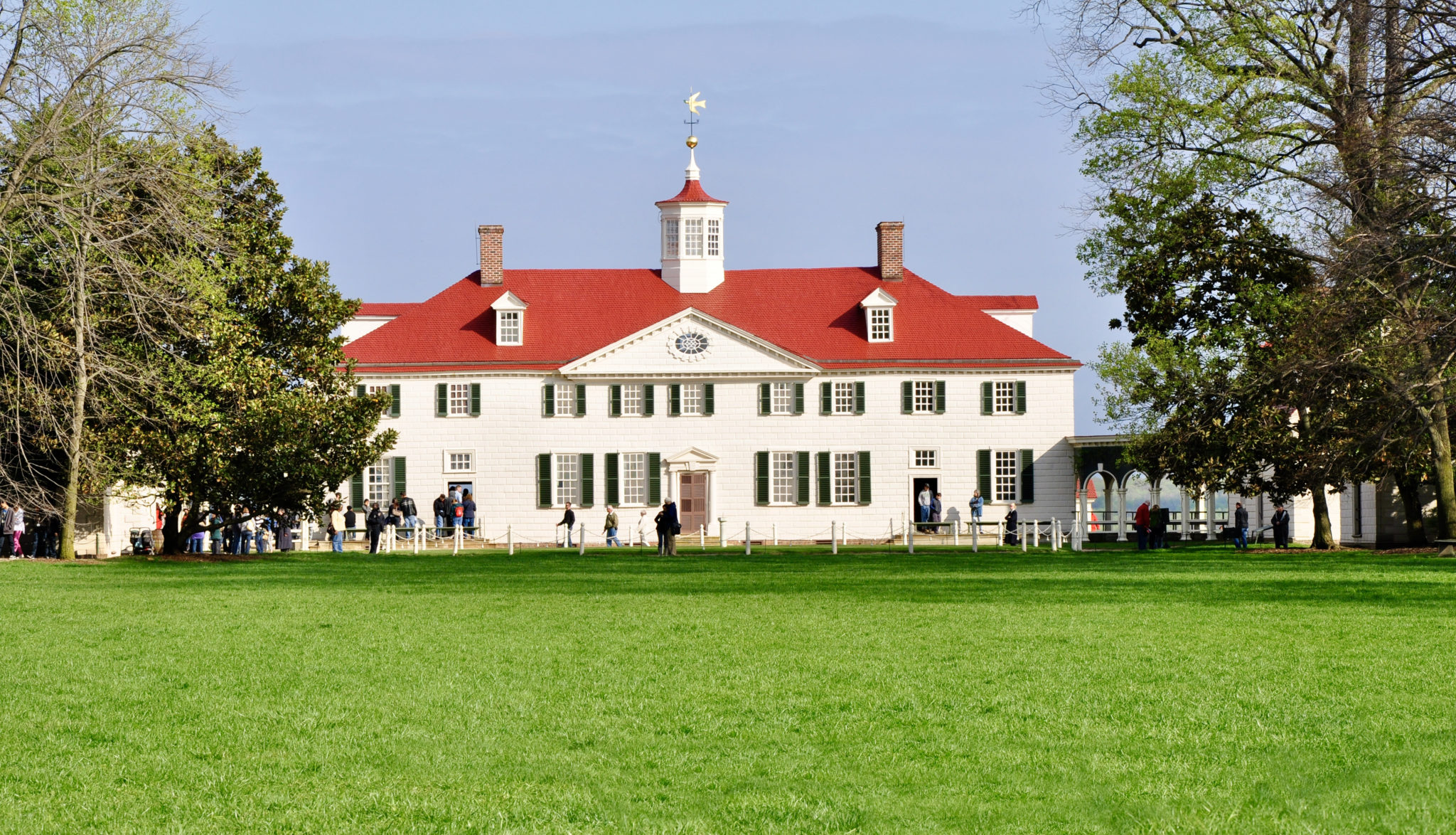 Mount Vernon
Just a 17 minute drive from Alexandria is George and Martha Washington's historic plantation home, Mount Vernon. When he wasn't politicking, Washington considered himself a farmer.
Click here for a guided tour of both Alexandria and Mount Vernon.
I hope you've enjoyed my 2 days in Washington D.C. itinerary. You may enjoy these other U.S. travel itineraries:
If you'd like to spend a weekend Washington D.C., pin it for later.