Looking for the top attractions and best things to do and see in Vicenza Italy. Vicenza? That's a great idea. Vicenza is a fantastic and underrated UNESCO-listed city, where you can take a Palladian journey.
Vicenza was the crucible of the celebrated Andrea Palladio. Palladio was one of the world's greatest architects. Palladio created elegant buildings.
With their graceful proportions, they looked like Greek temples. He turned Vicenza into a "real museum, open to everyone."
If you're an architecture geek, Vicenza will appeal. While other Italian cities, like Florence, are known for their Italian art, Vicenza is synonymous with its Renaissance architecture.
The city is variously known as the "Pearl of the Renaissance," the "Gold City," and the "City of Palladio."
In 1994, the entire city of Vicenza became a designated UNESCO World Heritage Site The designed was intended to preserve Palladio's palaces and villas, which are the top attractions in Vicenza and the surrounding area.
But Vicenza isn't exclusively for architecture buffs. The city is lovely in and of itself. Vicenza is one of Italy's most beautiful towns.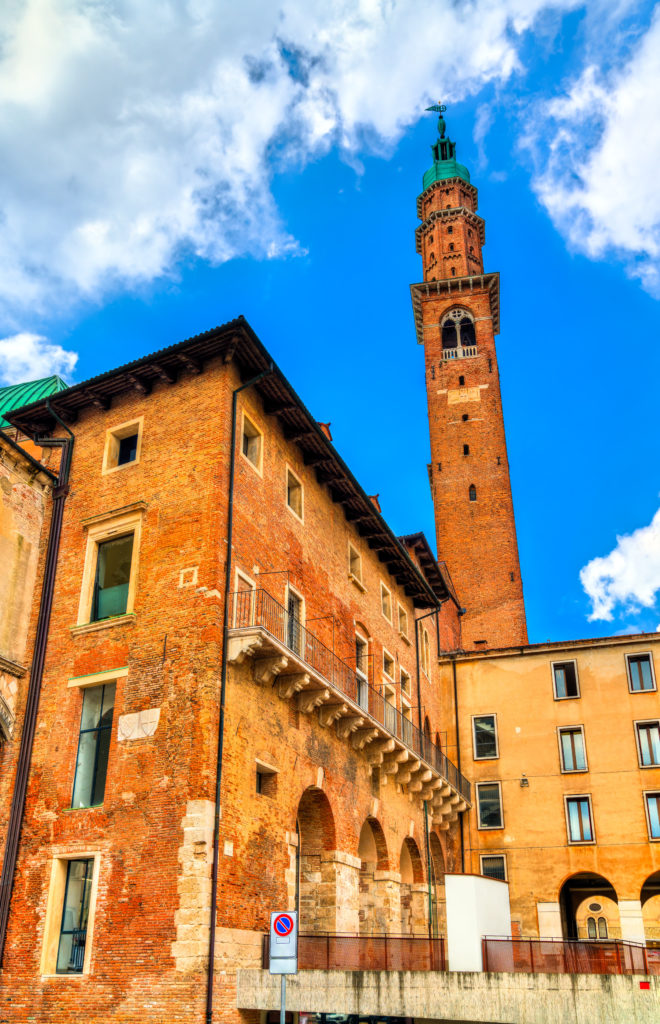 Vicenza's streets are a dense jumble of creamy pastelbuildings, small canals, quaint churches, and cobbled alleys.
Vicenza (vih-CHEN-zah) is midway between the travel magnets of Venice and Verona. The town is an easy day trip from either city.
Vicenza is one of Italy's lesser known UNESCO sites. So it's a rare hidden gem in Northern Italy where you can escape the crowds.
Who Is Andrea Palladio?
Andrea Palladio was one of the greatest architects of the 16th century Italian Renaissance. He gave us the Palladian style, an almost timeless style of architecture. Palladio was a native son of Vicenza (though he was born in Padua).
Palladio's real name was Andrea di Pietro della Gondola. But one of his first patrons gifted him the nickname of Palladio, an agreeable allusion to Pallas Athena, Greek goddess of wisdom and the arts.
Palladio was the first influential Renaissance architect. Palladio prized clarity, symmetry, order, and Greco-Roman architectural principles.
His impact on architecture was of biblical proportions, especially in Great Britain and Colonial America.
A young Palladio apprenticed as a stone cutter and sculptor. He got his start with his proposal to redo Vicenza's dilapidated Gothic palace of justice in the Neo-Greek style.
That established Palladio as Vicenza's favorite architect. The rest of Palladio's career was a one man construction boom, in which Palladio made Vicenza and the surrounding area his playground.
Palladio may not be a household name for many Americans. But his 1570 treatise, The Four Books on Architecture, catapulted him to international fame, including in the United States. Thomas Jefferson referred to Palladio's writings as "his architectural bible."
In 1994, UNESCO inscribed Palladio's work on the World Heritage List as "The city of Vicenza and the Palladian villas of the Veneto." Seeing the outlying villas requires a car and more time. But there are two within walking distance and I discuss them below.
20 Top Attractions in Vicenza
Here's my list of the best things to do and see in pretty Vicenza. You can walk in the footsteps of Palladio and see some of Italy's best hidden gems. You might want to book a 2.5 hour walking tour of Palladio's masterpieces or a 1.5 hour walking tour with a local.
Palladio's stunning creations are undeniably Vicenza's major draw. But there are also some lovely churches and parks as well.
1. Corso Andrea Palladio
The Corso Andrea Palladio is Vicenza's pedestrianized main street that pays homage to Palladio. It's the main streets in the historic old town, brimming with magnificent buildings.
Along this street, you can find a steady string of Renaissance palaces and Palladian architecture.
The most notable structures include the Palazzo del Comune, Palazzo Da Schio, Palazzo Boninand the Palazzo Zileri Dal Verme. The street also contains a great selection of shops and restaurants and is one of the main retail areas in Vicenza.
2. Piazza dei Signori
The heart of medieval Vicenza is the Piazza dei Signori (Square of the Lords), one of Italy's best urban squares.
This is where the Chief Magistrate and Captain lived when the Republic of Venice ruled over Vicenza from 1404 to 1797. (This is why there is so much Venetian art in Vicenza.)
READ: Nutshell History of Venice
The piazza is on the site of a former Roman forum. Now, the bustling stone paved square is home to myriad cafes, bars, a centuries old weekly market, flower markets, fancy gelato shops, and jewelry stores.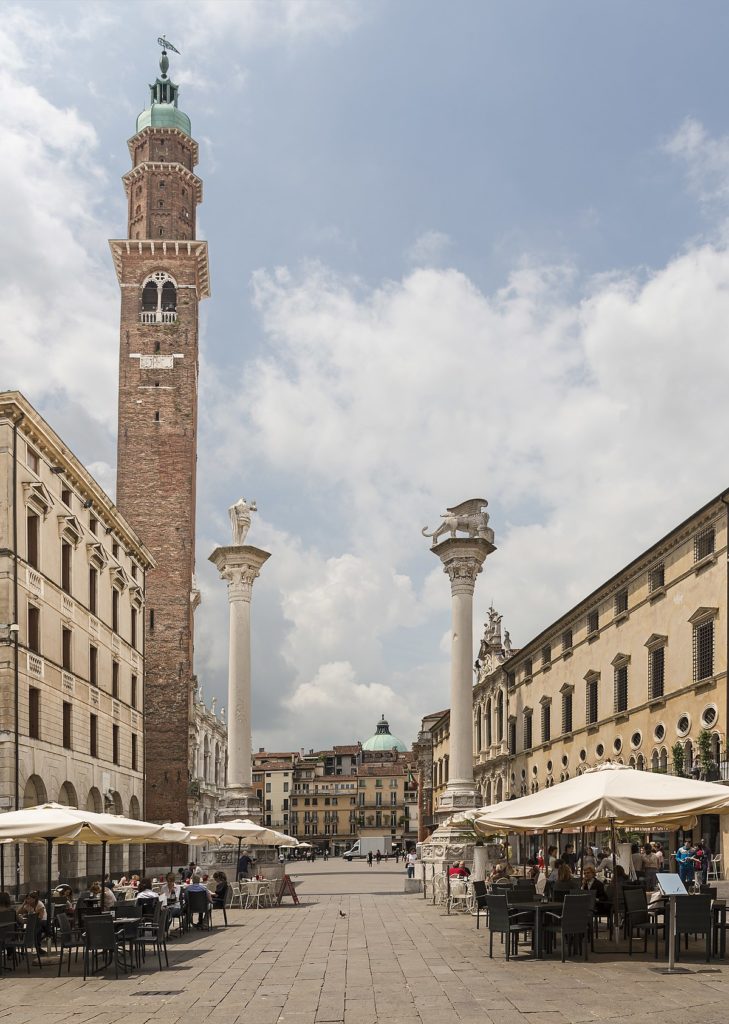 The square is dominated by the slightly leaning Bissara clock tower, dating from the 14th century. There are two towering columns, one with a winged lion (the symbol of Venice) and another with a version of Christ the Redeemer.
In the center of the piazza is the landmark Basilica Palladiana and its bell tower. Other important buildings flanking the square include the Loggia del Capitaniato and the Chiesa di San Michele detta dei Servi.
Apart from the buildings, you'll see many other beautiful palazzos on the square, with facades in pretty shades of ochre, amber, and rust.
3. Basilica Palladiana
The Basilica Palladianna is one of Palladio's masterpieces. It's the top attraction and one of the best things to do in Vicenza.
The 16th century basilica has a regal facade. It was a stately double row of marble columns, which march gracefully down the piazza. The basilica is really akin to a two story loggia.
It boasts one of Palladio's greatest inventions, known today as the "Palladian Window." In architecture, a Paladian Window is three part window composed of a large, arched central section flanked by two narrower, shorter sections with square tops.
Walking through the open arches gives you a chance to admire the architecture up close.
Inside the first floor of the basilica is a huge open room with a high vaulted wooden ceiling and many arched windows.
The crowning glory of the Basilica Palladiana is its outdoor terrace. Surrounding the building's hull-shaped rooftop, the terrace is a great place to take in the beauty of Vicenza and the surrounding Berico Hills from a birds-eye view.
The basilica also houses a museum with a fantastic collection of relics and artifacts, the Museo del Gioiello. It's lauded as the only jewelry museum in Italy.
The museum has a beautiful exhibition space, with rotating exhibitions. The museum has helped cement Vicenza's reputation as a hotspot for jewelry and goldsmiths.
4. Monument of Andrea Palladio
A marble statue of a Palladio sits next to the west side of the Basilica Palladiana. It's rendered in a classical style, showing a rather pensive Palladio.
There are cafes next to the monument. It's a great place to stop for a coffee or cocktail. You can eat and drink in the company of Palladio himself, while simultaneously admiring his monuments.
4. Bisarra Clock Tower
Dominating the Piazza dei Signoria is the 14th century Bissara clock tower, called Torre Bissara. It leans slightly, like the Leaning Tower of Pisa, but is still functional.
The skinny tower is 82 meters high and sits on a Roman foundation. It's definitely the tallest structure in Vicenza. The tower has a bright blue clock on one side. It's topped with a bronze dome, now green, and weather vane.
You can't climb the tower itself. But you can inspect it from the terrace of the basilica or gaze at it from Mount Berico.
5. Palazzo del Capitaniato
This beautiful Palladio-designed palace is also known as Loggia del Capitanio. The palace served as the residence of the Venetian governor. Begun in 1571, it was one of Palladio's last works. It now serves as the Town Hall.
It's a grand structure. The facade is divided by four monumental granite columns and three large arches.
The building is made of red bricks, lavishly adorned with statues and bas-reliefs. In contrast to unornamented facade of the basilica, the loggia is richly decorated with carvings and contrasting colors.
On the noble floor is the Sala Bernarda, decorated with 16th century frescoes. The building was decorated by Lorenzo Rubini and has been recently renovated.
6. Palazzo Thiene
Another Palladio building of note is Palazzo Thiene (now a bank). This is an early work by Palladio.
It has rusticated levels, which are reminiscent of the medieval palazzi like Medici Palaces in Florence. The upper level are more refined. The pilasters and blocking of the windows are clearly inspired by Roman buildings.
Inside, however, you'll find perhaps the most exuberant building in Vicenza. The rotunda has a lavish ceiling completed by Bernardino India.
7. Palazzo Chiericati | Museo Civico
The Chiericanti Palace is a top attraction in Vicenza located on the Corso Andrea Palladio. The palace is flat out striking.
It's a perfectly composed two story building with two levels of colonades. The facade has both open space (on the lower level) and solid space with windows (on the upper level). Stucco sculptures adorn the roof.
Housed within the palace is another of Vicenza's top attractions, the Museo Civica. Founded in 1855, the Civic Museum of Vicenza contains a vast collection of artifacts, archaeological finds, altarpieces, and artwork from the region.
The ground floor is used for temporary exhibitions. This is where you'll find the Sala dal Firmamento, Salon of the Skies. It has racy ceiling fresco of Diana and Helios by Domenico Brusasorci.
Highlights in the upstairs galleries include Anthony Van Dyck's allegorical The Four Ages of Man and Alessandro Maganza's Portrait of Maddalena Campiglia.
You'll also find a selection of paintings from renowned Venetian Renaissance artists such as Tintoretto, Tiepolo, and Veronese.
8. Gallerie d'Italia in the Palazzo Leoni Montanari
This magnificent palazzo houses the art collection of Gallerie d'Italia, a museum with branches in Milan and Naples.
The underrated collection features everything from Ancient Greek pottery to 18th century Venetian masterpieces by stars like Canaletto, Pietro Longhi, and Francesco Guardi. In fact, there's an entire room of paintings by Longhi. The museum also has Western Europe's largest collection of Russian religious icons.
Two sculptures that caught my eye were Venus by Angelo Marinali and Agostino Fasolato's massive pyramidal sculpture The Fall of the Rebel Angels.
The palace itself is simply stunning. In contrast to the rest of Vicenza, it's unabashedly Baroque in style. You'll gaze in awe at ornate gilded ceilings, frescoed walls, cherub-cluttered ceilings, and stuccoed reliefs. Click here for a complete description of the palazzo.
9. Olympic Theater
Behind a walled garden lies the Teatro Olympico, or Olympic Theater. It's one of the best things to do and see in Vicenza.
Inaugurated in 1585, this unique Renaissance theater has somehow survived for four centuries. Palladio drew inspiration from the Roman theater in Orange, a landmark in southern France.
The theater was commissioned for the performance of classical dramas. Palladio began building in 1580. But he died that same year. The theater was completed after his death by Vincenzo Scamozzi.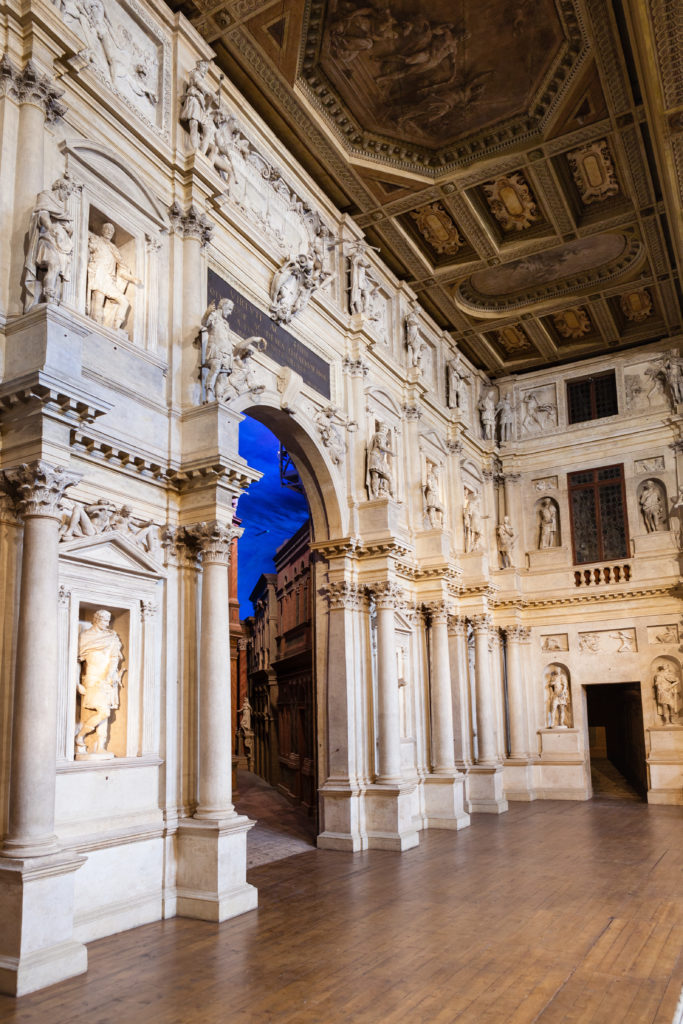 The small theater is a must visit UNESCO site. This architectural marvel is one of only three Renaissance theaters still standing in Italy. To my mind, it's the best thing to do in Vicenza.
The theater site consists of three rooms. The first two rooms were frescoed by Francesco Maffei in 1647 using Greek themes. The third room is the actual theater.
The theater recreates an ancient Roman amphitheater as an indoor Renaissance playhouse. The interior is made entirely of stone, stucco and wood.
The materials create the effect of white polished marble. The curved auditorium has an intricate colonnade adorned with niched statuary and a balustrade topped with more statues.
The overall effect is more palace than stage. There are 1,000 seats, rising in tiers, topped with statues of classical gods and heroes. Above is a cloudy blue sky frescoed on the ceiling.
The theater's original stage sets are still in situ. It's an optical illusion, meant to represent the city of Thebes. Framed by a triumphal arch, five streets recede at different angles. The streets depict an idealized city of Thebes.
Legend holds that Napoleon visited Teatro Olimpico in the early 1800s intending to pillage the sculptures. Fortunately, when he learned that the sculptures were plaster, not marble, he turned up his nose and left them behind.
The theater is still used for concerts and classical plays in spring and fall. On a visit, you can see a sound and light show.
The Teatro Olimpico has a small garden filled with 19th century statues. The garden is a lovely place to sit in for a few minutes on a warm day.
10. Vicenza Cathedral
Vicenza Cathedral was completed in the 16th century. The original cupola, and likely the north entrance to the cathedral, were designed by Palladio.
Much of the cathedral was destroyed in WWII bombing. It was rebuilt, so it looks somewhat new with a brick facade. But the beautiful red and white marble Gothic facade survived the bombing.
The cathedral contains some beautiful chapels, including one that features a Bartolomeo Montagna madonna.
11. La Rotunda | Villa Almerico Capra
The 16th century La Rotunda is Palladio's most famous home. It was once a trophy house and is now a sacred pilgrimage destination.
Set in elaborate and beautiful grounds, La Rotonda is located south of Vicenza, about 15 minutes from the historic center.
It's a 10 minute bus ride from the central station. You can also bike or walk there. No matter how you go, it's important to see this Vicenza attraction.
La Rotunda is the most copied house in history. The villa is renowned for its harmonious design and symmetry.
Among others, La Rotunda inspired Jefferson's Monticello in Virginia, the Jefferson Memorial on the National Mall, and Frank Lloyd Wright's Unity Church.
The villa is radically simple in design. It's essentially a cubic domed box, reminiscent of a classical temple. La Rotunda has four equal sides with identical porticos, reminiscent of the Pantheon in Rome. In the center is a symmetrical dome. You approach via a series of steps.
Once inside, you'll be amazed by the fresco paintings by Italian painters Alessandro, Giovanni Battista Maganza, and Canera.
Click here for information on tickets and tours.
12. Villa Valmarana ai Nani
Just minutes from La Rotunda is Villa Valmarana ai Nani, nicknamed the "Villa of Dwarves." You can visit both in one go, and you really should just to see the splendid interior.
Click here to pre-book a ticket to Valmarana. You can also book a guided tour of the villa and the Tiepolo frescos.
A footpath connects the two villas. Villa Valmarana is a complex of three buildings, with gorgeous gardens.
The villa's name derives from a colorful local legend. A nobleman had a daughter born a dwarf. Her father surrounded her with dwarf servants, so she wouldn't realize she was small. But one day she saw a handsome prince.
Realizing she was a dwarf, she killed herself in anguish. Out of sheer grief, her servants turned to stone. Hence, the 17 stubby stone statues of dwarfs lining the villa walls.
The villa was designed by the Renaissance architect Franceasco Muttoni. It's known for its superb 18th century frescos by Giambattista Tiepolo and his son Giandomenico Tiepolo.
The frescos scenes from the Trojan War, classical myths, and Italian lyrical poems. You'll feel like you're in a top secret private art gallery.
The villa is still owned and operated by the Valmarana family. For beautiful views, check out the terrace from the villa cafe.
The surrounding countryside has 50 spectacular country villas, many designed by Palladio (Pisani, Malinverni, Piovne, Poiana, Caldogno, and Saraceno). It is these villas in which Palladio reached his pinnacle, marrying mathematics and art.
13. Palladio Museum
If you're fascinated with Palladio's works and legacy, you should visit the well-curated Palladio Museum. It's housed in the Palladio-designed Palazzo Barbarano. The museum is located in the same complex and square as the Basilica Palladiana.
The palace was one of Palladio's more unusual buildings. It was built between 1570-75.
You can explore the frescoed halls of this modern museum, which is a place to think deeply about architecture. The artifacts on display include copies of Palladio's celebrated Quattro libri dell'architettura (Four Books of Architecture), his drawings, and scale and digital models of his most famous palaces and villas.
Paladdio's Four Books is considered one of the best "how to" books of all time. There's also videos of experts explaining why Palladio was an architectural genius.
14. Church of Santa Corona
Just a block from the Olympic Theater, this 13th century church was partially designed by the legendary Palladio. He is actually buried in the church himself.
This "Church of the Holy Crown" was built to house a thorn from the Crown of Thorns, given to the Bishop of Vicenza by the French King Louis IX. (It was later moved for safekeeping to the Diocesan Museum.) Created in a Gothic style, the church has a series of brick towers, chapels and front facade.
Whilst the exterior is not overly impressive, the interior more to offer. It features the Valmarana Chapel, reputedly designed by Palladio.
There are religious scenes by famous Italian masters and an ornate altar made of inlaid marble and mother-of-pearl. The most significant work is an enormous and fine canvas by Giovanni Bellini in the left nave, Baptism of Christ. Also look for Veronese's Adoration of the Magi.
15. Santuario della Madonna di Monte Berico
Popular legend holds that in 1426, the Virgin Mary appeared to a woman named Vicenza Pazini on Monte Berico, a hill overlooking Vicenza.
Mary told Vicenza that if she built a church on this site, the diseases plaguing the town would halt.
Vicenza worked tirelessly to build the church that stands today. And, as promised, the diseases miraculously vanished.
After that, pilgrims arrived in droves to worship at this church, called the Sanctuary of Mount Berico.
The church melds both Gothic and Baroque architectural styles. The church is home to many artworks, including a famous painting by Venetian Renaissance artist Paolo Veronese, The Dinner at St. Gregorio. The painting depicts a rather raucous version of the The Last Supper.
From the Piazzale della Vittoria in front of the church, you have panoramic views of the rooftops of Vicenza and the surrounding countryside.
To visit, you can walk up via the porticoes like the pilgrims of old. Or you can drive up to the church entrance.
READ: All The Last Supper Paintings of Renaissance Italy
16. San Michele Bridge
Just near the Basilica is one of the most beautiful bridges in the city, the Ponte San Michele. You can see the Retrone River flowing and spot beautiful houses with tumbling flowers.
The stone bridge was built in 1621-23, designed by the architects who worked on the Rialto Bridge in Venice. The bridge is covered with pebbles and provides great photo opportunities.
You should walk over the bridge itself. But also view it from the adjacent Ponte San Paolo.
17. Roman Cryptoportico
If you're a ruin luster, Vicenza also boasts some Roman ruins. Buried beneath the city's duomo is an abandoned Roman Cryptoportico, dating from between 1 BC and 1 AD.
In ancient Rome, a cryptoportico was covered passageway or corridor used by nobles to escape the weather (or the pestering common folk). Translated, the word literally means "hidden porch."
A cryptoportico was usually at the ground or basement level of a villa or piazza. There are similar cryptoporticos in the Roman Forum, Diocletian's Palace in Split Croatia, and in Pompeii.
Vicenza's cryptoportico was only discovered in 1954, 20 feet underground. It has the distinction of being the only private cryptoportico unearthed thus far in northern Italy.
The cryptoportico has three semi subterranean passages in a U shape, located below what was likely a wealthy home. Tiny fragments of the Pompeian red paint that once decorated the walls are still visible. You can also see mosaics and terracotta flooring.
The cryptoportico is open to the public by reservation and by a guided free tour. on the second Sunday of the month. Be forewarned, it's chilly down there.
18. Parco Querini
Need to unwind? Head to Park Querini on the north end of the old town.
It's a picturesque green space, filled with animals like beavers, bunnies, and ducks. You can walking along the paths. Or picnic on the grass.
In the center of the pond is a pond with an island, which you can read via a footbridge. There's also a photogenic classical temple.
19. Villa Malcontenta
A bit further afield from Vicenza (45 minutes) is another Palladio villa, officially known as Villa Foscari, but nicknamed La Malcontenta. It's a UNESCO-listed site and beautiful well-preserved jewel.
House & Garden Magazine called it "the most beautiful house in the world." It's only open 2 days per week, so check the website for times, entry fees, and how to get there.
According to legend, the mansion was called the "unhappy" villa because it was a "prison" for a noblewoman accused of infidelity by her jealous husband. More likely, it just suffered from the flooding of the River Brenta.
If you want to see Malcontenta and more of Palladio's UNESCO-listed villas, you can book a full day guided tour from Venice.
20. Day Trips From Vicenza
If you have more time in Vicenza, the city makes an excellent base for day tripping in northern Italy. From Vicenza, you can easily day trip to Venice, Verona, Milan, Mantua, Padua, Bassano del Grappa, Bologna, or Trento.
Here are some of my articles on Venice, Verona, Milan, Mantua, and Padua:
Tips For Visiting Vicenza
There are few things you need to know when visiting Vicenza.
1. Opening Hours
First, the eating times are limited. The restaurants are only open for lunch between 12:00 pm to 2:00 pm.
Restaurants then close until 7:00 pm. Between that time, it's either a grocery store or McDonalds for food, so plan accordingly.
There is great shopping in Vicenza, especially on Corso Palladio. Vicenza is an excellent place to purchase gold jewelry, if you're looking for something unique.
2. How To Get Around Vicenza
There isn't much public transport in Vicenza either. And only a few taxis work at night. But, for the most part, you can walk to almost all of Vicenza's top attractions. Parts of the old town are also off limits to cars, so if you're driving keep that in mind.
When planning your itinerary, remember that the major sites in Vicenza are closed on Mondays. For more information and a map, pop in the Tourist Office next to the Olympic Theater at PIazza dei Signori 8.
3. How To Get To Vicenza
Now that I've (hopefully) persuaded you to see Vicenza's top attractions for yourself, how do you get there?
By Car
Vicenza is 47 miles from Venice. It's a 50 minute drive. From Verona to Vicenza, the distance is 32 miles. You can do the drive in about 40 minutes in normal traffic.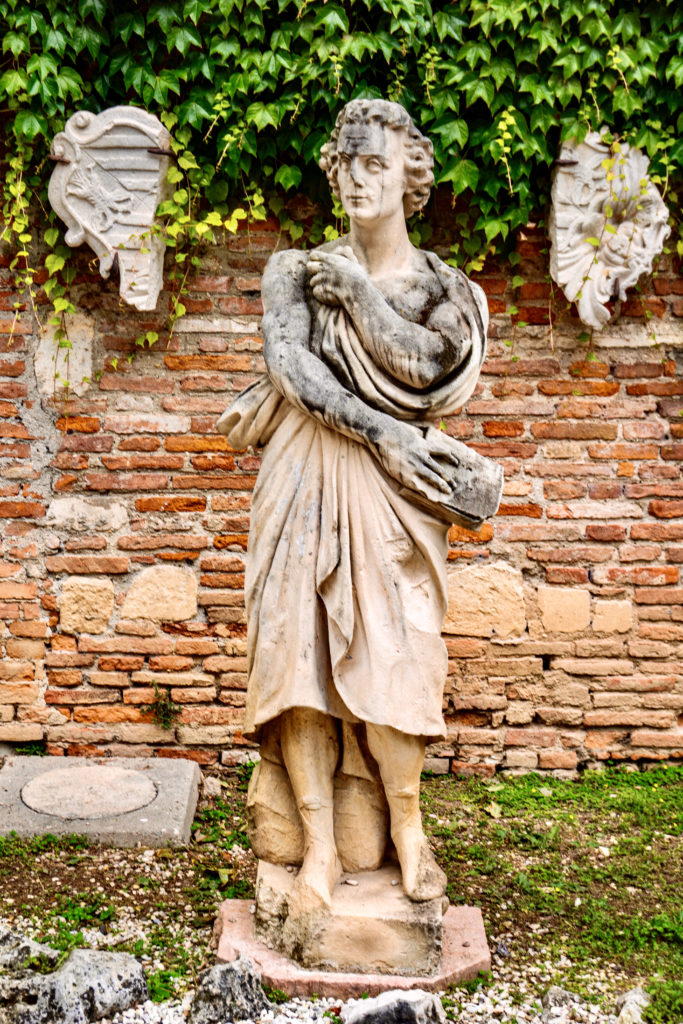 If you're day tripping or visiting from Milan, Vicenza is 128 miles away, with a drive of approximately 2 hours.
By Train
Vicenza's train station is on the main Milan-Venice train line. You can get direct trains to many towns and cities in the Veneto and Lombardy regions of Italy.
A fast train from Verona to Vicenza is a zippy 25 minutes. Regional train times vary. The relatively faster ones take between 33 and 39 minutes. There are multiple departures each day in both directions.
A fast train from Venice to Vicenza is 40 minutes. A faster regional train get syou from Venice to Vicenza in 45 minutes. There are numerous departures in both directions each day.
You can get from Milan to Vicenza by direct fast train in about 1:40, with multiple departures each day in both directions.
Click here to check the official website, Trenitalia, for times and fares.
Once you arrive via train in Vicenza, allow 12 minutes to walk from the train station to the Piazza dei Signori in the historic center.
4. Where To Stay In Vicenza
Vicenza is a small city (112,000+), so there's not much accommodation. The hotels are nothing special. But they are very inexpensive compared to nearby Venice.
There are several good options:
I hope you've enjoyed my guide to best things to do and see in Vicenza. You may enjoy these other Italy travel guides and resources:
If you'd like to visit Vicenza's top attractions, pin it for later.