Heading to Italy for the first time? To keep your trip humming along smoothly, you'll need some vital information and key tips for visiting Italy.
In this guide, I tell you everything you need to know about visiting Italy and what mistakes to avoid. I also give you tips about where you need advance reservations, tours, and passes.
Italy is one of my favorite countries, a special place and dream destination I could return to time and time again. Italy has Europe's richest and most ancient culture.
After all, Italy is the cradle of European civilization — founded by the Roman Empire and embellished by the Roman Catholic Church. Not to mention the pasta and gelato!
30+ Essential Tips for Visiting Italy
Here's what you need to know to plan your trip to Italy.
1. Know a Little Italian
One of the best tips for visiting Italy is to learn some basic words and phrases before you trip. English is fairly widely spoken. But you'll get off on a better foot and earn respect if you use a few common phrases.
Please — Porta favore
Thank you — Grazie
One espresso — un (OON) espresso
Hi/bye (informal) — Ciao
Good Morning — Buongiorno
Good evening — Buon sera
2. Learn More Italian
If you have time before your trip, learn a little more Italian. It will likely enhance your visit.
I use Duolingo to pick up some Italian or French. Download the app on your phone. You can practice in tiny manageable chunks. It will help you read menus, signs, and historic plaques.
3. When To Go To Italy
The best time to visit is shoulder season, spring or fall. May, September, and October are the best months weather wise.
I can say from experience that summer is dreadful and best avoided, unless you're headed to northern Italy (but not Venice). In the summer, Italy's extremely hot and extremely overrun with tourists.
I've recently visited Italy in late February. Aside from a few rain drops, it was pretty darn pleasant and I had museums and the main attractions in Rome mostly to myself. (Well, not the Sistine Chapel).
4. Most Italian Cities are Perfectly Walkable
Walking is decidedly my favorite way to get around when I travel. I'll only deviate from this approach if I'm somewhere very large, like Paris.
In Italy, you can walk basically everywhere. Even in Rome, I never used the metro and only took a cab once. Walking is also the best way to explore Italy's small cities and towns. You see more that way and can get happily lost meandering through atmospheric cobbled lanes.
5. Buses in Italy
If you're taking the bus in Italy, be forewarned. You'll need to validate your ticket or risk a fine.
You should pre-purchase a ticket at an electronic machine at the bus station or a "Tabacchi" shop. Don't rely on being able to buy a ticket once you're on the bus. The machines might not work.
6. Trains In Italy
Trains are an efficient way to get around Italy. You likely won't need a rail pass.
Most train travelers in Italy take relatively short rides on the Milan–Venice–Florence–Rome circuit. For these trips, it's cheaper to buy point-to-point train tickets than a rail pass.
You can buy tickets online here or at the ticket machines at the train stations. If you use a ticket window instead, be sure to get in the right (and likely slow moving) line. For a complete guide to taking trains in Italy click here.
READ: Day Trips From Florence By Train
When you buy a train ticket in Italy, it doesn't have a time or date on it. Before you board a train, you need to validate your ticket.
Claiming you forgot isn't a sufficient excuse to avoid a fine. The yellow validation machines are usually on the train platforms. And you can't buy your ticket on the train either.
Train travel isn't like air. You don't need to be there well in advance of departure, if you've already purchased your tickets and reserved your seat. The train won't be listed on the master departure board until about 20 minutes before it leaves.
7. Renting a Car is a Great Option
I am a huge fan of road trips by car. It gives you so much more freedom than a bus or tour would. And you don't have to stick to an inflexible schedule.
Plus, renting a car lets you explore off the beaten track destinations or under the radar villages that aren't accessible by public transportation. The small towns aren't car friendly though. So you'll want to park outside the town center or in a lot at the town entrance.
I usually use AutoEurope to rent cars. Make sure you rent a small car.
It'll help squeezing into medieval lanes or tight parking spots. If you can drive a manual stick shift, you'll find that rentals are very cheap.
Here's my complete guide to renting a car and driving in Europe.
If you need some Italy road trip inspiration, here are some of my road trip itineraries for Italy:
Just be sure to learn how your car goes into reverse before you leave the rental car lot. It's always different. Once, I had to google YouTube videos to figure out how to put a car in reverse.
You don't want a car in Rome, Venice, or Florence though. So if you're starting your trip in one of these cities, pick up the car when you leave. Be sure to have cash for tolls.
8. Wifi in Italy
You'll likely have decent wifi at any hotel or Air Bnb you stay at. There are a few free wifi hotspots.
But generally the public wifi is iffy or non-existant. if you want phone service to use your apps or search google, you should either buy a sim card on arrival or arrange service in advance with your cellular service.
9. Carry Cash
Credit cards are widely accepted at hotels, restaurants, and tourist attractions. But not everyone takes credit cards, especially for small purchases like a coffee or souvenir.
Carry cash at all times. That is, if you want a gelato. You may need it for the loo as well. Try to carry small bills. No one wants to make change for a 100 euro note.
10. Where To Stay in Italy?
Italy has plenty of beautiful 5 star hotels. But generally, in Italy's cities, I prefer to stay in an apartment or Air Bnb.
When you're doing urban sightseeing, it pretty much eats up the day. You won't have time to enjoy the facilities of a fancy hotel.
11. How Long To Stay in Venice?
Historic Venice is an overwhelming beautiful city. But it's also overwhelming crowded.
If you don't like crowds, you may just plan one day in Venice and base somewhere else, like Verona. Unless you're there off season, when the crowds ebb.
Last time I was in Venice, I stayed 7 days, I preferred it over my other slap dash visit.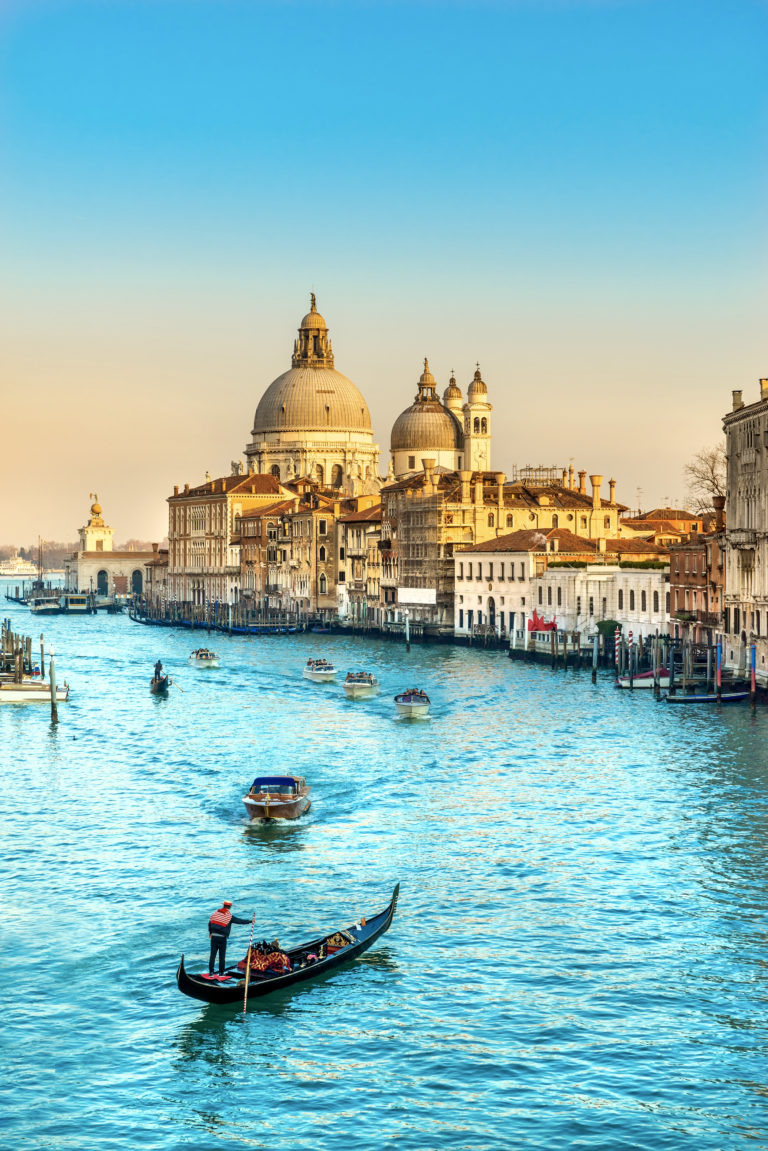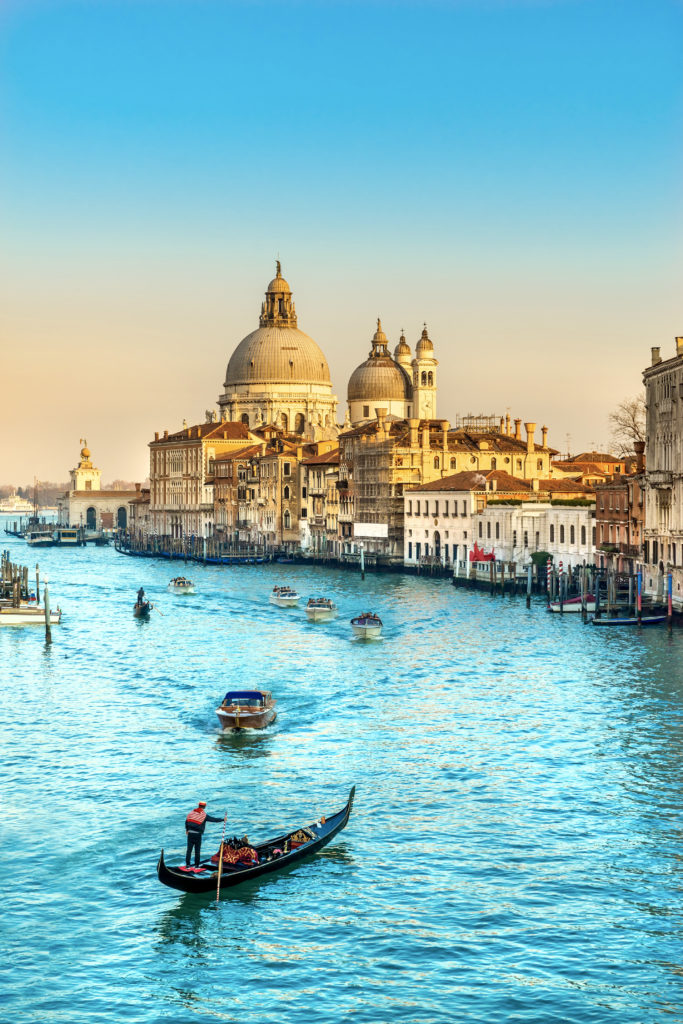 Also, like most popular tourist sites, it's best to avoid Venice in the summer. And unless you have deep pockets, don't bother with an extremely expensive gondola ride.
Instead, take the traghetto across the Grand Canal for 2 euros. Or take a vapporetto ride and see all the must see sites along the Grand Canal.
Here are some of my Venice guides you might find useful.
12. Should You Take A Gondola Ride?
Should you go on a gondola ride? Is a gondola ride is really worth it?
It depends. It's a very touristy thing to do, but then Venice is a touristy place in general.
I've been to Venice and taken a gondola ride at night, which I confess seemed pretty darn romantic. A gondola ride gives you a different perspective on Venice.
It allows you to experience Venice from its waterways and no one is blocking your view. It's a bucket list experience in Italy.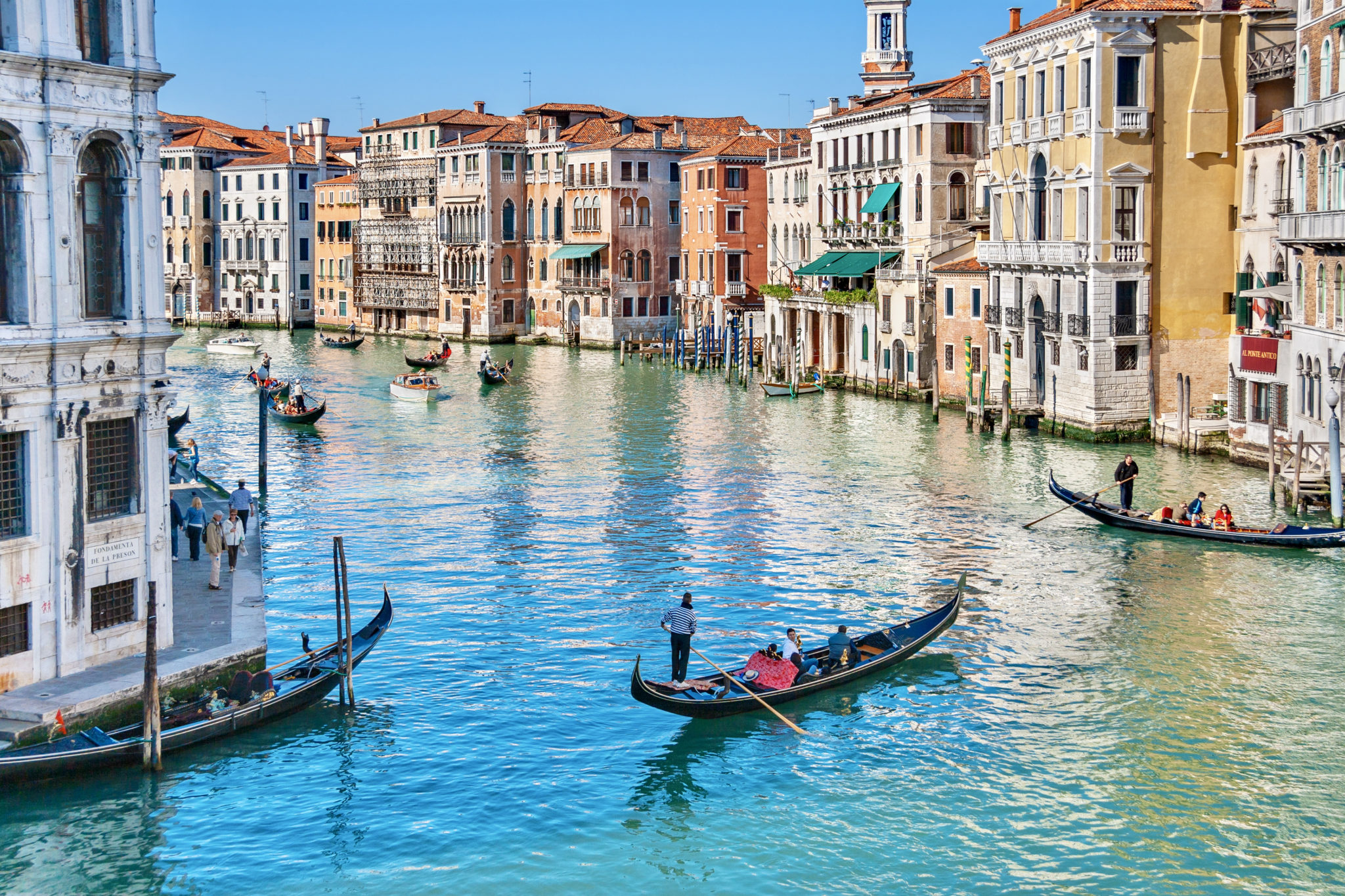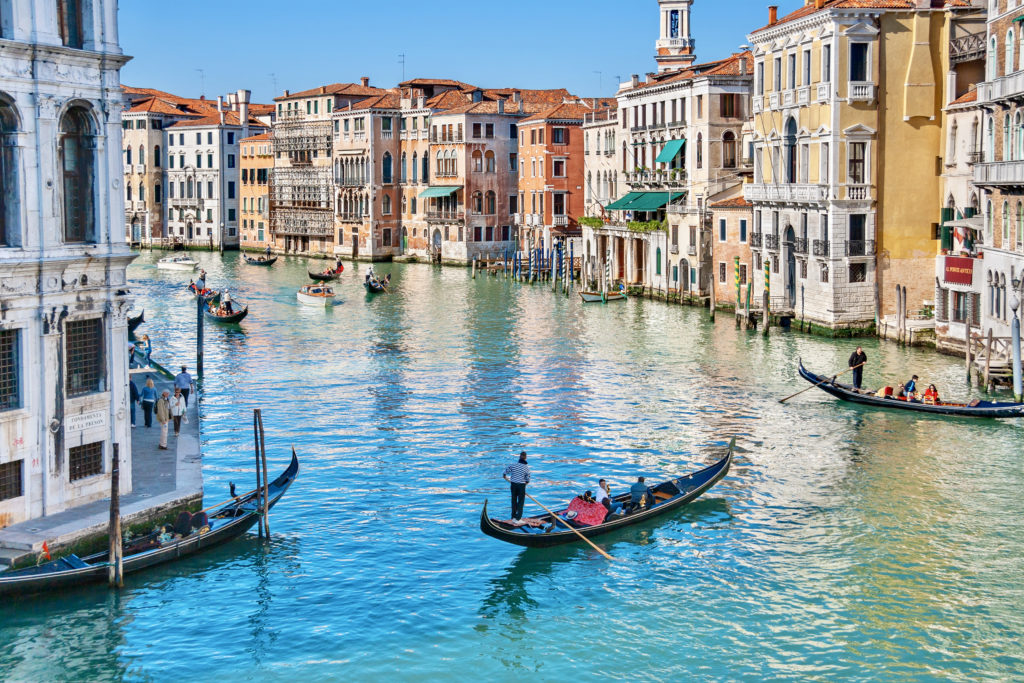 I've also been to Venice and skipped the gondola ride. While undeniably a unique experience, gondolas are very expensive. So whether you take a gondola ride may depend on your budget.
Here are some of the sample gondola rides you can go on:
13. How Long To Stay in Rome?
I can't overemphasize how much there is to do in Rome. Rome is overflowing with archaeological sites, must see landmarks, exquisite churches, and art at every turn both inside and outside. I was recently there for a full week and still felt like I missed too much.
If you really want to see Rome's hidden gems and newly opened archaeological sites, you need more than 1-2 hectic days dashing through the Colosseum, Roman Forum, and the Vatican Museums.
But if you have plans to road trip in Tuscany or Umbria, a few days may be all you have.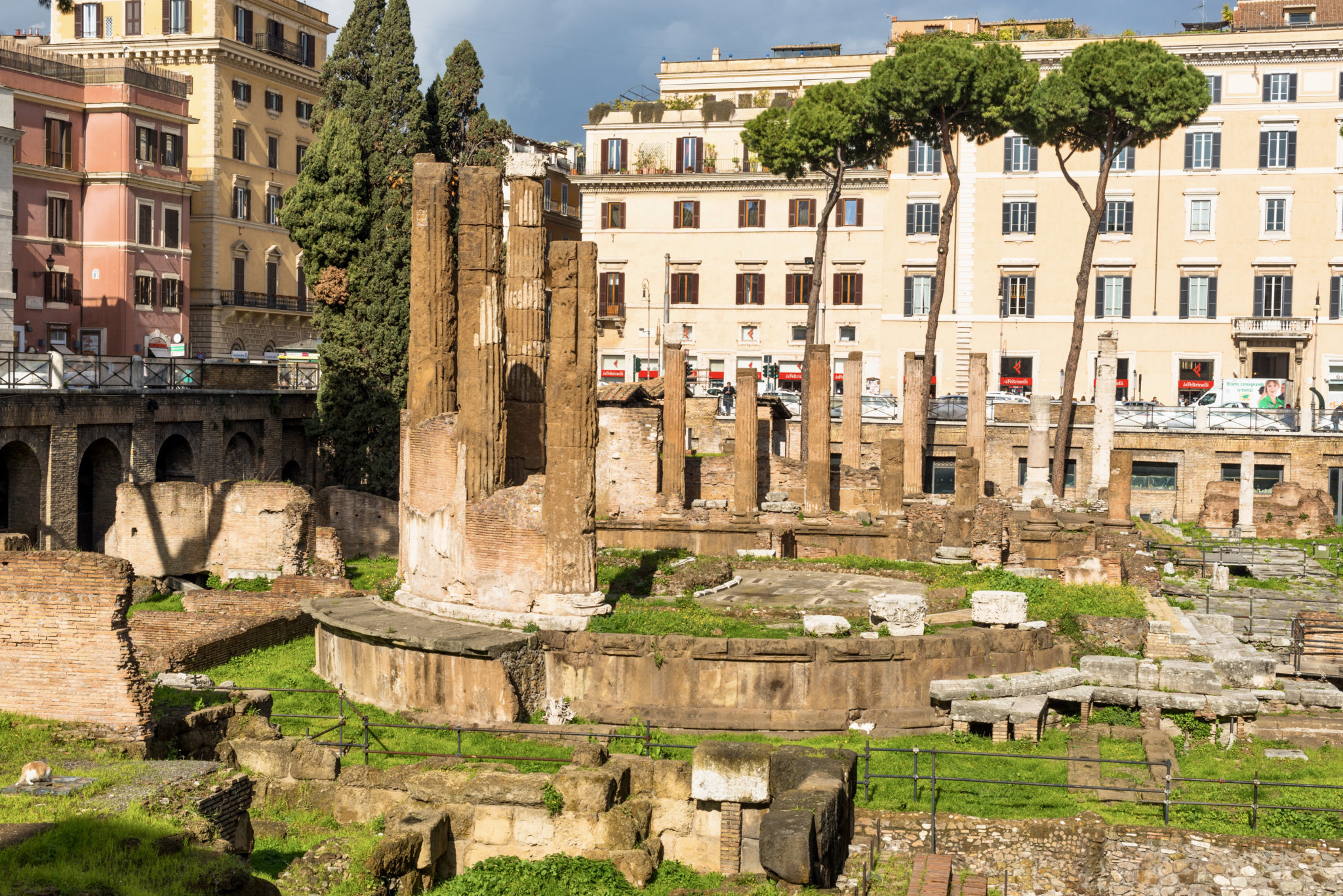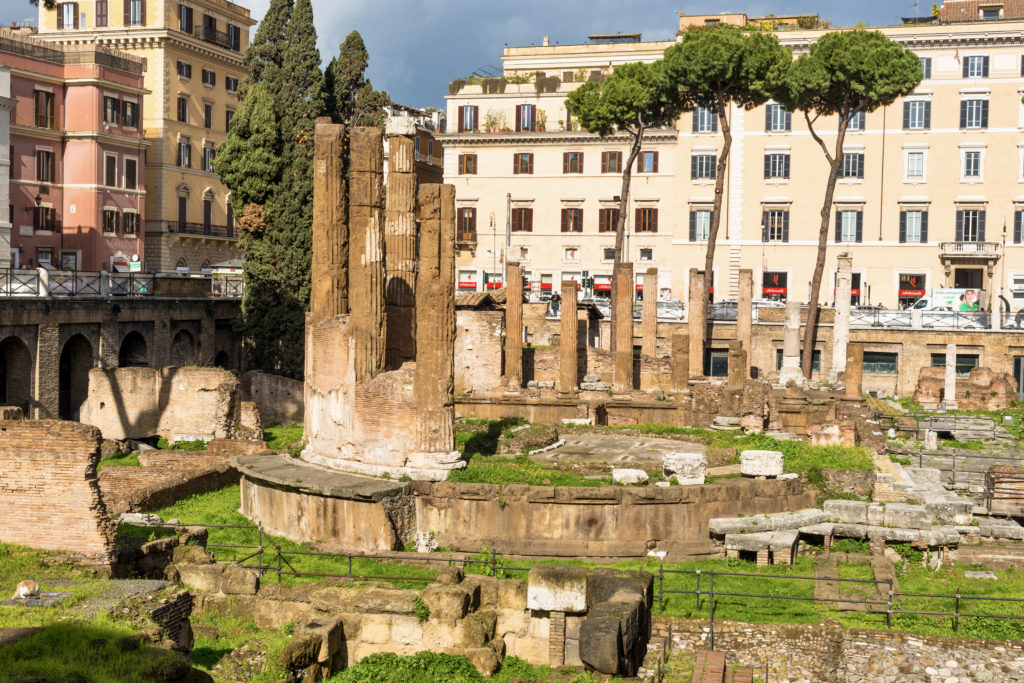 When you arrive in Rome, you'll likely fly into Fiumicino Airport. The cabs are notorious for ripping off tourists. The best thing to do is arrange a private transfer (my pick) or take the Leonardo Express, which takes you to Rome's Termini Station.
I have a guide with special tips for visiting the must see sites in Rome. Here are some other Rome travel guides you may find useful:
14. Vatican City
The Vatican City can be overwhelming. You'll definitely need some tips before visiting.
There's a lot to see inside the Vatican: the sculpture museums, the Vatican Pinacoteca (painting gallery), Raphael Rooms, Borgia Apartments, maps and tapestries, and the Michelangelo frescos in the Sistine Chapel.
You should buy a skip the line ticket in advance from a reseller. If you don't splurge for skip the line access, you could wait hours in line to get inside. There are even waits in low season.
Click here to book a Vatican ticket with Get Your Guide. Click here to purchase a Vatican ticket with Viator.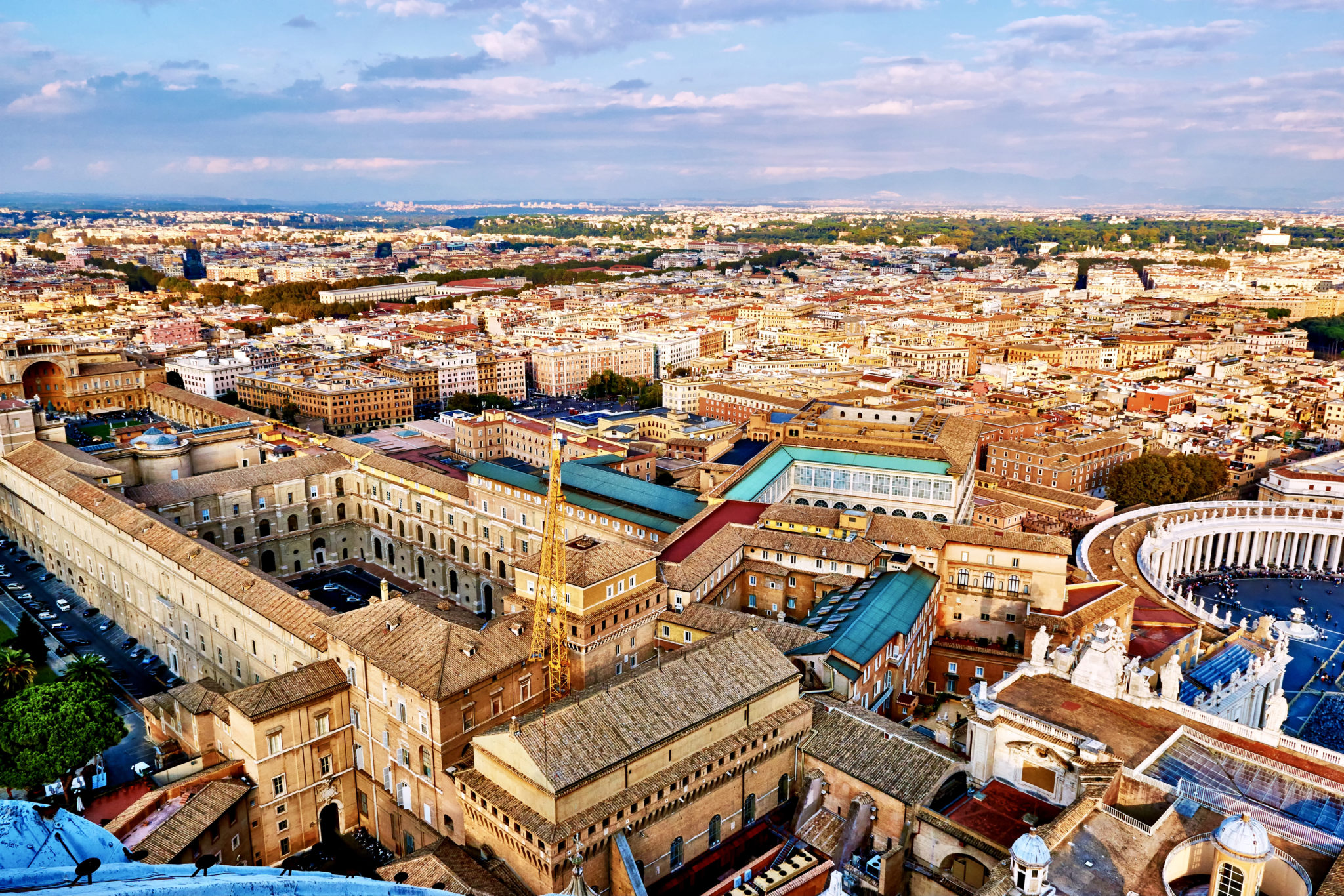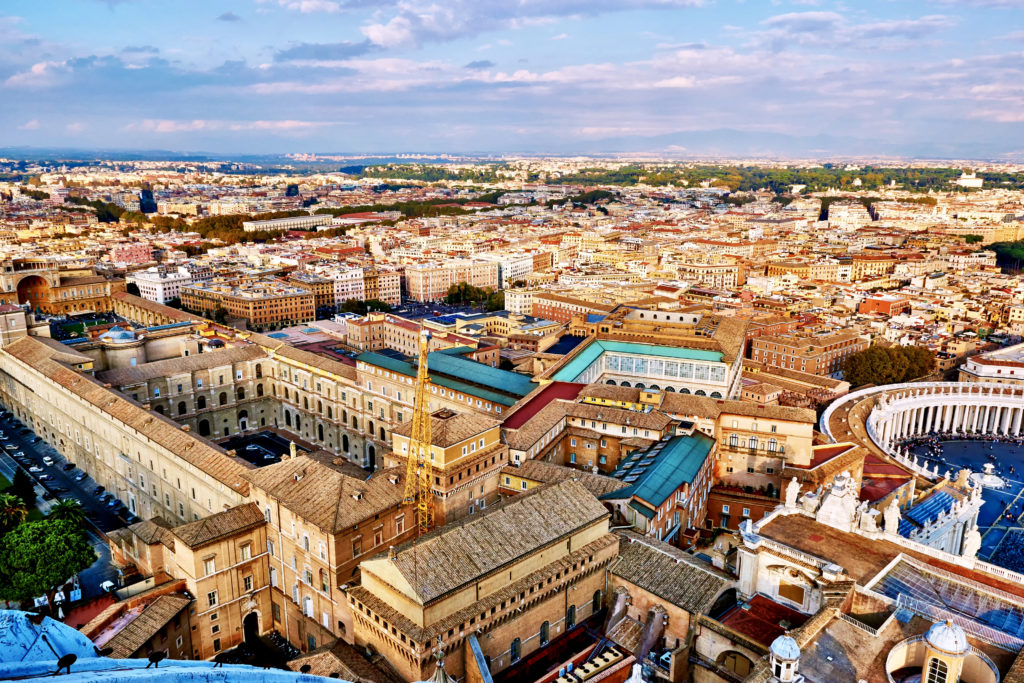 Or, you can pick a tour specifically tailored to your own interests, time frame, and museum going tastes. Here are some to consider: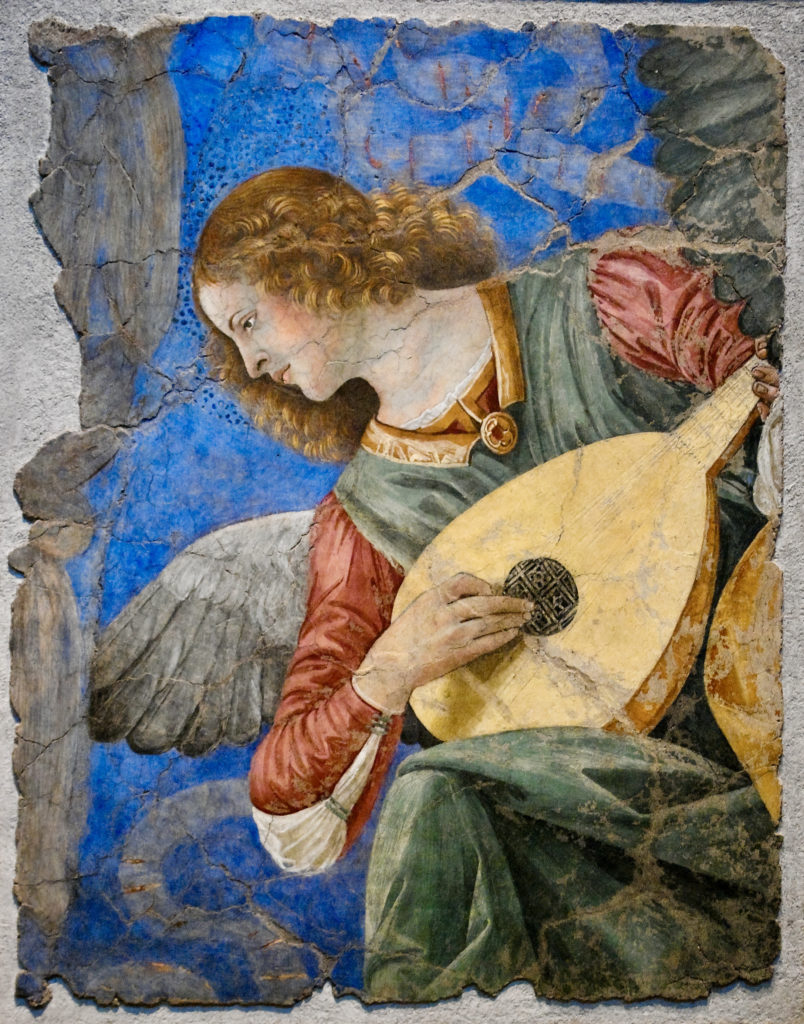 There's also a strict dress code at the Vatican — no shorts, no hats, no bare shoulders. Be forewarned, if you're there in the summer, there's no air conditioning and it can feel suffocating.
If you're taking a guided tour, you'll end at St. Peter's Basilica. Once inside the basilica, you cannot re-enter the Vatican Museums. So make sure you've seen everything you want to see in the museums before venturing in.
And be forewarned. If you're taking a tour, be sure to be clear on exactly what it covers. Many Vatican tours skip the Vatican Pinacoteca and the Raphael Rooms. If you're an art lover, you can't miss these areas of the Vatican museums.
For more info, here are my Vatican City Guides:
15. Don't Skip Bologna
I loved underrated Bologna. Compared to Venice or Florence, it's crowd free and laid back. It makes a good base for day trips to Parma, Ferrara, Ravenna, Modena, and even Florence or Venice.
But the main reason to stop here is the food. Bologna isn't nicknamed La Grassa, the Big Fat, for nothing. It's a true foodie hub. And isn't that part of the joy of traveling in Italy?
16. Follow the Italian Eating Schedule
You'll need to get your stomach used to Italian meal times. Meals times in Italy vary from the US. In Italy, lunch is from noon until 3:00 p m. Dinner is from 7:30 pm to 10:00 pm.
Don't expect a hearty American style breakfast either. In Italy, breakfast consists of espresso, cappuccino, and a sweet pastry.
17. Seek Out Some Hidden Gems
Italy's major cities have so many amazing attractions you could spend a lifetime discovering them all. If you have tourist phobia or are a repeat visitor, seek out some hidden gems and off the radar attractions.
Many are just as amazing as the marquee sites, but without the crowds. It's nice to add at least one off the beaten path attraction to your itinerary.
I've written several guides for hidden gems in Rome, Rome's secret palace museums, and hidden gems in Florence.
READ: Guide To Florence's Pitti Palace
18. A "Bar" in Italy Isn't a "Bar" in the US
In the US, a bar is where you drink beer and cocktails. In Italy, a bar is where you get coffee. Most Italians stand up to drink their coffee because it's cheaper than sitting down at a cafe.
One thing to consider is that, for Italians, its verboten to order a cappuccino after 11:00 am. Italians believe that milk is bad for the digestion and so stick with espresso for the rest of the day.
19. How To Order Coffee in Italy
Italy has some of the world's best coffee and a serious coffee culture. Here's a breakdown of the different kinds of coffee you can order, so you don't make a mistake:
Espresso: a shot of dark coffee
Caffe Normal: another name for a shot of espresso
Caffe Doppio: 2 shots of espresso (mostly for tourists)
Coffee Americano: basically espresso diluted with lots of water
Cappuccino: equal parts espresso, steamed milk, and foamed milk
Caffe Lungo: a "long coffee," which has more volume and is milder than espresso
Caffe Corto: the densest for of coffee, even stronger than espresso
Caffe Latte: coffee served with hot milk and less foam
Caffe Macchiato: a shot of espresso with a dash of steamed milk
Latte Macchiato: a shot of milk with a dash of coffee
Caffe Corretto: spiked coffee, usually with a shot of grappa
20. The Italian Happy Hour is the "Apertivo"
Apertivo is the Italian version of happy hour. It's a ritual of indulging in a pre-dinner cocktail or apertivo and small nibbles of freefood. It's a luxe version of our happy hours.
Unlike the American happy hour though, the Italian Apertivo may last from 6:00 to 9:00 pm.
For their Apertivo, Italian like traditional cocktails like a Bellini, Negroni, Campari, or Apersol Spritz.
21. Eat the Local Specialty
Italian cuisine varies widely by region. As you plan your trip, learn about what to eat where. Each region is known for specific dishes.
Rome is known for pasta carbonara, Milan for risotto, Bologna for pasta ragu, Naples for pizza. Tuscany for steak. Don't ask for things you might eat at home, like a pepperoni pizza.
You'll need to ask for the check at the end of your meal. In general, Italian meals are a relaxed affair, not to be rushed.
Service isn't as quick as you're used to. So the waiters won't bring the check at the end of your meal unless you ask for it. You can ask for the check by saying "Il conto, por favore."
For small, popular or Michelin starred restaurants, you'll need a reservation. This is especially true if they've been featured in Tripadvisor or other sites.
22. Hidden Charges For Meals
Don't be surprised when you're given bottled water with your meal. Italians generally do't drink tap water. It's not really a thing. You'll have to pay for water.
There's also often a coperto, which is a cover charge. Don't be shocked. It's not a scam.
It's usually a service charge for the bread served, which is pretty tasty. You'll be charged even if you didn't order bread. It'll be listed as pane on your bill.
23. Don't Eat Near Popular Tourist Sites
Not every restaurant in Italy is a food haven or life changing experience. This is a utopian fantasy. You should do your research, not just walk into any random restaurant.
Since Italy is a tourist magnate, there are scads of lower quality restaurants catering to fast moving tourists, especially in touristy areas in Rome, Florence, and Venice.
A restaurant is likely a tourist trap if:
there's a host outside trying to lure in guests
if you see a lot of tourists eating there
if an English menu is posted outside
if they offer omelettes
You'll have more luck with a tucked away off the beaten path family-owned restaurant filled with locals. If you haven't made a reservation, follow the Italians.
24. Drink the Local Specialty
As with food, you should drink the local wine. The wine varies by region, and generally the local wine pairs well with the local food. Click here to see an Italian wine map by Wine Folly.
As a general rule, drink red wine when eating meat, cheeses, or hearty pastas. Drink white wine with seafood on the coast. The "house" wine is often an affordable tasty option.
25. You Don't Need To Tip … Much
You don't need to tip in Italy, unlike the US. The waiters make a good living wage. However, it is customary to round up if you've had good service with a few euros.
26. The Midday Break called Riposo
Shops are often closed during the lunch and dinner hours, so that the owners can enjoy the midday Italian riposo, or siesta. Don't plan your shopping for that time.
27. Dress Appropriately For Church Sightseeing
Many of Italy's churches, basilicas, and cathedrals are must see sites in Italy. Not only are the marbled facades dazzling, but the interiors are also incredible.
Many of them were decorated by the most famous artists of the time, including by Botticelli, Leonardo, Caravaggio, Bernini, and Michelangelo.
But if you want to see the art inside, you have to follow the dress code. For women, that means no showing of shoulders or legs above the knee.
Bring a light scarf to cover yourself on warm days. For men, it generally means no shorts above the knee. Generally, short shorts or mini skirts are a no no.
Here's my guide to the most beautiful churches in Italy.
28. Restrooms are Scarce in Italy
Public restrooms in Italy, like much of Europe, are scarce commodities. If they do exist, you'll likely have to pay a euro to use them.
To combat this problem, you have three methods: (1) stop in at a bar for a quick espresso so you can use the facilities (you can't just walk into a bar); (2) plan your day to include a museum or major attraction that has facilities for its customers; (3) be on the lookout for a McDonalds.
Sometimes they're unlocked. Sometimes you have to pay to use them.
29. Bring a Water Bottle
Bring a water bottle with you for your day of sightseeing. In Italy, you can often refill your water bottle for free at the many public fountains. Just make sure it doesn't say "non-potable."
30. Buy Skip the Line Tickets for Major Attractions
This tip is so important!!! Don't waste your precious time in Italy standing in long lines for hours.
Buy skip the line tickets for the popular attractions, especially in Rome, Florence, and Venice.
READ: 3 Day Itinerary for Florence
In Rome, you can buy a trifecta pass for the big three — the Colosseum, the Roman Forum, and Palatine Hill. You'll also need to make a separate timed entry reservation for the Colosseum.
Here are some tour options you can choose from. They all vary slightly in duration and what you see. So pick one that best suits your sightseeing agenda. I've done the fourth and seventh one on the list and loved the tours.
You should probably get the Omnia Rome and Vatican Card. It consists of the Roma Pass and an Omnia Card.
It's essentially a comprehensive pass to both Rome and Vatican City. You can hand pick the sites you want to see and book your own skip the lines tickets.
Many of the newest archeological sites and ruins in Rome can only be accessed with a special pass, called the S.U.P.E.R. Pass. Here's my guide to S.U.P.E.R. pass and what sites it covers.
You'll also need skip the line passes for popular attractions such as the Vatican Museums and the Borghese Gallery in Rome, the Uffizi Gallery and the Duomo complex in Florence, and St. Mark's Basilica and the Doge's Palace in Venice.
If you click on the links to my guides, you'll find everything you need to know abut tickets and tours for these attractions.
You'll also need advance reservation in Florence for seven must see attractions in Florence.
31. Book Accommodations Outside the Noisy Central Areas
Most guides advise you to stay in a central area. I'm not sure about that. If you don't mind walking you can stay in a cute neighborhood, save money, and avoid noise.
Italian cities can be lively, with people staying up well into the wee hours. This is great when you're out having fun.
But, if you're a light sleeper like me, you may want to stay off center to keep the noise out of your bedroom when the sandman comes.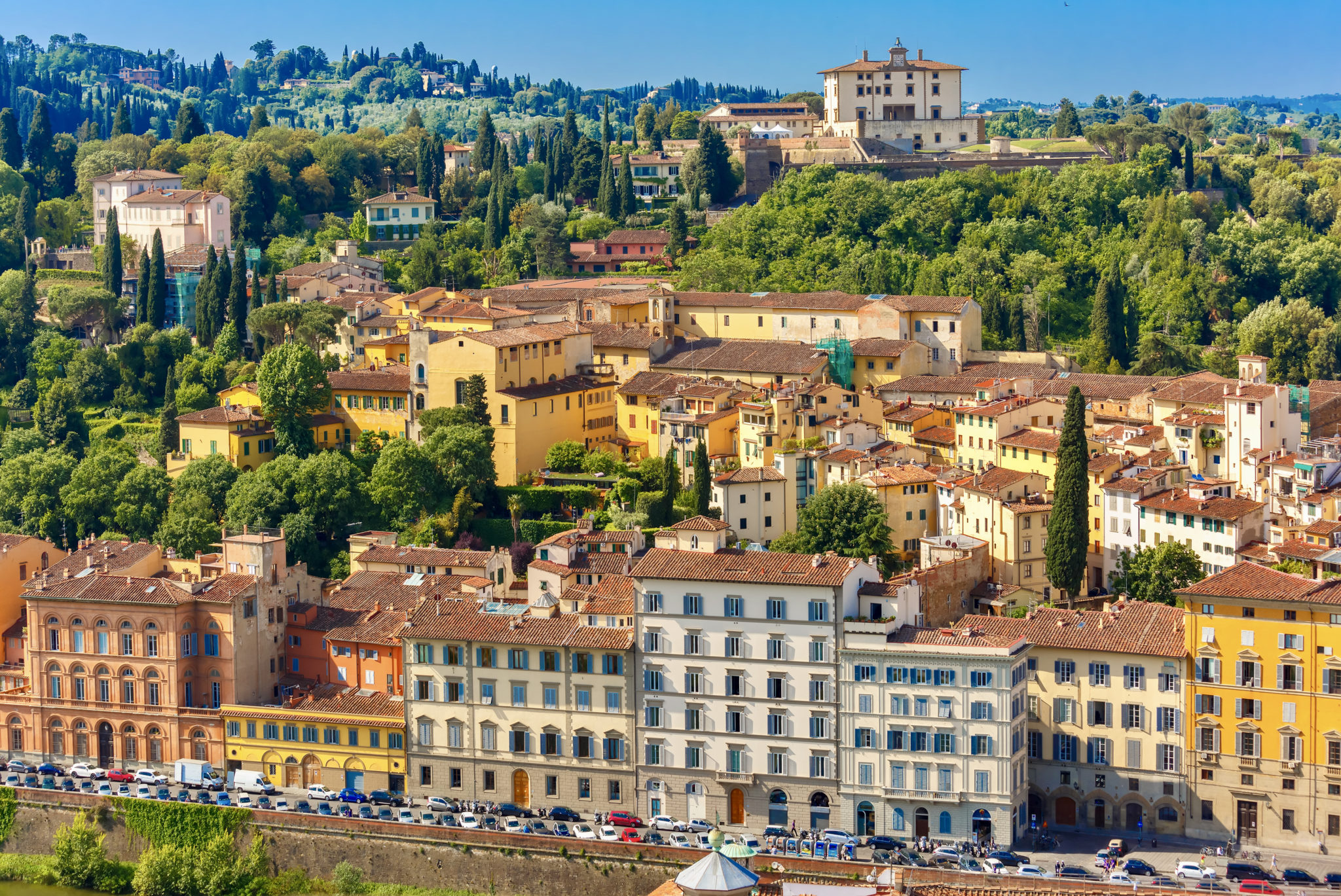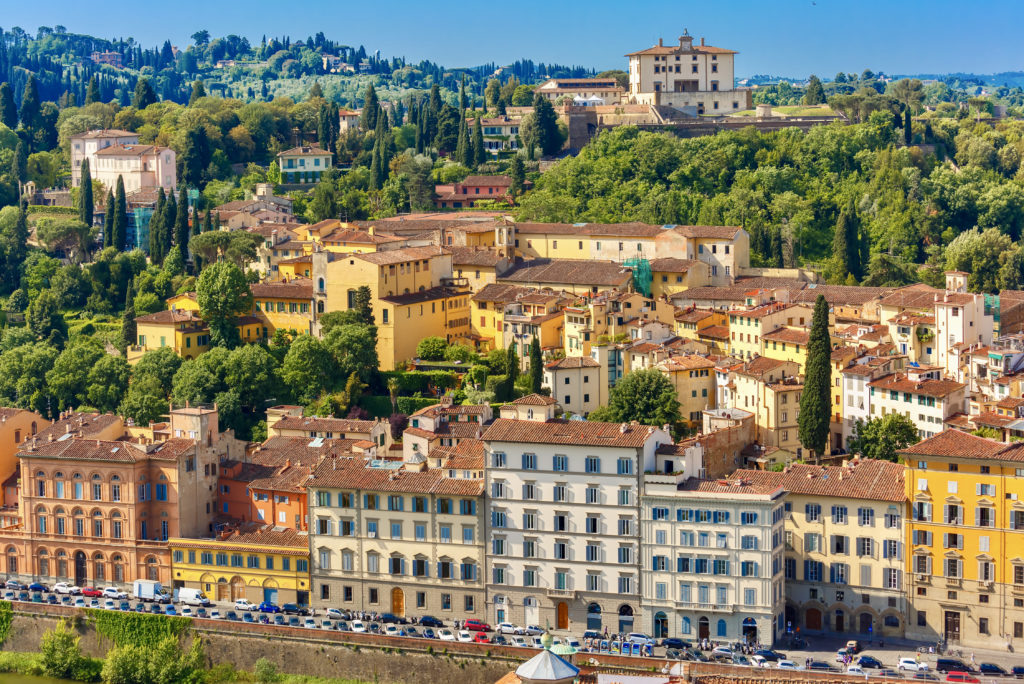 It's easier to stay away from the hotspots. Usually, you're never too far from them anyway.
For example, last time I was in Rome, I stayed in an Air Bnb in the Trastevere neighborhood across the Arno and away from centro historico.
32. It Helps To Be an Early Riser
Most Italian cities reward early risers, from gorgeous sunrises to empty streets for frolicking in peace. If you save all your sightseeing for early to mid afternoon, that's a sure fire recipe for crowds. Especially if you haven't pre-purchased skip the line tickets.
If you're not an early riser, aim for late afternoon to visit the major attractions.
33. Do Some DIY Prep Before You Go
Don't just show up in Italy. Italy spans the ancient Roman to Renaissance periods.
You can read my guide to all the Roman emperors or my nutshell history of Ancient Rome.
Italy will be much more rewarding if you've done some background research, DIY prep, and know the key tips for visiting Italy. Buy a guide book, listen to podcasts, or watch some Youtube videos.
Smarthistory has wonderful videos on art and architecture throughout Italy. Rick Steve's has YouTube videos on Italy. My favorite podcast on the Renaissance is called Rebuilding the Renaissance, which makes art come to life.
Here's my complete guide to preparing for Florence's hugely popular Uffizi Gallery. Here's my guide on how to visit a museum to have the best experience.
34. Artist Trails
If you're a fan of Renaissance and Baroque art, Italy has the world's best masterpieces of art and architecture. If you have a particular artist you love, I've written guides to various artist trails you can follow in Italy:
READ: How To See Leonardo's The Last Supper in Milan
I hope you've enjoyed my guide to must know tips for visiting Italy. If you need more Italy reading, here are some of my other Italy travel guides and resources:
If you want tips for visiting Italy, pin it for later.