Here's my guide to spending 10 perfect days in Central Europe.
This Central Europe itinerary takes you to Central Europe's most illustrious cities: Prague, Vienna, Salzburg, and Budapest. It also gives you day trip options for visiting Cesly Krumlov, Bratislava Slovakia, and/or Austria's Wachau Valley.
These spectacular Central European cities have emerged from the shadows of superstars like Paris, London, and Rome.
They boast rich and unique histories, remarkable architecture, stunning medieval squares, world class museums, and culinary delights. This 10 day Central Europe itinerary takes you to all the must visit sites, attractions, and landmarks in each city.
This 10 day Central Europe itinerary begins in Prague in the Czech Republic. From Prague, you'll travel southeast to the elegant city of Vienna Austria.
Then, you'll head to the fairytale town of Salzburg for a couple days. You'll finish up in the exciting city of Budapest, basing yourself in the lovely capital of Hungary for the rest of the trip (unless you decided to extend your vacation!)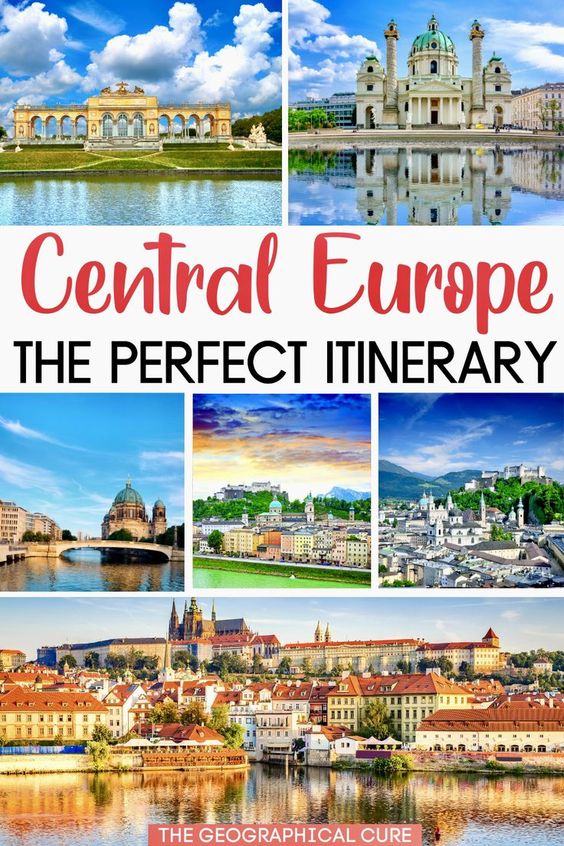 Here's a day by day run down of what you'll see with this 10 days in Central Europe itinerary:
Day 1: Prague
Day 2: Prague
Day 3: Day Trip to Cesky Krumlov
Day 4: Vienna
Day 5: Vienna
Day 6: Day Trip to Wachau Valley or Bratislava
Day 7: Salzburg
Day 8: Salzburg
Day 9: Budapest
Day 10: Budapest
More Time? Head To Zagreb Croatia
For this road trip or 10 day vacation, you'll have four bases: (1) Prague (3 nights); (2) Vienna (3 nights), (3) Salzburg (1 night); and (4) Budapest (3 nights). You can do this Central Europe itinerary by car or high speed train. I give you tips for where to stay in each city.
Overview Of 10 Days In Central Europe
Length of Trip: 10 days or more
Start and End Point: Prague and Budapest
UNESCO World Heritage Sites: Prague Historic Center, Prague Castle, Cesky Krymolov Historic Center, Schonbrunn Palace, Belvedere Palace, Wachau Valley, Salzburg Historic Center, Budapest Castle District, Danube Embankment Budapest
You can make this Central Europe road trip itinerary shorter or longer, depending on your available vacation time or personal fast/slow travel pace.
You can also reverse the order and start in Budapest and end in Prague. If you want more time in the cities, skip Salzburg, which is some distance from Budapest.
The Best 10 Days in Central Europe Itinerary
Here's what I think is the best way to explore the classic cites of Central Europe in ten days.
Day 1: Prague, Czech Republic
You kick off your ten days in Central Europe in Prague.
Dubbed the "City of 100 Spires," Prague is one of the world's most beautiful cities. Prague is synonymous with over-the-top romance and evocative Old World charm.
Having escaped the bombings of the big wars, it's a historic and well-preserved wonder. You may want to book a 3 hour guided walking tour for an overview of the old town and to get oriented.
Because of this, be prepared for crowds. Prague is not by any means a hidden gem in Europe any longer. And Prague has so many must visit attractions.
1. Prague Castle Complex
On day 1, spend your morning visiting the Prague Castle Complex. Located on Hradcany Hill, the UNESCO-listed Prague Castle dates from the 9th century.
Click here to purchase a skip the line entry ticket. Click here for an entry ticket + 12.5 hour guided tour of the castle.
Czech leaders have ruled there for a 1000 years. The complex is a 1,500 foot long series of courtyards, churches, and palaces.
The old Royal Palace is part of Prague Castle. This was the actual residence of the Czech kings and princes. It still serves as the residence of the Czech President.
Vladislav Hall is a must see beautiful late Gothic hall inside, topped with a vault with intertwined curved ribs. Don't miss the magnificent sculpture of St. George and the Dragon in a courtyard by the southern wall.
2. St. Vitus Cathedral
St. Vitus Cathedral is part of the castle complex. It's the most important religious monument in the Czech Republic. It's a High Gothic and Neo-Gothic creation.
Inside, there are dramatic ribbed vaults. The centerpiece is Alfons Mucha's beautiful 1931 Art Nouveau window. The gallery in the Great Spire offers a beautiful bird's eye view of Prague.
You should also check out what's hidden underground. Below are the uncovered foundations of two earlier churches and the tombs of the Czech kings and religious VIPs.
A door with seven locks protects the entrance to the Coronation Chamber. This room contains the Bohemian Crown Jewels, which are only displayed every 5 years.
The most valuable piece is the St. Wenceslas crown. It's rumored to punish by death any thief who puts the crown on his or her head.
3. Charles Bridge
Then, in the afternoon after lunch, stroll across the iconic Charles Bridge. Built in 1357, the bridge has 16 sandstone arches. And it's effectively an open air art gallery, adorned with bronze sculptures of Czech saints in the bridge's pillar columns.
At both ends are fortified towers, part of the city's medieval defense system. You can tour both towers.
4. Old Town Square
The historic Old Town Square is the heart of Prague, were both locals and tourists collide. The square is where many of the main sites and landmarks in Prague are located.
Check out the Astronomical Clock, mounted on the southern wall of the Old Town Hall. If you have time, head into the grand Kinsky Palace.
It's a Rococo style palace with a delicate pink and white stucco facade. The palace is home to the National Gallery.
4. Tyn Cathedral
Dominating the eastern side of Old Town Square is the stunning Tyn Cathedral, with intimidating twin Gothic spires. In the upper gable, is a statue of the Virgin Mary with a golden halo.
The original Gothic vaulting was destroyed by fire and replaced with Baroque decoration. There are 19 ornately carved altars.
Also step into the opulent St. Nicholas Church, the Czech Republic's most beautiful Baroque building. There are often classical music concerts in both churches.
In the evening, indulge in the unique Czech cuisines. There are dozens of restaurants in and around the Old Town Square. It's a good idea to make reservations. Try the Czech beer. It's cheaper than water!
Day 2: Prague
1. Jewish Quarter
Start day 2 in Prague with a visit to the historic Jewish Quarter, the evocative Josefov neighborhood. You can book a 2.5 hour guided tour that includes entry to the synagogue.
The compact Josefov has some of Europe's most important Jewish sights, including 6 synagogues from the 16th and 17th centuries. Together, they act as museums, providing a history of Jewish customs and traditions.
One synagogue, the Pinkas, is now a moving memorial. It honors Czech Jews murdered in World War II. Just behind the Pinkas is Josefov's ancient cemetery, with a jumble of grave stones.
Then, head to Our Lady of Victorious Church. Built in a classic Baroque style, it's home to a statuette of the Christ child. The church is the site of alleged miracles performed after prayers to the Christ child.
Then check out the John Lennon Wall, a hugely popular Prague attraction. When the popular Beatle John Lennon was killed in 1980, the youth of Prague expressed their grief by covering the wall with colorful graffiti.
In Grand Prior Square, you can also admire Grand Prior Palace (a former monastery), the Church of the Virgin Mary, and the monumental Buquoy Palace.
15 minutes away from the square is Petrin Lookout Tower. It's one of Prague's most prominent landmarks, inspired by Paris' Eiffel Tower. You can climb almost 300 steps to the top for jaw dropping views from Petrin Hill.
2. New Town
Then head to New Town Prague. Wenceslas Square is a must see site, created by Charles IV in the 14th century. It once served as an administrative and commercial seat.
This square is home to the newly renovated National Museum. It's also pedestrian friendly and filled with shops and eateries.
Charles Square is the largest square in the Czech Republic. The two most notable monuments are the New Town Hall and the Church of Saint Ignatius.
Another marque attraction of Prague's New Town is the Dancing House. Built in 1966, this is the most modern building in Prague. It was designed by Frank Gehry and Vlado Milunic. The restaurant terrace offers a superb panoramic view of Prague.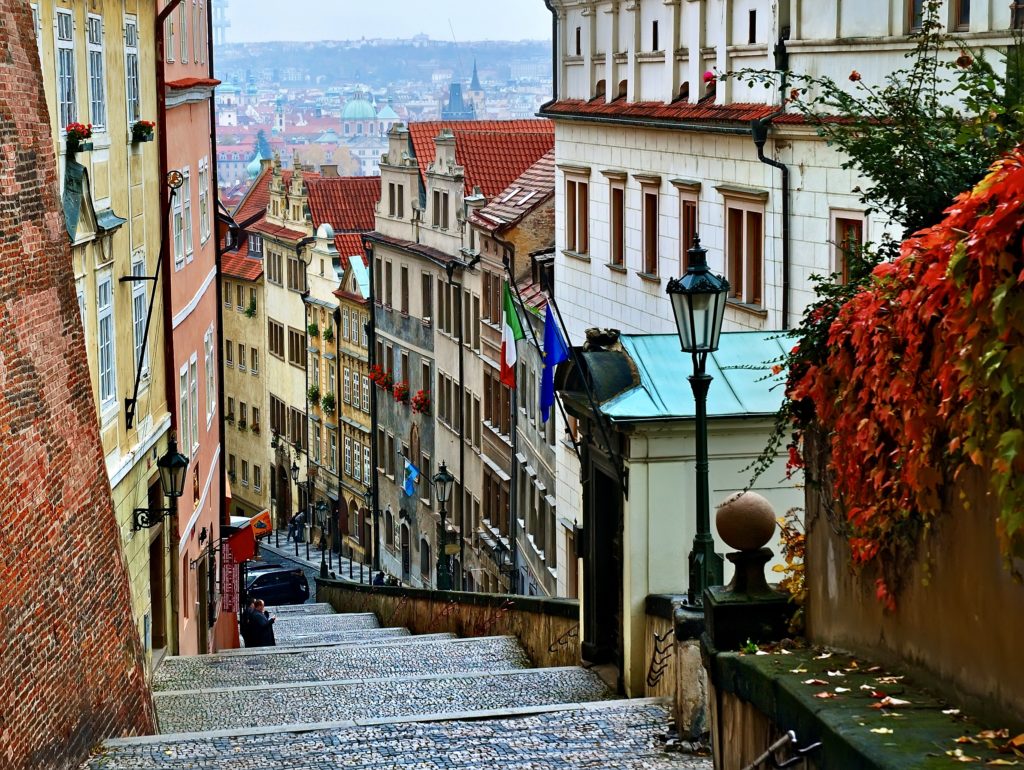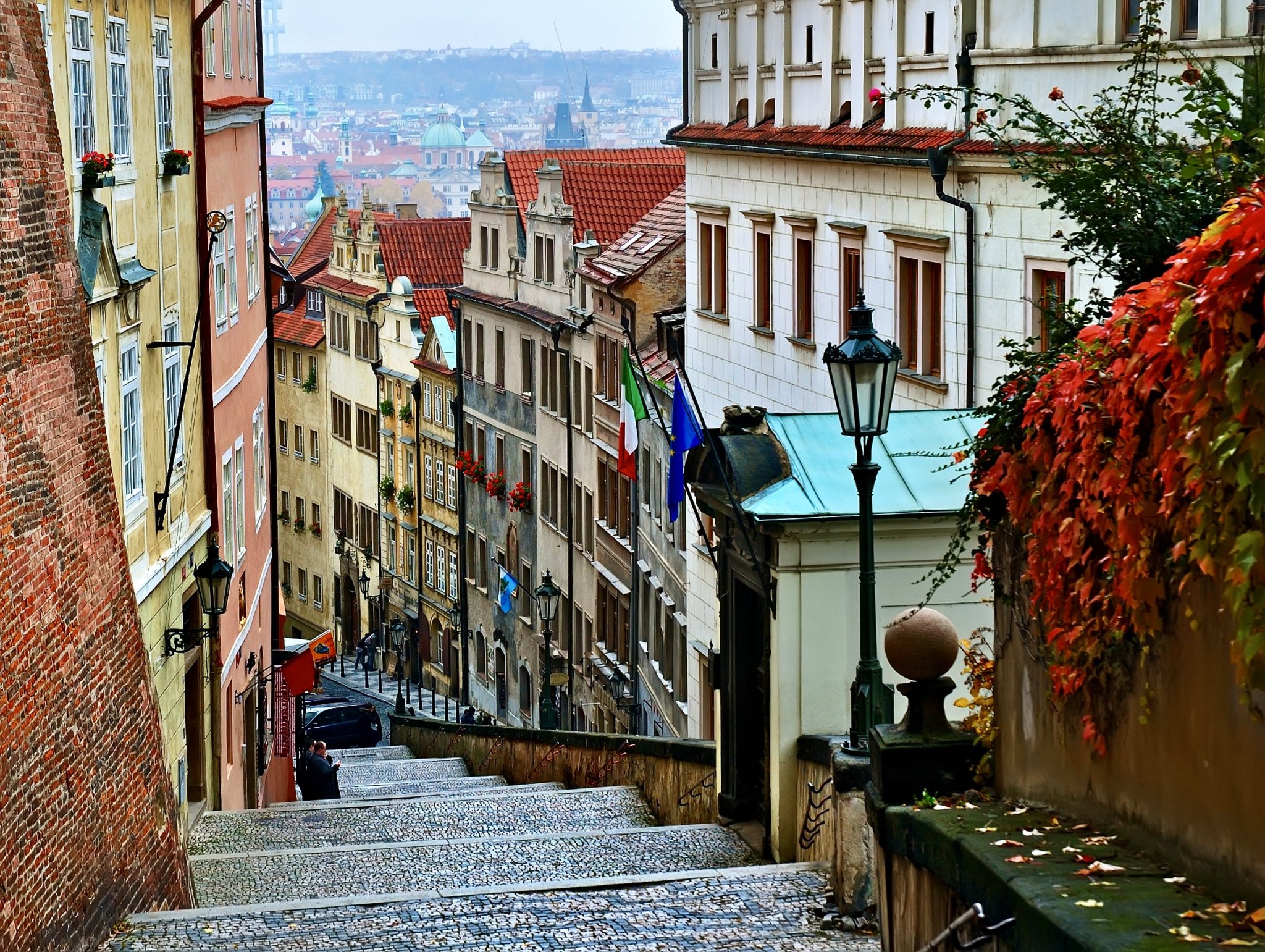 If you are looking for something to do in the evening, there area loads of options. You can (1) take a tour of medieval underground Prague; (2) take in a concert at Lobkowicz Palace; (3) go on an evening food tour; (4) tour Prague Castle at night; or (5) take a Vltava River cruise.
Where To Stay In Prague
Prague has some truly gorgeous hotels.
You can check out the Four Seasons (amazing location), the Mandarin Oriental (medieval luxury), the Alchymist Grand Hotel & Spa (Italian flare in the old town), or the Augustine (where monastic austerity meets modern luxury).
The Art Deco Imperial Hotel is in an impressive Art Deco building. It's adorned with mosaics and hand painted tiles.
The Buddha-Bar Hotel Prague offers a unique Asian themed boutique stay. The BoHo Hotel Prague is a modern design boutique hotel.
Day 3: Day Trip to Cesky Krumlov, Czech Republic
On day 3, it's time to day trip to the tiny medieval town of Cesky Krumlov. This quaint UNESCO-listed town is a 2.5 hour drive from Prague. Or, you can book a full day guided day trip tour from Prague.
The bus station is walkable from the town center. The train station is 5 minutes from Wenceslas Square. There's also only one train per day, so going by train probably isn't the best option.
You could stay overnight in Cesy Krumlov on day 2 of your itinerary instead of Prague, if you want to see the city early. That way, you take in some of the sites before the day trippers arrive and make the tiny town seems overcrowded.
The best way to admire Cesky Krumlov is to simply stroll around. It's a town made for wandering and head swiveling.
There's also a free walking tour that begins at 10:30 am and 2:00 pm daily, given by Wiseman Free Walking Tour. You can also book your own guided walking tour of the old town.
You should probably purchase the Cesky Krumlov Card. It will give you admission to all the town's major sites: the Castle Tower, the Castle Museum, the Egon Schiele Art Centrum, and other museums and monasteries.
The Cesky Krumlov Castle is the town's impressive main landmark. There are opulent rooms inside, including a beautiful preserved Baroque theater. You can also climb the tower (162 steps) for some stunning views. Or wander in the castle gardens.
The Church of St. Vitus is also quite lovely. Built in the 15th century, the Gothic church is one of the oldest surviving buildings in the town. It often hosts classical music concerts.
Day 4: Vienna
On day 4 of your 10 day Central Europe itinerary, you'll make the 3.5 hour drive from Prague to Vienna. Or take one of the frequent high speed Railjet trains. With such a long journey, you'll only have half a day or so in Vienna on your first day.
Vienna is such a fancy city, a beautiful open air museum really. It's awash in imperial palaces, grand Baroque architecture, and seriously swoonful museums. It's one of the best cities in Europe for art lovers.
Vienna is the capital of Austria, the birthplace of classical music, and home to the Habsburg dynasty and its rich heritage. The city center is pedestrian friendly, sprinkled with green parks, and crammed with quaint coffee shops.
And Vienna doesn't just bask, unblinkingly, in its quaint fin-de-siècle glory. It's become more hip since the last time I visited, with new and renovated museums, trendy boutique hotels and restaurants, and edgy neighborhoods. It's cooler than you'd guess.
I've written a detailed 3 day itinerary for Vienna, so I won't repeat it all here. On this day, follow the recommended itinerary for day 1. You may want to get things kicked off with a guided walking tour of the old town.
This will take you to the main sites in the historic center of Vienna: St. Stephen's Cathedral, Hofburg Palace, the Rathouse (Town Hall) and the Opera House. Be sure to stroll around the old town and down Graben street.
Indulge in Vienna's specialty: the Sacher Torte, a delicious concoction of chocolate, cream, and apricot jam. The best places are Cafe Hawelka, Cafe Central, or Cafe Schwartzenburg.
For dinner in Vienna, I can recommend Salonplafond at the MAJK Museum, SIXTA, and Pramerl & the Wolf (Michelen). You can also click here to book a classical music concert at St. Stephen's Cathedral.
Day 5: Vienna
On day 5 of your 10 days in Central Europe itinerary, you'll stay in Vienna.
1. Museum Quarter
Vienna is also overflowing with world class museums. In the morning on your second day in Vienna, head to MuseumsQuartier for a cluster of them in a hip square teeming with cafes.
The Leopold Museum holds one of the world's most important collection of late 19th and early 20th century Austrian art. It's one of the world's best small museums. Click here to buy a skip the line ticket.
READ: Guide To the Best Museums in Vienna
2. Kunsthistoriches
Likely the grandest of Austria's museums, in a sea of riches, is the Kunsthistorisches Museum. Opened in 1891, the Kunsthistorisches is Vienna's Louvre. The museum is one of the world's most impressive fine art museums.
Click here to pre-book a ticket. Click here to book a guided tour of this magnificent museum.
Or, travel with a theme and ferret out Gustav Klimt paintings or Beethoven sites. If you want to pay homage to the mysterious Empress Sisi, visit the Sisi Museum is in the Hofburg Palace.
3. Belvedere Palace
After the Kunsthistoriches, my favorite Vienna museum is the Belvedere Palace. The Belvedere Palace is one of Vienna's must see attractions and an important UNESCO site for its showy architectural ensemble. It's also home to Austria's most famous painting, Gustav Klimt's The Kiss.
Click here to pre-purchase a skip the line ticket to the Belvedere palace. Click here to book a 2.5 hour guided tour of the Palace.
The Belvedere's a haven of Baroque and Austrian art from the 19th and 20th centuries. Its main claim to fame is the world's largest collection of Gustav Klimt paintings, including the world famous The Kiss.
It also boasts masterworks by Egon Schiele and Oskar Kokoschka, two important Expressionist painters.
READ: Complete Guide To Visiting Belvedere Palace
4. Schönbrunn Palace
In the afternoon, head to Schönbrunn Palace, outside Vienna. The palace is a UNESCO-listed site and the height of elegance.
Be sure to purchase your tickets online in advance. You can also hop on a guided skip the line guided tour, book a guided tour with a historian, or a dinner and concert evening.
The swishy Renaissance palace was the summer home of the Hapsburg dynasty, the family that ruled the Austro-Hungarian empire for nearly 650 years. You'll want to check out the palace itself and the extensive garden complex. Be prepared to walk.
Of Schönbrunn's 1441 rooms, 40 are open to the public via audio guide or guided tour. The "Imperial Tour" takes you into 22 rooms, including the imperial apartments of Emperor Franz Joseph and famous wife, Empress Sisi.
5. Stattsoper
In the evening, consider taking in a performance at the State Opera House, the Staatsopera. Vienna is also beautiful just to explore at night on a photo walk.
Or relax at a rooftop bar. If you're visiting in the winter, the city is magical and lit up with fairy lights and Christmas markets.
READ: Things To Do In Vienna in Winter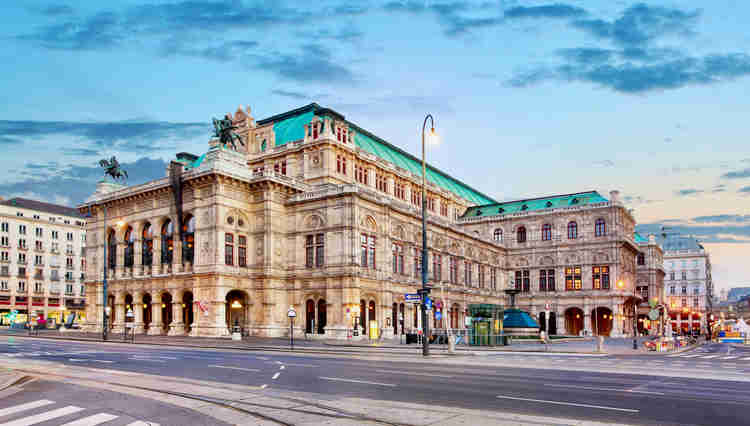 Where To Stay In Vienna
Vienna is loaded with both grand hotels and adorable boutique hotels in centuries old neighborhoods.
One of my favorite hotels is the Palais Coburg. It's a beautiful hotel in a 19th century palace. The lovely Hotel Sans Souci Wien is an elegant properly near Museum Quarter with a spa. The Grand Ferdinand Hotel is centrally located and has a unique rooftop pool and restaurant.
Of course, you can always check out classics like Ritz-Carlton, Park Hyatt, and the elegant Hotel Sacher Wien.
You should also check out these lovely boutique hotels: House of Time or Palais Hansen Kempinski.
Day 6: Day Trip to Wachau Valley or Bratislava
On day 6 of your Central Europe itinerary, get out of the city. Head to either the small town of Bratislava in Slovakia. Or, for a more pastoral experience, head to the verdant Wachau Valley.
1. Option 1: Wachau Valley
The UNESCO-listed Wachau Valley is the verdant heartland of the Austrian Danube, a 24 mile stretch of pure loveliness between Krems and Melk. It's less than an hour from Vienna. You can visit by driving, biking, or taking the shuttle boats.
You may also want to book a guided day tour from Vienna. Or a full day biking and wine tour from Vienna. I did this one and it was fantastic.
Wachau is an impossibly romantic valley overlooked by castle ruins, fortresses, and sleepy medieval hamlets. They nestle amid terraced vineyards and apricot groves.
The Wachau Valley goes from Krems to Melk. A highlight is the adorable town of Durnstein with craggy castle ruins. Here's my guide to visiting the Wachau Valley. It covers all the must visit towns, historic attractions, and landmarks in the Wacvhau Valley.
2. Option 2: Bratislava
Bratislava is the tiny capital of Slovakia. It's a little over an hour from Vienna and a popular Danube River cruise excursion.
Bratislava's vintage-y old town is filled with pastel colored houses, cobbled streets, quirky bronze sculptures, and the world's most adorable pastry shop, Konditorei Kormut.
Be sure to buy some honey at Medovy Obchod in the old town, where you can sample the honey yourself. I purchased some delicious vanilla and wildflower honey, along with some beehive candles and Bryndza cheese.
Bratislava also boasts a unique, almost over the top, blue church, the Church of St. Elisabeth. It's a 10 minute walk from the old town.
Everything about the Art Nouveau church is blue — the interior (with added punches of yellow), the exterior, and even the tiles on the roof. Pretty isn't usually a word I use to describe churches, but it's apt here.
Even better, Bratislava is crowned with a historic castle, which is really the iconic spot in the town. Perched on a small hill and about a 15 minute hike, the castle is the best viewpoint over the old town.
Outside, it's an elegant vision, with Gothic and Renaissance elements. Inside, there's a museum of history.
Click here to book a full day guided day trip tour from Vienna to Bratislava. Or book your own 2 hour guided walking tour for when you arrive.
Day 7: Salzburg
On day 7, you move from Vienna to Salzburg. It's a 3:15 minute drive or 3 hours on the high speed train.
Leave early so that you can arrive mid day and have a half day of exploring Salzburg. You may want to book a guided walking tour with a historian to get oriented.
Who doesn't love Salzburg? Well, possibly those who are allergic to tourists. Salzburg is indeed very touristy. But there is a reason for that.
Beautiful Salzburg is a dream worth dreaming, set on the fast flowing Salzach River. It's studded with elegant domes and spires and crowned with a doughty clifftop fortress. It's fairytale swoonful, and one of my favorite small cities in Europe.
Salzburg is synonymous with both Mozart and the Sound of Music. Personally, I'm only a fan of the former; Mozart is life. There's so much to do in Salzburg, you could be busy for days.
Take in the regal Residenz and the Salzburg Cathedral in the Domplatz. The Residenz is full of opulent state rooms. It also have a collection of European paintings from the 16th to 19th centuries.
Make the steep (but short) hike up to the well-preserved 900 year fortress, Festung Hohensalzburg. Click here to book an entrance ticket.
Or, take a riverside stroll along Elisabethkai. Or book a dinner and cruise down the Salzach River.
Day 8: Salzburg
On day 2 in Salzburg, visit Salzburg's #1 attraction, the Schloss Mirabell and its lovely gardens. In 1606, Prince-Archbishop Wolf Dietrich built the grand palace for his beloved mistress.
In gratitude, she produced 15 children. Mirabell was given the usual Baroque facelift in 1721.
The interior is exceedingly lavish. The highlight is the Marble Hall, flashy with marble, stucco marble, and gilded stucco. It almost looks like a painting. The hall hosts classical concerts and is a wedding venue — what a backdrop.
Much of the song "Do Re Mi" from the Sound of Music was filmed in the Mirabell Palace gardens. You may even want to book a classic Sound of Music guided tour. You can also attend a concert at Mirabell Palace.
Hopefully, you're there when the wisteria and cherry blossoms are in their full glory. The garden also offers fantastic views of Hohensalzburg Fortress.
With the rest of your day, you may want to book an Austrian food tasting tour. You can walk in the footsteps of Mozart on a guide tour. Or take an architecture tour to take in all of Salzburg's stunning buildings.
Where To Stay In Salzburg
Salzburg has some fantastic hotels. Check out the Hotel Sacher Salzburg, an extremely elegant boutique hotel on the banks of the Salzach River. The Hotel Bristol Salzburg is a beautiful hotel just steps from Mirabell Palace with an award winning restaurant.
Hotel Goldener Hirsch is another historic hotel just steps from Mozart's birthplace. The rooms are furnished with antiques in a classic Austrian style.
Hotel Rosenvilla is a luxurious small hotel in the exclusive Aigen district, about a 10 minute walk from old town. Another cool boutique hotel is artHotel Blaue Gans right at the foot of Hohensalzbuerg Fortress.
In the evening, drive or take the high speed train to Budapest. The train takes about 5 hours, so you will arrive in Budapest late.
Day 9: Budapest
Beautifully situated on the Danube River, Budapest has a romantic and exotic reputation. It's a a hot European city break and dubbed the "Paris of the East."
Budapest is picturesquely divided in two by the river, with Buda on the west and Pest on the east. It has a sense of expansive grandeur.
Both sides of the city have different personalities and offer different cultural experiences. Buda is charming, classy, and quiet. It's filled with museums, castles, and elegant homes on cobbled streets.
Pest is wilder and cosmopolitan, and where most of the tourist sites and ruin bars are located. Both are beautiful at night, illuminated by lights and cradled by the Danube.
1. Buda
I've written a detailed 3 day itinerary for Budapest. On day 1 in Budapest (day 9 of your Central Europe itinerary), start at the Central Market, where you can grab some breakfast. Cross Chain Bridge and head to the Buda section of Budapest.
There, you can admire Fisherman's Bastion, Matthias Church, Buda Castle, and visit the Hungarian National Museum.
Click here for a 3 hour walking tour of the historic Buda Castle district. Click here for a guided walking tour of Buda Castle.
2. Chain Bridge
Have lunch in Buda at Cafe Corvin or Baltazar. After lunch, head back across Chain Bridge to explore some of the sights in the Leopold district of Pest, saving the Parliament for the morning of day 2.
Facing Chain Bridge on the Pest side is the gorgeous Gresham Palace. It's one of the most beautiful Art Nouveau buildings in Budapest.
Or anywhere really. It's owned by the Four Seasons. But you can walk inside and admire the decor, including a gorgeous Dale Chihuly chandelier.
3. St. Stephen's
St. Stephen's Basilica, also known as St. Istvan, is Budapest's largest church. It's an eclectic mix of styles, reflecting its many architects.
There's a viewing terrace at the top with wonderful views of the city. Click here if you want to book a classical music concert at beautiful St. Stephen's.
St. Stephen's Square, in front of the church, has been transformed from a former parking lot into a pretty public space.
The streets and lanes jutting out from the plaza are home to some of Budapest's trendiest cafes and bars. You can stop for some gelato at the adorable Gelarto Rosa.
Budapest is renowned for its wine. Most of Hungary's wines are white.
To the left as you leave St. Stephen's, you'll find DiVino's Wine Bar. Have a cocktail.
For dinner, splash out on Onyx, Budapest's renowned Michelin-starred beauty in the Gerbeaud building. Alternatively, you could go on a Budapest food tour.
If you're a night owl, do a pub crawl of Budapest's "ruin bars." Budapest is renowned for its unique pubs in the Jewish Quarter where you can "get ruined." Click here to book a guided pub crawl of Budapest's ruins bars.
Day 10: Budapest
1. Parliament
On your the final day of your 10 days in Central Europe, begin your morning with a tour of Parliament. With its majestic location on the east bank of the Danube River, Budapest's cream colored Parliament building is easily the most stunning piece of architecture in Budapest.
READ: Must See Attractions on the Danube River
Begun in 1885, it took 19 years to build. Its Neo-Gothic design is a forest of pinnacles and flying buttresses, topped by a Neo-Renaissance egg shaped dome.
Not surprisingly, the glorious pile was inspired by the Houses of Parliament in London. Not only is it the tallest structure in Budapest, it's actually the largest in Hungary.
If you want to tour the interior — and you should — book a ticket online in advance. The building is open at 8:00 am. Tickets are often sold out.
2. Pest
Then, head to the Pest area, Budapest's gritty heart. You can book a 4 hour guided walking tour to see the historic sites.
Walk through Vorosmarty Ter, an elegant square in the heart of Pest. It's named after Budapest's great Romantic poet, Mihaly Vorosmarty. His massive statue-memorial dominates the square.
Admire Gerbeaud Cafe. Peak inside or grab a cup of coffee. A few yards away, you'll see the whimsical The Little Princess statue, a photographer's favorite place. head down the pedestrianized Dek Utca, known as the "Fashion Street."
The main tourist drag through Budapest is Vaci Utca. It's very crowded and touristy, but there's some lovely architecture. This is not the place to stop for a bit to eat. It's very overpriced.
3. Great Synagogue
The Great Synagogue is a gorgeous building, located in the slowly regentrifying Jewish Quarter of the Erzsébetváros district. Built in a Moorish revival style in 1859, like you'd find at Granada's Alhambra, Dohany is the largest synagogue in Europe.
Located on Korut Street, New York Cafe isn't far from the synagogue. Stop here for lunch (reserve ahead). The spectacular cafe was built in the late 19th century in a Renaissance style.
Click here to book a skip the line ticket for the synagogue. Click here to book a 3 hour tour of Jewish Budapest with a historian.
4. Gellert Hill
In the afternoon, take in the views and relax in a salty soak in the Gellert district. Gellert Hill is a magnificent viewpoint.
Gellert Hill takes more effort to climb than Castle Hill does. But it's worth it. All of Budapest is before you. Coming down from the hill, you'll find the bronze Empress Sisi statue near Liberty Bridge.
It's time for a soak in Budapest's famed thermal baths. The elegant Gellért Thermal Bath has grand hall is free to visitors, if you want a peak but not a soak. The baths are located near the Danube at the foot of Gellert Hill. They're only open until 7:00 pm, so be sure to allot sufficient time for a pre-dinner soak.
As an alternative, if you want to visit Heroes' Square (which I think is overrated), head to the Széchenyi Thermal Baths. It's an even more elaborate, but crowded, bath house inside an iconic local building.
For post-soak drinks, head to the High Note Sky Bar at the Aria Hotel. Amid fairy lights, you'll have epic views over St. Stephen's Basilica and square.
For dinner, you don't even have to move. Just head downstairs to the Liszt Restaurant, just opened in 2019. It serves up historic dishes with a nouvelle twist.
Where To Stay In Budapest
I love the Aria Hotel Budapest in the historic Leopold neighborhood of Pest and loved it. I admit this part of Budapest felt a bit Parisian.
Some other fantastic options include: Corinthia Budapest (look like a chateau), the Casati Hotel (chic adults only option), the Parisi Udvar Hotel (restored Art Nouveau beauty), and of course the Four Seasons Hotel in Gresham Palace.
More Than 10 Days In Central Europe?
If you have more than 10 days in Central Europe, head to underrated city of Zagreb, the capital of Croatia, for a couple days. The drive from Budapest to Zagreb is only 3.5 hours (or a more distant 6 hours by train).
Zagreb is the capital and largest city of Croatia. It's located in the northwest Croatia, along the Sava River.
Underrated Zagreb combines cobbled old street charm with edgy and elegant contemporary themes. And it may not be so underrated anymore. Zagreb is overflowing with museums and cafes, to satisfy both the culture vulture and the flaneur.
The photogenic Upper Town has many of Zagreb's must see sites — the Cathedral of the Assumption of the Blessed Virgin Mary, Gradec, and St. Mark's Church.
The church has a stunning patterned tile roof depict the Croatian and Zagreb coat of arms. You'll also find one of the oldest buildings in Zagreb: Lotrščak Tower.
Past St. Mark's Church is one of Zagreb's most iconic attractions, the Museum of Broken Relationships. The museum was the brainchild of Olinka Vistica and Drazen Grubisic. They developed an art exhibition concept that involved displaying the discarded tokens and momentos from failed relationships.
If you'd like to spend more time in Croatia beyond Zagreb, check out my 10 day itinerary for Croatia or my 10 day itinerary for Croatia and Slovenia
I have you've enjoyed my 10 days in Central Europe itinerary. You may enjoy these other itineraries for Europe:
If you'd like to need a 10 day itinerary for Central Europe, pin it for later.