Need a break from the big city? Just east of Greater London, the county of Kent is a fantastic place to spend a week.
Kent is so beautiful that it's been dubbed the "Garden of England." And it's not just the greenery that seduces.
There are so many things to do and see in Kent. The county is graced with a wide array of medieval castles, well-preserved historic towns, grand manor homes, a rugged coastline, and a stunning cathedral.
With its myriad attractions and proximity to London, Kent has attracted some of England's greatest celebrities over the centuries — Winston Churchill, Charles Dickens, Thomas Becket, to name just a few.
And while the Cotswolds get all the accolades and tourists, Kent is equally charming with the same chocolate box villages, but fewer crowds.
Overview Of One Week In Kent Itinerary
Here's a quick snapshot of what you'll see with this one week in Kent itinerary. It covers all the best places to visit and best things to do and see in Kent.
Day 1: Arrive and explore Faversham
Day 2: Explore Canterbury
Day 3: Visit Whitstable or Broadstairs
Day 4: Visit Dover & Deal, move to second base
Day 5: Visit castles (5 options)
Day 6: Visit Rye and Bodiam Castle
Day 7: Visit Leeds Castle & Hever Castle
More than 1 week in Kent? Add on Rochester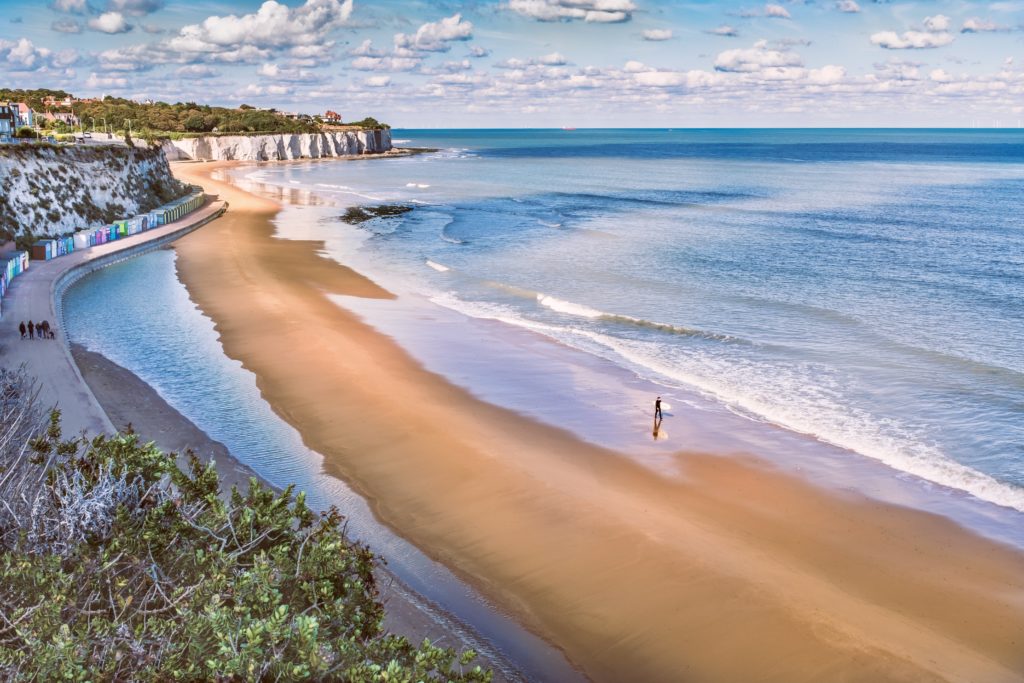 Practical Information For One Week In Kent
1. Where To Stay In Kent
Where you stay in Kent depends on what type of traveler you are. It's a fairly small region.
You can pick one base for your week in Kent or you can split your time between two bases. Your choice will also depend on whether you prefer small towns or cities.
I suggest having two bases for your road trip, one in northern Kent and one in southeast Kent. That way, your daily drives aren't too long, eating into your sightseeing time. There are myriad options.
In northern Kent, Faversham makes an excellent base. It's an adorable town close to Canterbury, Deal, Whitstable, Broadstairs, and Dover. For hotels in Faversham, check out the luxurious Cave Hotel Near Canterbury.
If you prefer beaches, you can base in Whitstable or Broadstairs.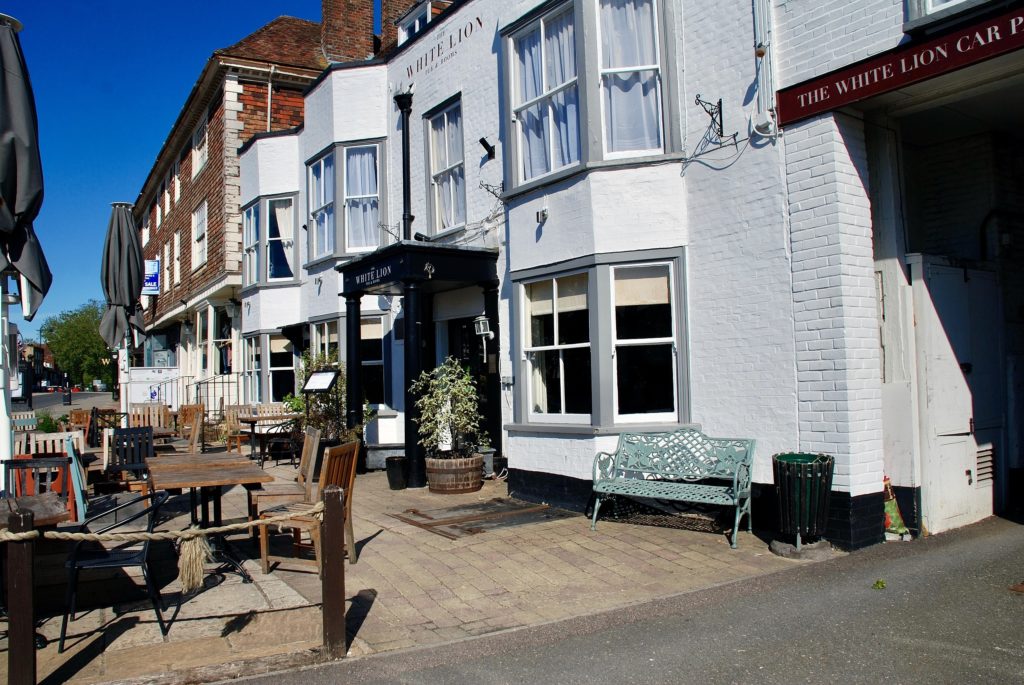 For southern Kent, I recommend the town of Tenterden. It's near all the great manor houses and castles in Kent and you can also visit the beautiful town of Rye (technically in East Sussex) on your one week in Kent. In Tenterden, you can check out Harbourne Oast or The White Lion for hotel options.
Of course, you can also spend the entire week holed up in Canterbury, the beautiful main city in Kent, and take day trips from there. That would give you the advantage of having plenty of things to do in the evening.
But Canterbury can be hard to drive and park in, with its pedestrianized center. You may have to leave your car in one of the municipal car parks. The smaller towns in Kent are easier to navigate.
Alternatively, you can just pick a nice villa in the country and use that as your base. In that case, I would make your decision based on the quality and value of the accommodations and not worry too much about what town it's near.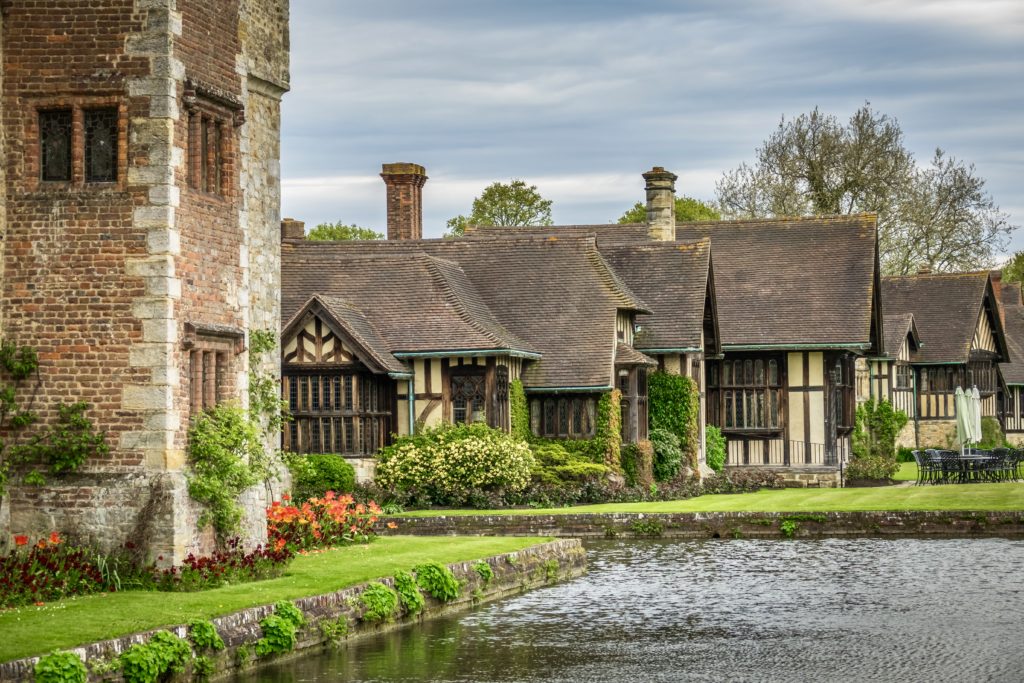 There are plenty of other options too. Kent has a wealth of historic inns, boutique getaways, bed and breakfasts, and traditional hotels.
If you want to feel like a royal, you might also consider spending a night at castle. Hever Castle has a Tudor Village containing a 28 room boutique hotel called Hever Castle Luxury Bed and Breakfast.
Sissinghurst Castle Farmhouse is a beautiful Victorian farmhouse right on the Sissinghurst Castle grounds.
You can also spend the night at Leeds Castle in their award-winning bed and breakfast or special cottages. Check out:
If you simply can't bear to leave London, every destination I mention in the one week in Kent itinerary can be visited as a day trip from London. Dover is farther away at 2 hours each way, but still doable.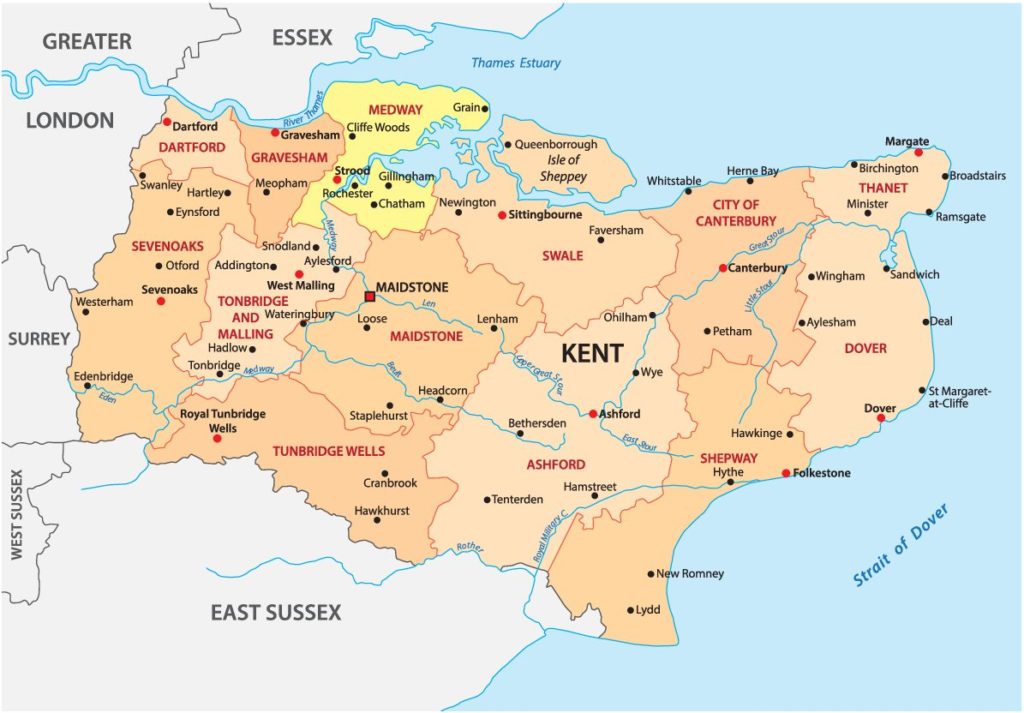 2. When To Visit Kent
As I always say on my blog, I like to visit places in the shoulder season, the spring or fall. The same holds true for Kent.
You can avoid some of the summer crowds and still see the bright colors of the gardens. I visited in late March and, while it was a little chilly, I didn't mind at all.
3. How To Get To Kent
If you're going straight to Kent from the airport, it's easiest to fly into Gatwick. A car is definitely the best way to get around Kent.
If you want to take a train from London, St. Pancras International offers the fastest connections. Trains also leave from Victoria and Charing Cross Stations. You can book tickets online here.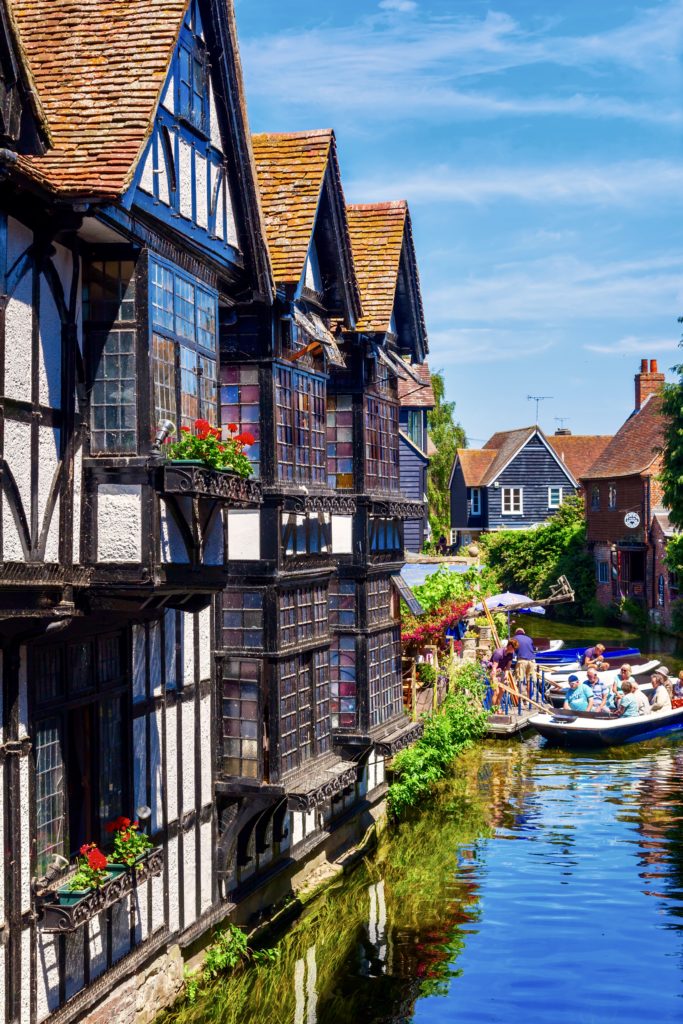 One Week In Kent Itinerary
Here's my recommend itinerary for spending 7 days in Kent. This itinerary begins in northern Kent and ends in southwest Kent. But you can rearrange the order of days based on where you're staying.
As with all of my suggested itineraries, I recommend that you use this one week in Kent itinerary as a guide. You can tailor it to suit your own individual interests, needs, and pace of travel.
To use this itinerary, it's really easiest to have a rental car. Some of the castles aren't easily accessible with public transport.
Let's explore all the best things to do and see in Kent.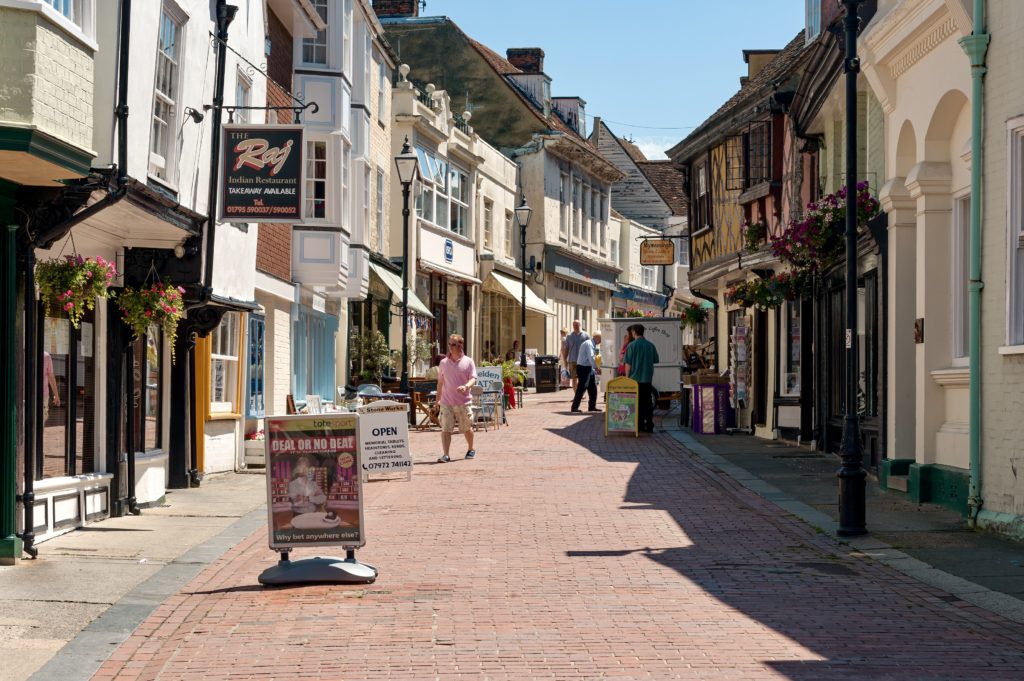 Day 1: Arrive And Explore Faversham
Tiny Faversham is known as the "Medieval Gem of Kent," and one couldn't possibly disagree with that assessment.
Faversham isn't known for its grand monuments. It doesn't have either a castle or cathedral. What Faversham has in spades in an adorable medieval old town filled with perfectly preserved timber framed houses.
Faversham has over 475 buildings listed as "historic," including many from the Medieval and Tudor period. So, if you're a medievalist who wants to steep yourself in an ancient atmosphere, you will love Faversham.
For an overview of Faversham's history, stop in at the Fleur de Lis Heritage Center. You can get maps and tips at the tourist center and also visit the onsite museum.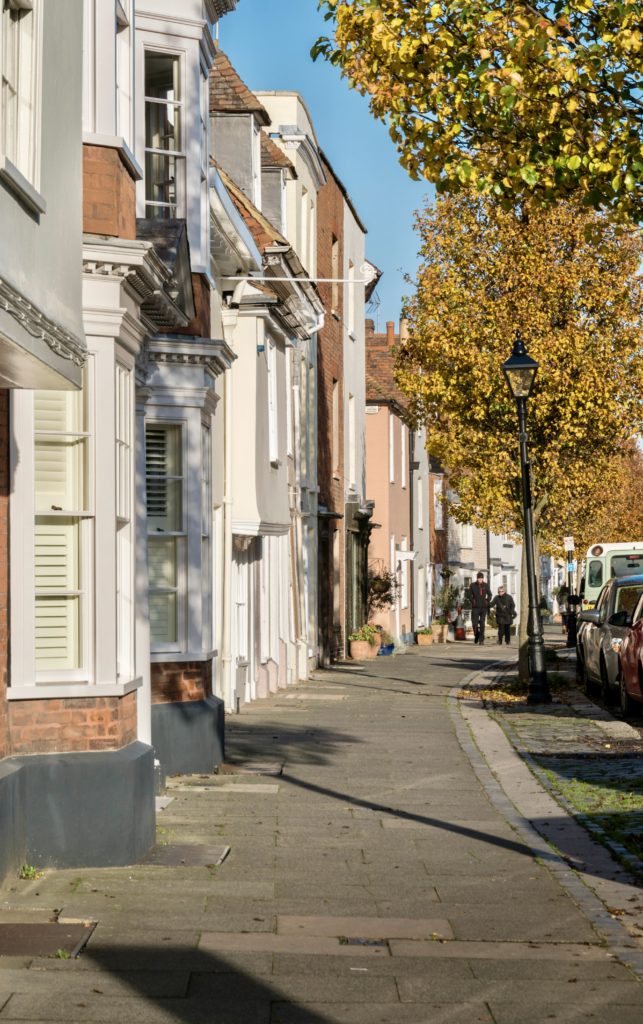 Be sure to visit the lovely St. Mary of Charity Church, which is readily identified by its graceful spire. Inside, you can admire the quire, Tudor funerary memorials, and a medieval frescoed pillar from the 14th century.
You should also stroll by the 16th century Arden House, which is privately owned and only limited openings. The house was the scene of the infamous murder of Thomas Arden in 1551, who was done in by his wife and lover.
If you can plan your visit for a Saturday, you'll be treated to the terrific weekly market, first established in 1086. You can also visit Maison Dieu, another heritage site, on the outskirts of town that's only open on weekends.
For more information, check out my one day in Faversham itinerary.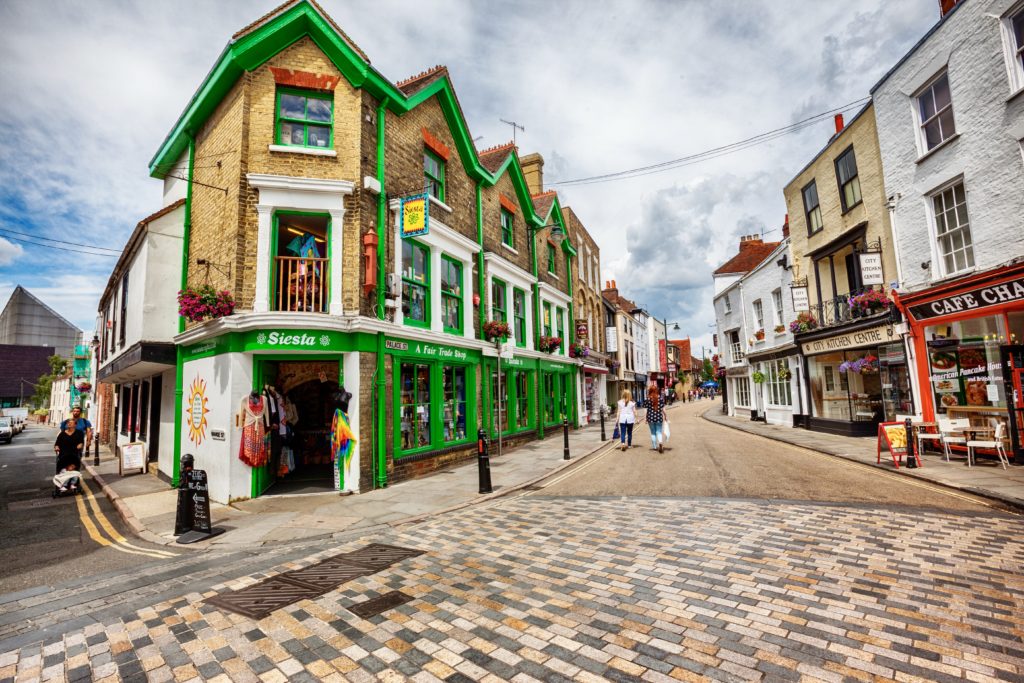 Day 2: Explore Canterbury
Canterbury is only 15 minutes down the road from Faversham, so you will have a full day to tour this delightful town. Canterbury is the crown jewel and cultural capital of Kent.
Its well-preserved medieval center is a delight to stroll. It's a timeless place where past and present run together like watercolor.
I advise kicking off your one day in Canterbury with a small group walking tour or a private walking tour of the city highlights.
Canterbury's UNESCO-listed cathedral is the top attraction and focal point of the city. It's the first of England's great Norman cathedrals, dating from the 11th century.
The cathedral is a masterpiece of Gothic architecture and it's the first cathedral I personally fell in love with in Britain. It's been a place of pilgrimage since the scandalous murder of Archbishop Thomas Becket in 1170.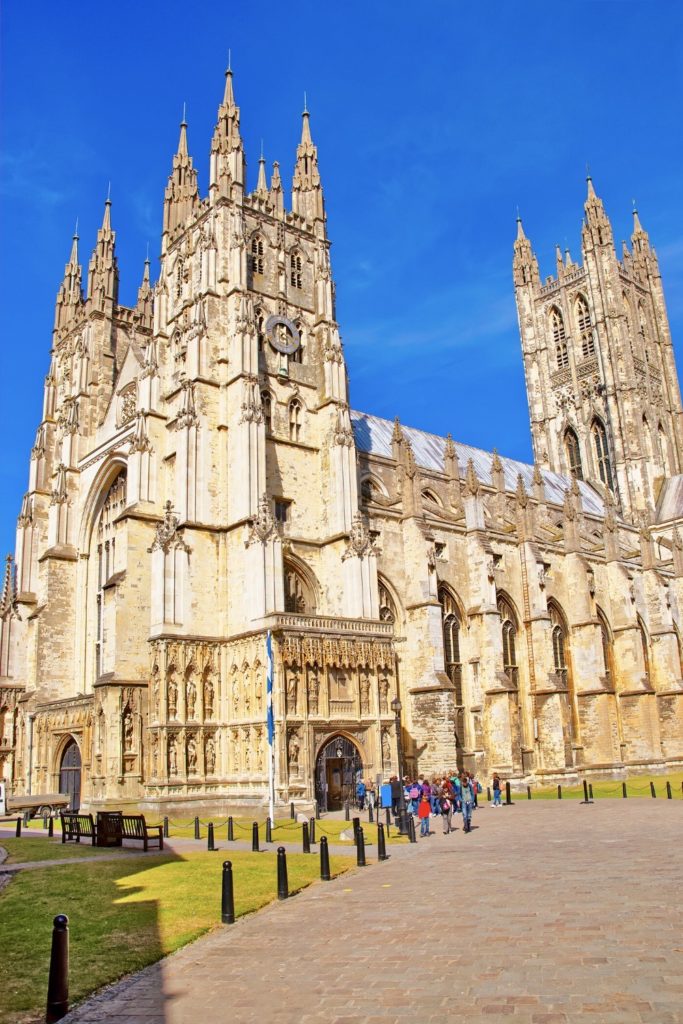 Once inside, you're immediately gobsmacked by the height and length of the Perpendicular Gothic nave. Slender columns rise up to form vaulted arches. A stunning carved Gothic screen separates the nave from the choir.
Canterbury's stained glass windows are exceptional and world famous. They date from the 11th and 12th centuries.
You'll also want to visit St. Augustine Abbey. This is one of Britain's earliest Christian sites, situated just outside the city walls 7 minutes from the cathedral. The abbey is mostly in ruins, but still very atmospheric.
Grab lunch and spend the rest of your day rambling the old town.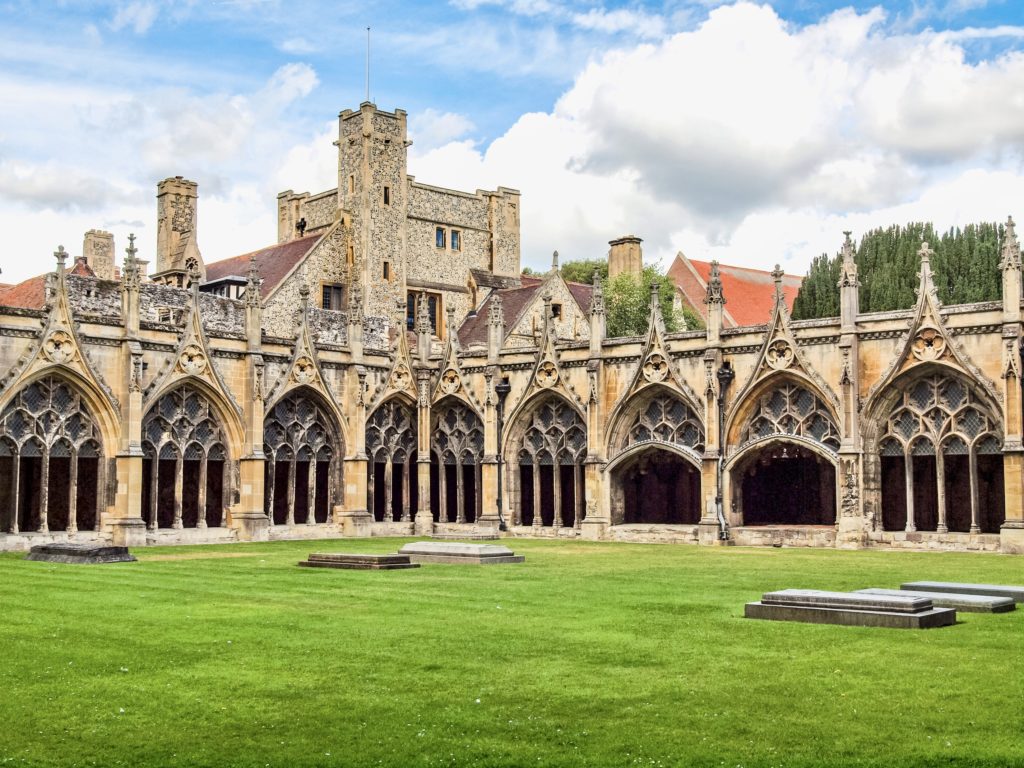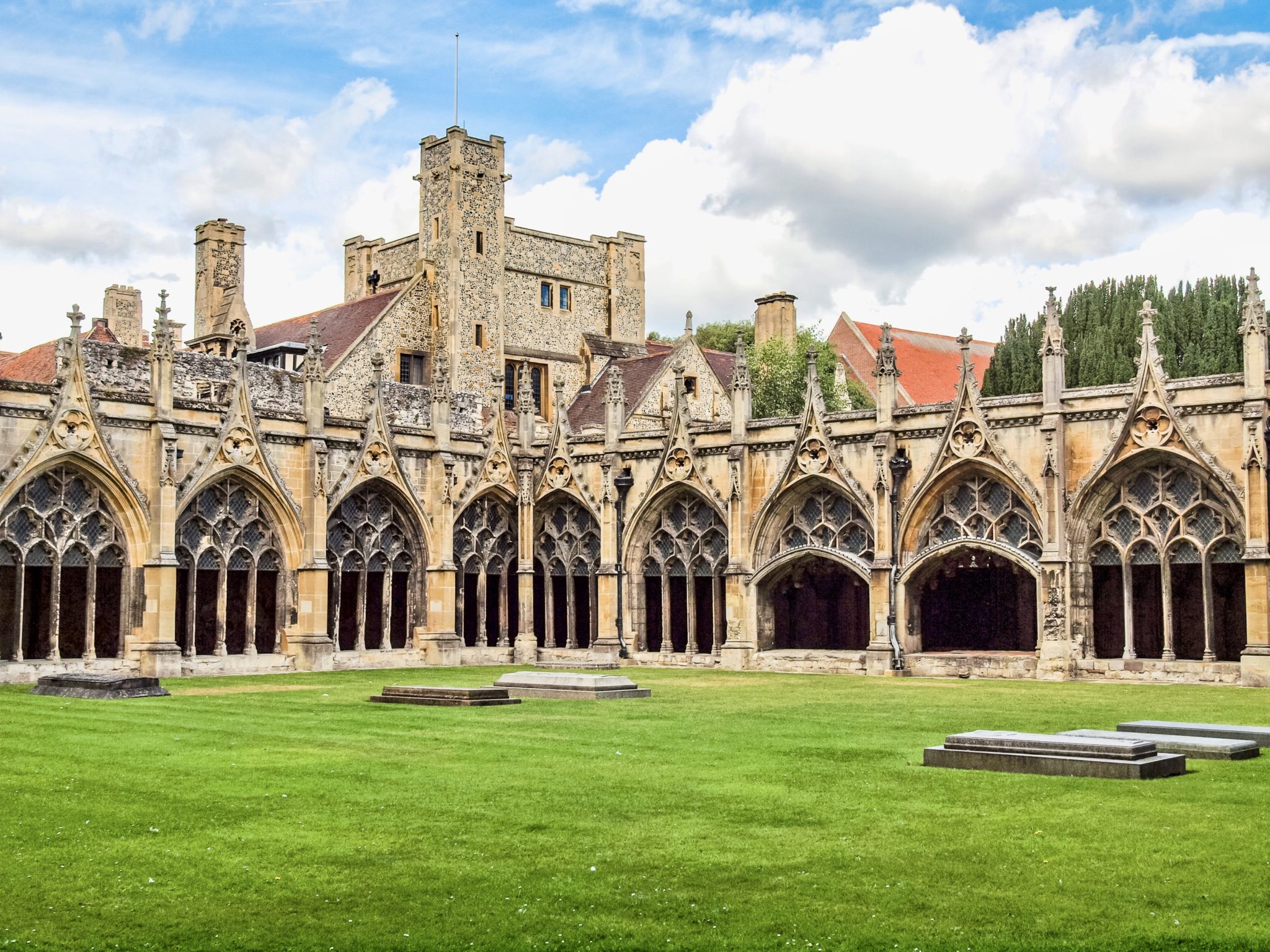 Canterbury has a thriving pedestrianized center. A square called Buttermarket marks the town center. The main drag is High Street.
One of the prettiest streets in Canterbury is Butchery Lane, where medieval buildings jut out right and left. Another beautiful lane is Mercery Lane, a shopping street that's home to the Roman Museum.
Have dinner in Canterbury and then head back to your base. For more tips on where to eat, stay and play in Canterbury, check out my one day in Canterbury guide.
Another cute Kent town right outside Canterbury is Fordwich. You might try dining at the Fordwich Arms. It's a Michelin restaurant by the duo that founded Clove Club in London.

Day 3: Visit Whitstable And/Or Broadstairs
Today, you can visit the seaside towns of Whitstable or Broadstairs or both if you're ambitious. They're only a half hour apart.
Whitstable
Whitstable is a posh seaside town in the southeastern corner of Kent. The town is famous for love colorful clapboard houses and seafood (especially oysters). The best place to sample the goods is Wheelers Oyster Bar.
Whitstable's historic center is laced with thin alleys, which all lead to the water. Stroll down High Street and Harbour Street for boutiques, shops, and restaurants. You'll even find a Michelin starred restaurants in the tiny town, the Whitstable Oyster Company.
Whitstable Castle is a vast Neo-Gothic home built in the 1790s. This is a good place to have afternoon tea.
Before or after sightseeing, you can hit the pebbly beach. It's a beautiful spot despite the lack of sand. You can relax in a beach hut or grab a pint at the Neptune Pub.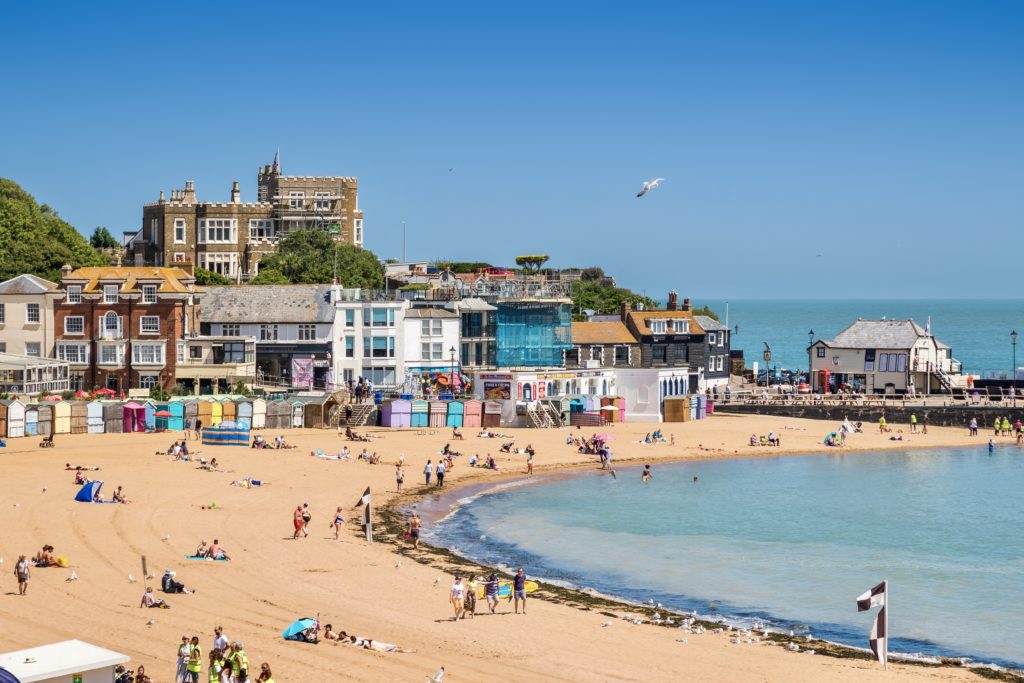 Broadstairs
21 miles east of Whitstable is another seaside town, Broadstairs. The town has a spectacular coastline with seven sandy beaches and bucket loads of seaside charm.
Sitting on the very tip of Kent, Broadstairs is known as the "jewel in Thanet's crown."
This jewel was the setting for the BBC show Broadchurch. It's also famous as a haunt of Charles Dickens, who spent time here writing Bleak House and David Copperfield at Bleak House.
The house itself is still closed, but you can visit the Charles Dickens Museum. It's housed in a cottage that inspired the home of Betsey Trotwood in David Copperfield, with plenty of Dickensian memorabilia.
You can also hit the beach. Or, for some exercise, take the Viking Coastal Walk.
It's a 3.5 mile stretch that takes you past pretty Botany Bay and to the town of Margate. Botany Bay is a simply beautiful sandy beach set against chalk cliffs.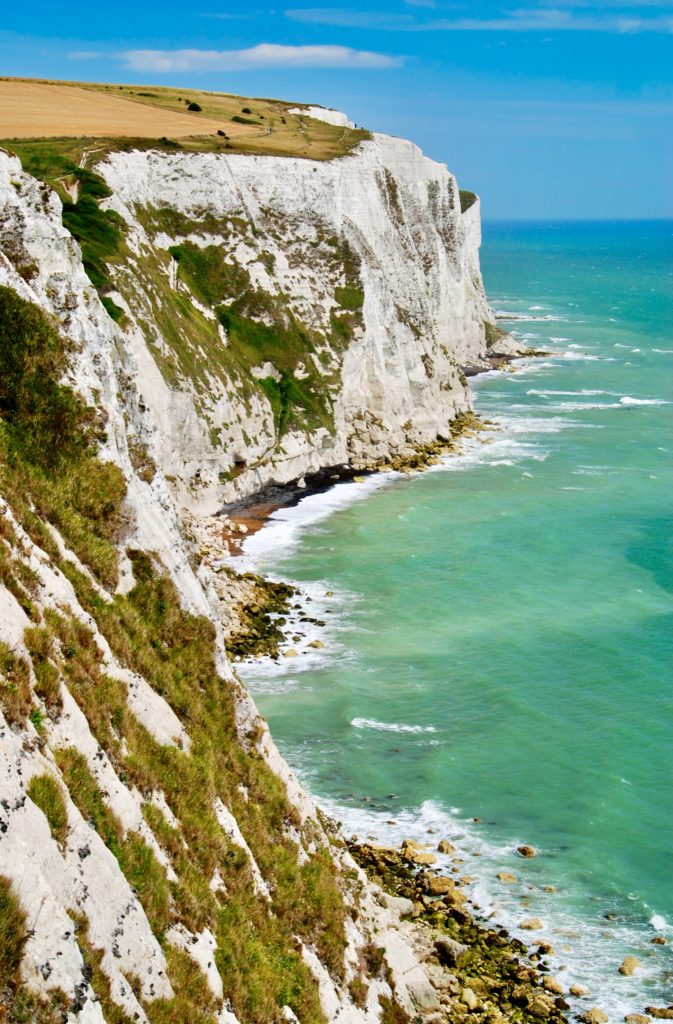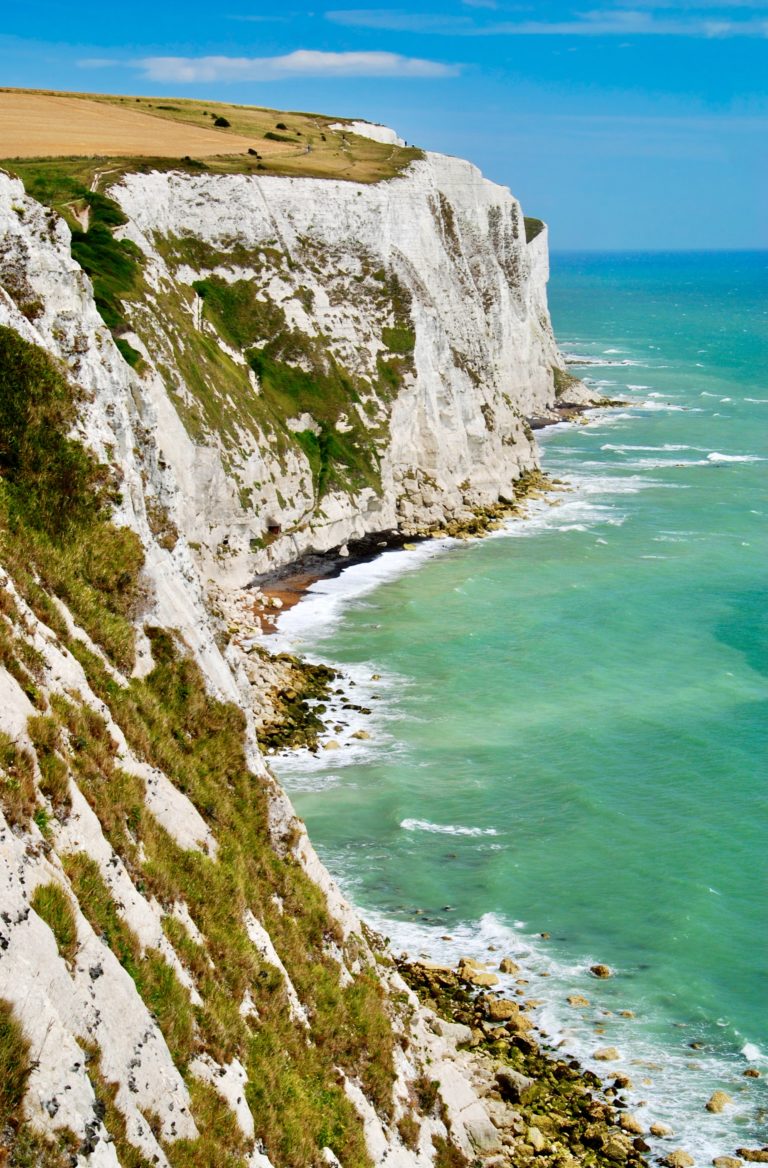 Day 4: Visit Dover & Deal
On day 4, visit the towns of Dover and/or Deal. Dover could definitely keep you busy all day with its castle and White Cliffs. But Deal is a cute town that's worth a visit too, so maybe you can squeeze both towns into one day.
Dover
The port town of Dover has been around since Roman times. It's home to the famous White Cliffs that welcome you to England from France.
The cliffs have been beloved since WWII, when they represented strong teeth bared menacingly against the enemy. Shakespeare said the decisive white slash along the coast had a "high and bending head [looking] fearfully into the confined deep."
Dover itself isn't the prettiest town per se. But its landscapes and attractions are phenomenal.
Dover Castle is England's largest castle. One of the greatest Norman monarchs, Henry II, built the imposing 12th century keep you see today. Dover was a formidable castle the likes of which had never been seen before.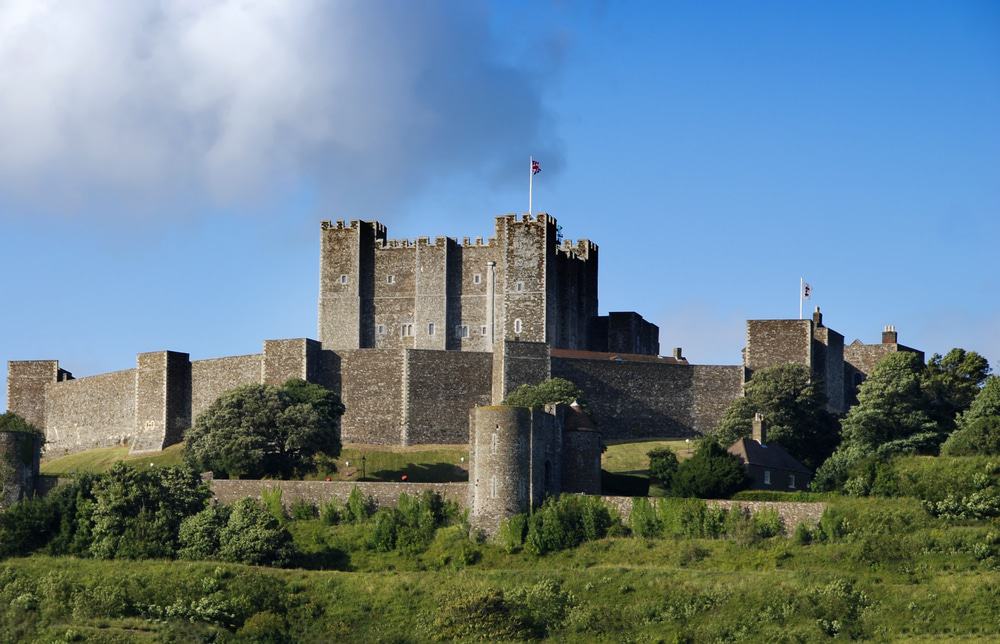 Much of what you see today is unchanged from that era. The castle could take all day to explore, if you wanted to poke into every nook and cranny.
The castle's highlight is the central keep with its Great Hall, royal chambers, and private chapel. You can visit Dover Castle with the English Heritage Pass.
The famous towering white chalk cliffs are Dover's trademark. They stretch for 8 miles along Dover's coastline.
If you're feeling ambitious, you can walk the entire stretch to the picturesque town of Deal. Alternatively, you can book a guided local tour to see the most photogenic spots.
Paths between the chalk cliffs lead down to the seas.
READ: One Day In Dover, Day Trip From London
Deal
Deal is a picture-perfect tiny town that's an overlooked hidden gem in Kent. It's just 15 minutes away from Dover. It ticks all the cuteness metrics with its quaint rows of Georgian townhouses, unique boutiques, and laid back seaside charm.
There's not a lot to do in Deal. It's the kid of place where you can just kick back, relax, and poke into cute vintage shops and galleries.
If you want something specific to see, the town's top attraction is Deal Castle. It's a Tudor style castle built by Henry VIII as part of an ambitious chain of coastal "gun forts."
Deal is sometimes called the "new Shoreditch." It's full of trendy and quirky art galleries. There's also a thriving foodie scene.
And, of course, you should hit the golden sand beach and grab some fresh seafood. It's a quiet pristine beach dotted with wooden fishing boats.
At the end of day 4 of your one week in Kent, move to your second base further south, if you have one.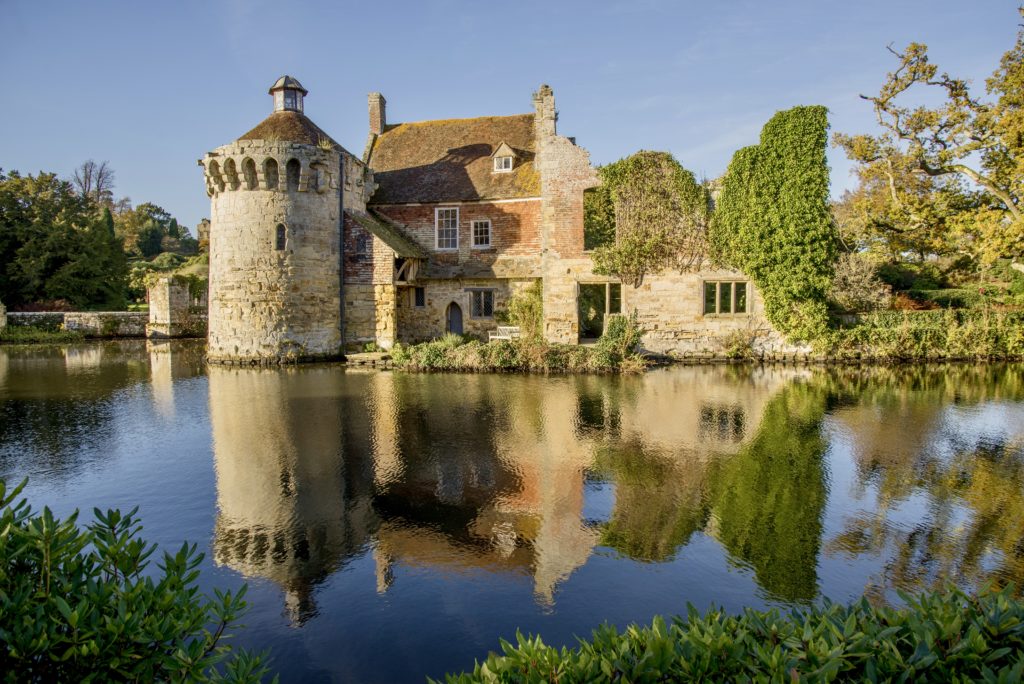 Day 5: Castle Day
Day 5 of this one week in Kent itinerary is dedicated to castle hopping, which is one of the best things to do in Kent.
I give you five attractions to choose from and you can decide which castle or castles appeal the most. They are all within a short driving distance from each other, maybe 20-30 minutes.
Scotney Castle, Lamberhurst
There are really two castles at Scotney Castle, a 14th century moated castle and Victorian mansion house. Both are heritage sites.
For 300 years, Scotney Castle was home to the Darrell family. Roger de Ashburnham built the castle in response to French invasions in 1377.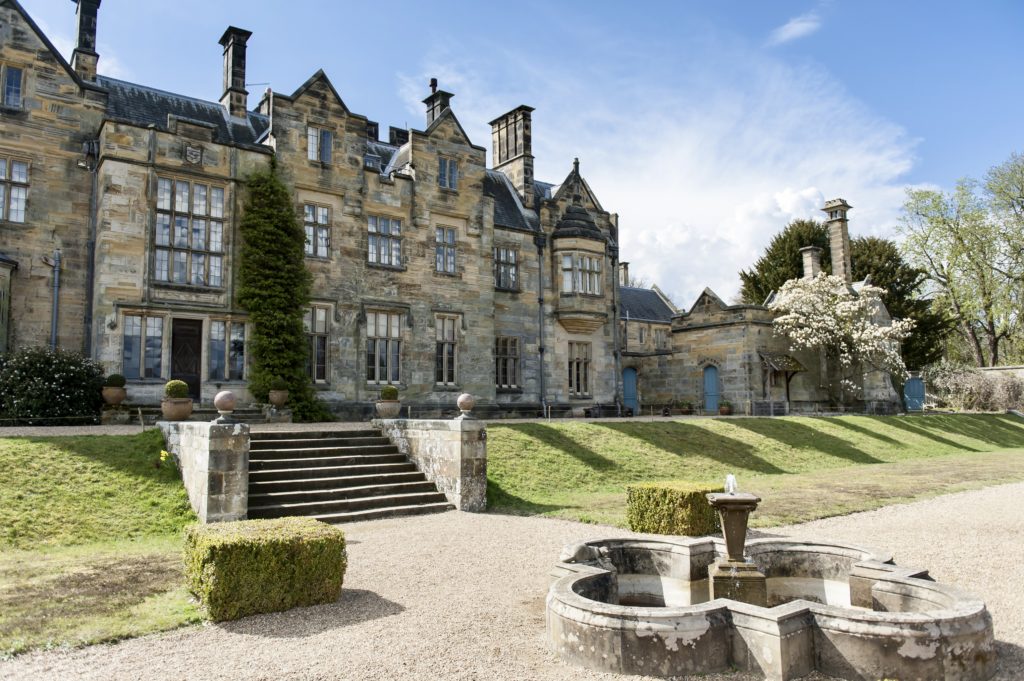 The castle is famous for having successfully harbored a Jesuit priest during the reign of Elizabeth I. All that's left of the medieval castle are the ruins of Ashburnham Tower and vestiges of an Elizabethan home. But it's incredibly picturesque, set amid a moat.
The second Scotney is up the hill from the old castle and couldn't be more picturesque.
Built by the Hussey family between 1835-43, it was designed by Anthony Salvin in the Tudor Revival style. It has spectacular gardens and a tea room, if you fancy afternoon tea.
Tonbridge Castle, Tonbridge
Tonbridge Castle is one of England's most authentic medieval castle, standing guard over the market town of Tonbridge in Kent. It's known as the finest surviving example of a motte and bailey castle.
After being gifted the plot by William the Conqueror, Richard Fitz Gilbert built a wooden motte and bailey castle on the site. But Fitz Gilbert backed Odo against William in the civil war of 1088. William laid siege to Tonbrige and it fell.
Nonetheless, Fitz Gilbert's son, Gilbert de Clare, became fast friends with William and rebuilt a stone castle.
In the late 13th century, another de Clare, the notorious "Red Earl," built the mammoth 5 story gatehouse. The structure contained guard rooms, a great banqueting hall, and living quarters.
Today, you can enter the gatehouse and explore the great hall, winding stairs, and basement. Climb the battlements for breathtaking views across the town.
If you're a fan of Madame Tussaud's, you'll love Tonbridge. Life size wax figures are scattered through the castle to give you slices of life from the Middle Ages. You can also get the complete scoop with the castle's audio guide.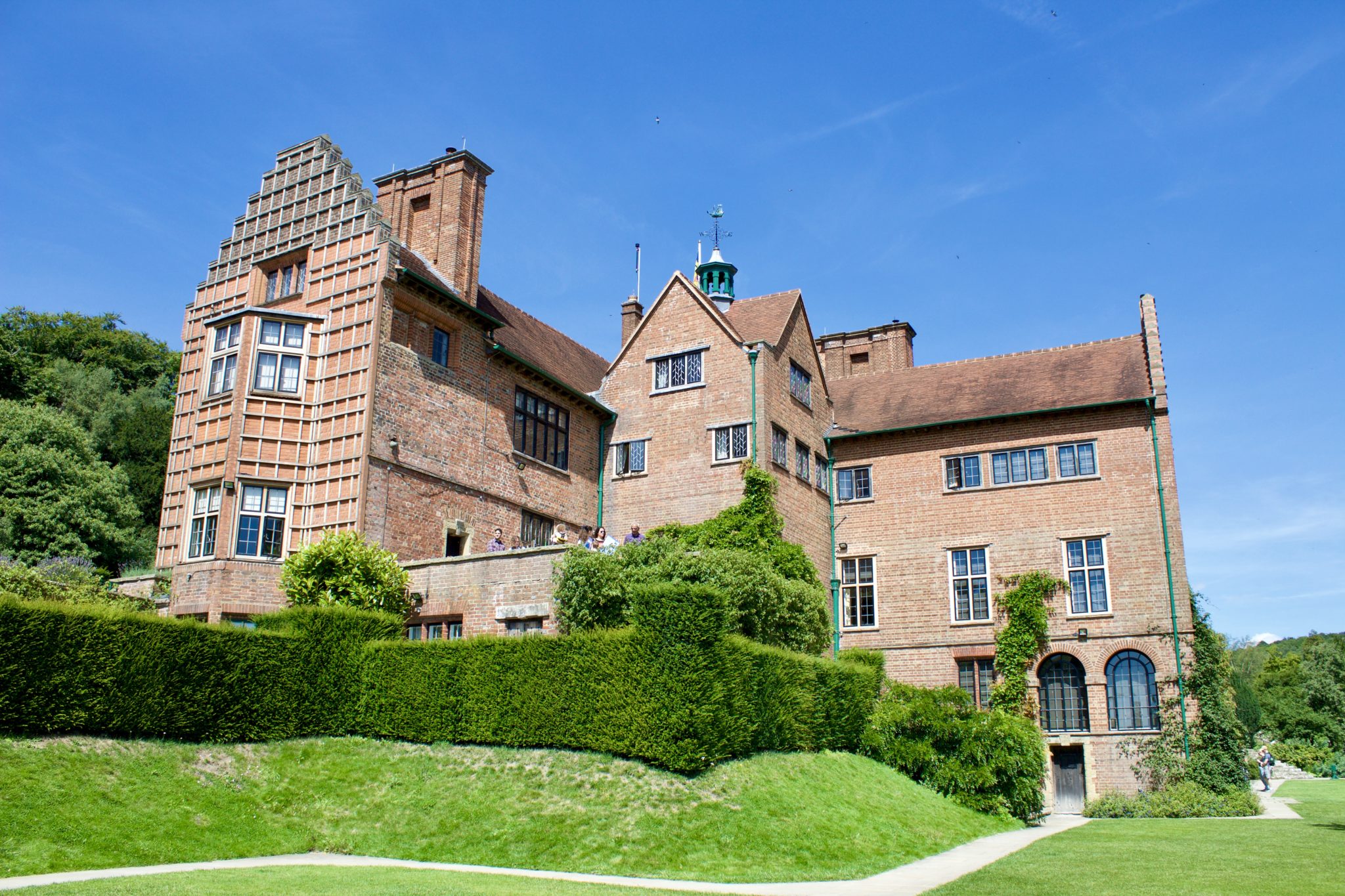 Chartwell House
Chartwell House is where Winston Churchill grew up. It was his country seat for over four decades. The house was Churchill's sanctuary from the tumultuous political battles in London.
Chartwell House isn't a grand home. Though Churchill could ill afford it, he did try to gussy up the place. Churchill almost lost the house twice because he was broke.
His friends bought the house and presented it to the UK's National Trust. Upon Churchill's death, it opened to the public as a museum.
You can see five rooms where Churchill lived — the dining room, the library, the drawing room, his wife Clementine's bedroom, and Winston's study. Three other rooms are filled with Churchill memorabilia. You can also check out his painting studio.
Sissinghurst Castle & Gardens
Just 40+ minutes from Hever, Sissinghurst Castle is a National Trust property and major highlight for garden lovers.
Laid out in the 1930s, the castle boasts one of the world's greatest 20th century romantic gardens. They are set around the ruins of a moated Elizabethan mansion.
Former owner and writer Vita Sackville-West designed the gardens to look like rooms of a house. Each one has its own color scheme and theme.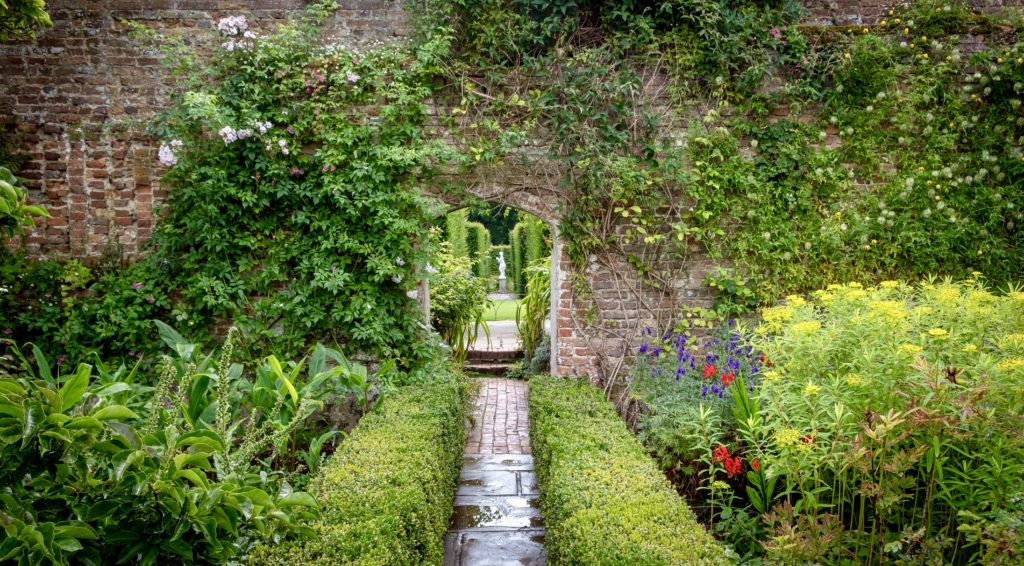 The gardens are most beautiful in spring. You might be a tad disappointed in the summer time.
Head up the four story tower, that juts into the air, for panoramic views.
In Vita's study, you'll see the original printing press used by Virginia and Leonard Woolf to run off the first volumes issued by their company, Hogarth Press.
As I mentioned above, Sissinghurst Castle Farmhouse has a beautiful Victorian farmhouse bed and breakfast for overnighting.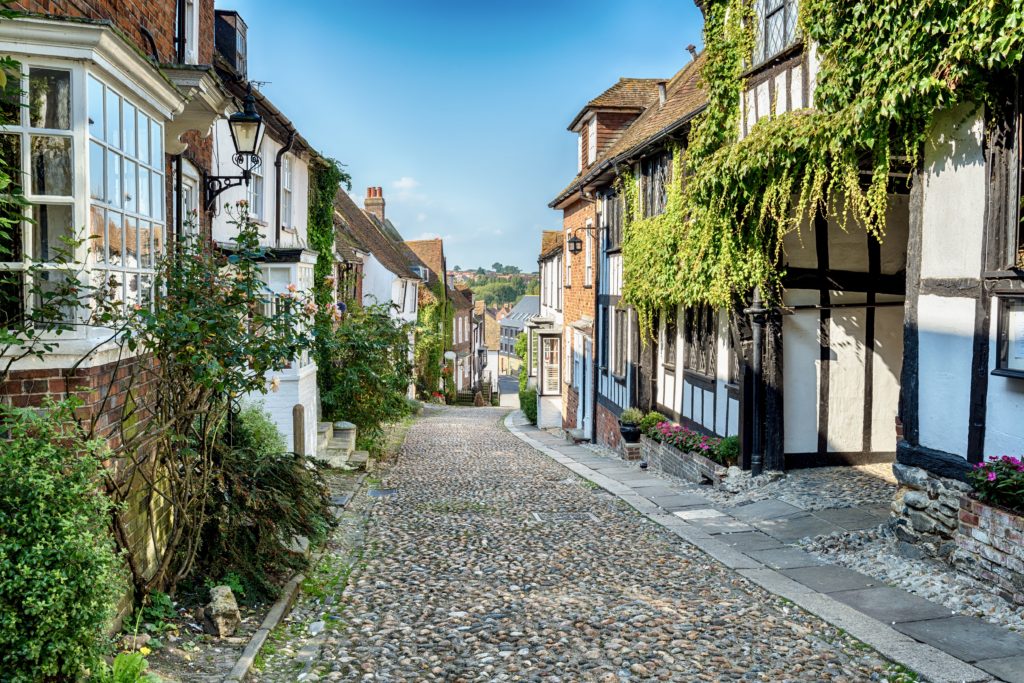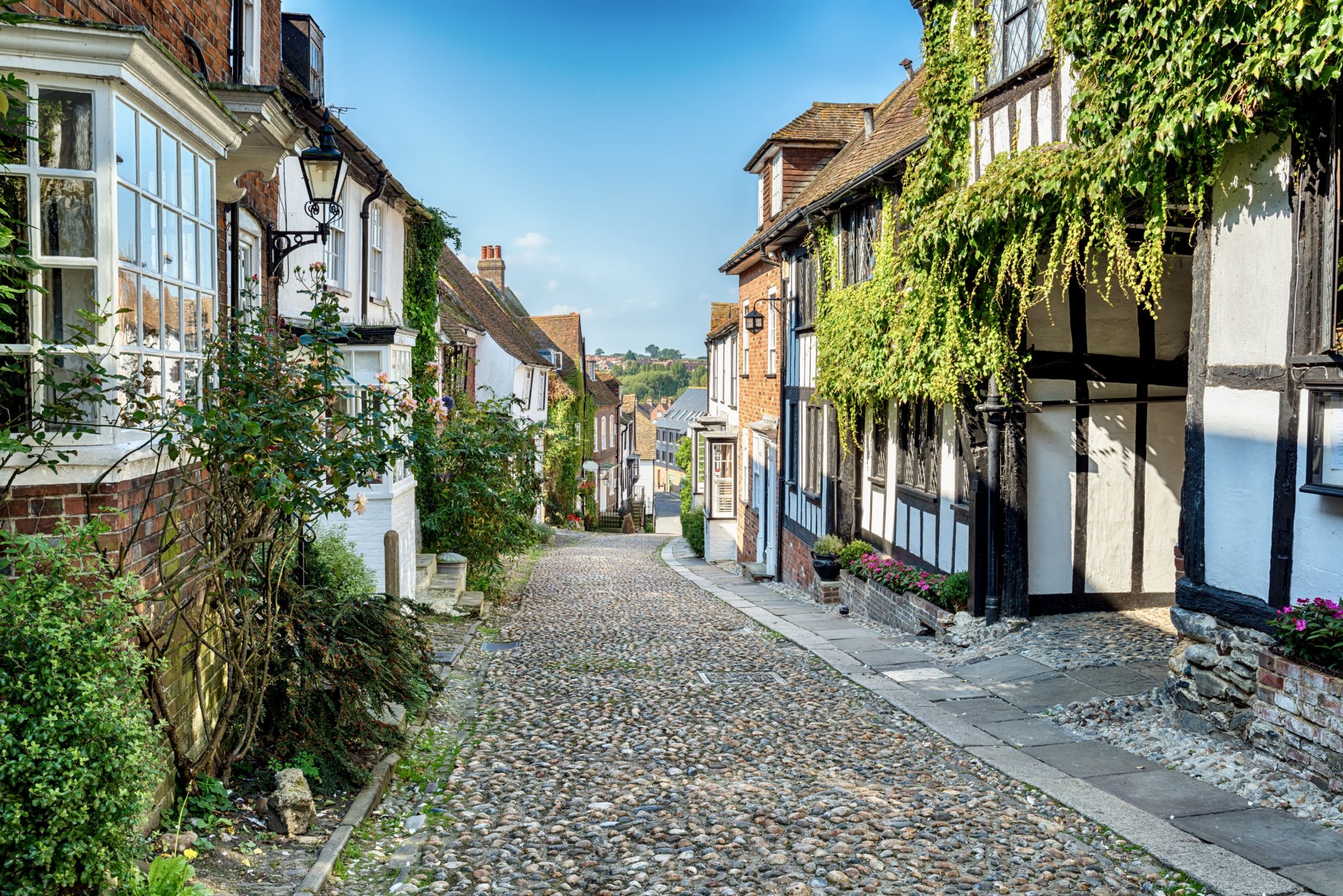 Day 6: Visit Rye And Bodiam Castle
On day 6 of this Kent itinerary, you'll dip into East Sussex, right on the border of Kent, to visit the historic town of Rye and Bodiam Castle.
Rye
The beautiful town of Rye is not technically in Kent. It's just over the border in East Sussex and well worth visiting.
Rye is one of England's best kept secrets and one of my favorite medieval towns in all of England. It's a quintessential English town that seems suspended in time.
Rye is an ancient seaside town, perched on a hilltop above the Romney Marshes. It's filled with crooked streets and quirky independent shops.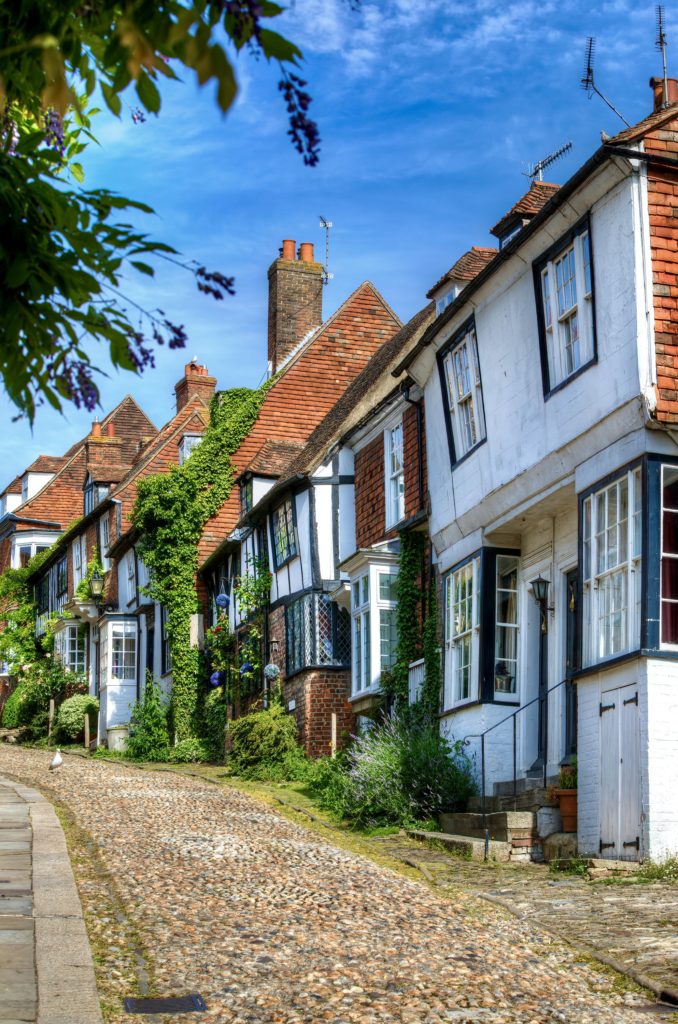 Rye is the perfect place to immerse yourself in old world English charm. You can visit the remains of a medieval castle, see an awe-inspiring church, and be gobsmacked by some of the best preserved medieval homes in England.
Be sure to stroll down historic Mermaid Street, known as one of the UK's most adorable and photogenic streets.
You can also hit the beach at Camber Sands and explore Camber Castle, another one of Henry VII's "gun forts." The nearby village of Winchelsea is also cute and worth a short stop.
For more information, here's my complete guide to spending one day in Rye.
Bodiam Castle
Bodiam Castle is one of England's true storybook castles. It's a square fortress completely surrounded by a large lake-like moat.
Built in the 14th century by the wealthy Sir Edward Dallingridge, Bodiam is one of the last medieval castles in Britain. It has a perfect symmetry with stout drum towers at each corner and crenellated walls. Conceived as a courtyard castle, it has unusually open middle grounds.
Like many castles of this period, Bodiam combined a fearsome facade with luxury elements. There were big rooms, toilets, and fireplaces.
By the 17th century, Bodiam was a celebrated and romantic ivy clad ruin. The exterior was restored in the 19th century.
You can take the free guided tour or explore each nook and turret on your own. There's a parking lot on site and you pay at the kiosk.
Bodiam Castle offers free tours that occur almost every day and give a brief history of the castle. The tours start at 12:15 pm and 2:15 pm and last around 35-45 minutes.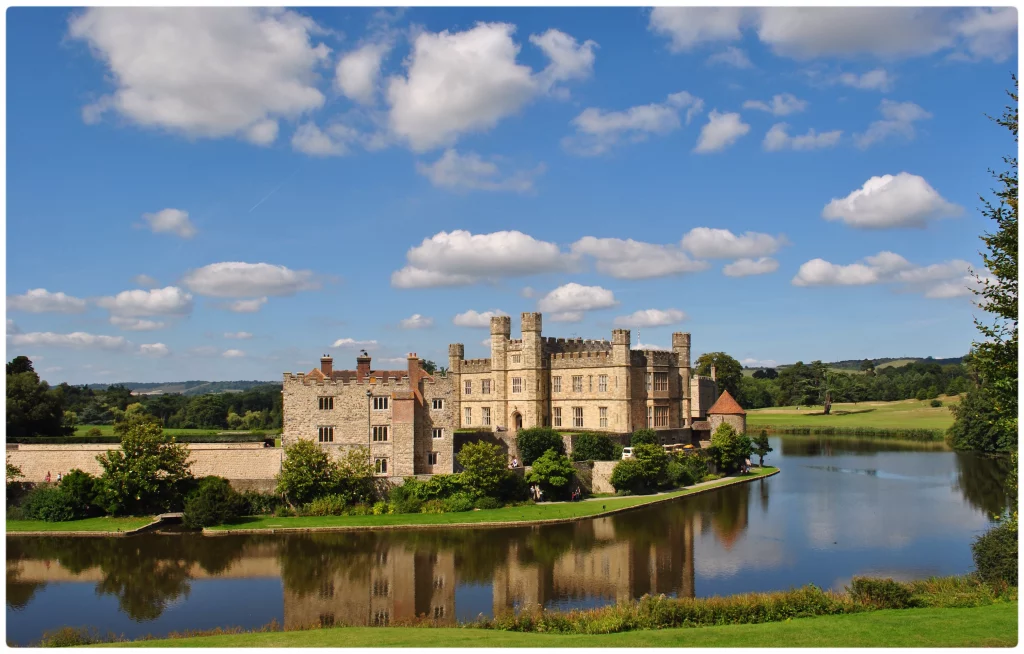 Day 7: Visit Leeds Castle & Hever Castle
On you last day of your one week in Kent, you'll visit two of England's most famous castles: Leeds Castle and Hever Castle.
It's a lot to do in one day. The castles are 45 minutes apart, but it can be done. You'll start with Leeds castle because Hever Castle doesn't open until noon.
Leeds Castle
Leeds Castle is one of Britain's best and most beautiful castles. The castle has a picturesque island setting on a lake in the wooded countryside of Kent.
Leeds' history is no less romantic. Leeds Castle has been a Norman Stronghold, a Royal Palace, and the stately home of an American heiress.
Today, you can visit the New Castle, the 13th century Gloriette tower, Maiden's Tower, and the extensive grounds and gardens.
The castle was a royal residence until Tudor times and known as the "Ladies Castle." Seven queens lived at Leeds.
The castle was also a favorite abode of Henry VIII, who shuttled his ex-wife Catherine to live there permanently after their divorce.
With Henry's deep pockets, he lavished improvements on it, transforming Leeds from castle to royal palace. He added grand reception rooms, suites of rooms in the Gloriette, the graceful Maiden's Tower, expensive glass, and fireplaces.
Thereafter, the castle fell into ruins. In 1926, American heiress Olive Paget (later Lady Baillie) purchased the castle. She saved it from centuries of neglect and restored it to medieval perfection.
For more information, here's my complete guide to visiting Leeds castle. In high season, you should pre-book a skip the line ticket for the castle. It's a bit pricey, but good for an entire year.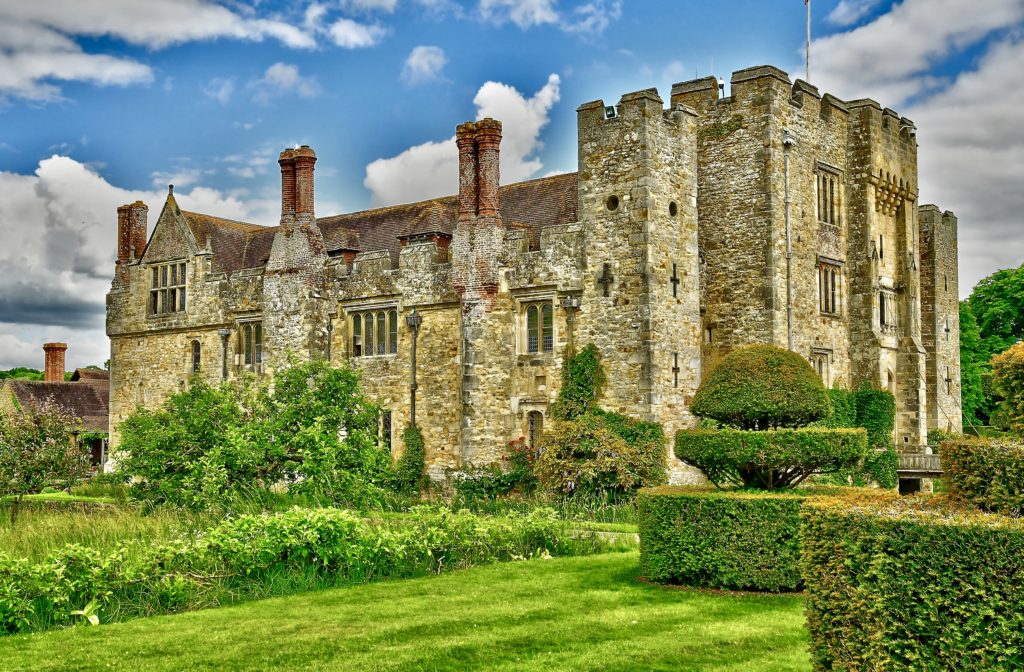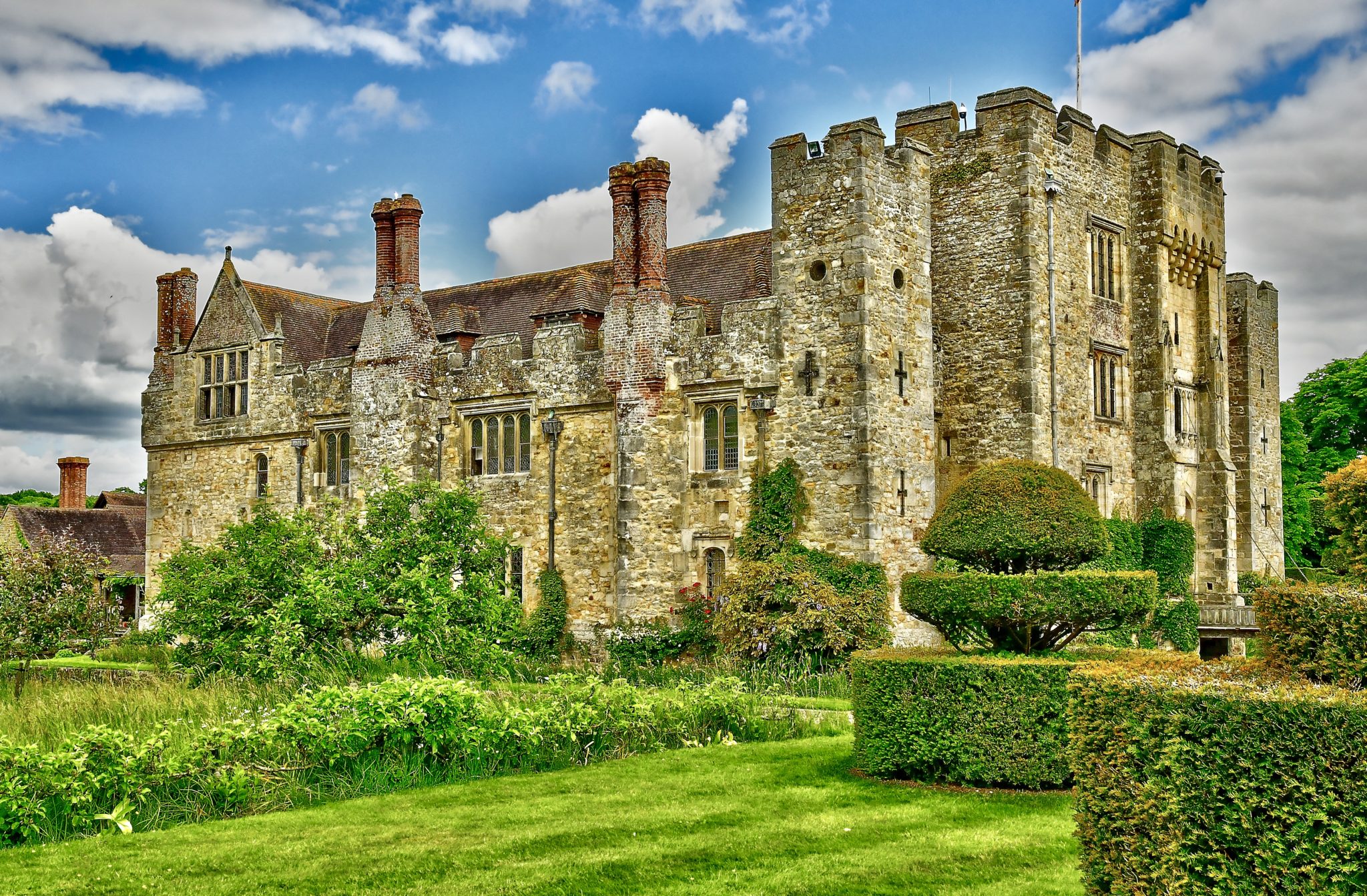 Hever Castle
If you're a Tudor enthusiast, Hever Castle is one of the best castles to visit in England. Hever is a petite double-moated castle with a craggy romantic visage that's largely unaltered by time.
It's famously linked to the ill-fated royal couple, Anne Boleyn and Henry VIII. Their story is a fascinating one, one of the most dramatic in English history.
Hever was the childhood home of Anne, Henry's second wife. It's also linked to Henry's fourth wife, Anne of Cleves, who was installed there after Henry divorced her in favor of Anne.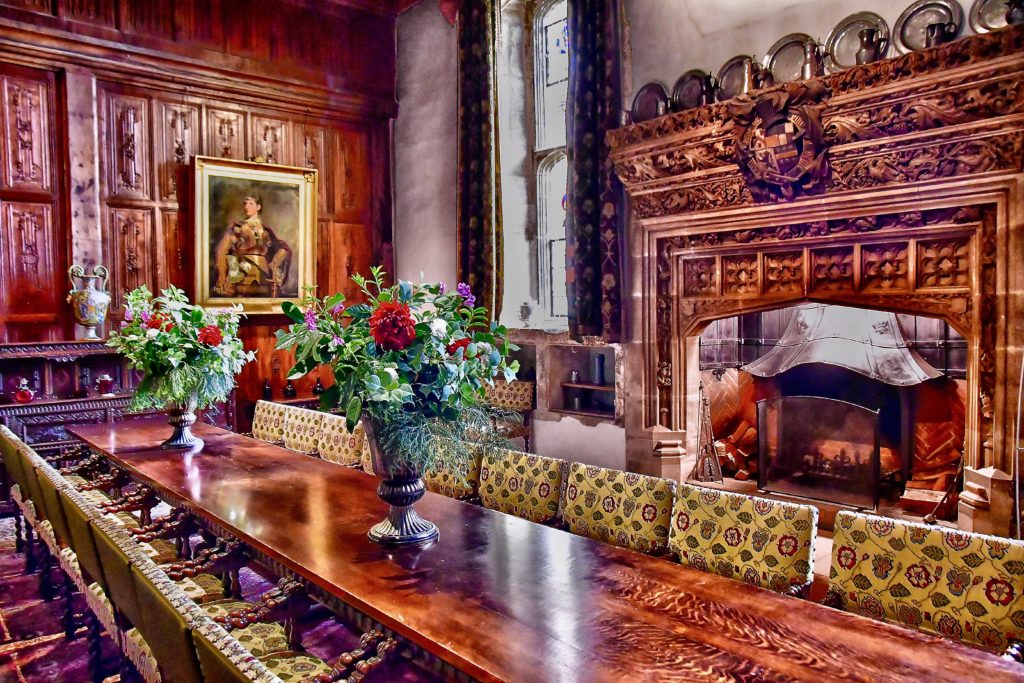 On a visit to Hever Castle, you can walk in the footsteps of these famous Tudor monarchs. And you can admire the castle's medieval keep and gatehouse, Tudor rooms, original portraits, and exquisite gardens.
The award-winning gardens are set over 125 acres.
The peerless Italian Garden is the highlight of the castle gardens. It's the setting for a collection of classical statuary from Roman to Renaissance times.
Here's my complete guide to Hever Castle. As I mentioned above, this is one of the castles on your Kent itinerary that you can stay overnight in.

More Time? Add On Rochester
Rochester is another town in Kent well worth visiting. It's in northwest Kent, so a bit further afield from other places on this Kent itinerary.
However, if you have more than 7 days, you might start day 1 of your Kent itinerary in Rochester and work your way west from there.
Rochester is an ancient town with a castle, cathedral, and more. It's famous as the favorite city of the novelist Charles Dickens and you'll find landmarks in the city dedicated to him.
Dickens lived in the nearby village of Gad's Hill Place, where he wrote Great Expectations. Some of Rochester's venues appear in the book, including Restoration House, which doubled as Miss Havisham's House.
Rochester is also home to England's largest vintage bookstore, which is a marvel to explore, Baggins Book Bazaar on High Street.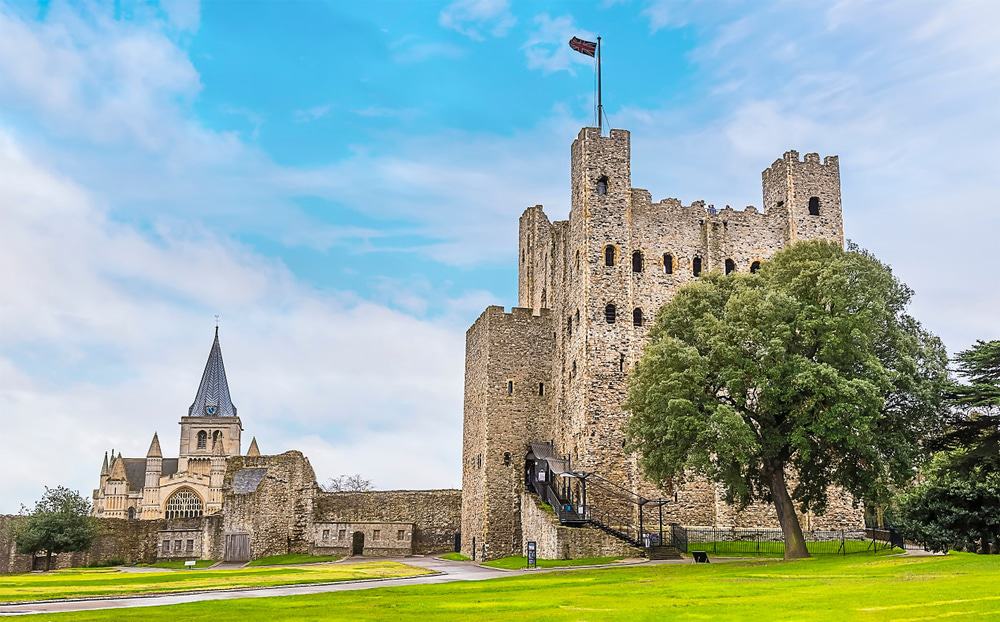 Rochester Castle has one of England's best preserved Norman keeps. Dating from the 12th century, it's also one of the tallest at 113 feet high.
You can enter the keep and, if you are game, tackle the steep spiral staircase to the top of the battlements for views of the countryside.
Rochester Cathedral is the smallest Norman-style cathedral remaining in England, but the second oldest. Saint Augustine founded it in 604 and it's a history lover's treasure trove.
The cathedral has a fine Romanesque facade and a lovely medieval Lady's Chapel. You can see ancient Norman architecture in the nave, parts of the crypt (with graffiti), and a hidden (available to see by appointment) door.
Just outside Rochester is the pretty village of Cobham. It's worth a quick stop to see the 13th century Church of Mary Magdalene.
I hope you've my one week itinerary for visiting the beautiful county of Kent England. You may enjoy these other England travel guides and resources:
If you need a Kent itinerary, pin it for later.